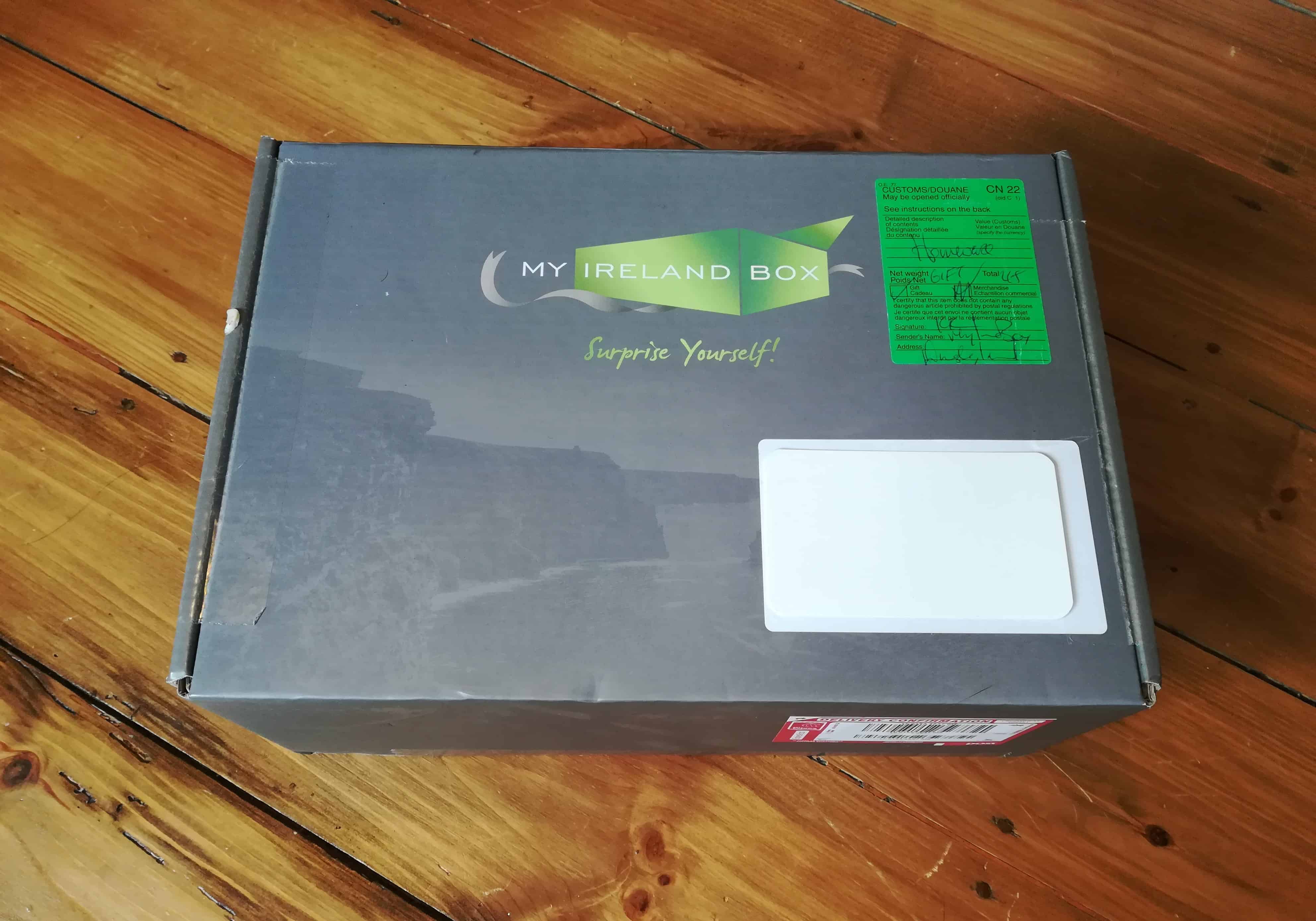 My Ireland Box delivers monthly curated gift boxes featuring unique items from Ireland's favourite artisans. Boxes can be shipped anywhere in the world, so a subscription can be a great gift for yourself or someone special abroad.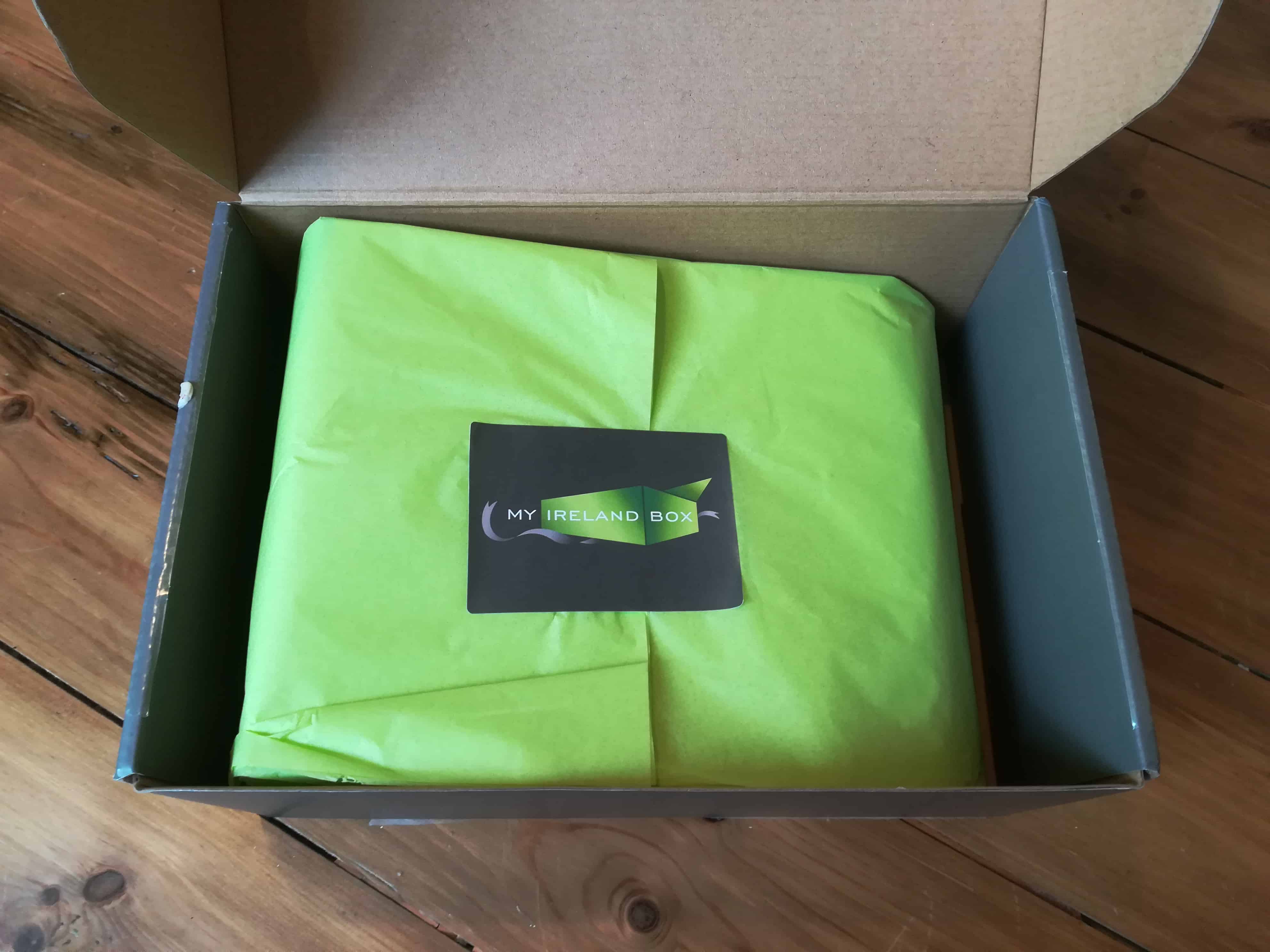 The box is sturdy and padded out with lots of green tissue paper to keep the contents secure. This month the tissue paper is chartreuse rather than the usual dark green – much brighter and cheerier.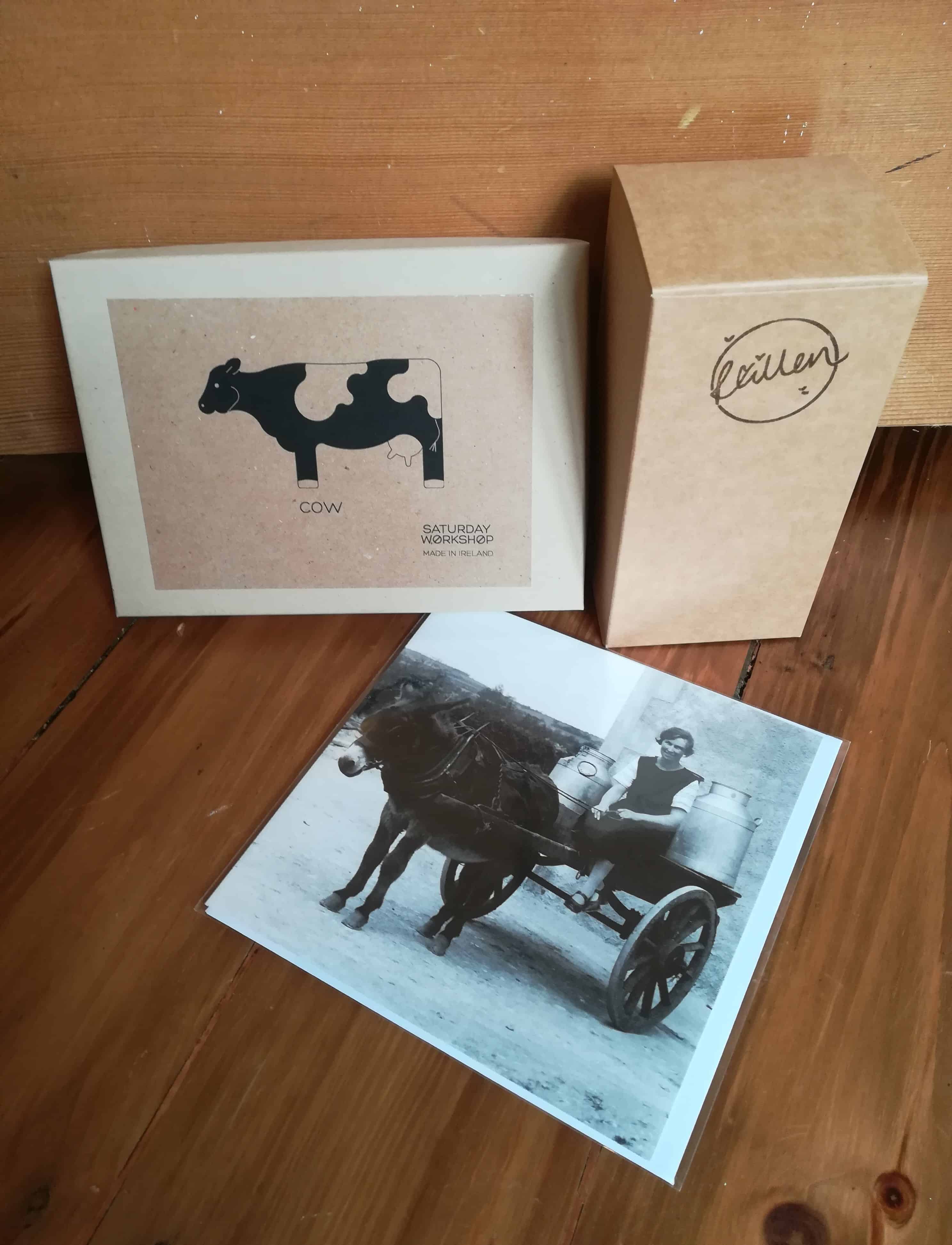 August's MyIrelandBox has an Old Irish Farm theme. It features three items which are undeniably on-theme.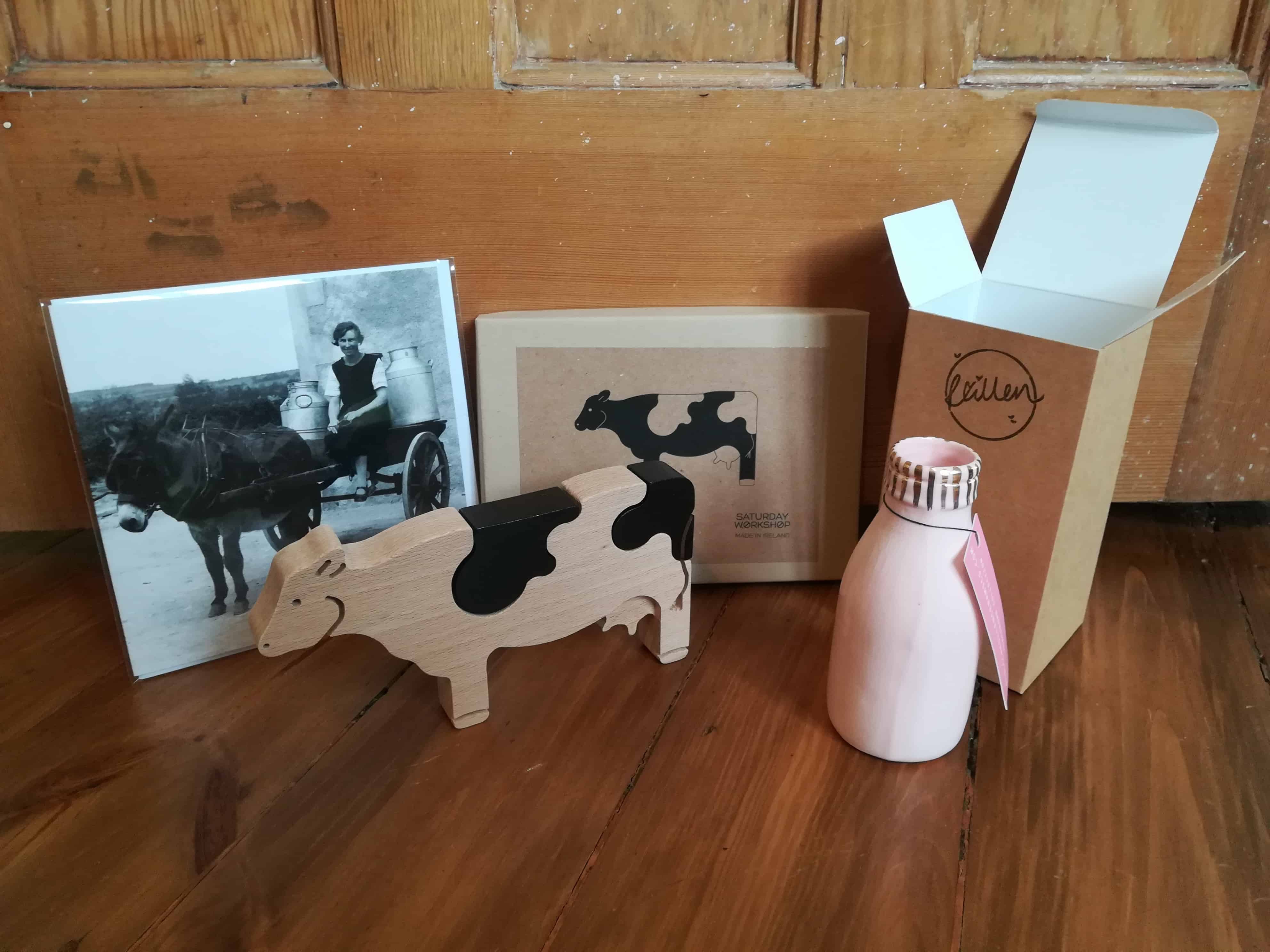 As always, the box includes a note to subscribers which tells about each of the products in the box, as well as a bit of history about the makers and their inspiration. The notes are always poetic and heartfelt, adding a nice personal touch to the box. I really appreciate that the MyIrelandBox includes lots of information about its contents – it shows the care that goes into selecting the products and it shows respect to the artists and producers who create them.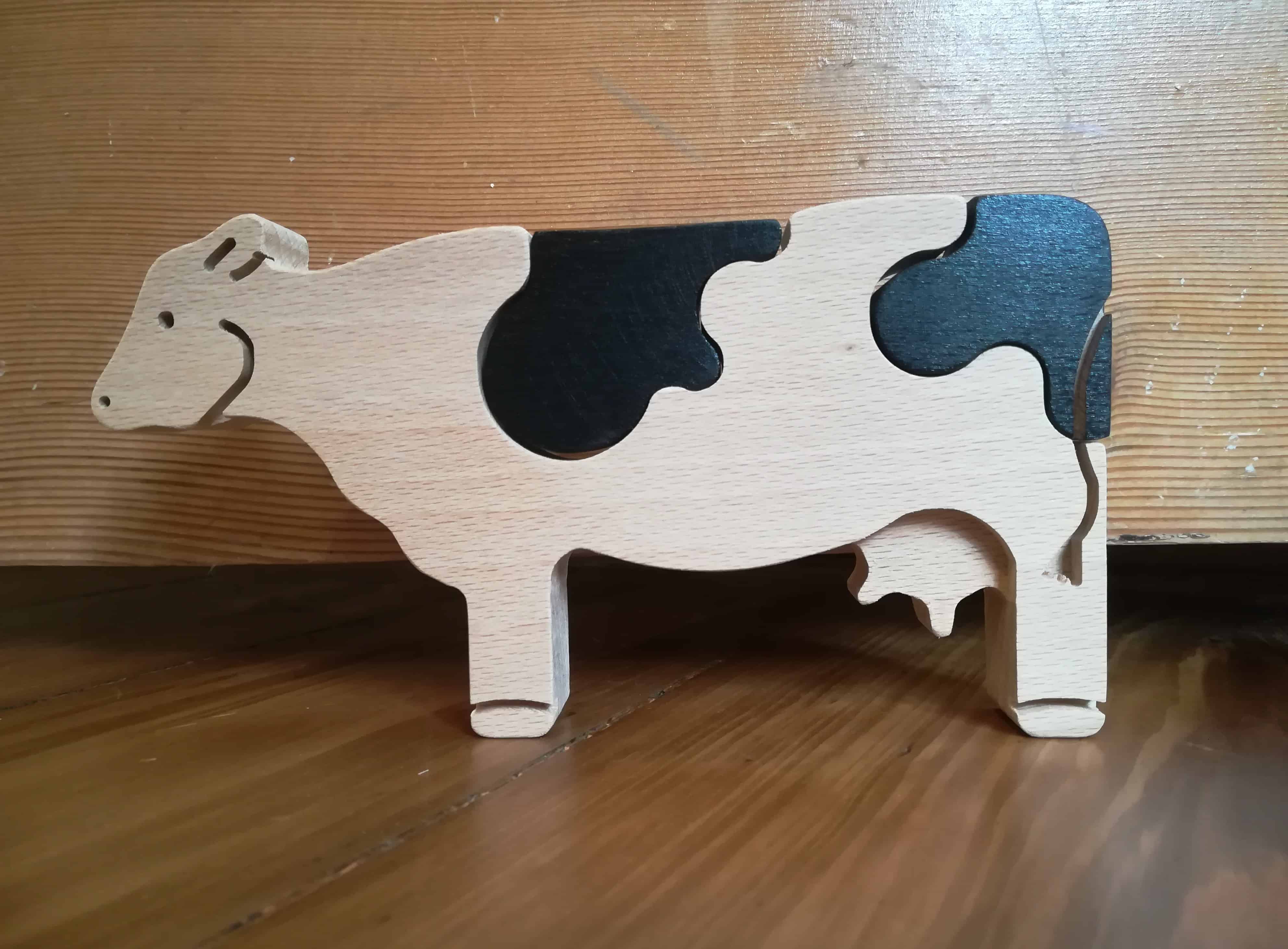 'Your Beautiful Irish Cow' is a handmade wood jigsaw creation by Saturday Workshop based in Sandymount, Dublin. Saturday Workshop consists of a father and daughter team: Edward is a retired chartered engineer and Iseult is an architect. They work together on weekends to create original wooden objects, decor, and toys, primarily out of Irish beech wood sustainably sourced from fallen trees.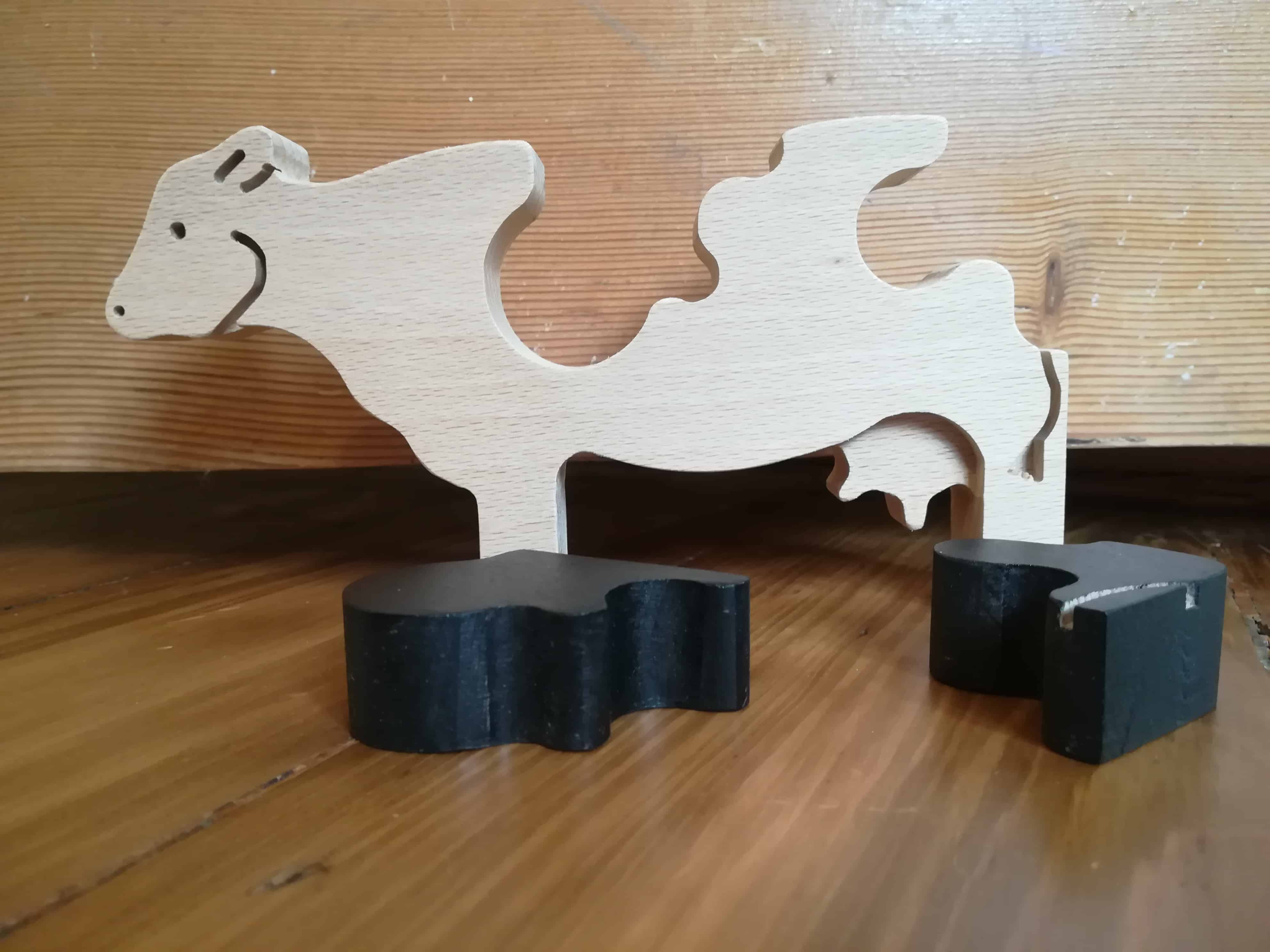 This little cow is simple, made of just three pieces, yet completely adorable. I love the detailing of the face and tail. This little girl is really charming, and being from Vermont where there are holsteins everywhere, she reminds me of home!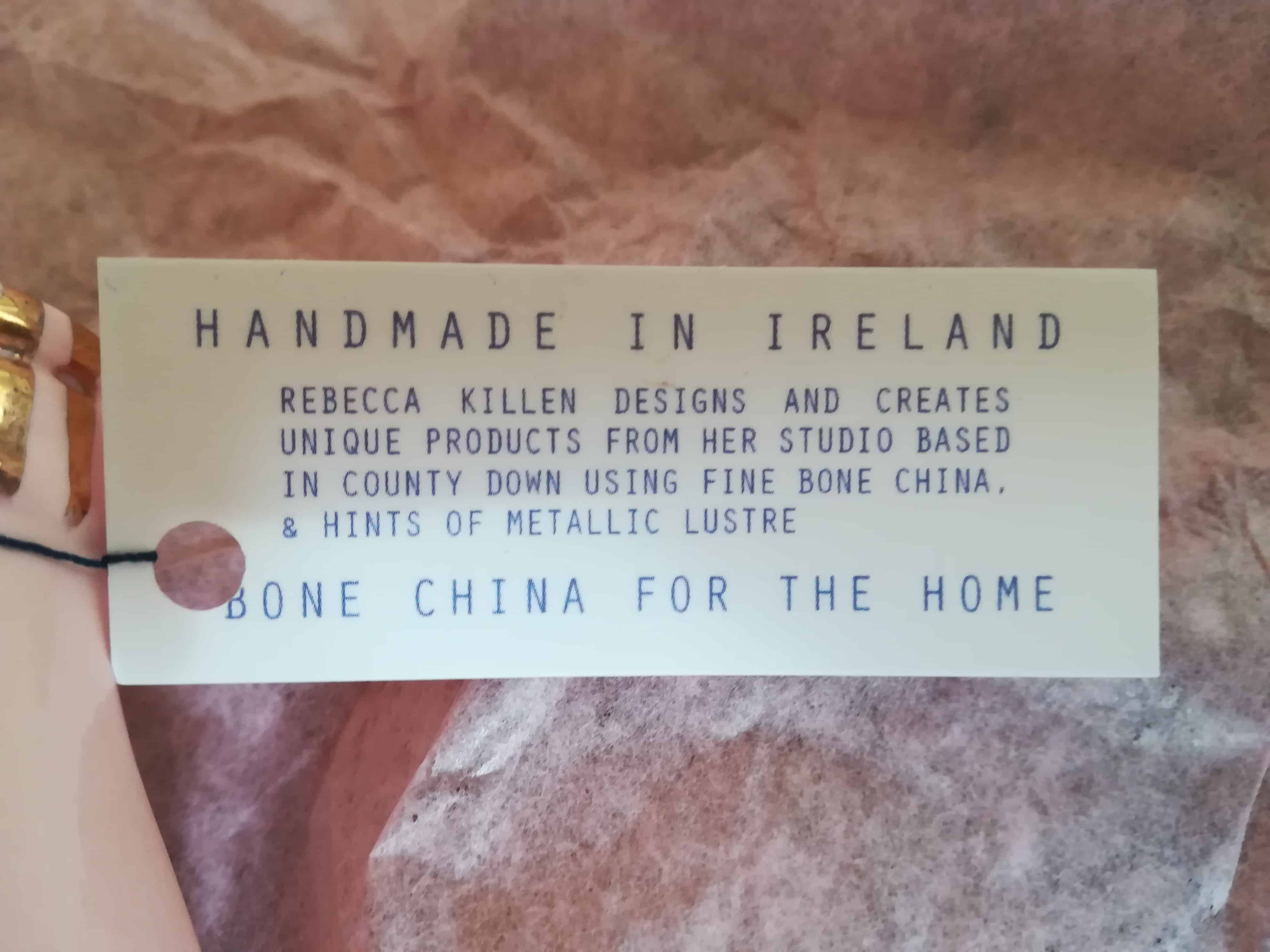 The next item is a fine bone china milk bottle in millenial pink made by ceramicist Rebecca Killen based in County Down.  Rebecca creates interior accessories using bone china, cobalt and hints of metallic lustre. This particular bottle is part of a range which celebrates local historic industries. Using moulds made from antique bottles, she makes the bottles in small batches using the slip casting technique.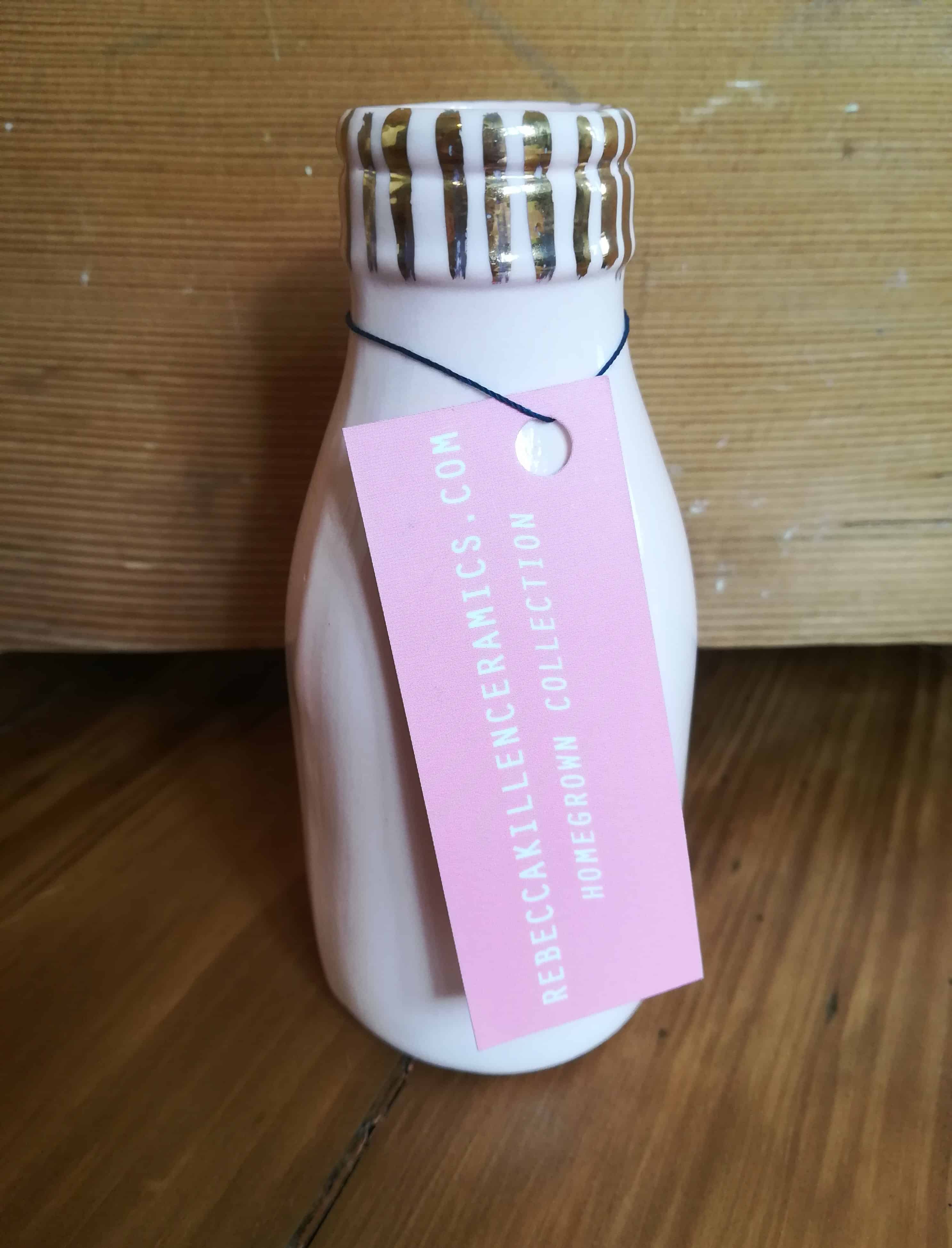 This milk bottle is gorgeous, very delicate and with bright stripes of gold on the neck to offset the soft baby pink hue. It is a simple and inspired decorative piece and a nice modern nod to a bygone symbol of the dairy industry.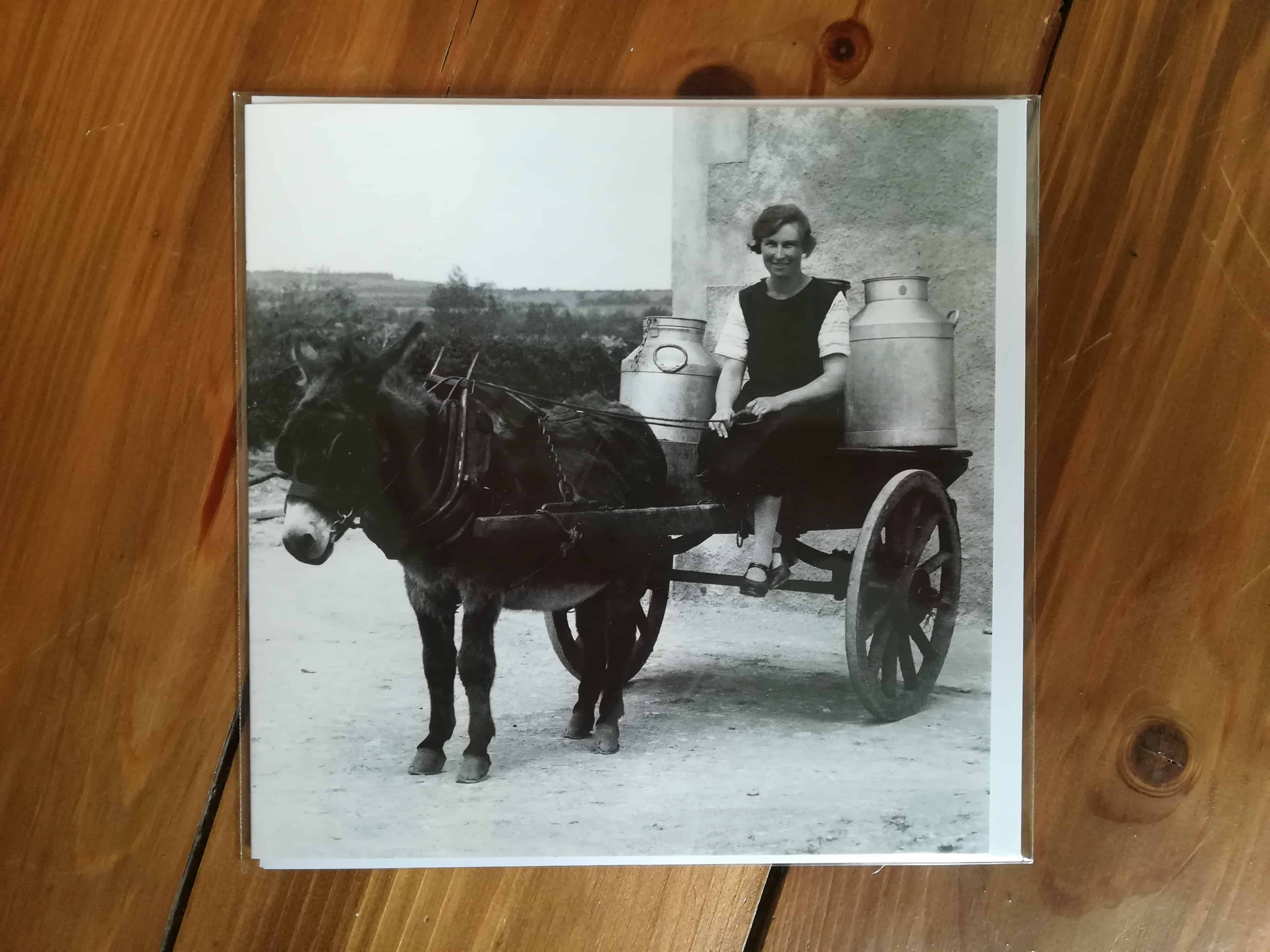 The last item in the box is a card entitled 'Say Cheese' by Kelly Cards based in County Cavan. It is part of Kelly Cards' range of black and white cards entitled 'Lost Moments' which feature images sourced from the National Archives of Ireland. These cards pop up frequently in MyIrelandBoxes, but this particular one is a nod to the hardworking women of the old Irish farm who worked day in and day out to keep the farm running and provide for their families. It's a great nostalgic image. More photographs can be viewed at http://www.waterfordmuseum.ie.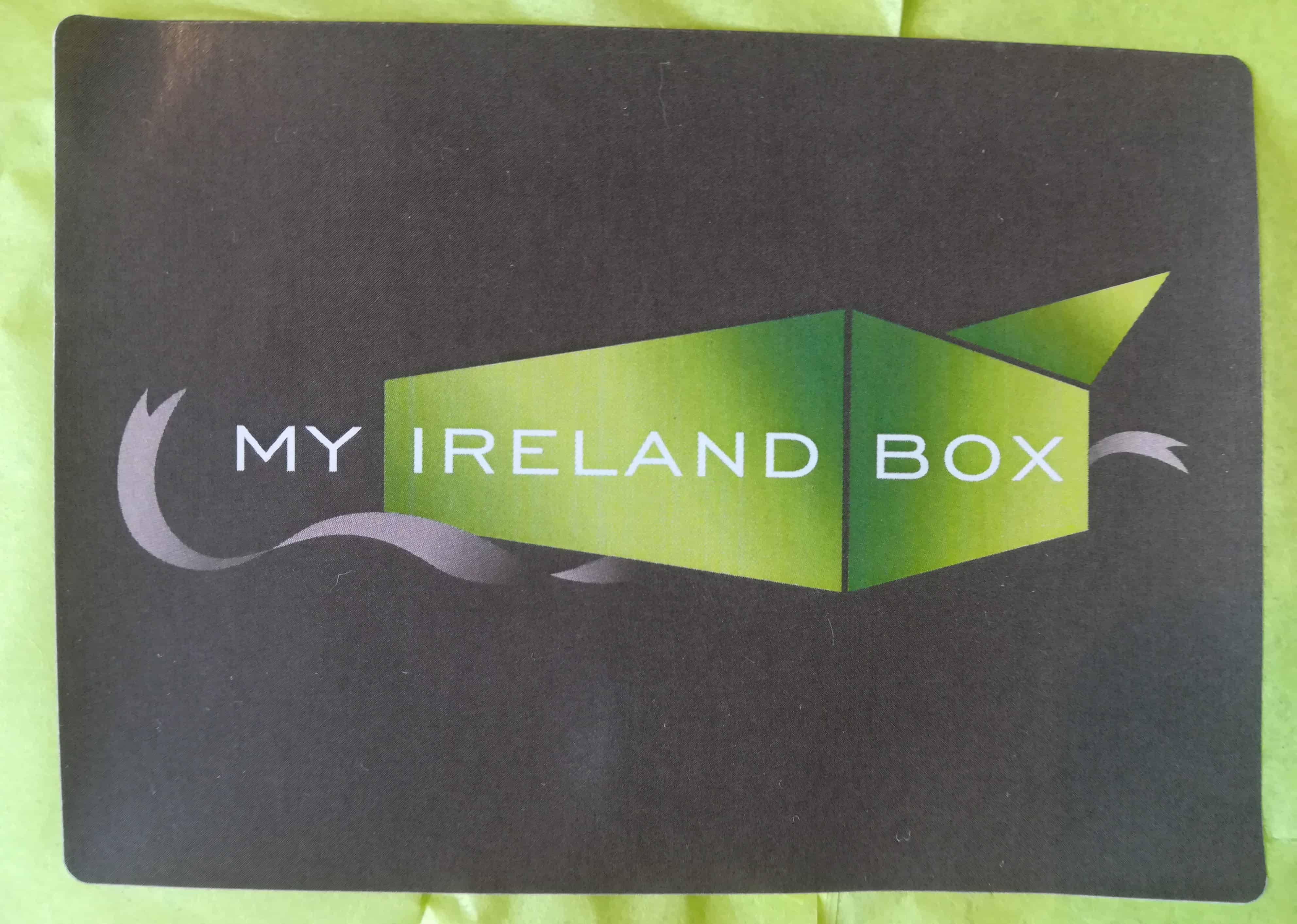 I like when the MyIrelandBox focuses on quality over quantity, as is the case again this month's three items. The handmade products like the wood cow and ceramic milk bottle are really special decorative pieces you would struggle to find outside of Ireland. It is always a treat to open a box and find such unique items.
This month, another lucky subscriber won a handmade piece by goldsmith Niamh Utsch based in Cashel, County Tipperary. Fingers crossed for next time!
What do you think of this month's My Ireland Box?