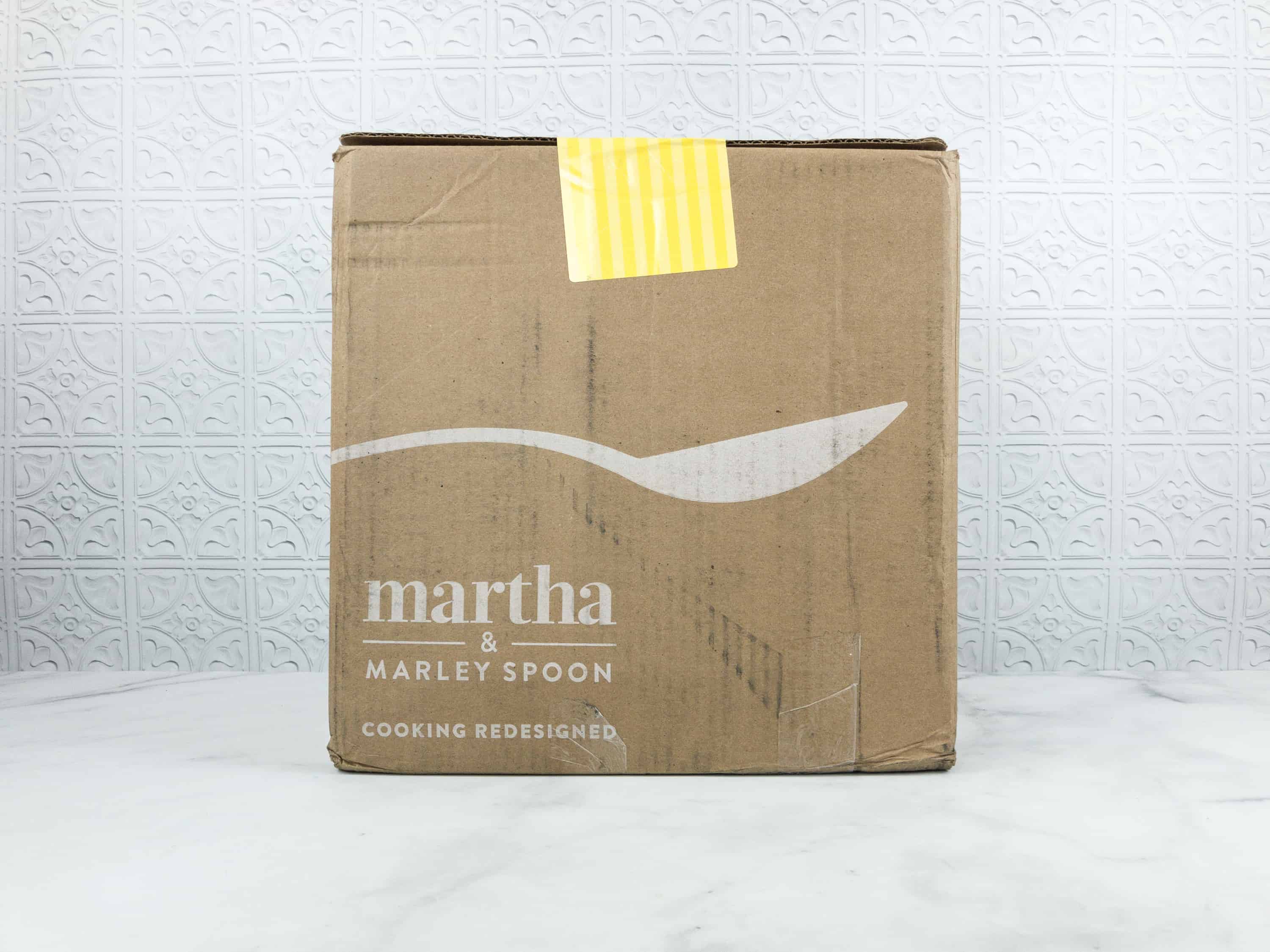 Marley Spoon delivers delicious recipes and fresh, seasonal ingredients straight to your door. You can choose from a weekly menu featuring 10 chef-created recipes, including recurring customer favorites, vegetarian meals, and kid-friendly recipes. Each option is clearly marked to note whether it features meat, fish, or just veggies, plus other characteristics of concern to diners with diets restricted by necessity or preference — they note gluten free, dairy free, kid-friendly, quick to prepare, vegetarian, and spicy meals to help you pick the best meals for you. Each recipe serves two people (there is a minimum four portion requirement per box), and shipping is free!
DEAL: Save $30 on your first box. USE THIS LINK to get the deal. Valid to USA subscribers only.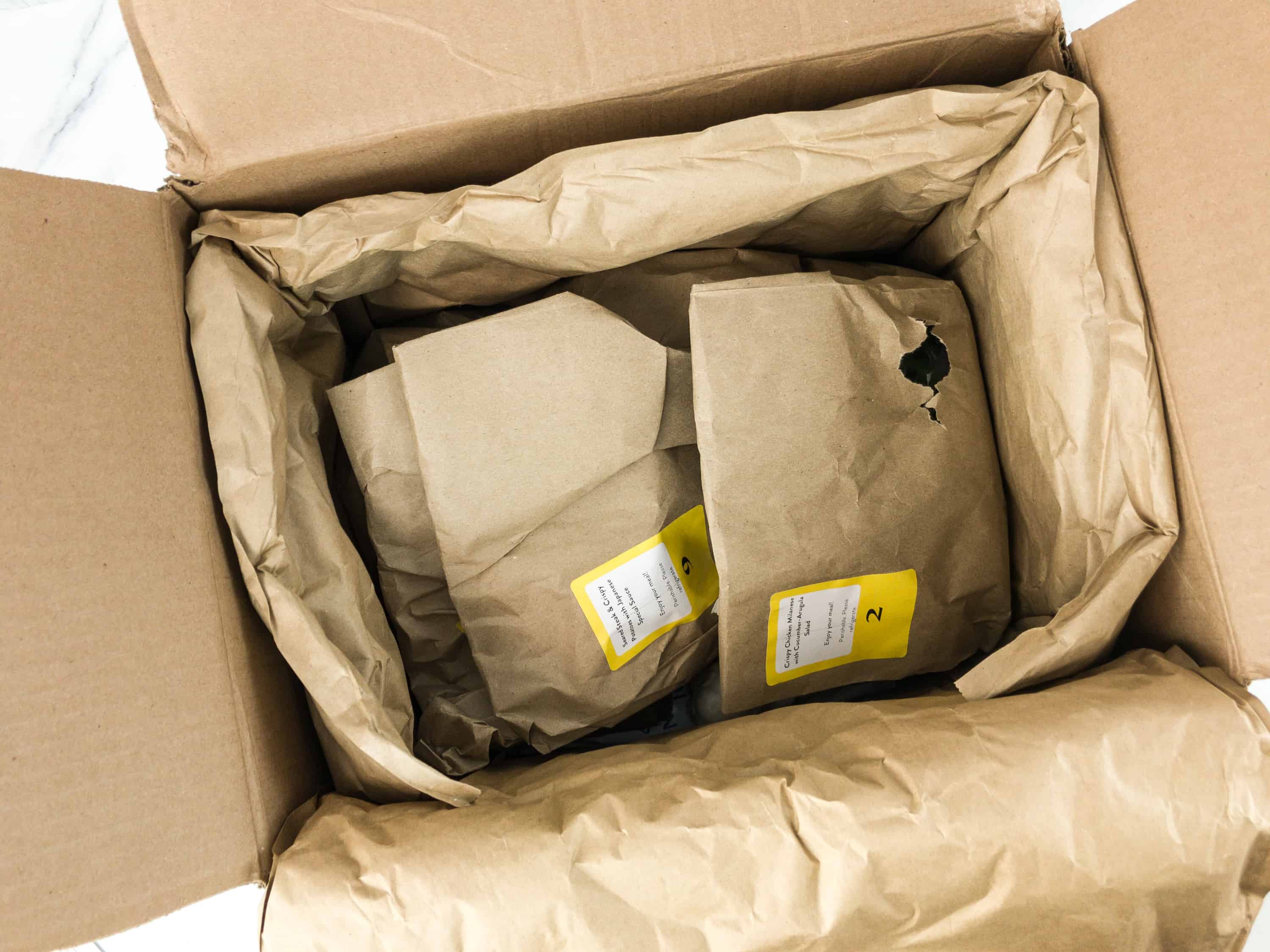 This is a review of a normal weekly box, but they also offer a fabulous Martha Stewart's Marley Spoon Thanksgiving box. Available along with your subscription or as a one-off, the Thanksgiving box includes four sides and a dessert (you can order with or without a turkey)!
Your food arrives in a big box lined with insulated padding.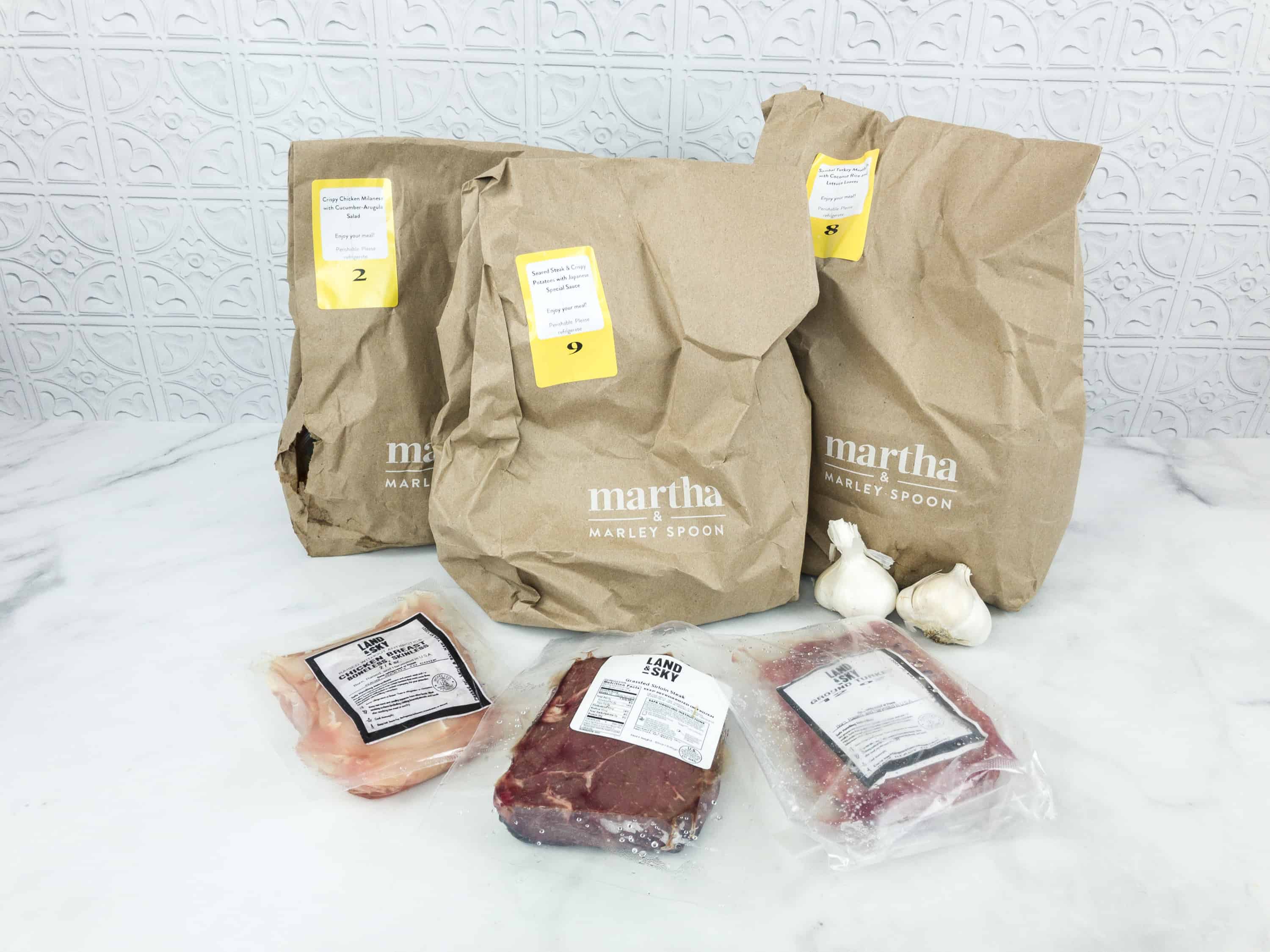 The ingredients for each meal are packed in a paper bag separately. Meat and items needing refrigeration are tucked between ice packs in the bottom of the box. Martha & Marley Spoon always throws a bulb of garlic to use in any recipes for which it may be needed.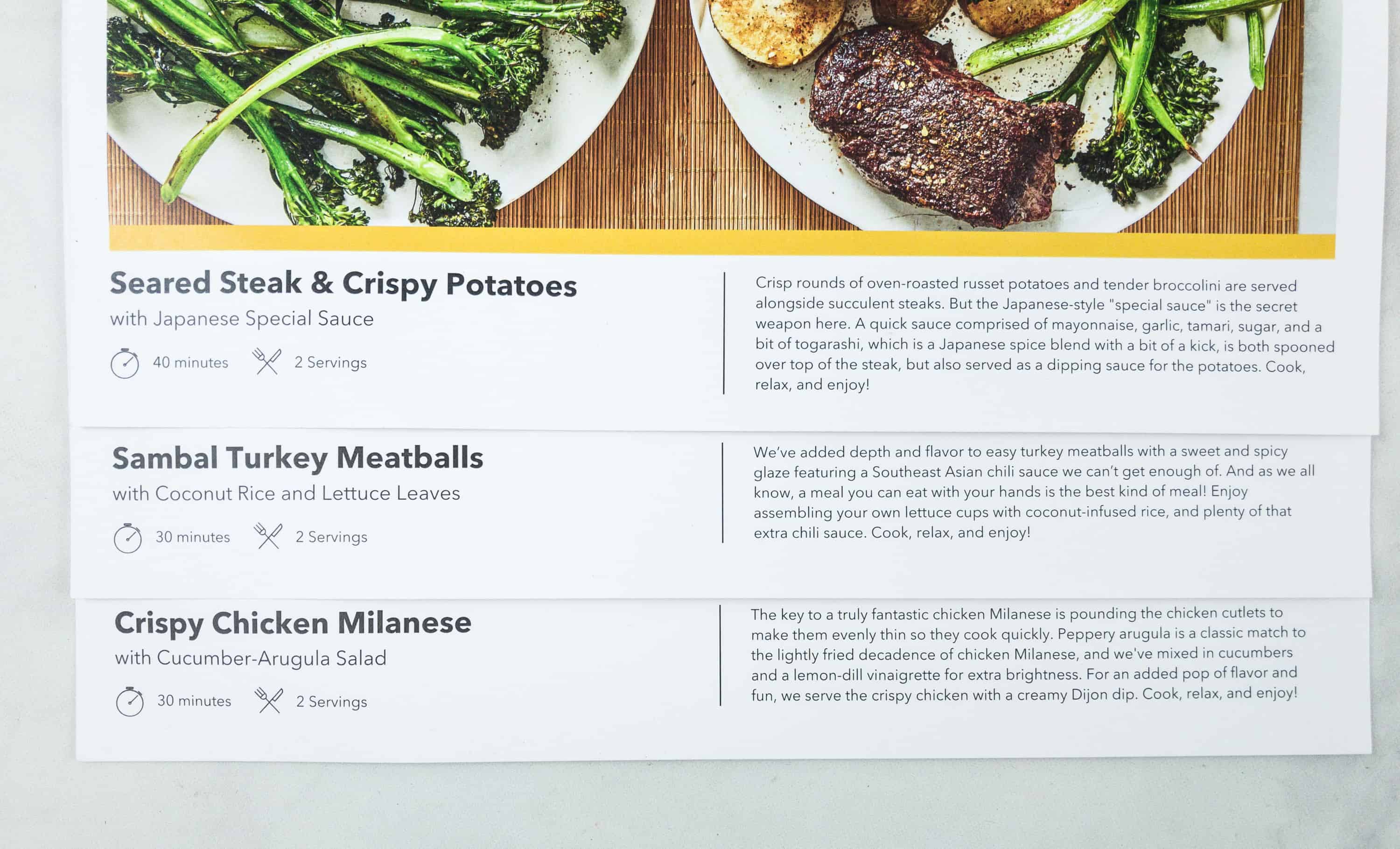 Here are the three recipes for August 2018! I like having the prep time estimate provided, and I often choose the order in which to make my meals based on that and perishability of ingredients. Typically, I'd start with any seafood dish, then do anything with fresh greens next.
Each Martha & Marley Spoon recipe card includes a full-color picture of the plated dish, prep time and number of servings. The dishes are elegantly plated in the pics, and you can use them as inspiration for setting out your own food.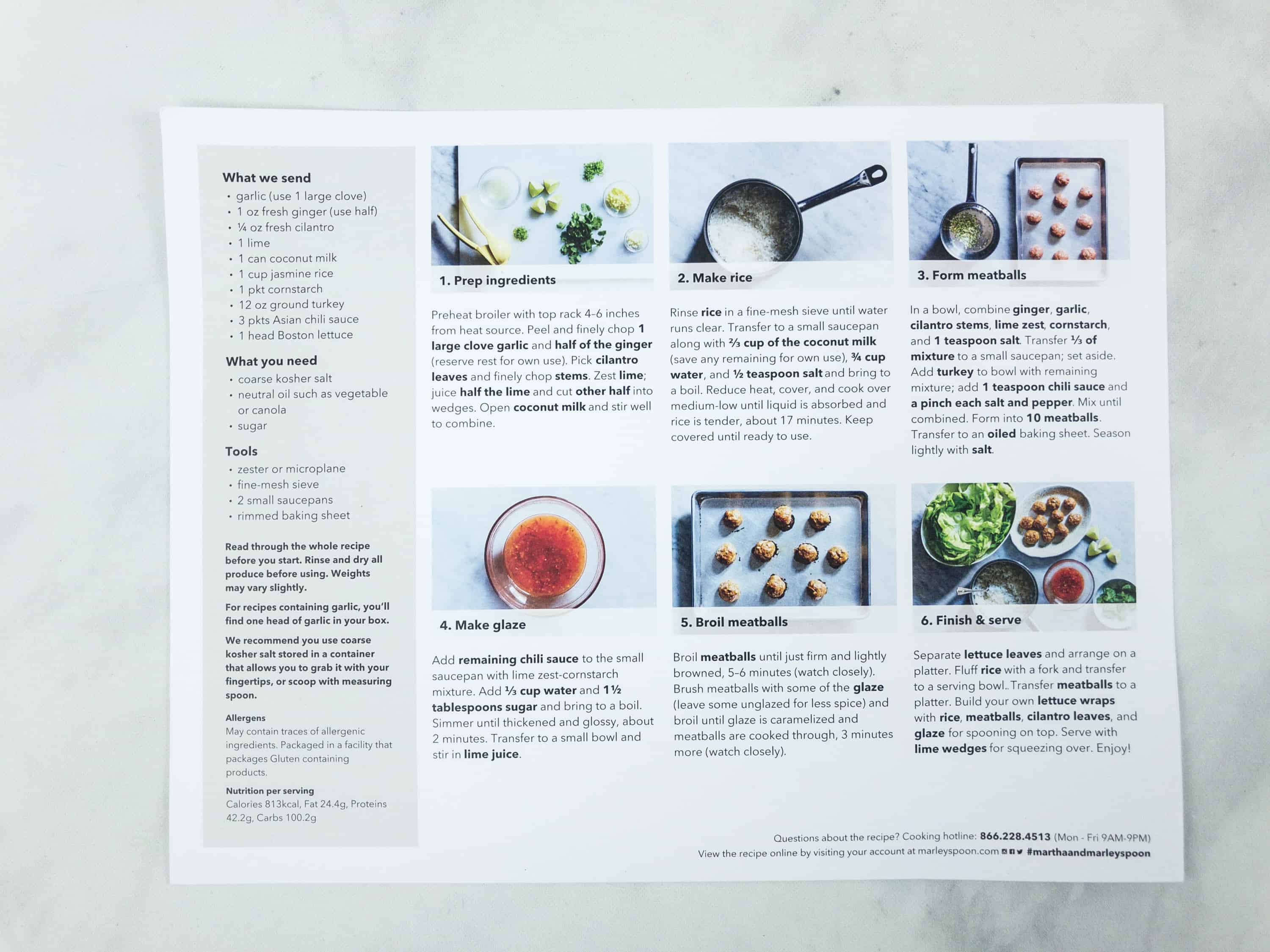 The back includes the full recipe (with pictures!) and allergen and nutrition info. The instructions are easy to follow, whether you are a novice or pro. Usually, you start by washing and prepping all the ingredients before cooking. Within the detailed, step-by-step instructions, ingredients are set in bold type for ease of recognition. Info panes in the sidebar list any ingredients and tools you'll need from home (pans, cooking oil, etc).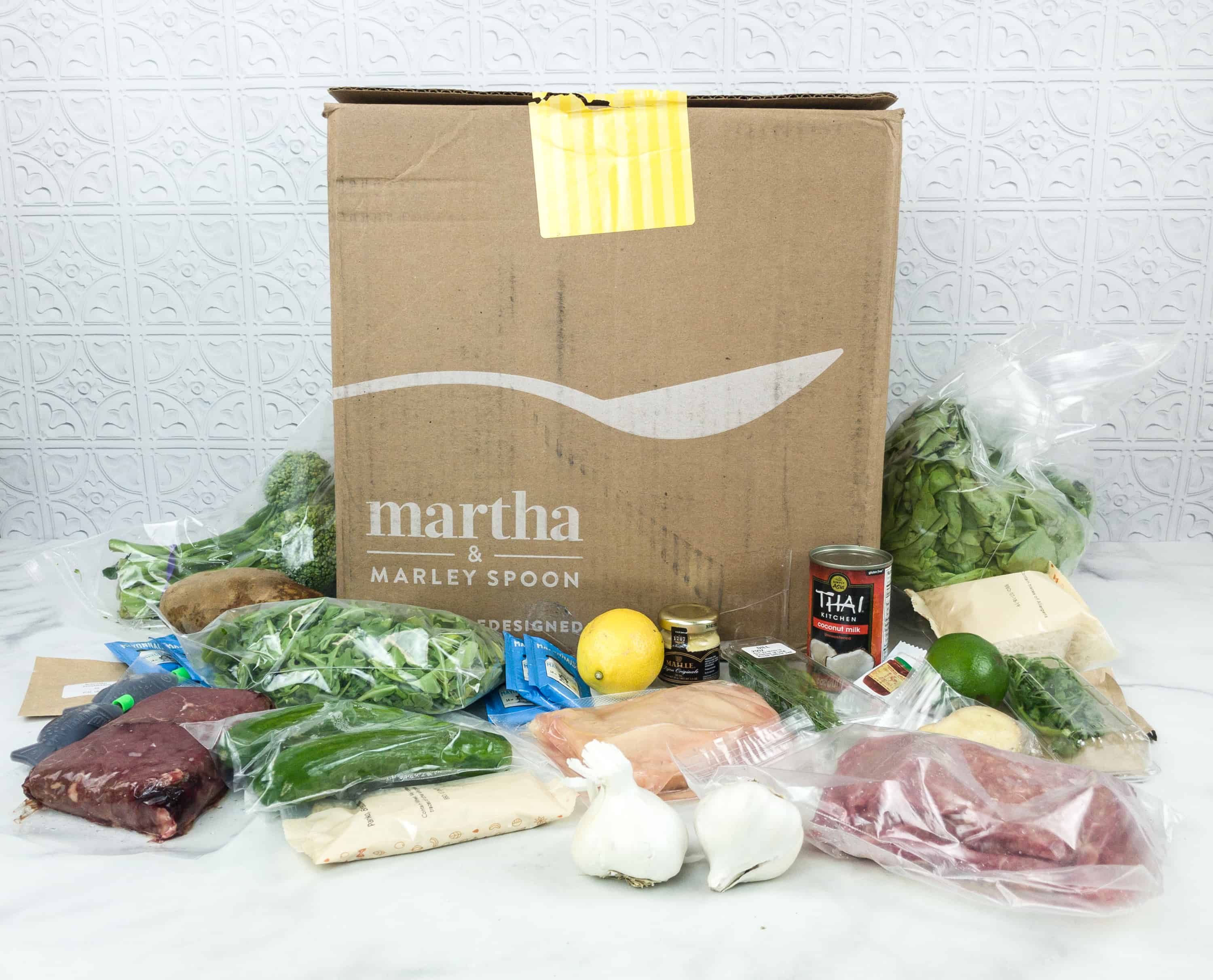 Everything in this box!
We got tons of garlic! Even when we use lots in the recipe, we always have some leftover for our own dishes.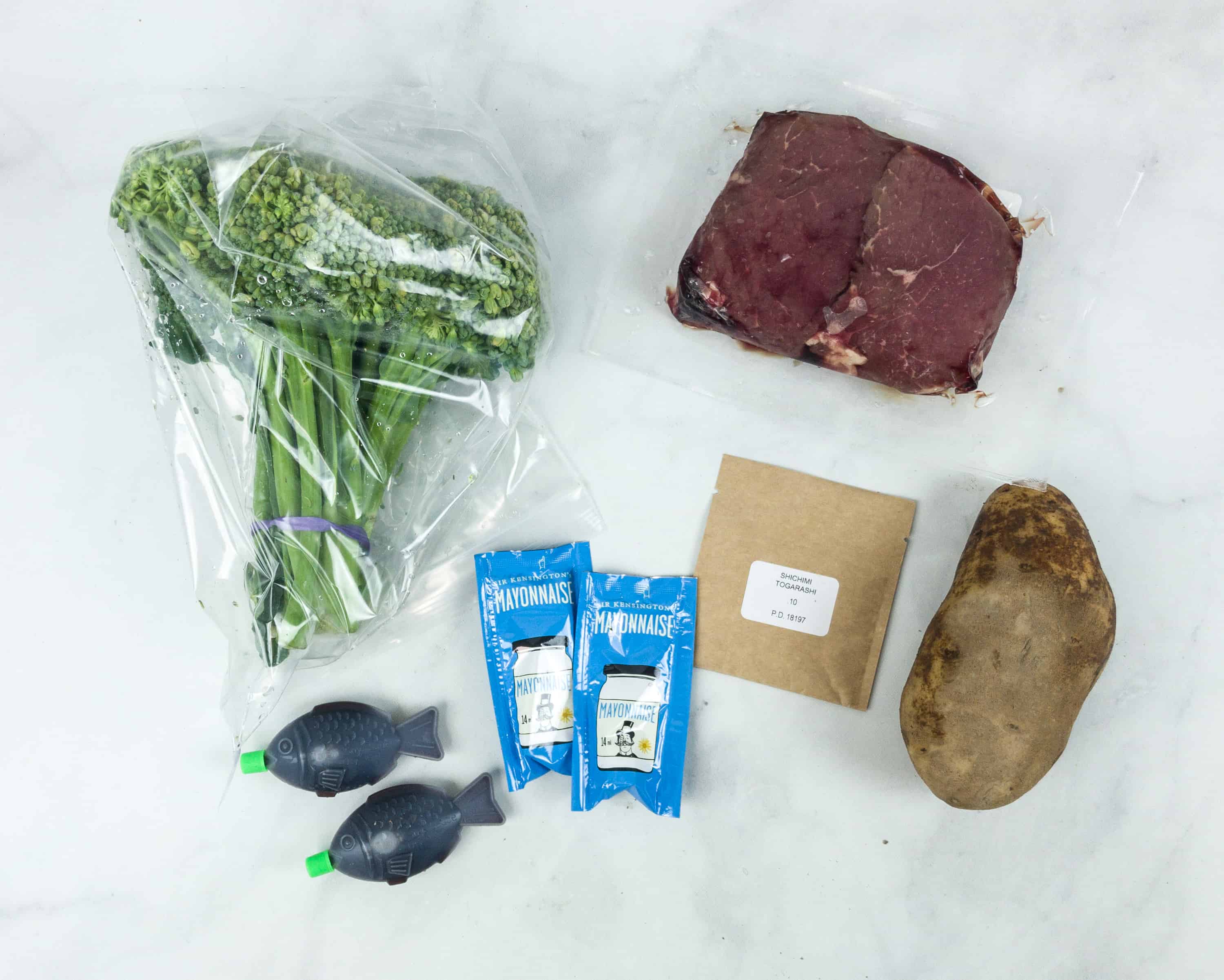 Seared Steak & Crispy Potatoes With Japanese Special Sauce – 40 minutes, Easy, 892 calories per serving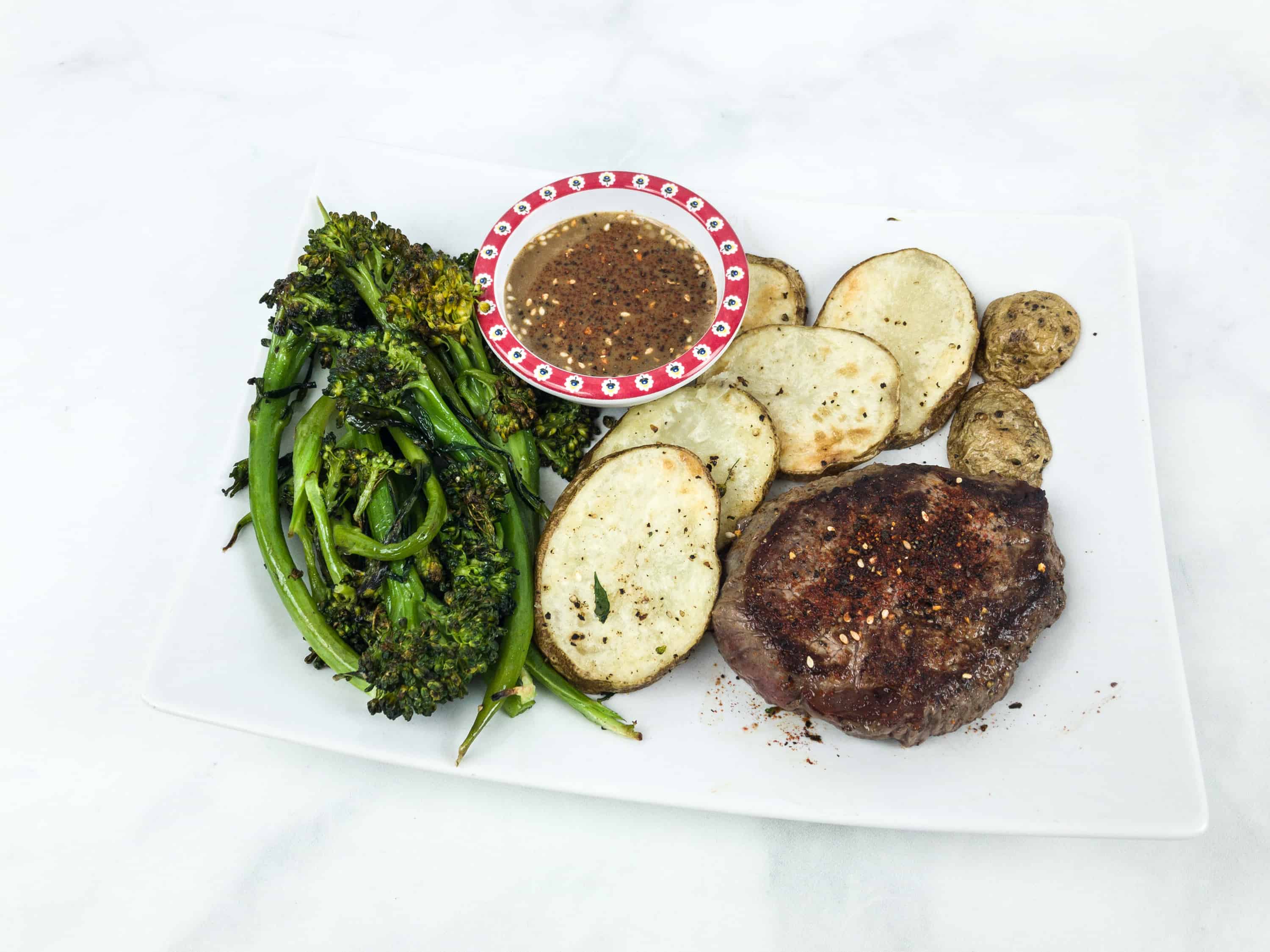 What separates this dish from other steak-potato combination meal is the Japanese-style special sauce made from mayonnaise, garlic, tamari, sugar, and togarashi, a Japanese spice blend, spooned over the top of the steak. It's a hearty and satisfying meal consisting of seared beef steak with crispy potato and broccolini on sides. This meal was easy to prep and make, as the oven did most of the work. I loved the simple way they had us do the potaotes, because they were perfect for dipping the wonderful sauce!
Sambal Turkey Meatballs With Coconut Rice & Lettuce Leaves – 30 minutes, Easy, 813 calories per serving
It's an Asian-themed meal made from sweet and spicy glazed turkey meatballs, jasmine rice, and fresh lettuce.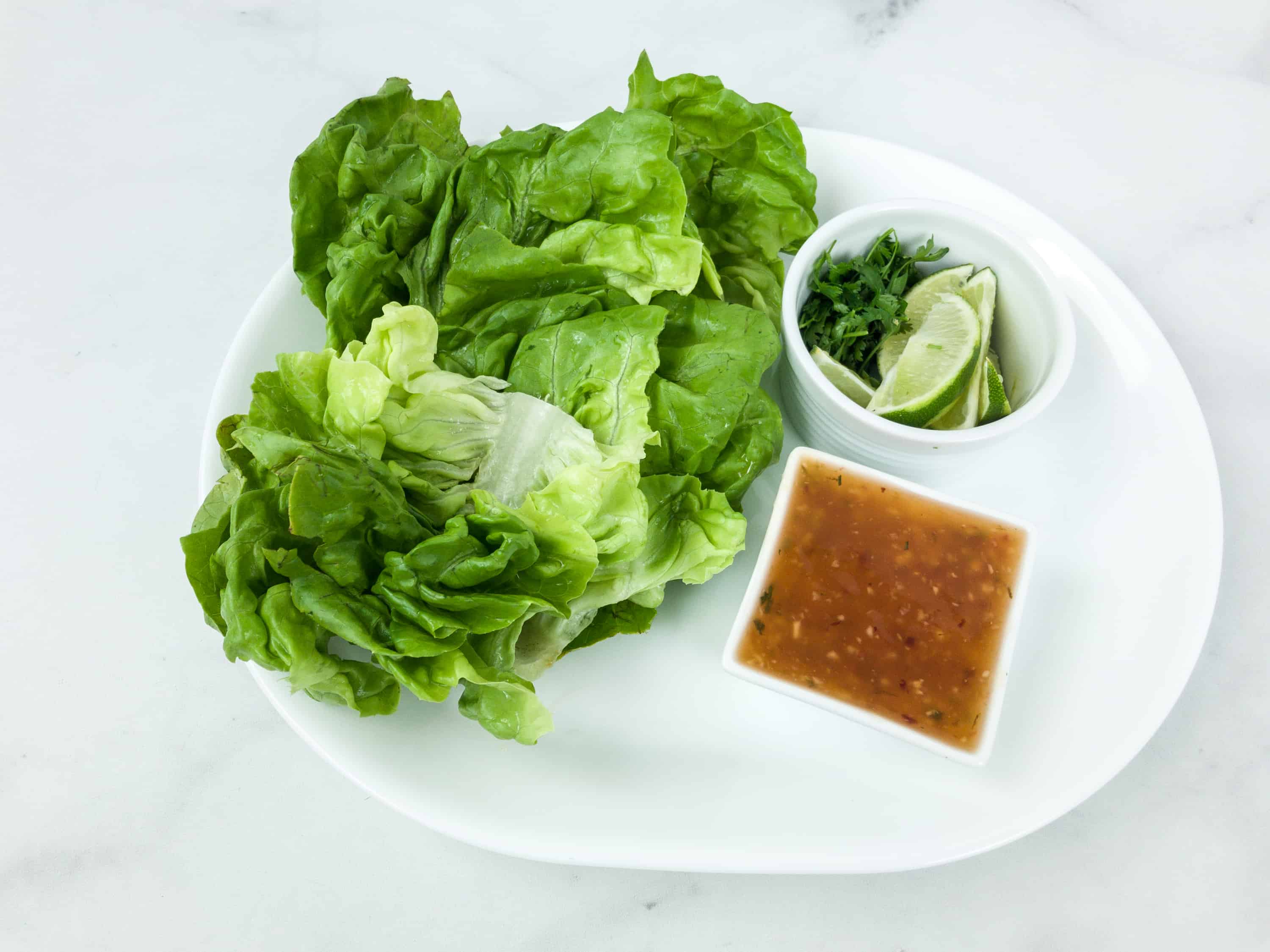 The lettuce looks so green and fresh, and it makes a great wrap for making little meatball sandwiches. Some of the chili sauce is used as a glaze for the meatballs, while the remainder is cooked with sugar, water, and lime juice to make a dipping sauce.
These meaty and juicy turkey meatballs are made using ginger, garlic, cilantro stems, lime zest, and ground turkey. All the items are mixed together, shaped into a ball, broiled for 5-6 minutes, brush with some glaze and broiled again until caramelized.
The Jasmine rice is made with coconut milk for extra creaminess.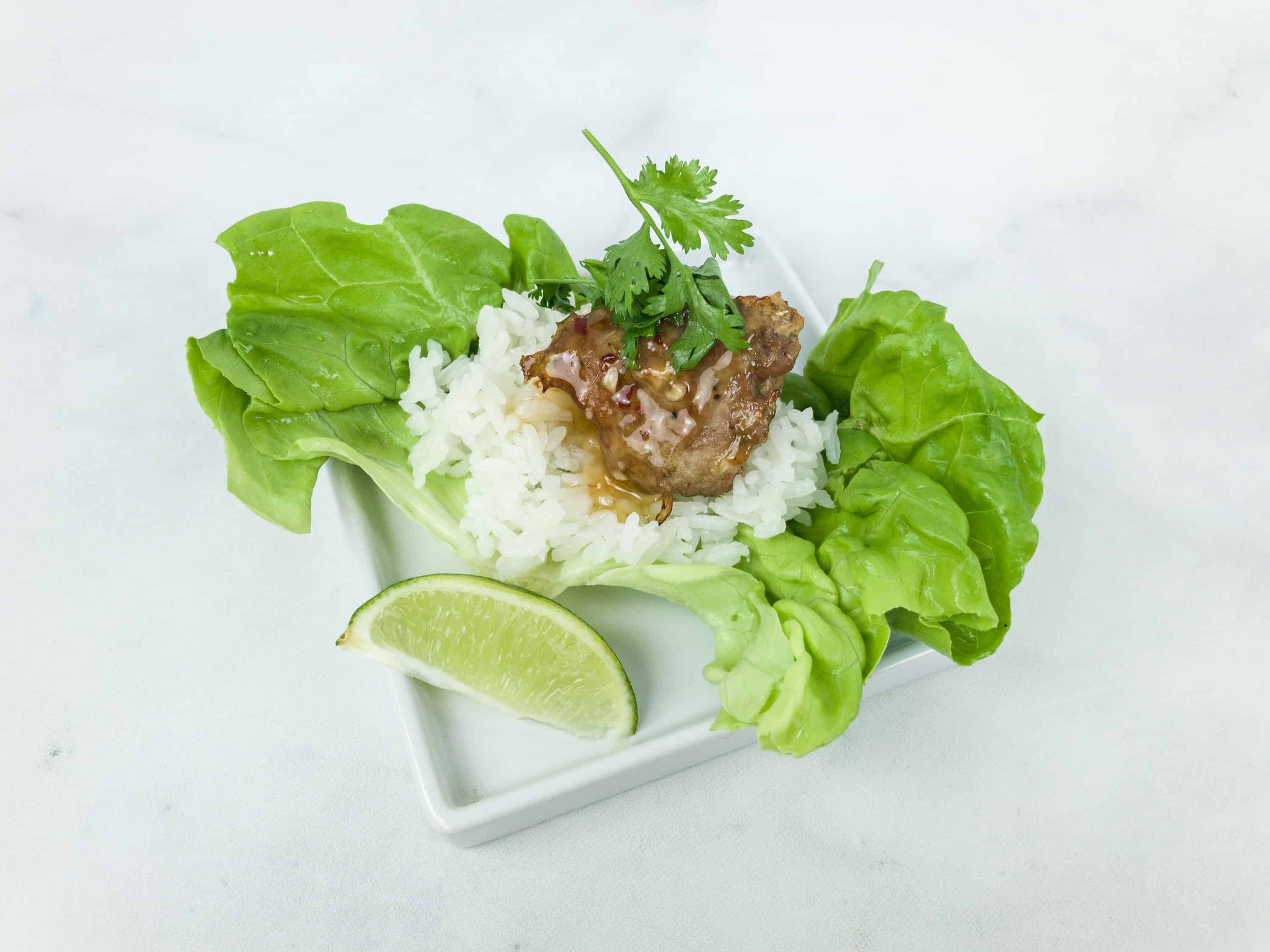 This dish wasn't overly difficult to make, but it did take a little more effort to plate, as it is a build-as-you-eat kind of meal. You could also prepare all the bites in the kitchen and serve on a big tray appetizer style!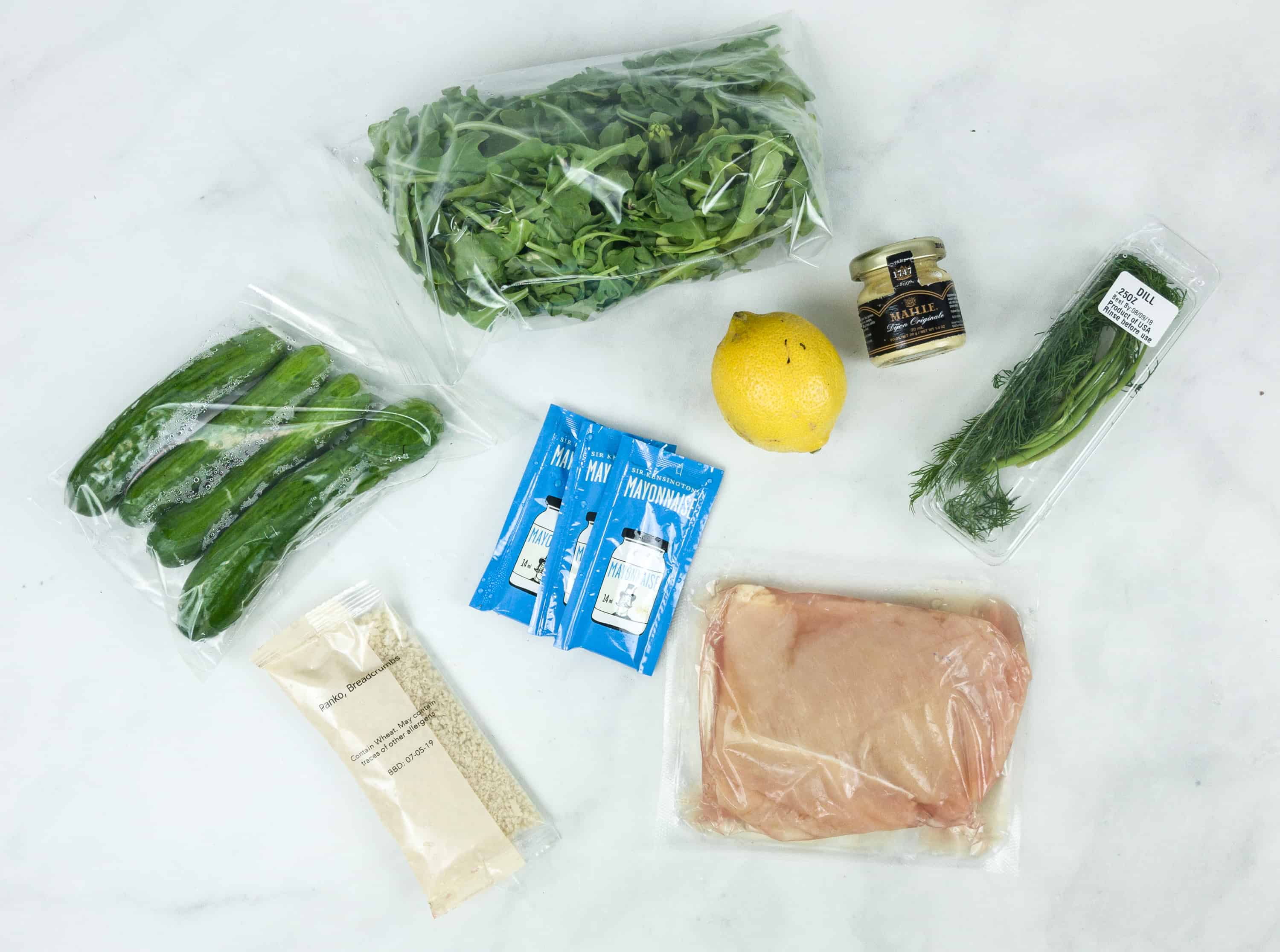 Crispy Chicken Milanese With Cucumber-Arugula Salad – 30 minutes, Easy, 705 calories per serving
This scrumptious dish is so easy to make! Pounding of chicken helps it cook quickly and uniformly. The mix of cucumbers, peppery arugula and lemon produce a perfectly light palate that matches the crispy chicken Milanese. It is served with a creamy Dijon dip. So yummy!
Martha & Marley spoon brought another great set of meals this week. It is handy to have nearly all of your ingredients come in the kit. Usually you only have to have salt, pepper and oil on hand. This week, we needed sugar, flour, and eggs as well. This subscription is a big time-saver — the cooking process itself is fairly quick, but the time savings on meal planning and shopping is huge. This subscription definitely made our meal times more interesting and hassle-free!
Have you tried Marley Spoon? What do you think?