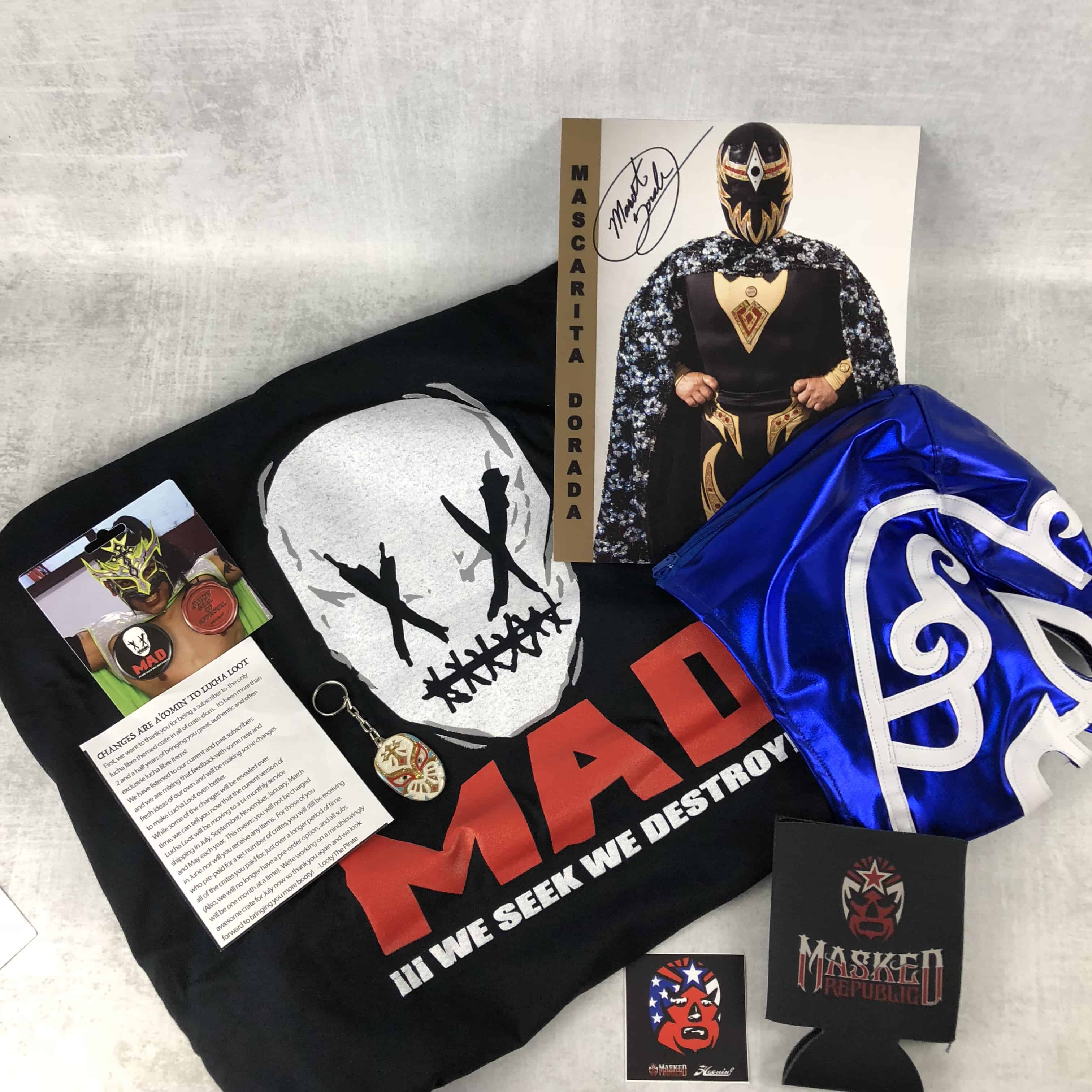 Lucha Loot has announced some major subscription update – they're now switching to bimonthly subscription boxes!
Here's the full announcement:
Loyal Lucha Loot Members!

First, we want to thank you for continuing to be part of Lucha Loot.  We will admit that keeping up with bringing you awesome authentic lucha libre merch and exclusives from Mexico month after month for 2 1/2 years now has not been an easy task.  But – WE still want awesome non-bootlegged merch ourselves and that means we know other fans want it too and we continue to bring you just that – despite some hiccups (including with the U.S. customs office and this month's masks…see below).

Because we know not all of you follow us on social media or like our FB page (which you really should do!) you may not have seen all of the recent updates – so we wanted to email you a recap we posted yesterday.

I'll put the summary here first:

1.  Lucha Loot is now every other month – once every 2 months.  You will be billed once every 2 months.  You will receive your crate once every 2 months.  Long term subscriptions (3, 6, 12 month pre-pay) are no longer available (nor is the Standard crate) – but if you previously subscribed, you are still owed how many ever crates are on your subscription so, if you had 2 left, you will be receiving 2 more of our every other month crates.  Those crates will ship every year in January, March, May, July, September and November.

2.  July crates are all on the way.  You should receive yours by this weekend.  Some subscribers may take a little longer (looking at you Canadians or East Coast Mask Of the Month subscribers), but your tracking should all update by Thursday.

3.  In SOME the months where we do not have a regular Lucha Loot crate, we will offer a 1 time only themed crate.  This is NOT something you will automatically get.  If you like the theme (the promotion, the luchador, etc.) you can choose to make a 1 time (no renewal) purchase of that crate.  While these crates will be available to non-subscribers as well, only YOU subscribers will be guaranteed to get the crate if you want it as a limited number will be produced and we anticipate them selling out.  But, as a subscriber to the regular crate, you get priority.  If for some reason you go to purchase it and it says SOLD OUT, simply email us and we will hand process your order.

And THANKS for remaining on this lucha libre booty journey with us aboard the good ship Enmascarado!
DEAL: Save 10% on your first box! Use coupon code TRYLL.
Are you getting Lucha Loot?