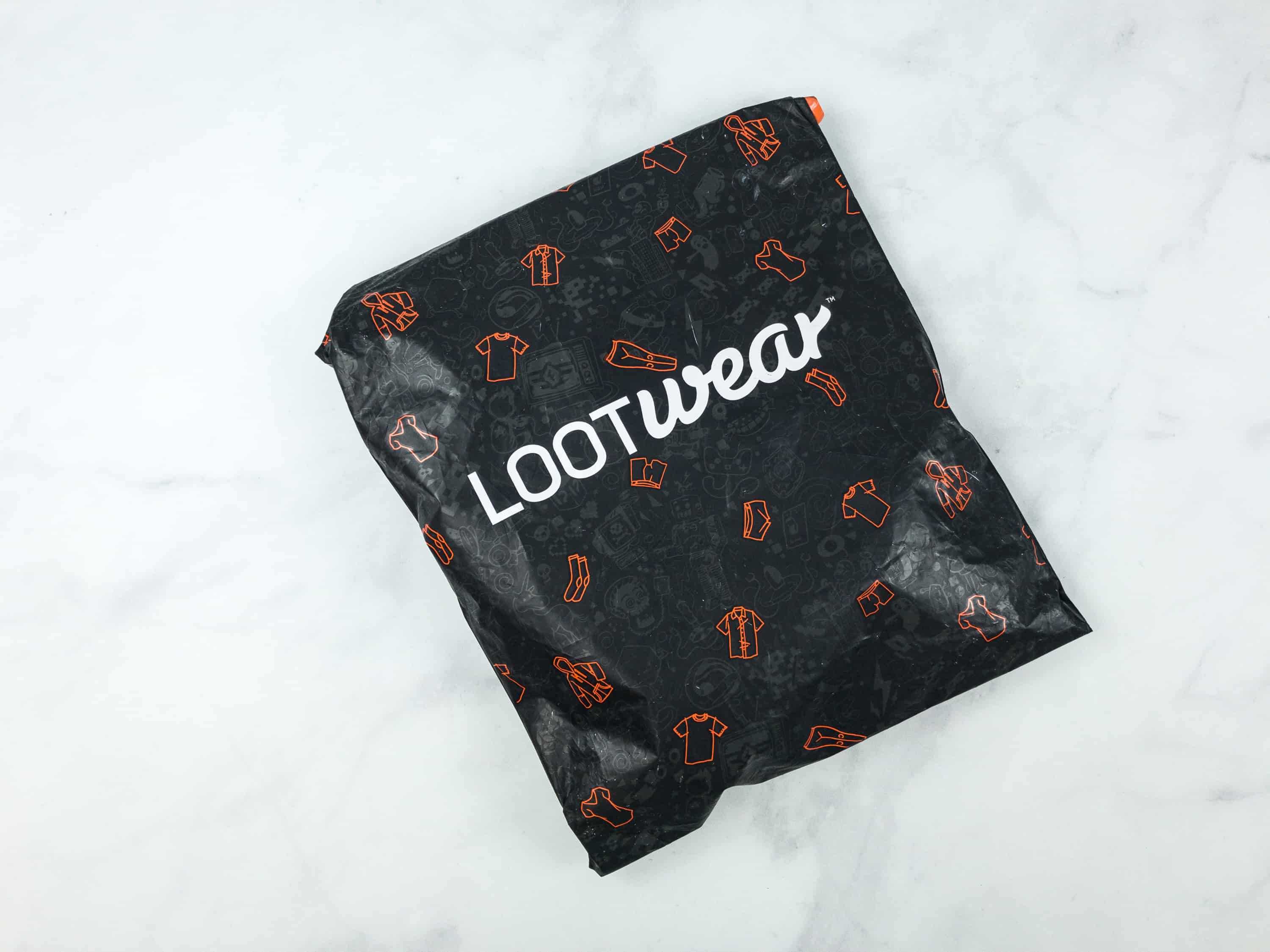 Loot Socks is one of the Loot Wear collections of monthly subscriptions from Loot Crate with exclusive geek and gamer premium wearable accessories with a monthly theme. Every month you'll get 2 pairs of epic geeky socks for $9.99 per month (or less with a longer subscription)!
You can also bundle the wearable and the socks for $20.99 or the new Risky Business (tee + undies + socks) bundle for $16.99! See our Loot Wear reviews for photos of the other subscriptions!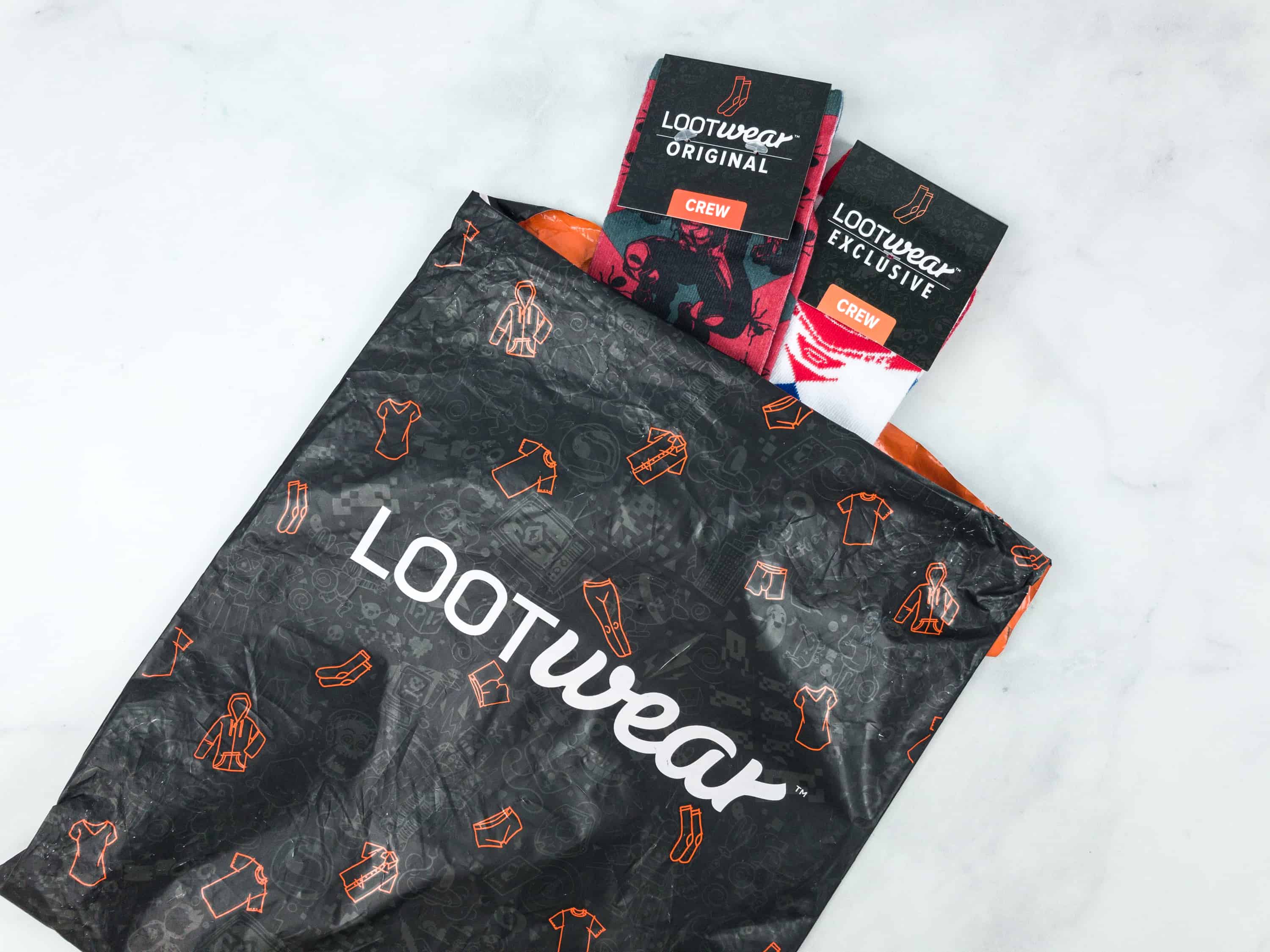 DEAL: Save 15% on Loot Wear subscriptions when you use this link and coupon code HELLOSUBSCRIPTION15. [Does not apply to Wizardry Wear] Get $3 off your first month with coupon code SAVE3. [Not valid on Undies]
TIP – check the theme monthly and skip for the month if you're not interested!
Now through 6/10 Get 30% off when you subscribe to Loot Crate subscription plans when you use coupon code RADGRAD30!
PLUS, save 20% on the following Loot Crate family subscriptions with code RADGRAD20! – DX, Gaming, Anime, and all Loot Wear subscriptions!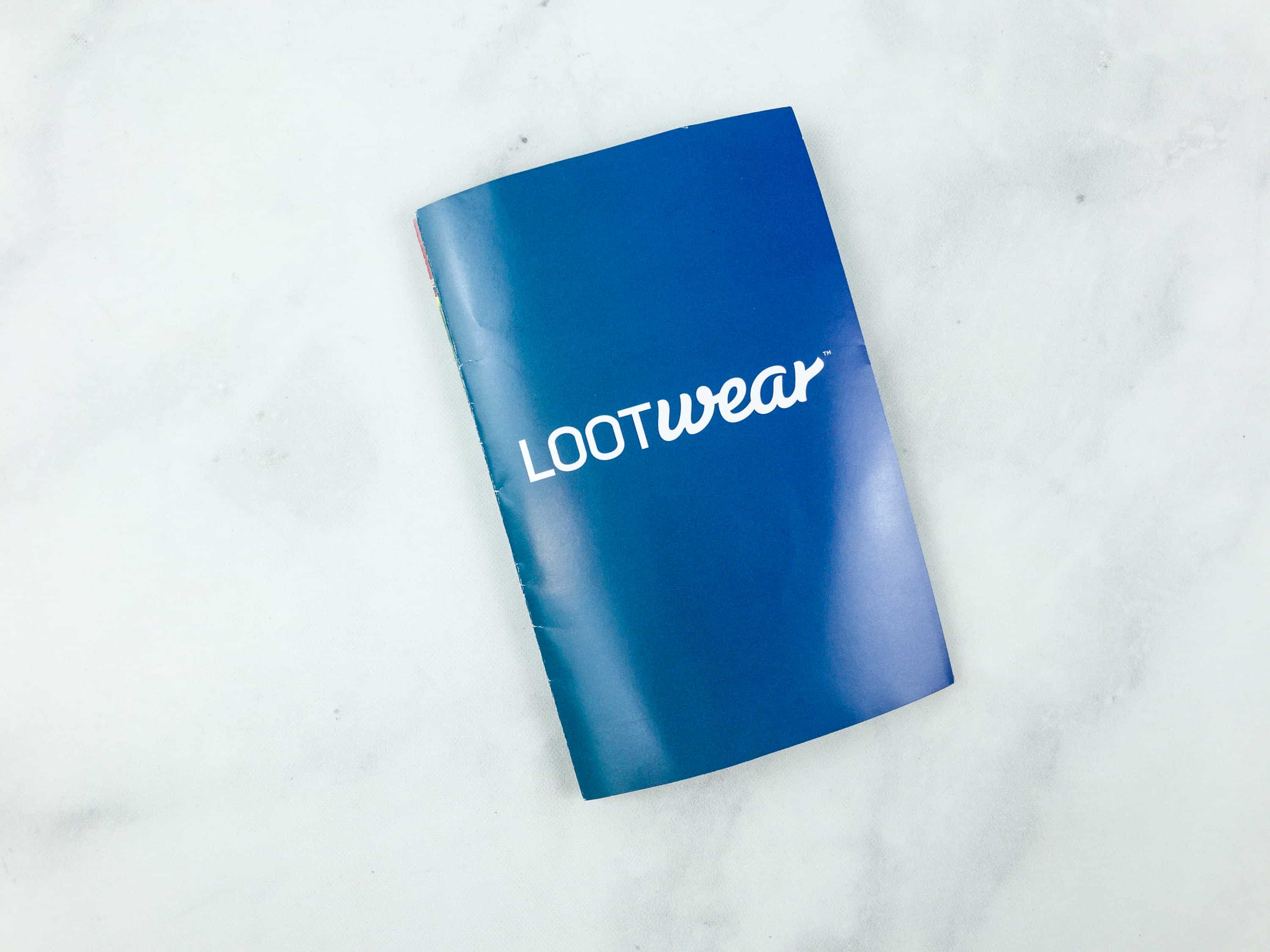 Included inside the box is an accordion pamphlet containing all the information you need for this month's Loots.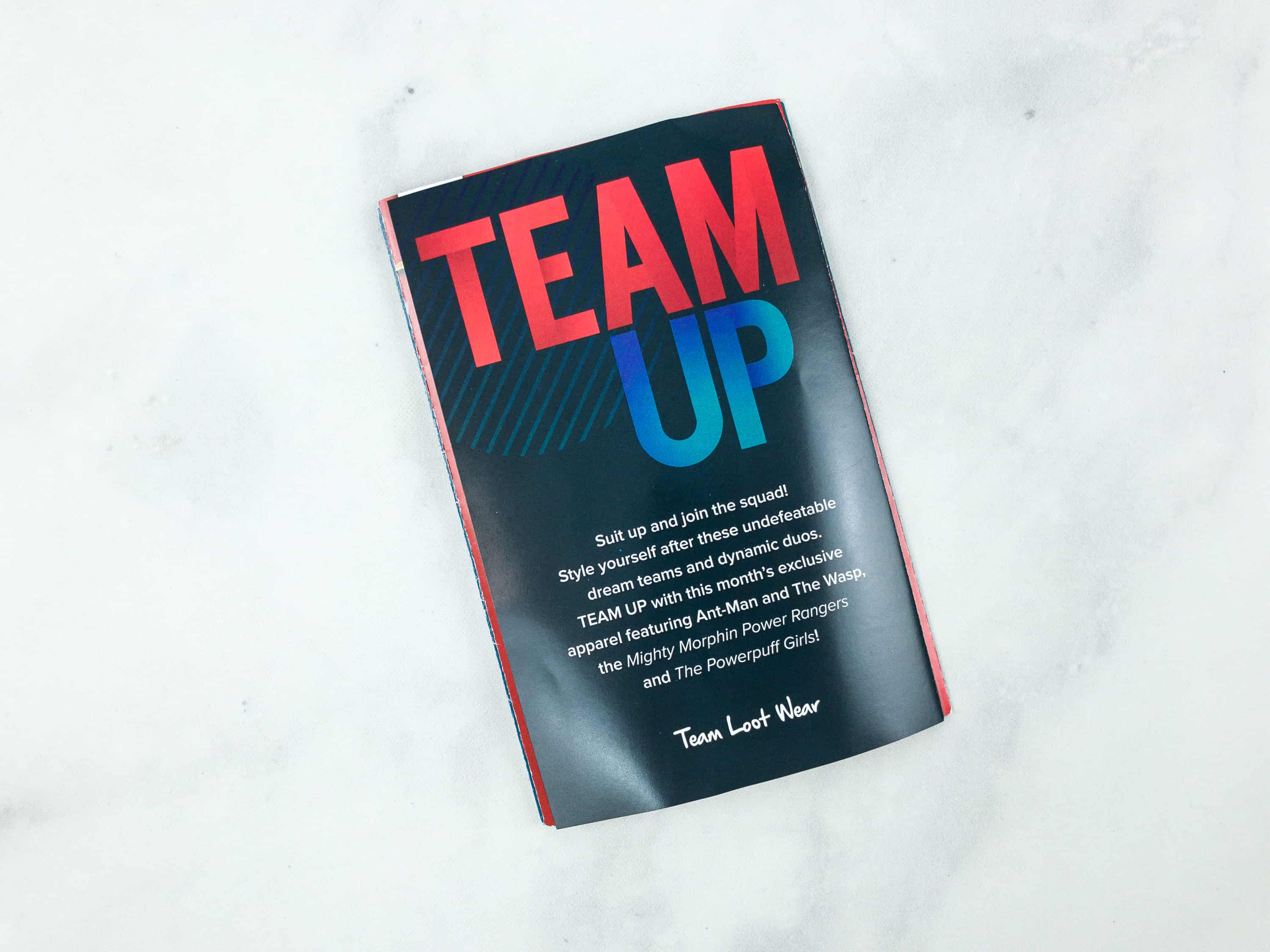 The July 2018 Loot Socks theme is TEAM UP!
Your Loot arrives in a poly envelope, and it includes a peek at all the Wearables available for the month. Usually, they have a group photo too.
This accordion pamphlet describes all the Wearables available this month.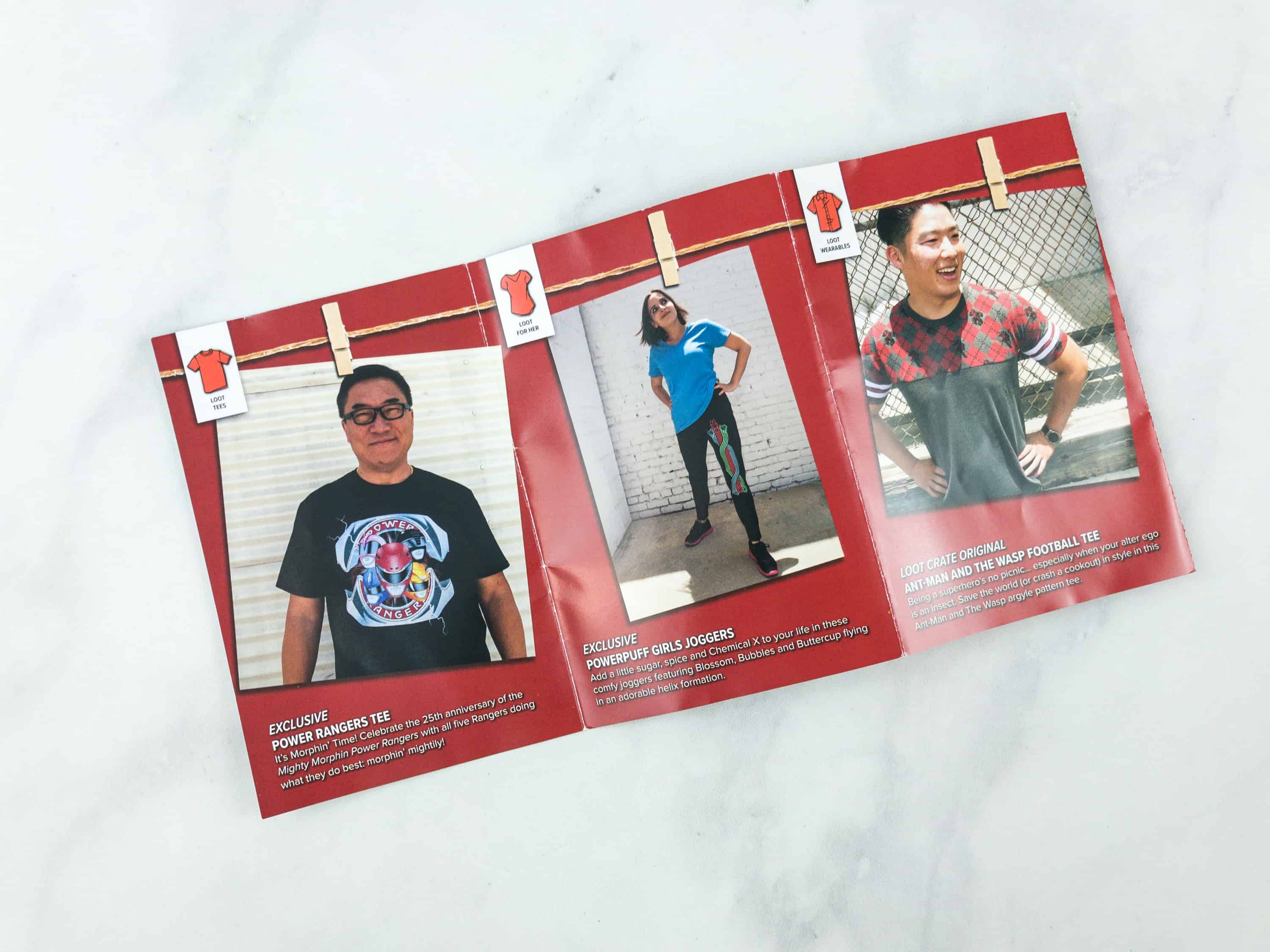 Month to month, the $9.99 price is great for 2 pairs of socks. It drops to $8.49 for both on a one year plan – and you can now skip months you're not interested in!
But what's more exciting about this crate is that most, if not all of the items are Loot Wear exclusives!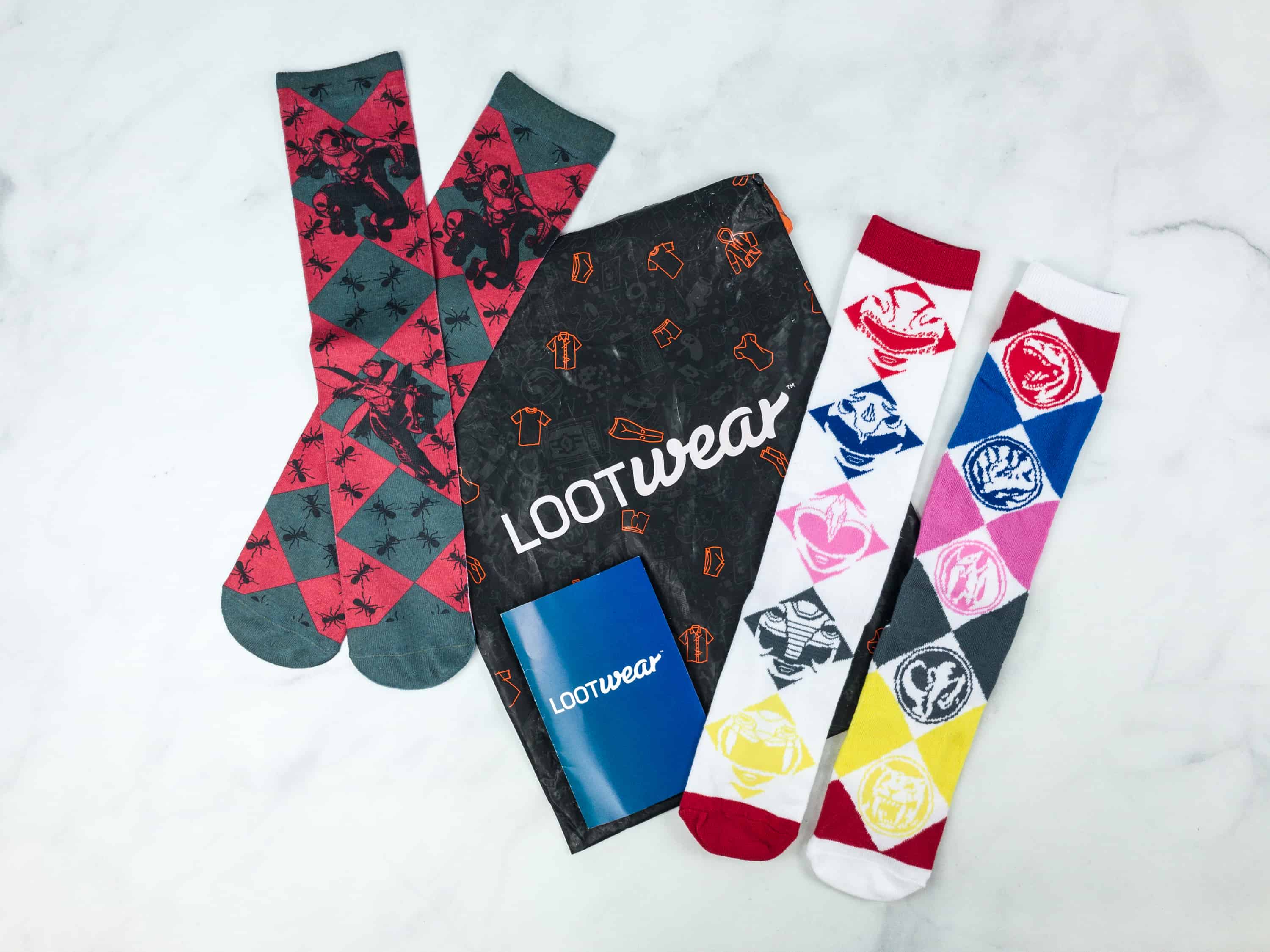 All the goodies for this month!
Loot Socks: EXCLUSIVE Power Rangers Socks and EXCLUSIVE Ant-Man and The Wasp Socks.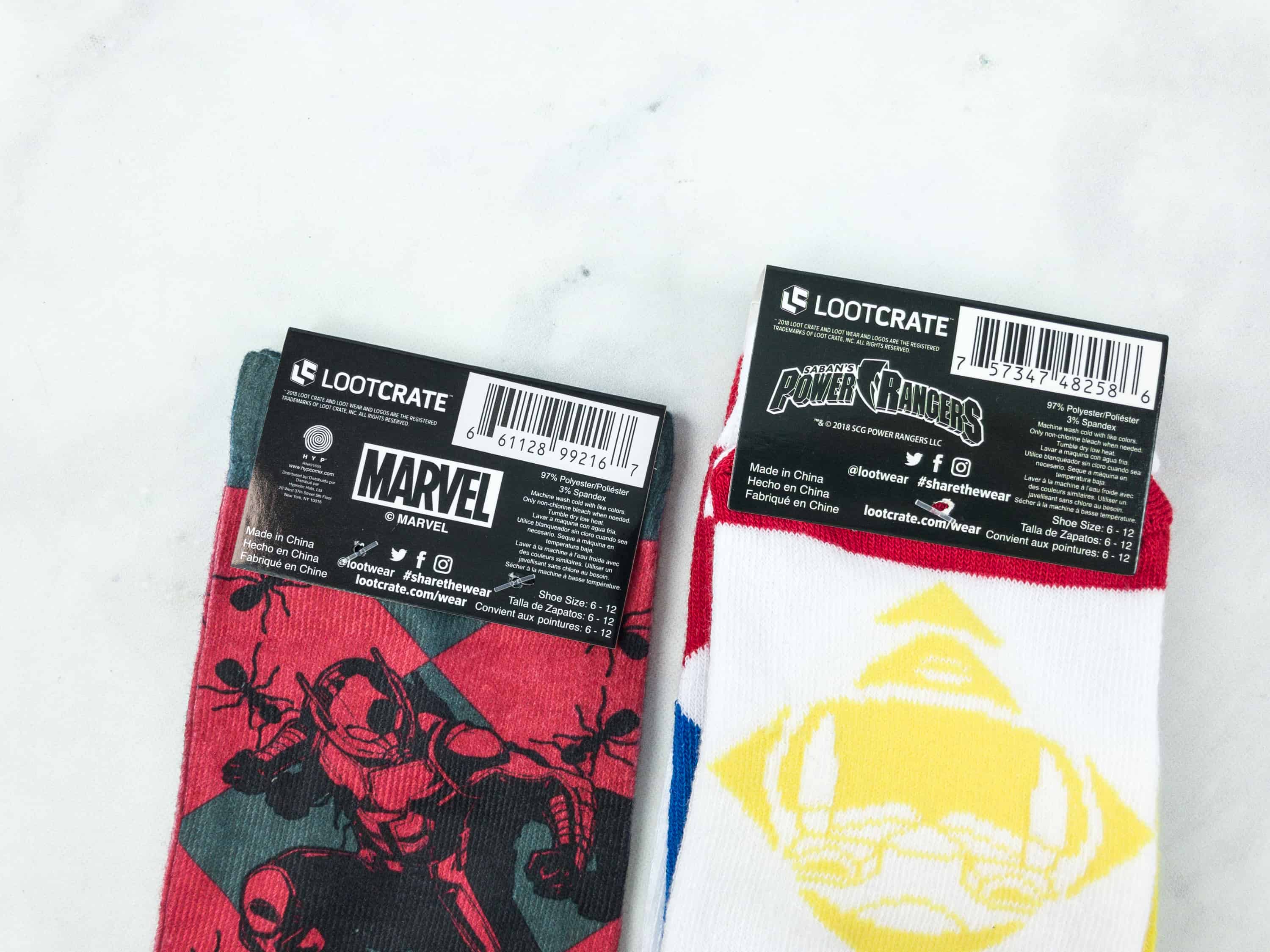 These action packed socks from Loot Crate are both made using highest quality materials. They're made of 97% polyester and 3% spandex.
Ant-Man & The Wasp Socks. The long wait is finally over! Ant-Man is back, and now he's teaming up with his super heroine sweetheart, The Wasp. These two superheroes are Marvel Comic characters created by Stan Lee.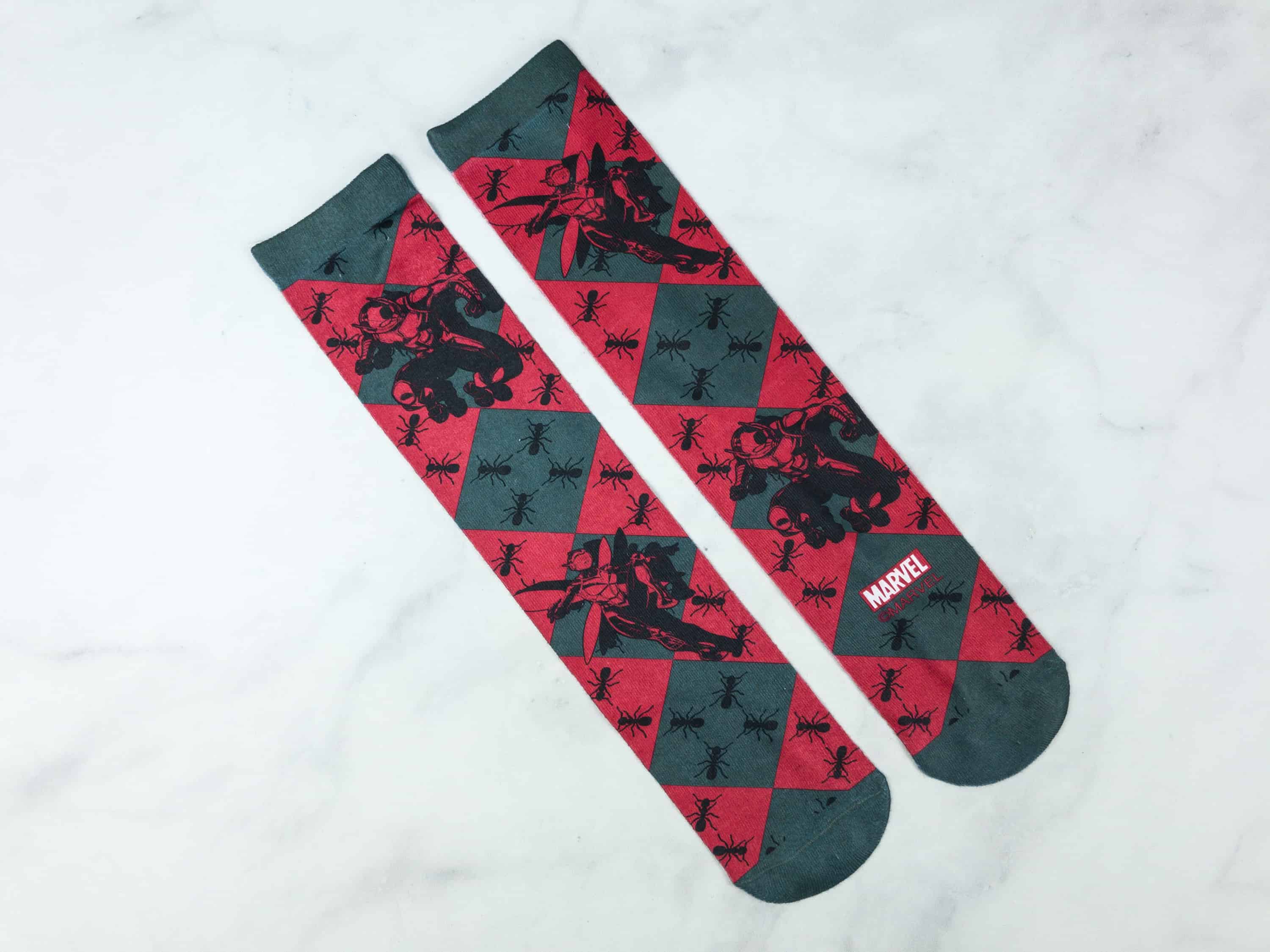 The first pair of socks features a red and grey pattern with Ant-Man and Wasp on their fighting poses. They're also surrounded by a lot of black ants.
On a closer look, the black ants look quite real and it seems like crawling all over your feet. Definitely eye-catching!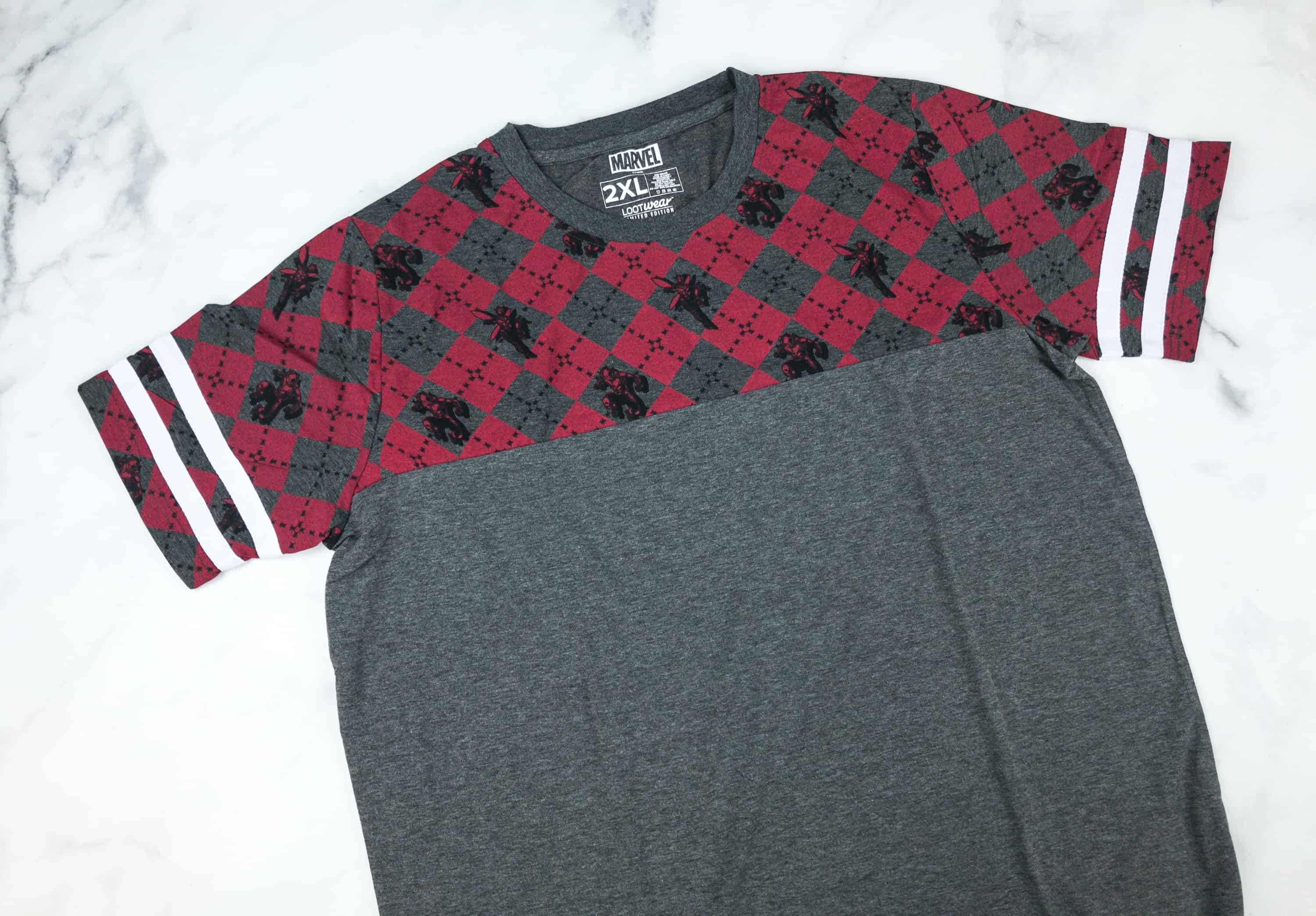 If you grabbed the Wearable for July as well you can dorkily match your socks to your shirt. #geekfun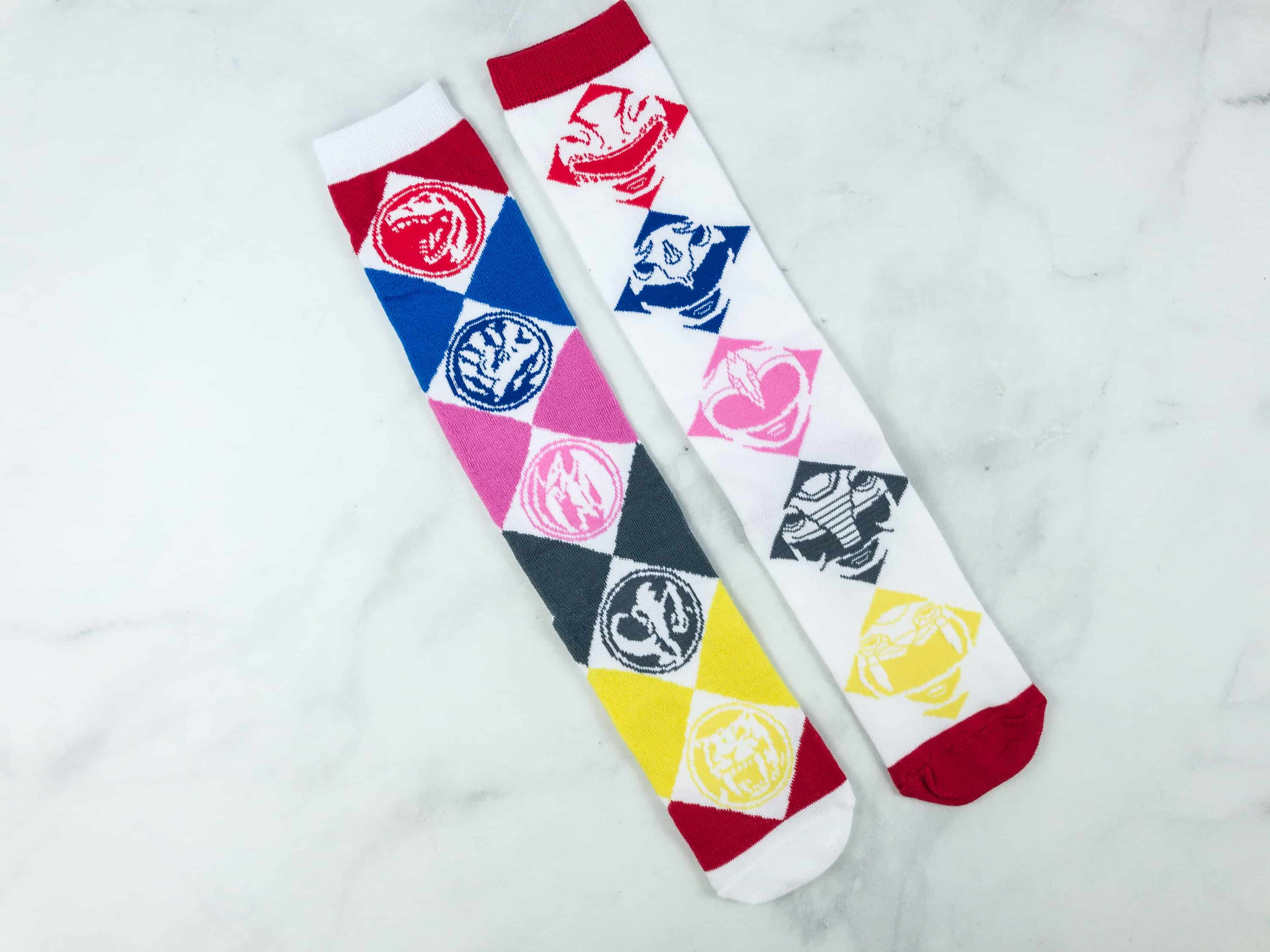 Power Rangers Socks. One of the oldest yet coolest superheroes ever created… Power Rangers! They consist of a group of American teenagers recruited by the great wizard Zordon. The heroes were given the power to morph into a powerful ranger to defeat evil enemies. Aside from Ranger transformation, they can also summon a strong animal robot called Zord to combine and form a stronger robot called Megazord! I'm really amazed I can still remember all those details, so nostalgic!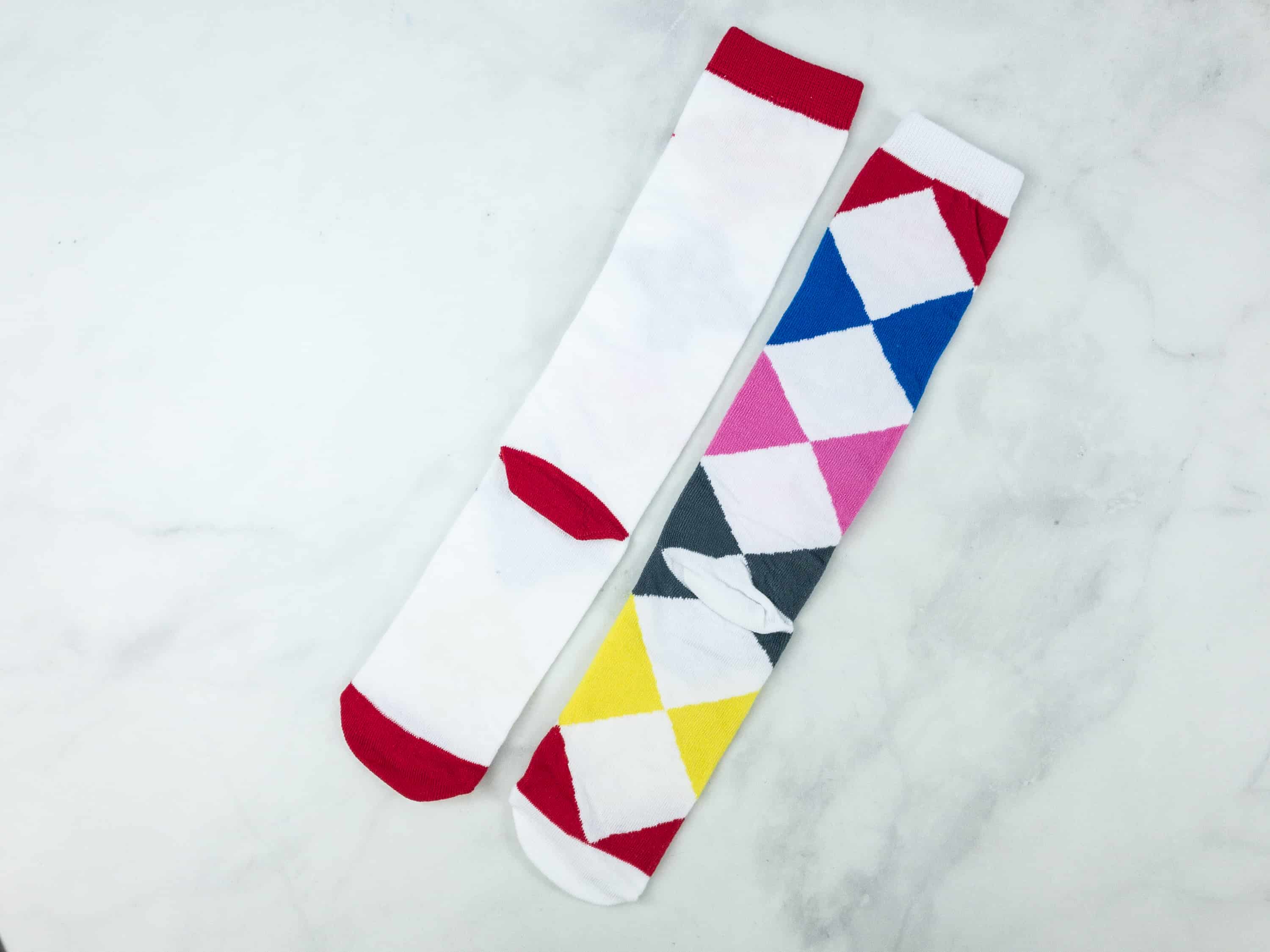 Each of the sock's design contrasts each other. One part of it is a plain white with red toes, heels, and cuffs, while the other shows the color of the five rangers.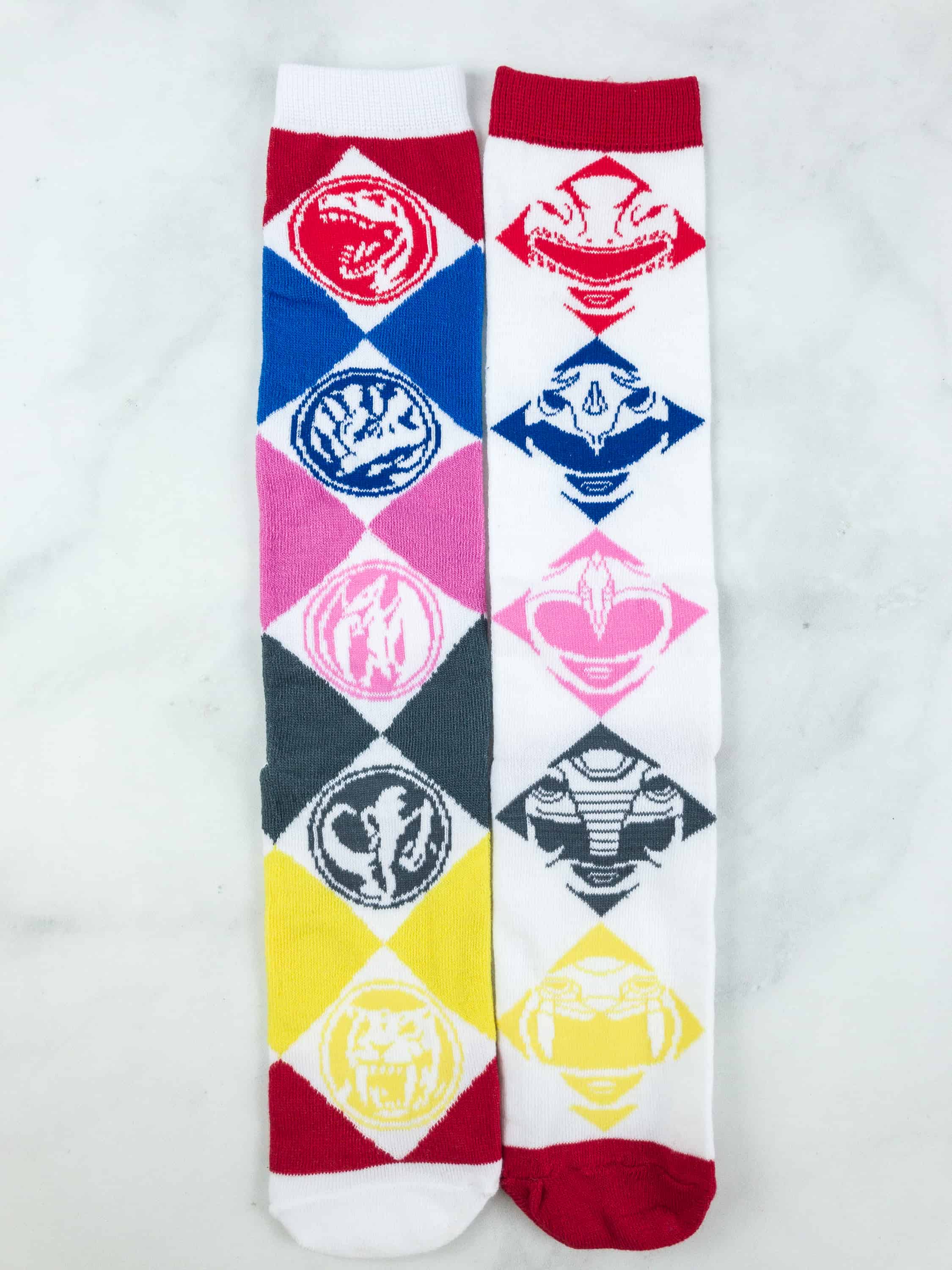 Featured on these socks are the five original rangers and their corresponding Zords: Red Ranger/Tyrannosaurus, Blue Ranger/Triceratops , Pink Ranger/Pterodactyl, Black Ranger/Mastodon, and Yellow Ranger/Sabertooth Tiger! And you can match these with your undies!
I find this month's Loot Socks fun and really creative. Both socks feature a supremely unique design that is so eye-catching. Aside from that, the socks are also soft and comfortable to wear. The inclusion of Ant-Man and Wasp was just in time for the movie, while the Power Ranger socks are definitely nostalgic. For less than $10 a month, receiving 2 geeky exclusive pair of socks is definitely a great deal! Most of all we thought this was hilarious that they matched the other subscriptions these month!
FYI, if you've been waiting for your JUNE socks, they've been delayed. I was happy to see that they didn't delay July as a result.
What did you think of Loot Socks this month?