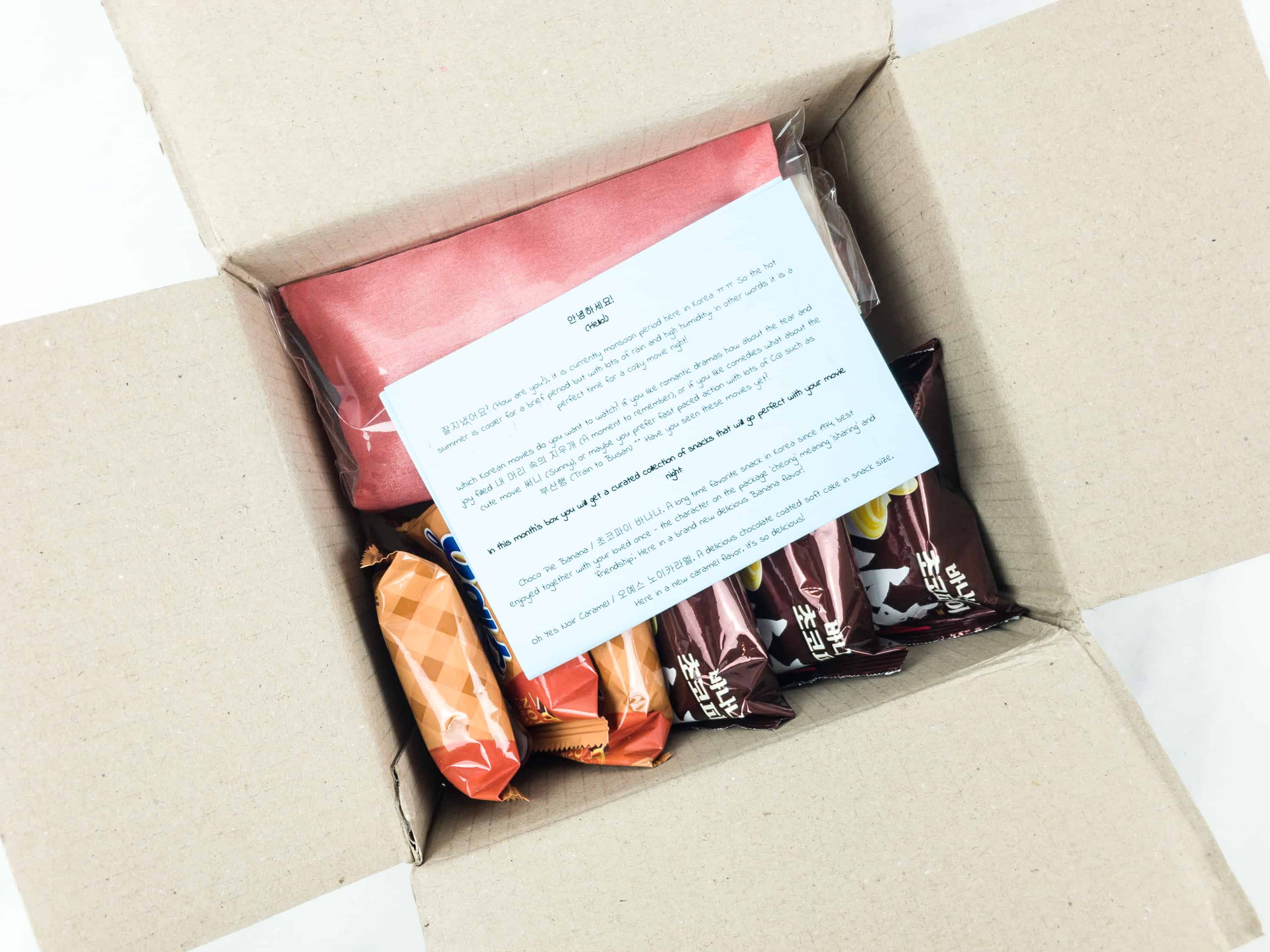 The Korean Snack Box is a monthly subscription box dedicated to premium Korean snacks. The subscription starts at $14.95 each month (Medium and Large boxes available), with free worldwide shipping. Each box comes in a beautiful Bokjumeoni (traditional Korean silk bag) with 5-10 or 10-15 items and tasters. You can now find the previous month box and earlier month's boxes in the Korean Snack box shop.
This is a review of the large $24.95 per month Korean Snack Box.
DEAL: Get $2 off your first subscription box with coupon code HELLOKOREA.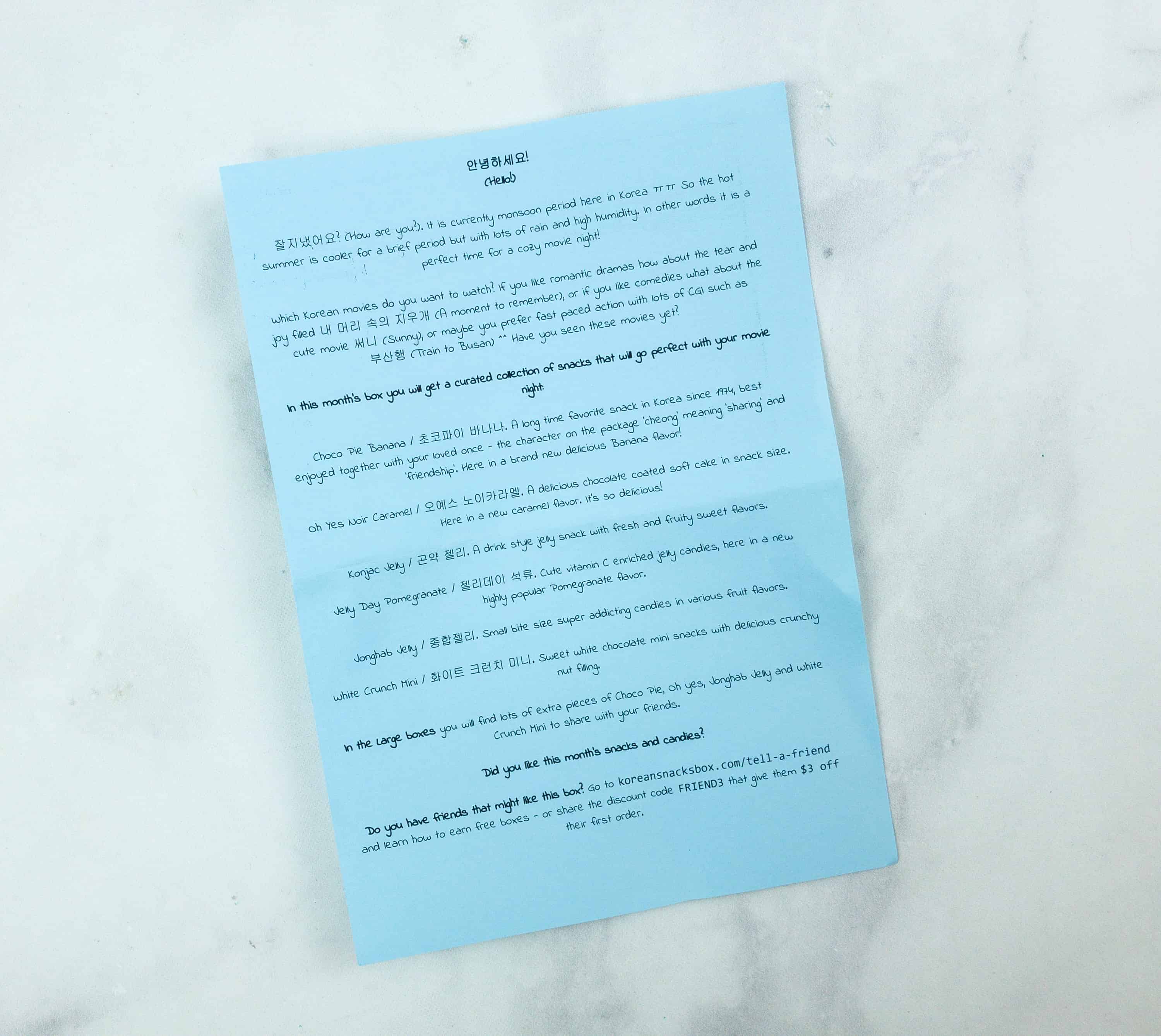 A note from the curators is included in the box.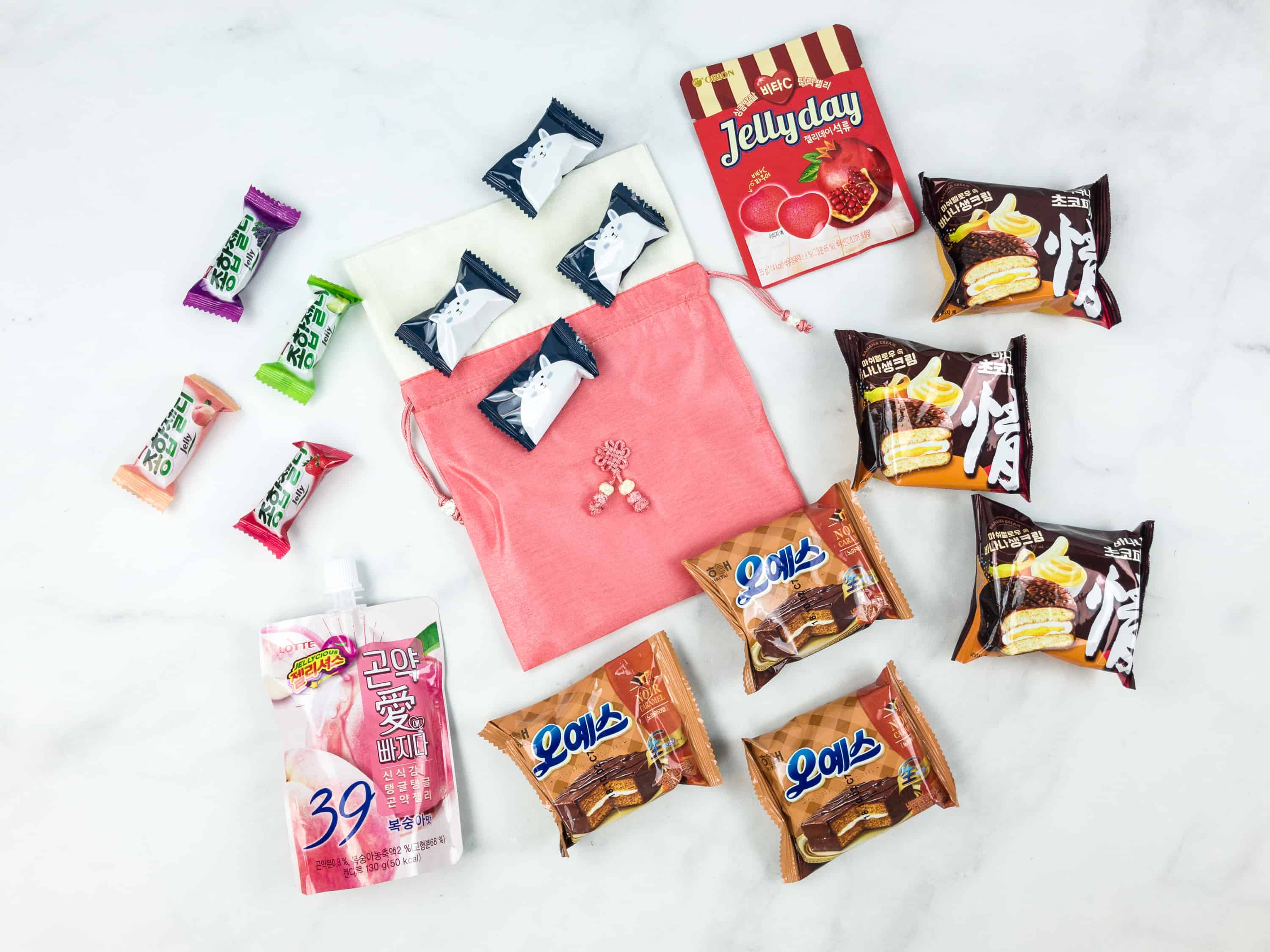 Everything in my box!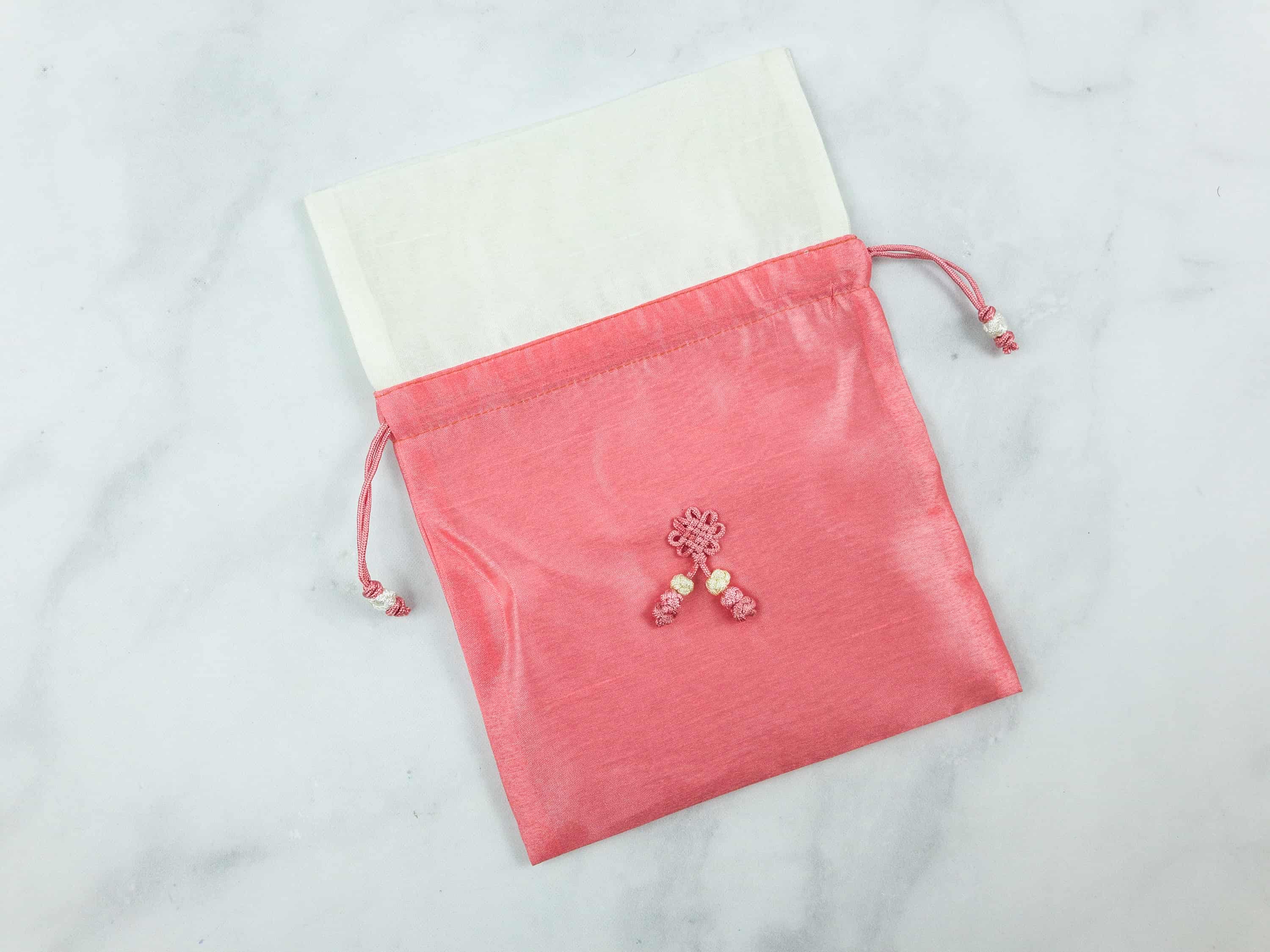 This month has a peach Bokjumeoni. It is also reusable as a purse, pouch, or even as a makeup bag!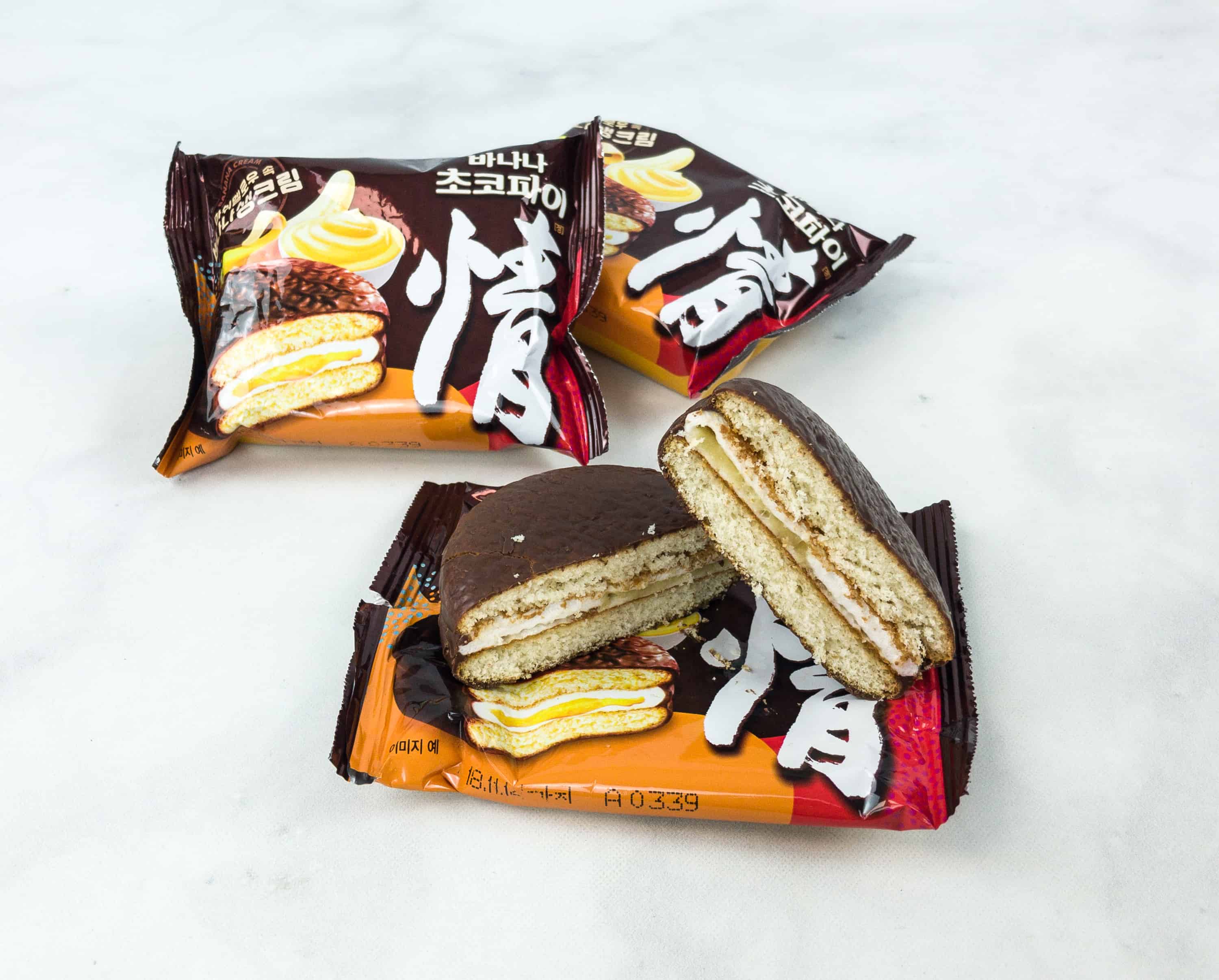 Choco Pie Banana / 초코파이 바나나. We can't get enough of these 3 individually wrapped chewy choco pies with a twist of banana flavor. This limited edition chocolate and banana combo is really yummy and sweet!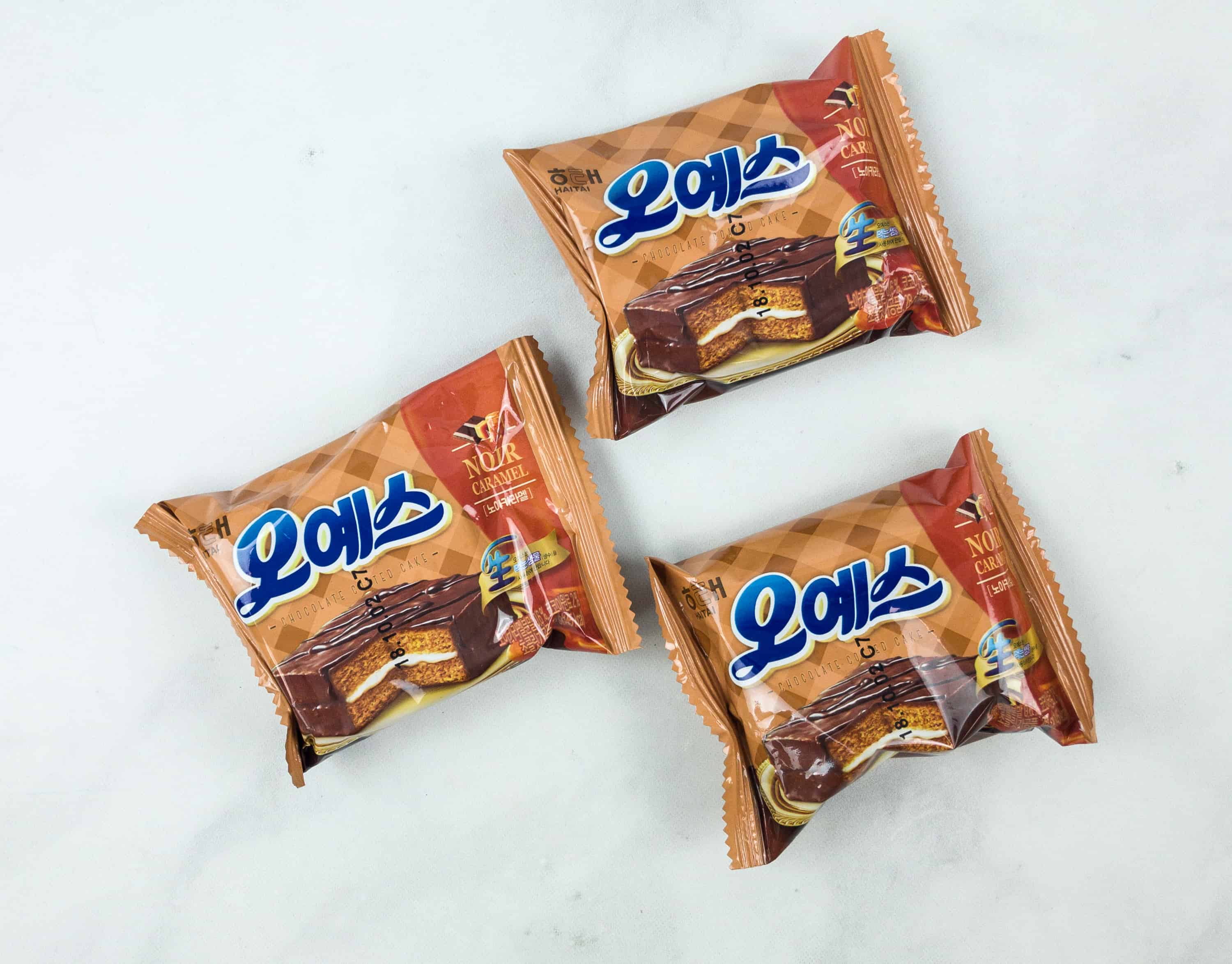 Oh Yes Noir Caramel / 오예스 노이카라멜. They sent us the plain chocolate flavor from Oh Yes in the past boxes and now I'm happy they sent us the caramel flavor! As usual, the chocolate is generously coated and drizzled on top, while the filling is a balanced sweetness of caramel goodness. We loved the dark rich flavors of this cake!
Konjac Jelly / 곤약 젤리. The packaging makes it more fun because you can drink and squeeze the chewy and tasty konjac jellies out of the pack directly into your mouth to get the maximum flavor.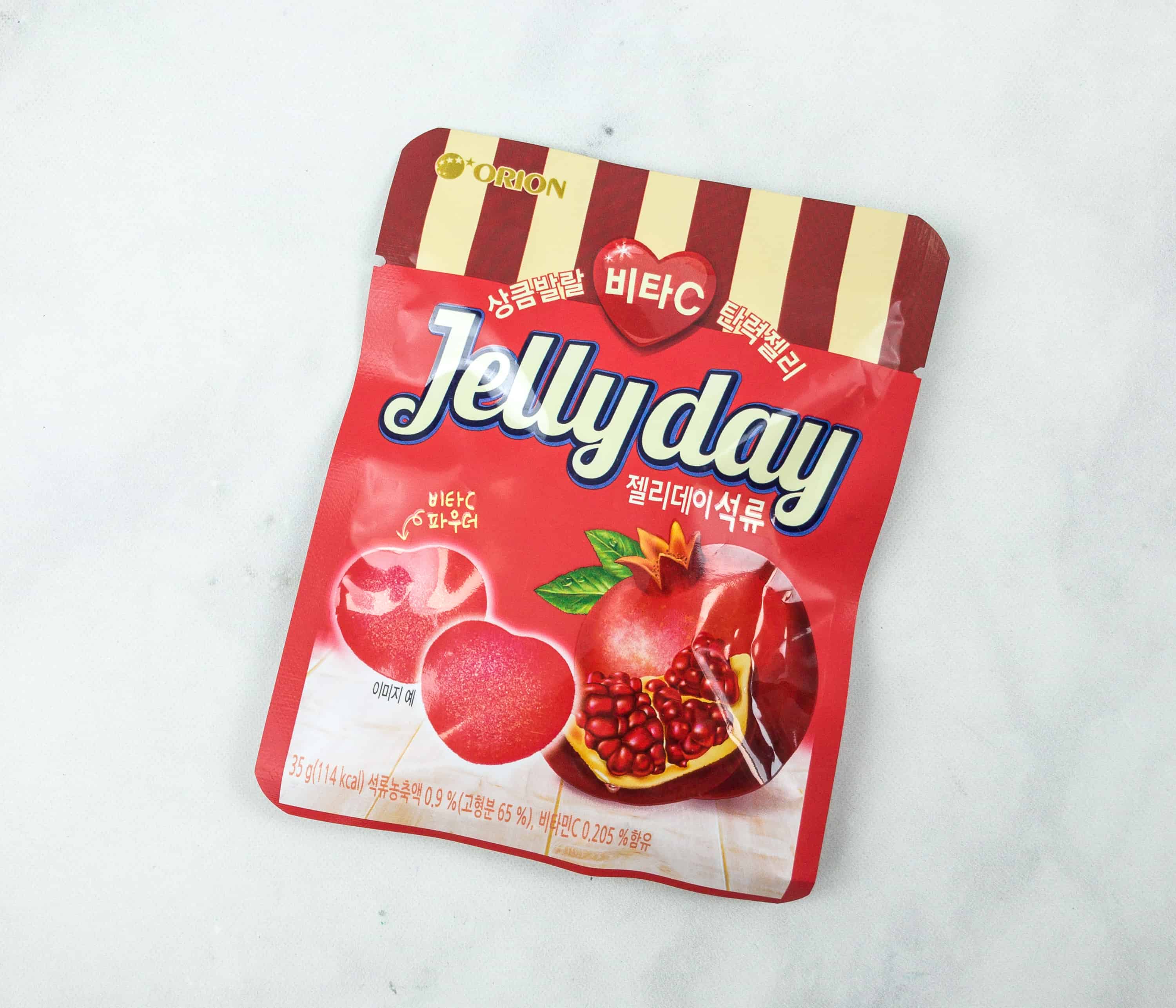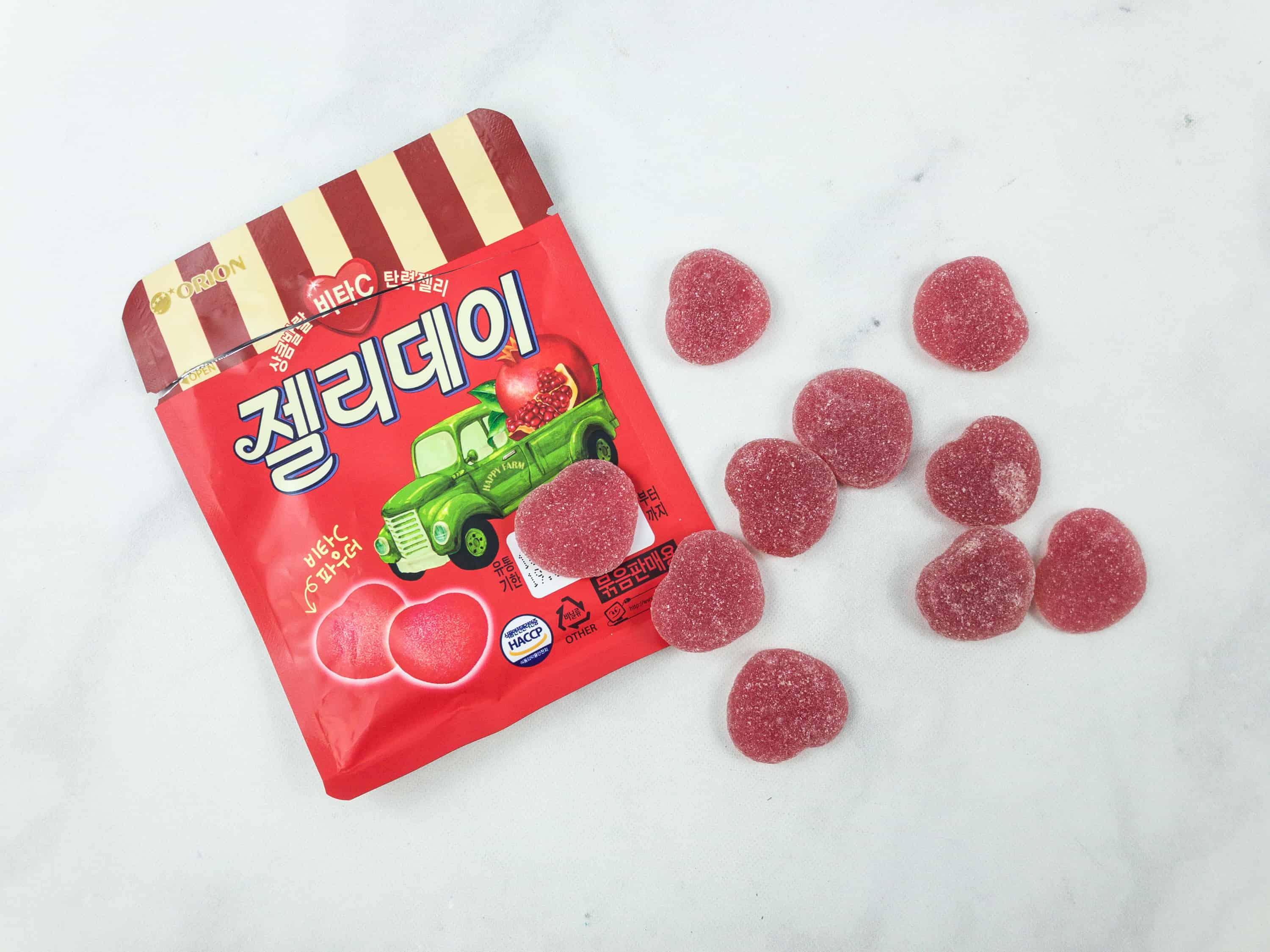 Jelly Day Pomegranate. These are fruity chewy candies made with pomegranate. The taste is fresh and natural. It's great to share with the kids too.
Jonghab Jelly / 종합젤리. I love that they sent multiple flavors of this candy. We have lime, peach, strawberry, and grapes. All glazed to have a balanced and chewy natural fruit taste.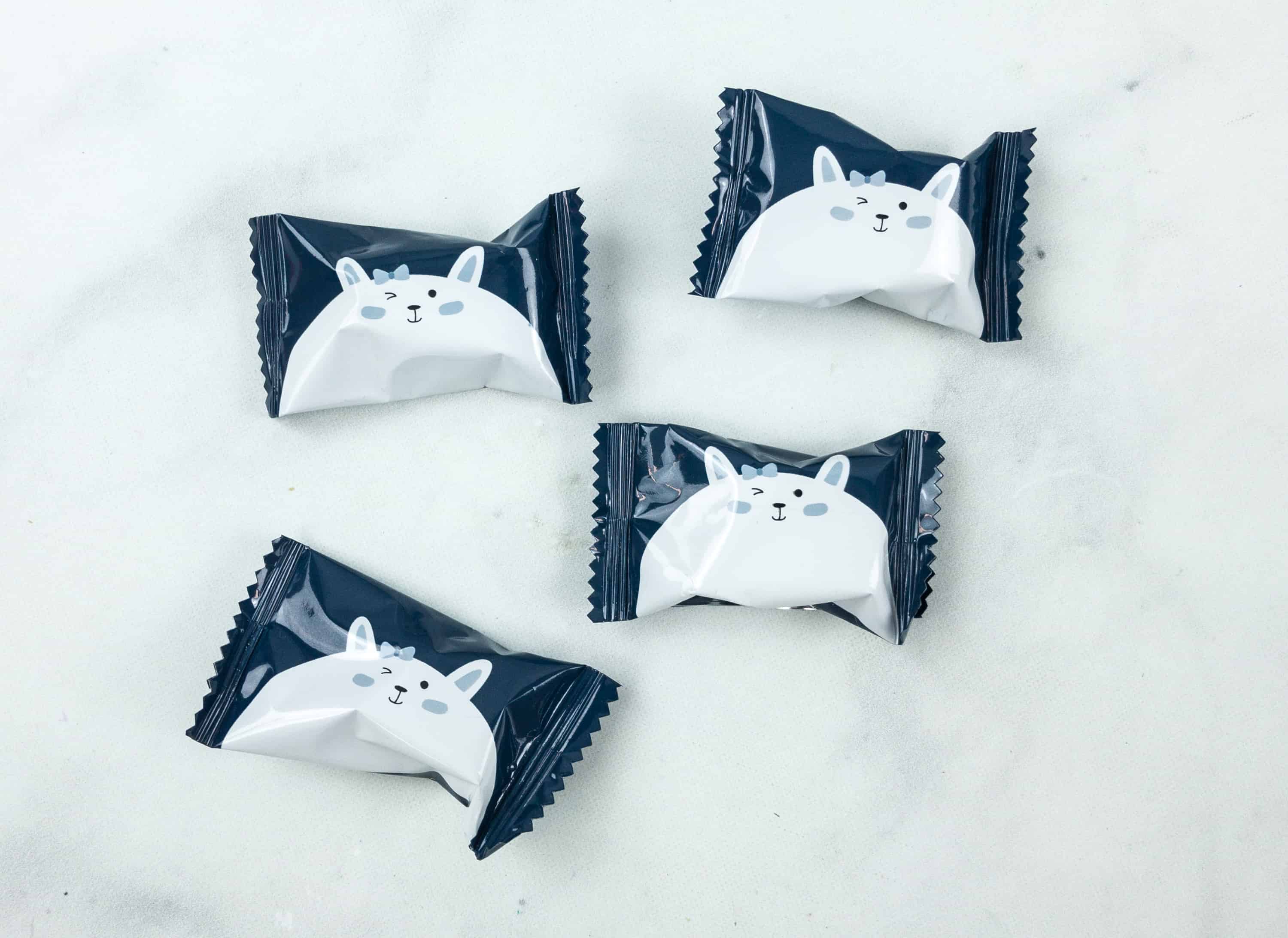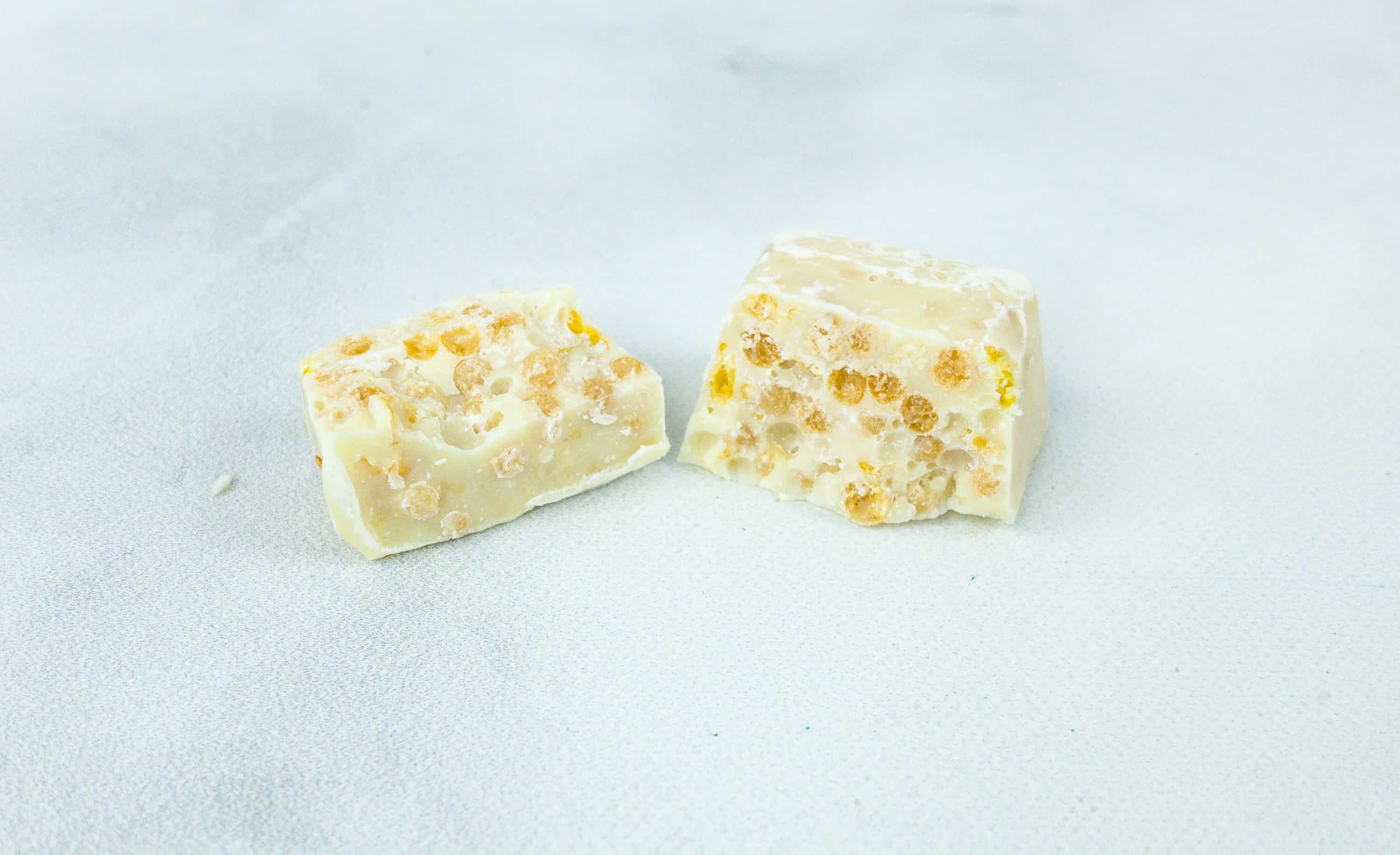 White Crunch Mini / 화이트 크런치 미니. These mini bars definitely pop in your mouth as it is a super crunchy treat. The white chocolate and filling combo makes me munch on them nonstop. It says nut but it tastes like toasted rice.
There were a lot of chewy snacks this month, but the white mini crunch and the konjac jelly certainly stood out for me. But don't get me wrong, all of them are equally tasty and flavorful. I'm happy that they sent us all new snacks (or snacks from the same brand but with a different flavor). You know, nothing beats on tasting a snack for the first time especially when you get to share it with friends and family. It's like we are enjoying and bonding over our next snack addiction at the same time.
What do you think of Korean Snack Box?