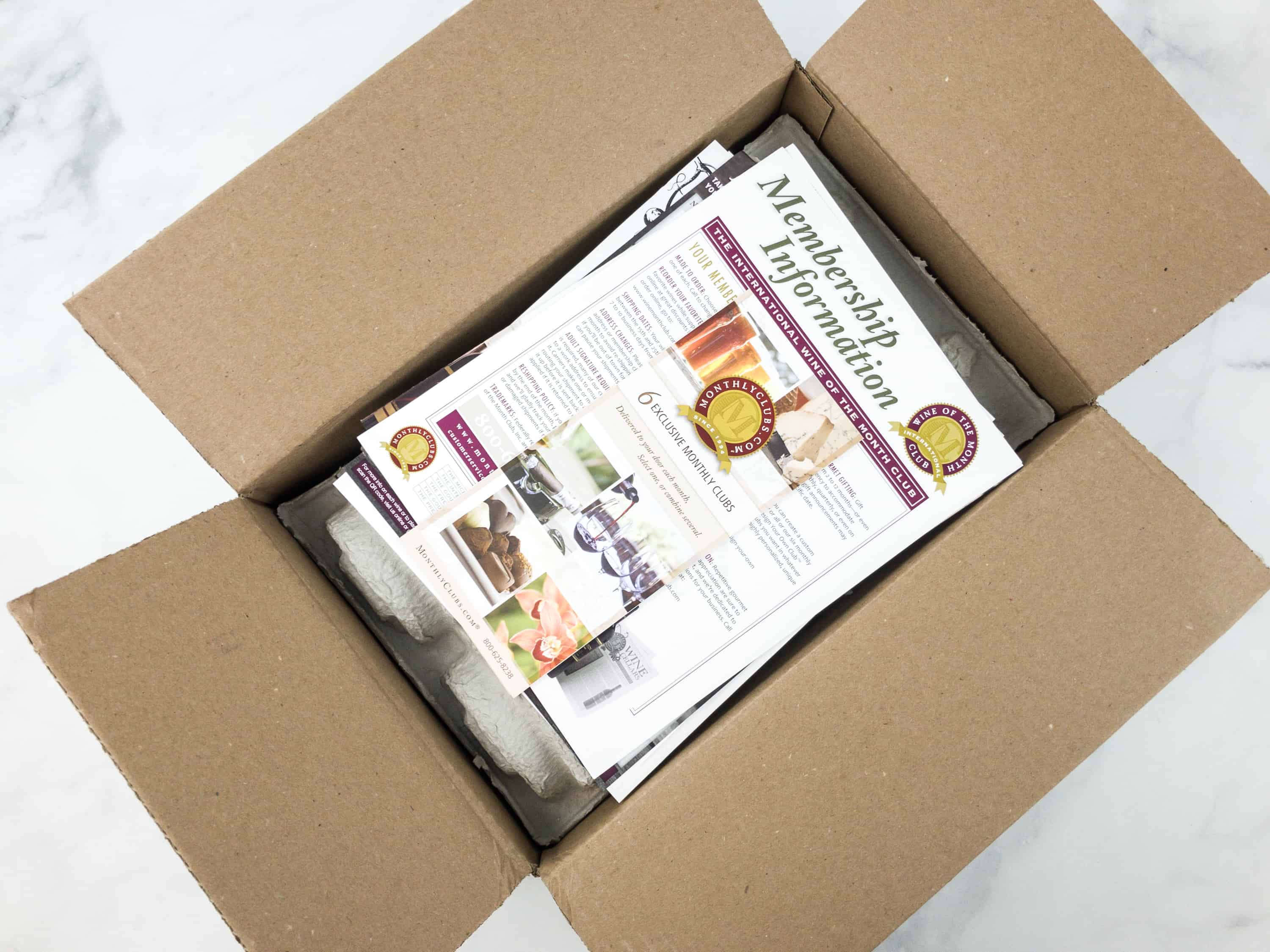 The International Wine of the Month Club sends two wines each month, either two reds, two whites or one of each. Each estate-bottled, limited-production wine selected for shipment is chosen by a large panel of tasters, including both experts and lay wine enthusiasts, to ensure that each bottle will be a crowd pleaser.
When you sign up, you have a choice of three levels of wine: Premier Series, Masters Series or Collectors Series. The Premier Series is the basic limited-production, estate-bottled offering. The Collectors Series is the most expensive, most exclusive offering. The Masters Series ships one bottle from the Premier Series and one bottle from the Collectors Series each month.
The wines included in this review were from the Collectors Series.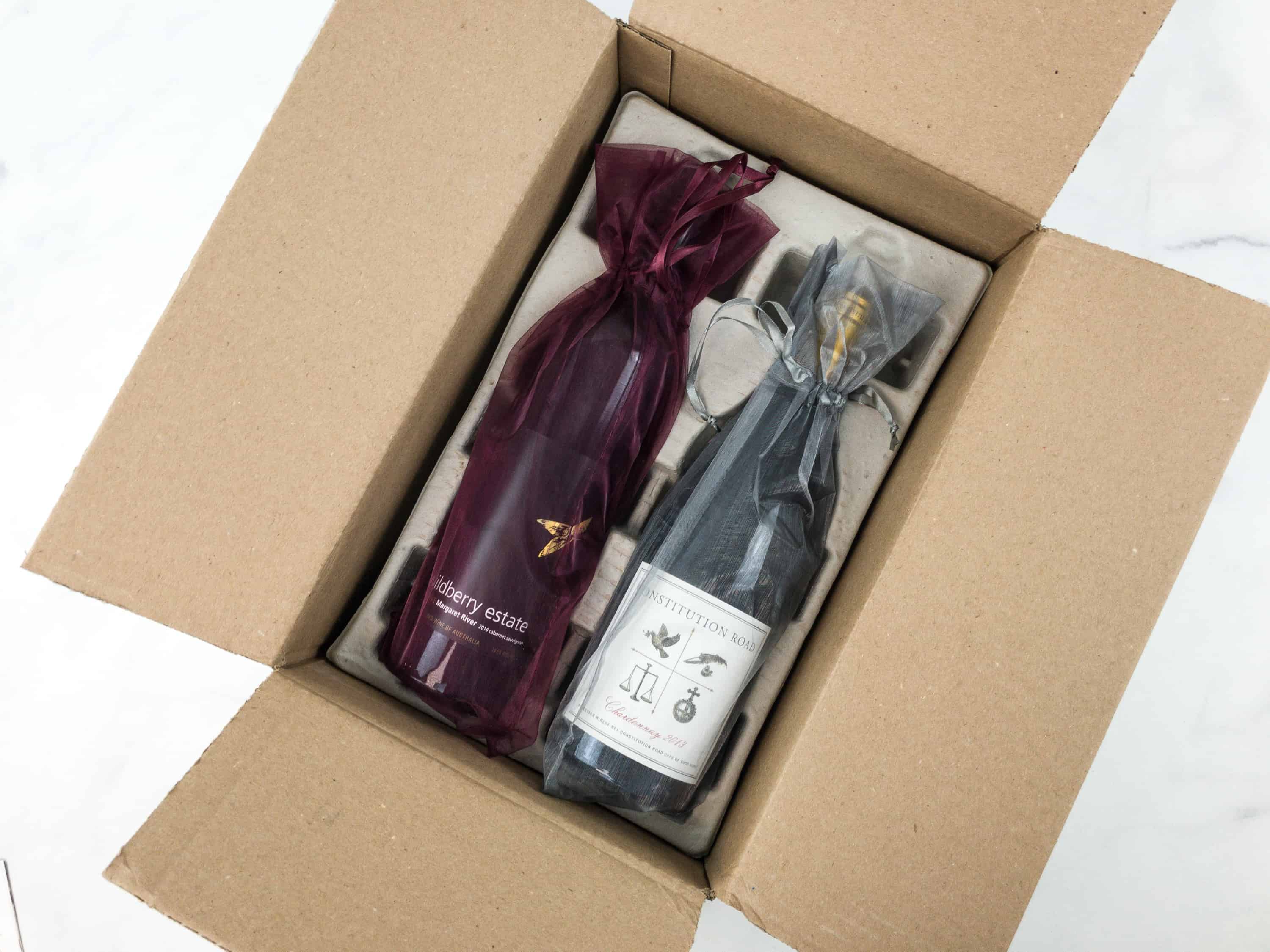 Your first shipment will include not only your wine and cellar notes, but also various welcome letters that explain what the club is and how it works.
DEAL: Save $25 on your first 12 shipment order with coupon code SAVE25. You also save $15 on your first 6 shipment order with coupon code SAVE15, and save $10 on your first 4 shipment order when you use coupon code SAVE10.
After traveling around the world and scouting out the best wines available, Don Lahey submits his favorite wines to a two-tiered tasting panel for review. After consulting these panels of experts and laypeople alike, the best-loved wines get included in the club and shipped to people's homes.
For those who really enjoyed the wines and would like to purchase more, the International Wine of the Month Club makes it especially easy to order more at a discount (or other wines, for that matter!). Additional discounts are available for those who order in bulk.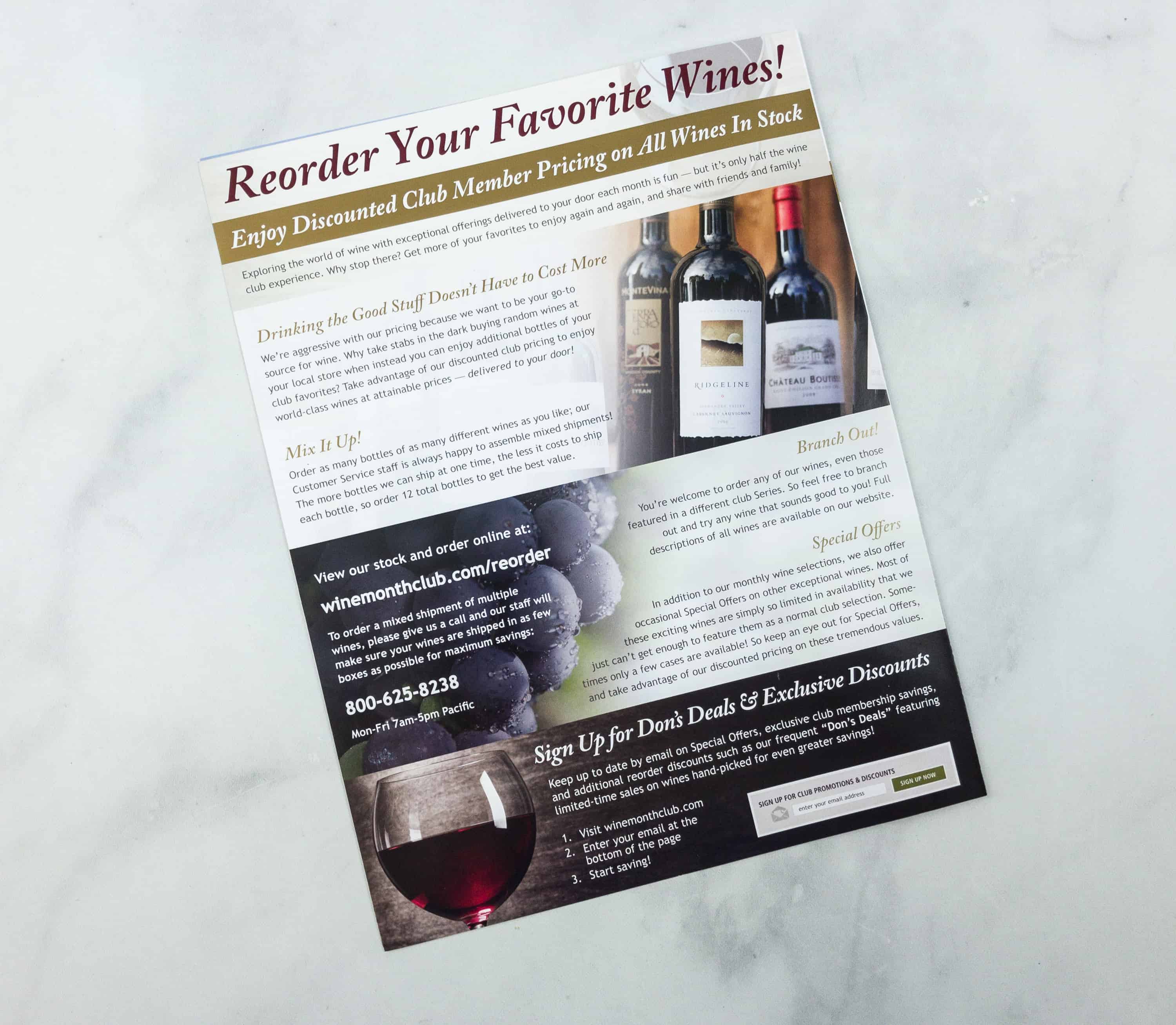 This flyer includes additional information about the subscription, as well as details on how to reorder your favorite wine and get a discounted price on all wine stocks.
Another information sheet is all about your membership information, while a brochure explains the Monthly Clubs family of subscriptions. I especially love how the International Wine of the Month Club is affiliated with other clubs. As such, you can easily switch your monthly subscription between wine, cheese, flowers, chocolate, beer, and cigar subscriptions. Wine for your birthday, chocolates for Valentine's Day and flowers for Easter are all doable with this one subscription. How cool!
If you're into beers rather than wine, they also have a Microbrewed Beer of the Month Club. You can choose domestic, international, mixed, hop-centric, or rare subscriptions within that club.
They also offer six different clubs like wine, cheese, flowers, chocolate, beer, and cigar.
You can even mix them for a custom Design Your Own Club!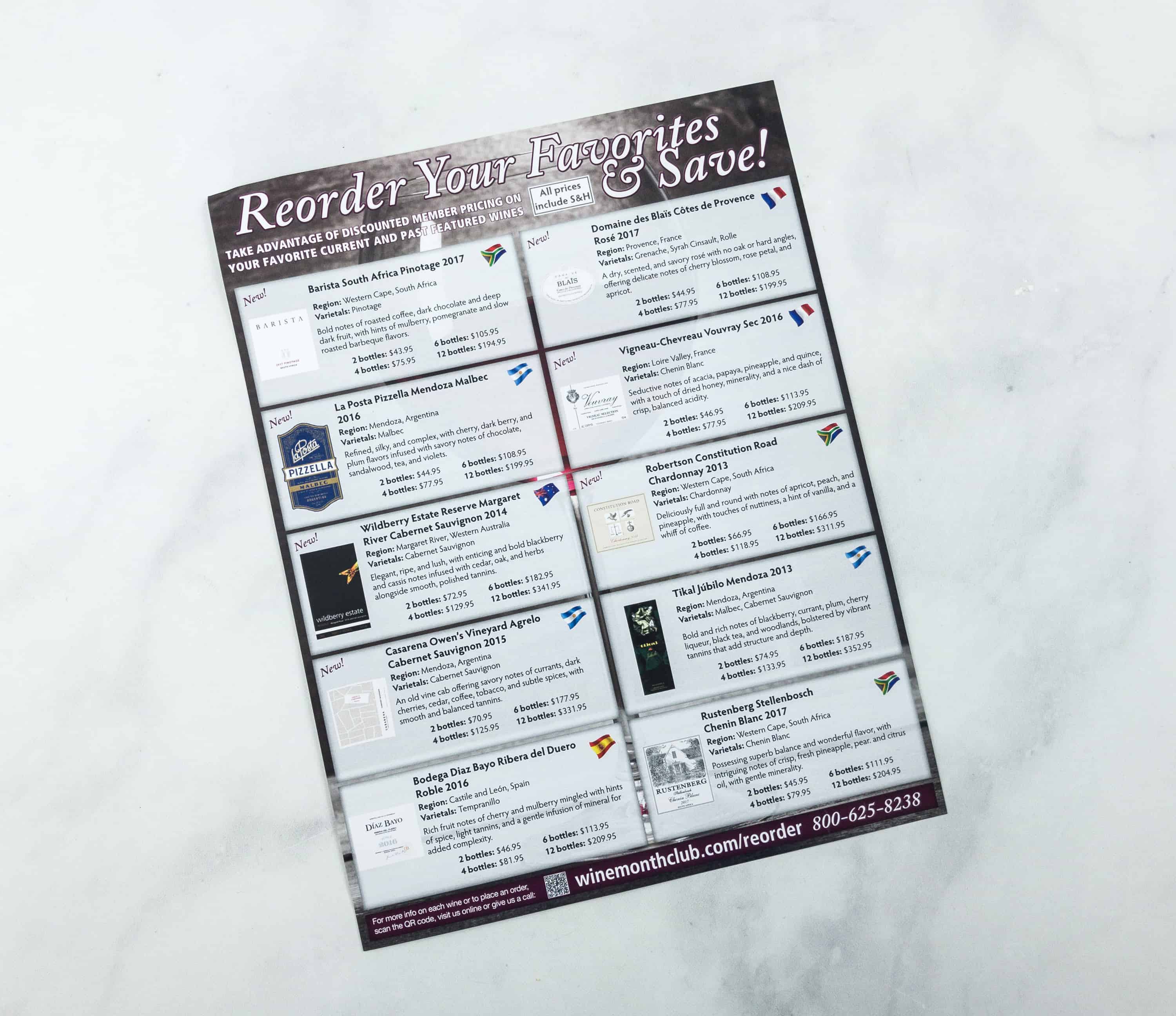 They also have a roster of their top wines with exclusive discounted prices for the club members only.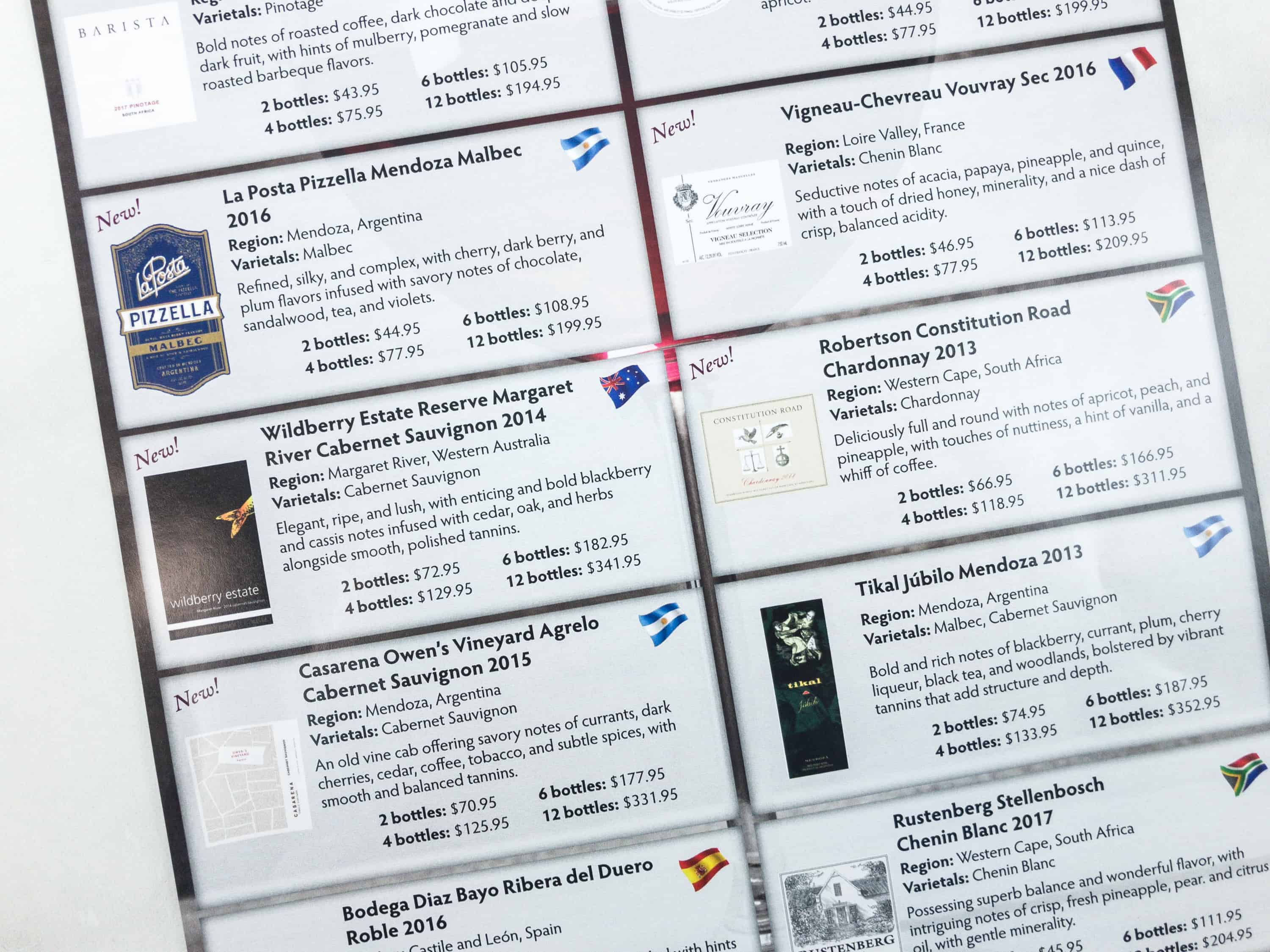 They offer a much bigger discount for members who purchase in bulk.
The box includes an information sheet stating the details of each wine, how they are made and the story behind it. It also states the notes on its characteristics and proper serving temp and vessel. Pairings are suggested, as well as notes on aging potential and expected changes, too, since the Club chooses wines that are generally great for cellaring.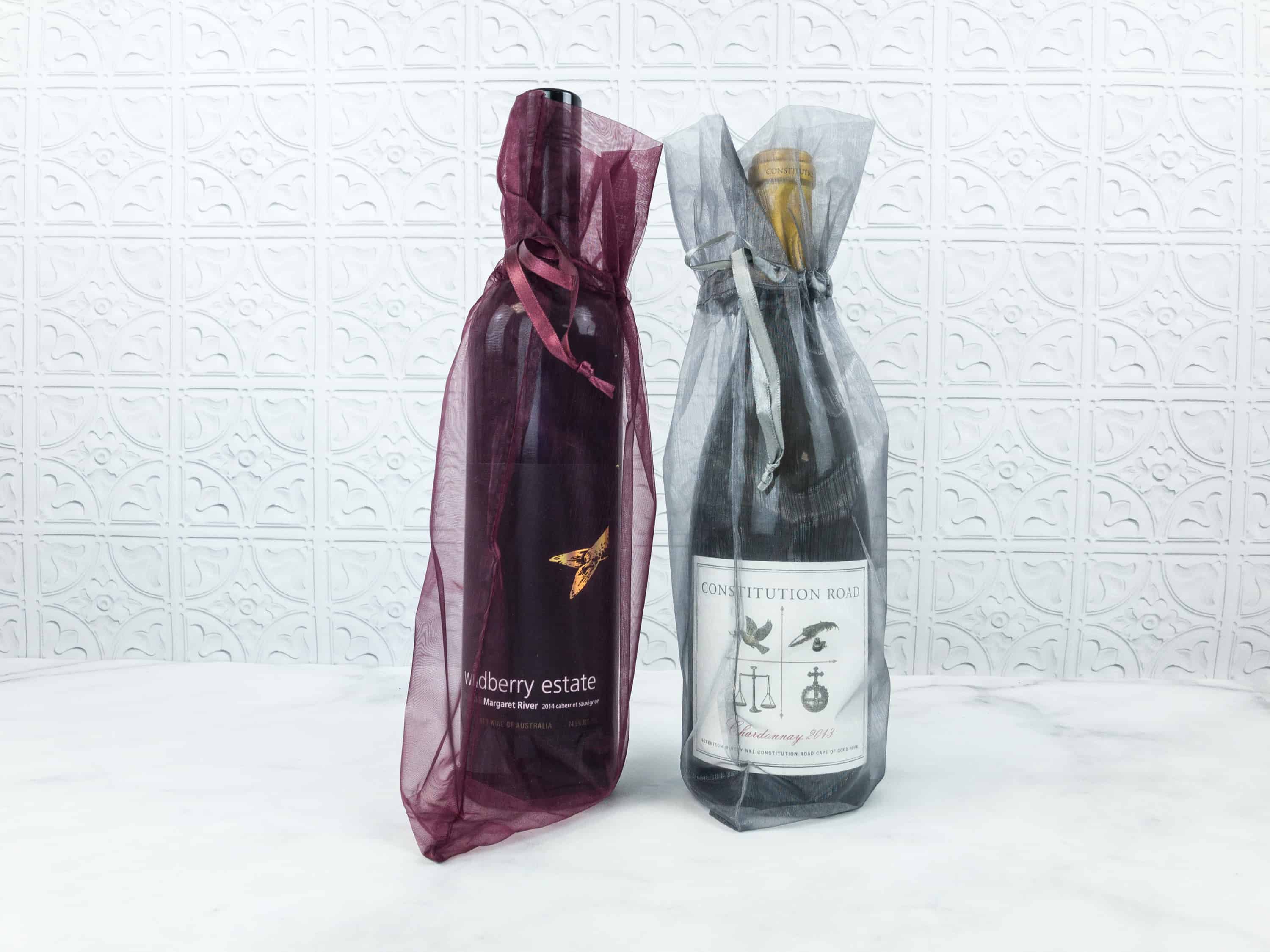 We received two wines this month and they arrived with individual organza wine bags.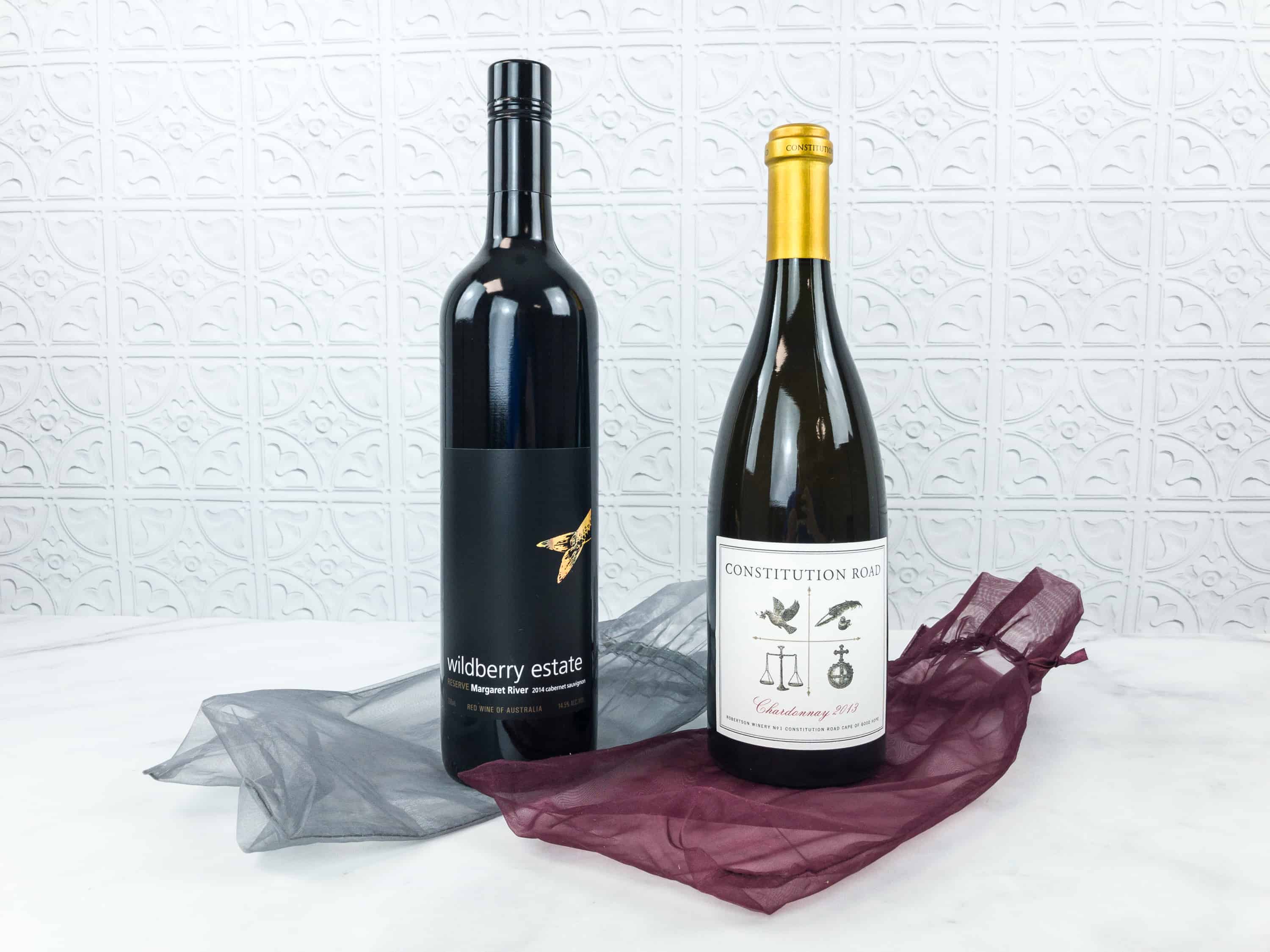 There are also comprehensive tasting notes, including recipes for suggested food pairings. Each set of cellar notes provided a nice introduction to both the winery and the appellation where the grapes were grown (as all bottles in the club are estate grown and bottled, this is usually the location of the estate).
Our two great wines in this month's box!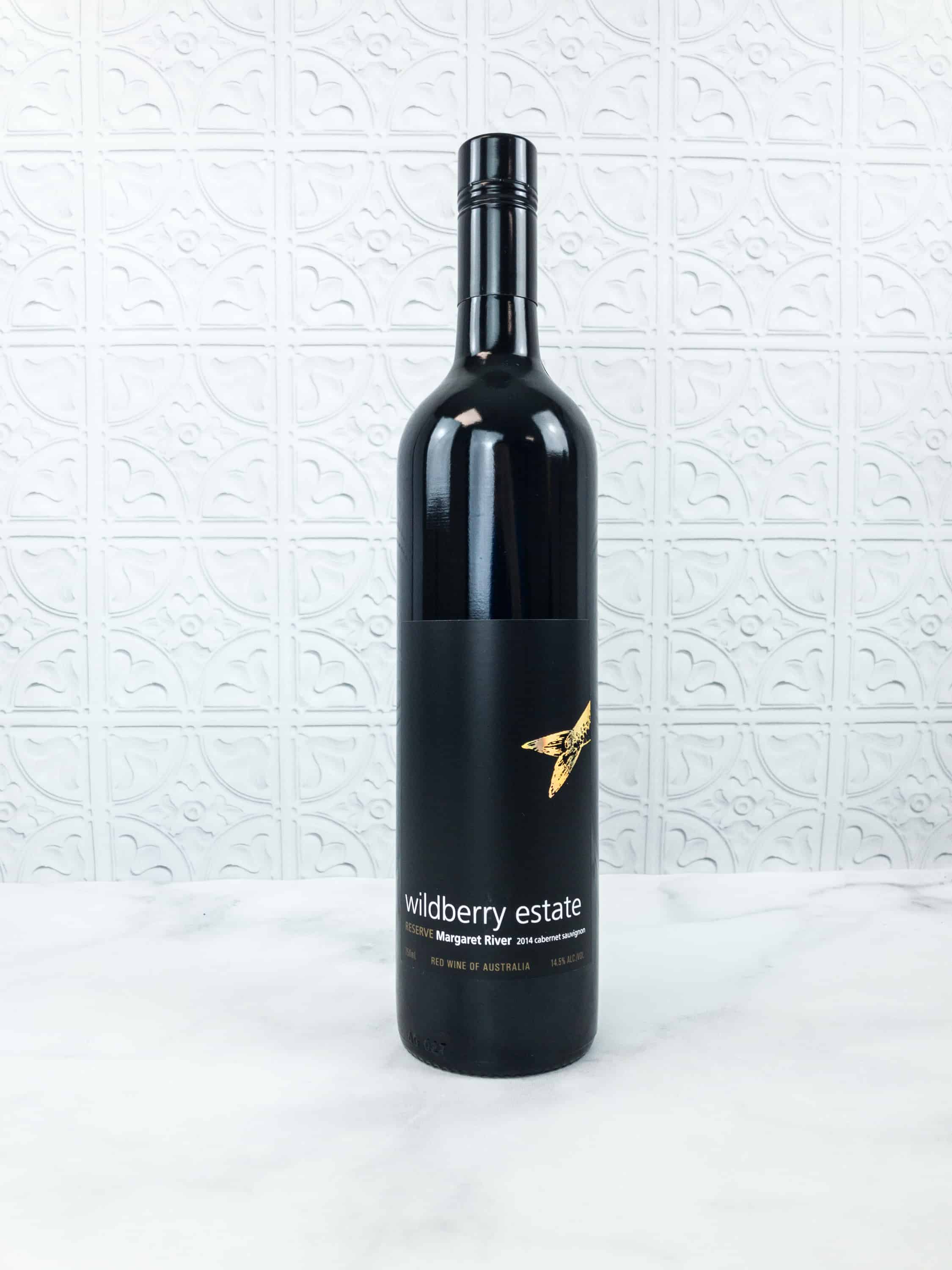 Wildberry Estate 2014 Cabernet Sauvignon. This Australian wine offers up a dense aroma of mulberry, cassis, and cedar. It also features a very rich and powerful taste of redcurrant and dark chocolate, with a soft tannin and long and precise development through the palate.
This wine is made using traditional techniques like open fermenting and French Oak barrels for aging. This winery takes pride in its "tannin management," rending a wine that is enjoyable without extensive aging.
According to the pamphlet, the wine is best paired with comfort food like beef and lamb dishes.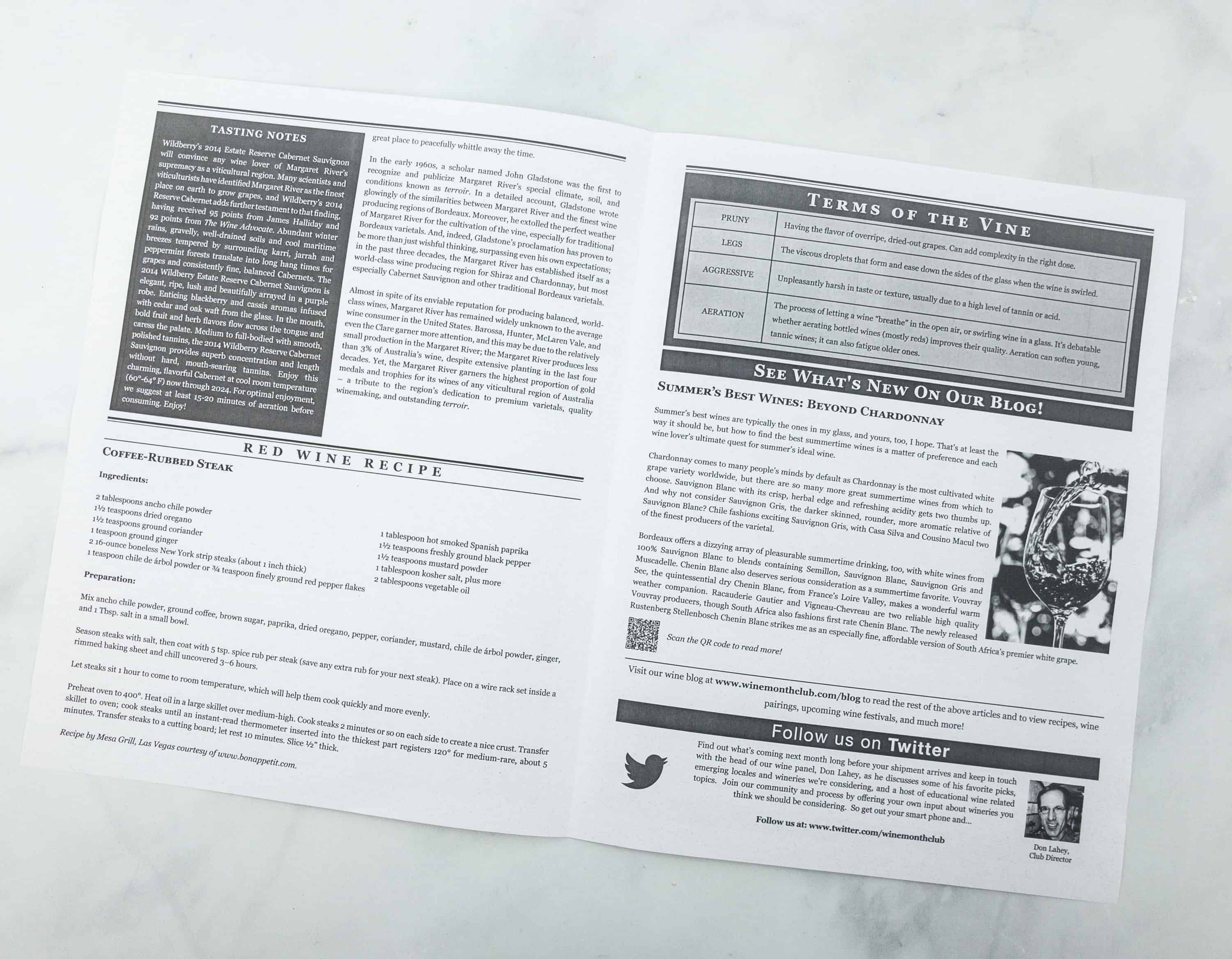 They even provided a recipe for Coffee-Rubbed Steak, which you can pair with red wine.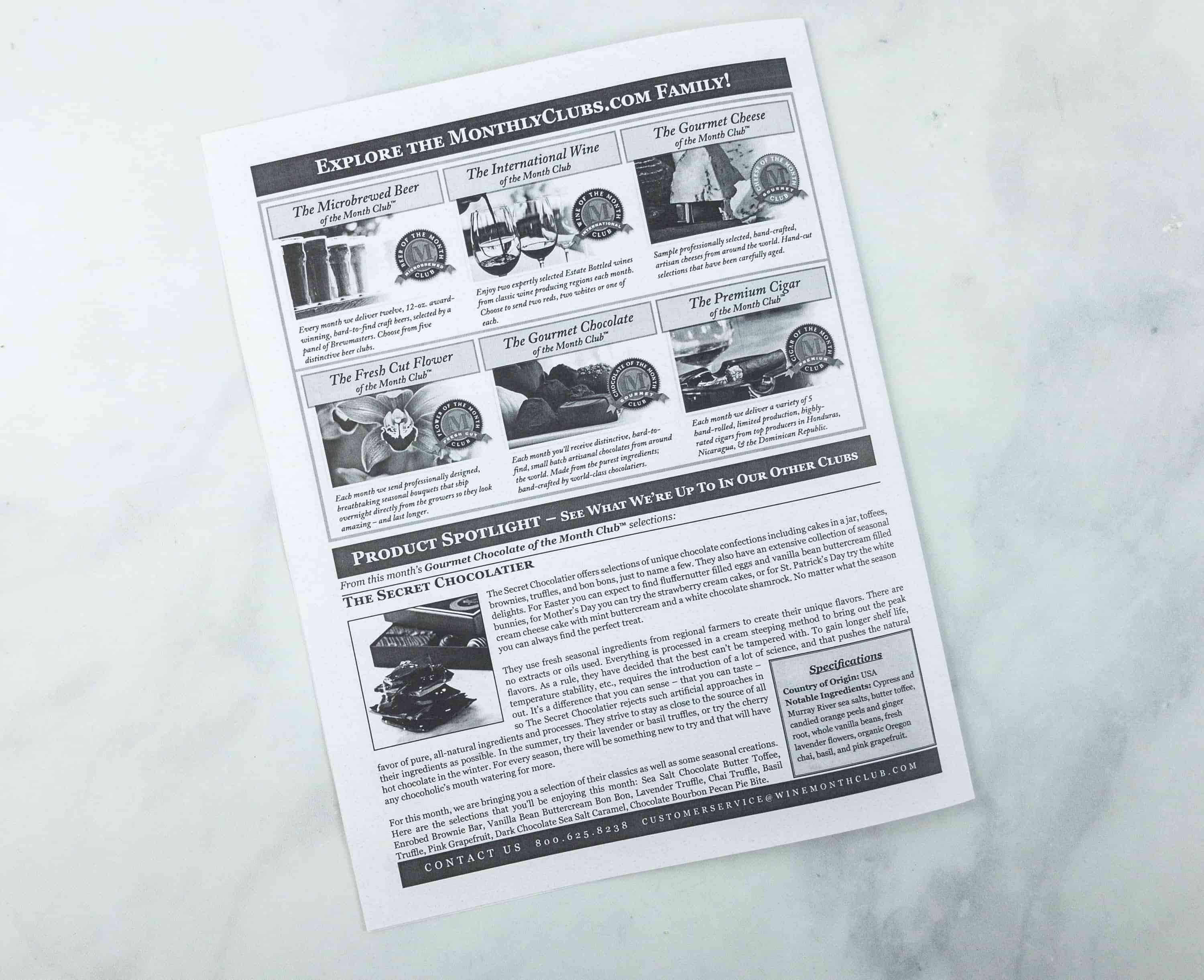 The back of the pamphlet features the six different members of the monthly club family, and what you can expect on the other clubs.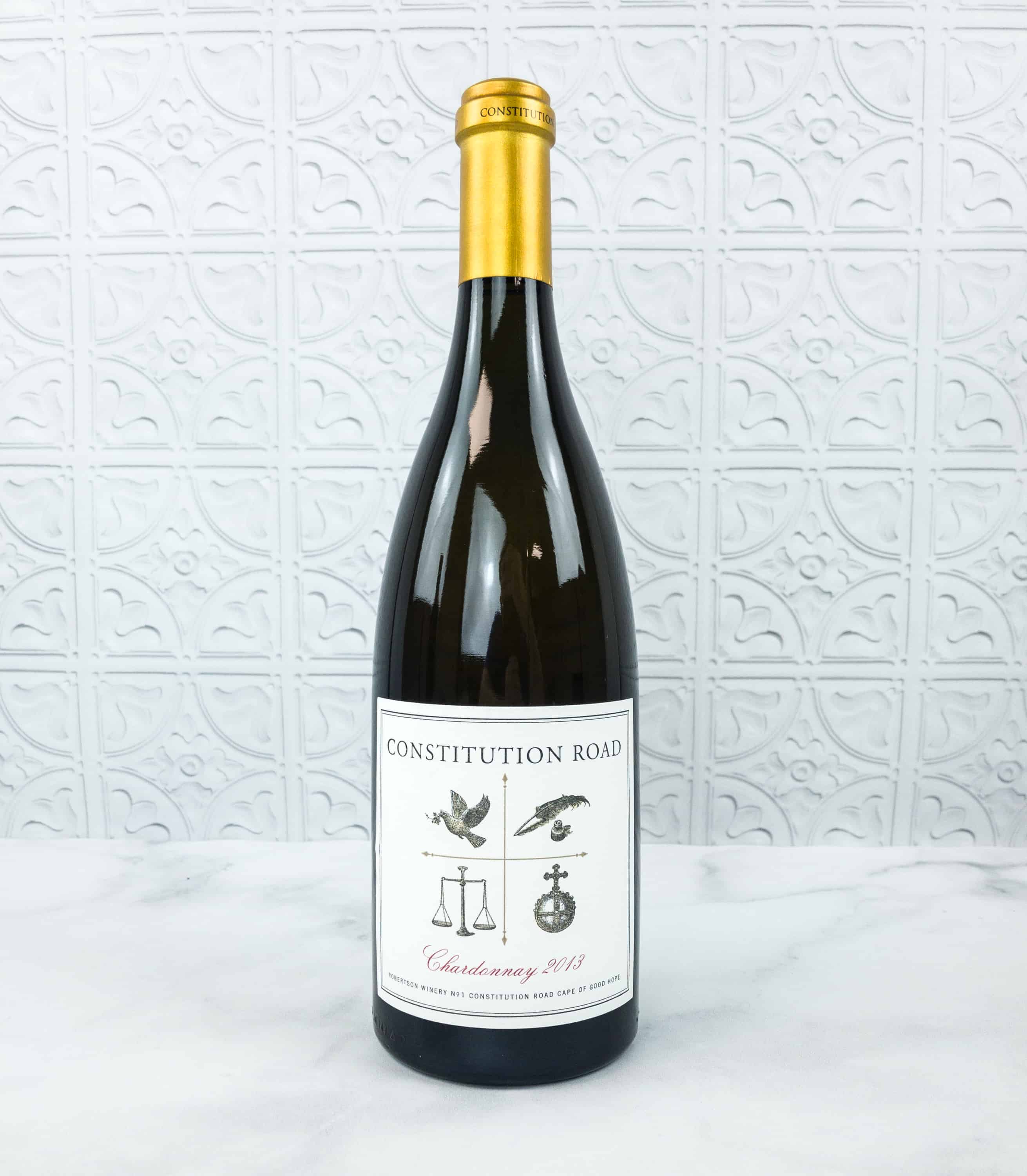 Constitution Road Chardonnay 2013. This white wine from Hannes Erasmus offers a captivating set of aromatics, full, round flavors, impeccable balance, and a long, satisfying finish.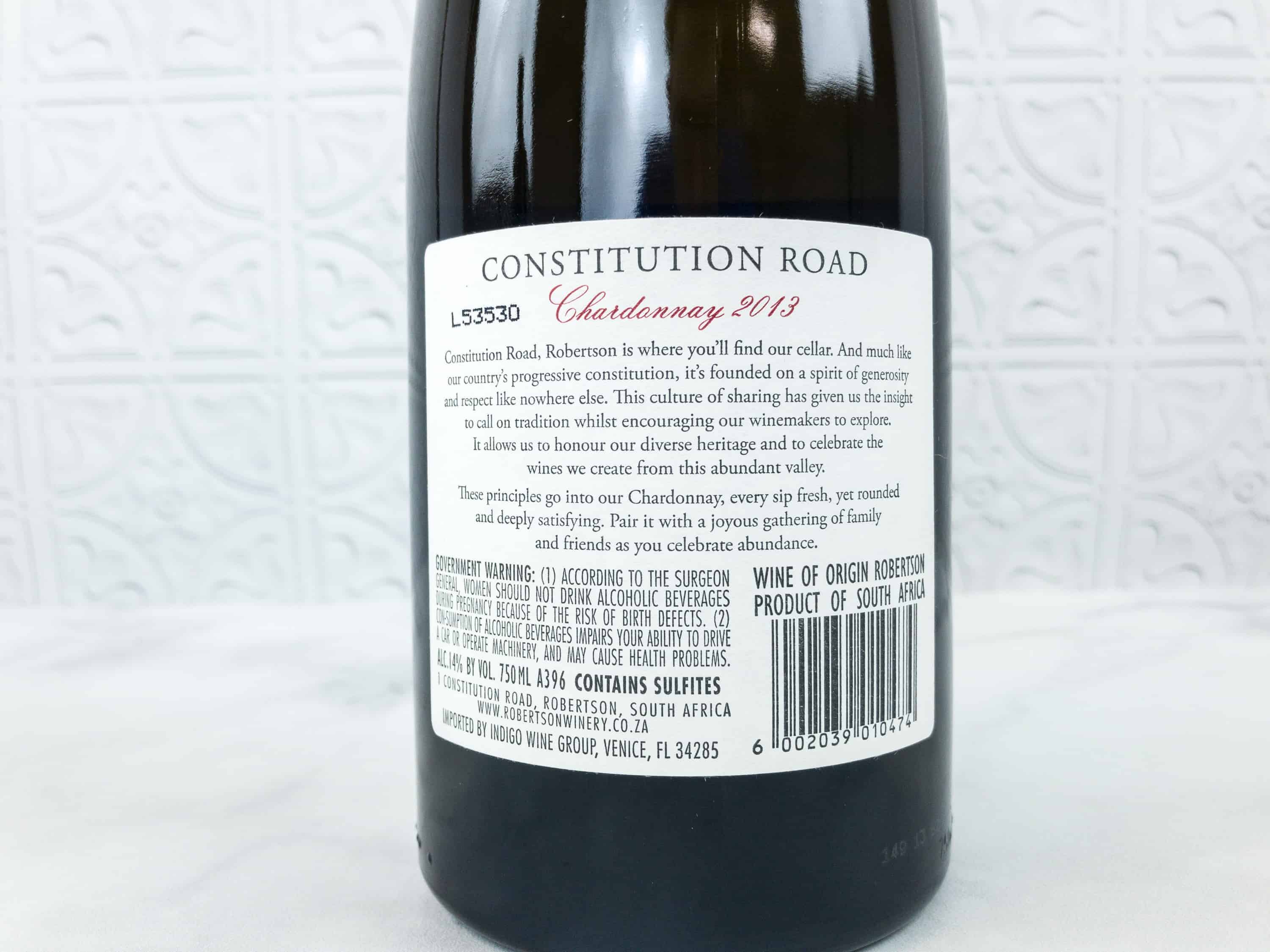 It contains a variety of dimensions and layers starting with apricot, peach, and pineapple for a tropical profile, then some nuttiness with a hint of vanilla from the wood, and a gust of coffee. This wine really got everything!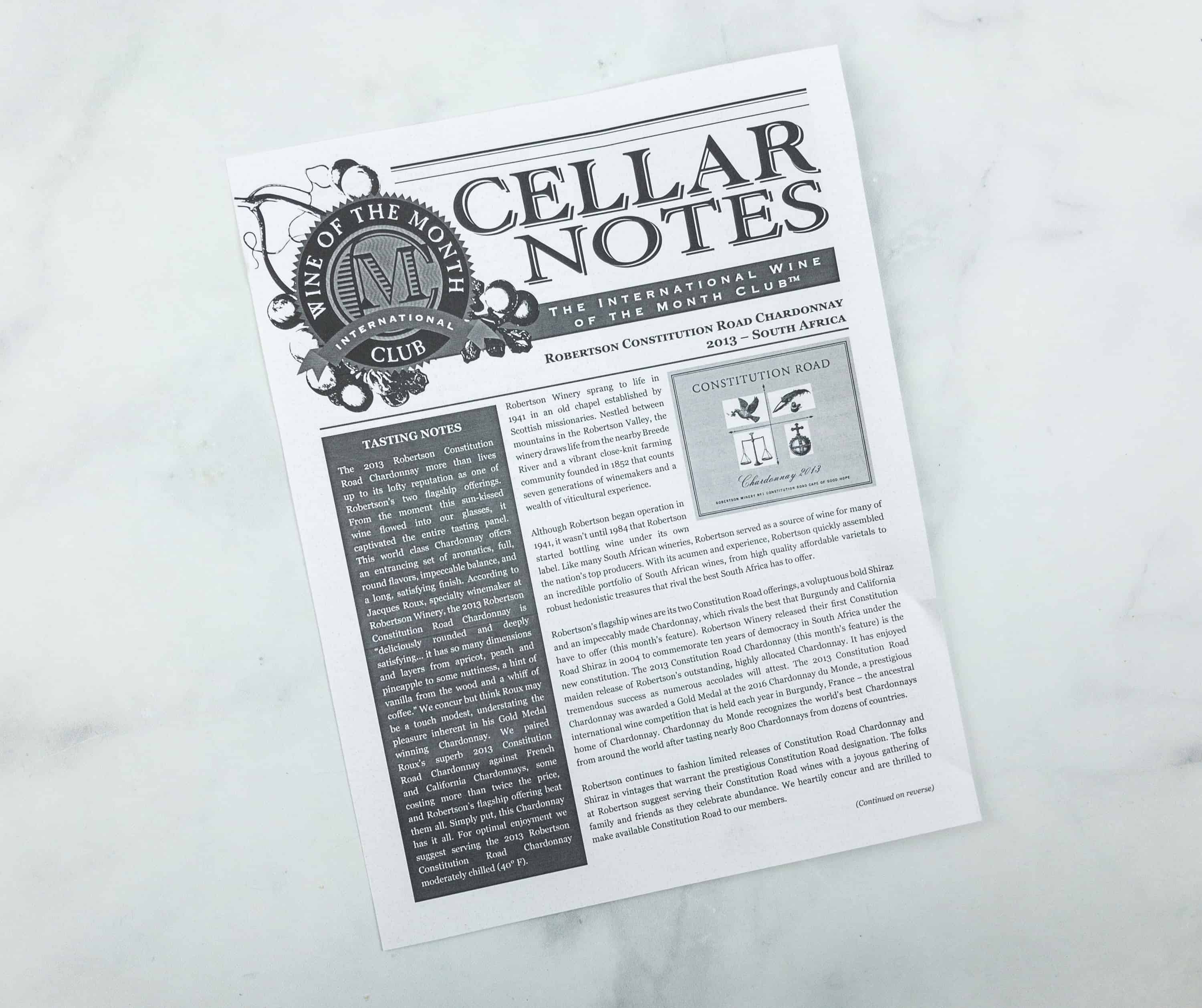 The Cellar Notes are great fun to read as you contemplate when to pop open your wine. They give perspective on both the wines and the wineries that produce them. Robertson Winery started in 1941 in an old chapel established by Scottish missionaries situated between mountains.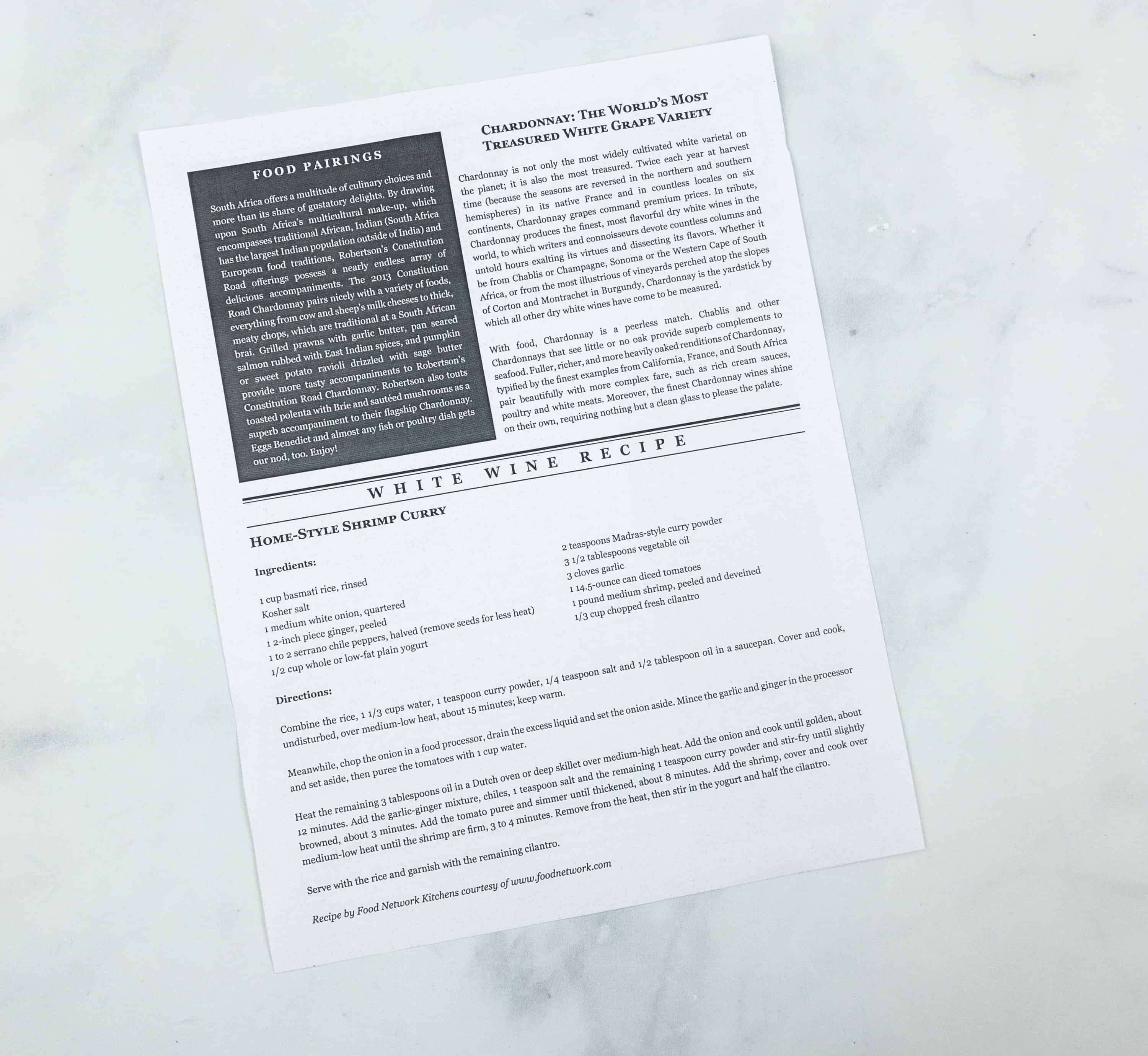 This delightful wine pairs nicely with a variety of food, everything from cow to sheep's milk cheeses to thick, meaty chops, grilled prawns with garlic butter, pan seared salmon rubbed with East Indian Spices. It also included a white wine recipe which is the Home-Style Shrimp Curry.
International Wine Club Collectors Series brought us two premium and exclusive wines this month. It's really nice to receive a variety of wine that is made by famous wineries from different parts of the world. I also appreciate the inclusion of info cards containing the history of the wine, tasting notes, and food pairings. These things make help us make the subscription a full experience. I love the idea of getting true and tested wines that I know I will enjoy, because they have been evaluated by both experts and ordinary wine drinkers. These were great selections with broad appeal, and I am looking forward to more wines to come!
What is your favorite from this month's wine selection?
Visit International Wine Club of the Month to subscribe or find out more!