Hungryroot is an online service that delivers quick-and-easy healthy meals that can be made in less than 10 minutes. All the food is plant-based, nutrient-dense, and made from real ingredients.
Printed on the box flaps are Hungry Root's mission and their commitment to using eco-friendly materials for the packaging.
All the ingredients arrive nestled within a recycled plant fiber insulated bag with ice packs on top.
The ingredients are packed together at the bottom of the box.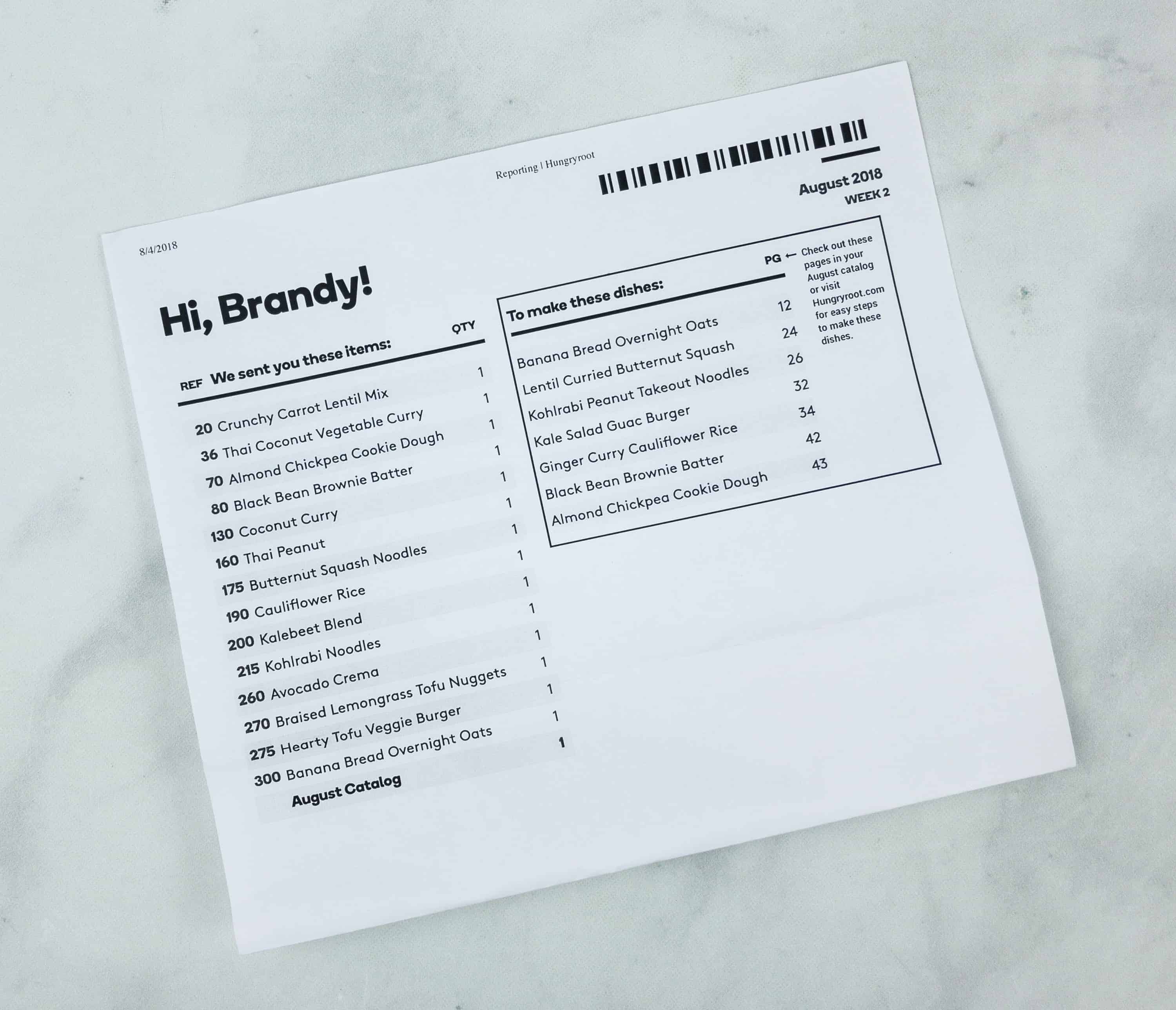 This info card states the inventory of items inside the box. Apart from the oats and cookies, the ingredients are to be combined into in 2-3 component dishes. The Box on the right gives a quick page reference showing where each dish is located in the recipe booklet.
Everything in my box!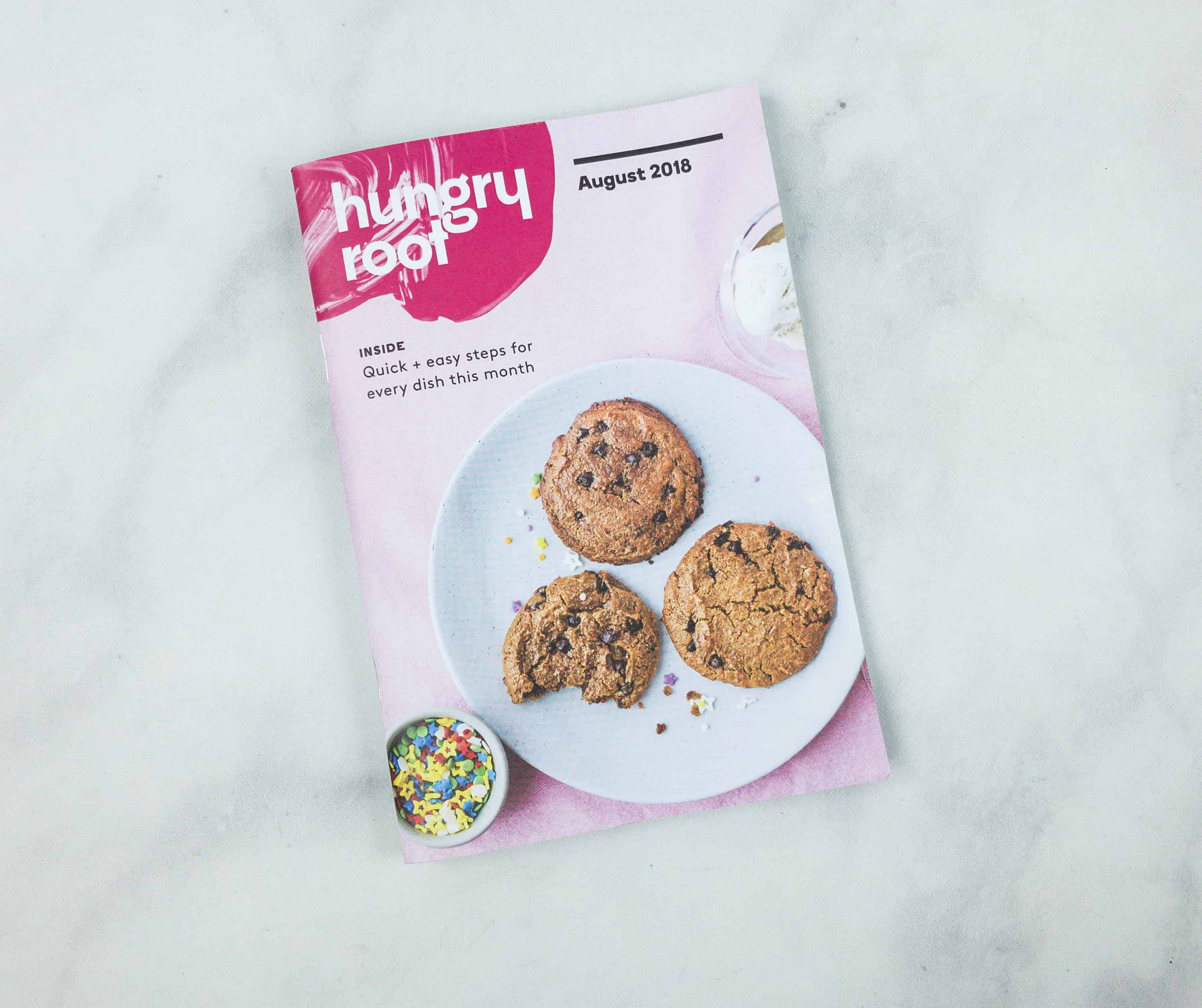 This subscription includes a booklet containing quick and easy steps for every dish featured for this month.
The featured dish available for the month of August is Cold Peanut Zucchini Noodles!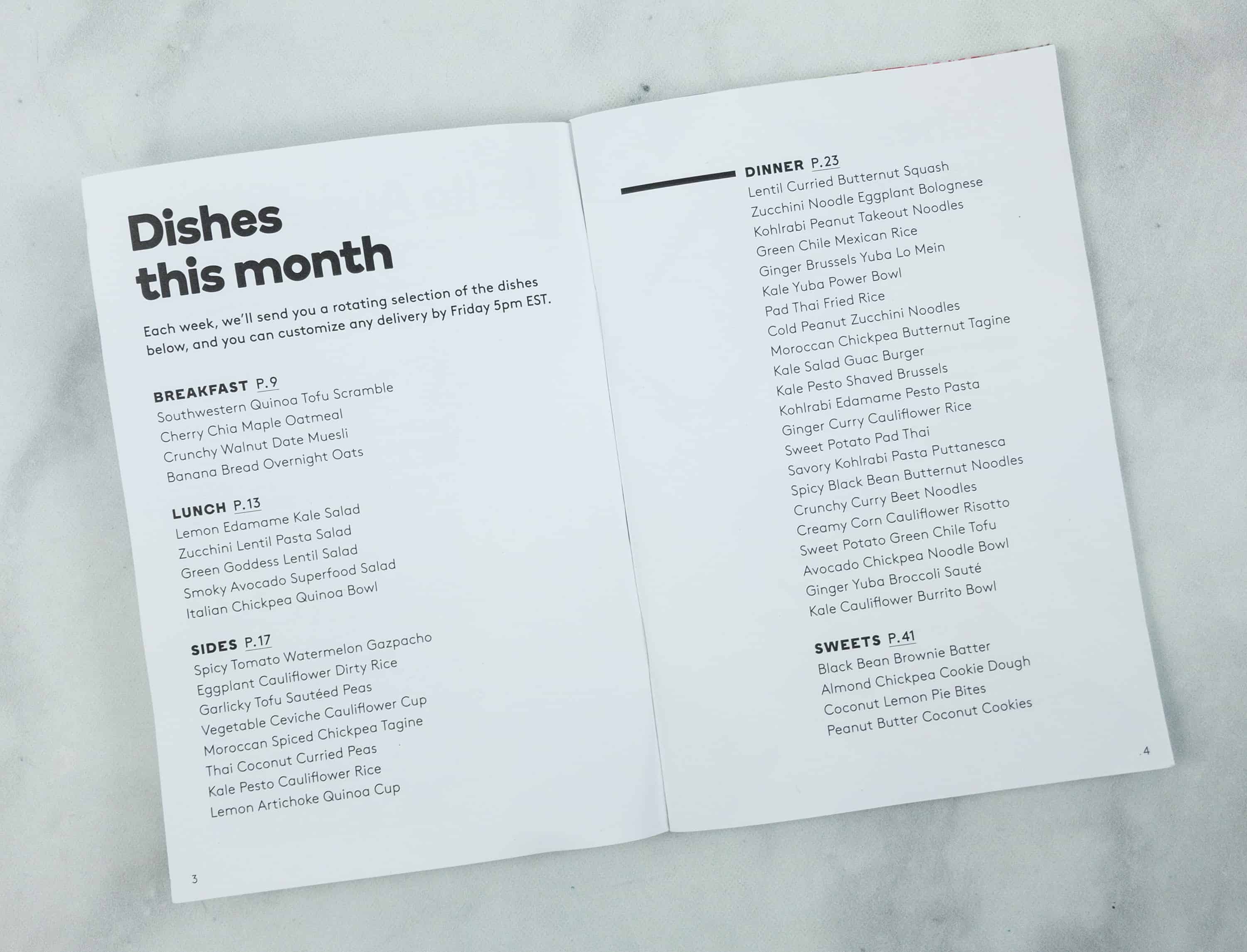 It has a useful table of contents that is divided into categories — breakfast, lunch, sides, dinner, and sweets. This is just for organizational purposes, as the dinner dishes make a superb lunch, too!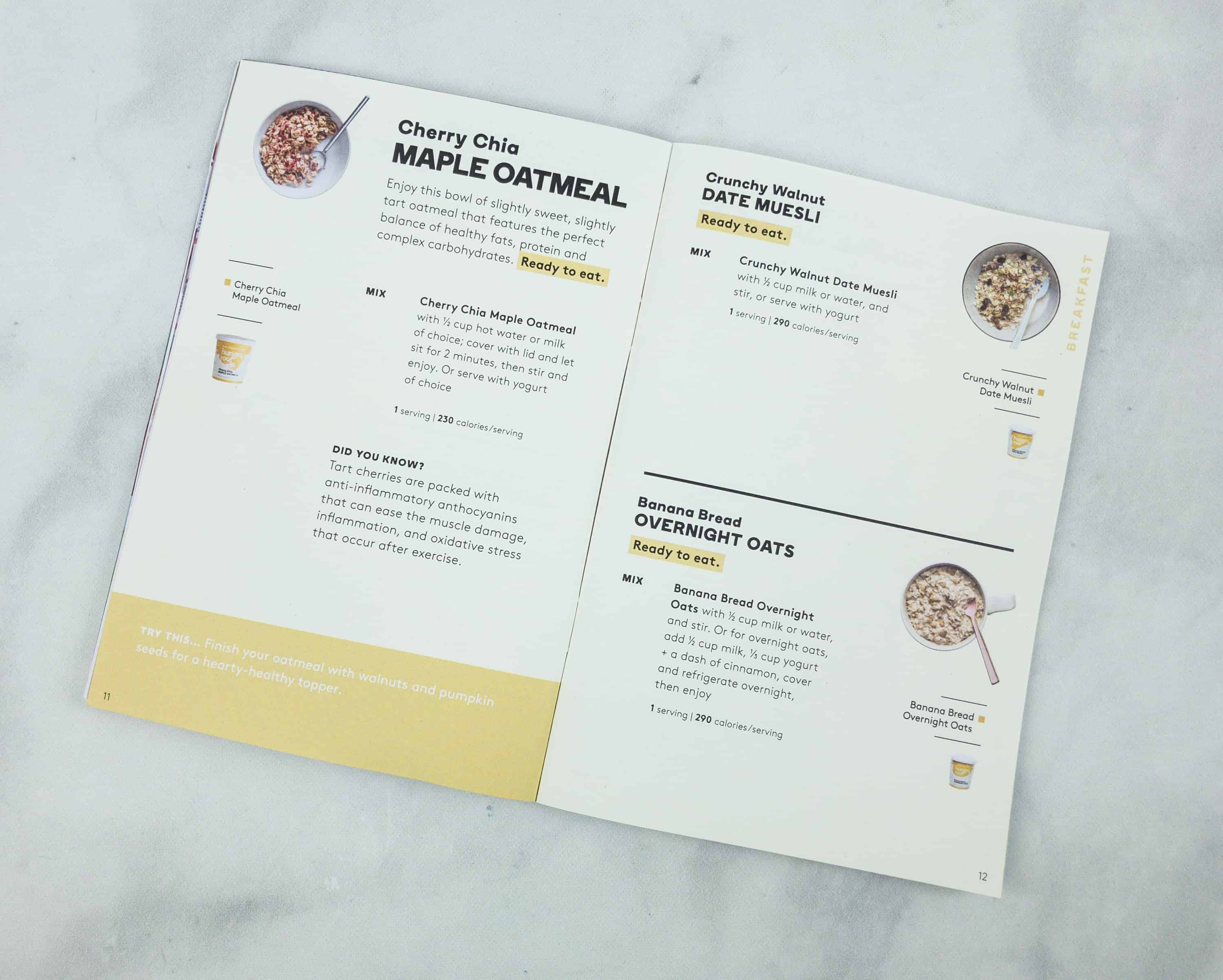 The categories are color coded. For an instance, breakfast is in yellow. Most breakfasts are single item recipes. Some of the available ready-to-eat dishes include Cherry Chia Maple Oatmeal, Crunchy Walnut Date Muesli, and Banana Bread Overnight Oats.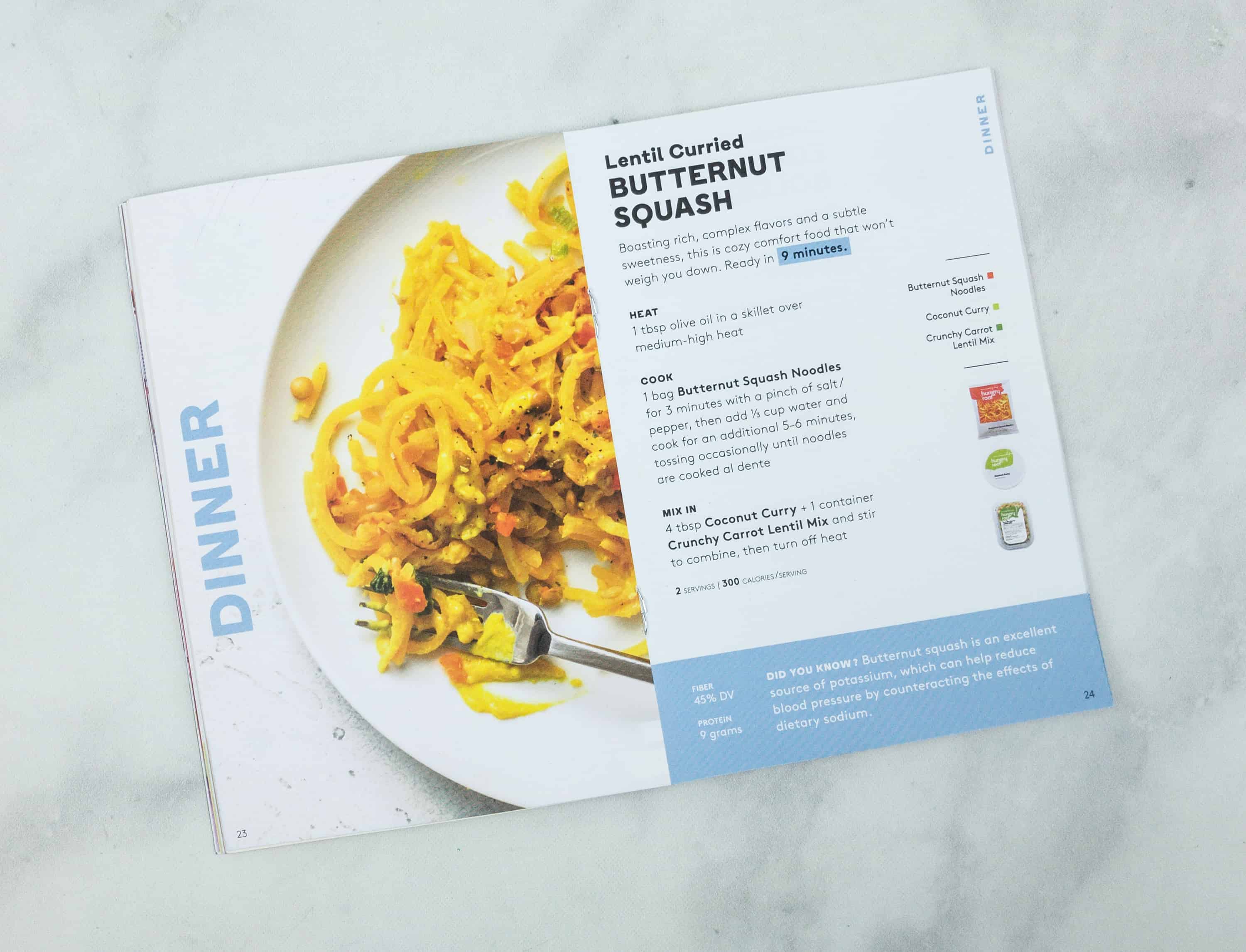 Dinner meals are in blue. The recipe pages include the name of the dish, cooking instructions, and time of preparation. This section has the plurality of recipes, and most combine three items, such as a vegetable or grain base, a vegetable-based protein, and a sauce.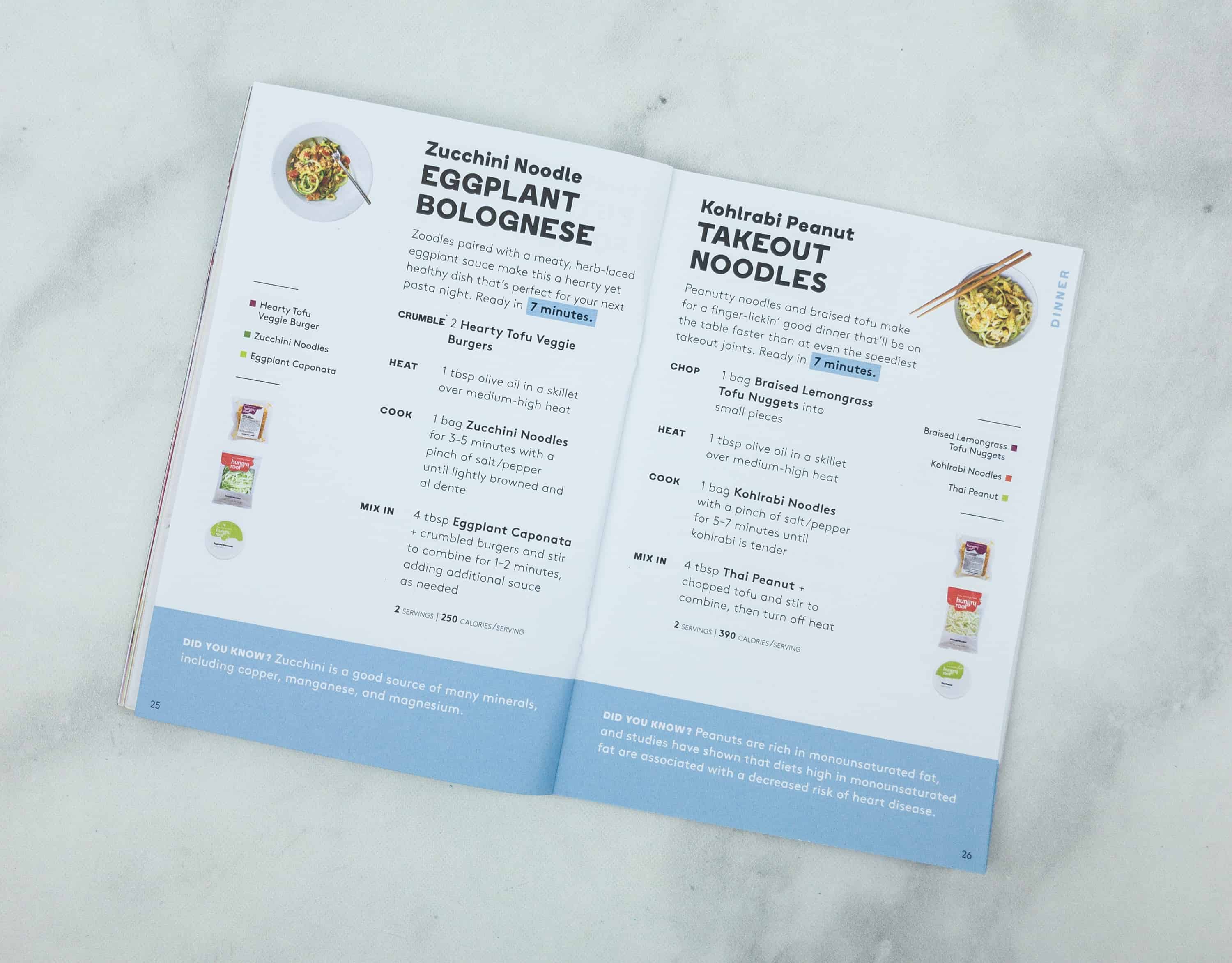 The procedures are well-detailed. They even the ingredients in bold letters. Preparation is really quick and most dishes are ready to go from stovetop to table in under 10 minutes.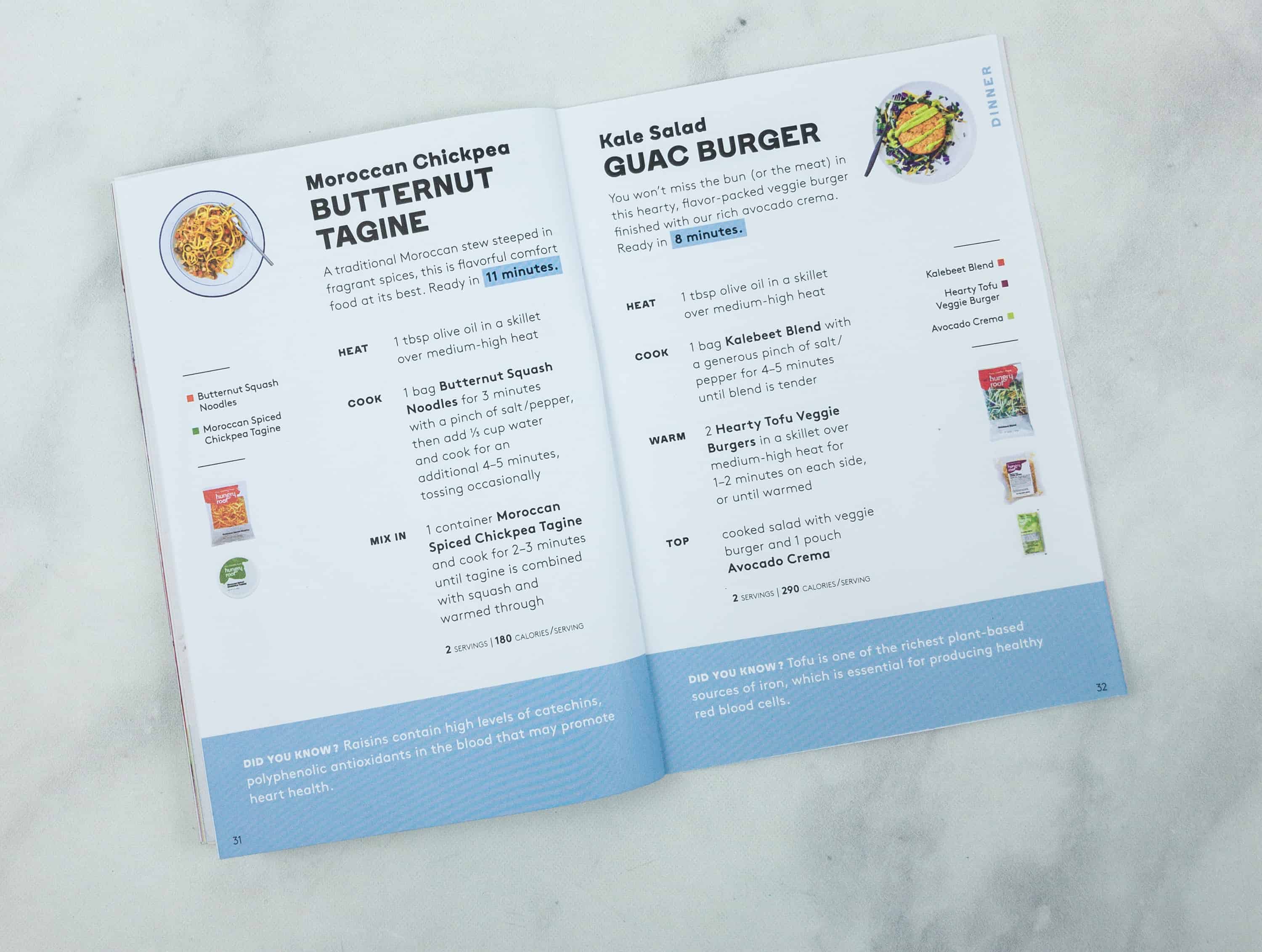 I love the addition of trivia at the bottom of some pages.
Apart from the 2-3 components from the box, dinners typically need only a pan and lid, a drizzle of oil, salt and pepper, and maybe a splash of water. We found the sauces to be very flavorful, and we didn't need to add any additional salt.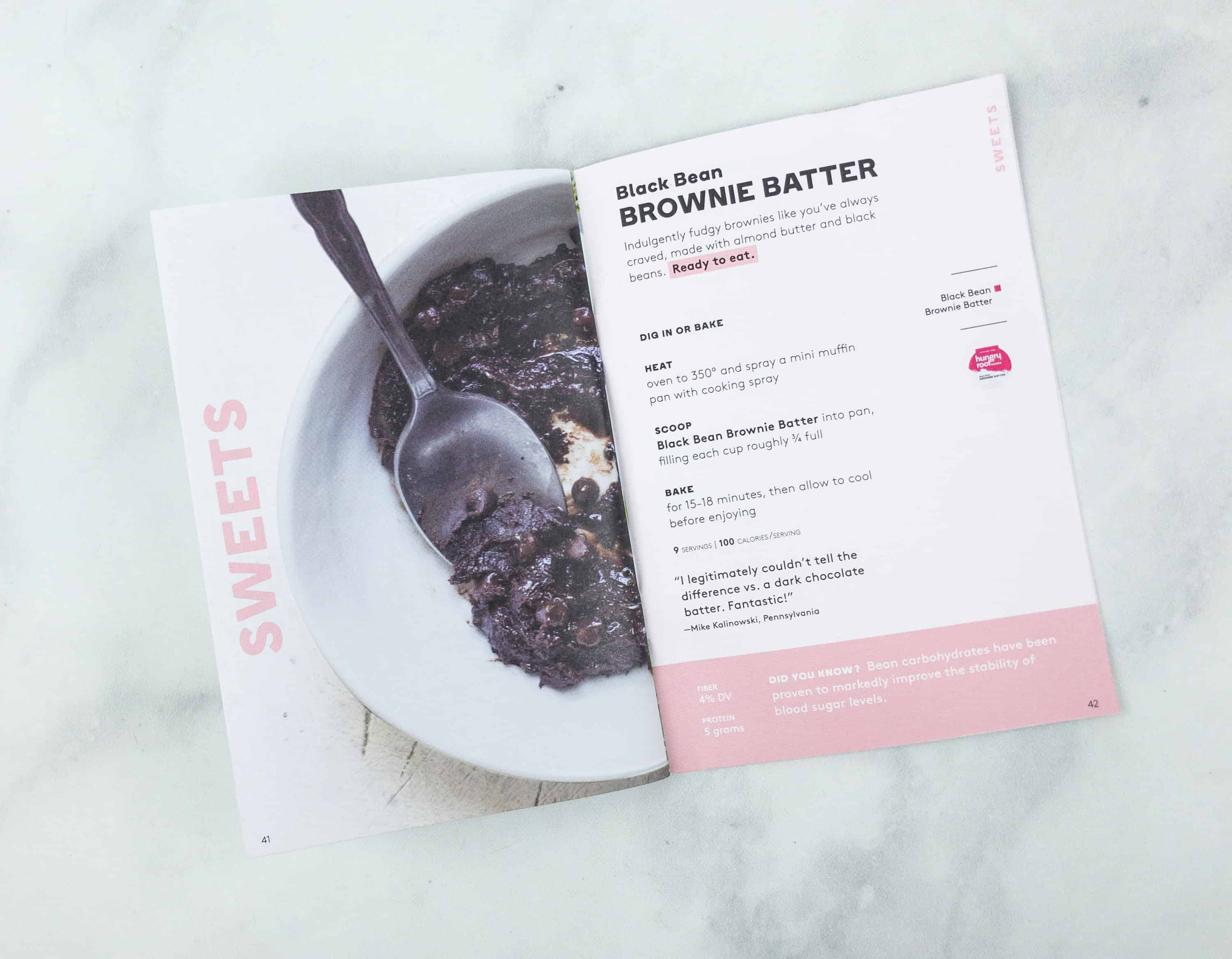 The sweets part on the booklet is in pink!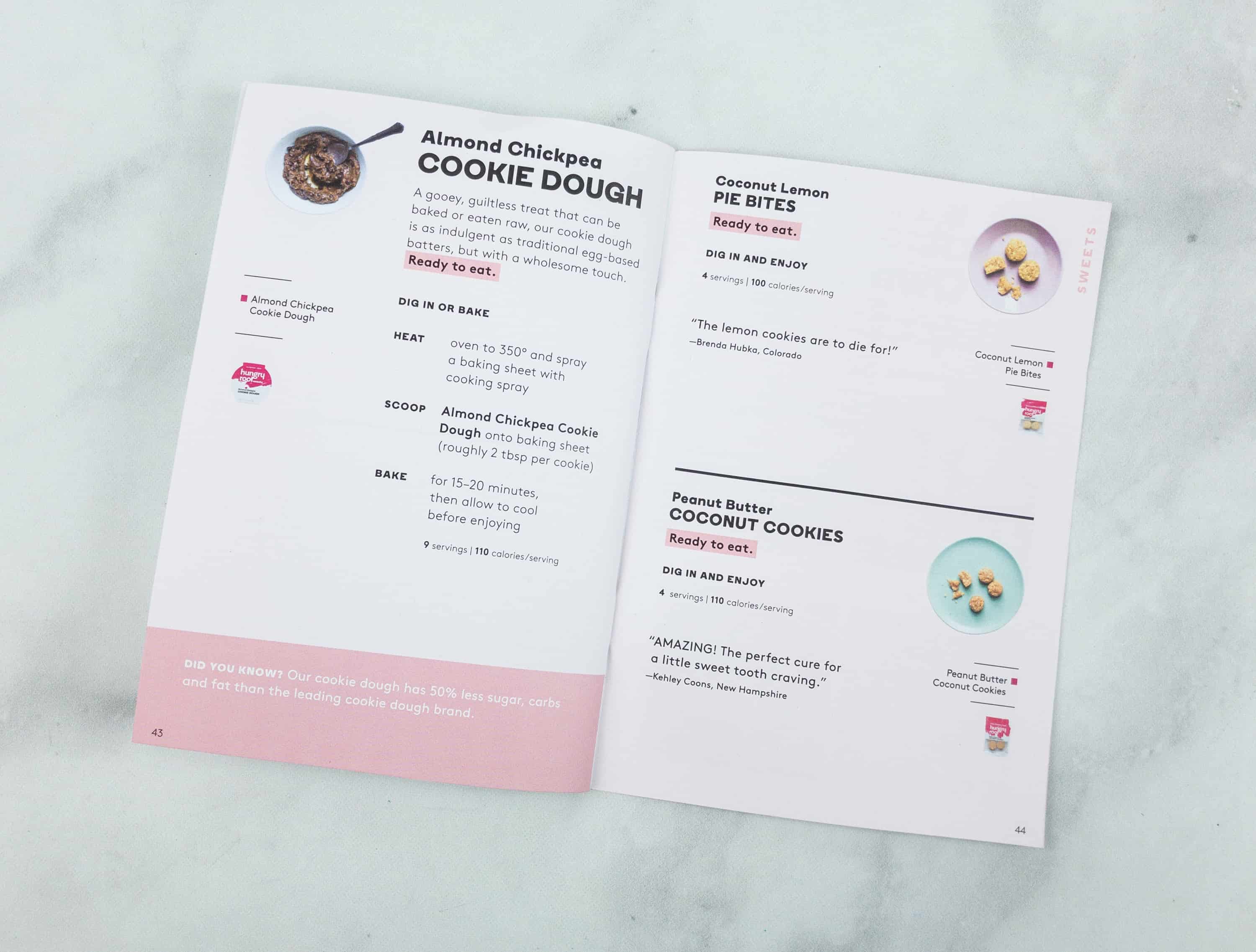 All of the featured sweets are ready to eat too. Unlike the egg-based dough from the store, you are encouraged to eat this straight from the tub! You can use it to bake cookies, as well.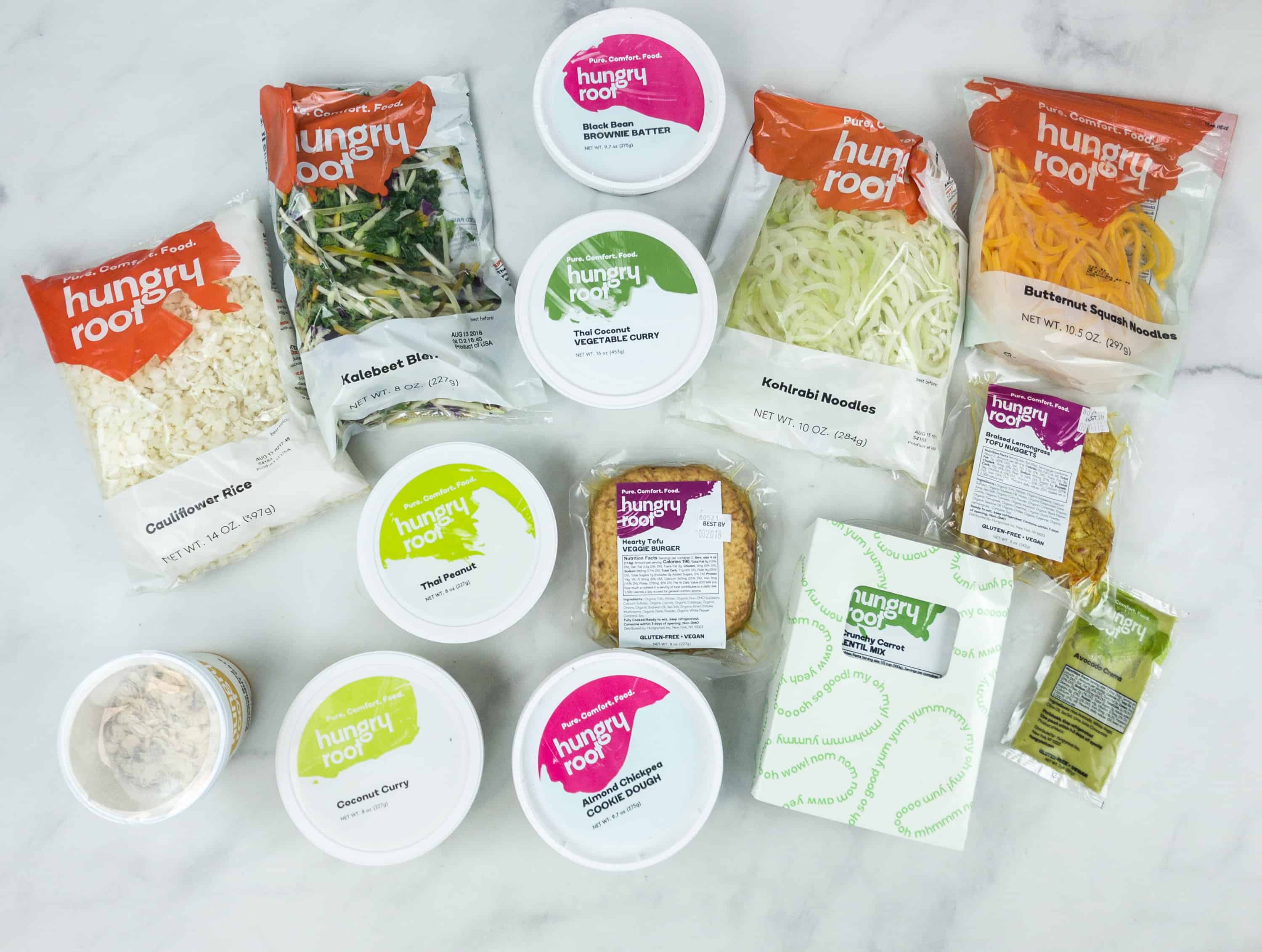 Every item is packed and sealed separately. They all arrived in their best condition. You can combine items as suggested in the recipe booklet, or you can improv and try different combinations of your own, adding whatever you want to make each dish your own.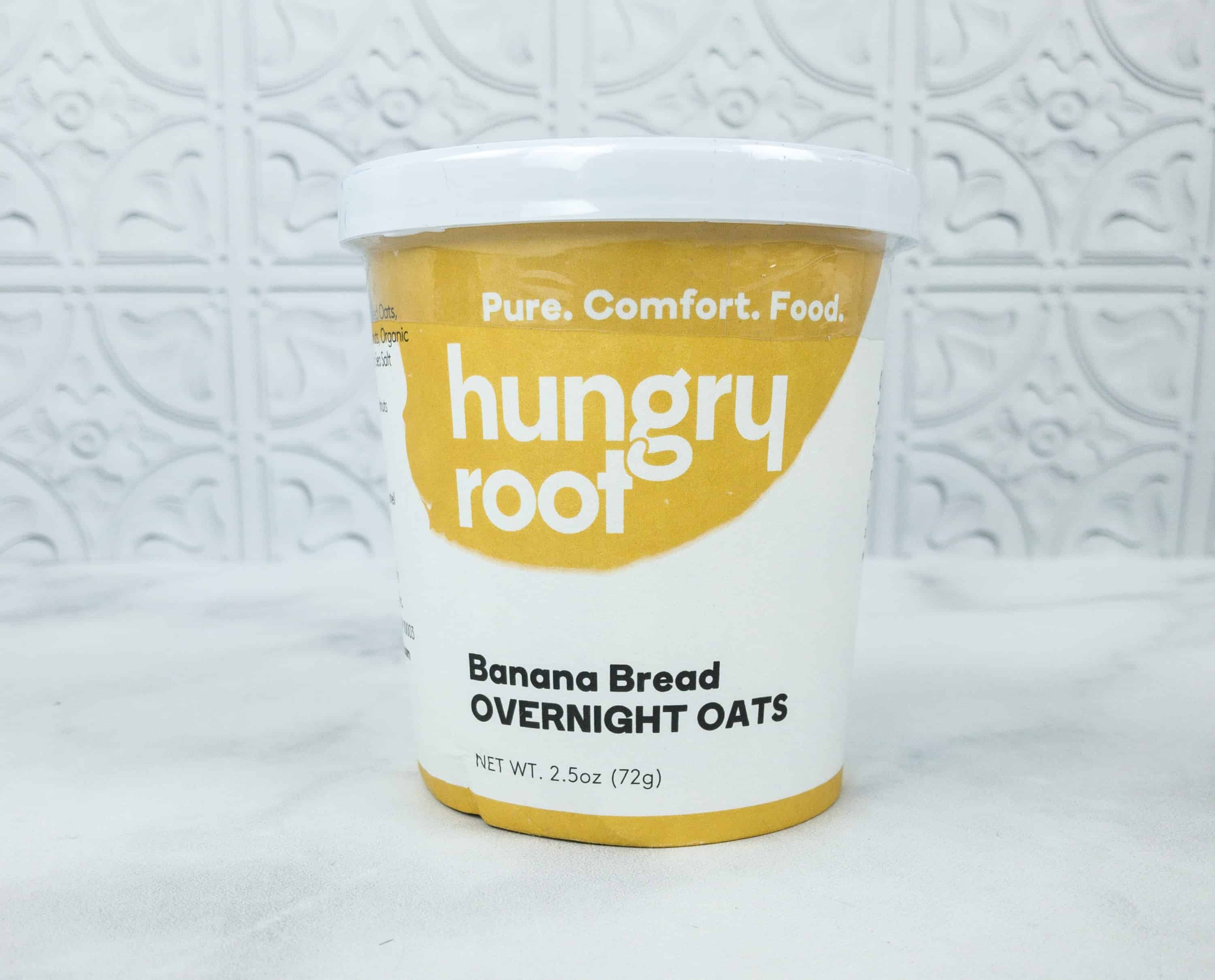 Hungry Root Banana Bread Overnight Oats
Ingredients: Gluten-Free Rolled Oats, Banana, Walnuts, Maple Sugar, Sea Salt
This comfort food is certified gluten-free. It's a protein and fiber packed oatmeal mixed with bananas and walnuts.
It was slightly sweet (though the natural maple delivers more in flavor than it does in sweetness), delicious, and filling!
It's a bit sticky but with a really nice texture. It can be prepared as a hot oatmeal dish or as overnight oats, depending on your preference. You can add water, milk, or a milk alternative. I prepared these overnight with almond milk. The oats kept their al dente texture and had a really nice heartiness instead of the oat flour flavor you sometimes get with raw commercial oats.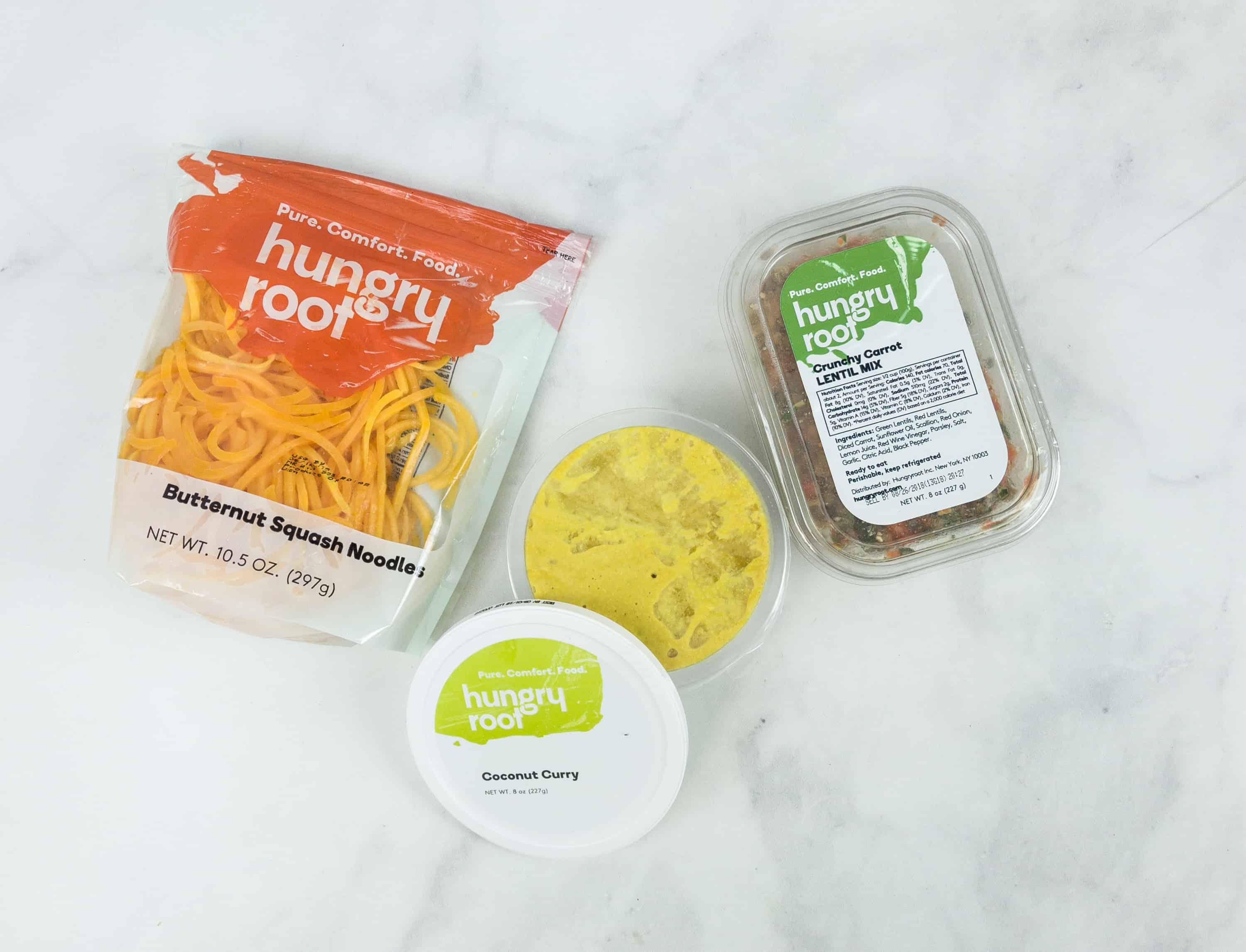 Lentil Curried Butternut Squash – 9 minutes, 300 calories per serving
Ingredients for Butternut Squash Noodles: Butternut Squash

Ingredients for Coconut Curry: Organic Garbanzo Beans, Water, Organic Tahini (Sesame Seeds), Organic Extra Virgin Olive Oil, Organic Agave Nectar, Organic Jalapenos, Organic Dried Coconut, Sea Salt, Organic Lime Juice, Citric Acid, Organic Curry Powder, Organic Spices, Organic Garlic Powder

Ingredients for Crunchy Carrot Lentil Mix: Green Lentil, Red Lentil, Diced Carrot, Sunflower Oil, Scallion, Red Onion, Lemon Juice, Red Wine Vinegar, Parsley, Salt, Garlic, Citric Acid, Black Pepper
This Asian-inspired dish is packed with rich flavors, thanks to the curry mix and the carrot and lentil combination. It's an excellent source of potassium, which can help reduce blood pressure by preventing the effects of dietary sodium. It's vegan, gluten-free, and rich in fiber and vitamin A. The sauce had a nice kick to it, though it wasn't terribly spicy. It had a strong dose of lime juice, making it very "zingy." I like the way this meal was both filling and light feeling.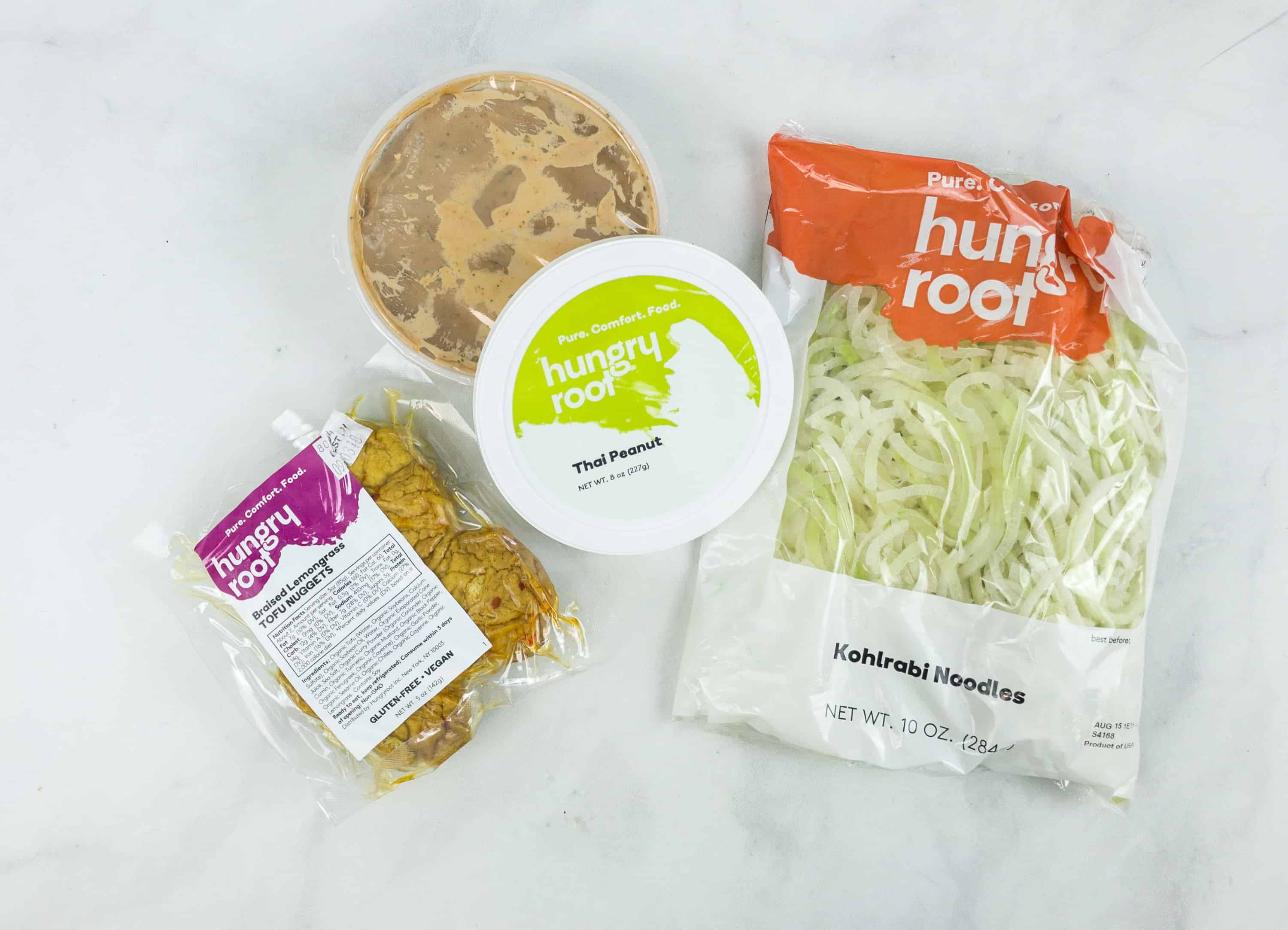 Kohlrabi Peanut Takeout Noodles – 7 minutes, 390 calories per serving
Ingredients for Kohlrabi Noodles: Kohlrabi

Ingredients for Braised Lemongrass Tofu Nuggets: Organic Tofu (Water, Organic Soybeans, Calcium Sulfate), Organic Soybean Oil, Water, Organic Evaporated Cane Juice, Sea Salt, Organic Curry Powder (Organic Coriander, Organic Cumin, Organic Turmeric, Organic Mustard, Organic Black Pepper, Organic Fenugreek, Organic Cayenne), Organic Garlic Powder, Organic Sesame Oil, Organic Chilies, Organic Cayenne, Organic Lemongrass.

Ingredients for Thai Peanut: Peanut Butter (Ground Roasted Peanuts), Water, Extra Virgin Olive Oil, Rice Vinegar, Lime Juice (Water, Lime Juice Concentrate, Lime Oil), Green Onion, Gluten-Free Soy Sauce (Water, Soybeans, Salt, Alcohol), Hot Chili Sauce (Chili Peppers, Sugar, Vinegar, Salt, Garlic, Xanthan Gum, Beet Powder, Natural Flavor), Cilantro, Garlic, Coconut Sugar, Sea Salt, Ginger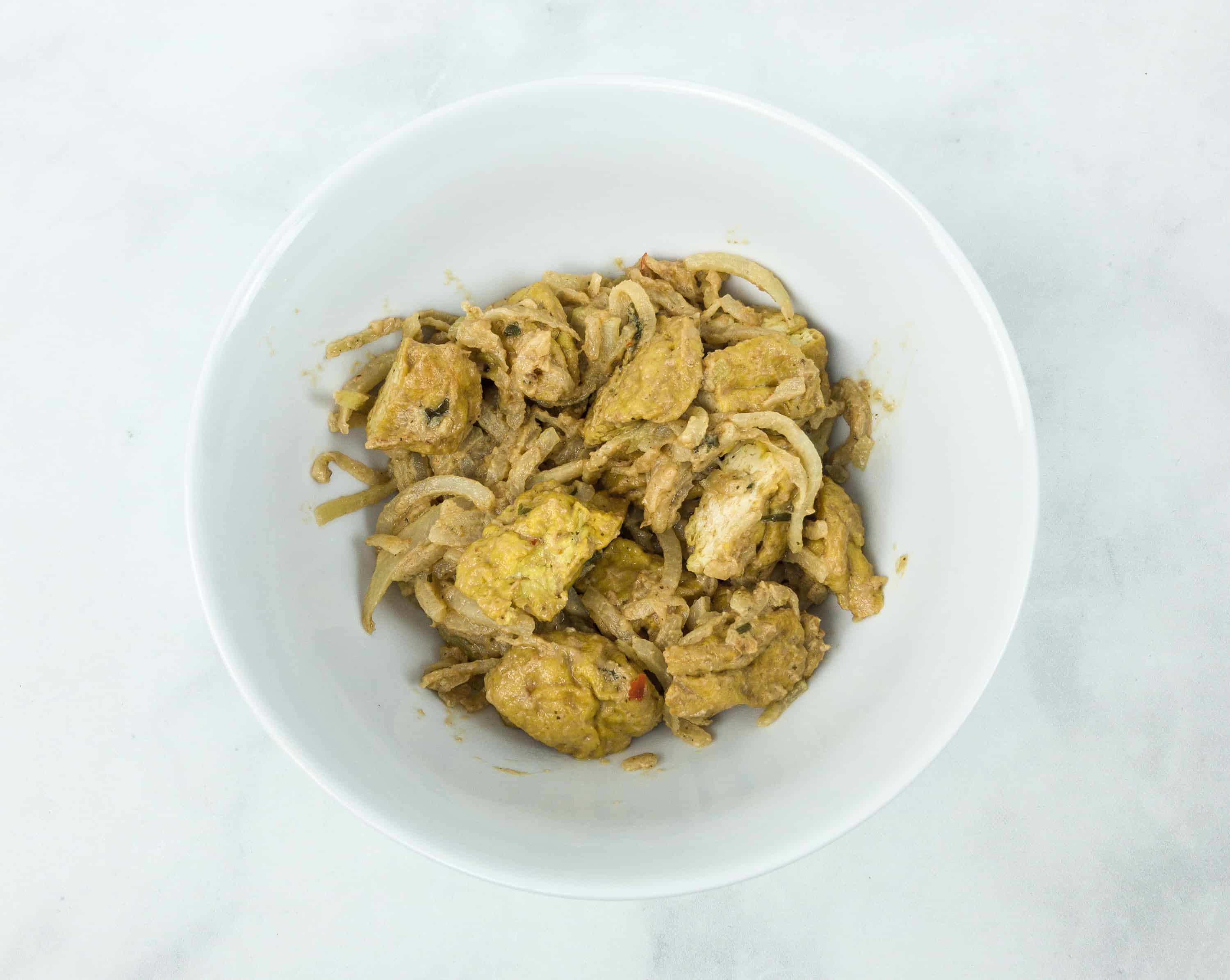 In this Thai-inspired dish, the noodles were mixed with creamy peanut butter sauce and lightly fried tofu. It's vegan and gluten-free, and a great source of fiber and protein. Peanuts are known for being high in monounsaturated fat that reduces the risk for a heart disease.
It's so easy to prepare, even faster than ordering a takeout. The tofu came pre-seasoned with lemongrass, so it stood out from the dish and had some independent character. This sauce was very tangy, too, with a good bit of rice vinegar. The tanginess is a little more than that you'd find in most restaurant versions, but it complements the crispness and bitter notes in the veggie noodles.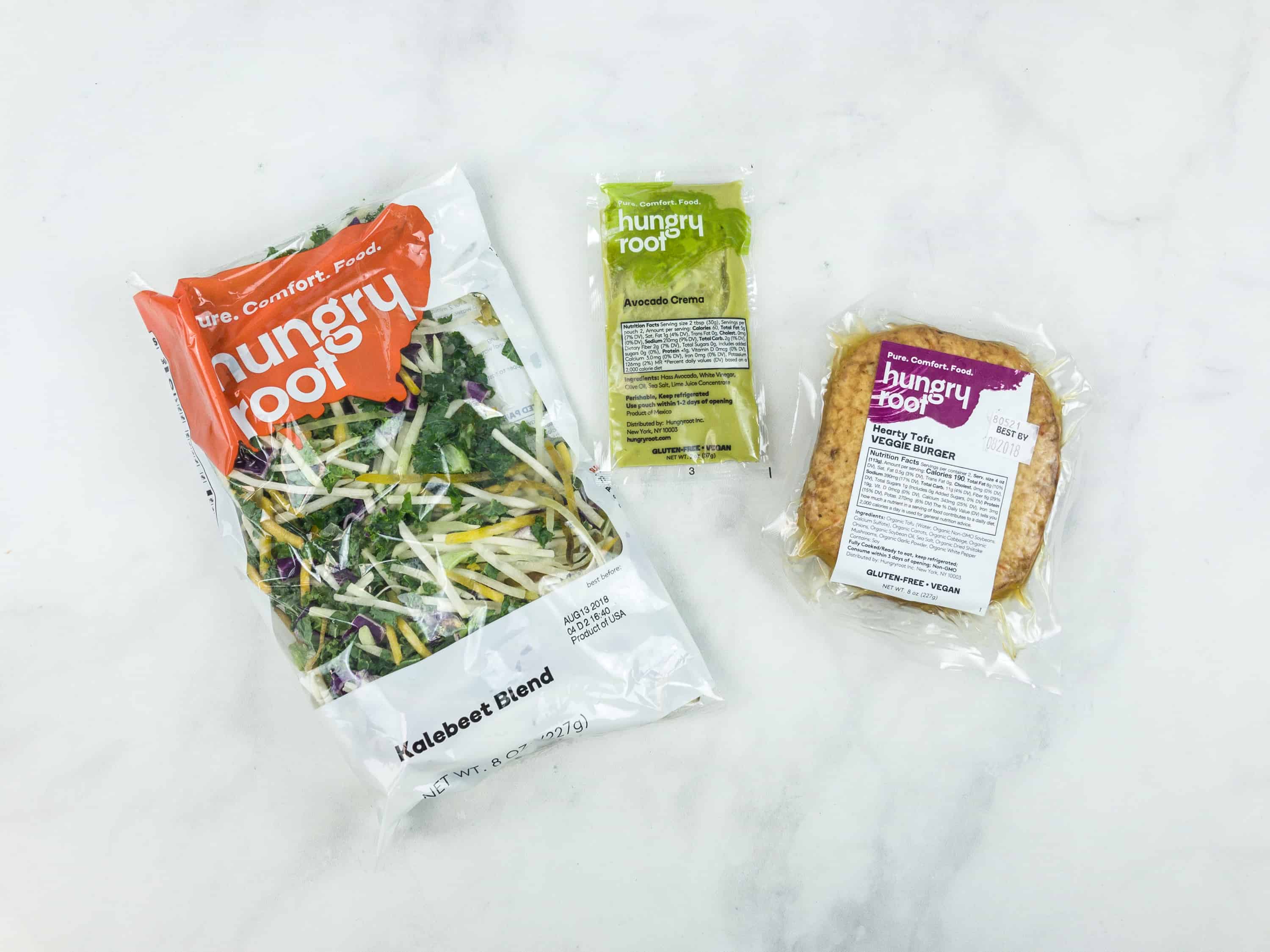 Kale Salad Guac Burger – 8 minutes, 290 calories per serving
Ingredients for Kalebeet Blend: Kohlrabi, Red Cabbage, Kale, Golden Beets

Ingredients for Hearty Tofu Veggie Burger: Organic Tofu (Water, Organic Non-GMO Soybeans, Calcium Sulfate), Organic Carrots, Organic Cabbage, Organic Onions, Organic Soybean Oil, Sea Salt, Organic Dried Shiitake Mushrooms, Organic Garlic Powder, Organic White Pepper

Ingredients for Avocado Crema:  Hass Avocado, White Vinegar, Olive Oil, Sea Salt, Lime Juice
No buns, no meat, no problem! This scrumptious dish is primarily made from tofu, surrounded by flavor-packed veggies, and topped with rich avocado crema.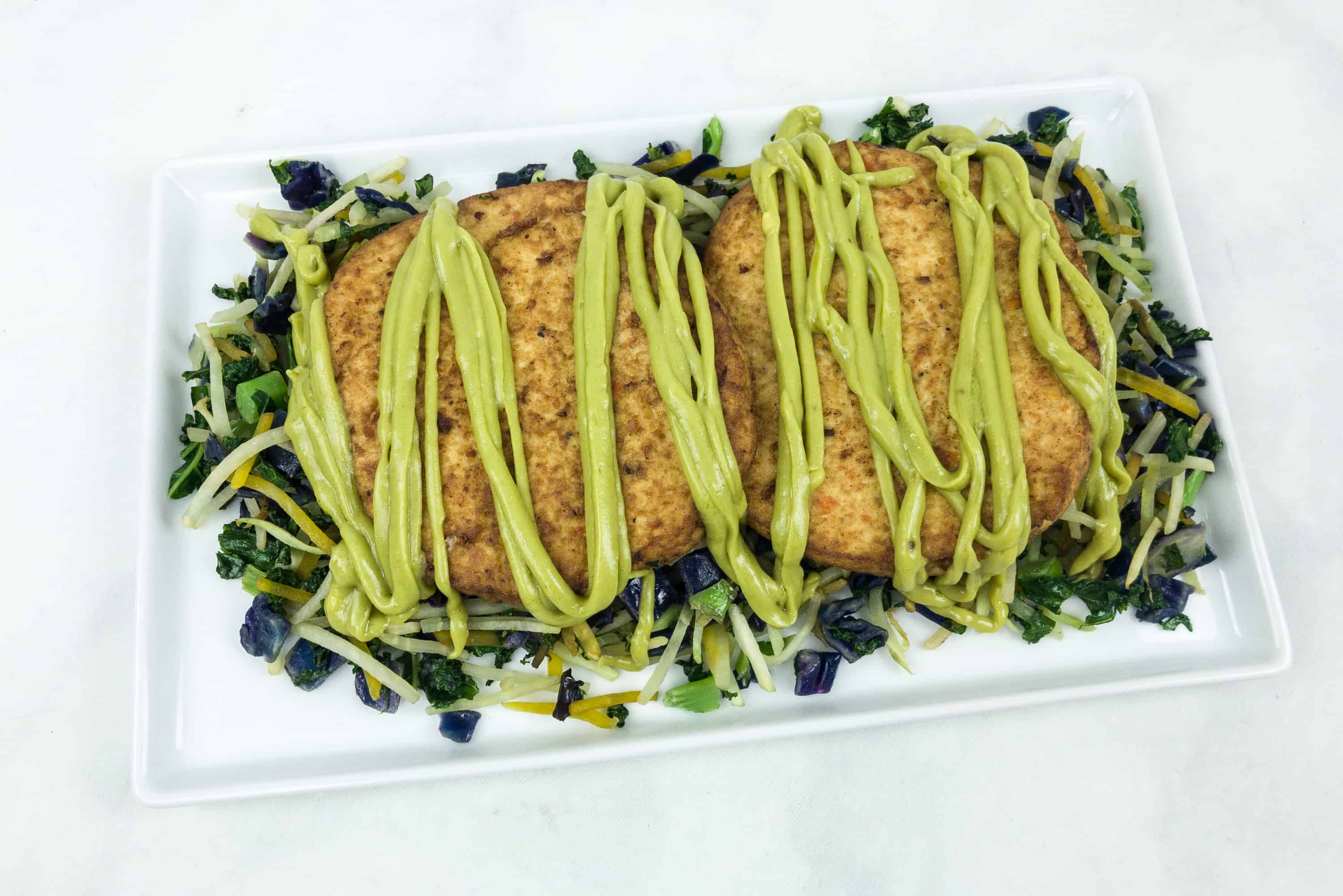 Tofu is one of the richest plant-based sources of iron, which is necessary for producing healthy red blood cells. Despite the absence of meat, the meal is quite filling and enjoyable. The texture of the tofu patty was pleasant, and they handled frying very nicely. I especially liked the way they used kohlrabi and beets to even out the kale and create an enjoyable base that wasn't too overwhelming.
Ginger Curry Cauliflower Rice – 8 minutes, 170 calories per serving
Ingredients for Cauliflower Rice: Fresh-Cut Cauliflower

Ingredients for Thai Coconut Vegetable Curry: Water, Organic Coconut Milk, Organic Potatoes, Organic Onions, Organic Bell Peppers, Organic Carrots, Organic Rice Flour, Organic Curry Paste (Organic Coconut Oil, Water, Organic Carrot Juice, Organic Blue Agave Nectar, Sea Salt, Organic Chili Pepper, Organic Red Bell Peppers, Organic Coconut Flower Blossom Nectar, Organic Mushroom Powder, Organic Citric Acid, Organic Lemongrass Powder, Organic Garlic Powder, Organic Lime Peel Powder, Organic Turmeric, Organic Ginger, Organic Lemon Peel Powder, Organic Coriander), Organic Kale, Organic Coconut Sugar, Organic Ginger, Organic Garlic, Sea Salt.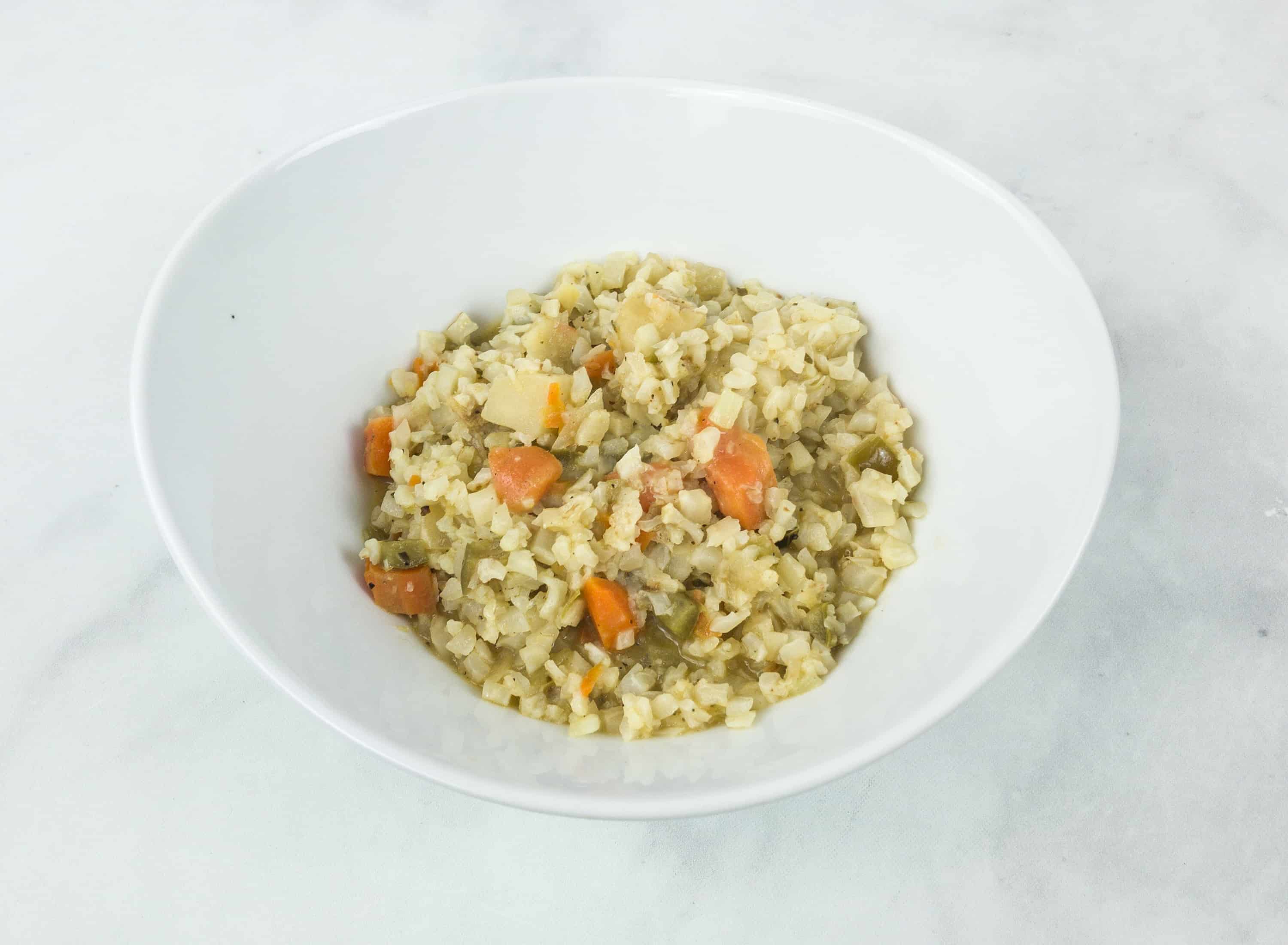 This dish is basically Thai curry served over a bed of cauliflower rice. It's a great alternative to your usual Thai takeout! It's way healthier because it's gluten-free and rich in fiber and vitamin C! The cauliflower kept it very light, and this was a great meal for when you want to have a bowl full of food without feeling stuffed.
Ingredients: Black Beans, Coconut Sugar, Unsweetened Almond Butter, Vegan Chocolate Chips (Evaporated Cane Juice, Natural Chocolate Liquor (Non-Alcoholic), Non-Dairy Cocoa Butter), Sesame Tahini, Maple Syrup, Cocoa Powder, Vanilla Extract, Sea Salt, Baking Soda, Baking Powder
Almond Chickpea Cookie Dough –
Ingredients: Chickpeas, Coconut Sugar, Unsweetened Almond Butter, Sesame Tahini, Vegan Chocolate Chips (Evaporated Cane Juice, Natural Chocolate Liquor (Non-Alcoholic), Non-Dairy Cocoa Butter), Maple Syrup, Vanilla Extract, Sea Salt, Baking Powder, Baking Soda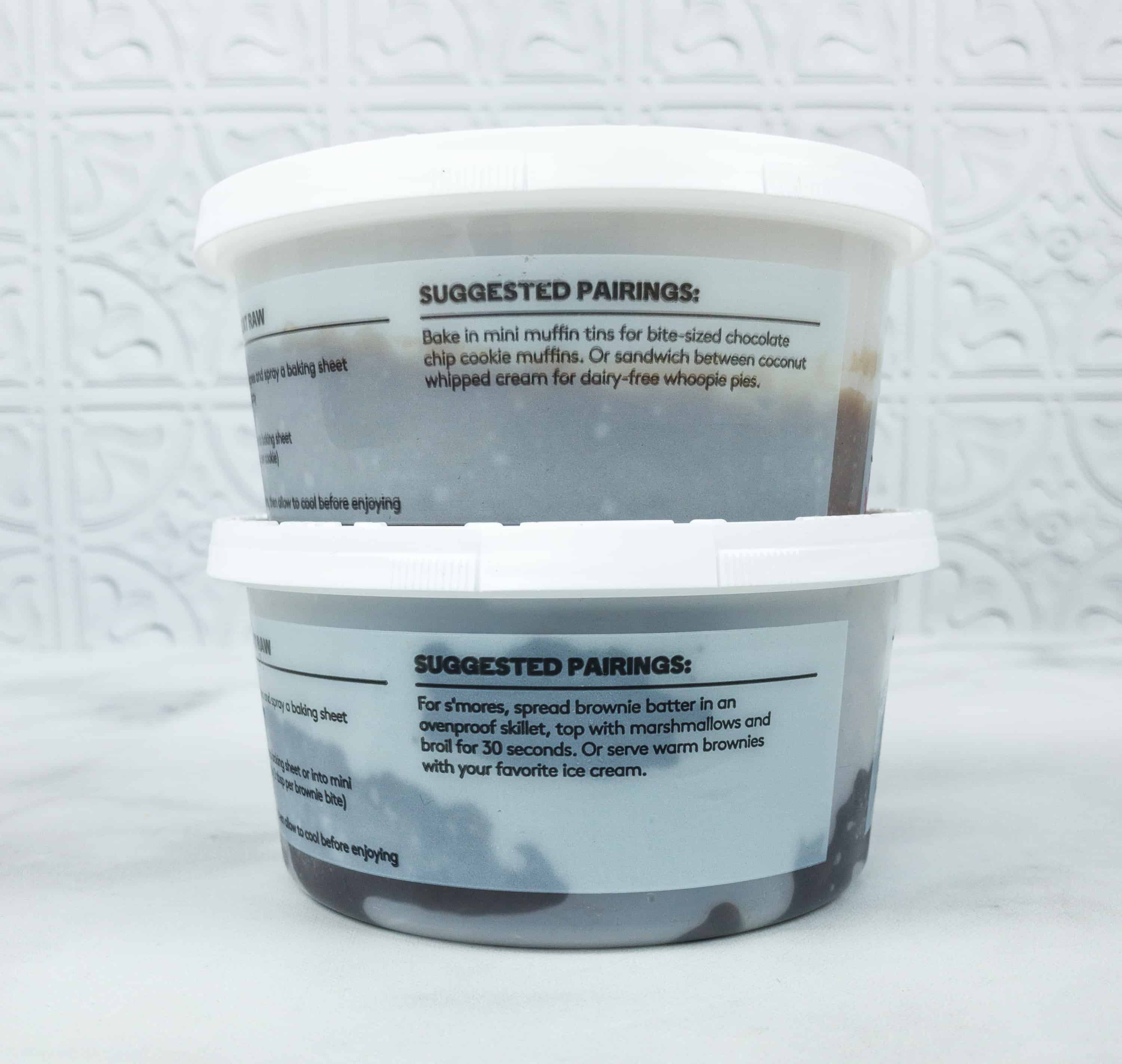 The back of each container has a suggested pairing for each treat, but they certainly don't need it.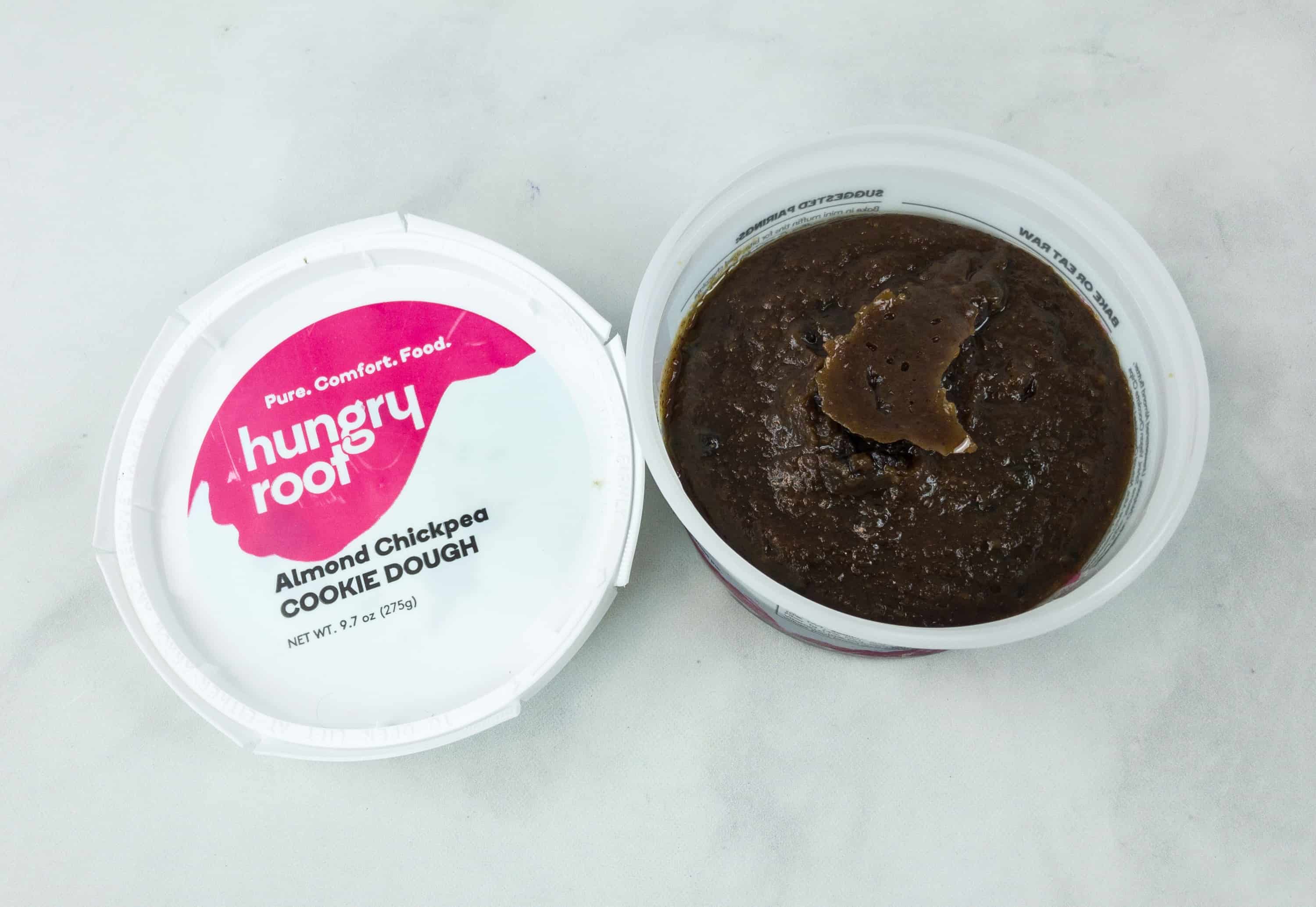 The Almond Chickpea Cookie Dough is satisfyingly sweet. You can either eat it straight out from the container or pre-heat using oven. The chickpea flavor is very mellow, and it has a very nice "cookie dough" flavor.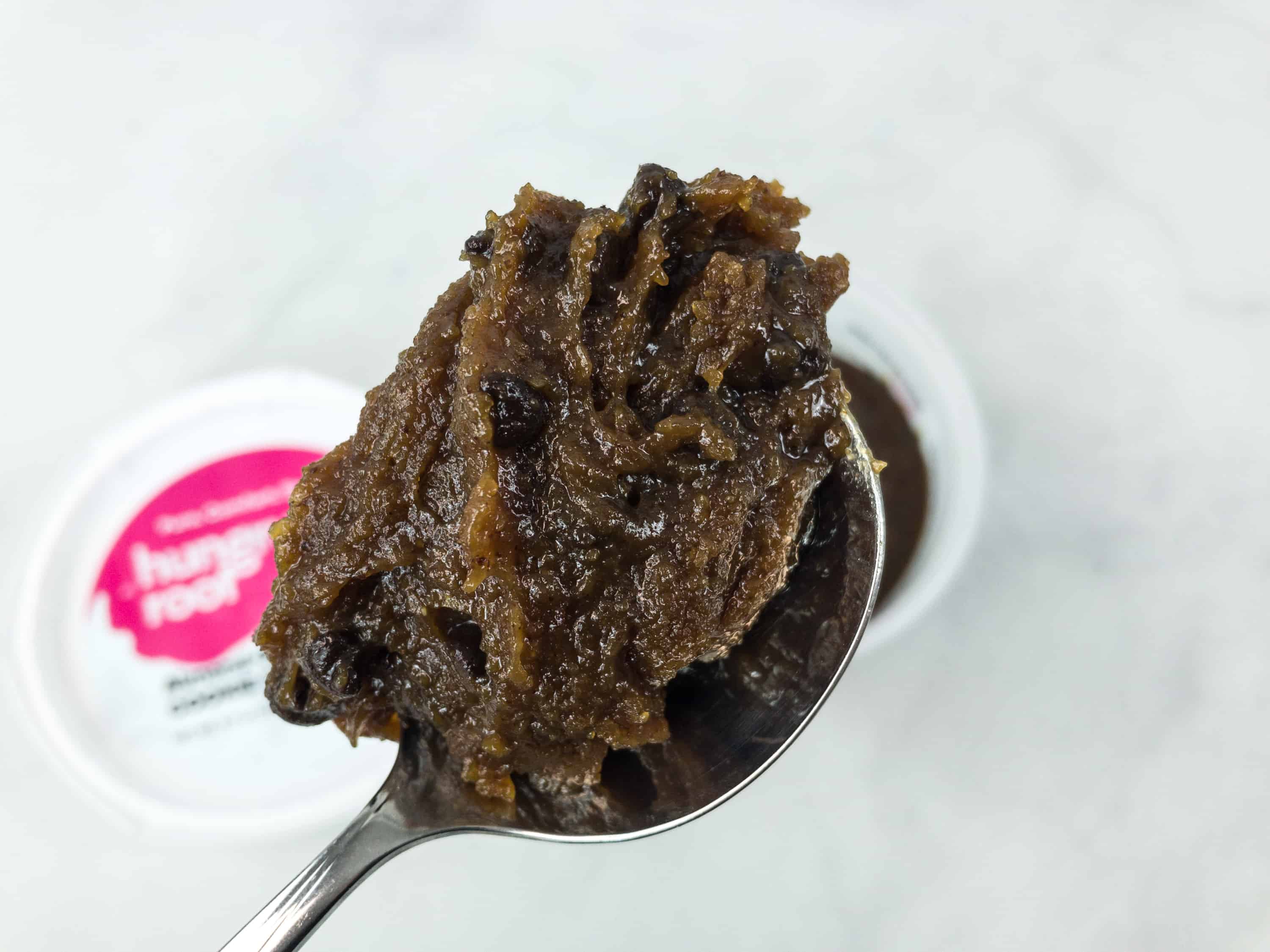 This cookie dough is moist and sticky! In both flavor and texture, it actually reminds me a bit of the caramel coconut frosting from a German chocolate cake.
Made from black beans and unsweetened almond butter, this brownie batter is quite addicting. It's just like eating our favorite fudgy brownies! The black bean is undetectable, and the cocoa flavor is really deep and rich.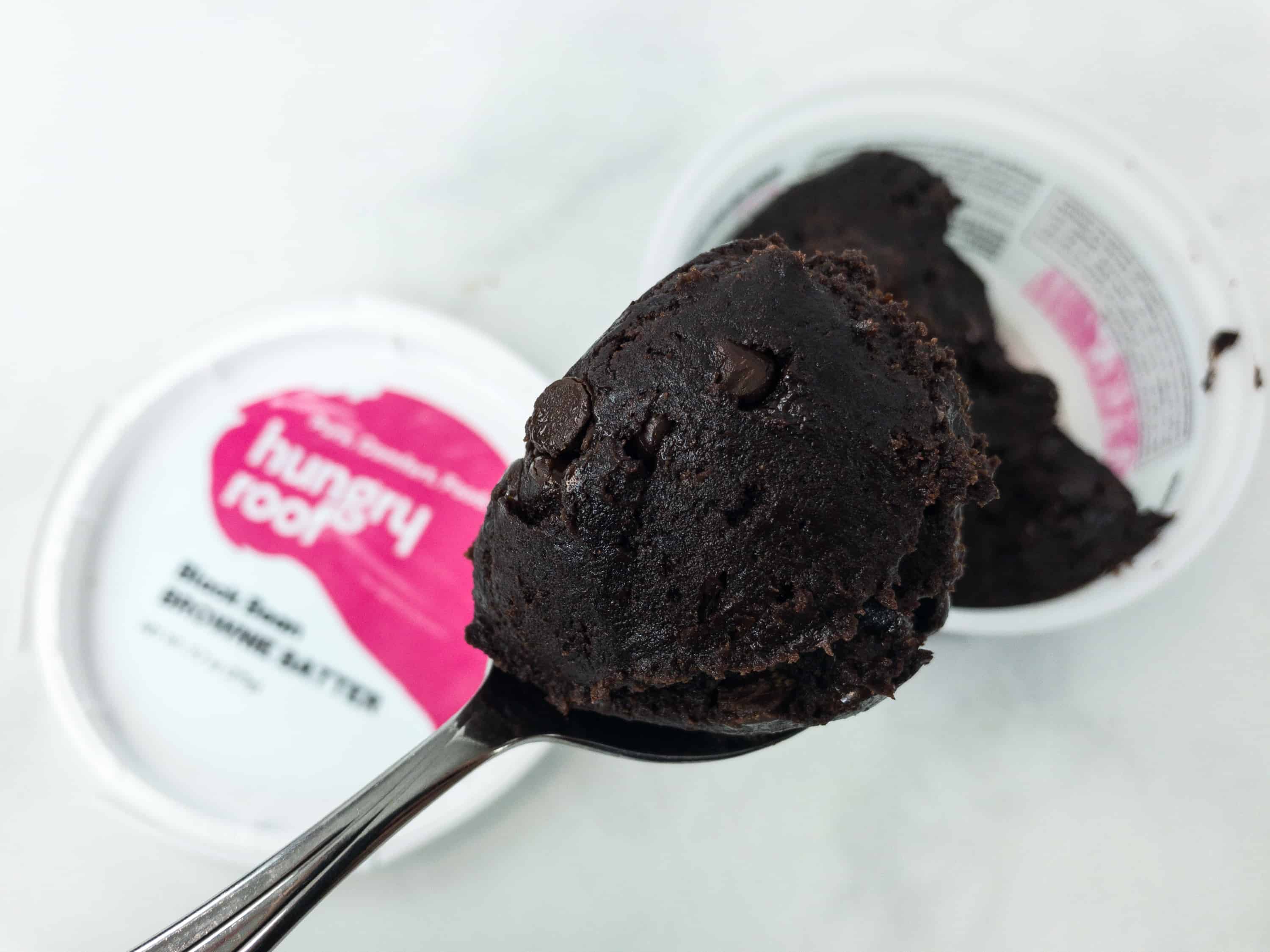 It has a thicker texture than traditional brownie mix, and it is great straight off of the spoon! According to Hungry Root, this dough contains 50% less sugar, carbs, and fat than the other leading cookie brands.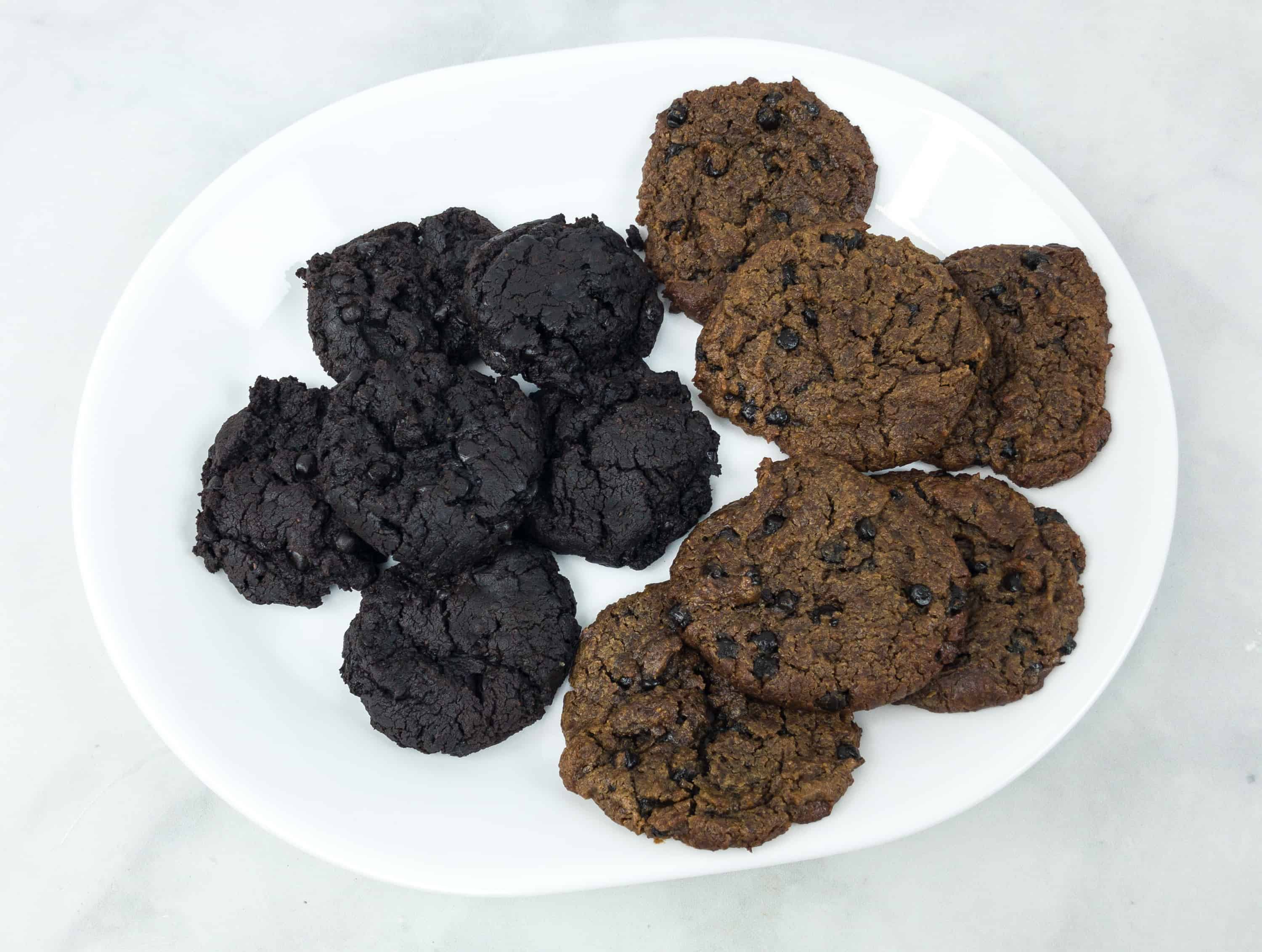 After sampling a giant spoonful or each dough straight from the container, I was able to make a half dozen baked cookies out of the remaining dough in each container.
Set your oven to 350 degrees, spray some cooking spray, put some scoop to the baking sheet, and bake for 15-20 minutes. The ingredients in vegan cookies stand up to heat much better than butter and flour, so these took twice as long to cook as ordinary cookies.
The cookies are so soft. It smells and tastes really great too! They remained very moist and gooey, but the outside crisped nicely.
If you love dark chocolate, this black bean cookie is definitely for you!
Like the first cookie, it's soft too! Cooking this batter actually brought out the black bean a little bit, but it still made a wonderful sweet bite.
What makes Hungryroot Meal Kit stand out from other meal subscriptions is that it is both essentially vegan and fuss free. They don't declare themselves to be 100% vegan, but everything is plant-based, and I haven't seen any animal products in the ingredients. All of the meals are quick and require no mess, no cutting board prep, and NO ZESTING! Many of the meals are vegan and gluten-free, but I found the meal selection to be very accessible to someone who is not a full-time vegan — meals were made from veggies, bean and pea protein, and familiar tofu, so nothing was odd or jarring. Our meal selection even includes some Asian inspired dishes, which shows how varied their offerings are.  I love enjoying my meals guilt-free, and the prep was far easier than that of a regular meal kit. From the ingredients to the procedure and presentation, our first box was a smashing success, so I'm looking forward to more!
What do you think of August's Hungryroot?