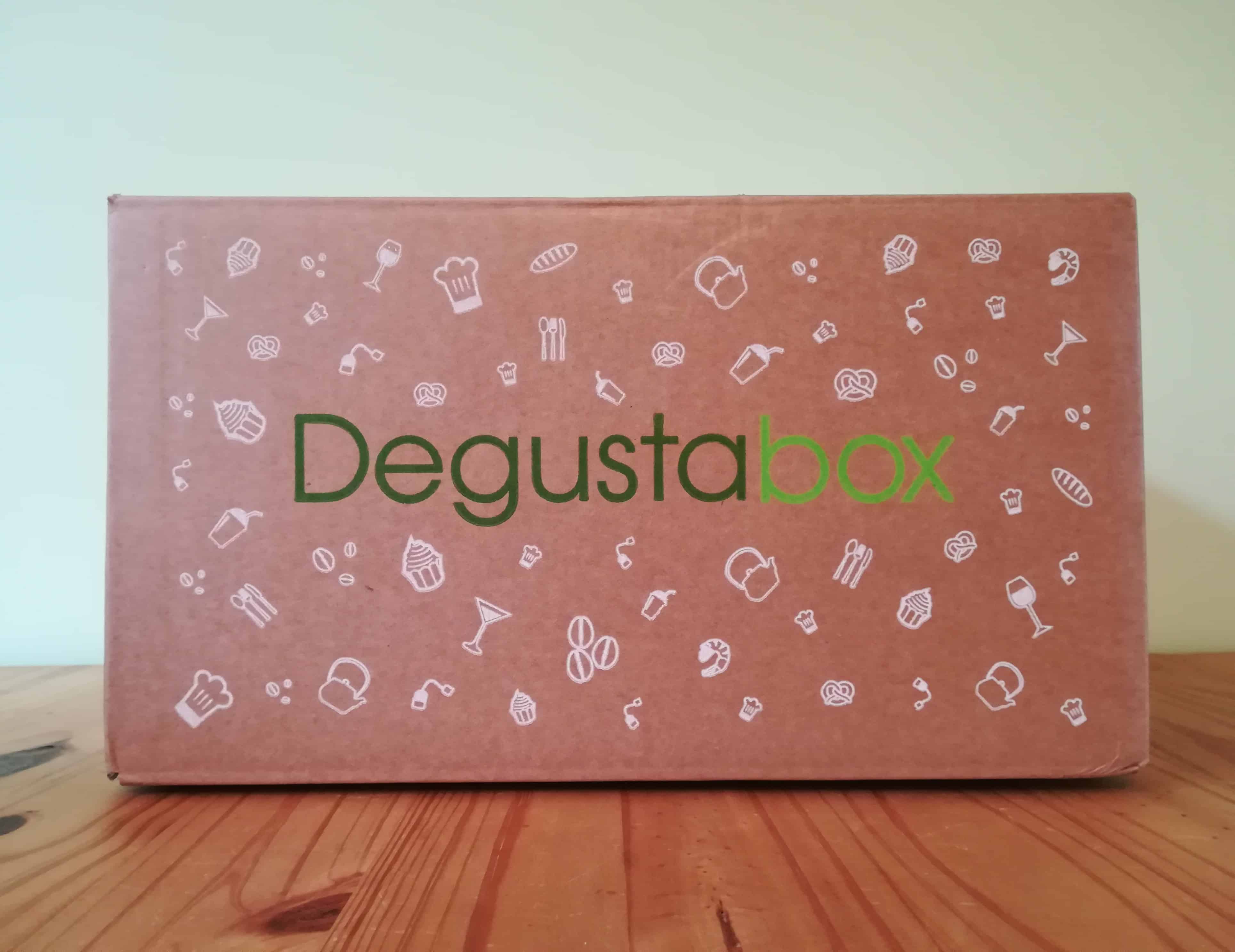 DegustaBox UK is a monthly subscription box that brings your favorite food and snacks to your doorstep. The subscription costs £12.99 per month and you'll get a box filled with 10-15 products and goodies! This box is always full of so many new things to try.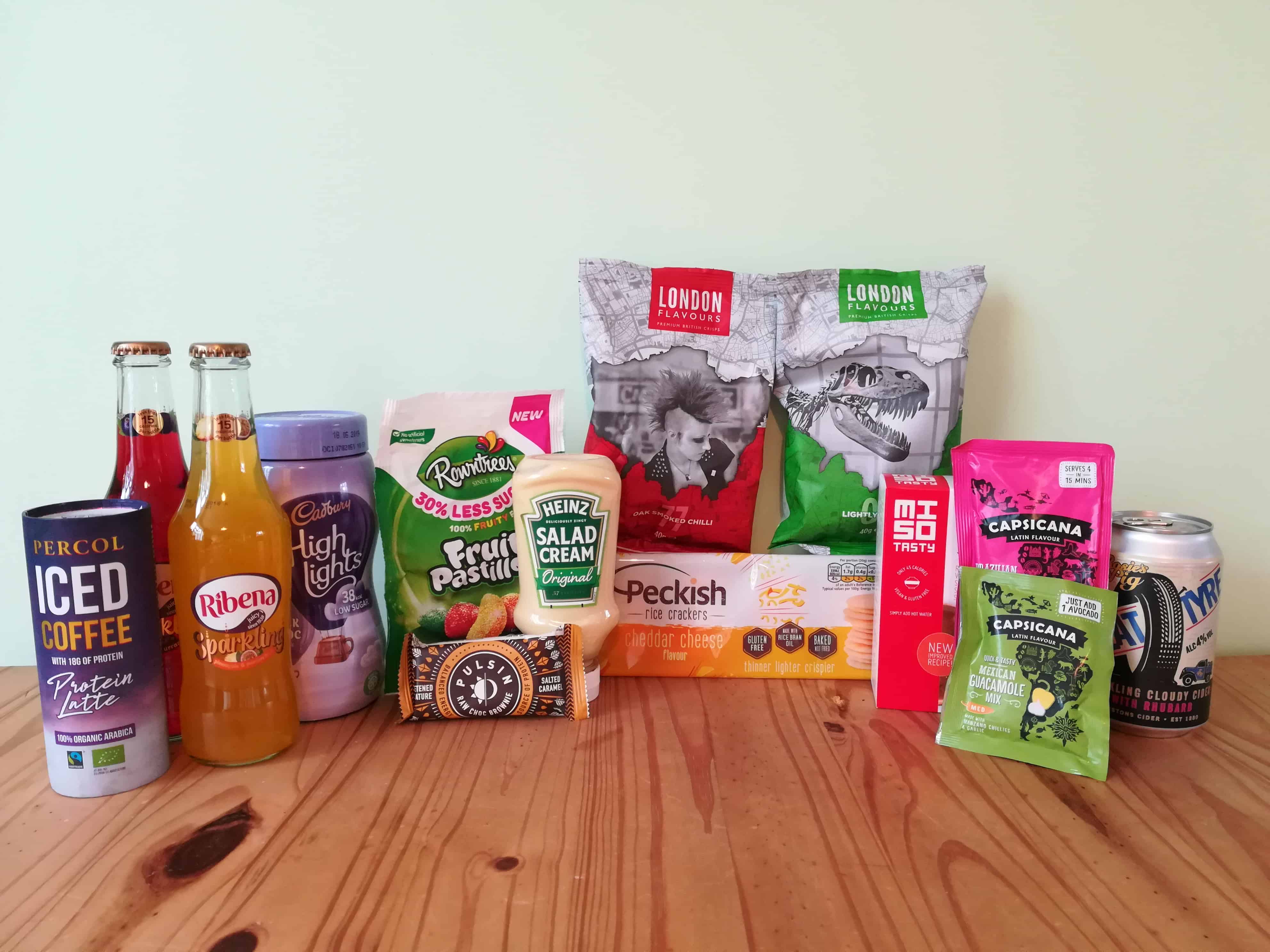 DEAL: Get your first box for £7.99, plus get free bonus item! Use coupon code HELLOSUBSCRIPTION18.
In the US but just looking for fun? Use code HELLOSUBSCRIPTION to get your first US box for 50% off! You'll also get free shipping and a free bonus gift!

This box is really well decorated inside and out. While the outside has little food items on it, the inside is full of bright green words. Plastic wrap and brown butcher paper keep all the contents safe.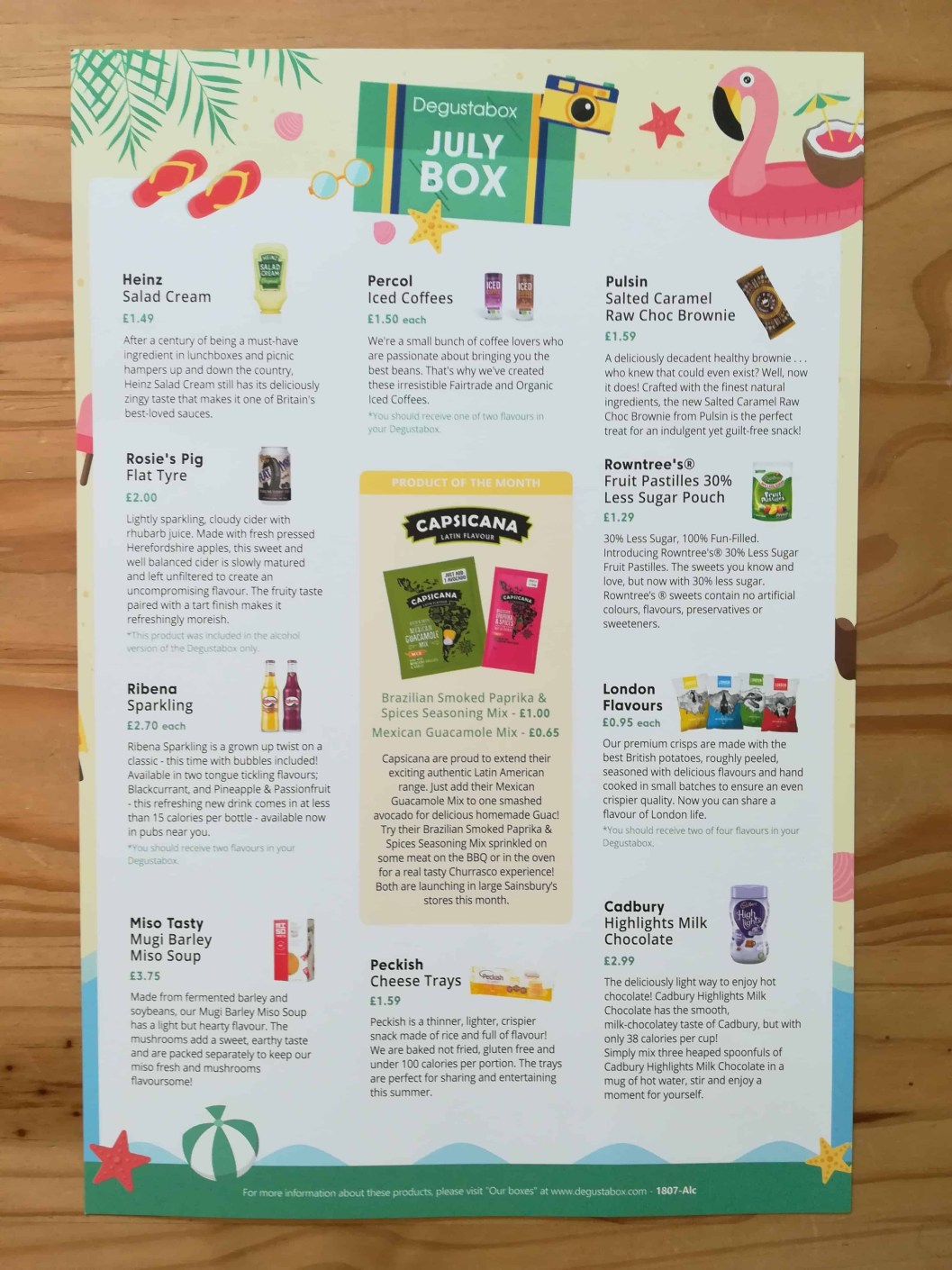 July's Degustabox has a summer beach theme. The information sheet shares details about the products.
What can you say about Heinz Salad Cream (£1.49)? It's the classic ingredient in a convenient squeeze bottle.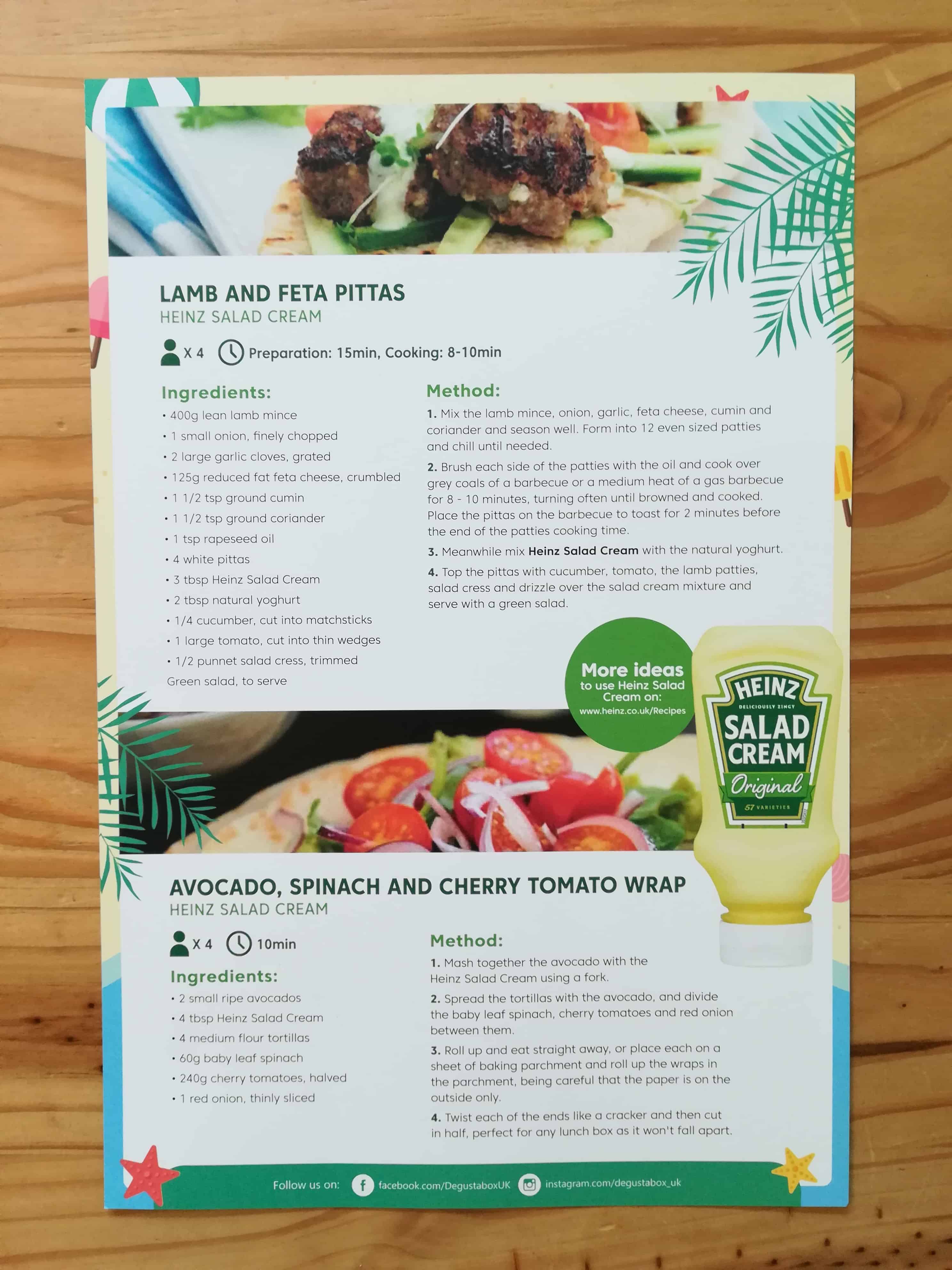 The information sheet includes some interesting recipes ideas, should you need some inspiration.
Percol Iced Coffees (£1.50) are Fairtrade and 100% organic arabica iced coffees. I received the Protein Latte, which boasts 18 grams of protein. Oh my was this delicious! So thick and creamy with a smooth and subtle coffee flavour, and the extra protein is just a bonus. I would definitely by this again for a treat or an afternoon pick me up.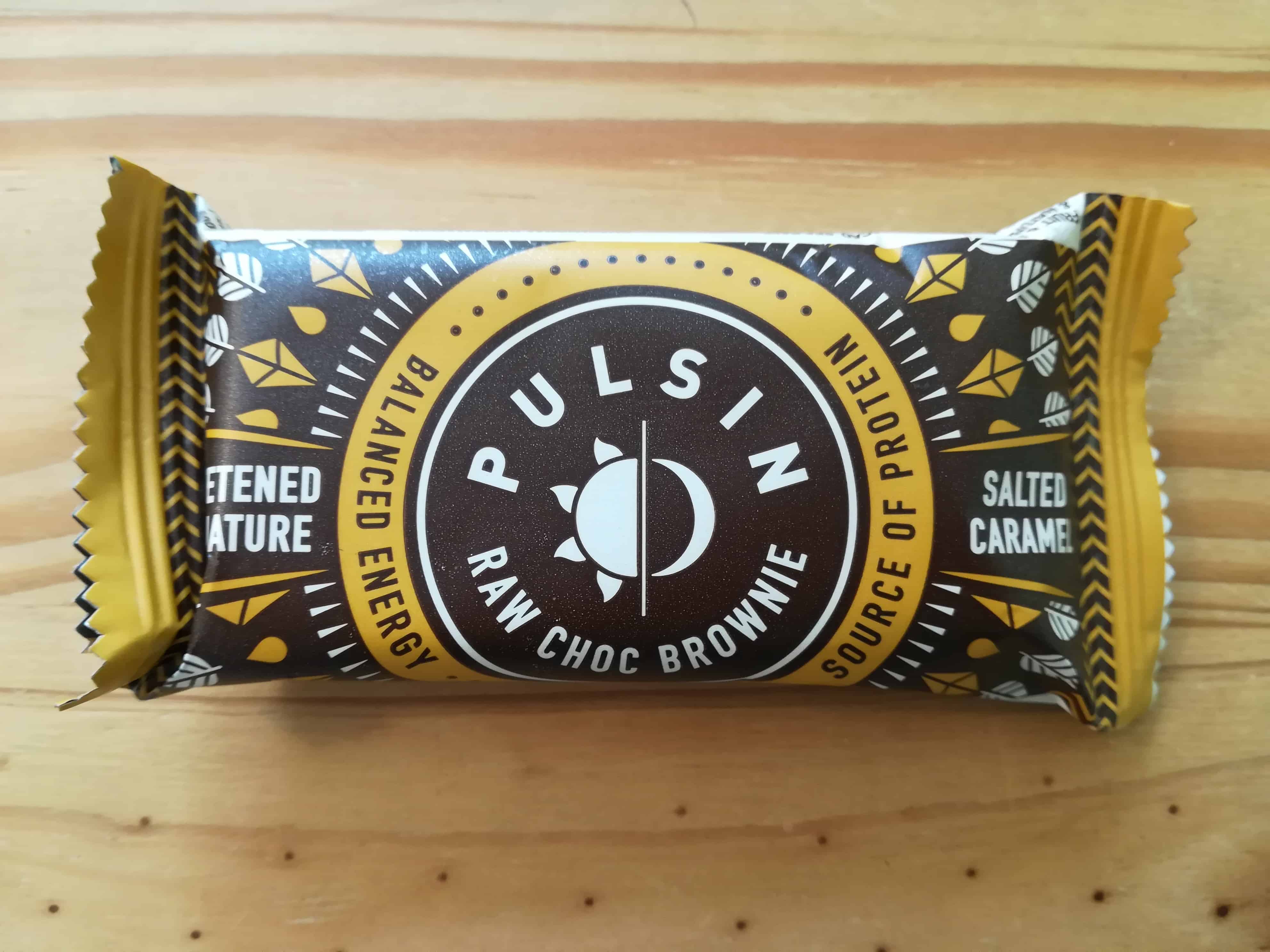 Pulsin Salted Caramel Raw Choc Brownie (£1.59) is a gluten-free and vegan-friendly treat made with peanuts, fruit, cacao and natural flavouring. Now, this tastes nothing like a real brownie, but it is quite tasty.
This had an interesting texture, with lots of little bits of peanut throughout, so though it is not as decadent and delicious as a brownie, it is a healthy and filling way to get a sweets fix.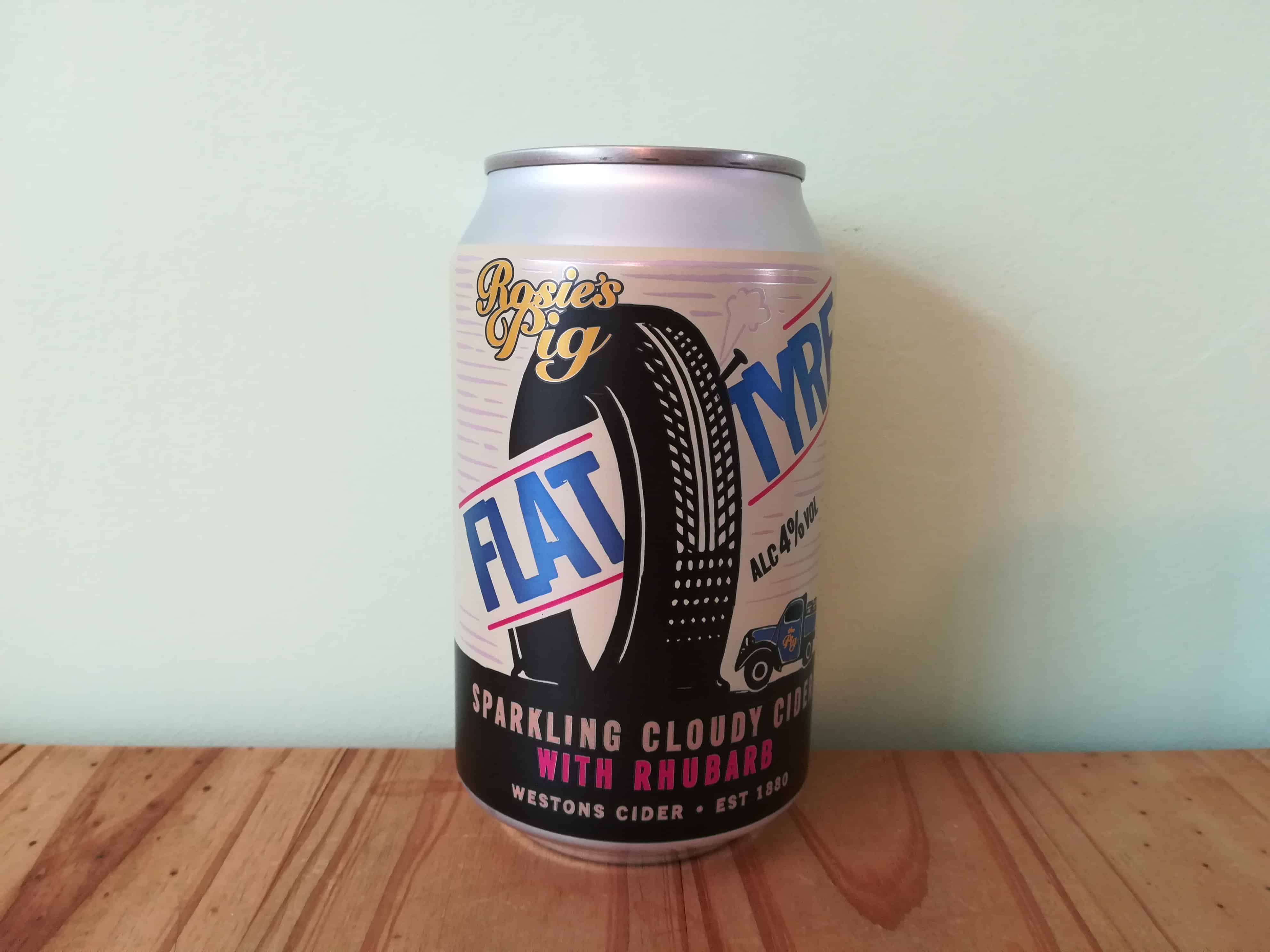 Rosie's Pig Flat Tyre (£2.00) is fast becoming a Degustabox staple. My opinion of this lightly sparkling unfiltered cloudy cider made with Herefordshire apples and rhubarb juice remains the same: it is okay but not spectacular. I like the tartness of the rhubarb and this is my preferred flavour of Flat Tyre.
Brazilian Smoked Paprika & Spices Seasoning Mix (£1.00) and Mexican Guacamole Mix (£0.65) are new additions to the Capsicana Latin American range. These are easy and affordable ways to add some extra flavour to a meal. The seasoning mix can be used on any type of meat, I mixed it with breadcrumbs to coat baked chicken which worked brilliantly, and the guacamole mix is as simple to make as mixing the seasoning into a smashed avocado.
Rowntree's Fruit Pastilles 30% Less Sugar Pouch (£1.29) contains no artificial colours, flavours, preservatives or sweeteners. I love the 30% less sugar trend for sweets, they taste just as good as the original but without the unnecessary extra sugar. Yum!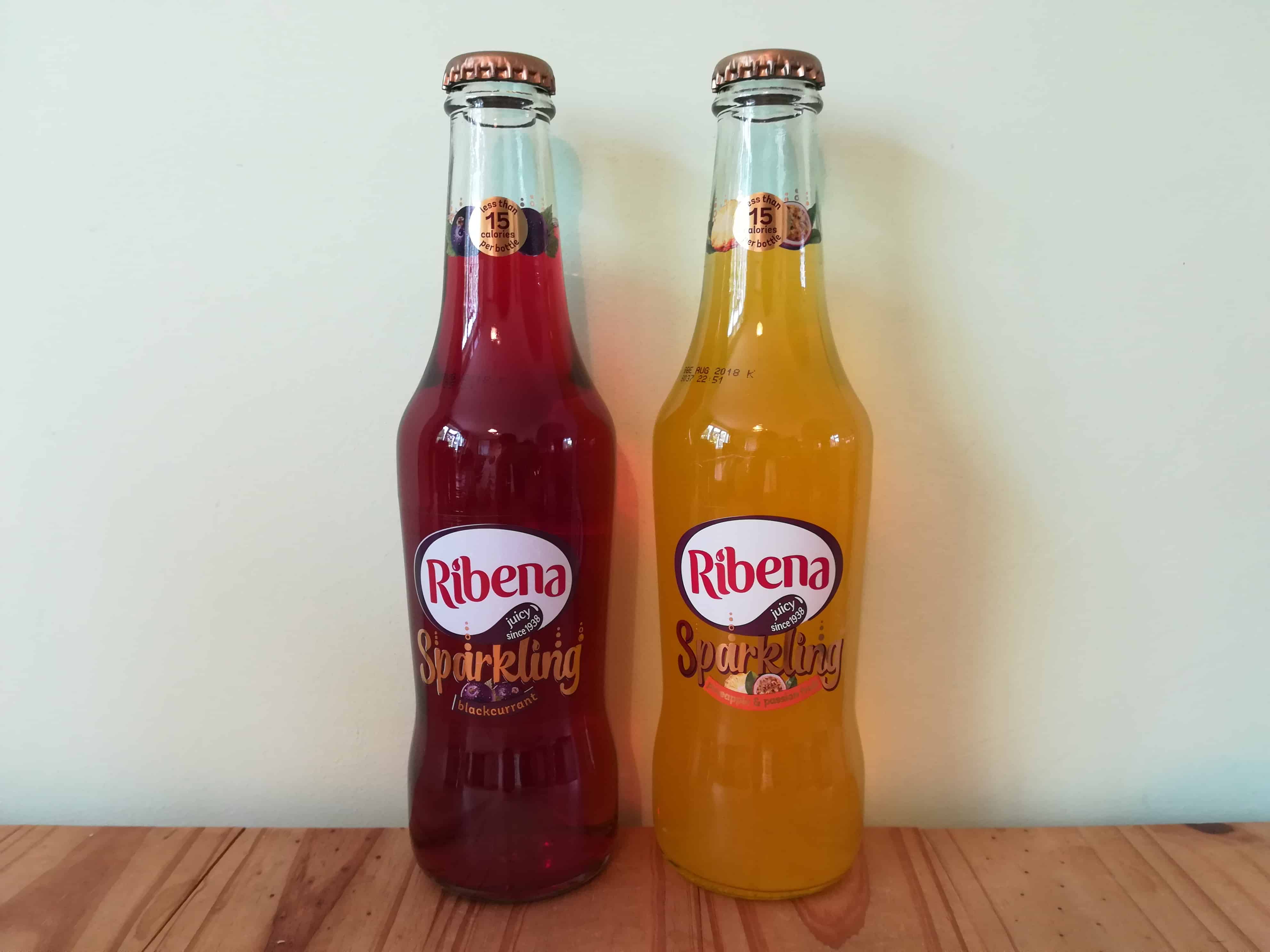 Ribena Sparkling (£2.70) is a fruit beverage geared towards adults: the sweet flavours of Ribena with added bubbles. I enjoyed both the Blackcurrant and the Pineapple & Passionfruit flavours, which were subtly carbonated and very fruity. Each has less than 15 calories per bottle, so it's great if you're watching your sugar intake. I thought the sweetener gave this a little bit of an aftertaste, although not overwhelming, and overall these were nice enjoyed over lots of ice on a hot summer day. I do think the price is on the high side for a single serving.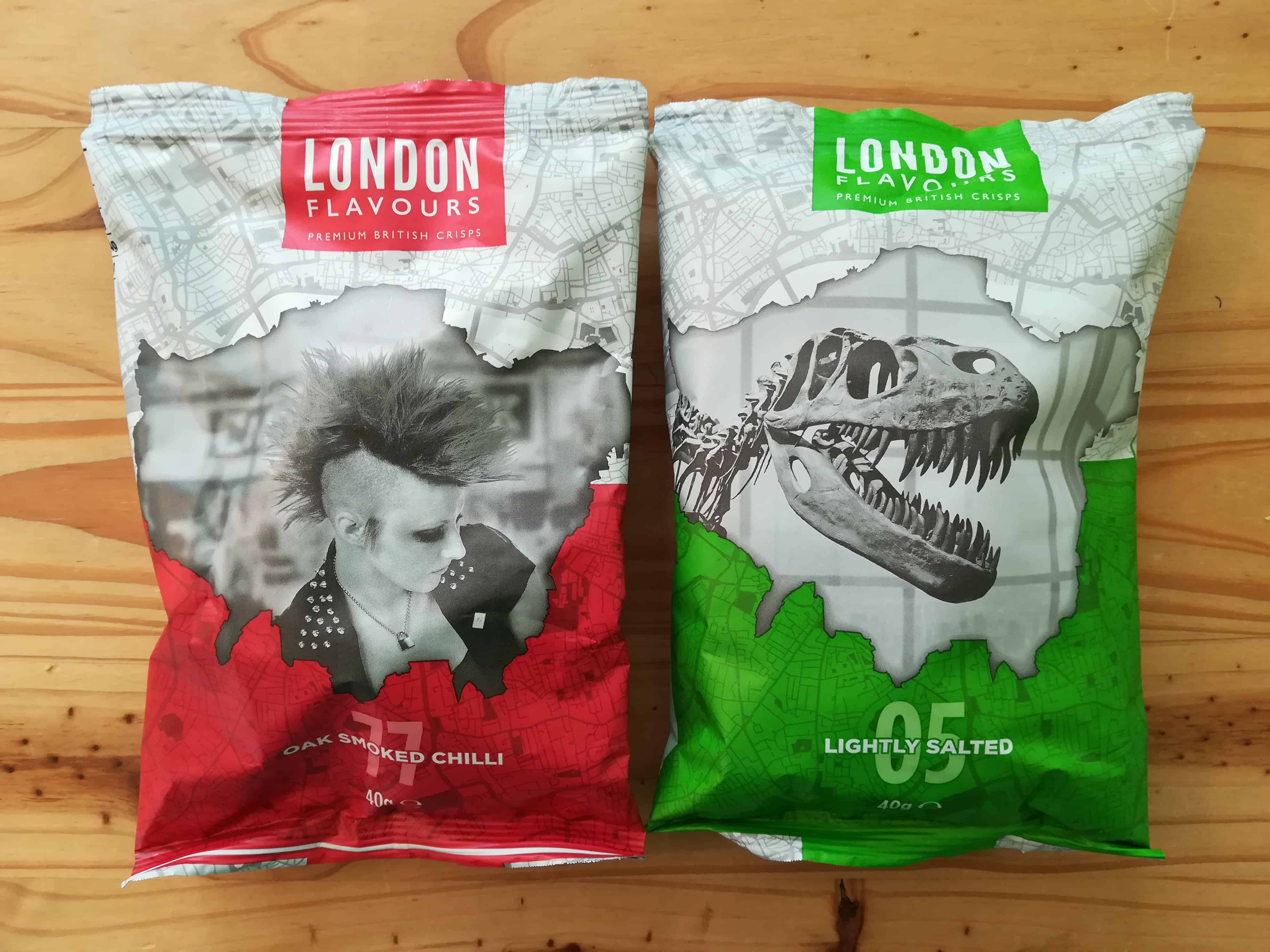 London Flavours (£0.95) are premium crisps made with British potatoes cooked in small batches. I received the Lightly Salted and the Oak Smoked Chilli flavours in my box.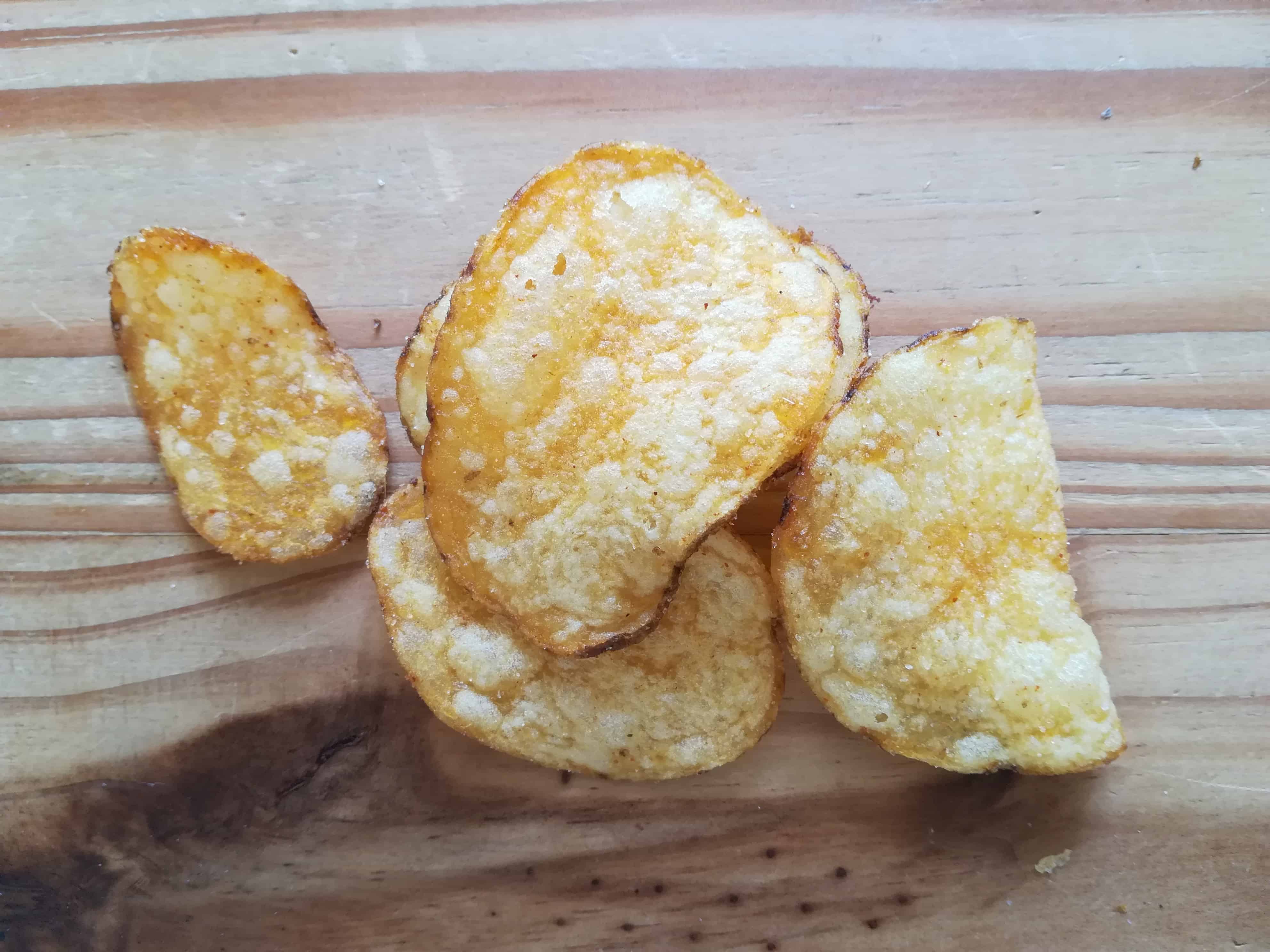 The latter has a lovely smokey and spicy seasoning, with a just enough crunch. These were easily some of the tastiest crisps I've had in a long time and I will be on the lookout for these in stores for sure.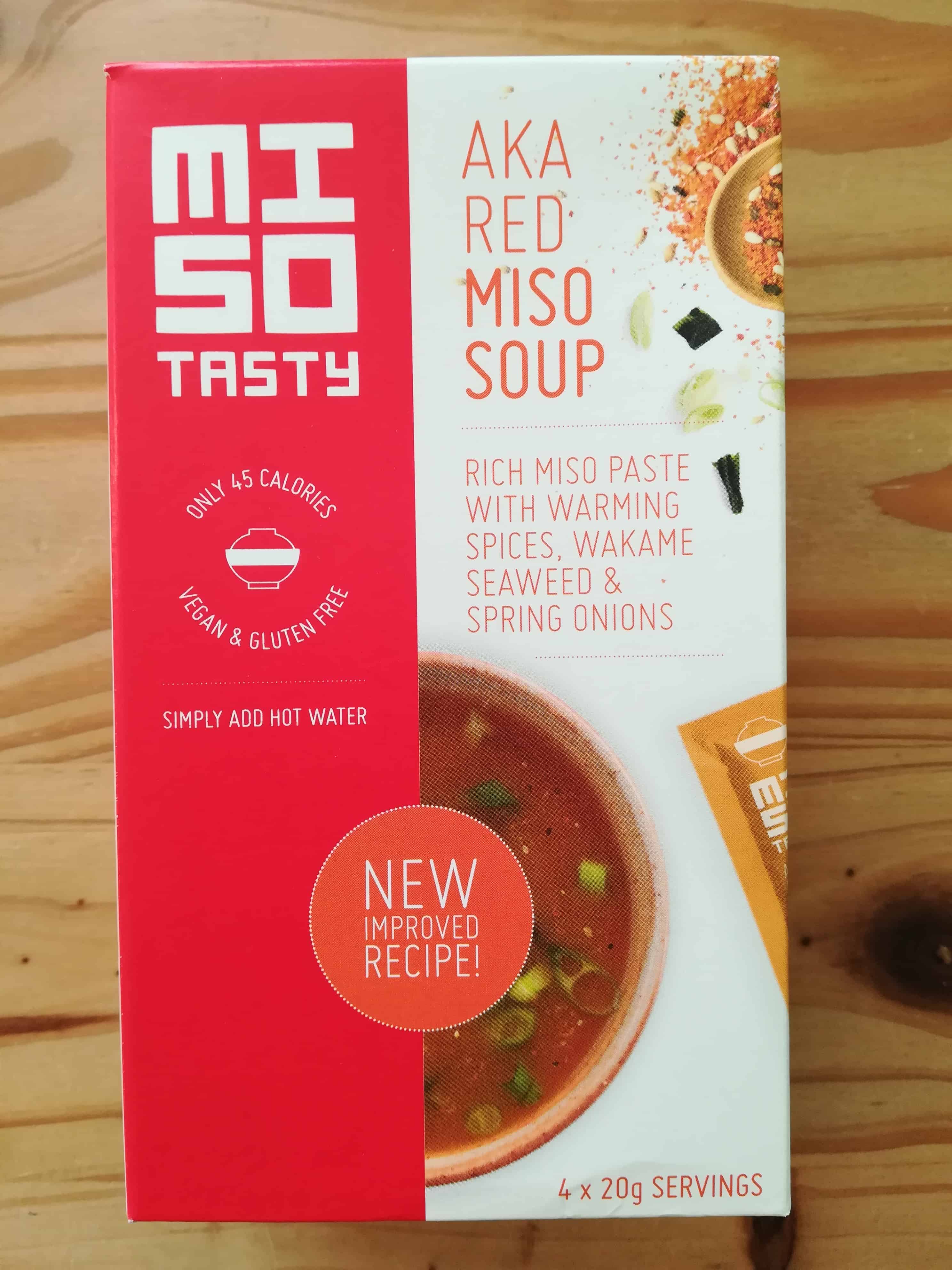 Although my info sheet said I would receive Miso Tasty Mugi Barley Miso Soup, I actually received the Miso Tasty Aka Red Miso Soup (£3.75). But nevermind, this is a quick to make (just add hot water) soup made with rich miso paste, warming spices, wakame seaweed, and spring onions. With only 45 calories, this is a nutritious and flavourful addition to a meal. Each box contains 4 servings.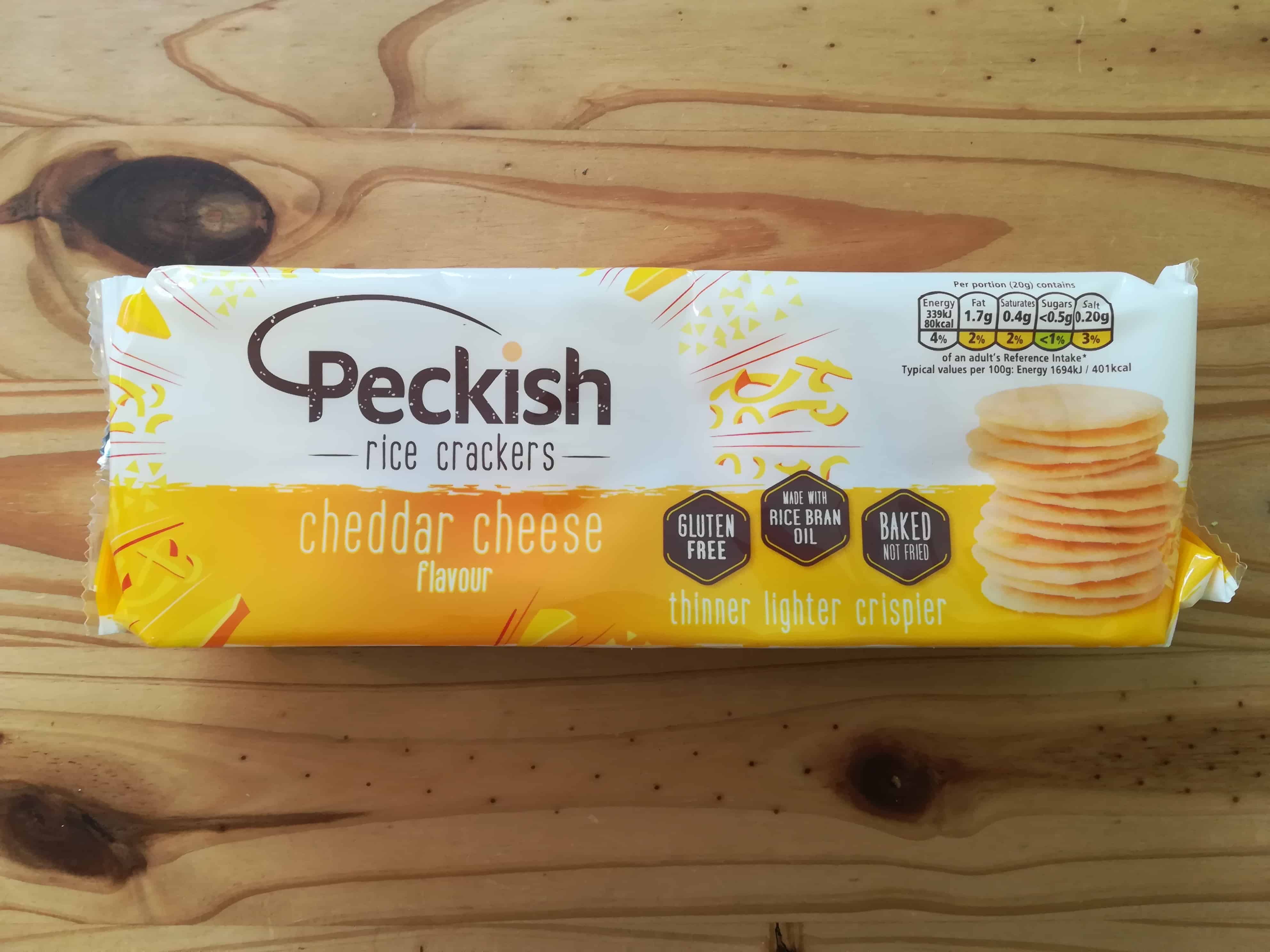 Peckish Cheese Trays (£1.59) are thin baked rice crackers that are gluten free and made with rice bran oil.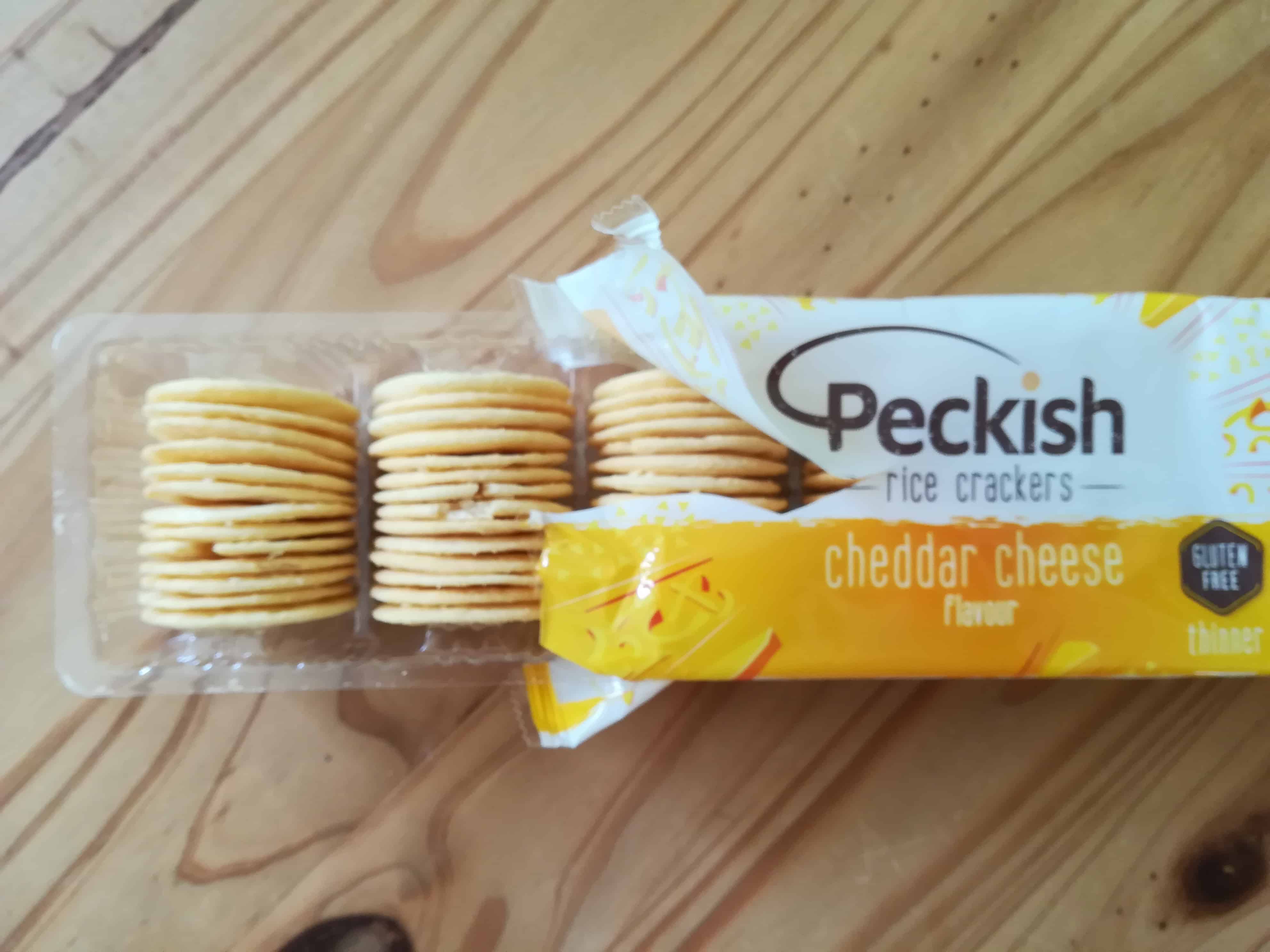 I enjoyed the BBQ flavour in last month's box and also enjoyed these cheese flavoured thins. Light, crisp, flavourful and in a pack that's designed for sharing!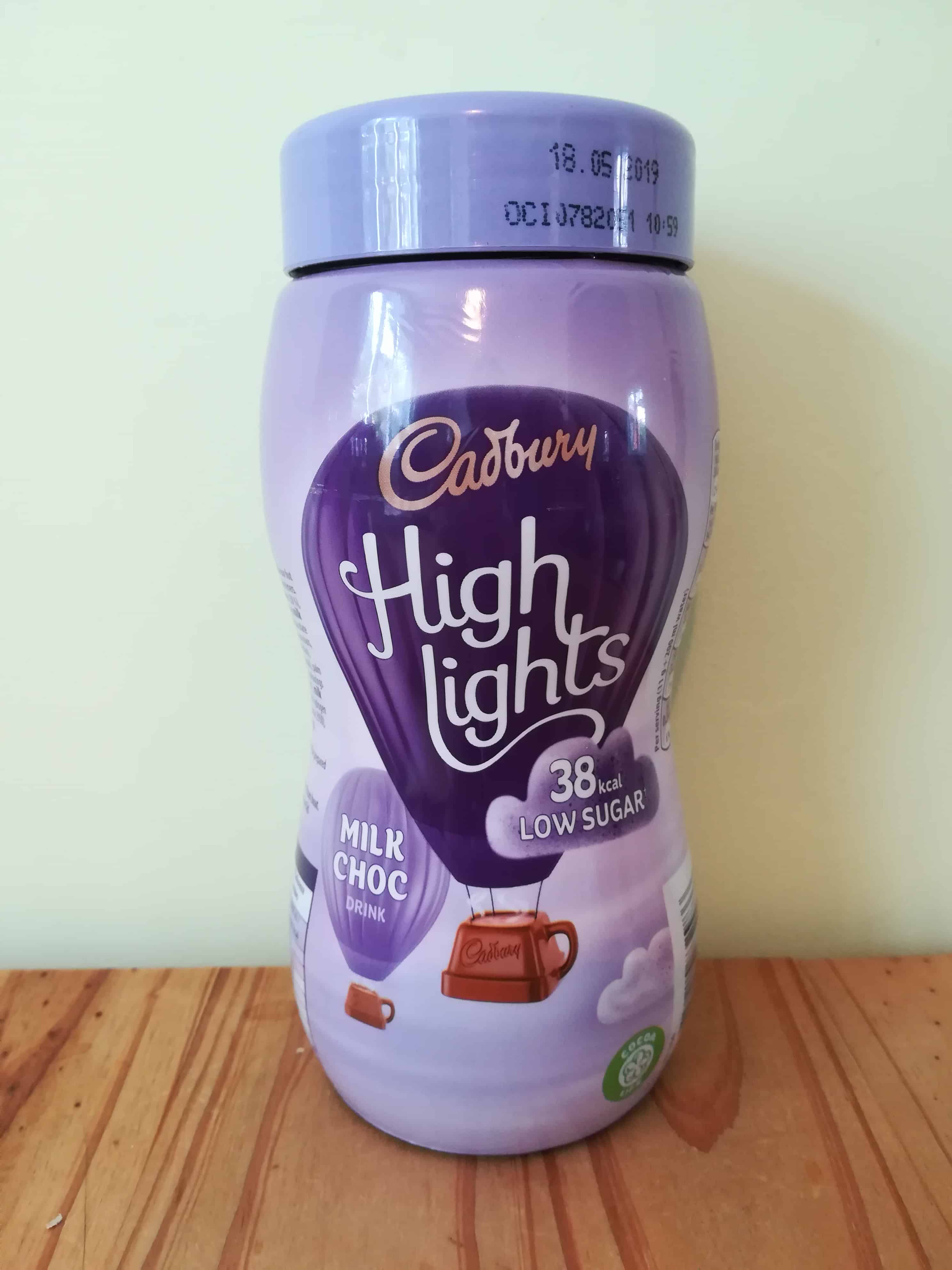 Cadbury Highlights Milk Chocolate (£2.99) makes a cup of cocoa with only 38 calories. Personally, I prefer the Bournville flavour prepared with milk, but any way you choose to prepare Highlights, it makes a nice lighter cup of cocoa.
I enjoyed all of the products in July's Degustabox but my clear winner was Percol Iced Coffee with an honourable mention to London Flavours crisps.
Have you tried DegustaBox UK?
Visit DegustaBox UK to subscribe or find out more!