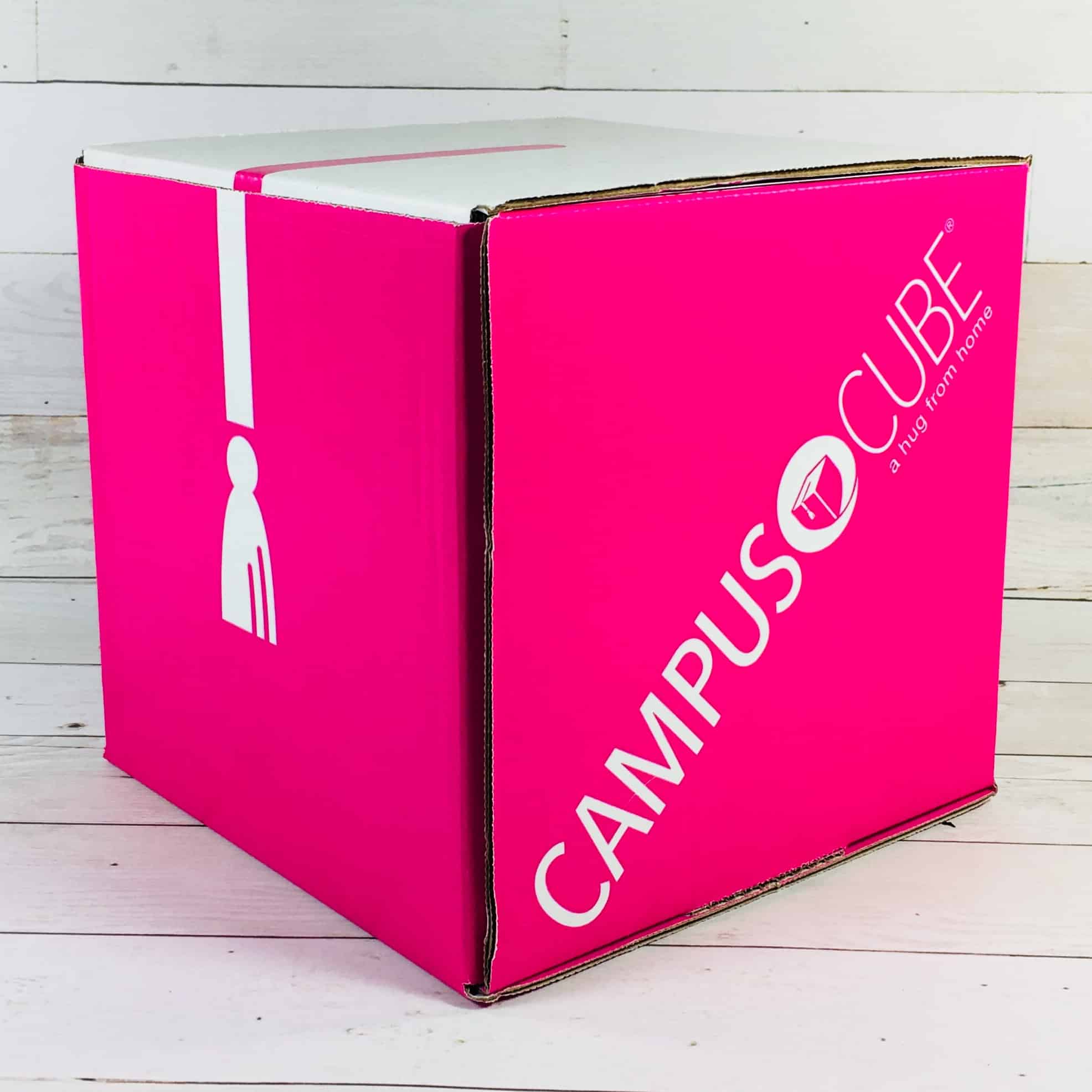 CampusCube College Care Package is a subscription box that delivers treats to your college student to help them get through their year. CampusCube offers a version for boys or girls and I will be reviewing the items from the Girls Smart Start September College Care Package. CampusCube is $39.95 a box and includes free shipping for subscribers, or you can purchase a one-time box and pay around $4.95 for shipping. When you sign up, you can see all of the remaining boxes (there are 8) for the 2018/19 school year and pick the ones that you want your child to receive. CampusCube offers a gluten-free version, too. Need an exam survival cube, or maybe a birthday cube? CampusCube has got you covered!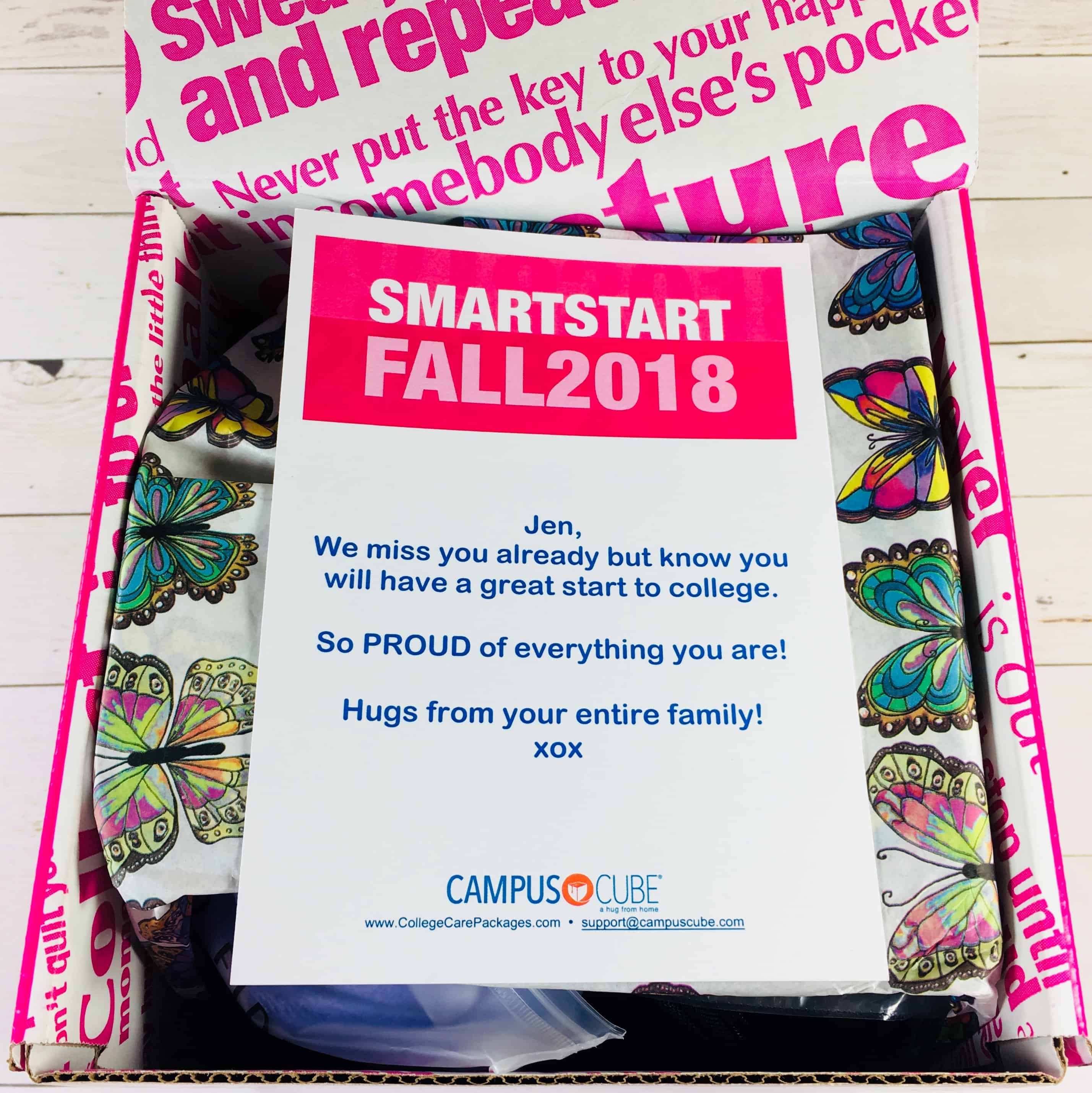 On top was an example of the card your child will see when they open their box. You can personalize the message when you order the boxes. For multi-box orders, you can either repeat the message for all boxes or write a different greeting for each shipment. The card includes an email address so your student can let CampusCube know if there is a problem with their box. I didn't receive a list of products but you can see a sample box, including future boxes, on the CampusCube website.
DEAL: Take $5 off your box! Use coupon code Hello5.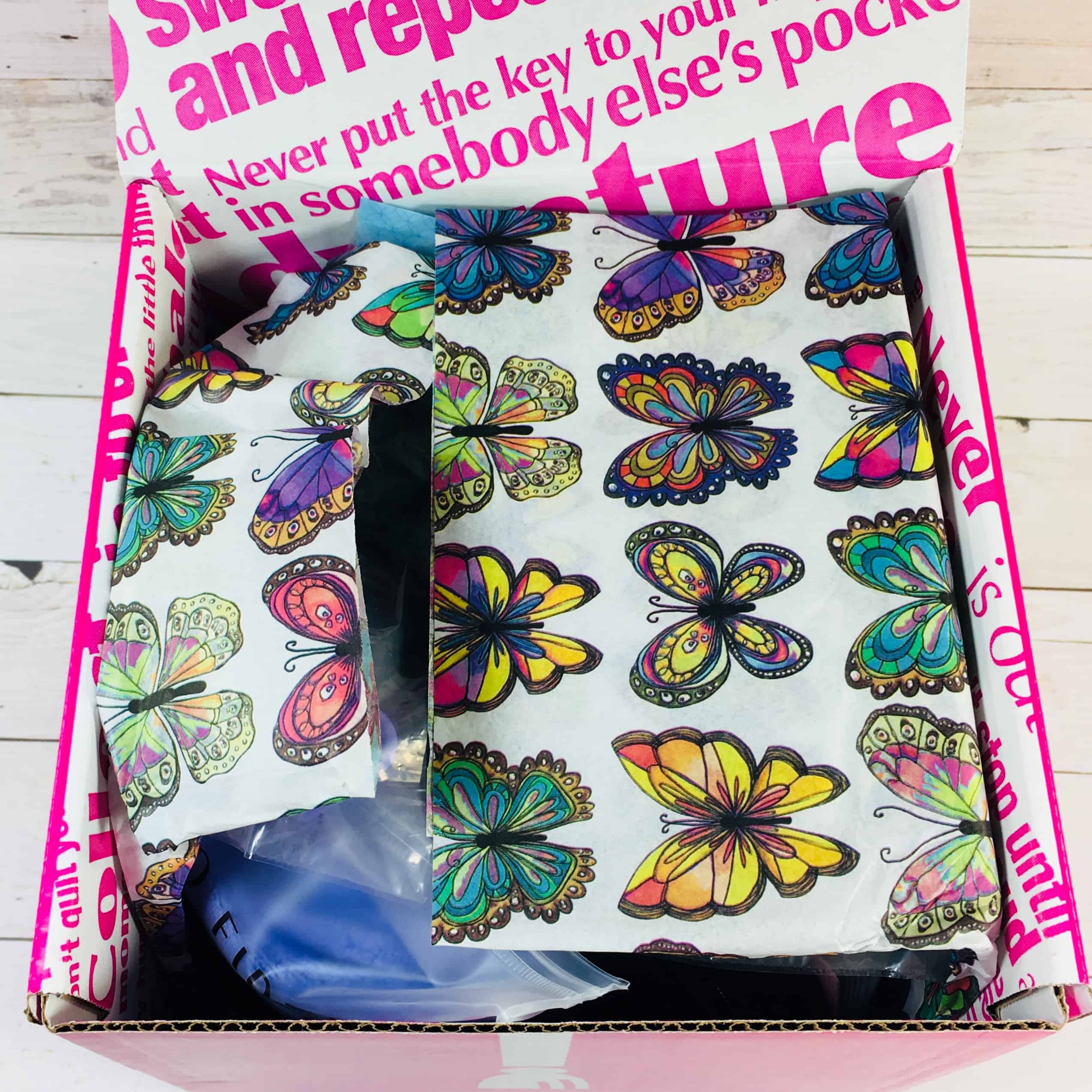 The butterfly tissue paper was adorable and bright!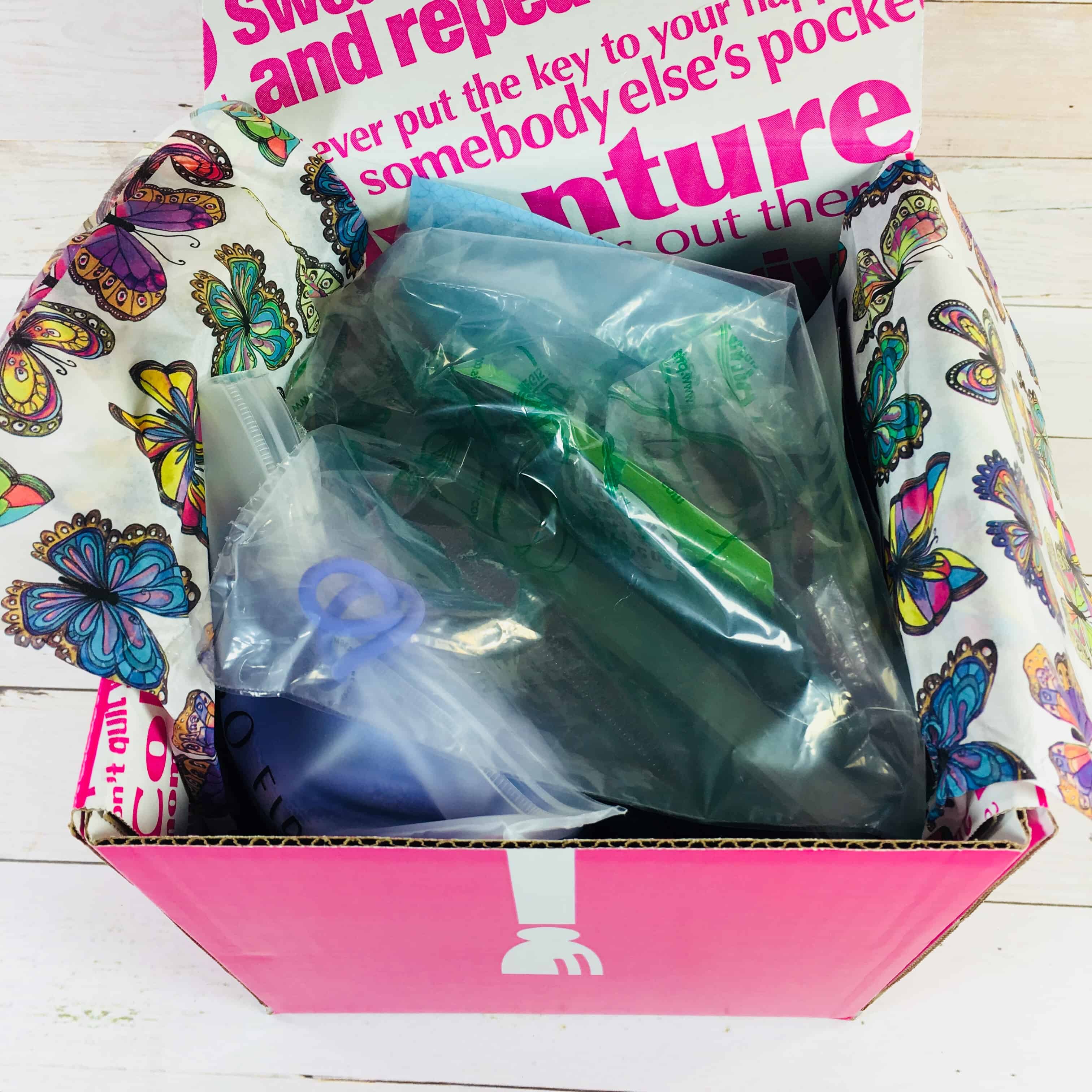 There was a big bubble cushion to keep the items from shifting during shipping.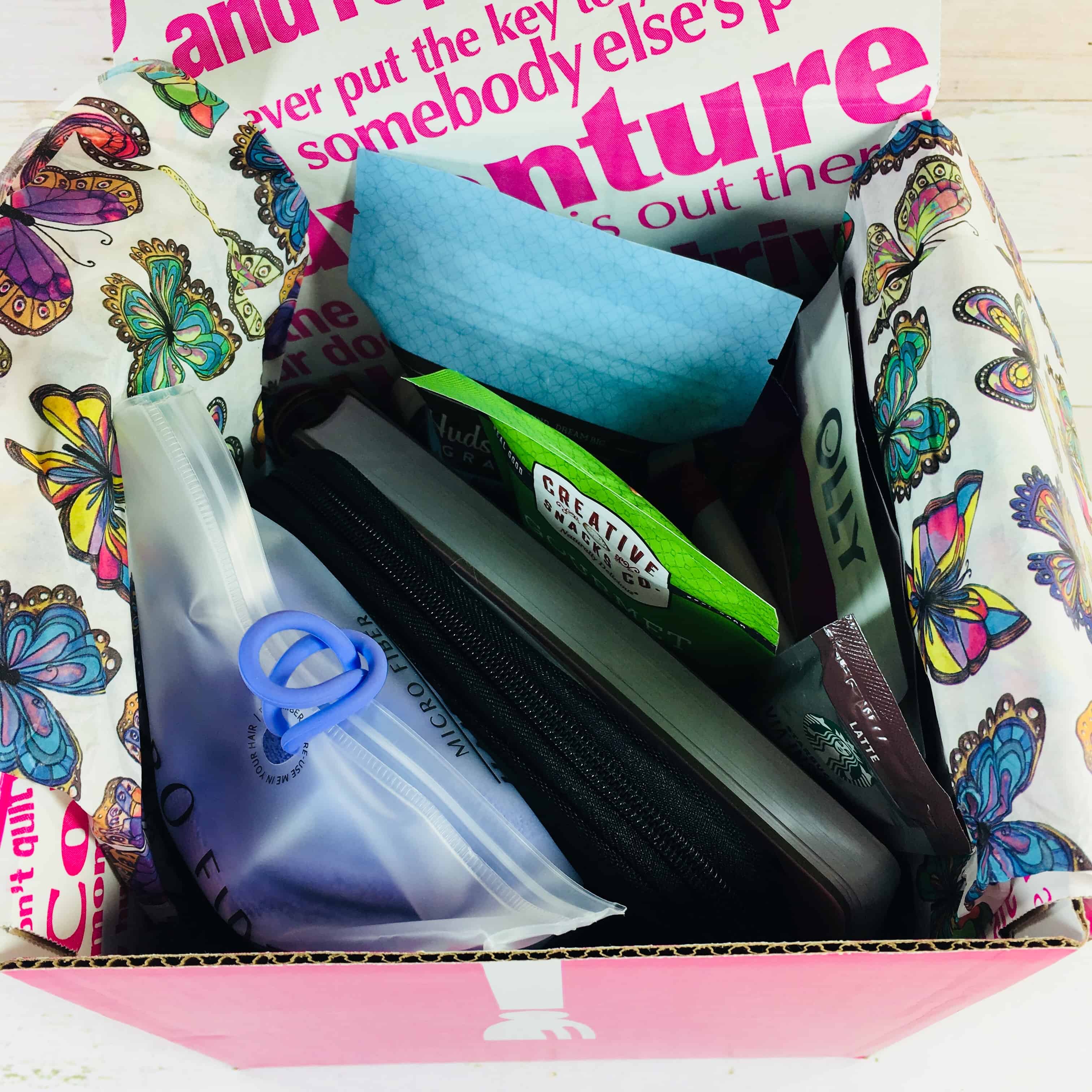 CampusCube does a wonderful job on presentation and I thought everything looked great. It was very bright and cheerful. I received this box for review just before my daughter left to start her senior year of college (she skipped a year thanks to dual-credit high school classes and summer school!). She tried everything and reported back what she thought of each item.
Everything in the box!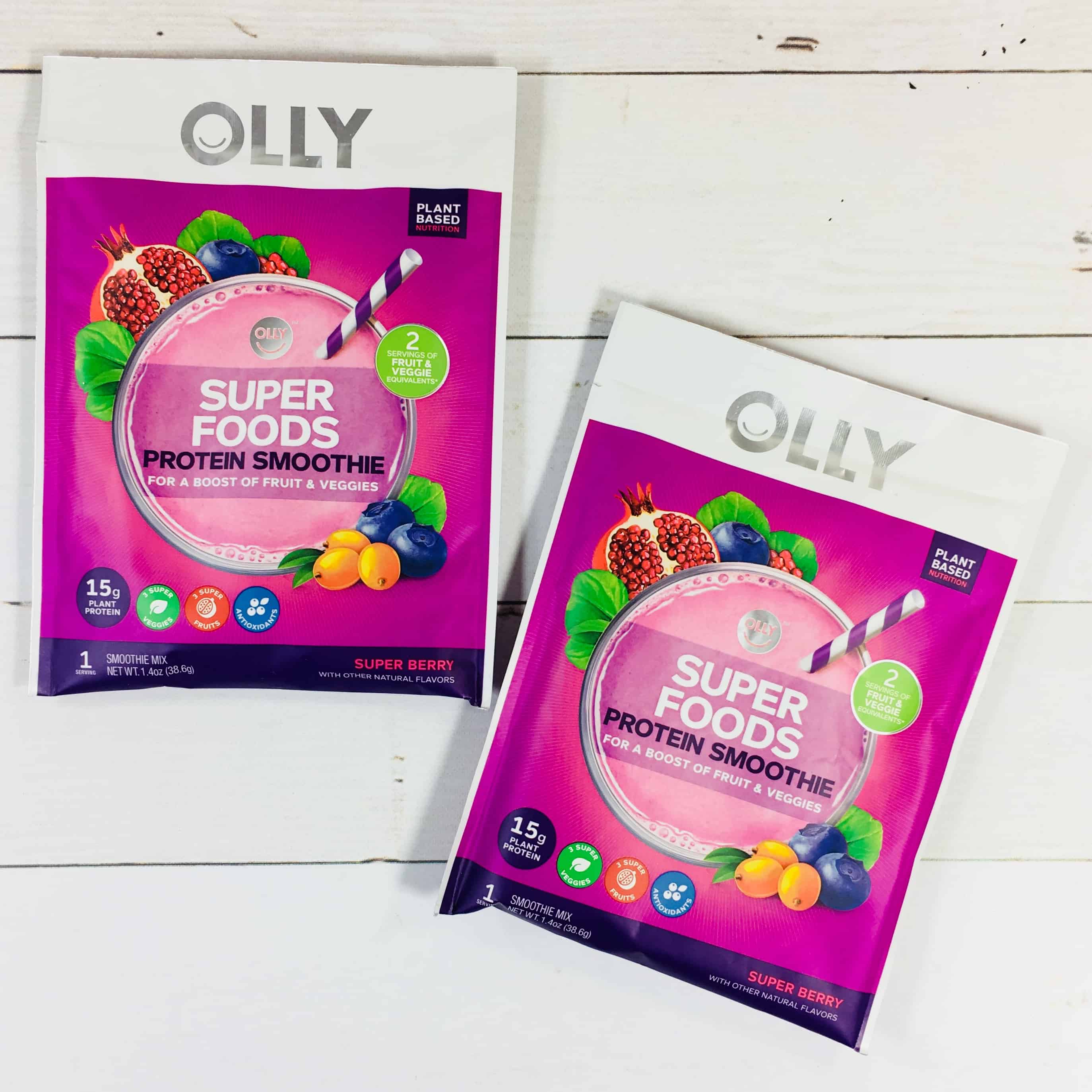 Olly Superfoods Protein Smoothie ($3.48) is good to have on hand if you are in a hurry and don't have time for a proper breakfast.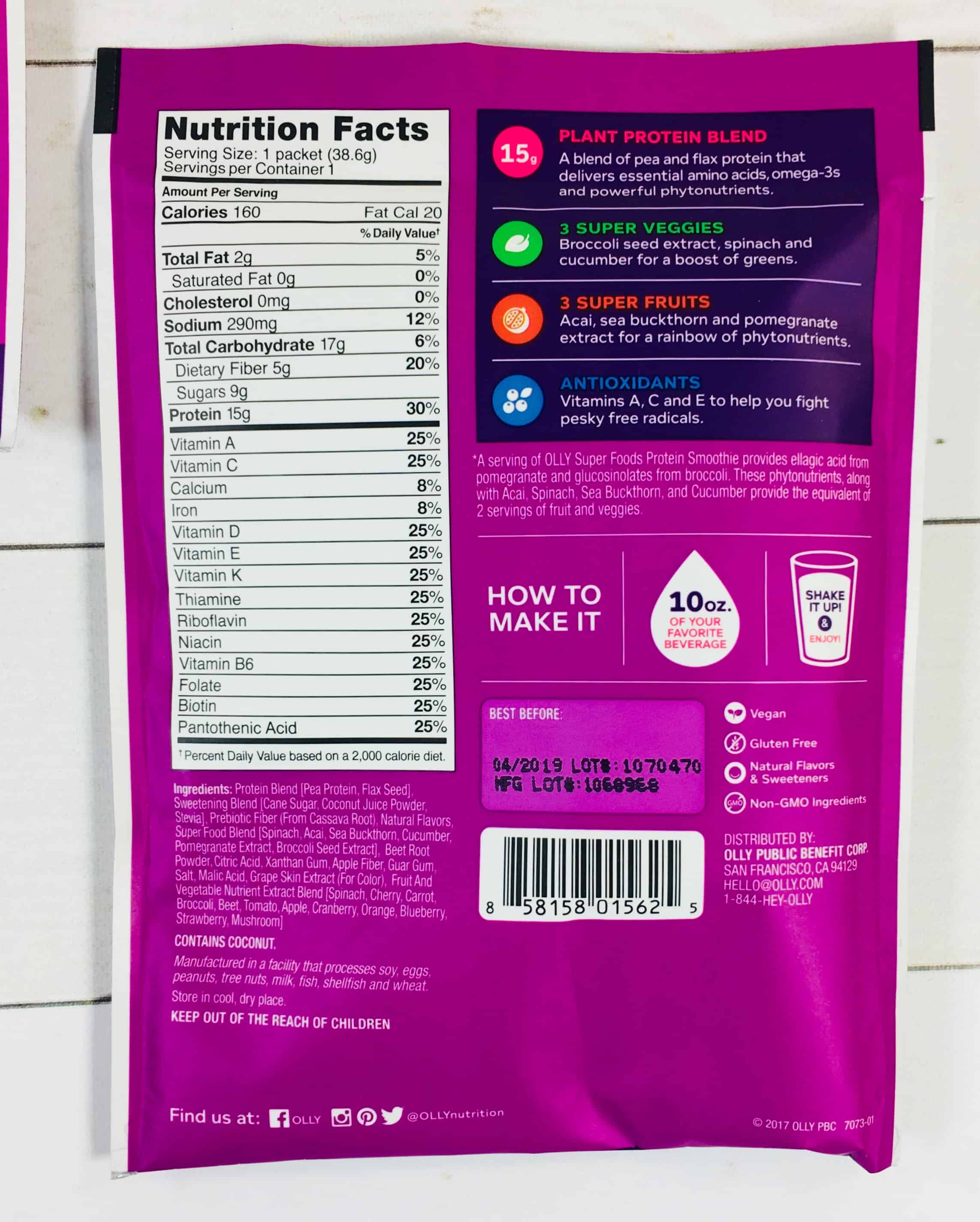 It has antioxidants from fruits and vegetables and 15 grams of protein. I don't think Gemma cared for it, but then our family isn't into stevia, it leaves us with an aftertaste.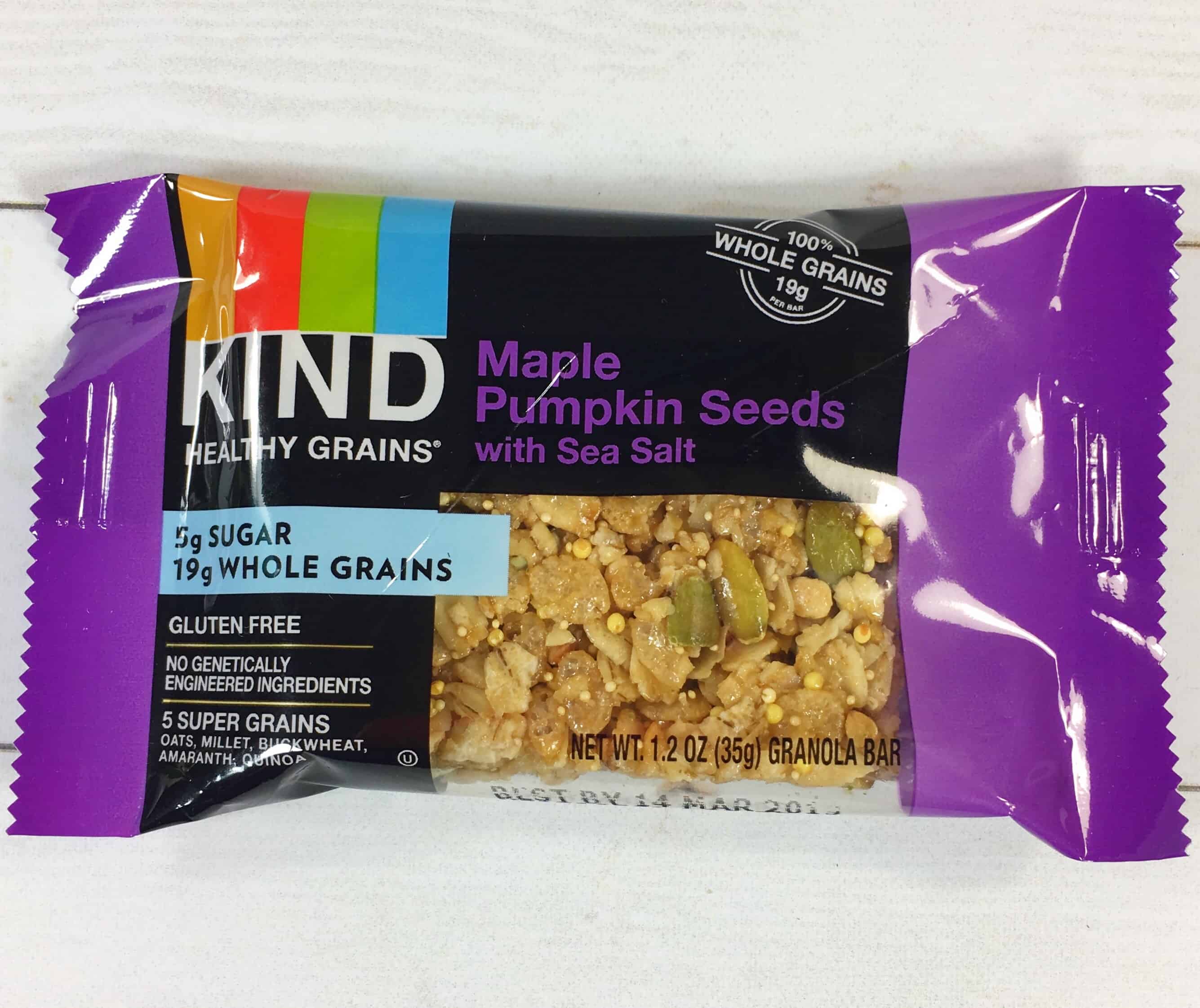 Kind Healthy Grains Maple Pumpkin Seeds With Sea Salt Granola Bar ($0.71) Gemma left this behind for me to try and it was delicious. It has oats, brown rice, pumpkin seeds, millet, coconut, buckwheat, amaranth, and quinoa. It has a chewy and crunchy texture and I liked the sweet maple flavor.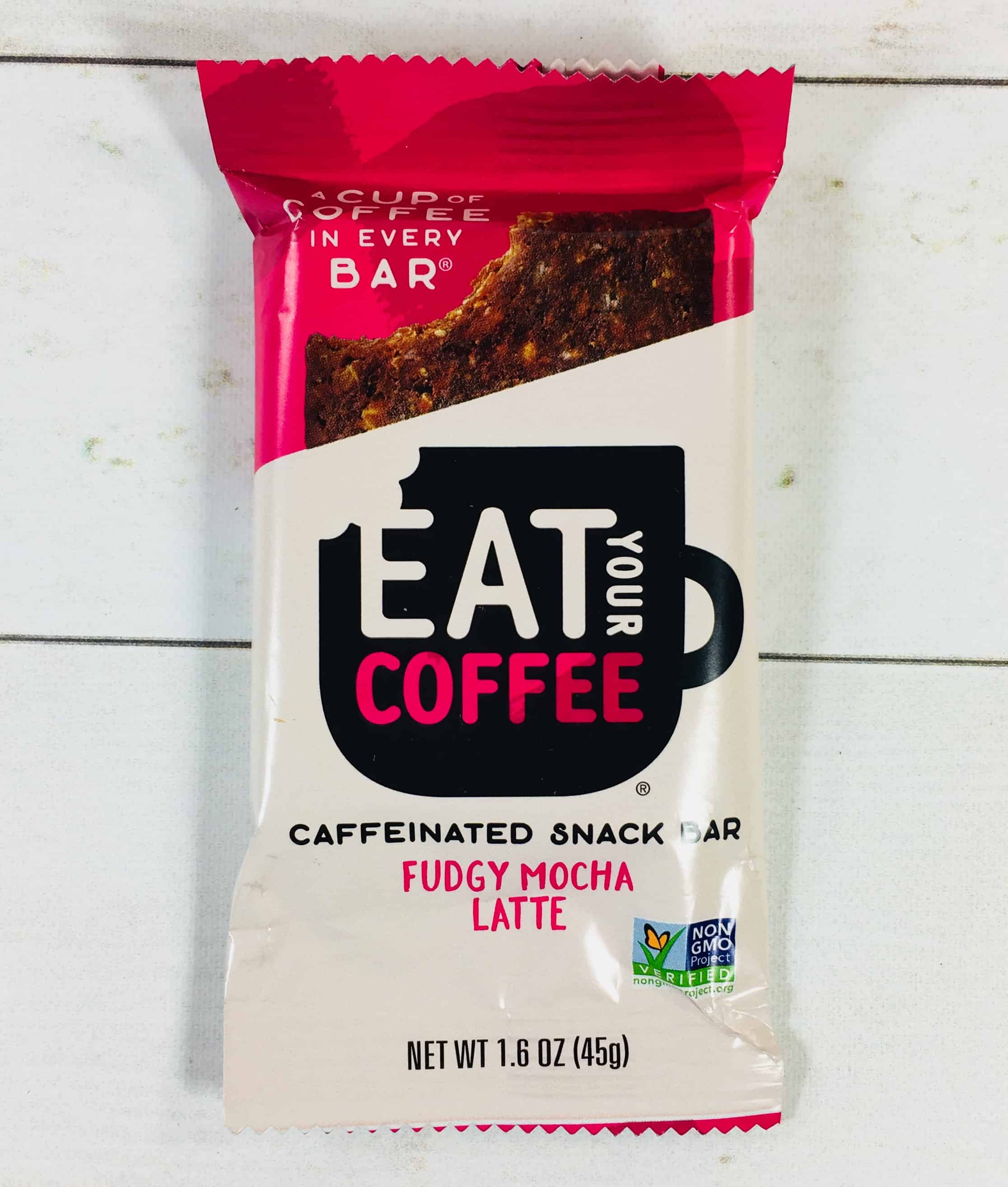 Eat Your Coffee Caffeinated Snack Bar in Fudgey Mocha Latte ($2.50) You get one cup of coffee when you eat this bar that's also made with dates, oats, and nut butter.
Gemma said: "So yummy! I loved tasting the dates and chunks of chocolate inside, but I did not like crunching on the coffee beans. In terms of cost effectiveness, I'm going to stick to a regular cup of coffee."
Starbucks Via Instant Caffe Mocha ($1.95) makes a nice cup of caffeine for when you're in a hurry and don't have time for a proper Starbucks run. Just combine with hot water, mix it up, and enjoy.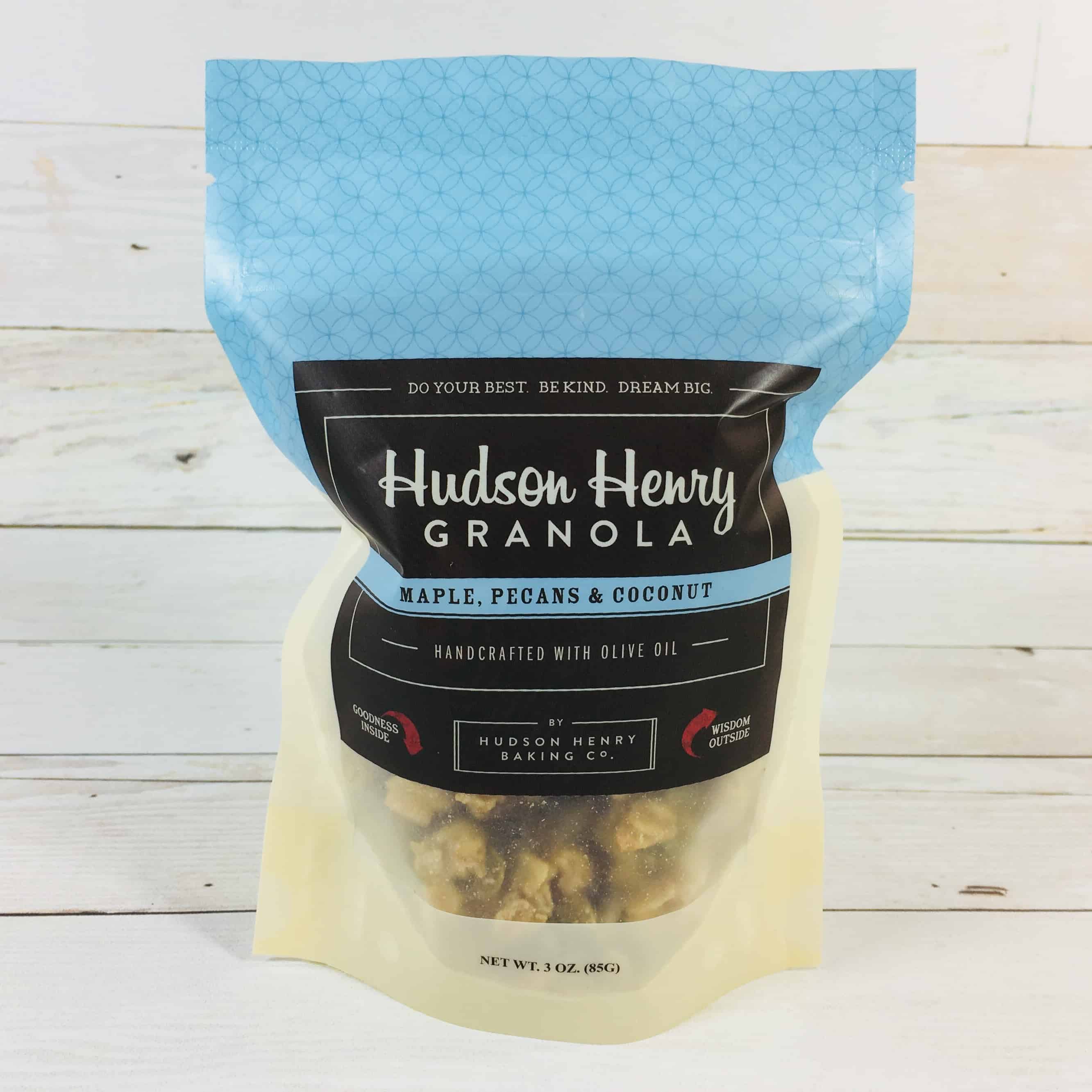 Hudson Henry Granola Maple, Pecans & Coconut ($2.83) Gemma said: "To DIE FOR! I wish they sold it here but it's unfortunate they don't. It's so amazing."
Those ingredients are mom-approved. In fact, this mom wants some of her own!
Creative Snacks Co. Gourmet Blend ($2.70) Gemma says: "A regular old mixed nut bag but I loved the dried cherries and nuts (were not cracked)."
More ingredients that look pretty standard for a trail mix.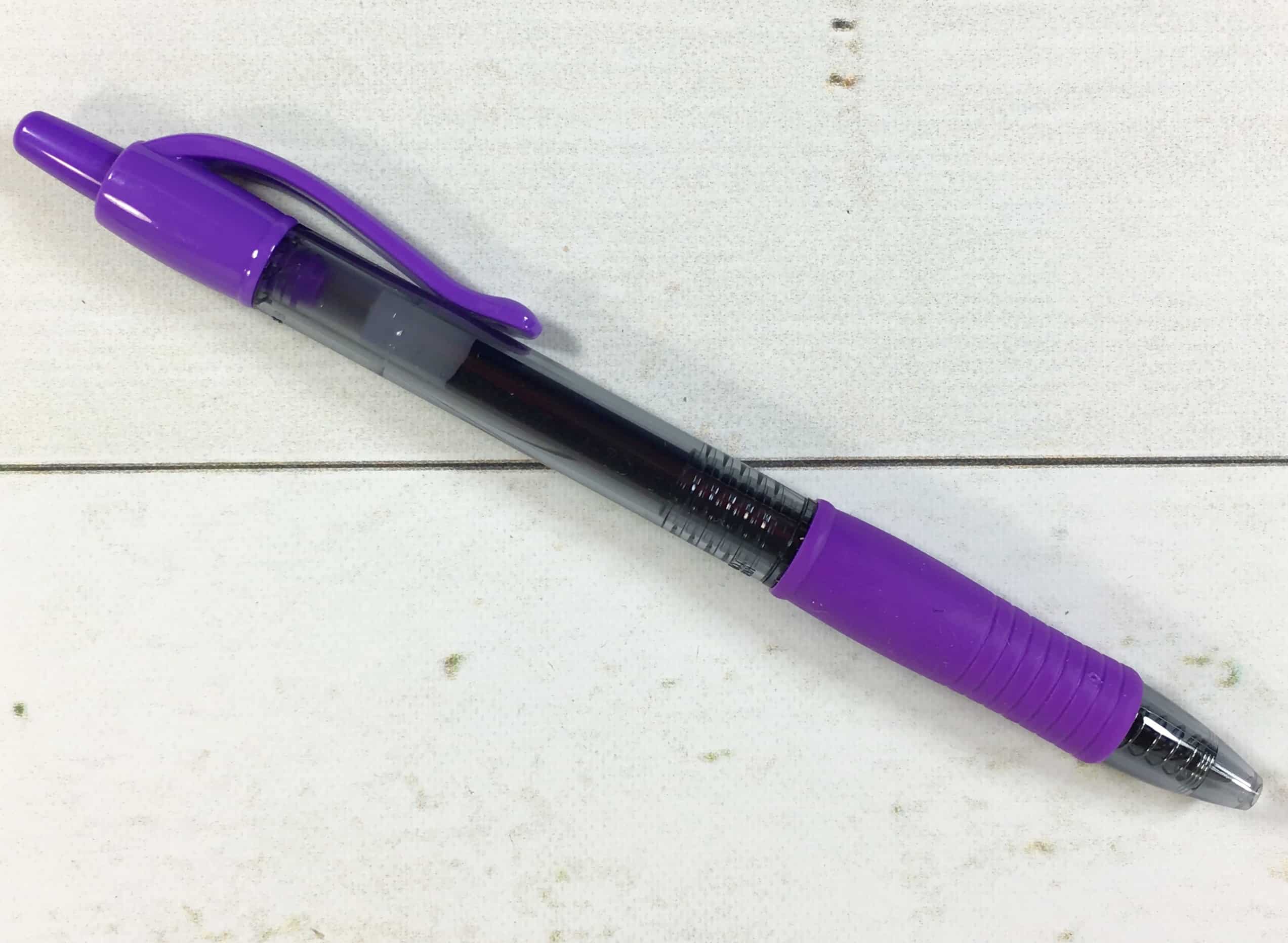 Pilot G-2 07 Pen ($1.17) One thing you will notice about this subscription is that it's color coordinated! This purple ink pen has a fine point and gel ink.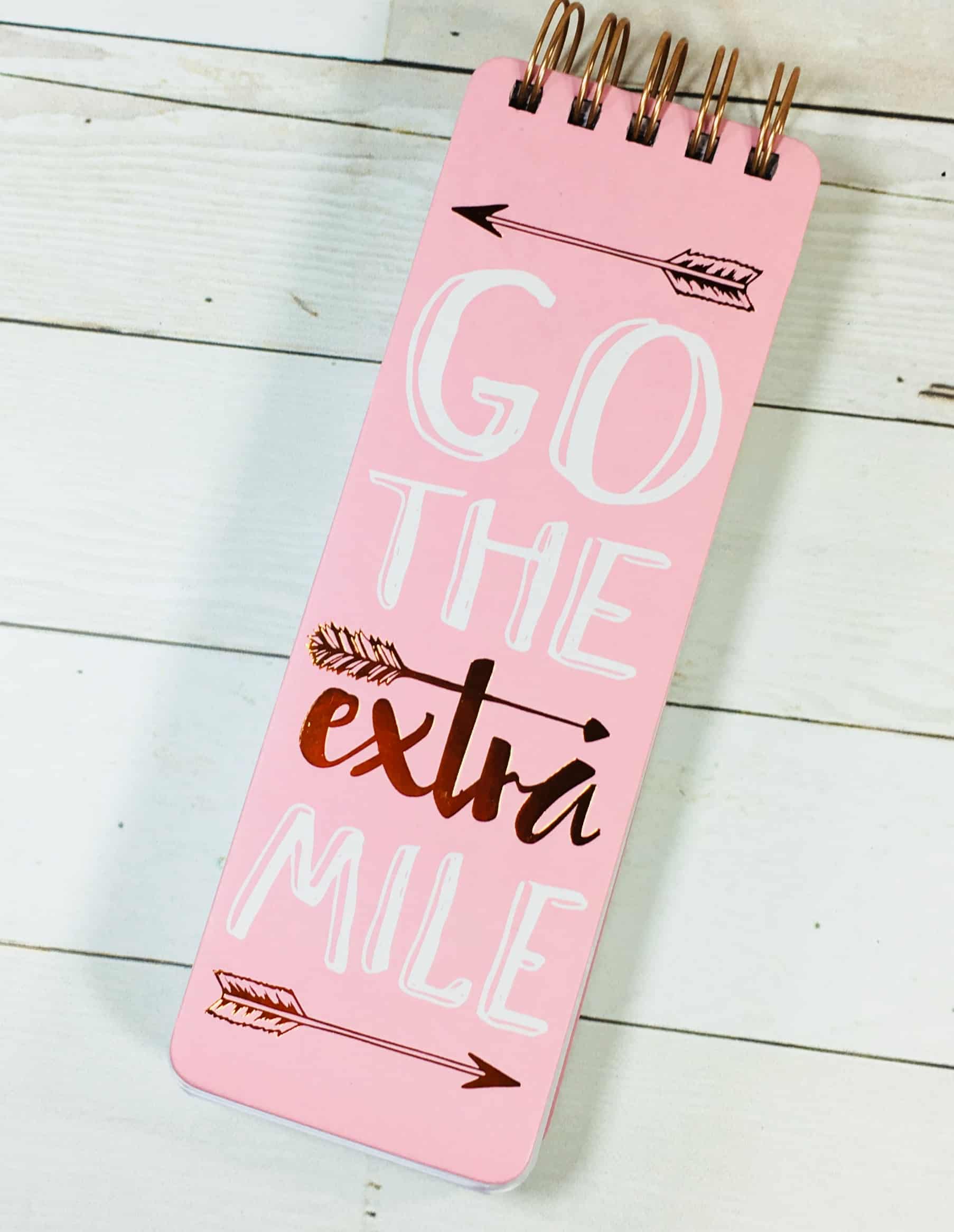 Eccolo Go The Extra Mile Narrow Spiral Pad ($3.19) Notepads are very helpful to have around. This one has rose gold foil touches on the cover and a rose gold spiral.
Inside it is lined and there are 150 pages. This one should last a while.
You Are Amazing Exfoliating Body Scrub & Wash ($10.99) An exfoliating body wash with a juicy scent is a great way to get going in the morning. Plus it's phthalate-free, paraben-free, and sodium lauryl sulfate-free.
My daughter loves this shampoo and conditioner and gave me a hug when she saw it was in the box!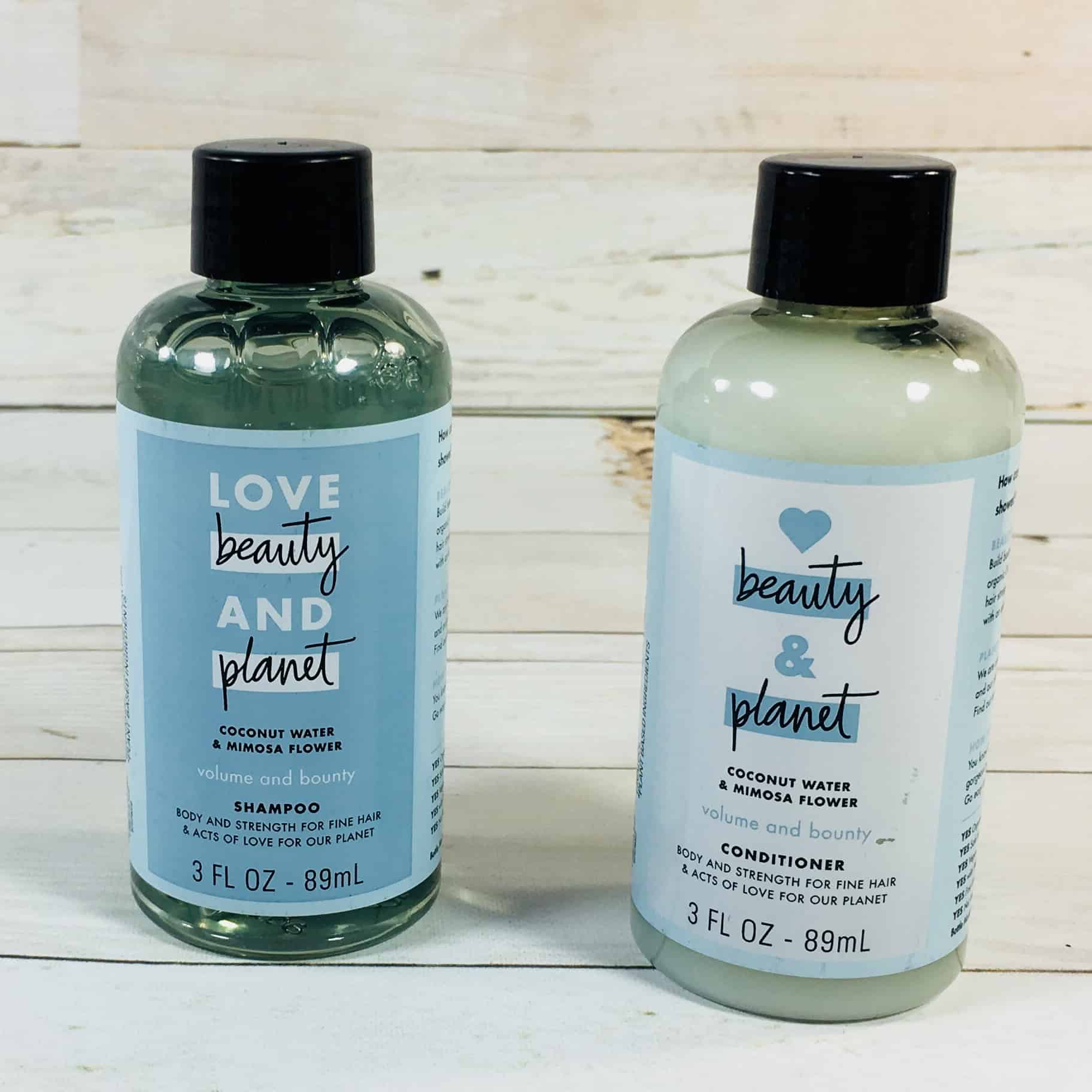 Love Beauty & Planet Shampoo & Conditioner ($3.06) This duo is good for fine hair and Gemma just sent me a bunch of heart emojis for her review.
Plastic and Mesh Makeup Bag (find similar item here, $4.99) is a nice basic bag. It is clear plastic with a mesh pocket on the side and a zipper closure.
Sleek'e Micro Fiber Hair Wrap ($10) My daughter was super excited when she saw this come out of the box.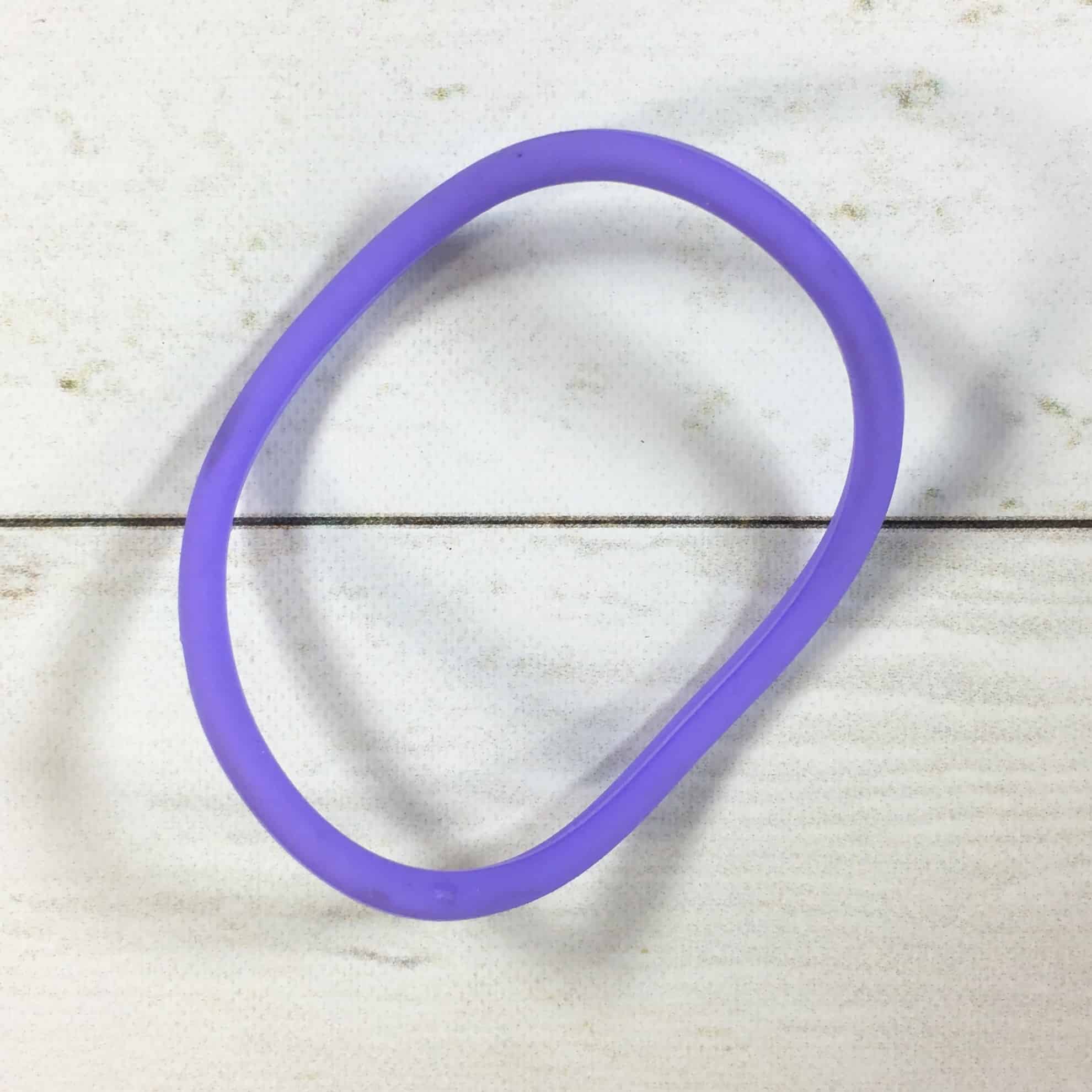 It even came with a hair band!
This microfiber hair wrap helps reduce drying time, important when you're on a tight schedule.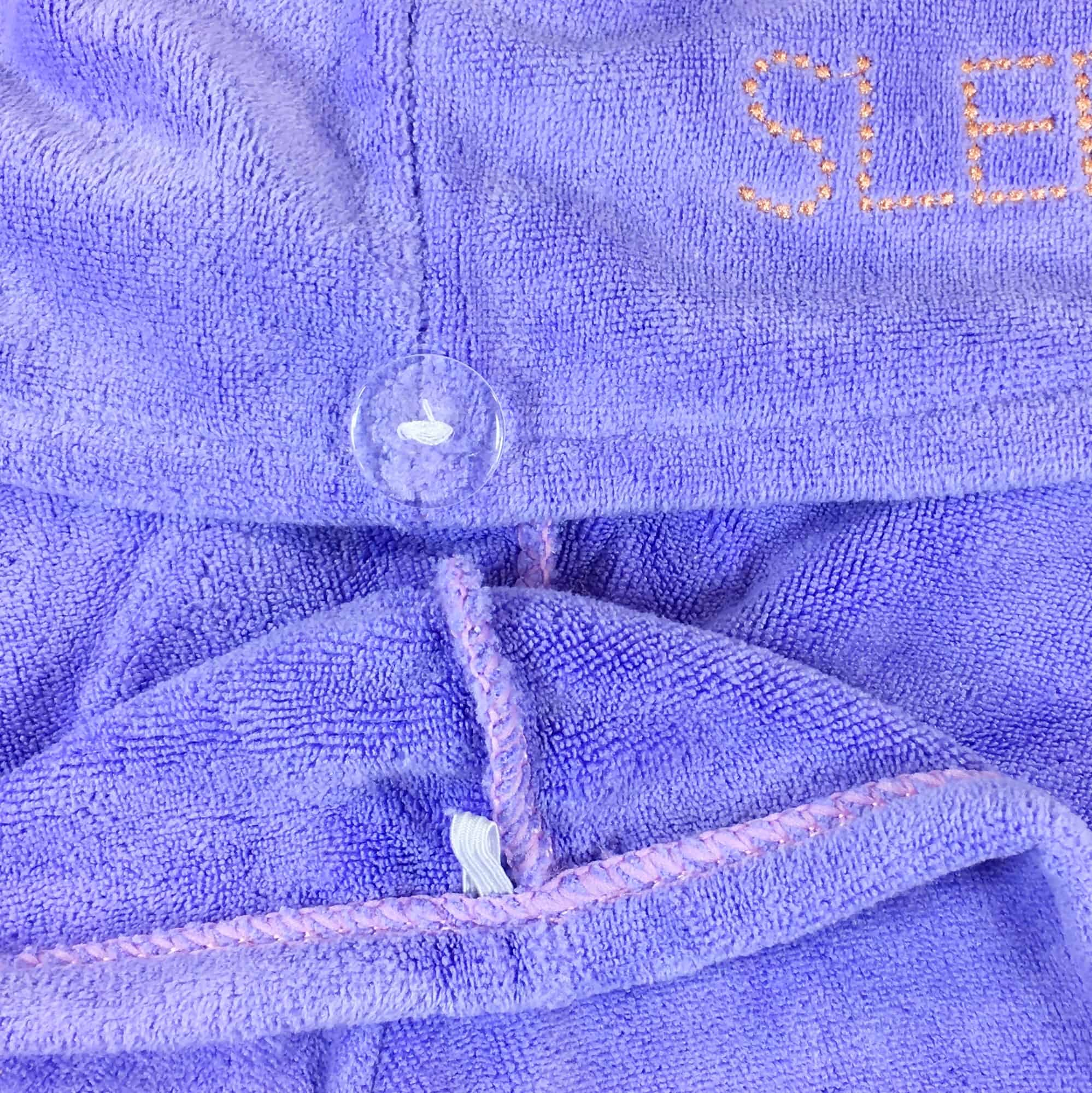 It has a button on one end and a loop to place over the button on the other.
It looks like it can hold a lot of hair! Gemma only sent me one line about this product: "This thing is awesome!"
I was so happy that I got to send my daughter back to college with a care package of goodies from CampusCube, and most importantly, I was happy that SHE was so happy to get this box! I'm the slacker mom who often doesn't have time to corral a bunch of goodies and color-coordinate them and then actually go down to the post office to send them. CampusCube does all of the shopping and schlepping for me! The snacks were tasty, the beauty items were fun, and the pad and paper were cute versions of standard items. I found the products to have a value of around $47.47.
What do you think of CampusCube? Let me know in the comments!
Visit CampusCube College Care Package to subscribe or find out more!