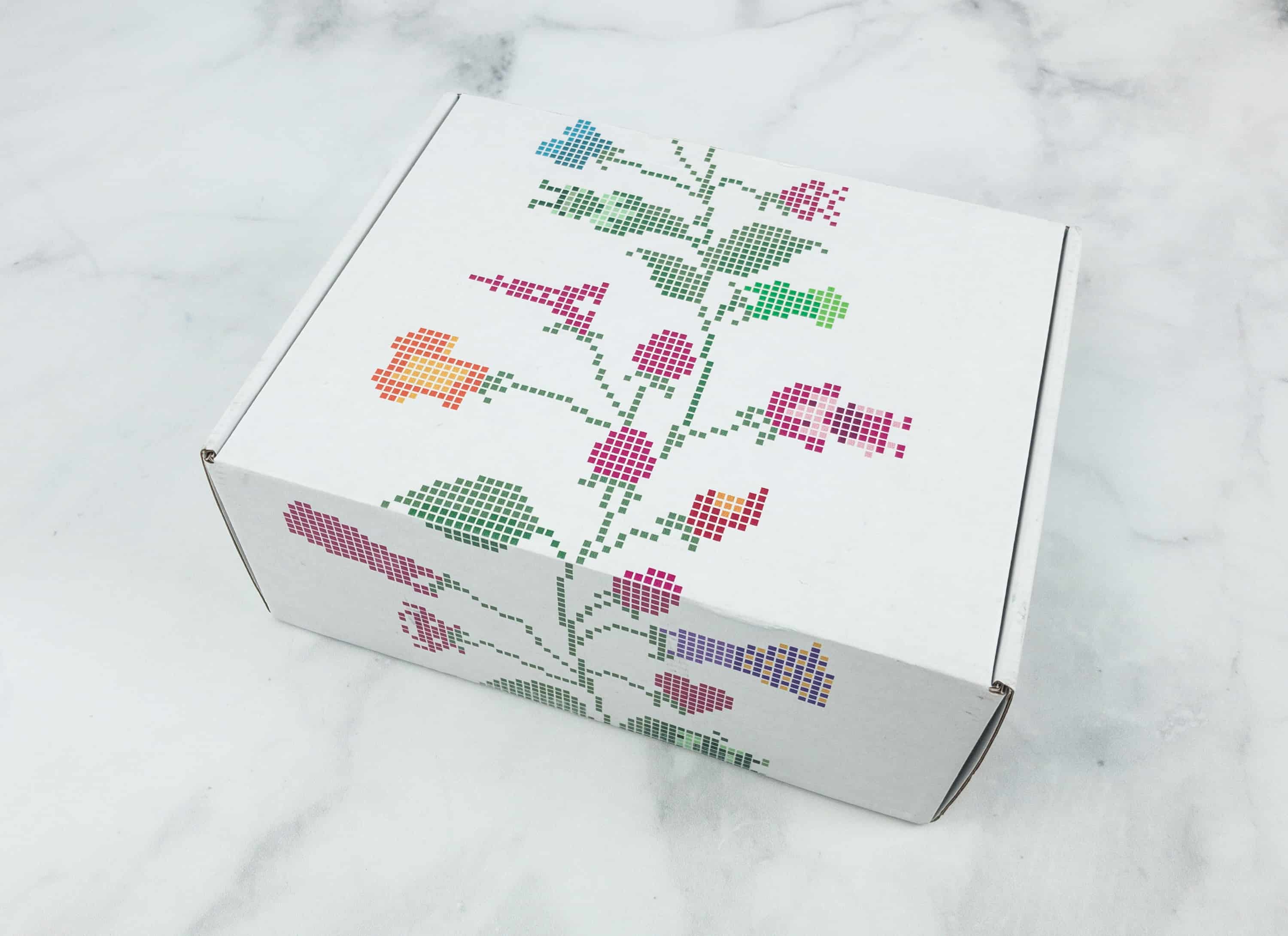 3-2-1 Framboise is a styling subscription that sends European clothes for babies 3 to 18 months. There is a styling fee of $20 for each box, while the items are promised to have a retail price of $10 to $49. In each box, there will be 6 to 8 items that you can try out on your little one. If you don't like the others, you can return them and only pay for what you have kept. Shipping is free both ways.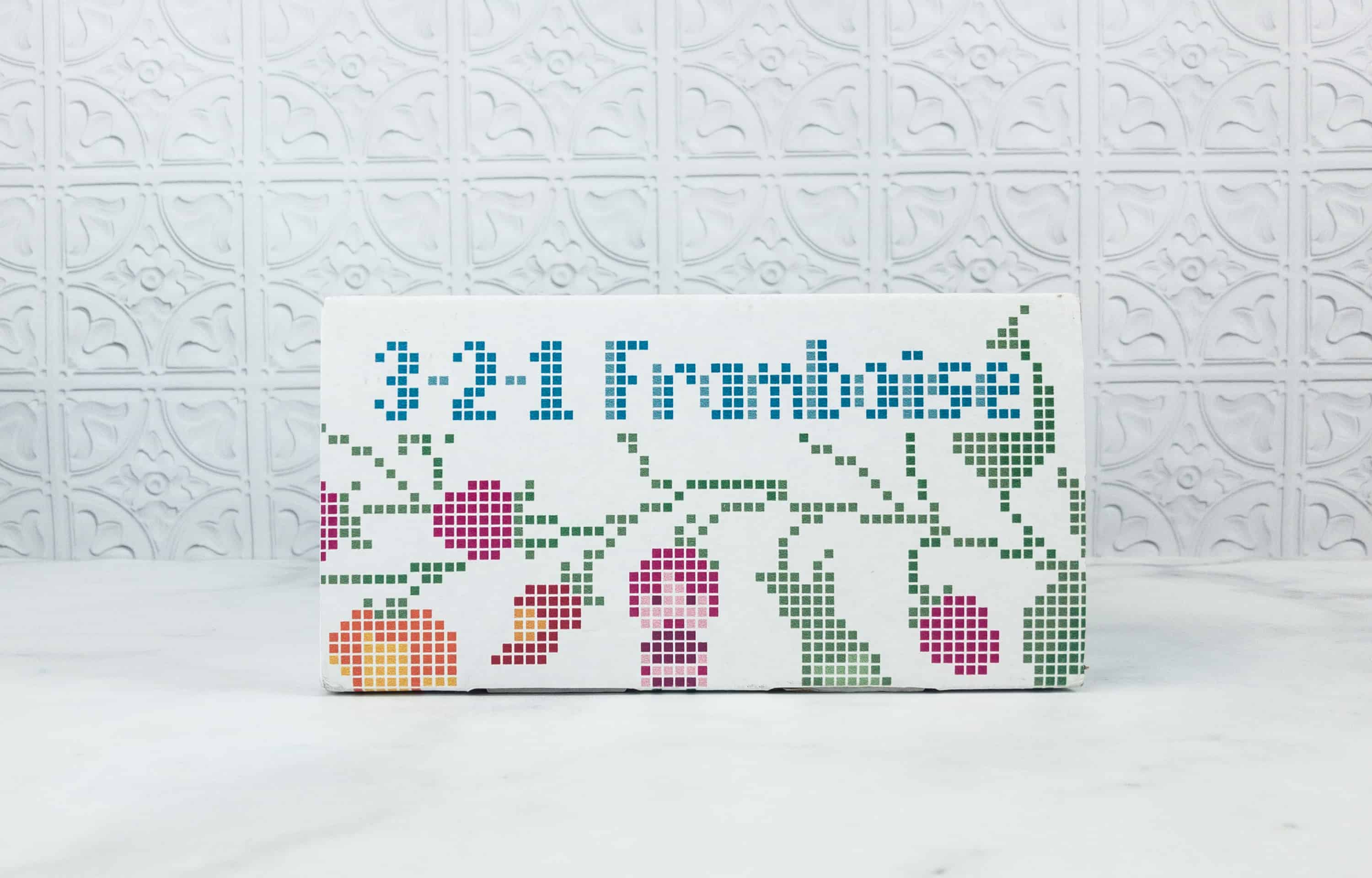 DEAL: Get $20 off your first box! Use coupon code THXHELLO.
Inside the box is a thank you note from 3-2-1 Framboise. The contents are hidden away underneath colorful tissue.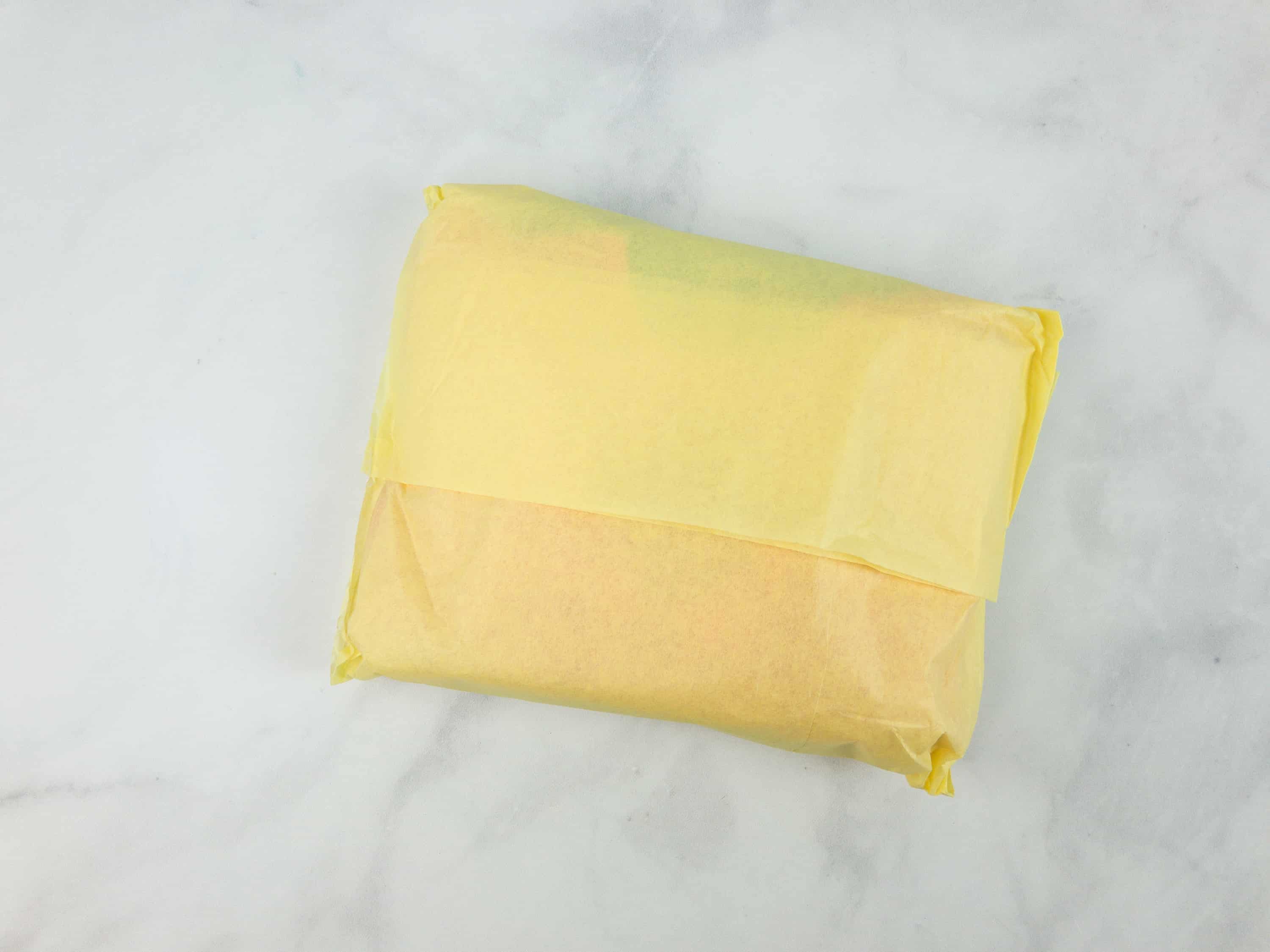 Some of the items are wrapped in yellow tissue paper.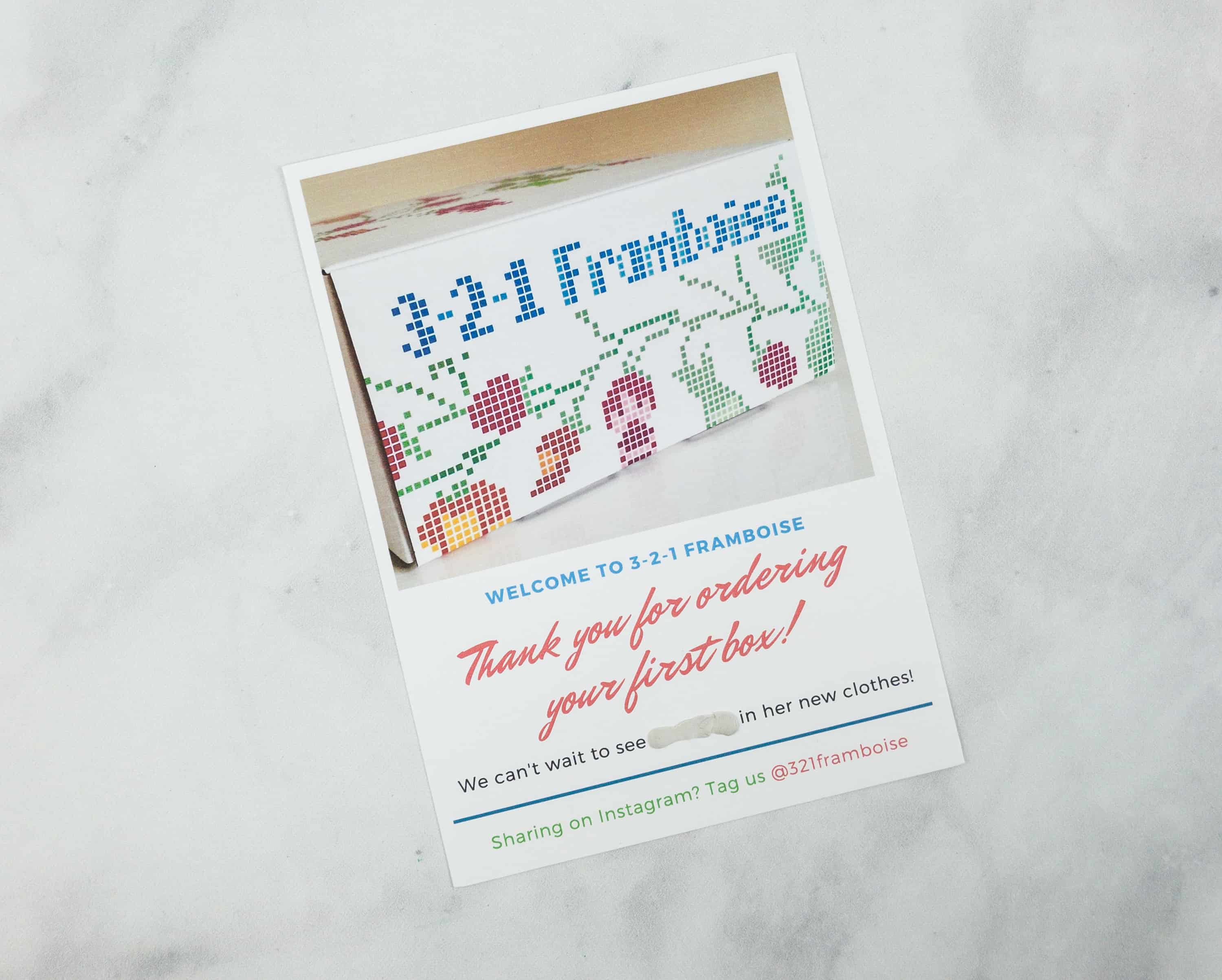 I like the welcome and thank you note by Framboise. It feels like a throwback with its cross-stitch design.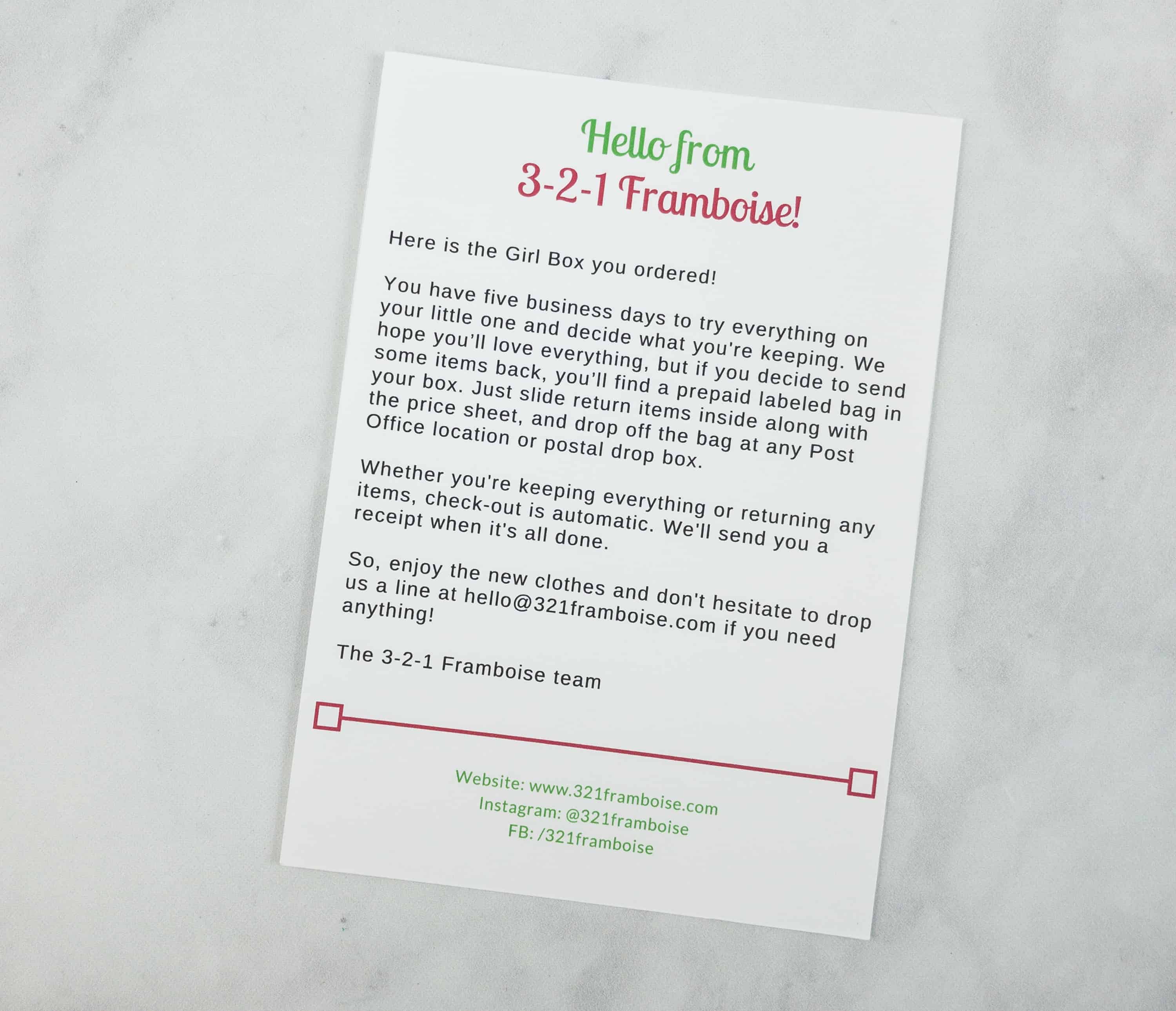 At the back of the card is information on how this box works. You have five days to make a decision whether you will get the entire collection or return the ones you don't like. There's a prepaid label included so you can return the items with ease. This is a great start for this box!
You'll also get an information card on the brands included in this box. This one is about Le Petit Lucas du Tertre. The women behind this brand make use of superior fabrics to come up with cute and fun designs.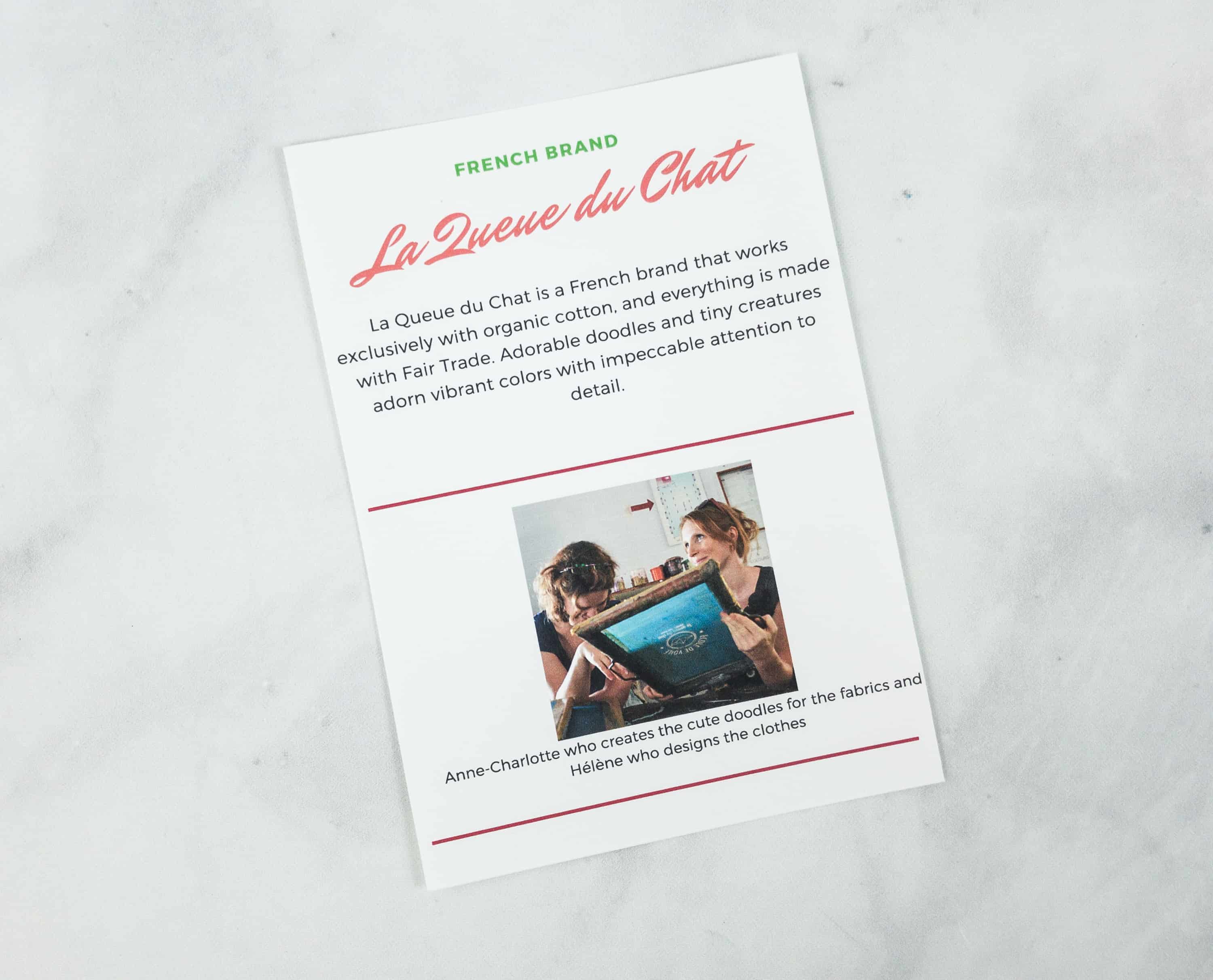 There is also Le Queue du Chat which is a French brand that is known mostly for its use of organic cotton and other ingredients made from Fair Trade. They put a lot of effort into adding details to their products.
Here's a bit of trivia on what those little buttons on the inside of the waistband are for. If you are a first time parent this may be a revelation!
Another card includes a coupon code for $20 credit.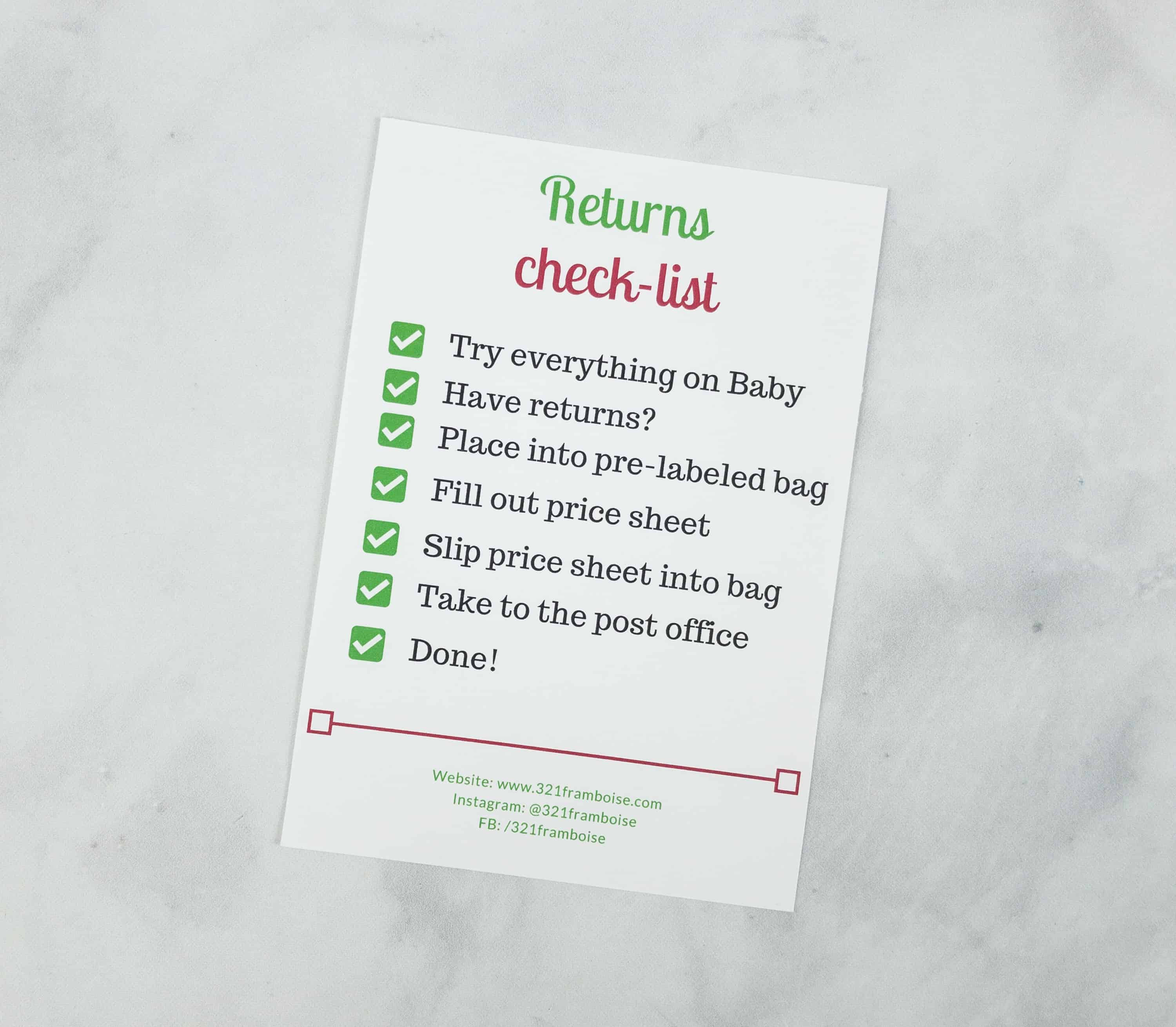 They also included a checklist on how you will return the items that you don't like in this set.
Here's the list of all the items included in this box along with their size, brand, and price.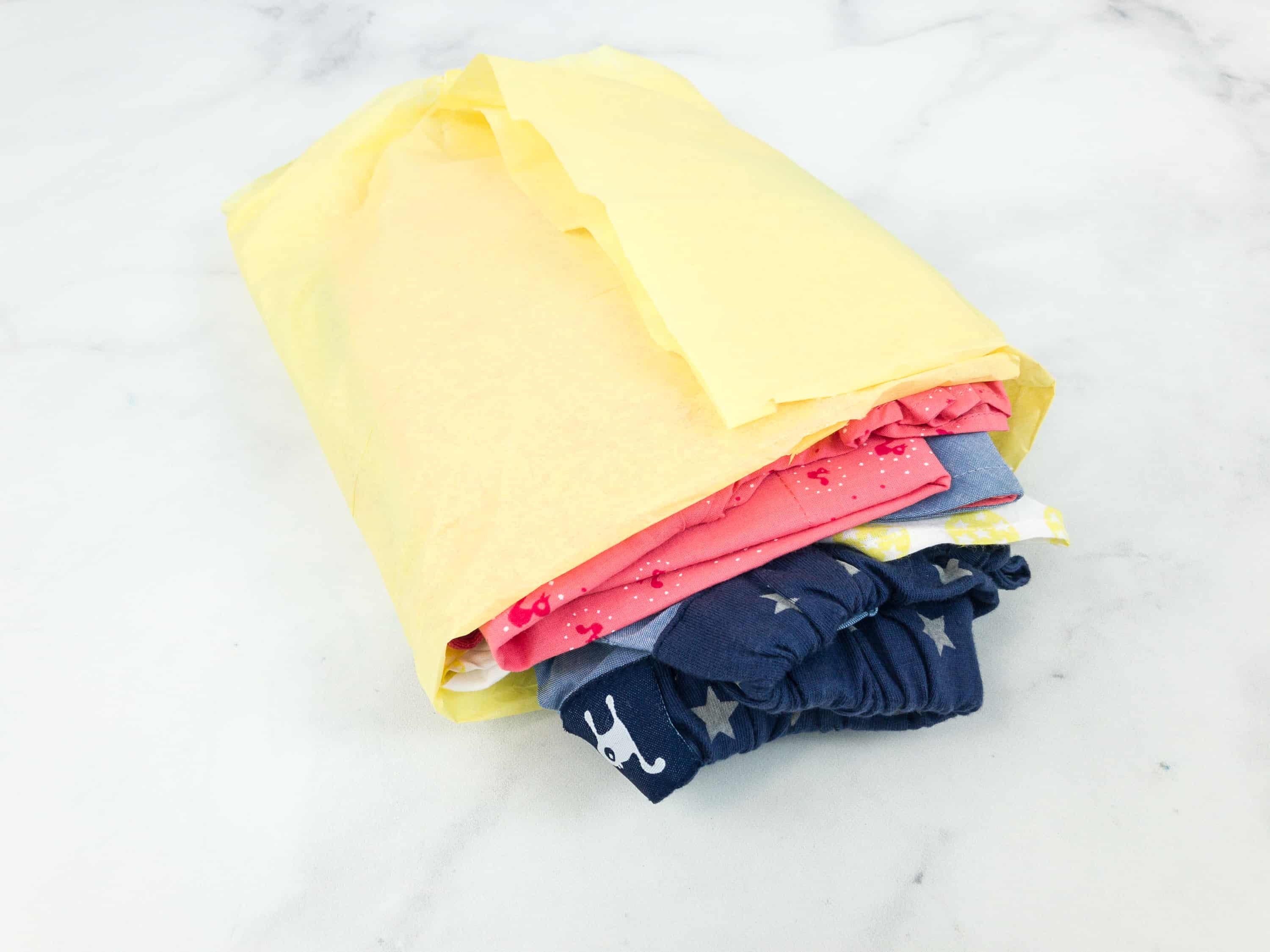 It's nice that they have packaged the clothes well here.
Everything in our box!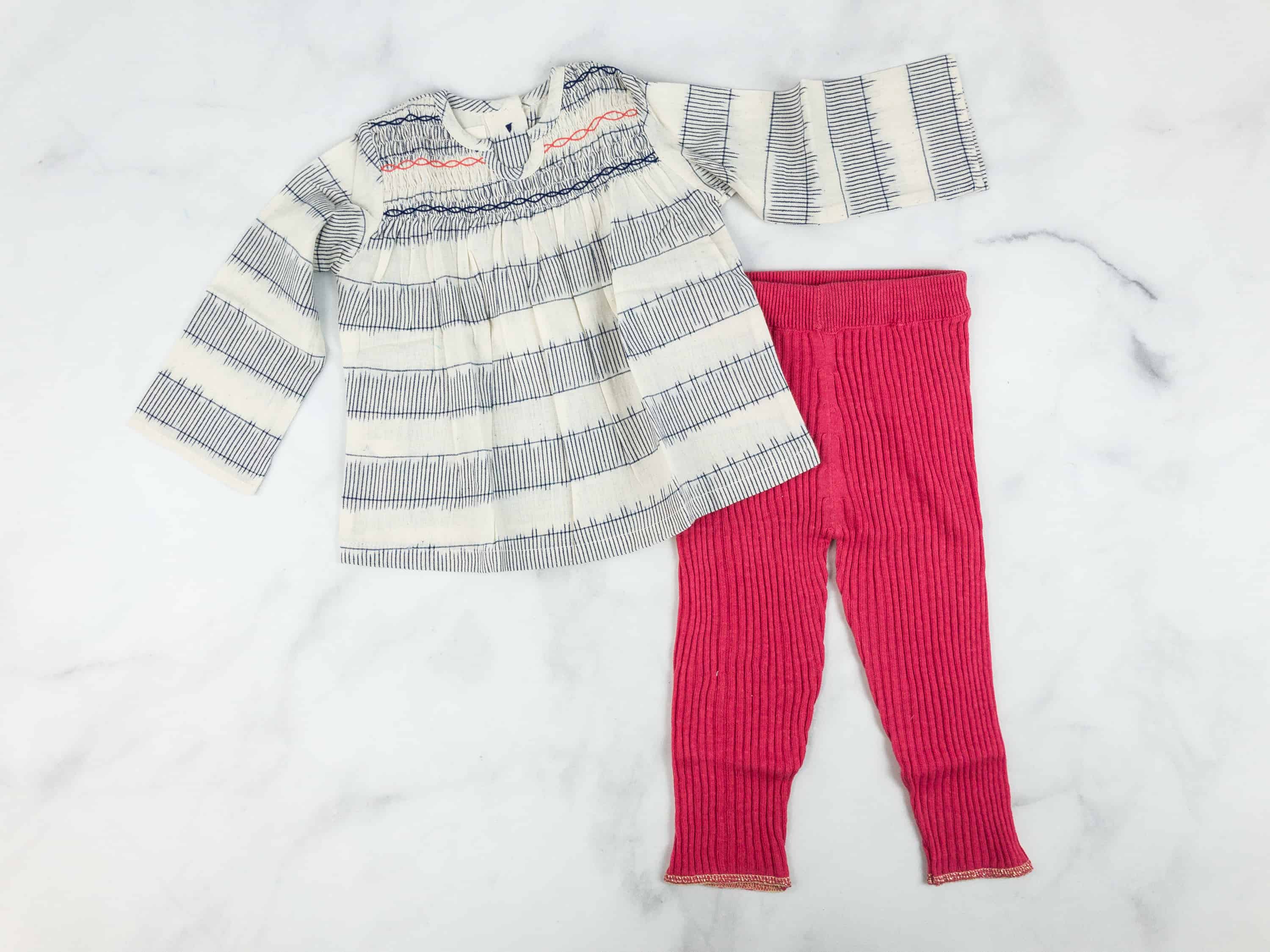 Petit Lucas De Tertre White Stripe Longsleeve Top ($43) The natural colored stripe long sleeved top looks dainty and at the same time cool on the skin. I like that the body is loose to allow air to circulate easily.
Petit Lucas De Tertre Pink Leggings ($28) To pair with the longsleeve top is this pair of pink leggings that are easy to slide up your baby's legs. I love the ridges on this pair of pants as they add texture to it. The bottom is serged with a metallic gold thread.
Some of these items were mix and match and when it came to dressing baby we definitely mixed them up!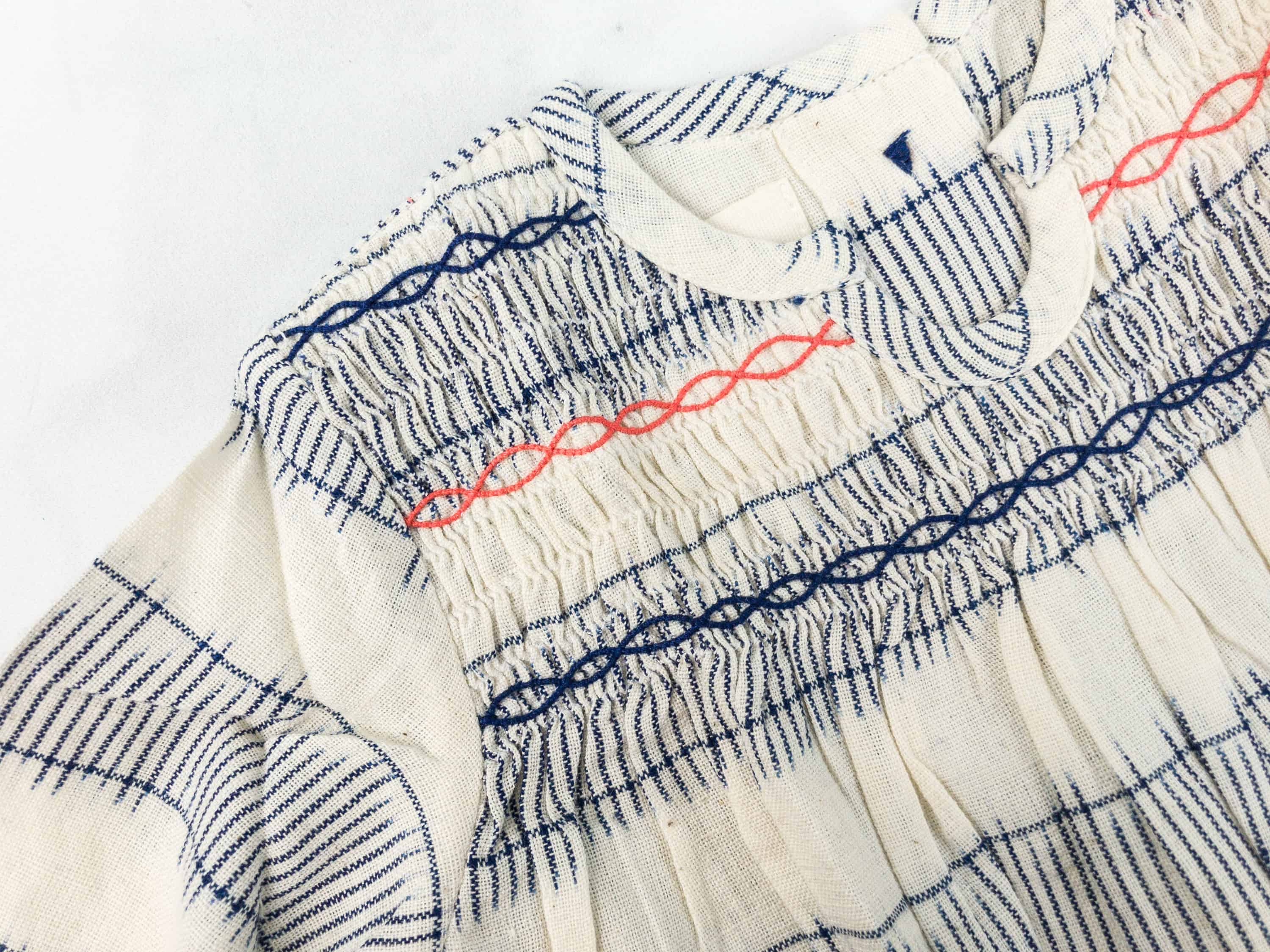 The details on the shoulder area of the long sleeve top are nice too. The smocking (so darling and traditional) is stretchable, which means that my daughter can wear it as she grows. The salmon loops included in the design are a nice touch. You can really see the beautiful linen here!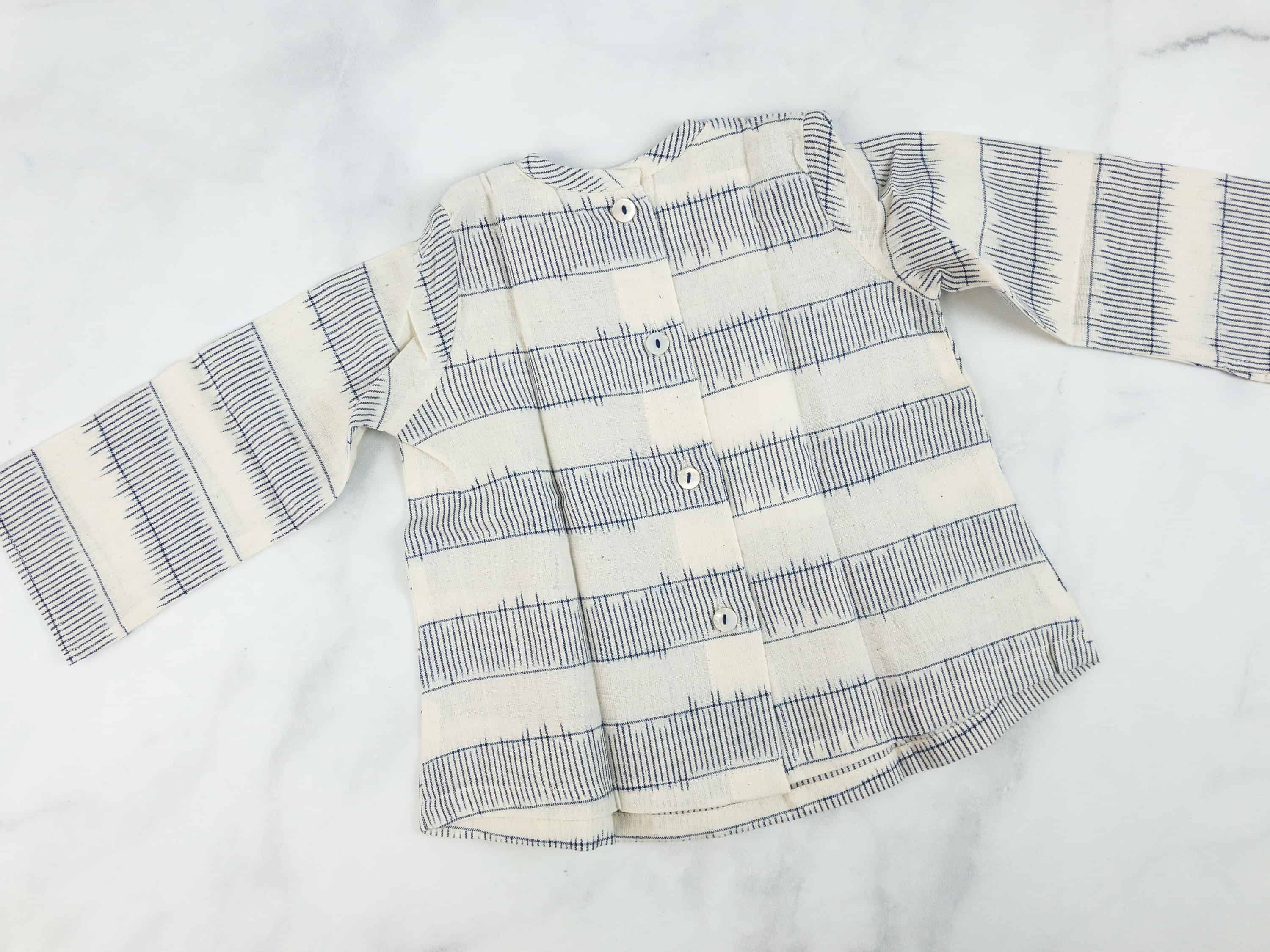 The back of the top is all buttoned-up.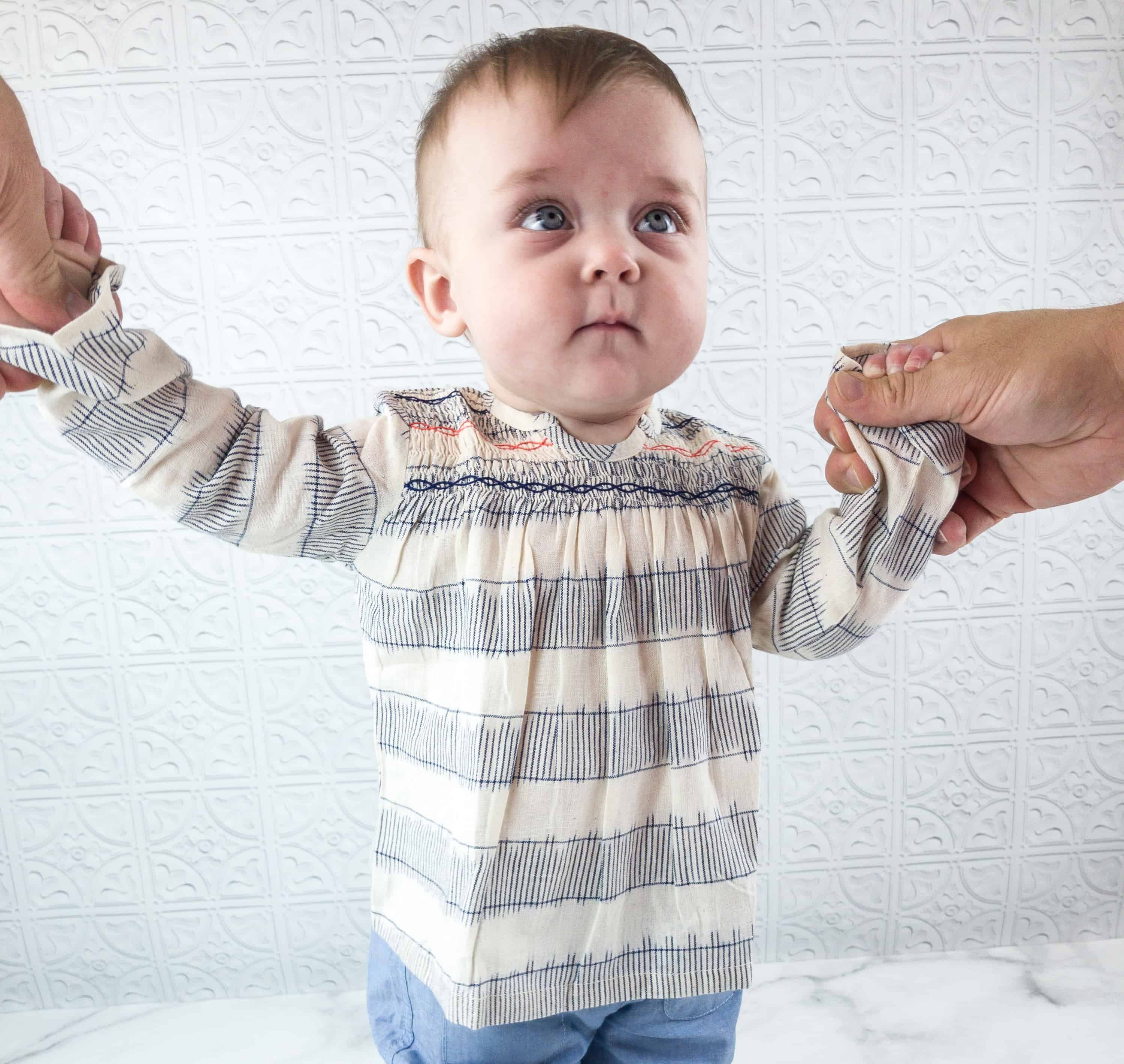 The top looks a bit long at the sleeves, but my daughter will grow into it. As you can see, the fabric is gathered at the shoulders which I think works nicely with the overall design. It's so sweet!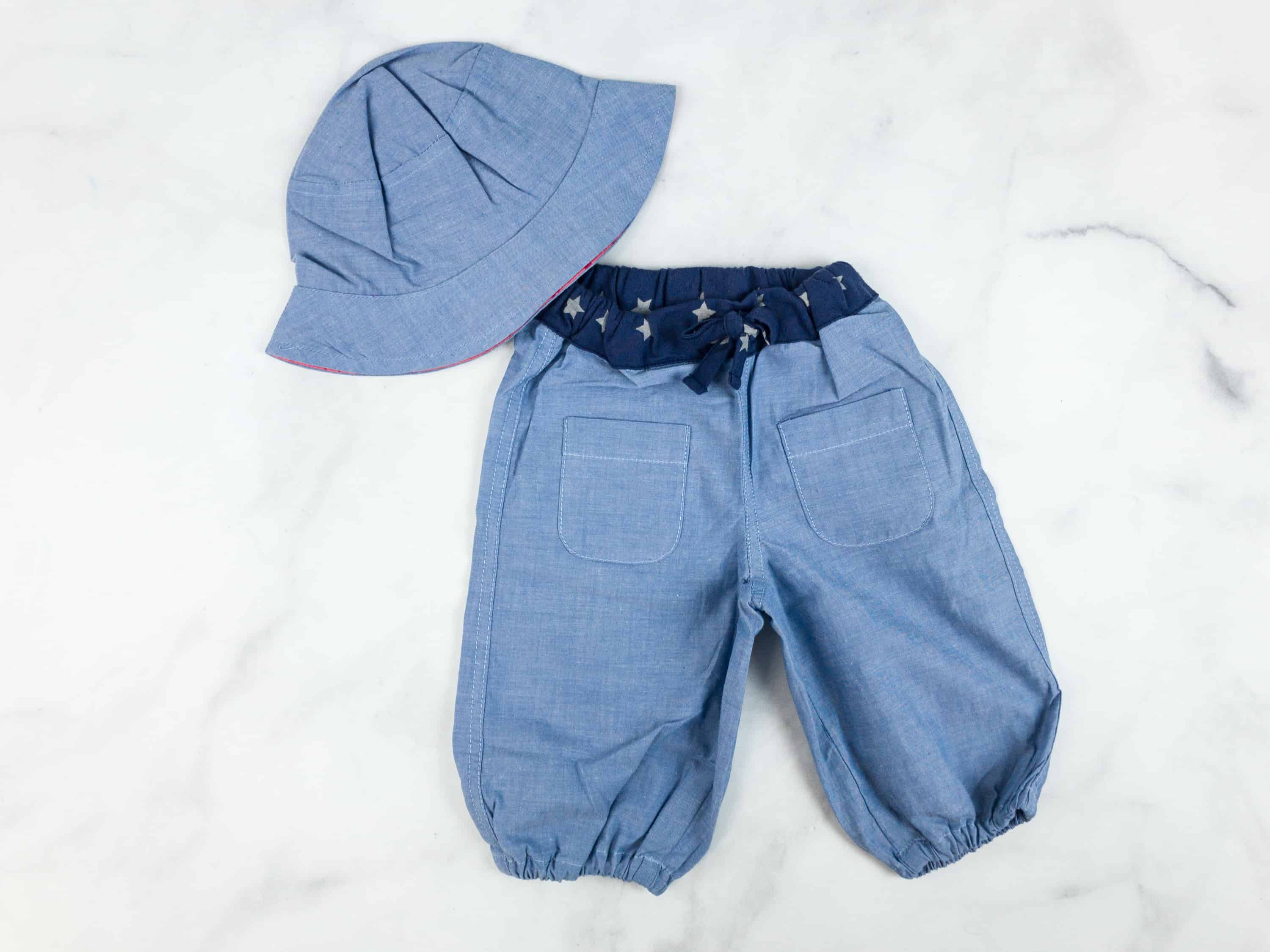 La Queue Du Chat Blue/Pink Reversible Hat ($8) Reversible hats are great for summer. The fact that it comes in blue and pink makes it a winner for me already!
La Queue Du Chat Blue Summer Pants ($31) We also got this fresh-looking summer pant. It has a starry waistband with cinched hems at the bottom. It looks great!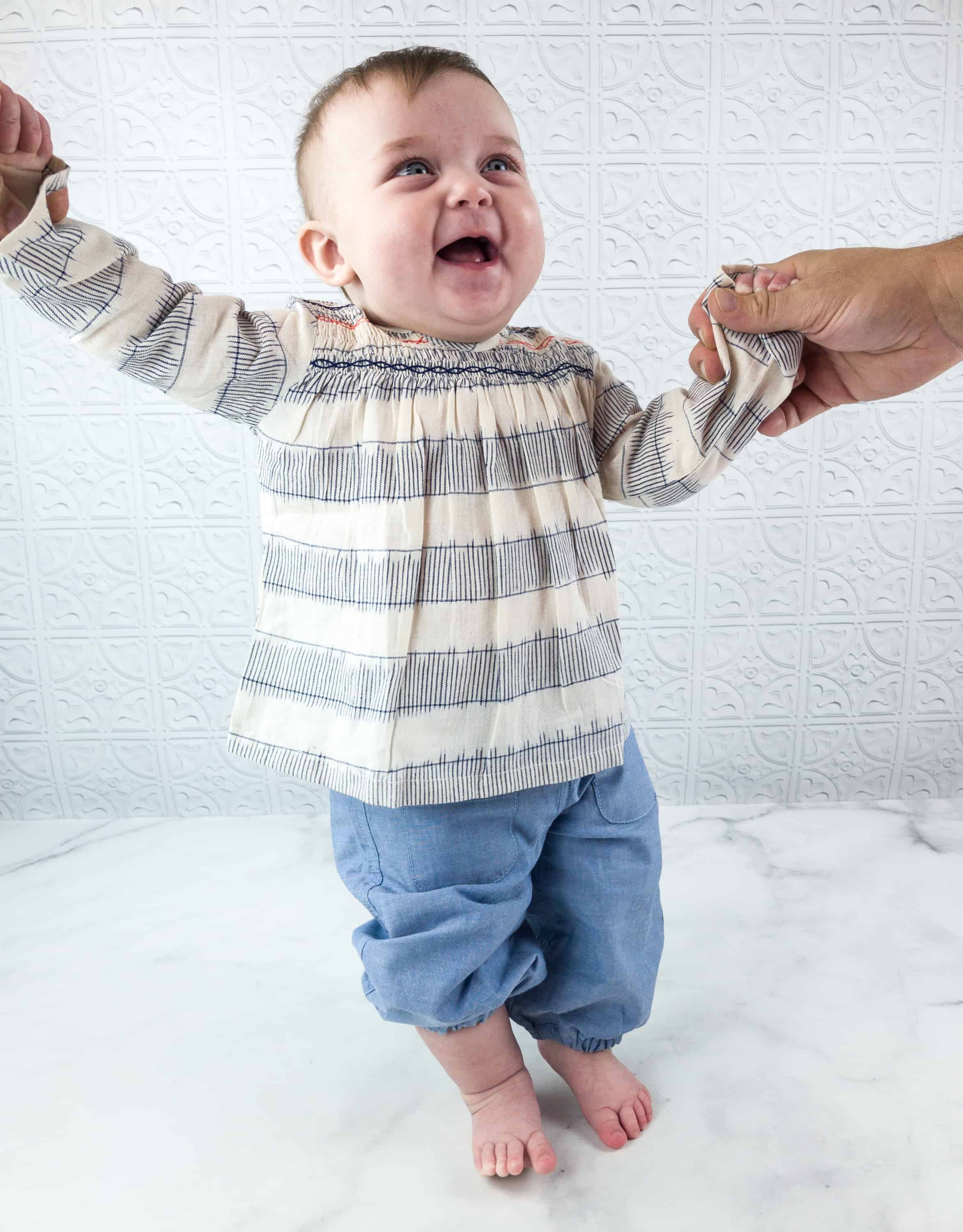 We paired the bottom with the long-sleeved top and it looked wonderful!
La Queue Du Chat Pink Squirrel Dress ($35) This cute pink dress features a squirrel print.
Remember that reversible hat? Well, doesn't it look great together with the squirrel dress? It seems that my daughter loved the two! Again, beautiful traditional smocking, perfect boutique clothes for baby!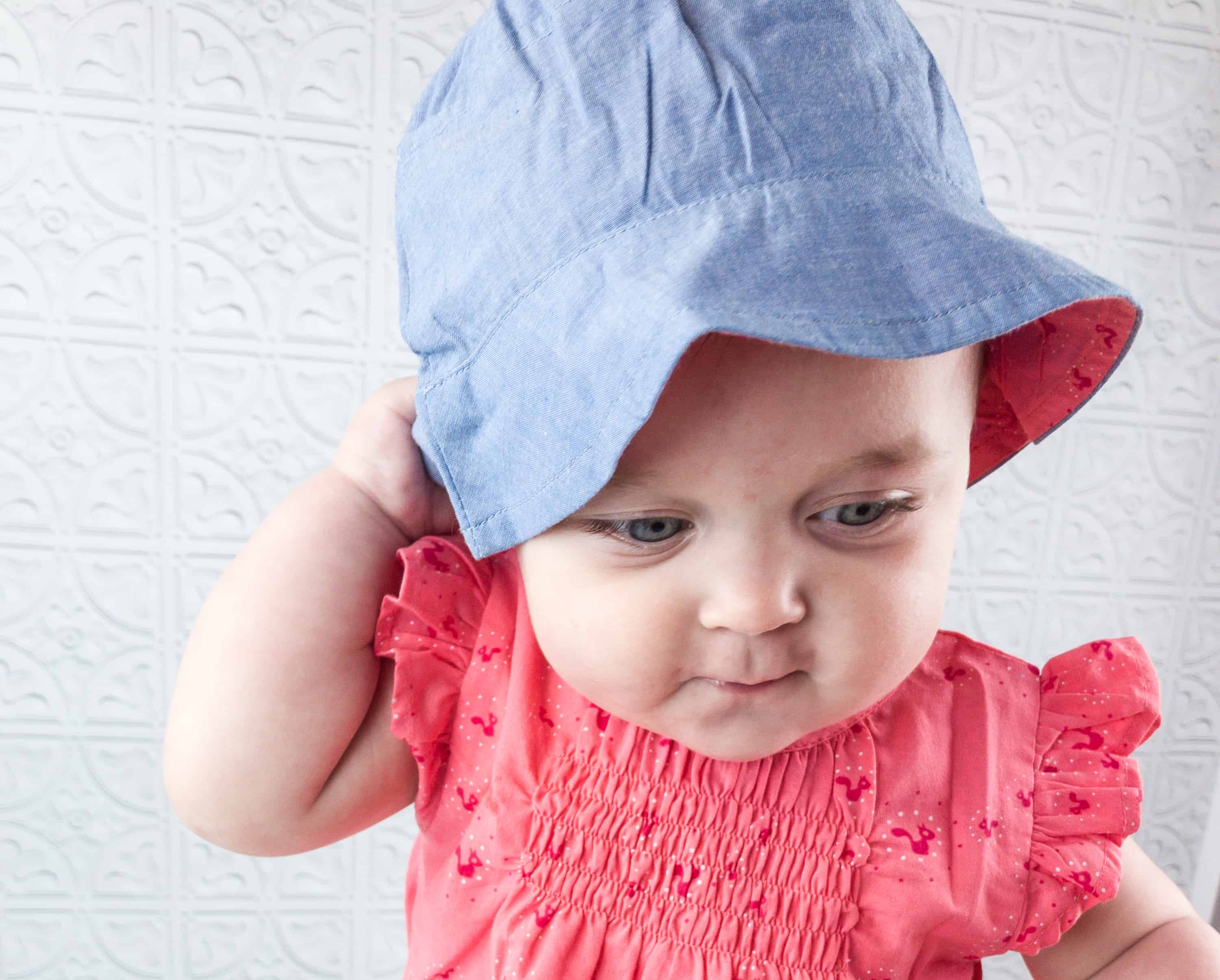 I love that the hat can be easily worn and that there is no need for straps to keep it in place. I want my daughter to get used to placing something over her head so she won't be too fussy when it is time to wear hats during winter. We are a hat family!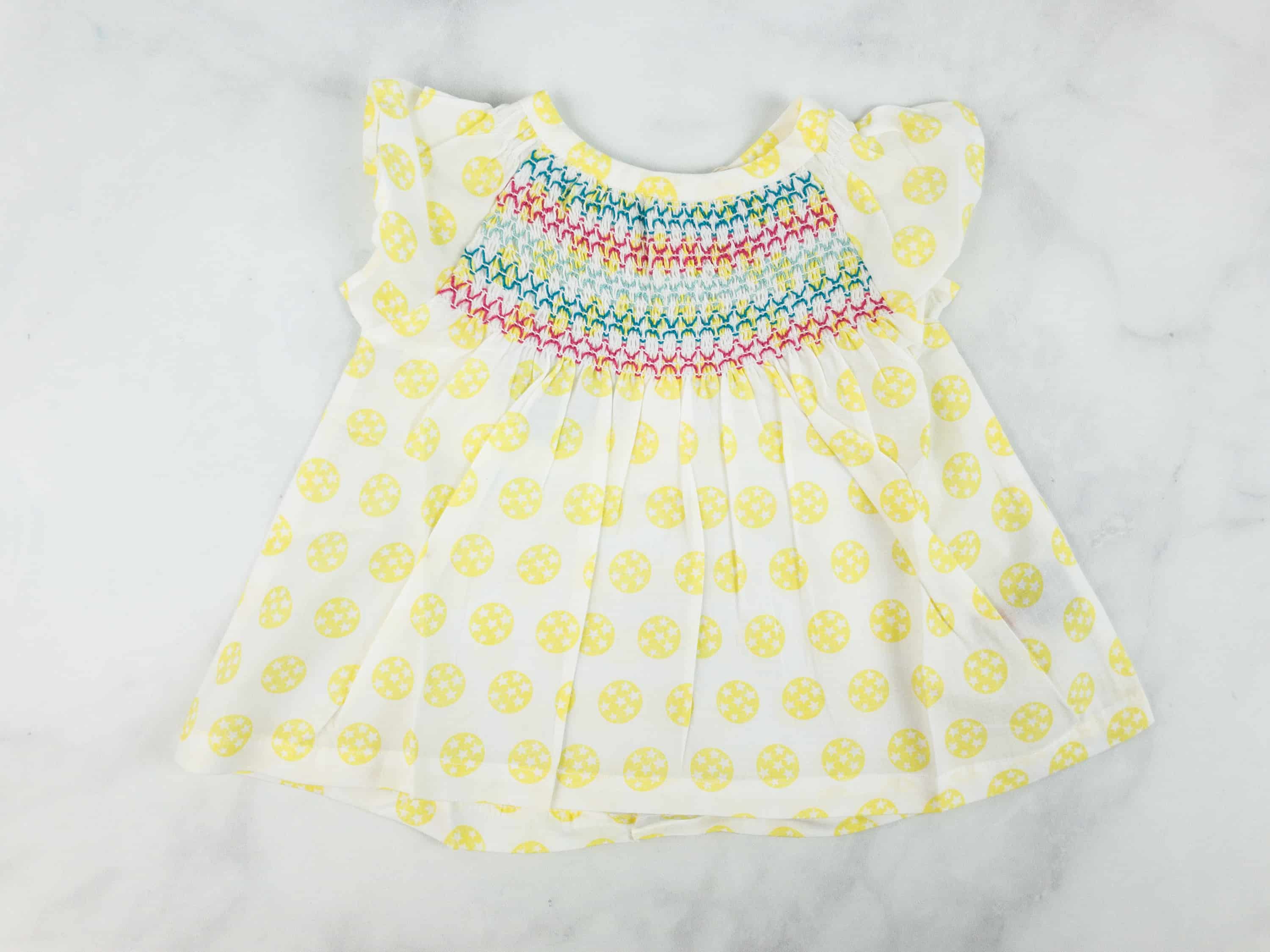 La Queue Du Chat Yellow Suns Top ($27) Talk about bringing summer to your doorstep. This sunny top is as bright as the morning sun! It definitely stands out among the clothes here. I love the colorful smocked design on the chest part of this dress as it blends nicely with the sunny background.
You'll find that the chest area of this sun top is cinched and the green, yellow, and red threads are combined nicely to create this summer effect. I love it!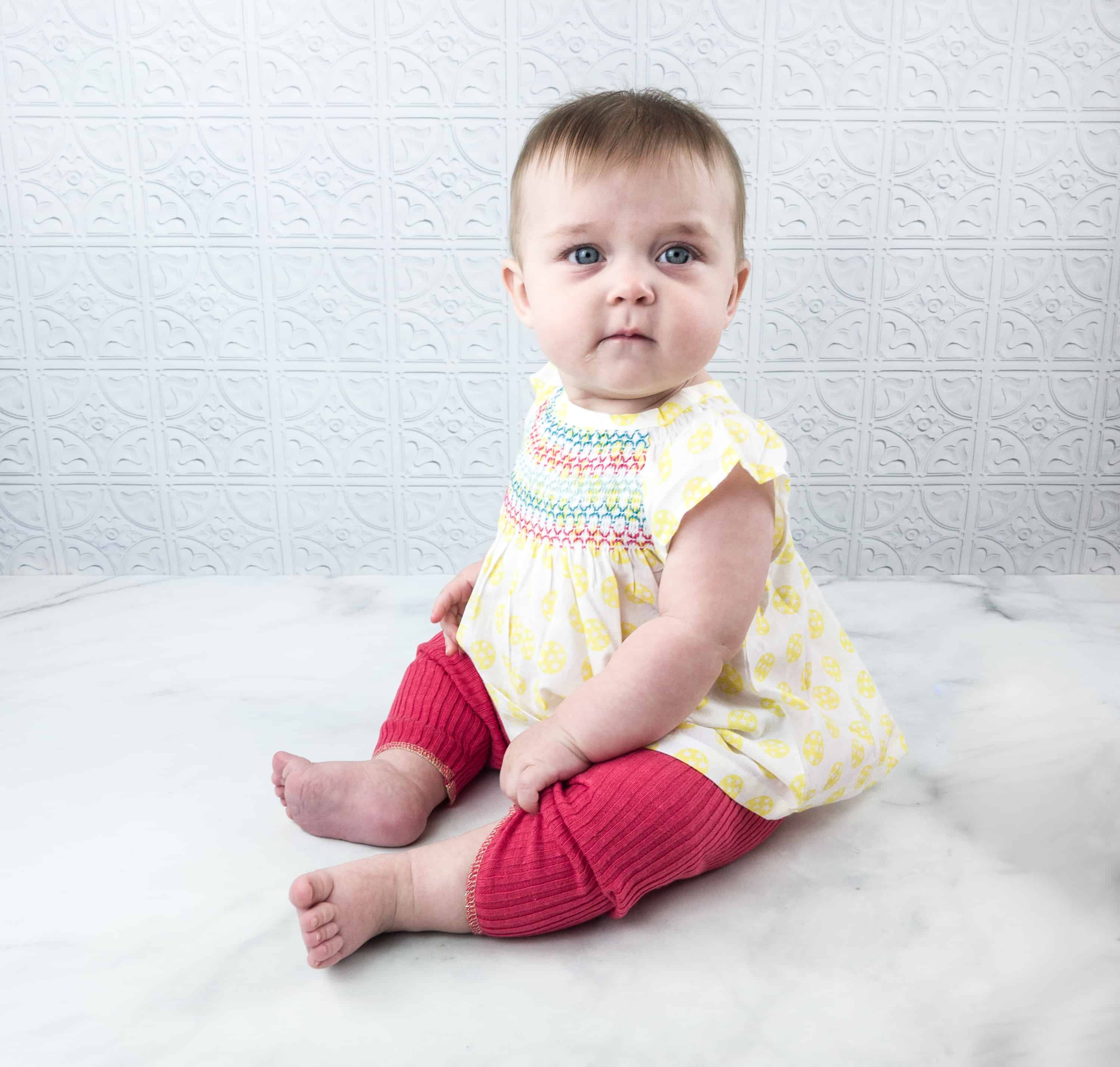 You can wear it with a different bottom or use the pink leggings in this set. Either way, she will look ready for the summer season!
I love that this top fits my daughter well. The sleeves are open so the breeze can easily go through to keep her cool. She looks so sunny in this outfit!
3-2-1 Framboise is an amazing subscription and really sent beautiful unique clothing for my little one that were sized perfectly. I love the curated items here especially the sunny top. And because it is summer, the fabrics used here are just what I needed to keep my little one cool and comfortable. Plus, the pants were perfect for us as she is very fair and doesn't like to be cold indoors (we said YES when they inquired on the quiz about pants in summer). I can't wait to see the next box!
What do you think of this month's new 3-2-1 Framboise box?