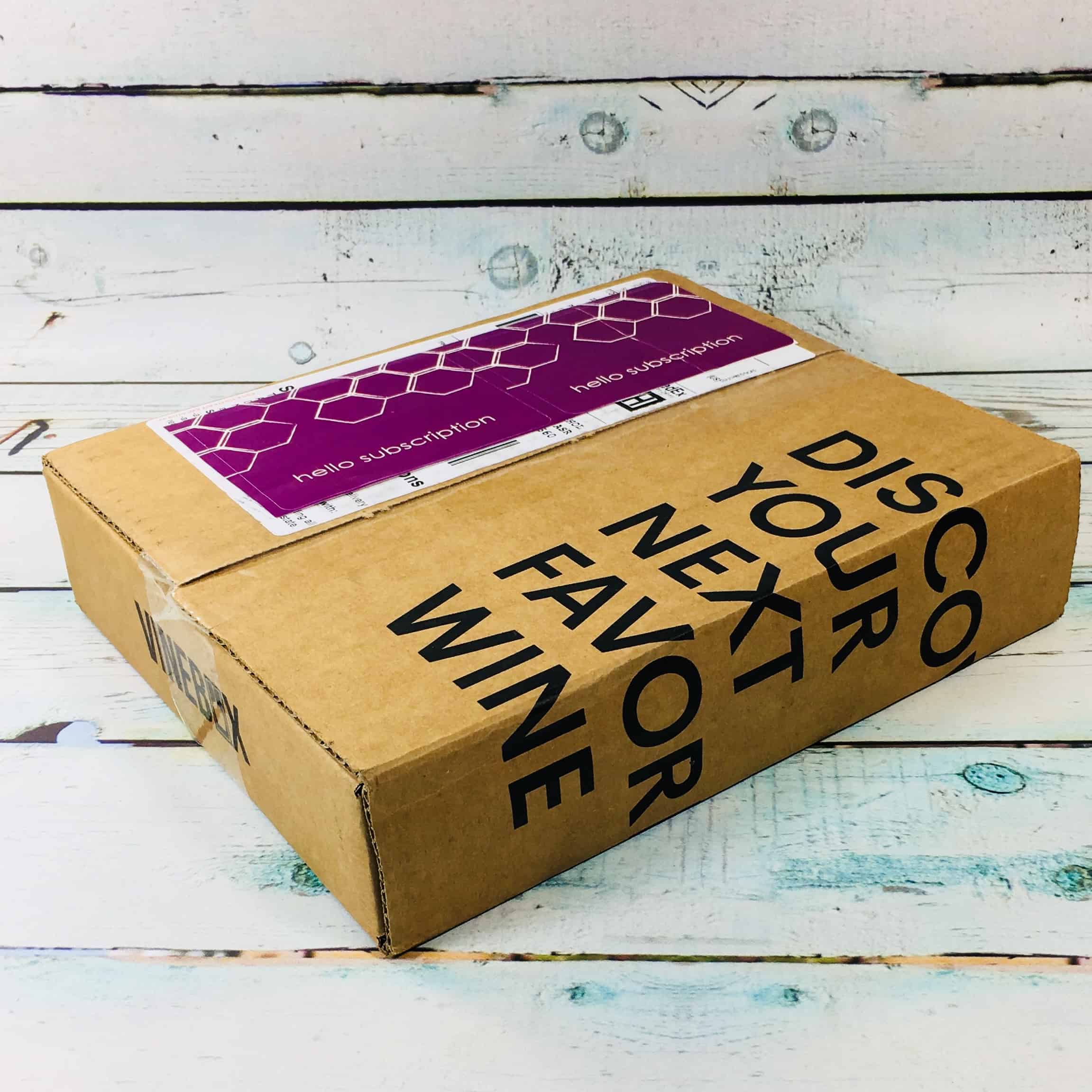 VINEBOX is a monthly wine-by-the-glass subscription box that provides its subscribers with three wines to taste for $29 a month, or save on a longer subscription. The wines sent are very nice wines that are usually at least $30 a bottle so this is the ideal wine club for people who enjoy high-end boutique wines but want to try them before committing to purchasing an entire bottle. You can choose from reds, whites, or a mix, plus you can choose Adventurous, Classic, or Newcomer to get the best experience for your comfort level. Because the wine has been repackaged from its original bottles, the shipped tastings will only last for about 3 years from date of receipt. I usually drink mine within just a couple of days!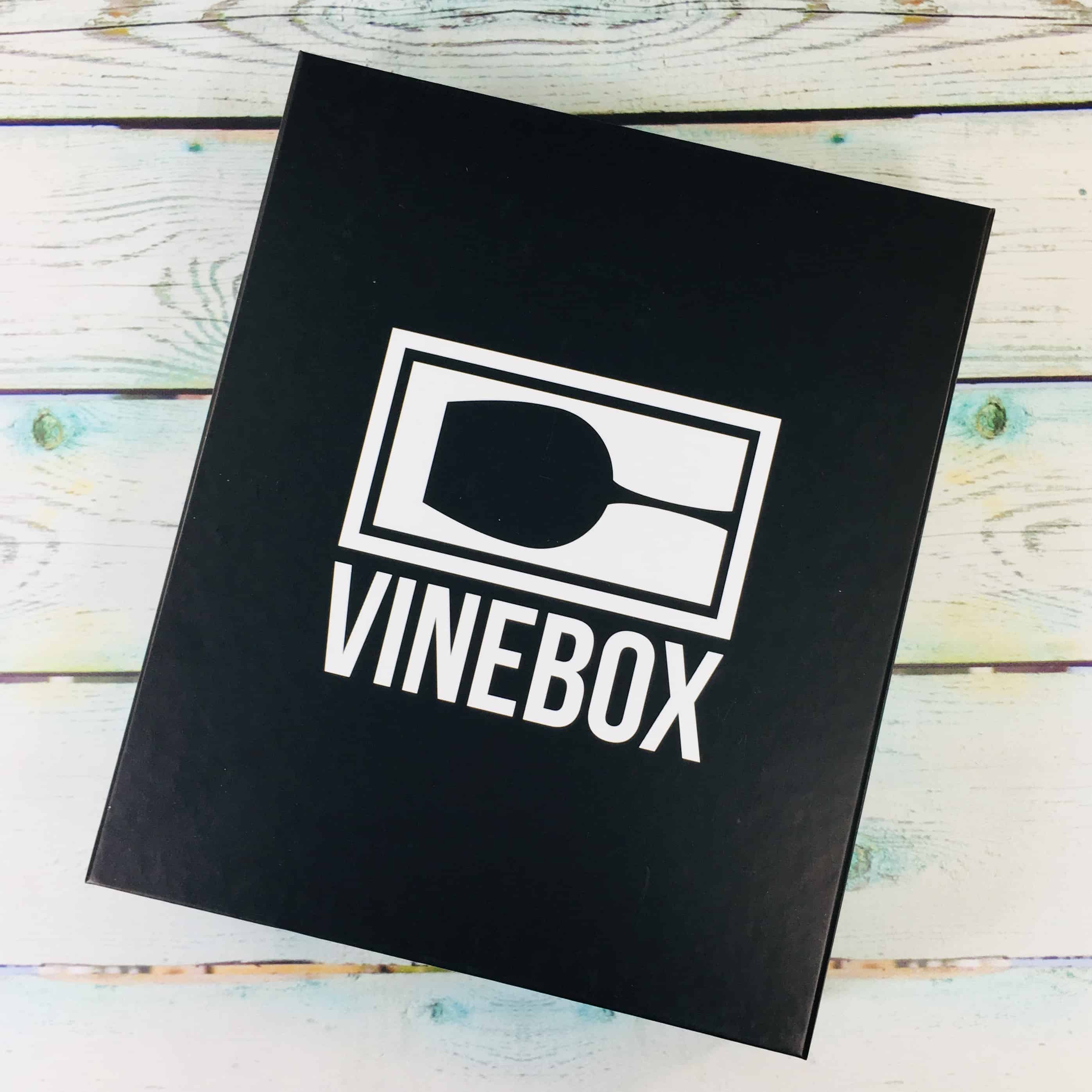 The three glasses of wine arrived packaged inside of a sleek black box with cushioning to keep them safe. Mine were delivered by FedEx and keep in mind that an adult 21 or older must sign for the package, or you can arrange to have it delivered to a FedEx site for pickup (Walgreens is one of the options!).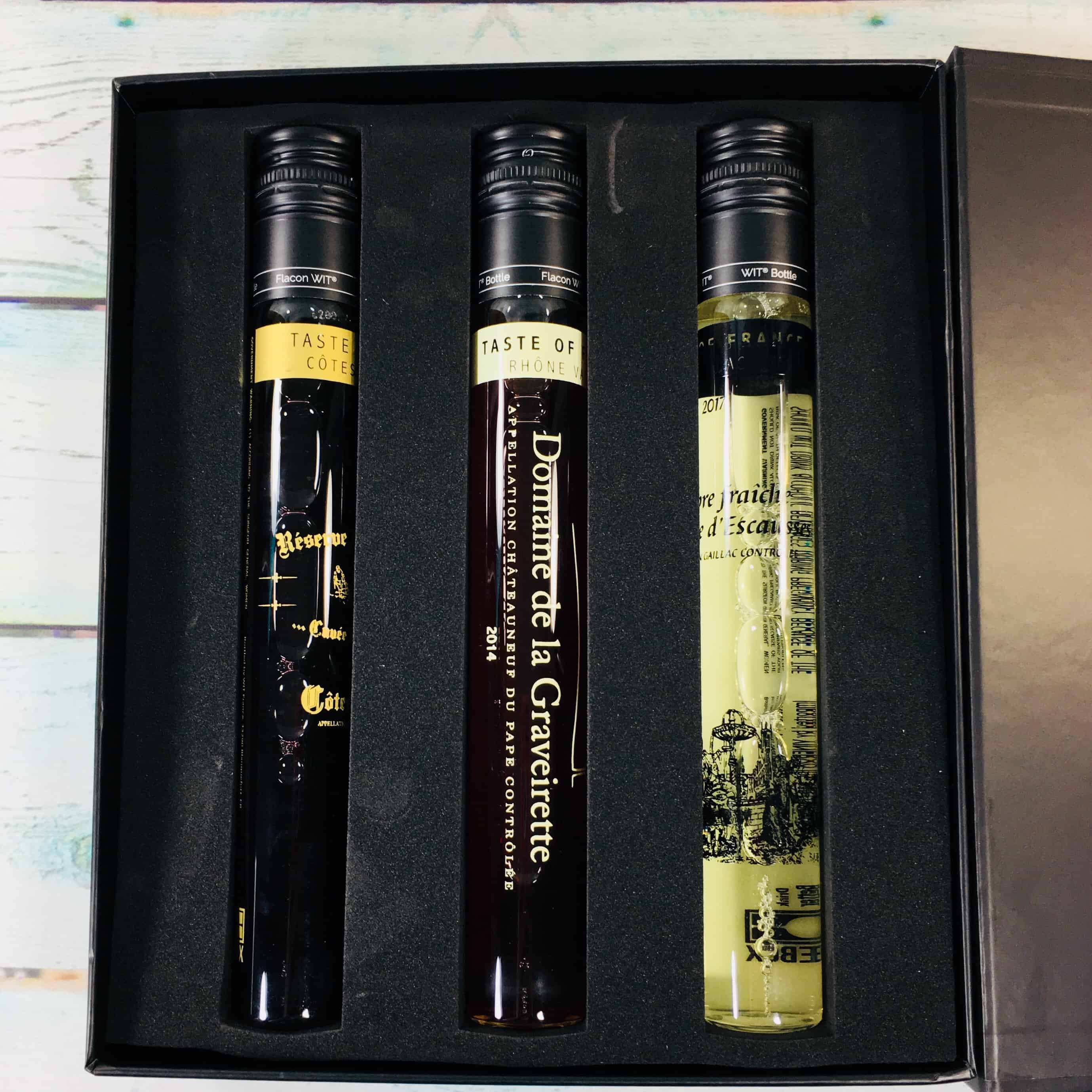 You can find information on each wine under "Wines" on the VINEBOX website.
I received two reds and a white this month!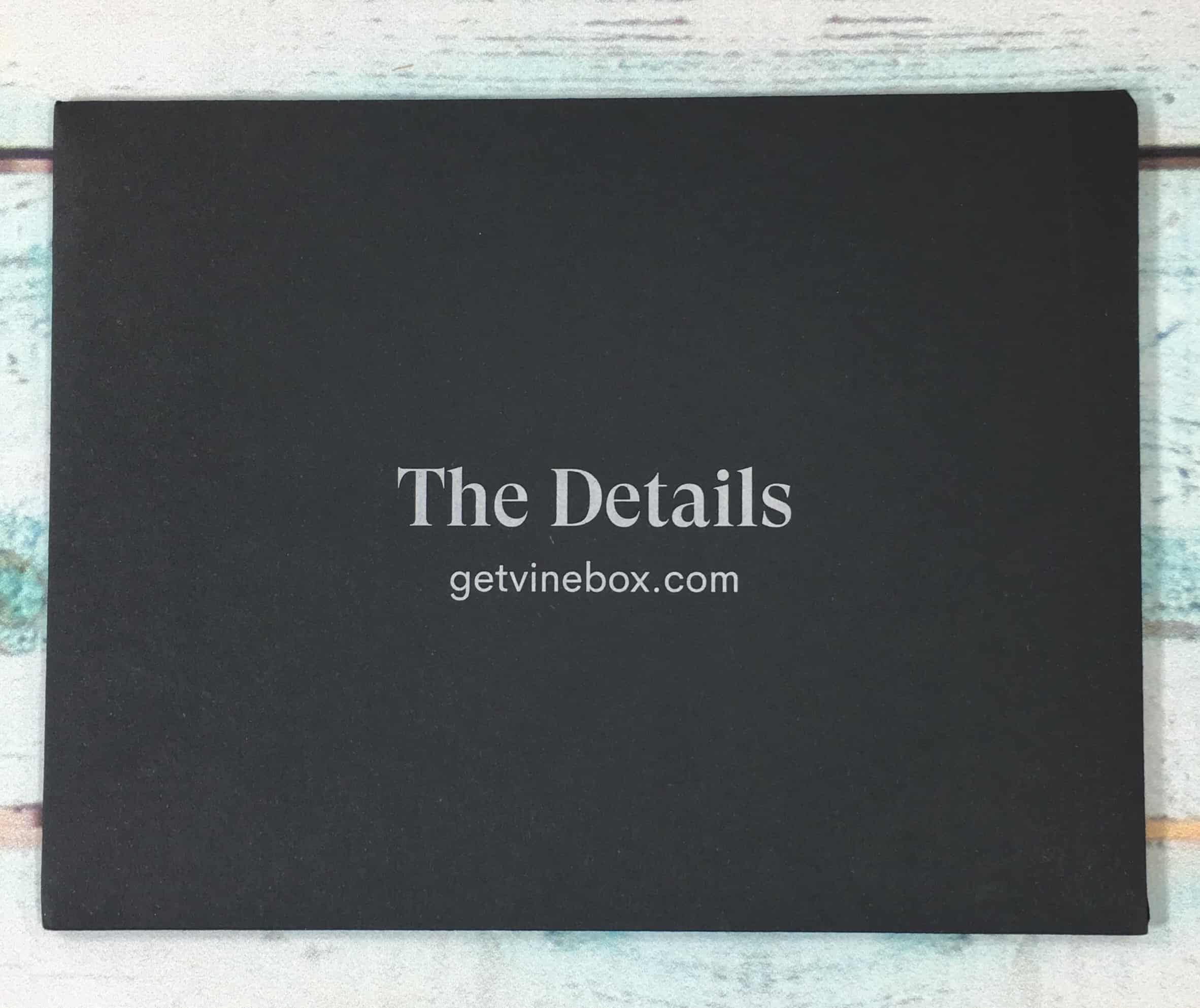 I love the classy envelope!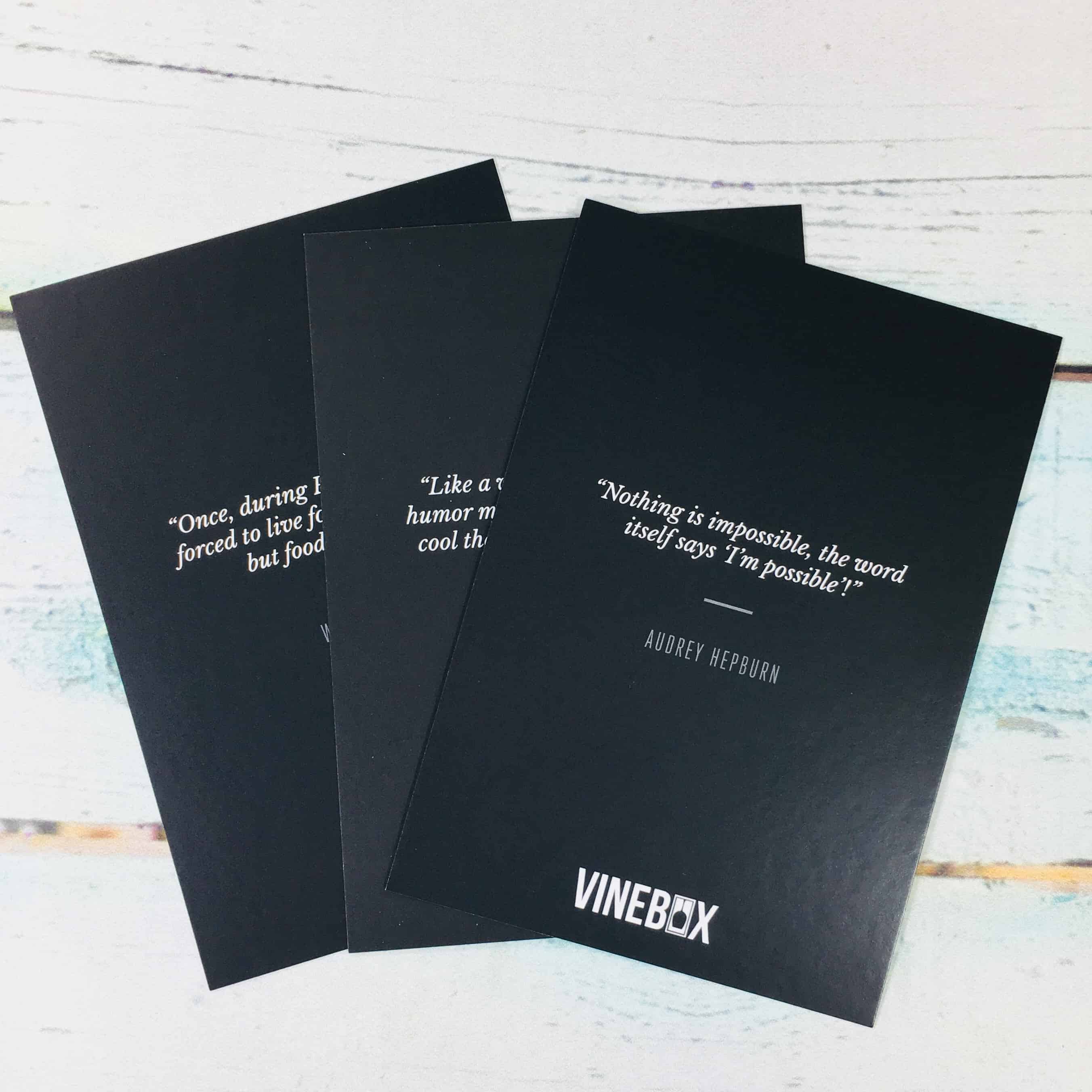 I found a card to go with each of the wines. Each card has a quote on the front and tasting notes, food pairings, and other info on the wine.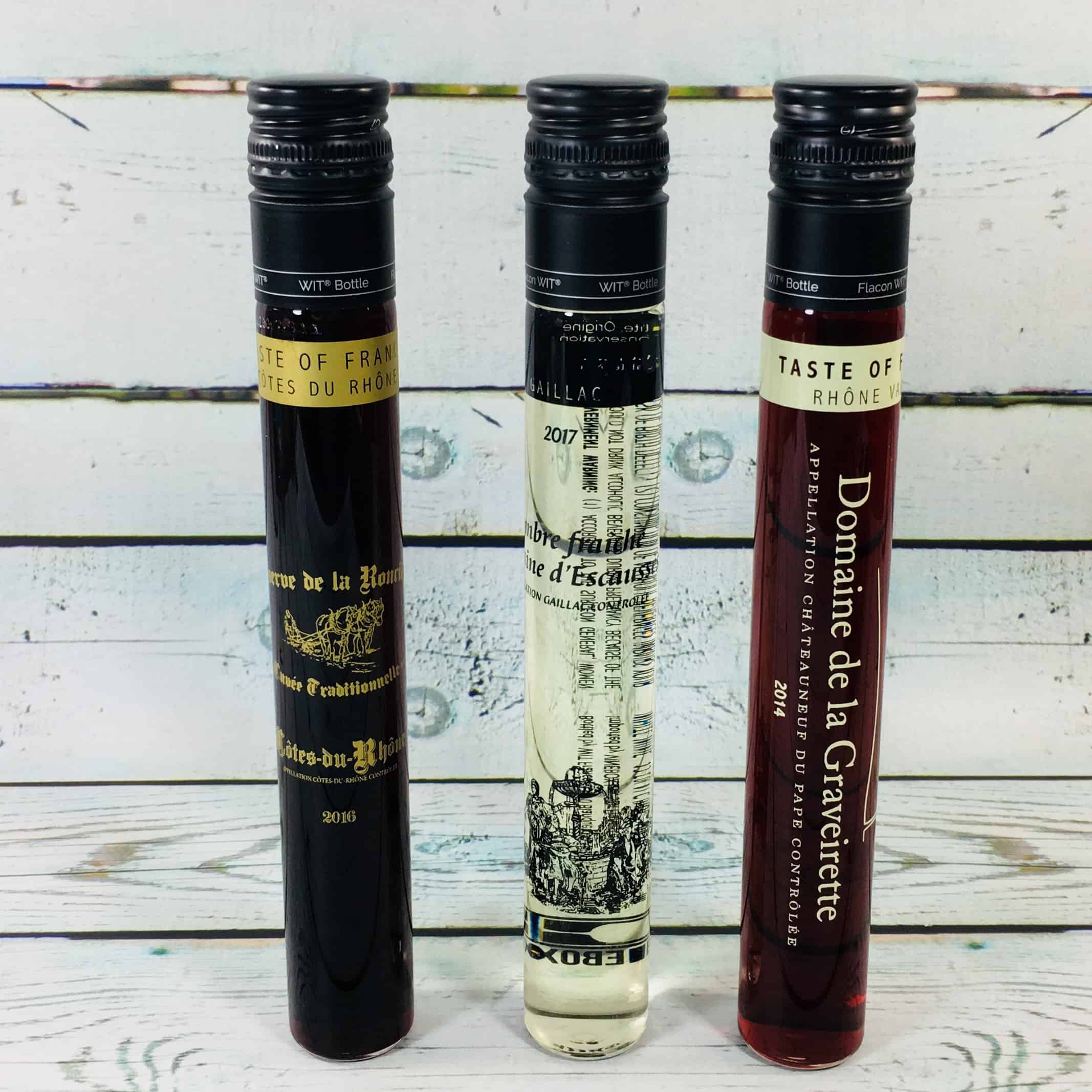 Everything in my box!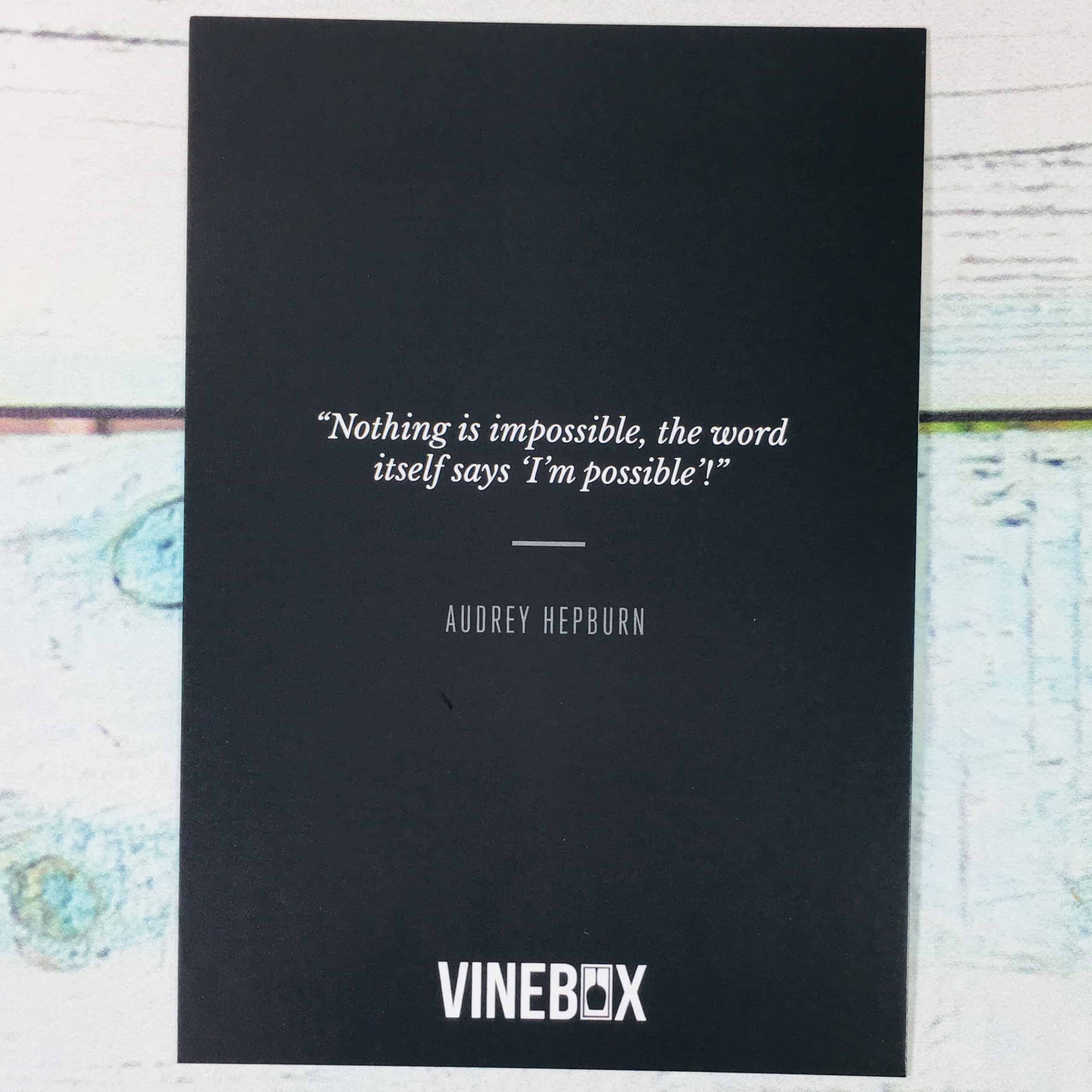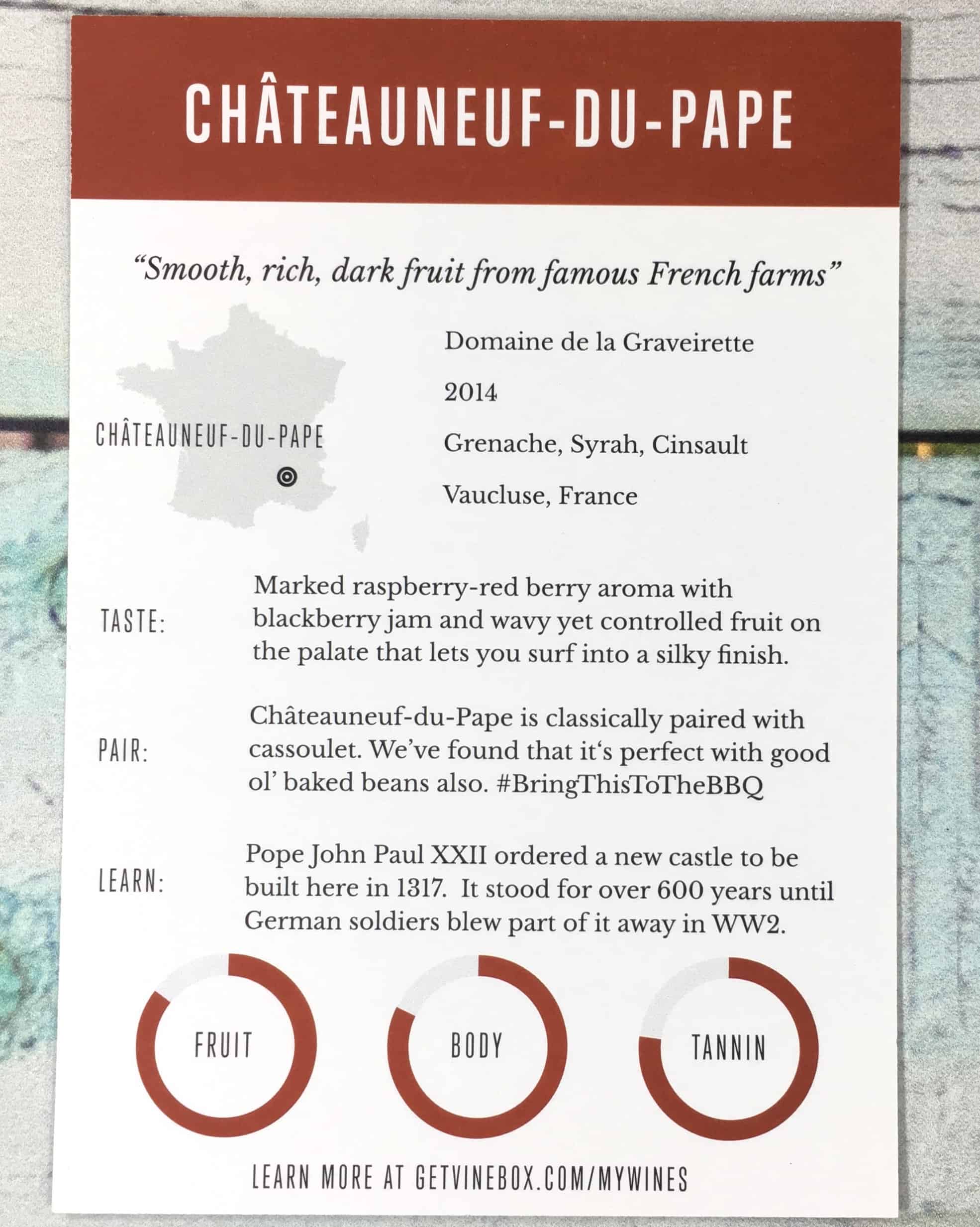 Chateauneuf-Du-Pape 2014 Domaine De La Graveirette is a red from Vaucluse, France and is a blend of Grenache, Syrah, and Cinsault grapes.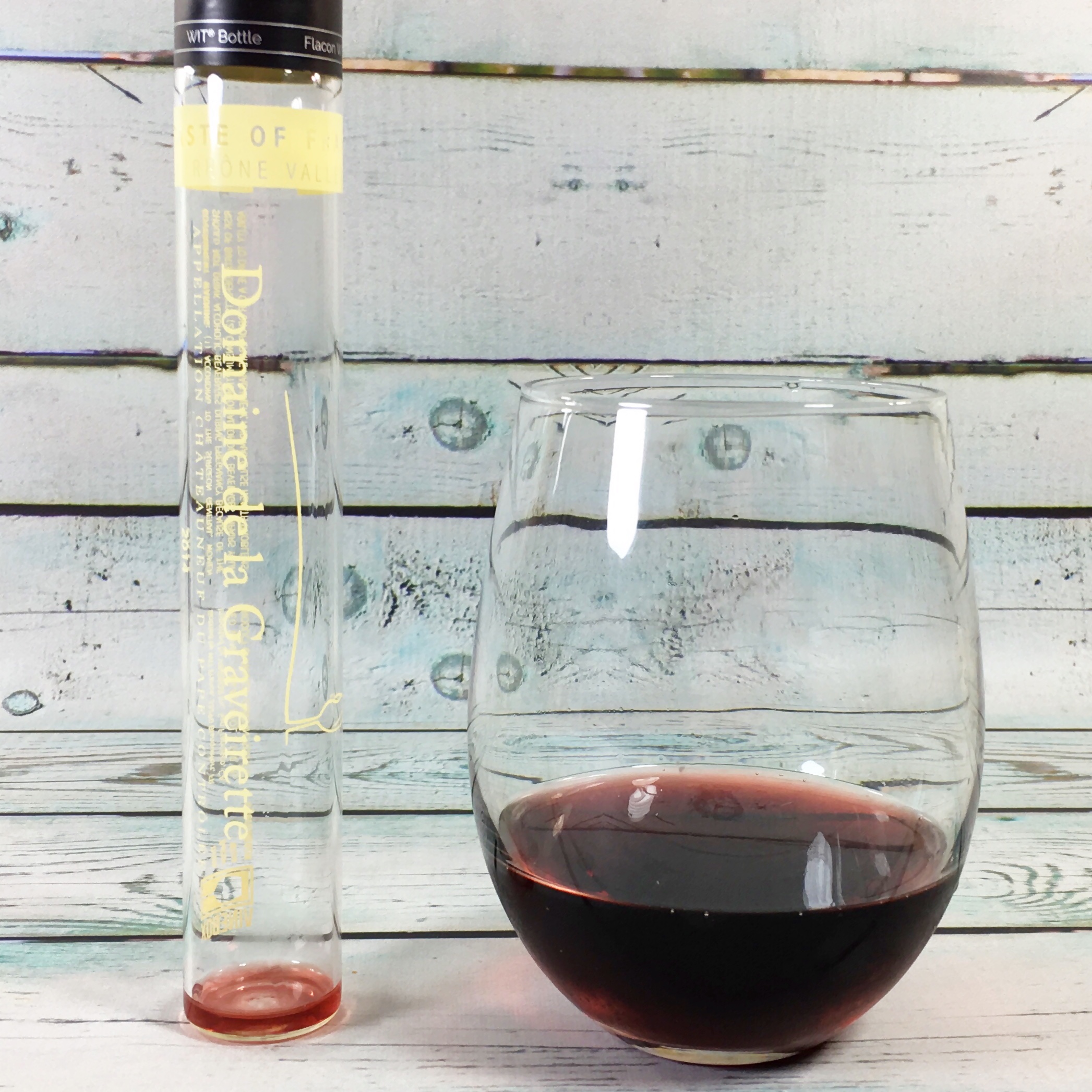 I give the reds to my husband to try and he said this one had a nose of blood orange and cinnamon, and tasted of licorice. He had just eaten some chocolate before drinking this so that may have had an effect on the flavor.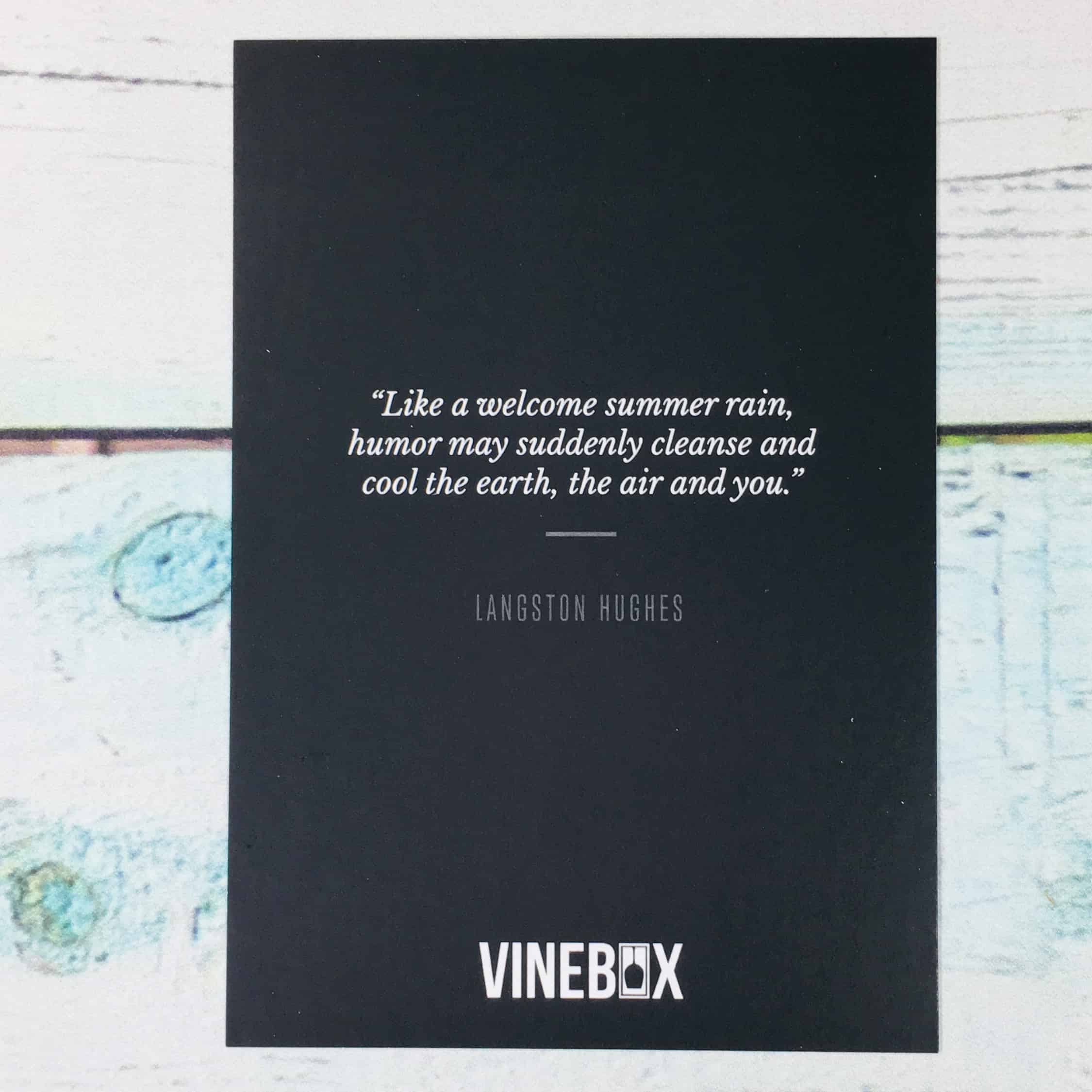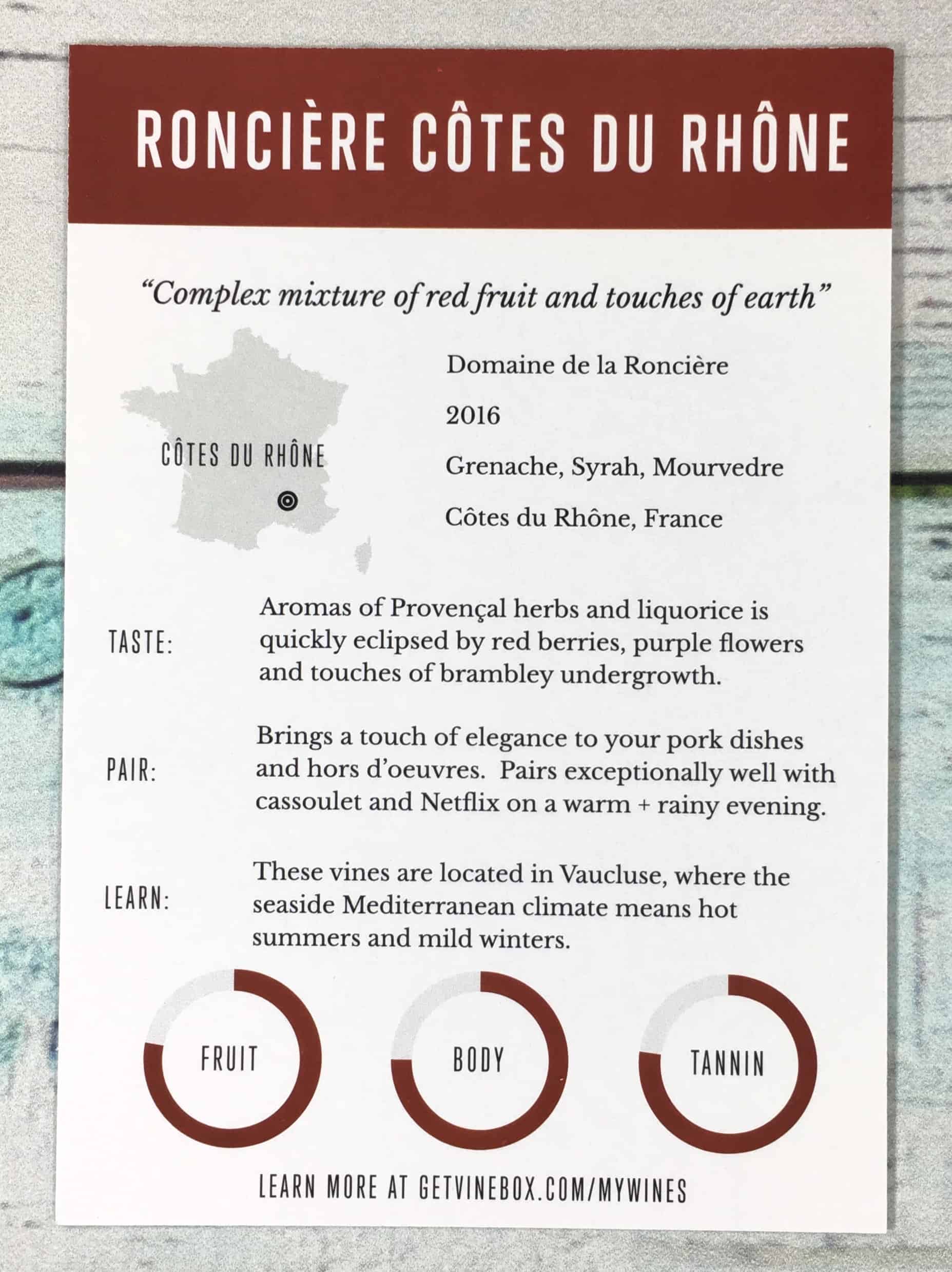 Roncière Côtes Du Rhône 2016 Domaine De La Roncière is from Côtes du Rhone, France and is made with Grenache, Syrah, and Mourvedre grapes.
Hubby said this one had an aroma of cherries and a hint of floral notes, and tasted of chocolate and something meaty.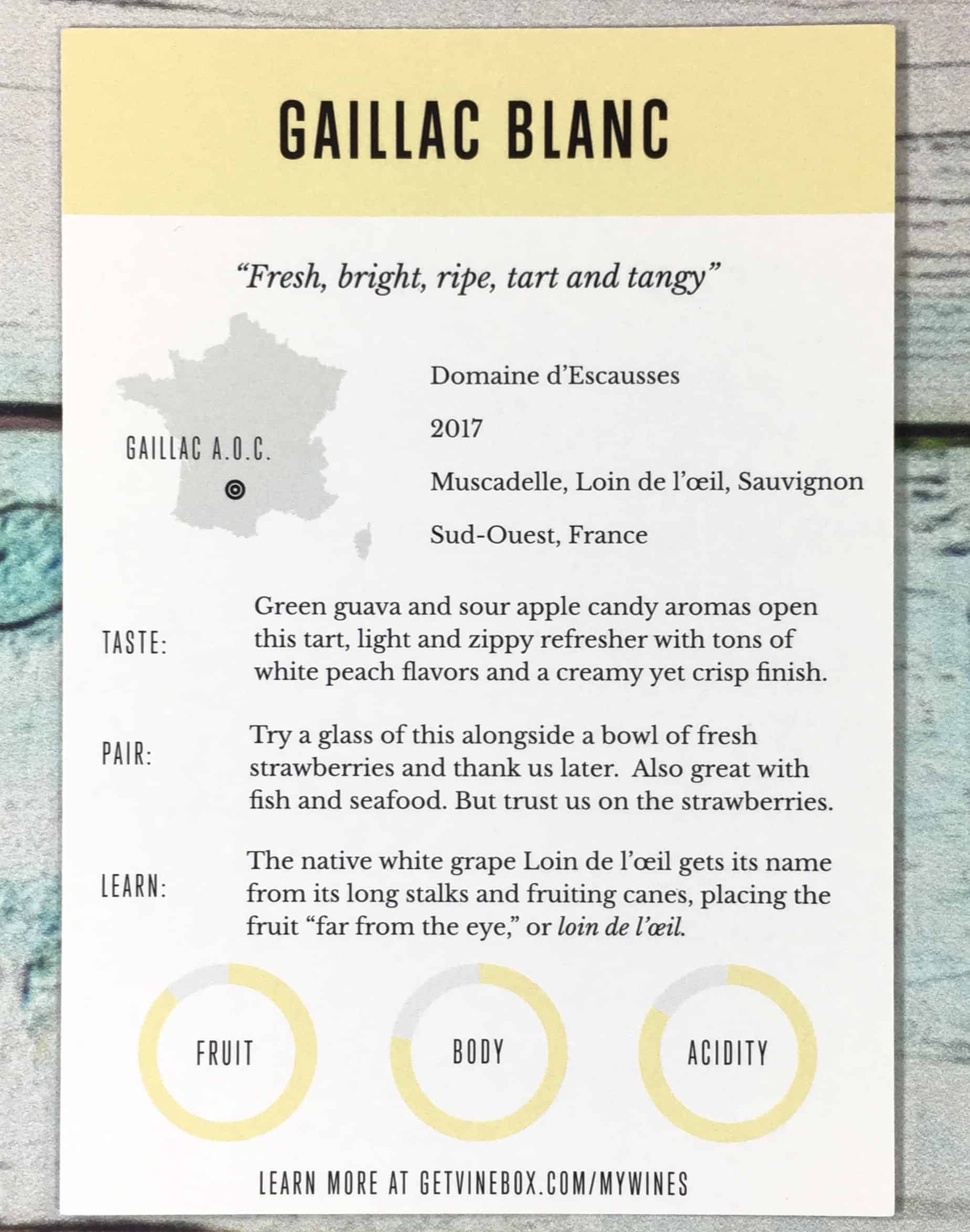 Gaillac Blanc 2017 Domaine d'Escausses ($8) VINEBOX calls this wine "fresh, bright, ripe, tart and tangy" and they were completely correct about this French white made with Muscadelle, Loin de l'œil, and Sauvignon grapes.
It smelled of nectarines and I thought it was going to be very sweet, but it wasn't at first. I did as VINEBOX suggested and paired it with fresh strawberries, and it just changed completely. I loved it!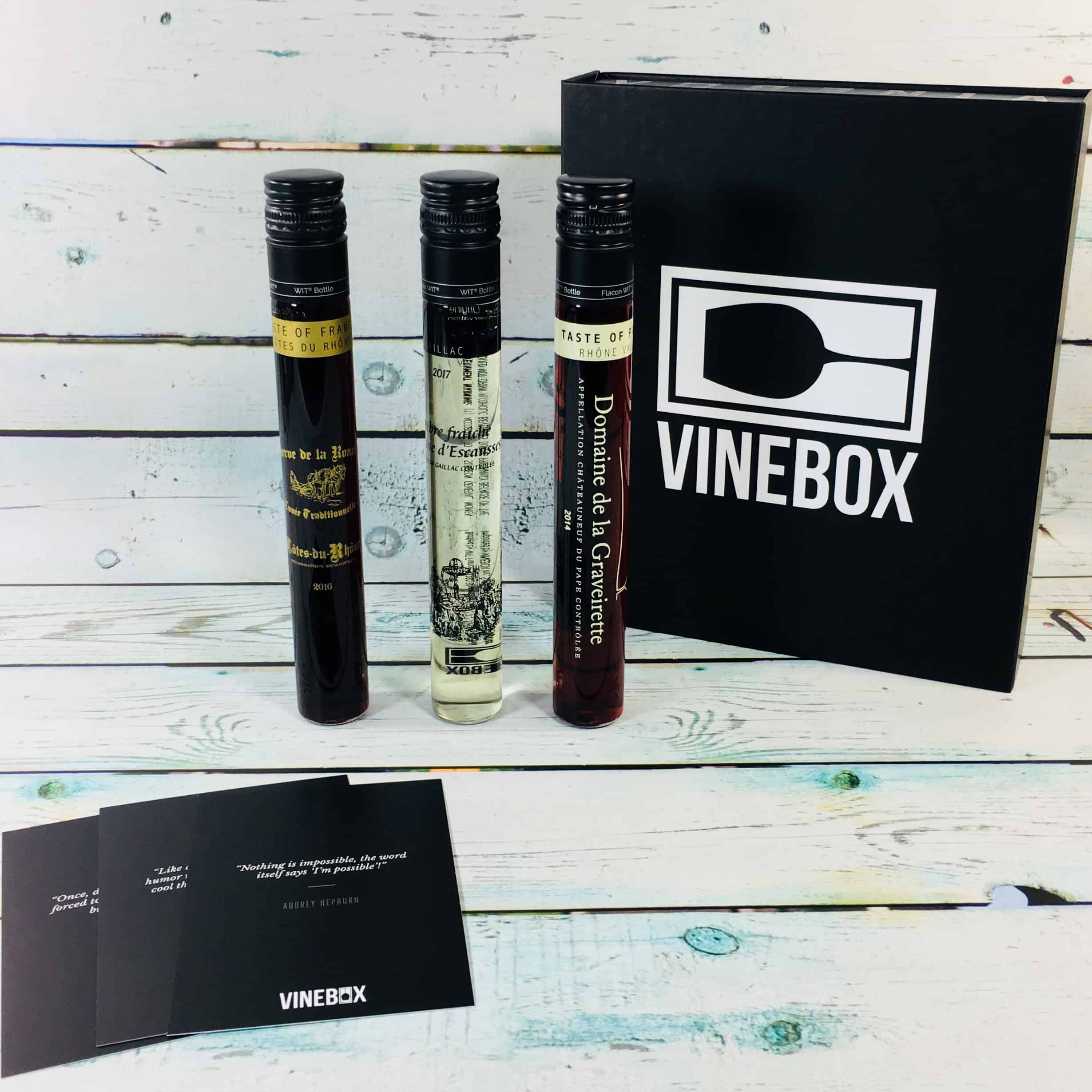 VINEBOX is a great way to learn about wine since they send cards with helpful info on them. My husband gets the reds and I drink the whites and I must say, this was one of the best whites I have tried. I enjoyed trying my new wines and love that I can try them by the glass, rather than a bottle at a time, which often goes to waste.
Have you tried VINEBOX?