Treats is a monthly snack subscription full of snacks from around the world. You can expect to receive eclectic and interesting snacks that you've never sampled before (unless, of course, you've lived in the featured country recently)! The Standard Pack offers 4-5 snacks, while the Premium box offers 8-10. It's quick to enroll, and you'll get your first box within a few days of when you subscribe.
This is a review of the premium pack – $25.95 per month.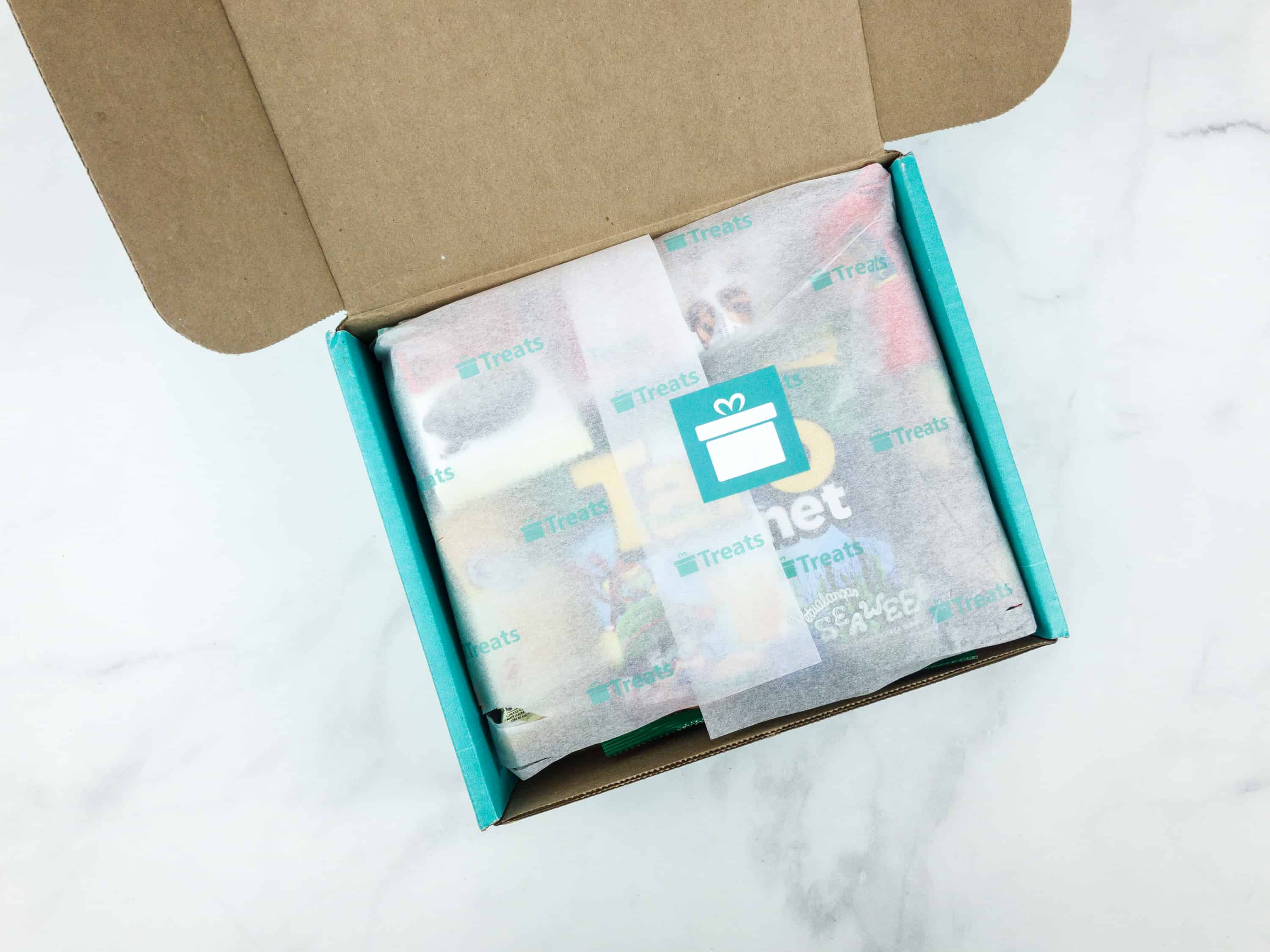 The packaging is simple and elegant. Tissue paper keeps the contents a secret until you are ready to dive in.
DEAL: You can save 15% on your first month with coupon code HELLO15.
The box always includes a beautiful postcard welcoming us to this month's Treats destination. Usually, it is a shot of one of the most iconic landmarks of the country. This month, it's Pura Ulun Danu Bratan, Bali, Indonesia!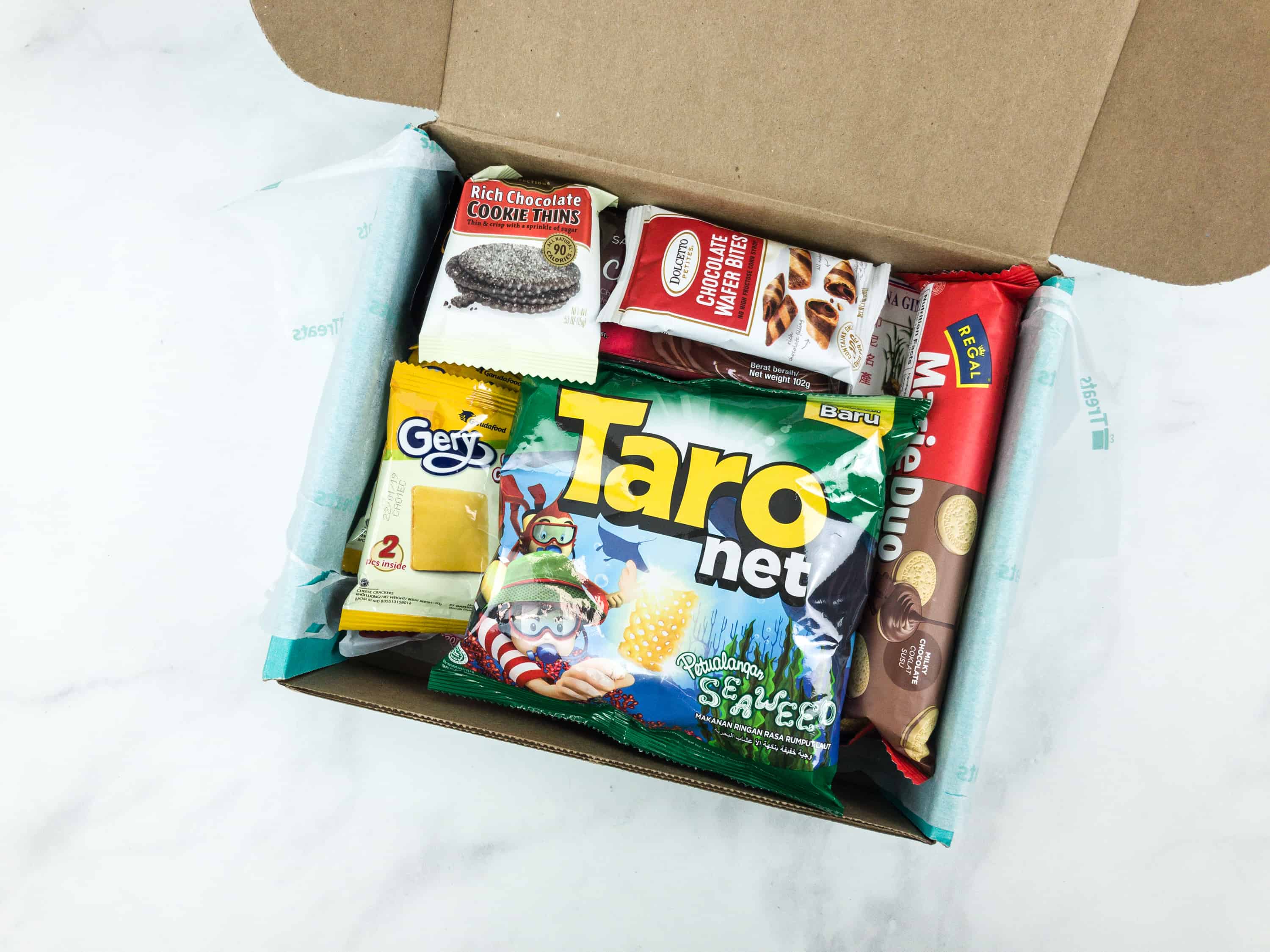 The box is filled to the top with goodies! Everything comes in its original packaging, often solely in the language of the featured country – sometimes it's just as much fun to see the unique package styling as it is to try the snacks! The box is always so full, that they don't need to use any extra packing material.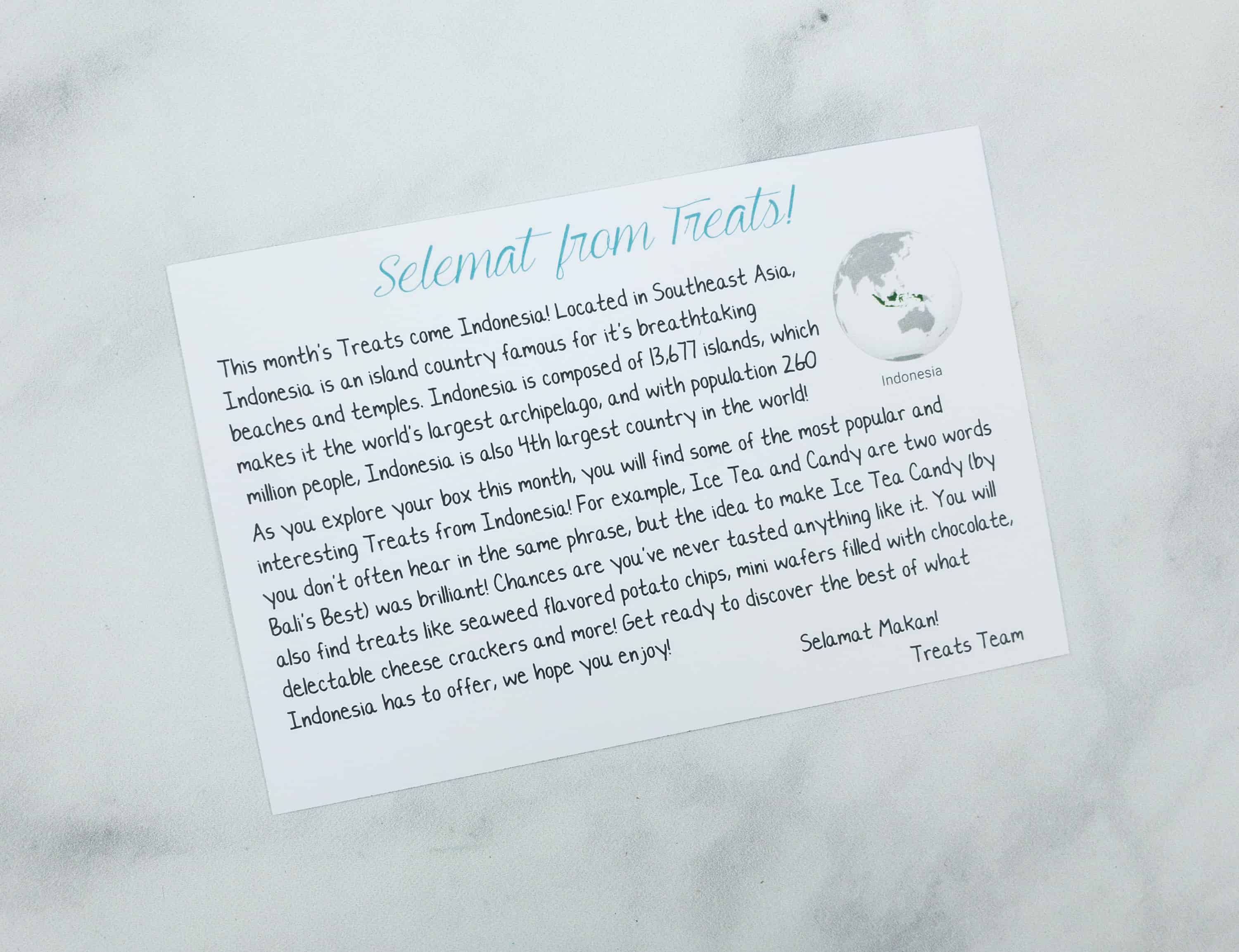 The introduction card tells a little about the snack culture and points out some of the flavors or snack styles that are popular or unique to the destination.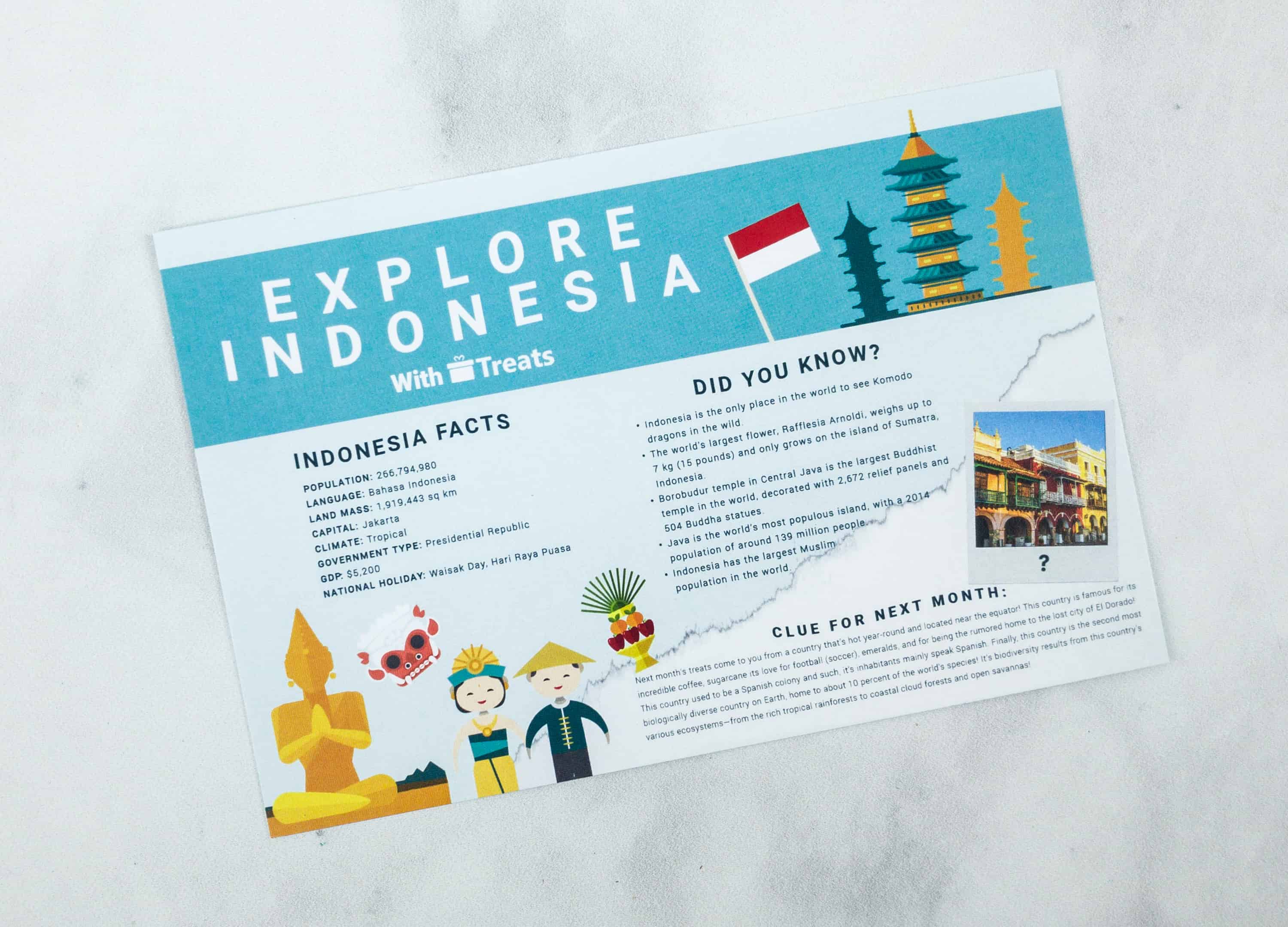 Another card features facts about Indonesia, plus a clue for next month's box.
This month's featured recipe is Nasi Goreng.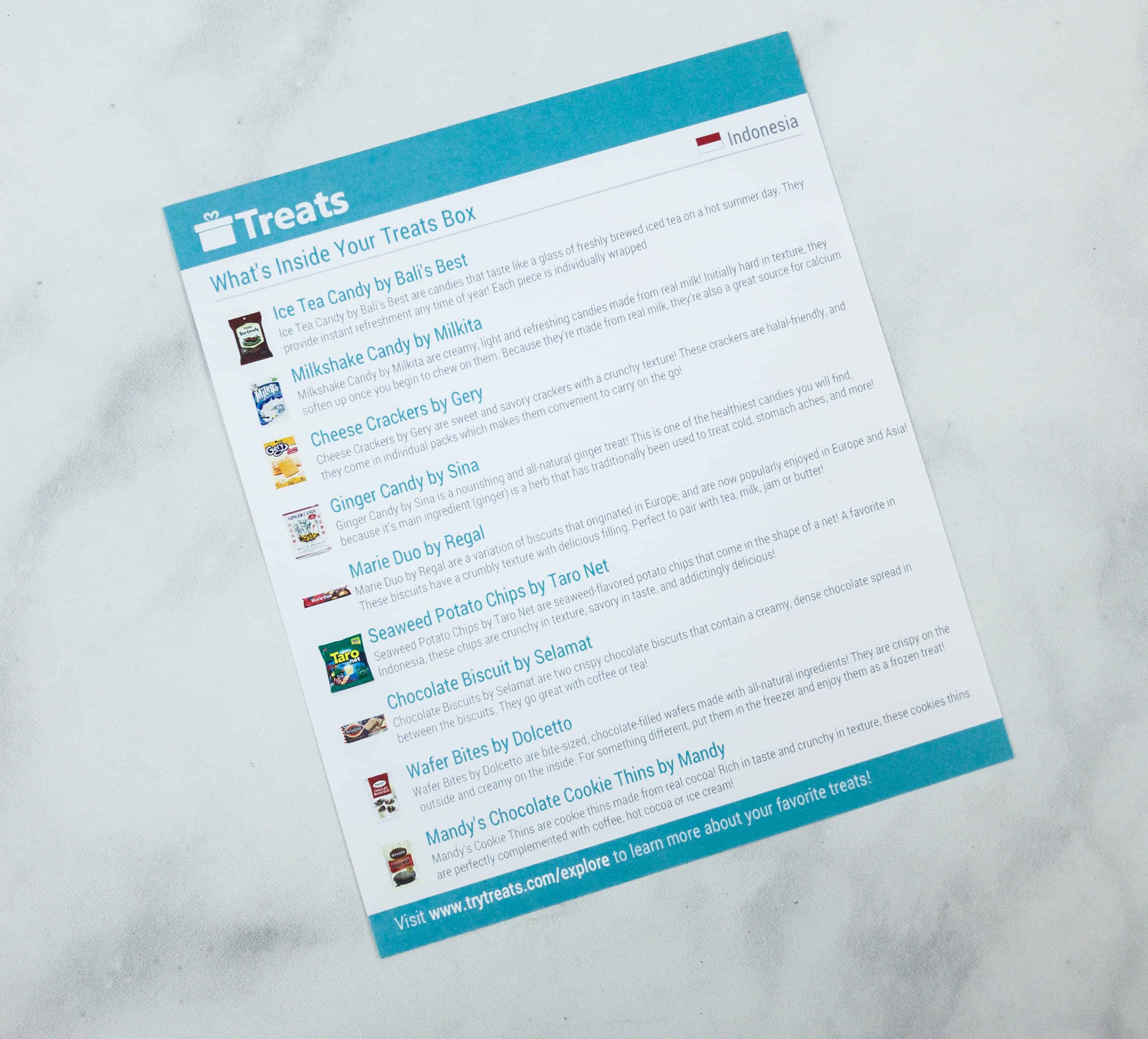 There is also a handy info card that gives the name and maker of each treat, as well as a short description of each. The blurbs give you a sense of what to expect, but you'll have to check each treat's label (and possibly hire a translator) for more detailed info on ingredients and nutrition. Even with the card, the only way to truly appreciate everything is to taste it!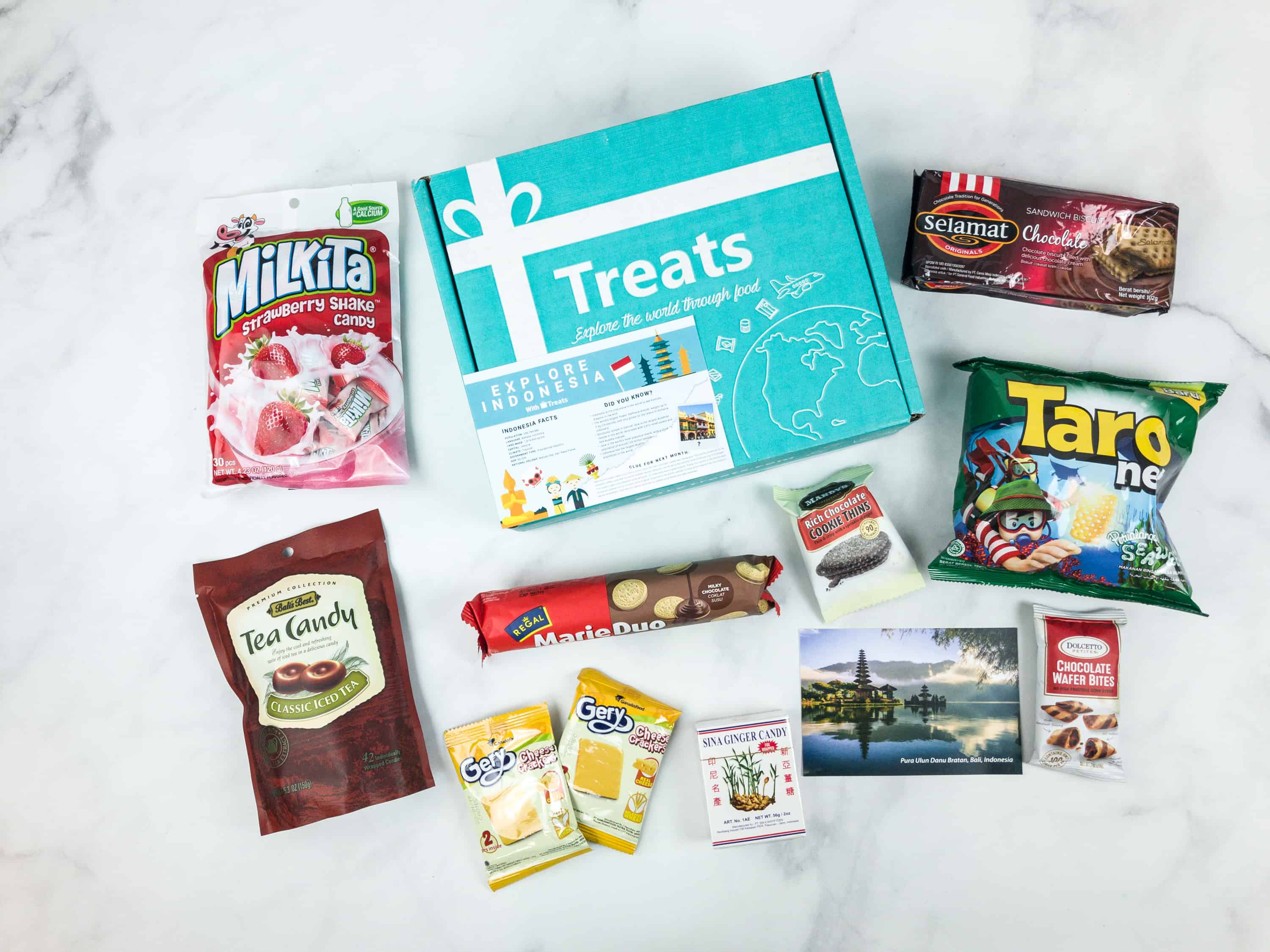 Everything in the box. The composition of each Treats collection depends on the local snacking culture, but there is usually a good mix of sweet and savory and individual and family packs.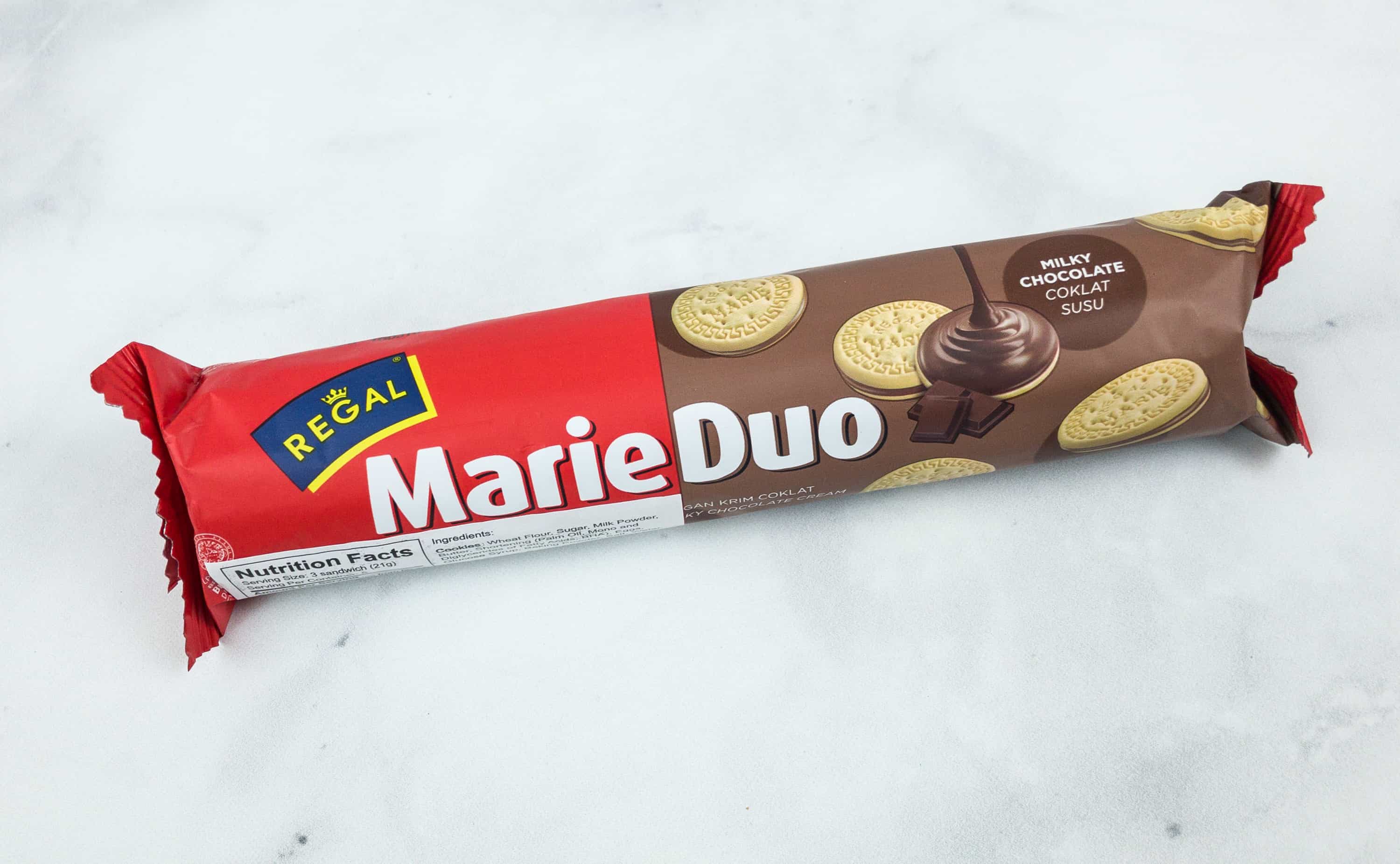 Marie Duo by Regal – These luscious biscuits originated from Europe and is now enjoyed in Asian countries like Indonesia.
There's a rich chocolate filling between two well-baked buttery biscuits. It's a great snack to have with a hot beverage.
Selamat Originals Chocolate Sandwich Biscuits – SIMILAR ($0.96) It's a pack of chocolate biscuits with a creamy chocolate filling.
There are eight biscuit sandwiches in the pack and they were nicely packaged in a tray.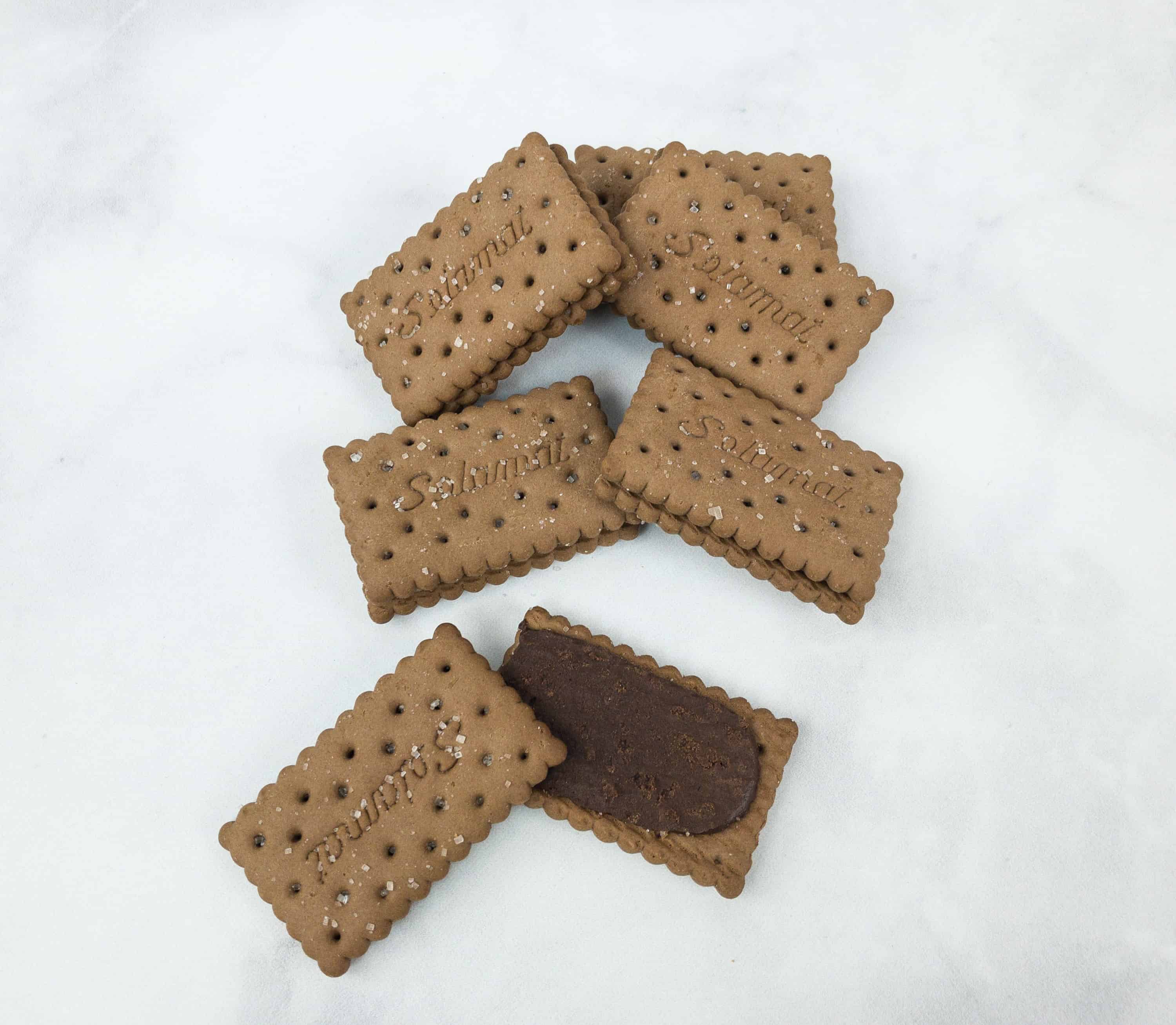 Each biscuit is topped with a pinch of rock sugar to add extra sweetness. And they are so good!! We loved the chocolate on chocolate deliciousness of these cookies.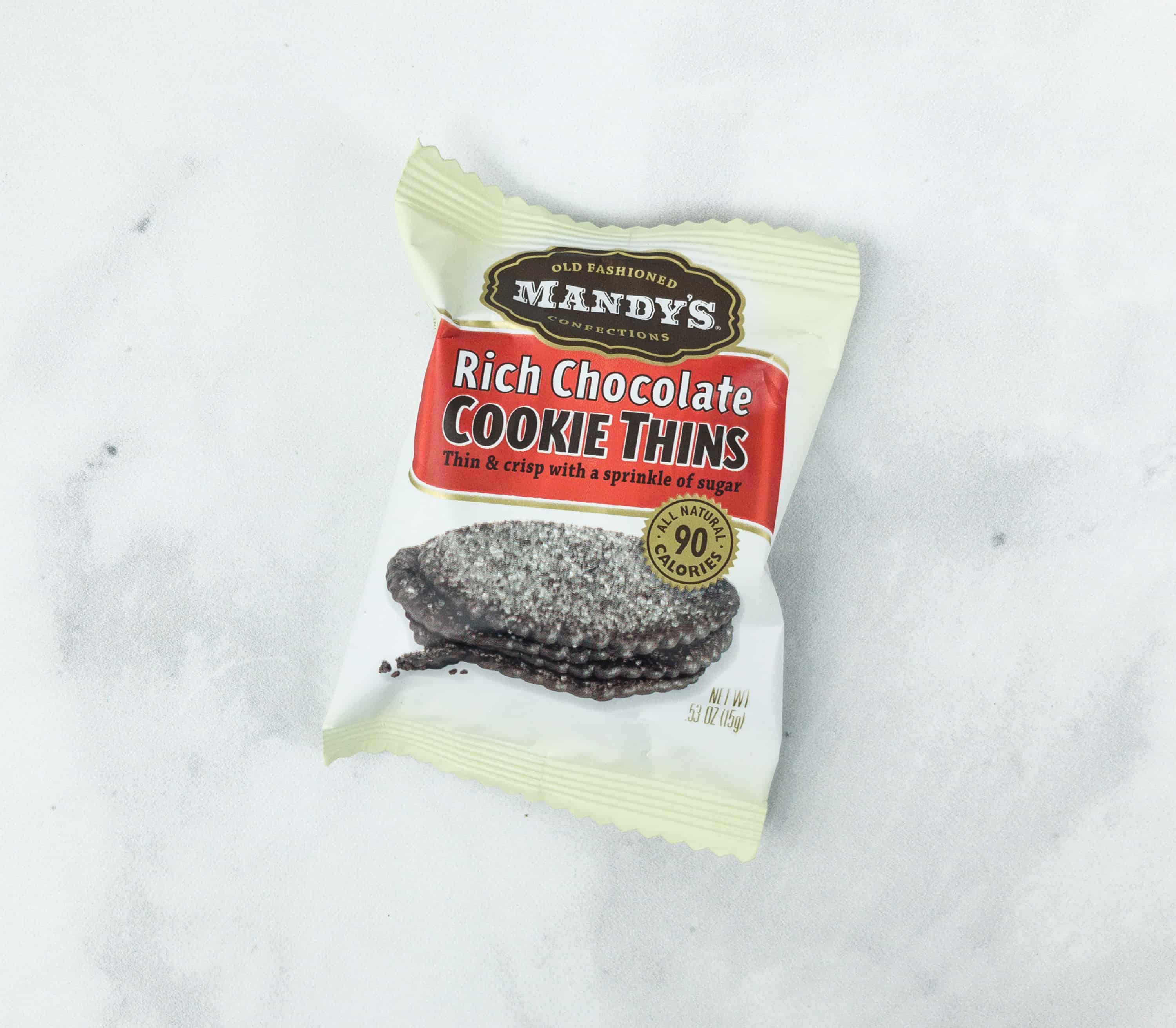 Mandy's Rich Chocolate Cookie Thins ($0.46) These super thin cookies are hand baked to produce a distinctive melt-in-your-mouth taste. It does not contain any artificial coloring or flavor, and no high fructose corn syrup!
The chocolate cookies are super light and crisp. They're dusted with sugar for that extra sweetness. They're like everything you love about OREOs but even better, tastier, and with improved texture. We can't herald the deliciousness of these cookies enough!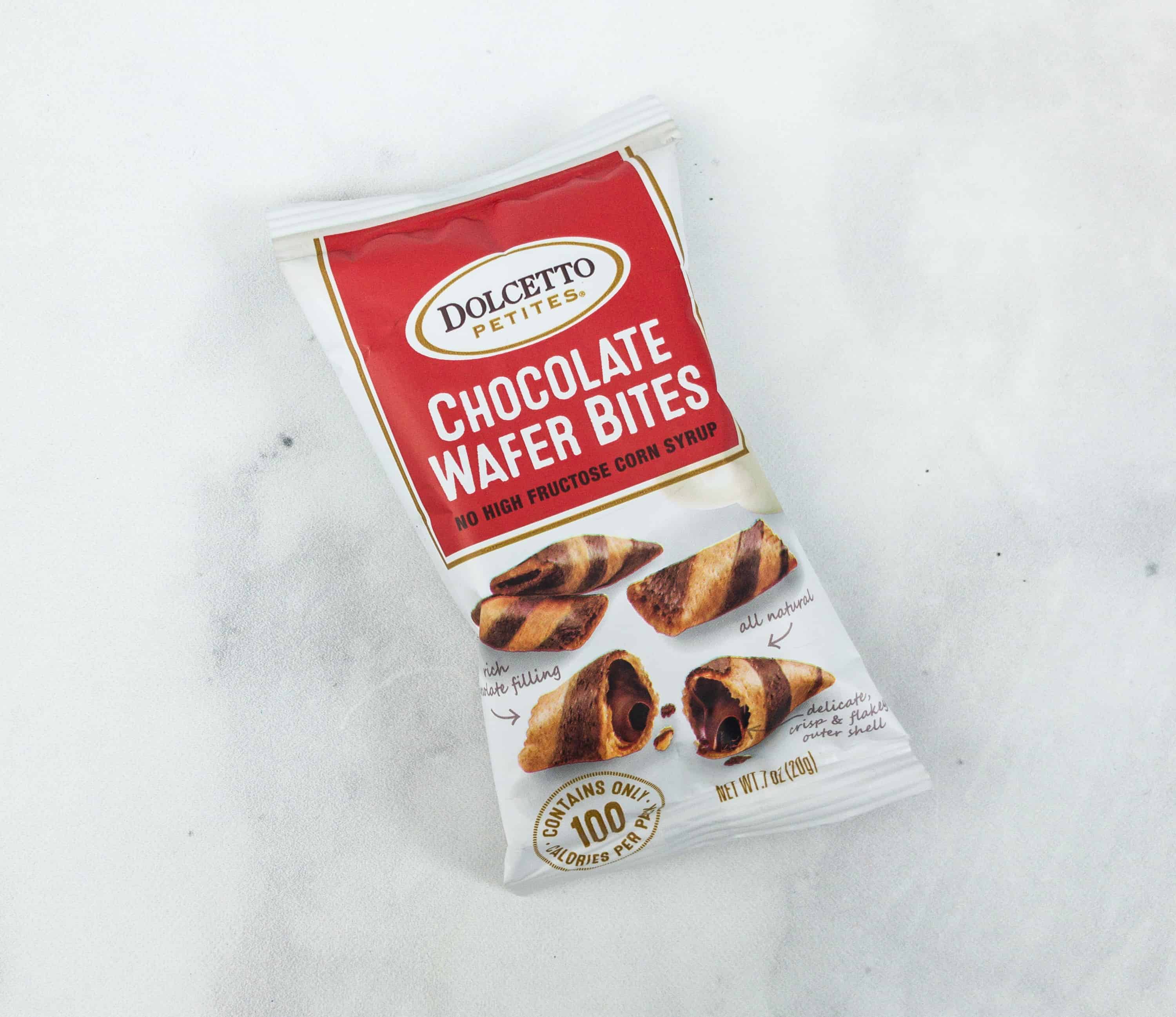 Dolcetto Petites Chocolate Wafer Bites ($0.83) The pack is filled with bite-sized wafers filled with tasty chocolate cream. It is made with all-natural ingredients and contains zero trans fat. No artificial flavors, coloring, preservatives, or high fructose corn syrup too.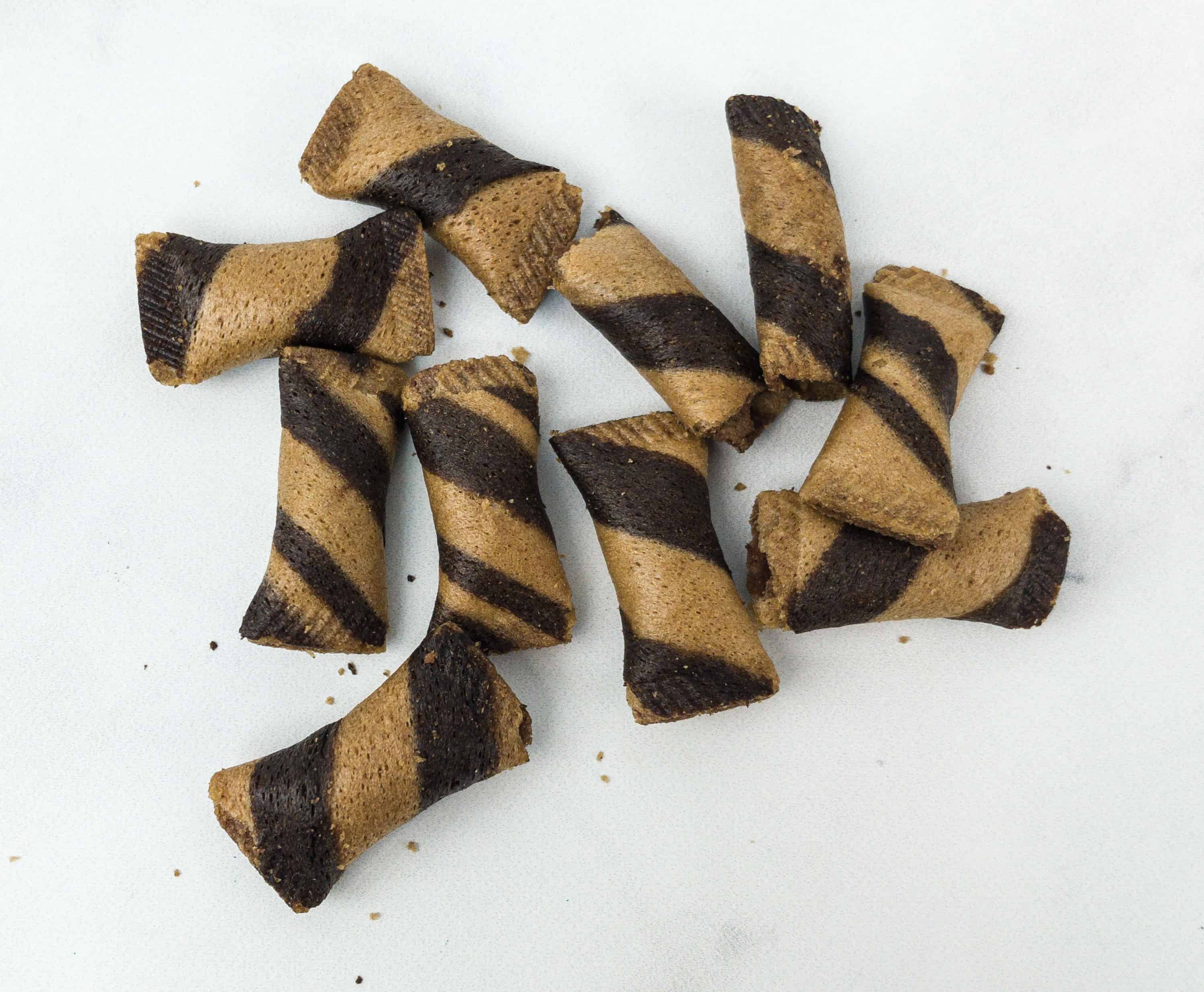 These petite wafers are crispy on the outside but soft and creamy inside. NOM.
Taro Net Seaweed Potato Chips ($1.03) This is one of the most famous chips in Indonesia. It's seaweed-flavored and comes in the shape of a fish net.
Each piece is light yet crunchy, with a savory taste that is totally addicting!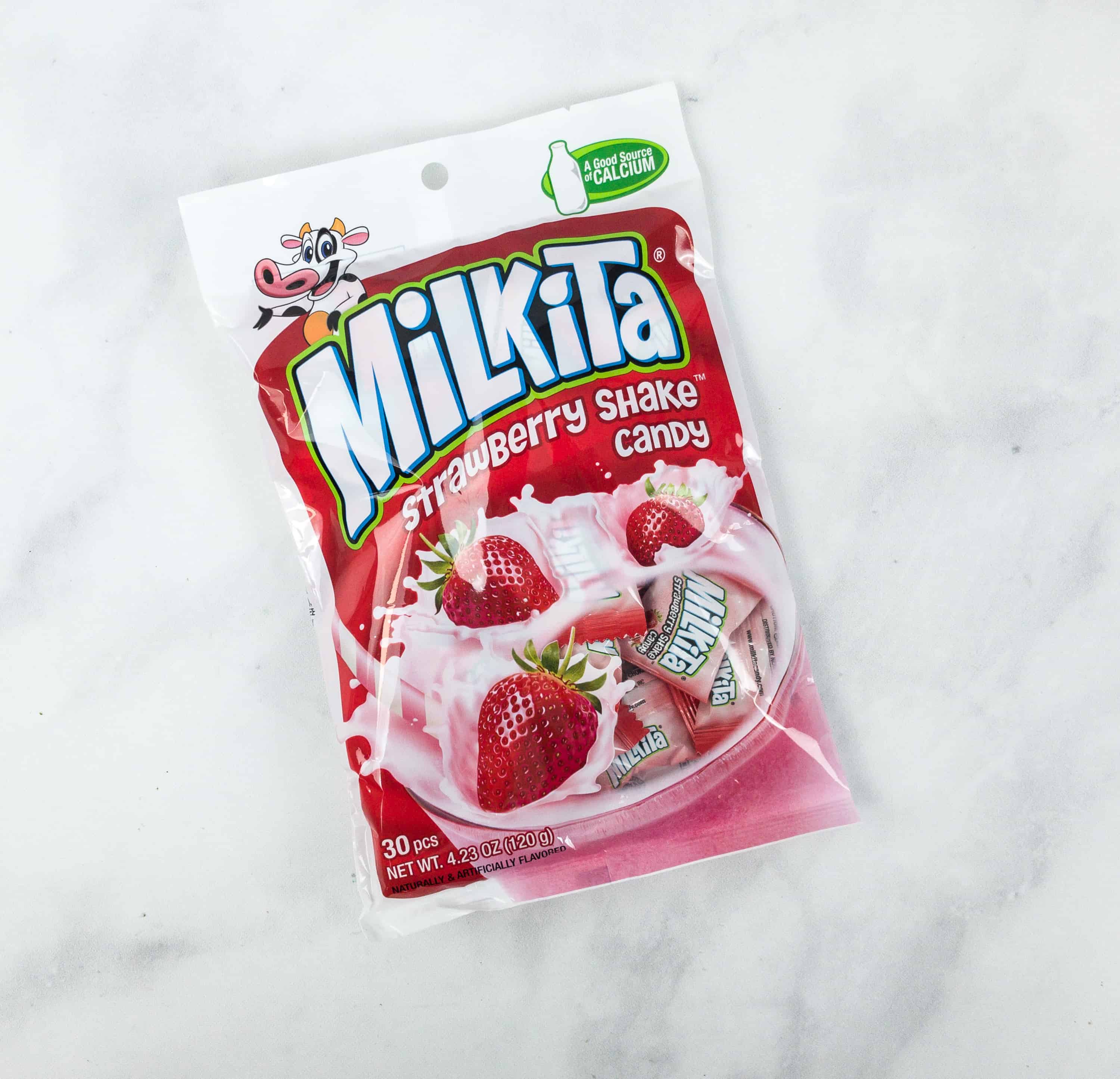 Milkita Strawberry Shake Candy ($5.49) Chewy and yummy! These candies are made with milk and natural strawberry flavoring. It's gluten free.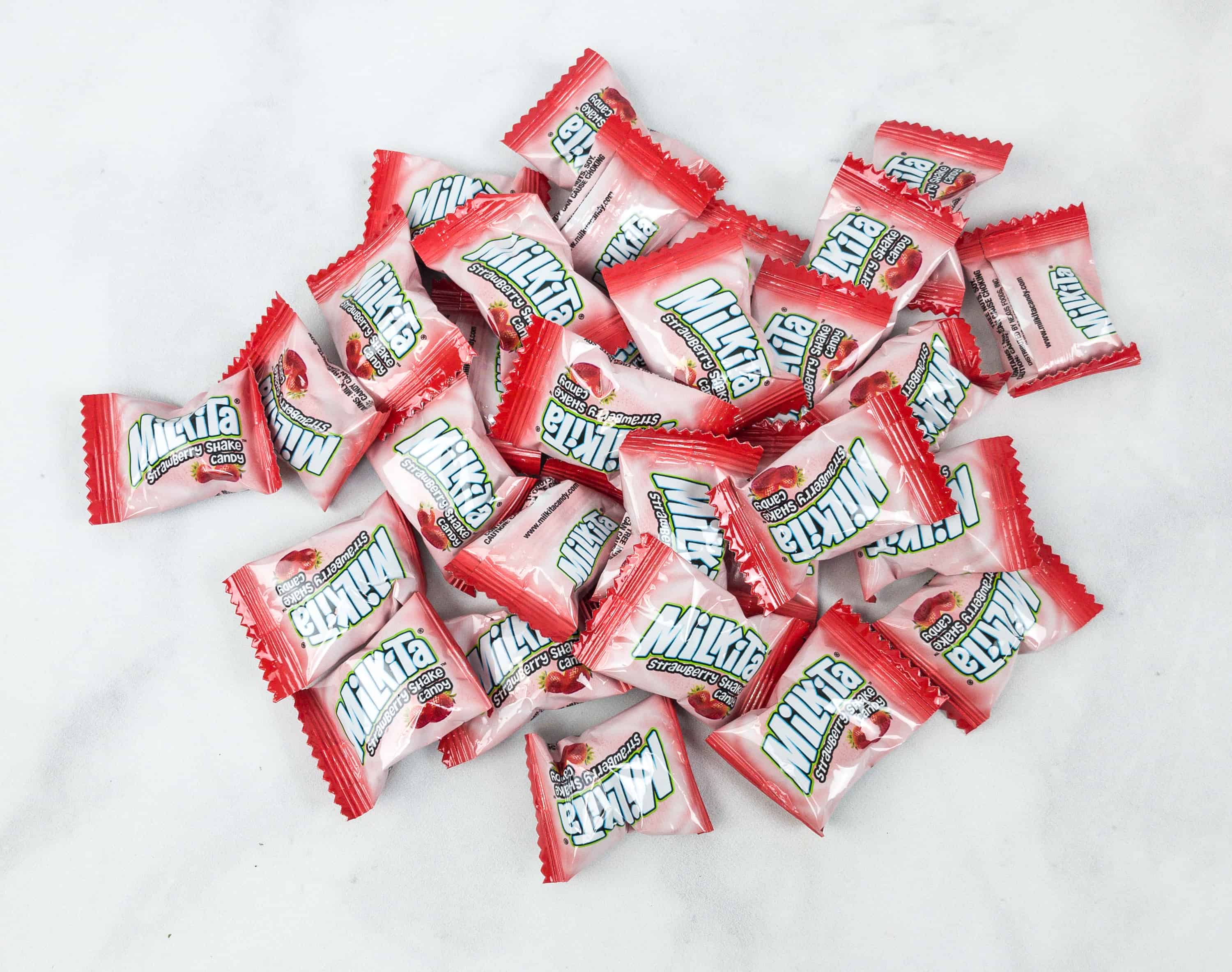 We love these candies because they seriously taste like a real strawberry milk or milkshake!
This candy is initially hard in texture but slowly softens up once you begin to chew them. It's a good thing we got a lot of them on this box cause it is very addicting and one is never enough!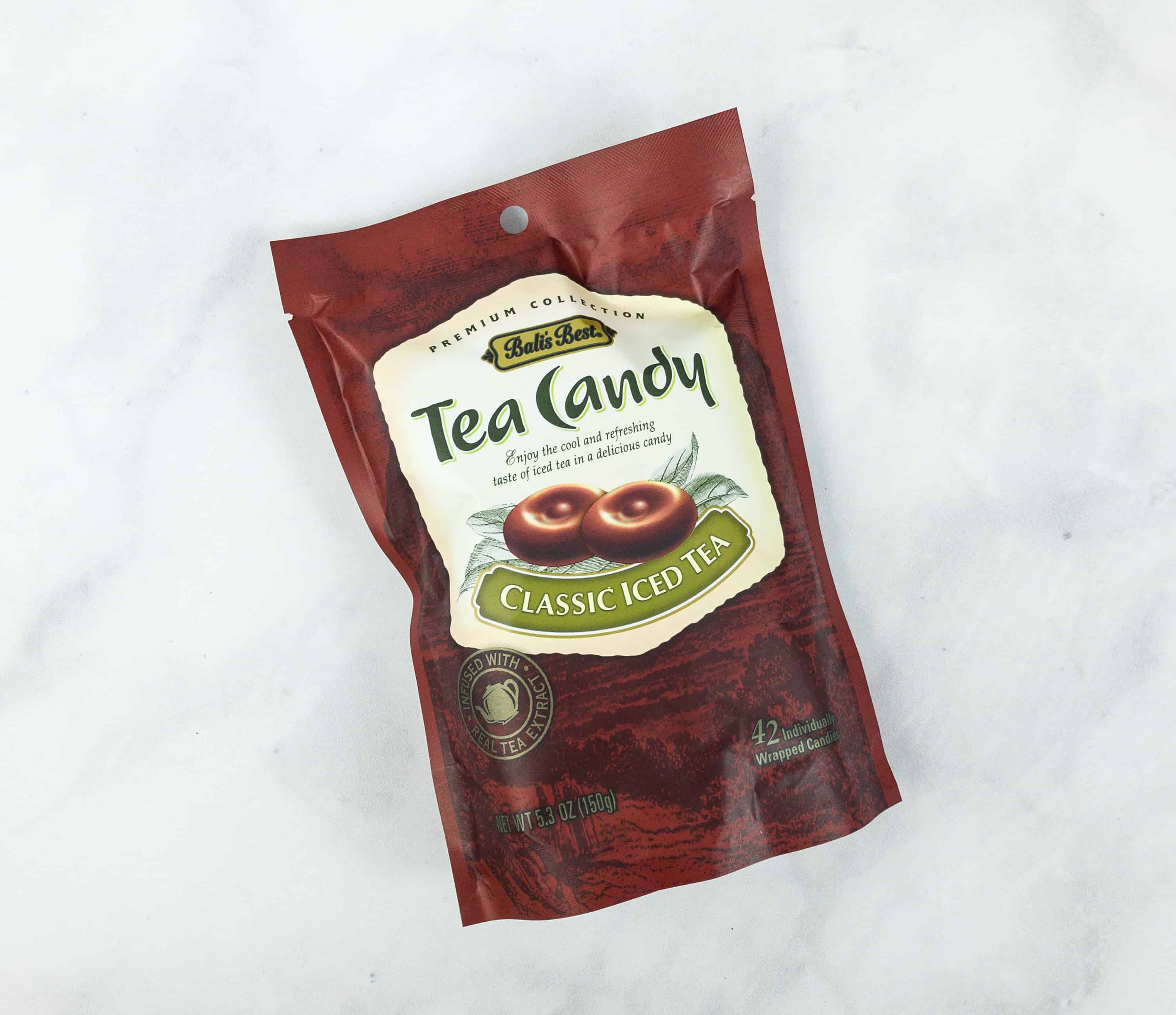 Bali's Best Tea Candy Classic Iced Tea ($2.13) We also received a pack of classic iced tea candy. They're made with real tea extracts which originate from the islands of Java in Indonesia.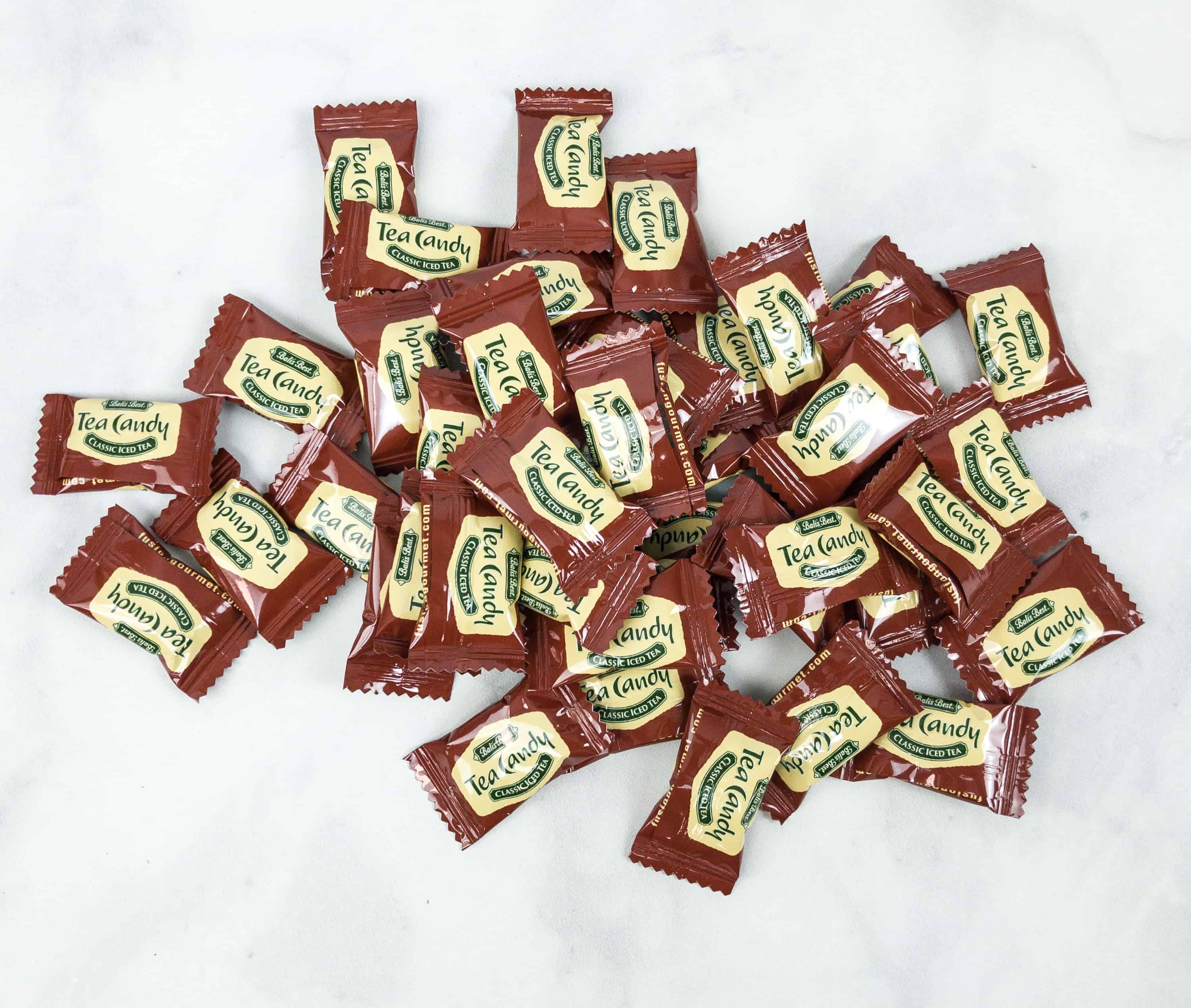 One pack consists of 42 pieces of candies.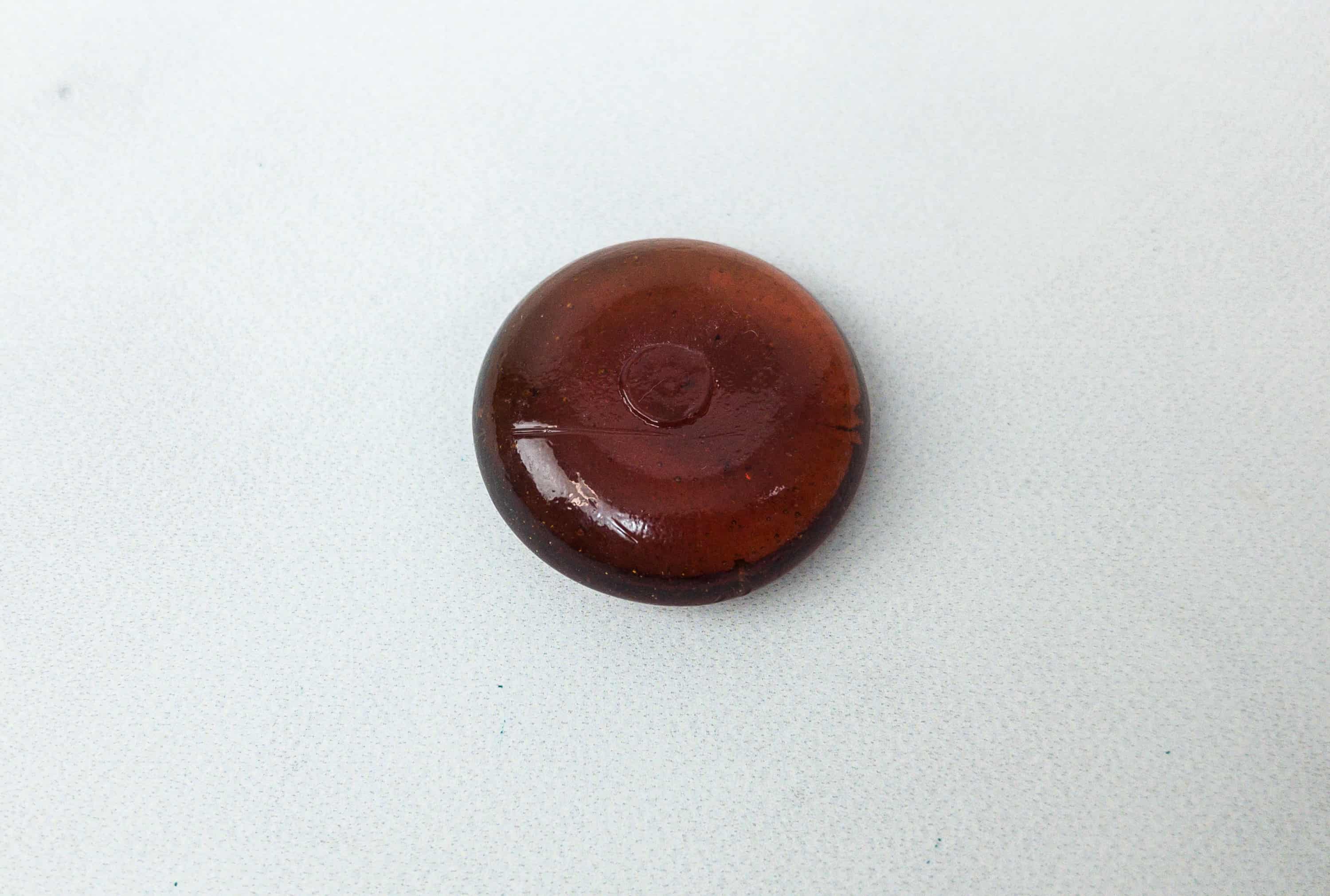 It is the perfect sweet candy to bring anytime. The taste is quite refreshing!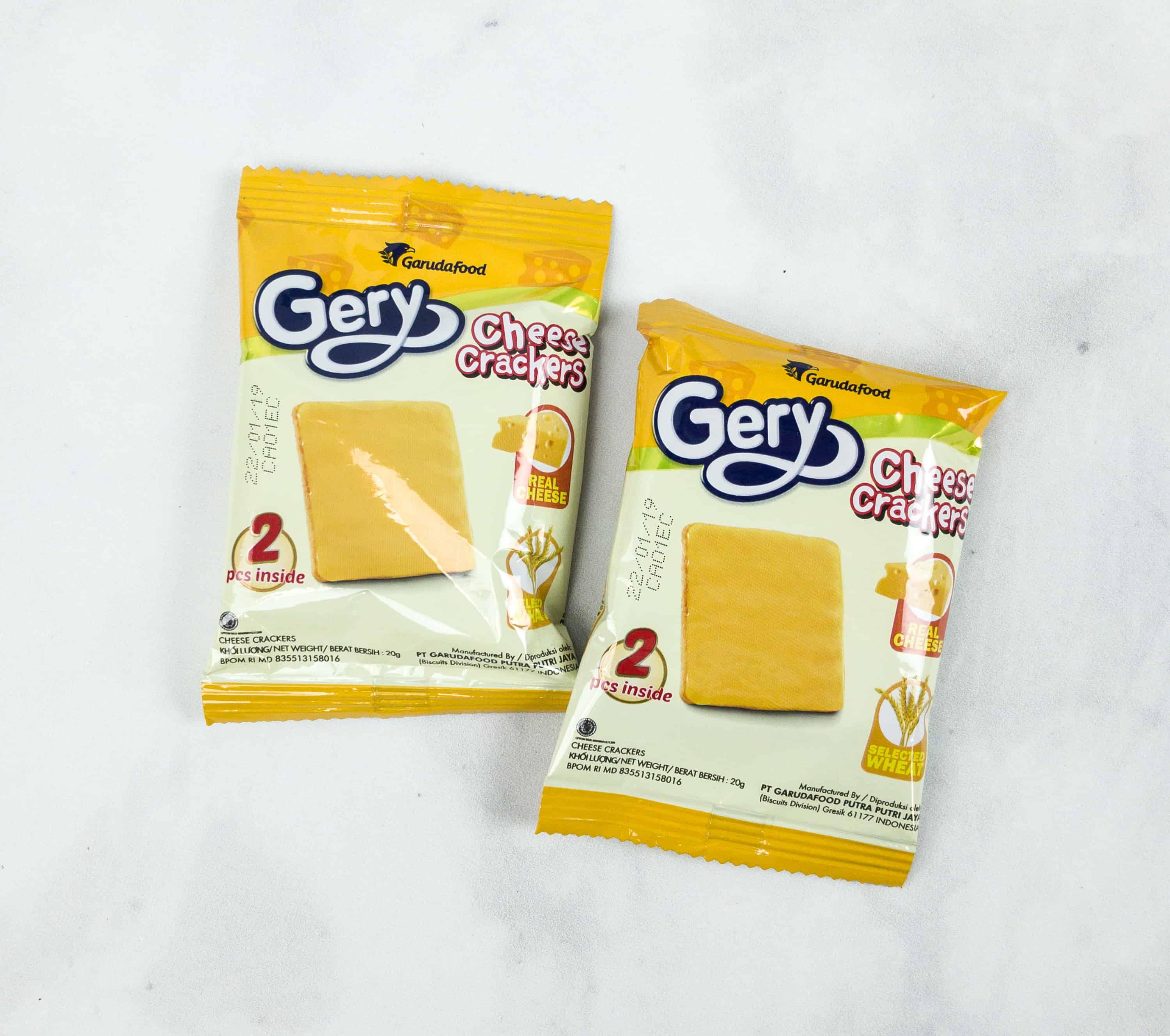 Garuda Food Gery Cheese Crackers ($7) More biscuits! This one is squared and packed with lots of cheesy goodness.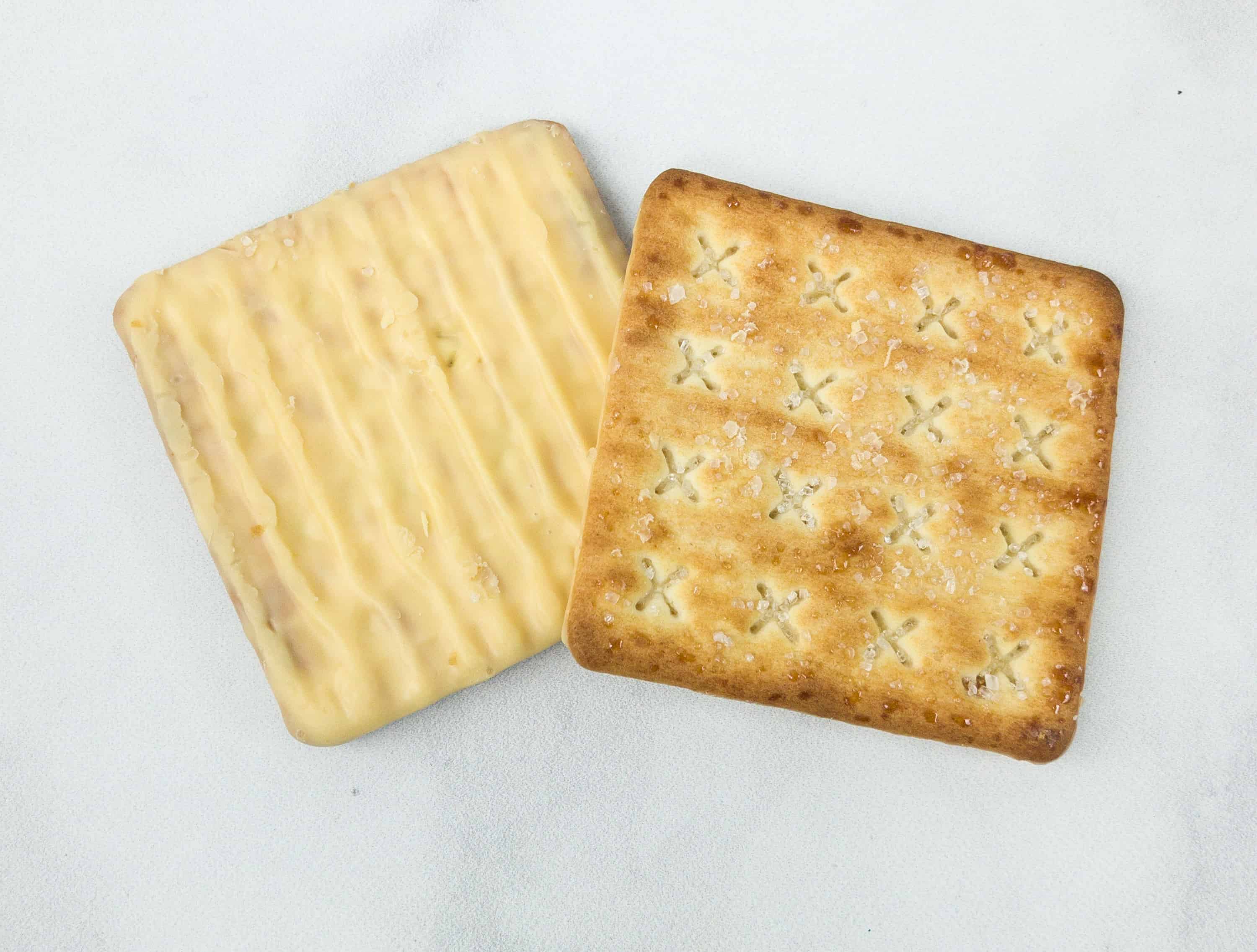 It is certified Halal-friendly. The crackers come in individual packs, making them so handy and ideal as on-the-go snacks! It's like… portable already Easy-Cheesed cookies, with a sprinkle of sugar (yes, sugar). It's kind of odd… but addicting!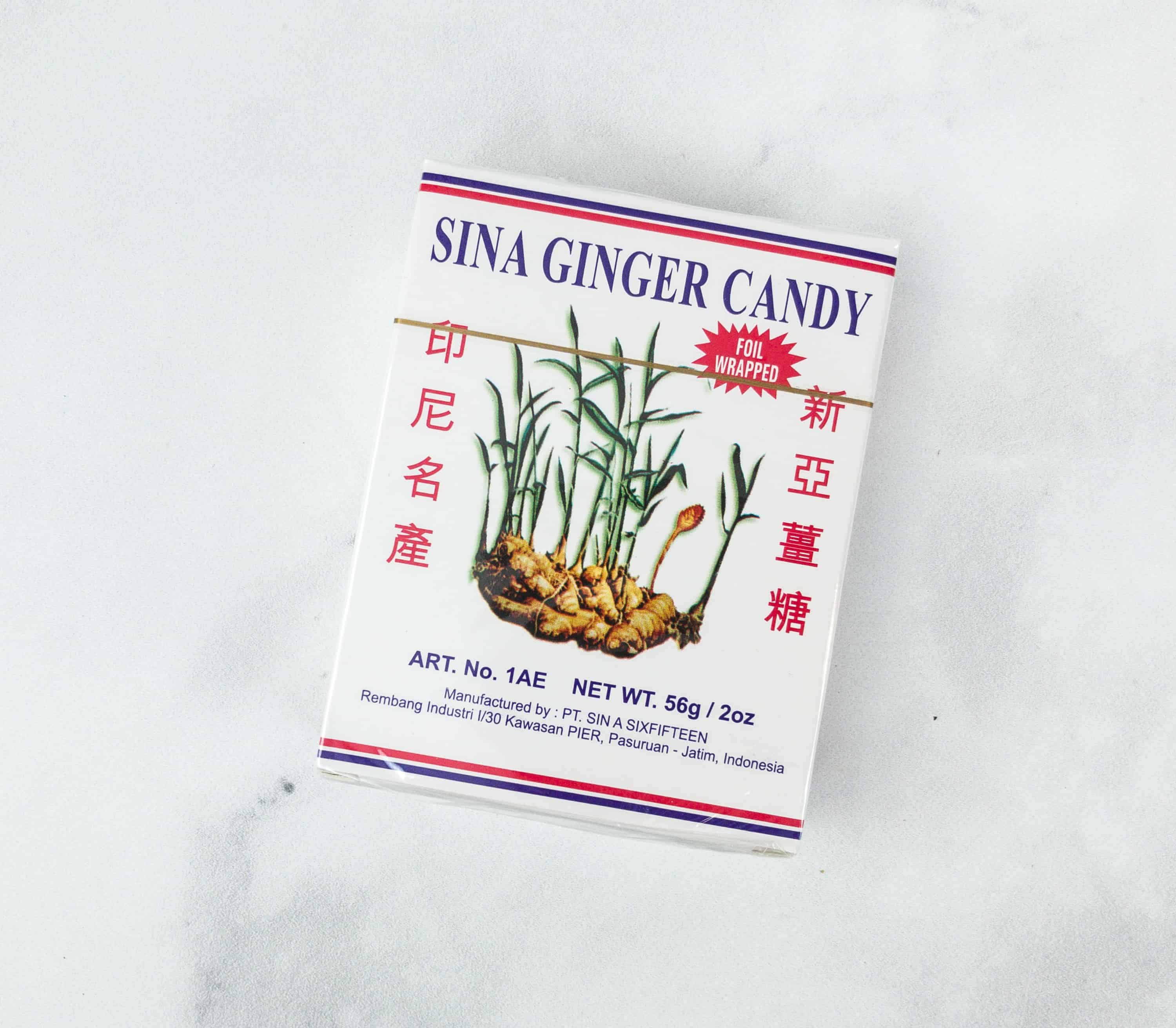 Sina Ginger Candy ($0.20) This candy is made from all-natural ingredients and real ginger, a herb that is usually used to treat colds, stomach aches, and other common sicknesses. So taking this is basically like eating a medicinal candy!
They're individually wrapped so you can easily share them with others.
It's chewy and it really tastes strongly of ginger. We love these.
Another great curation of snacks from Treats Box! We really like how they have been consistently sending a lot of great tasting, high quality, and popular snacks. This month, the featured country is Indonesia and we definitely loved all the goodies we received. There are lots of chocolate biscuits in the curation, so Indonesians probably like these kinds of snacks a lot. There was a good amount of unique candies too. The ginger chewy candy is quite unique but tasty and zingy. Treats Box really did an excellent job and we're already excited to find out where they'll take us next – looks from the info card it could be Colombia!
Have you tried Treats yet? What did you think of the box?