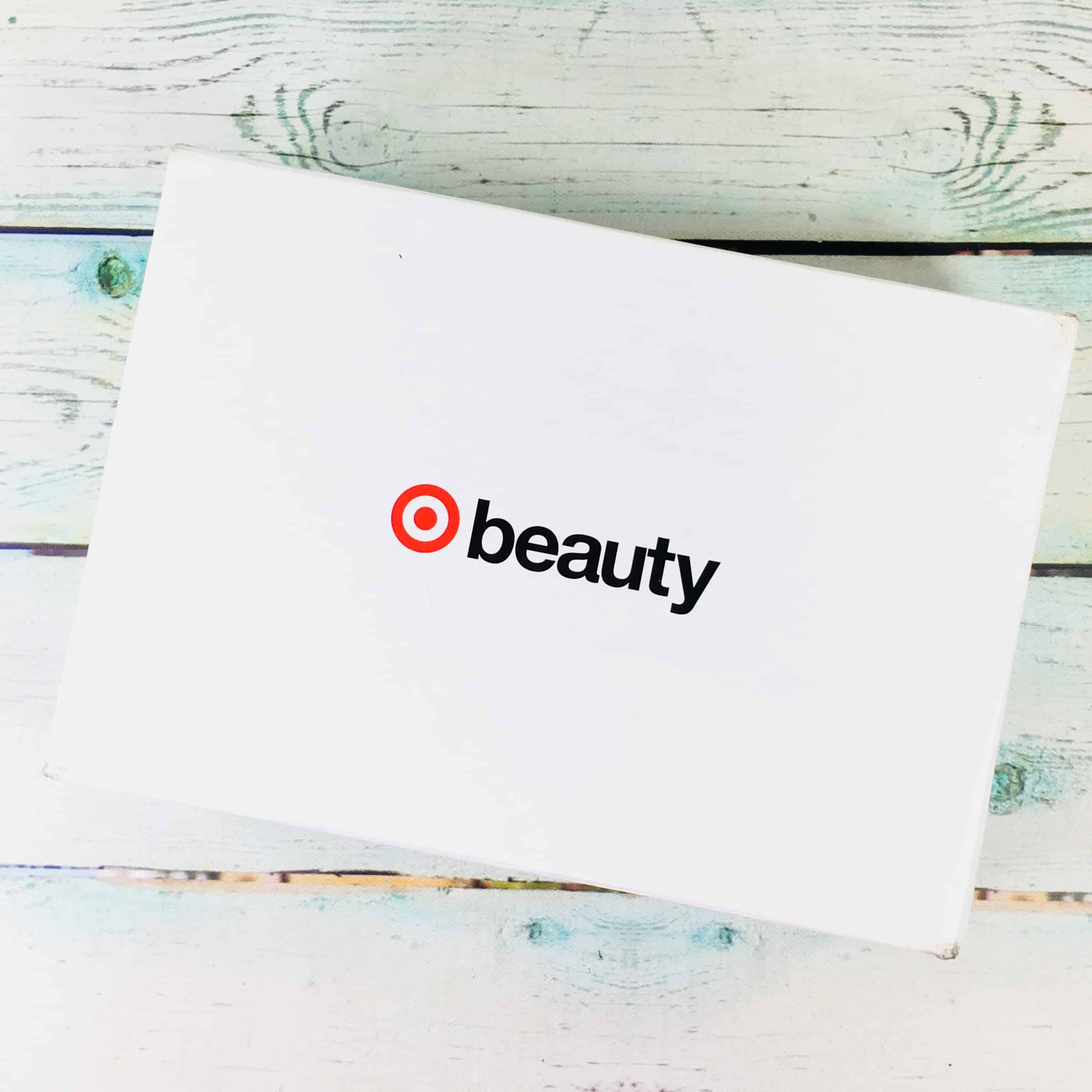 Target Beauty Box comes out once a month and you have to grab them up because they go quickly! Each box is around $7 but this one is no longer available. Make sure to sign up here to get notified when future boxes go on sale!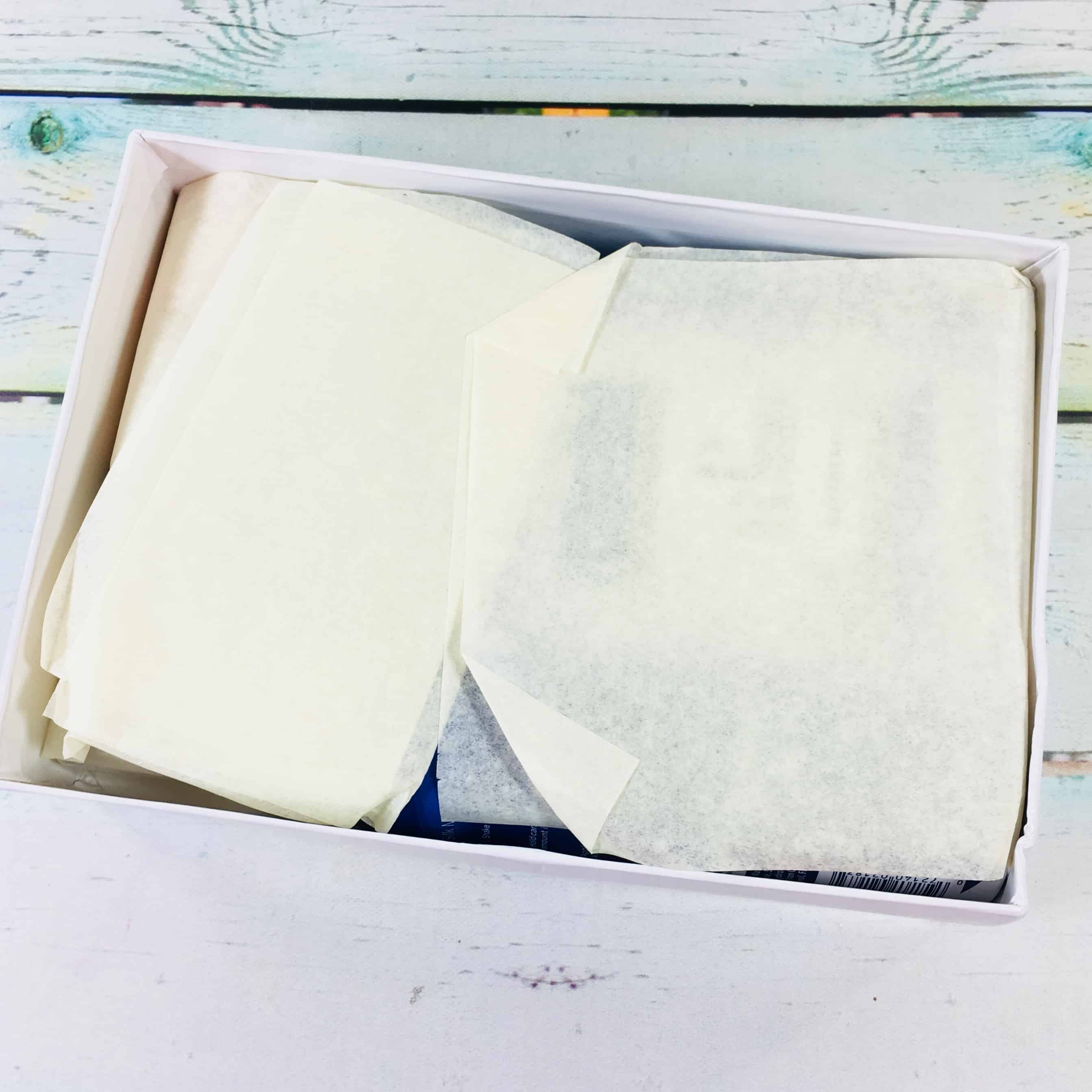 My products came in a white box and were wrapped in white tissue paper.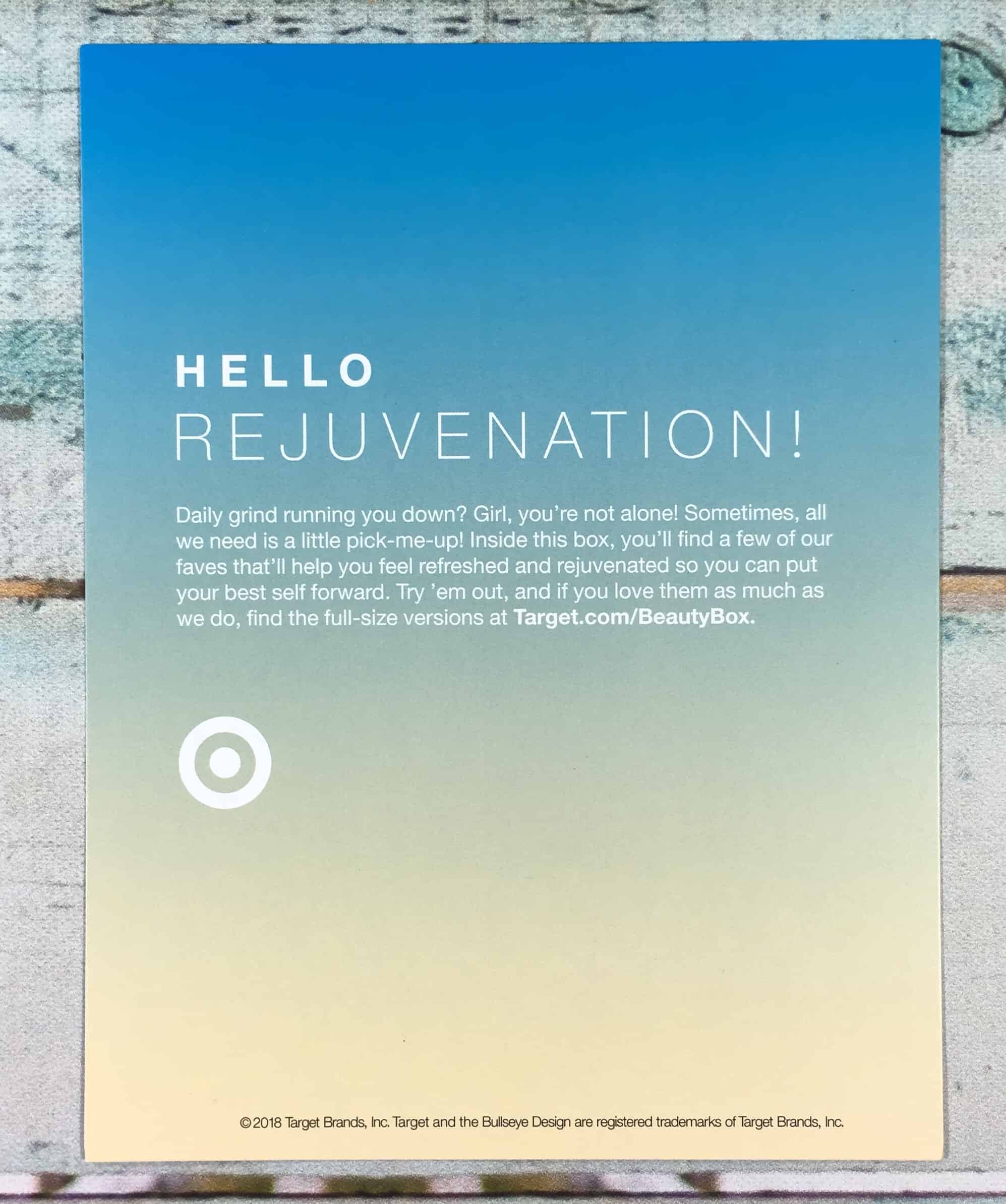 Hello Rejuvination! This month is all about products to help you feel rejuvenated, which I'm sure a lot of us need this time of year (we are having record high heat in my part of the country!).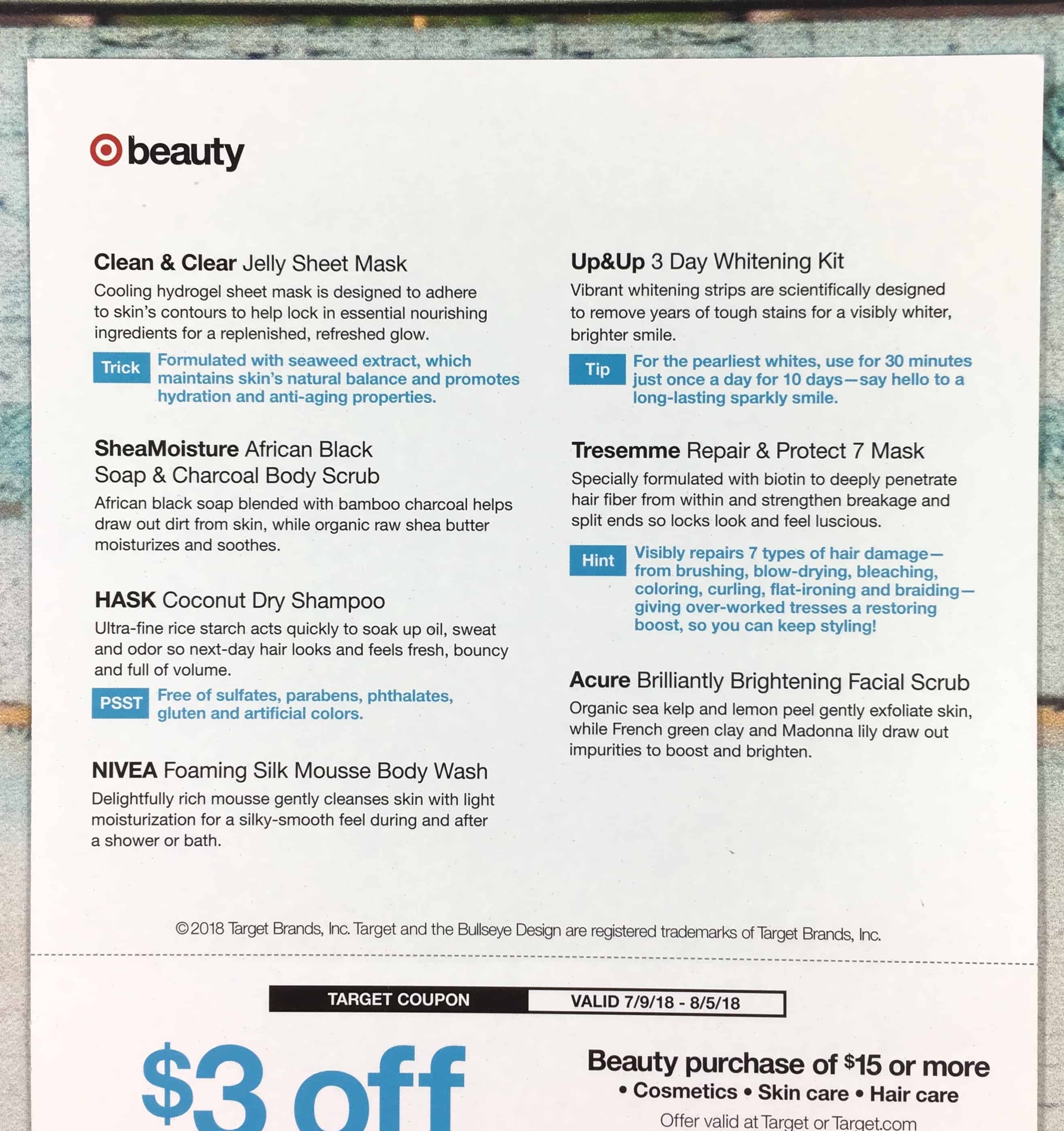 The product information card listed the products included in the box and a little info about each item. There was a coupon for a purchase in-store or online to save $3 when you make a $15+ beauty purchase.
The box was packed full!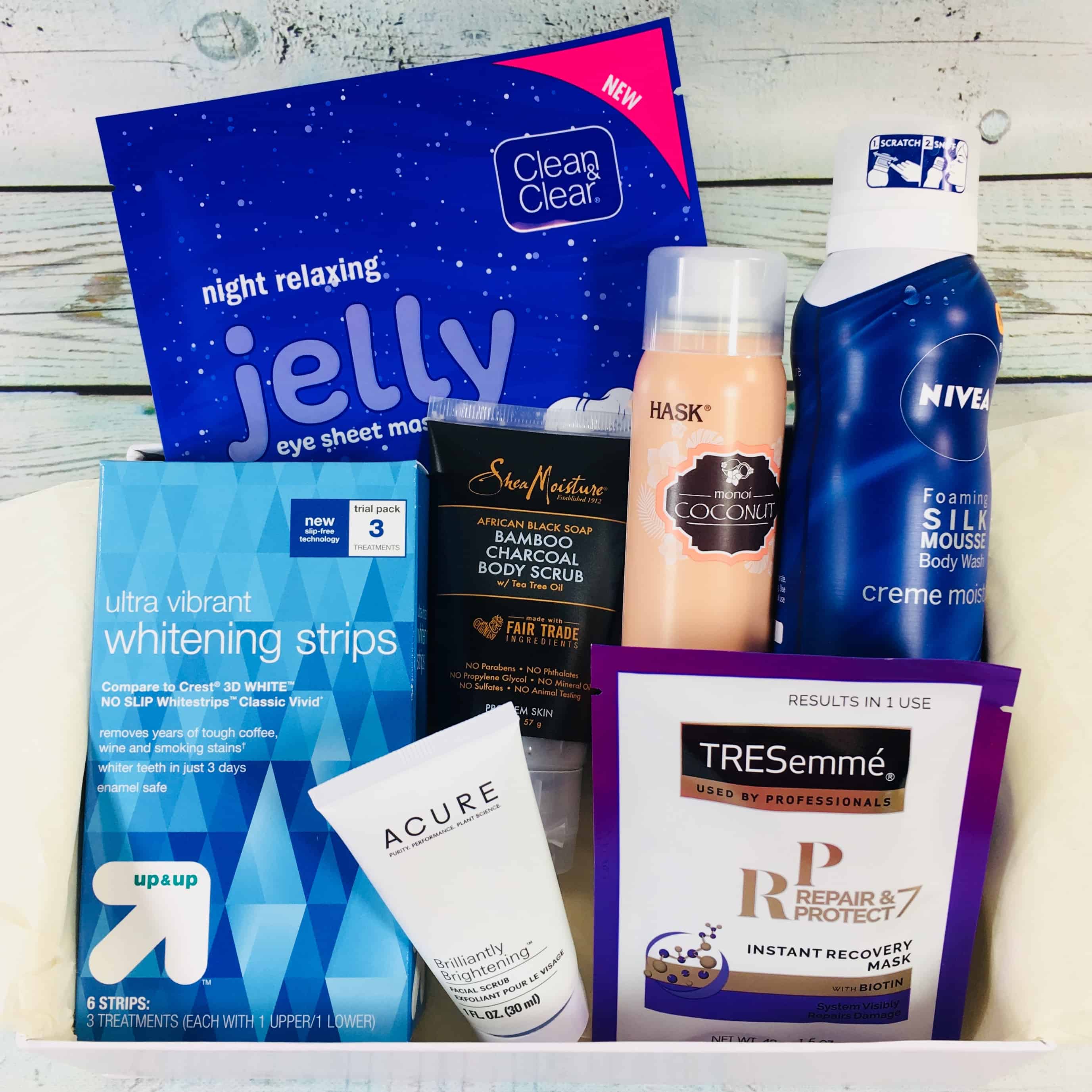 Everything in my box!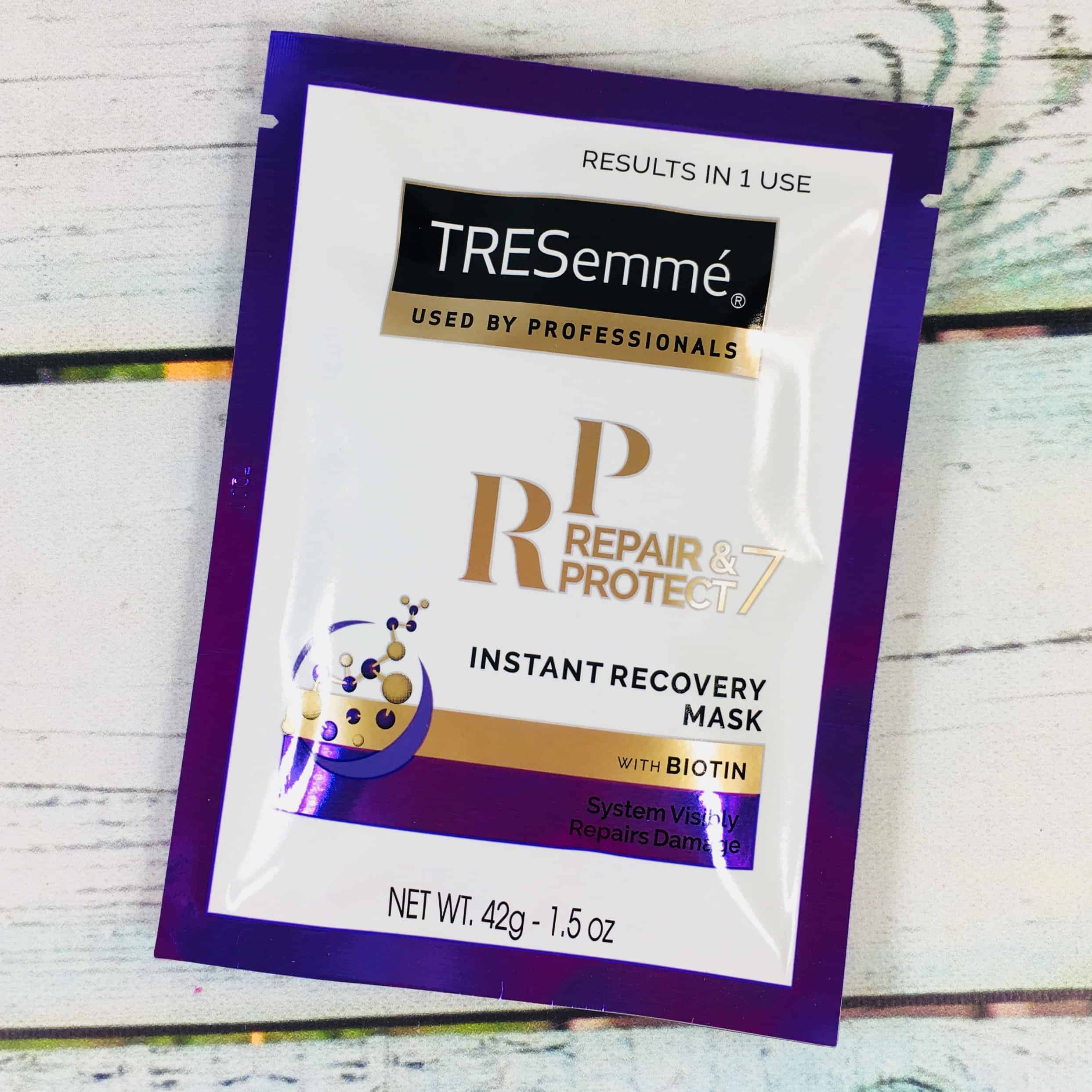 TRESemmé Repair & Protect Instant Recovery Mask (Similar, $1.99) After a summer full of swimming in the ocean and/or pool, hair needs some deep rejuvenating. This mask repairs 7 types of damage, such as from heat drying/styling and even braiding. There is a ton of mask in this bag, so I'm giving it to my daughters, who have long hair and swim often. They need some heavy-duty repair products!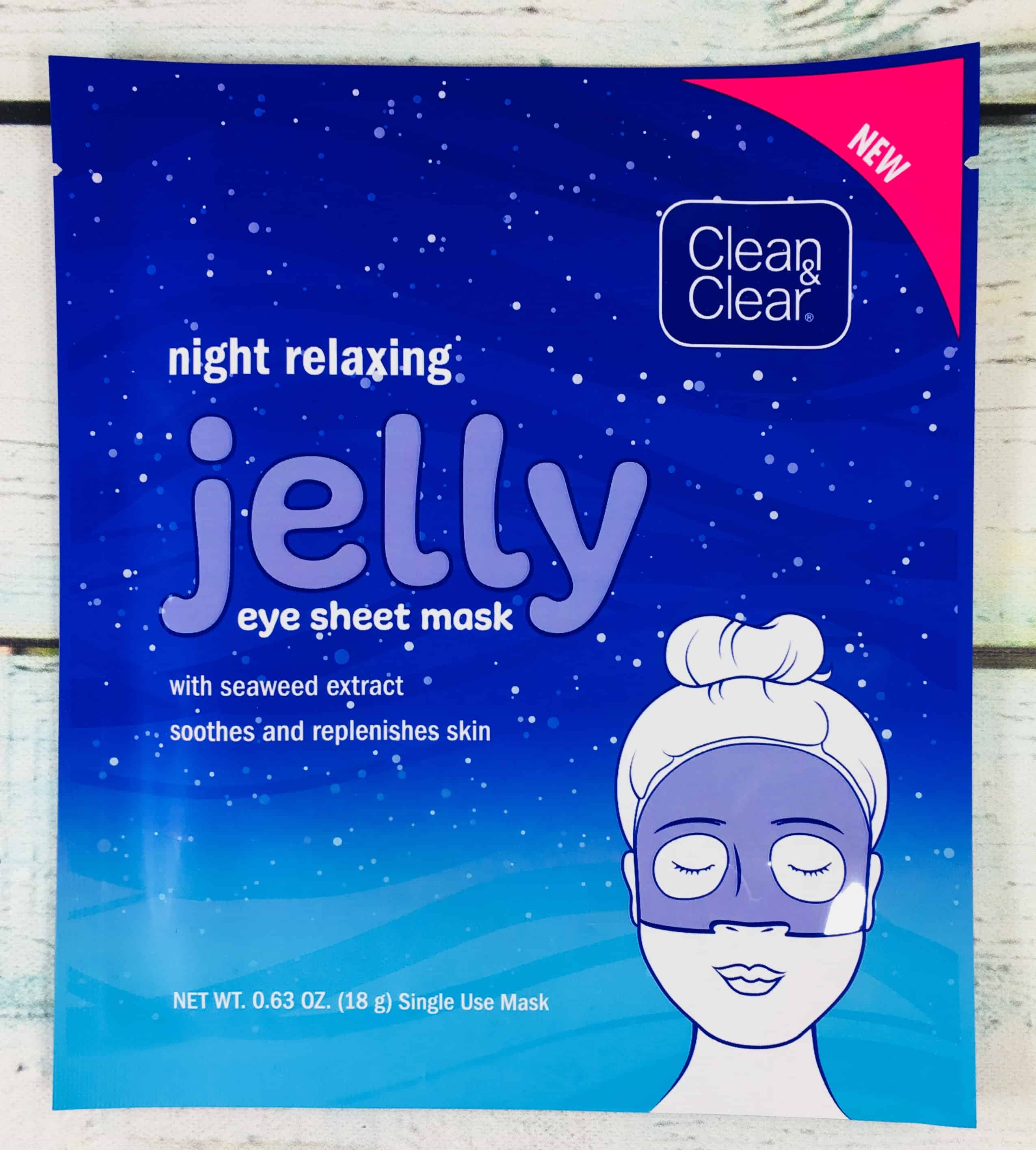 Clean & Clear Night Relaxing Jelly Eye Sheet Mask ($2.59) is designed especially for the eye area to help relieve the stress and tiredness of the day. I would suggest wearing it while either watching your favorite show or while kicking your feet up and relaxing.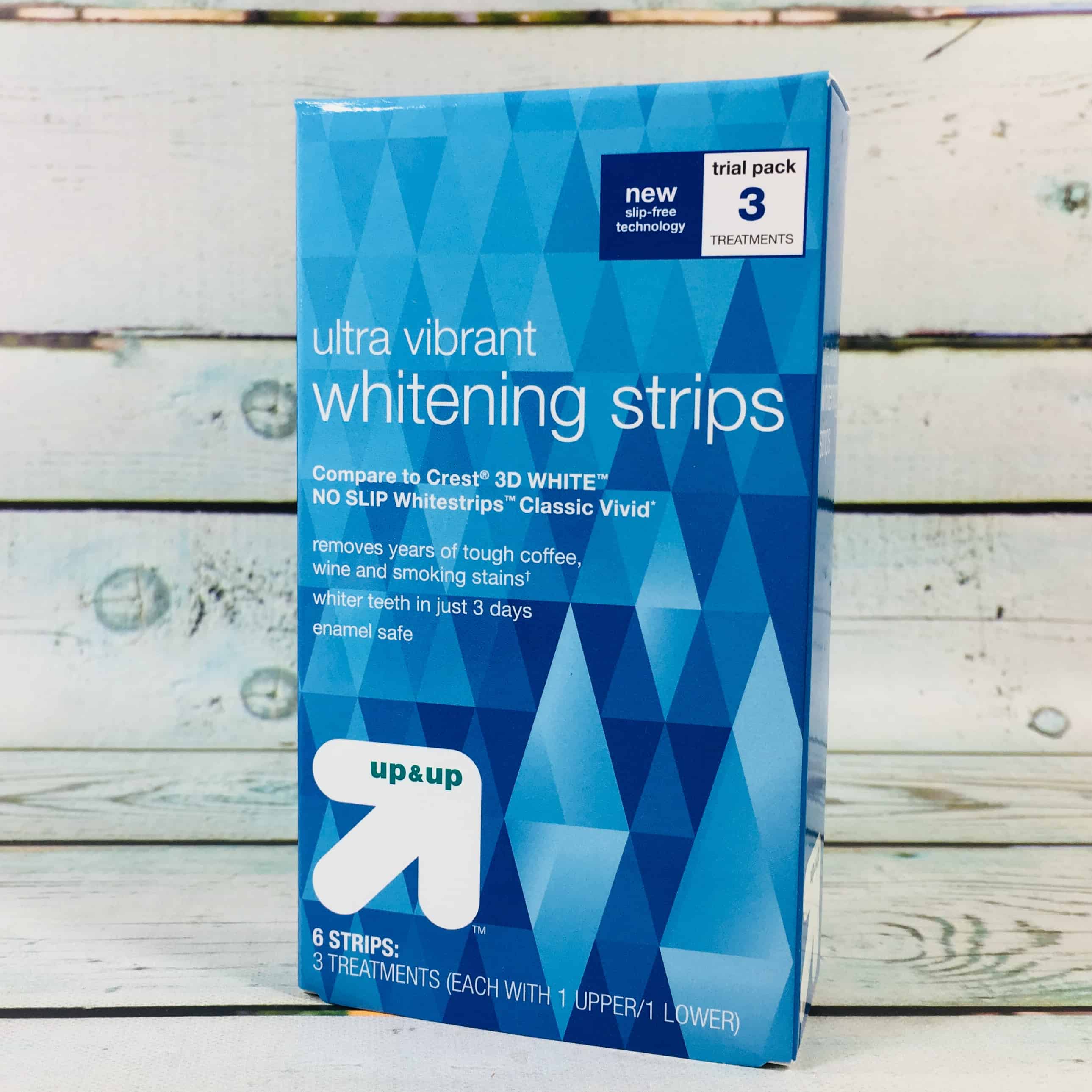 Up & Up Ultra Vibrant Whitening Strips ($5.79) Whitening strips show up pretty often in Target Beauty Boxes. I pass them along to my daughter, and she was super happy to receive these.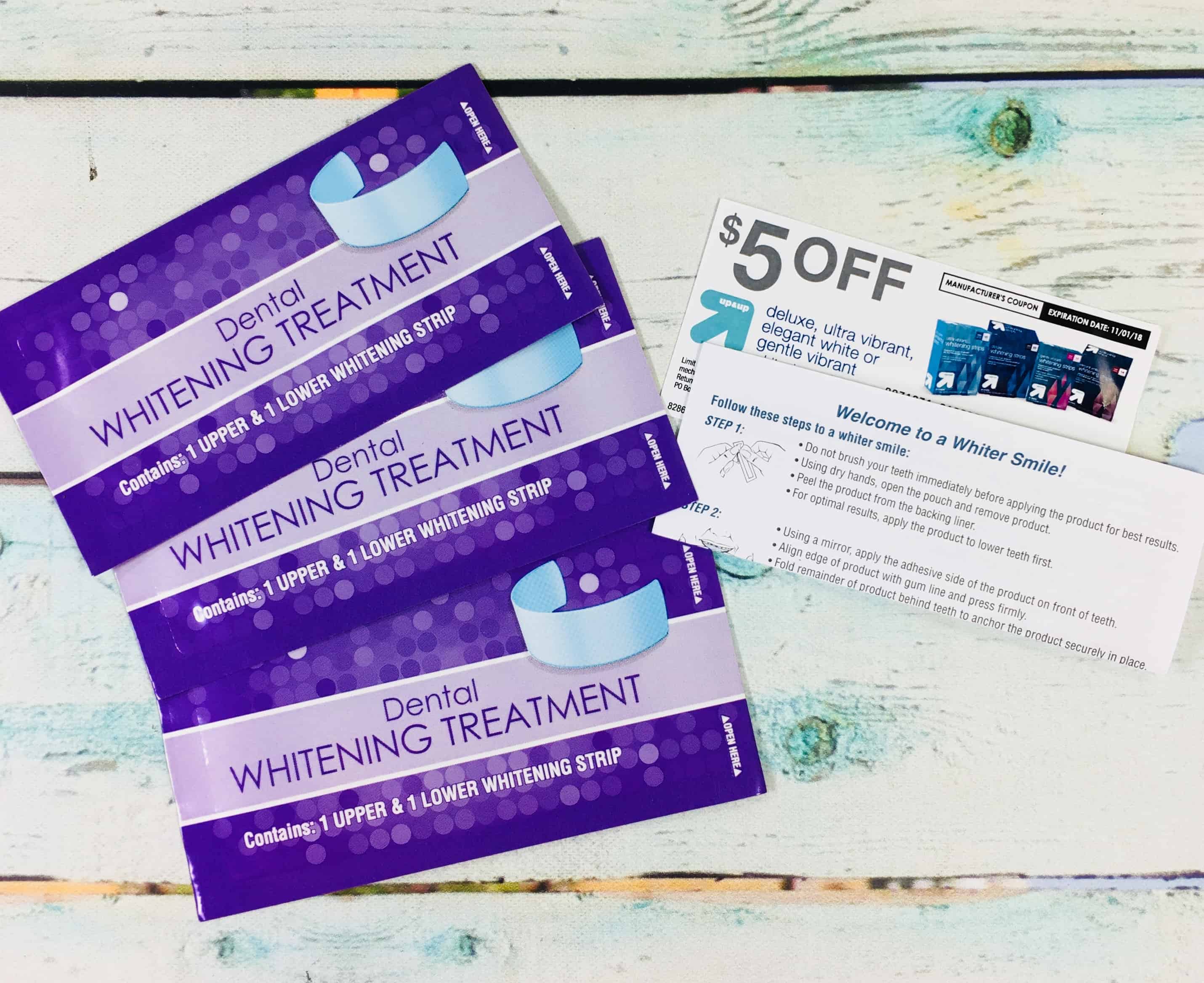 There are three treatments in this sample. It is supposed to take 10 days to see an improvement in color, but with these samples you can at least see whether or not they make your teeth sensitive. Includes a coupon so you can save $5 off the full-sized box if you like them.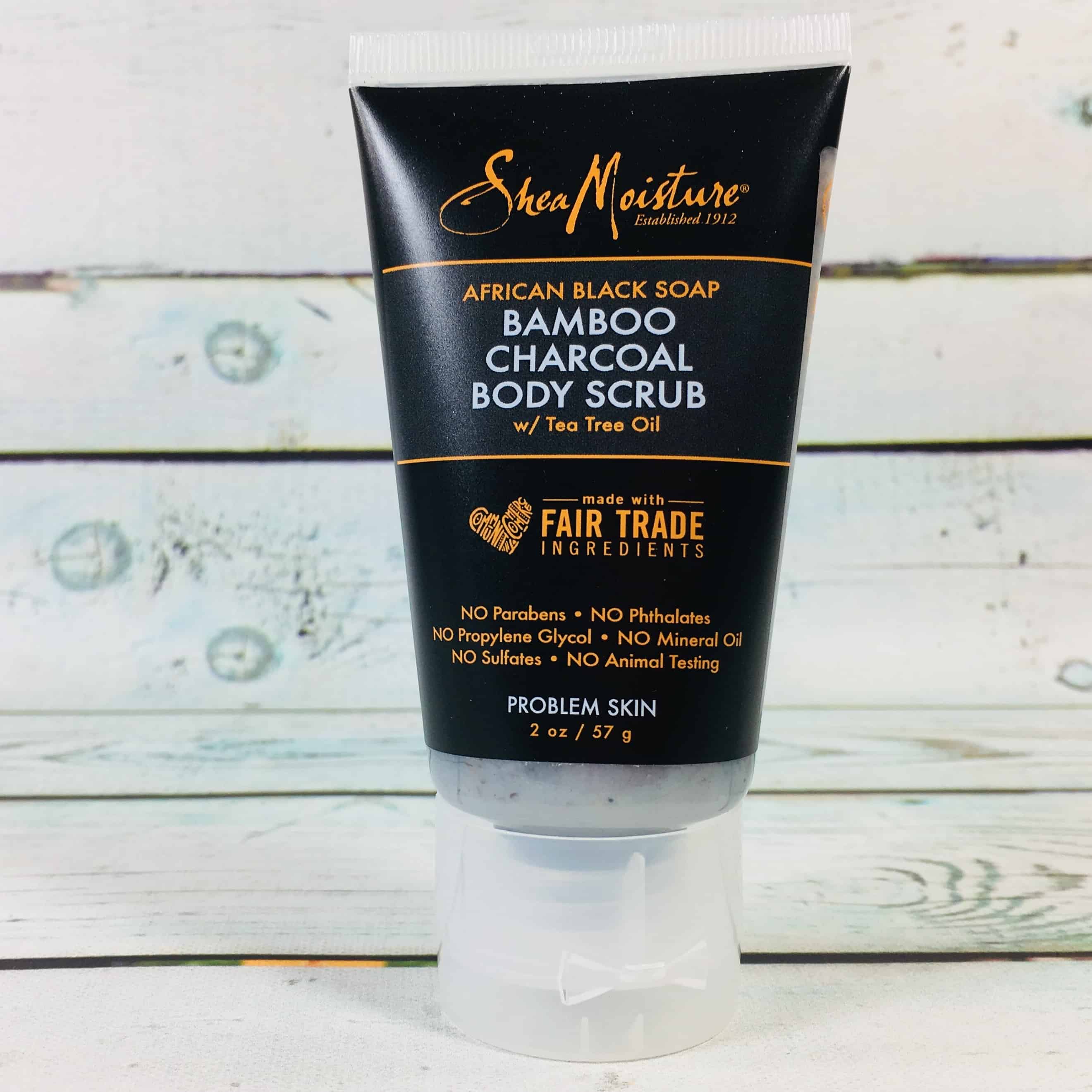 Shea Moisture Bamboo Charcoal Body Scrub ($3.66) I like body scrubs so I was excited to try this one that has bamboo charcoal inside. It was very creamy and I was pretty sure the scrubby beads were made of jojoba (they were) since they weren't very scrubby.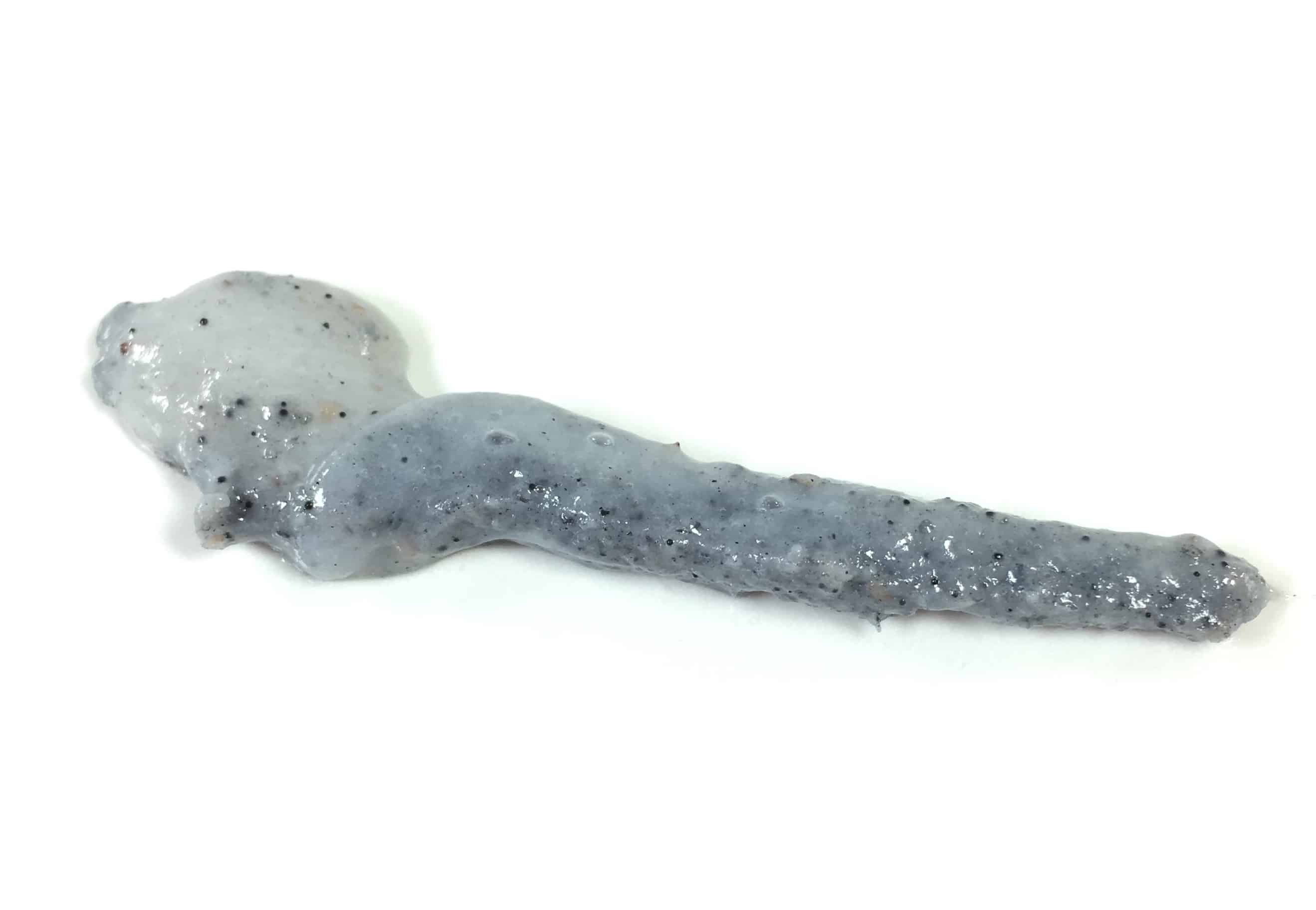 Imagine a lotion buffer between the beads and your body, it keeps it from getting too gritty.
Nivea Foaming Silk Mousse Body Wash ($2.79) I used this in the shower and was looking forward to skipping my post-shower moisturizer, but sadly this didn't leave my skin soft afterward. It was sort of like washing with shaving cream, and the scent is classic Nivea, so it can be used by a man or woman. I think I'm going to use it as shaving cream until it runs out.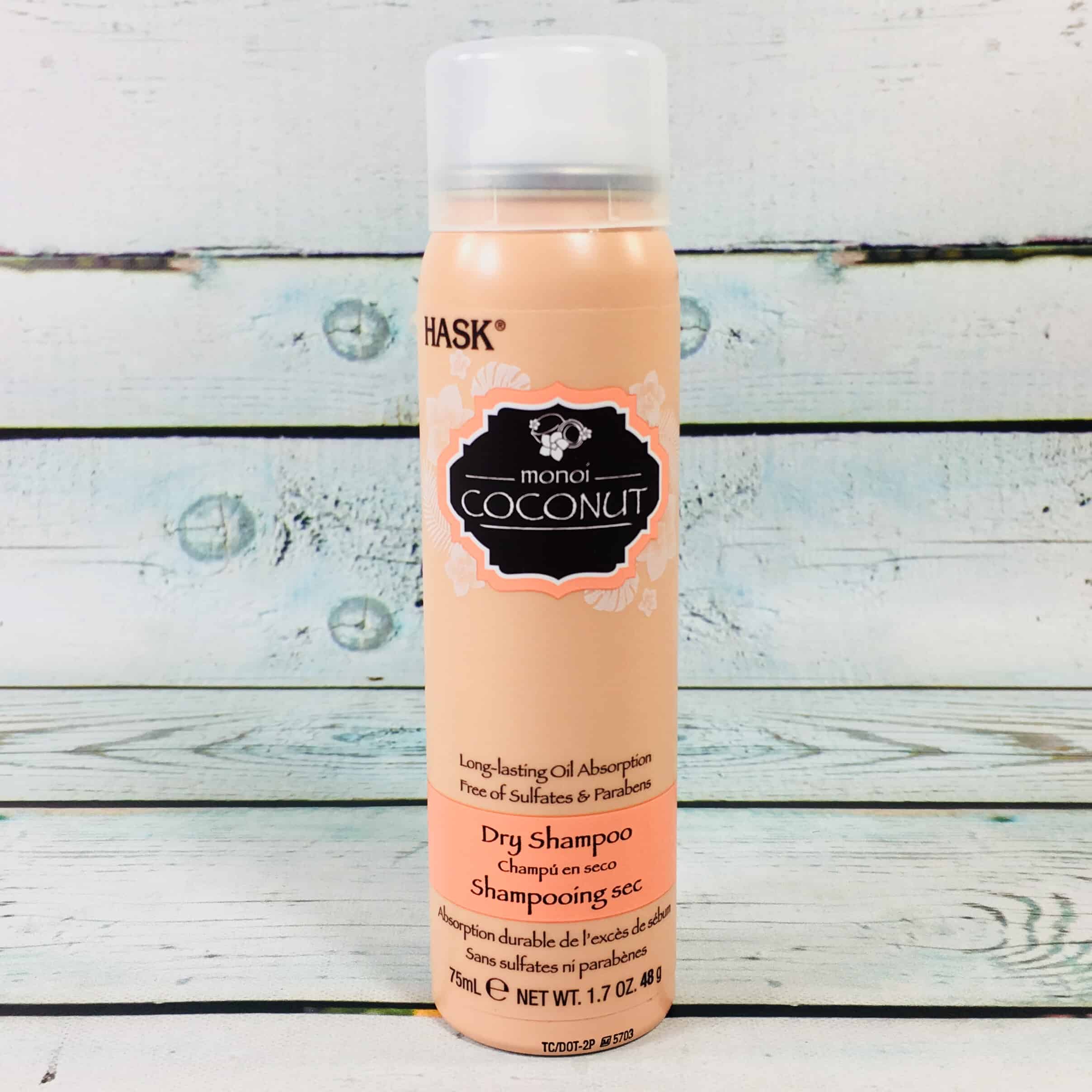 Hask Monoi Coconut Dry Shampoo ($1.51) I'm not a fan of dry shampoo since I wash my hair every day, and I've tried enough of this type of product to know it's not for me. I did spray it on to see how it smells, and it smelled like I had taken a trip to the tropics, so coconutty! My oldest IS a fan of dry shampoos, so I know she will love this one!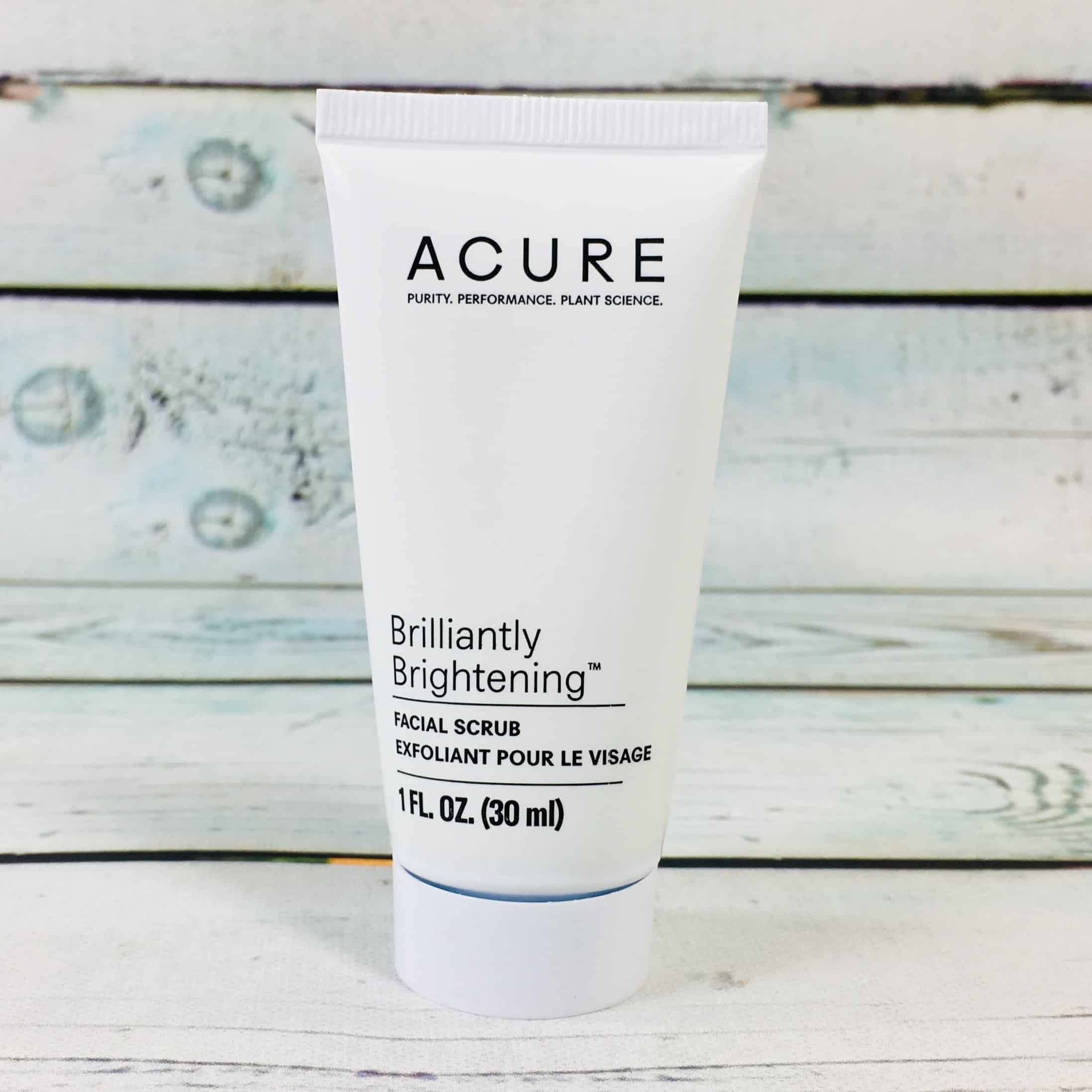 Acure Brilliantly Brightening Facial Scrub ($2.50) I liked this facial scrub, it was just gritty enough and didn't bother my skin.
All kinds of plant extracts, like aloe and pomegranate, are in here, along with ground up walnut shells and clay. Chlorophyll and kelp add their nutrients and give it a sea-green color.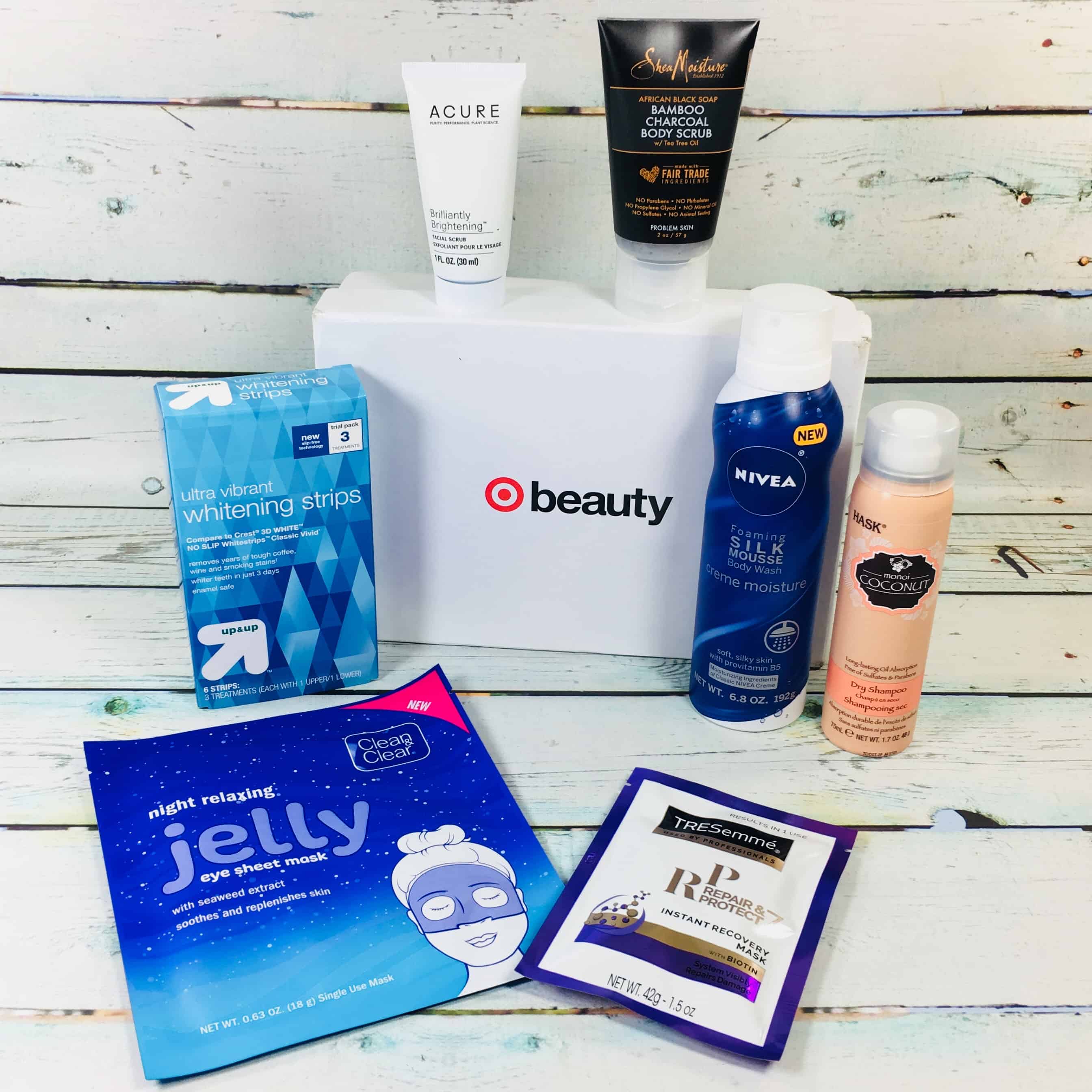 I liked the assortment of products in this Target Beauty Box, plus I was happy to see a couple of natural beauty brands in here too. Whether replenishing summer-weary hair or skin or just relaxing with a facial mask, these items may help you feel, as the theme suggests, rejuvenated. My products had a value of around $20.83, almost 3 times the price paid for the box, plus there was an additional $8 in coupons. $1 per sample sounds like a pretty good deal to me!
Did you grab a Target Beauty Box this month? Let me know your thoughts in the comments!