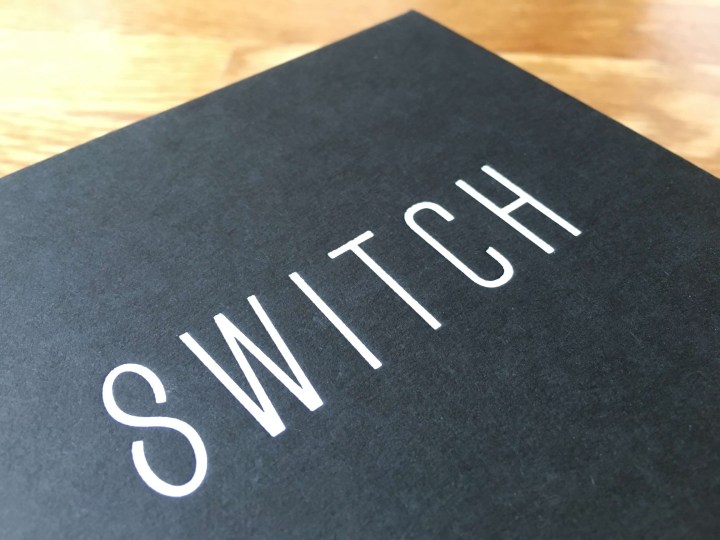 Switch is a jewelry subscription that lets you rent designer jewelry starting at $29 a month. You can wear the pieces for as long as you like, or switch them out for new piece(s) whenever you want. Shipping is always free. The jewelry, which includes pieces by Hermes, Alexander McQueen, and Celine, among others, averages $500, and includes necklaces, bracelets, earrings, brooches, and rings. Jewelry is cleaned between wearers.
I have always admired fun statement jewelry on other women, but I can never bring myself to commit to a piece. Who wants to spend $500 on a piece of jewelry that you may wear only a few times before it goes out of fashion? But who wouldn't like having an amazing new piece whenever you go out? Not being an heiress or a tech entrepreneur, and having a firm frugality-is-golden Midwestern upbringing, I figured that this kind of jewelry was out of reach for me. Enter Switch, which lets you have fun without the commitment. It's like internet dating for jewelry!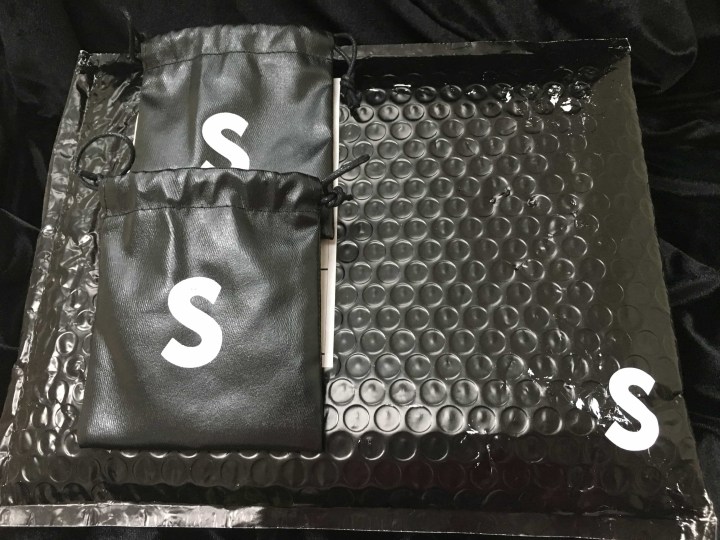 Sign-up is simple. You look through the collection and pick the pieces you like. The website makes it easy to know which pieces are available. So, just like you're shopping, you pick what you want, put them in your closet, and check out. Shipping is free both ways. Wear it as long as you like, and send it back when you're ready for something new. I have the Black plan, which allows me to have three pieces at any one time for $69 a month.
Switch recently redesigned its packaging, and it's all new and Switch-branded. Don't forget to save that black shipping envelope, though — you'll need it to send the jewelry back.
DEAL: Get half off your first month on any plan. (There is now a waitlist for new members). Use coupon code HELLOHALF.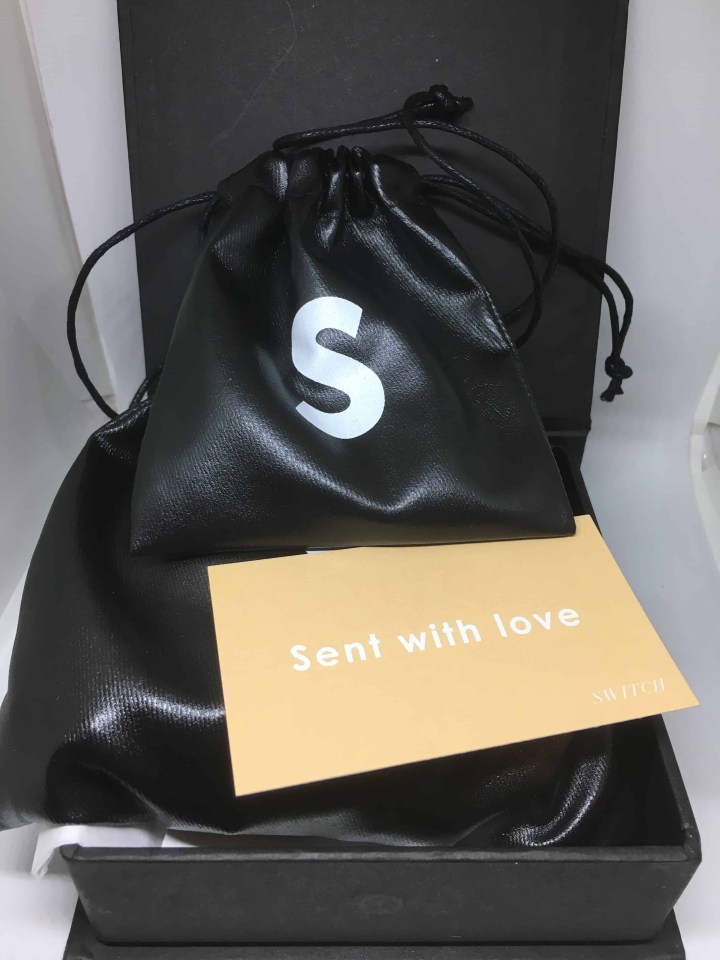 Switch is constantly changing up its inventory, so there's always something new and fun to select. This month, I celebrated a rosé-all-day kind of summer with all-pink jewelry. I got the Rebecca De Ravenel Flora Earrings ($525 retail value), the Chanel Pink Camellia Pendant Necklace ($750 retail value), and the Hermes Narrow Enamel Bangel Red and Pink Squares ($430 retail value).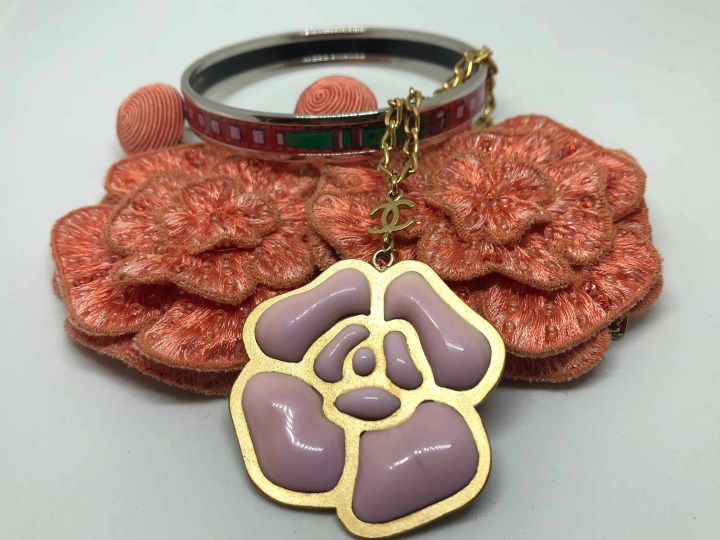 First up were the  Rebecca De Ravenel Flora Earrings ($525 retail value).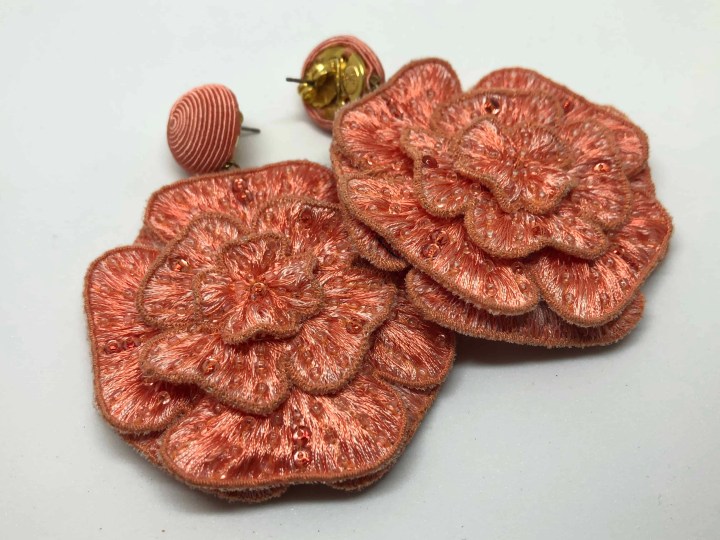 Well, I learned this month about the value of clicking through to read the descriptions, instead of just choosing based on the thumbnail.  (The descriptions are newly more-informative, by the way. Worth checking out on their own). I thought these were coral or enamel in the 1-inchish range. Nope! They are beaded silk flowers with a 3.5″ drop and 3″ width.  Well, live and learn!
You can see the Rebecca De Ravenel logo on the back, kind of. You can definitely see that it was made in India! These are for pierced ears, with a gold-tone push back.
These earrings are like a tassel necklace and a nineteenth-century button made a baby together. So, if you're into those things, you'll probably really like these. They hang a little bit heavy on the earlobe, which won't be a problem if your piercing is up a little higher than our model's. These would be a fun statement piece for a girls' night out. Probably wouldn't try them in the courtroom.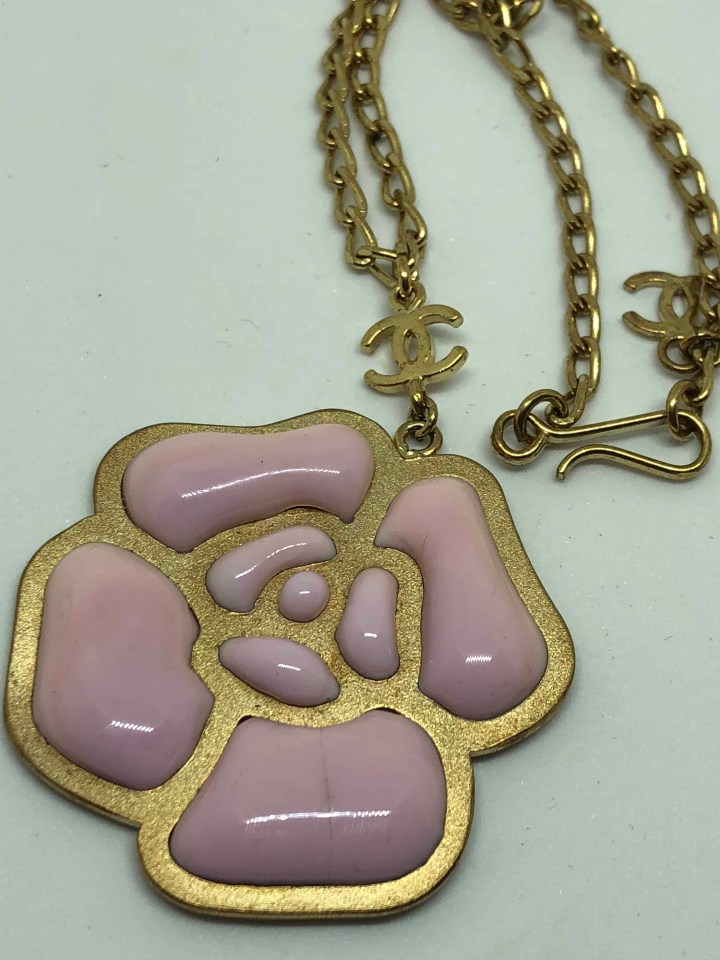 Next up is the Chanel Pink Camellia Pendant Necklace ($750 retail value). In keeping with the pink theme, I selected this unique necklace to wear under a blazer to a women's leadership breakfast. I kind of dug the slight subversive edge of the giant pink flower with my gray pinstriped pantsuit. The pink enamel is set into a 16″ gold-tone necklace. The hook catch lets you adjust the length a bit.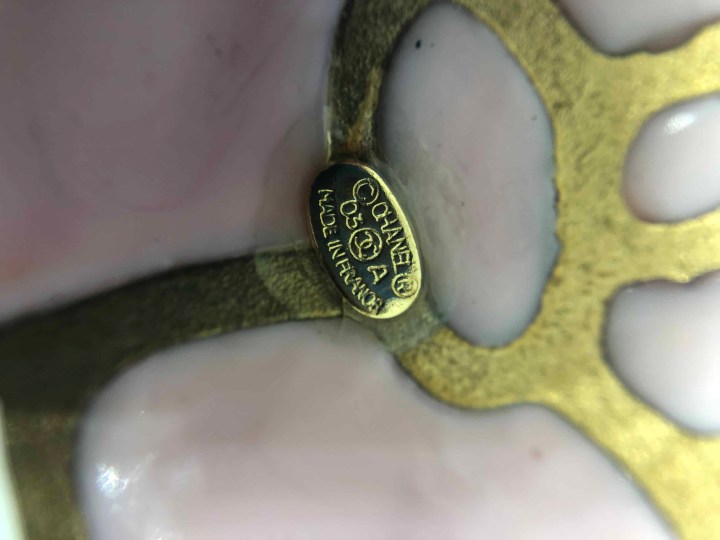 You can see the Chanel logo on the underside of the pendant. This necklace has a vintage feel to it, but it's not particularly old. You can see a hairline crack in one of the enamel petals.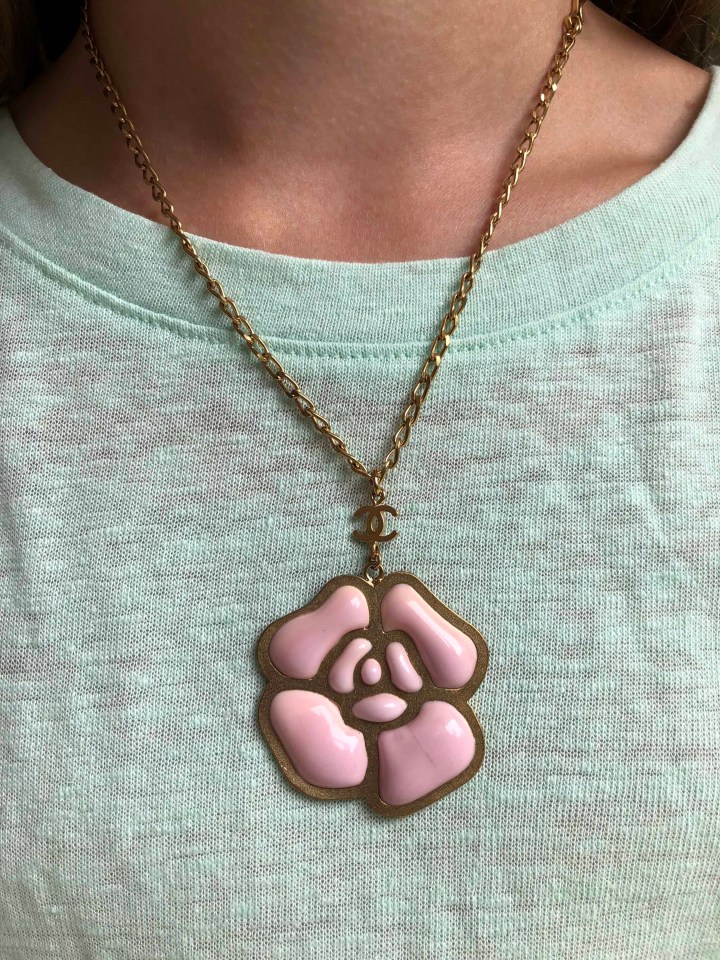 This necklace will be the focus of your jewelry, of course, but the classic style and color make it work with just about any outfit.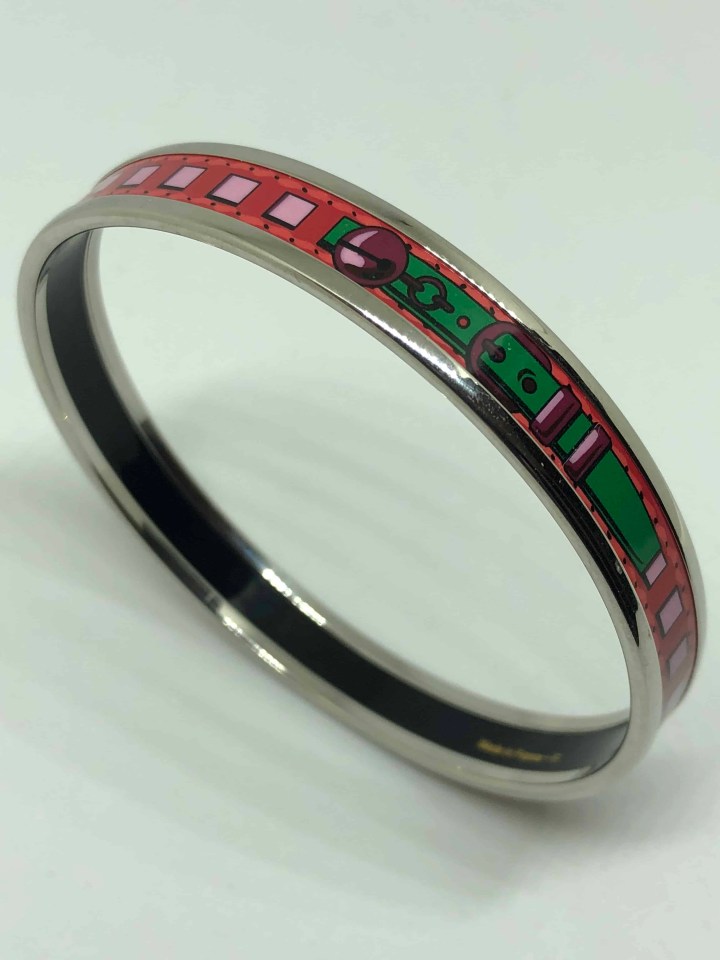 Last is the Hermes Narrow Enamel Bangel (Red and Pink Squares) ($430 retail value). These Hermes enamel bracelets are a classic and timeless look… unless the printing suggests a certain red-and-green-themed holiday featuring belt-wearing elven characters. Look, I don't know if that was the intent, but my kids immediately asked why I was wearing a Christmas bracelet in July. The thumbnail photo, alas, doesn't show the green belt feature, though it is mentioned in the description (that I didn't click through to see, natch).
You can see the Hermes logo under the bracelet. The bracelet will fit just about any wrist with an 8.25″ circumference.  It sits .25″ high, so it's a great piece to stack with other bangles for a layered look. And it would look great with casual or dressy wear, especially right around the Winter Solstice.
Well, this month was rose (and rosé) colored! I wouldn't say it all was for me, but that's the great thing about Switch–I sent it all back and I can get a new batch of jewelry to play with.  If I had fallen in love with anything, I could have purchased it at a discounted price. Also, every month, I get $10 toward a future purchase. I definitely have my eye on a few things.
Overall, Switch is a really fun experience. I really like the variety of pieces available. I love the idea that I can go "shopping" for new jewelry anytime I want. Given the retail prices of the pieces (over $1700 total in this shipment!), the $29-69/month is very reasonable value. With that money, I can either buy a new piece of jewelry every 1-2 years, or I can have a new piece whenever I want. For this kind of statement jewelry that may have a shelf life of your interest or that of the fashion world's, the economics really do weigh in favor of renting. I can't wait to get my next Switch!
Have you tried Switch? Which piece is next in your queue? Let us know in the comments below!