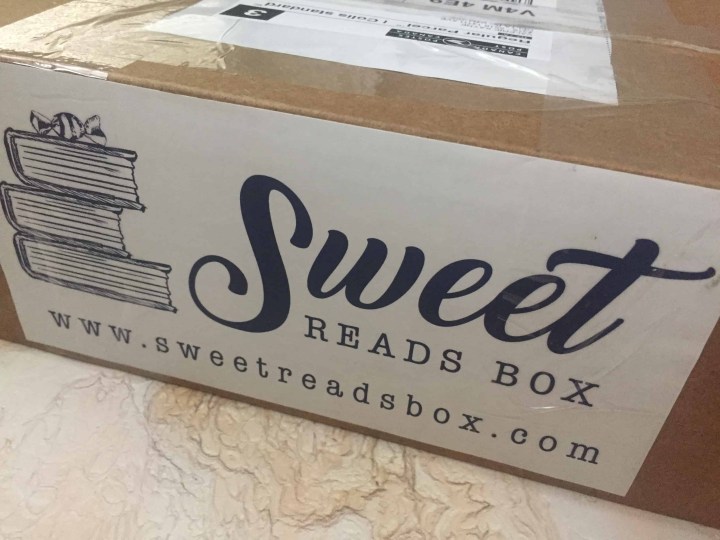 Sweet Reads Box is a Canadian subscription box bringing a curated selection of a bestselling book along with complimentary items to enhance the experience. The box is $54.99 CAD ($42 USD) for one month, and drops slightly when you purchase a 3 or 6 month subscription as well. Since I got my Kindle a few years ago, it's been ages since I've read an actual book, and the past book selections were right up my alley so I'm really excited to open the box and see what's inside!
On top is the information card – the Japan theme already has me interested.
DEAL: Get 10% off your first box! Use coupon code LOVEBOOKS.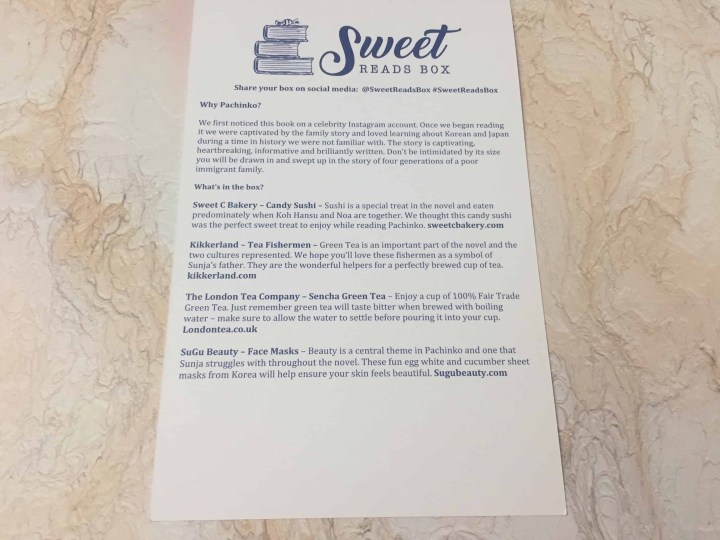 The back of the card has information about the month's book selection as well as the other items included, and how they all tie into the theme.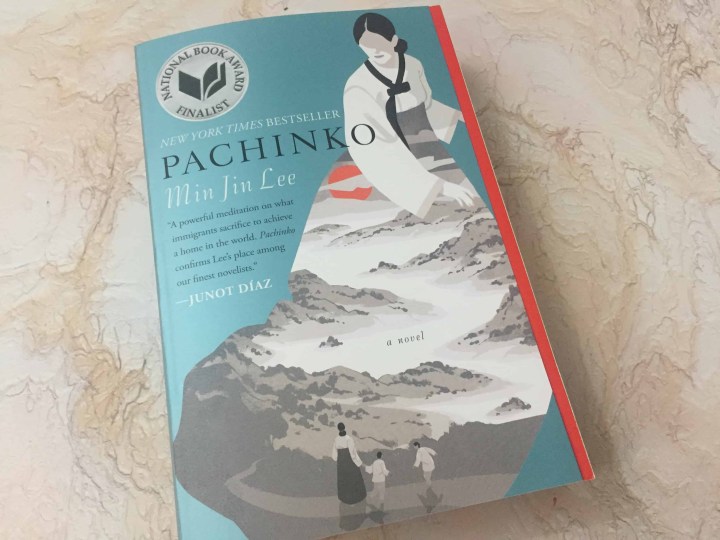 Pachinko, by Min Jin Lee ($9.59) – This book is THICC, at just over 500 pages. Hello, summer project! I haven't dug in yet but the excerpt has me intrigued:
In the early 1900s, teenaged Sunja, the adored daughter of a crippled fisherman, falls for a wealthy stranger at the seashore near her home in Korea. He promises her the world, but when she discovers she is pregnant–and that her lover is married–she refuses to be bought. Instead, she accepts an offer of marriage from a gentle, sickly minister passing through on his way to Japan. But her decision to abandon her home, and to reject her son's powerful father, sets off a dramatic saga that will echo down through the generations.

Richly told and profoundly moving, Pachinko is a story of love, sacrifice, ambition, and loyalty. From bustling street markets to the halls of Japan's finest universities to the pachinko parlors of the criminal underworld, Lee's complex and passionate characters–strong, stubborn women, devoted sisters and sons, fathers shaken by moral crisis–survive and thrive against the indifferent arc of history.
The story spans from 1900 to the 80s, telling the story of four generations from a Korean family that has been exiled to Japan. I'm really excited to start reading this, even though it's a book I wouldn't have chosen for myself. The historical element is right up my alley, along with the subjects of Japanese and Korean culture.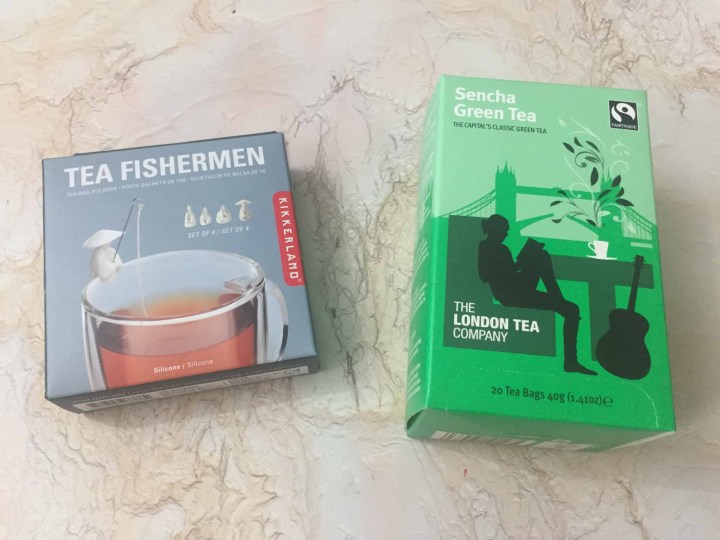 Tea Holder Fisherman ($15) – An adorable set of tea bag holders in the visage of Jiang Taigong, a fisherman who used a straight hook on his line believing the fish would come to him!
Sencha Green Tea ($5?) – To go with our teabag holders, a box of green tea!
How cute are the tea holders?
Candy Sushi Kit ($7) – Eeeeee! The local chocolate shop sells these kits and I have always been tempted! I've had their egg-free cookie dough and it's AMAZING. Sweet C Bakery is based out of Winnipeg.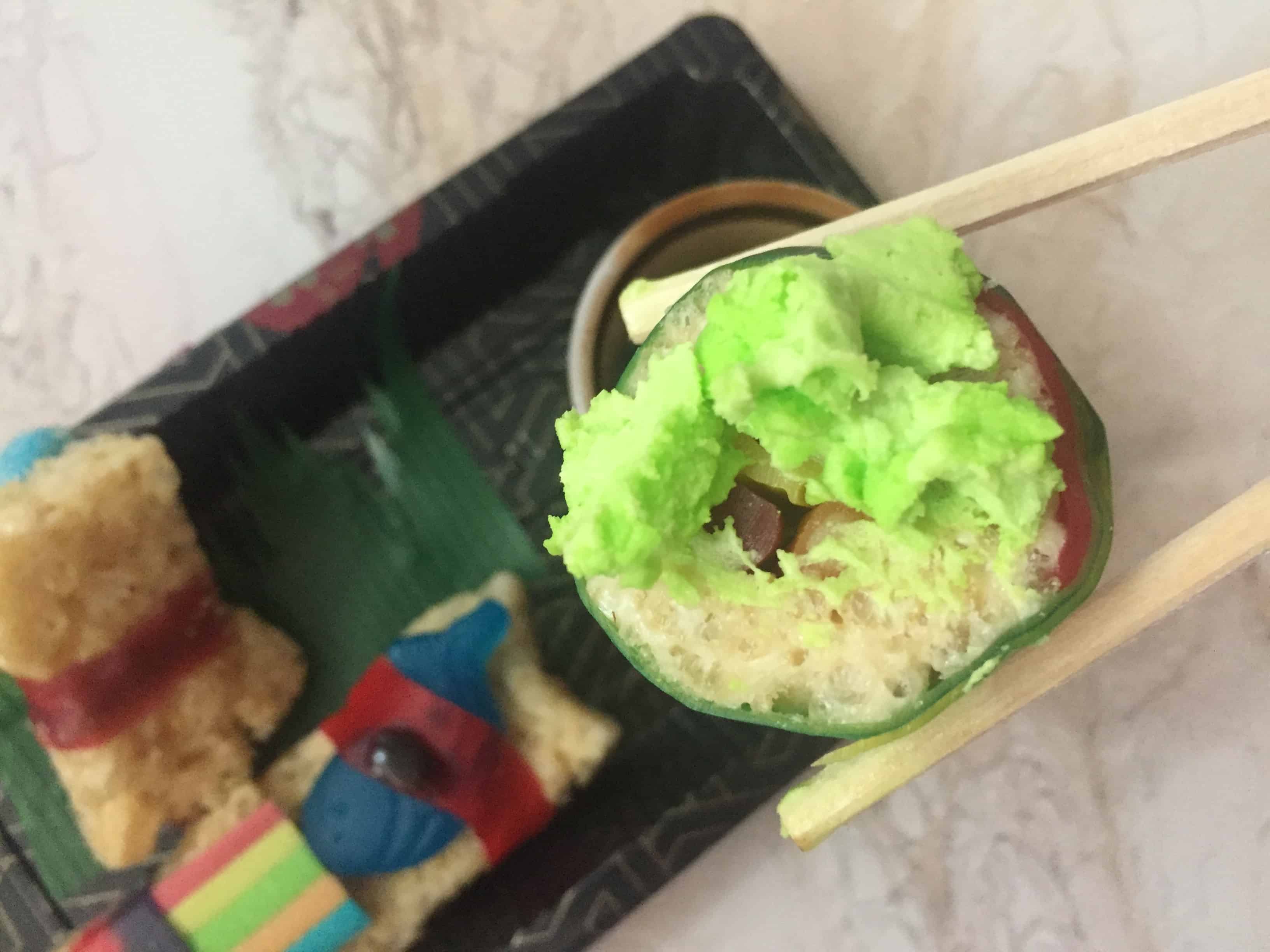 Rice Krispies make up the bulk of the sushi, with Swedish fish, licorice, and other gummies being the filling. They even included little containers of chocolate soy sauce and frosting wasabi!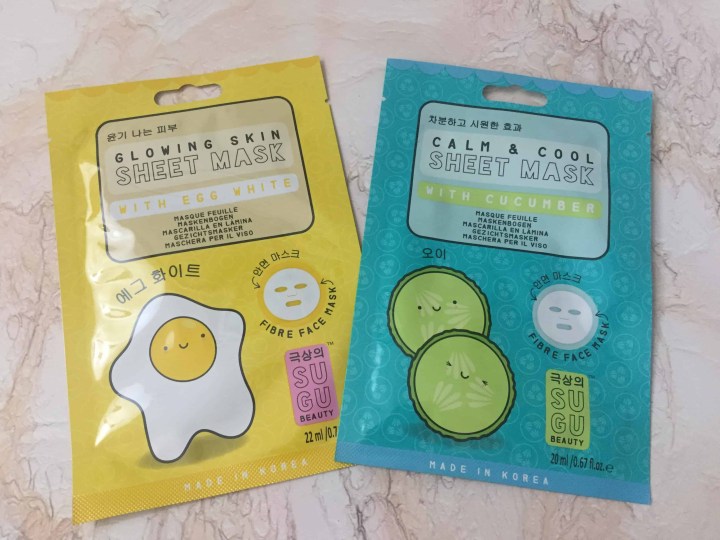 Sugu Beauty Sheet Masks ($4.60 each) — I've never heard of Sugu Beauty before but OMG this packaging was so cute I had to learn more. They are a Korean brand but it looks like they're most widely known in Europe. I just love the packaging and the cute artwork… and more sheet masks, I'll never say no! The egg one has egg protein to brighten skin, and the cucumber one has soothing cucumber to hydrate and calm.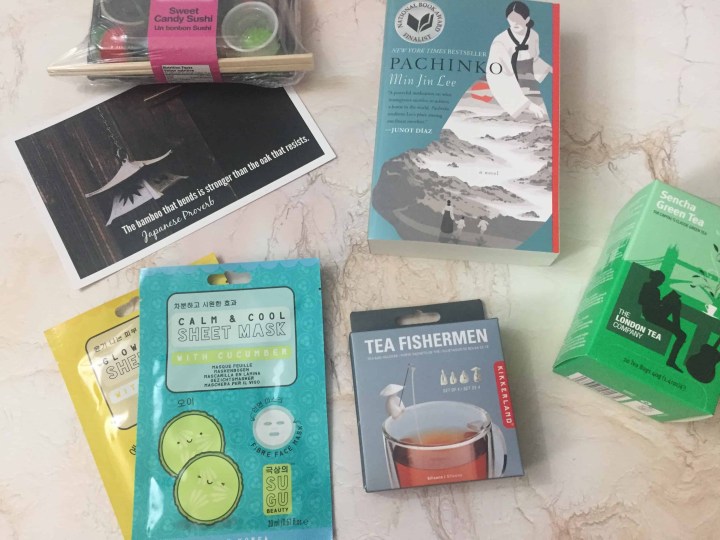 I loved my July box. The book is really interesting and definitely not what I would reach for, but with my love and interest in Japan and Korea it was like Sweet Reads knew what would get me hooked on reading again this summer. The other items were really fitting, useful, and a fun theme!
What did you think of this month's book selection?