Scribbler is a monthly subscription box for novelists, created by authors, for authors. Scribbler is committed to helping writers improve their craft and reach their publishing goals, month after month.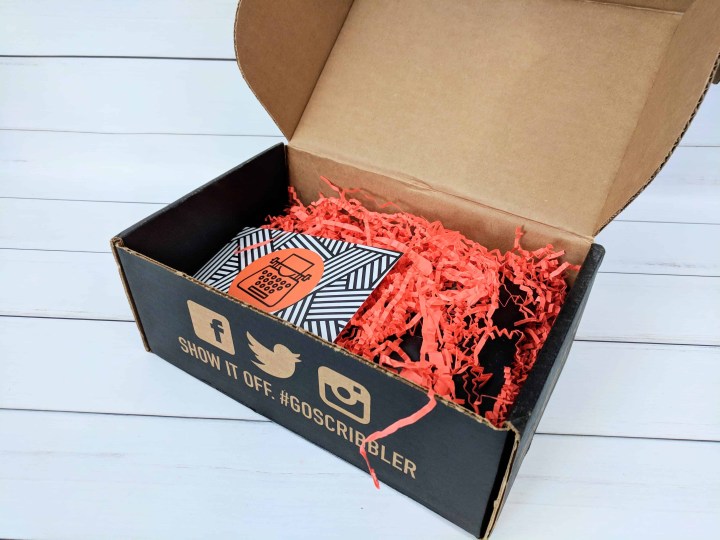 For $29.99 a month, you'll get a newly released fiction, a "Writing Passport" from the featured author to help you master the monthly theme, curated writerly gifts, and an invitation to communicate with a publishing professional.
Everything in the box!
You can share this month's little challenge on social media usign #goScribbler to find a community of like-minded writer!
This month, there was no information card listing the items in the box.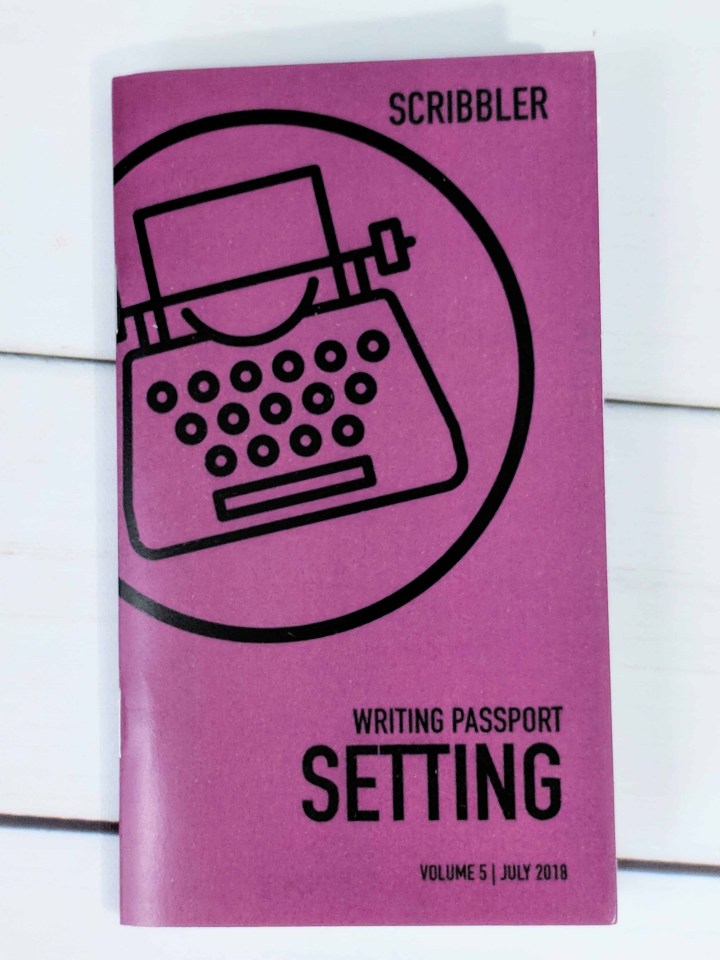 This month's theme is Setting.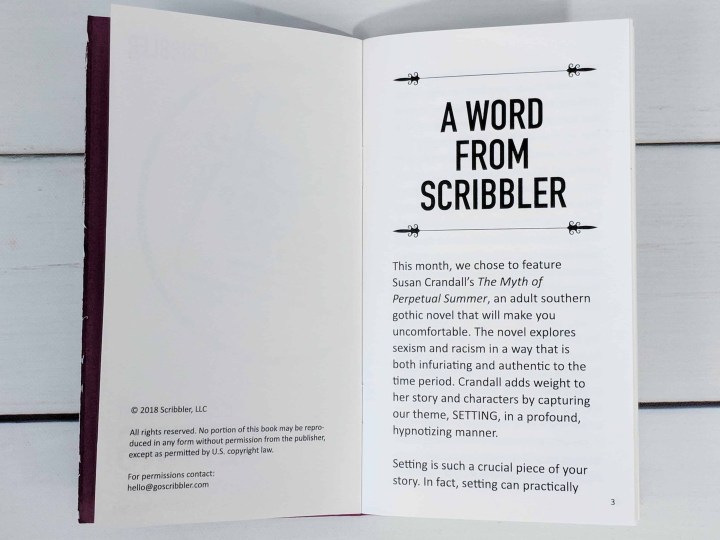 There's a quick introduction in the booklet about why the book was chosen this month.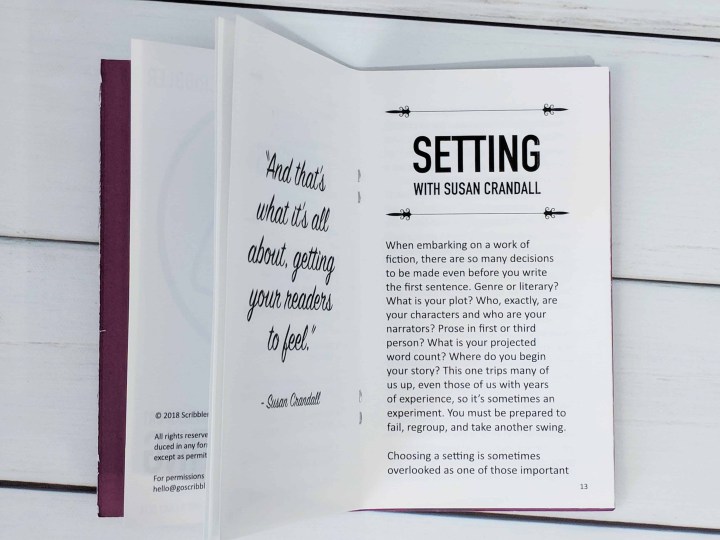 There are no exercises in the booklet to improve our skills, it's more about the theory behind Settings, from this month's author viewpoint. I prefer that way as I like to play with my own story and characters instead of doing an exercise that has nothing to do with what I'm doing.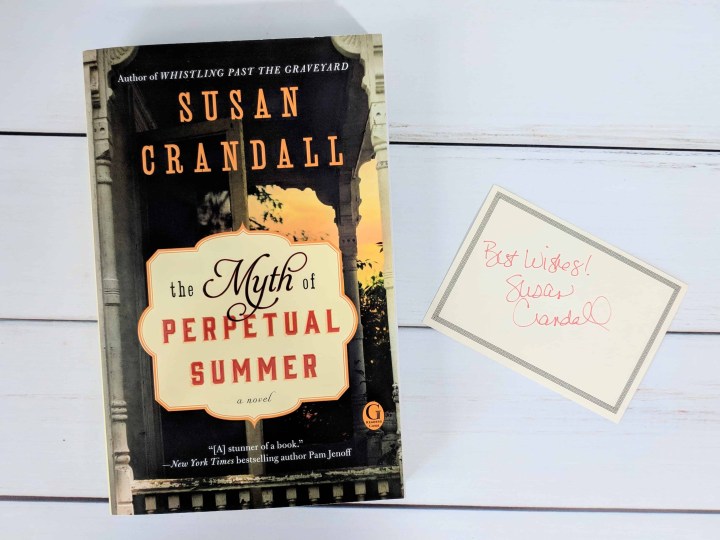 The book this month is The Myth of Perpetual Summer by Susan Crandall. From Amazon:
Tallulah James's parents' volatile relationship, erratic behavior, and hands-off approach to child rearing set tongues to wagging in their staid Mississippi town, complicating her already uncertain life. She takes the responsibility of shielding her family's reputation and raising her younger twin siblings onto her youthful shoulders.

If not for the emotional constants of her older brother, Griff, and her old guard Southern grandmother, she would be lost. When betrayal and death arrive hand in hand, she takes to the road, headed to what turns out to be the not-so-promised land of Southern California. The dysfunction of her childhood still echoes throughout her scattered family, sending her brother on a disastrous path and drawing her home again. There she uncovers the secrets and lies that set her family on the road to destruction.
It sounds like an interesting read!
Every month, we receive a Publishing Process Inside Look. It's all about the process of the acquisitions.
There's even a sample of what was submitted to acquisitions. This is such a neat way to understand that writing a book is one thing, getting it out there is a different business!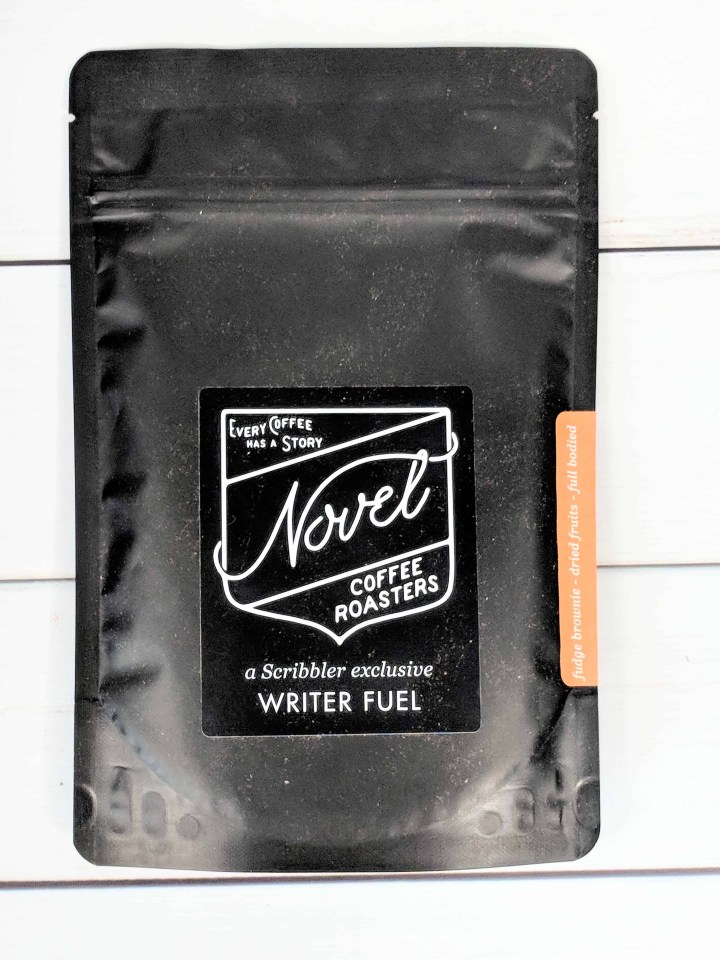 Goodies! Every Coffee has a Story! Novel Coffee Roasters Scribbler exclusive writer fuel. If you are not drinking coffee while writing a book, are you even writing? I'm kidding, but coffee (and tea) is a well-known writer fuel!
The smell is quite fruity and sweet! This will definitely come in handy!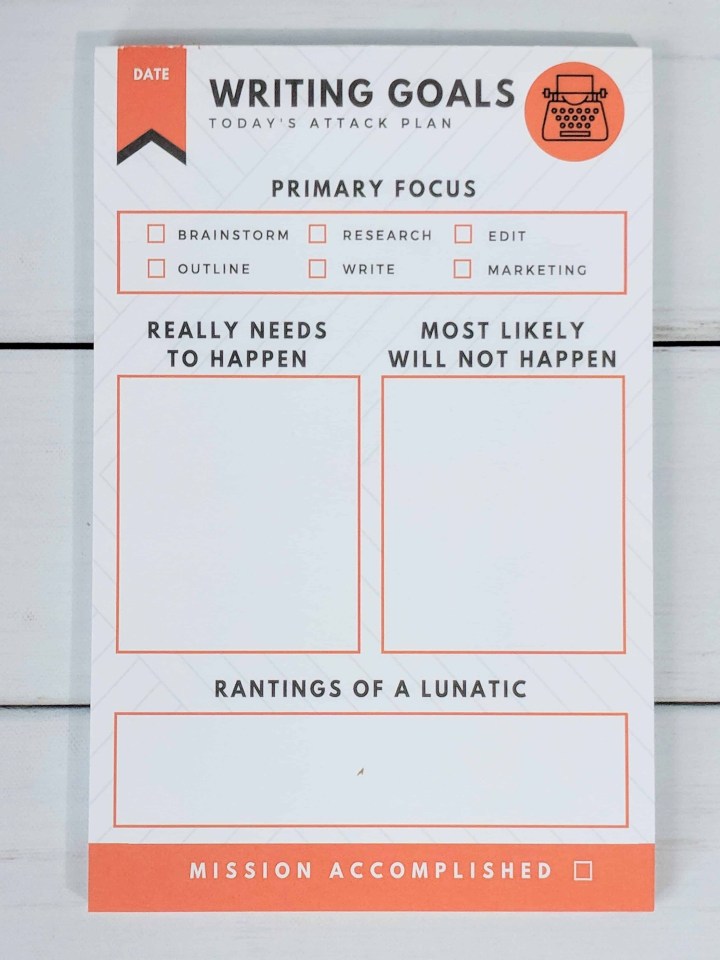 Writing Goals Notepad. A fun notepad with enough prompts to get some brainstorming going, but it can also be used to get things done in the day!
"Go Away, I'm writing" sticker and "Bestseller in Progress" coaster. I've been known to say this quite often, so now I can stick it to my door or my computer to have some peace!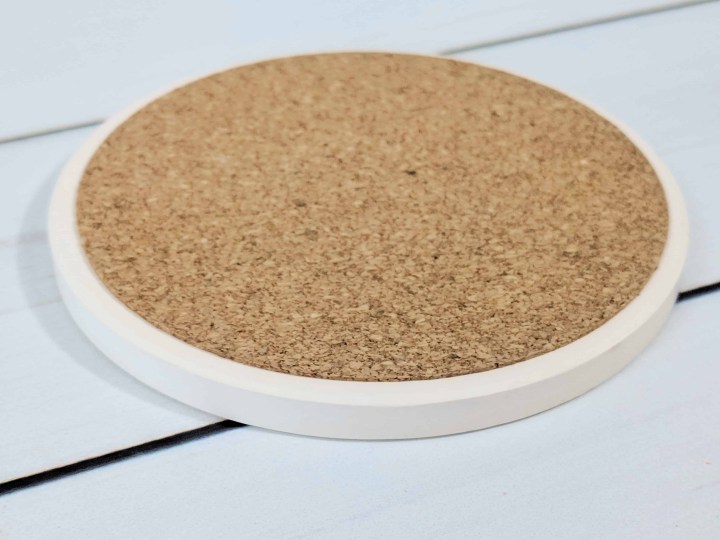 This is a really nice coaster with a flat surface that is easy to clean (so much coffee rings on my coasters!) with a cork base to protect your desk.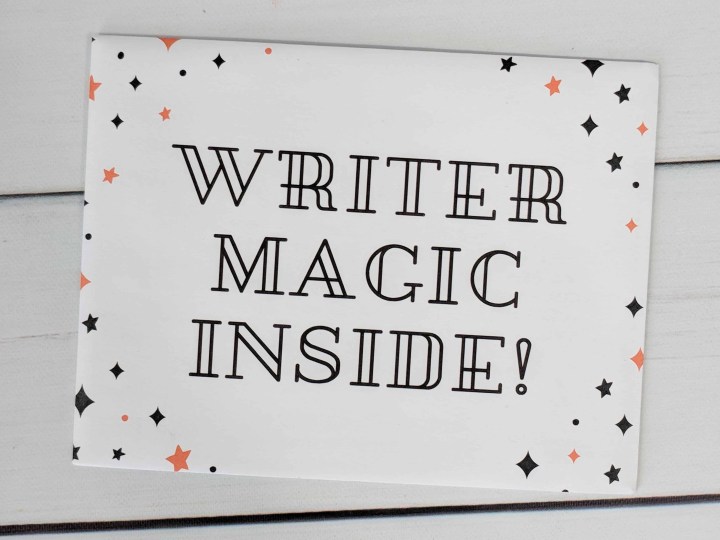 Writer Magic Inside!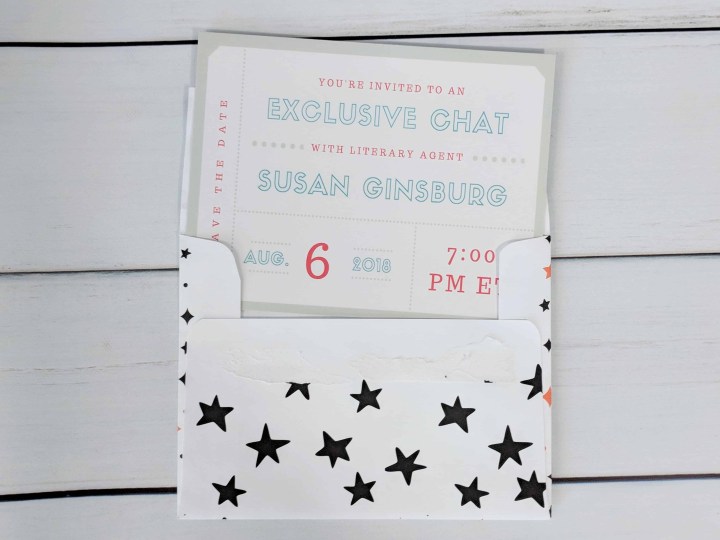 This is an invitation to an exclusive chat with Literary Agent Susan Ginsburg happening on August 6, 2018. Knowing that this is the July box and that I live in Canada (so I get my box quite late), I still had plenty of time to get ready for this event! I really appreciate how far ahead of the event we get the box! Good job!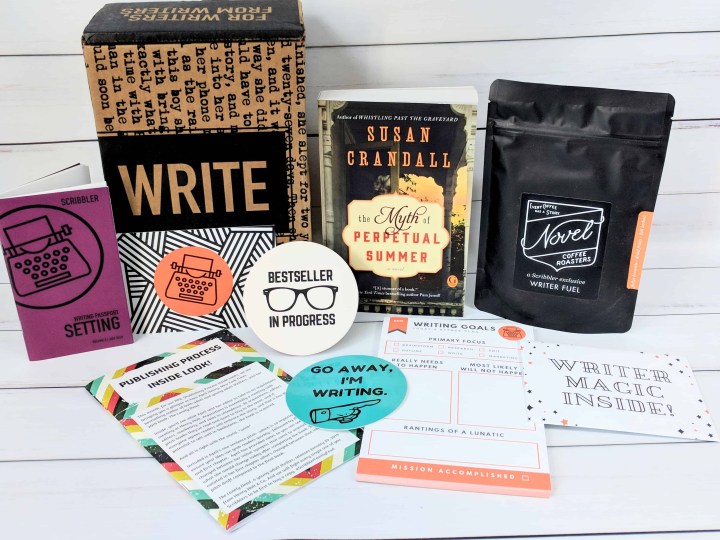 I'm really happy with this month's Scribbler Box. The book chosen seems to be a very interesting book, with a coming of age story without being a YA book. The addition of the coffee and the coasters are a nice touch, as well as a notepad to scribbles on. It's also amazing to have the opportunity to connect with people in the industry and have insights from published authors!
What do you think of this month's box?