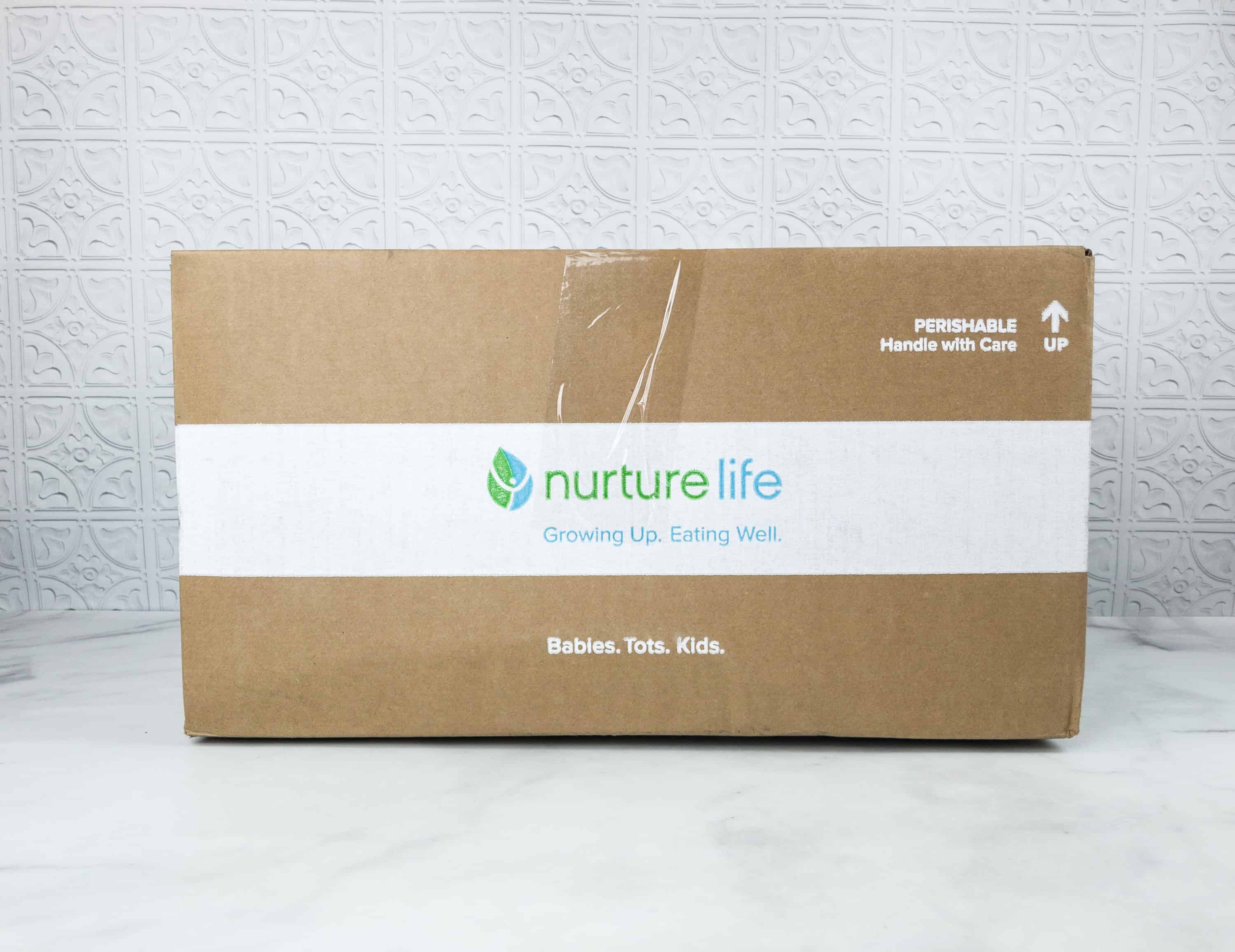 Nurture Life is a meal delivery service for babies, toddlers, kids, and even teens. The meals they offer are prepared by chefs and pediatric dietitians and are designed to meet the child's nutritional requirements. Upon sign up, you will need to provide your kids' ages and dietary preferences. Subscribers can also choose the Chef's Choice Menu or select their own preferred meals from Nurture Life's Seasonal and Favorites menus. Plans range from $35-$119.
For this review we checked out the Nurture Life Toddler Plan for our 3 year old, and 2 of the Kids plans.
For toddlers the 1-3 year old meal plan provides 1 1/2 cup meals at $47 for 5 meals and $89 for 10 meals.
The 4 – 8 years old meal plan provides five 1 3/4 cup meals at $52 per week ($99 for 10 meals).
The 9-13 year old plan is 2 1/2 cups per meal and $57 for 5 meals or $109 for 10.
There's also a 14 year old+ meal plan with 3 1/2 cups per meal – $62 for 5 meals or $119 for 10.
These meals are basically all the same, just different portion amounts, which is fantastic.
For Baby's meals (not covered in this review, but we'll tackle it soon!):
Stage 1, 4+ Months – 8 half cup jars for $35 per week ($60 for 14)
Stage 2, 8+ Months – 8 Half cup jars for $45 per week ($75 for 14)
Stage 3, 10+ Months – 8 one cup jars for $55 per week ($89 for 14)
DEAL: Save 30% on your first box! Use coupon code TAKE30.
Nurture Life promises to never include the following in their meal offerings: peanuts, tree nuts (except coconut), shellfish, artificial colors or flavors, trans fats (partially hydrogenated oils) or high fructose corn syrup (HFCS).
It's a week's worth of meals for the kids, delivered in an insulated box to maintain freshness. They arrive cold, but not frozen. Eeek they're all jumbled in and don't have the names of the kids! It turns out that they're all color coded so they were super easy to sort out – and send the kids to the garage fridge to grab!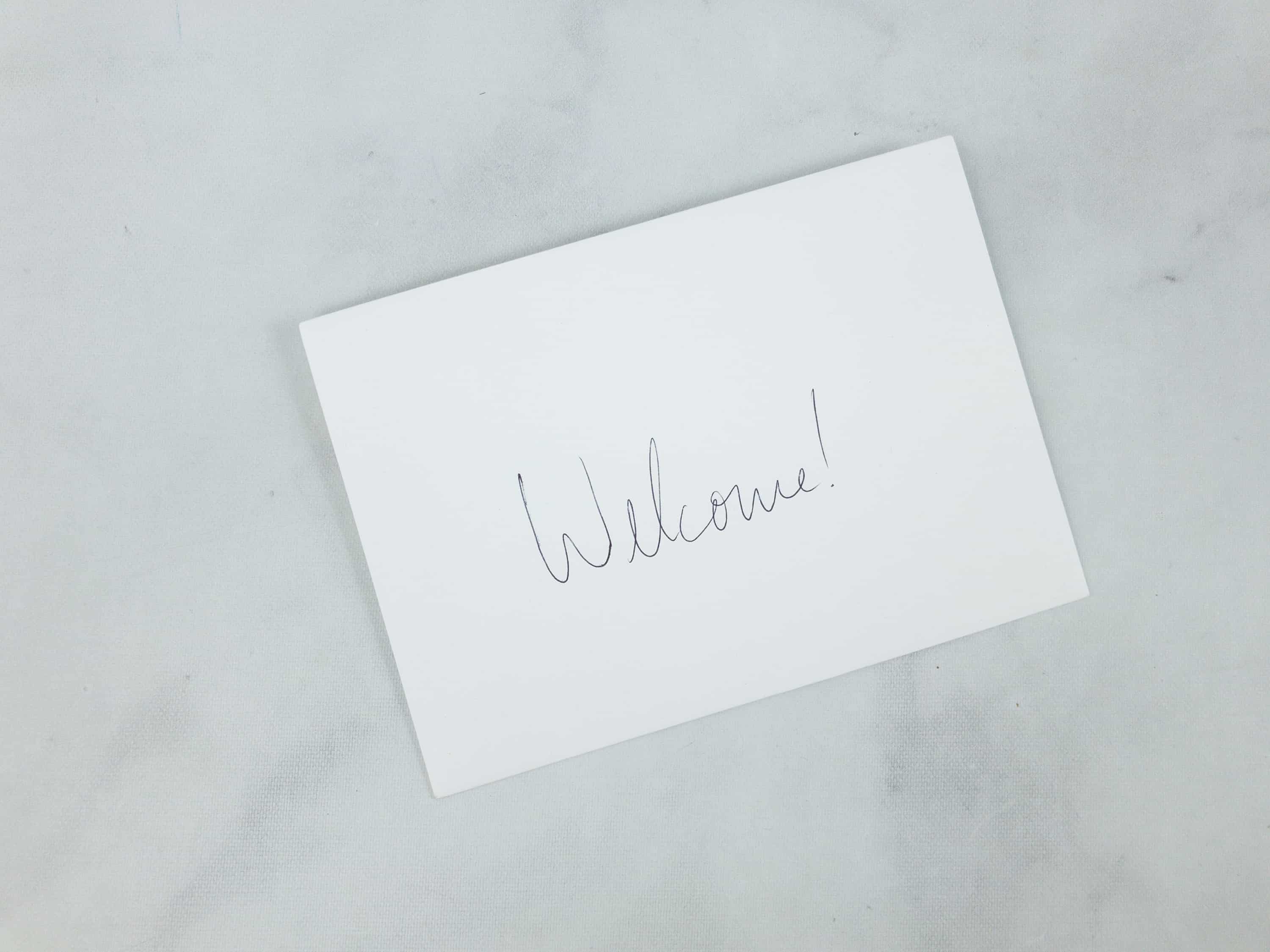 A welcome note from Nurture Life!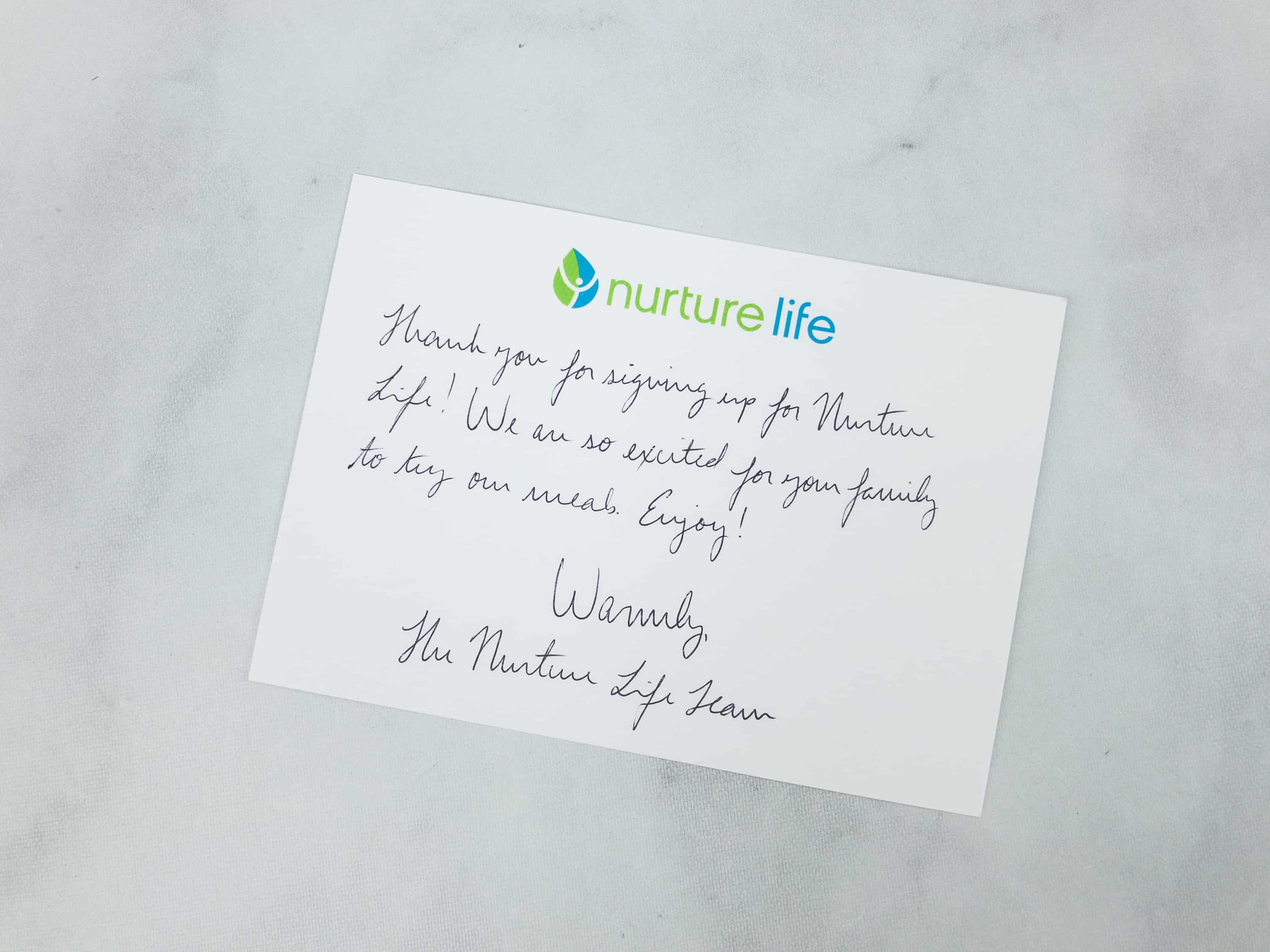 It's handwritten so it feels a bit personal.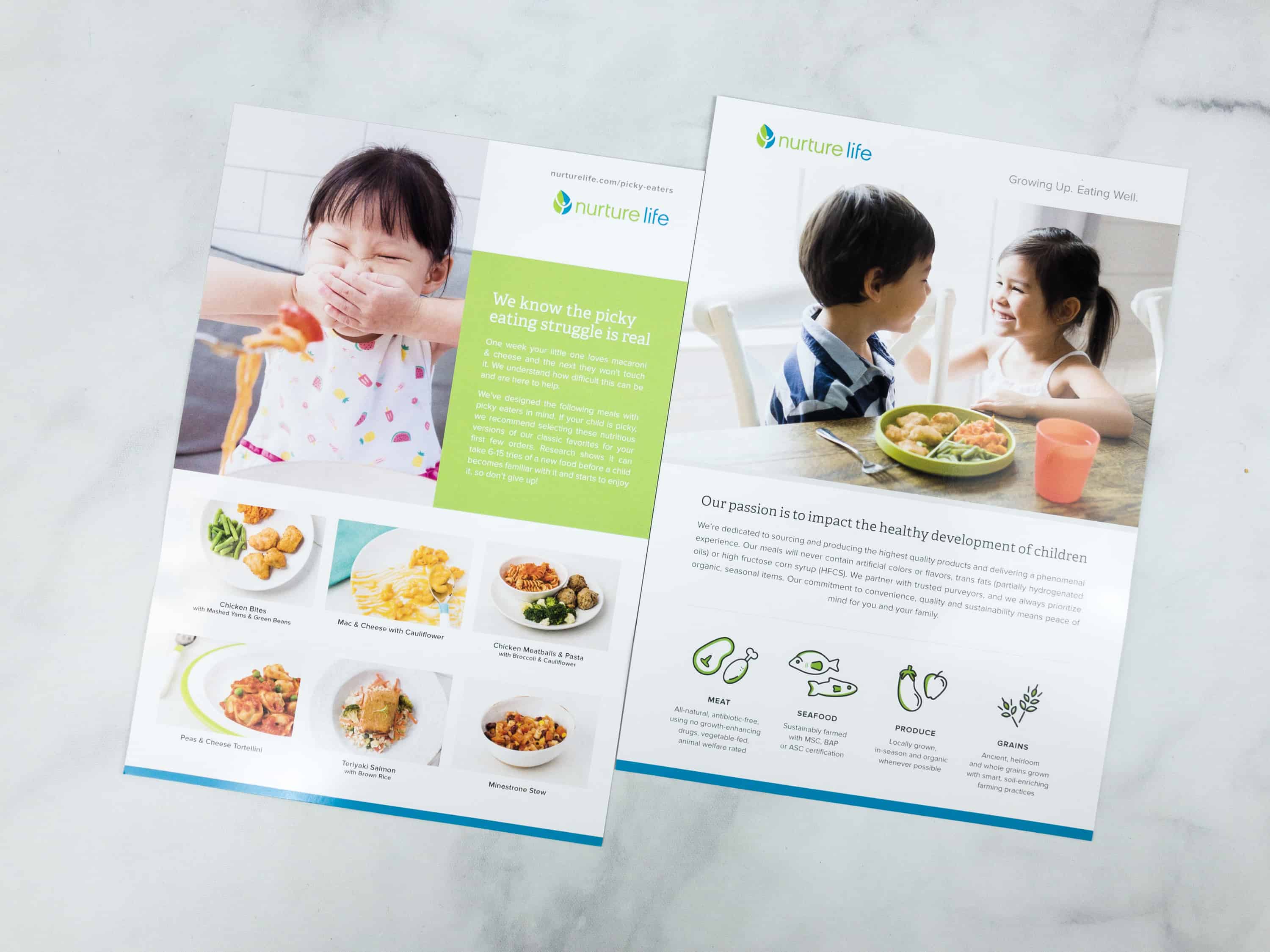 They also included information sheets. They suggested the meals above for the pickiest eaters.
These feature essential details about the meals, how they came up with it, and the packaging.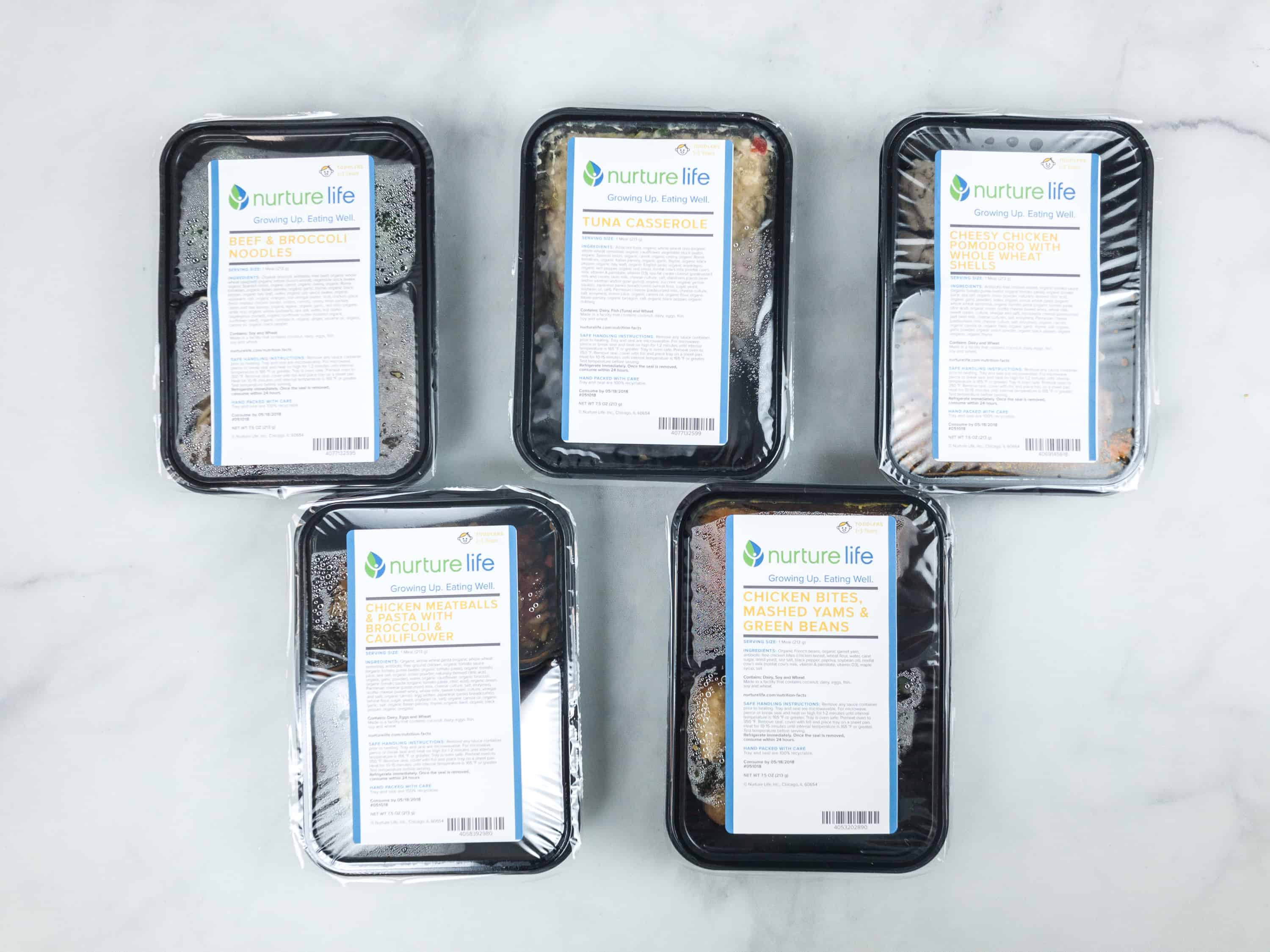 This week, our Toddler Meal Plan (1-3 yrs old) includes Beef & Broccoli Noodles, Tuna Casserole, Cheesy Chicken Pomodoro with Whole Wheat Shells, Chicken Meatballs & Pasta with Broccoli & Cauliflower, and Chicken Bites – Mashed Yams & Green Beans.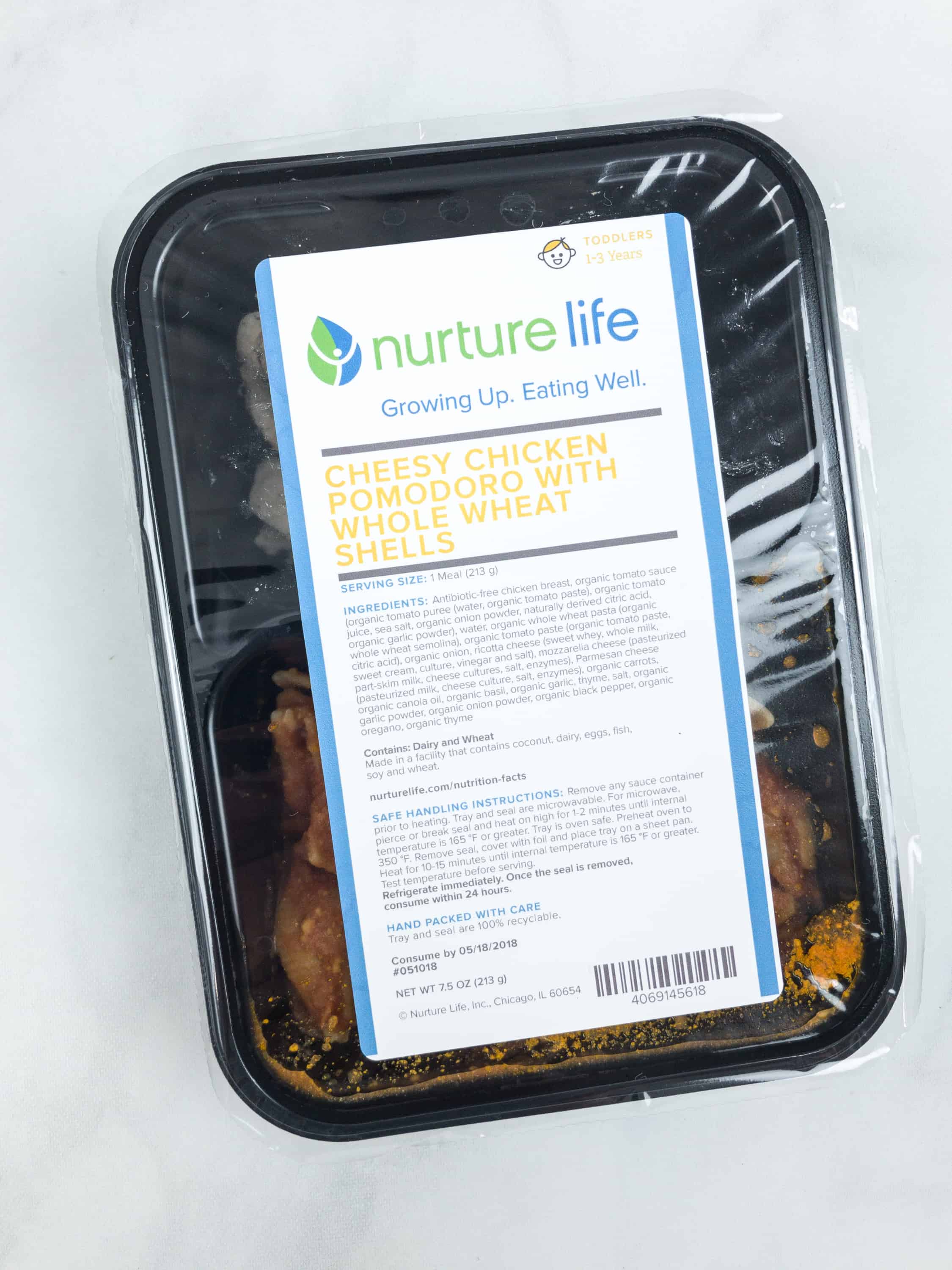 Each container has a meal label listing all the ingredients used, proper handling instruction, and consume by dates.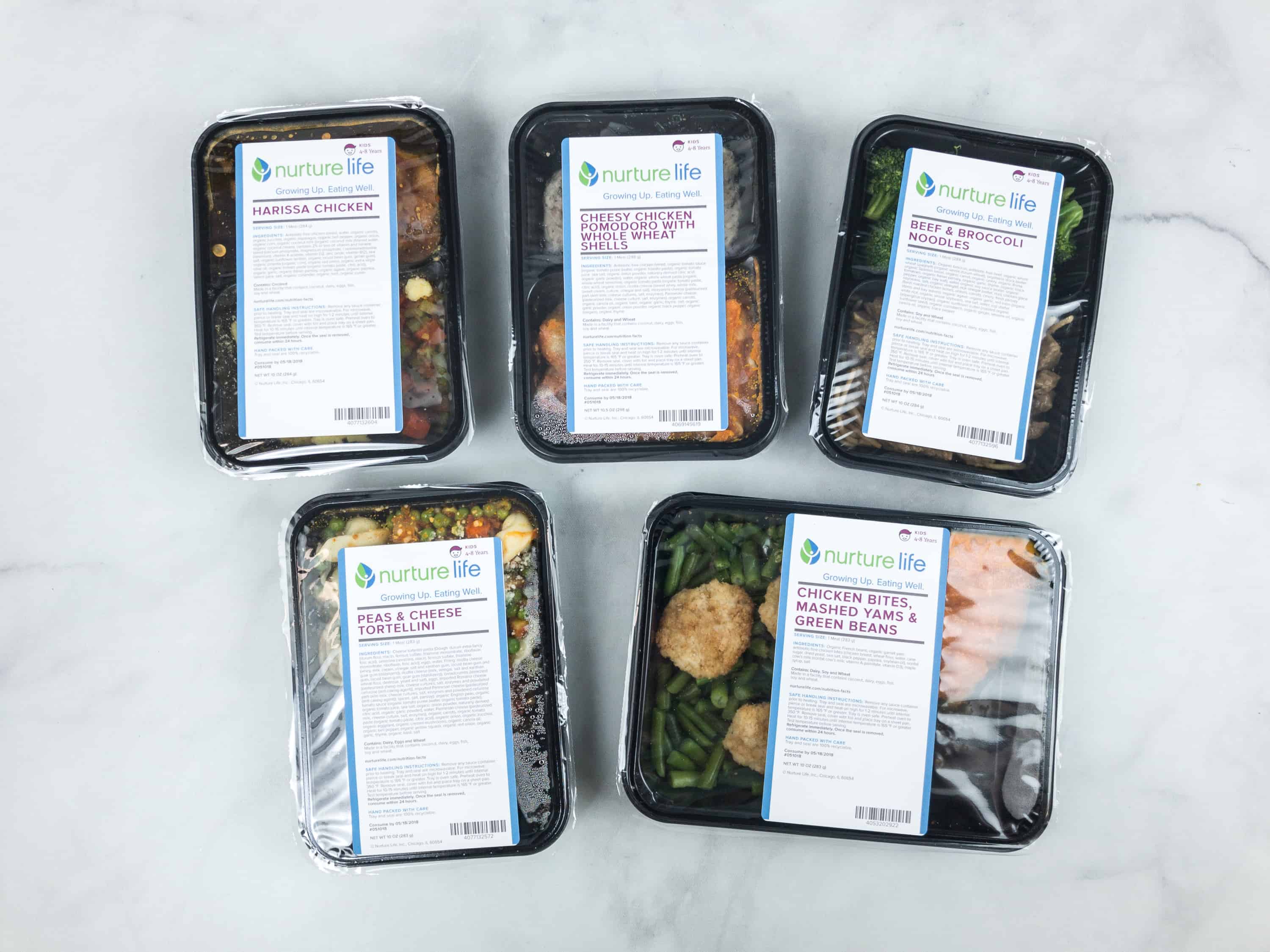 The Kid's 4-8 yrs old batch of meals are Harissa Chicken, Cheesy Chicken Pomodoro with whole wheat shells, Beef & Broccoli noodles, Peas & Cheese Tortellini and Chicken Bites – Mashed Yams & Green Beans!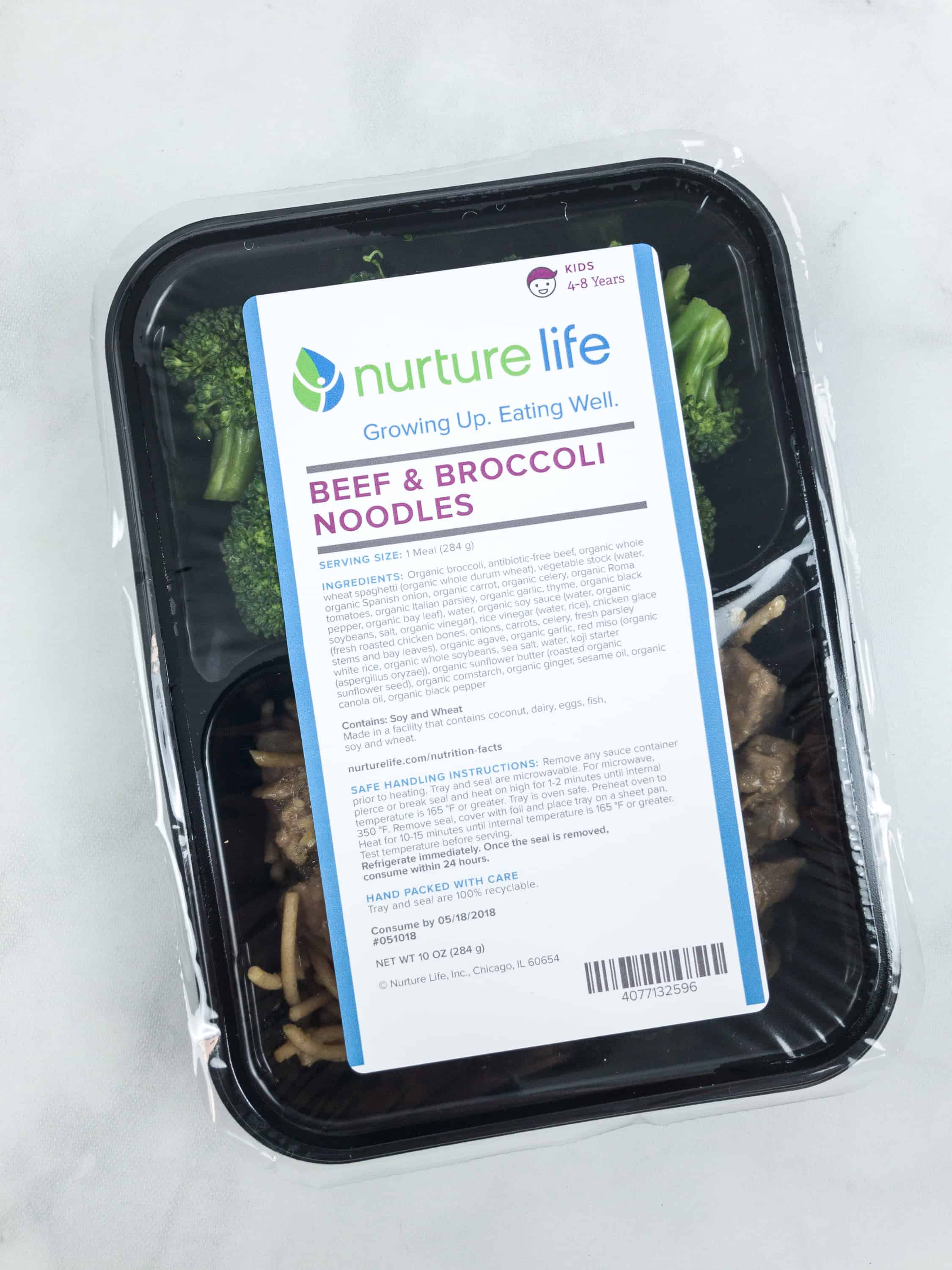 Every container used are 100% recyclable and all the meals are perfectly sealed and safe for consumption.
The Kid's Meal Plan (9-13 yrs old) includes Chicken Bites – Mashed Yams & Green Beans, Harissa Chicken, Beef & Broccoli Noodles, Mac & Cheese with Cauliflower, and Peas & Cheese Tortellini.
Keep these meals refrigerated and once the seal is removed, consume within 24 hours!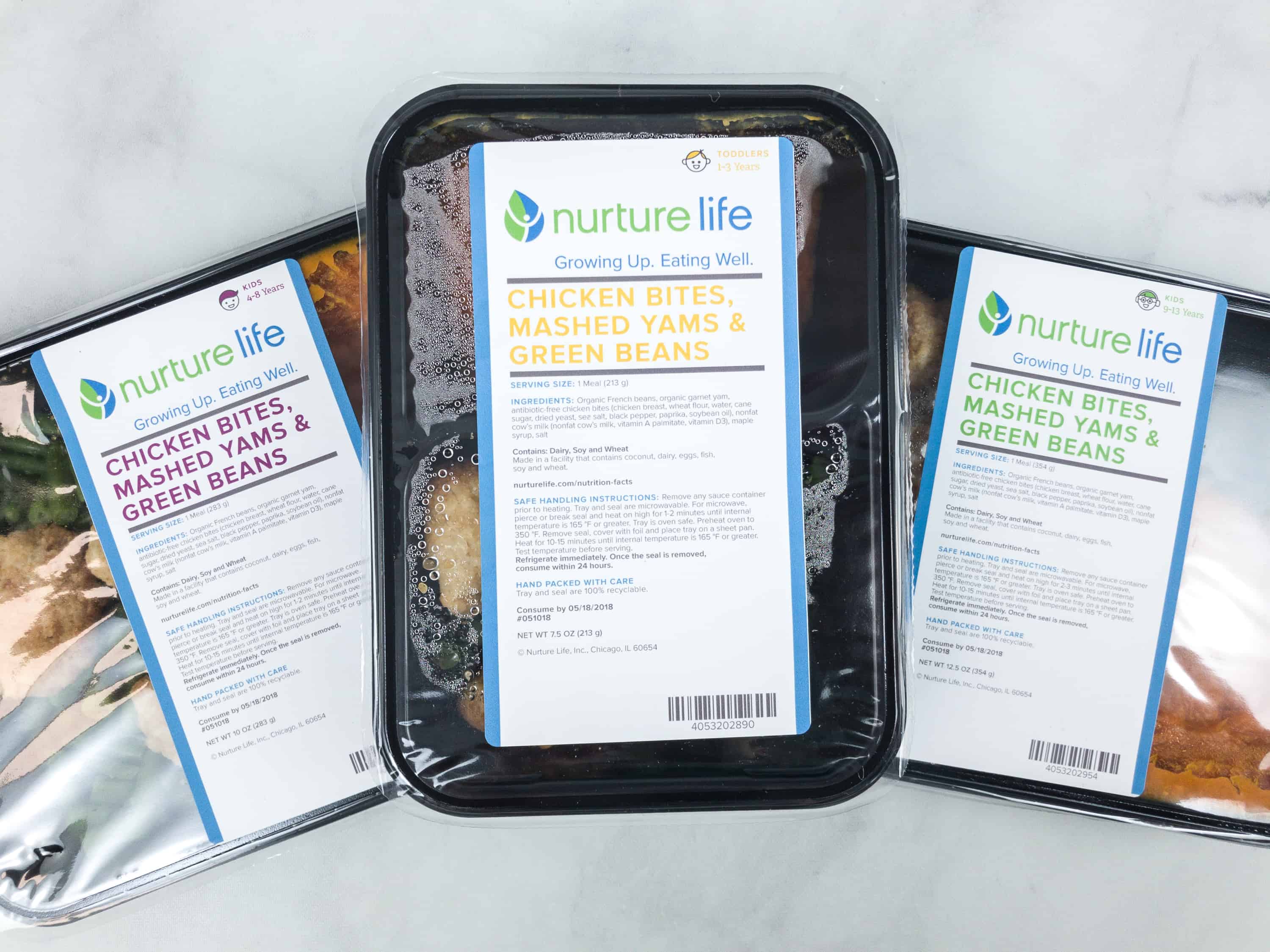 The labels are color-coded per meal plan.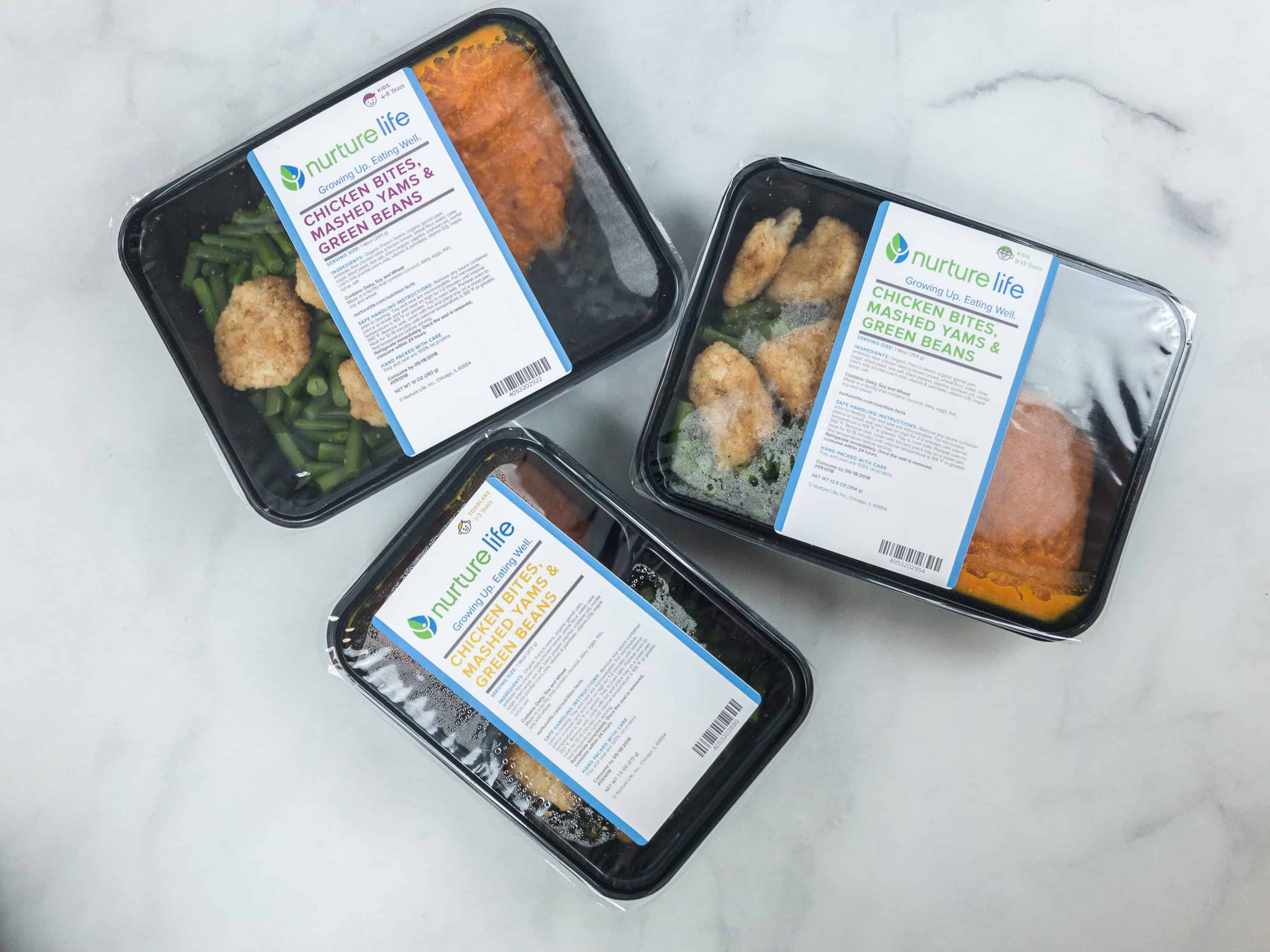 If your child is a picky eater, Nurture Life suggests choosing from their Favorites Menu, which has healthier versions of classic kids favorites. You can also see the size differences – and some of these meals are large. 

We got 5 meals for each plan (we took advantage of the 30% off coupon because we wanted a week of no cooking and also this was the best way to have everyone taste test these meals!).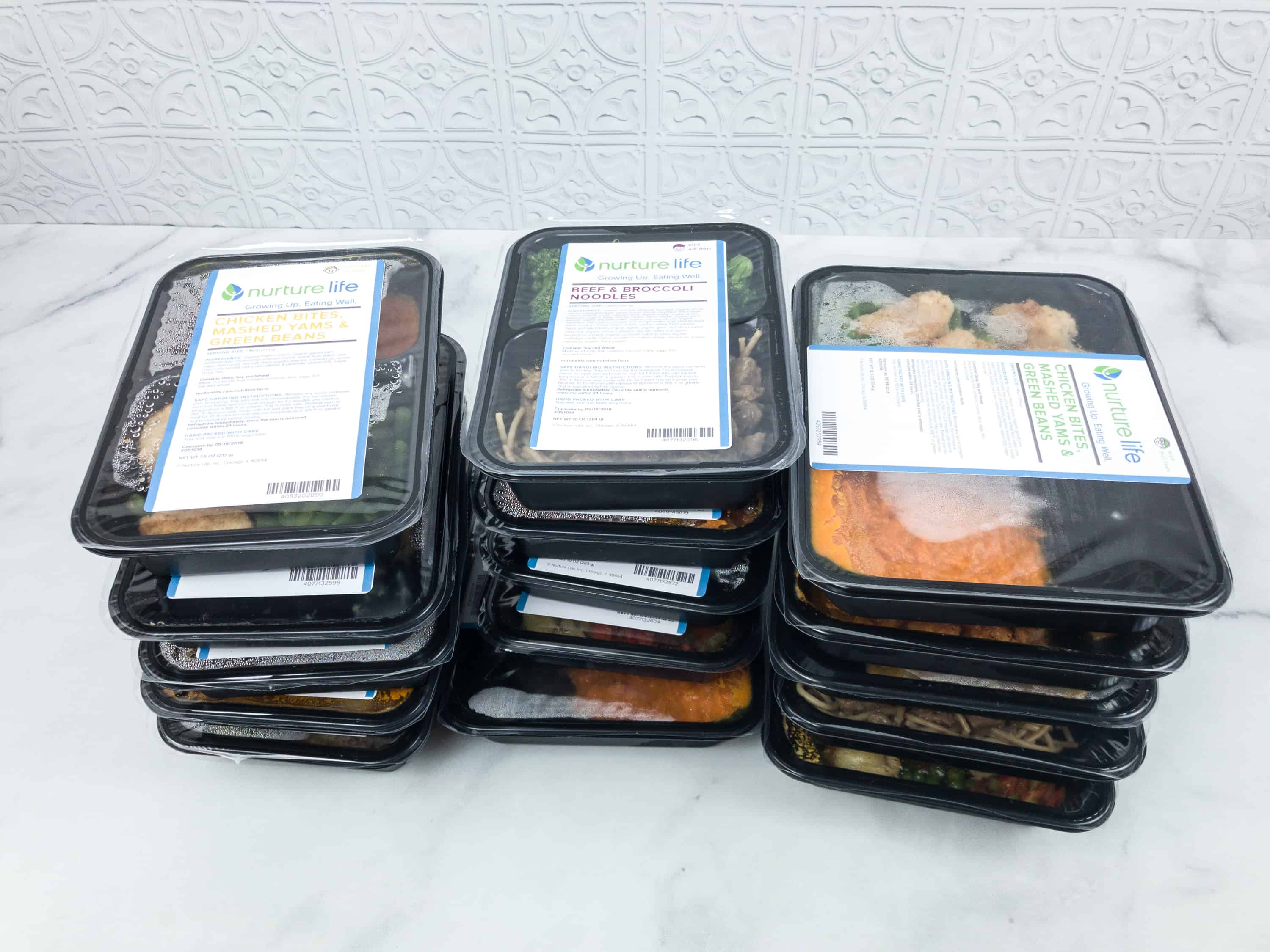 Meals can be used whether for lunch or dinner.
The trays and seals are microwaveable. Nurture Life suggests to pierce or break the seal before you heat the meal.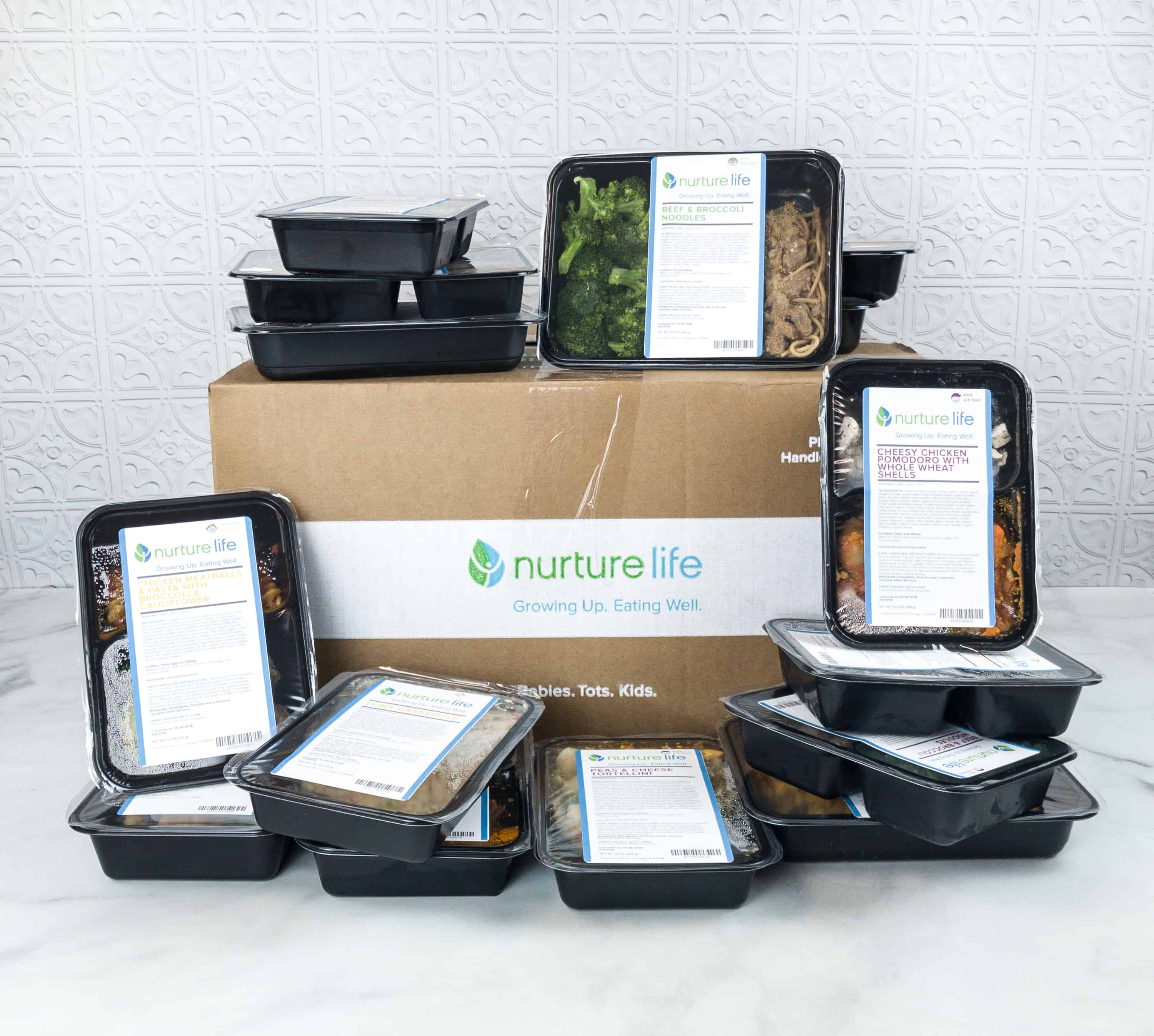 Everything in the box!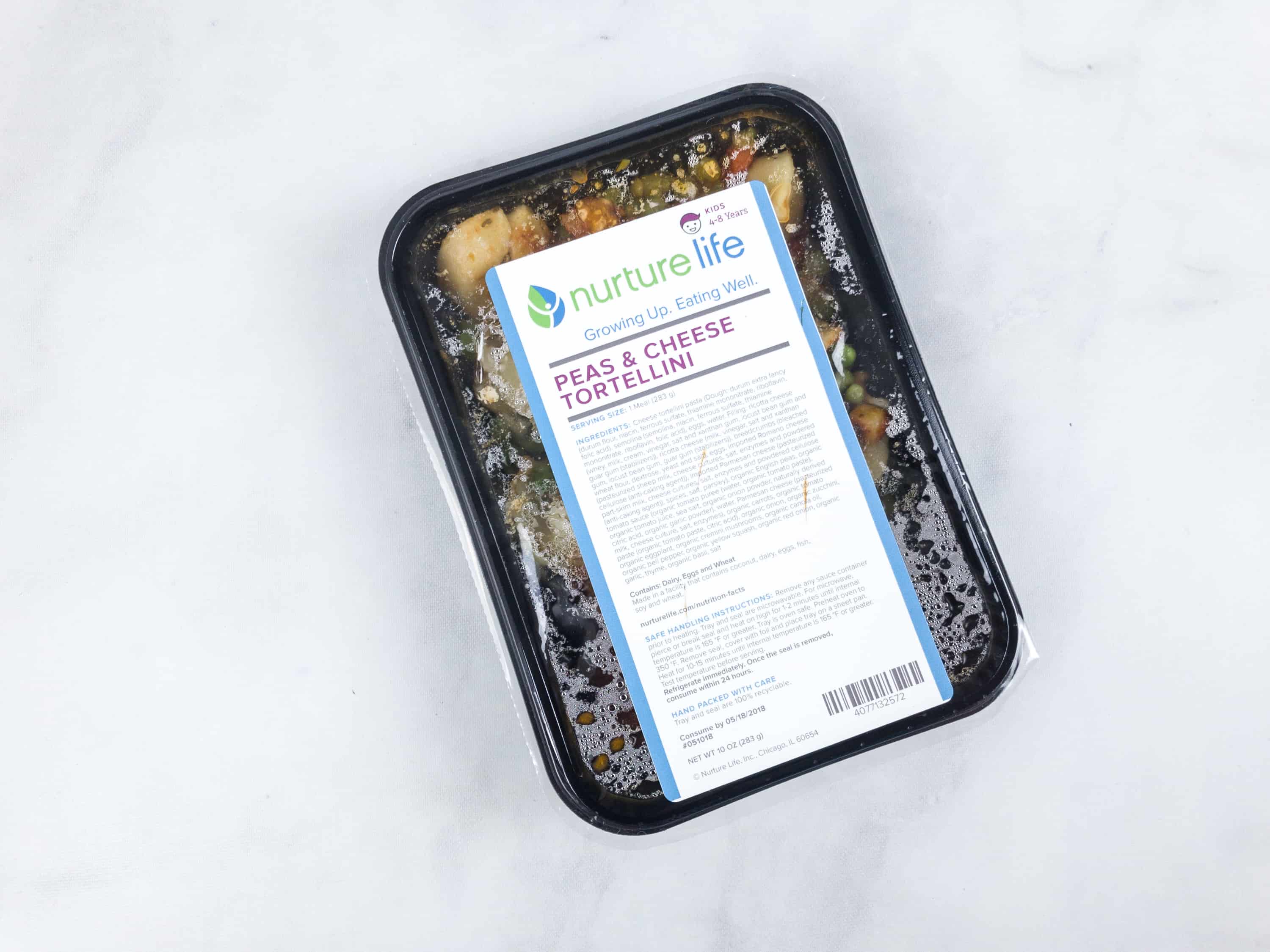 Peas & Cheese Tortellini. This Italian favorite, which is made with filled ring-shaped pasta, was made more nutritious and kid-friendly by adding peas into the mix.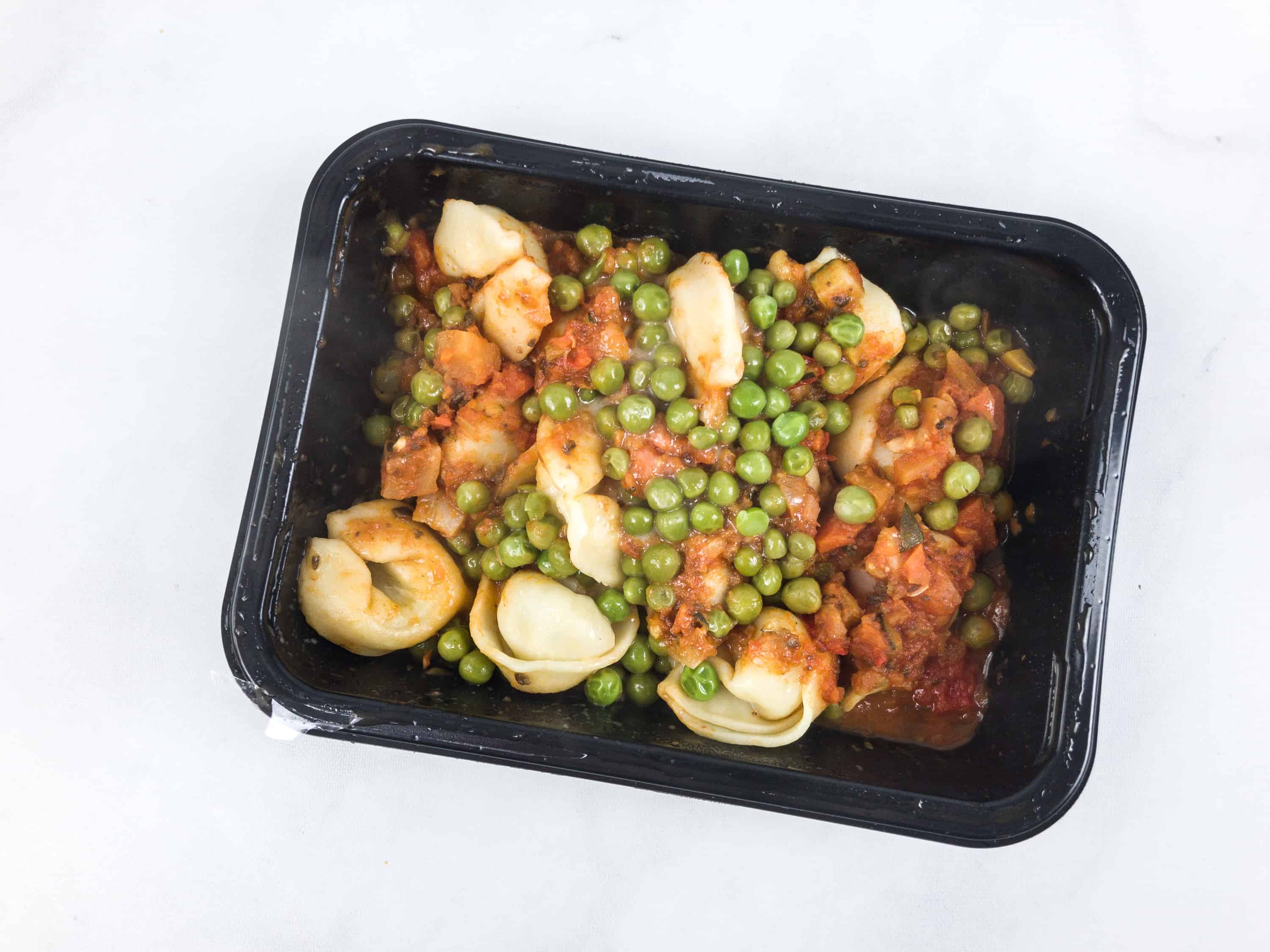 Ingredients include cheese tortellini pasta, semolina, eggs, breadcrumbs, Parmesan and Romano cheese, and other organic ingredients. This meal was fantastic!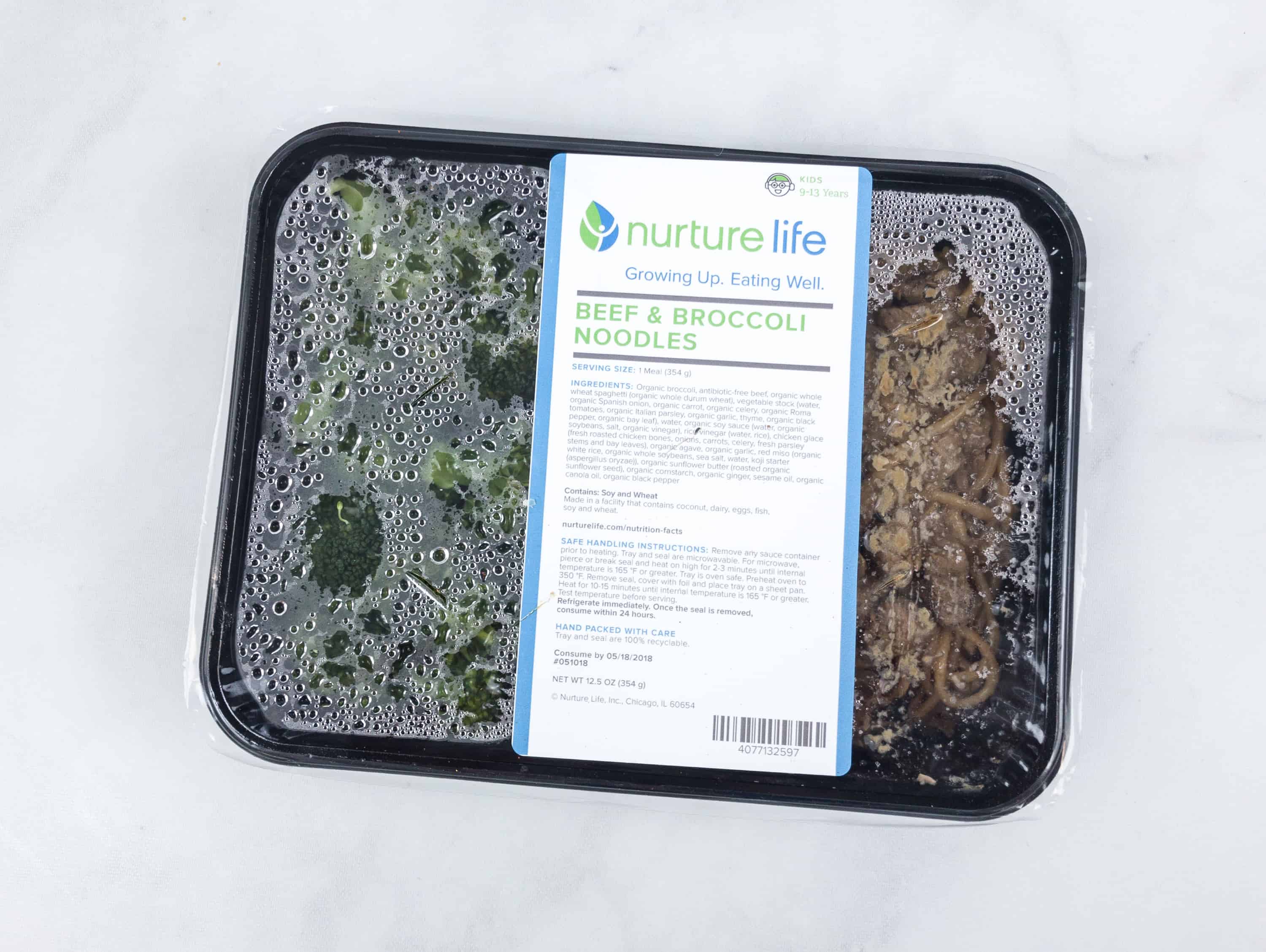 Beef & Broccoli Noodles. Beef and broccoli are paired with noodles for a flavorful and filling Asian-inspired meal.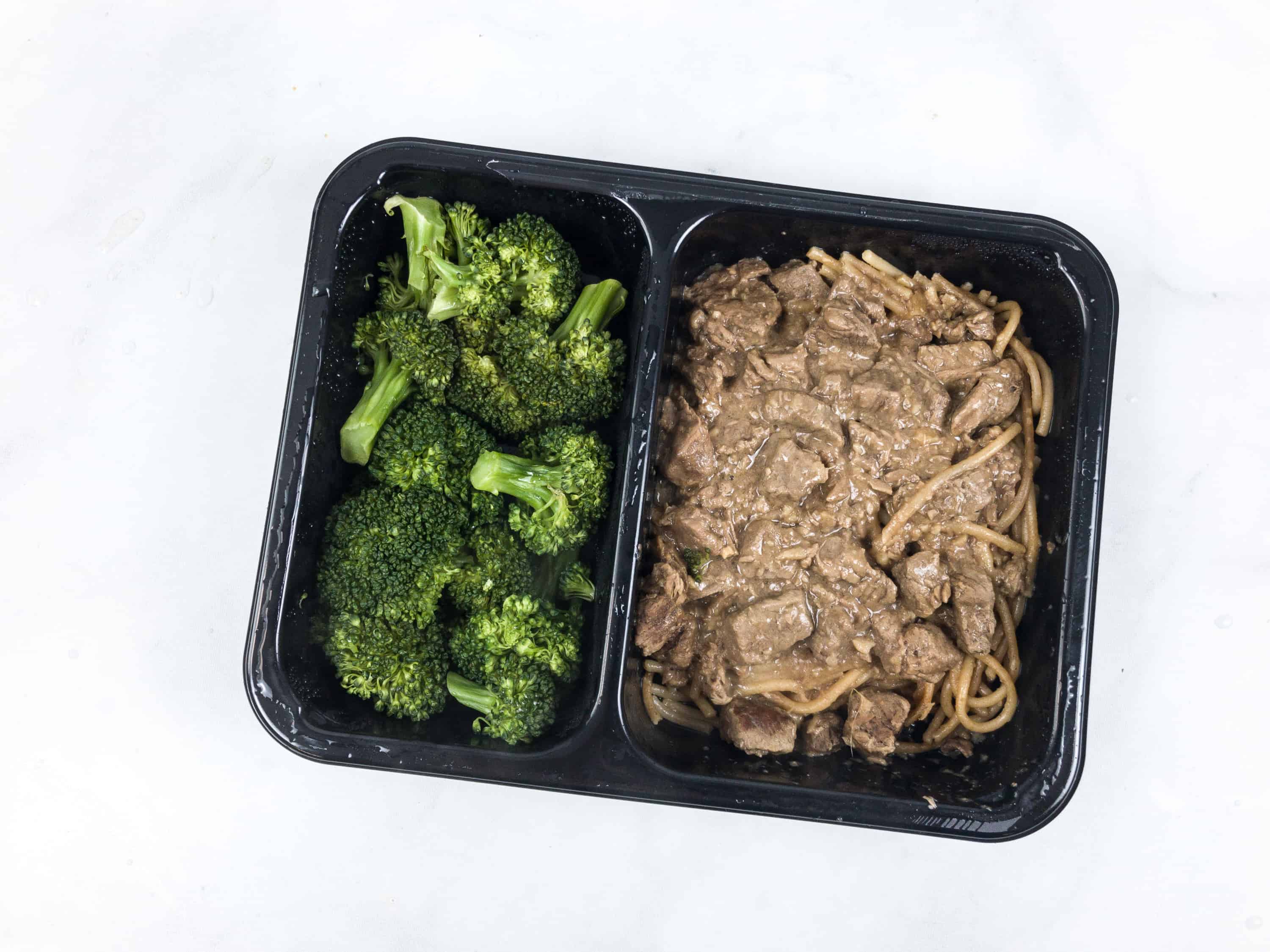 The broccoli is separated from the pasta, so the veggie was kept fresh and crunchy. Gobble-worthy!
My toddler also got his own beef and broccoli meal.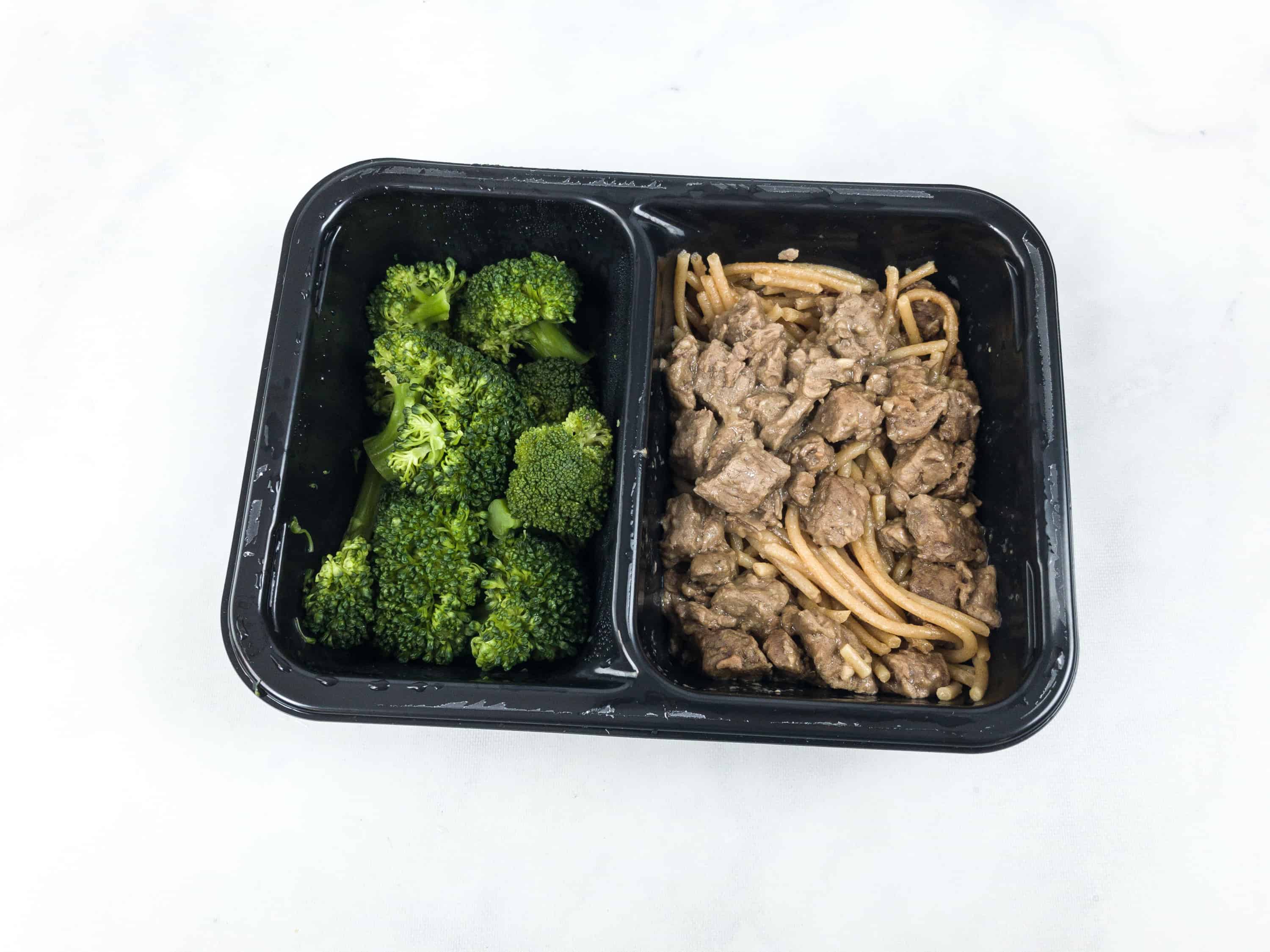 It has lesser content but was made using the same fresh and organic ingredients.
Chicken Bites, Mashed Yam & Green Beans. This meal is made from antibiotic-free chicken bites, organic french beans, garnet yam, maple syrup, and salt.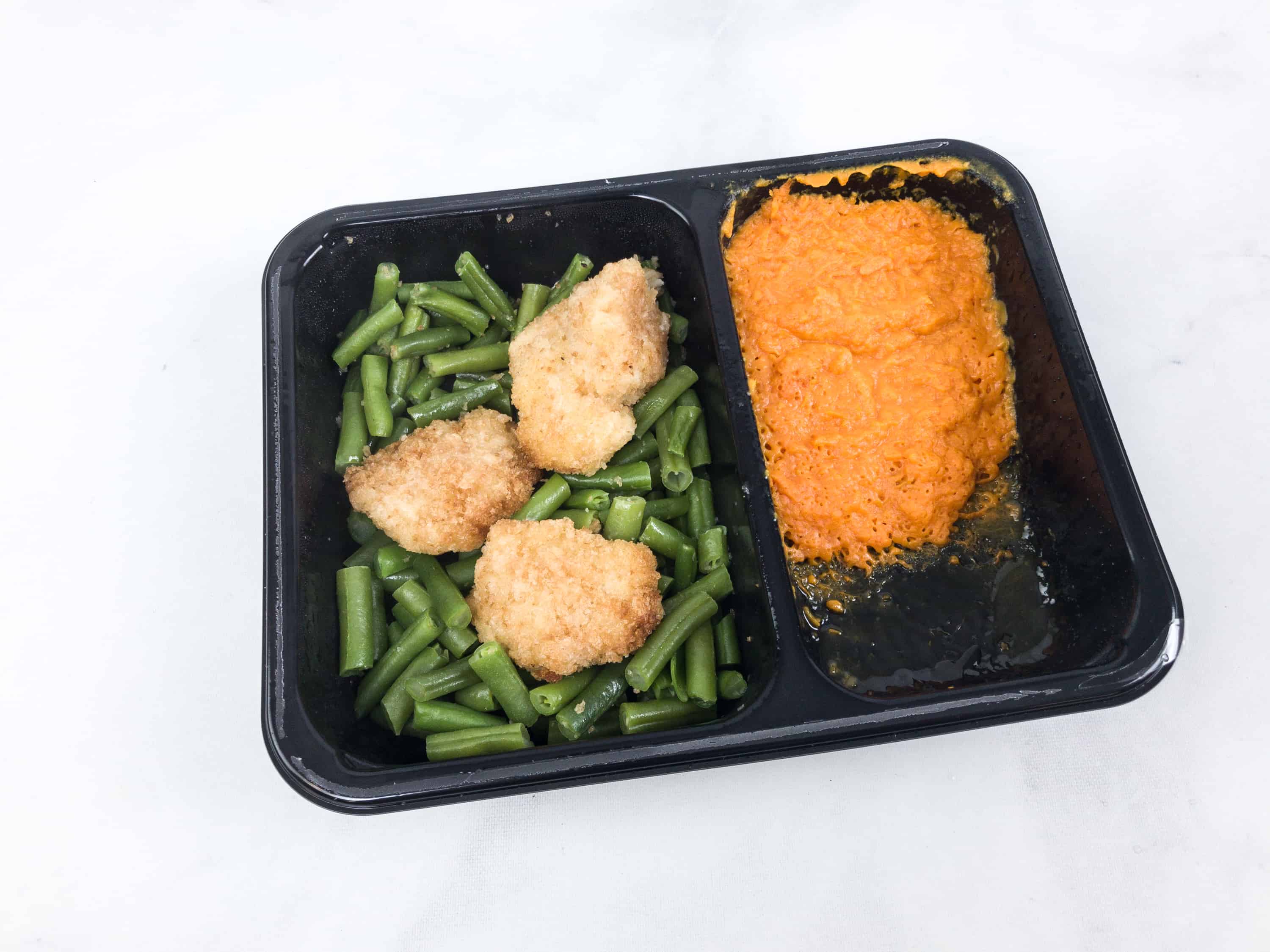 The chicken nuggets were quite small but my son enjoyed them nonetheless. The addition of green beans and mashed yam made the meal healthier and more filling.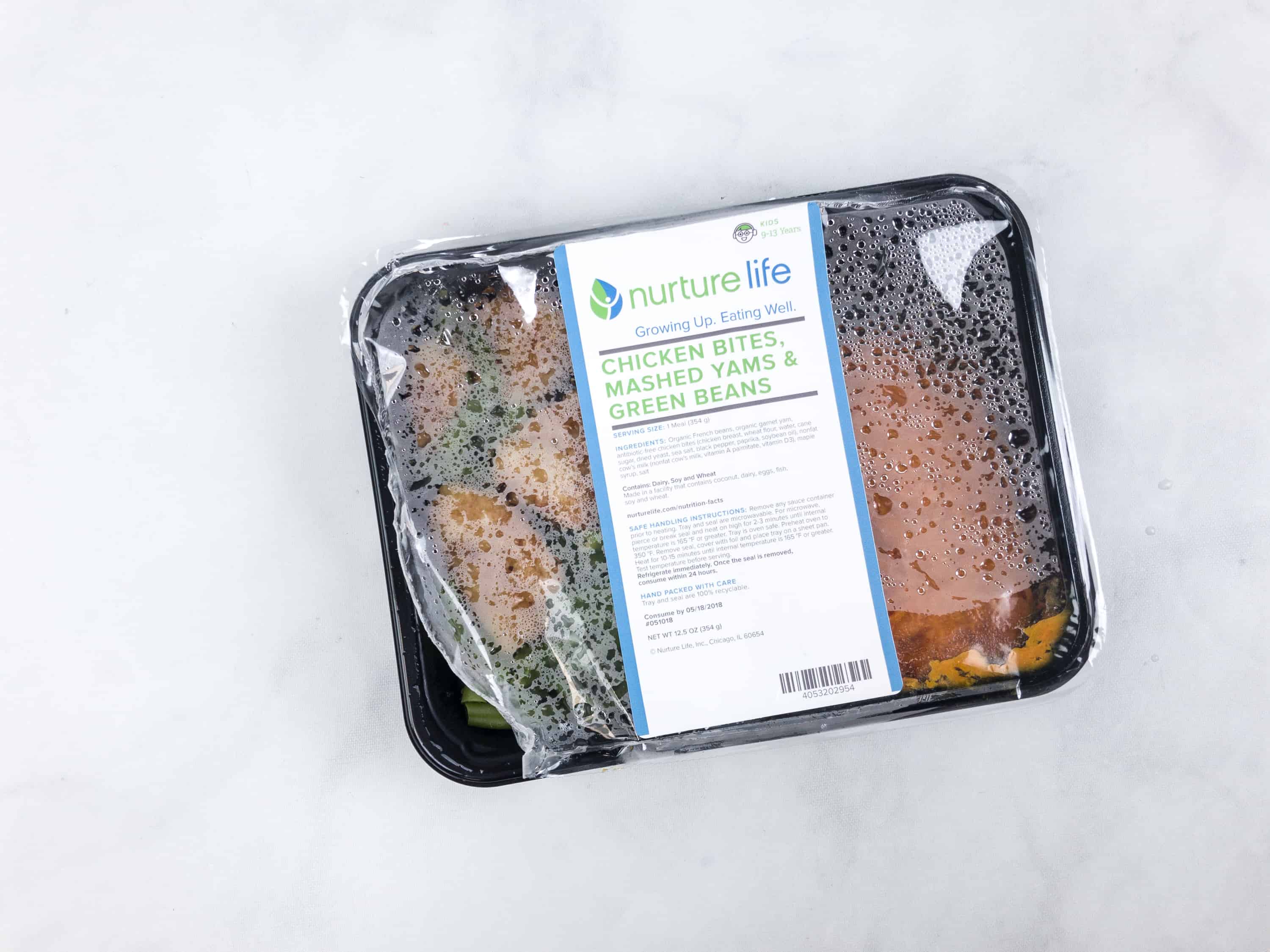 The Chicken Bites meal is also included in the Kid's Meal Plan for 9-13 yrs old.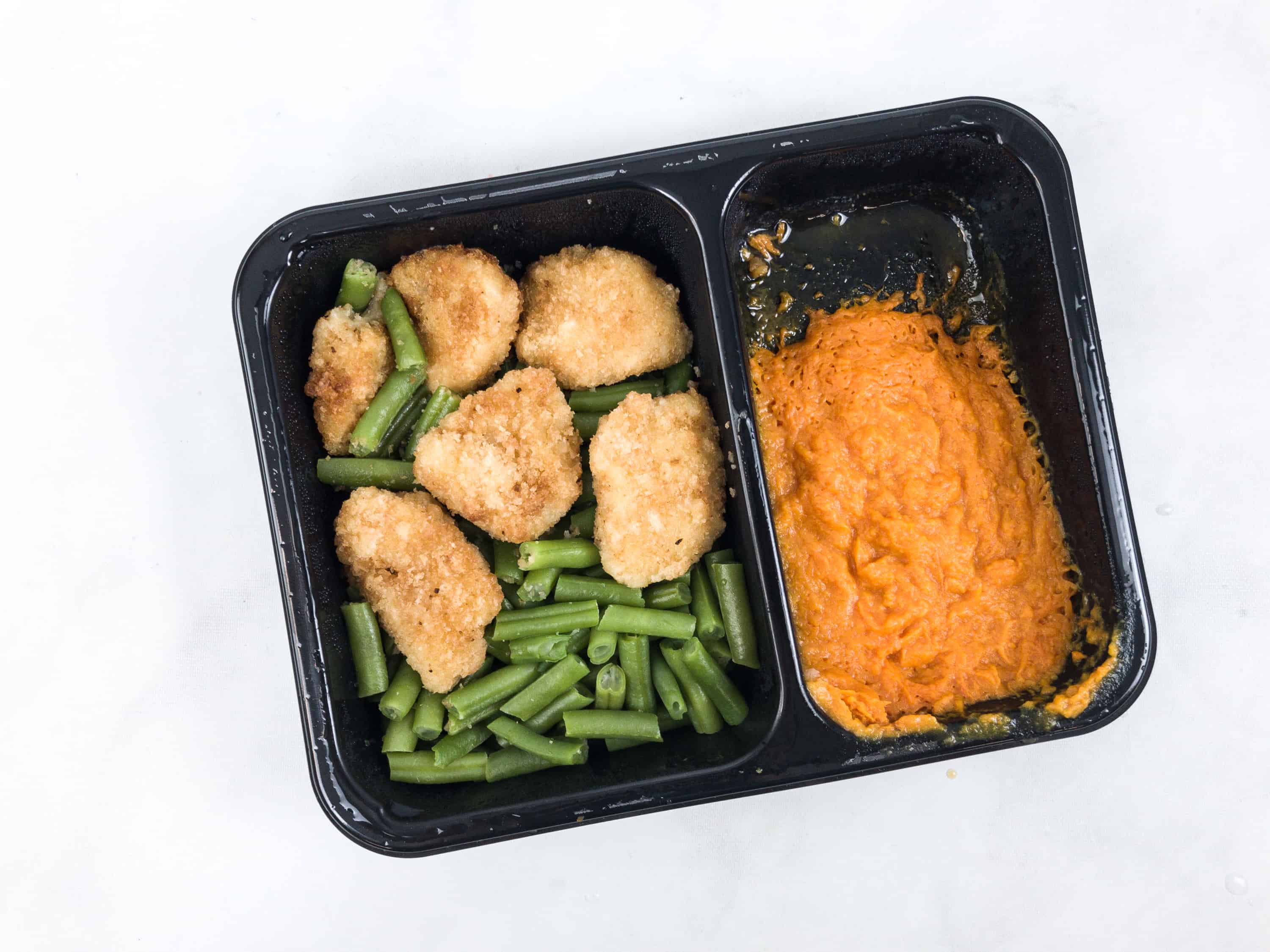 It includes more chicken bites and mashed yam.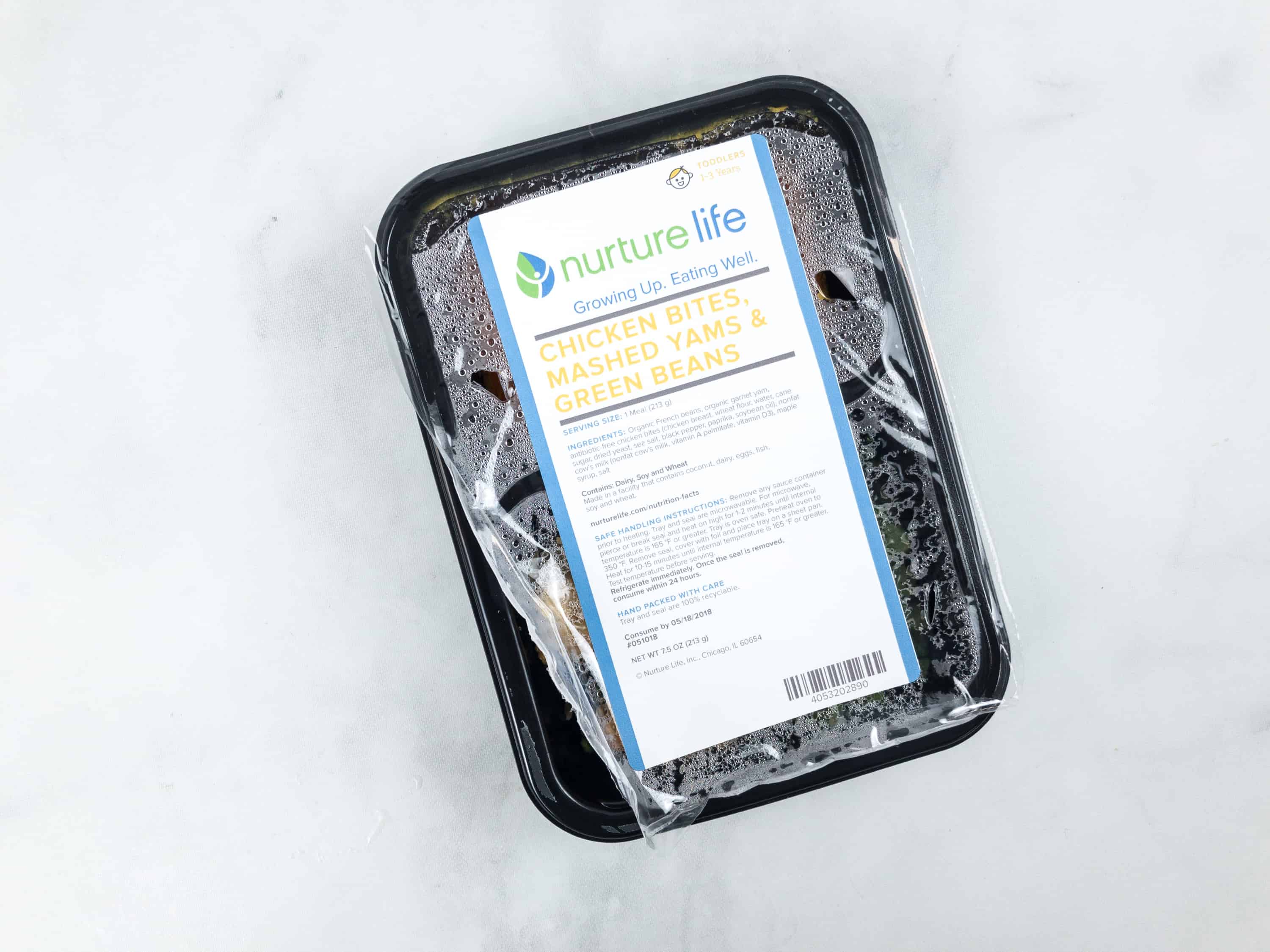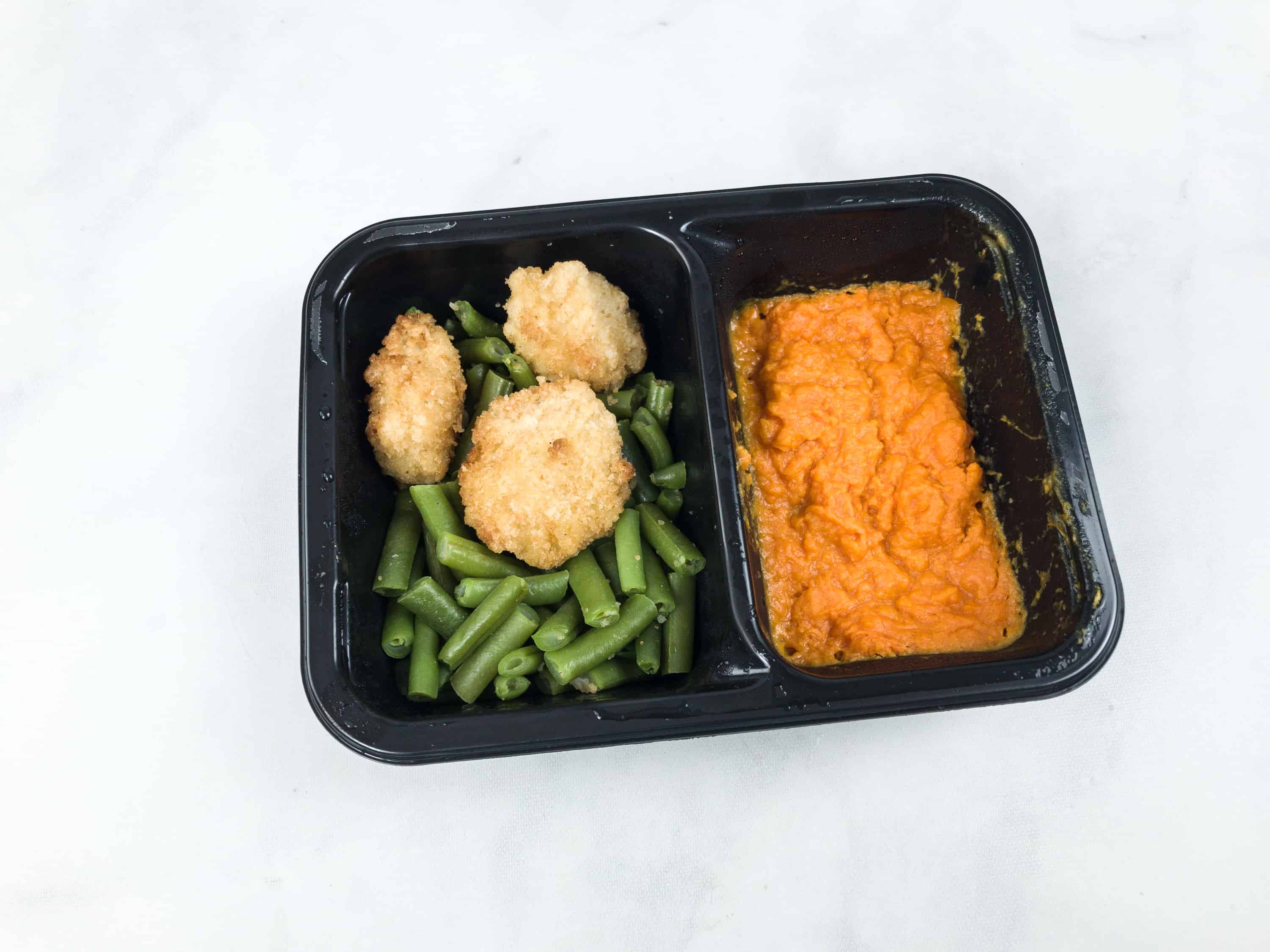 This almost has the same amount of content as the serving for the 4-8 yrs old Kids Meal Plan. Lots of pictures of the same thing, but if you're wondering just how these meals differ, these photos will give you a great idea!
Mac & Cheese With Cauliflower. Mac and cheese is always a great idea. This one is even better because it's made with organic whole wheat pasta, non-fat cows milk, organic cauliflower, low-fat cream cheese, and organic cheese powder.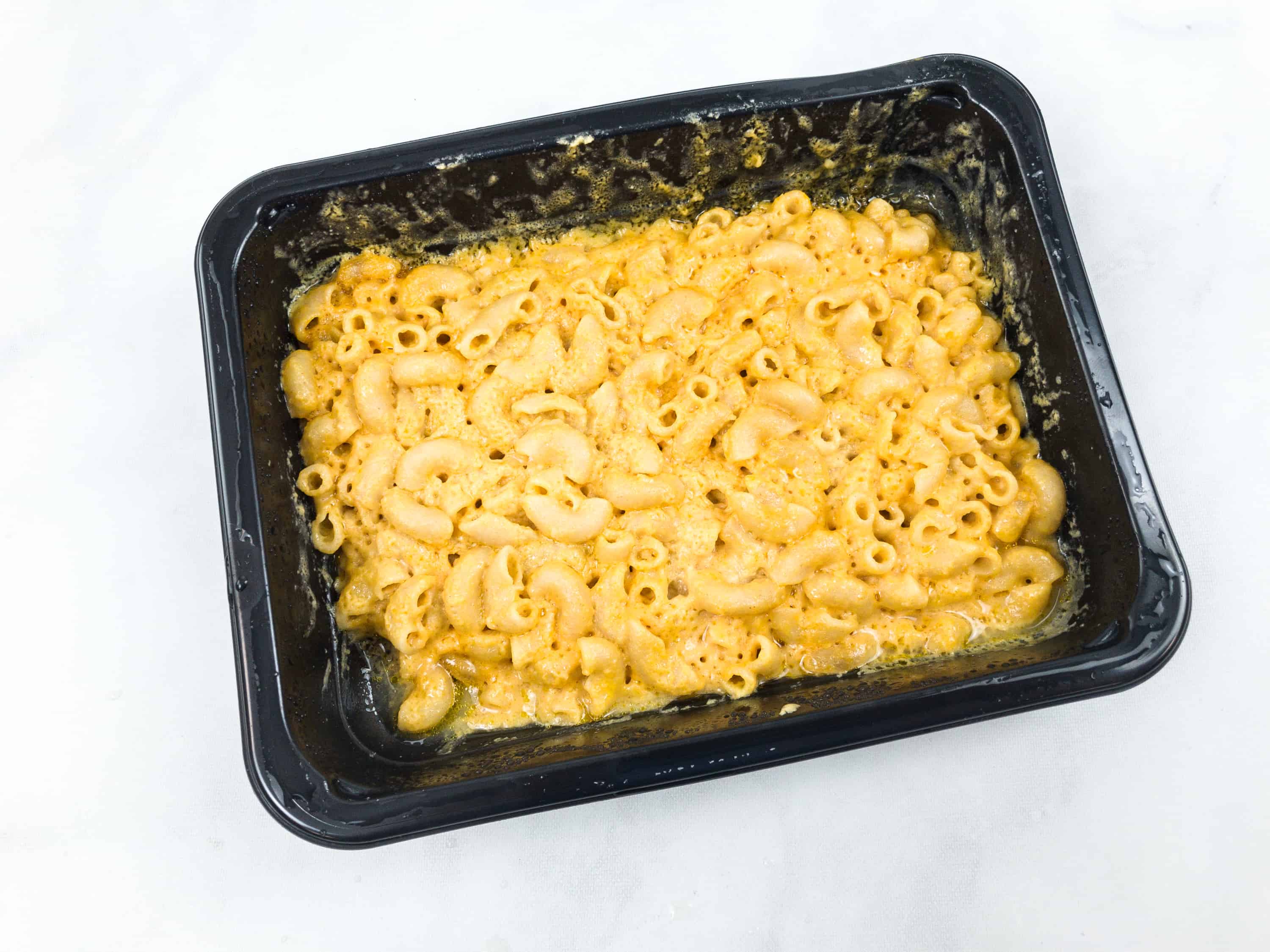 The pasta is soft and the cheese is tasty!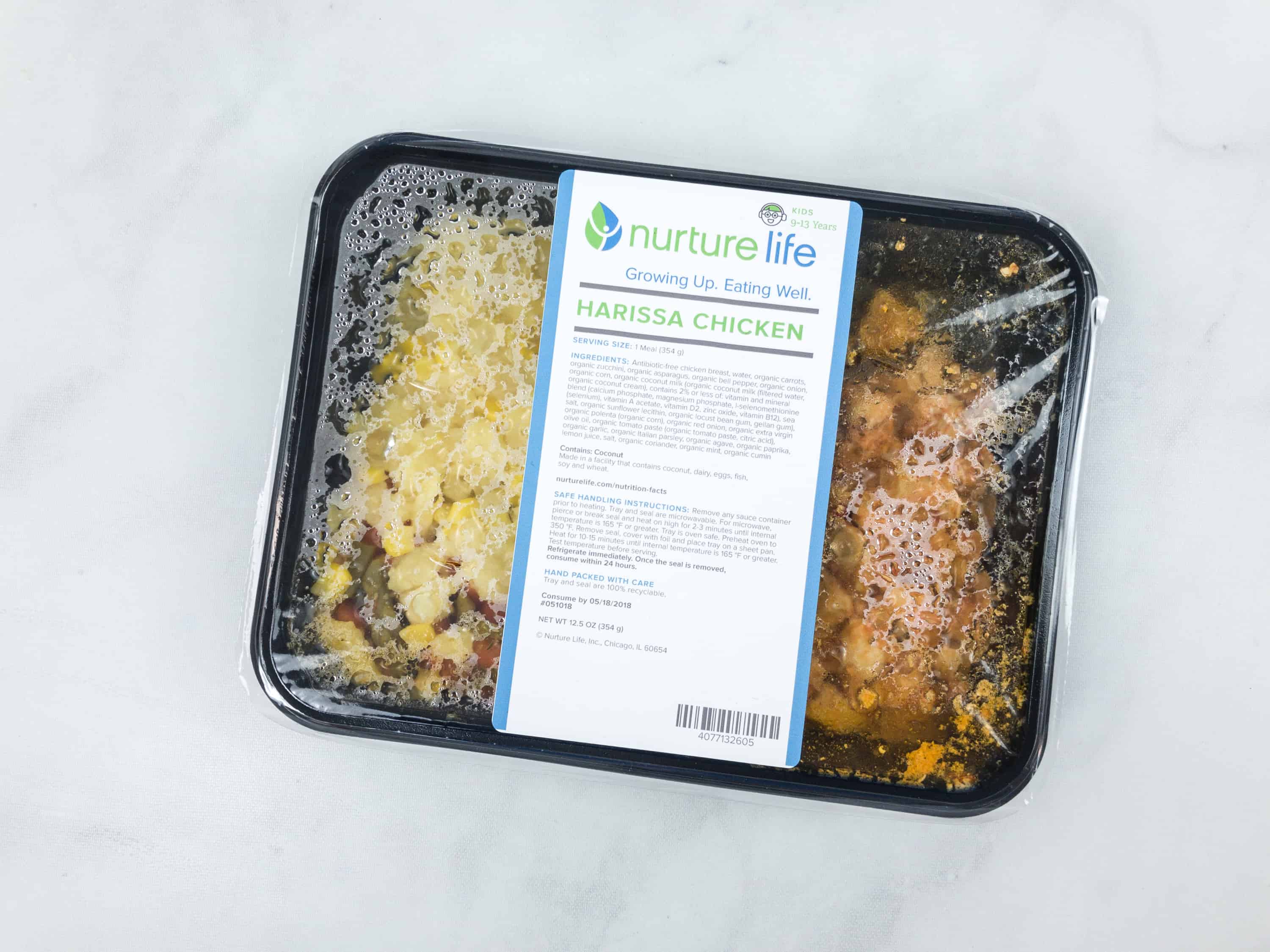 Harissa Chicken. The Harissa Chicken features not-too-spicy spices with a cool side of corn polenta and roasted spring vegetables like carrots, zucchini, asparagus, bell pepper, onion, and coconut milk.
It was more flavorful than spicy, so it's still kid-friendly. The vegetable and corn mix made a great side dish too.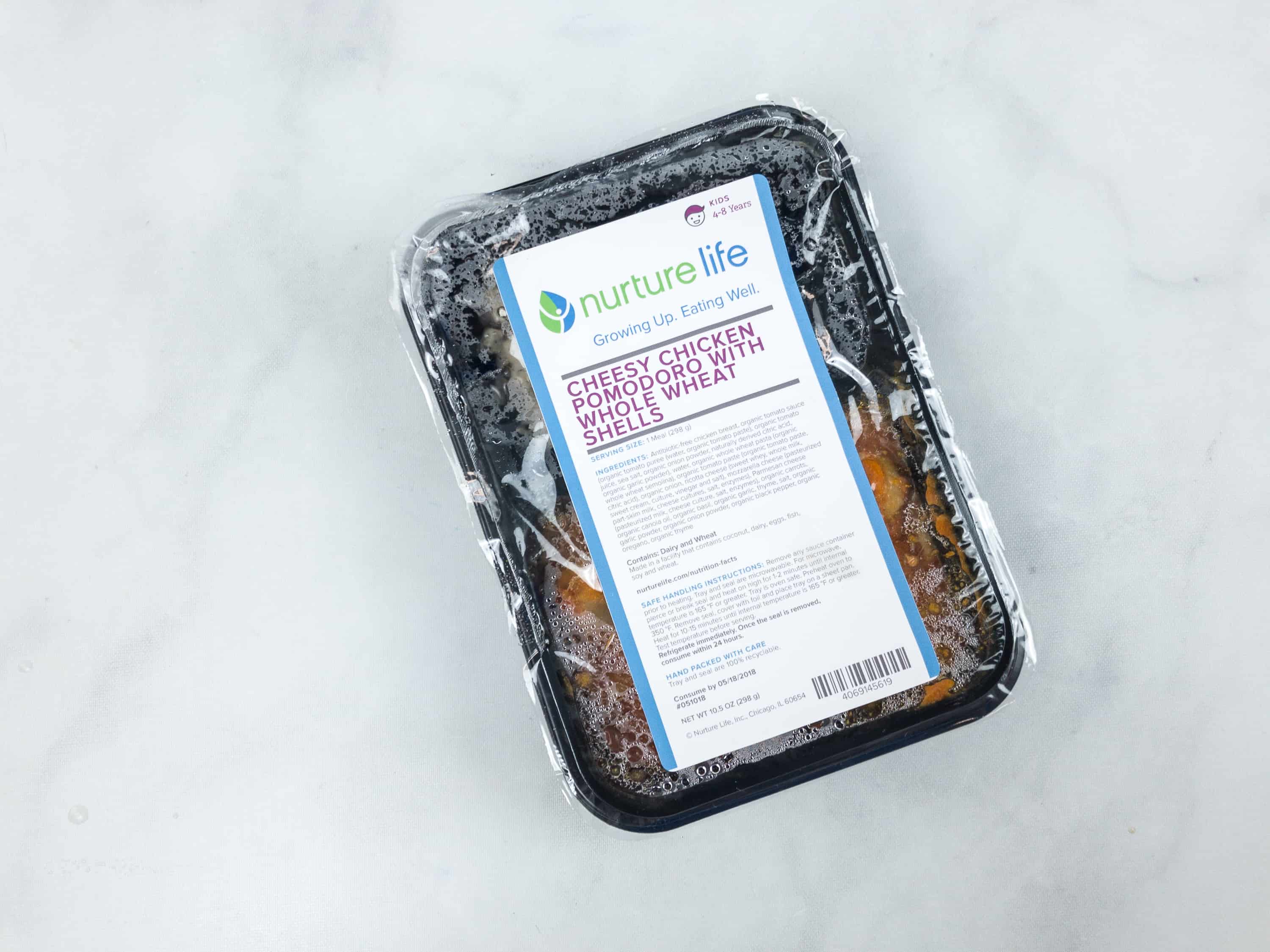 Cheesy Chicken Pomodoro With Whole Wheat Shells. Here's another cheesy chicken meal, and this time it's paired with pasta in delicious tomato sauce,.
The tomato sauce is thick! It even has Parmesan and Mozzarella cheese that provides a richer flavor.
This Cheesy Chicken Pomodoro meal also has a toddler version.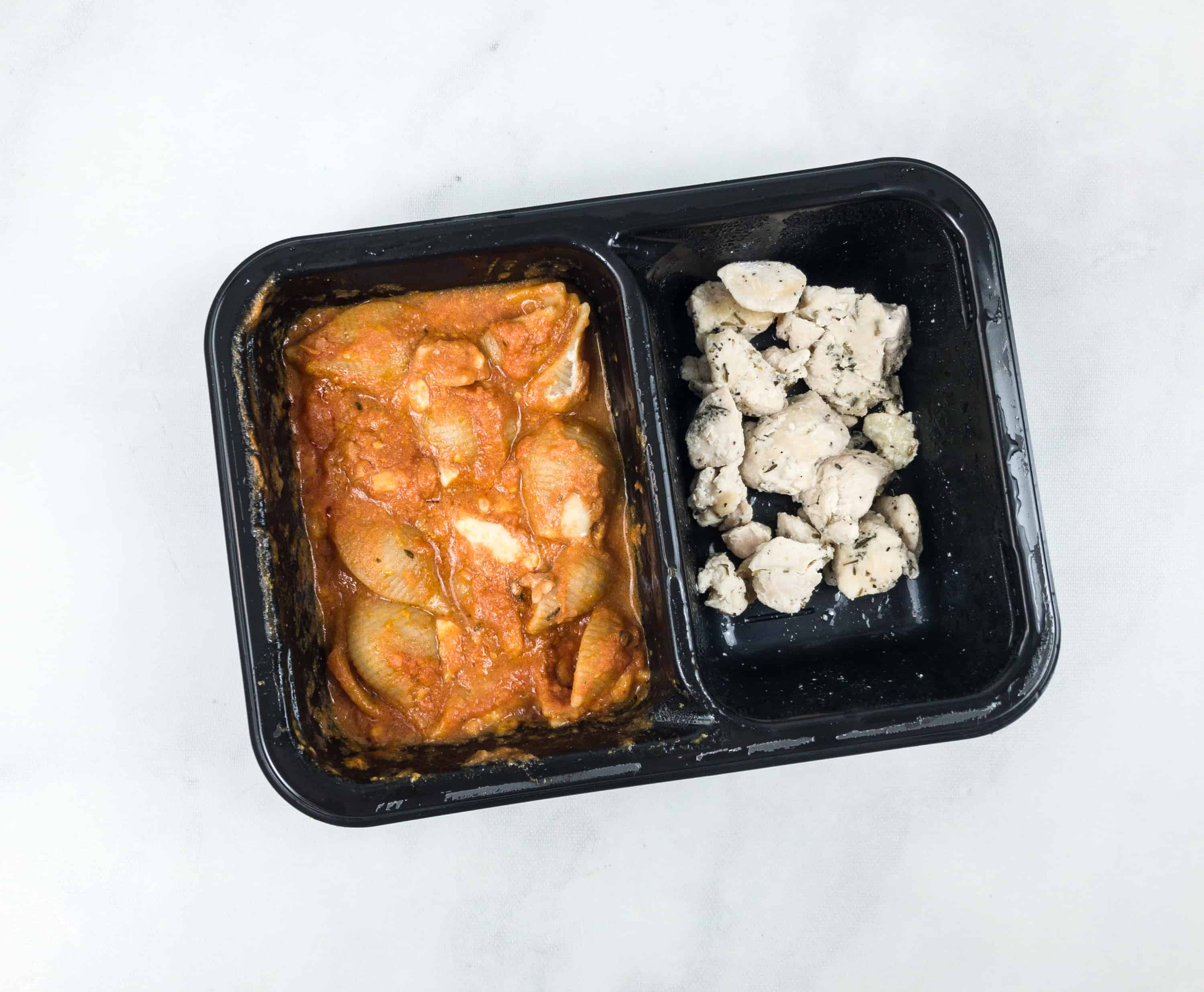 Like the usual, it has lesser content than the kid's version but the taste is the same.
Tuna Casserole. This kid-friendly tuna casserole meal is made from Albacore tuna, also known as long fin tuna that is more flavorful and chunkier than the regular tuna. It's mixed together with cauliflower, vegetable stocks, Italian parsley, tomato, and other organic seasoning.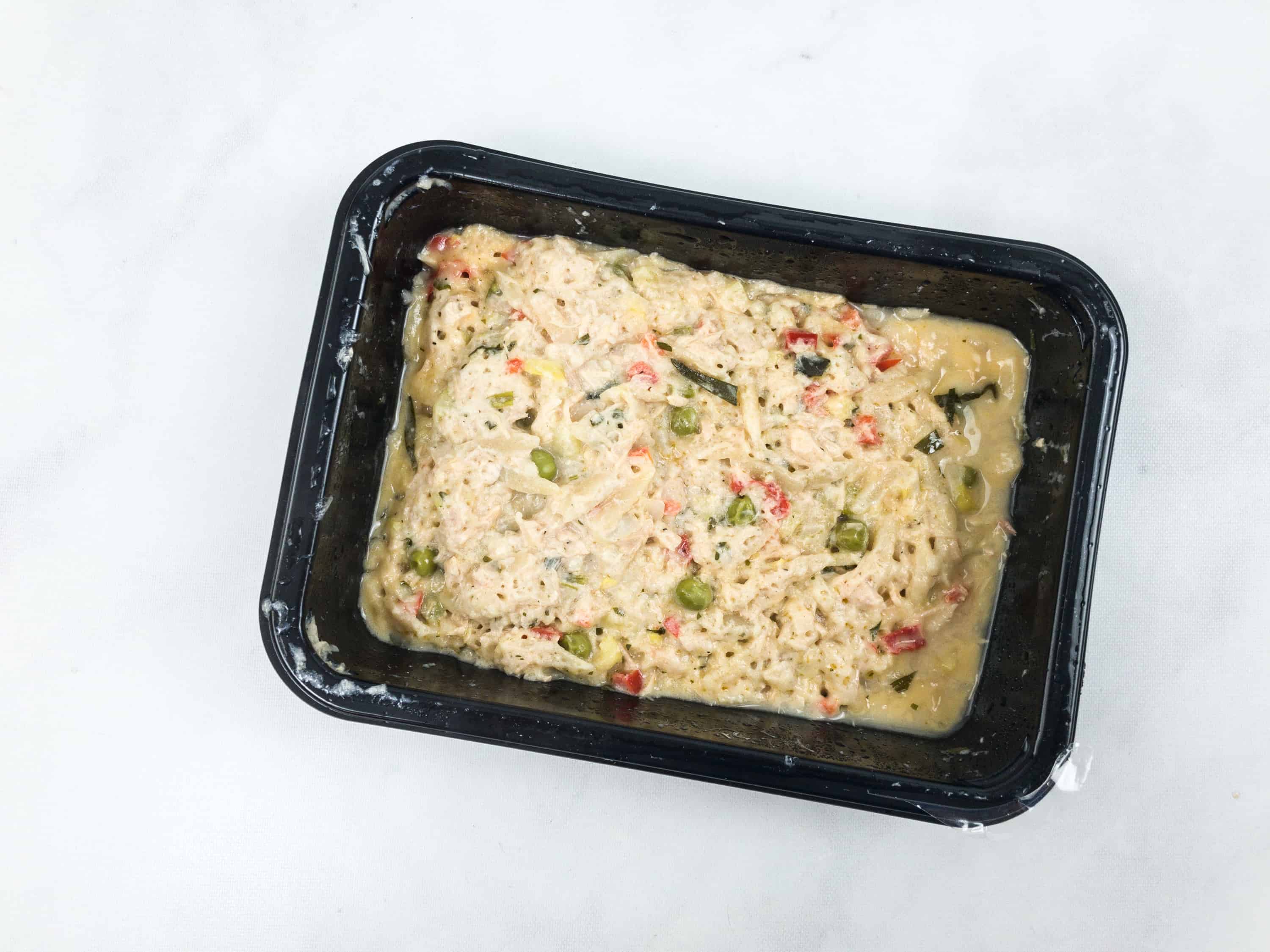 It's creamy and delicious, such an easy way to make kids eat fish!
Our first box from Nurture Life is impressive! The meals are not just delicious, but fresh and nutritious too. I love that this service is quite flexible because they give you the option to choose the meals you want for your kids and even to skip a week. They even made options for picky eaters, which is a common problem for many parents. The meal plans are also depending on the age range, so you're sure to get meals that meet their specific nutritional needs.
Ok, for our thoughts – the meals were tasty, delicious, and super simple to prepare, and we achieved our goal of not cooking for the week (hooray!). They were made of mostly organic ingredients and the cost wasn't too different than going out to eat or getting prepared food at the grocery store, but the usual suspects were absent – no weird preservatives, and everything was well balanced except… we thought there were too many vegetables! Perhaps this is a parental failing on my part, because my kids do eat vegetables – but not quite that many! The meals were definitely appealing to kids, but they were the most appealing for my 9 year old, who is starting to broaden her palate. And the meals are really quite large – even when my kids concentrated on the non-veggie part they couldn't finish their meals. I would for sure order this again, but probably stick to downsized meals – my kids just don't eat that much at once (the 9-13 year old size was also too much for me in a sitting). Adults would enjoy these too – like the other kids meal subscriptions we've tried out the entire family enjoys it, so if you're looking for a fresh food option for yourself or wondering just what you'll do if they won't eat it, these meals will find a home!
Overall the variety was excellent and the meals were extremely high quality in both ingredients and preparation. I loved not fiddling with removing items that couldn't be microwaved, but it's worth pointing out that you do need a microwave or oven to prepare these – they're not camp foods! They're perfect for when mom & dad are eating spicy non-kid friendly food, special lunches when the kids are home, and getting out of a takeout rut! Plus, I found that my kids are willing to be a little more adventurous in their food choices if their parents aren't the ones making the food.
What do you think of the Nurture Life box?