My Zodiac Box is a new personalized monthly subscription box where every items is tailored to your own zodiac. for $39.95 a month, you'll received 4-6 items, including jewelry, crystals, candles, home decor, stationery, beauty and wellness items centered around your astrological sign and birthday. When you first subscribe, you'll fill out a survey to know more about your zodiac and your personal preferences. This review was curated for a Pisces.
DEAL: Save $5 on your first month with coupon code HELLO5.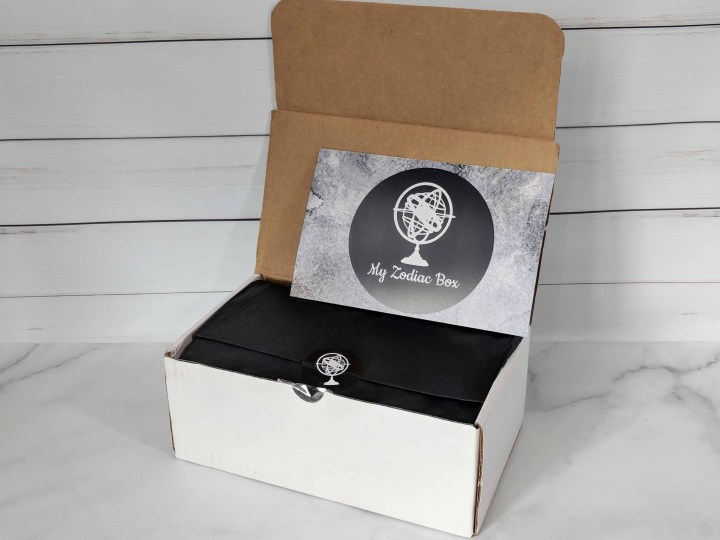 This box had shipping issues. Instead of being shipped before the end of May, for a June box, most of the subscribers received it in mid-June. Mine wasn't shipped before the second half of the month.
Everything in the box!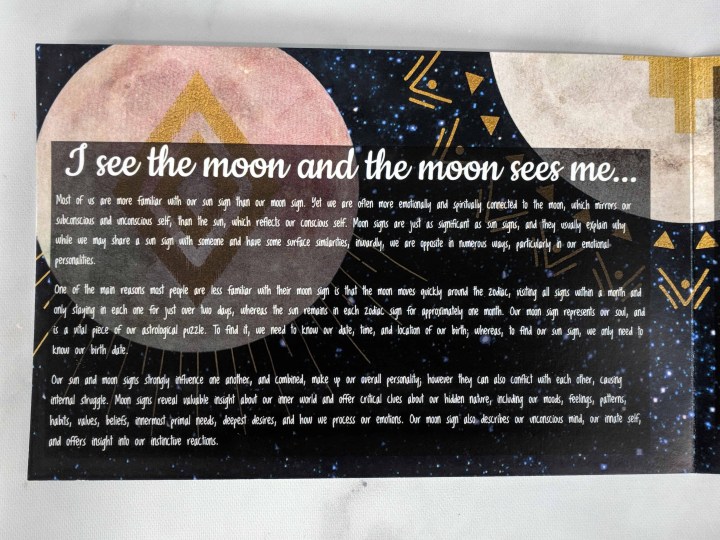 The information card is good for every box as everyone will receive the same items but designed for their sign. This month is all about the moon.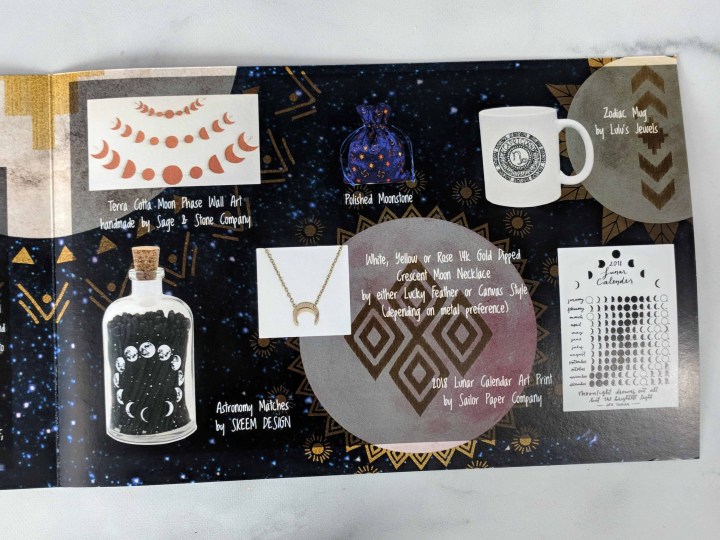 Even though the survey is very thorough with questions about your favorite metal (silver, gold, rose gold), if your ears are pierced, ring size, if you have a bathtub, your shirt size, and so on, this box wasn't really tailored for either our sign or our preferences.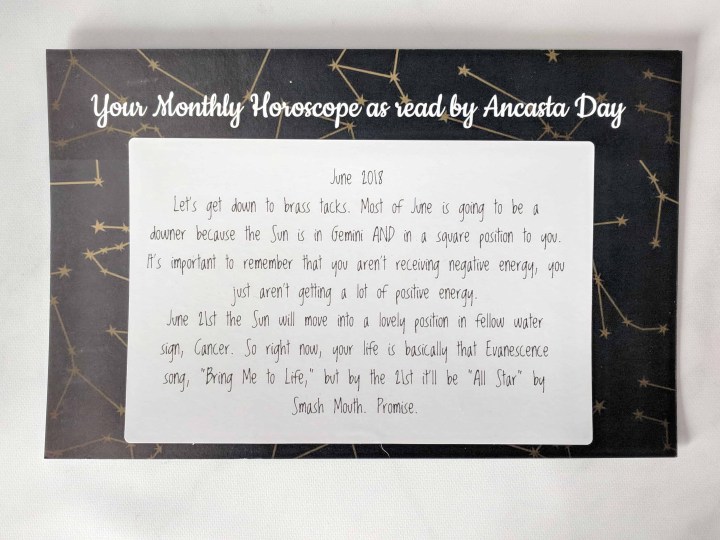 At the back of the card, the monthly horoscope is glued on. Sadly, because of all the shipping issues, I got my horoscope toward the end of the month.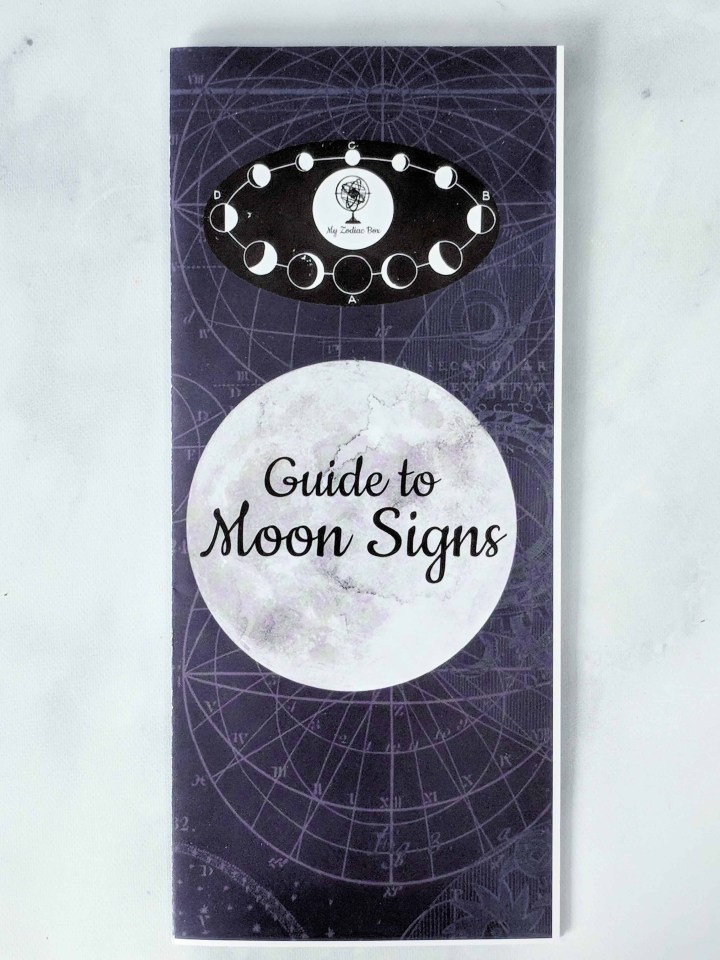 Guide To Moon Signs. This was not in the list of items.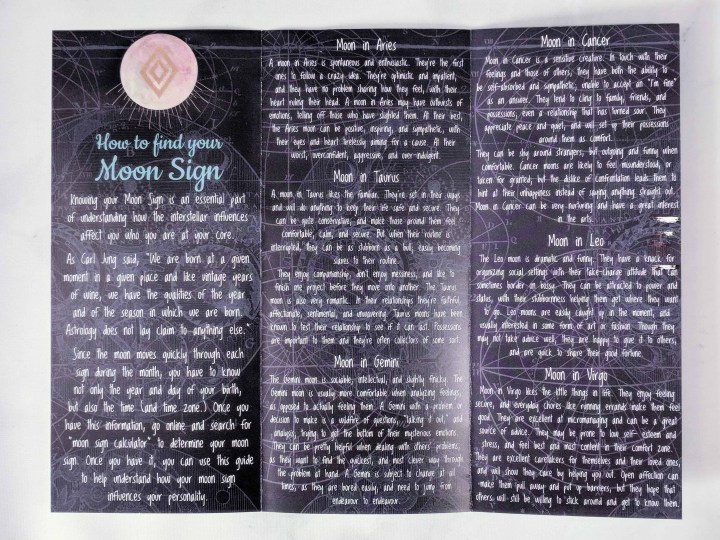 It's a nice introduction to what each moon signs are about, but you need to find out yours by doing some google-fu. This is the one I used to find out my Moon Sign. I'm an Aries!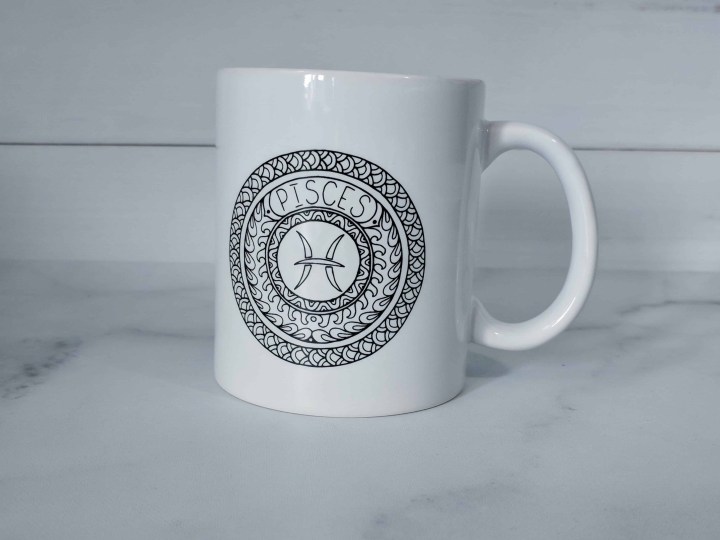 Zodiac Mug by Lulu's Jewels. A simple white porcelain mug with the zodiac symbol in black. It's cute, but nothing spectacular. I can't get enough mugs, so this one will be a nice addition to my mornings. This was the only item in this box that was tailored to our sign.
Terra Cotta Moon Phase Wall Art handmade by Sage & Stone Company. This was the spoiler for this month's box. It's supposed to be in terracotta, but I'm disappointed by the feel of the pieces. It felt almost vinyl-like and it's really lightweight. I'm used to terracotta being heavier so that was a surprise.
I like the idea, but I'm annoyed by the bubbles that are very flexible, like soft plastic.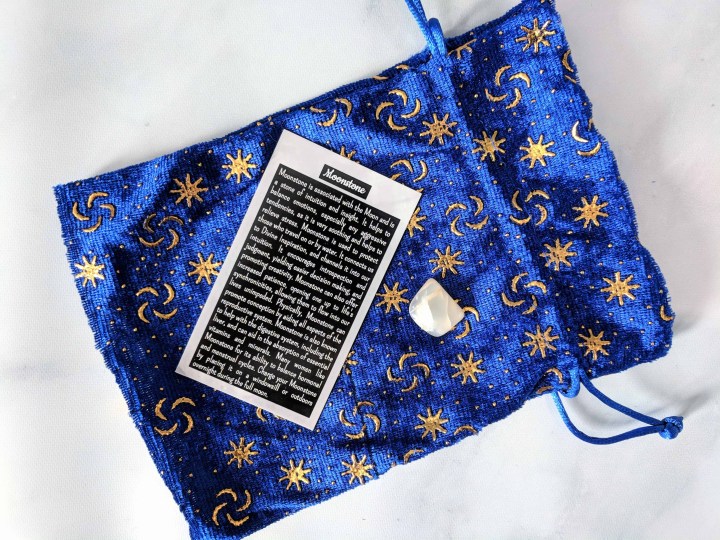 Polished Moonstone. It's so tiny!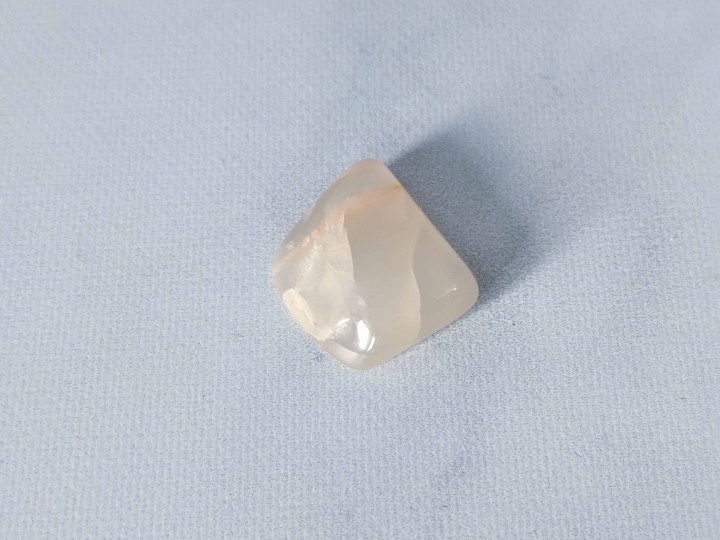 It has a lovely peachy color.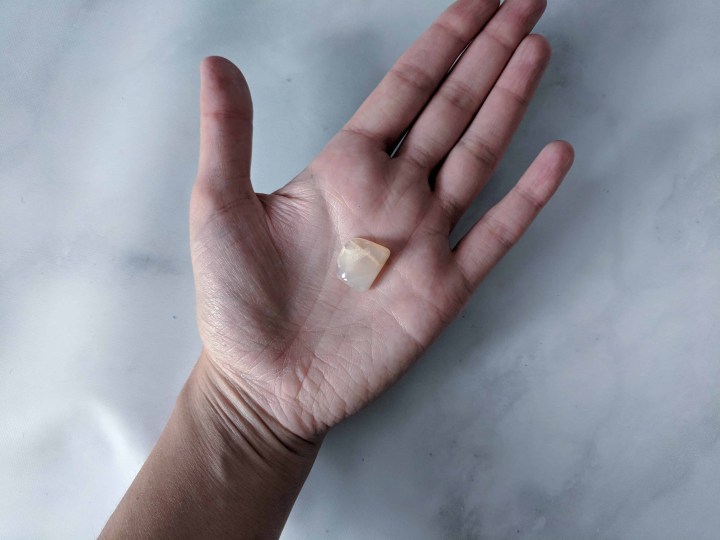 But very tiny for a featured stone.
Astronomy Matches by Skeem Design. A fun little bottle to easily carry your matches with you!
It has a striker strip on the bottle and it's closed by a cork stopper. Although very nice and the bottle would fit any decor, it's addition to the box without having a candle or incense sticks is a bit puzzling. But I really really like it! It's cute and fun!
Crescent Moon Necklace by Canvas Style (design will vary depending on your metal choice). I like the design, but I feel like it'll get yellow in no time in contact with my skin.
On the card, it says that our pendant is 14k gold dipped, but it feels a bit cheap when you look closely at the holes as it almost looks like plastic under the silver coating. I'm not sure though, we'll see with wear because I really like the design and will wear it often.
2018 Lunar Calendar Art Print by Sailor Paper Company. A cute 4.5″ x 6.5″ print with all the moon phases for 2018. Sadly, half the year is already gone, so I would have loved getting this in December or January for the incoming year. But it's already framed and is hanging by my bedroom door!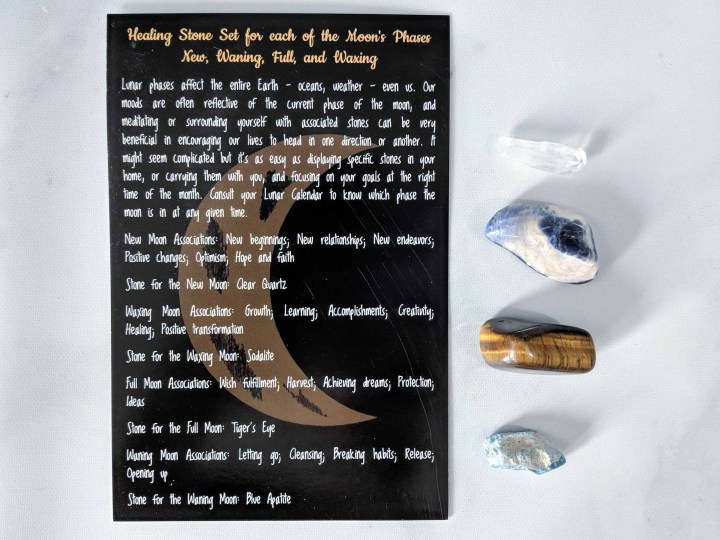 Healing Stone Set for each of the Moon Phase. I like getting stones in my boxes and these stones are pretty standard. They are easy to carry in a pocket to get the benefit from the stones and also from their associated Moon energy.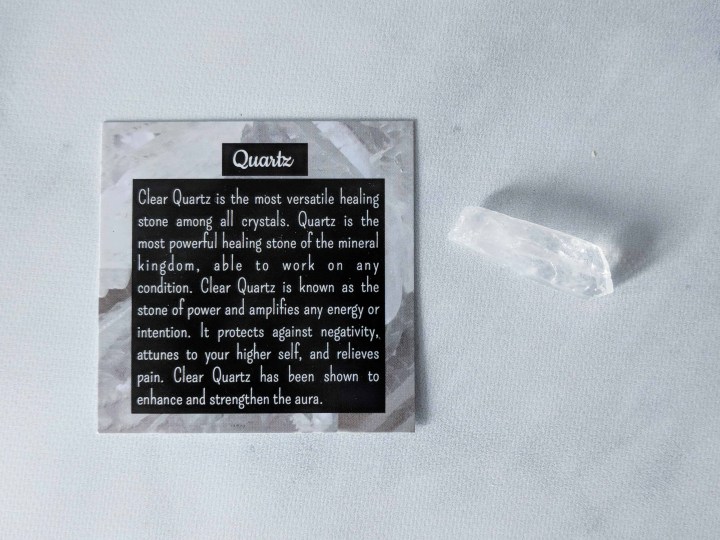 You get a Clear Quartz for New Moon.
Sodalite for the Waxing Moon.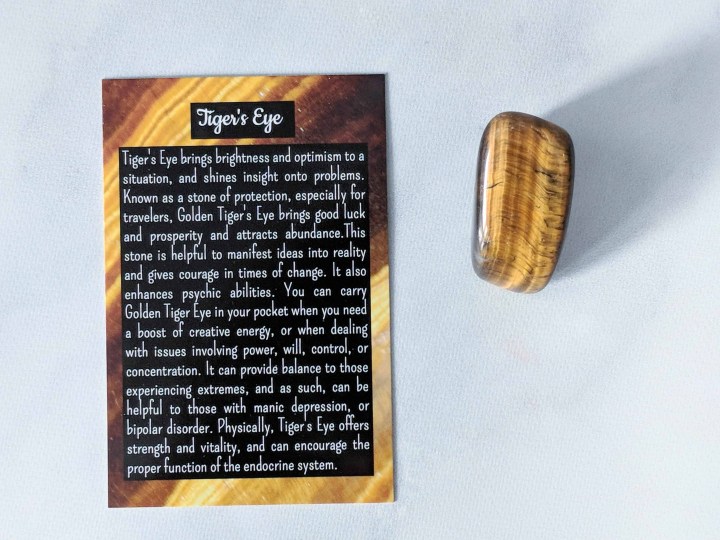 Tiger's Eye for the Full Moon.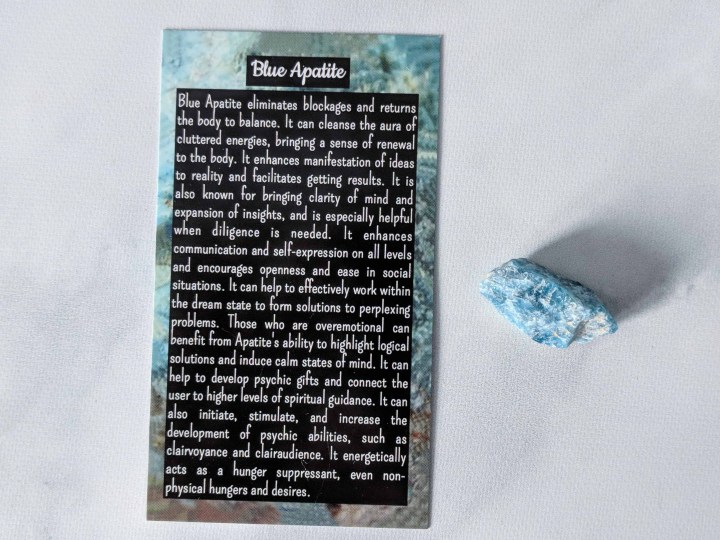 And Blue Apatite for the Waning Moon.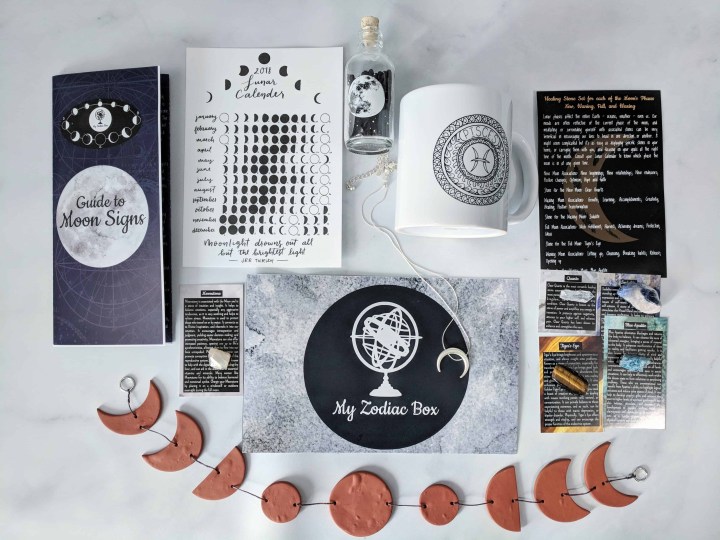 I'm a bit on the fence with this second box from Zodiac Box. Besides all the problems with the shipping, items in the box were nice, some of them I really liked, others could have been better. I really liked the matches and the necklace, and I would have loved the terra cotta wall hanger if I didn't feel like there was a problem with the coating. I really liked this box, but I wasn't wowed by it. Everything was simple looking, made sense within the theme of the box, looked nice as a whole, but I was missing the connection between the idea of a personalized zodiac box and a moon box. I'm still looking to see what the next boxes will bring us, as this is a box I feel has a lot of potential!
Are you getting this subscription? Share your zodiac sign on the comments below!