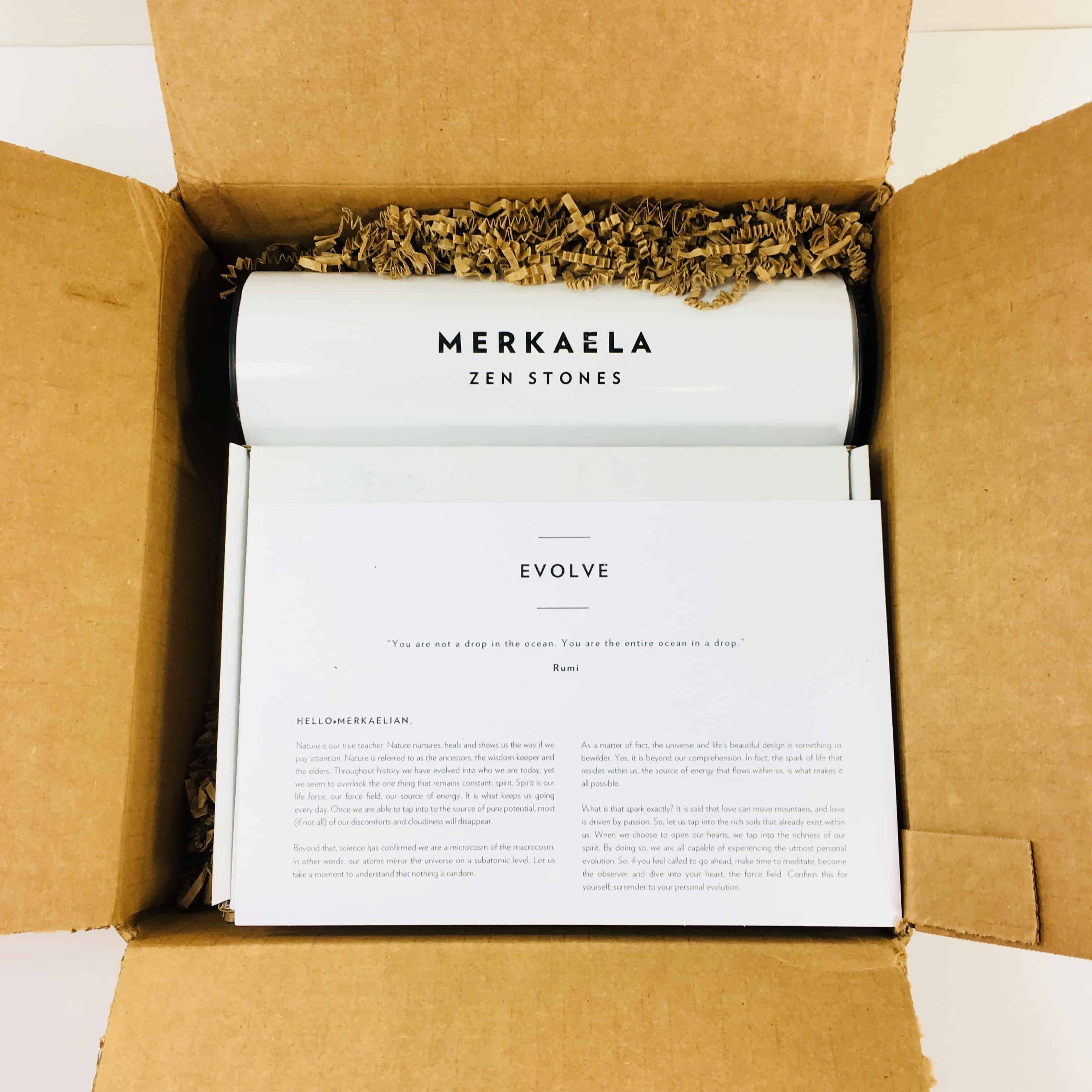 Merkaela is a quarterly box that sends natural bath, beauty, and meditation products curated to a theme as well as the season. Merkaela's items are made in-house although they may occasionally send an item from high-quality collaborators. All of the items are cruelty free and there is a vegan option that you can choose at sign up. The ingredients are clean and in some cases organic. You can feel good about putting these items on your skin!
Merkaela empowers people by giving them tools to help their self-care needs. Our Subscription Box includes products handcrafted by us and formulated to balance the mind, body and spirit.

Each quarterly curated collection is built on a theme and includes wellness products, thought-provoking content and music — everything you need to be on your way to a holistic approach to a clear mind, body and spirit.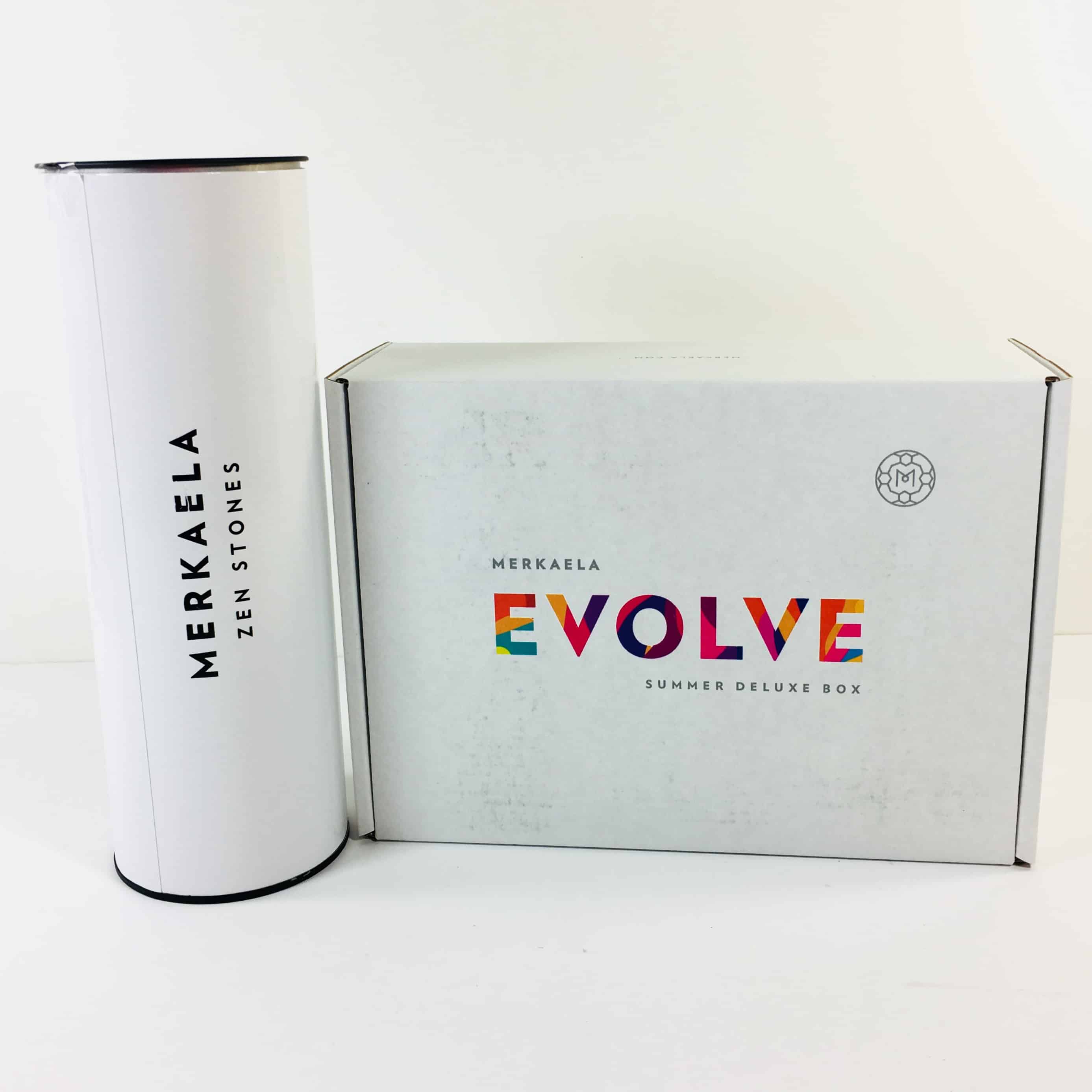 My items were sent in a larger box since one of the items was too big to place in the regular box! Merkaela has two different subscription levels. One is the "Light" box ($33), which mainly has the meditation products, while the "Deluxe" box ($61) includes both the meditation products and body products. I am reviewing the "Deluxe" box. Keep in mind that shipping is extra.
DEAL: Use code ALIVE20 to save 20% on a prepaid annual subscription or code ALIVE15 to save 15% on a quarterly box.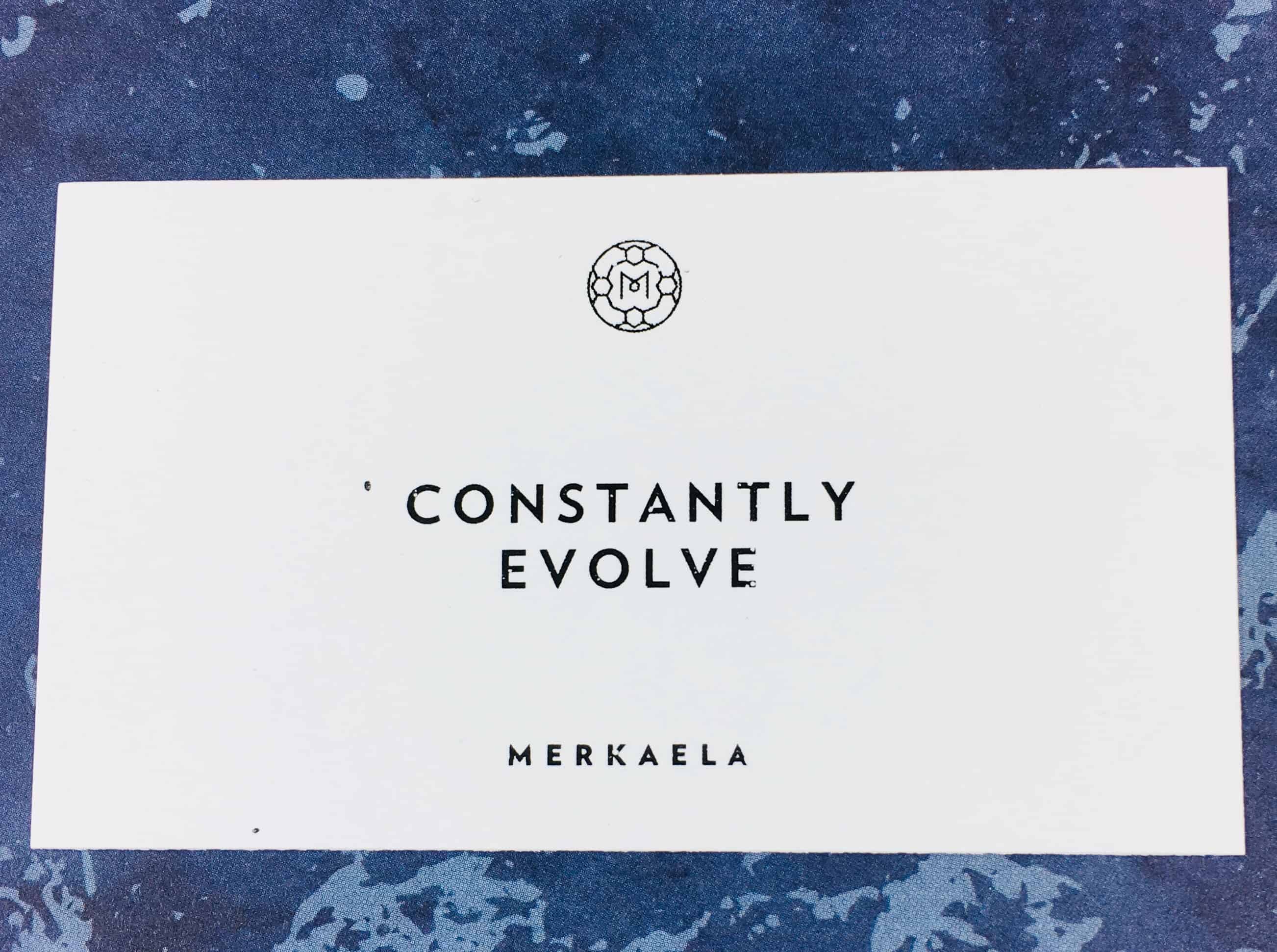 There was an affirmation card that helps you set your mind to a spiritual thought and make it come true.
You can place this card somewhere that will catch your attention so you can focus on the affirmation often.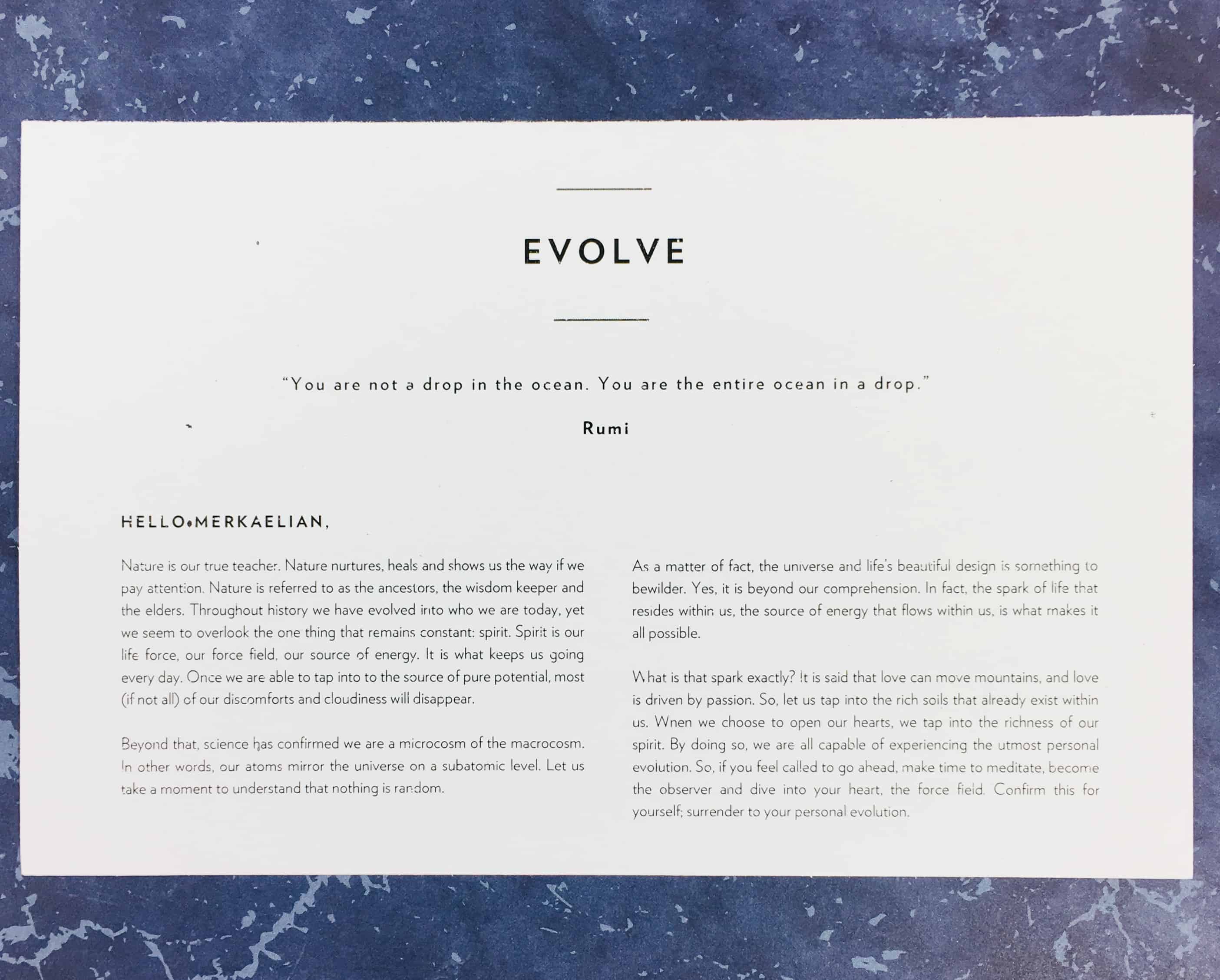 Next was the front of the product info card with the intention of this particular box. This quarter's box theme is Evolve.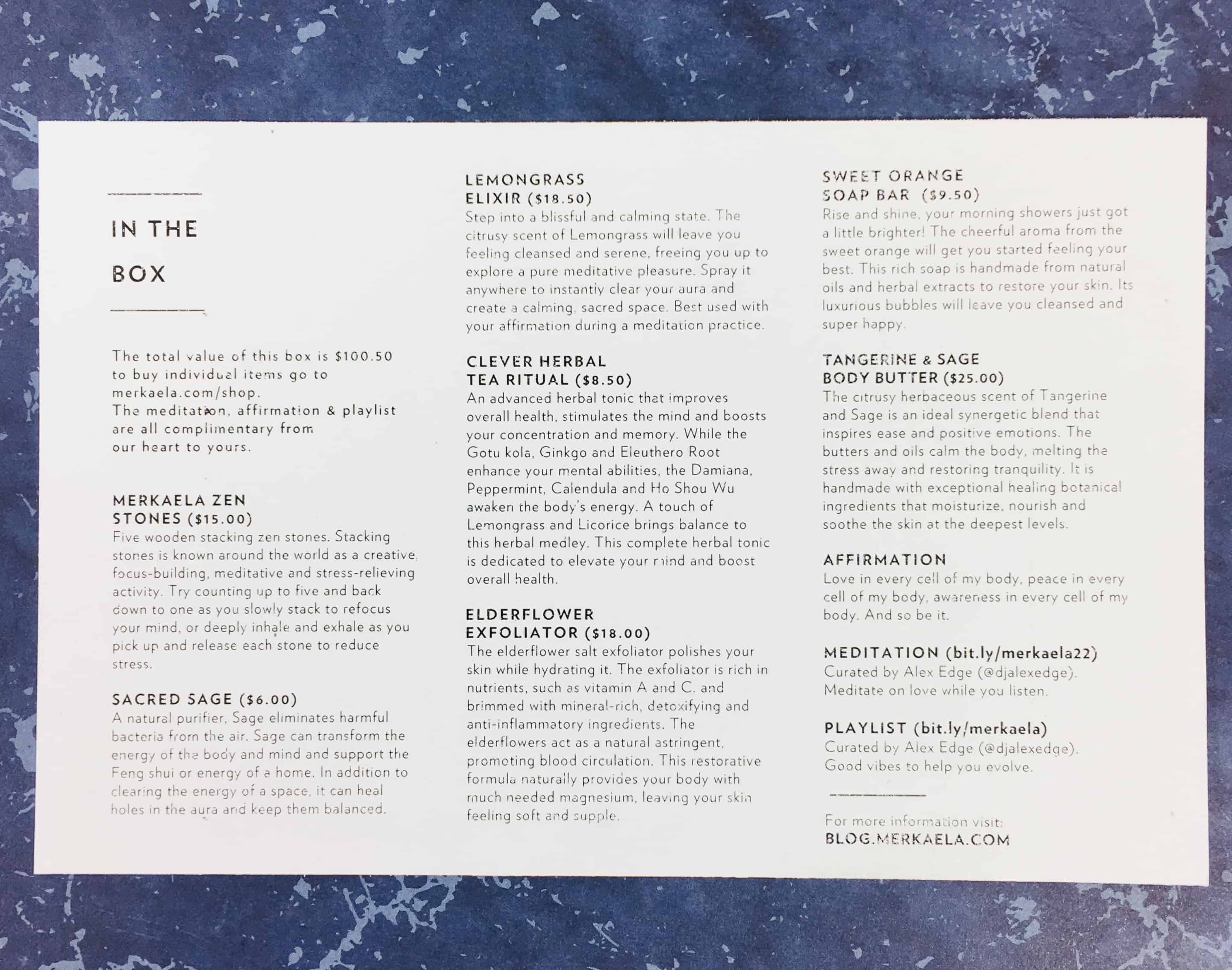 The info card is very descriptive, with each product's intended use listed. They even provided a Spotify playlist, which I listened to while writing this post. One playlist is more subdued than the other one, so choose based on what you need at the moment.
There was a cool container with Zen stones inside. I had never heard of this, but lucky for me I am evolving and learn something new every day!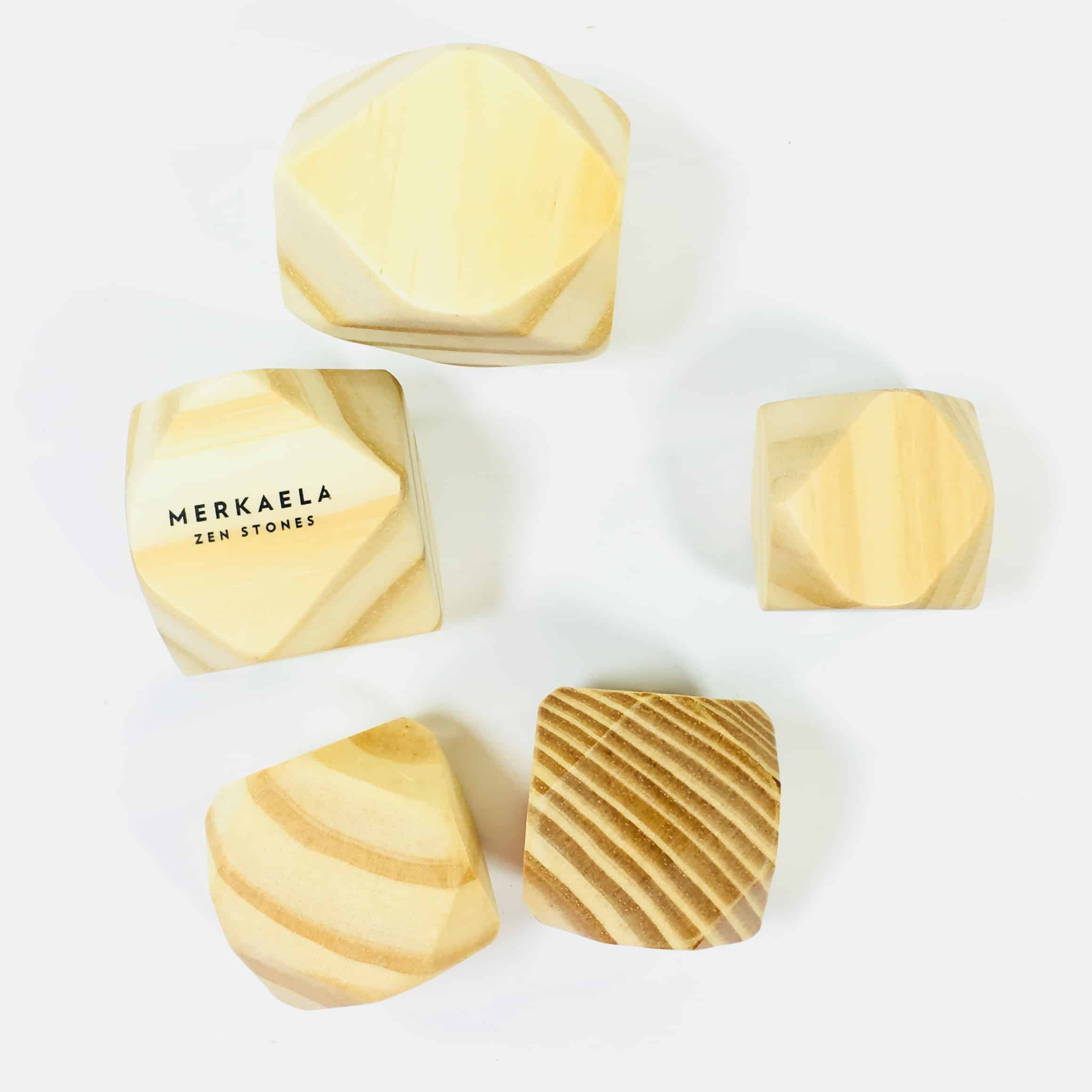 Inside I found 5 "stones" made of wood. The idea is to stack them while focusing on the stones and blocking out other thoughts, to ground yourself in the here and now. You can find similar stones on Etsy.
The rest of the items were in a separate box.
The items were wrapped in tissue paper and had a sticker closure.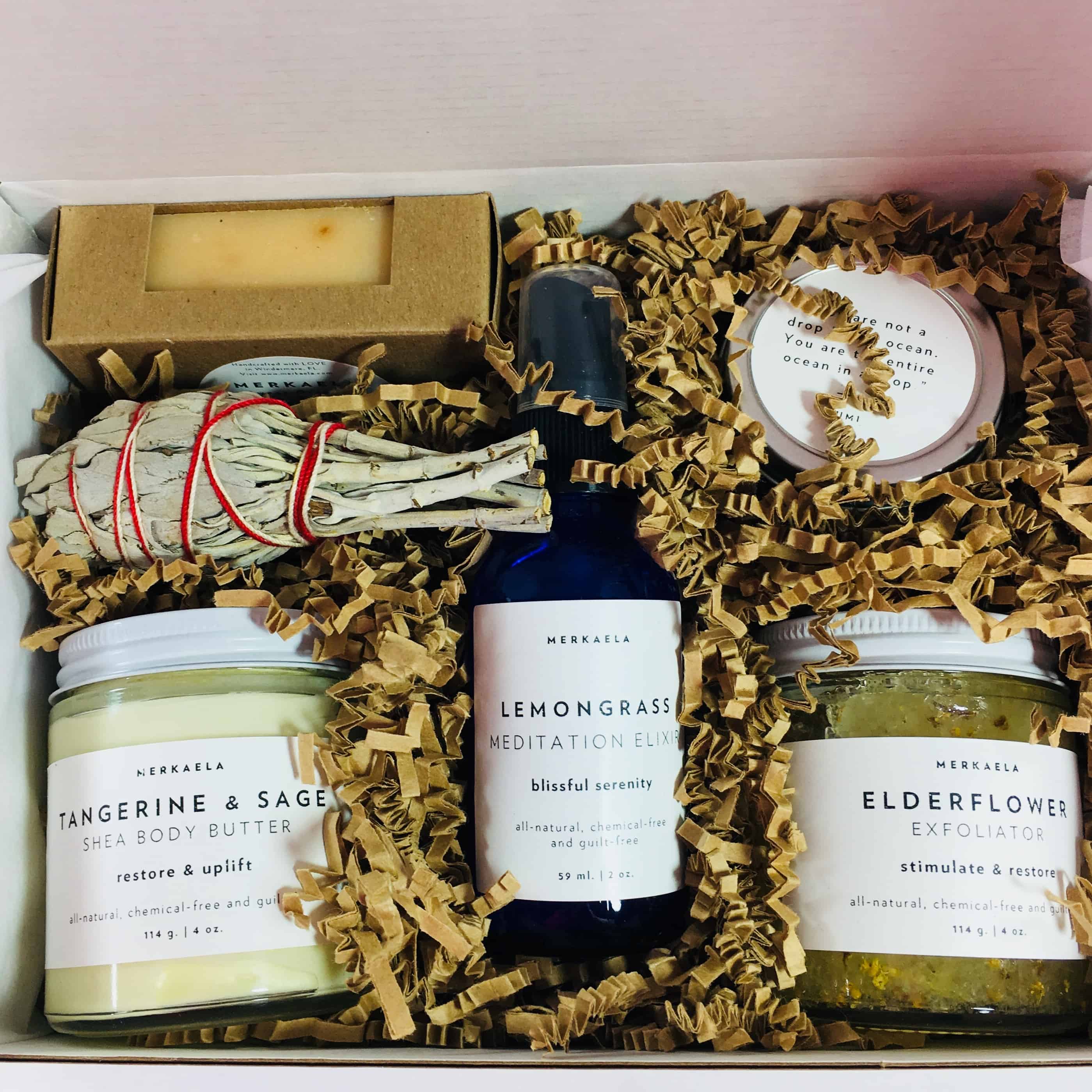 Doesn't it look beautiful! I think the packaging of Merkaela's products is lovely and classy. They even have mini-affirmations on them.
Everything in my box!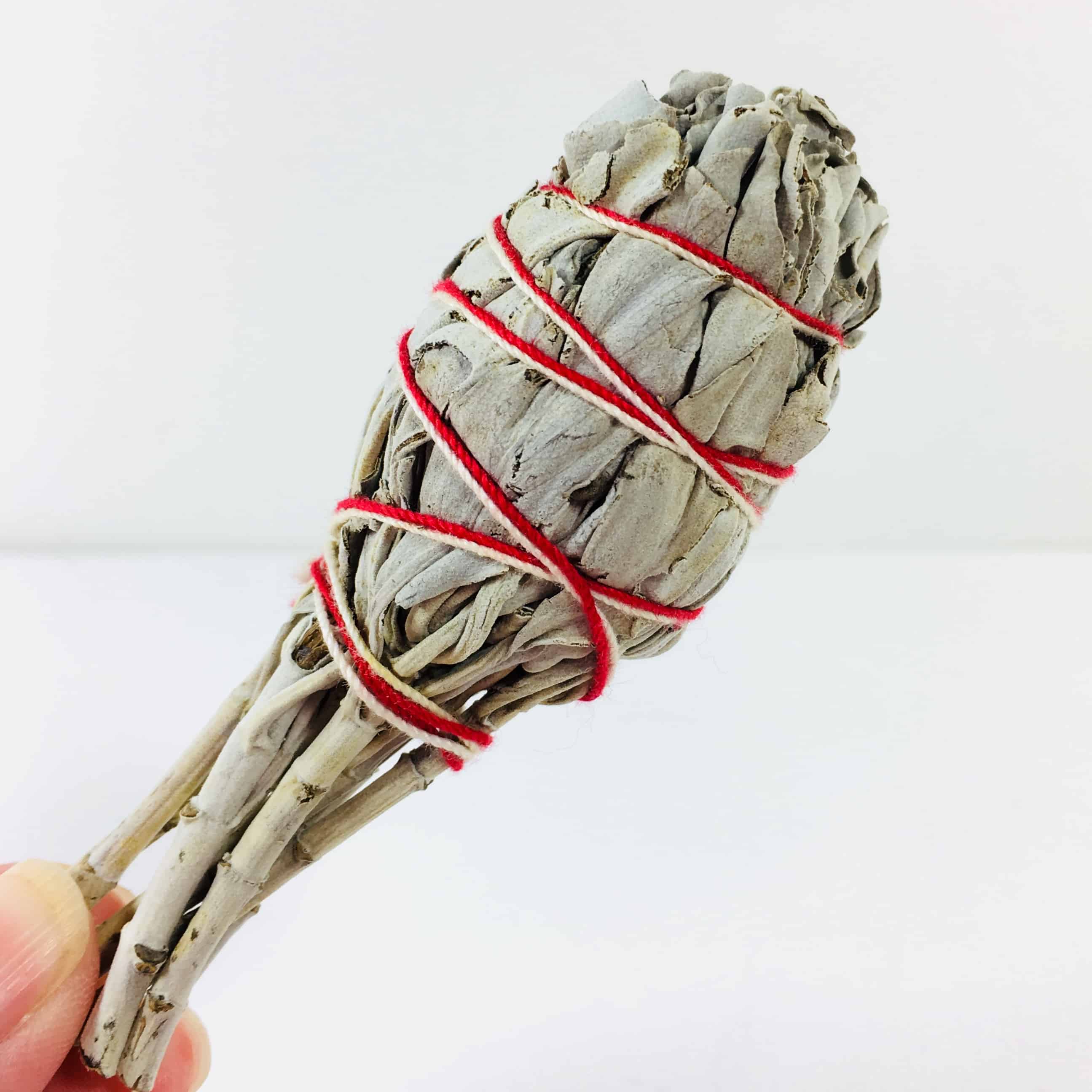 Sacred Sage ($6.50) Start out by clearing your house of negative energy by using a sage smudge stick. You light the bundle and let it burn for about 30 seconds and then blow it out so it will be smokey. Walk around your house and wave the stick around (maybe place a ceramic or glass saucer or bowl underneath it first) to help get rid of bad vibes. It also smells nice, very smoky and cozy.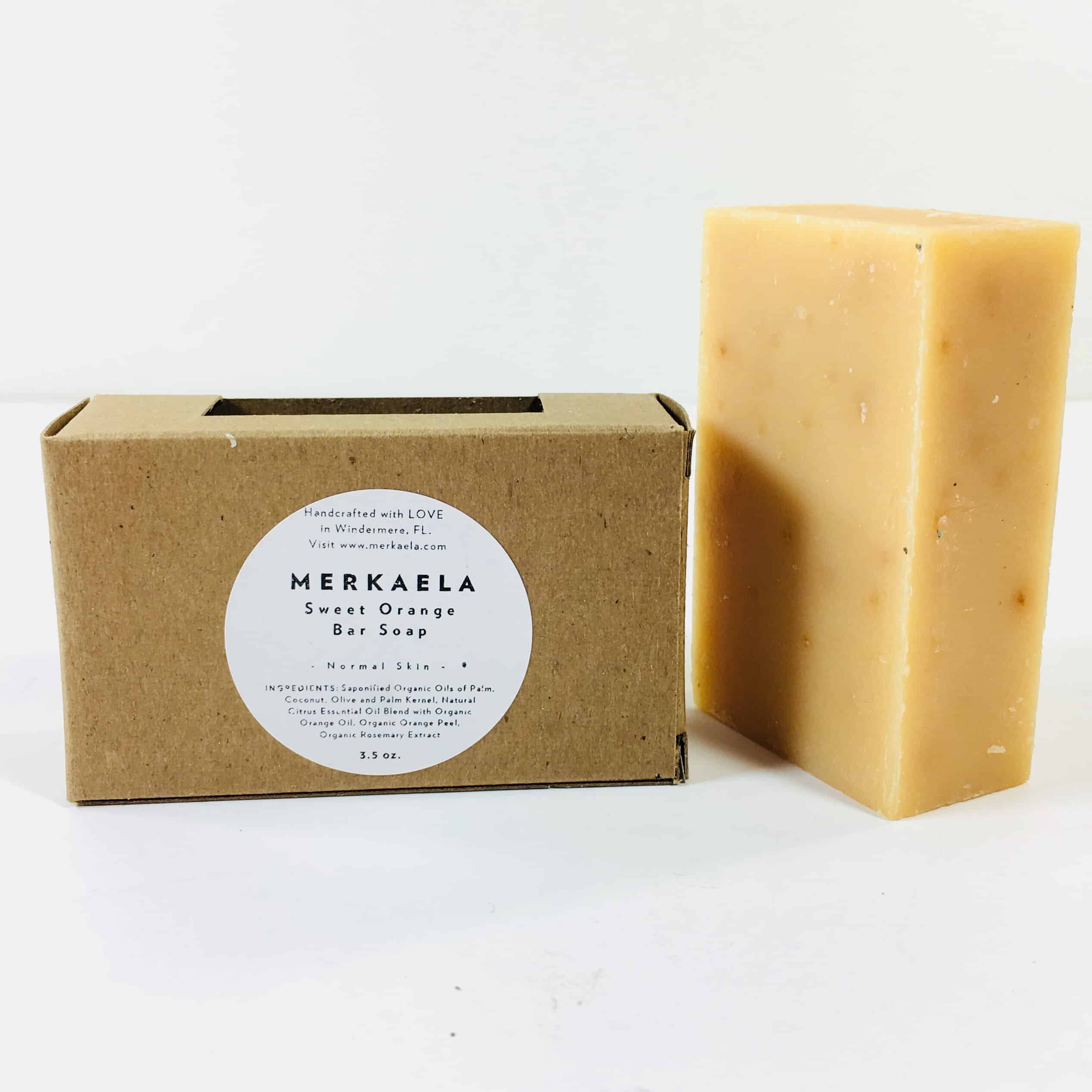 Merkaela Sweet Orange Bar Soap ($8.50) I couldn't find this scent on the Merkaela website so I linked to one of my favorites, their Peppermint Soap Bar. Merkaela makes one of the best natural soaps out there and it's just saponified oils and essential oils. Not only are they good in the shower, but I also like using them at the kitchen sink because the scent is subtle. No one wants to use a highly scented soap while preparing food, so this fits my needs better than anything else.
Merkaela Lemongrass Meditation Elixir ($18.50) Again, I linked to a similar product on the Merkaela website, although they will probably sell this season's items in the future. The spray, just like all the beauty products from Merkaela, has a subdued scent, nothing they sell smells fake or super strong. This spray has lemongrass essential oil in a base of purified water, plus Himalayan salt and alcohol. You can spray it on your body or into the air around your space. I spray it on bed linens before bed but you can also use it to clean your yoga mat or even your hands.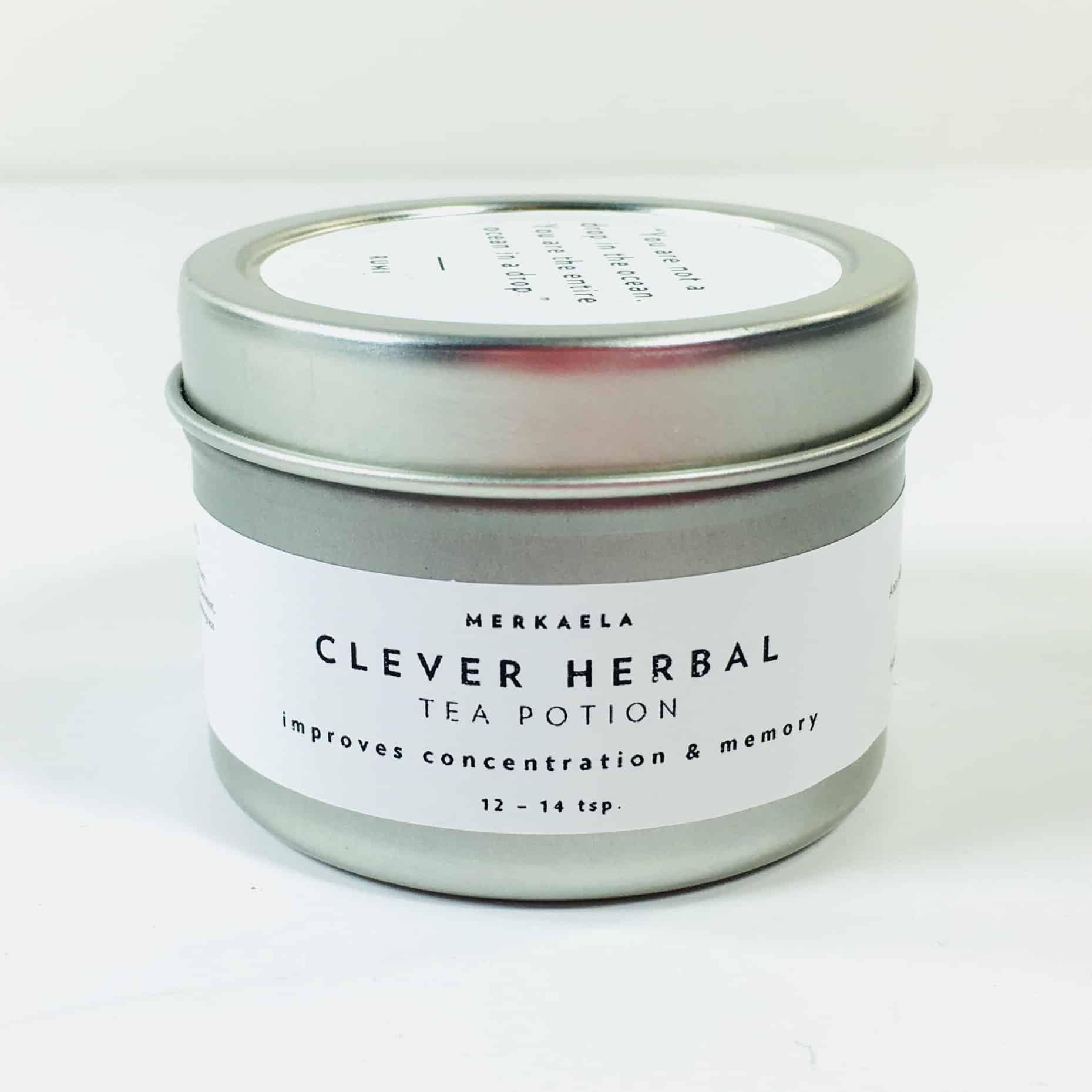 Merkaela Clever Herbal Tea Potion ($7.50, linked to similar product) I love tea and the varieties sent with this box vary – some have caffeine, some are herbal. This herbal blend is supposed to help improve memory, concentration, focus, and even libido!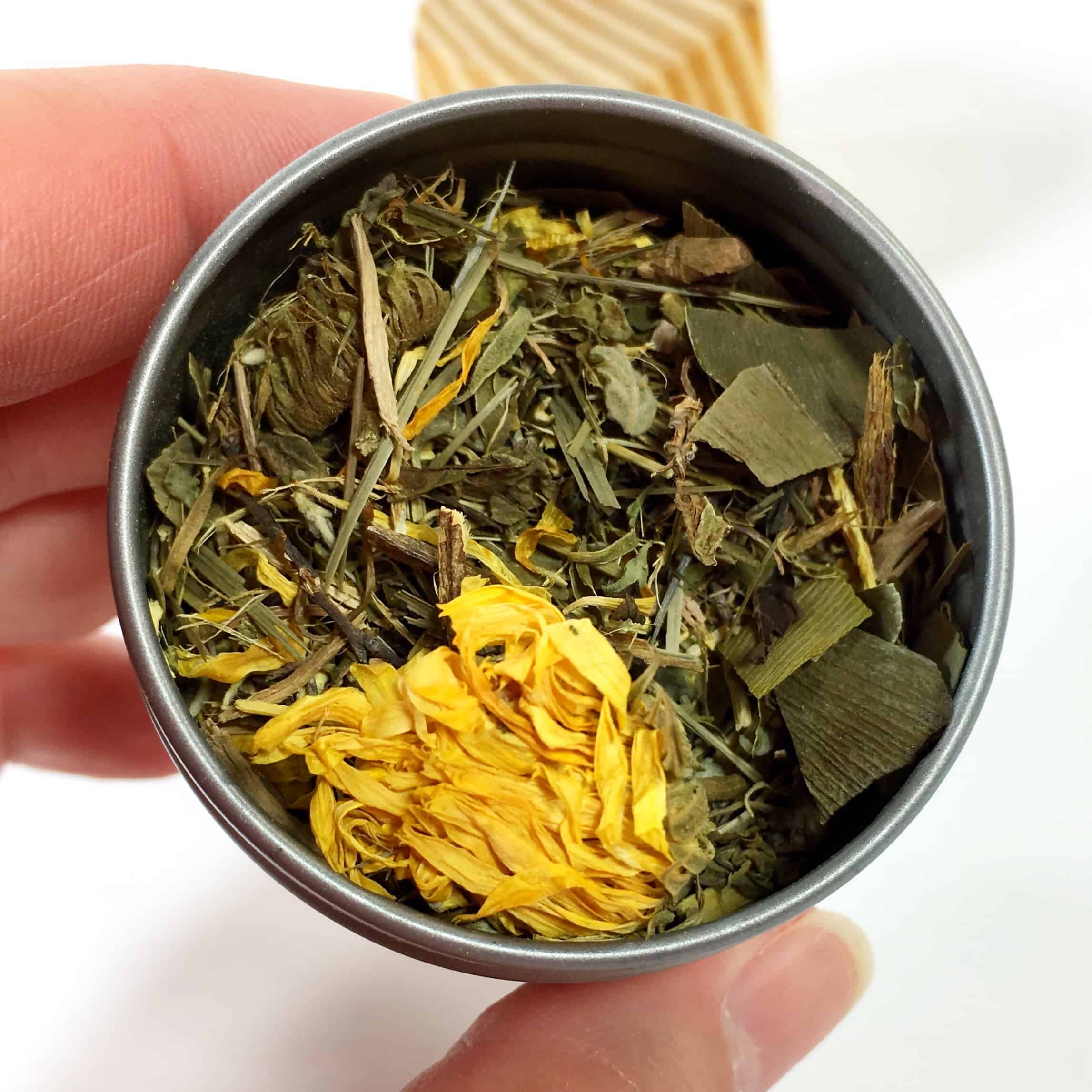 Steeping instructions are on the container. The ingredients were also listed – gotu kola, eleuthero (Siberian ginseng), gingko, he shou wu, peppermint, damiana, calendula, lemongrass, and licorice. I liked it, it was kind of minty and wasn't bitter.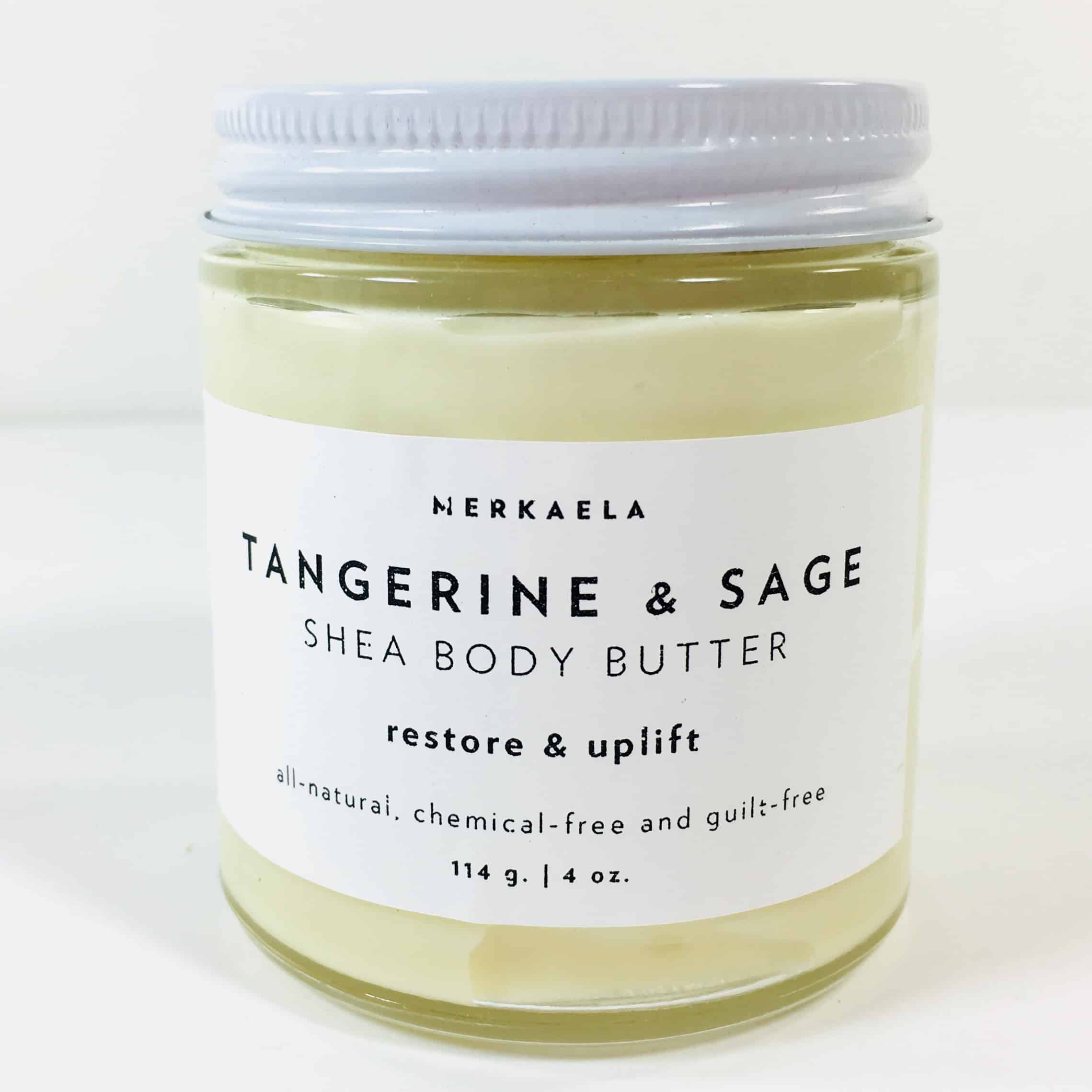 Merkaela Tangerine & Sage Shea Body Butter ($21) I received this product in a previous box and am so happy to receive a new batch! Merkaela makes the best body butter and it is so smooth and leaves my skin super soft and with a touch of scent.
Shea butter, hemp oil, olive oil, and plant extracts are the all-natural ingredients in this luxurious moisturizer.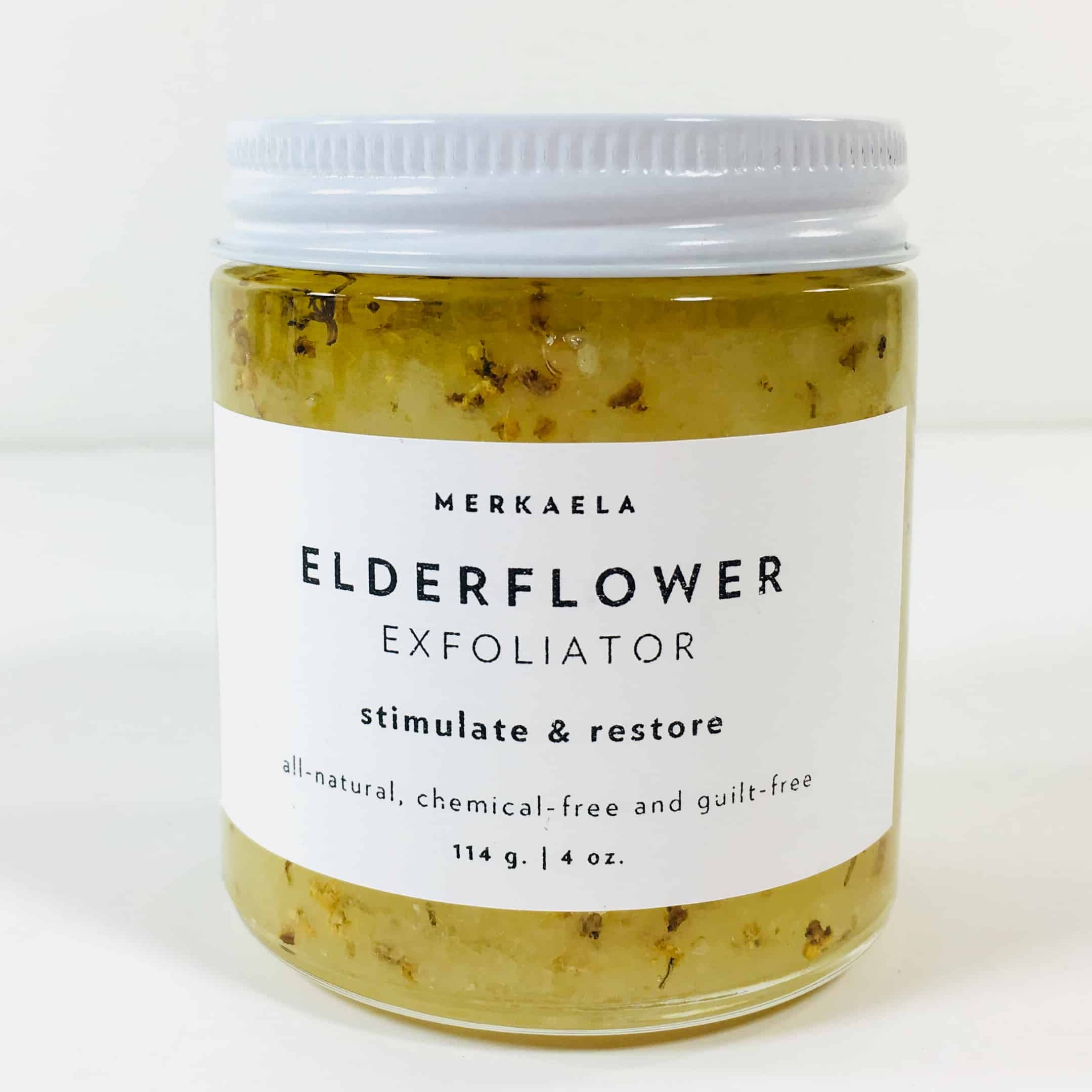 Merkaela Elderflower Exfoliator ($18) I hope they add this to the shop soon because it is amazing! Elderflowers, Mediterranean sea salt, Epsom salt, dendritic salt, and olive oil are what's inside.
I rubbed this on my arms and legs and rinsed it off in the shower. I'm not sure there was really a noticeable scent but it left my skin soft and I didn't even need to use a moisturizer afterwards! I forgot that I had cat scratches on my leg and the salt reminded me but luckily it wasn't that bad but if you have any wounds then just be careful.
I get really excited and know I'm in for a special treat when my Merkaela box shows up every season! The products are of exceptionally high quality and are so natural yet effective. I feel good about using them, and using them feels good. The music and meditative items remind me to ground myself, like hitting the "reset" button. Want to treat someone special to this box? It would make an extraordinary gift for someone you love.
What do you think of the Merkaela Summer Evolve Box? Let me know if it helps you connect your mind, body, and soul in the comments!