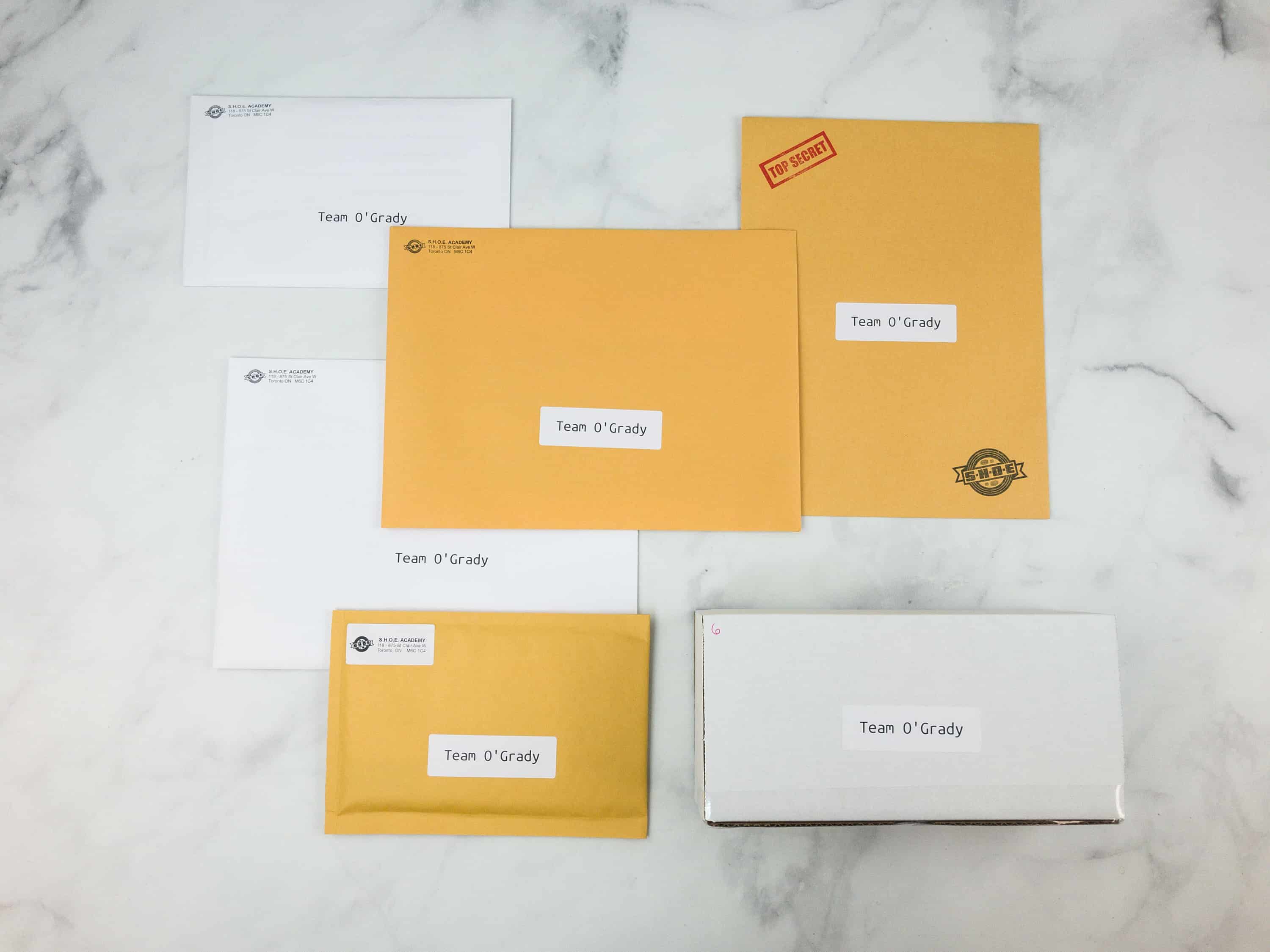 Mail Order Mystery is an activity subscription box for kids, where you get a mystery via mail, one installment at a time. There's a total of six installments per mystery. There are a variety of storylines to choose, from Treasure Hunt, The Enchanted Slumber, and Spies, Lies and Serious Bad Guys. Box costs start at $99 CAD (about $75 USD), and shipping cost for Canadian orders are included, while additional shipping charge of $12 CAD (approximately $9 USD) for US orders and $29 CAD for orders outside the USA and Canada, which will be added when you check out.
This is the review for the mystery 'Spies, Lies, and Serious Bad Guys!', their most challenging mystery yet.
Junior agents have barely begun their spy school training when they're off on a madcap mission to find a missing agent. Armed with their S.H.O.E. Guide for spies, their smarts and their gadgets they must solve the ciphers, key in the codes and follow the clues. Their final mission is their final test: they must unlock the top-secret safe to become the official protector of the object inside.
'Spies' unfolds through a series of installments that are sent once a week for six weeks. Perfect to keep kids engaged and intrigued through summer. This box is designed for kids 8 to 12 years old.
There's a bunch of documents that they send before the actual mystery! For the first mailing, they sent us an acceptance letter to the spy school, a brochure about the school, a spy questionnaire to fill out and return, and a secret code with a message that something has gone wrong.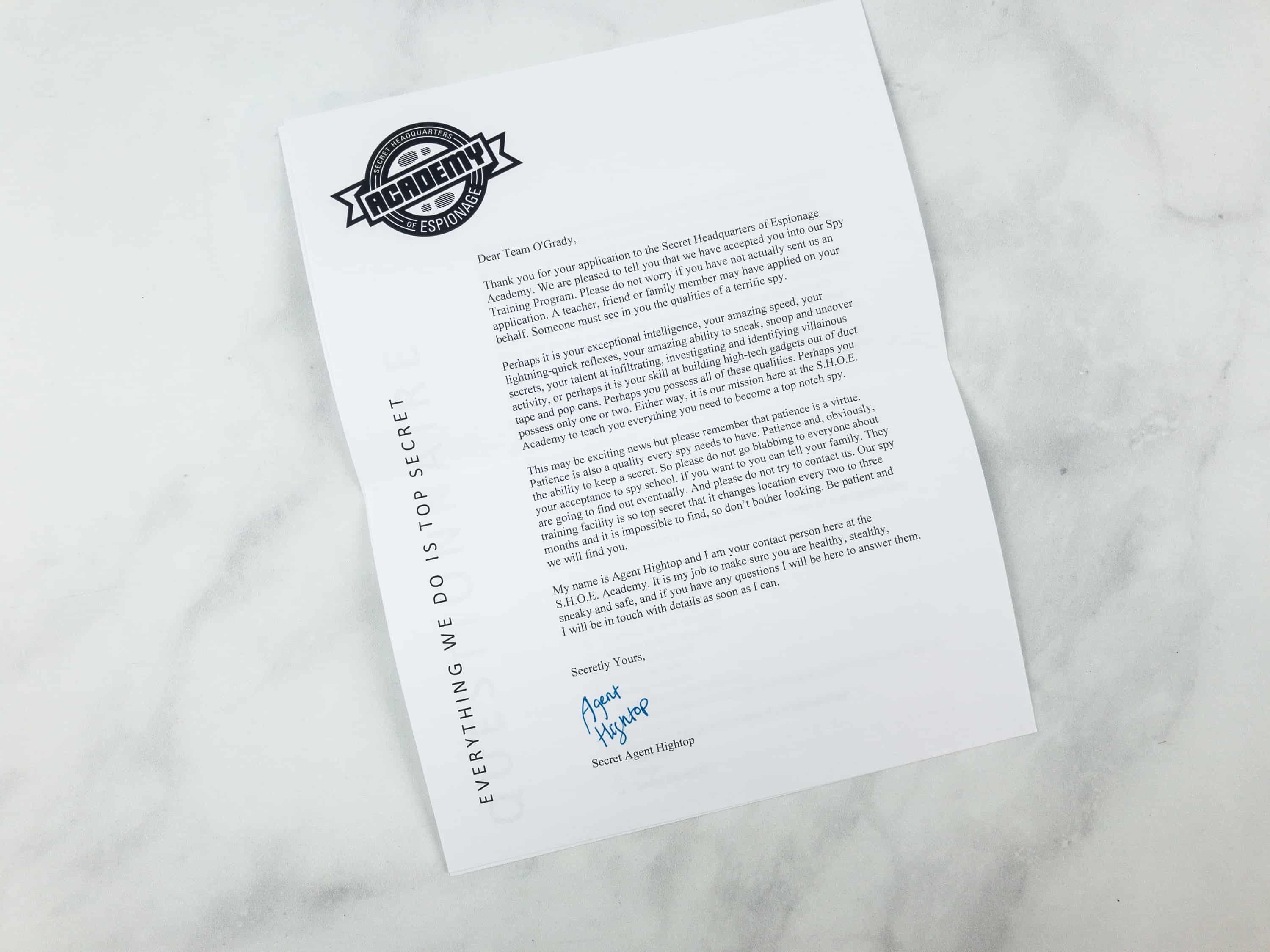 There's a letter from Secret Agent Hightop.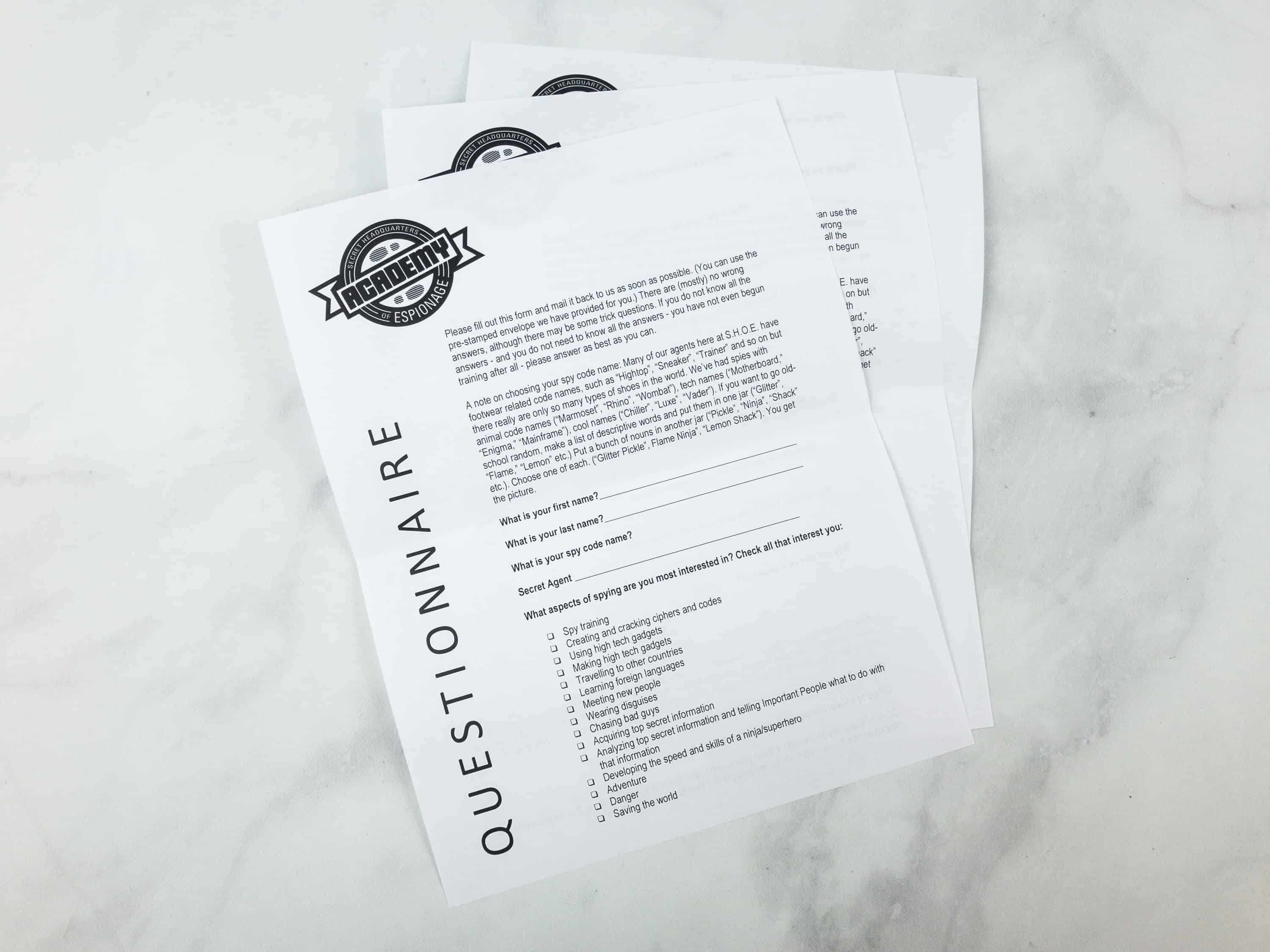 Here's the questionnaire that we need to fill out and return.
They also included a mailer for us to easily return the questionnaire, all the way back to Canada.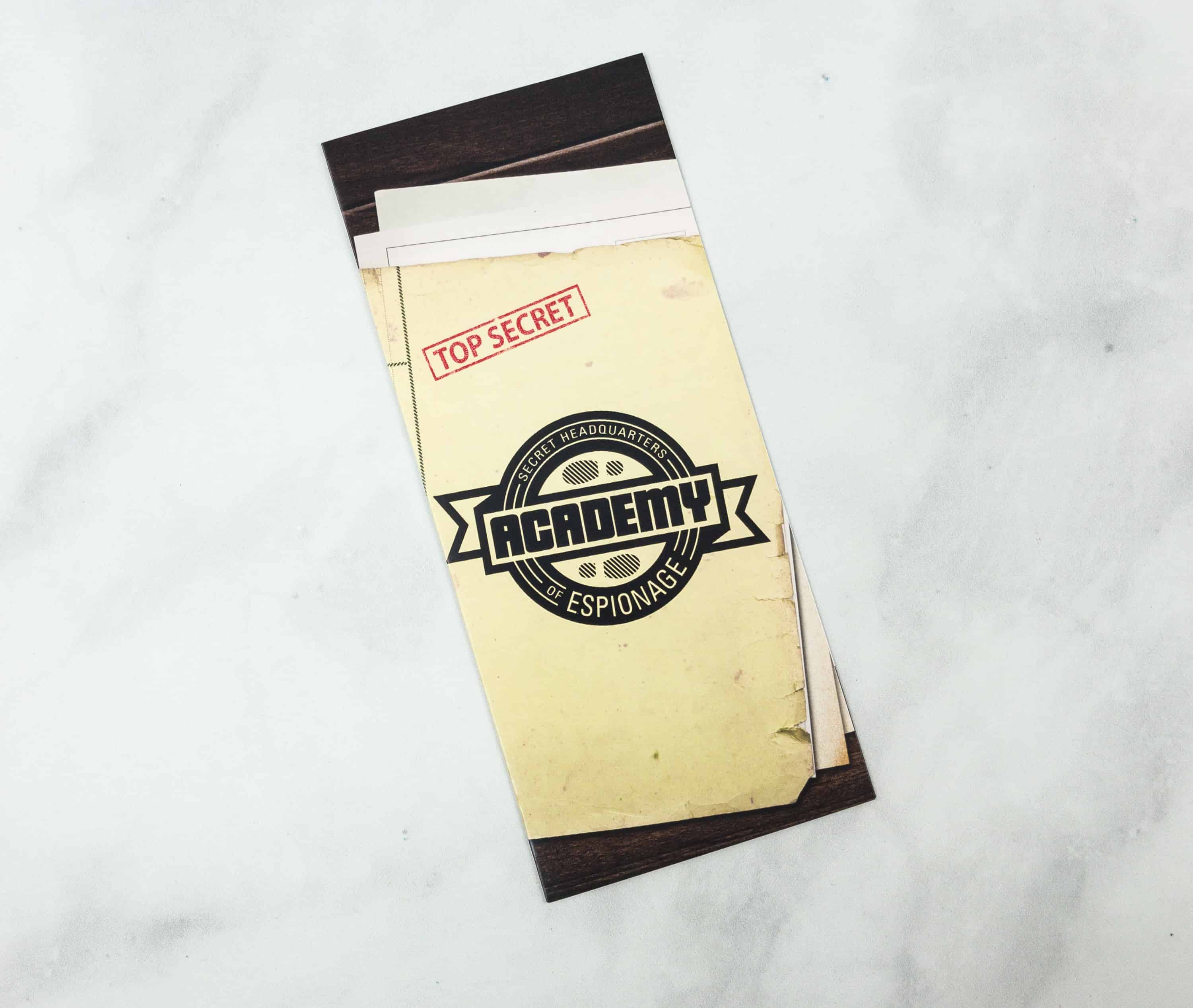 They also included the brochure about the school we're going to attend.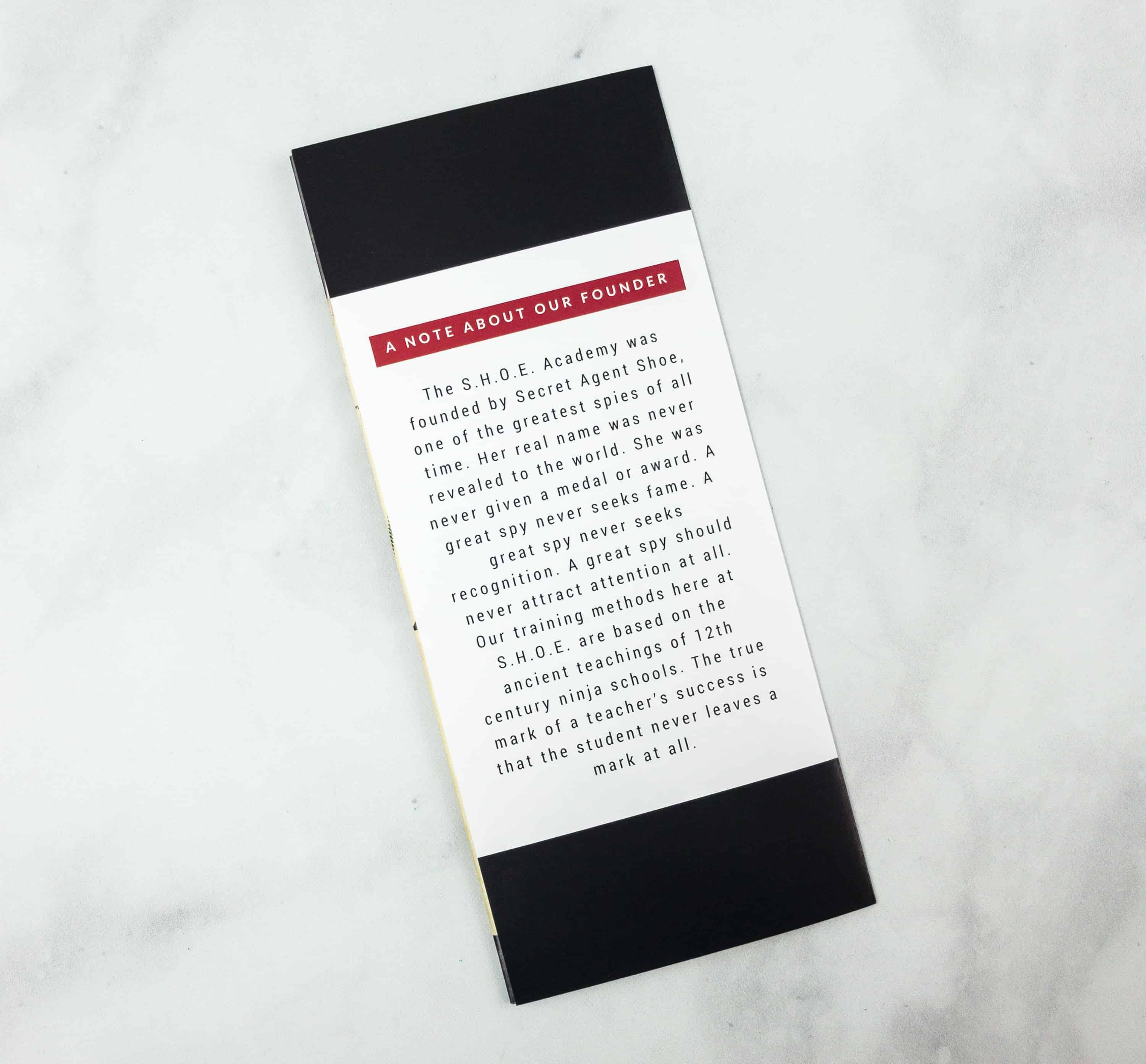 At the back of the brochure, there's the note about the founder of the S.H.O.E. Academy.
Sssshhhh… Can you keep a secret? The academy has produced some of the world's best spies!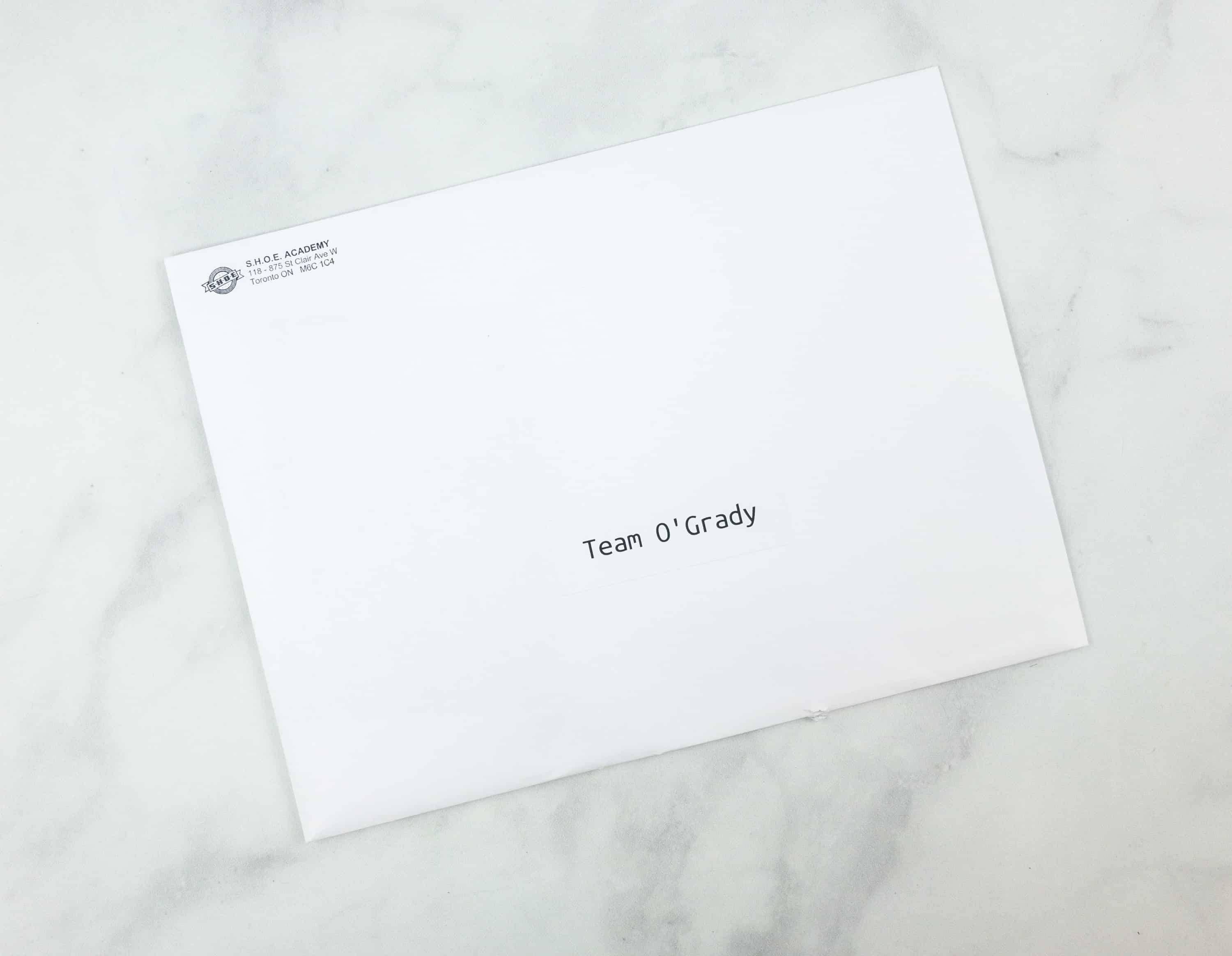 We're ready for the second mailing!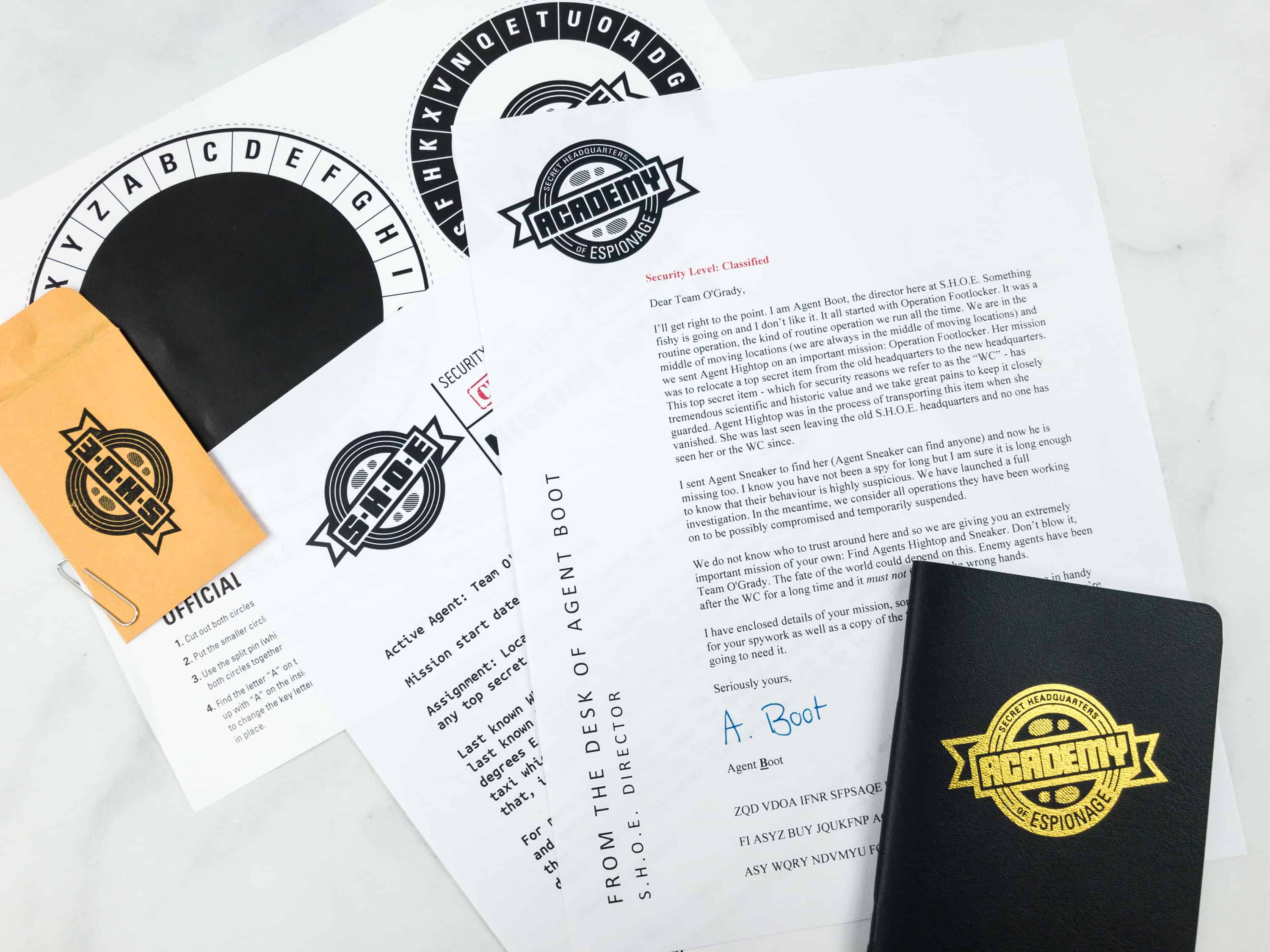 This one contains a letter from the Director of the spy school, an official spy handbook, and some gadgets you might need. Also, this contains the first mission…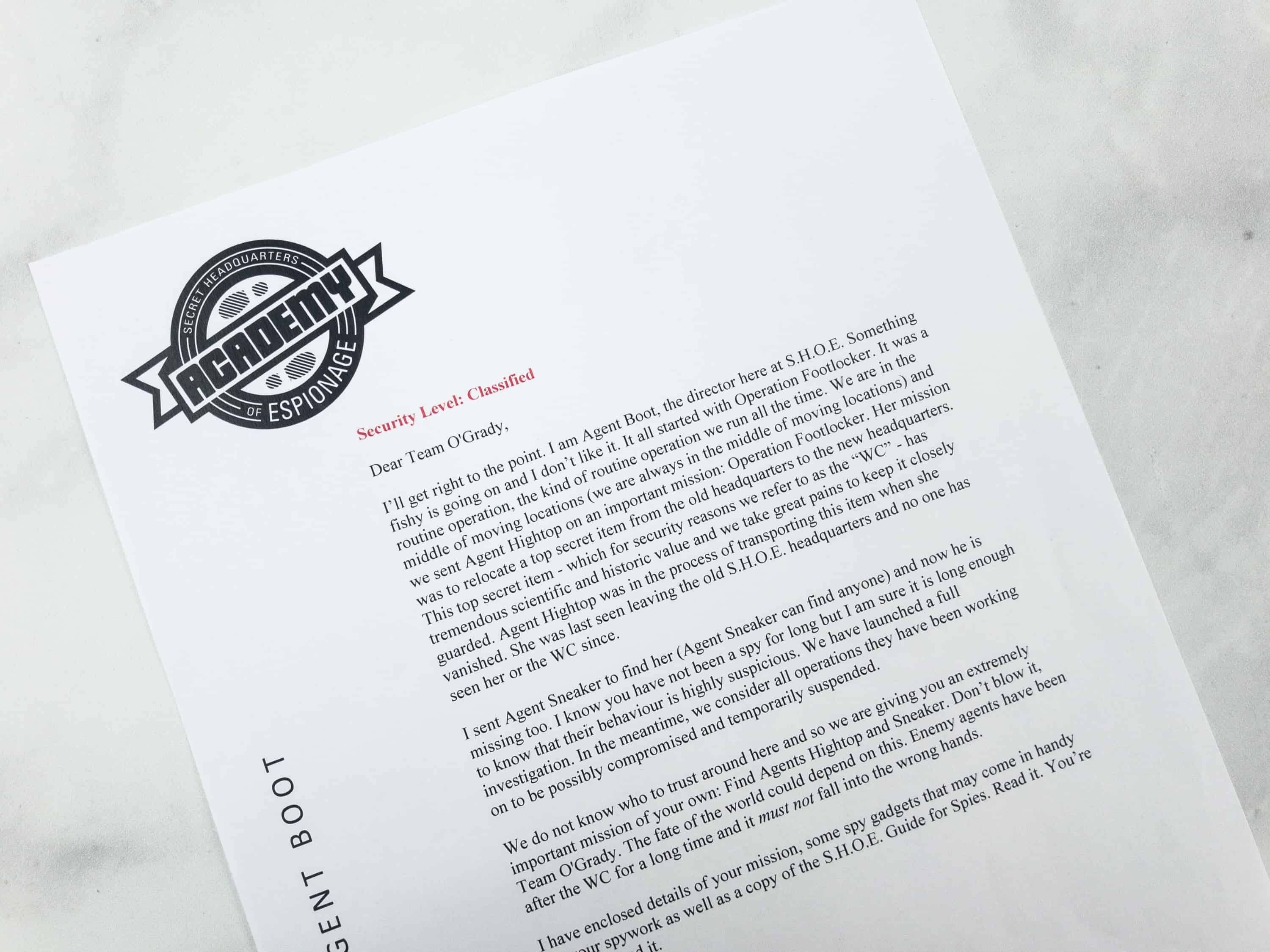 The first mission, according to the Director's letter, is to find the missing agents!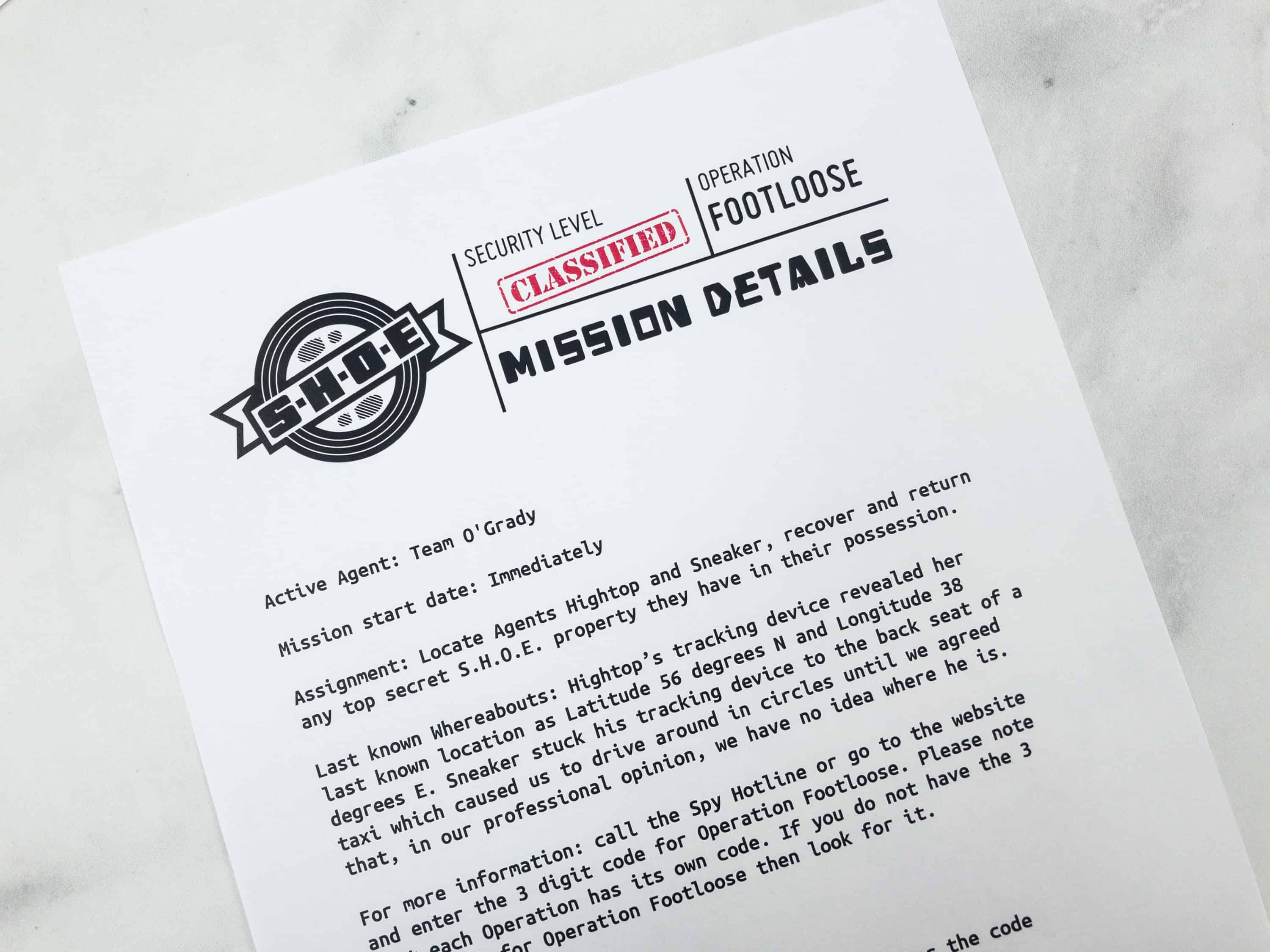 The mission starts immediately, and the assignment is to locate Agents Hightop and Sneaker, recover and return any top secret Academy property they have in their possession as well.
The first gadget we got is the Official S.H.O.E. Cipher Disk that needs to be assembled before use.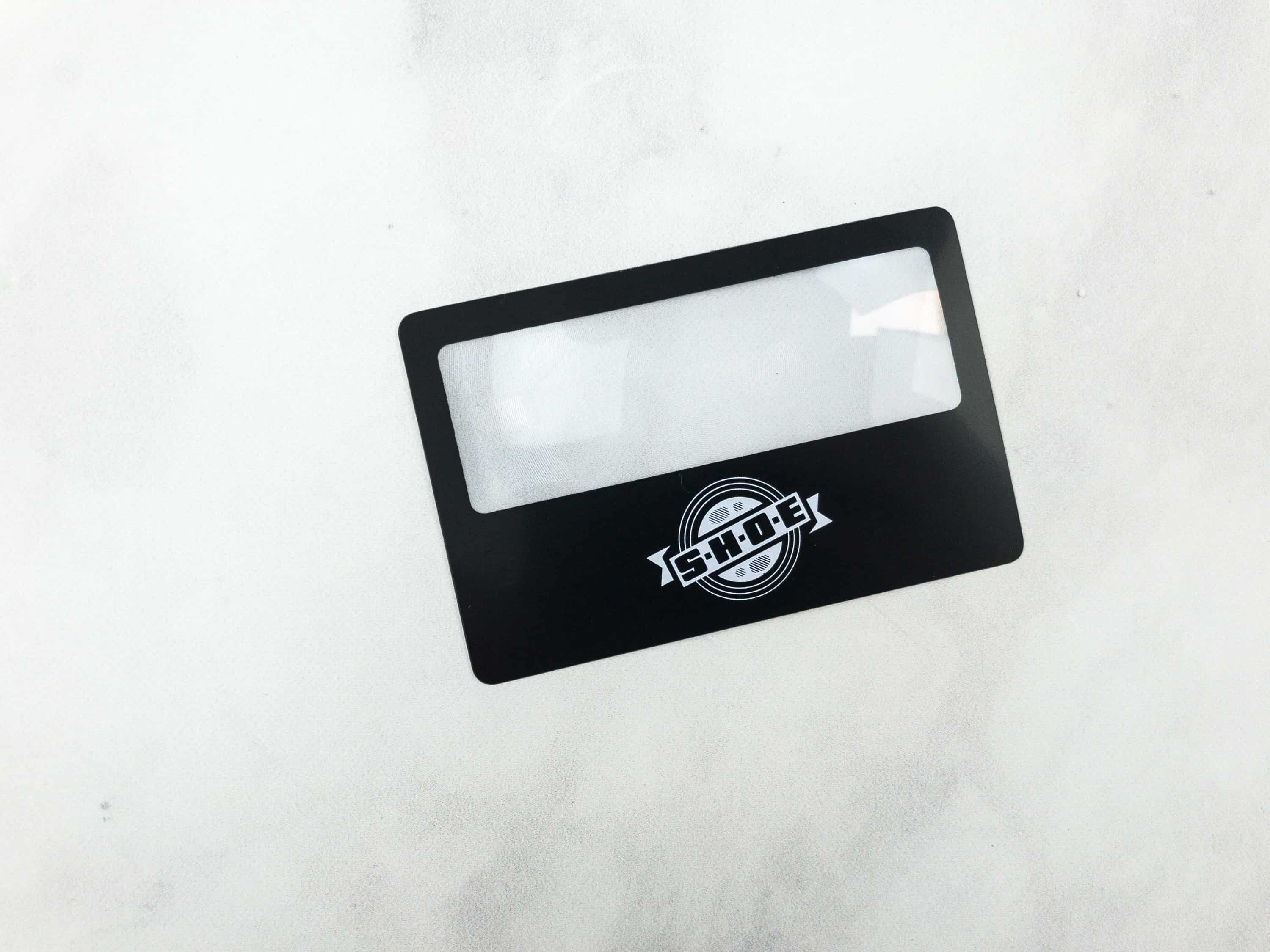 Another gadget we got to help us solve and cipher some codes!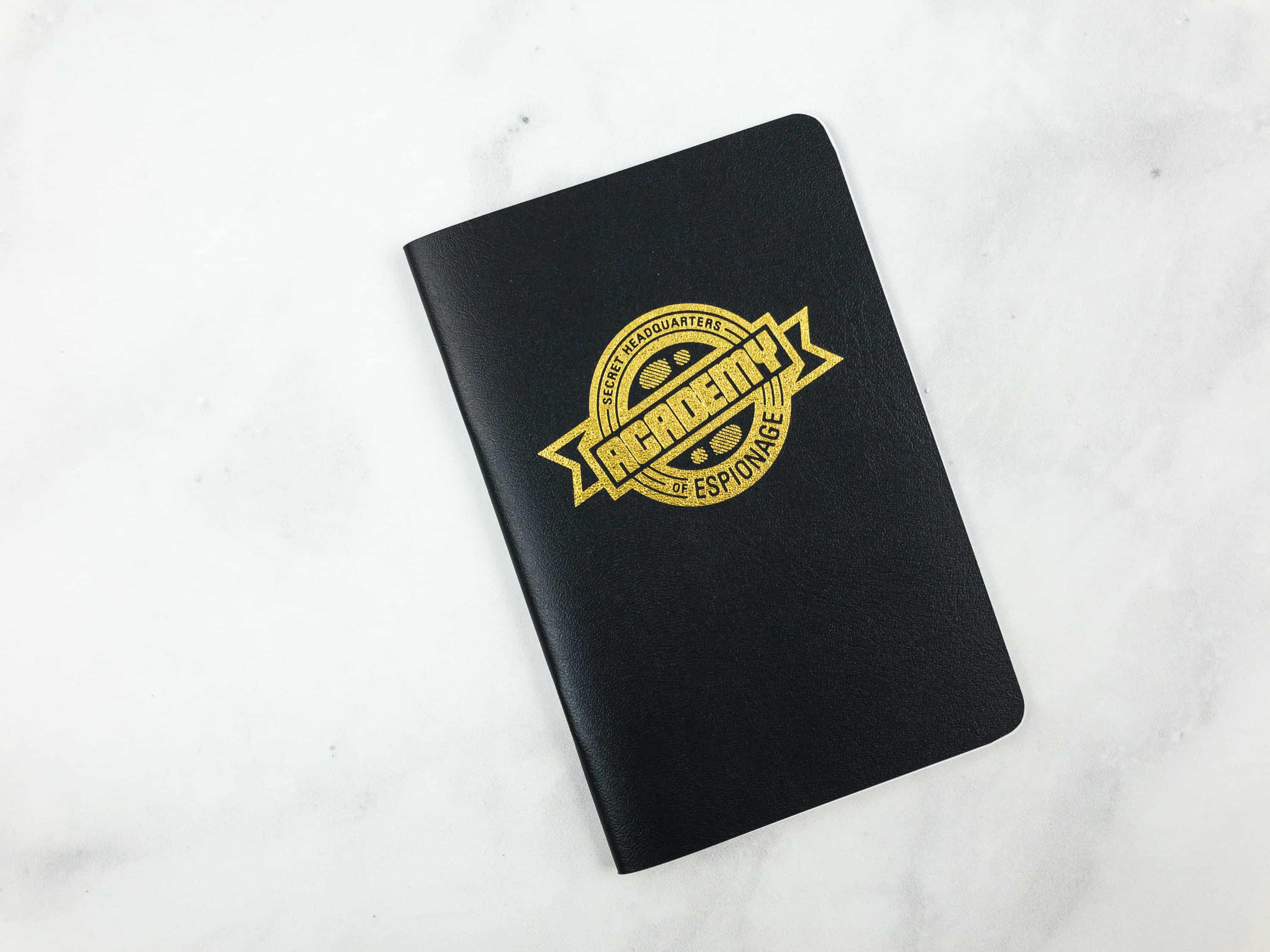 The spy handbook looks sleek, and it looks like a passport… A huge passport!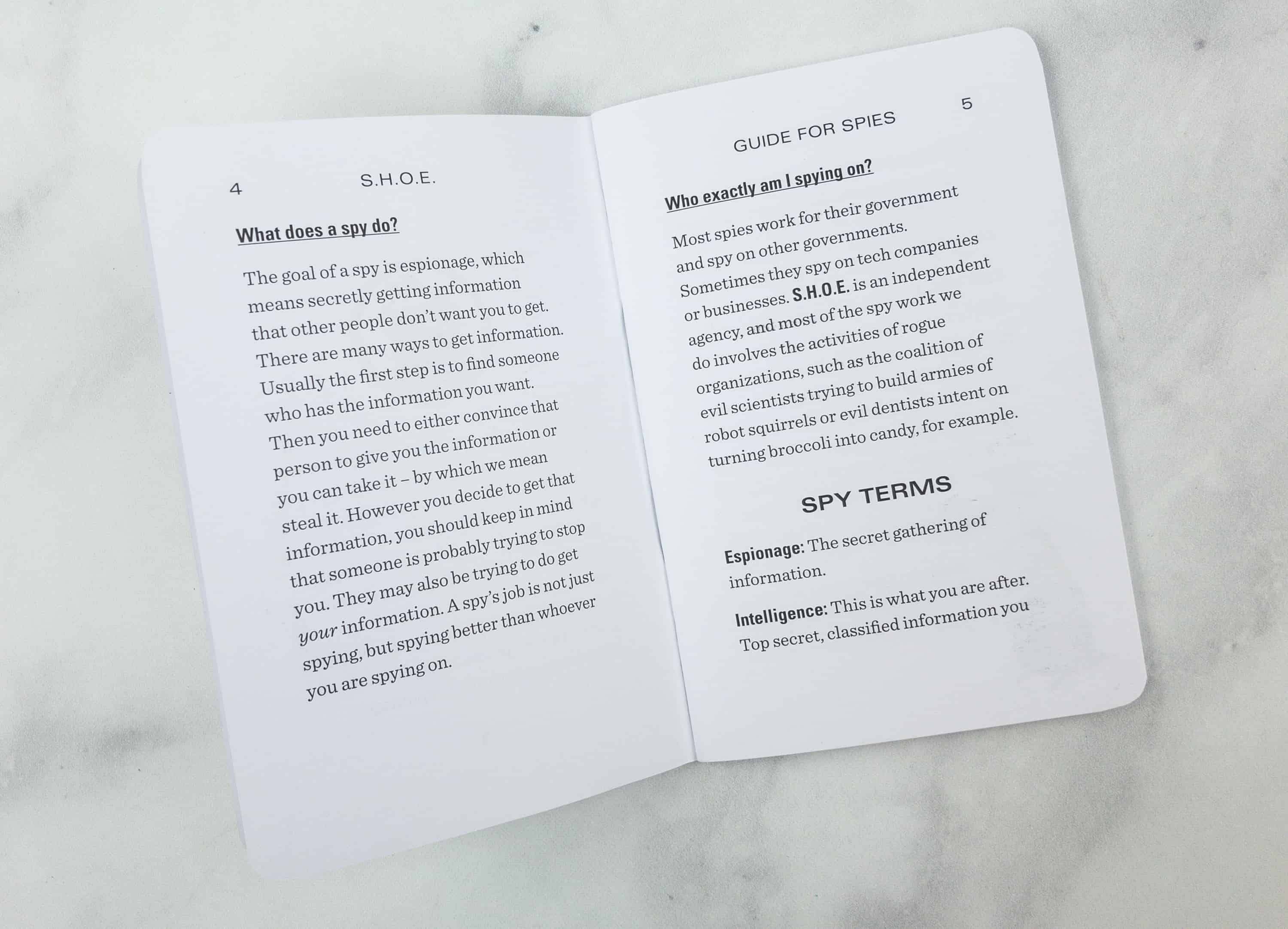 The handbook contains some vital information about what the spies are up to, who the S.H.O.E. spies are spying on, and some SPY terms!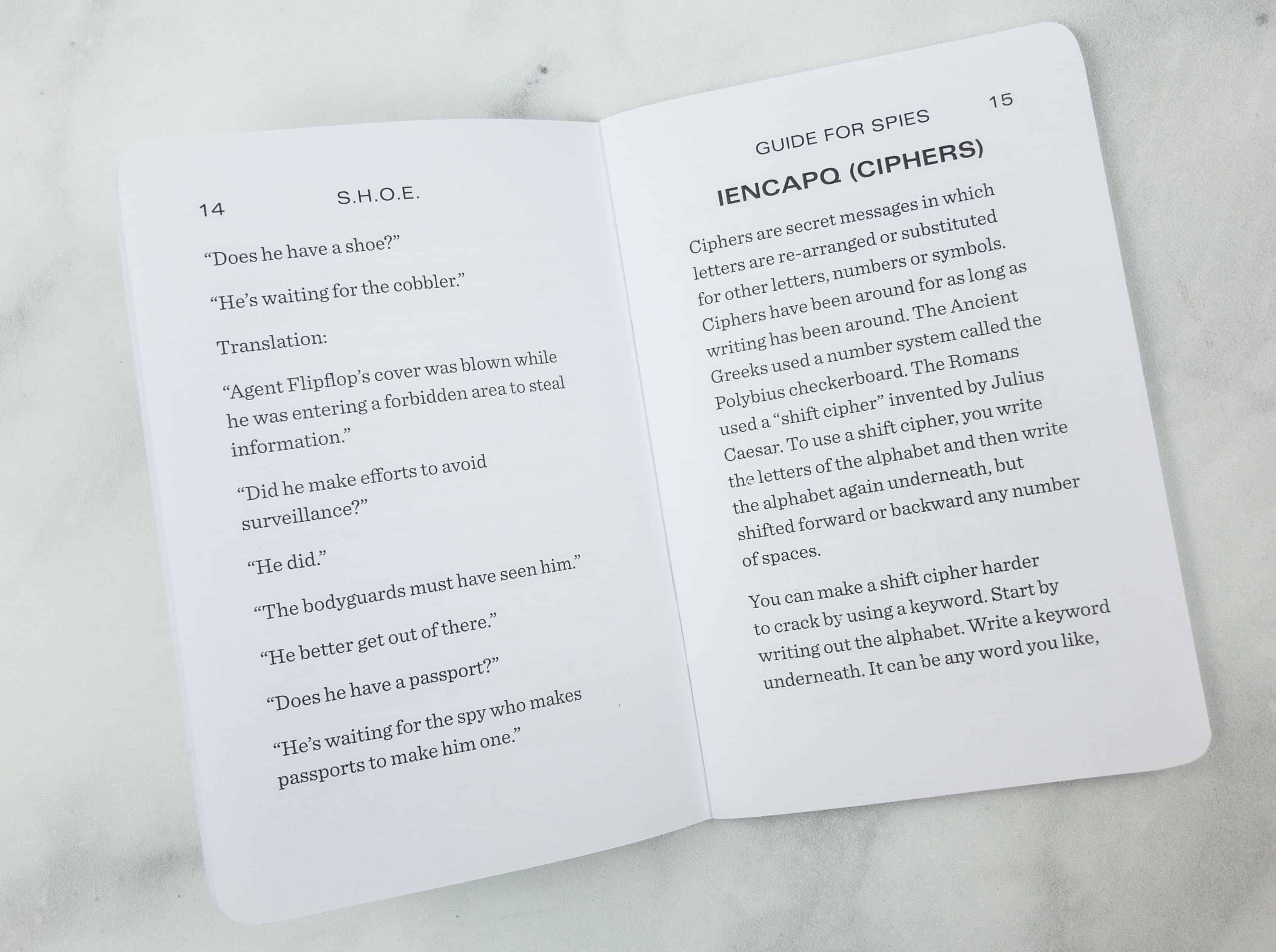 There are some paragraphs that seem like normal conversation starters, but they actually have different meanings when you're a spy. That's why you also need to learn how to decipher codes.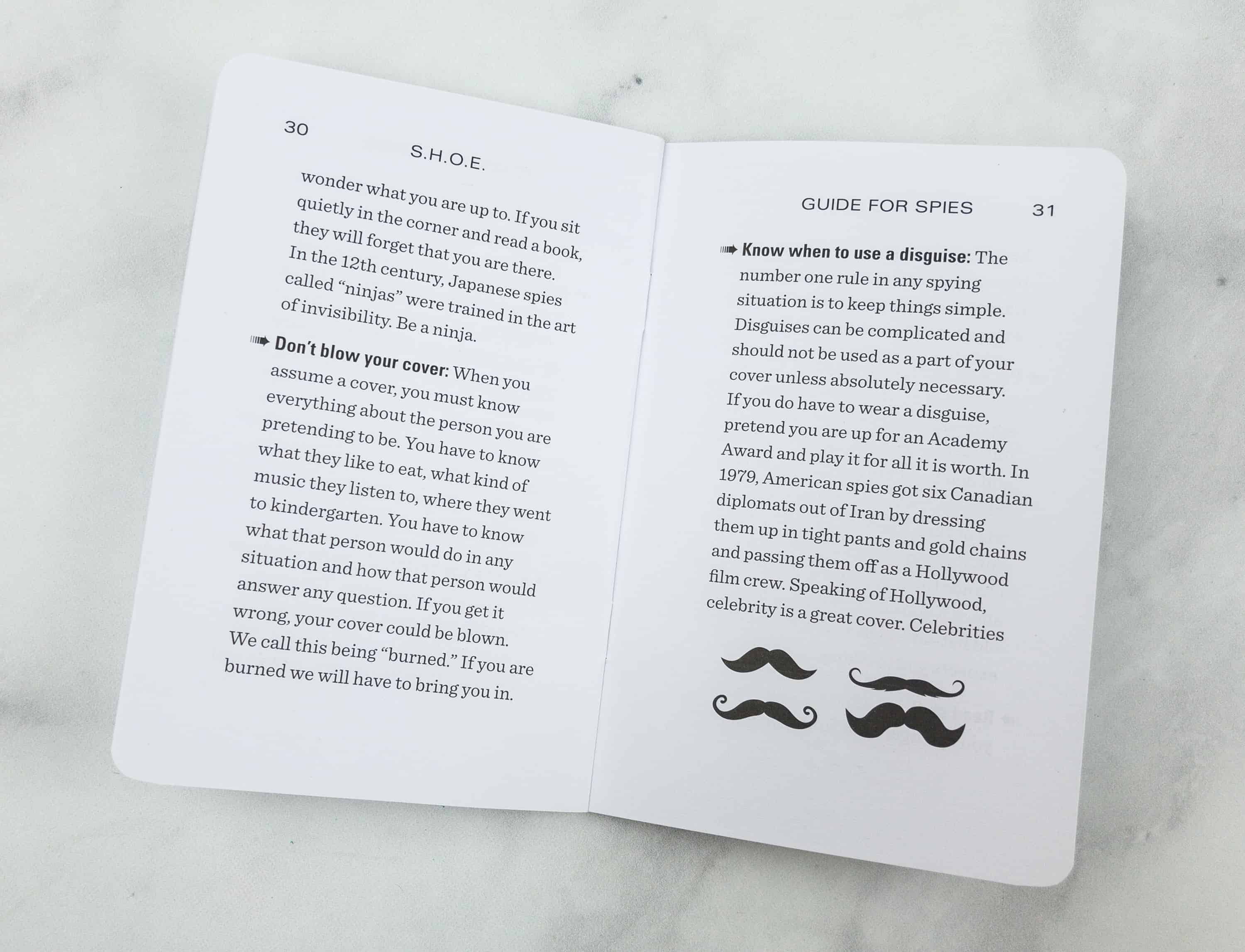 There are lots of helpful information for aspiring spies! Just don't blow your cover and learn how to disguise effectively!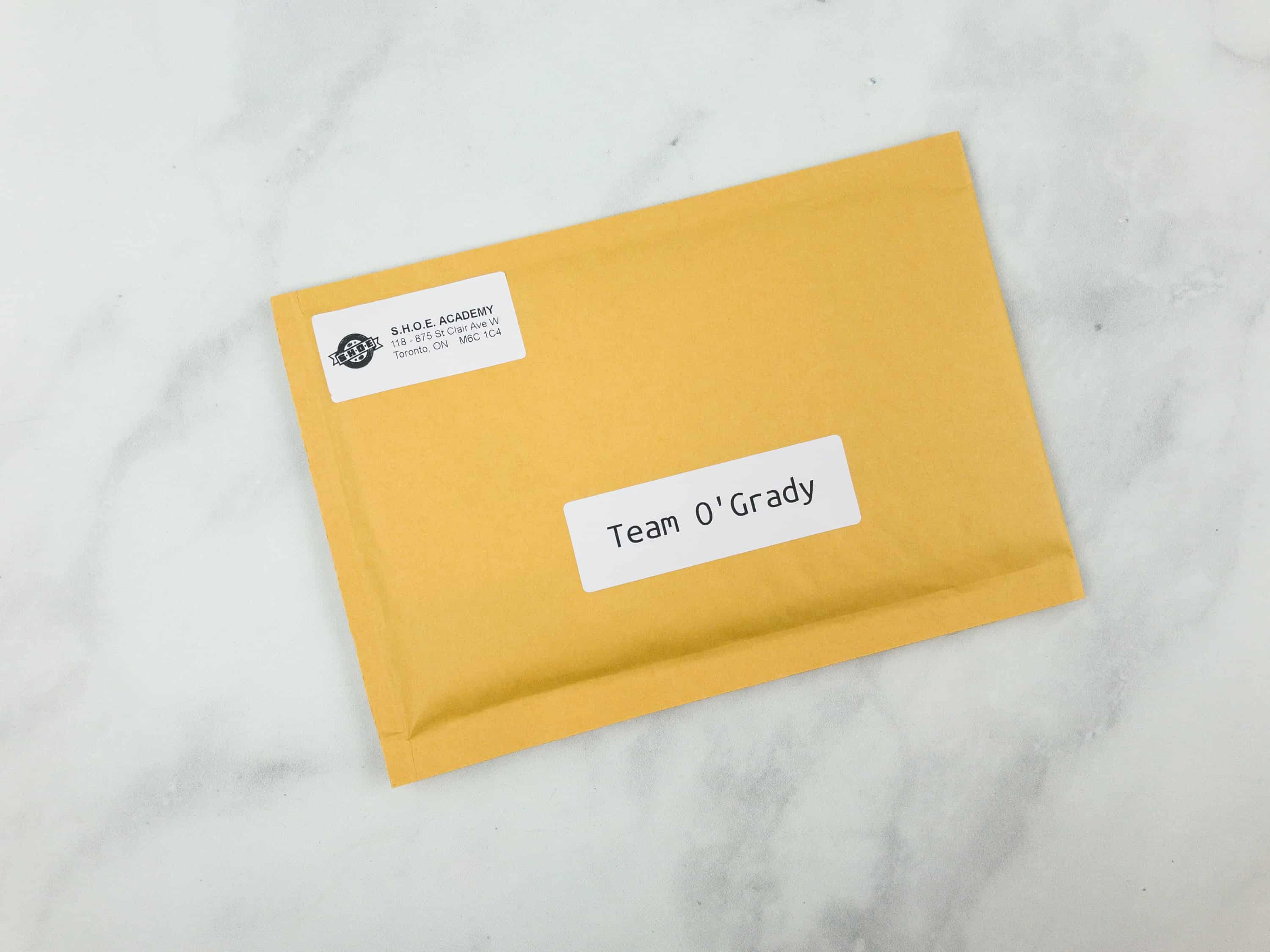 The third mailer is from the first missing agent!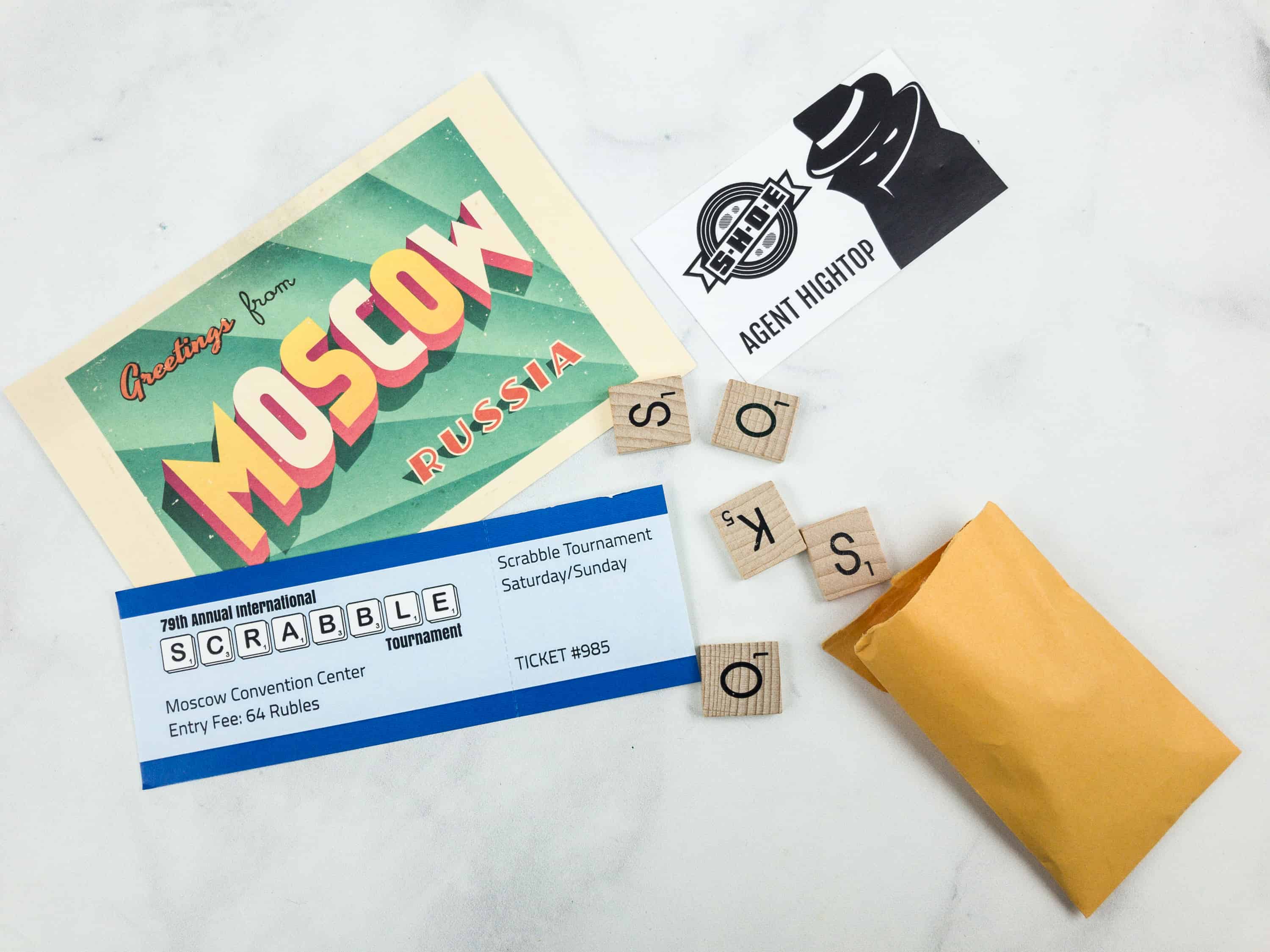 It contains cryptic objects and messages, like a postcard and some scrabble letter tiles, a tournament ticket, and a card that says "Agent Hightop."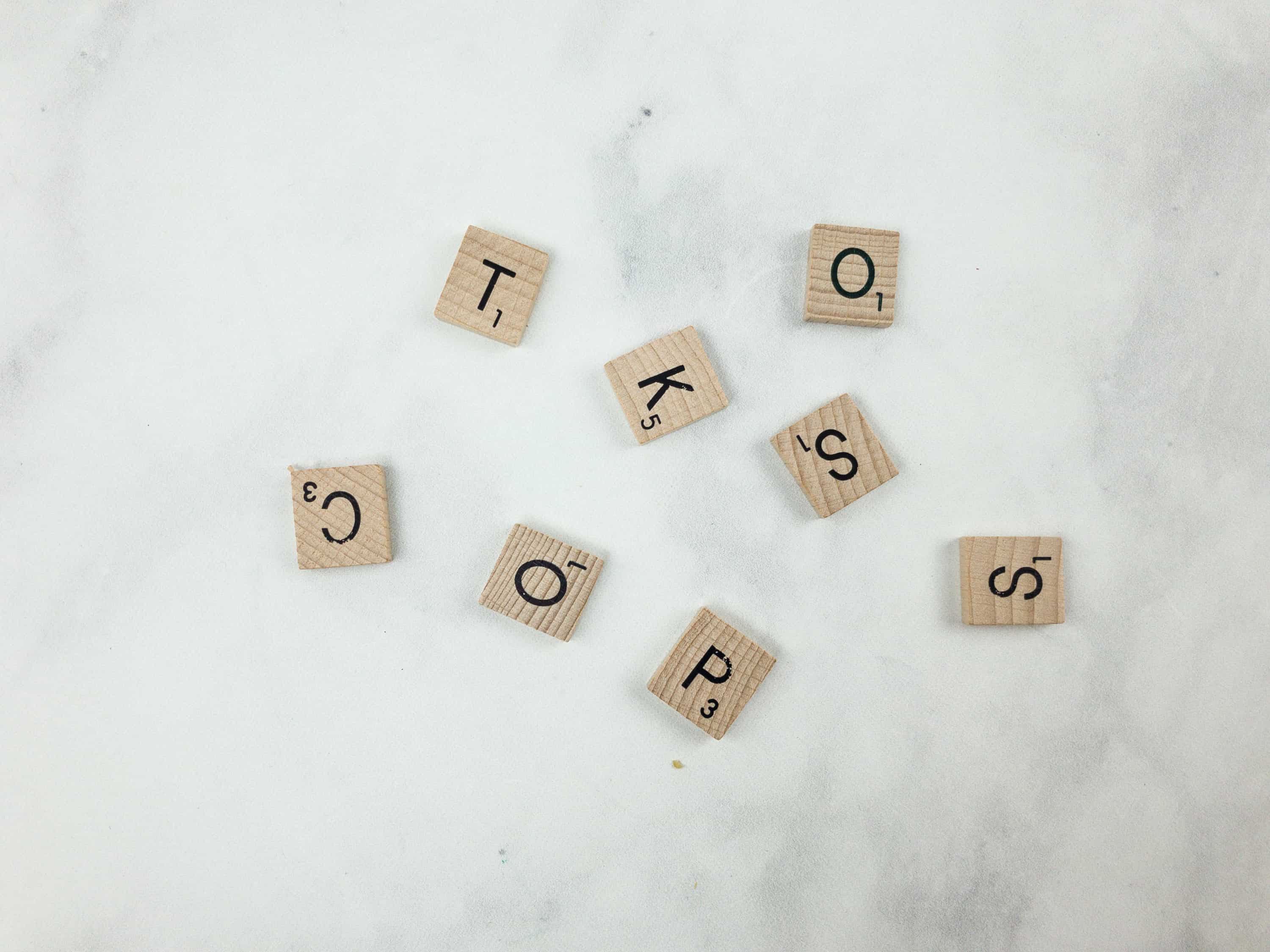 There are 8 tiles in total, I wonder what we can spell out of these letters.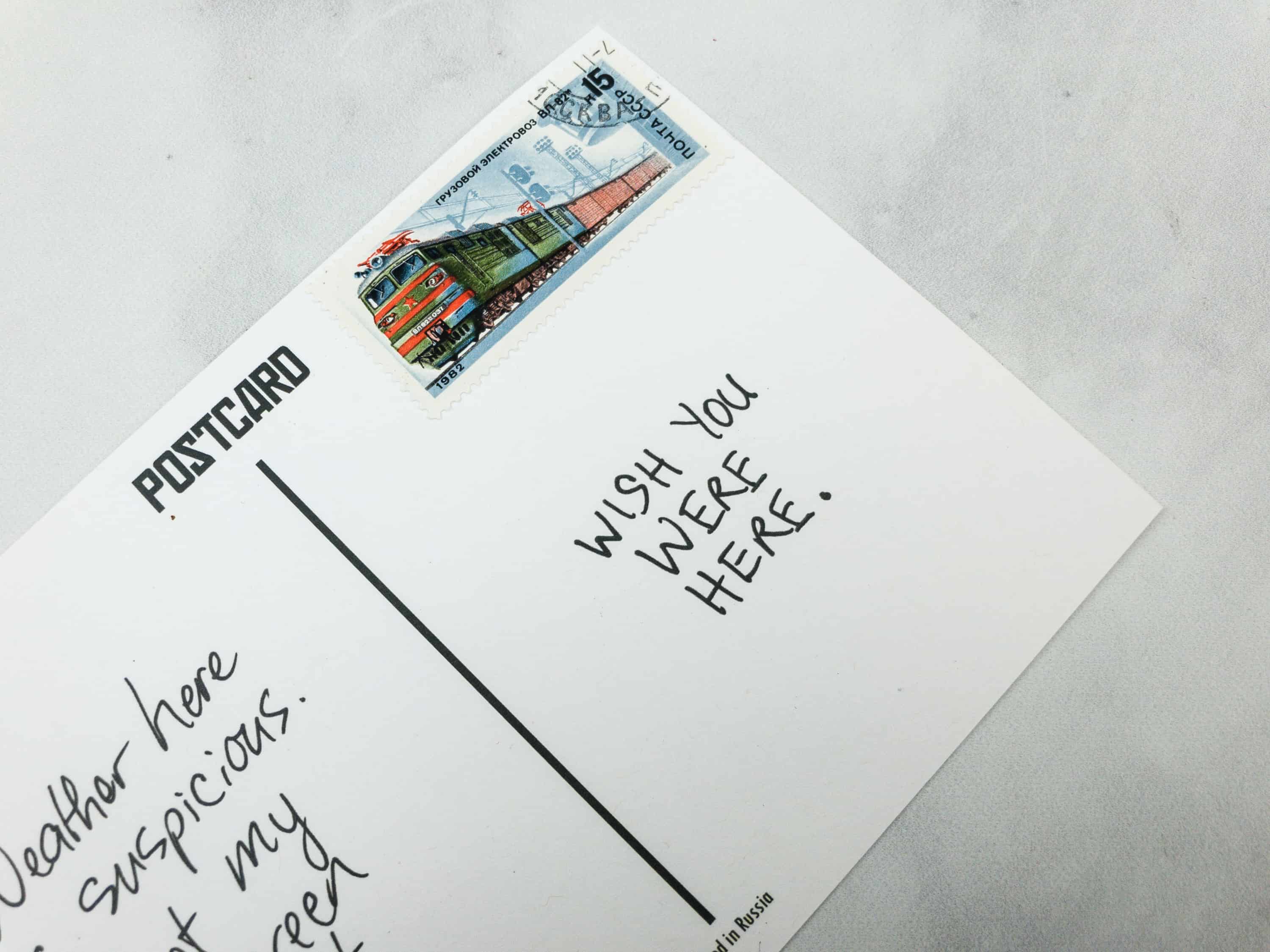 Does this mean that Agent Hightop was in Moscow, Russia? That's what the postcard said in front!
The fourth mailing comes from the other missing agent, Agent Sneaker.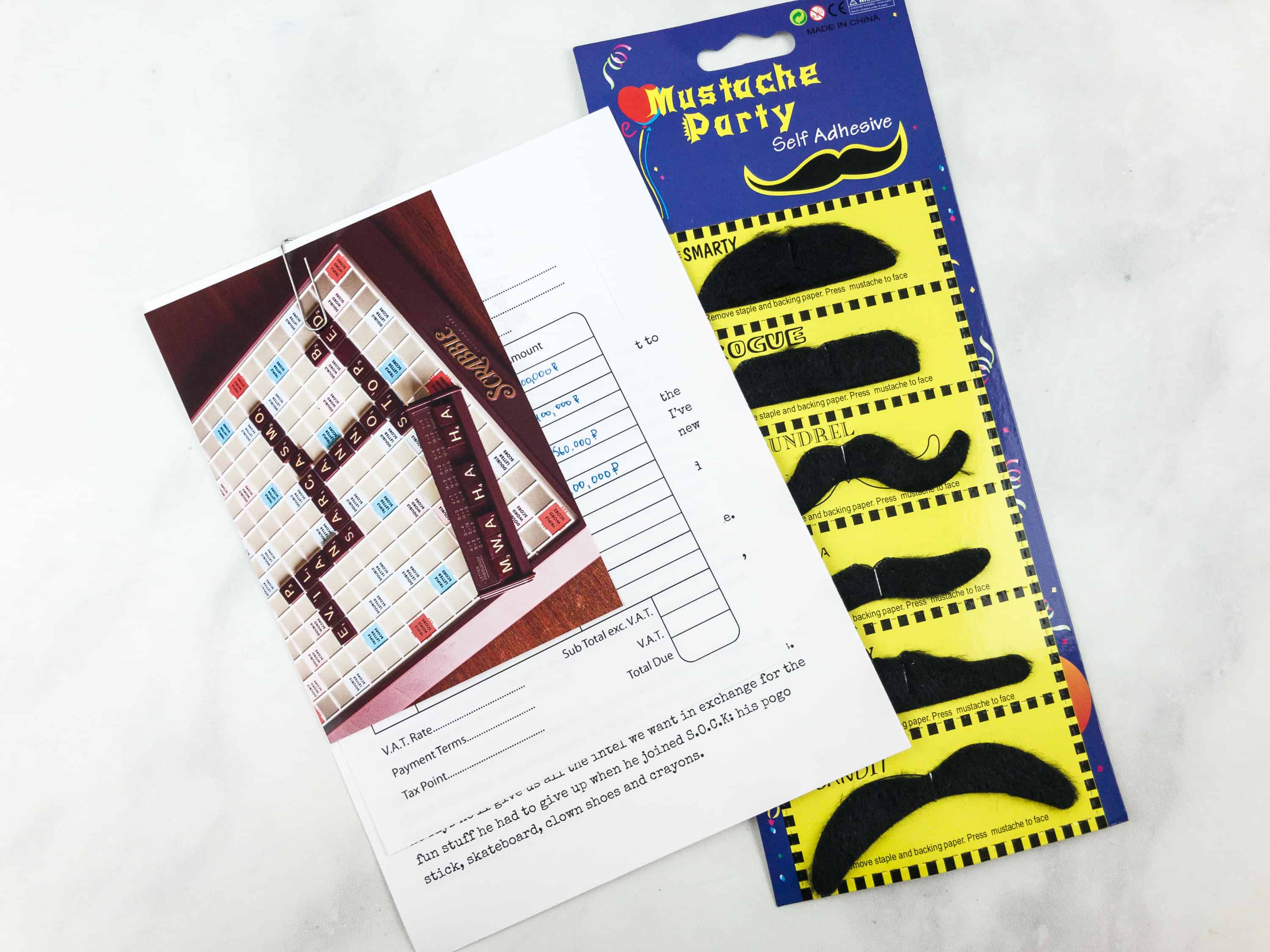 And the contents of the fourth mailer reveals that Agent Sneaker is going into a deep cover, look at those disguise 'staches!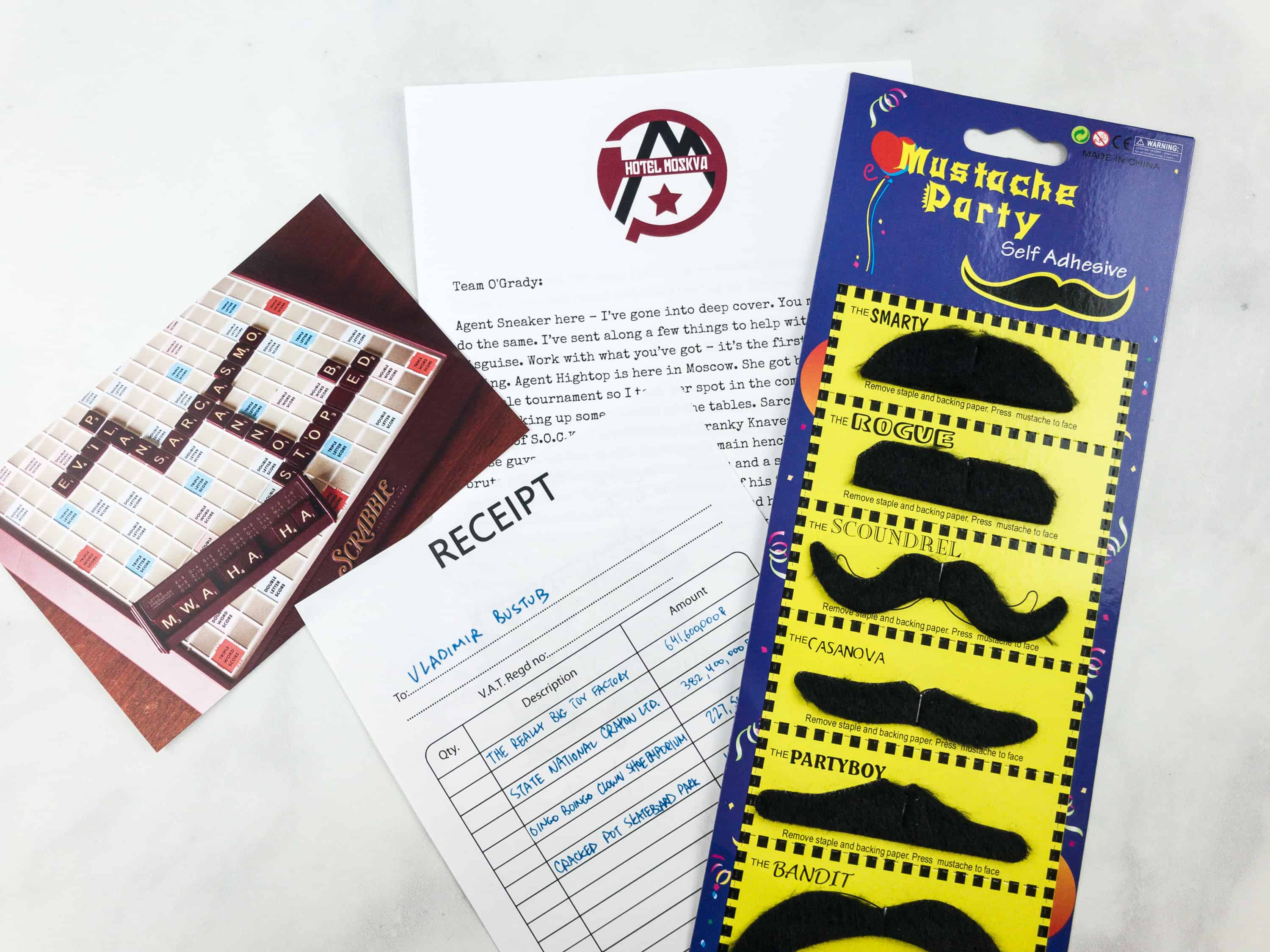 Among the items here, the mustaches are really fun! There are different styles for different personas.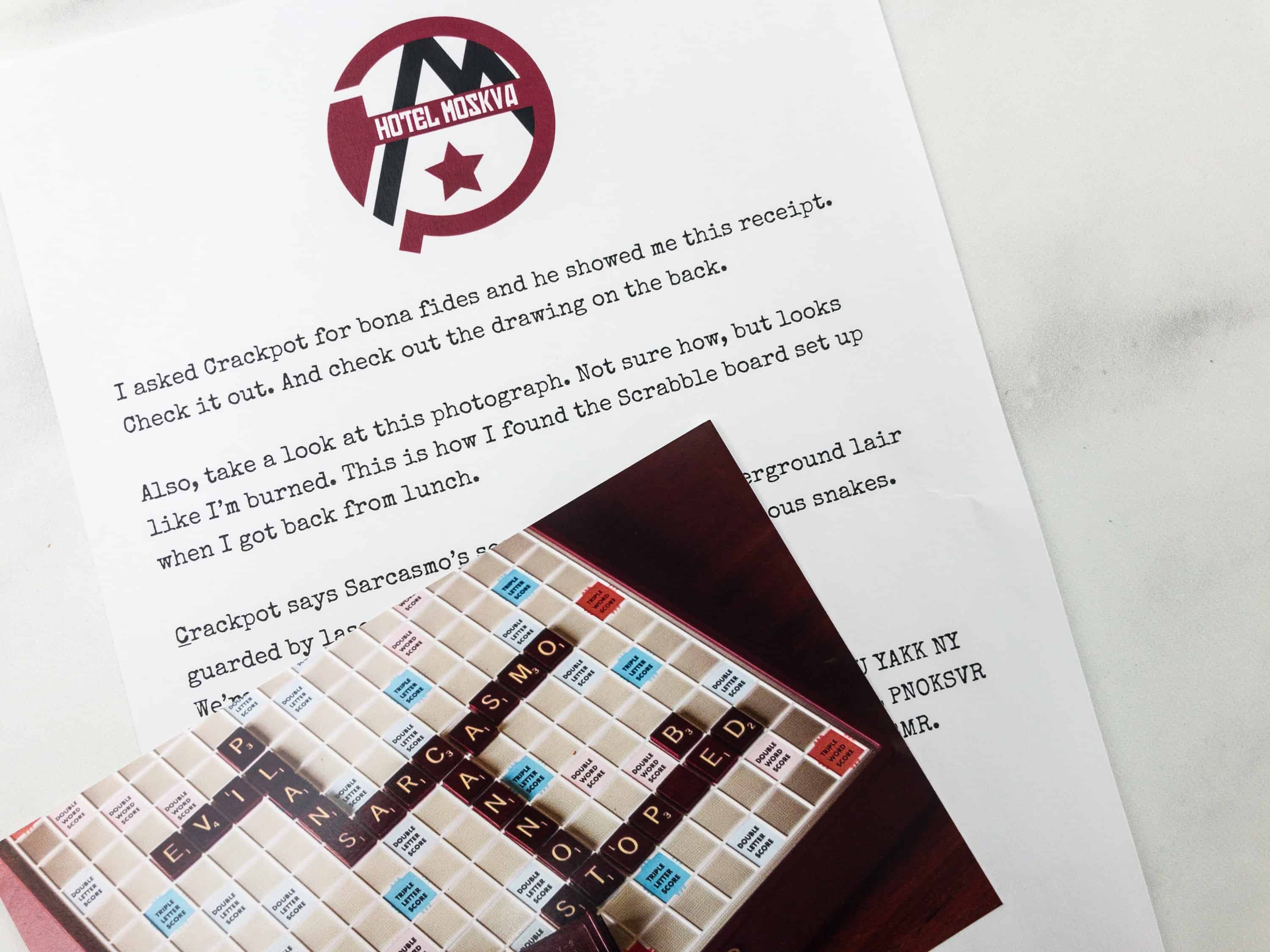 There's also a letter for more clues, a receipt, and a photo of what Agent Sneaker found out that was set up on the Scrabble board.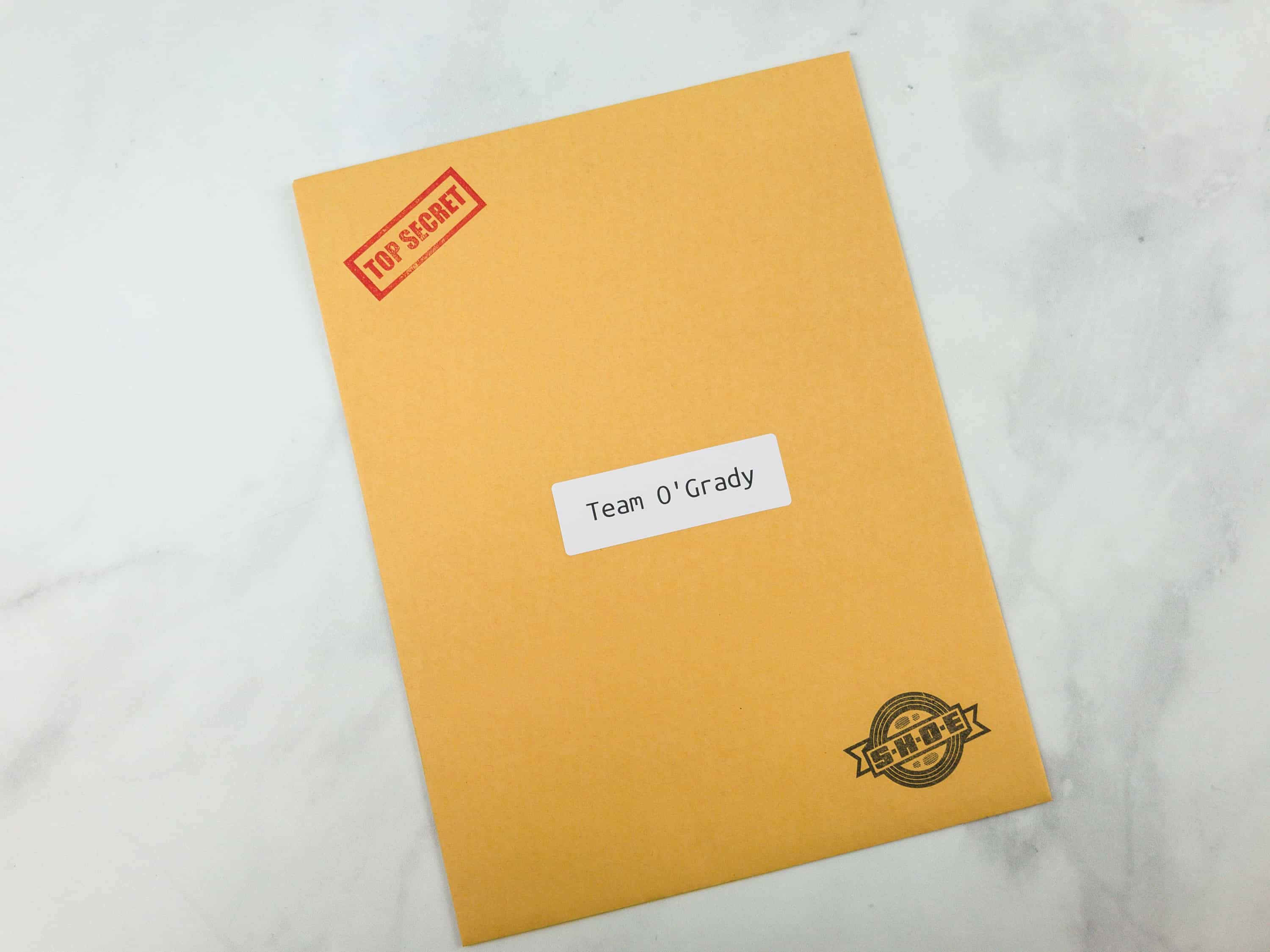 And the fifth mailer looks serious, it kind of makes the kids really nervous, it's top secret!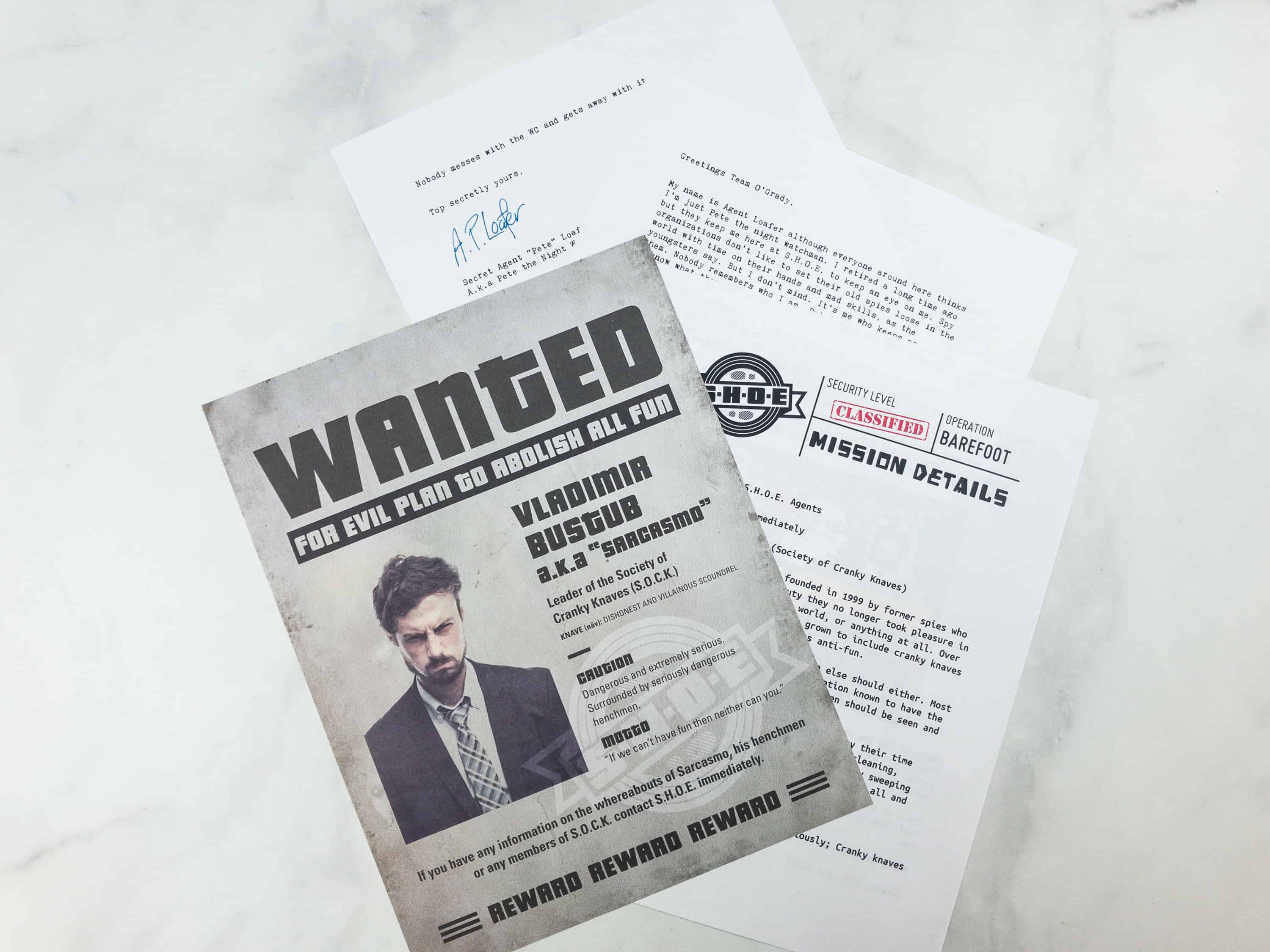 The mailer contains a letter from the night watchman at the spy school. And he is not who everyone thinks he is.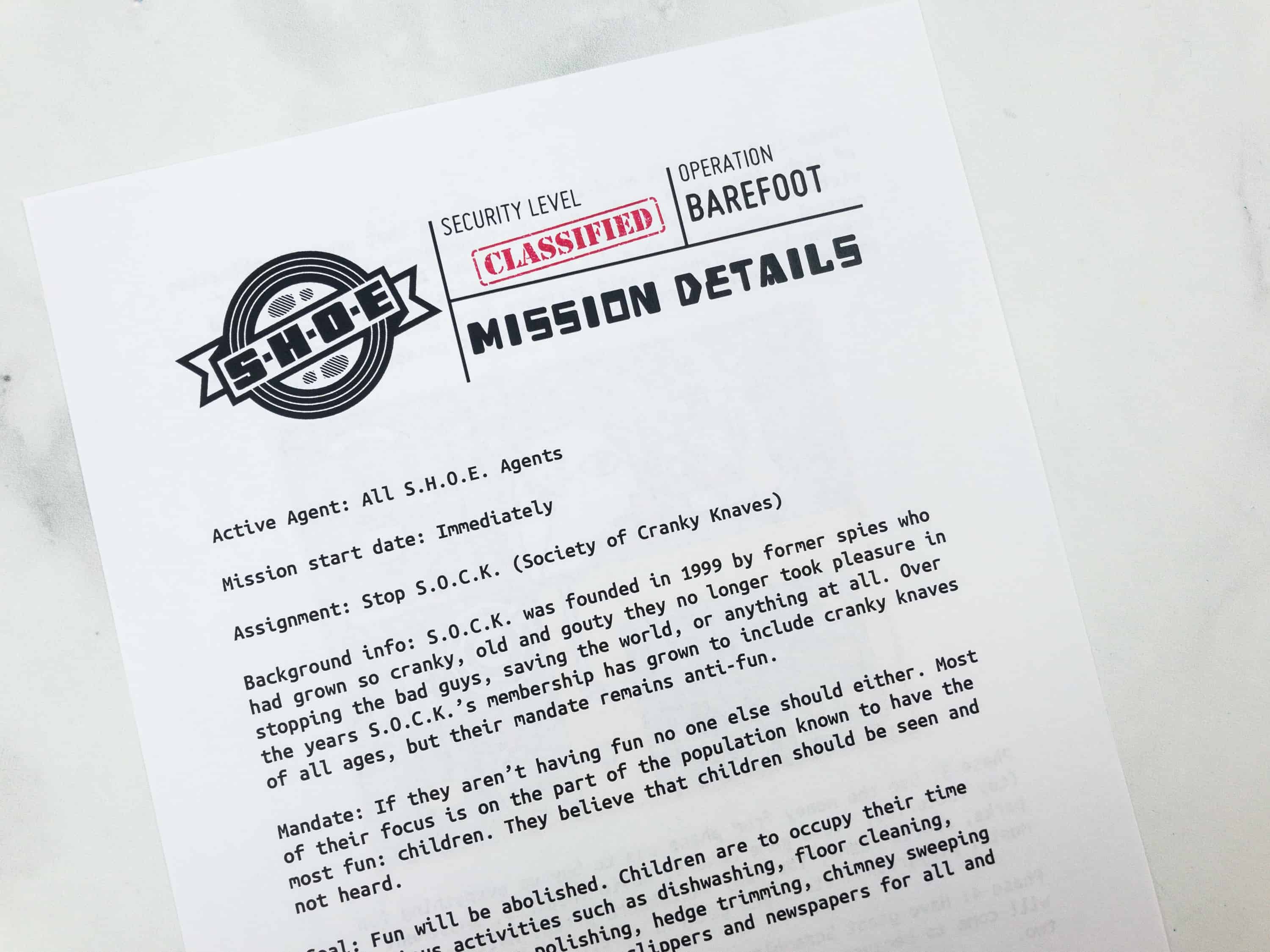 The night watchman is a secret dossier with the real story about the evil villain and his evil plans and a mission for you to help stop him, thus, operation BAREFOOT! That is to stop the S.O.C.K.!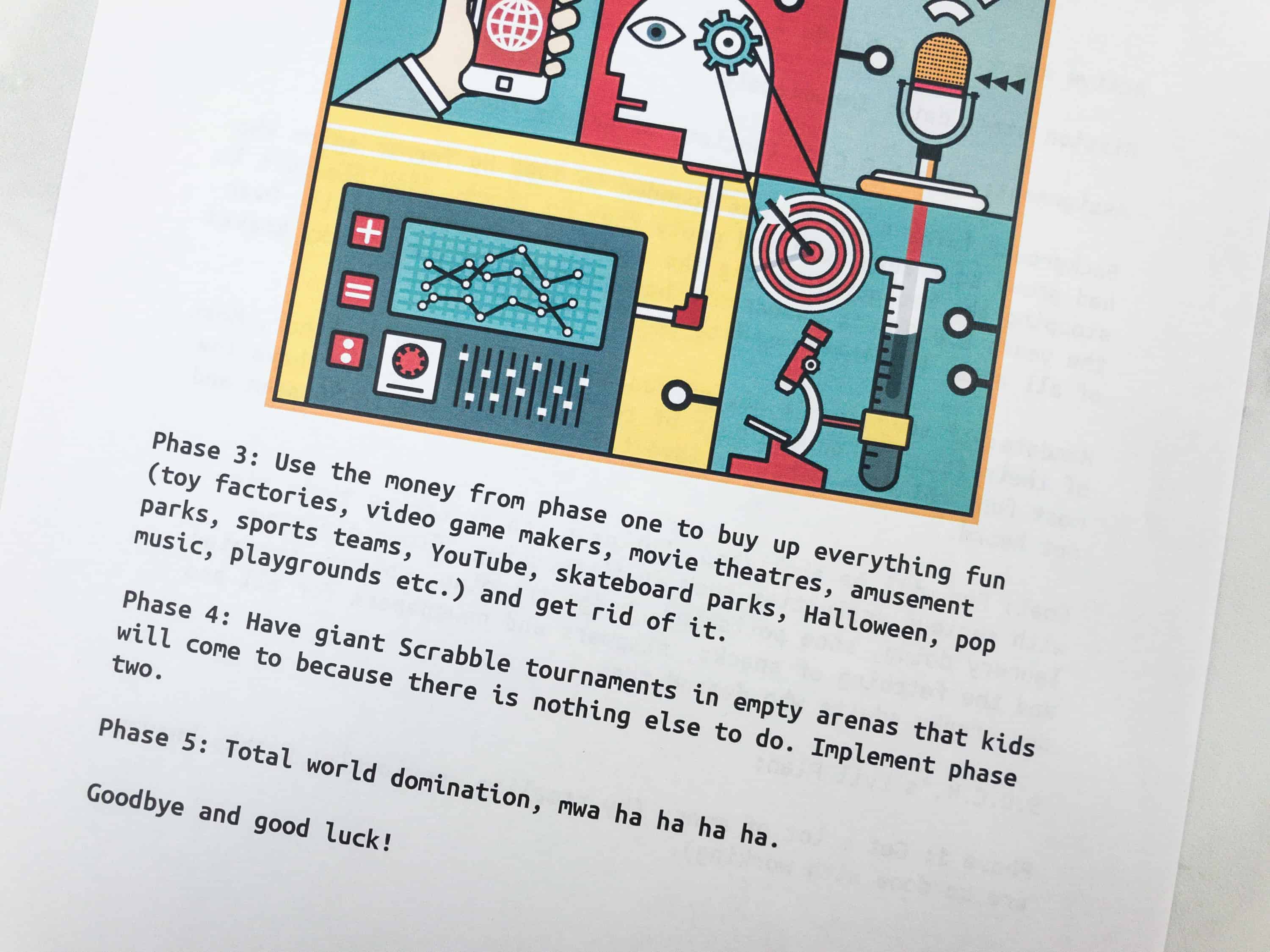 Reading the plan, that sounds really diabolical! They are trying to get rid of FUN!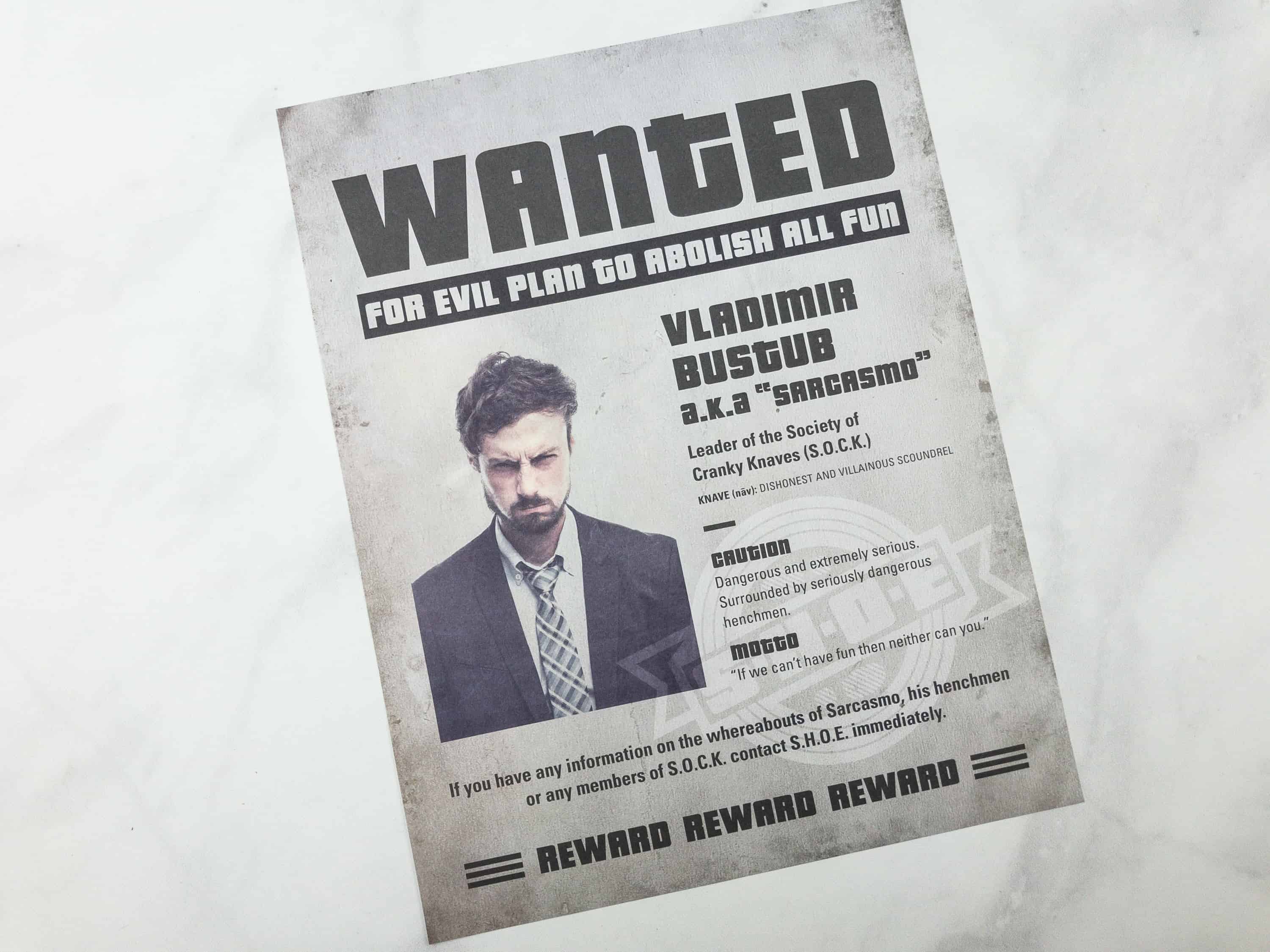 This guy here is the real evil, he wants everyone to become cranky as him!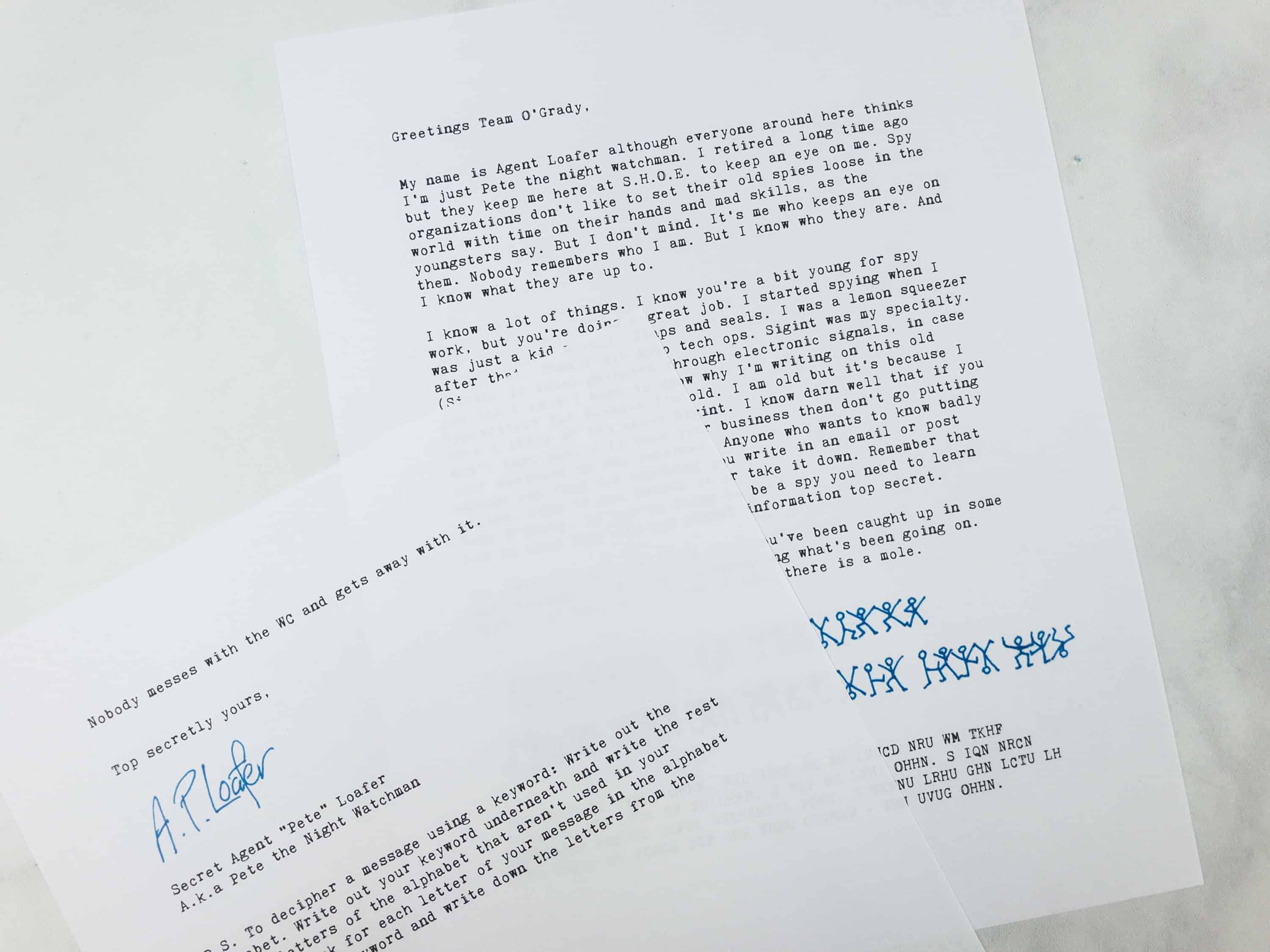 Despite retirement, Agent Loafer still do spy stuff! That's really cool!
The sixth and last mailing came in a box!
This really looks intriguing, we can't wait to see what's inside!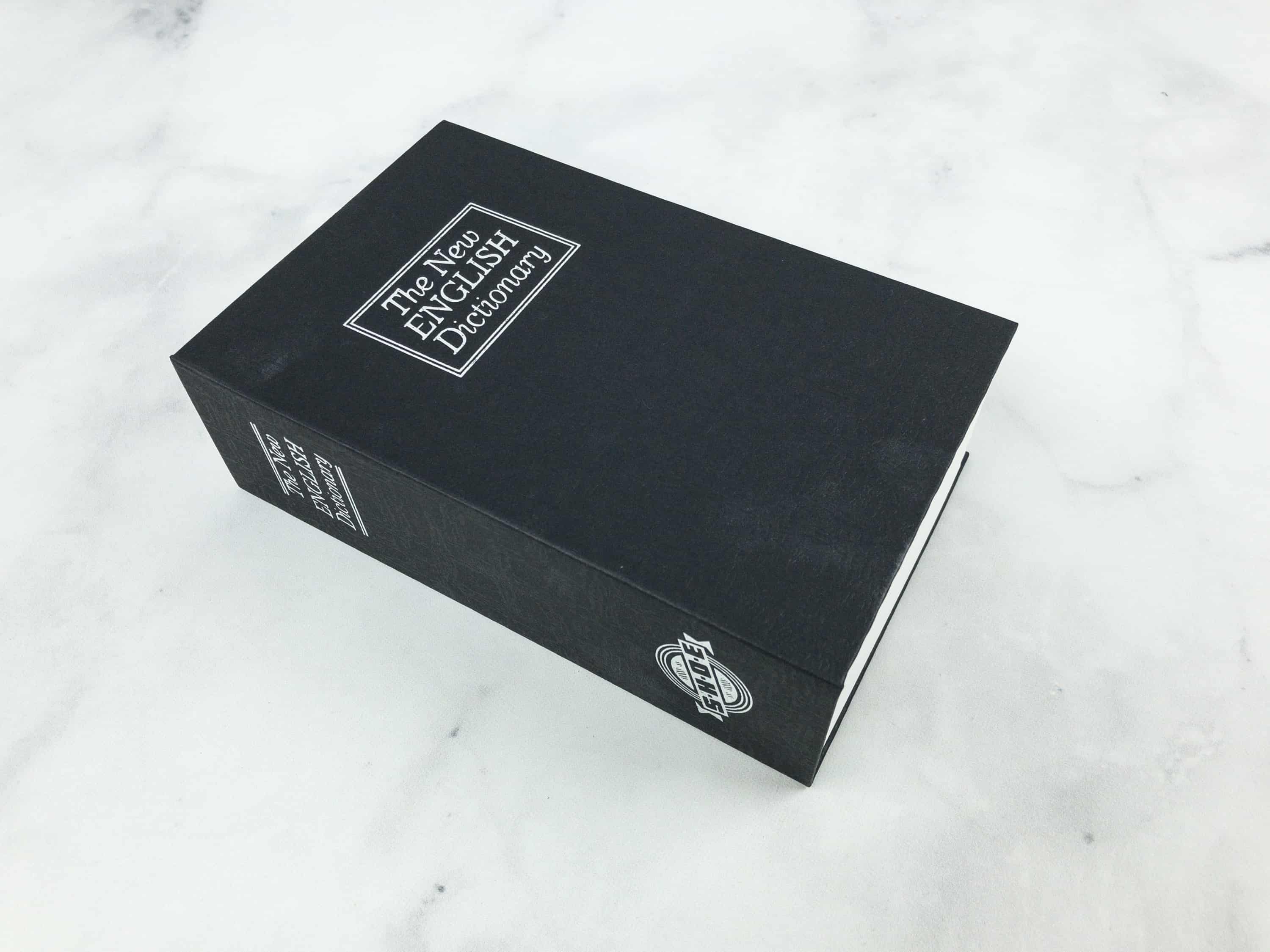 An English Dictionary? Seriously?
What this is quite a thick dictionary… Upon inspection, we think that there's something different about this book…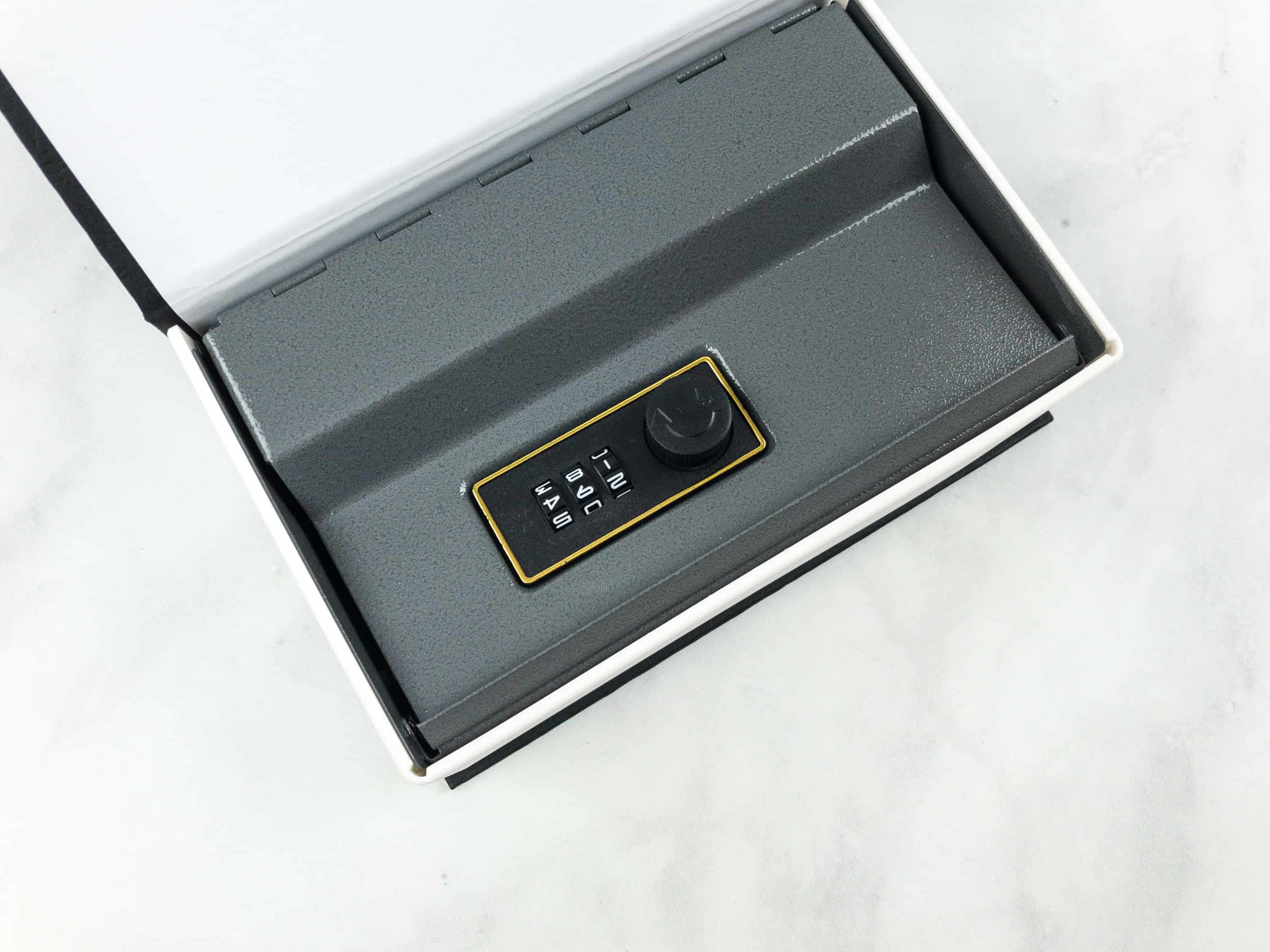 Whoa! It's a secret safe! That's awesome, they disguised it as a book! Now, it's time to crack open this one…
And what exactly is this artifact "WC" that we need to take care of?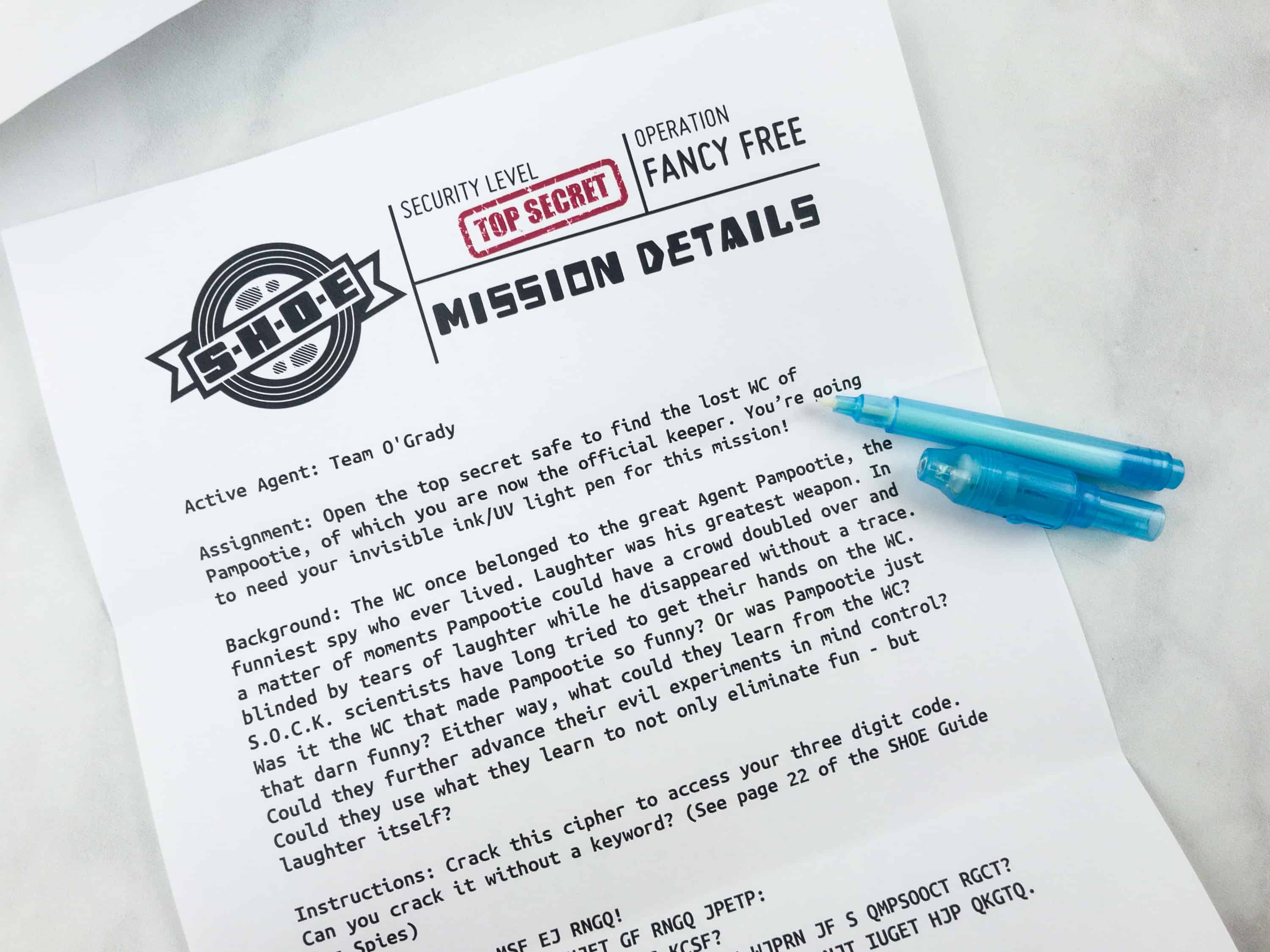 The invisible ink/UV light pen that's included in this mailer is needed for this new mission, to open the top-secret safe!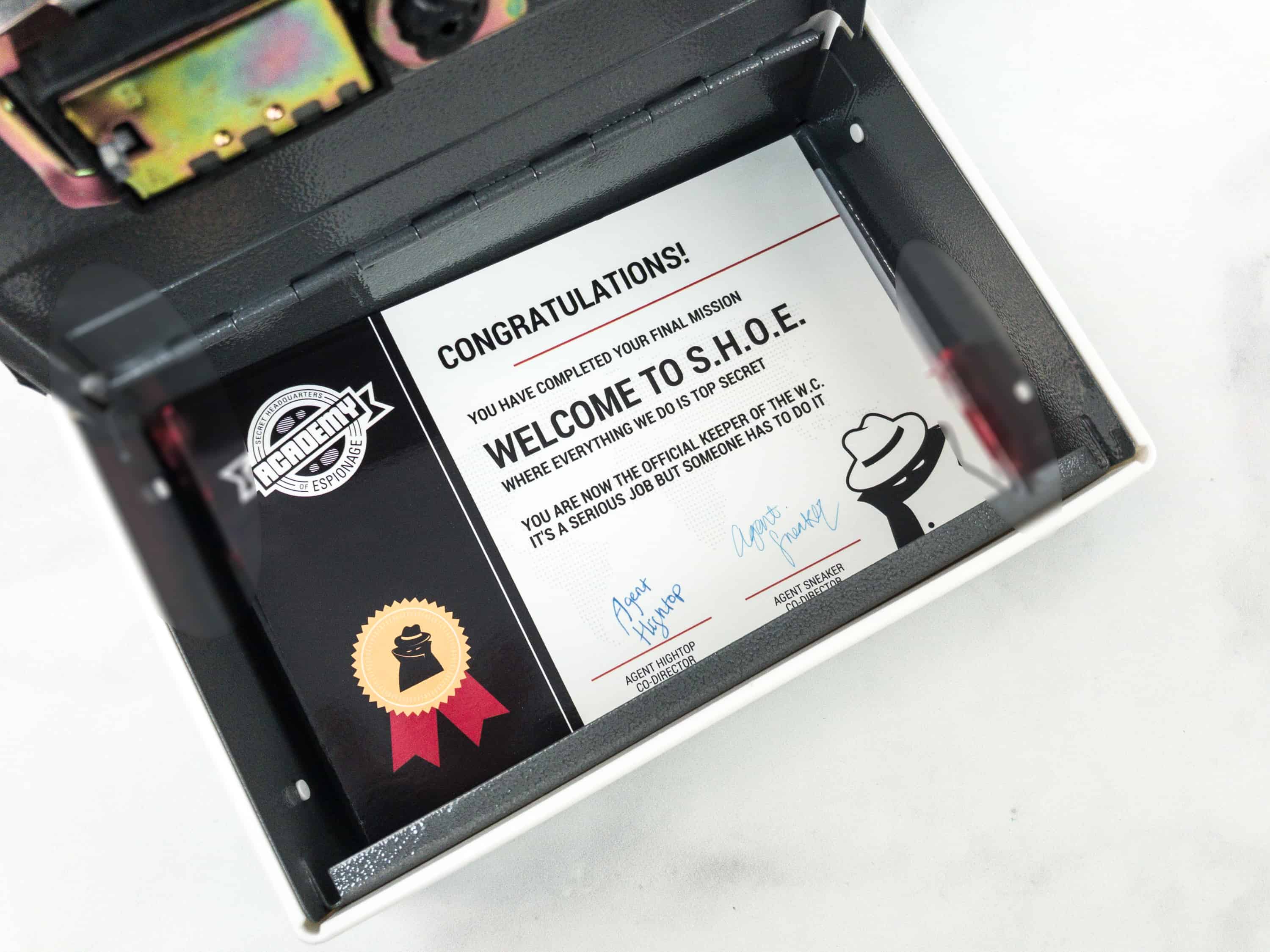 We did it! We are now the official keepers of the "WC"! SORRY, WE SOLVED EVERYTHING AND WE'RE NOT TELLING YOU WHAT IT IS!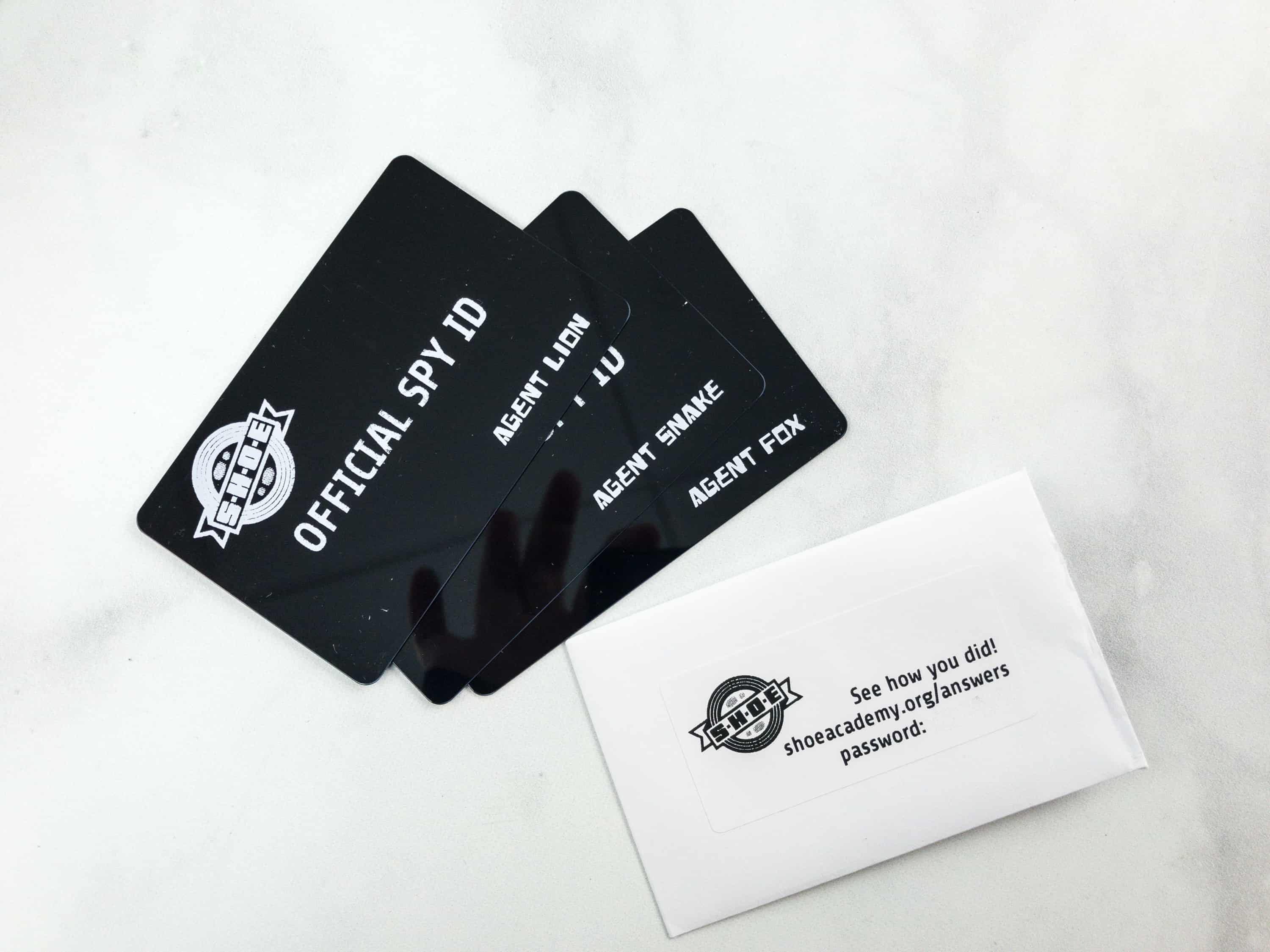 We also got Official Spy IDs! Awesome!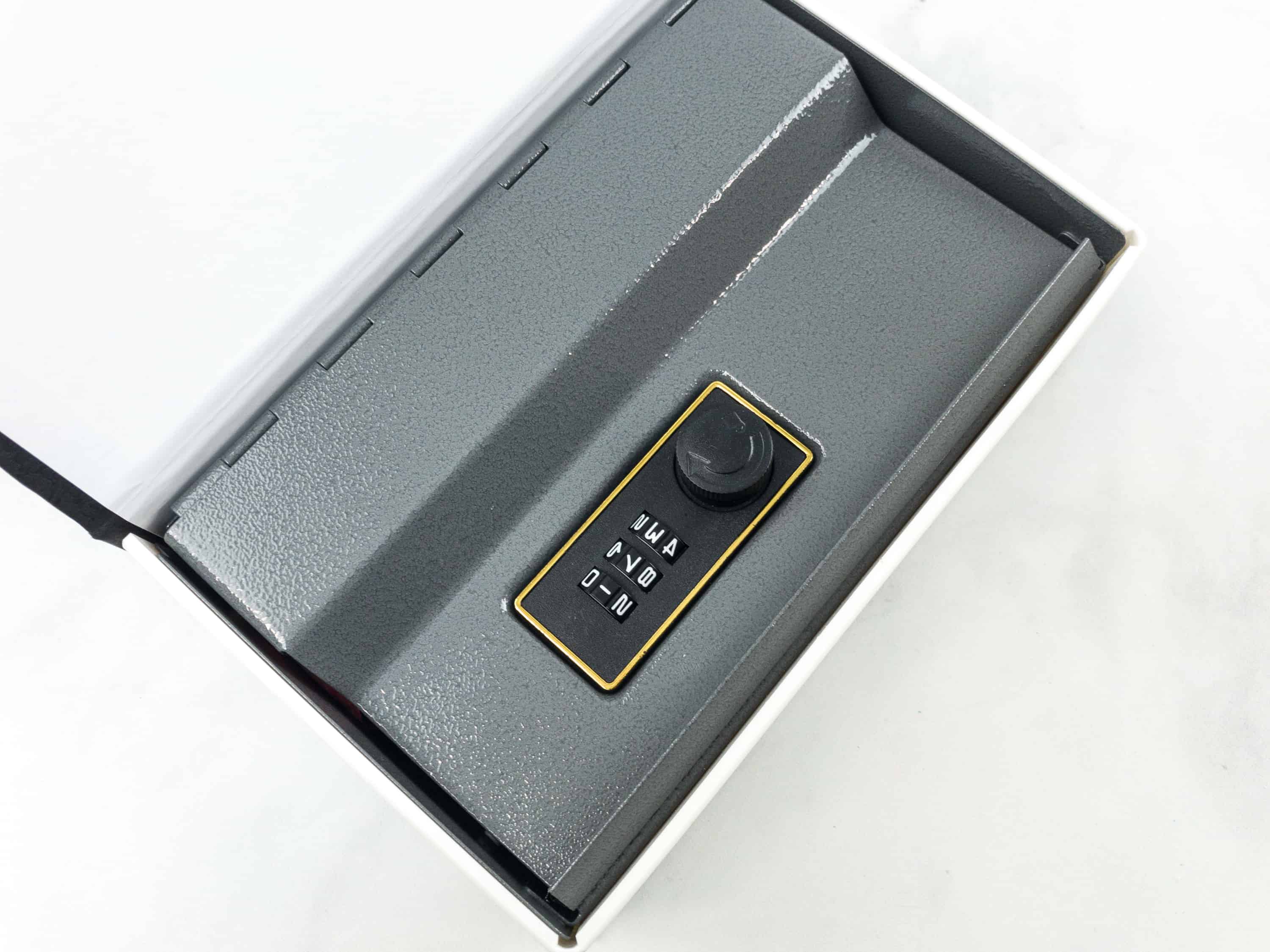 This is really a good mystery box! It kept us all nervous and at the same time, excited about what is about to unfold! Every mailer arrival is like Christmas and the kids just can't wait to open them up! The safe that came at the last installment, we can also use it to keep safe some of our treasured and prized possessions! This is a wonderful mystery subscription that will keep the kids on the edge of their seats and also develops their problem-solving skills. This box appeals to kids 8 and up, but can be played by younger ones too with adult supervision. They also have other mysteries to choose from, the Treasure Hunt and The Enchanted Slumber. This is a sure hit for kids, or the whole family, who loves to solve a good (and not scary) mystery!
FYI, we thought the age range for this mystery (8-12) was accurate and probably wouldn't get it for anyone younger unless they were already intense cipherers. We loved that this one wasn't too easy and it put up a nice challenge for the kids.
Any thoughts about this box? Let us know your comments!