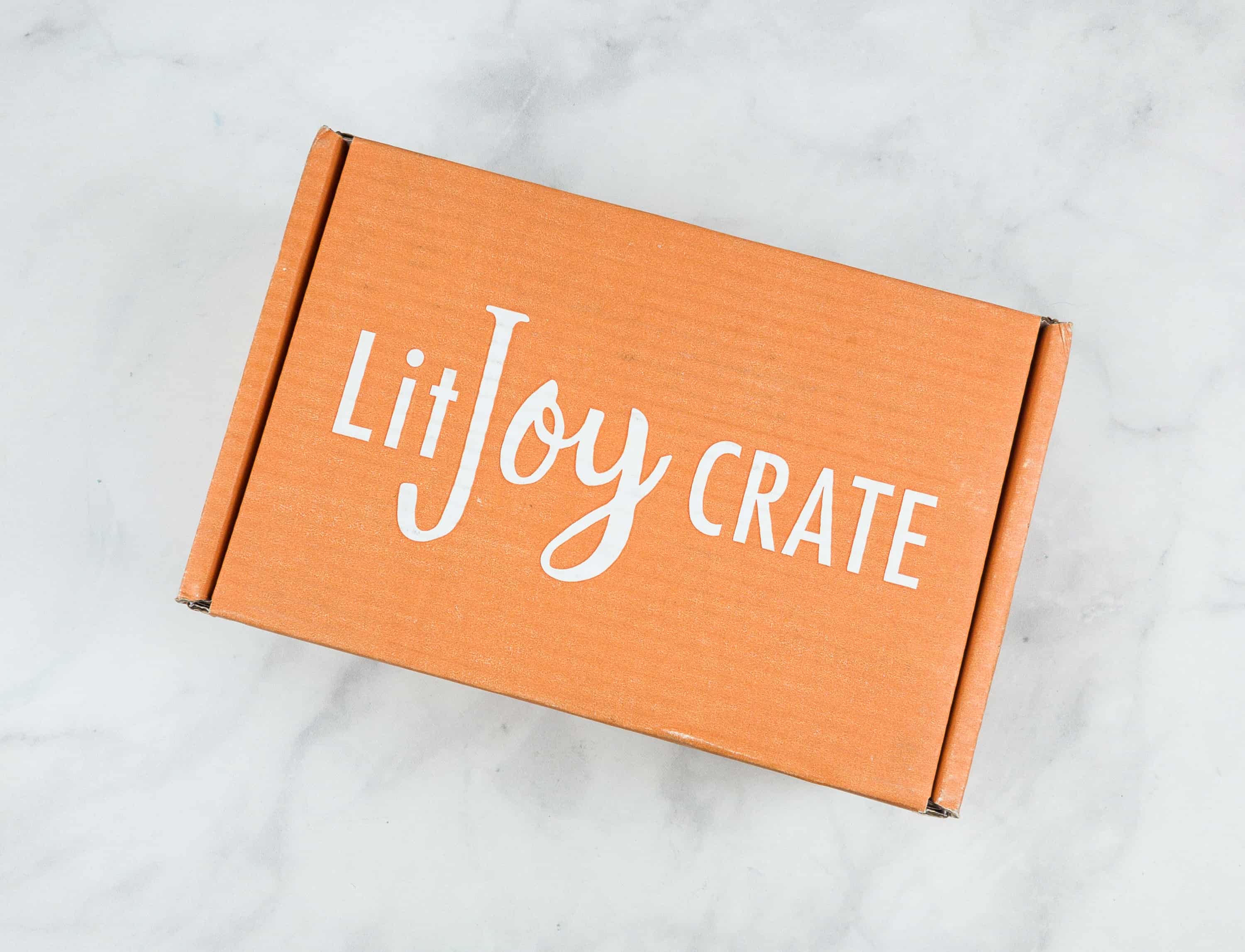 LitJoy Middle Grade Crate is a quarterly book subscription box for middle-grade readers. For $34.99 you'll get two middle-grade books plus 3-5 bookish items, all themed together.
DEAL: Save 10% with coupon code LITJOY10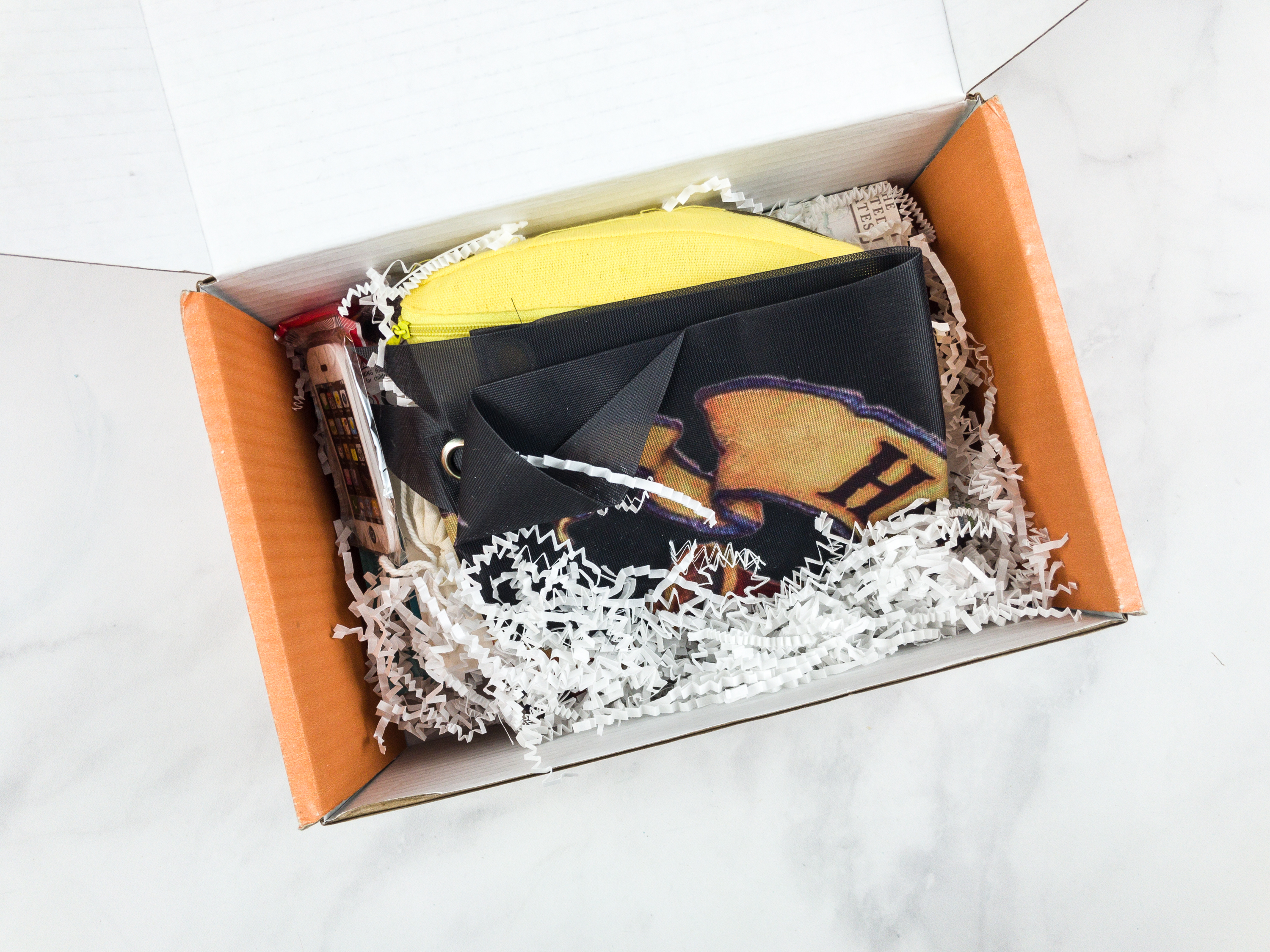 LitJoy also offers a young adult (ages 16+) subscription for $29.99 each, and each box comes with a book and 2-4 book-themed items.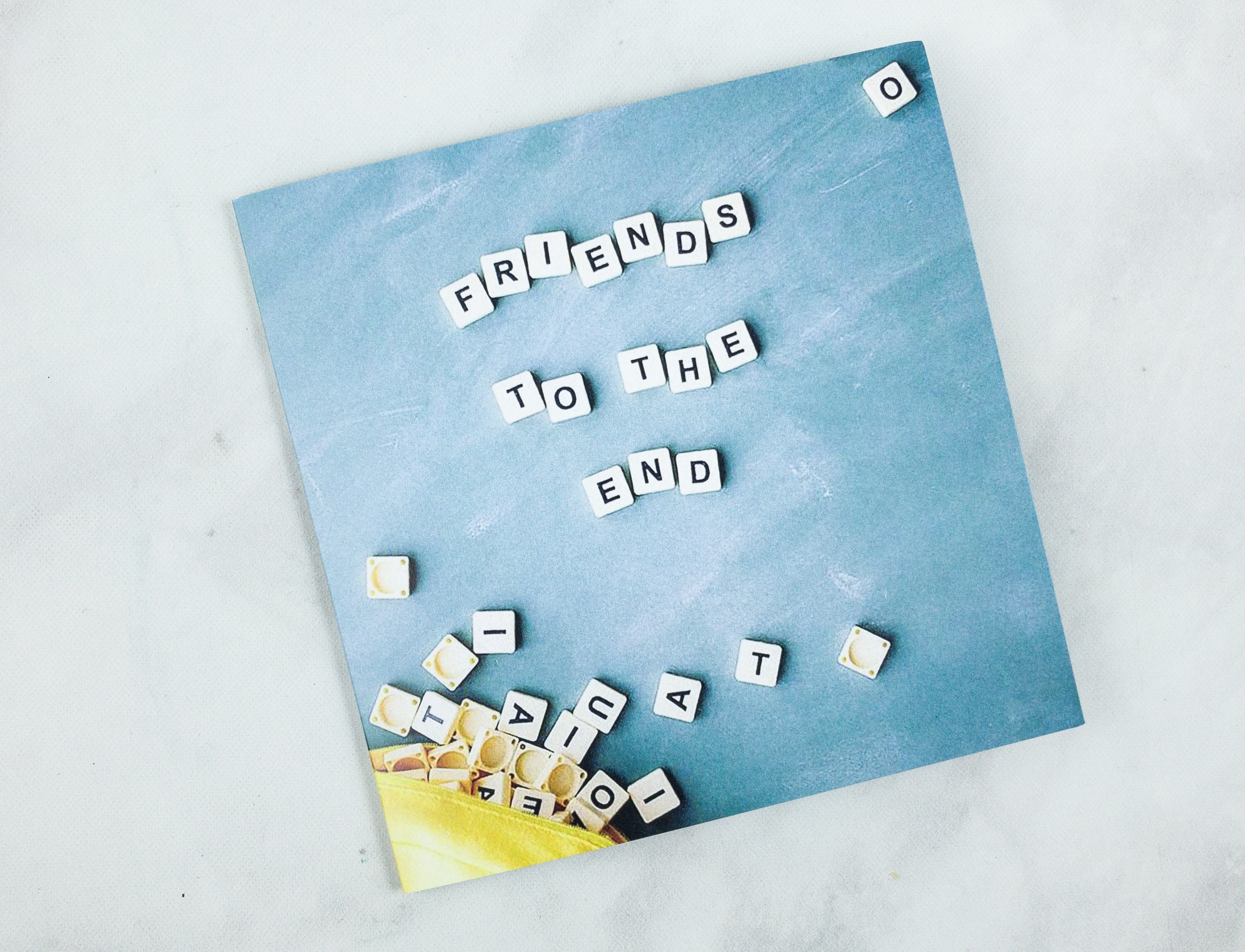 The theme this quarter is Friends To The End.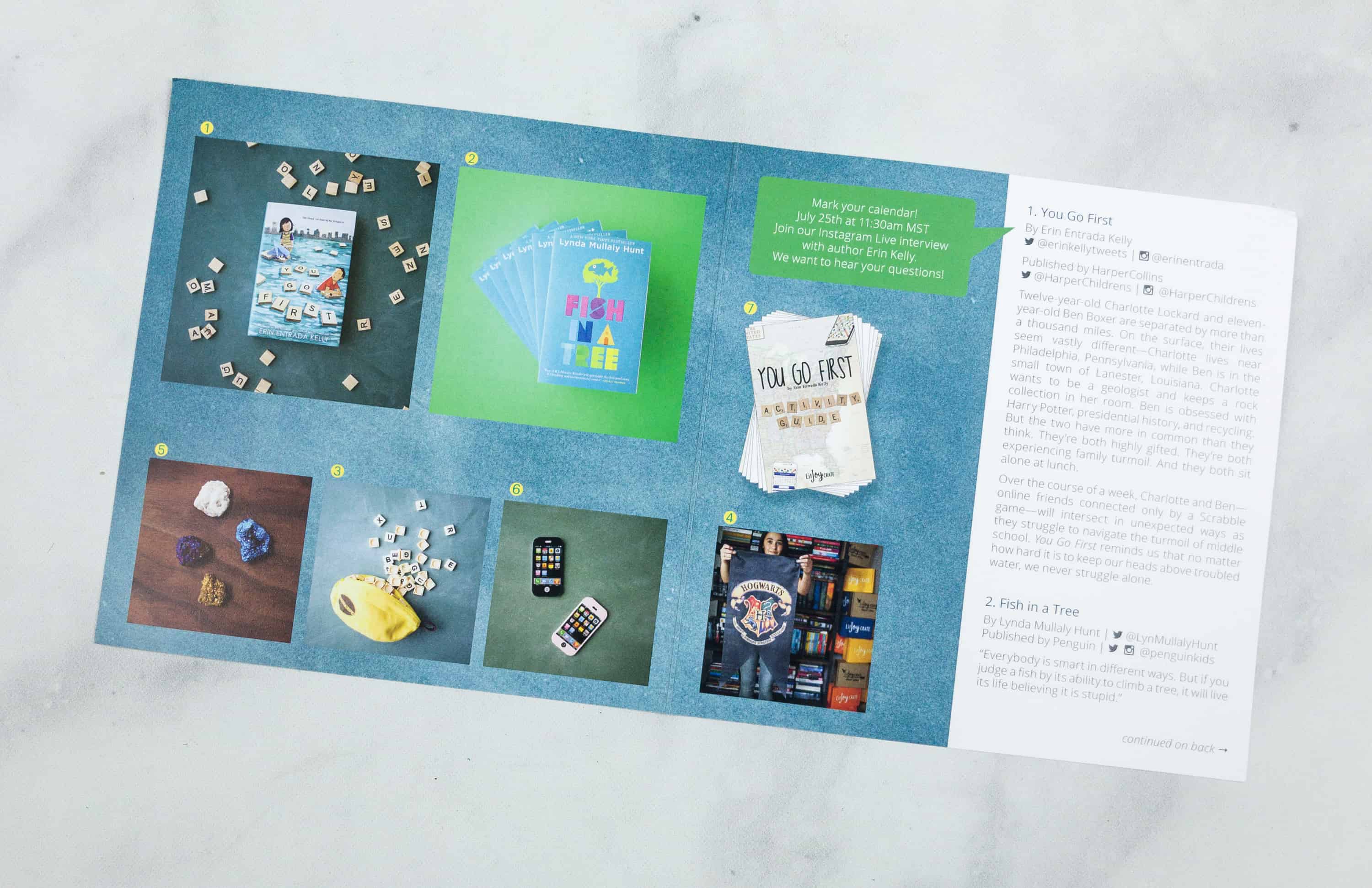 The info sheet has all the images of the books and the added items in the box.
Plus it comes with a list of all the items and filled with loot info.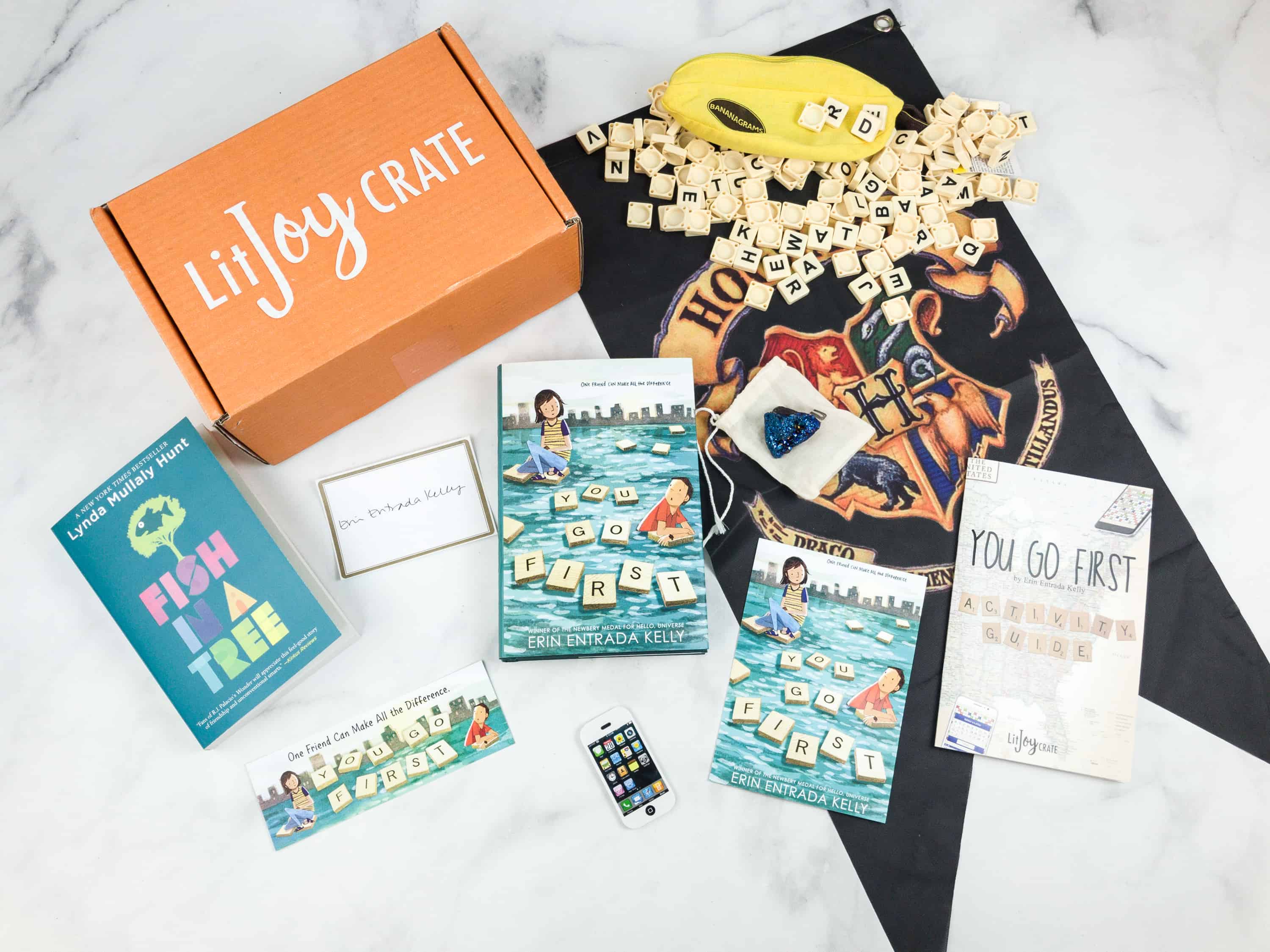 Everything in the Summer 2018 LitJoy Middle-Grade Crate!
Activity Guide. You know that you have upgraded to a middle school activity guide when it has muted colors. It is in contrast with the vibrant colorful cover art for younger kids.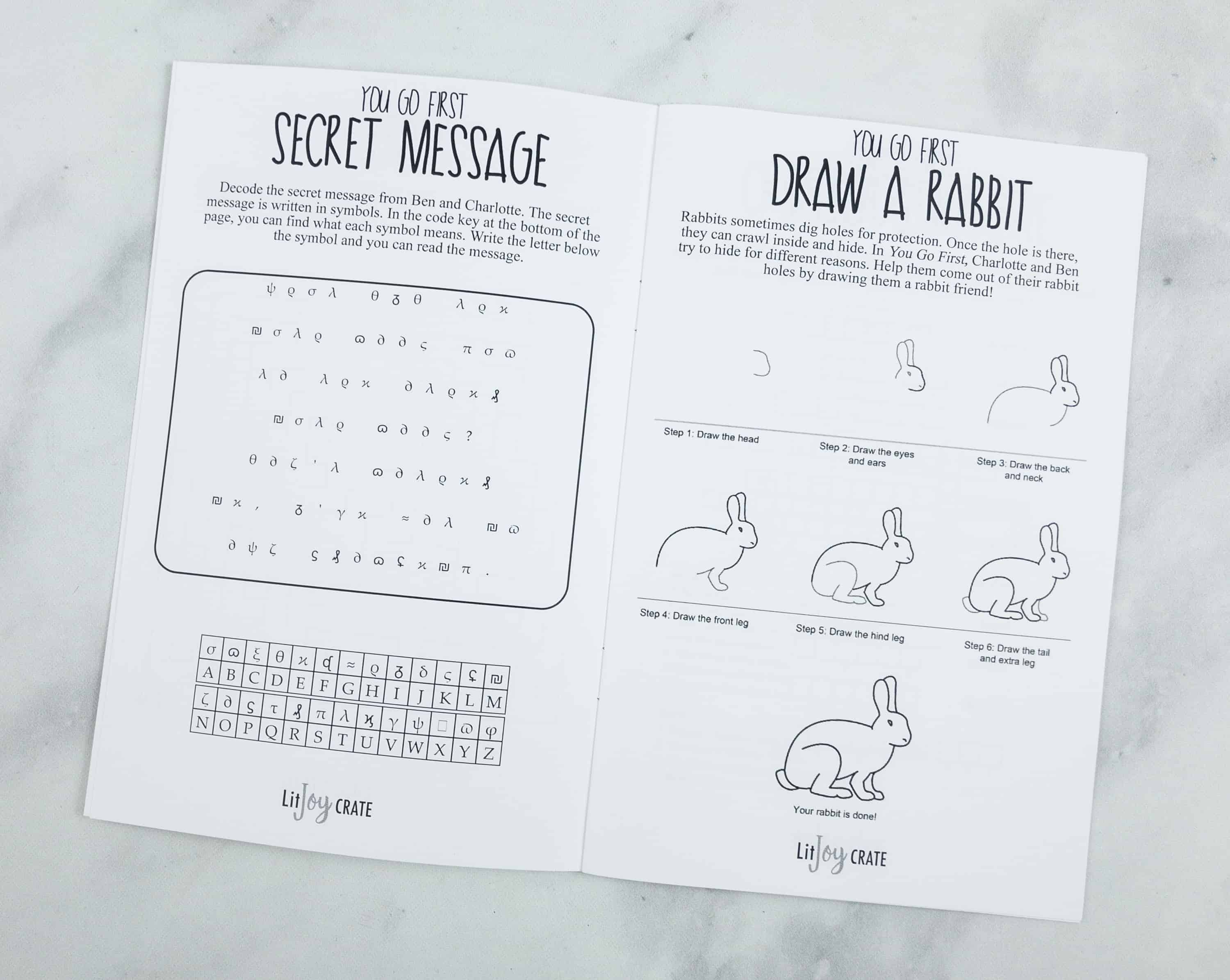 The pages are all in black and white and the activities are more challenging as well.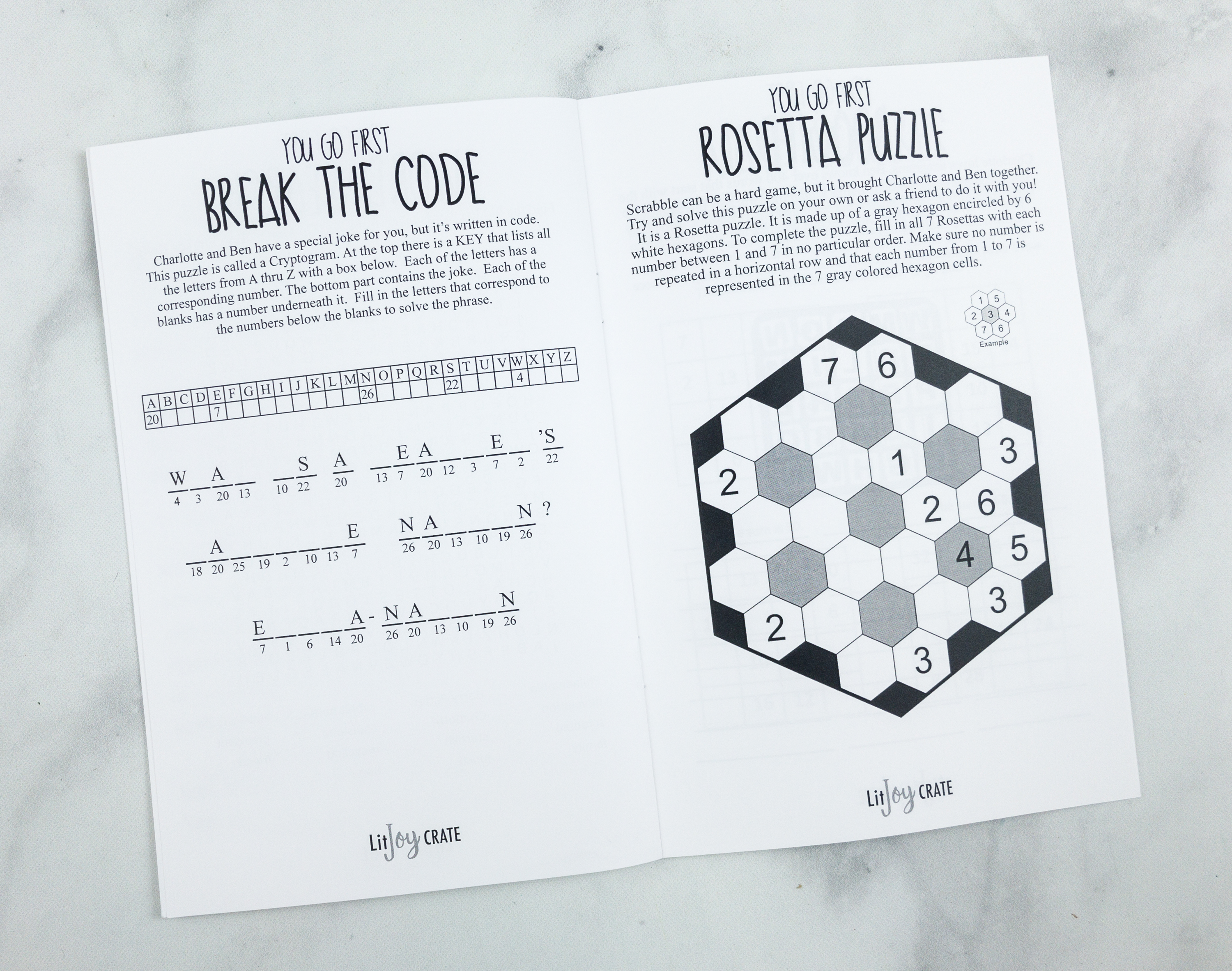 They want us to crack a joke by breaking the code and ace the rosetta puzzle. There are bunches more pages and puzzles – this is only an example!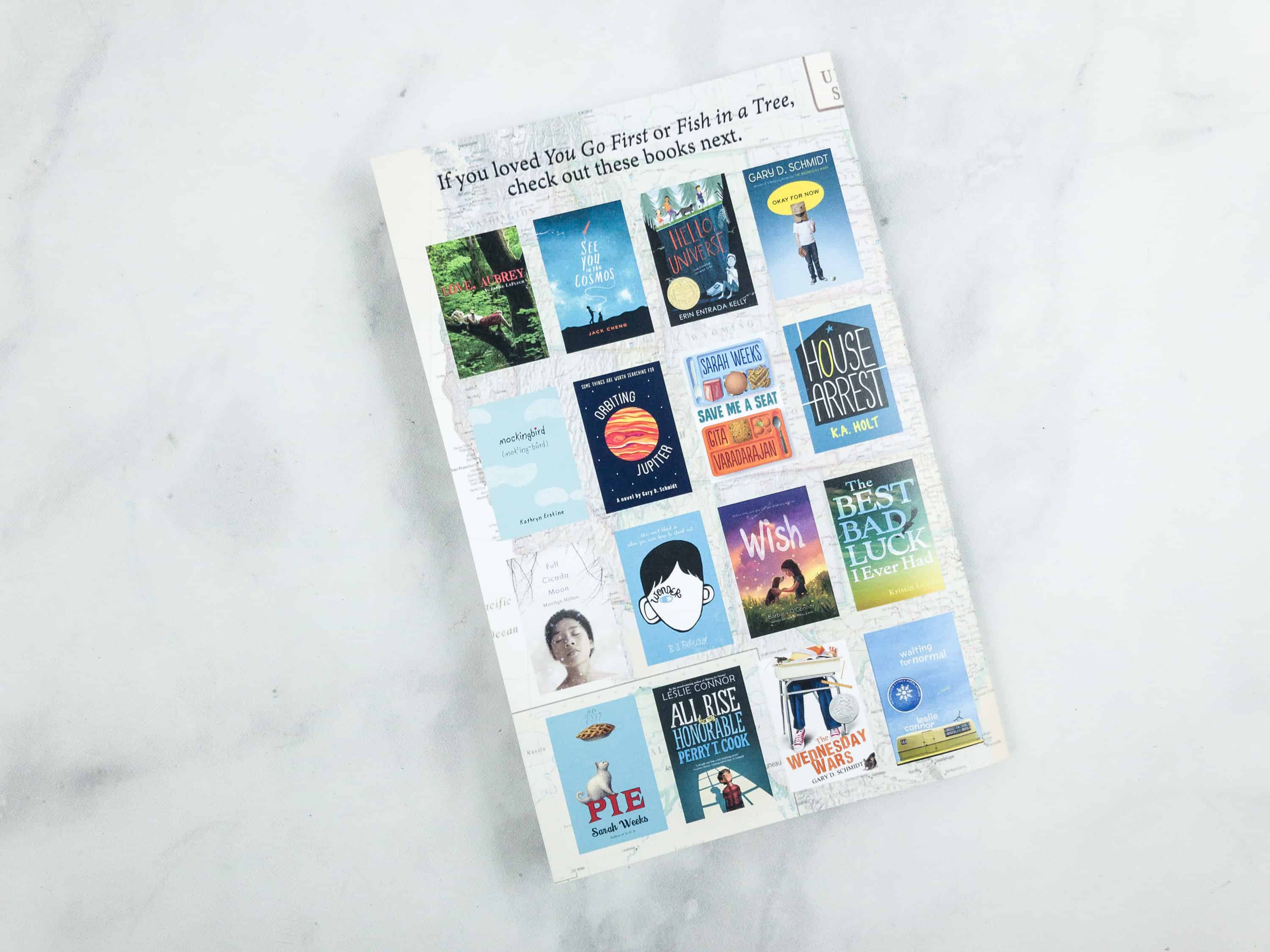 If the kids are bookish, and they loved the books provided for this month, LitJoy Crate gives us suggestions that our kids might want to read next.
iPhone Eraser. The eraser perfectly resembles an old version of iPhone. It has rich colors and the details are fantastic!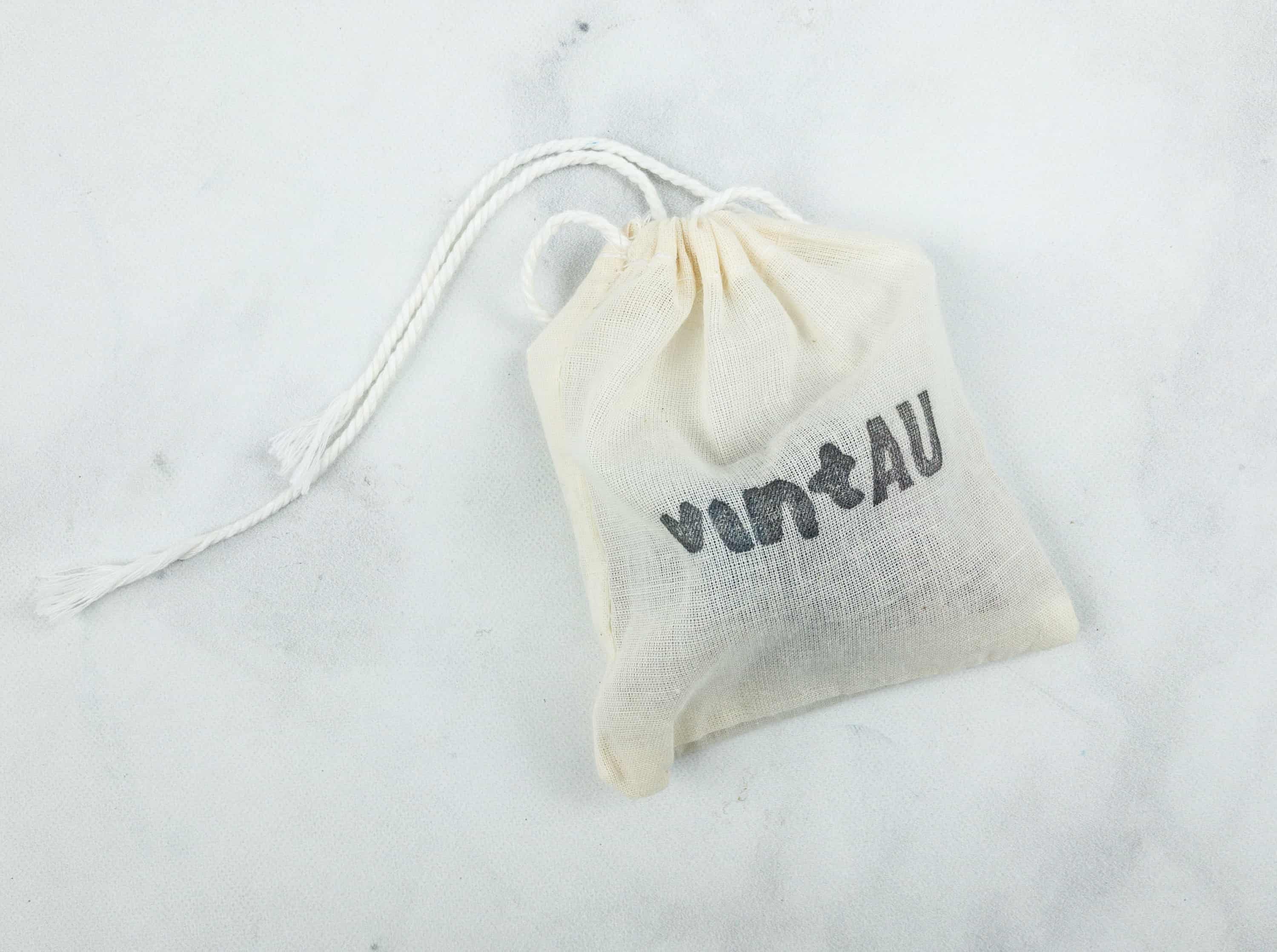 Geode "Lucky Charm" Magnet. The Geode is secured in a drawstring recyclable bag. In reference to the story, this signifies the part where Charlotte wants to be a geologist.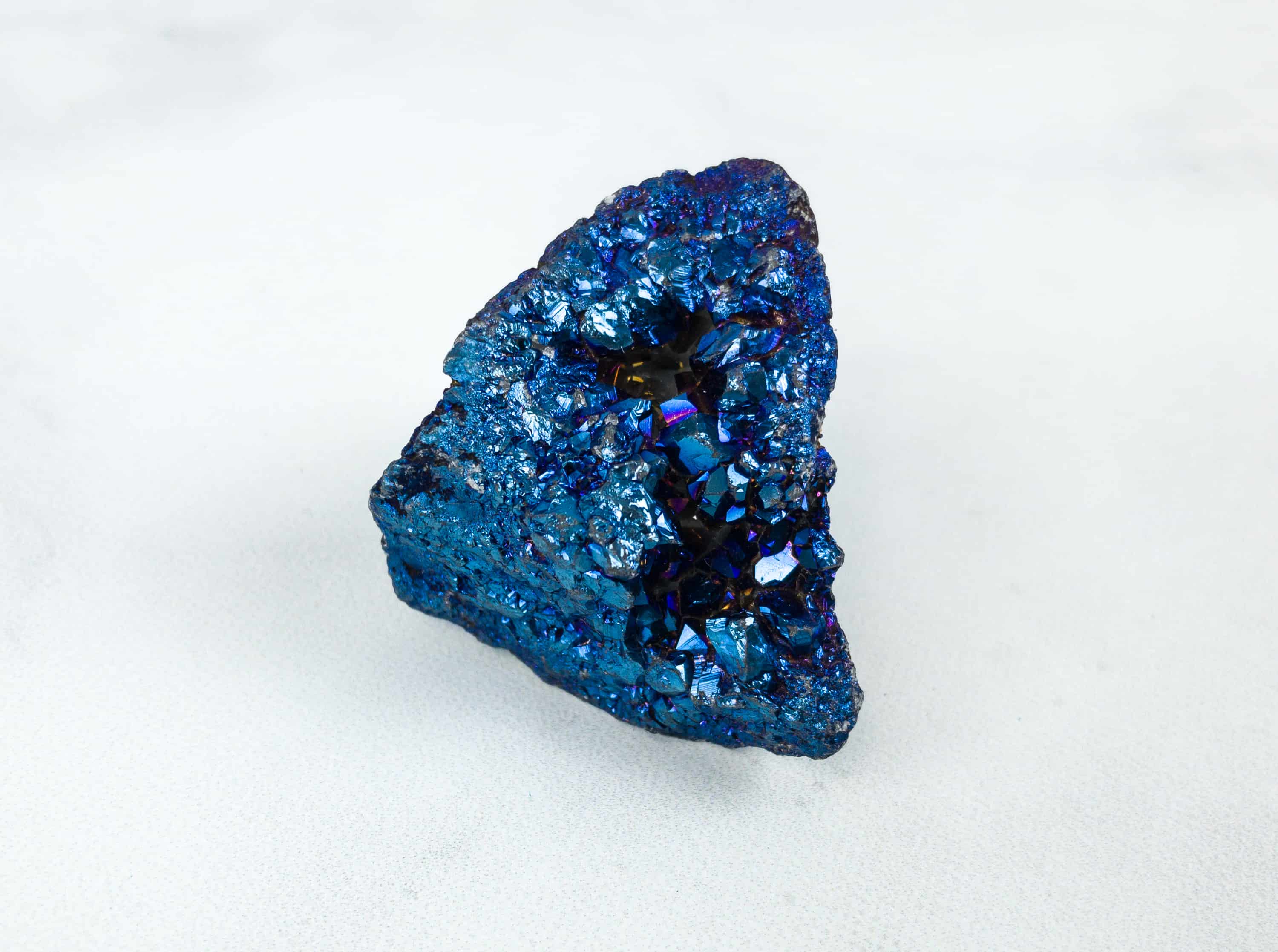 I was surprised at how vibrant and shiny it is.
It is in electric blue color with shades of purple. It is mesmerizing to look at and it makes a great display item too.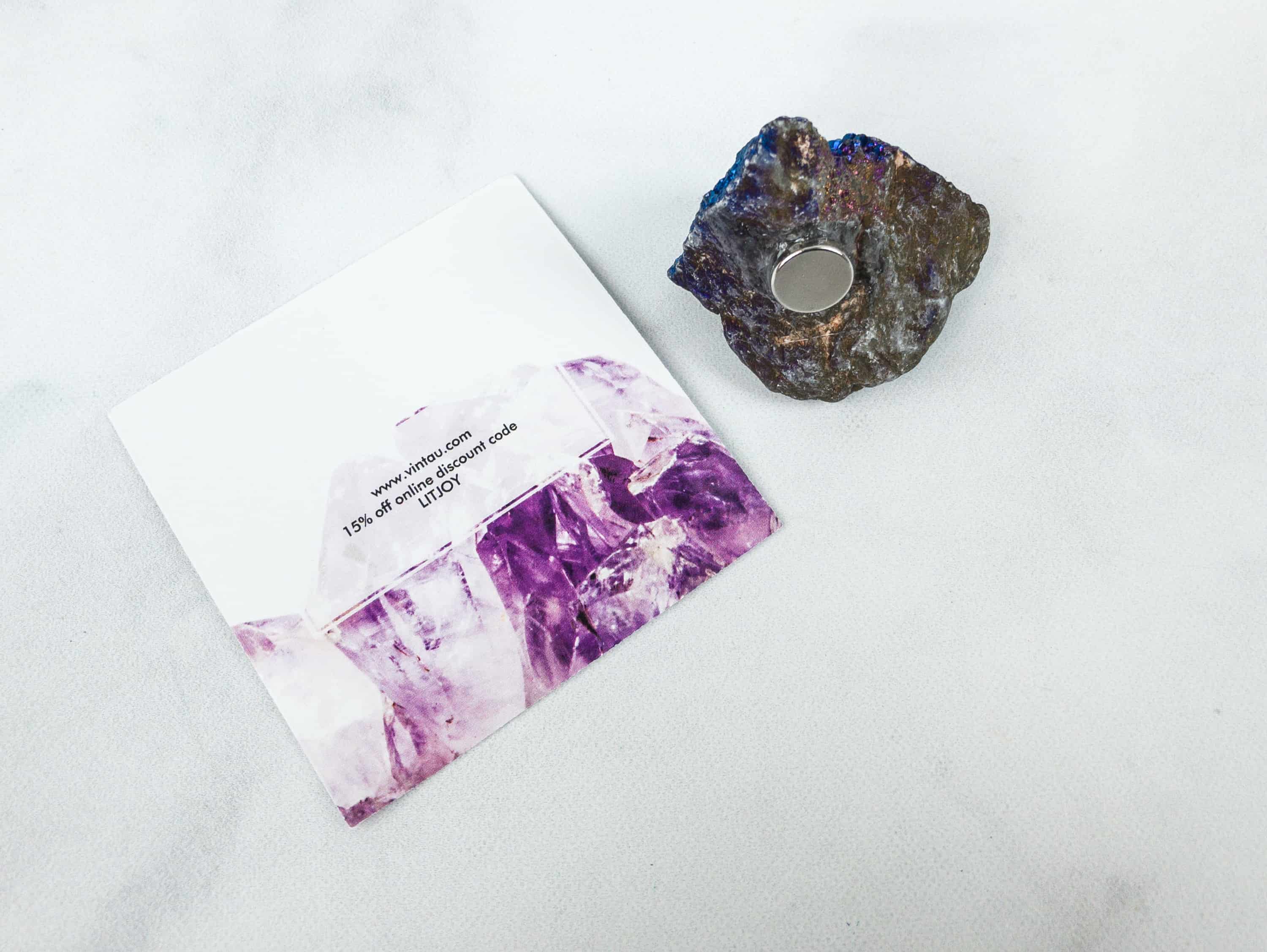 The electric blue doesn't extend at the back. It does have a circle magnet to be able to stick it to a ferromagnetic surface. They also gave us a discount card along with it. Ummm I'm not going to tell you that I stole this magnet for my magnet fridge. Ok, I did. It's gorgeous.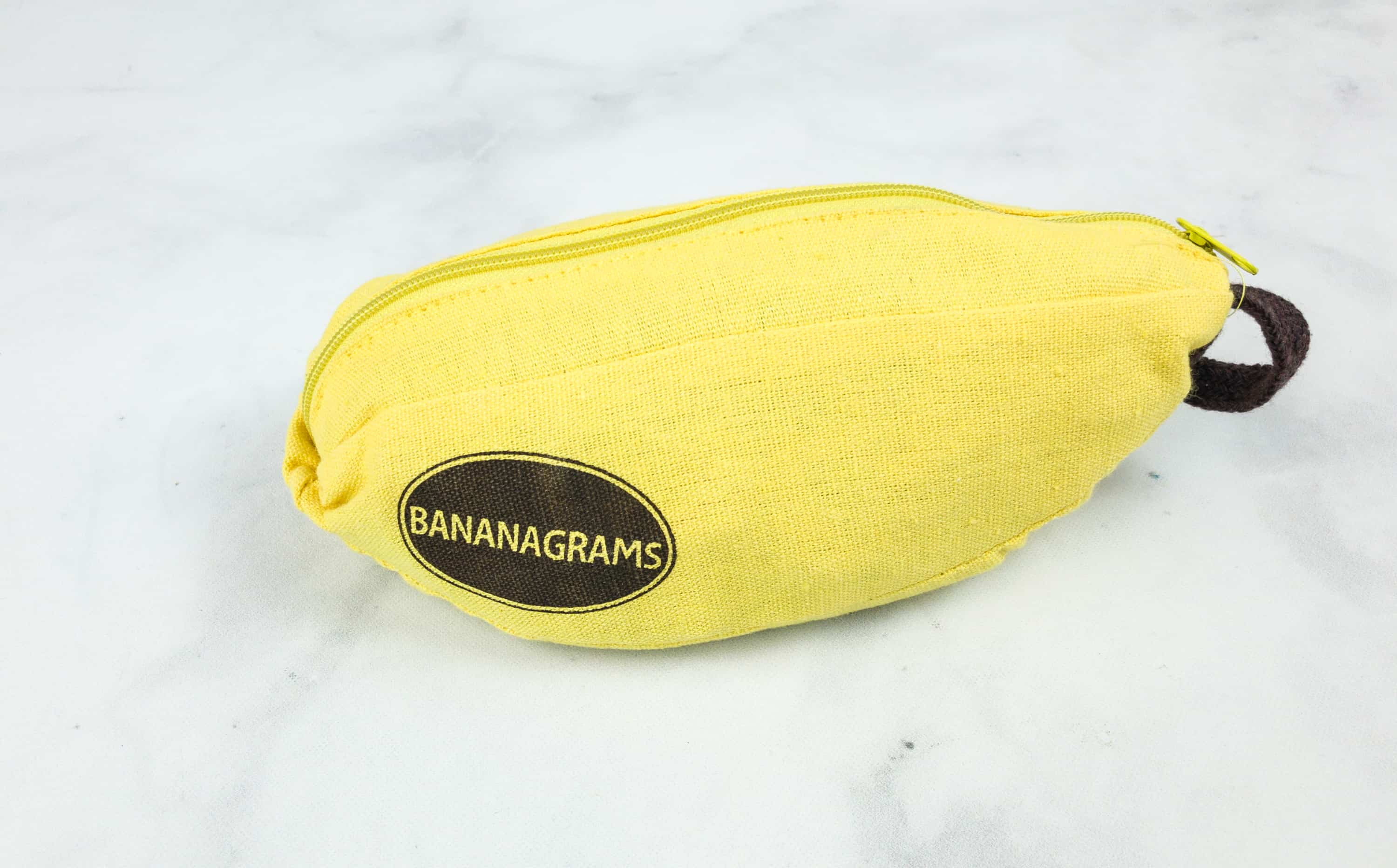 Bananagrams Game. This game will make us go bananas! I love that they included this because it is like a modern version of Scrabble. It's a fun game that we can play as a family and will enhance my kid's vocabulary and spelling at the same time.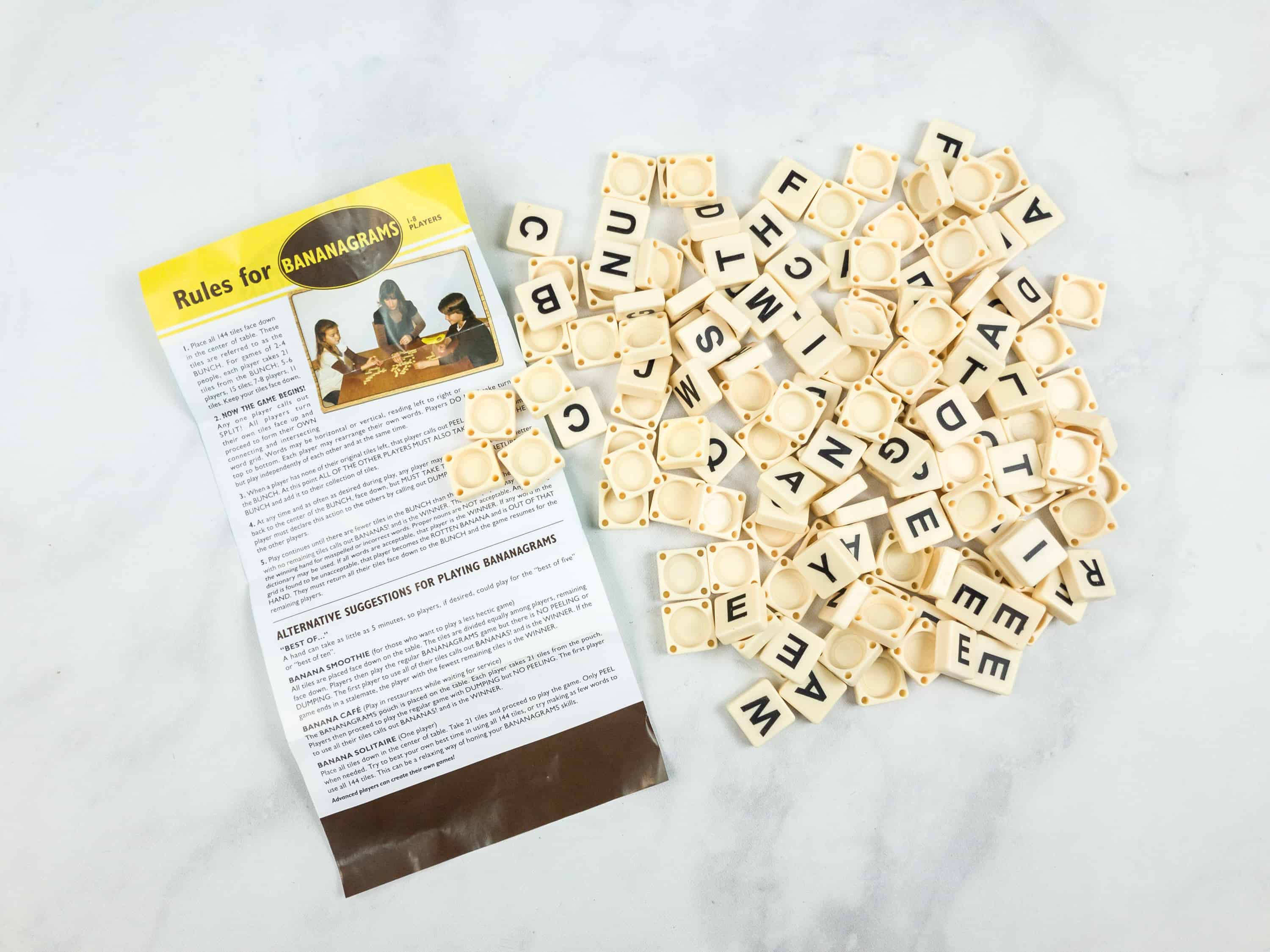 Included inside the pouch is the instruction manual and a pile of letter tiles! This is included in the box because the friendship of Charlotte and Ben started off by being rivals on a Scrabble online game. This game is absolutely perfect to play in restaurants while waiting – what a great tip on the instructions!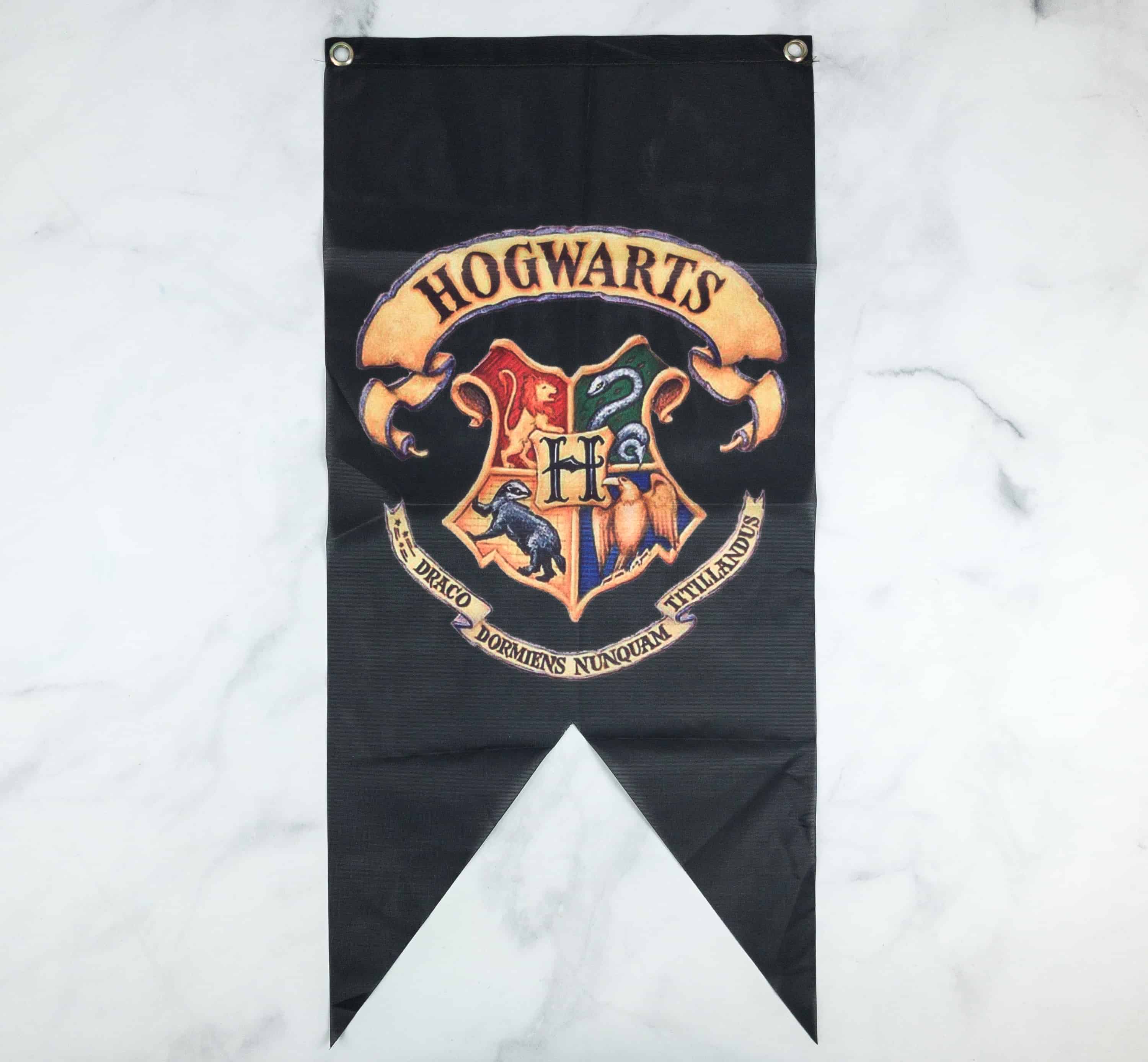 Hogwarts Crest Banner. This is a fun collectible that can be hung to add some magic to our walls. It's been more than 20 years since the first Harry Potter novel came out and I'm just happy that my daughter loves the series as well.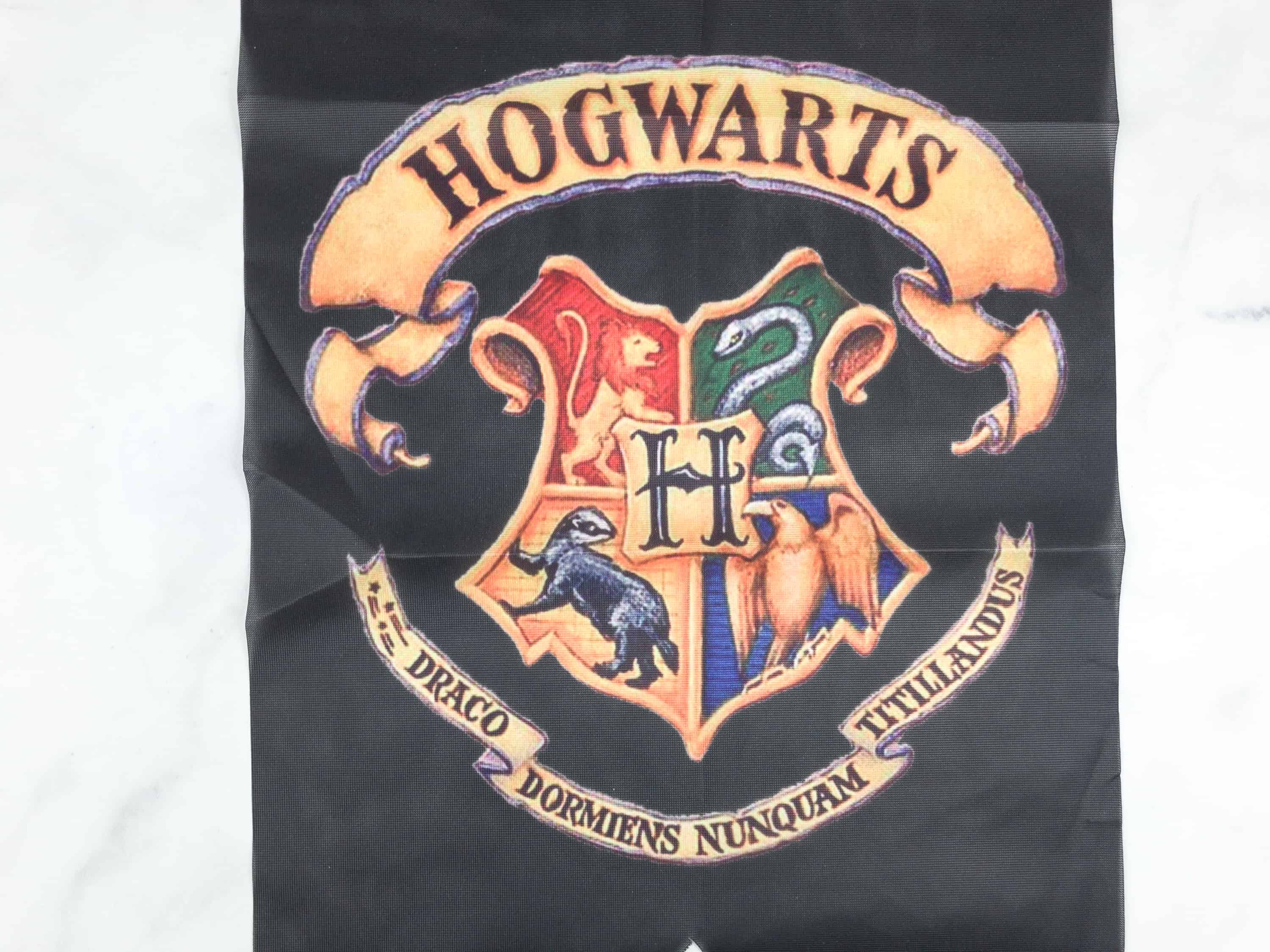 The banner is digitally printed. It features the four great houses of the Hogwarts School of Witchcraft and Wizardry. In the story, Ben is crazy about Harry Potter and now his love for it is shared with the subscribers of this box.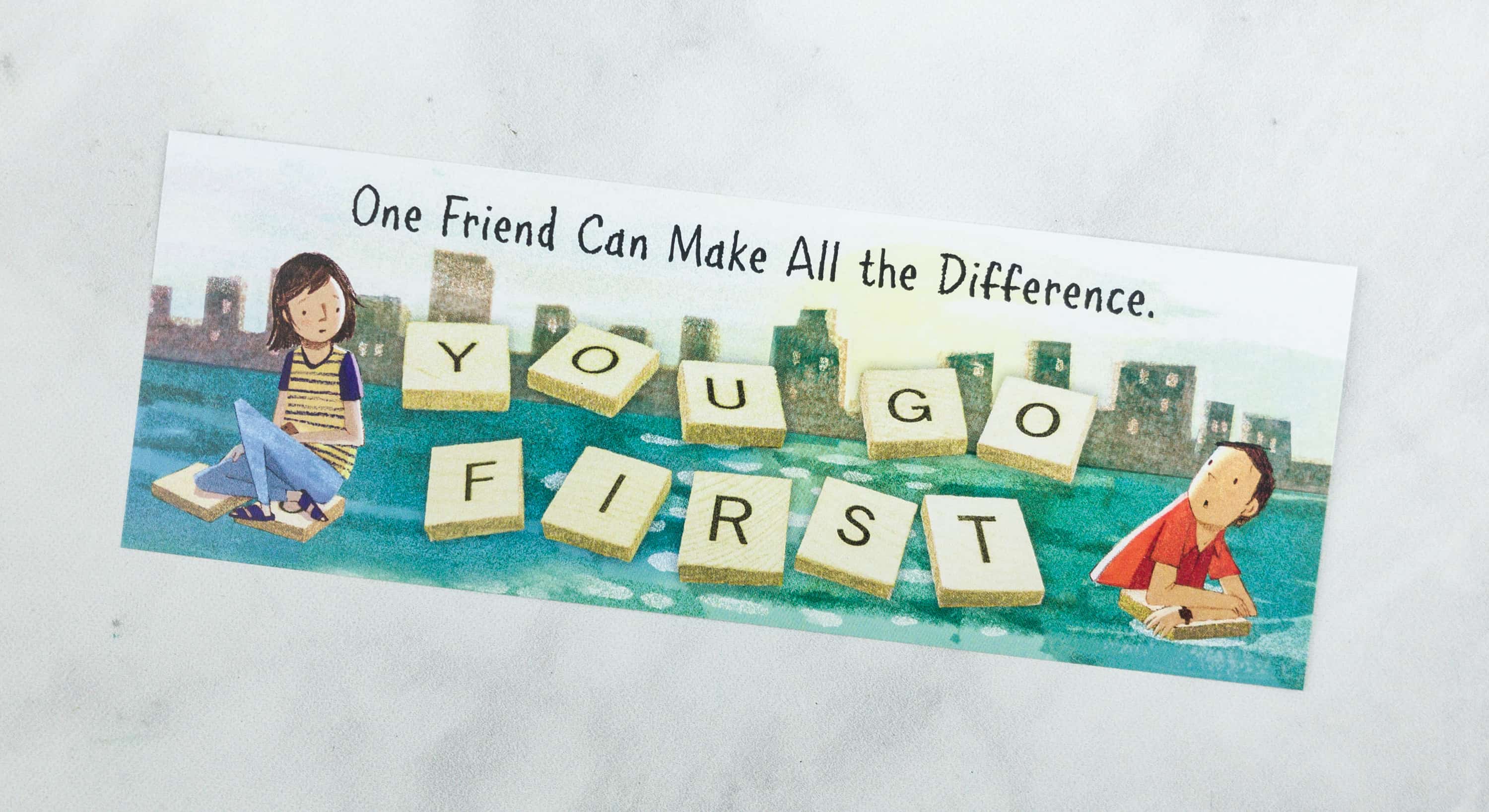 They gave us a bookmark that goes with the theme.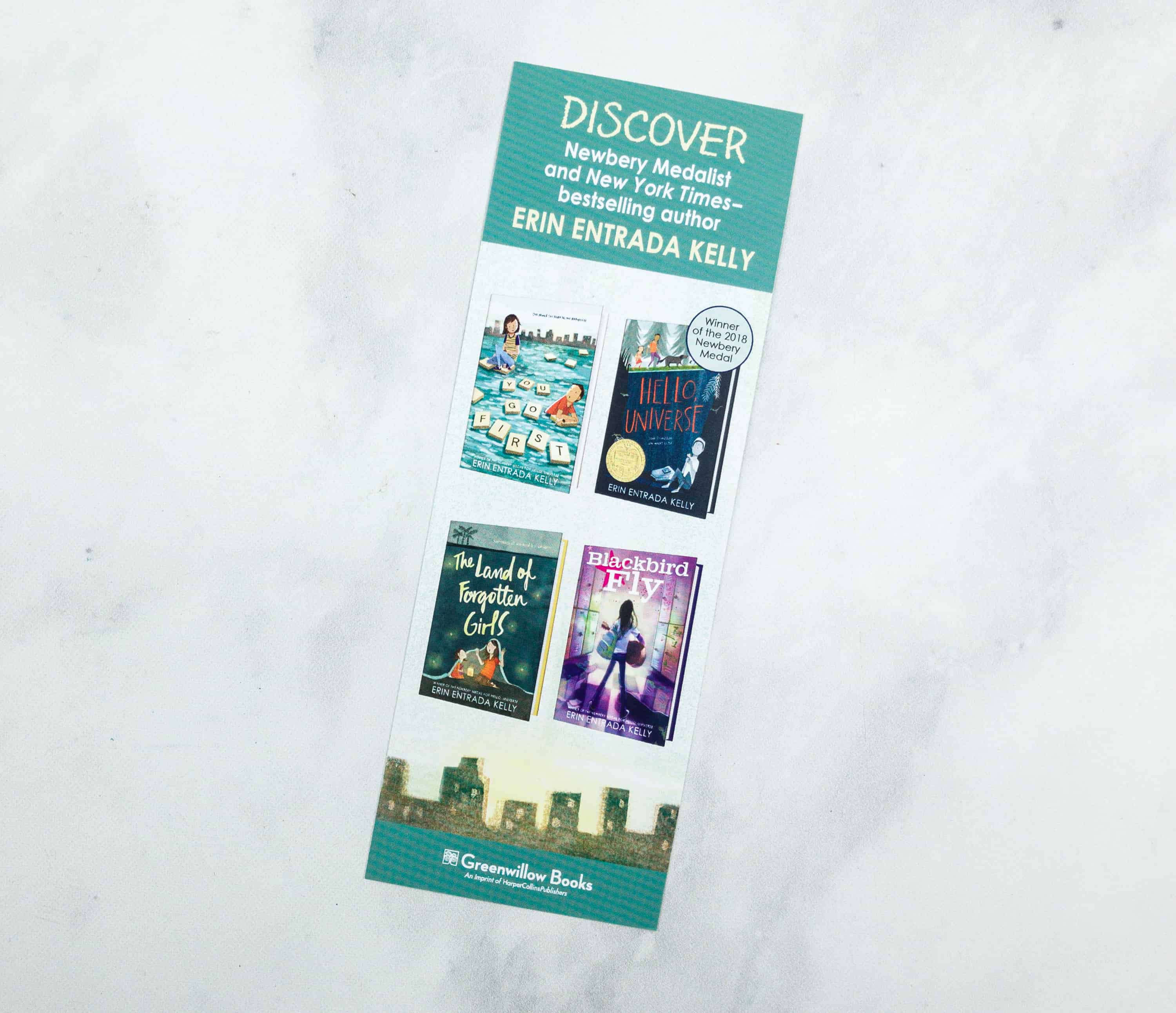 The back of the bookmark has different selections of books from the same author that we can enjoy.
There's also a sticker with the author's signature on it.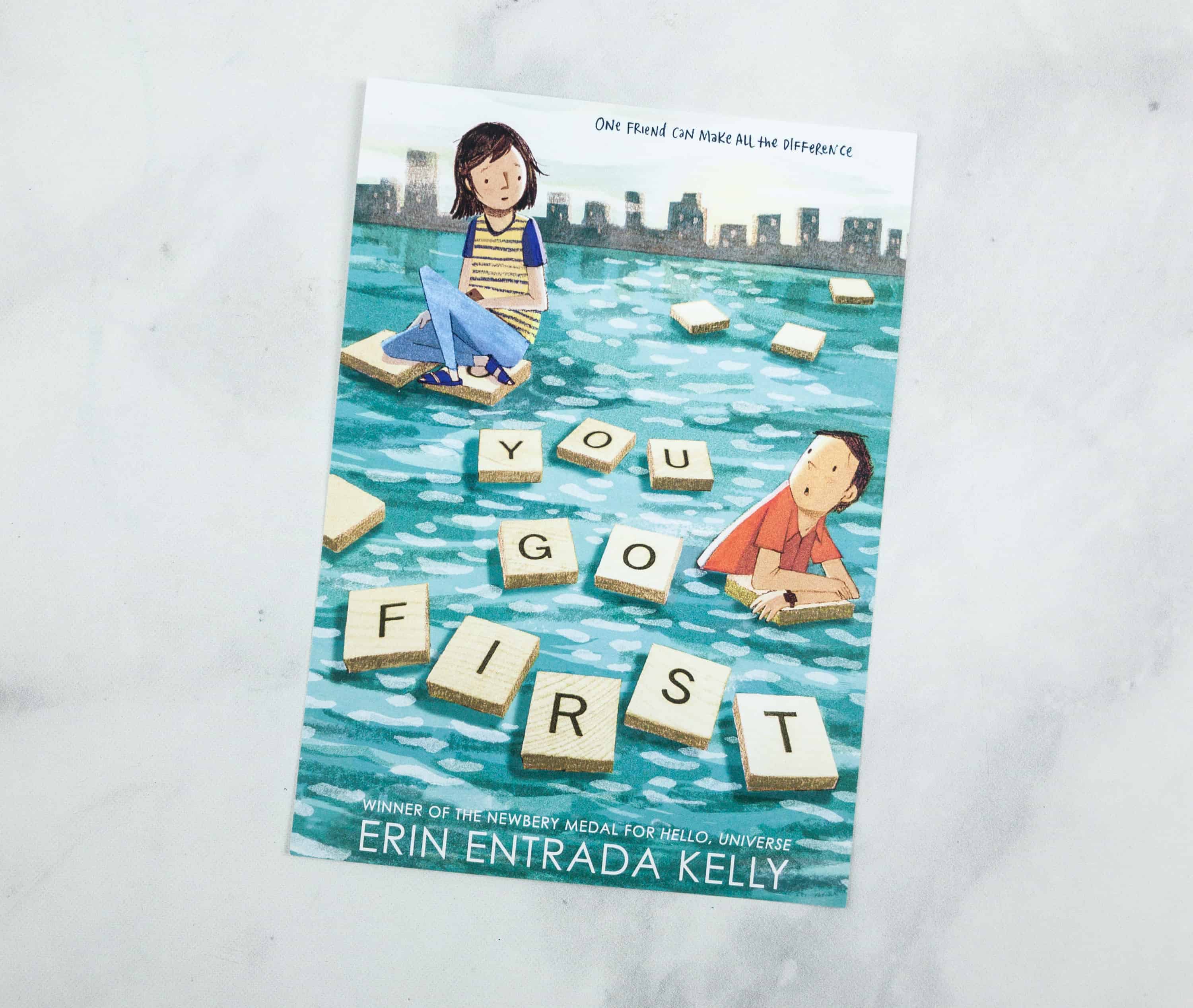 You Go First By Erin Entrada Kelly ($12.40)
Newbery Medalist Erin Entrada Kelly's You Go First is an engaging exploration of family, bullying, spelling, art, and the ever-complicated world of middle school friendships. Her perfectly pitched tween voice will resonate with fans of Kate DiCamillo's Raymie Nightingale.

Twelve-year-old Charlotte Lockard and eleven-year-old Ben Boxer are separated by more than a thousand miles. On the surface, their lives seem vastly different—Charlotte lives near Philadelphia, Pennsylvania, while Ben is in the small town of Lanester, Louisiana. Charlotte wants to be a geologist and keeps a rock collection in her room. Ben is obsessed with Harry Potter, presidential history, and recycling. But the two have more in common than they think. They're both highly gifted. They're both experiencing family turmoil. And they both sit alone at lunch.

Over the course of a week, Charlotte and Ben—online friends connected only by a Scrabble game—will intersect in unexpected ways, as they struggle to navigate the turmoil of middle school. This engaging story about growing up and finding your place in the world by the Newbery Medal–winning author of Hello, Universe and the winner of the Asian/Pacific American Award for Literature will appeal to fans of Rebecca Stead and Rita Williams-Garcia.
The author sent us an inspiring letter to which she talks in depth of her novel.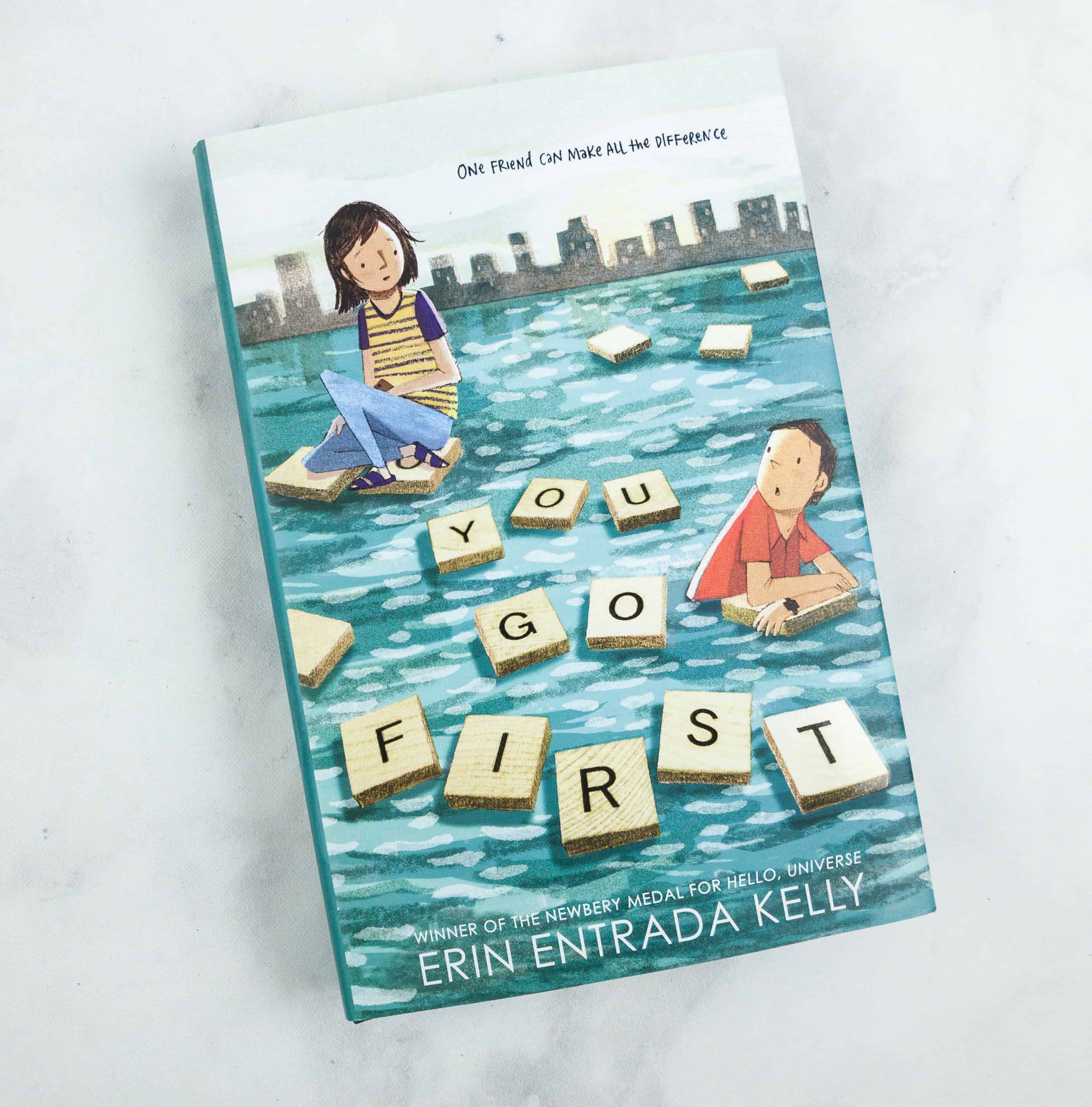 The story is poignant and optimistic at the same time. It's meaningful, timely, and paced in a succinct way. It also portrayed social media and online friendship in a positive light.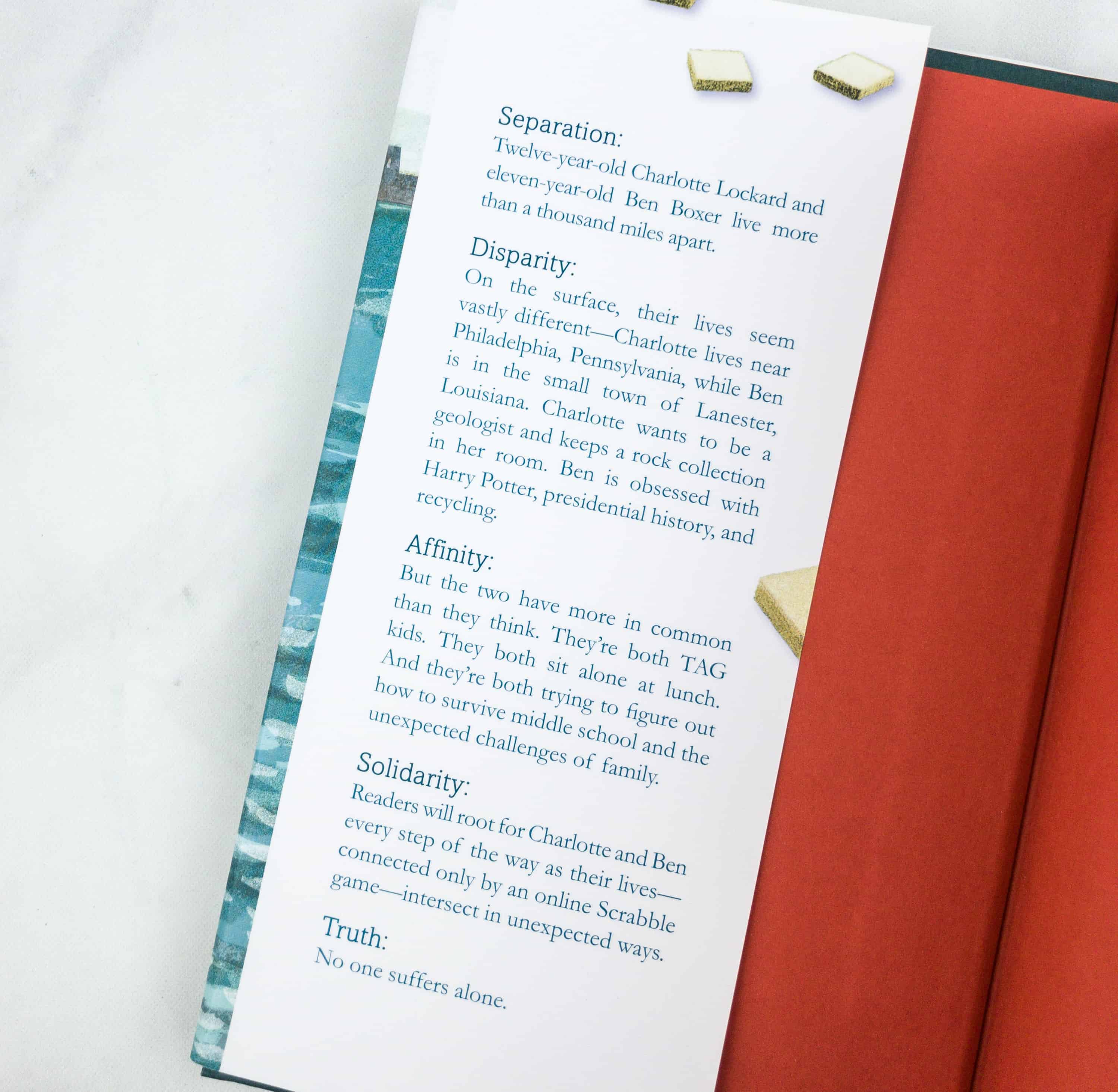 It tackles a lot of growing up issues such as human connection, friendship, and relationships, bullying, fitting in, family, and school.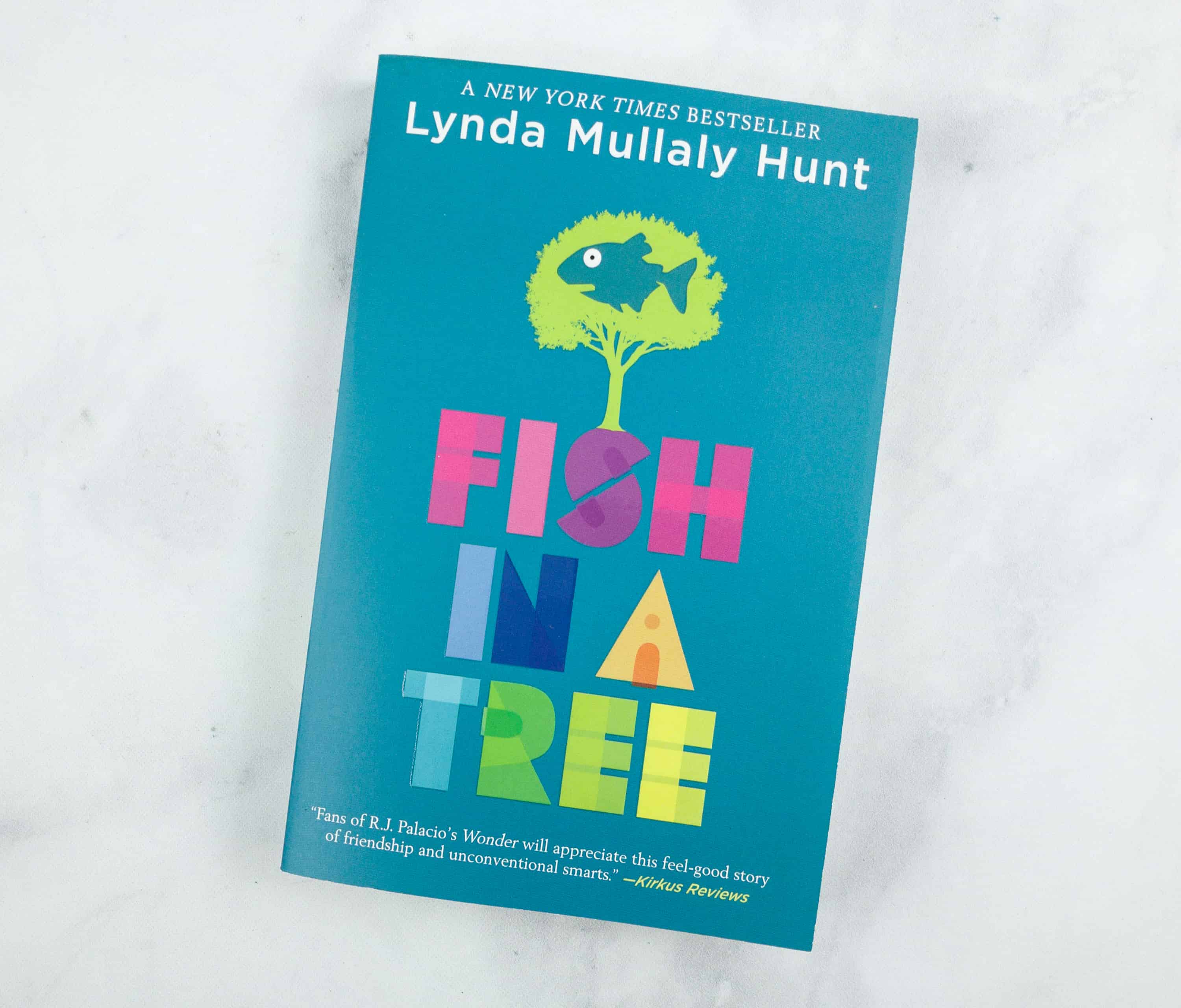 Fish In A Tree By Lynda Mullaly Hunt ($11.62)
A New York Times Bestseller!

The author of the beloved One for the Murphys gives readers an emotionally-charged, uplifting novel that will speak to anyone who's ever thought there was something wrong with them because they didn't fit in.

"Everybody is smart in different ways. But if you judge a fish by its ability to climb a tree, it will live its life believing it is stupid."

Ally has been smart enough to fool a lot of smart people. Every time she lands in a new school, she is able to hide her inability to read by creating clever yet disruptive distractions.  She is afraid to ask for help; after all, how can you cure dumb? However, her newest teacher Mr. Daniels sees the bright, creative kid underneath the trouble maker. With his help, Ally learns not to be so hard on herself and that dyslexia is nothing to be ashamed of. As her confidence grows, Ally feels free to be herself and the world starts opening up with possibilities. She discovers that there's a lot more to her—and to everyone—than a label, and that great minds don't always think alike.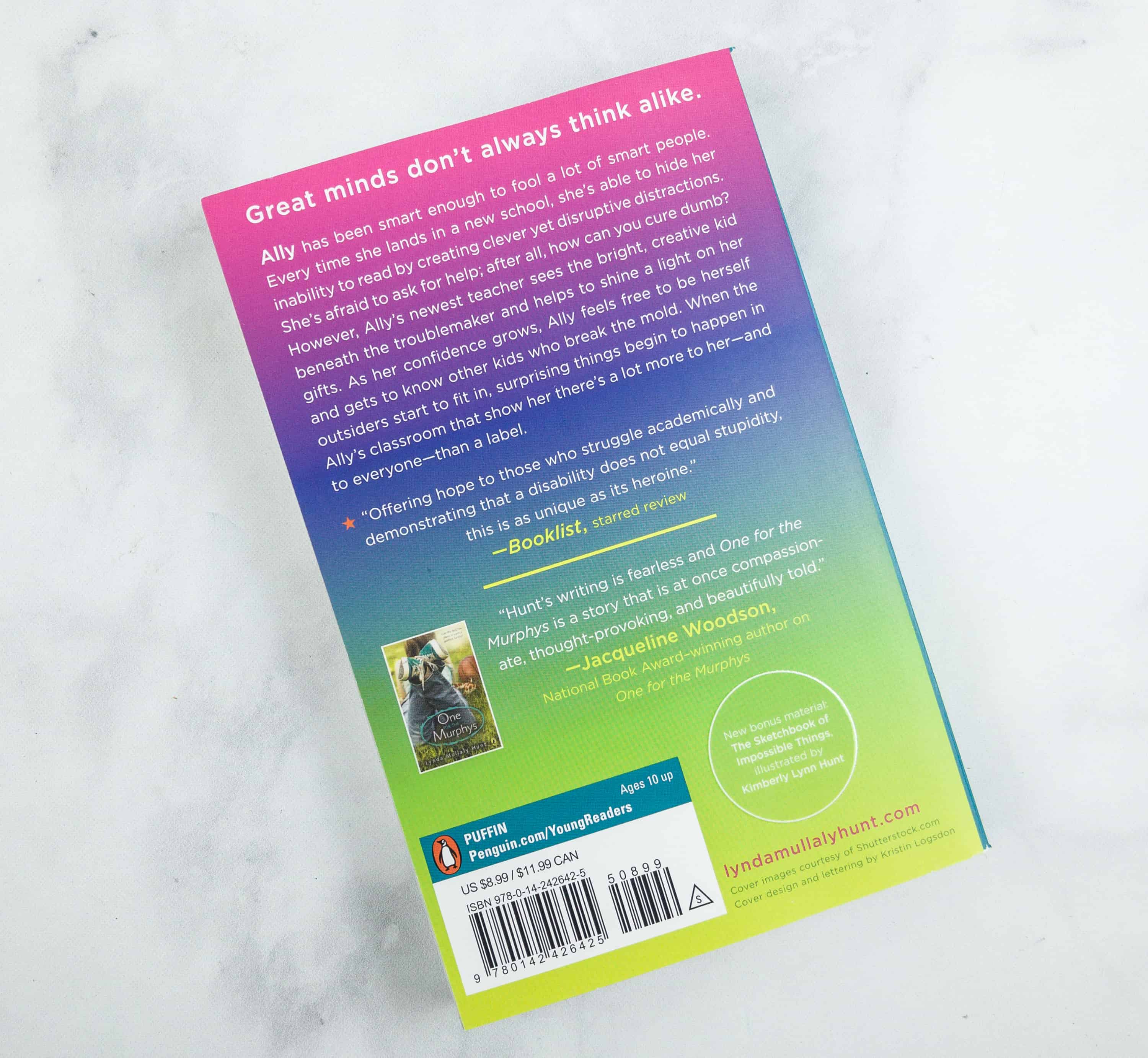 The book's heroine is an intelligent young woman and has difficulty fitting in because of dyslexia. It wants to open up kids minds that being different and having difficulties doesn't equal stupidity and there's nothing to be ashamed of it.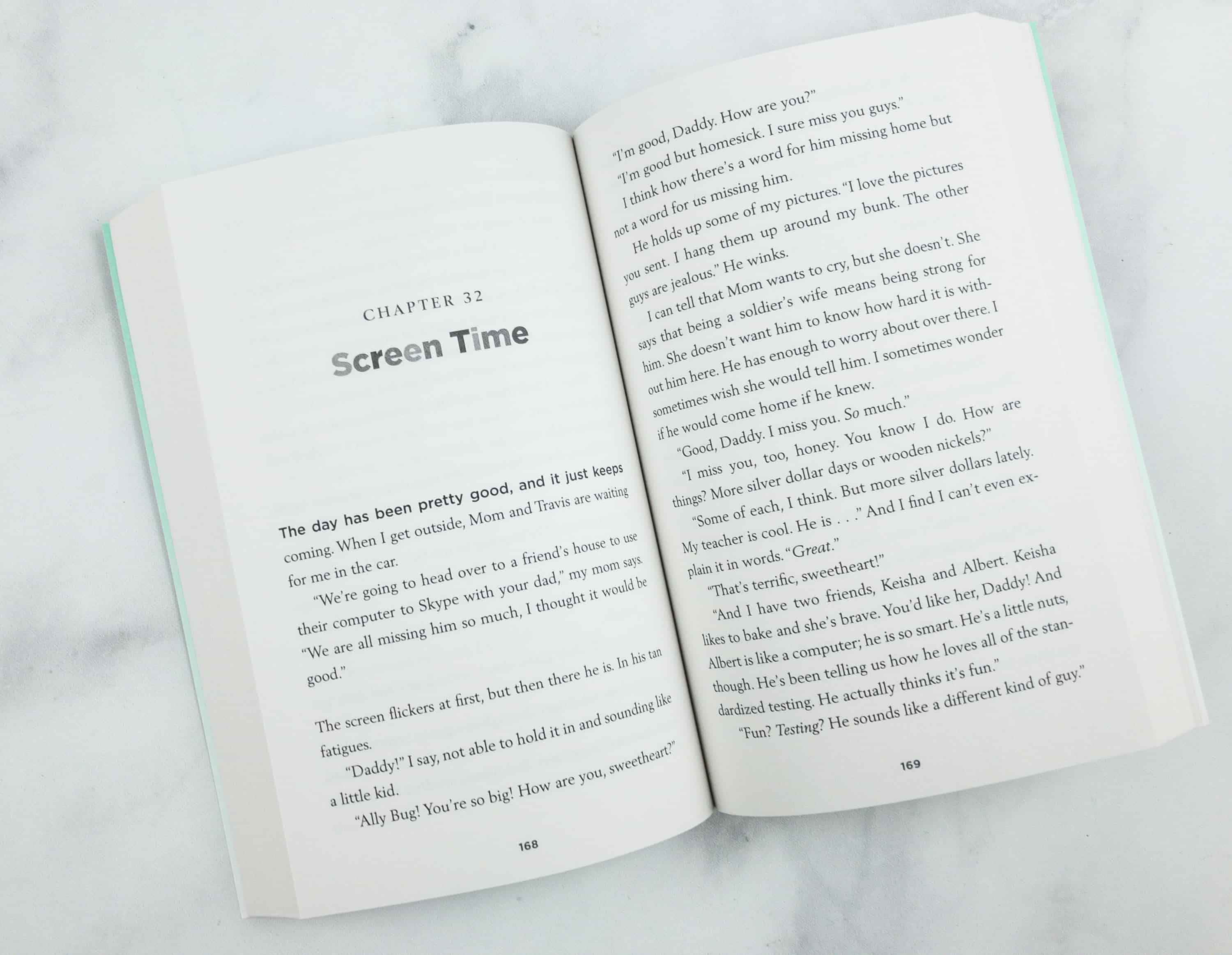 This chapter shows the positive effect of online chat because it's reconnecting loved ones. Our young heroine's father is in the military and it just shows the hardships of being far from the ones you love and staying strong through it.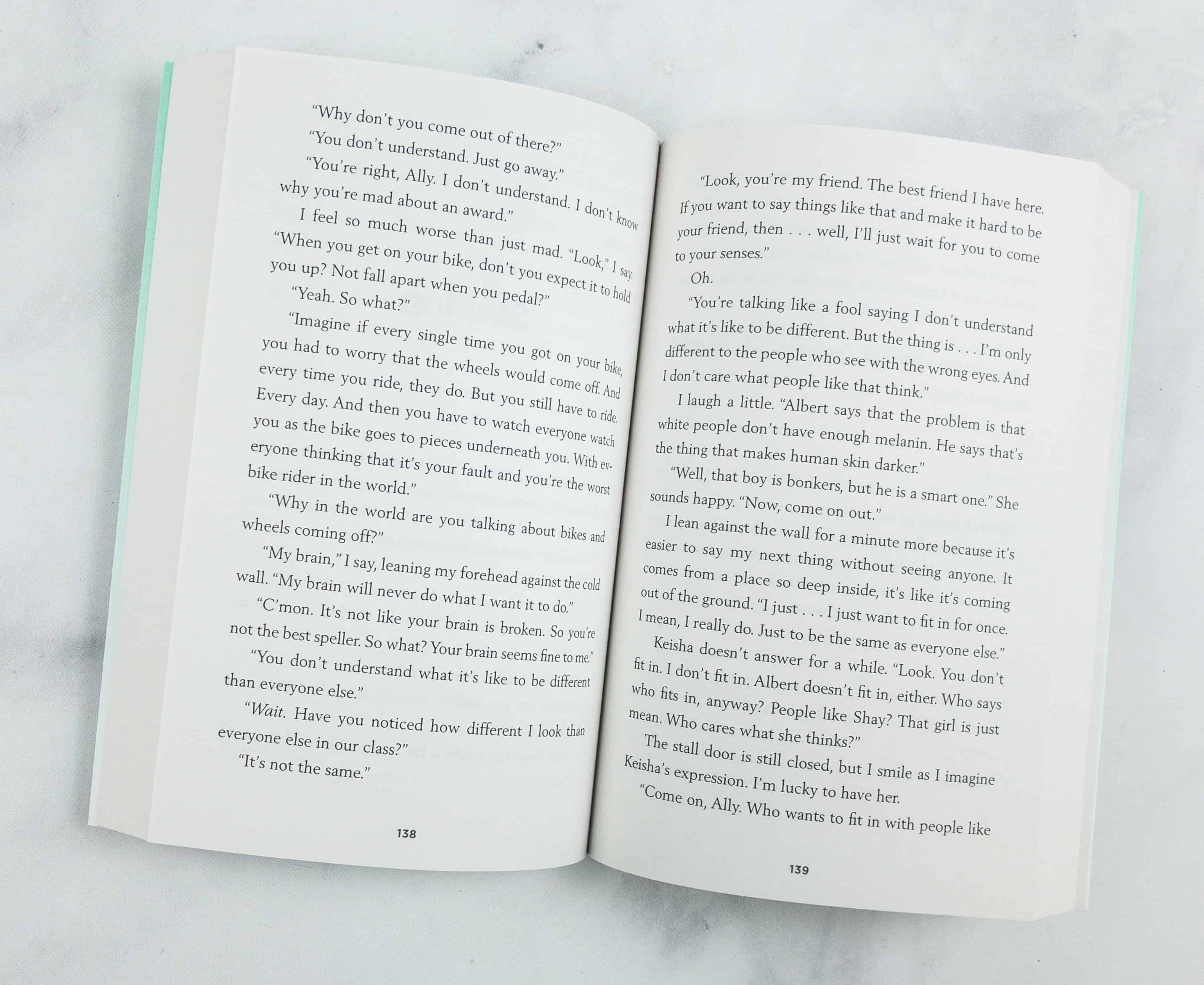 This is one of our favorite parts of the book. They were talking about not fitting in and how it affects them. Fitting in can be hard for this age because they always thought they are alone. Our heroine is lucky to have supportive friends cheer her up and tell her that she's not alone and they're in this together.
My daughter likes LitJoy Crate. They always give books to children that are right for their age. The puzzles in the activity guide are quite challenging too! It is difficult to put down a relatable book and they understand the needs of the tweens nowadays. It also expands their view of things and teaches them valuable lessons. The books went well with the theme. Our heroes were able to solve their inner conflicts even they thought everything was falling apart because they have friends. So this theme expresses the need for loyal connection and how important friends are as they age. The bonus items add fun to the whole curation. I especially love the Bananagrams game and the Hogwarts banner (and the magnet!) The wisdom the kids get out of this book subscription is priceless and I hope they keep up the good work on inspiring and curating great books for children.