Kid Wonder is a monthly kids subscription box by Little Dreamers. Each month, this Activity Kit will contain various crafts and projects designed according to that month's theme and usually includes supplies such as glue, scissors, paint and paint brushes and even smocks for the messier crafts. This box is intended for kids 3-6 years of age who love to create, play and explore through dramatic play. The box starts at $24.95 per month. The subscription renews automatically and you may cancel anytime.
The box is full of interesting items!
There are 5 activity packs in this box. Every activity kit comes with a guide stating the messiness level, difficulty level, and the time needed so you'll know what to expect. There's also a QR code that you can scan to get more inspiration for your projects!
This page shows us the history of Dinosaurs.
My son is pointing to his favorite dinosaur out of the bunch.
The illustrations were cute and very colorful. It makes the kids more excited about learning. They noticed the volcano doesn't have color…
…so both of my boys decided to put life into it.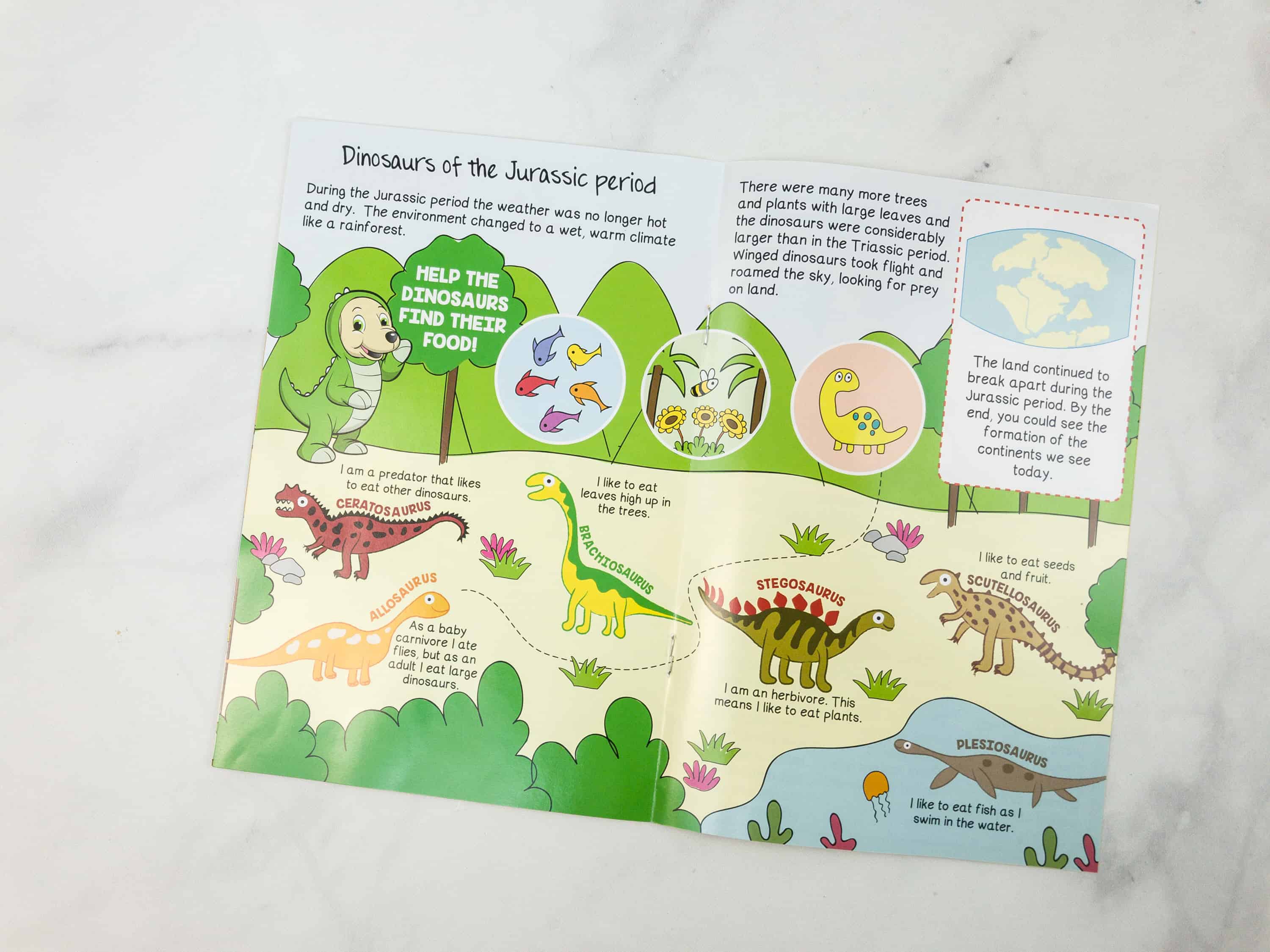 As the book tells us the story of what happened to the dinosaurs, they support them with small illustrations and trivia. In this page, the dinosaurs tell us their favorite food.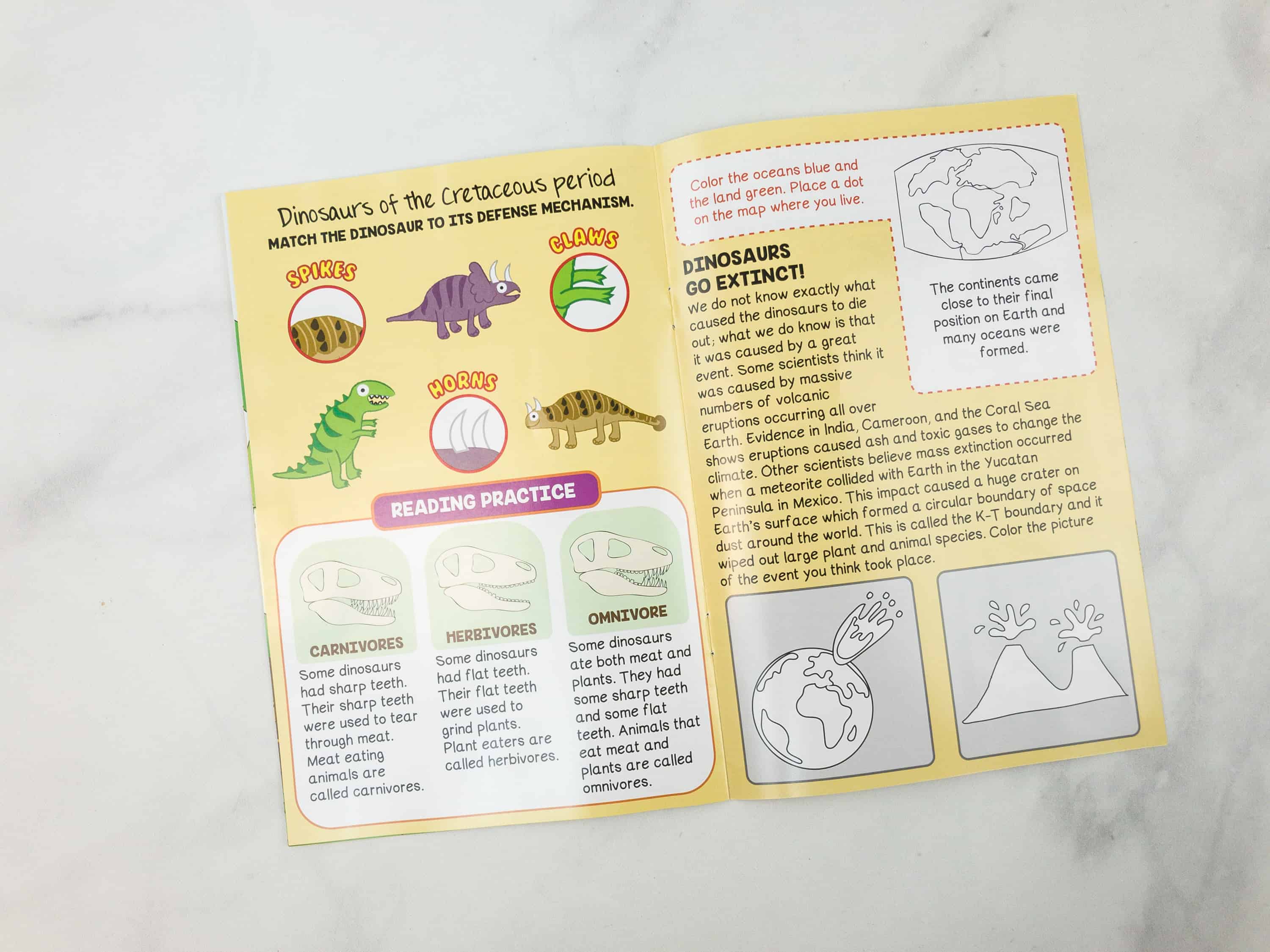 This page describes in detail the parts and distinction of different dinosaurs and how they became extinct. It is good for them to be aware that although we don't see dinosaurs now, they did exist ages ago.
He helps the Paleontologist by pointing out the tools as he finds them.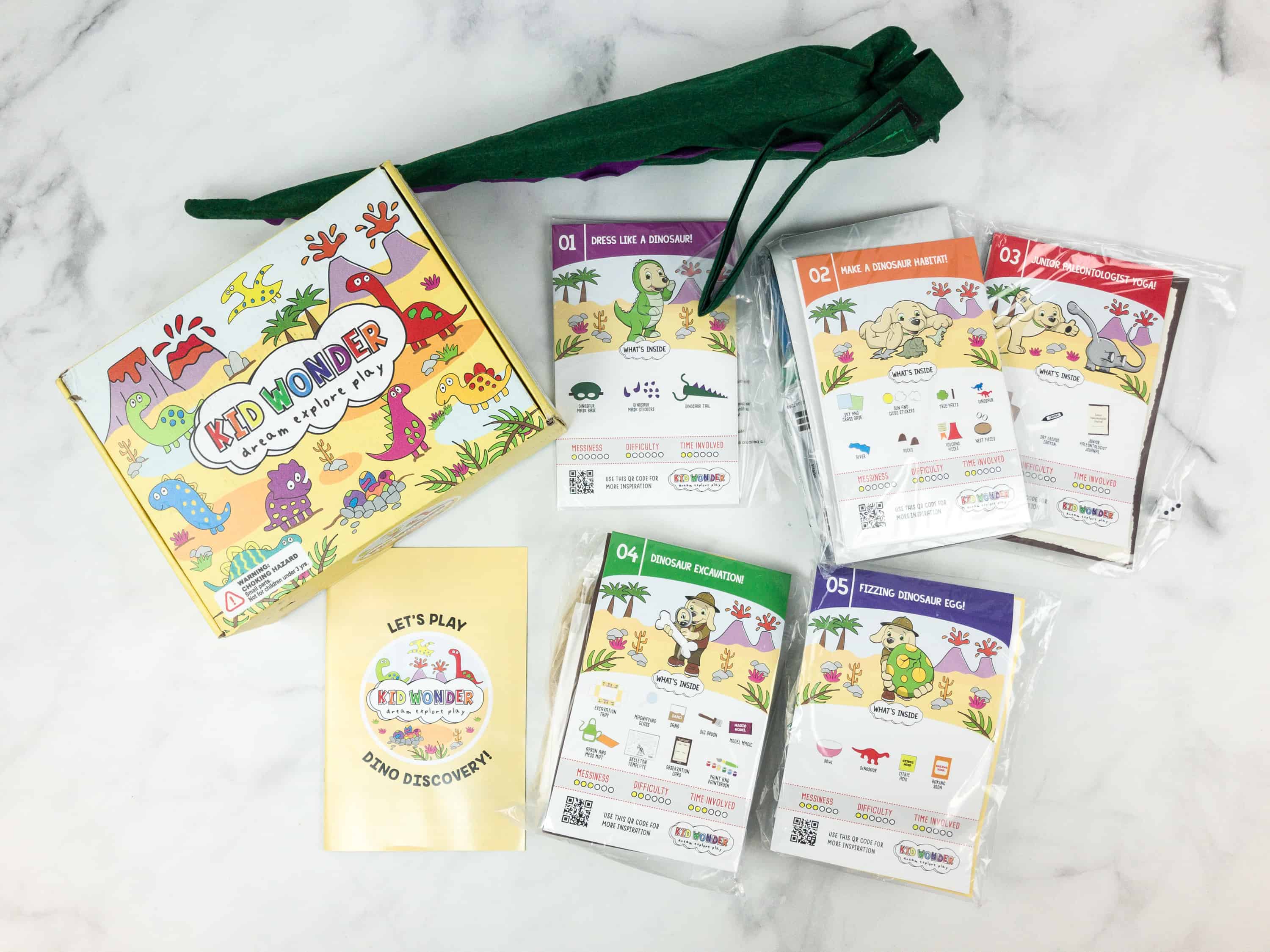 Everything in the box!
We have 5 activity sets. Time to get messy!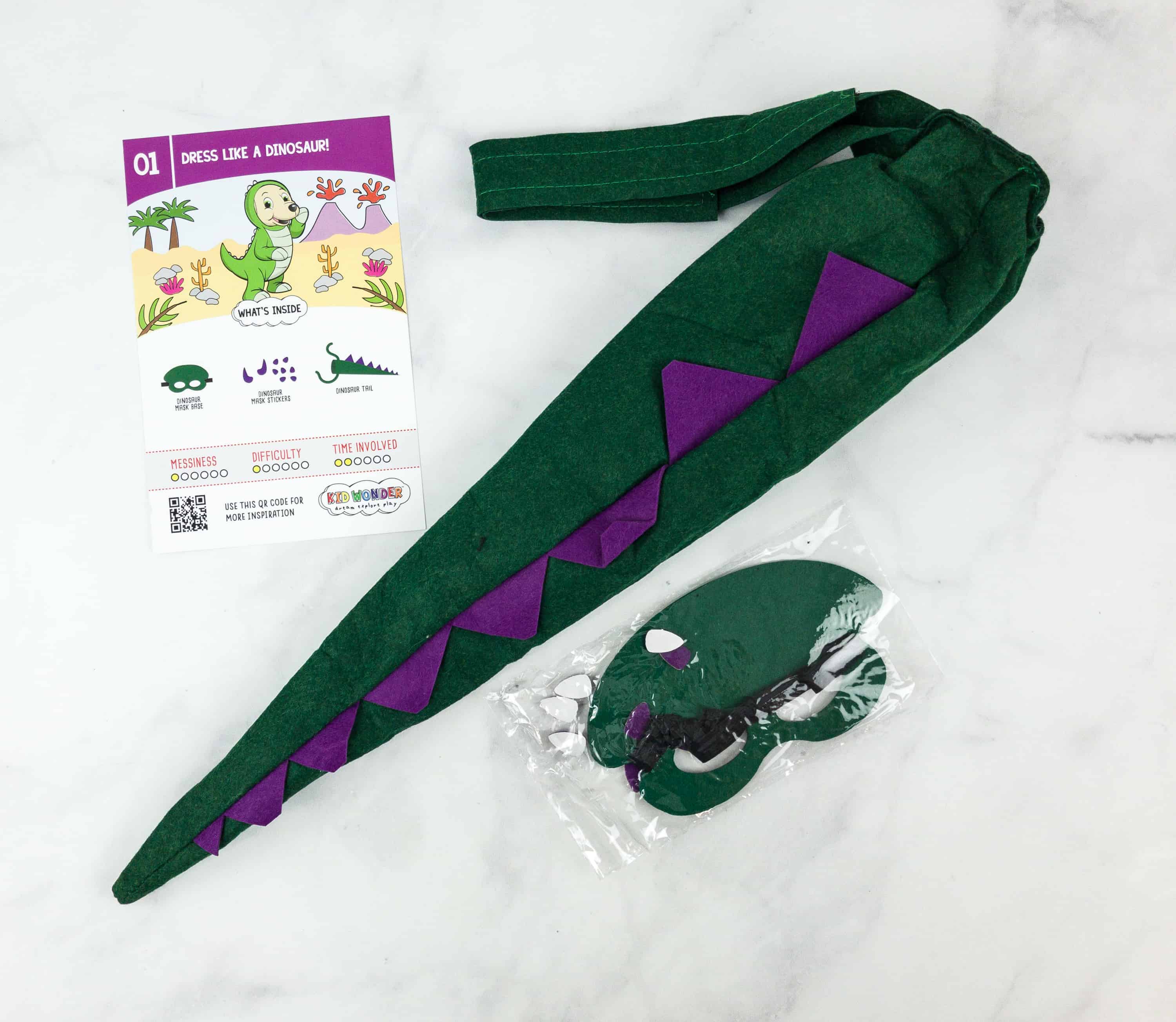 Activity No. 1: Dress Like A Dinosaur. We have a humongous tail and mask that we can design to be our very own version of a dinosaur!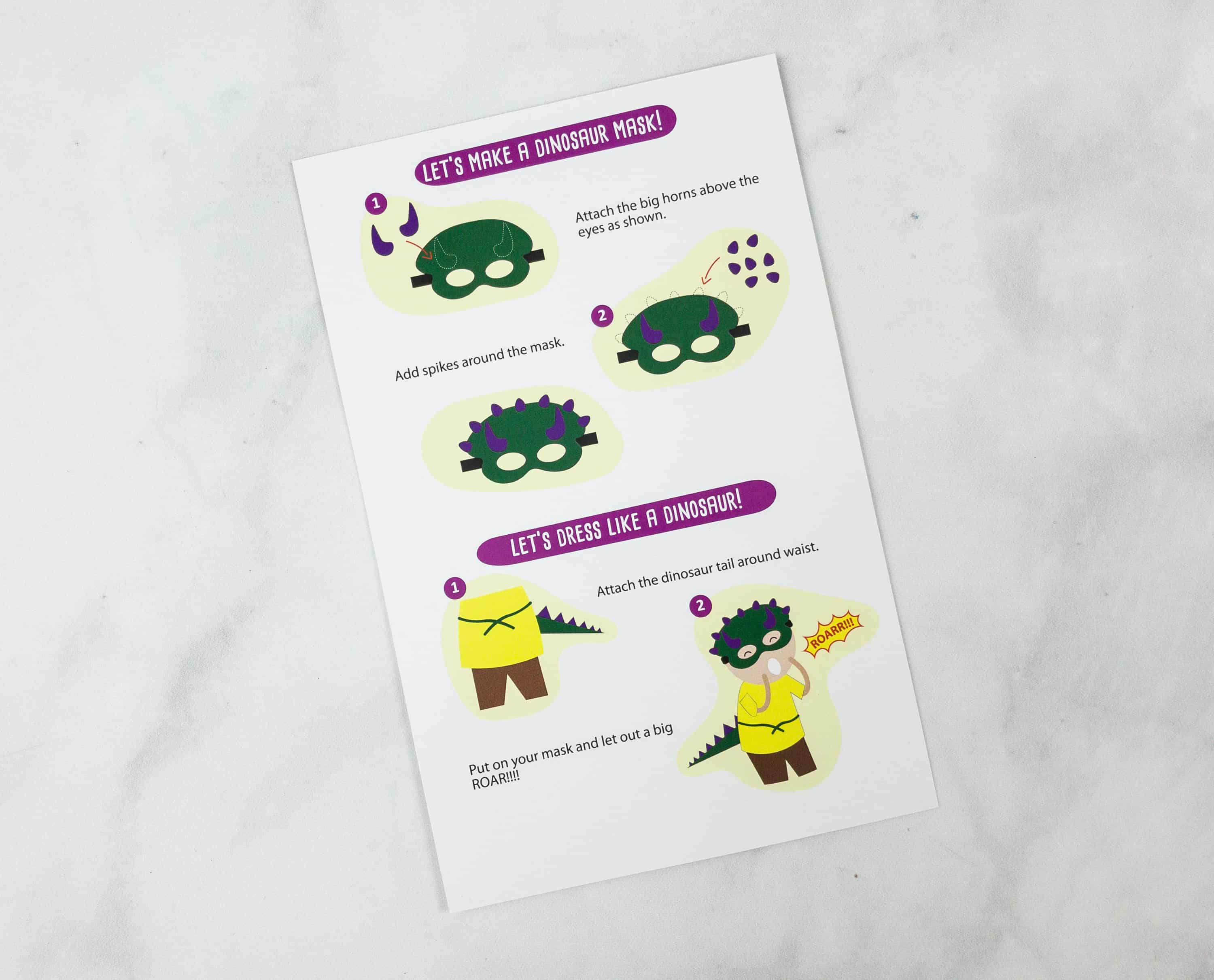 There's an instruction card on how to assemble, wear, and design it.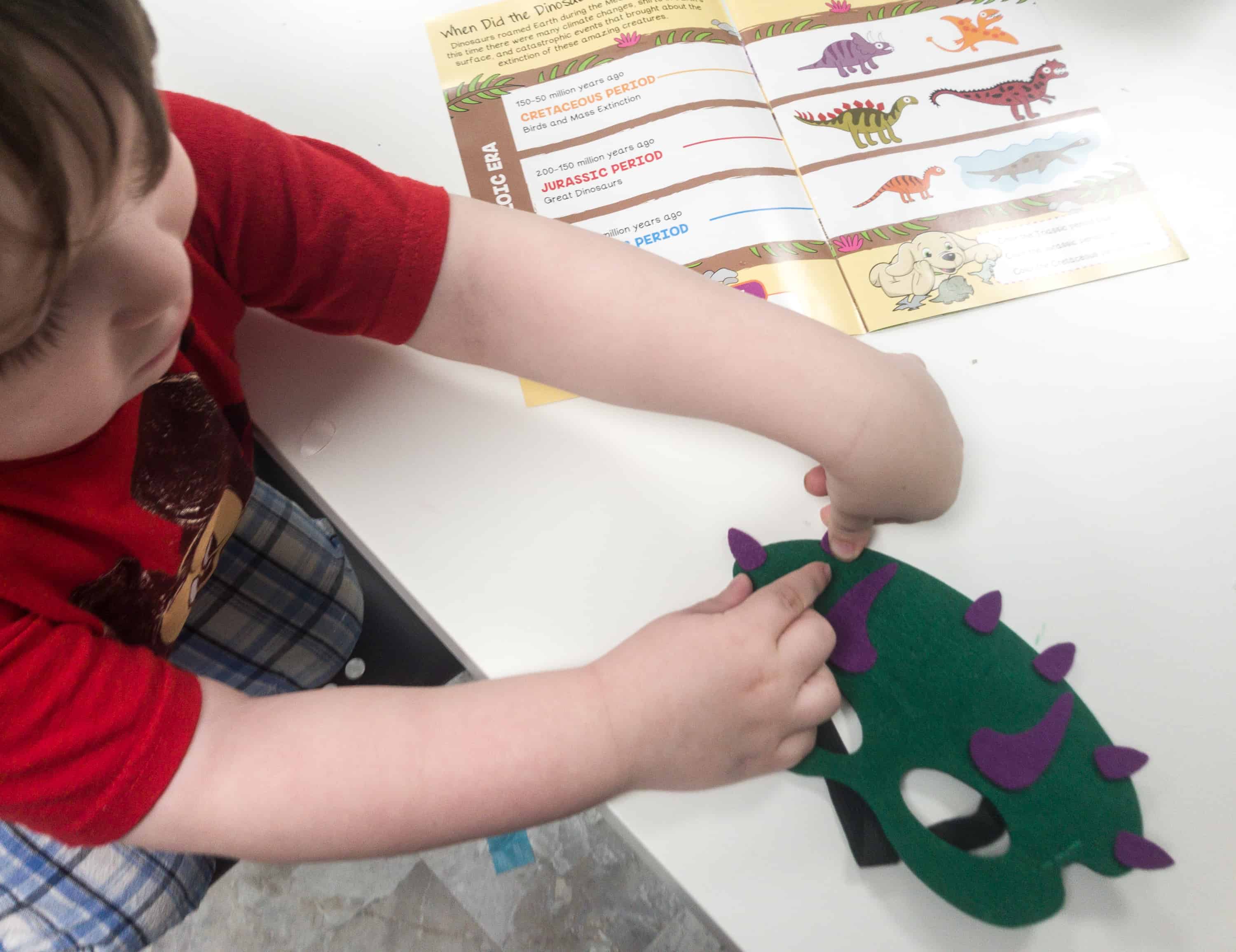 I let him imitate the drawings in the instruction card and stick the horns on his own.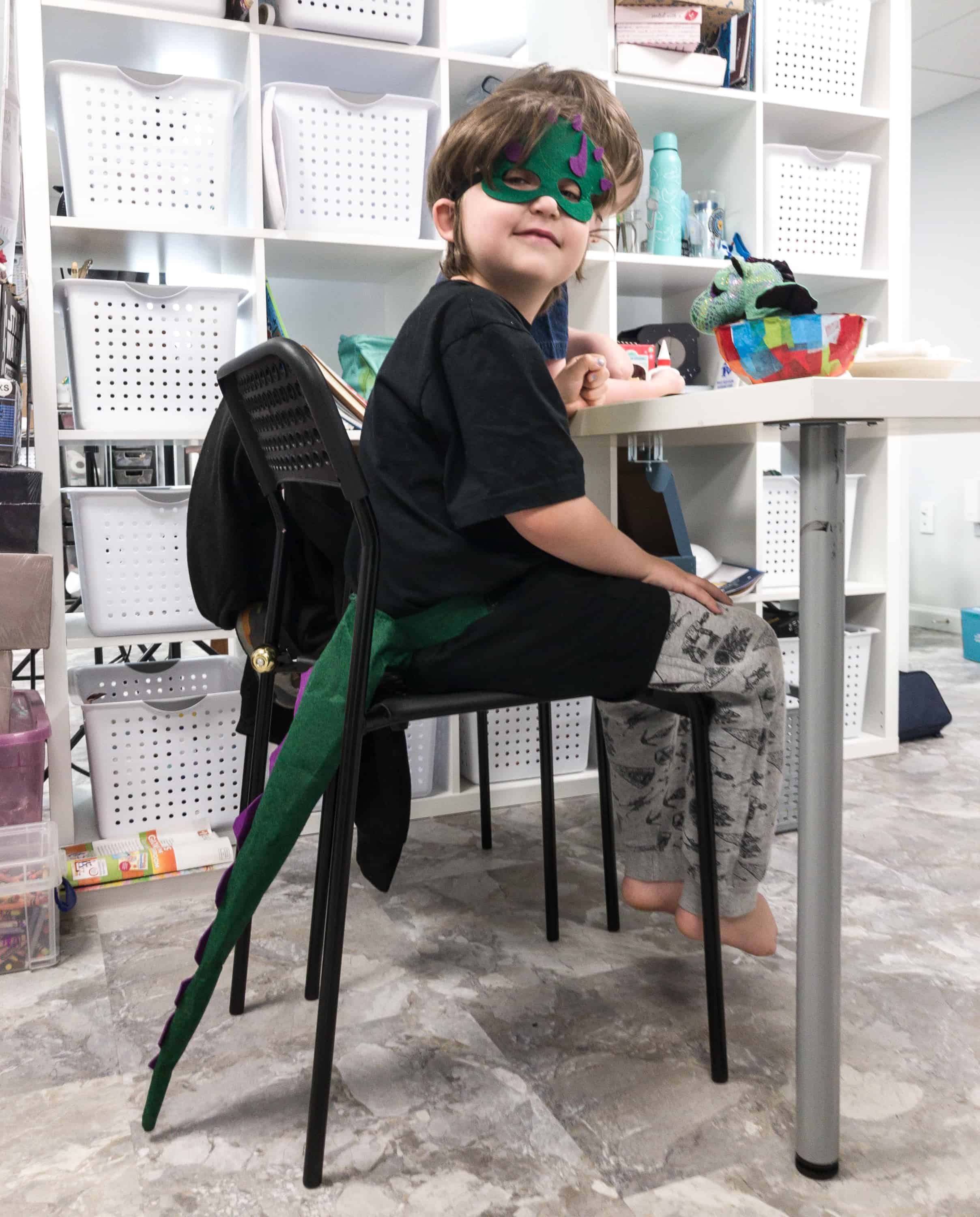 Look how cute big brother is! It's an instant Halloween costume!
He really liked it so he kept his costume on while reading the booklet.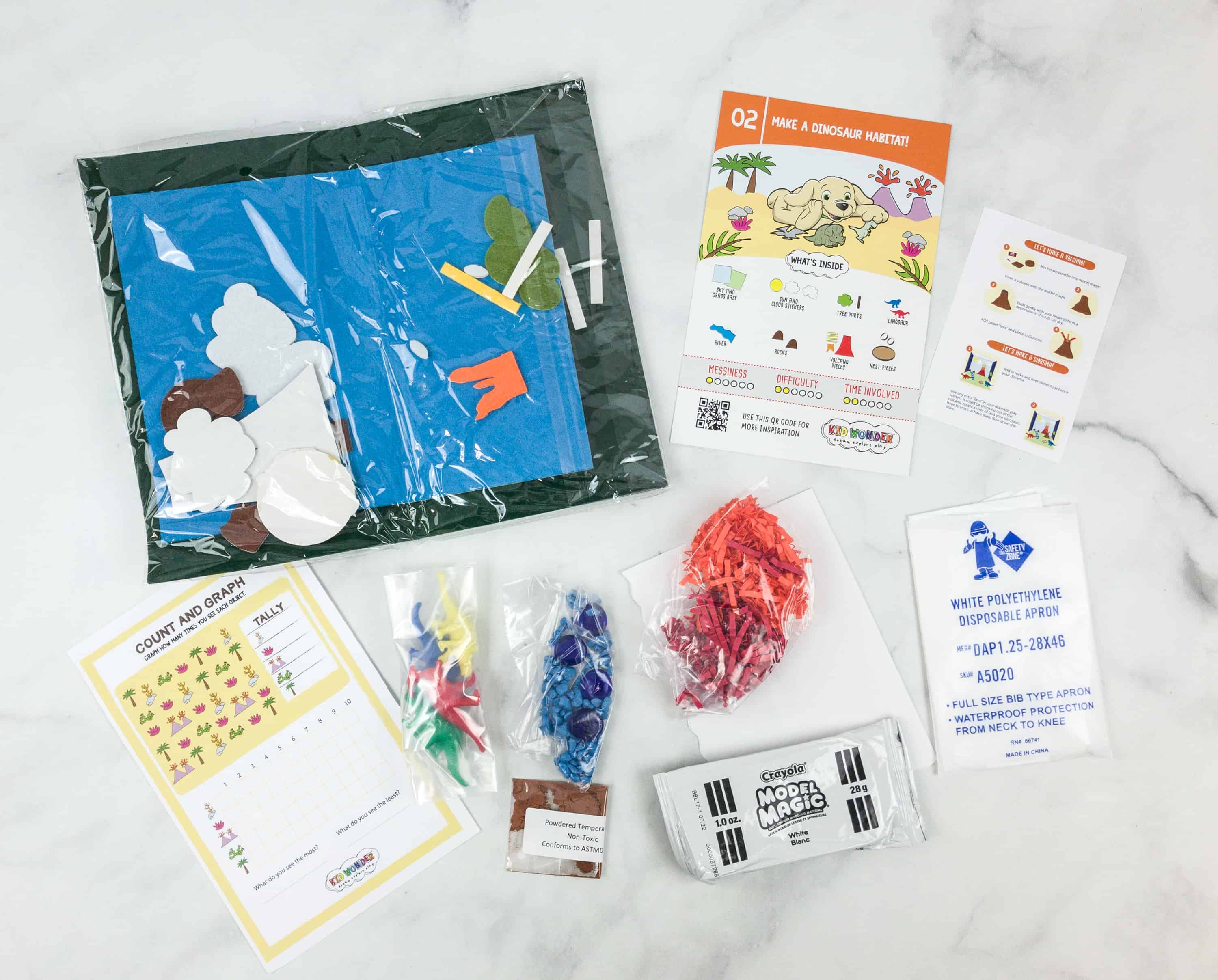 Activity No. 2: Make A Dinosaur Habitat. There are a lot of materials for this activity as we are flaunting their imagination and creativity here.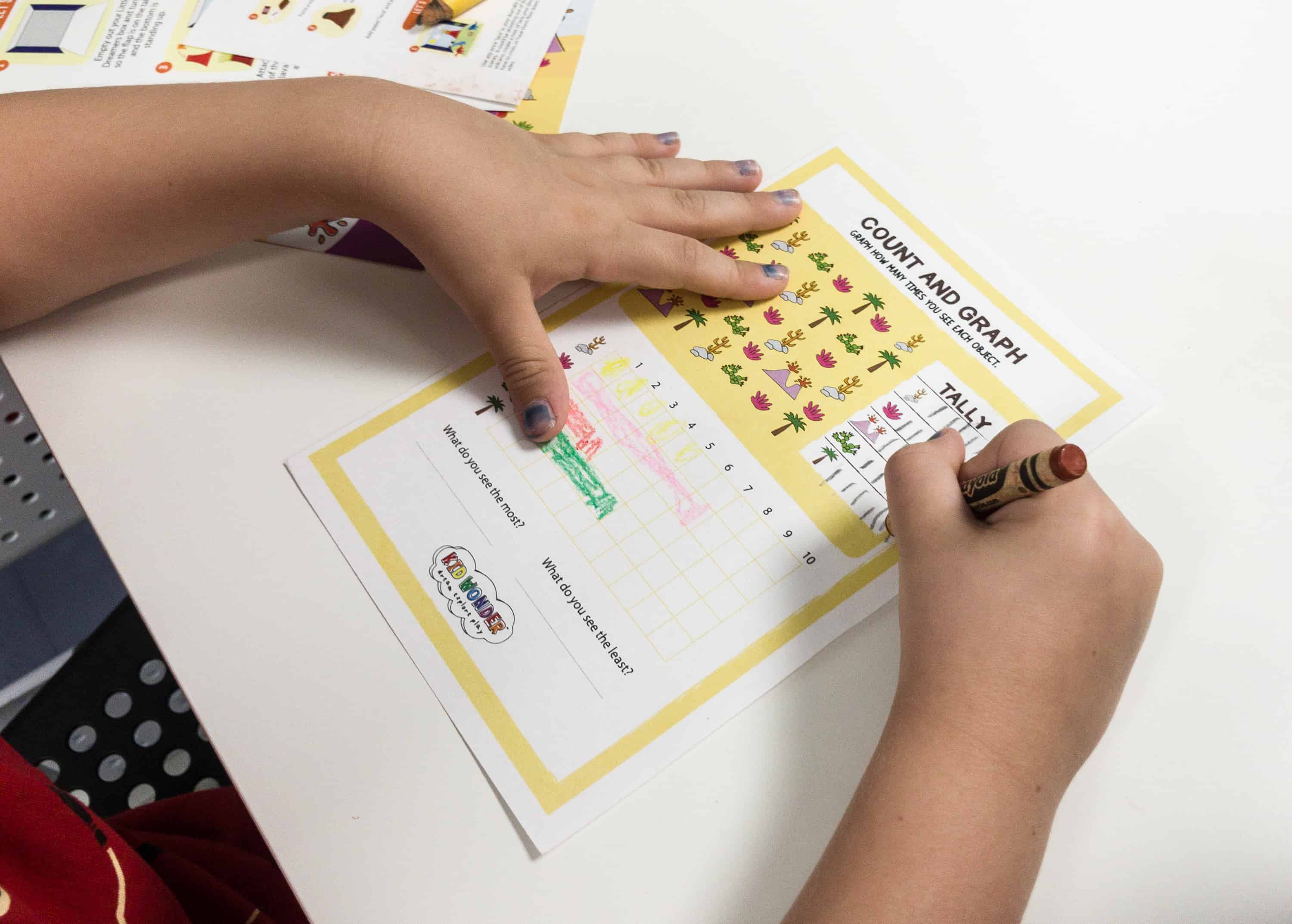 First, we test my son's counting skills by tallying and having a go at graphing. This is where the age range of this box really stretches. This isn't really an activity for my 3 year old but my 7 year old jumped right in.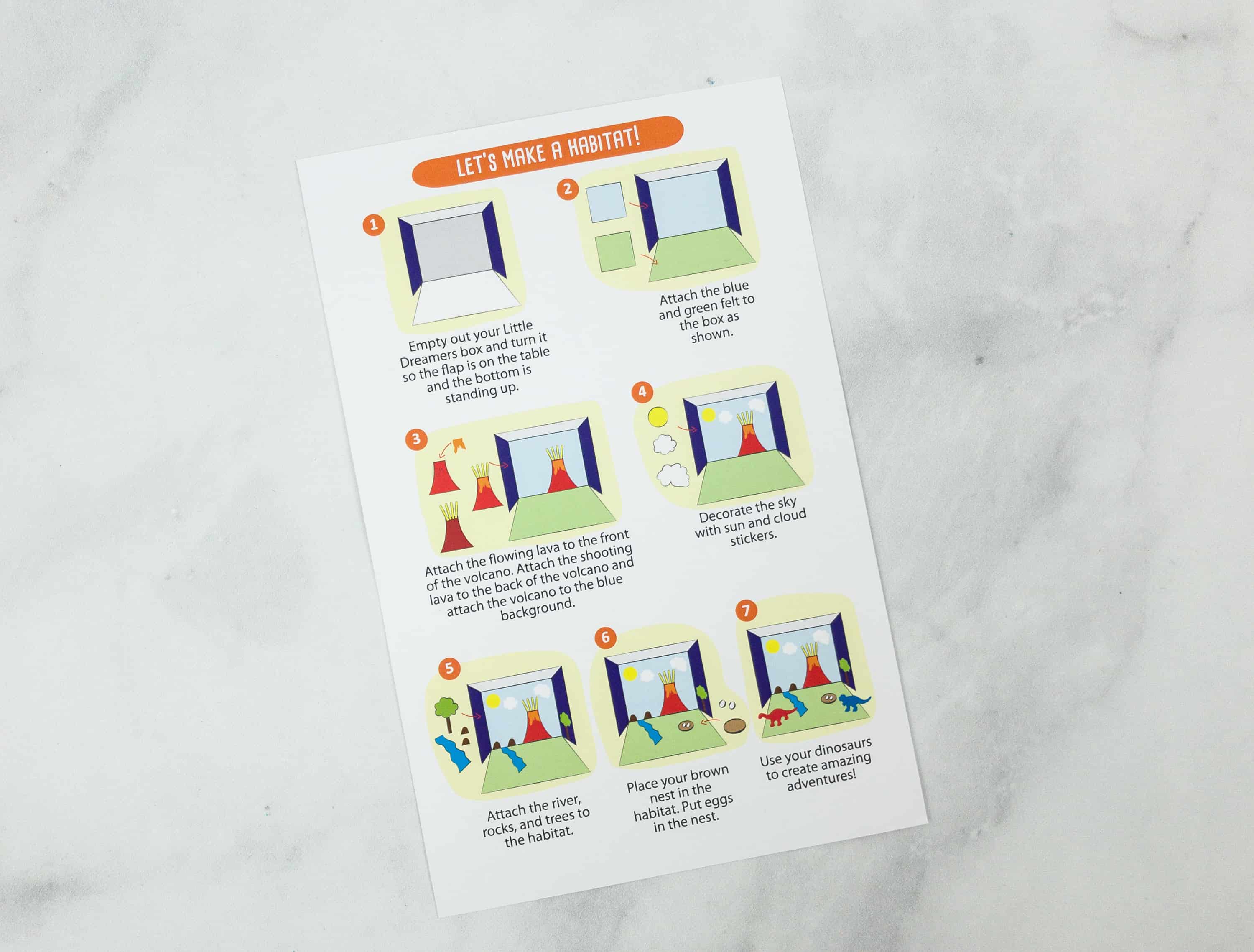 And then, we see this instruction card on how to make a dinosaur habitat. All the materials are provided so we need not worry.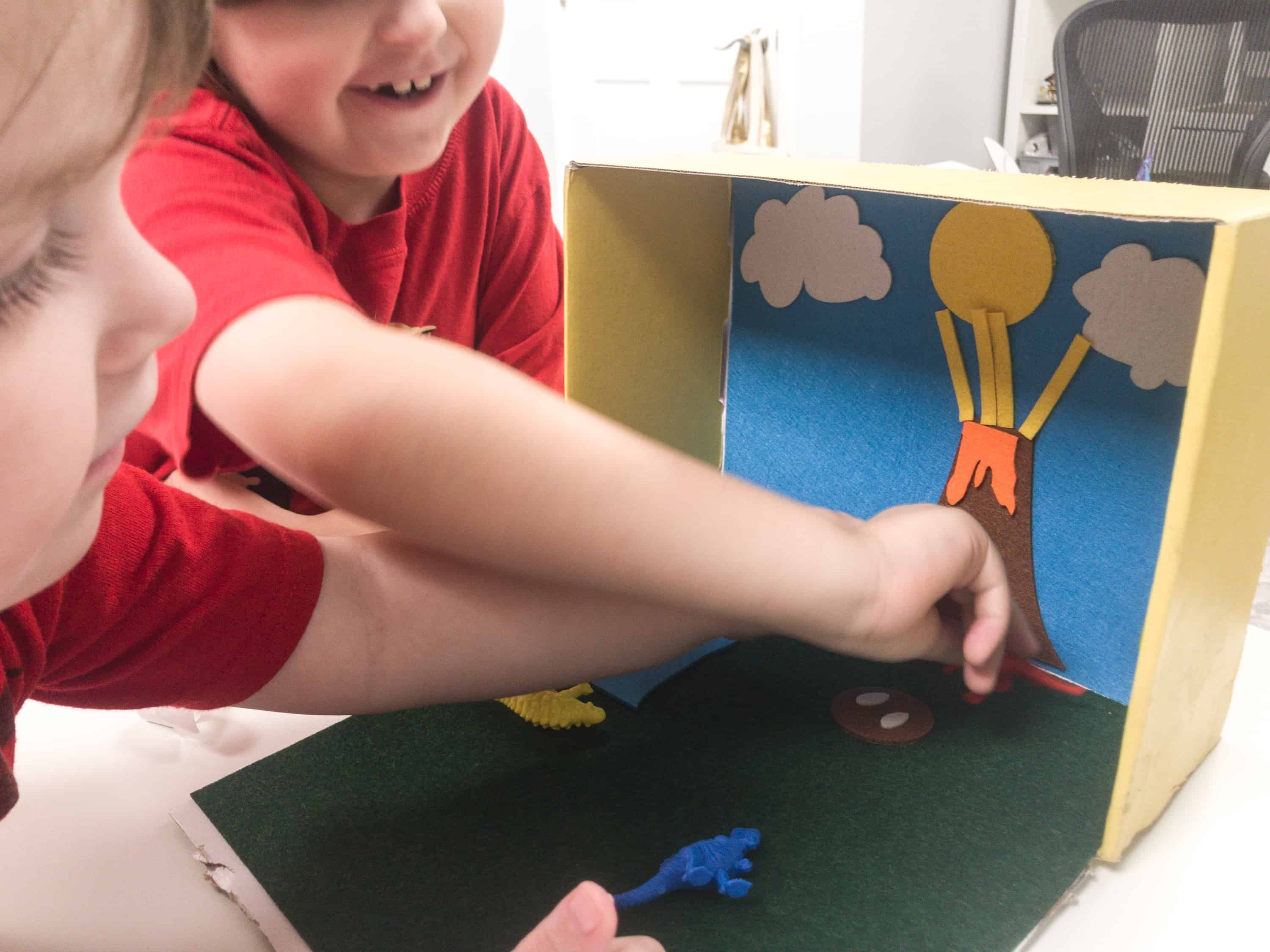 It's brotherly bonding time as they help each other in this activity.
They are now role-playing with their dinosaur toys! Then we molded out the non-toxic modeling clay to make a volcano.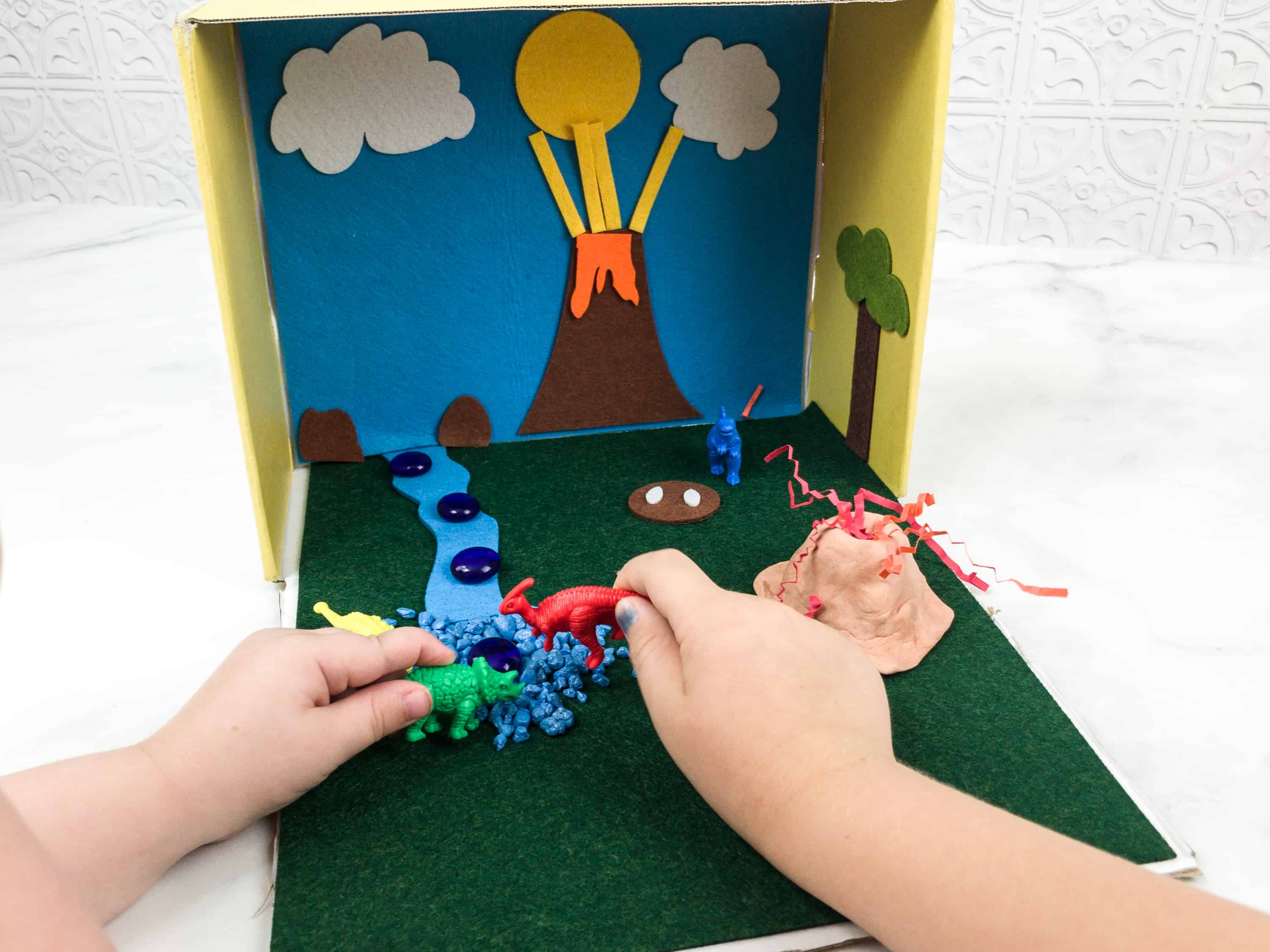 Finally! Their finished product looks good! They are improving more and more with these activities. They are still playing with this diorama!
Activity No. 3: Junior Paleontologist Yoga. These are all the things we needed for the third activity. Looks like the kids can do some stretching!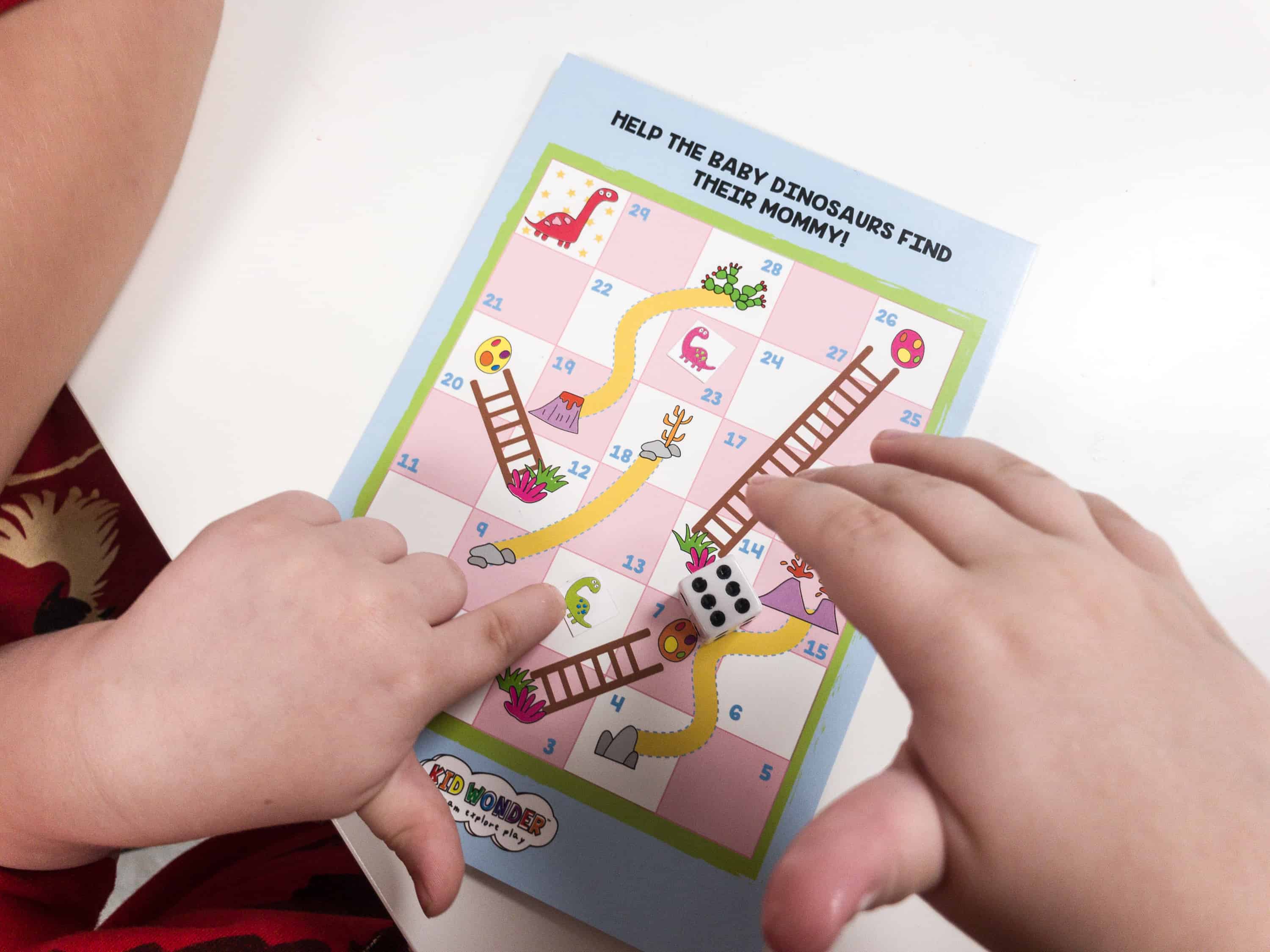 First, we play some snakes and ladders… featuring dinosaurs!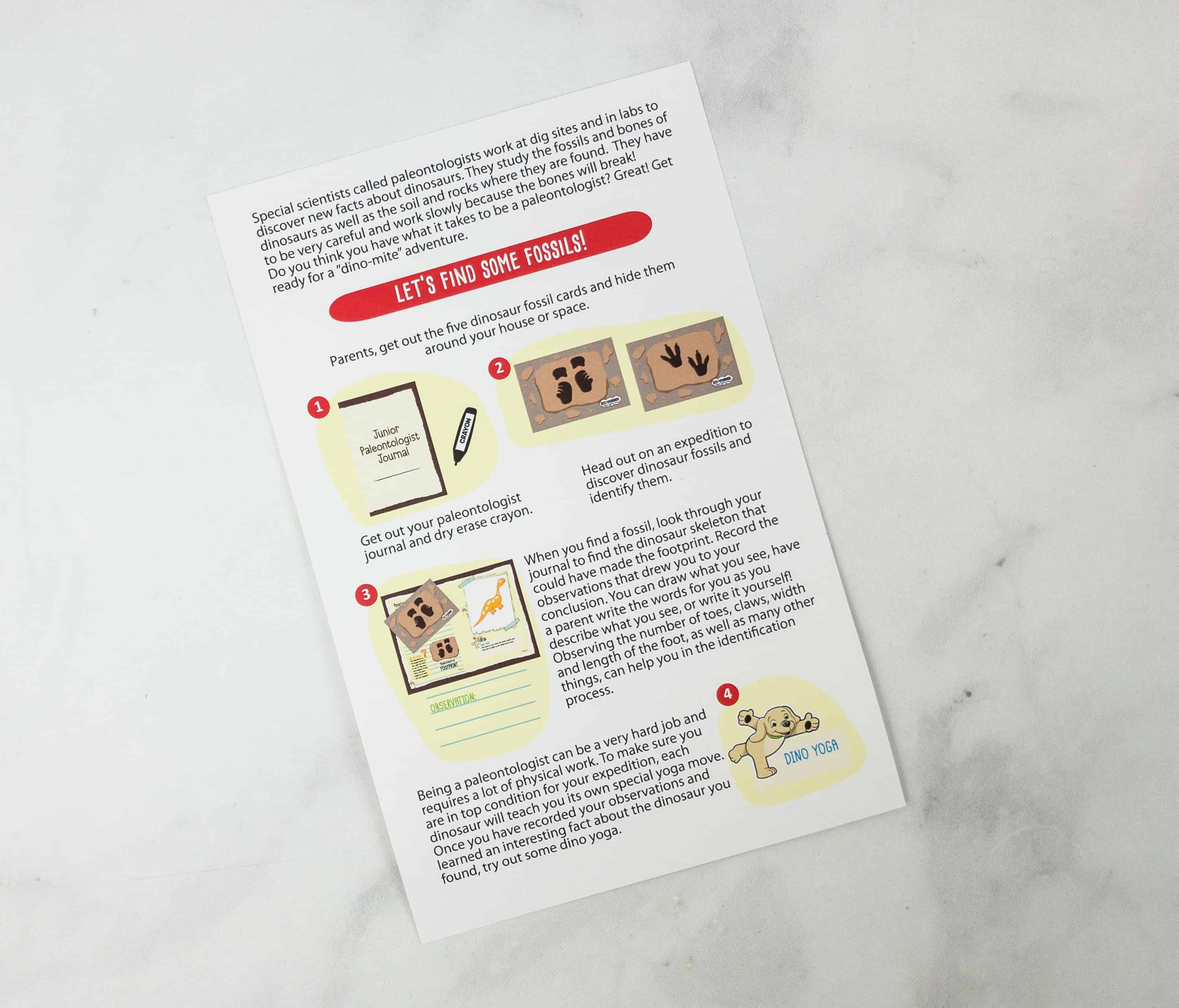 The instruction card illustrates the tasks we need to do for this 3rd set. They have to find the fossils, describe what they saw and write it in the journal and do some Dino Yoga! The instruction card notes if your child isn't old enough to write that you should scribe for them! A great way to encourage their writing voice without coordination getting in the way.
This activity enhances the kids' attention to detail. It is the basic skill needed to be a Paleontologist. They can learn how to retain the knowledge they observed by taking note of it in their journal.
This is how the booklet looks like. It has a space for notes and trivia. There's even an image of the dinosaur with the corresponding footprint.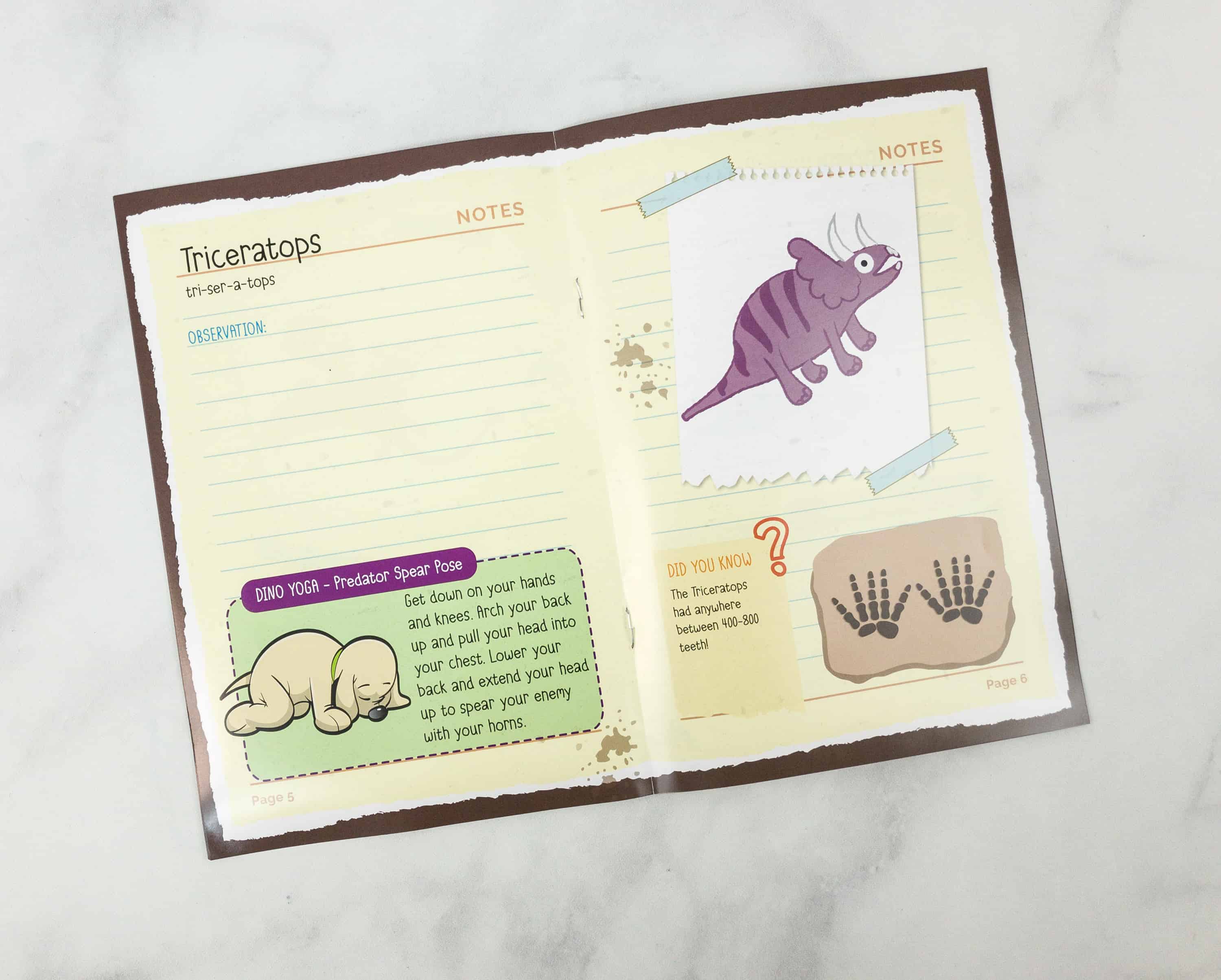 It also features the cute dino yoga pose image and a description that you have to do at the end of every accomplished page.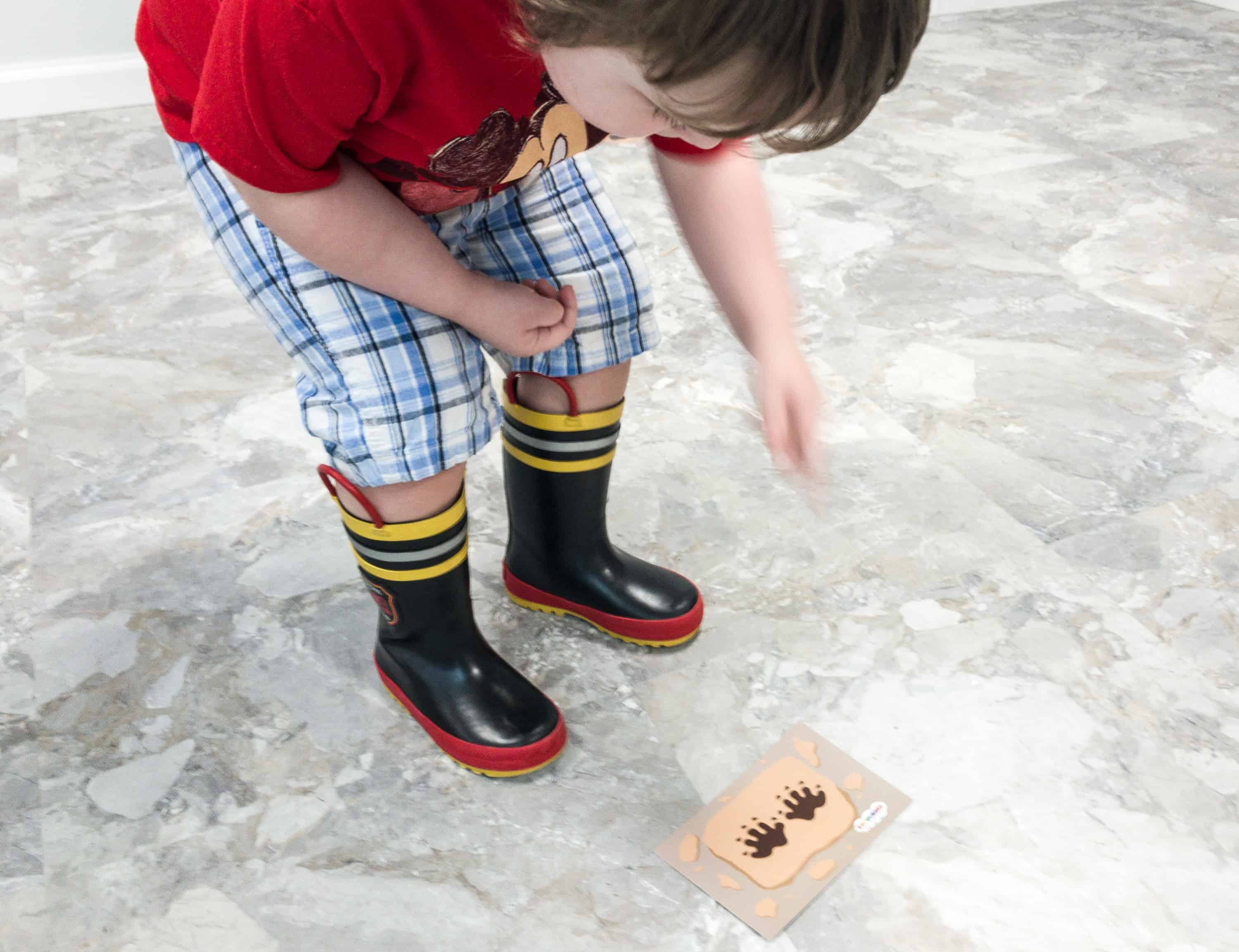 I let him play around the room to find the footprints…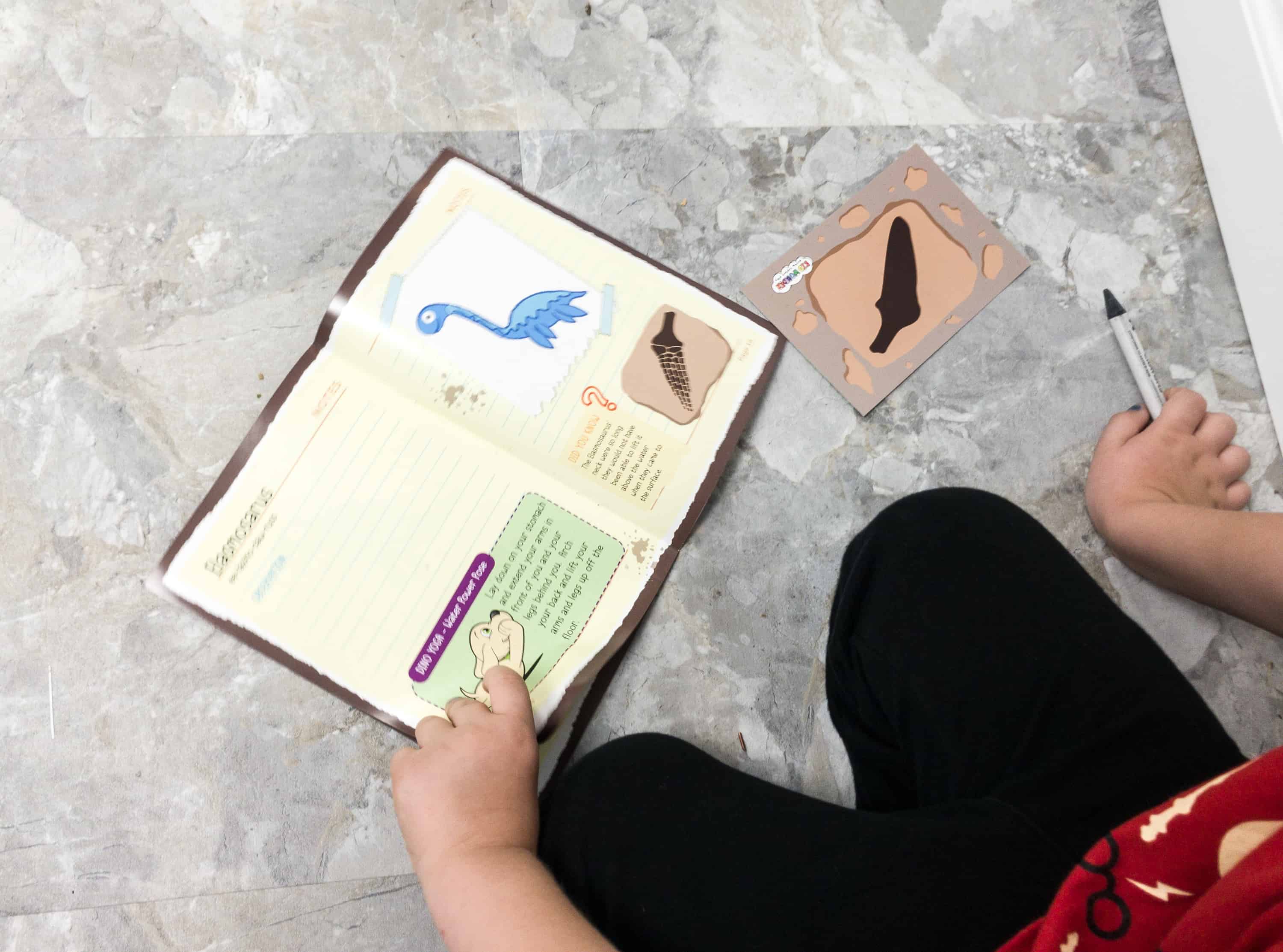 …and then they referred to the journal to jot down notes on the observation.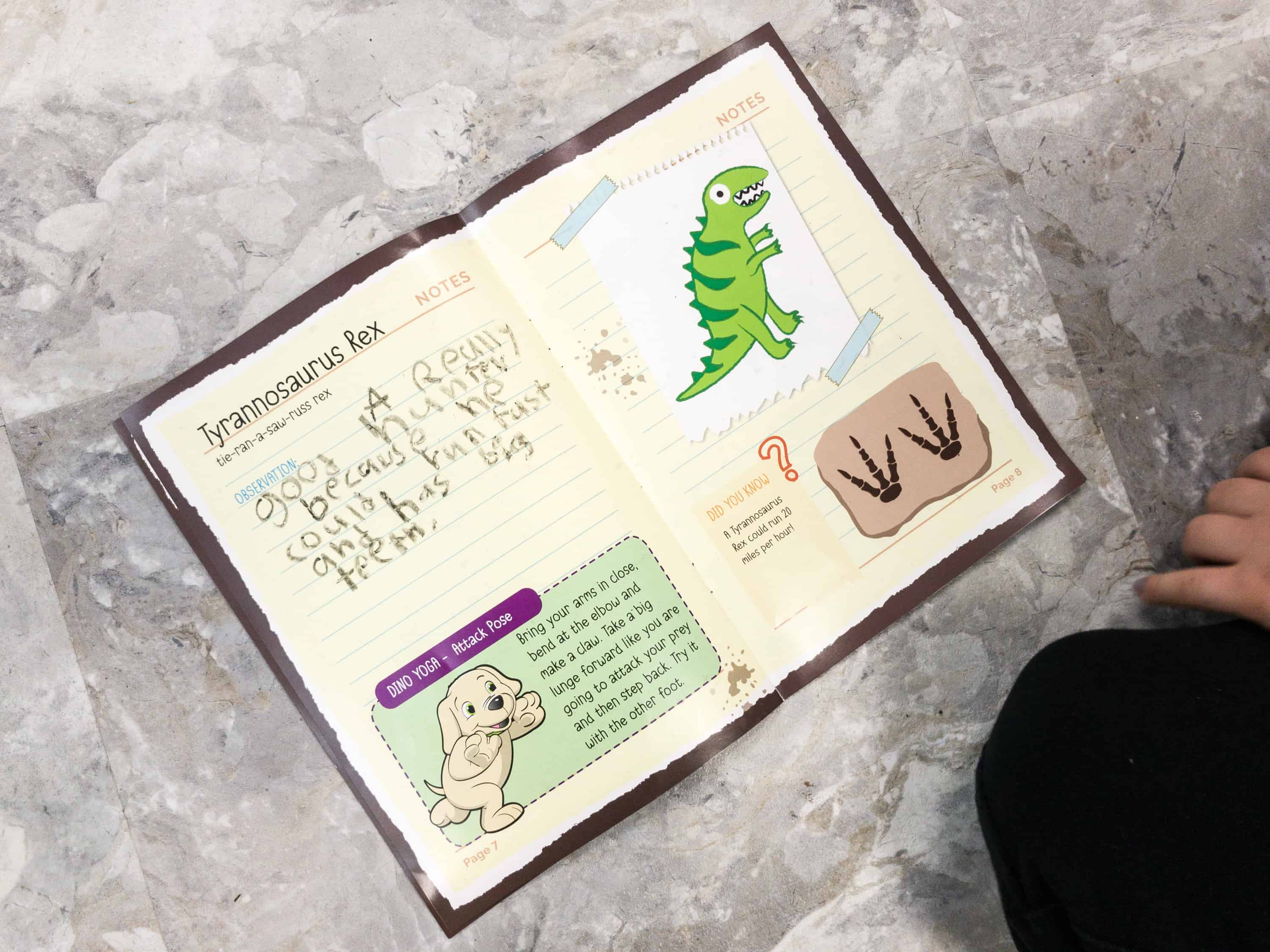 After he writes his notes…
…he then does the Dino Yoga pose. He is doing the water power pose here.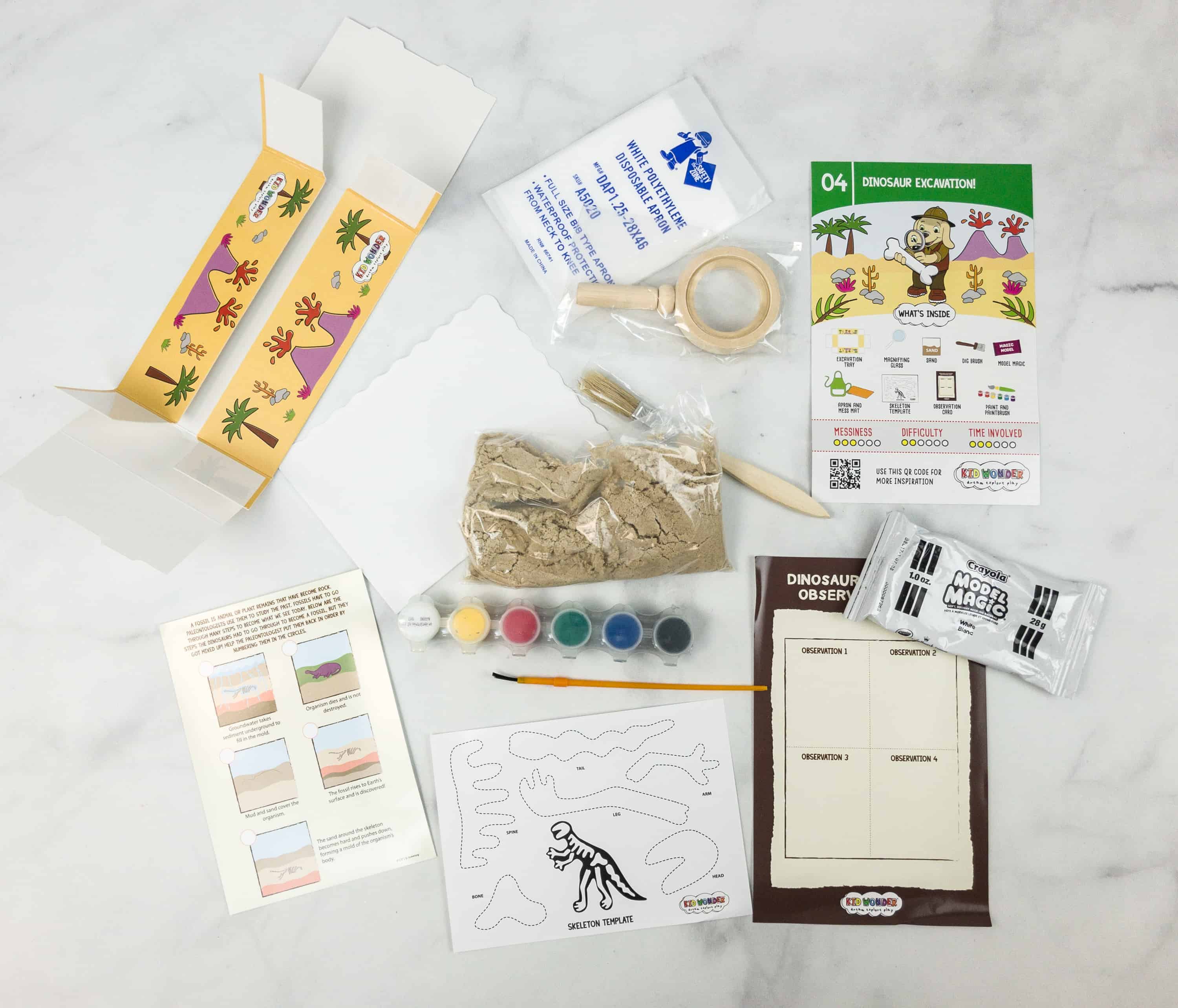 Activity No. 4: Dinosaur Excavation. From the looks of it, we are getting to the messy activities!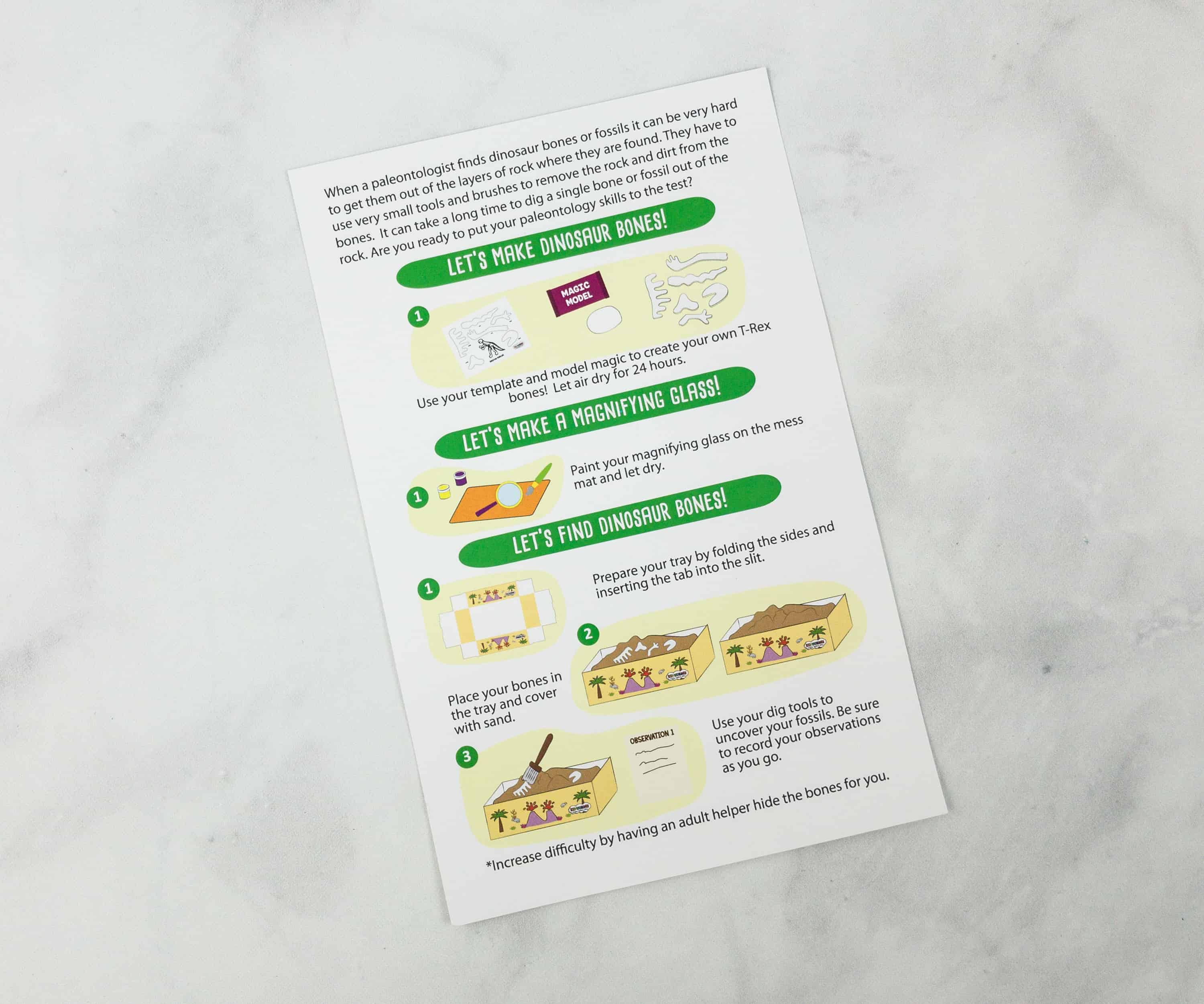 We have 3 different activities: making dinosaur bones, making a magnifying glass, and finding the dinosaur bones like uncovering fossils.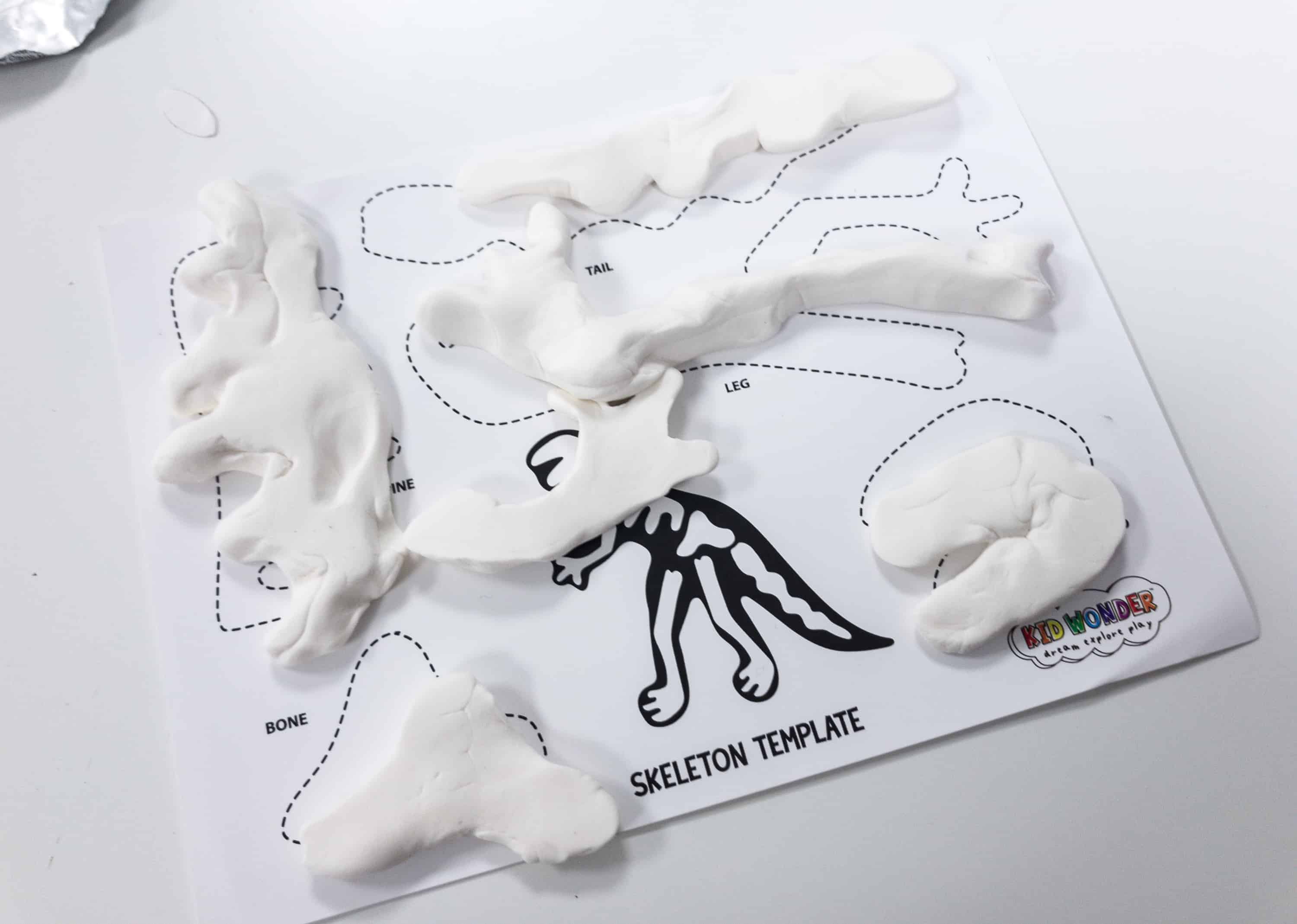 For the first activity, we molded the model magic according to the outlined shapes and let it air dry for 24 hours.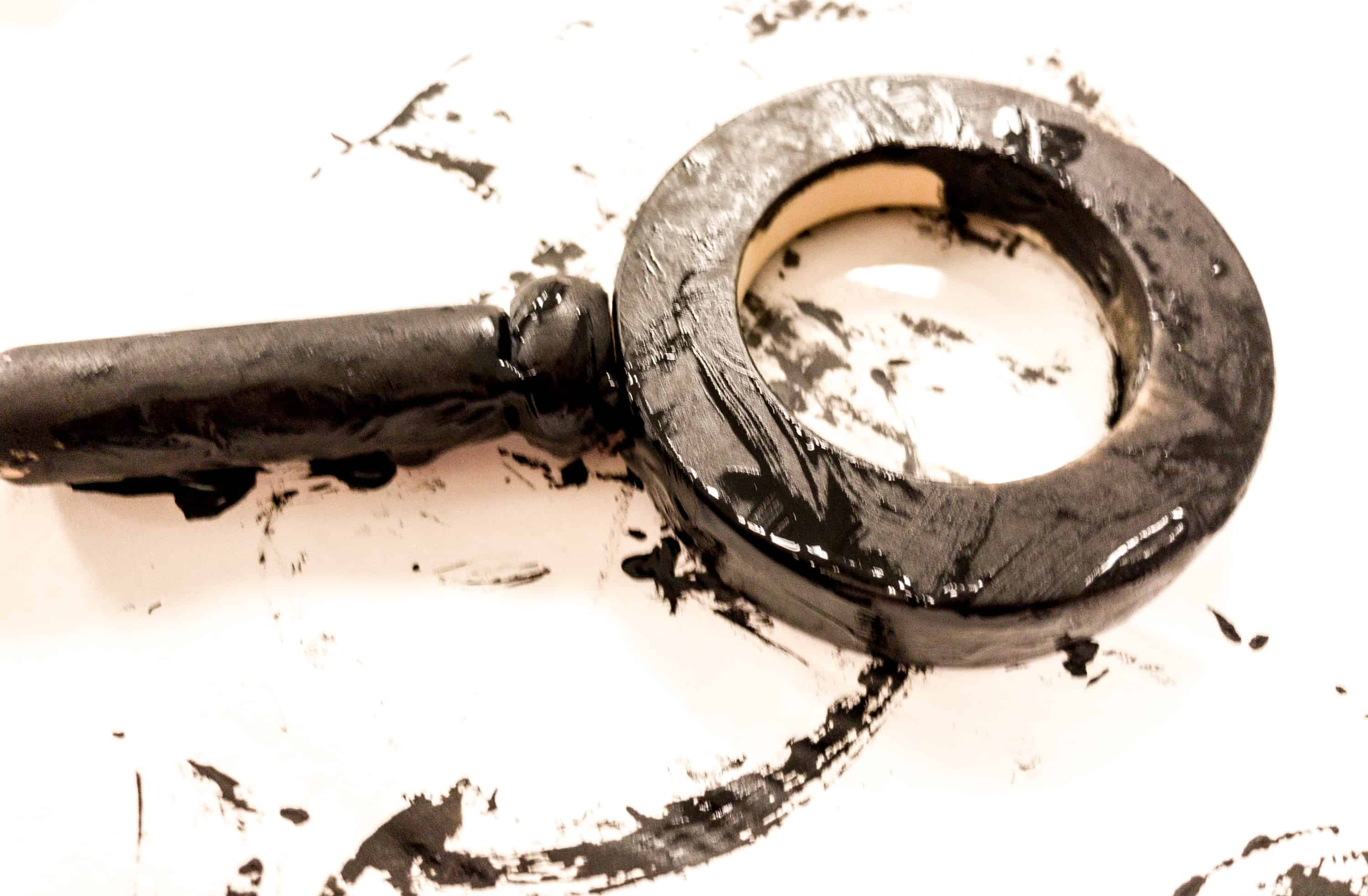 It is messy but the kids love it! For the second task, we painted the magnifying glass black to legitimately make them feel like they are real life Paleontologists.
For the last task, I hid the bones beneath the sand pile and let him uncover it gently by sweeping it off with a brush.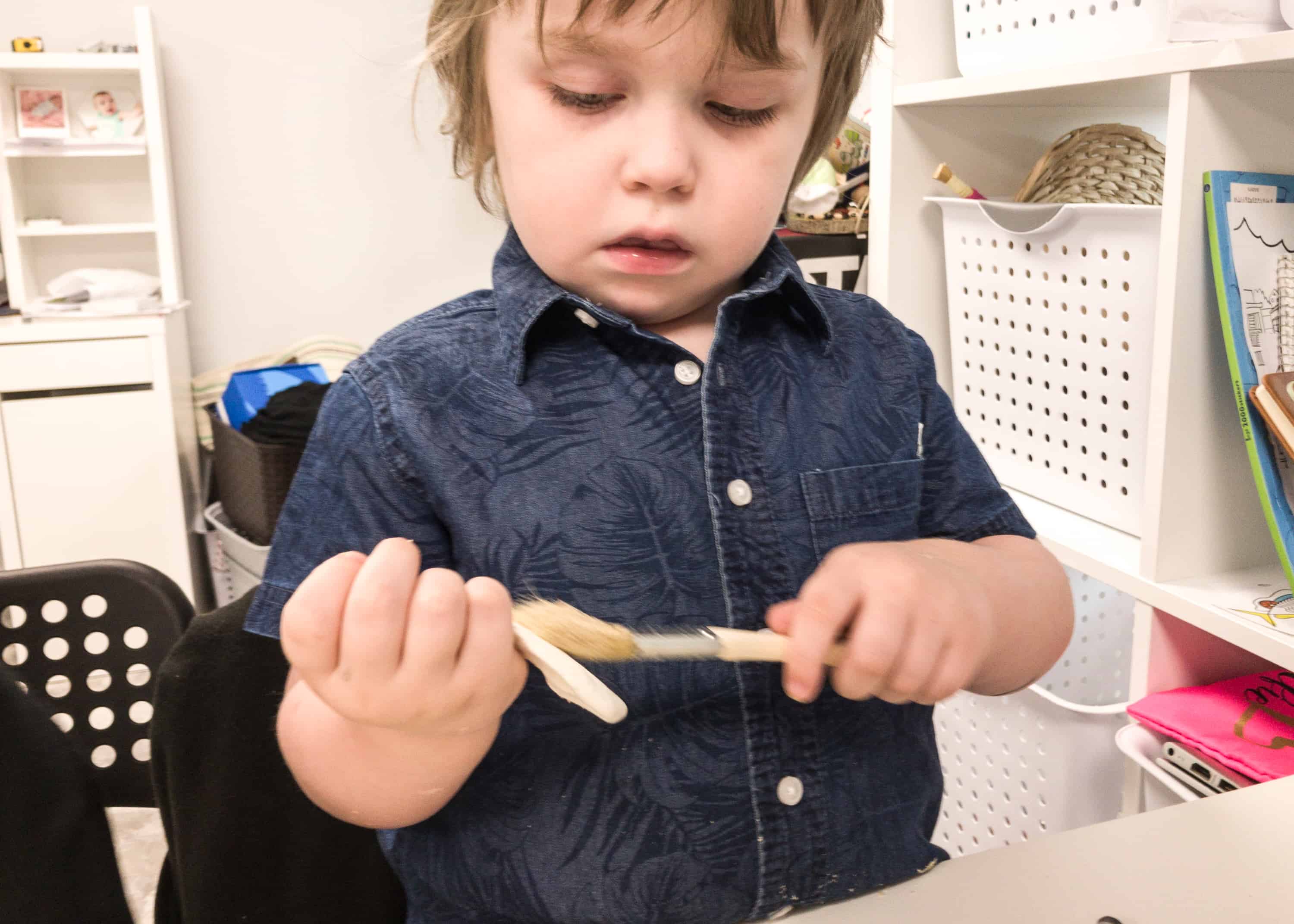 He's now cleaning his new found fossil.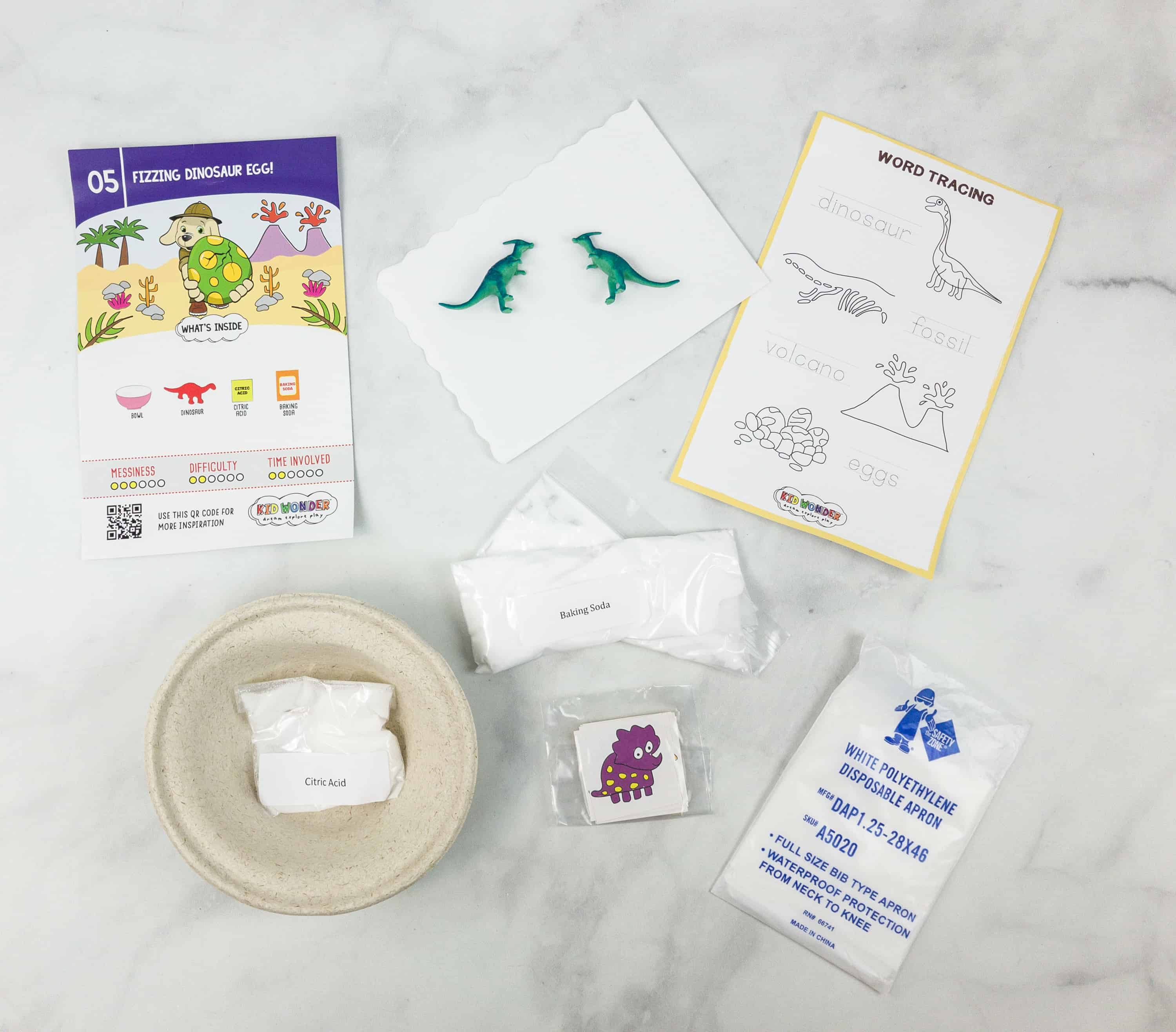 Activity No. 5: Fizzing Dinosaur Egg. For the last activity, we are going to make the dinosaur egg and hatch it by fizzing!
The instructions are explained and shown well. This activity also takes time but I think they will enjoy this one.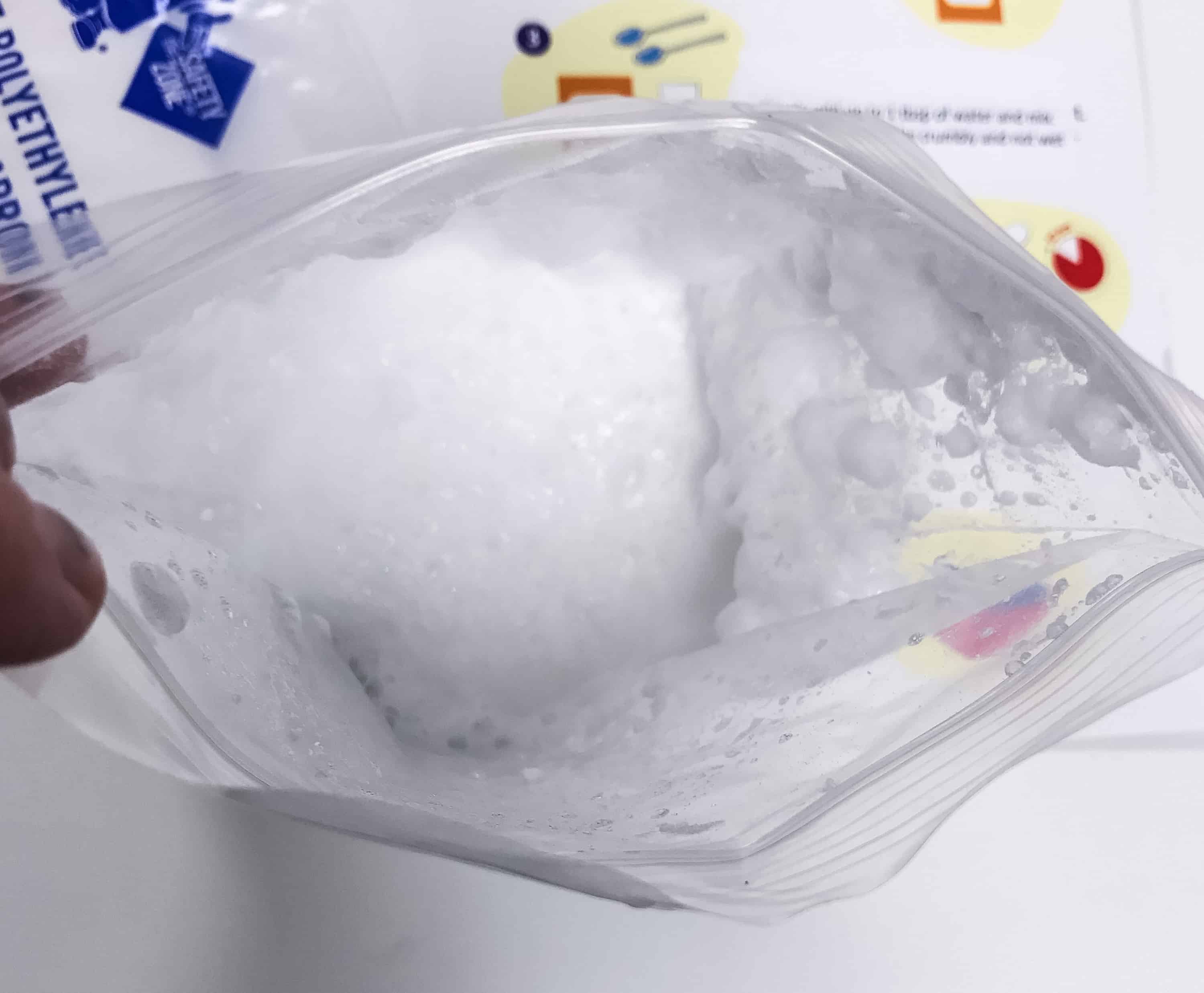 We mixed all the ingredients with their required measurements as instructed and produced a foamy effect. It was really cold and I didn't do it right, but that didn't actually detract from the activity.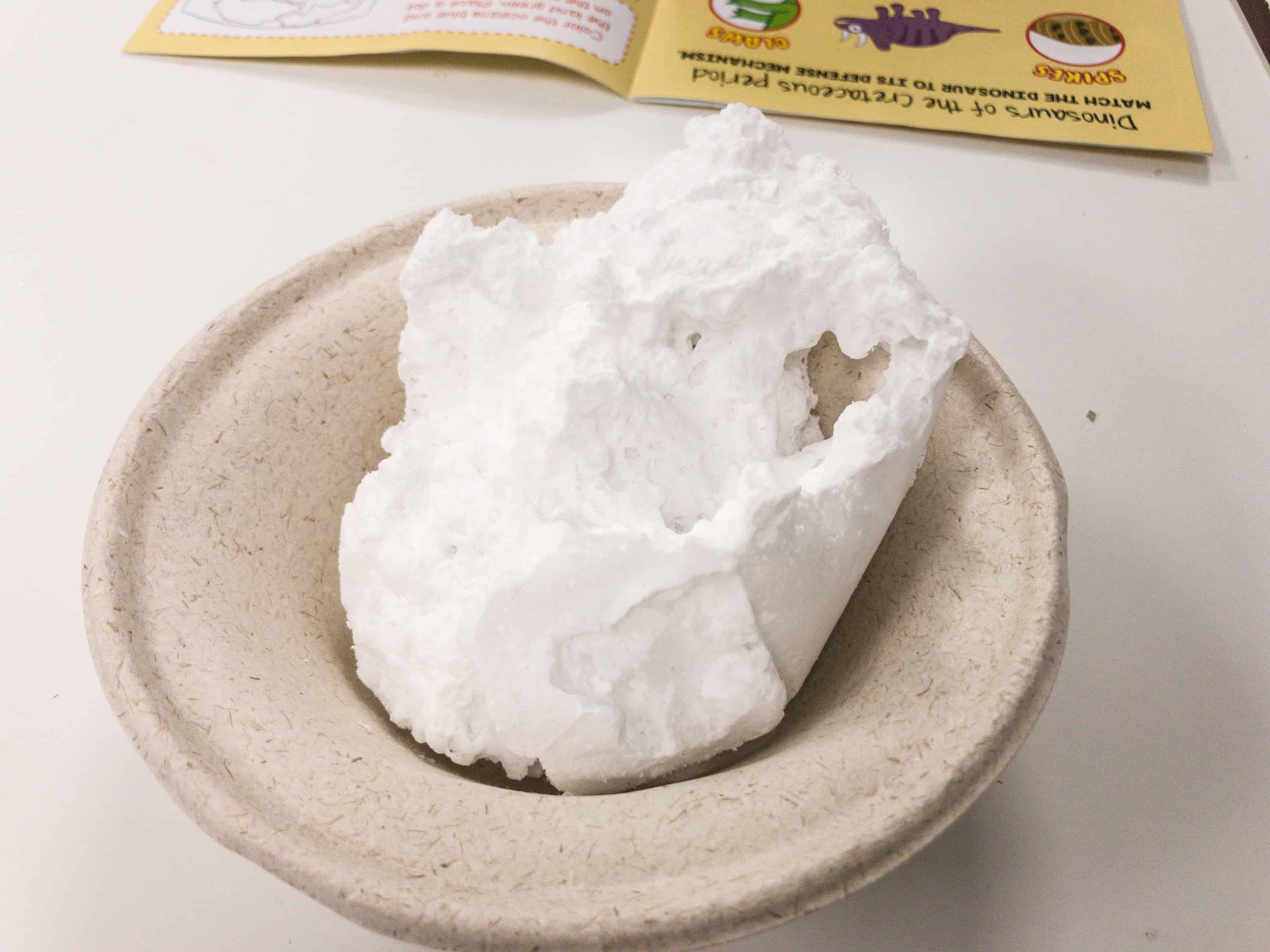 We let it dry for 24 hours and it doesn't look like an egg but it does look like a fossil!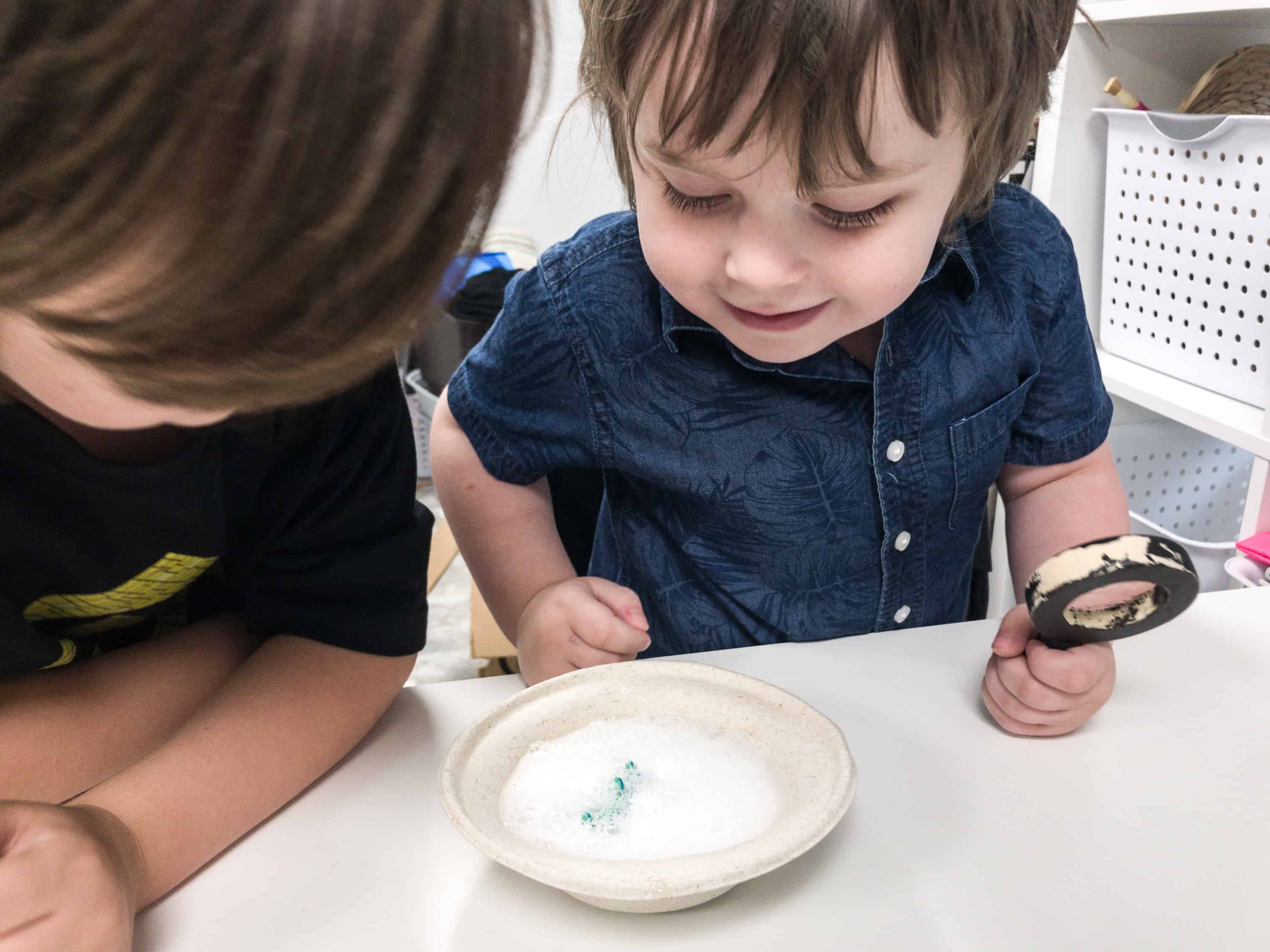 We put it inside the bowl with water and let the fizzing begin! See that big smile as he grasps to his magnifying glass and as they watch the dinosaur emerge from the fizz!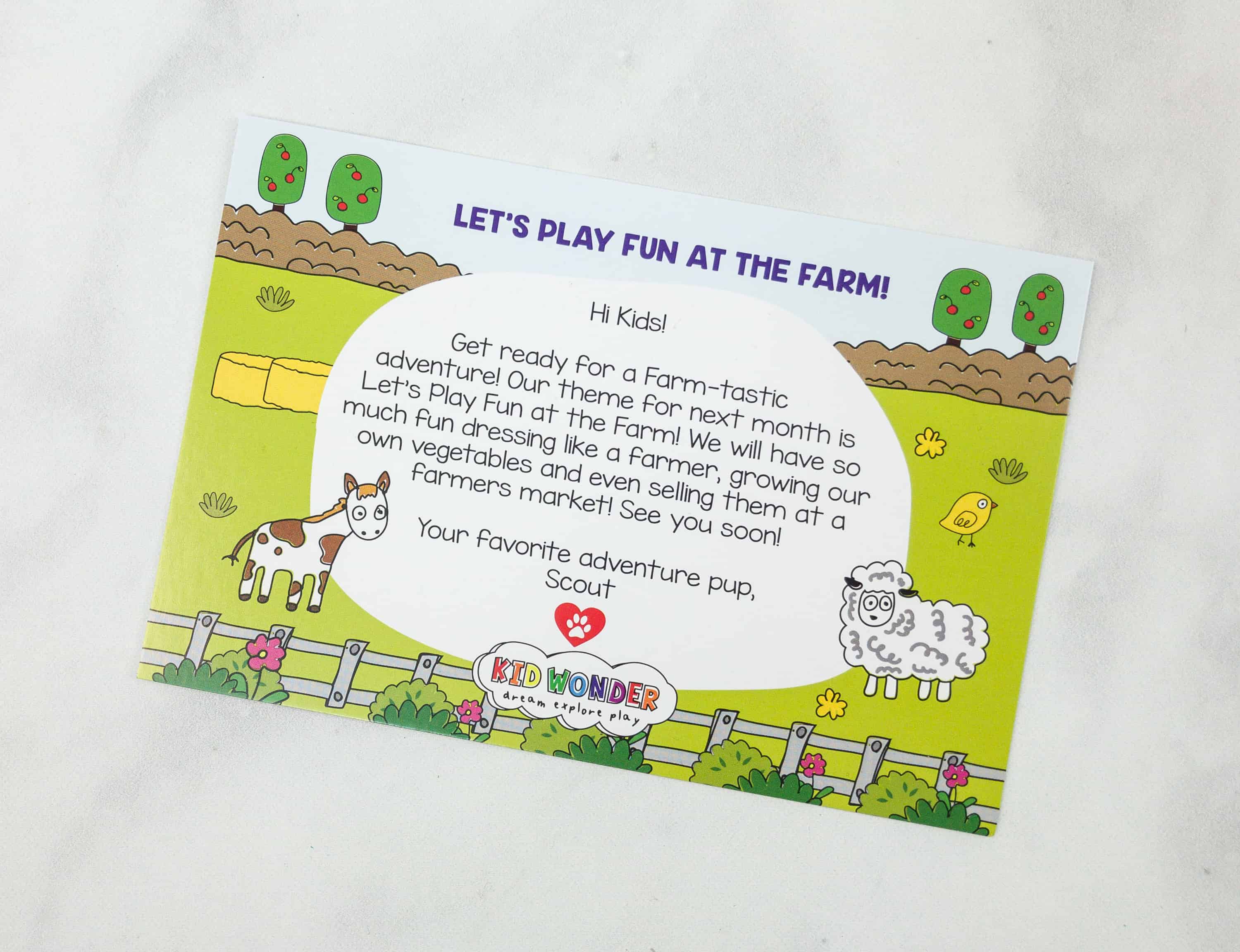 They even sent us some spoilers for next month. The next month's theme is Let's Play Fun at the Farm!
You know how the kids want to get messy! So this is a good way to get them messy the right way. They separated the activities into five sets to avoid confusion. Each has its own instruction card and materials needed. The activities do not cross over, but they all belong to the same theme. The kids had fun because it enhanced almost every aspect of learning. They were taught how to observe, pay attention to the details, enhance their painting and creativity as well as their imaginations. It's a bonus that they did a couple of stretches too! I hope they keep up the good work on making the learning experience enjoyable! This subscription company is planning boxes for older children, but the Little Dreamers box would be perfectly suitable for ages 7 and 8. My boys are absolutely in love with this subscription and get super excited every time a new one comes in.
What do you think of the Kid Wonder Box?
Visit Kid Wonder Little Dreamers Box to subscribe or find out more!