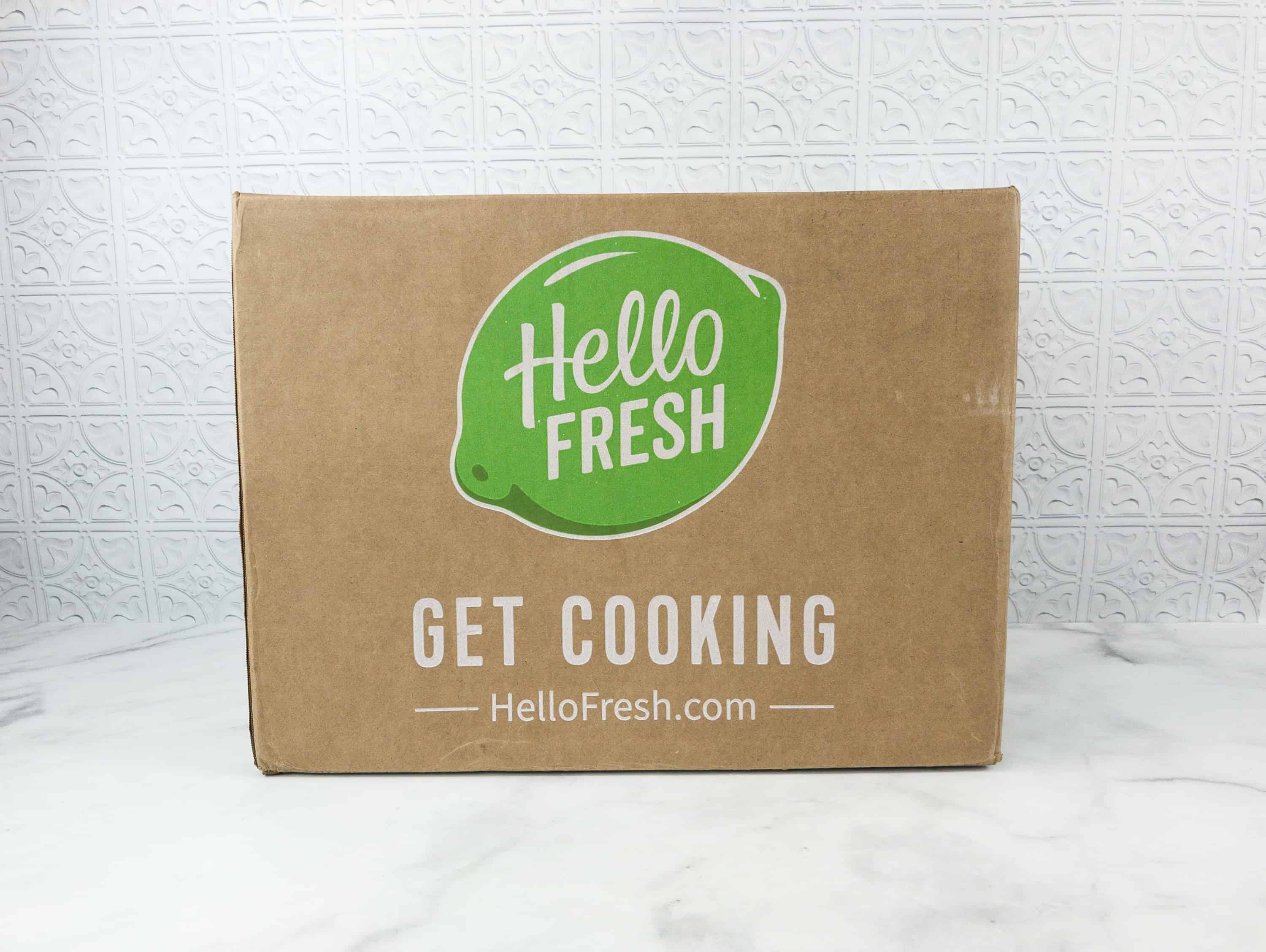 Hello Fresh is a weekly meal kit subscription box with complete recipes and high-quality ingredients to make your own fresh, healthy, gourmet meals at home.
They offer three different subscription options — Classic (choose 3, 4, or 5 meals for 2 people or 3 meals for 4 people from 6 weekly options/$9.99 per serving for the basic plan, $11.50 per meal for unlimited meal choice), Vegetarian (receive 3 HF-selected meals for 2 or 4 people/$9.99 per serving ), and Family (receive 3 HF-selected meals for 2 kids and 2 adults/$8.74 per serving). You can always pause the subscription to skip a week if you need to – this is super handy for vacations!
This is a review of the Hello Fresh Family Box!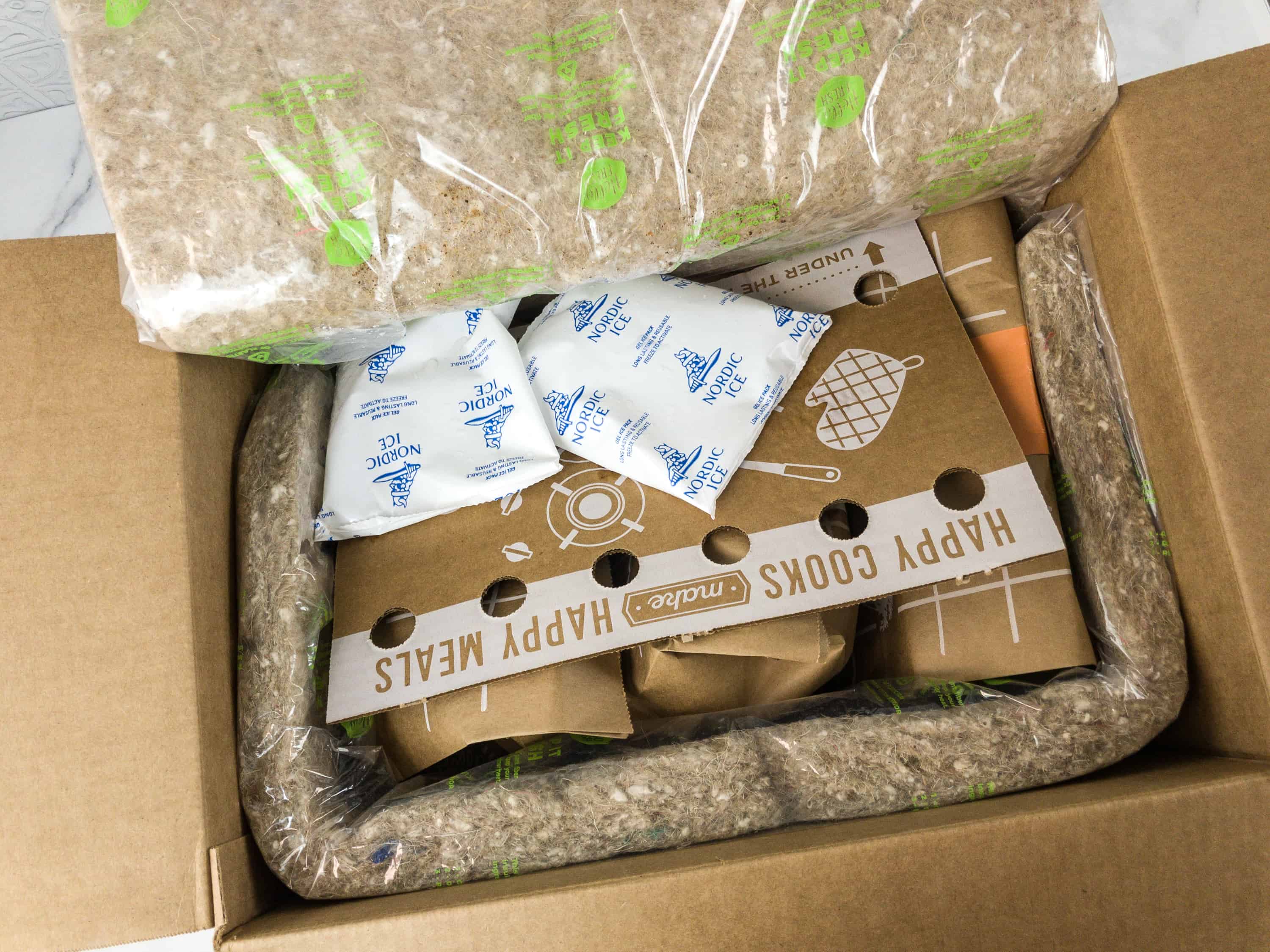 DEAL: Save $40 off your first two boxes – no coupon code required, just use this link for the deal!
The ingredients for each meal are bagged separately within the padded, insulated box. Several ice packs keep everything cold, while the bags prevent the ingredients from touching the ice directly. Meat is packed in the bottom of the box, sandwiched among more ice.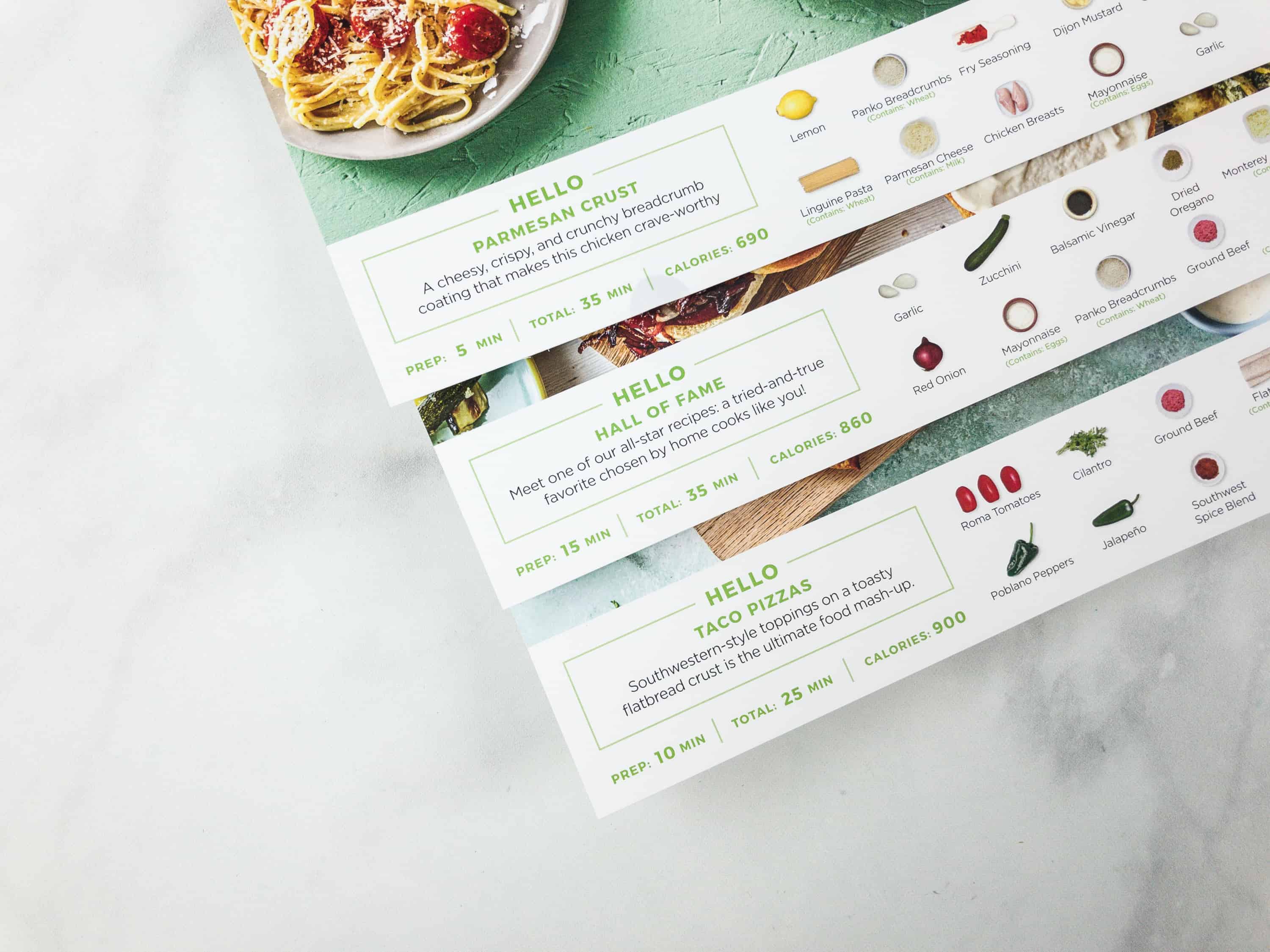 Each Hello Fresh recipe tells you the prep time and total time table, calorie count, and provides a visual inventory of the included ingredients.
They also include a pretty picture you can take as a plating suggestion. In this box we have Beef Taco Pizzas, Parmesan-Crusted Chicken, and Melty Monterey Jack Burgers.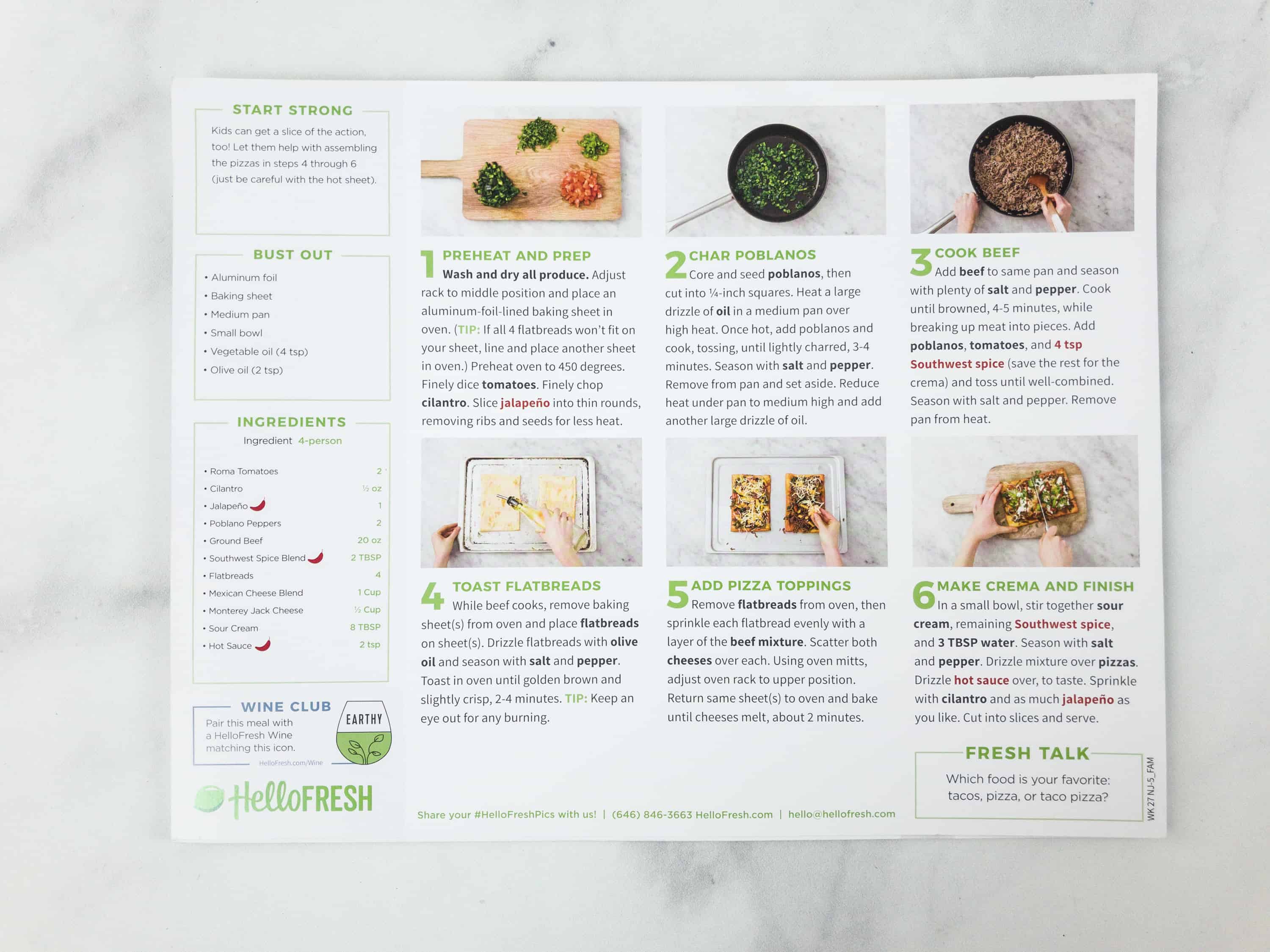 The instructions are easy to follow, regardless of your skill level. Usually, you start by washing and prepping all the ingredients before cooking. Within the detailed, step-by-step instructions, ingredients are set in bold type for ease of recognition. They even use a red font to point out spicy ingredients, so you can adjust accordingly. I really like that they call out when they've sent more of an ingredient that is used in the recipe — when they don't mention it (which is most of the time), the items are pre-portioned and can be tossed right in without measuring.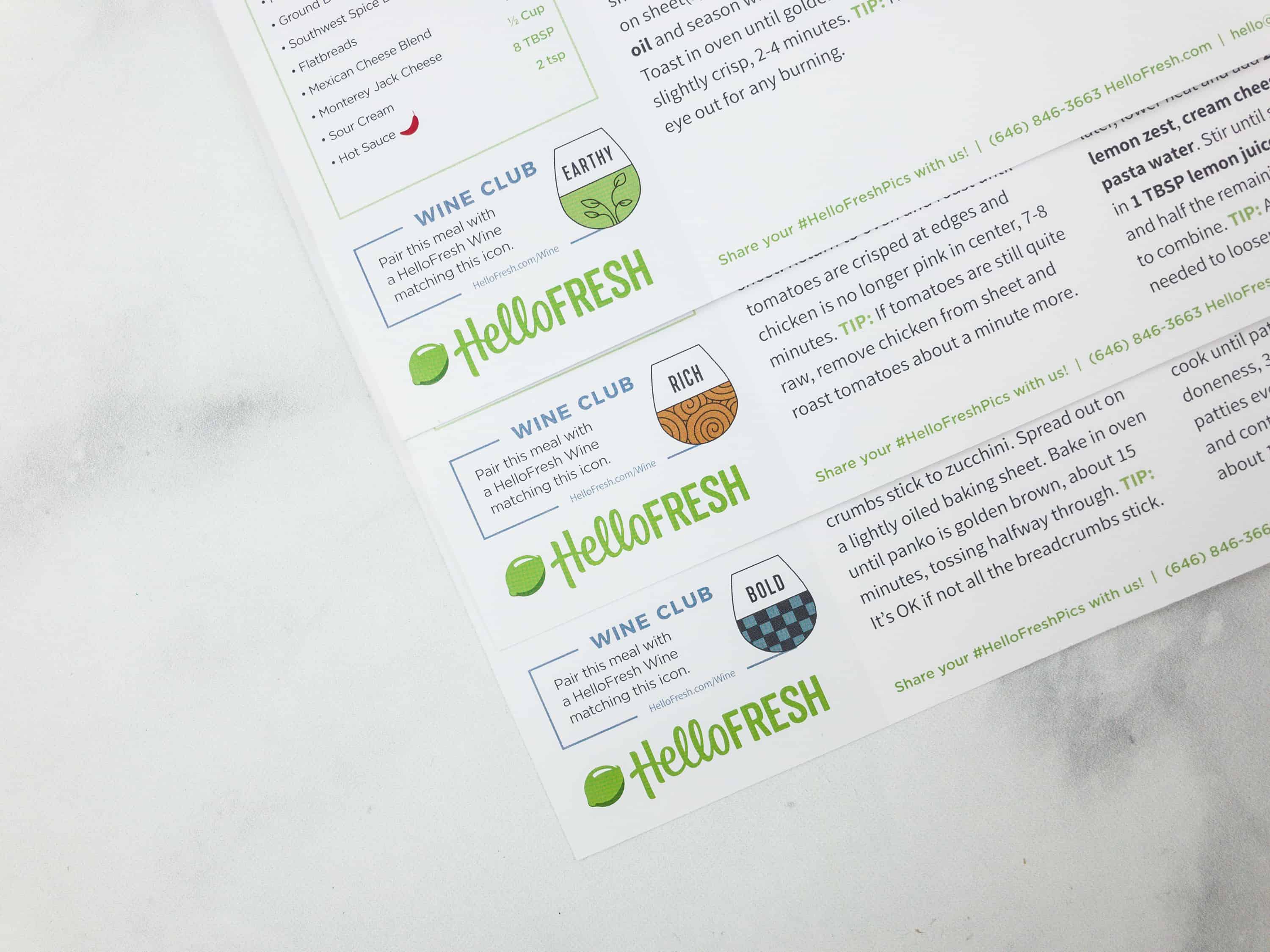 Info panes in the sidebar list anything you'll need from home (pans, cooking oil, etc), as well as the quantity of each provided ingredient needed for 2 and 4 person versions of the recipe. Every recipe comes with a wine pairing suggestion, suggesting a style of wine available from Hello Fresh Wine, of course!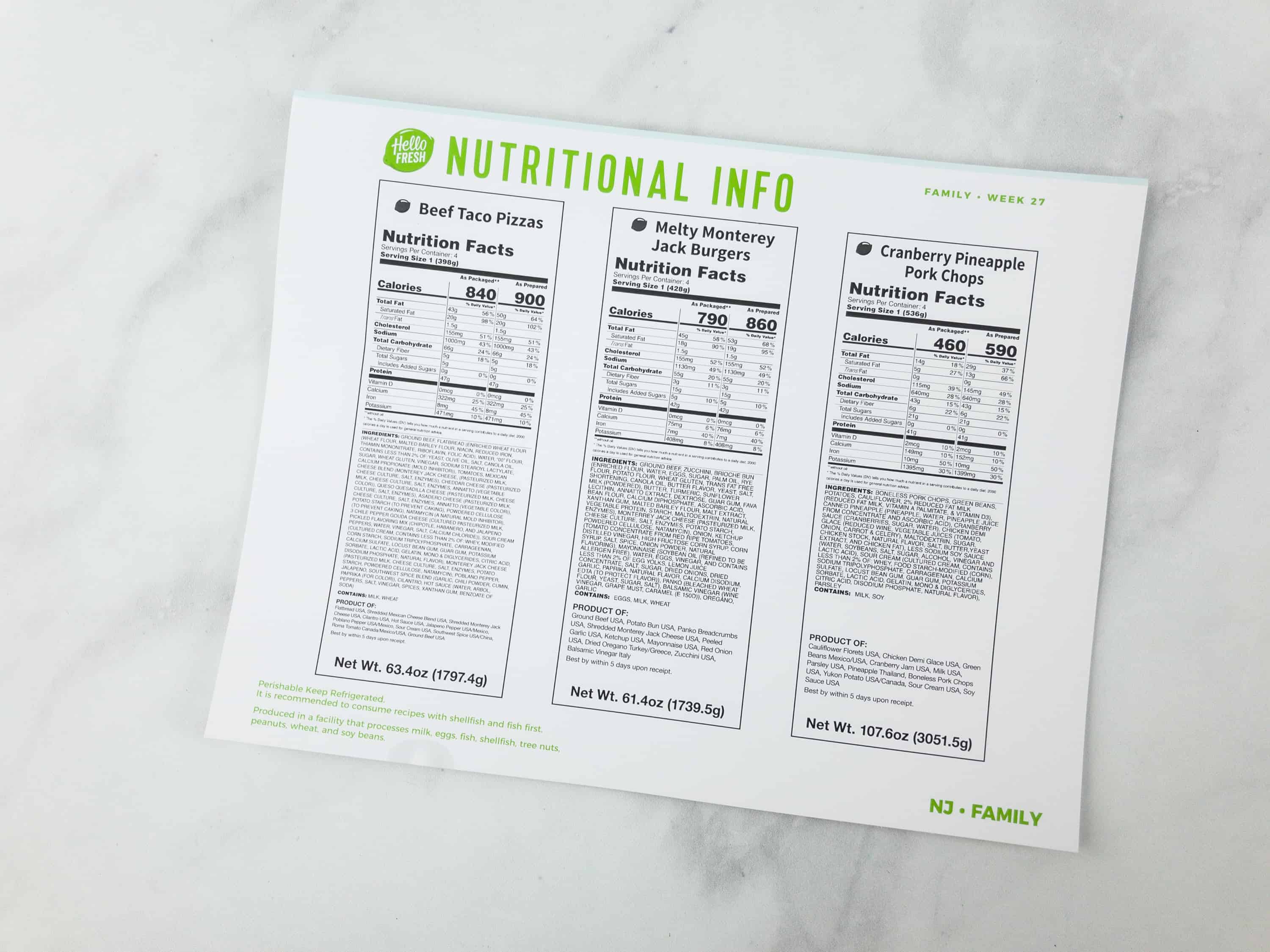 The box also comes with complete nutrition information for each recipe, including a list of all ingredients, their country of origin, and a "best used by" timeframe.
The nutrition info is provided for all meals you could have selected for the week.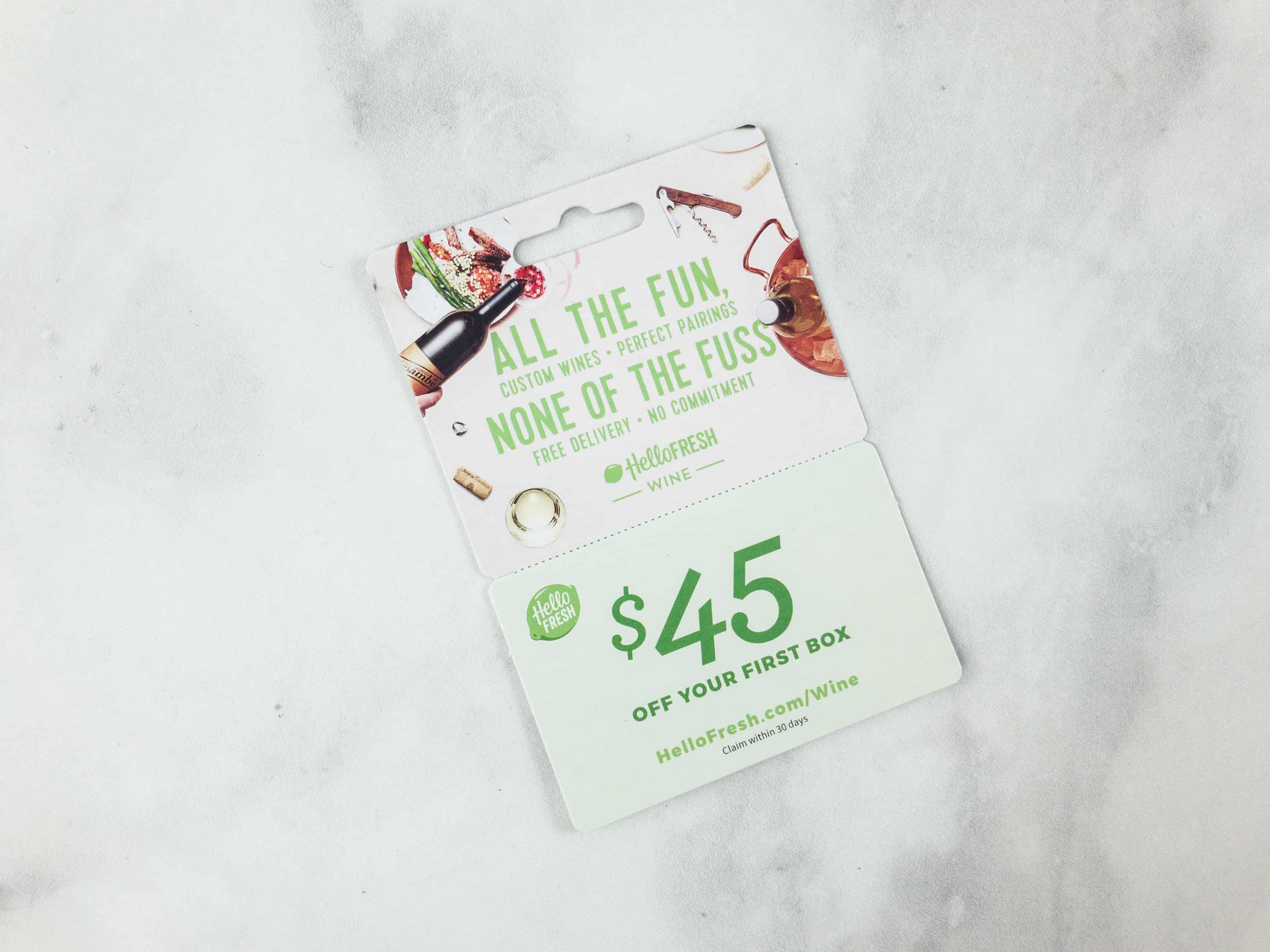 Another surprise that you will find in this box is this $45 off on your first subscription of Hello Fresh Wine (same deal with this link!) This subscription is run by Hello Fresh, and the wines are selected to pair well with the meal selections for the week. This cool aspect removes the biggest hurdle in enjoying wine with a meal — picking the right one for your menu. This is definitely worth checking out.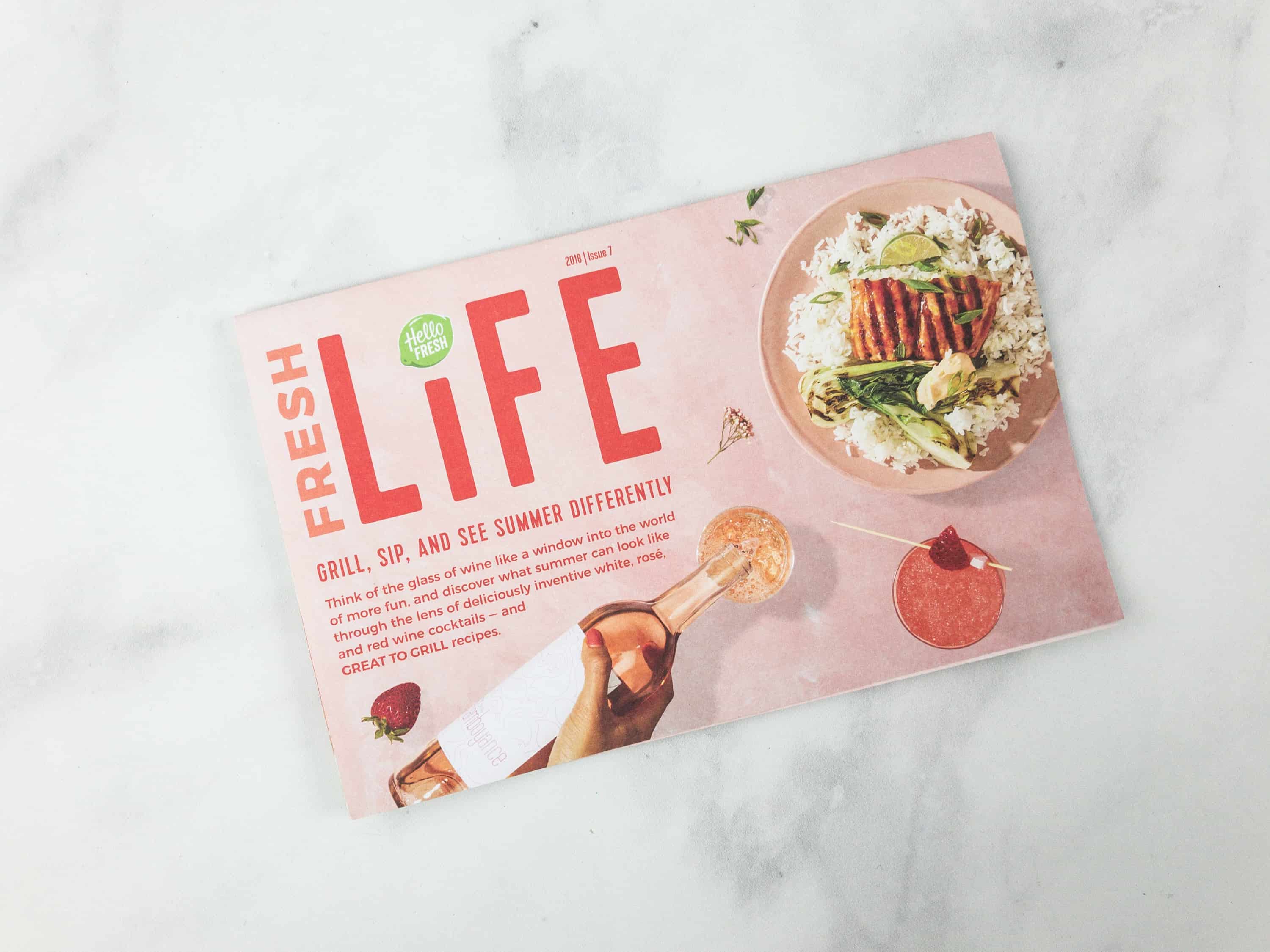 Also included in the box is an issue of Fresh Life, a mini-magazine from Hello Fresh. Issue 7 features wine and grill recipe pairings.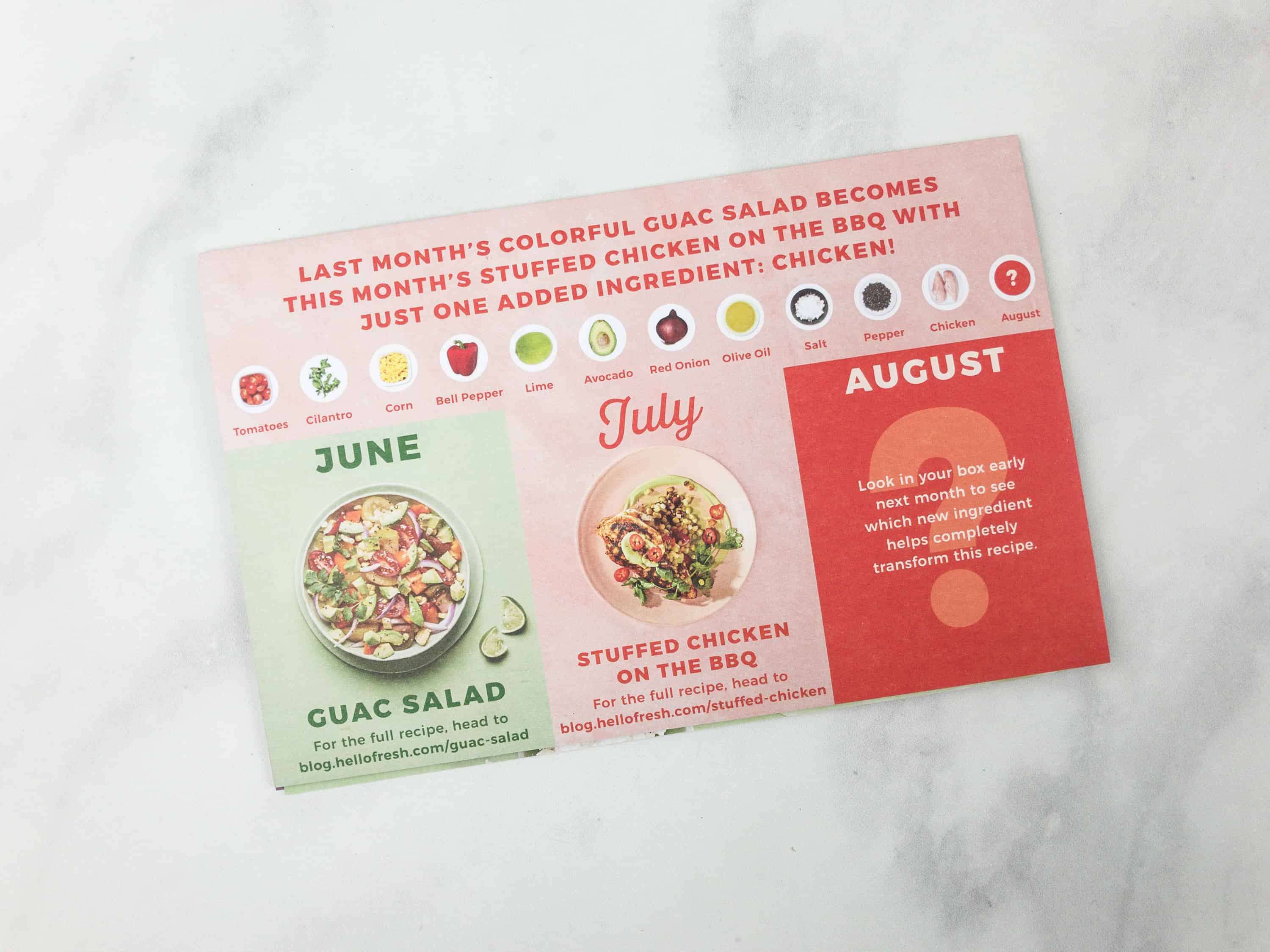 They've also been including this cumulative build-a-recipe card. Every month, they add an additional ingredient, coming up with a completely different dish than the month before.  For July, it's chicken!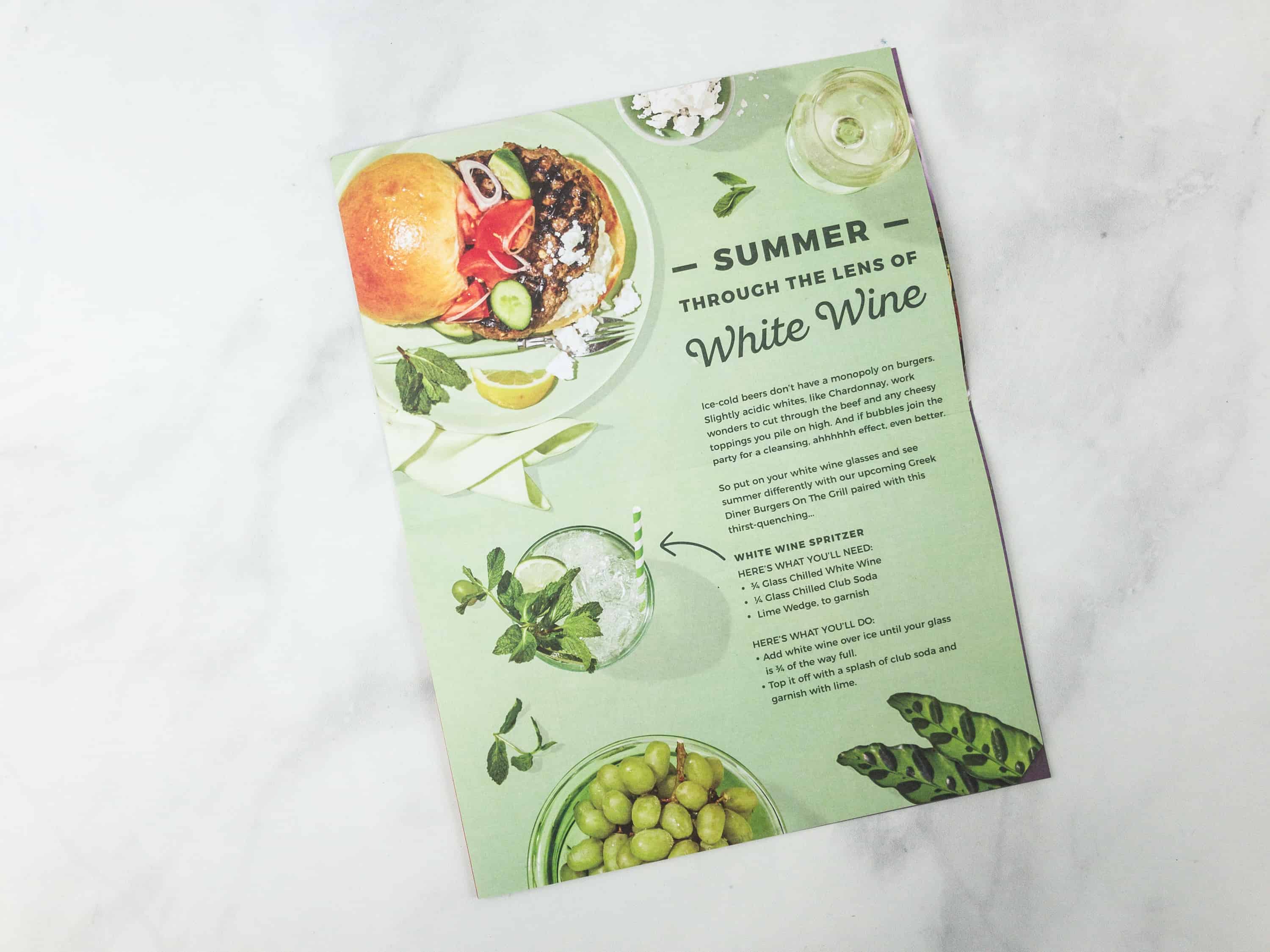 The booklet had a drink recipe for wine lovers of all stripes. This feature is all about making a White Wine Spritzer.
There's also a recipe for Strawberry Frosé, using rosé, and Red Wine Sangria.
The ingredients for each recipe are separated, so you can grab them easily and start cooking. The meats are packed separately.
Everything inside our Hello Fresh Family box!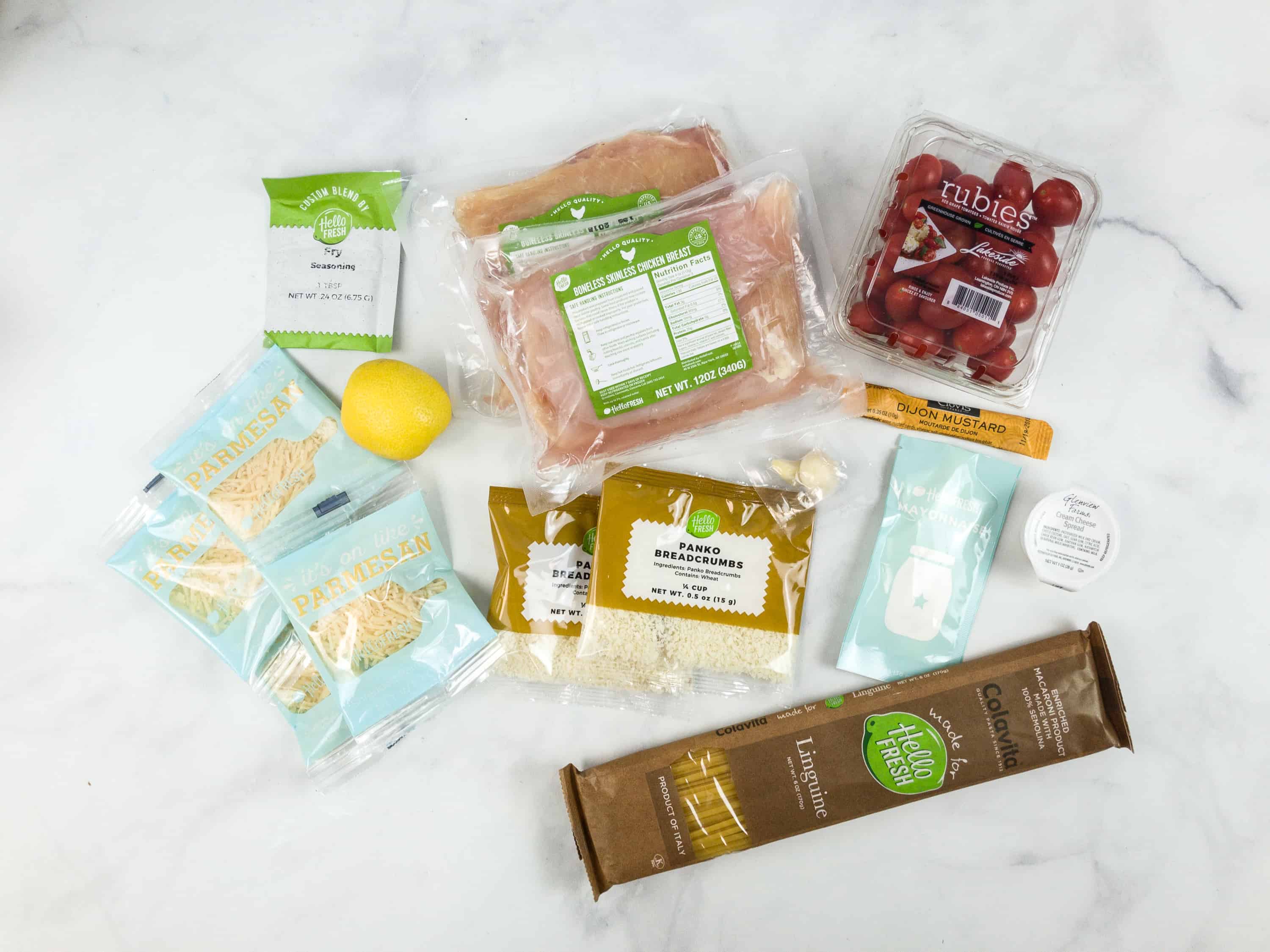 Parmesan Crusted Chicken With Creamy Lemon Tomato Linguine – 35 minutes, 650 calories per serving
With the Parmesan-crusted chicken as the main dish and linguine pasta on the sides, this wonderful recipe definitely is everything I want to have in an Italian-style meal. This was a perfect dish for sharing with the kids — the loved the chicken (cut into strips), and the creamy pasta sauce was right up their alley. The only mod I made for the kids was reserving the tomatoes. This was a pretty easy dish to prepare, as the chicken used a simplified breading procedure that was both quick and effective, with little mess.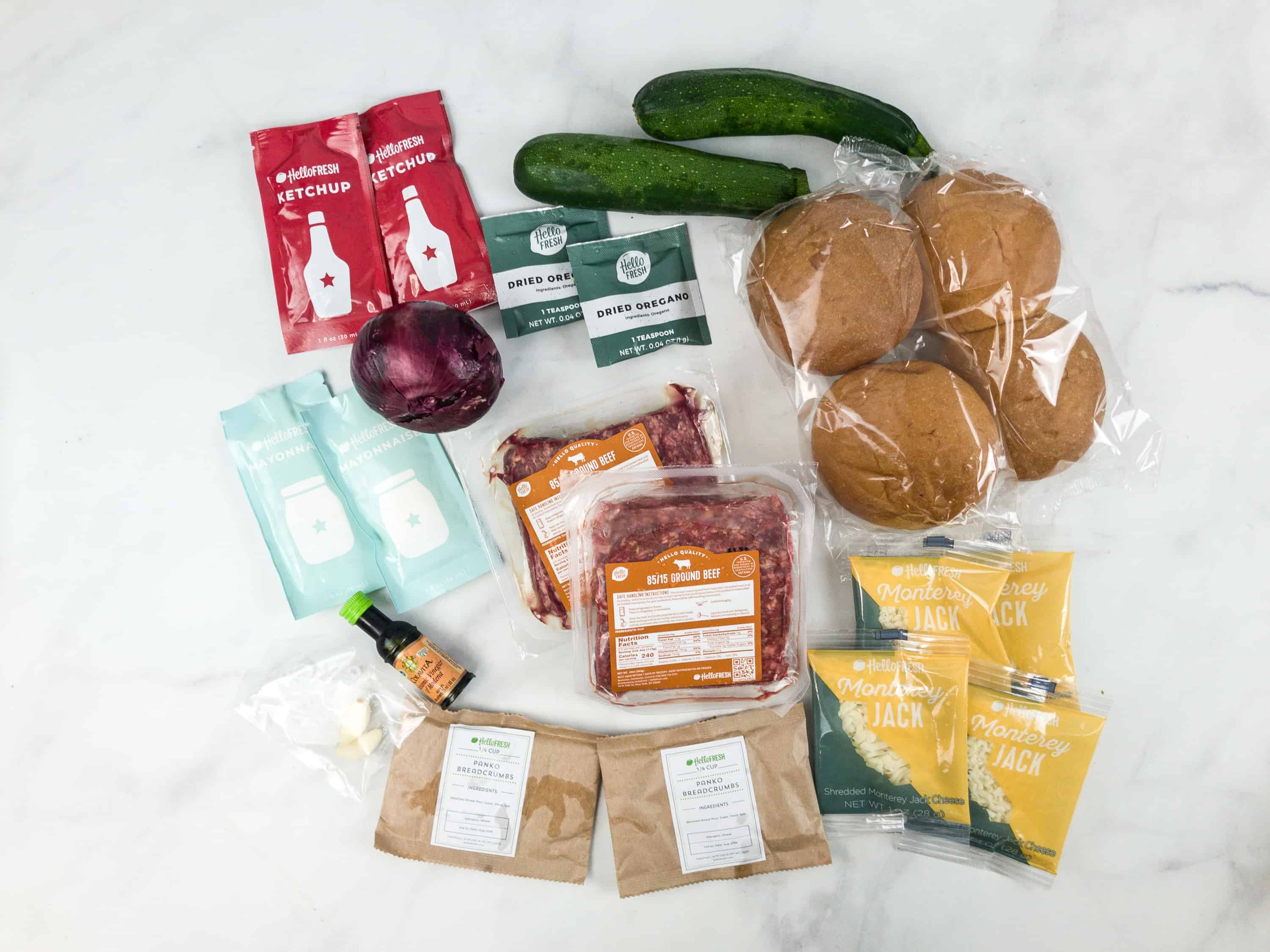 Melty Monterey Jack Burgers With Red Onion Jam And Crispy Zucchini – 35 minutes, 860 calories per serving
This burger is oozing with flavors. It had a big serving of beef, and topping it with onion jam makes it even more mouthwatering! The only thing that was a little odd about this dish was the grind of the beef — it was coarser than usual, leaving me to think my pouches were possibly run through the grinder fewer times than normal. It was still very delicious and hard to beat for a quick, easy meal.
The baked zucchini sticks are drizzled with salt, pepper, and breadcrumbs. This crunchy and yummy side dish pairs well with the burger — the zucchini itself remained tender, but the sprinkle of panko added some crispness.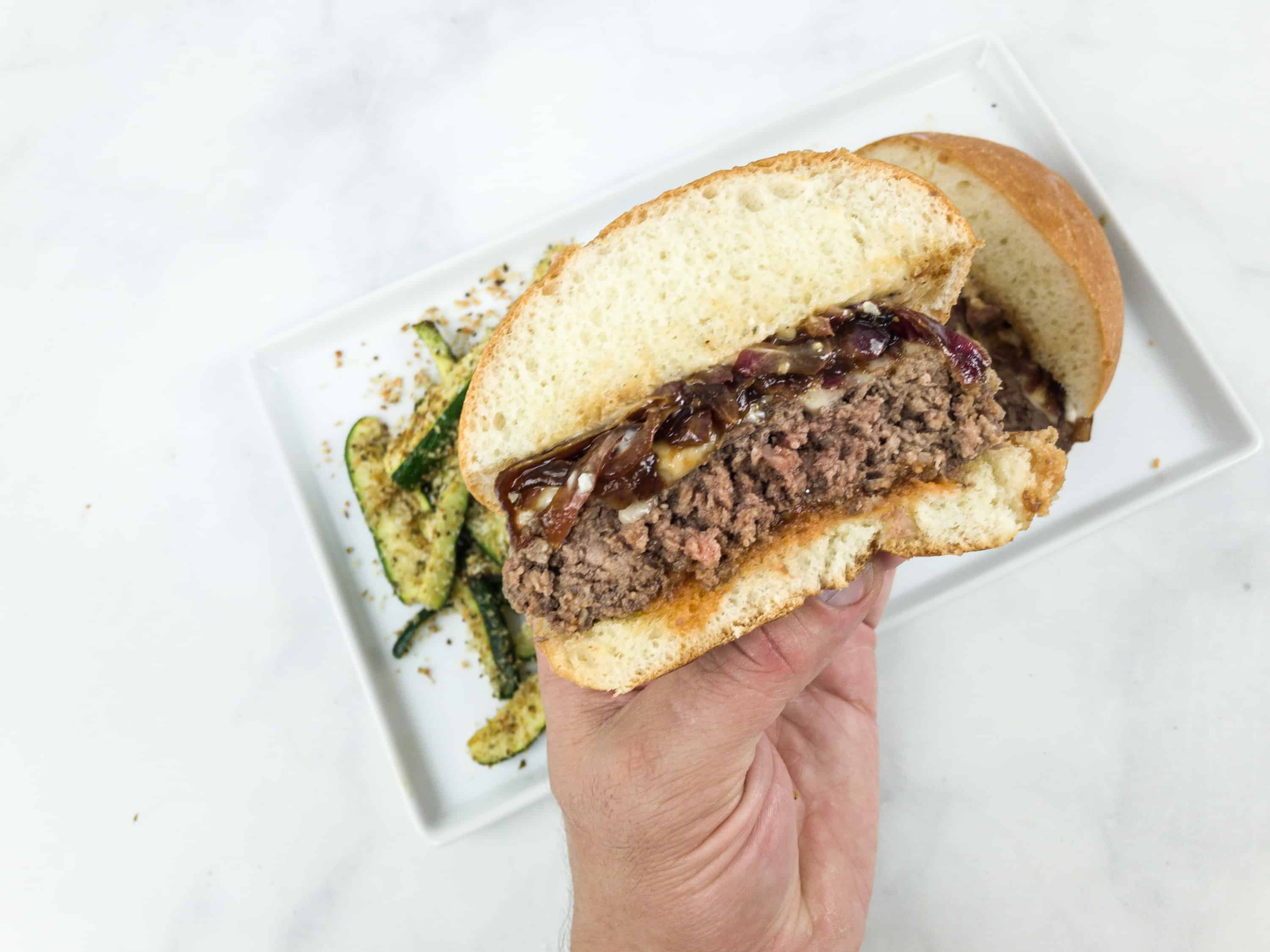 Look how thick the patty was! We were able to make a generous portion of the onion jam, and the brioche style bun and Monterey jack cheese really pushed this one over the edge.
Beef Taco Pizzas With Poblano And Jalapeño Peppers Plus Two Kinds Of Cheese – 25 minutes, 900 calories per serving
This ranks among my favorite Hello Fresh dishes. It's fairly quick to make, and the taco/pizza combo is divine. After doing the necessary prep and topping the flatbread, it only takes a few minutes in the oven to finish up. This is a good one to prep ahead, too. Though I thought this flavor combo was incredible, all Hello Fresh pizzas are really good, because their flatbread makes a perfect, instant pizza crust. There is no flouring or dough to worry about, and it has an awesome buttery, tender yet crisp texture and lovely flavor. It's hard to go wrong.
We really enjoyed this set of Hello Fresh recipes, and I thought these were good choices for the Family Box. The kids prefer their toppings pared down, but that just means more for Mom and Dad! The recipe pair well with wine, and the suggested pairings make it easy to find an appropriate bottle. This makes the Family kits perfect for entertaining a couple guests, too. Almost all the ingredients are provided, and the pre-measuring lets you expedite your prep, so you can spend more time with your guests or family. The ingredients are great quality, and the instructions are clear and easy to follow. Hello Fresh has definitely made our meal times more interesting and hassle-free!
Have you tried Hello Fresh?