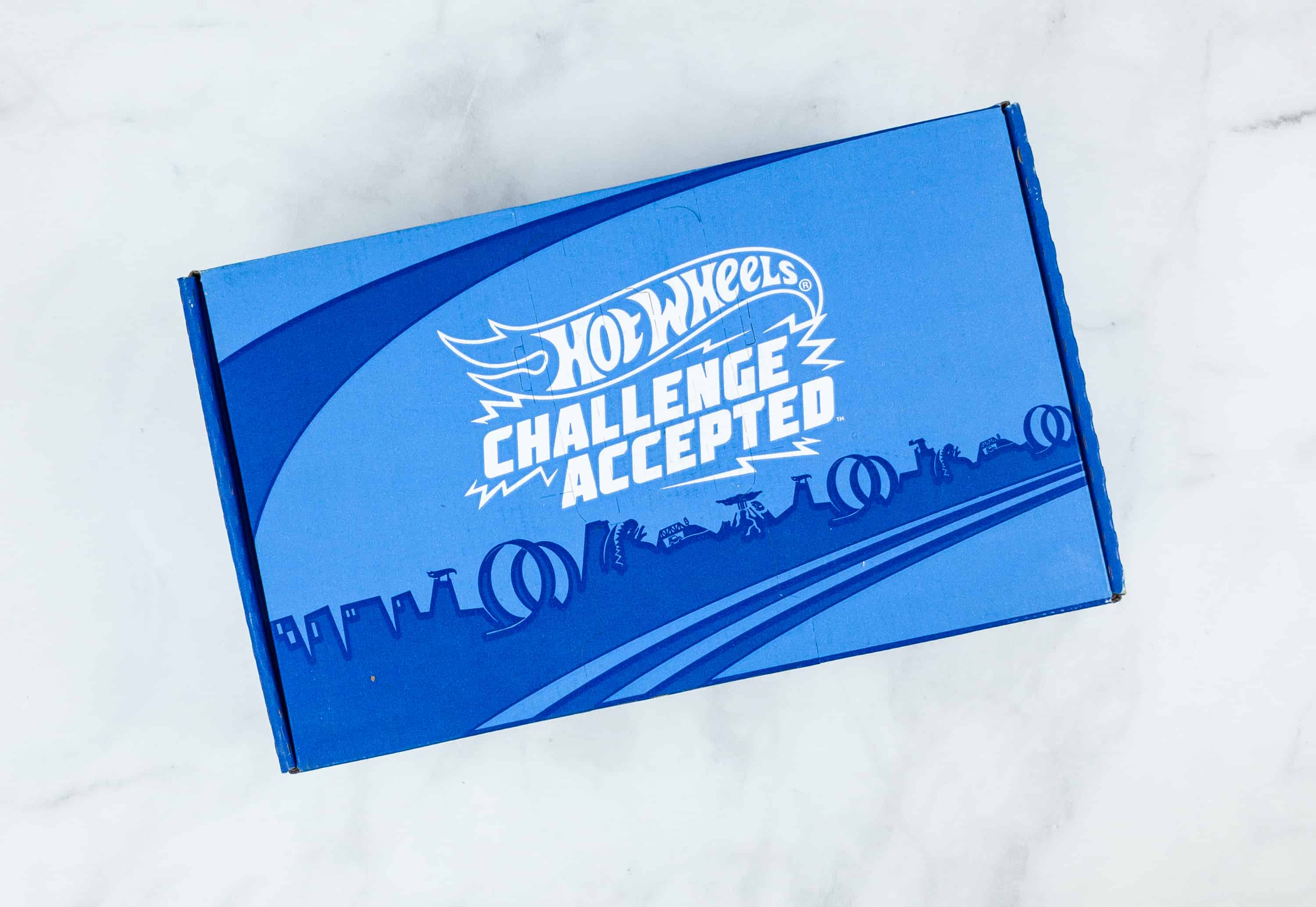 The Hot Wheels: Challenge Accepted Pleybox is a bi-monthly toy subscription box featuring Hot Wheels! There's over $45 value in every box with unique and exclusive merchandise that promises to keep kids busy for hours! Every 2 months, the subscription provides 3 out-of-the-box stunts, reconfigurable box and track pieces, early access to new cars, and exclusive apparel.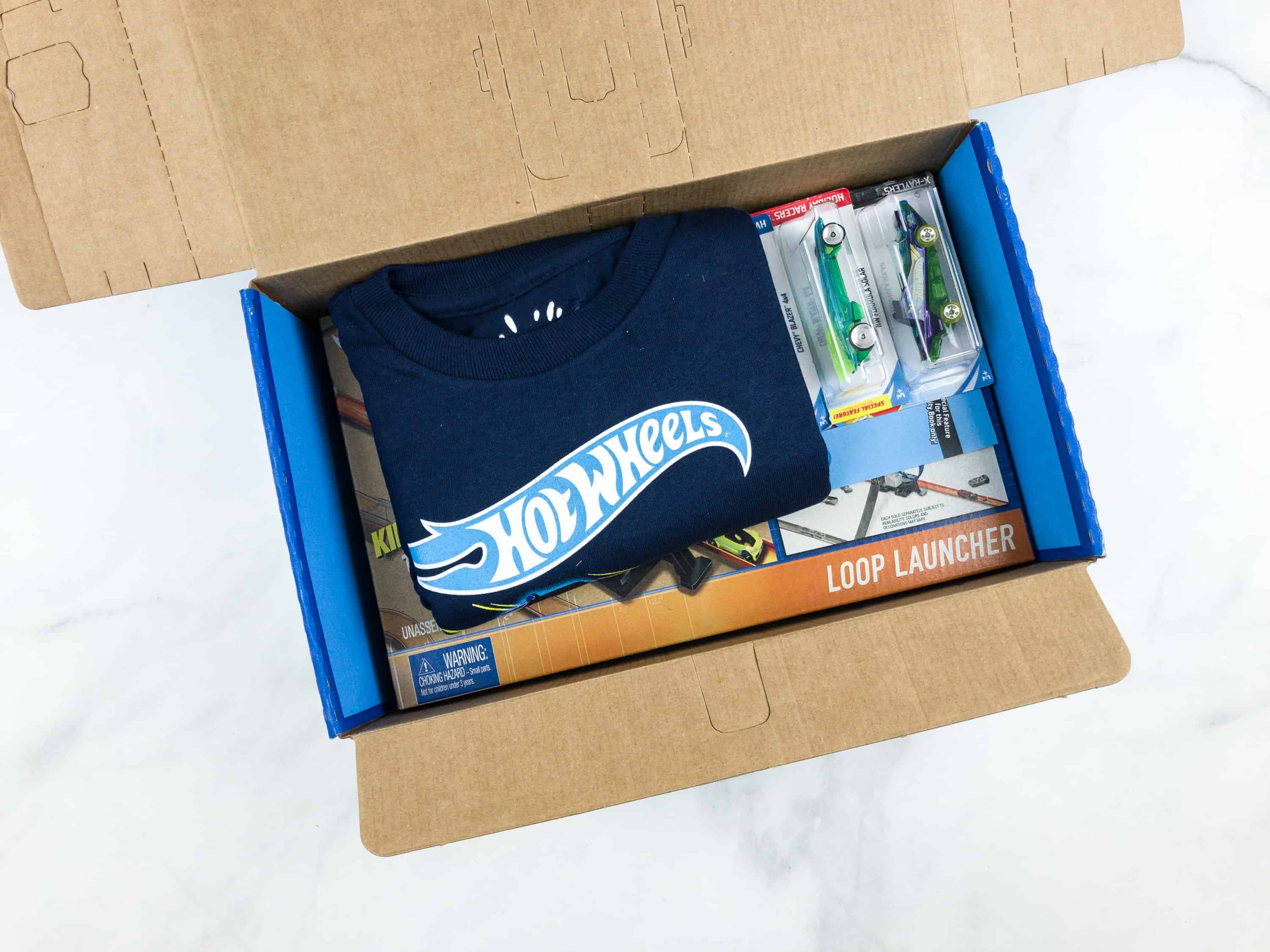 This box is always a hit with my kids with tons of play value!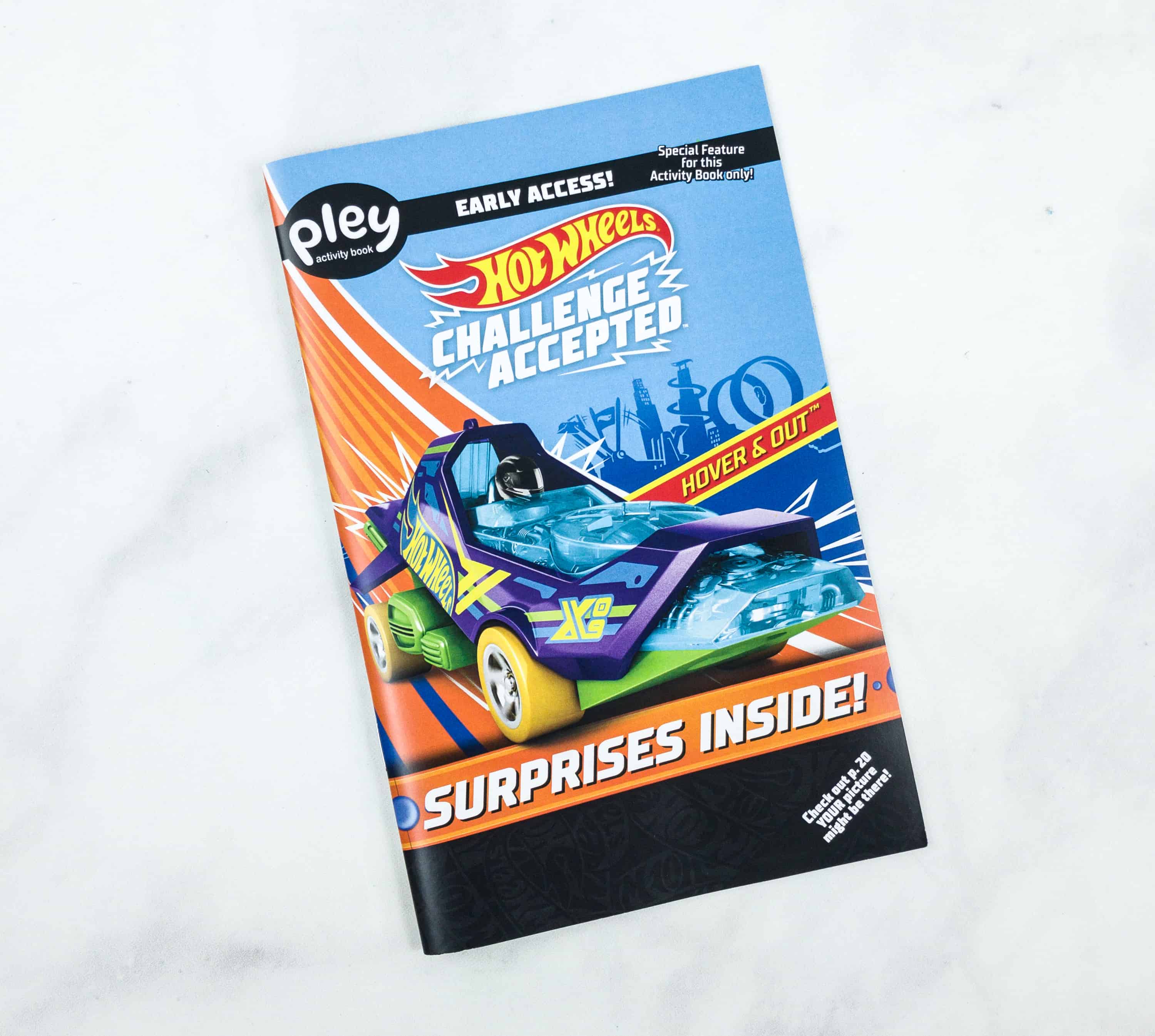 The box includes a Hot Wheels Challenge Accepted activity booklet.
This month's featured race car is Hover & Out!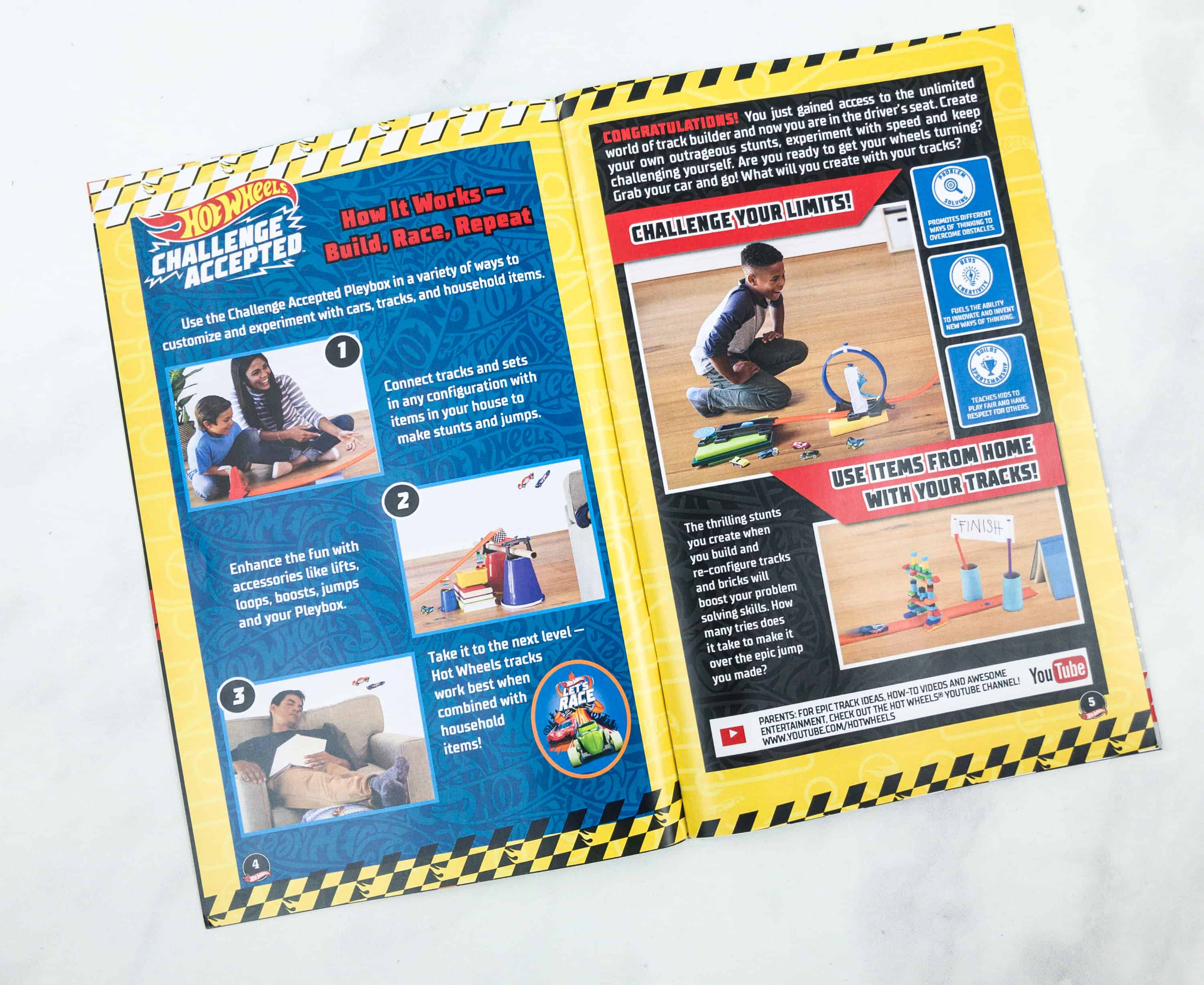 The activity booklet includes ways on how to build your own race track and use some household items to upgrade it.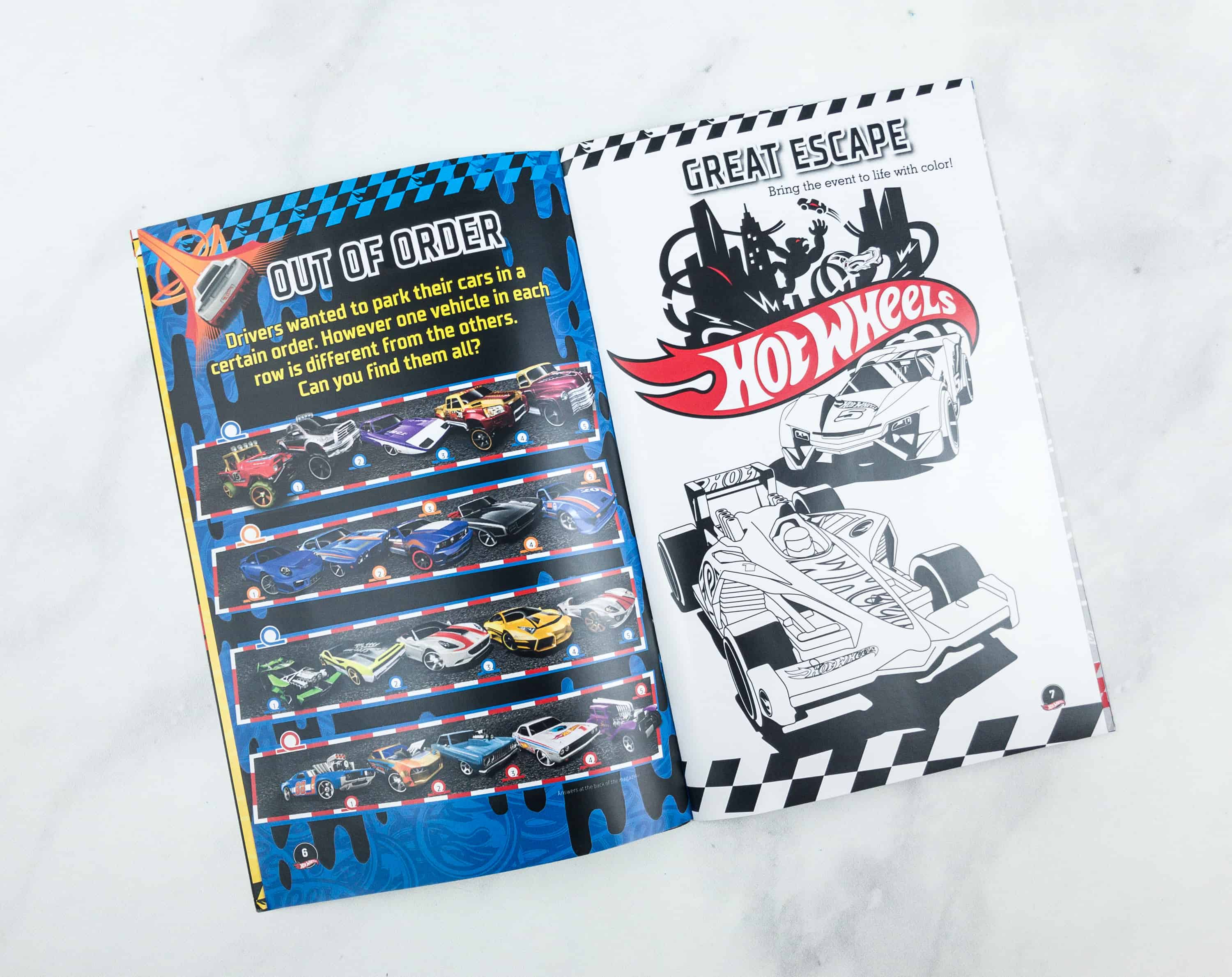 The book wouldn't be complete without fun activities for the kids.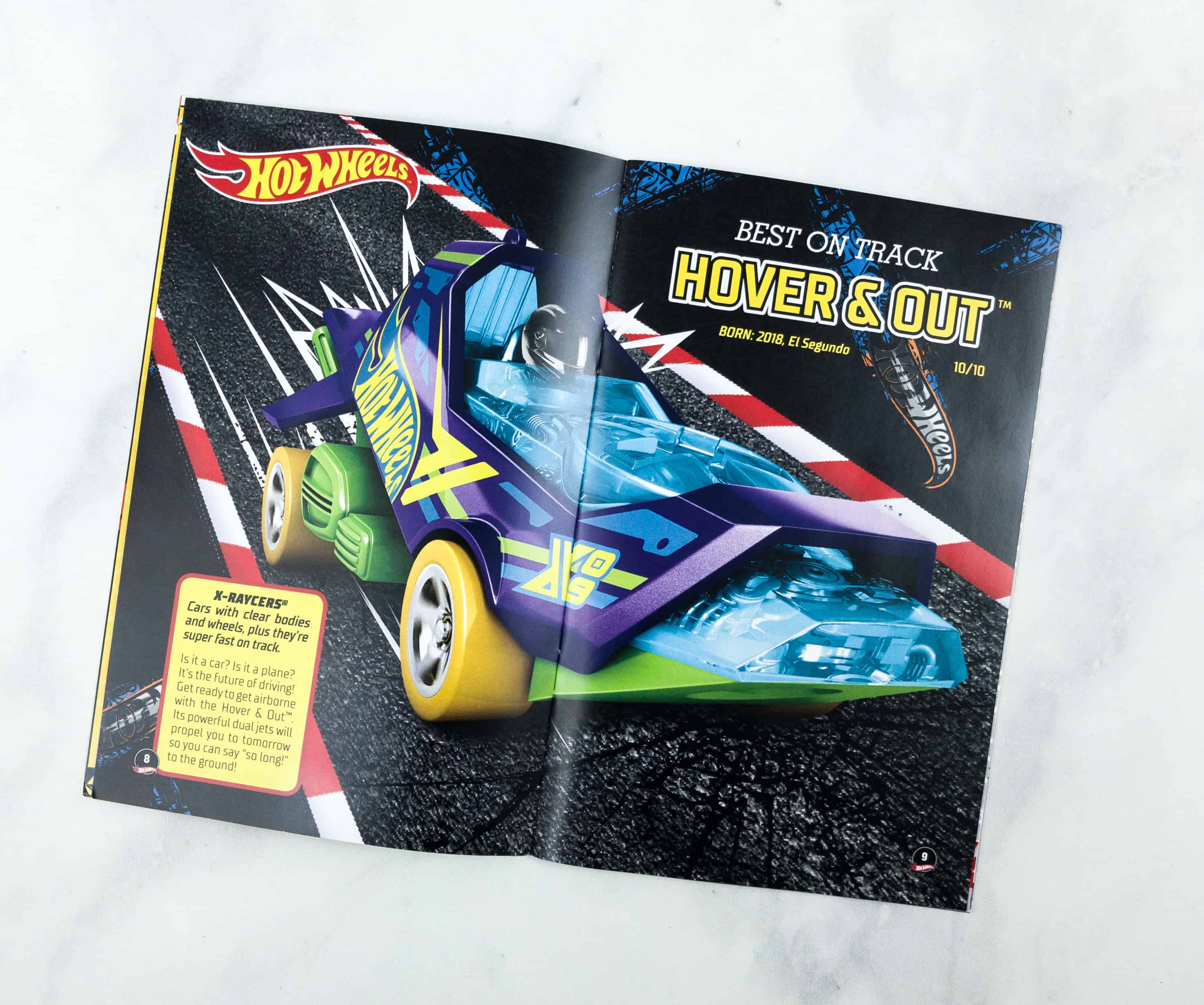 The booklet also dedicates a special page for Hover & Out, this month's featured vehicle!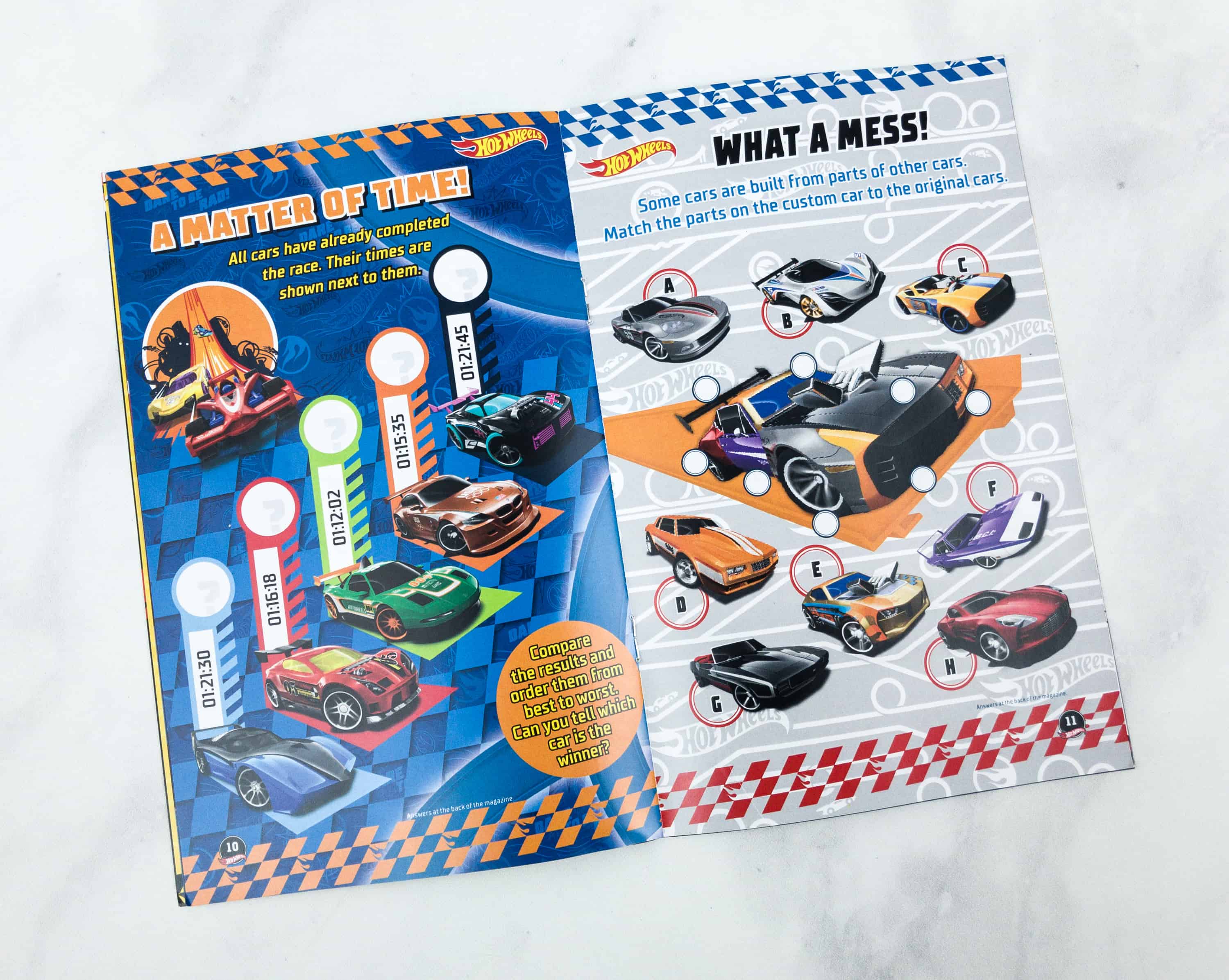 Activities like this make a great bonding time for parents and kids, and it is these extras that make the Hot Wheels Pleybox a true activity box and not just a toy subscription.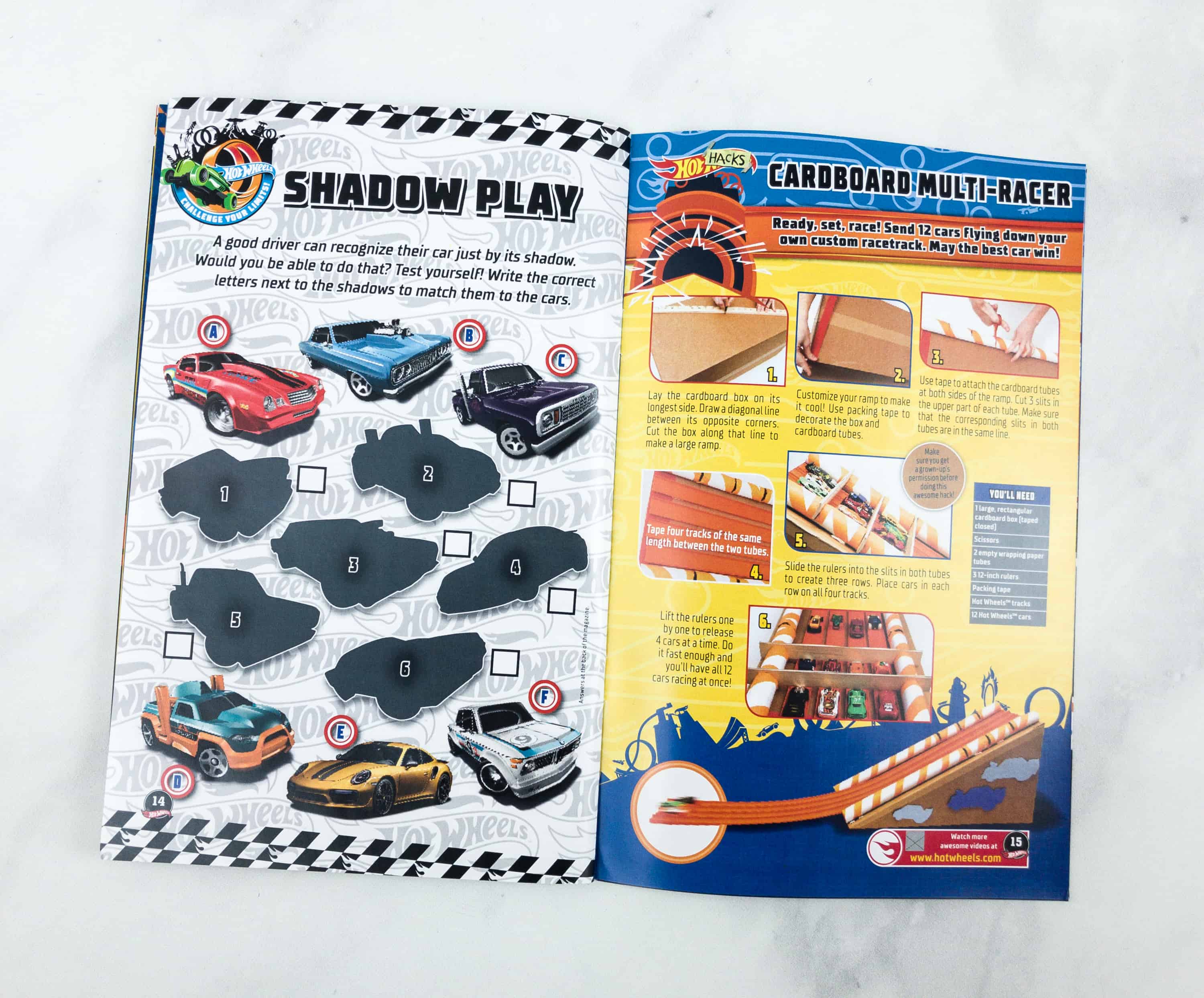 My kids enjoyed the Shadow Play activity. There's also instructions on how to make your own Cardboard Multi-Racer.
More challenging activities await on the other pages, like word scramble and a maze.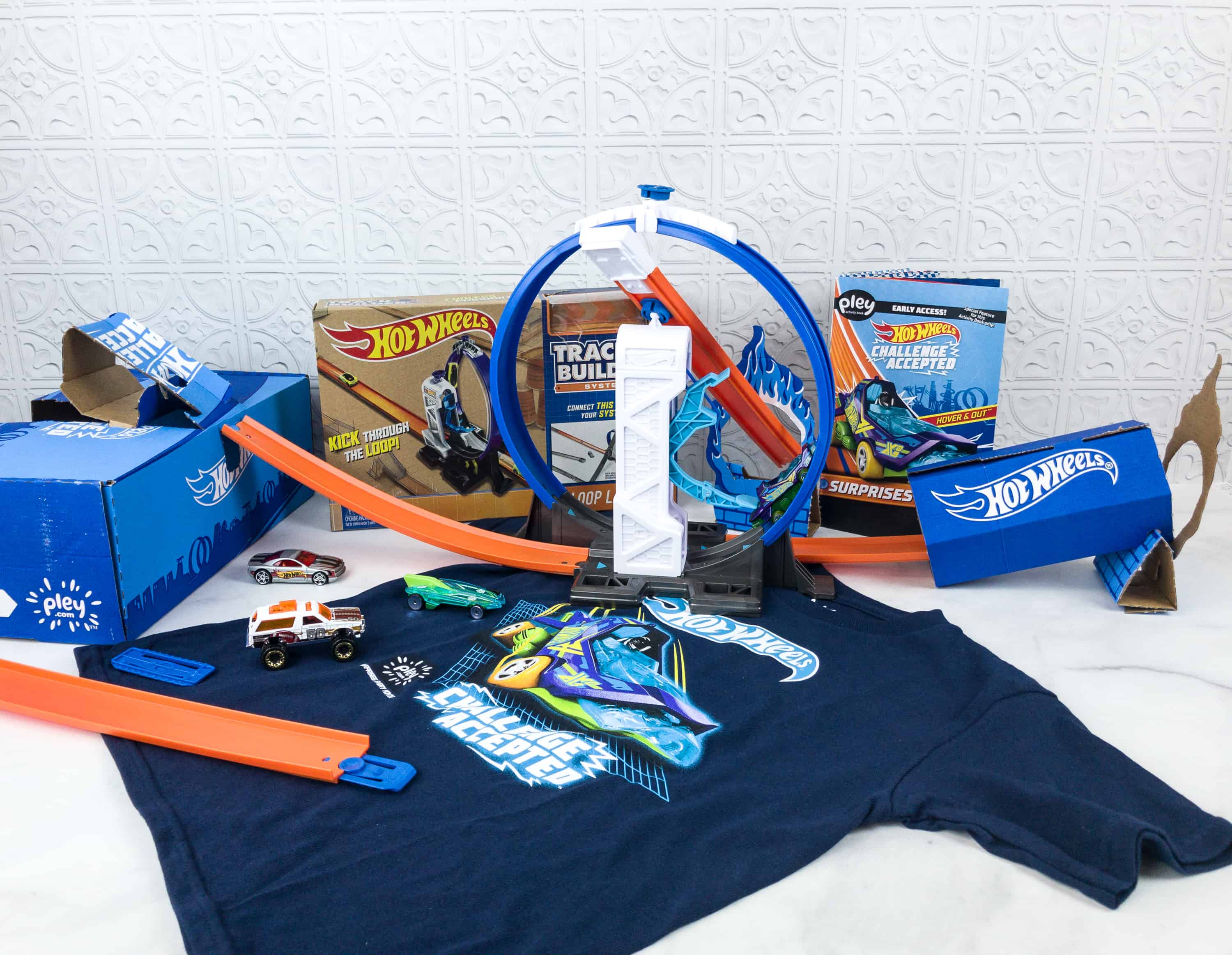 Everything inside this edition of the Hot Wheels box!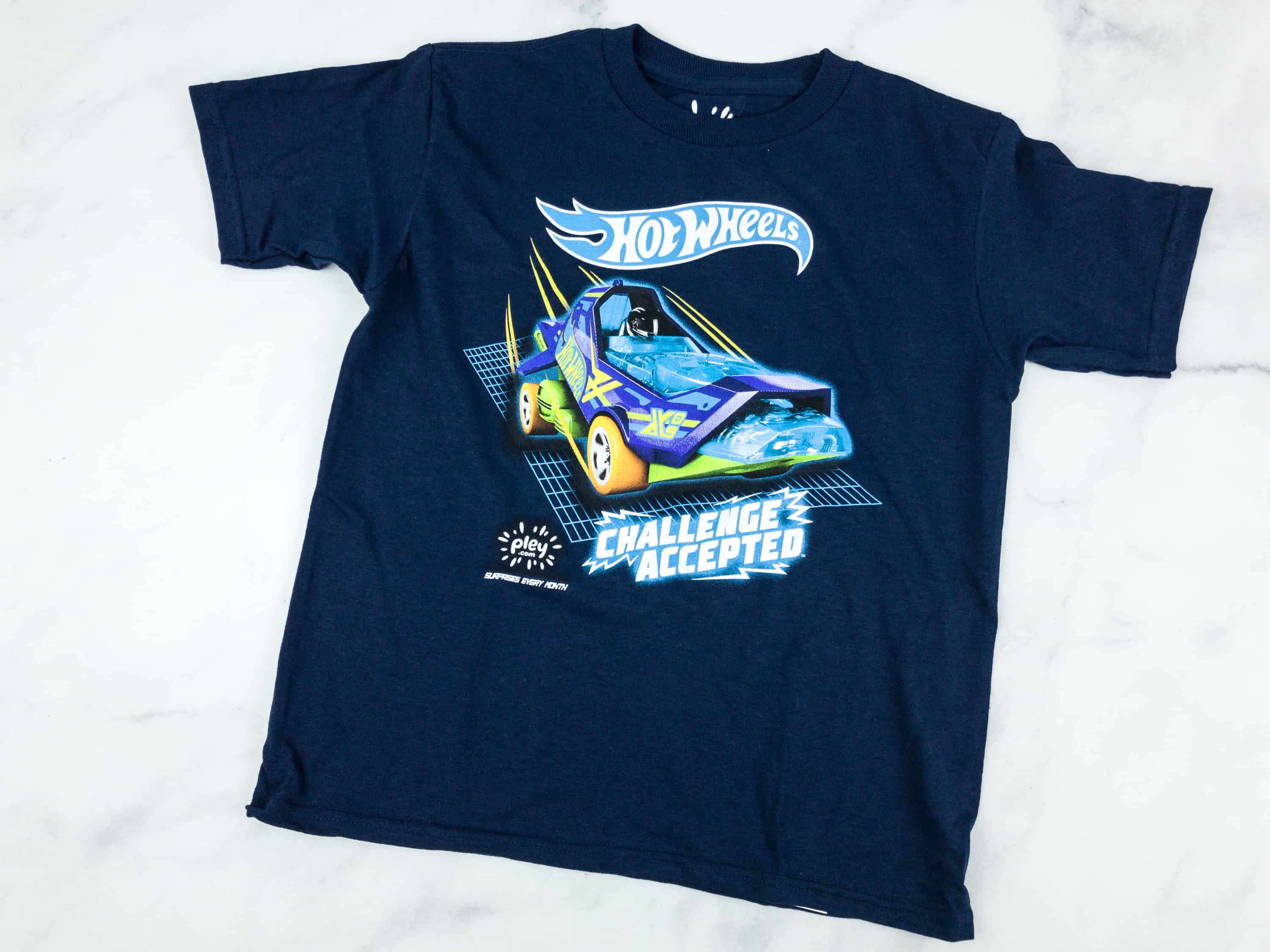 Exclusive Hot Wheels T-Shirt ($15.00) This is what my kids are always waiting on, the exclusive t-shirt from Hot Wheels!

It's in navy blue and it features Hover & Out, the Hot Wheel Car of the Month. The tee is soft and comfy!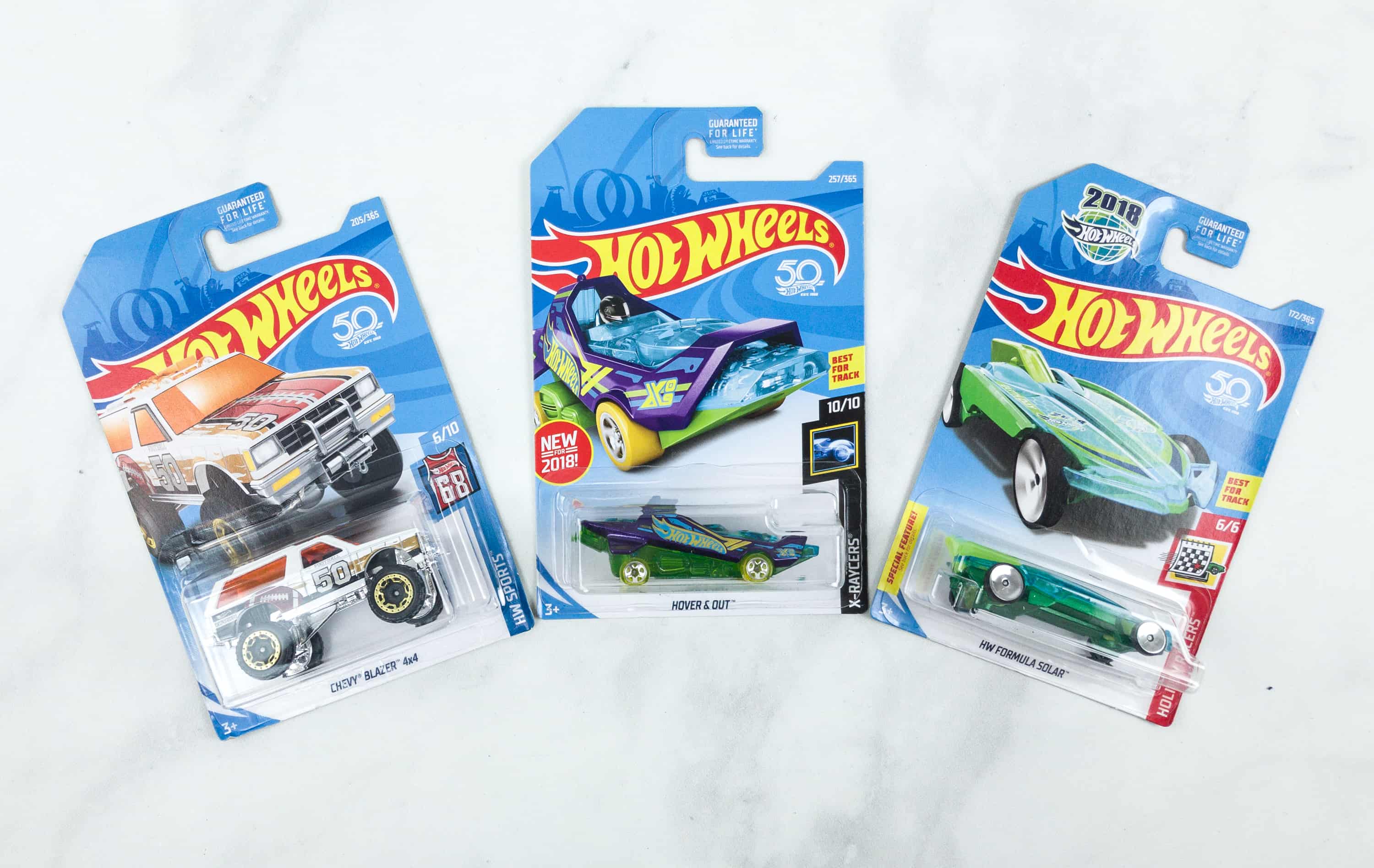 Three Hot Wheels cars are included in the box. Aside from Hover & Out, there's Chevy Blazer 4×4 and HW Formula Solar too!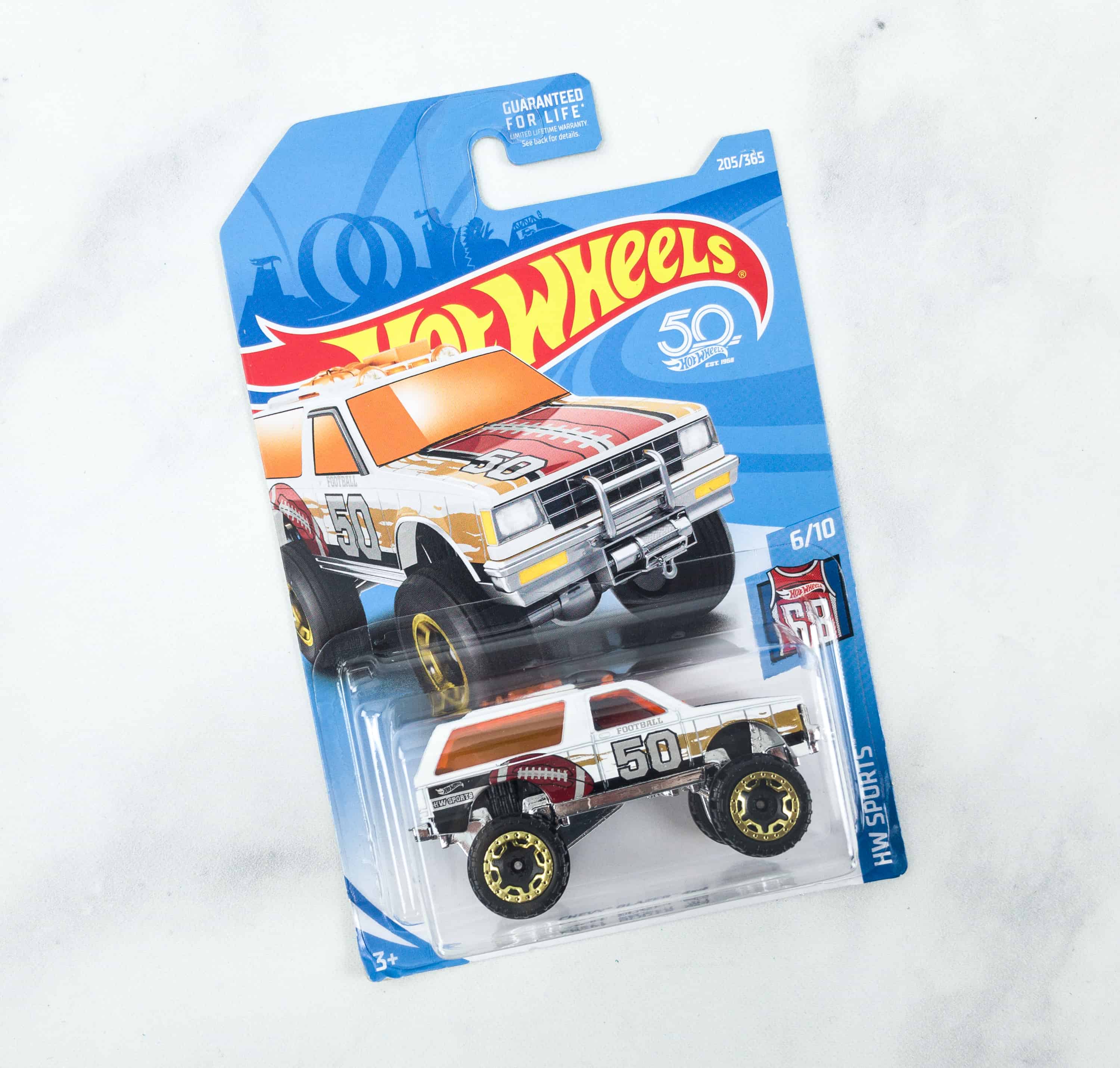 Chevy Blazer 4×4 ($1.99) As large as it comes, this monster vehicle will conquer any sort of track using its superb engine and extremely large 4×4 wheels.
It has a 1:64 scale ratio, based from the real Chevy Blazer 4×4.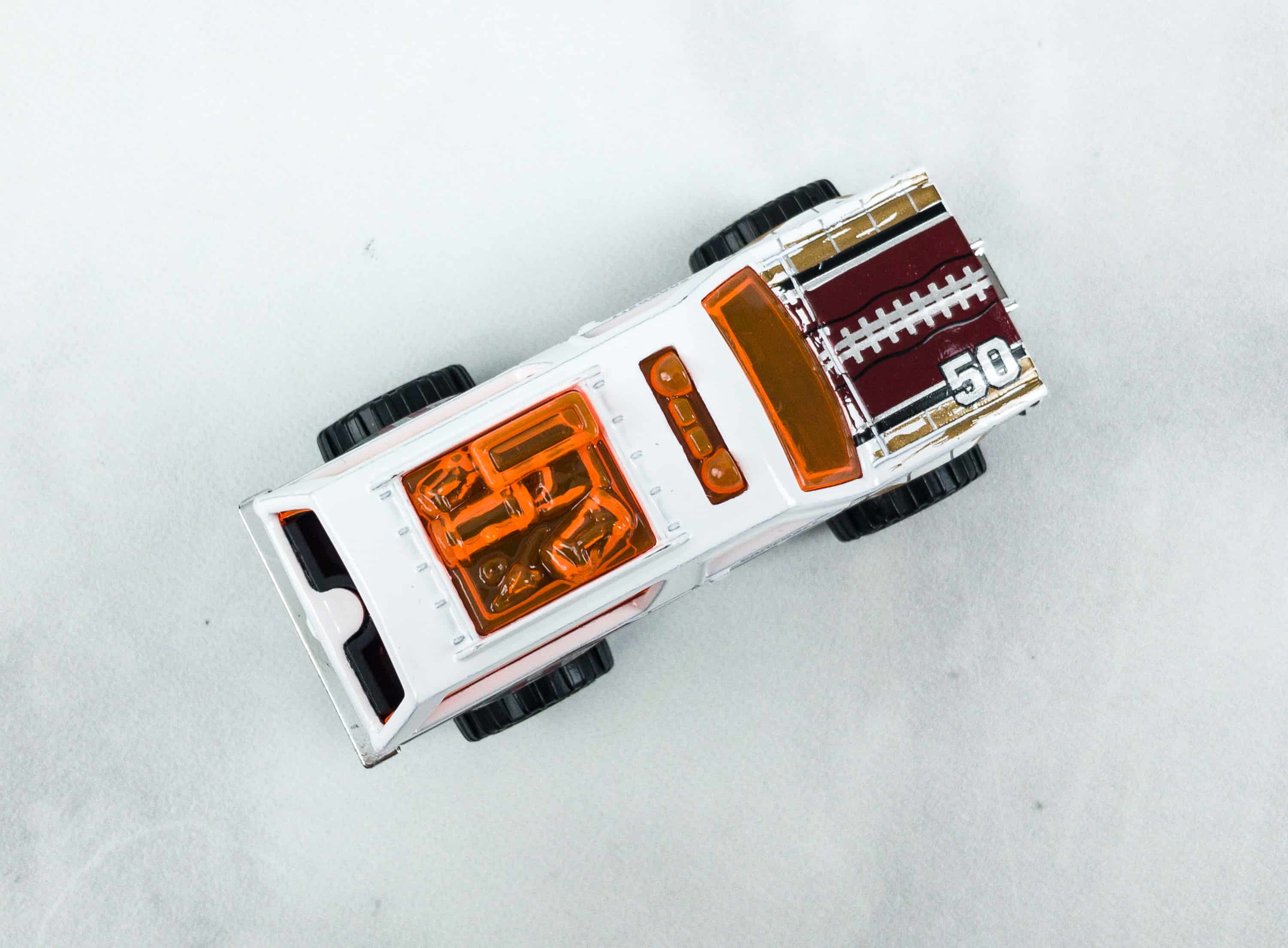 Its wheels are just overwhelming, you can even see almost a quarter of the chevy's wheel when you look on top of it.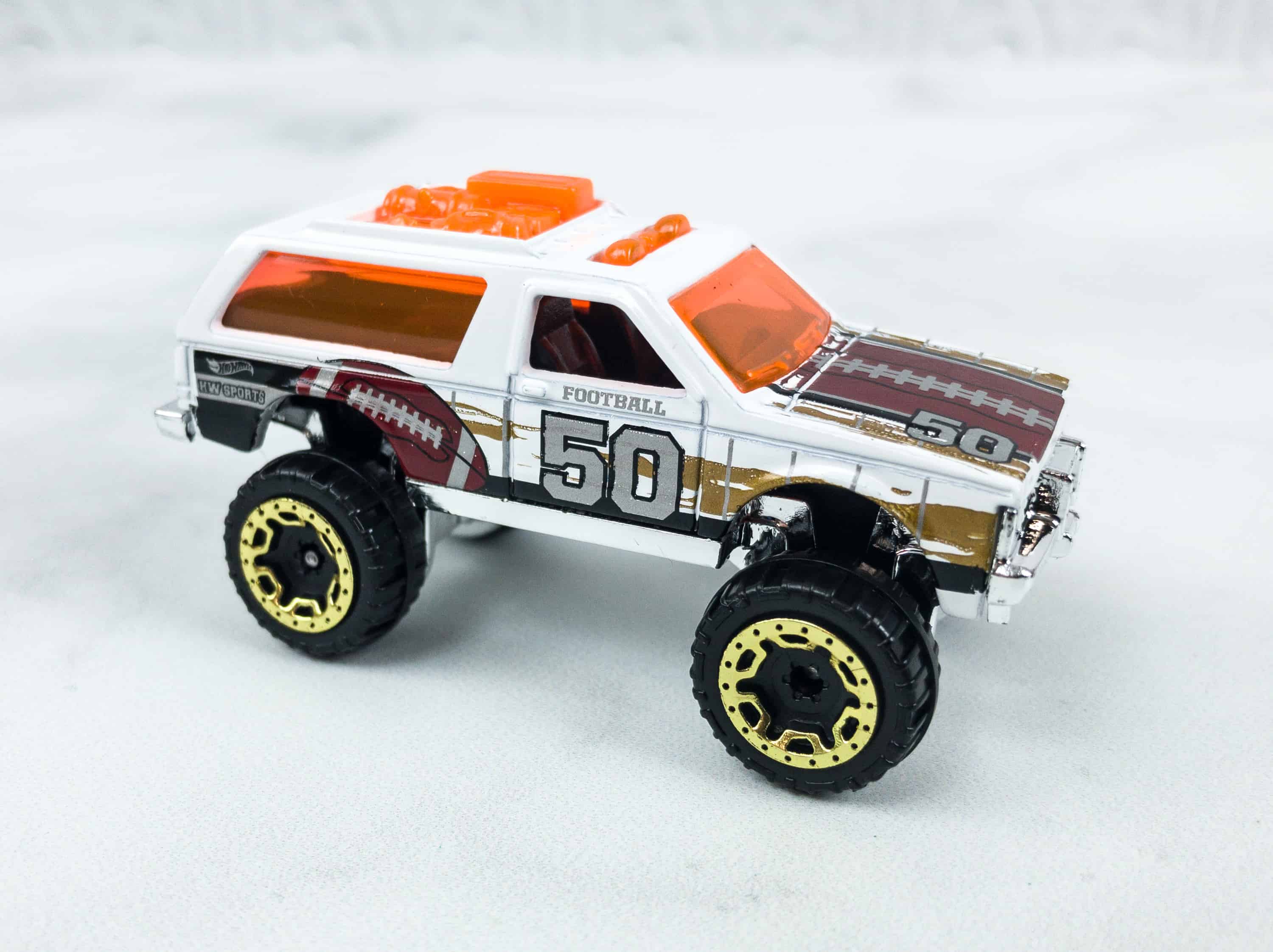 The truck also features a football-themed skin with gold and black rim. Its windshield is orange with chrome front and rear bumper.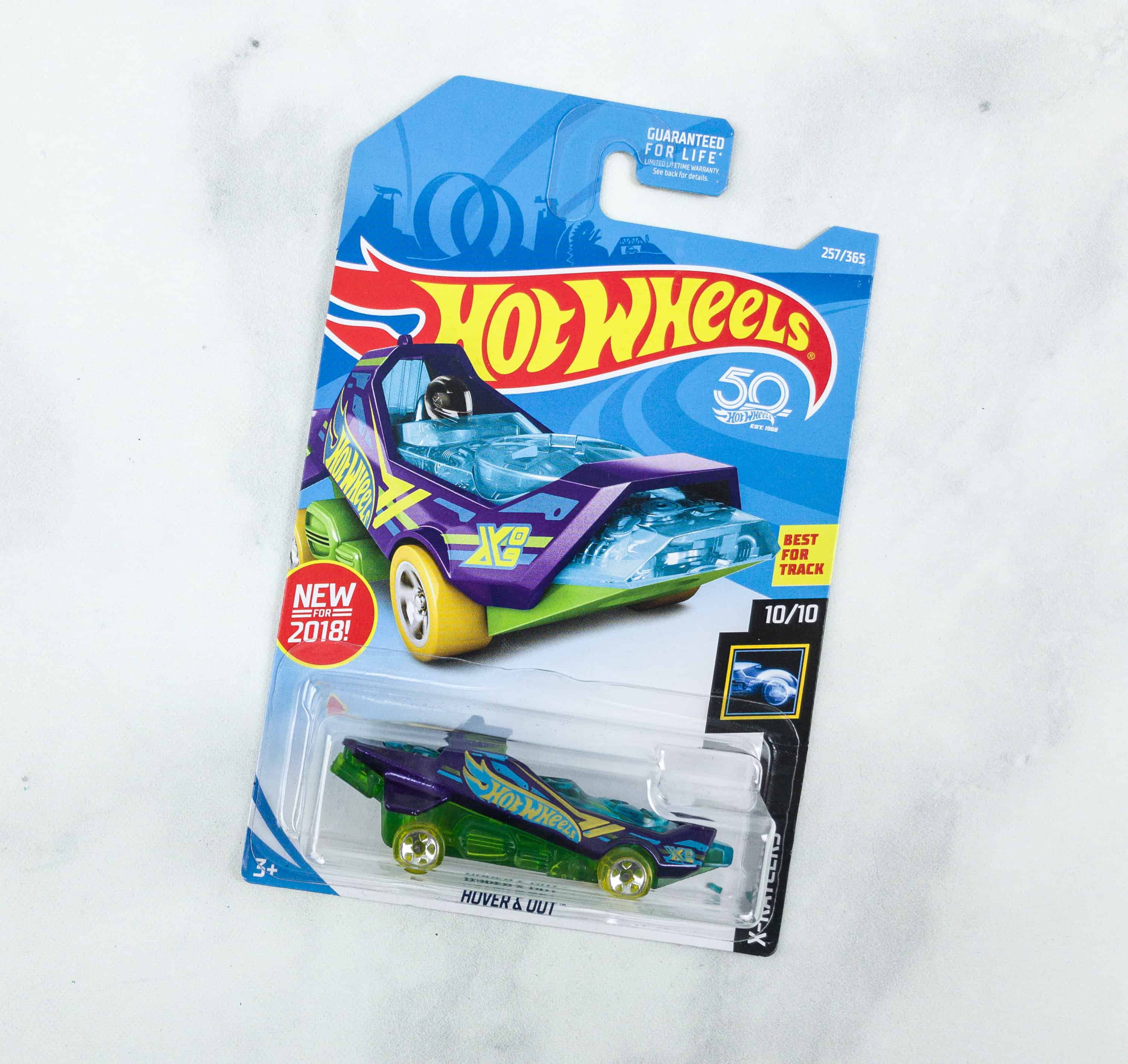 Hover & Out, An Early Edition Car ($1.99) This super high-speed car features a powerful dual jet engine. It's so fast, it almost lifts off the ground!

Hover & Out is part of the x-raycers cars. These are super fast cars with clear bodies and wheels.
The two engine propeller is so visible in front and at the back of the car. It's so slim and very light, definitely the ideal design for a high-speed racing car.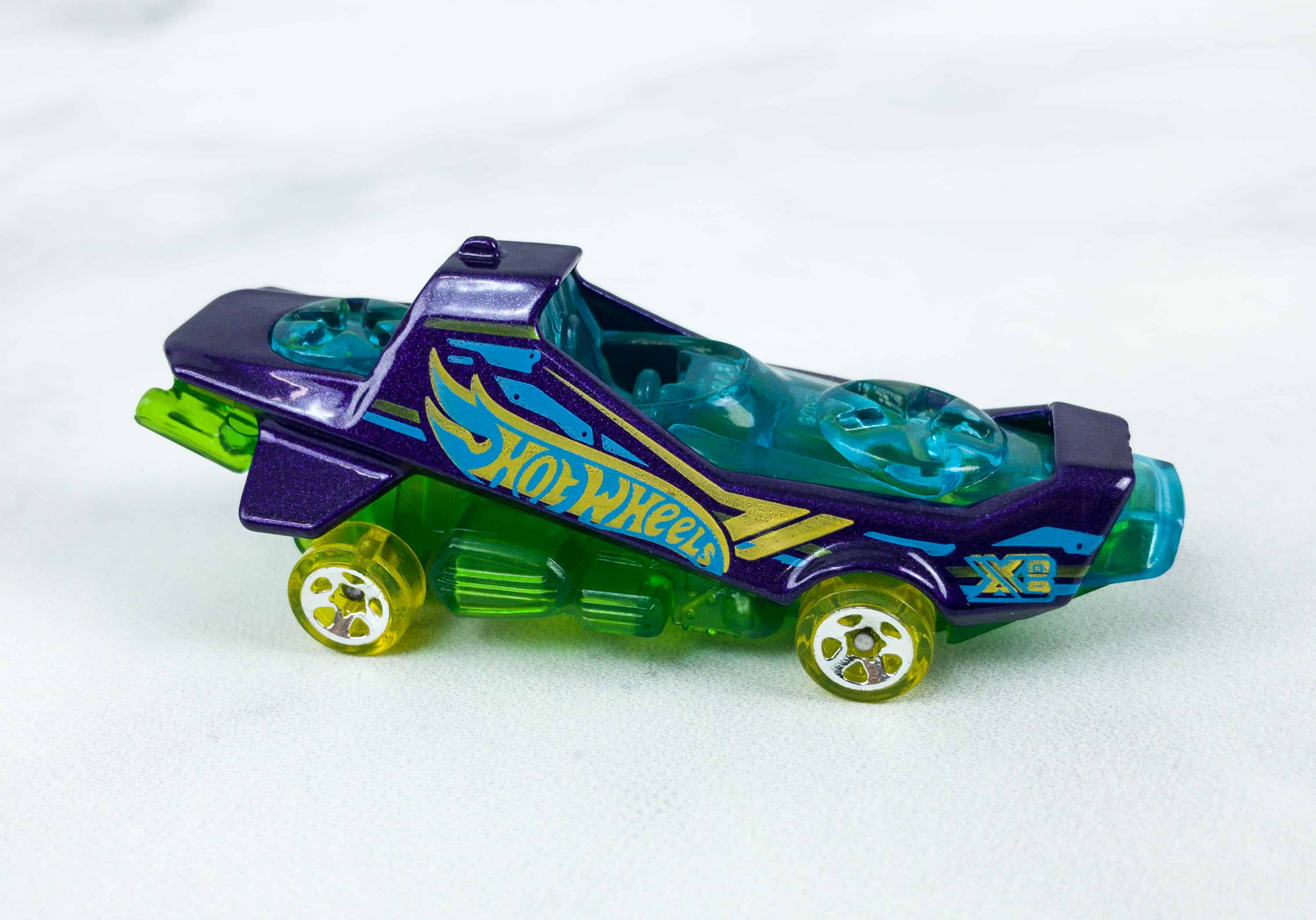 This car slices the wind like its nothing and the air just passes through as the car speeds up. It's so fast, I'm glad we got one!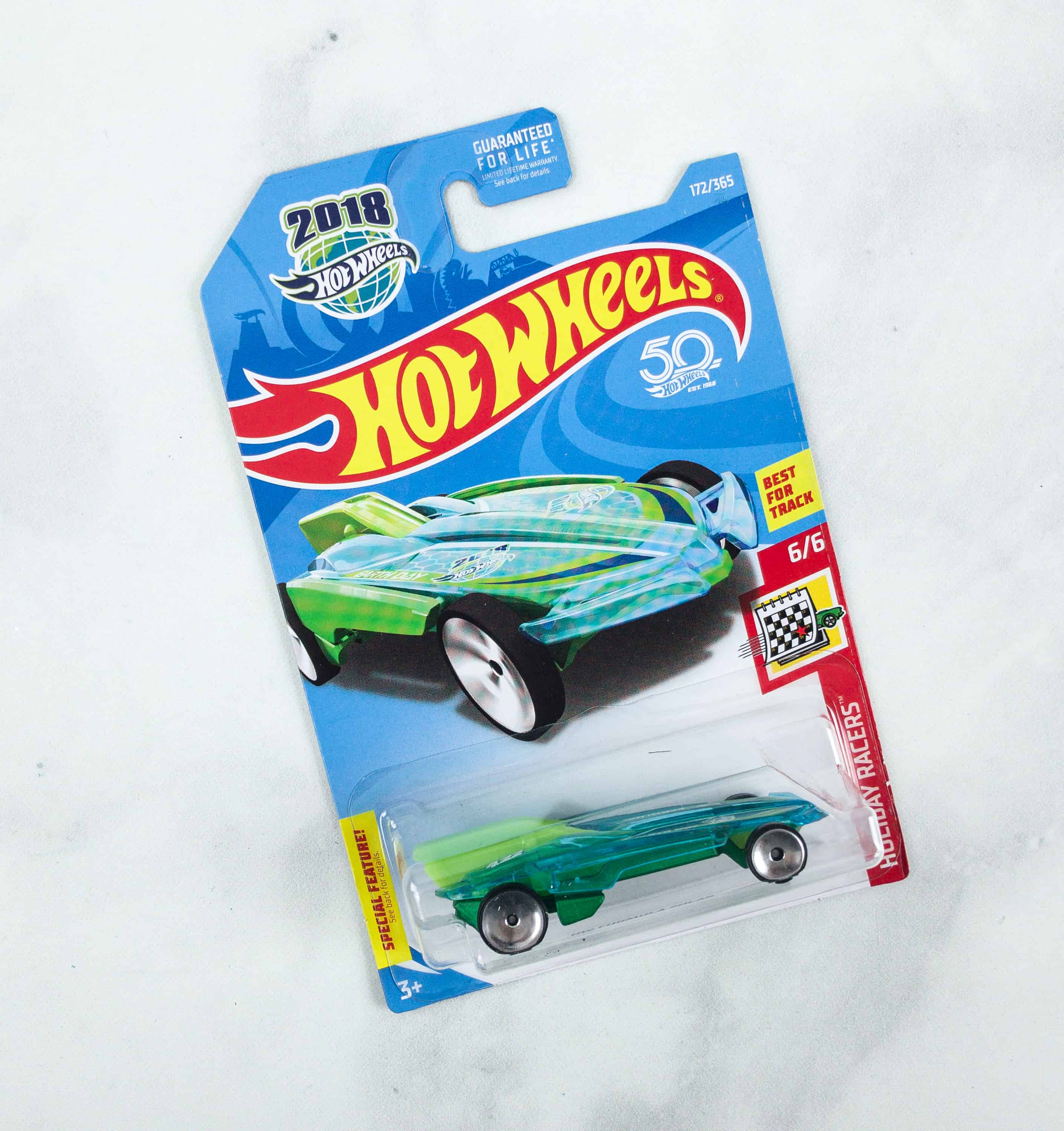 HW Formula Solar ($1.99) This aerodynamic, solar-powered speeder car runs completely using solar energy.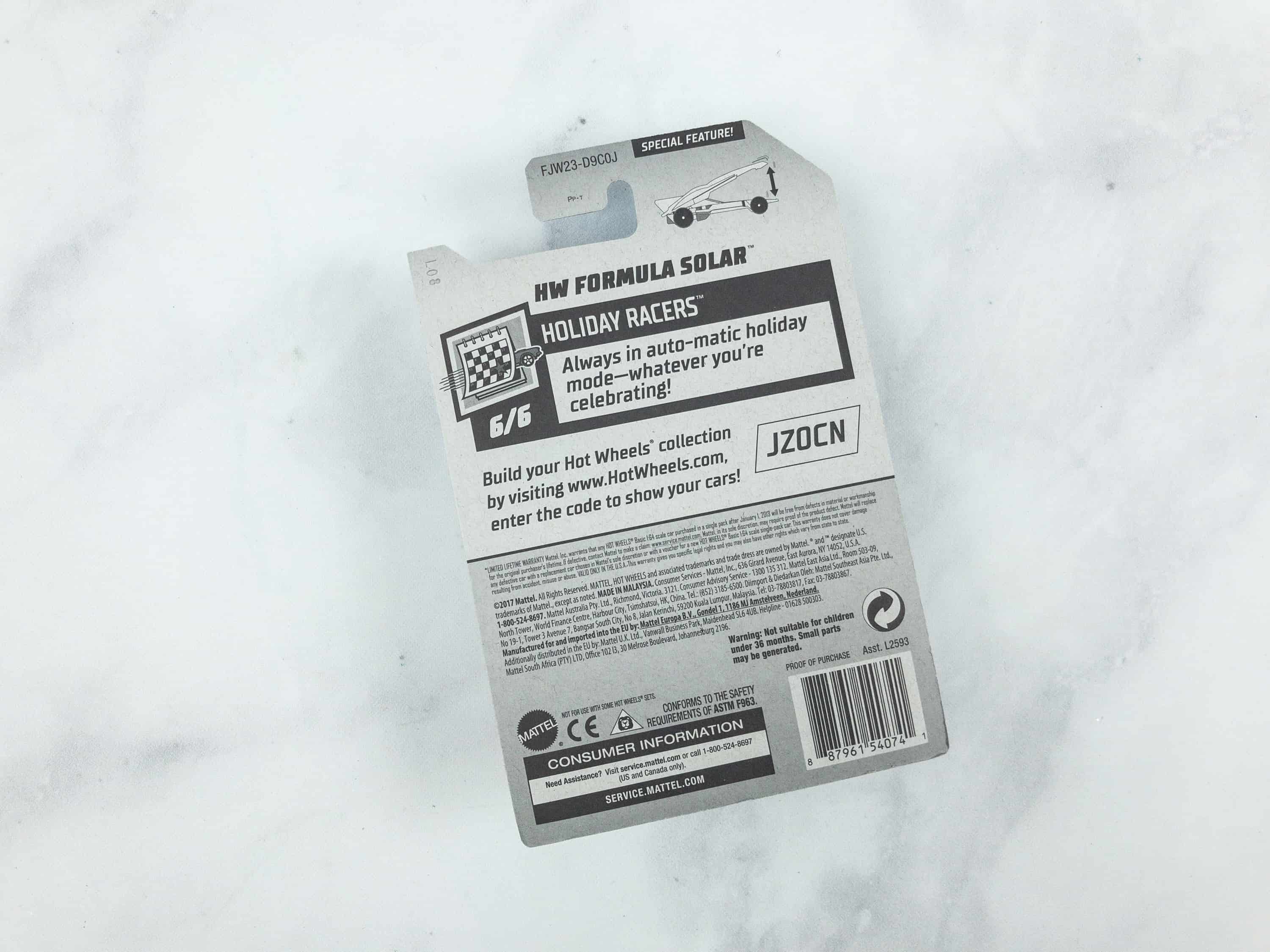 You can open the canopy and check out how those solar panels convert the sunlight to energy and transmit to the batteries.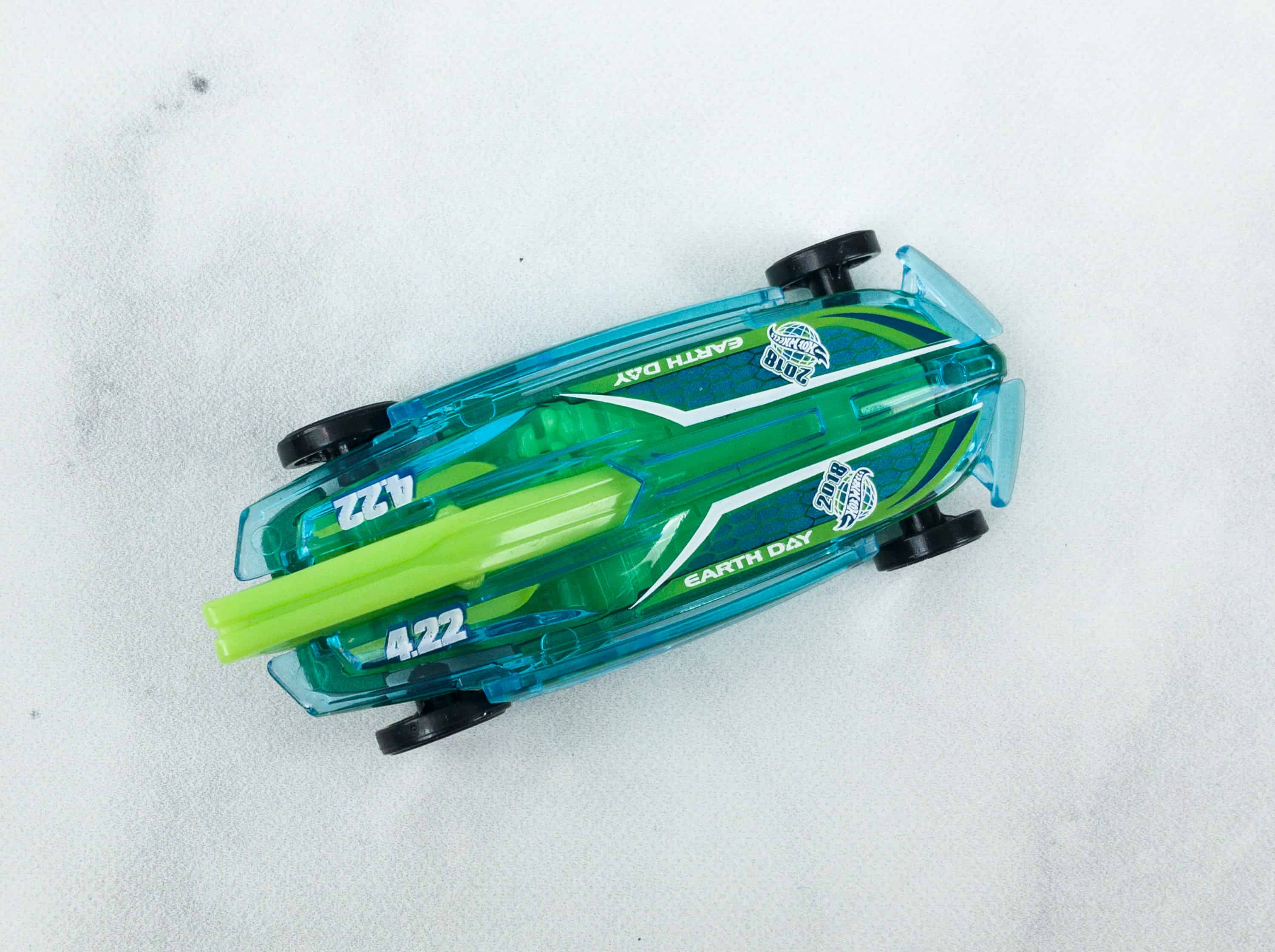 This solar panels on top of the opening canopy give the HW Formula Solar car the power to race across the streets!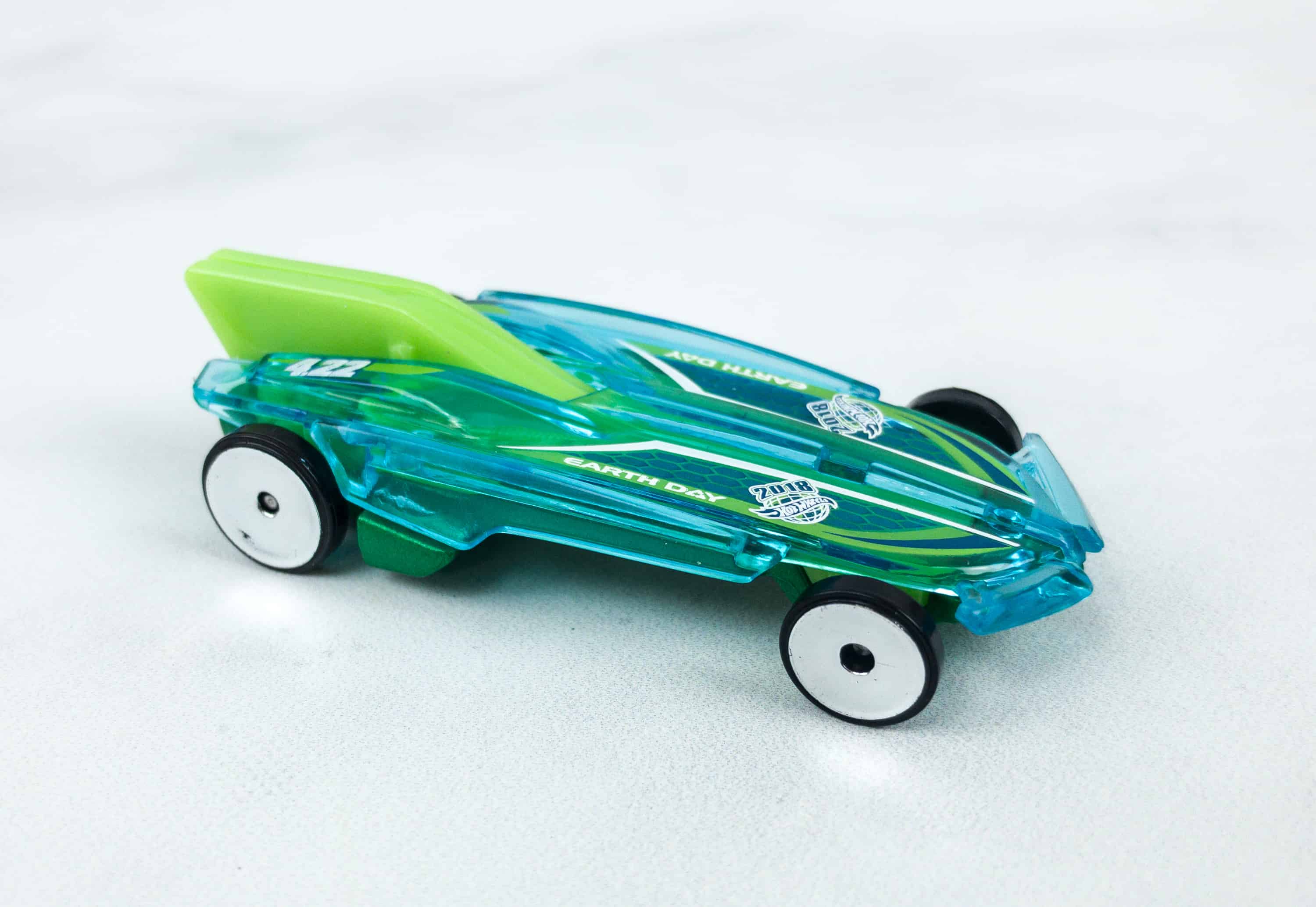 Aside from its slim and lightweight features, this high-speed vehicle also comes with very slim wheels.
Loop Launcher, A Track Builder Extension ($14.99) This Loop Launcher is one of the five different stunts from Track Builder. The other stunt tracks available are: Spin Launch, Launcher kit, Lift & Launch, and Turn Kicker.
Attach this Loop Launch to your track system and you're good to go. Instructions and suggestions are indicated on the back of the box.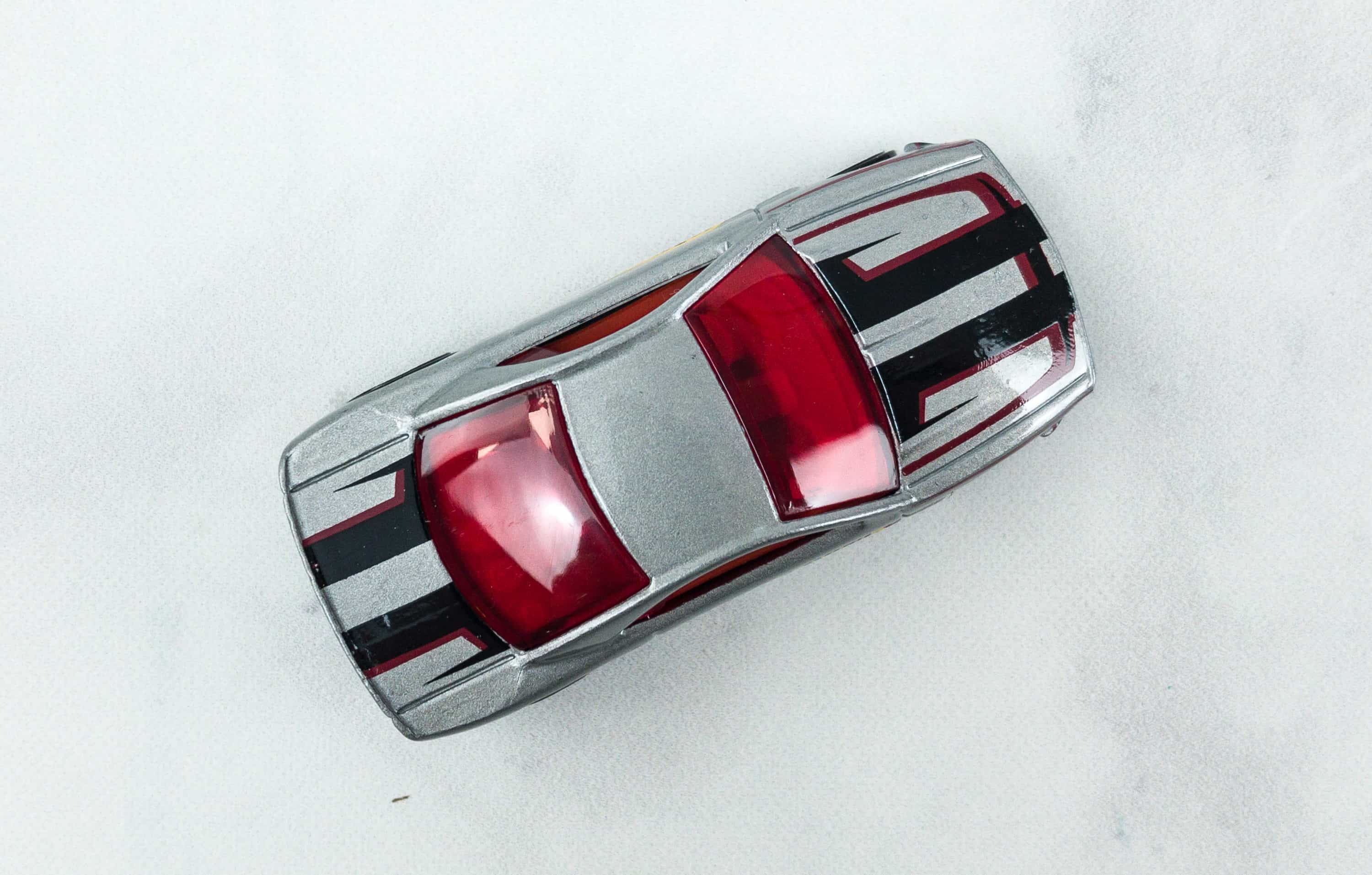 Every kit also includes a Hot Wheel race car.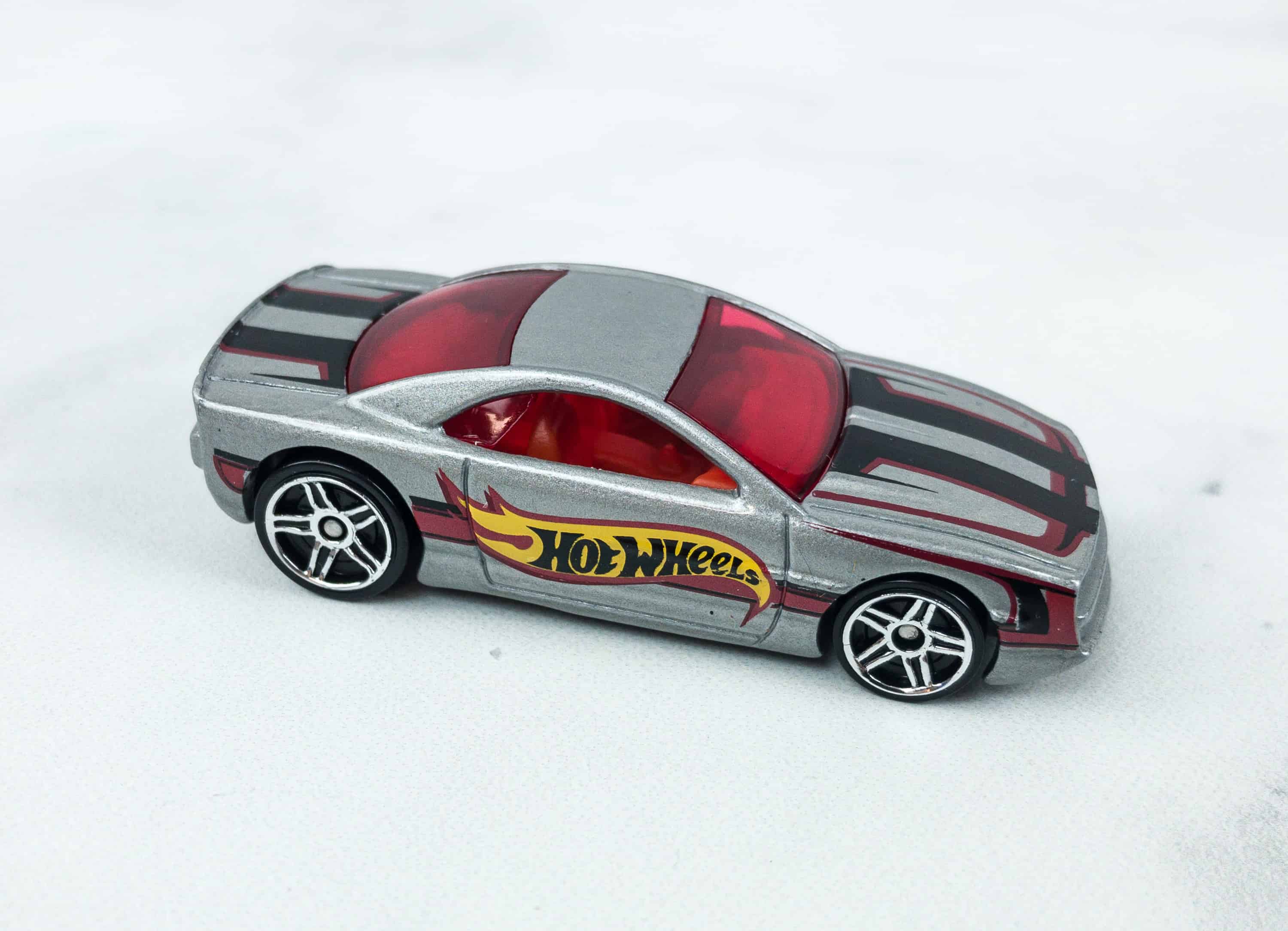 This car from the Loop Launch kit is burning fire, it looks a little much like a BMW race car. The color, wheels, and design are superb!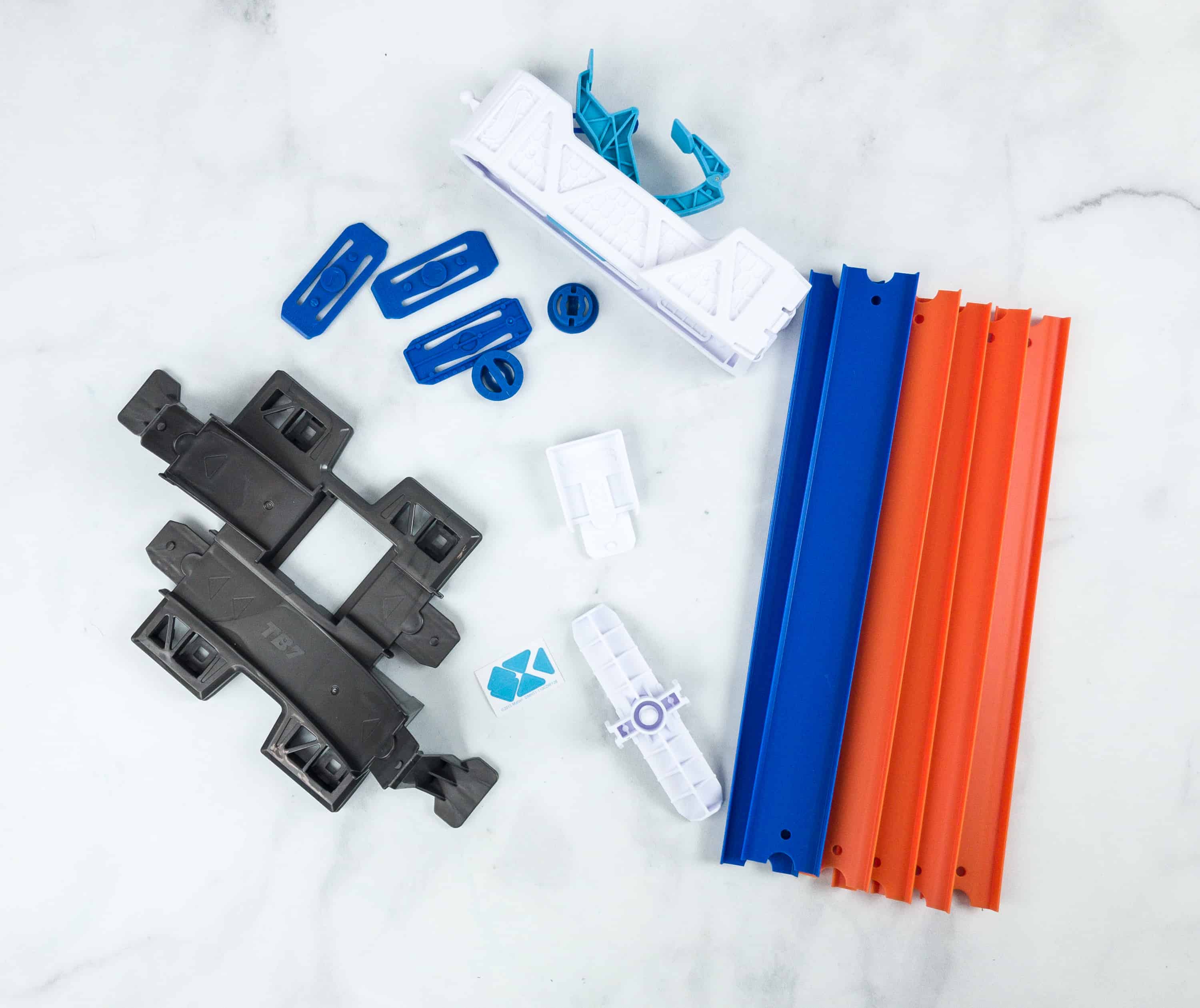 Everything inside the Track Builder – Loop Launch Kit Box!
Here's the Loop Launch Kit be like after completion. It's so detailed and looks so awesome, like a roller coaster track!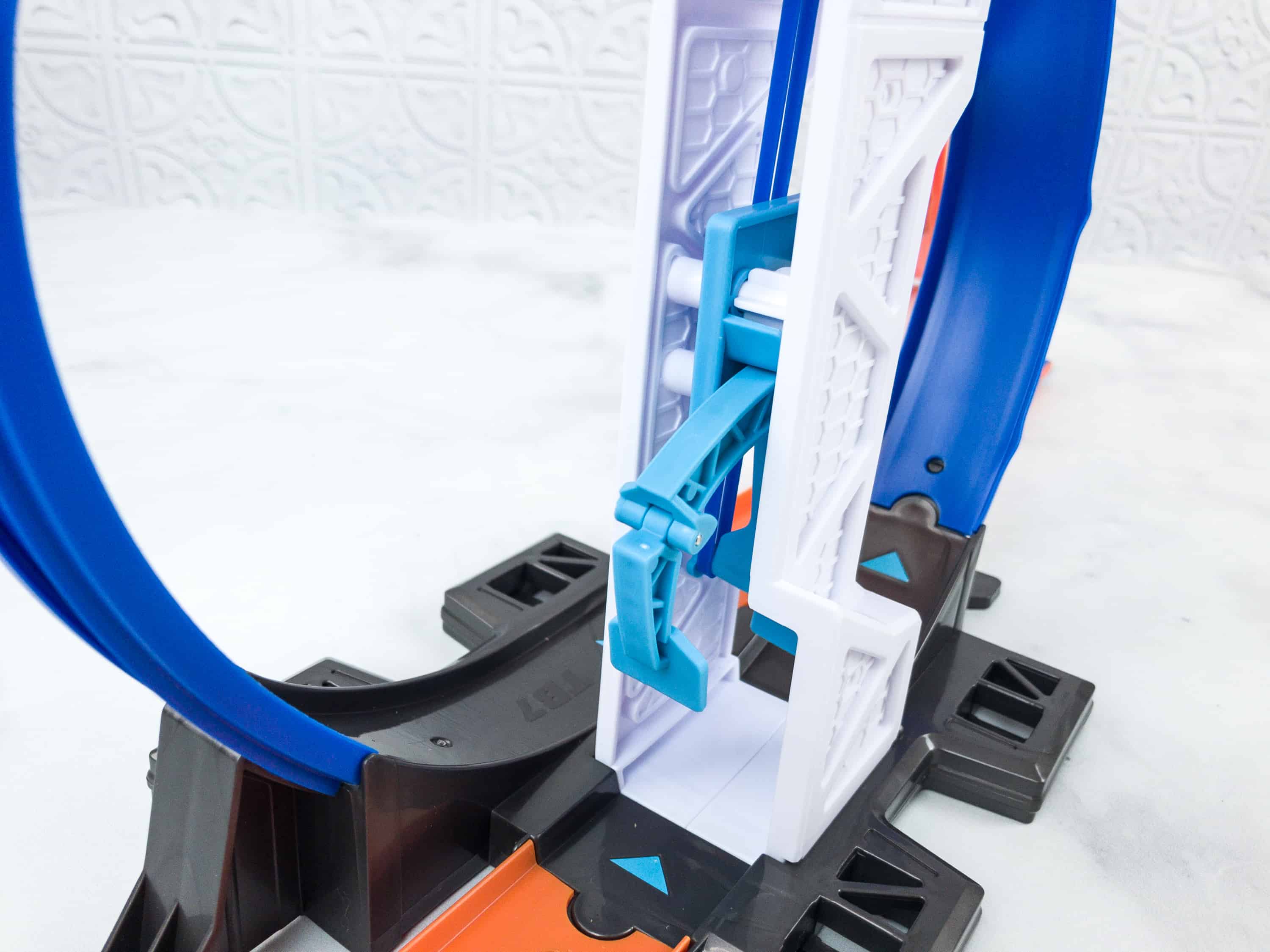 Make sure that all tracks are perfectly locked-in to ensure the safety of the cars and players as well.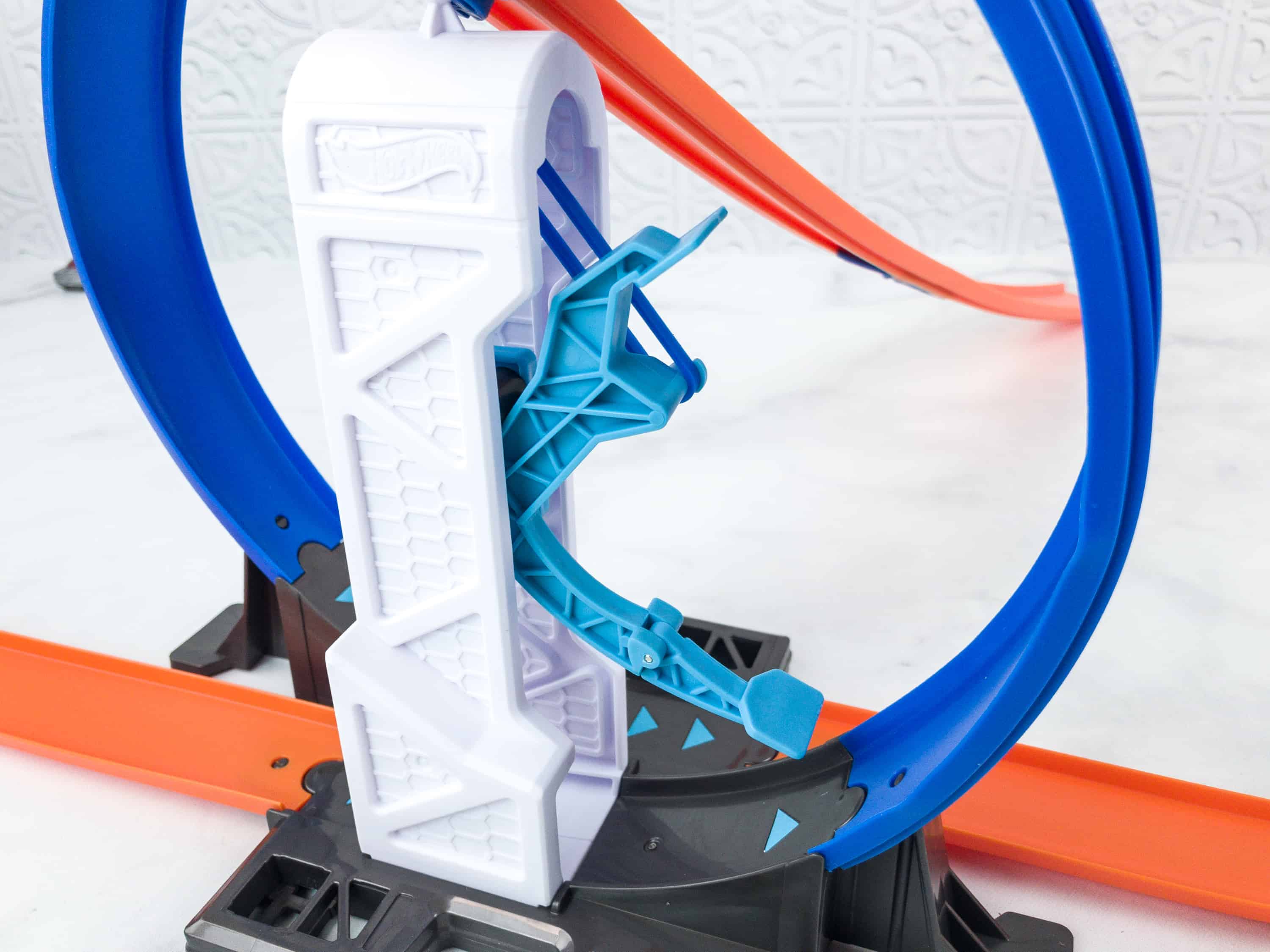 Pull the launcher back, let your car roll in front of the launcher, and see your car swish across the loop!

Customizable Box That Adapts To Inspire 3+ Exclusive Stunt Creations ($8.00) The box can also be used as a track upgrade. You can check out the other designs you can make using this box on the Pleybox booklet.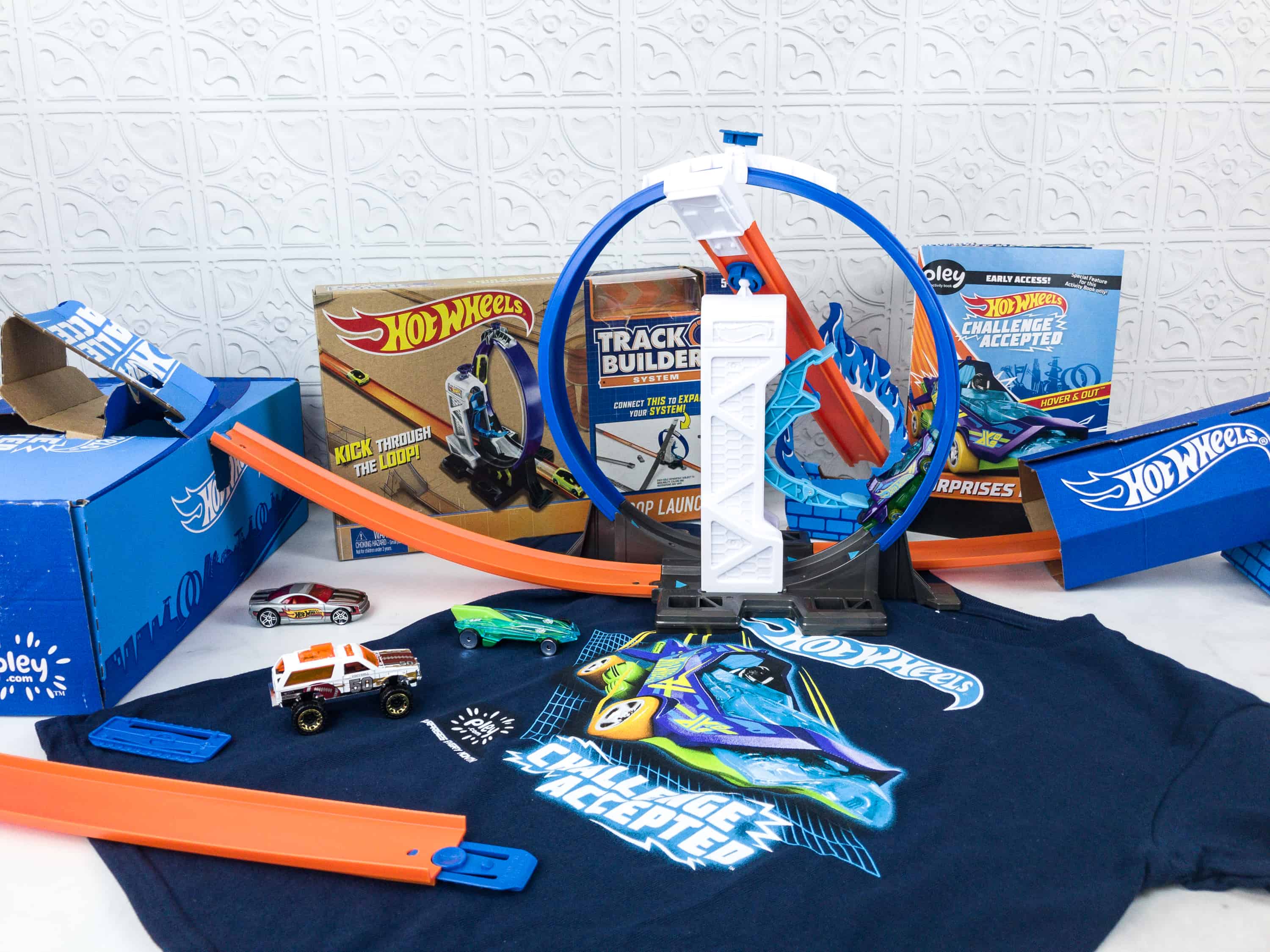 This box was jampacked!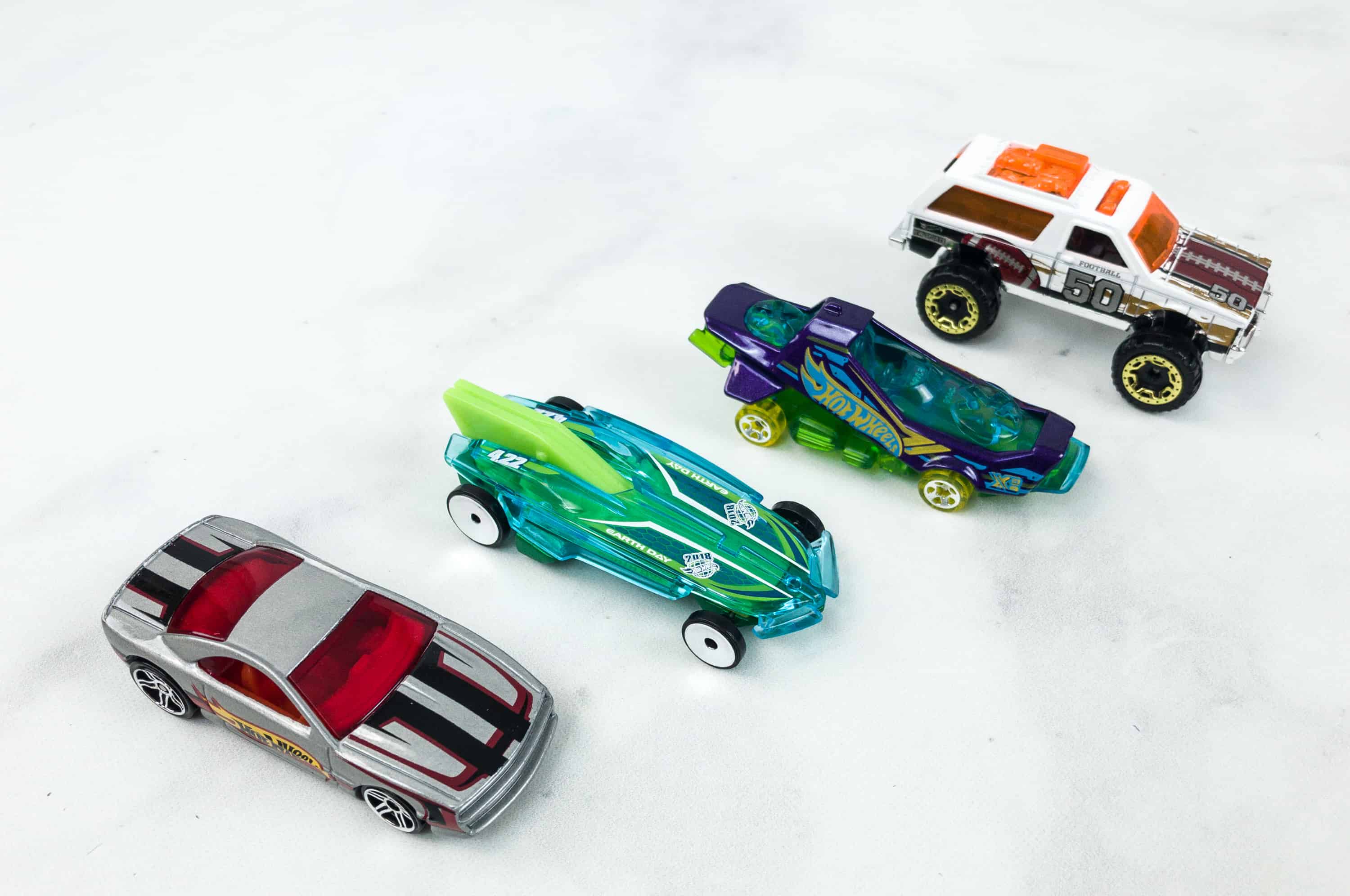 Here's all the Hot Wheels from this month's box!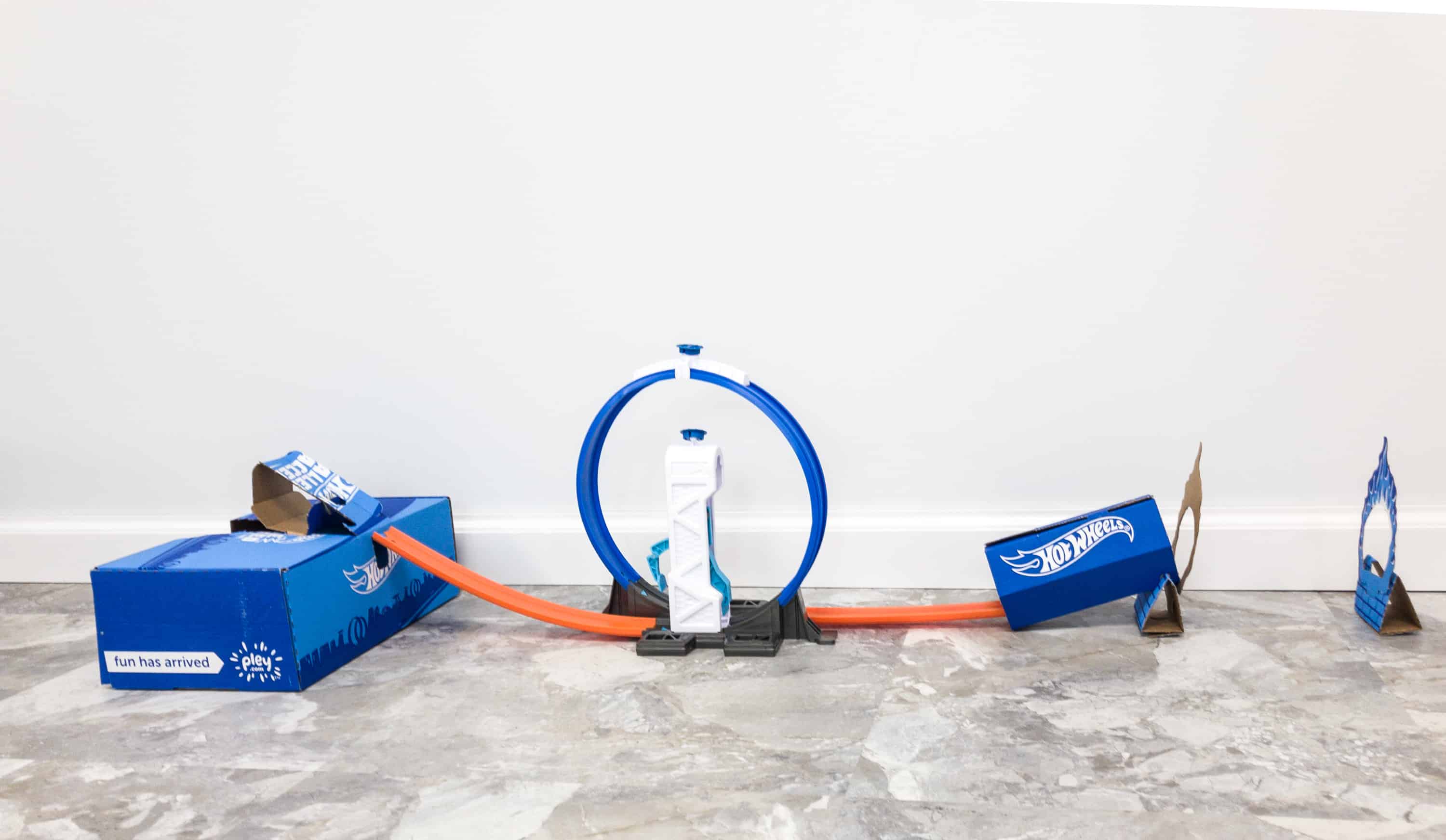 We immediately set up the Loop Launch kit with the track enhancer box and this is what it looked like.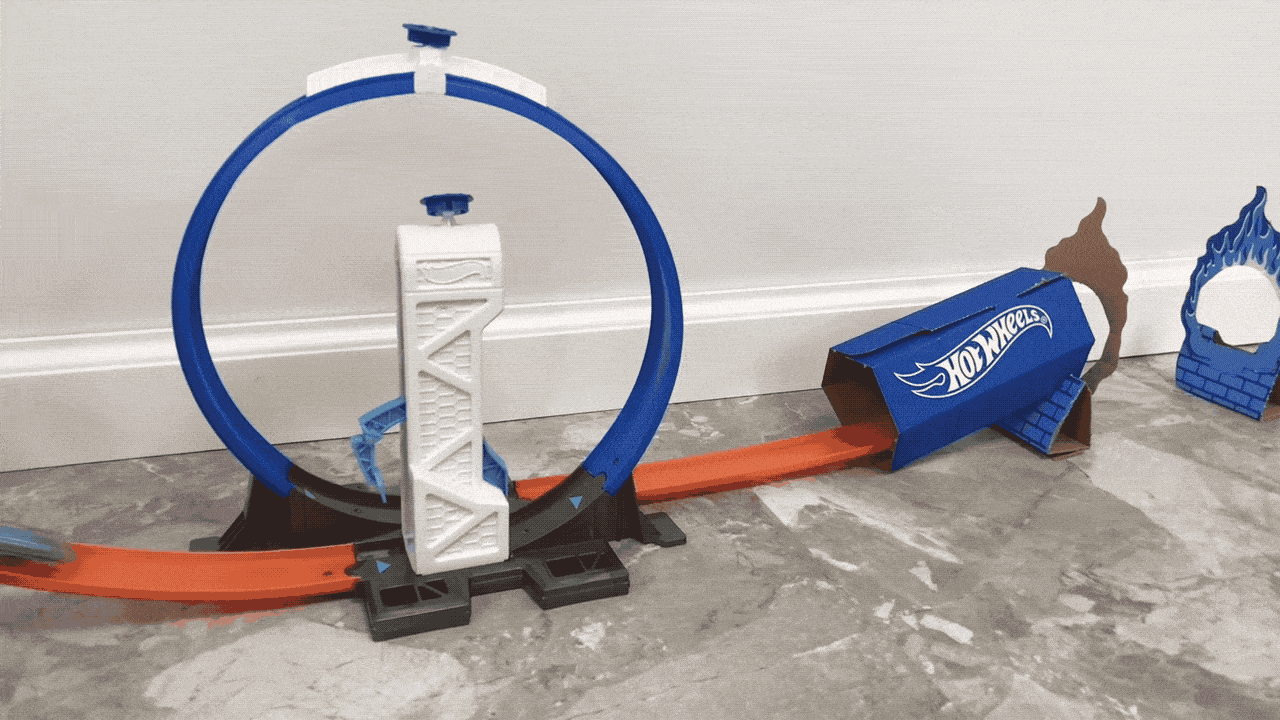 With the help of the Loop Launcher, the car crossed the loop swiftly and was able to jump across the next hurdle. Awesome!
Seeing my kids doing their best to build their own tracks makes me so proud.
They're almost done and they've even used our basket to upgrade their track. I Love it! They have since added and subtracted other track features, run different power tests, and are attempting a double loopdeloop!
Hot Wheels Pleybox is a great subscription for kids who love to collect and play with Hot Wheels. They offer a wide range of cars, from monster trucks to super high-speed race cars. This month's featured cars and tracks are so awesome!  The mighty look of Chevy Blazer, the lightning speed of Hover & Out and HW Formula Solar, and the Loop Launcher Track, my kids really love them all. With their trademark expert tracking system, you can use and connect the old tracks to the new one without any trouble. We are all looking forward to more fun and amazing tracks and cars from Hot Wheels Pleybox!
Are you getting the Hot Wheels Pleybox?