Hello Fresh is a meal kit subscription box with complete recipes and ingredients to make 3 meals every week, with each meal feeding either two or four people, depending on the plan you choose.
Though it is a subscription, you can pause your deliveries when needed – whether you are out of town, have other dinner plans, or just aren't in love with that week's selections. The standard subscription provides high-quality meats (free-range chicken, antibiotic meats, etc.) to use in the recipes.
This review covers the Vegetarian box! Though we do eat meat, we cook vegetarian three times a week. Thankfully, Hello Fresh has a vegetarian subscription for both casual and dedicated vegetarians.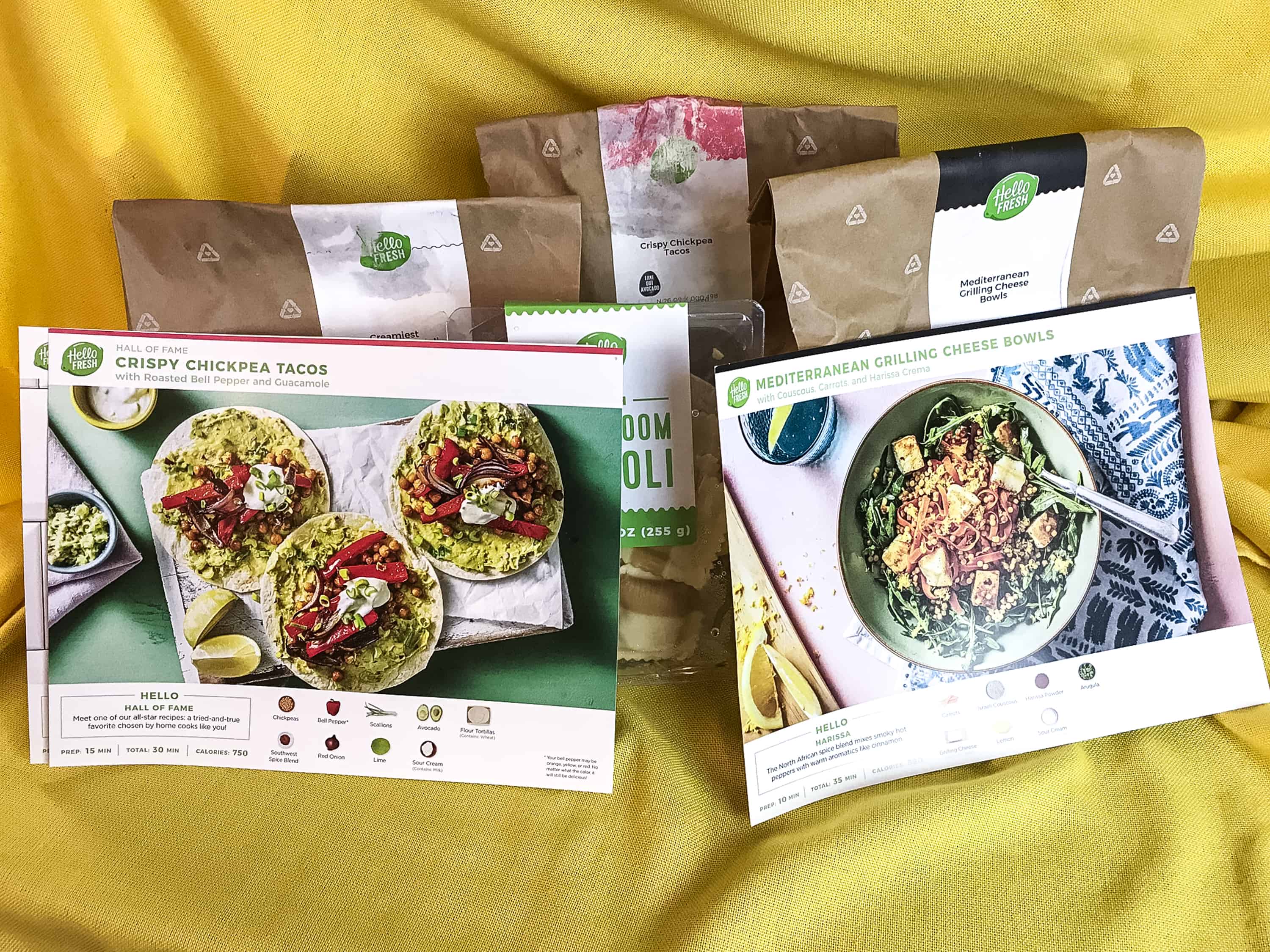 The bags used by Hello Fresh keep all the ingredients for the recipes in order, and they stack nicely in the fridge. Within each box, everything but the largest vegetables is separately packaged and is packed at the bottom. Condiments and canned goods are provided in high-end, commercial packaging. Hello Fresh usually provides spices in their own, pre-measured branded packaging.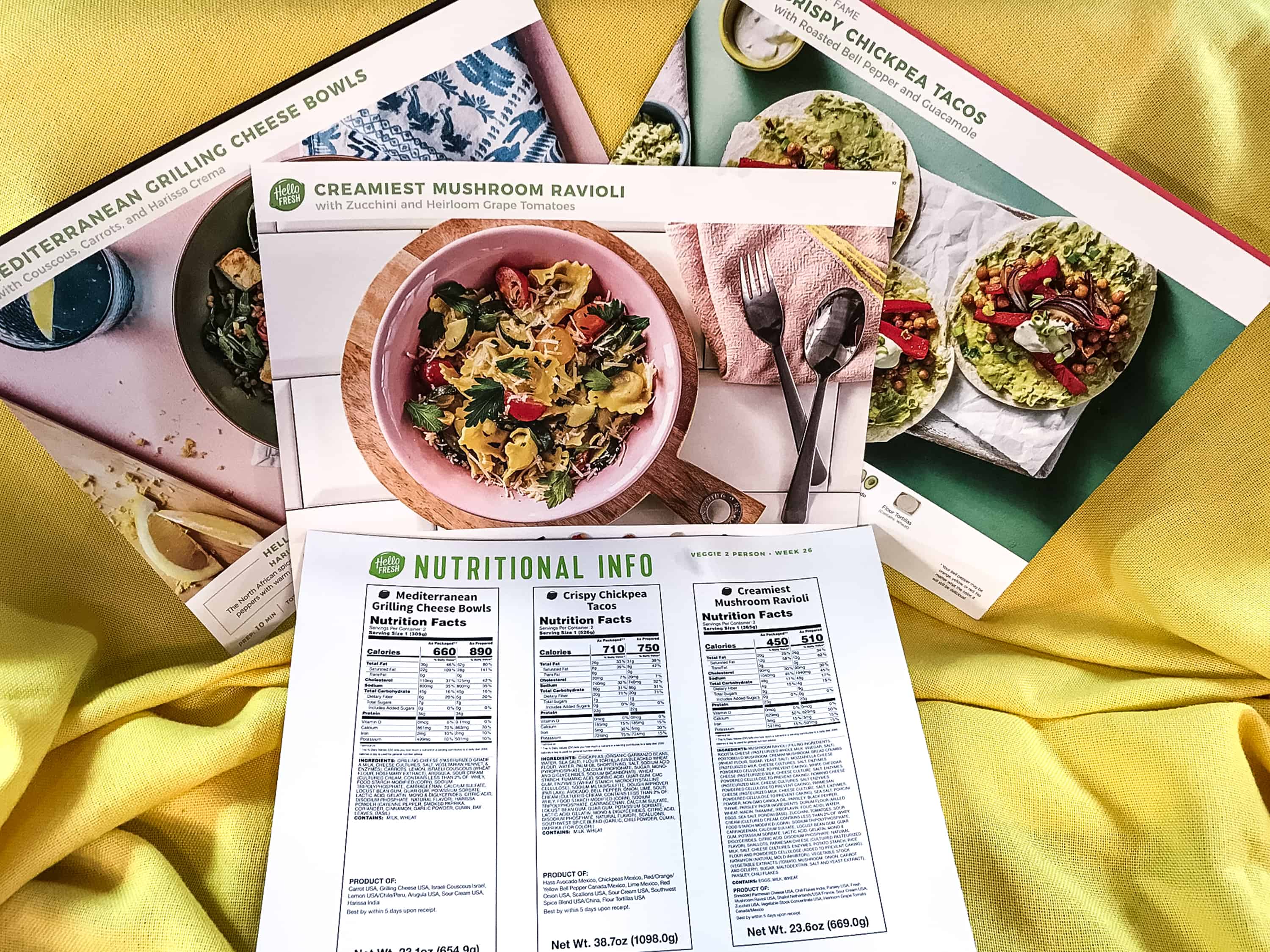 Hello Fresh has great instructions, and they are easy to follow even if you are an inexperienced cook.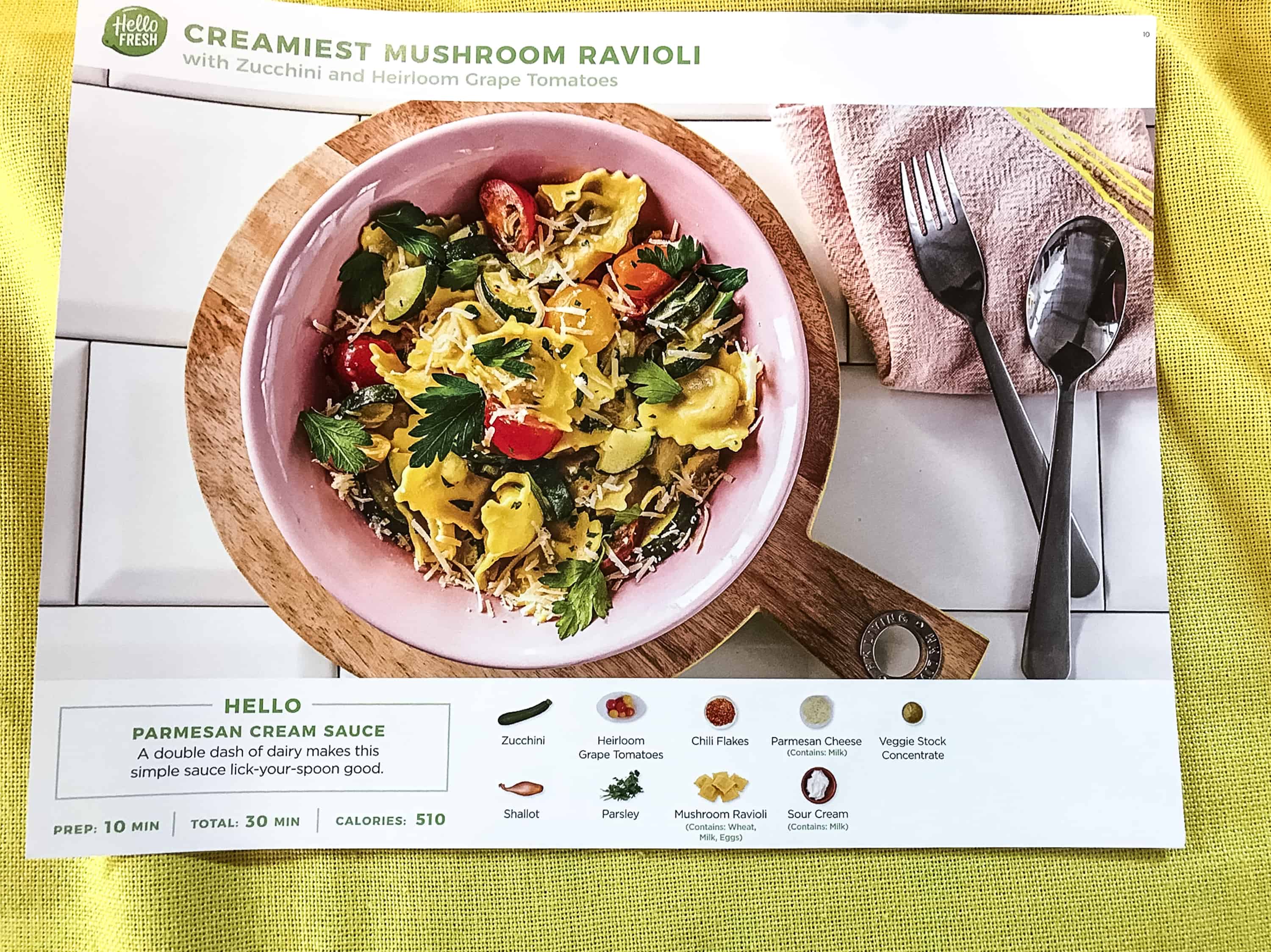 Each recipe includes several pictures so you maintain a sense of how the dish should look as you go along.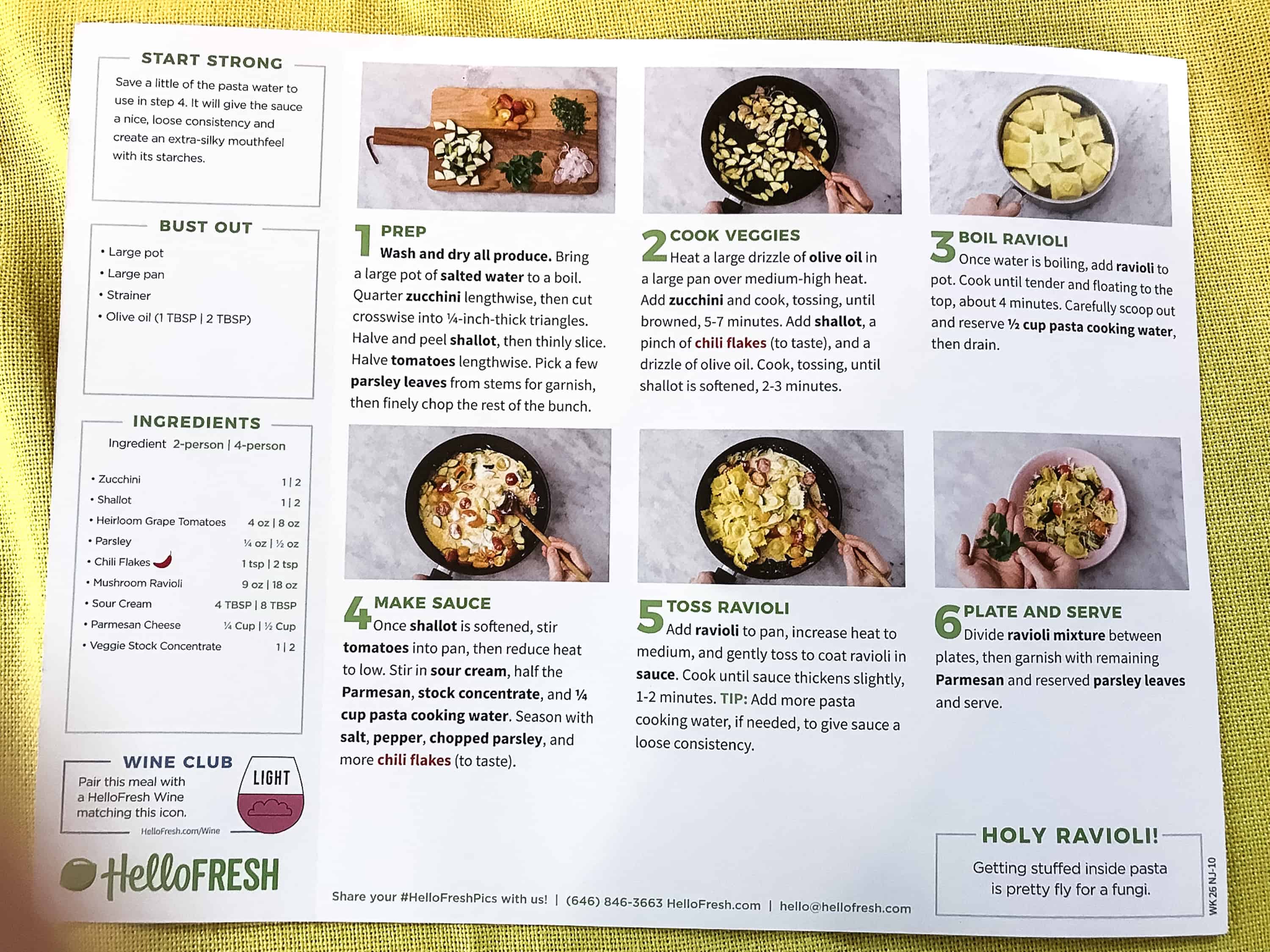 There are even some kitchen tips included in the information card.
Creamiest Mushroom Ravioli with Zucchini and Tomatoes. 30 minutes, level 1, 510 calories per serving.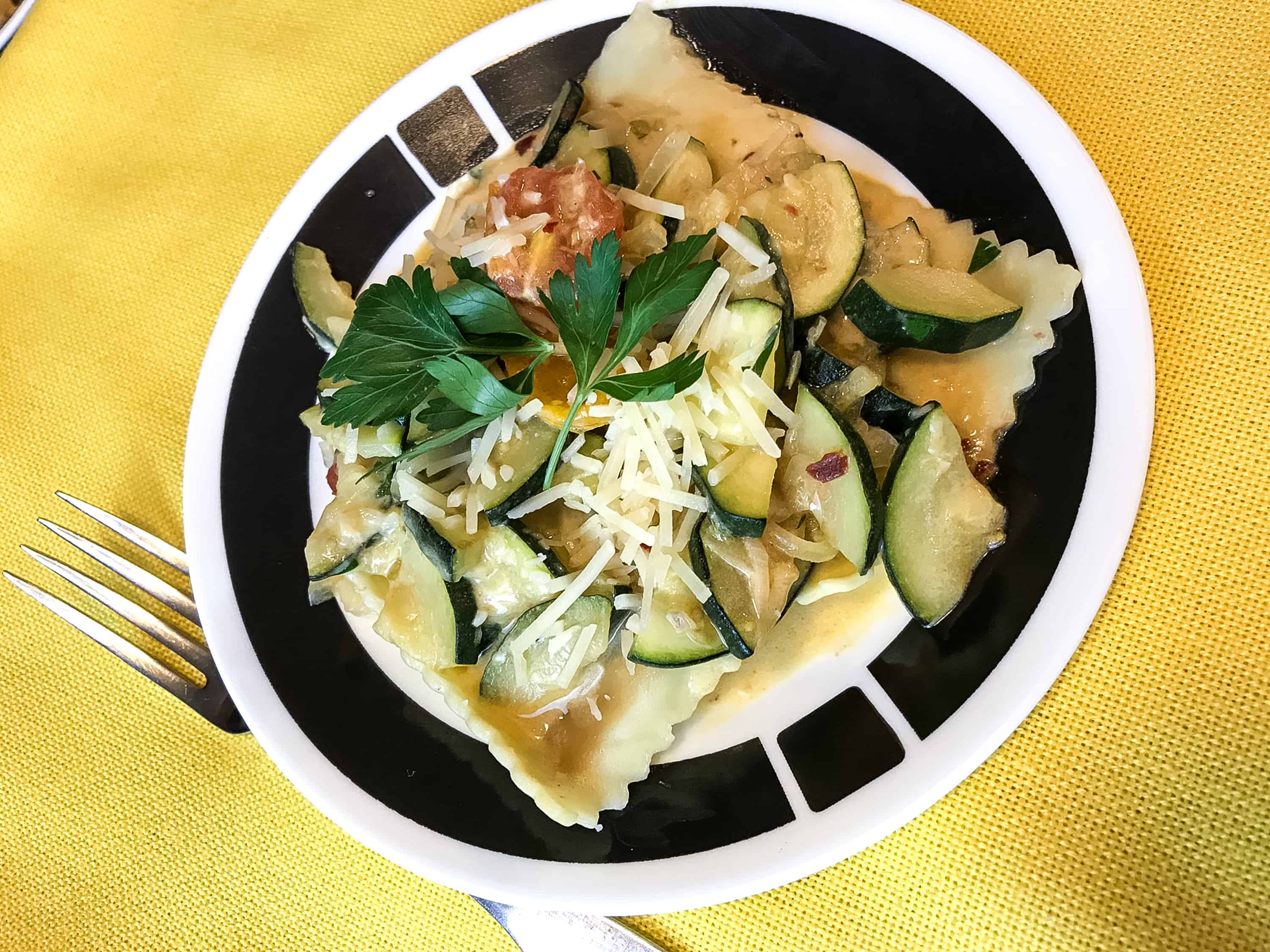 This recipe, just like Hello Fresh's other recipes, is easy to make, nutritional, loaded with vegetables and absolutely delicious.  It just never ceases to amaze me how much flavor can be in a recipe with so few ingredients.  Before I received Hello Fresh which is 2 years now I thought I had to have about 5 to 8 little jars of spices/herbs listed in the ingredients in order to make things tasty. And I was right because I was using dried herbs instead of fresh. I've learned that using fresh is the only way to go and it requires fewer ingredients that way.

This meal is filling with the ravioli and if you're a mushroom connoisseur, you're in for a treat!  Pair this meal up with a light wine and maybe, if you need a little something to go with this dish, add Italian bread or a side salad and you're good to go on a great meal.
And best yet for us who watch their calories, it's only 510 a serving. Whoo hoo!
Mediterranean Grilling Cheese Bowls With Couscous, Carrots, And Harissa Crema. 35 minutes, level 1, 890 calories per serving.

I'm now a huge fan of grilling cheese thanks to Hello Fresh. Sometimes when I need to clean out my refrigerator/freezer I will give one of my meals to my daughter and my granddaughter and normally I let them choose which meal they want. Any meal with grilling cheese I keep!  I'm a generous person but not that generous!!!
Pair the grilling cheese with Israeli couscous and what's not to love? In this particular recipe, you use Harissa powder, a North African spice blend that for me is a little on the hot side but delicious. If you're going to add a wine to this meal it is recommended to add a fruity one.
As I mentioned before I give some of my meals to my daughter and she has reported to me that my 16-year-old granddaughter is cooking the meals by herself. Her mother is saying that she's learning to cook because the recipes are detailed enough with pictures that she can cook while my daughter works. How nice for my daughter to come home to a delectable, nutritional dinner and the kitchen isn't a disaster area!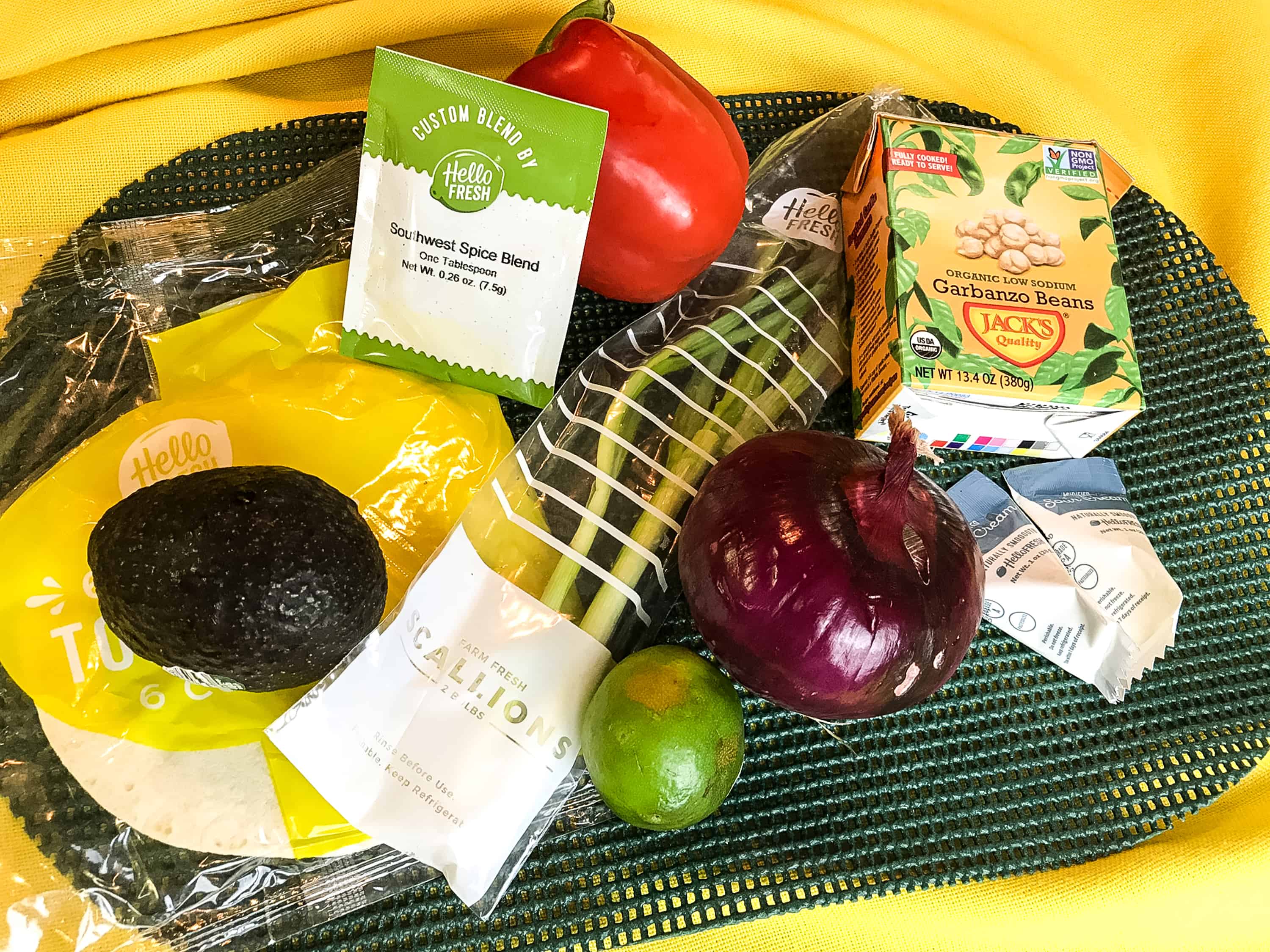 Crispy Chickpea Tacos with Guacamole and Roasted Vegetables. 30 minutes, level 1, 781 calories per serving.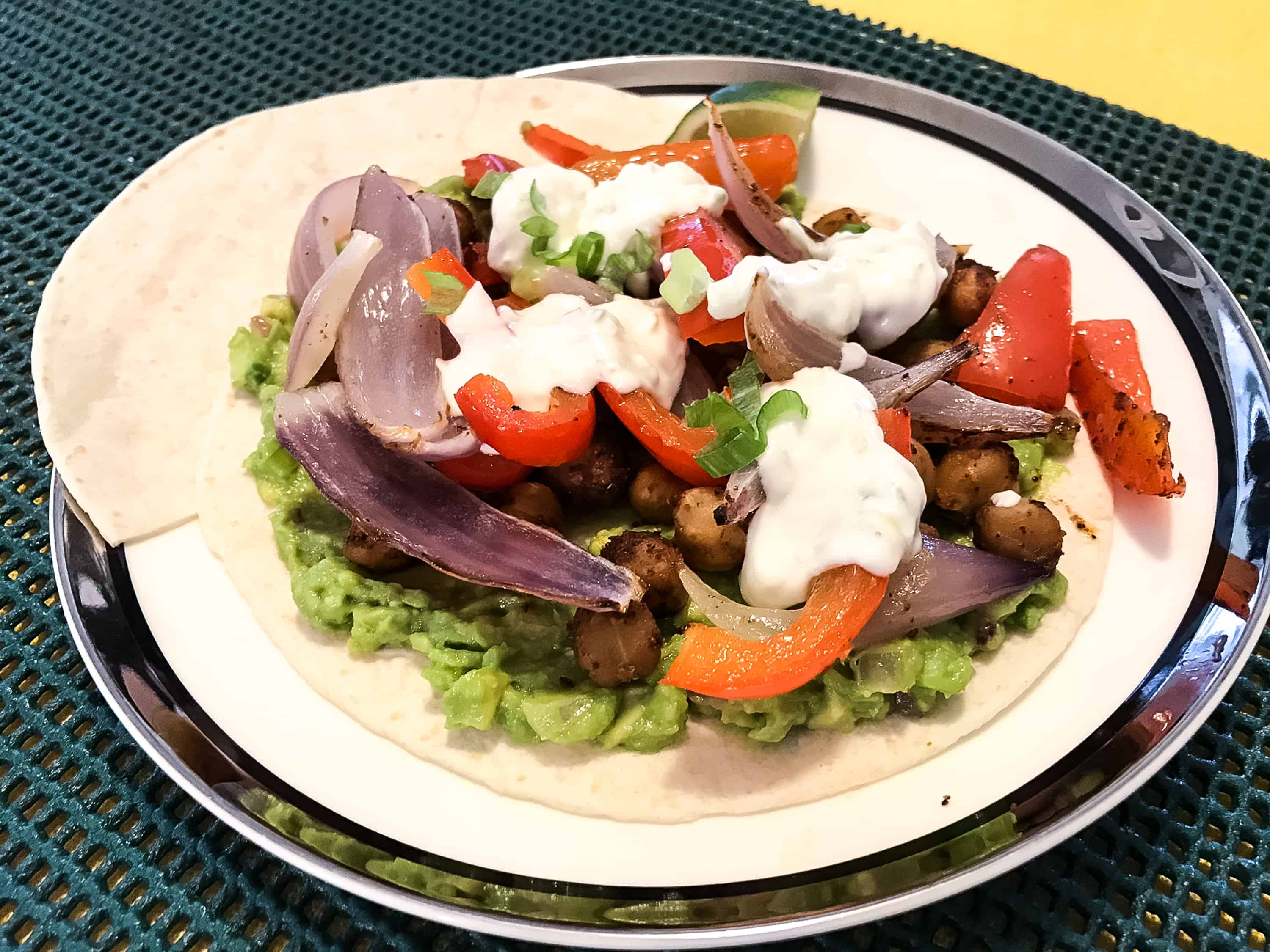 This is a Hello Fresh all-star favorite. I've had this several times and I know I'm in for a good meal when I see it in the box. Easy, mouthwatering meal.
Sometimes you receive more ingredients than you need in a meal and you can use that later for whatever you want. Most of the ingredients that are extra I just incorporate into my meal I'm making.  In this recipe you receive 2 extra tortillas, I just cut them in half and add them to each plate. You see it's just my husband and I and we're older so we don't need a big portion of food. We cut the meals into 4 servings. When you look at my pictures you'll see smaller portion sizes, perfect for seniors. The money we're spending for 3 dinners is stretched to 6 meals for 2 people. Do the math and that's quite a bargain for getting lots of fresh vegetables, fresh herbs, and nutritionally sound meals.
Back to this meal of tacos, it's very simple and filling. And if you're like me, you'll eat a lot of the roasted chickpeas before they even make it to the tacos! If drinking wine with your meal, it's recommended to drink a fruity wine.
What can you say about the vegetarian recipes in our box?