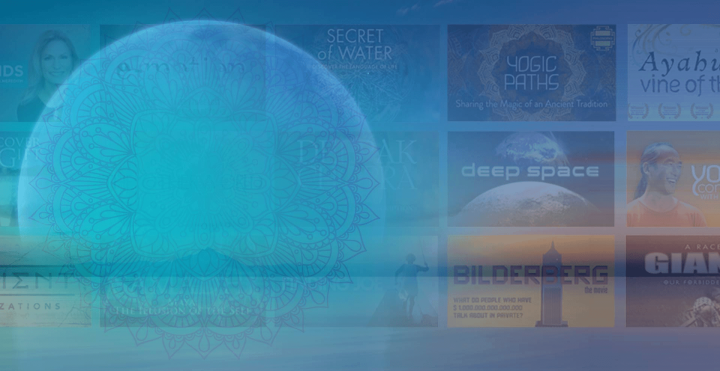 Gaia is a digital subscription that offers online yoga and meditation classes as well as movies and documentaries about different subjects created to open up your mind and guide you to a conscious life. Your first month is only 99¢ and subsequent months are $9.95.
With more video titles than Netflix, Gaia is your guide to a conscious life. Discover new paradigms in personal growth and spiritual wisdom through our many original series, some in their 20th season. Enjoy a wide selection of powerful films, documentaries, and shorts designed to awaken, educate and inspire. Gaia is also the largest yoga platform in the world, giving you access to practices and deeper yogic philosophies from top teachers whenever and wherever you choose. You're here for a reason. Let's wake up together!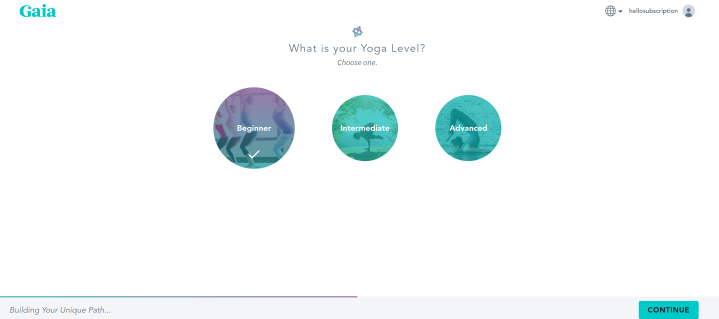 When you first subscribe, you fill out a very quick and easy survey to know a bit more about what you are interested in. You can choose your yoga level, but it's easy to look for video at a different level later on, so don't sweat it too much! I chose Begginer because even though I've been doing Yoga for a while, my body is still tight and so unflexible!
DEAL: Get your first month for only 99¢! Deal applies automatically, just VISIT AND SUBSCRIBE.
LIMITED TIME: Buy one month, and get your second month FREE! Pay only $9.95 for 2 months when you use this link to subscribe. Valid until 7/25.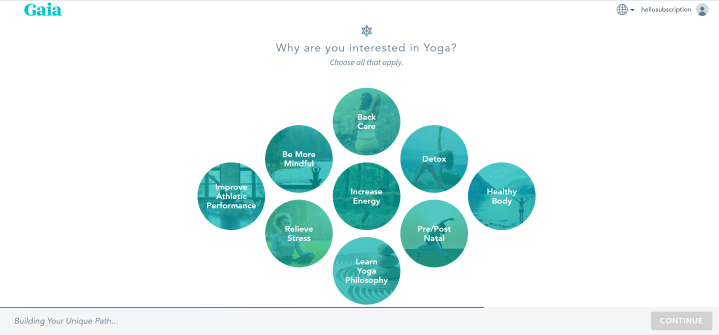 The videos are labelled with different focus, so this question is really just to get you started right away without having to spend too much time looking for the perfect first yoga video when you subscribe.
But then, you have that extra question about what you want to watch first. There are a lot of different things to explore on Gaia! I chose a couple of these for fun, even though I wanted to explore the yoga part of the website at first.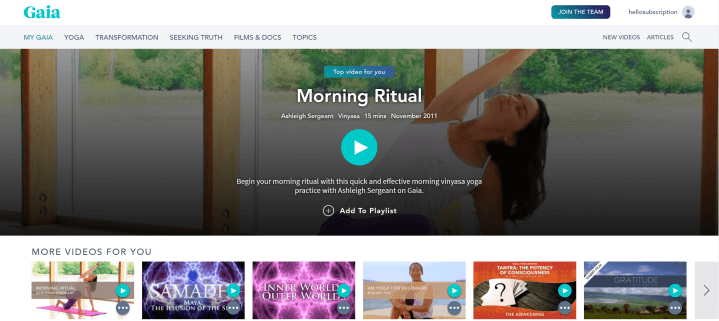 So this is what my front page "My Gaia" looked like when I was done with the quick survey.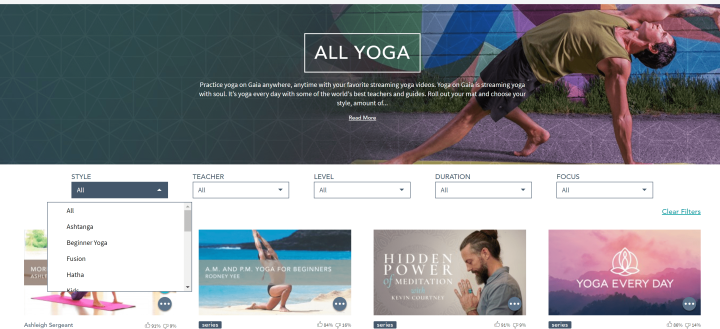 Whenever you want, you can skip the recommendation and go look for yoga video yourself! You can choose your video based on the style, teachers, level, duration, and focus. I like that we can search by Teacher for when you feel great about someone's teachings and cues and you want more of it. I used the "Focus" search bar to find a video with hip openers and neck & shoulders focus.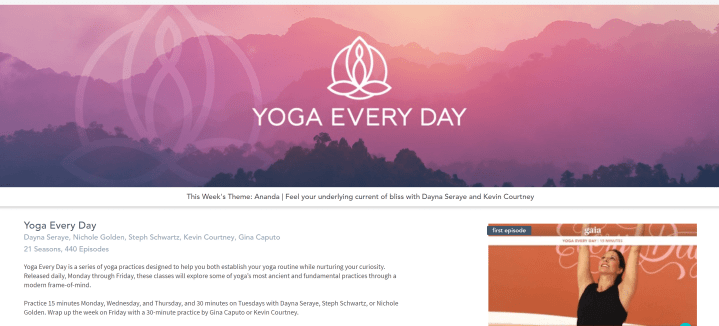 When I wasn't really inspired and I just wanted to get my yoga for the day done, I followed videos from the Yoga Every Day series. There's a new video published every day of the week (Monday through Friday) with 15 to 30 minutes in length. A nice way to start a daily practice without the full hour commitment!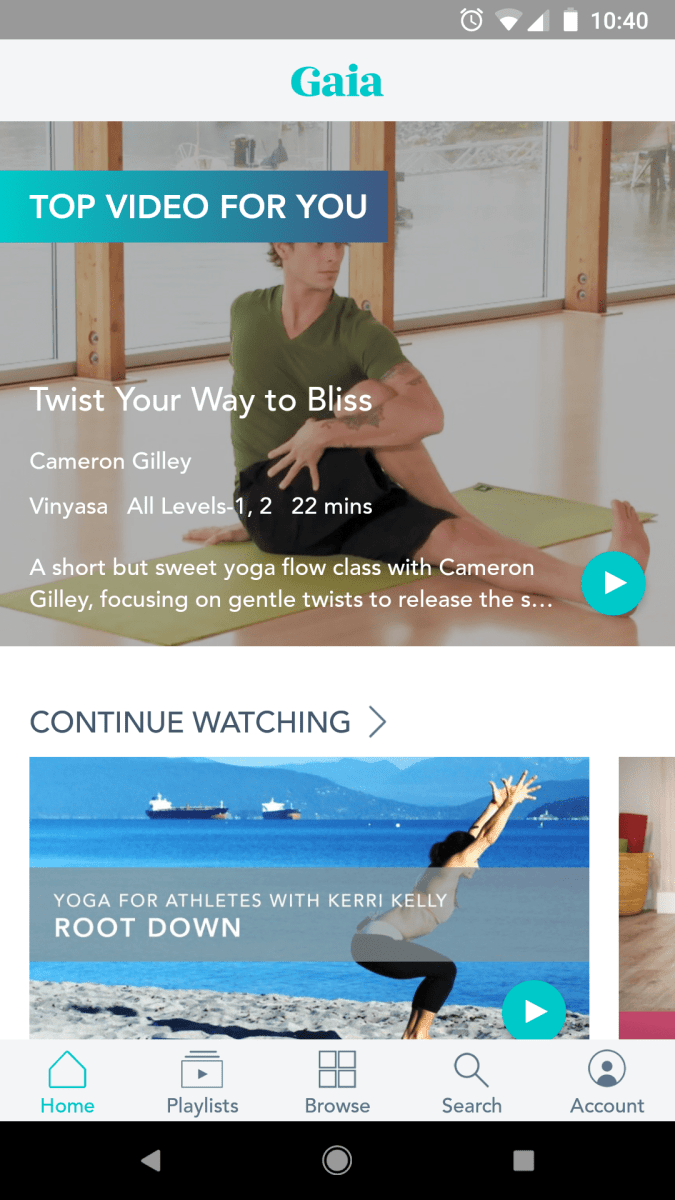 They also have an app that you connect to your account so you can access all your videos from your desktop, laptop or phone and tablets. I used it more often on my phone as I'm doing my daily yoga from my bedroom where no laptop is allowed to exist!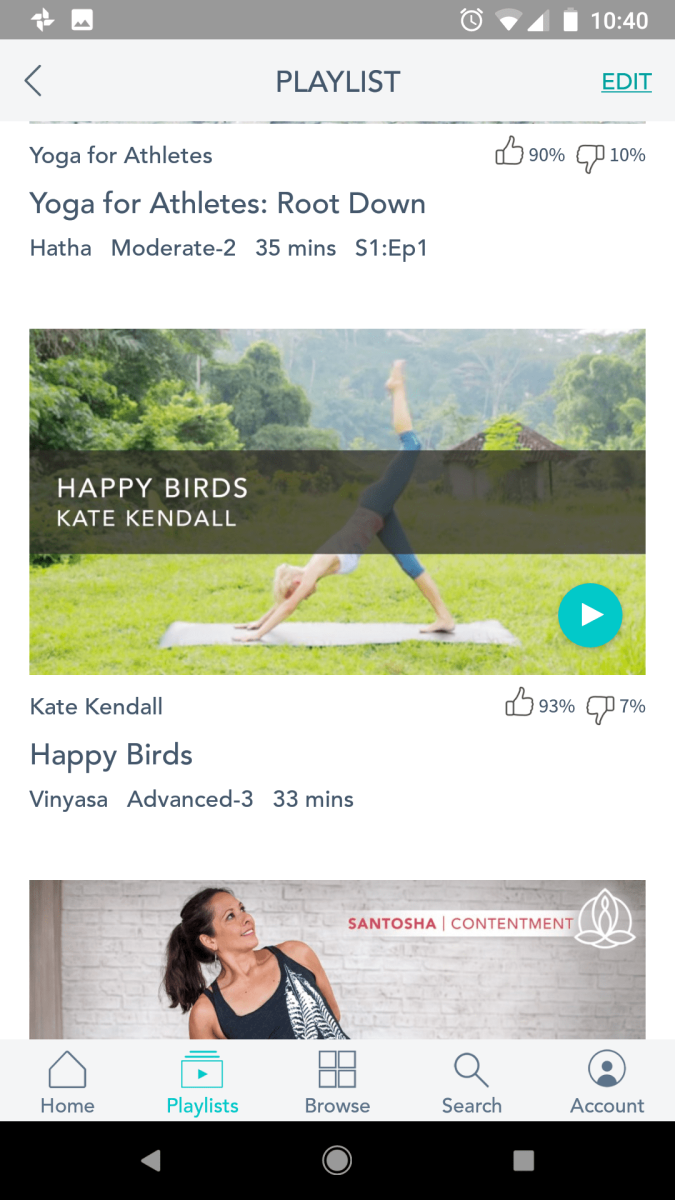 The night before, I would choose a video that I would add to my playlist so it would be ready and be waiting for me in the morning. No excuse to skip a day.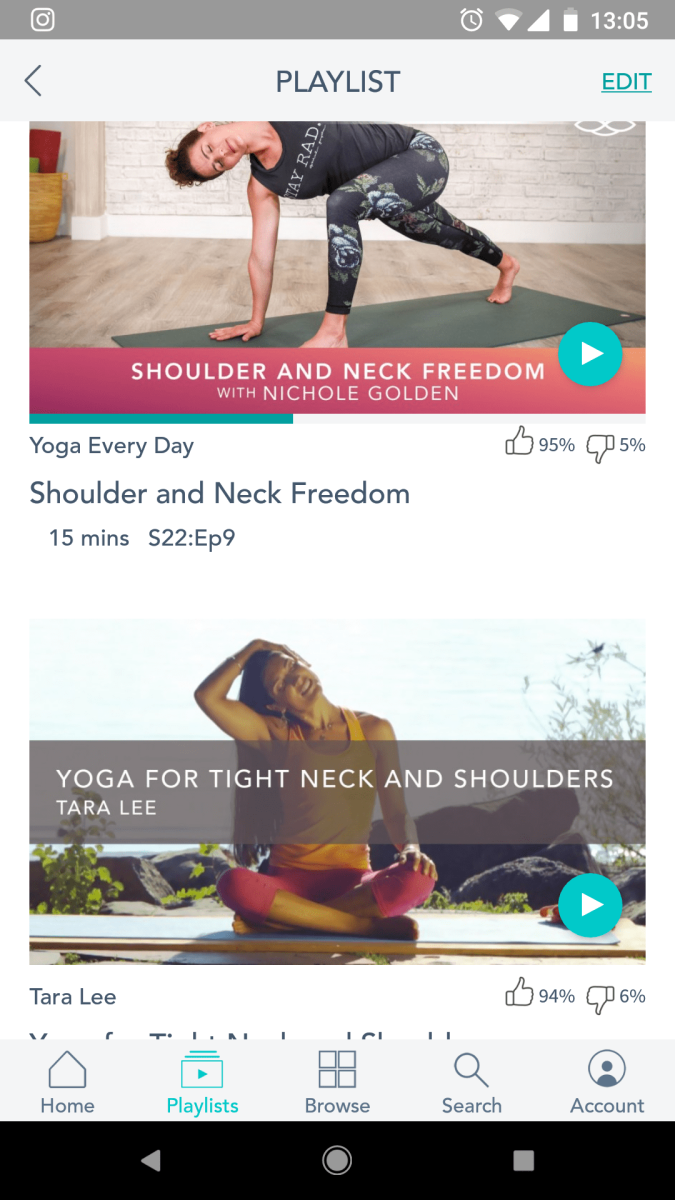 Yes, I did a lot of videos with neck, shoulders and hip focus.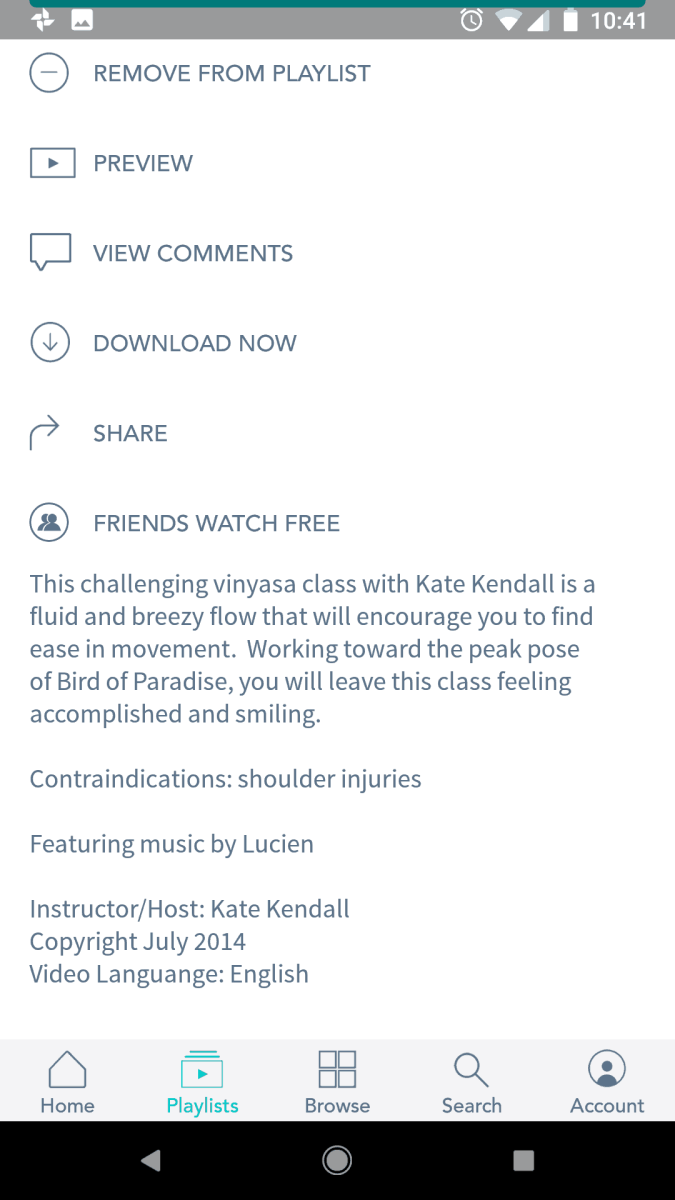 For any of the videos, you can read comments or leave one for others to know what's great, or not' about it! From the Gaia app, you can also download your classes to access them offline. Very convenient when you are going away for a weekend where there's no strong wifi or cell coverage (but you still carry your phone for "reasons").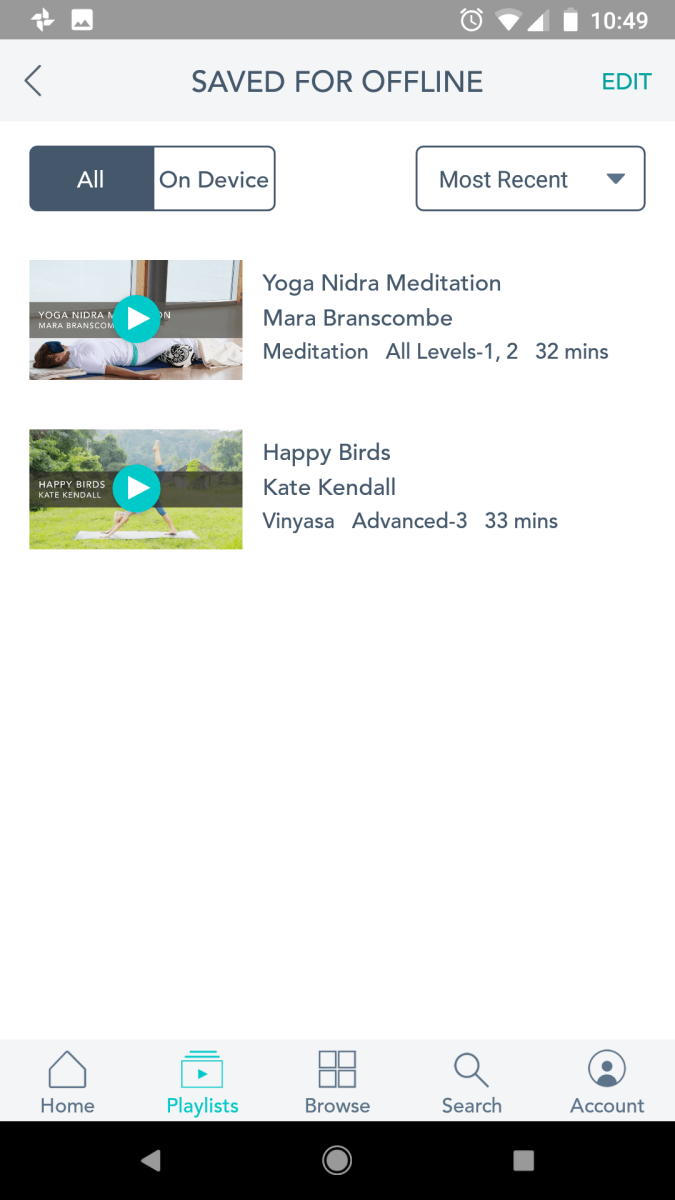 They then appear in your playlists. This playlist doesn't seem to exist in your desktop browser version of Gaia.
If you are like me, sometimes, you want to see your progress after a month, so I did the Happy Birds video with Kate Kendall at the beginning of the month and did it again at the end. Here's what a Bird of Paradise usually looks like. I wanted to challenge this pose as it involves some shoulder flexibility, arm flexibility, balance, and trust! There's also a neat feature on the videos where you can give little hearts to special spots that you liked!
And here is the difference after doing a yoga class a day for four weeks. On the left, I needed a strap for the "binding" portion and could barely lift my leg. On the right, I didn't use the strap as I was able to bind without it, and I could hold my leg higher! Of course, on both, I'm not standing straight, as I'm trying to follow along on my phone placed on the floor. I'm quite happy with the improvement!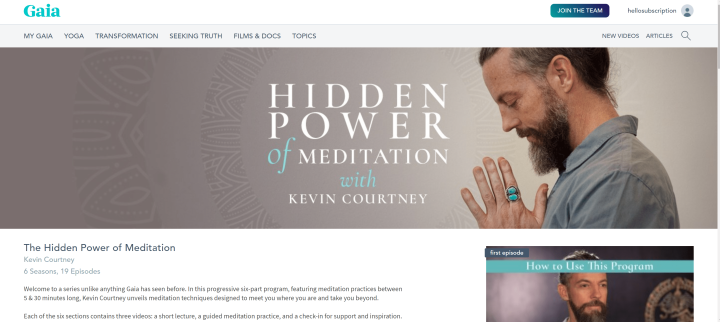 I really enjoyed that a lot of their videos were part of series. It's nice as you can take them as standalone, or you can go through the series if you want to deepen your knowledge or focus on this aspect.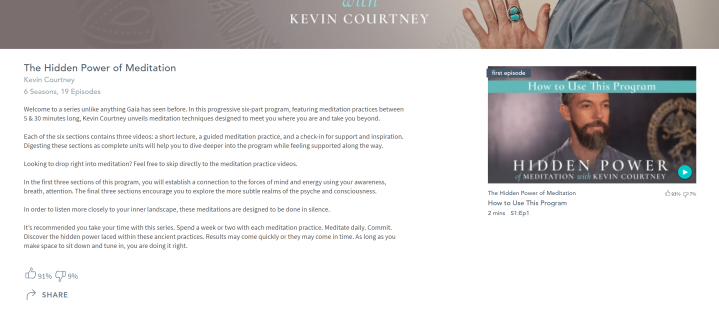 Like this Meditation Series that was really nice to listen to.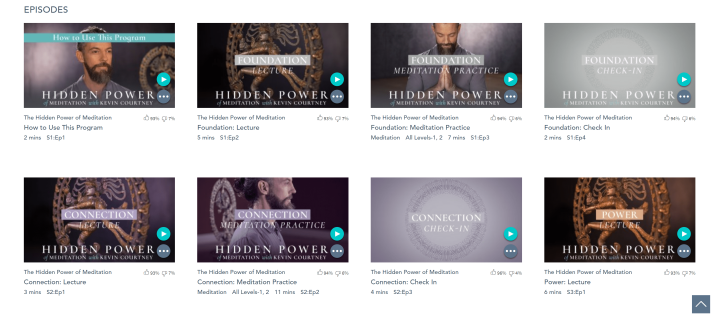 They were all very quick videos to learn more about Meditation. Then, if you want to give it a go, Gaia also have a lot of Guided Meditation videos.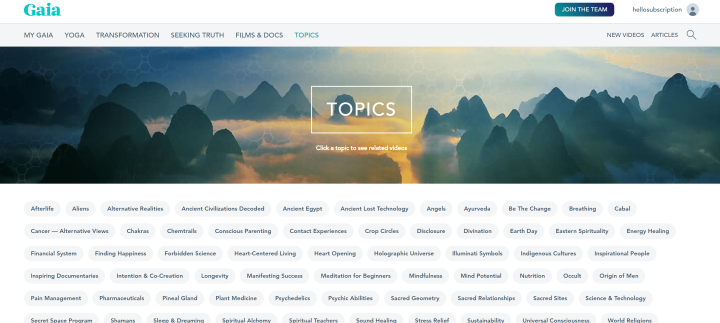 Besides Yoga and Meditation, there's a lot of other videos under the Transformation, the Seeking Truth and Films & Docs tab of the website. I haven't ventured there yet, as I've been quite happy and full with my yoga practice, but I'll take a look in the incoming weeks and get back to you with them!
Gaia is an amazing source for Yoga and Guided Meditation videos. It was easy to navigate the website, everything was nicely labeled so it was quick to find out what I wanted to watch for my daily practice, or what I wanted to know more about during my lunch break. My favorite part was to be able to choose based on my focus (Pranayama, Anatomy, Neck&Shoulders, AM practice, sleep and relaxation, inversion, etc.) and the length of my practice. Another favorite of mine was the Yoga Every Day for when I had no special interest and I just wanted to show up to a class and still be satisfied at the end. I've used Gaia for a month so far and I already feel and see the improvement in my practice, but also in my mind and soul thanks to the learning series. Overall, this is a great service with a wide variety of Yoga Practices, perfect for beginners and intermediate and anyone who likes the convenient of doing yoga in their pajamas (I do!), of learning from different teachers and can control the length of their practice without spending hours on youtube trying to find ONE video! (I sure did a lot!)
What do you think of Gaia?