Culture Carton is the subscription box for the man who wants to go above and beyond and not be content with being just ANY man. It is for he who wishes to strive toward a more cultured and sophisticated self. Among the items in the box is a book that a cultured man would want in his growing library, along with select accessories curated around a monthly theme related to improving some aspect of one's self.
DEAL: Get 10% off your first box. Use coupon code HELLOSUB.
The theme for June 2018 is THE DESKTOP BOX!
The information card tells you the items inside the box and the corresponding value for each one.
At the back of the card is the Greek god Apollo, who was known for his knowledge, skills in archery, and poetry, as well as his masculine beauty.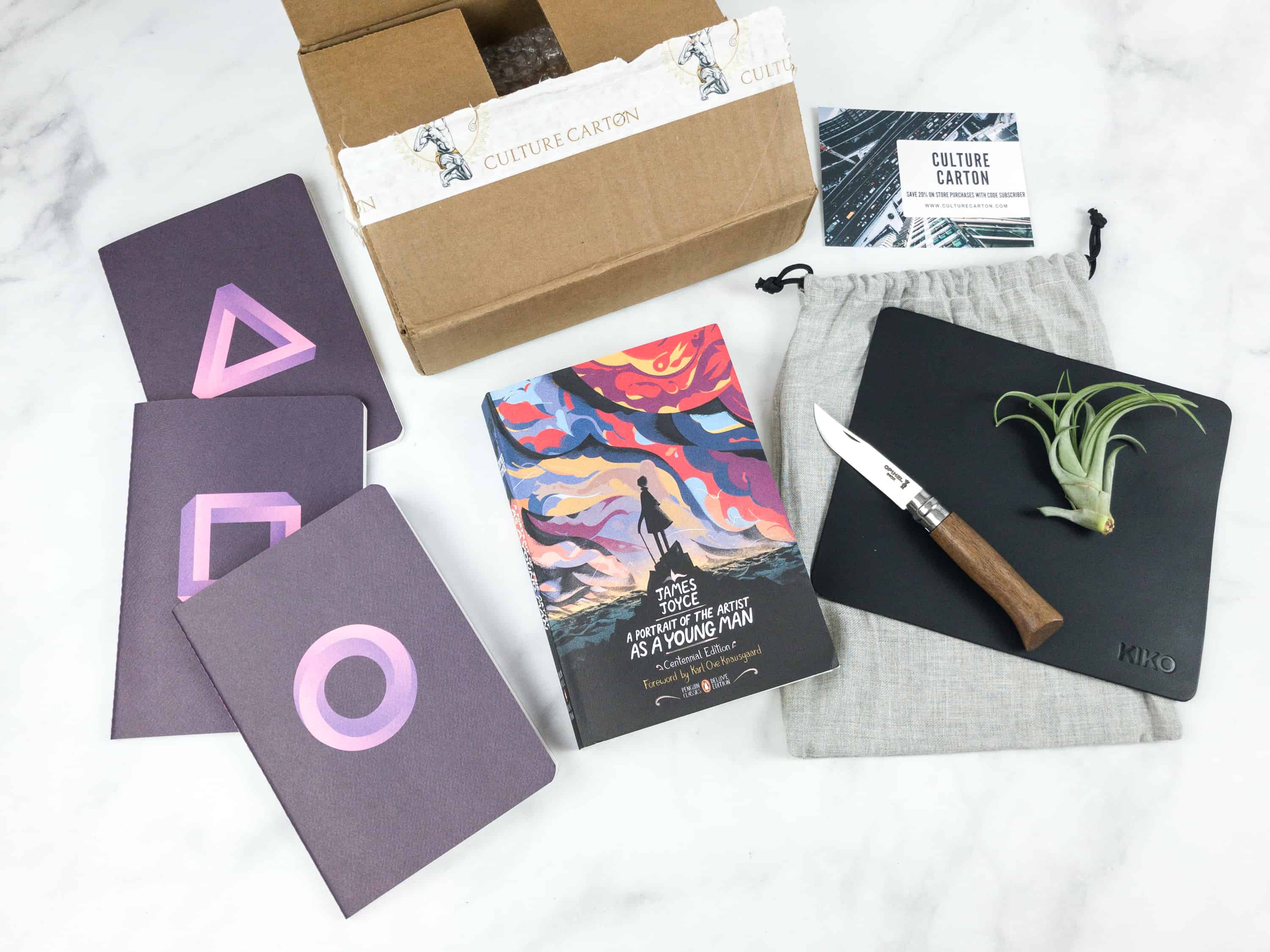 Everything in the June 2018 Culture Carton!

A Portrait Of The Artist As A Young Man By James Joyce ($13.60)
"I will not serve that in which I no longer believe, whether it call itself my home, my fatherland or my church: and I will try to express myself in some mode of life or art as freely as I can and as wholly as I can, using for my defence the only arms I allow myself to use — silence, exile, and cunning."

James Joyce's supremely innovative fictional autobiography is also, in the apt phrase of the biographer Richard Ellmann, nothing less than "the gestation of a soul." For as he describes the shabby, cloying, and sometimes terrifying Dublin upbringing of his alter ego, Stephen Dedalus, Joyce immerses the reader in his emerging consciousness, employing language that ranges from baby talk to hellfire sermon to a triumphant artist's manifesto. The result is a novel of immense boldness, eloquence, and energy, a work that inaugurated a literary revolution and has become a model for the portrayal of the self in our time.

The text of this edition has been newly edited by Hans Walter Gabler and Walter Hettche and is followed by a new afterword, chronology, and bibliography by Richard Brown
The cover art is beautiful! On the back cover, it features one of the most famous quotes from the book.
I will try to express myself in some mode of lite or art as freely as I can and as wholly as I can, using for my defence the only arms I allow myself to use — silence, exile, and cunning.
This book is a must-have in any man's personal library. It's one of the pieces that revolutionized the literary world with its eloquence. As Joyce is one of the most meta- literary figures given the subject matter, it's very much of interest that this is the "definitive text" authored by the Joyce estate (which is also well known for litigating against scholars that espouse views different from the current administrator of the estate).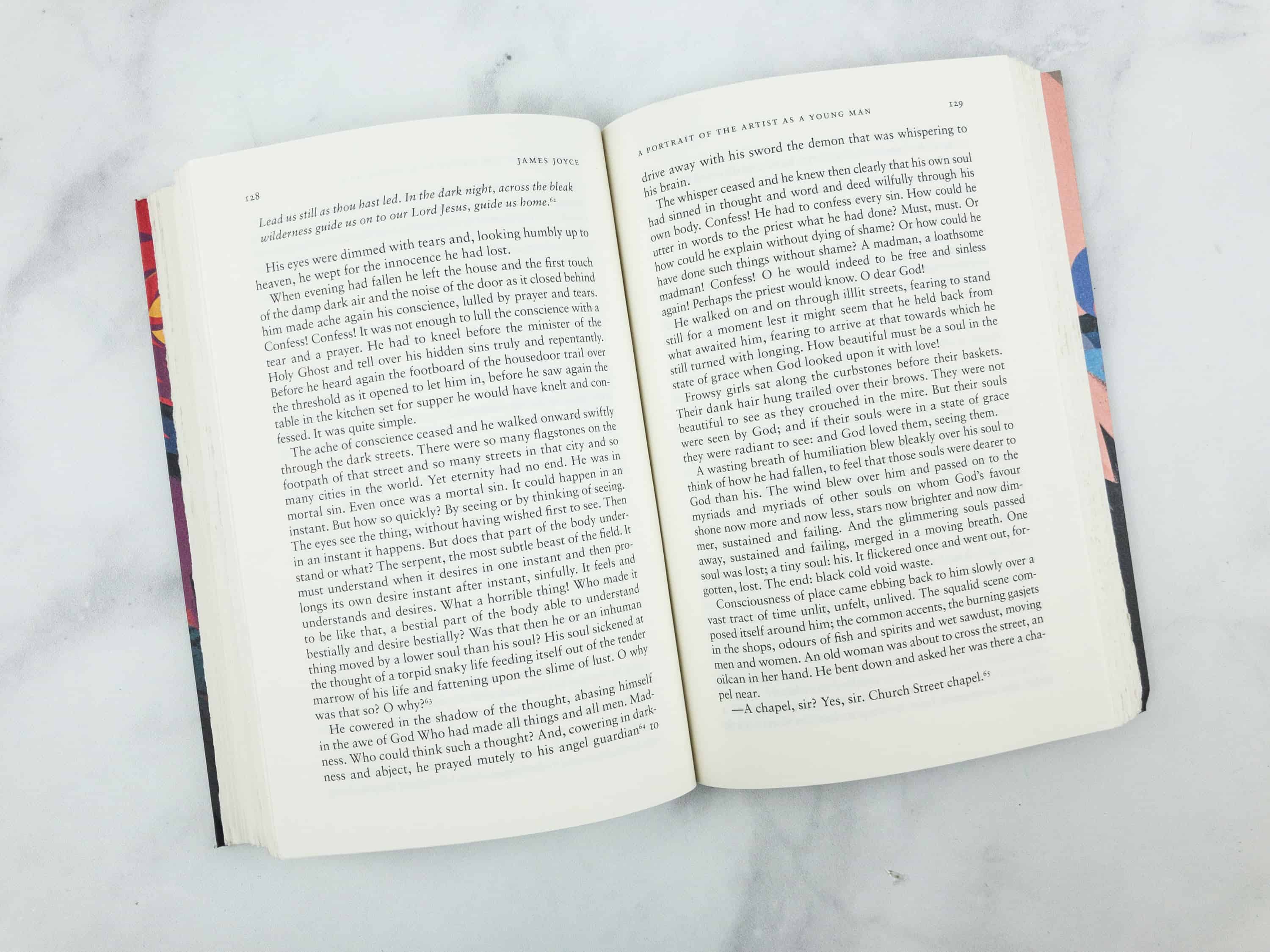 The chapters are quite long, and it goes from an easy read to a more complicated story but it's all worth it in the end. James Joyce has a unique voice that I really enjoy.
You can follow all the annotations at the back of the book if ever you decide to go deeper into the story.
Air Plant Supply Co. Abdita Brachycaulos ($6) Ideal as a desk plant, Abdita Brachycaulos have thick green leaves. The usual color is a bright green but they can turn into red when they bloom. It's an attractive plant and doesn't require much care at all.
Also included is an info card from Air Plant Shop. According to them, for every order, a dollar is donated to Pencils of Promise which is a non-profit organization that aims to build schools and to educate people on health and sanitation.
Care tips for your new plant are printed at the back of the card. There's also a 20% off coupon you can use on their website.
Opinel No. 8 Pocket Knife With Walnut Handle ($20) Handy whether for travels and outdoor adventures, this pocket knife uses a modified stainless steel which is anti-corrosive and easy to maintain. It's handle is made of French wood.
At the back of the box is a little bit of history about Opinel pocket knives. Apparently, the first ever pocket knife that Joseph Opinel created was back in 1890. His design is still being used today.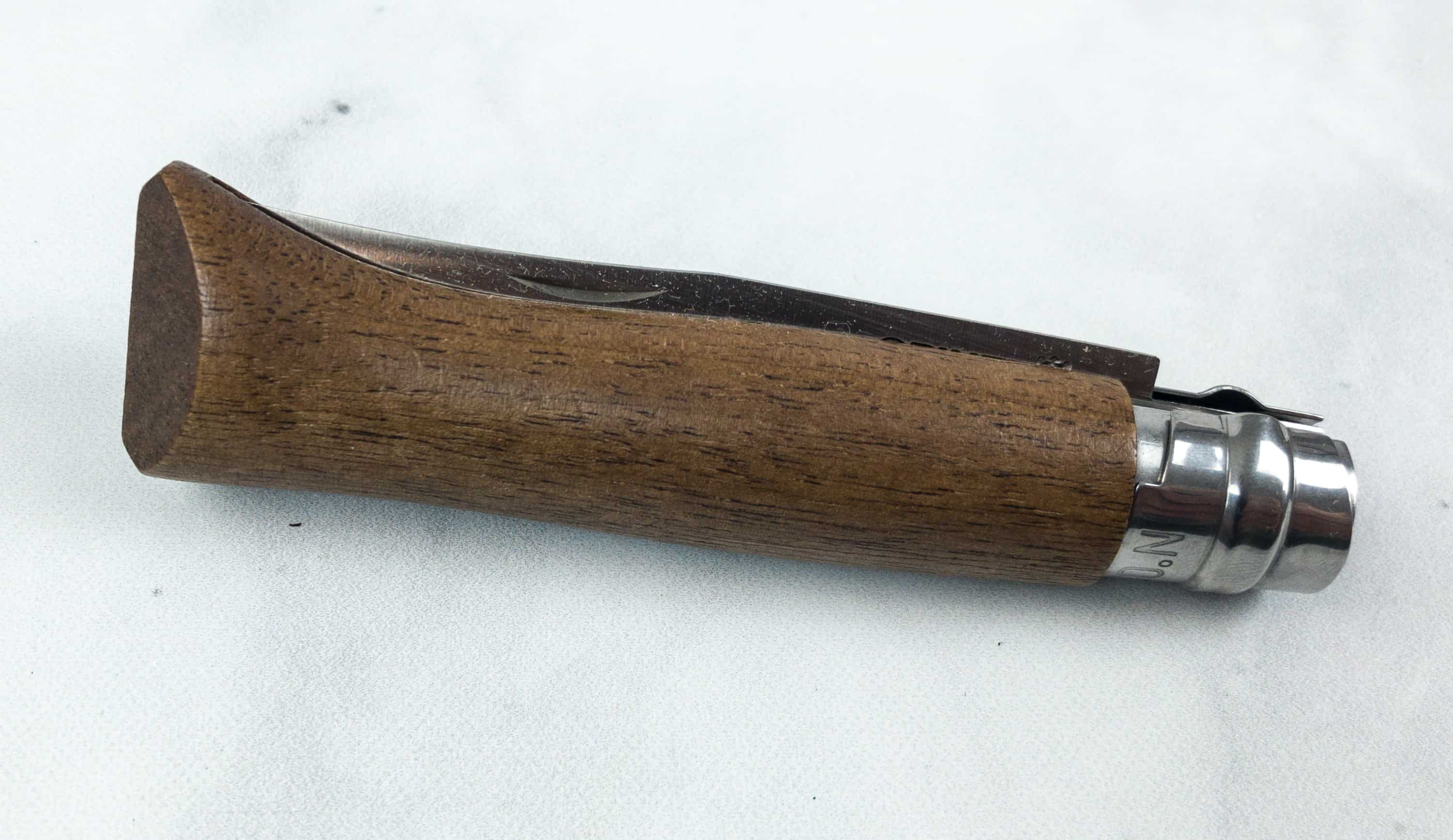 It looks amazing! This is a folding knife and you can lock the blade whether open or closed so it's safe to use.
I am impressed with the quality of this pocket knife, with the blade looking like it can cut through anything. The curve of the handle fits the palm of my hand.
Baron Fig Vanguard Notebooks ($12) A desk collection won't be complete without a notebook, and Culture Carton sent us not just one but three!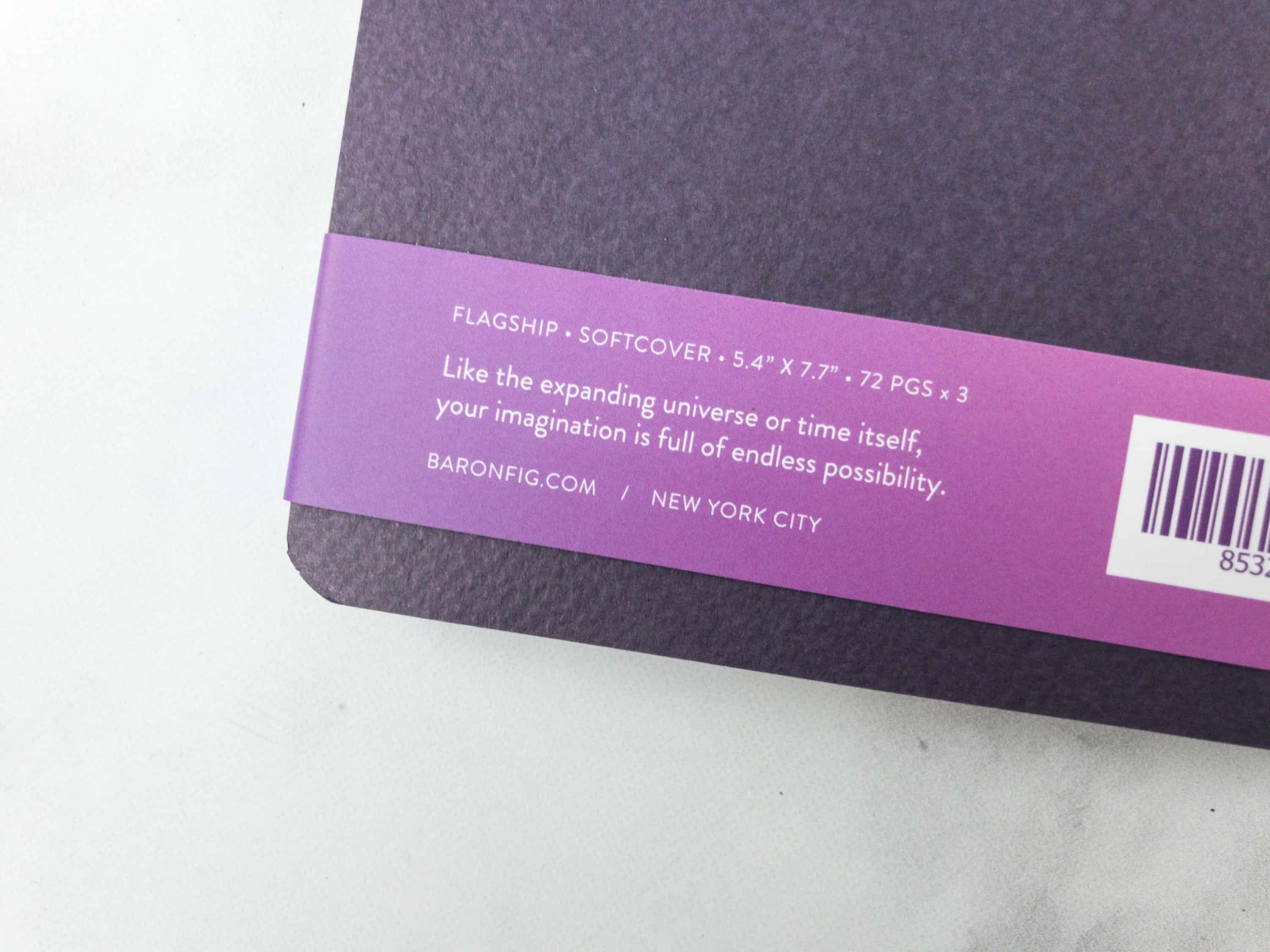 Like the expanding universe or time itself, your imagination is full of endless possibility.
The notebooks feature different infinity shapes on the cover.
The pages are grid dotted, allowing you to be creative in using them whether for work, for journaling, for doodling, and for other creative ventures, like pondering the vastness of space and the nature of infinity.
Kiko Leather Mouse Pad ($28) The mouse pad arrived in a gray drawstring pouch.
The mouse pad is made with black cowhide leather, with the brand name stamped on one side. It speaks of elegance, which I didn't think mousepads could have. The surface is smooth. It's hand glazed so your mouse can easily move around it without any hitch.
At the back of the mousepad is a note that says that this mousepad was handmade and that any grainy texture to it should not be considered as imperfections but they are a mark that only genuine leather was used.
[Note from Brandy – I exercised my prerogative and stole this mousepad, it's perfection. Works perfectly with my Magic Mouse.]
This month, Culture Carton curated a useful set of desk essentials for men and I couldn't be happier. The plant was an unexpected item, but I like it. It'll add life to my otherwise lifeless desk. My favorite items are the pocket knife and the mouse pad. Both have a luxurious appeal. As always, this month's book choice is superb. A Portrait Of The Artist As A Young Man is a great read, it makes you curious about what goes on the mind of the main character and it's just so hard to put down. Any man who is keen on improving himself will find this subscription useful. The themes are well thought of and the items are always high-quality!
What's your favorite item this month?