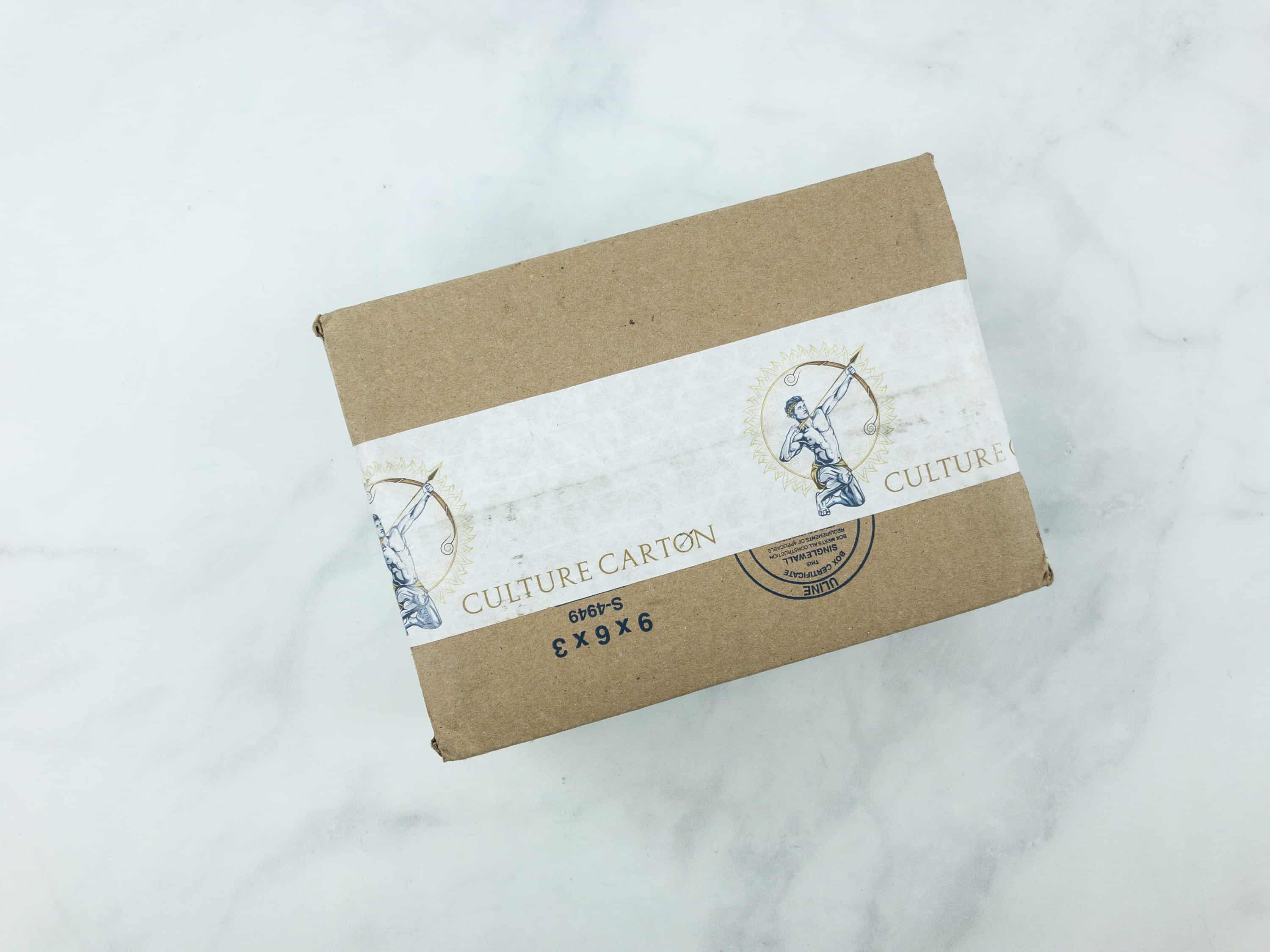 Culture Carton is the subscription box for the man who wants to go above and beyond and not be content with being just ANY man. It is for he who wishes to strive toward a more cultured and sophisticated self. Among the items in the box is a book that a cultured man would want in his growing library, along with select accessories curated around a monthly theme related to improving some aspect of one's self.
DEAL: Get 10% off your first box. Use coupon code HELLOSUB.
The theme for June 2018 is THE UPGRADE BOX!
The information card tells you the items inside the box and the corresponding value for each one.
There's another card welcoming you to Culture Carton. It features a photo of a library.
At the back of the card is the Greek god Apollo, who was known for his knowledge, skills in archery, and poetry, as well as his masculine beauty.
Everything in the July 2018 Culture Carton!

Tie Doctor Tie ($42) Wearing a necktie does make you look very much put together especially when you are in the office. This stylish necktie gives that simple but neat and fashionable look. It's a grey, polka dot necktie that can be paired with a white shirt, blue, or cream shirt as it sets them off nicely.
Tie Doctor includes a simple strap at the back of the necktie to hold the other end of your tie. This prevents your necktie from flapping around too much and ruining your overall look.
The blue polka dots on grey fabric give it a subtle look. The fabric is thick enough too – no flimsy tie here!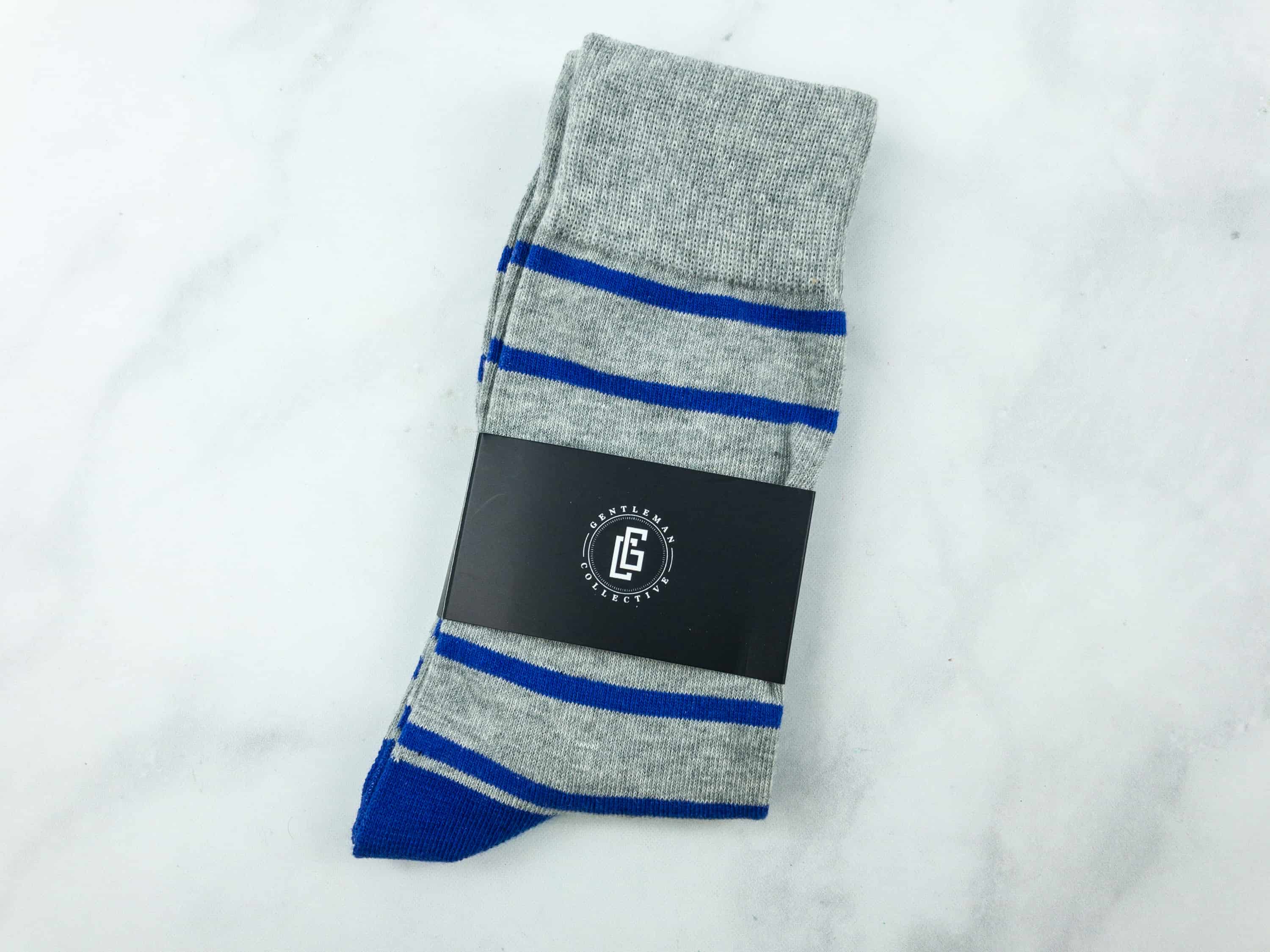 The Gentleman Collective Socks ($14) This stylish pair of socks comes in gray with blue stripes. I feel it will give my attire a much needed upbeat look.
The Gentleman Collective socks are made from 72% cotton, 27% nylon, and 1% spandex. It fits nicely and feels comfortable on my feet.
The blue stripes really work well with the grey background. It's not your usual socks that scream for attention but rather give your feet their own statement whether when worn with jeans or slacks. It feels good too when worn.
The solid blue can be found at the toes and heels of the socks which wrap the whole look nicely.
Gentleman Of The North Tie Clip ($23) The pouch itself is stylish and the contents really caught my eye because the clip is made from real wood and is handcrafted too. It certainly adds character to my necktie.
Aside from the handcrafted wooden tie, the steel clip that it comes with look sturdy enough to last you for quite a long time. It is quite elegant to look at even on the side.
This tie clip is made from mahogany. You just know it's real wood because of the striations on the surface. I love the simple logo embellished on one corner of the clip.
I love how The Gentleman of the North seamlessly combined the steel clip and wooden pin in a stylish manner. What's even better is that it can be used on all neckties too.
La Colombe Draft Latte ($3) This draft latte from La Colombe is a delicious way to keep yourself awake during work hours. It's a great drink for those who need a quick pick me up in the morning.
It contains nutrient-rich milk, natural vanilla, cold-pressed espresso, and even a hint of maple too.
It's actually naturally sweet and doesn't make use much of cane sugar which is a plus.
The tab on the top is easy enough to open. You can drink it straight from the canister or transfer it to a glass or cup to enjoy its rich flavor. This is perfect to stash for those days you run out of coffee!
The Dog Stars By Peter Heller ($27)
"Leave it to Peter Heller to imagine a postapocalyptic world that contains as much loveliness as it does devastation. His hero, Hig, flies a 1956 Cessna (his dog as copilot) around what was once Colorado, chasing all the same things we chase in these pre-annihilation days: love, friendship, the solace of the natural world, and the chance to perform some small kindness. The Dog Stars is a wholly compelling and deeply engaging debut." —Pam Houston, author of Contents May Have Shifted

A riveting, powerful novel about a pilot living in a world filled with loss—and what he is willing to risk to rediscover, against all odds, connection, love, and grace.

Hig survived the flu that killed everyone he knows. His wife is gone, his friends are dead, he lives in the hangar of a small abandoned airport with his dog, his only neighbor a gun-toting misanthrope. In his 1956 Cessna, Hig flies the perimeter of the airfield or sneaks off to the mountains to fish and to pretend that things are the way they used to be. But when a random transmission somehow beams through his radio, the voice ignites a hope deep inside him that a better life—something like his old life—exists beyond the airport. Risking everything, he flies past his point of no return—not enough fuel to get him home—following the trail of the static-broken voice on the radio. But what he encounters and what he must face—in the people he meets, and in himself—is both better and worse than anything he could have hoped for.

Narrated by a man who is part warrior and part dreamer, a hunter with a great shot and a heart that refuses to harden, The Dog Stars is both savagely funny and achingly sad, a breathtaking story about what it means to be human.
This story speaks of love in a greater sense, which includes loss and longing. There's also a beautiful connection between a human and a dog, which makes it even a greater read.
The inside of the book is striking as it has different constellations on a golden paper. It captures your attention right from the start.
The author's rambling style easily drew me in!
Culture Carton has once again put together a curation of useful accessories for men. From the necktie to the socks, everything's high-quality and they just fit my style very well. What makes this subscription really stand out though is their book choices. This month's featured book is such a compelling read, one that I find hard to put down. It makes you look at things from a different perspective, and that's always a great thing.
What's your favorite item this month?