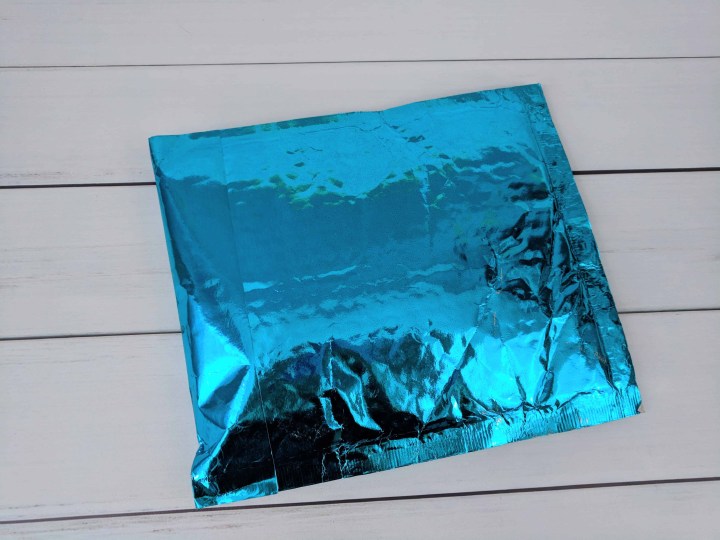 Bargain Bead Box is a monthly bead subscription service. Each month, you'll receive over $40 worth of top-quality jewelry supplies. It can be a mix of loose beads, bead strings, findings, and pendants. You can share your creation on their social media for a chance to win a $25 gift certificate for their sister store Bead Box Bargain. Boxes are $15.95 per month. Shipping is free in the US and $7.50 to Canada. Even if it's technically a subscription box, it comes in a mailer, which is less expensive than a box so they can send more beads! And more beads is more fun!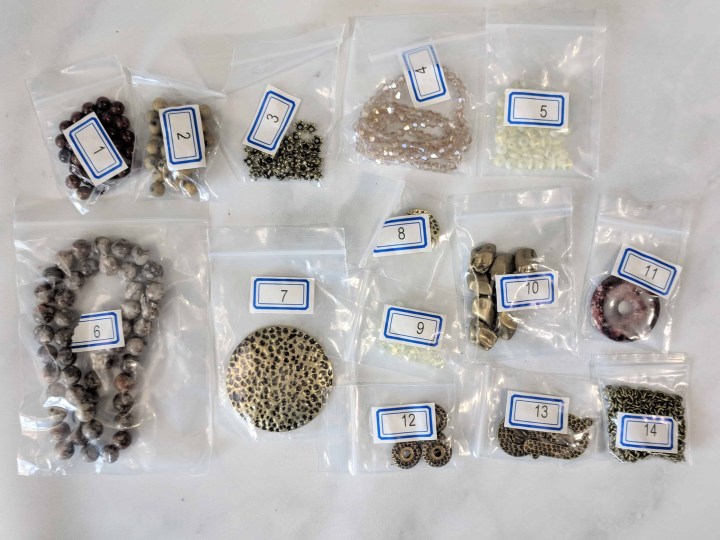 All the beads are packed in well-labeled plastic bags and tucked inside an organza bag. On the reverse of the introduction letter, we get a description of all the items in this month's box!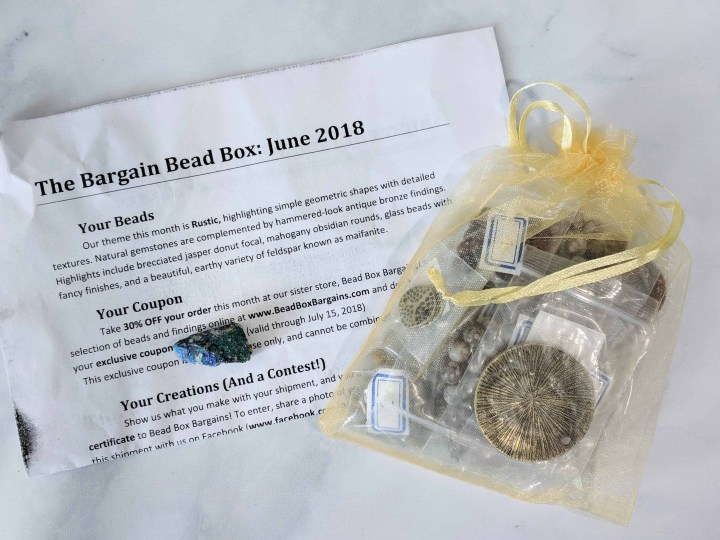 Each month is curated around a different theme and all the beads and findings are coordinated. This month's theme is Rustic and featured jasper, mahogany obsidian and feldspar. The metal is antique bronze findings.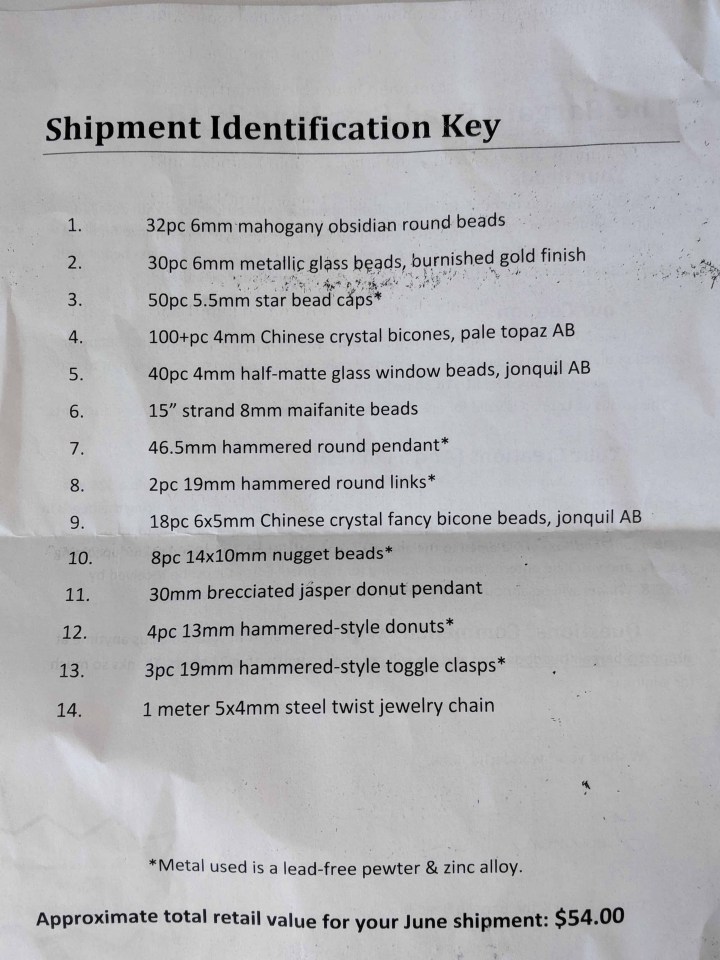 We also have a Shipment Identification Key.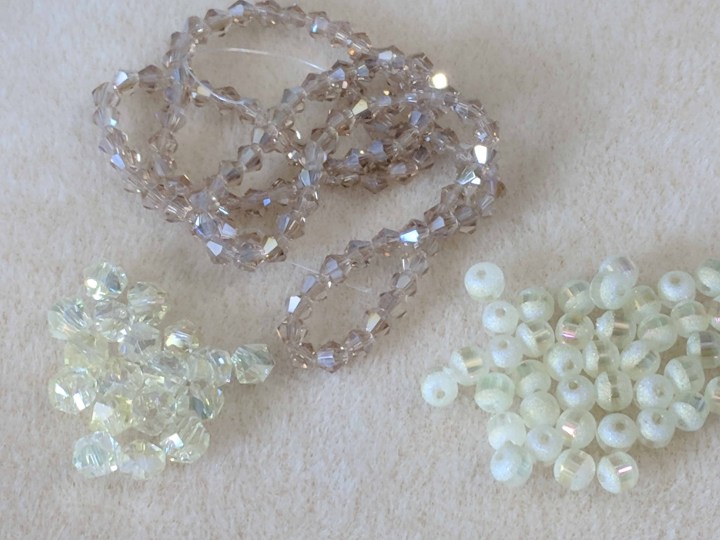 4mm Chinese crystal bicones, pale topaz AB. We always receive a type of chinese crystal bicones in this box, with the colors always complementing the overall theme and color. They are great paired with matte beads to add some sparks. I like to make little metal links with them for a dainty-looking chain.
6x5mm Chinese crystal fancy bicones beads, jonquil AB. Fun flat bicones, they look delicate even though they are bigger than all the other bicones.
4mm half-matte glass window beads. If they had been bigger, they would have been great with the bead caps. As is, they are nice with small daisy spacer beads or on a simple ball head pin.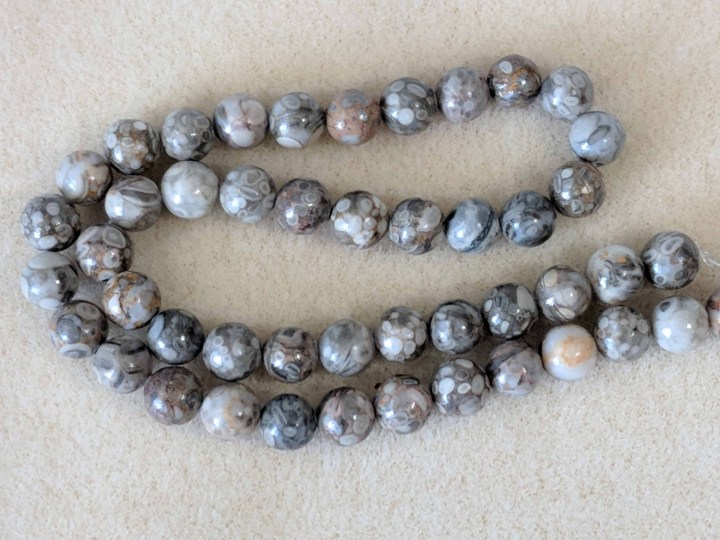 8mm Maifanite beads. They are so pretty! They would be great in a black and white design, or any monochromatic piece. I will probably use them with lava beads to make a simple bracelet to my husband. Maifanite is a type of feldspar.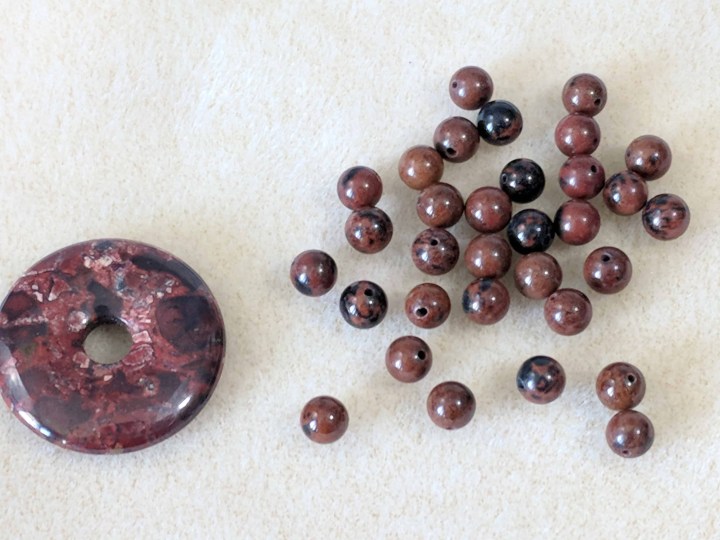 6mm mahogany obsidian round beads. I love gemstones and these have a lovely brownish-reddish tint with some black veins. I love making stretch bracelets with different gemstones.
30mm brecciated jasper donut pendant. Even though this pendant is not from the same stone as the mahogany obsidian, they look lovely together. I tend to wrap donuts with leather cord for simple boho-like pendant, but I've seen people wire wrap fun shape on them.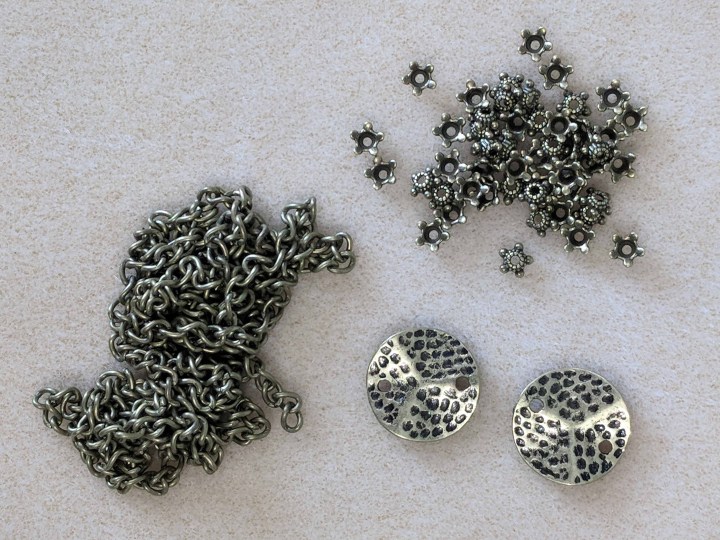 5.5mm Star bead caps. We always receive a type of bead caps in this box. This one looks awesome with round beads, on a ball head pin for added accent.
19mm hammered round links. They could be used as a simple focal link for a necklace or a bracelet, in earring design or as buttons for wrap bracelets.
1 meter 5x4mm steel twist jewelry chain. Another staple in this monthly box is the inclusion of the chain in the metal of the month.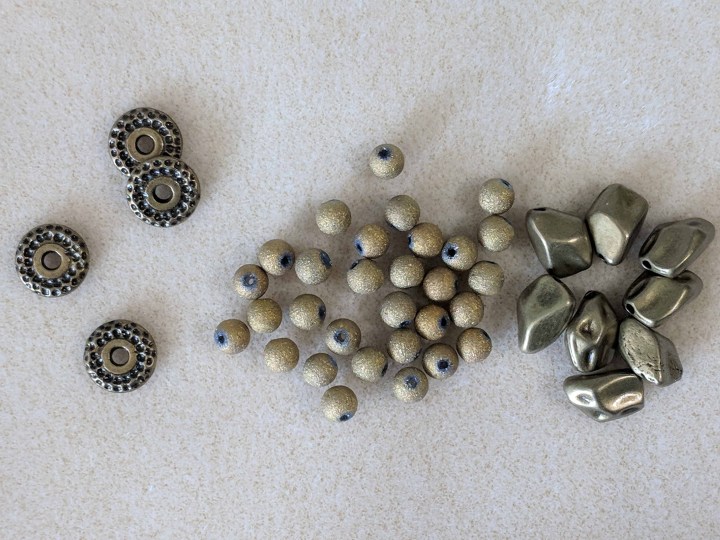 6mm metallic glass beads, burnished gold finish. I like stardust-like beads as they add a lovely metal accent to a design without turning it into something heavy. I like mixing them with crystal beads.
14x10mm nugget beads. The look of pyrite nuggets beads, without the weight!
13mm hammered-style donuts. They could be paired with a thin leather cord for a quick simple bracelet.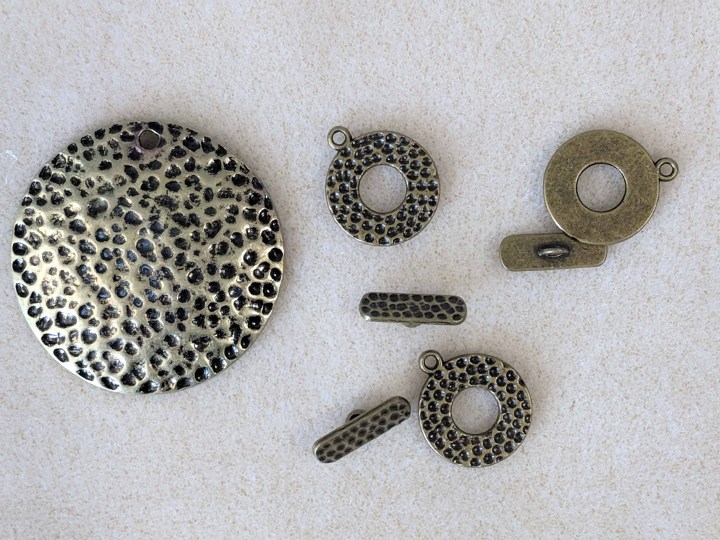 46.5mm hammered round pendant. A perfect statement piece for a boho look! The hole is really close to the edge of the disk, perfect to use with a black or brown cord for a simple look. A flat colored stone donut, like the jasper one we received in the box, could be set in front of this disk for a nice effect.
19mm hammered-style toggle clasps. Every month, we receive a type of toggle to put the finishing touch on our design without having to run to the store every time! I like how well they fit with the metal components of this box!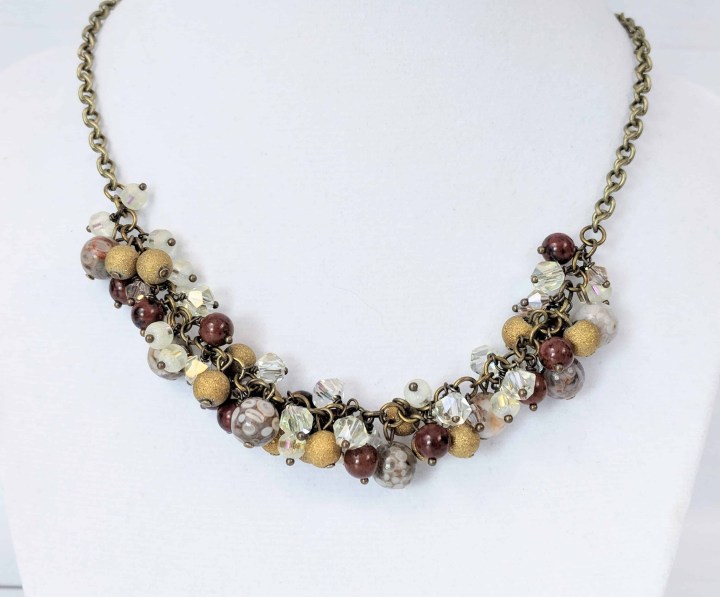 This month, I've decided to use a bunch of all the lovely beads together.
I really liked this month's box, especially the gemstones! The hammered look of the metal components was all great. I like that even when we don't like a certain type of beads, there is enough variety to make it worth it. And knowing that my stash of findings in the monthly color will be refilled is a nice bonus!
What did you think of this month's Bargain Bead Box?