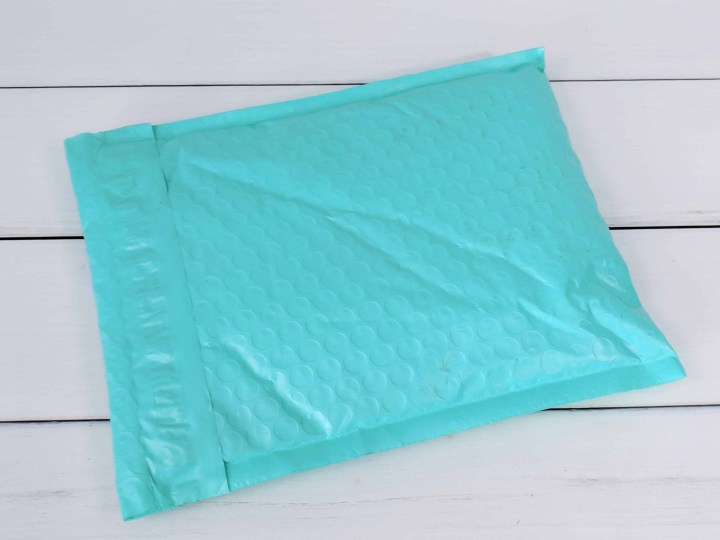 Bargain Bead Box is a monthly bead subscription service. Each month, you'll receive over $40 worth of top-quality jewelry supplies. It can be a mix of loose beads, bead strings, findings, and pendants. You can share your creation on their social media for a chance to win a $25 gift certificate for their sister store Bead Box Bargain. Boxes are $15.95 per month. Shipping is free in the US and $7.50 to Canada. Even if it's technically a subscription box, it comes in a mailer, which is less expensive than a box so they can send more beads! And more beads is more fun!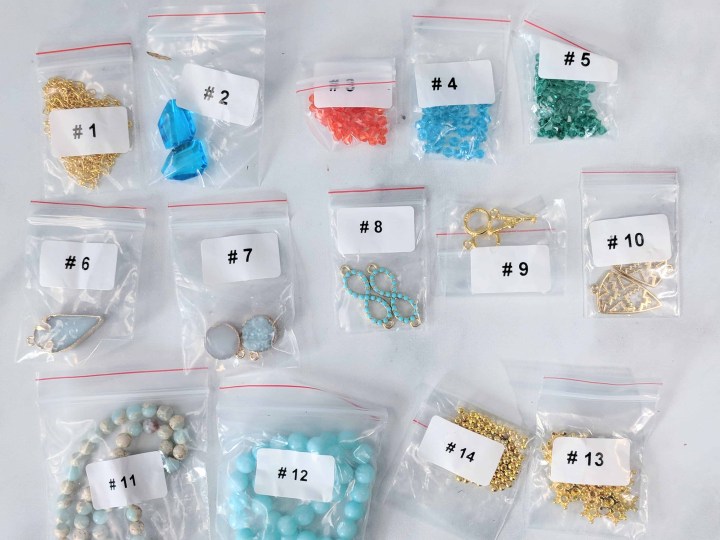 All the beads are packed in well-labeled plastic bags and tucked inside an organza bag. On the reverse of the introduction letter, we get a description of all the items in this month's box!
Each month is curated around a different theme and all the beads and findings are coordinated. This month's theme is Free Spirit with a hint of bohemian inspiration with golden findings and charms.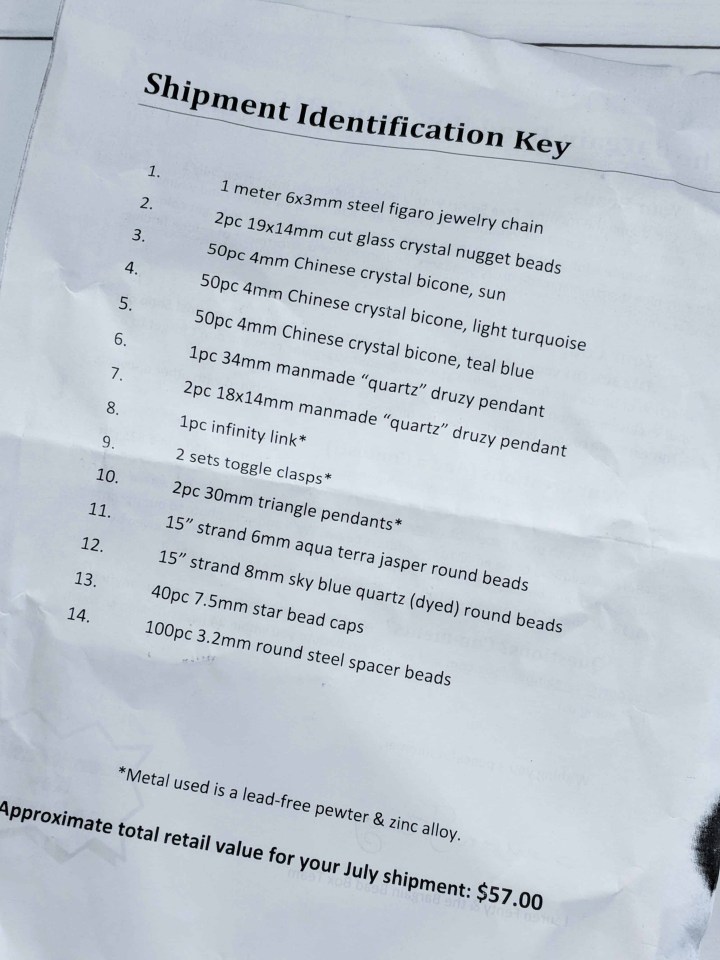 We also have a Shipment Identification Key.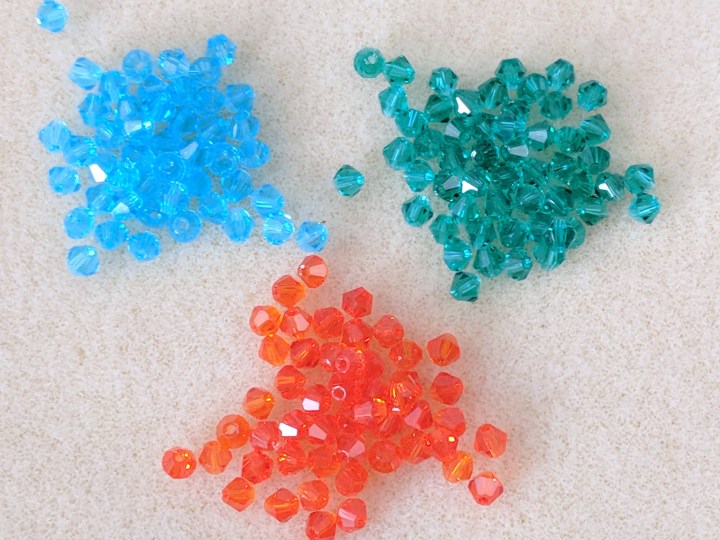 4mm Chinese crystal bicone in Sun, Light turquoise, and Teal Blue. Crystal bicones are a staple in this box as we always receive at least one or two different colors, fitting the month's theme and findings. I like how they can be used for something very summery with the coral and the ocean blues.
Toggle clasps. Every month, this box provides us with findings staples such as clasps to put the finishing touch to our design without having to run to the store if it's in a metal we don't work often with. I sometimes use them to make an interchangeable focal component to a necklace.
Triangle pendants. With a very thin golden wire, you could wire wrap a couple of colorful beads to give them some nice accent. They are also screaming to be turned into earrings!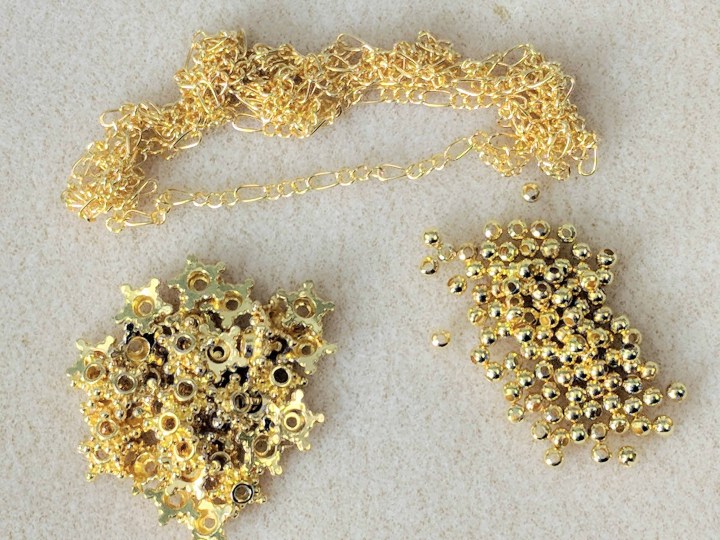 1 meter 6x3mm steel figaro jewelry chain. We usually receive a length of chain every month, and I love this month's design. It's delicate with small and long links and I really like to use them for tassel.
7.5mm star bead caps. Another staple is the bead caps. I found these ones too big and flat for the beads in this box, but they would be great with big rondelle beads.
Round steel spacer beads. Spacer beads are great to add metal accent without overwhelming a design.
19x14mm cut glass crystal nugget beads. They are interesting beads, but I personally don't like that kind of beads as I feel they look like plastic and they are just too much for my taste. But they have a lovely turquoise color.
Infinity Link. The Identification Key mentioned only one link, but I got two! Win! They would make a fun pair of earrings or perfectly framing link for a necklace focal.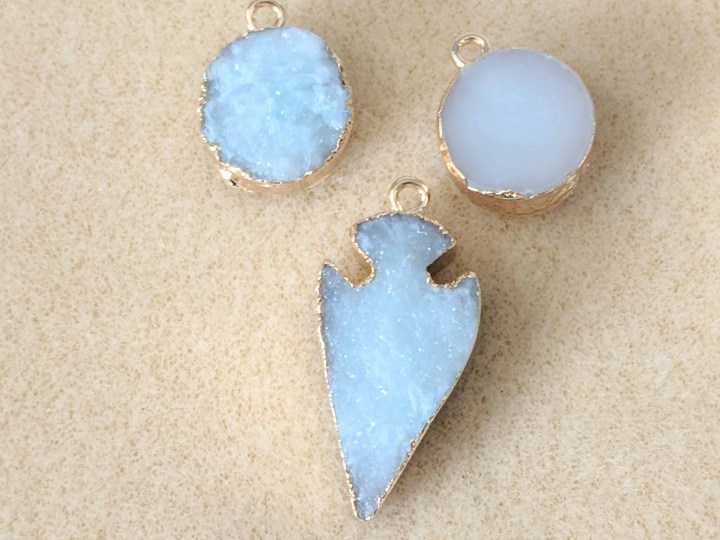 34mm manmade "quartz" druzy pendant. I like the arrowhead shape of this pendant. It would look lovely on a piece of leather cord.
18x14mm manmade "quartz" druzy pendant. The one on the right shows the smooth underside of the druzy, but they are both almost identical, the one on the right being slightly bluer. These can be used for a necklace pendant, a bracelet or anklet charm, or for earrings to go with the arrowhead pendant.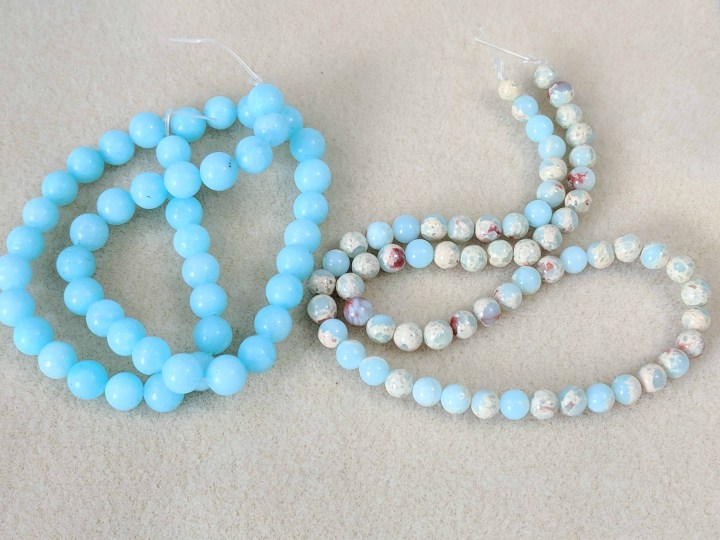 8mm sky blue quartz (dyed) round beads. I love the light color, it reminds me of the summer sky! They would look lovely with bead caps to add some oomph to them, but they can be used as is on a stretch bracelet.
6mm Aqua terra jasper round beads. If the blue sky quartz beads reminded me of the summer sky, these are the tropical beach and ocean equivalent! I want to make an anklet with them to bring some of the tropics in my home. Not the heat, I've got plenty of that right now, but I want the beach and the ocean!
When I think of Bohemian inspired jewelry, I always think of long earrings, so I made a pair with the chain and the crystal bicones! Even though there's a lot of chain, they are quite lightweight!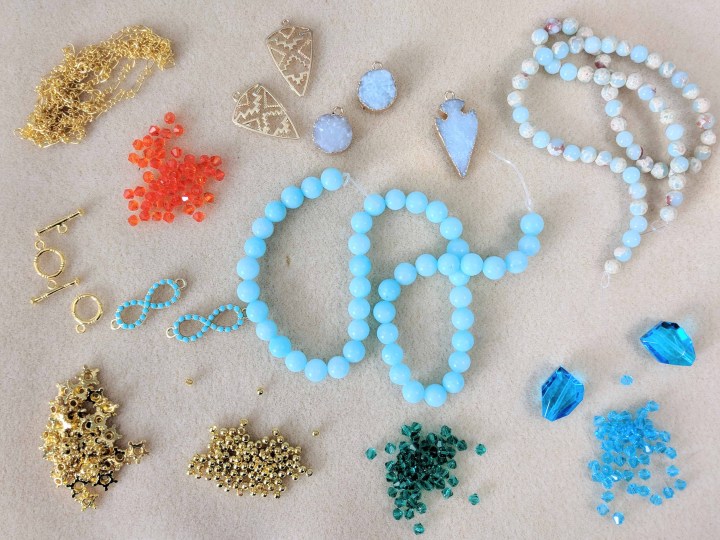 This month brought the tropics with some bohemian inspiration to my bead mat! I like all the colors with the ocean blues and the hint of bright corals! I like that even when we don't like a certain type of beads, there is enough variety to make it worth it. And knowing that my stash of findings in the monthly color will be refilled is a nice bonus!
What did you think of this month's Bargain Bead Box?