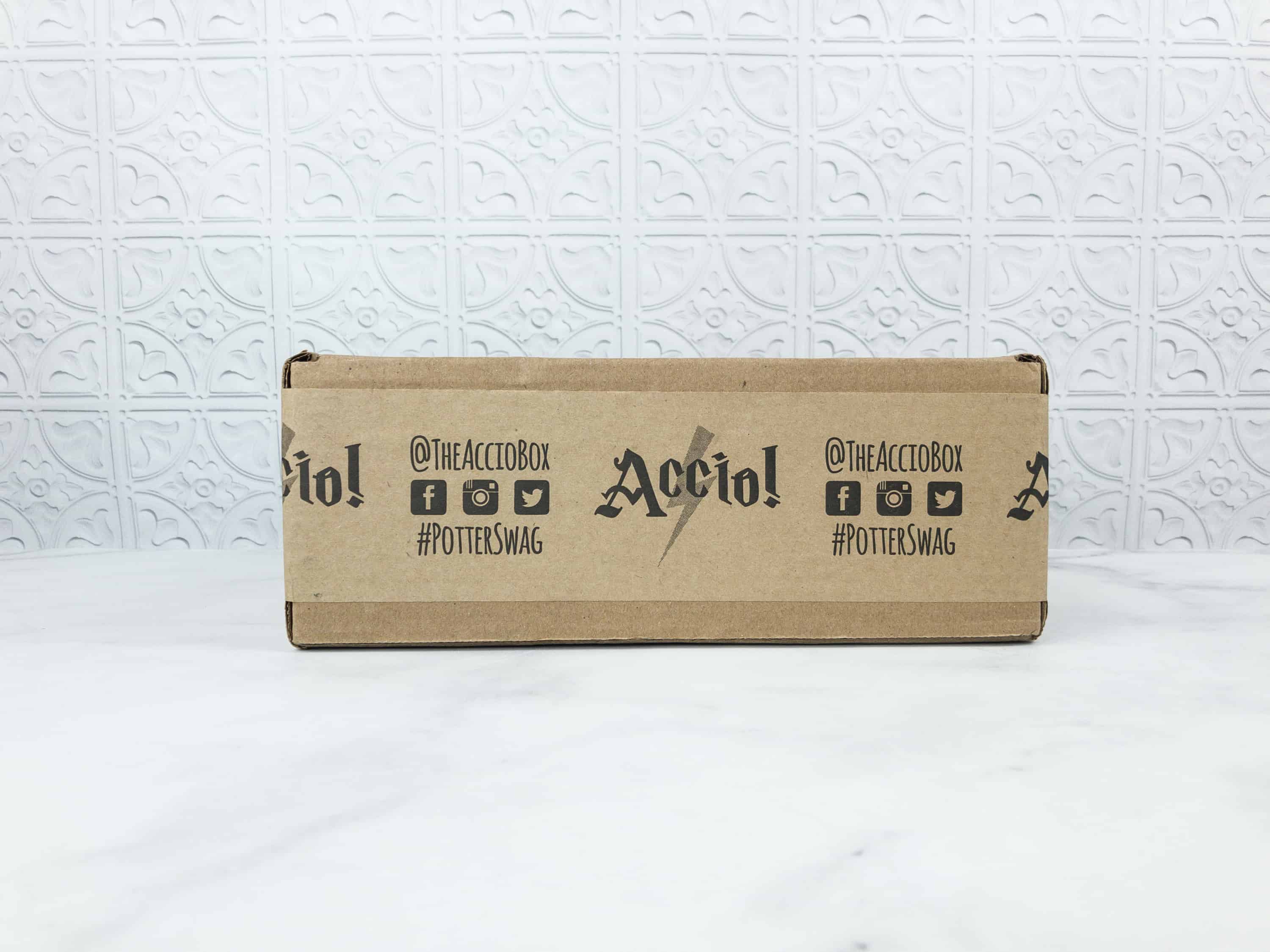 Accio! Box is a monthly subscription box which is the first handmade, artisanal subscription box 100% inspired by the Wizarding World. It features House-specific goodies and unique items, as the box is curated by fans, for fans. Each box costs $39.99 per month, plus shipping.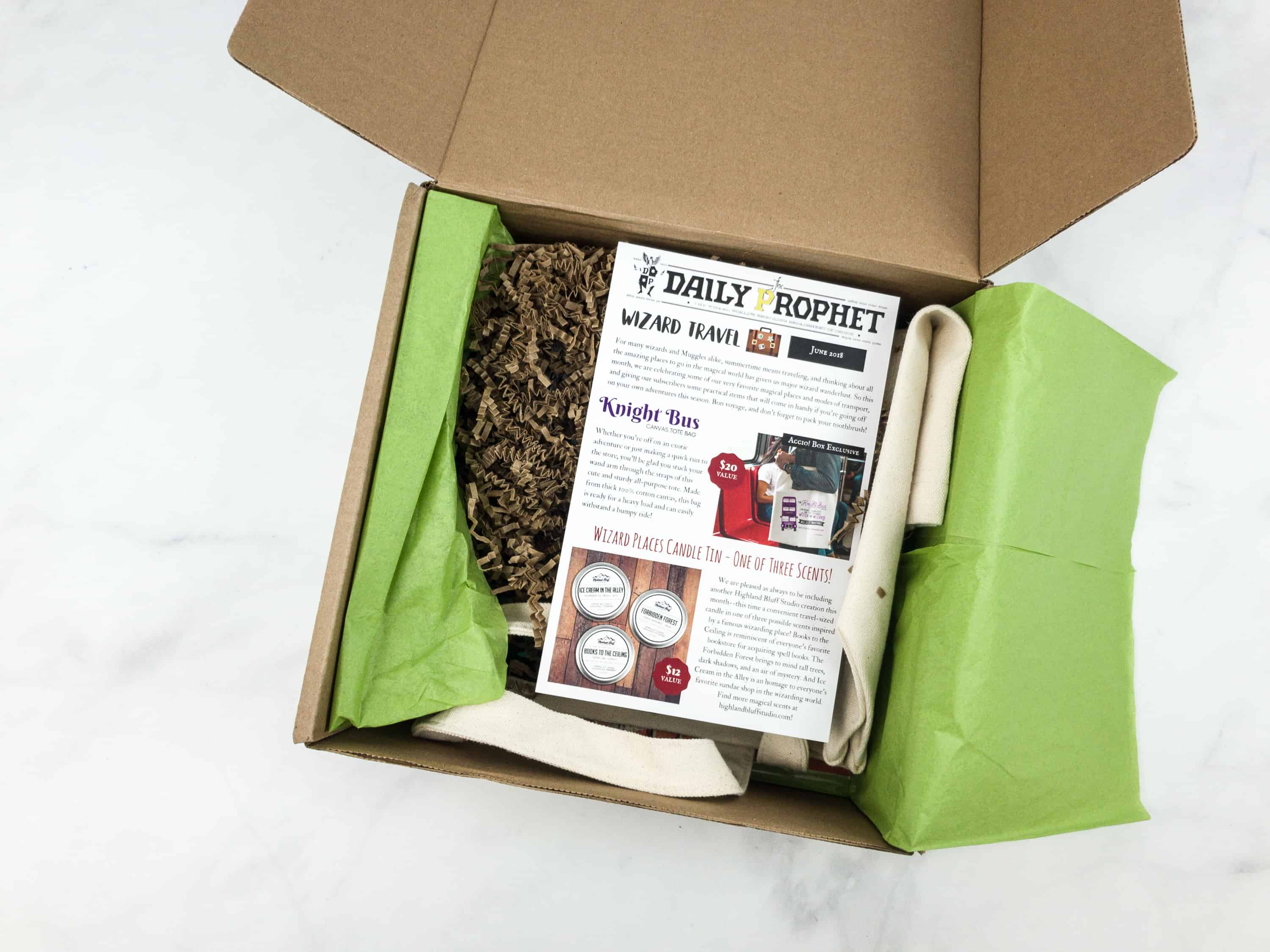 DEAL:  Take 10% off your first subscription! Use coupon code NEWSUBSCRIBER.
The items are wrapped in a green tissue paper, and there are brown squiggles inside!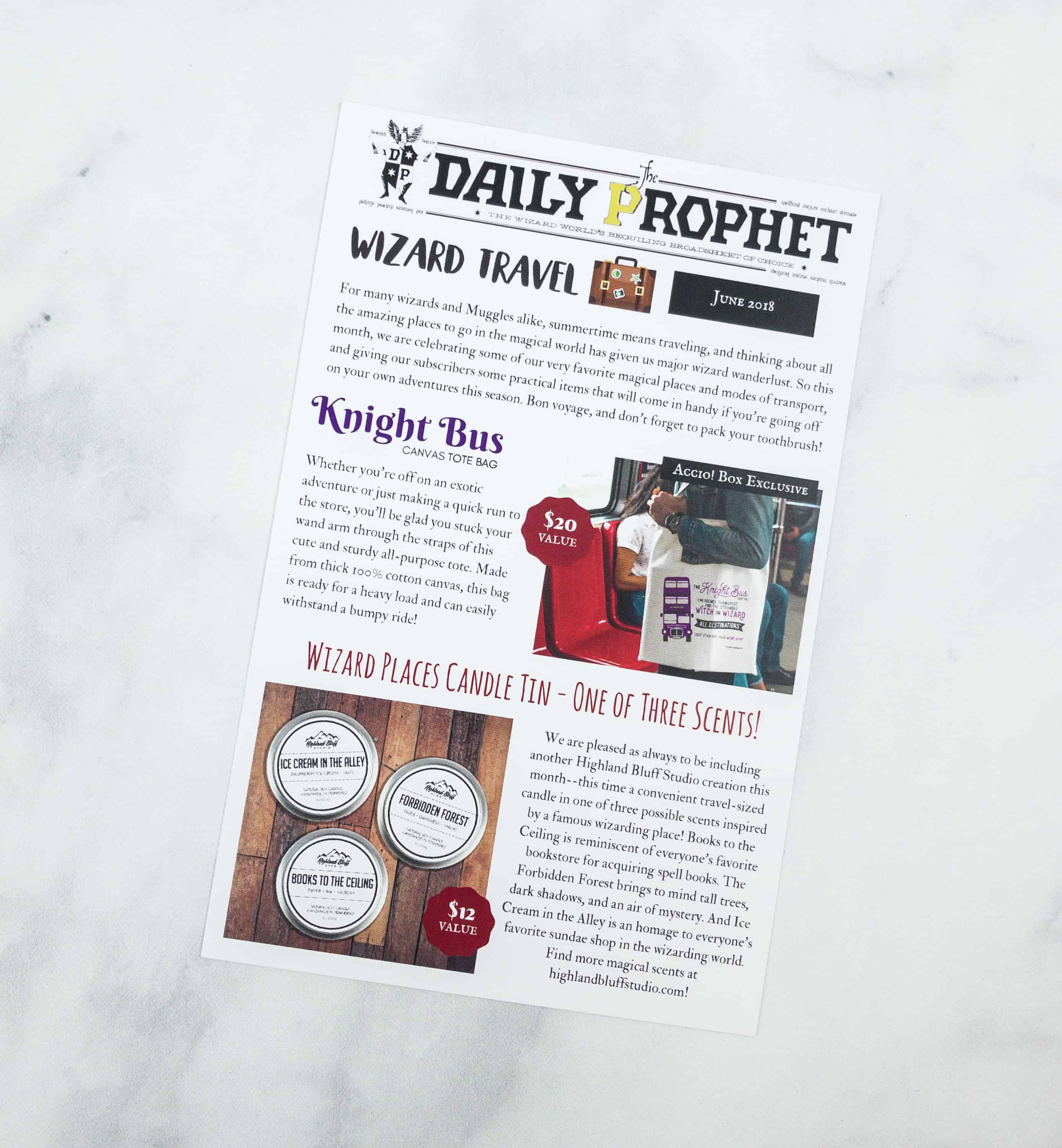 The theme for this month's box is WIZARD TRAVEL!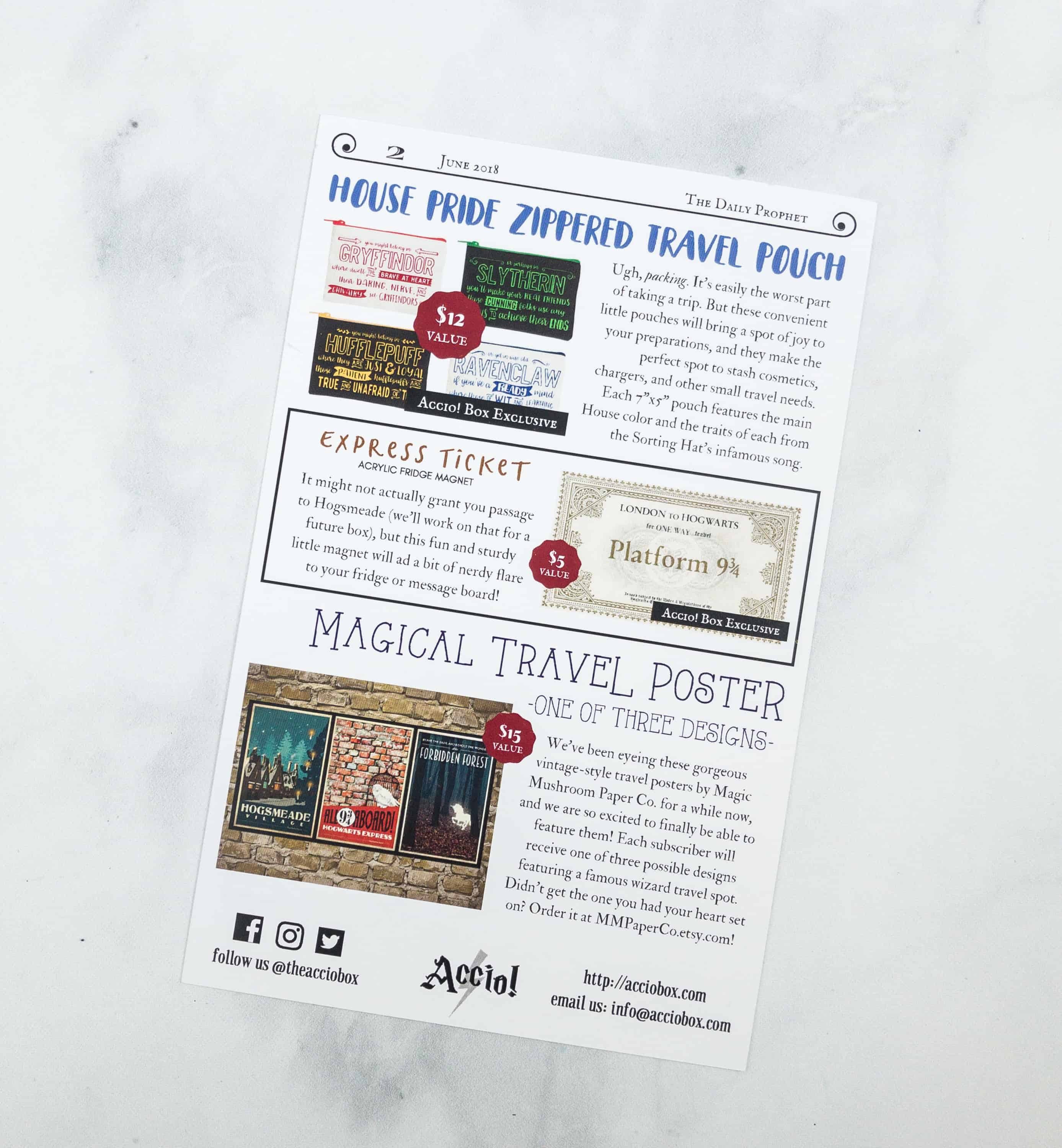 They also included a copy of the Daily Prophet that lists and describes all the items inside the box.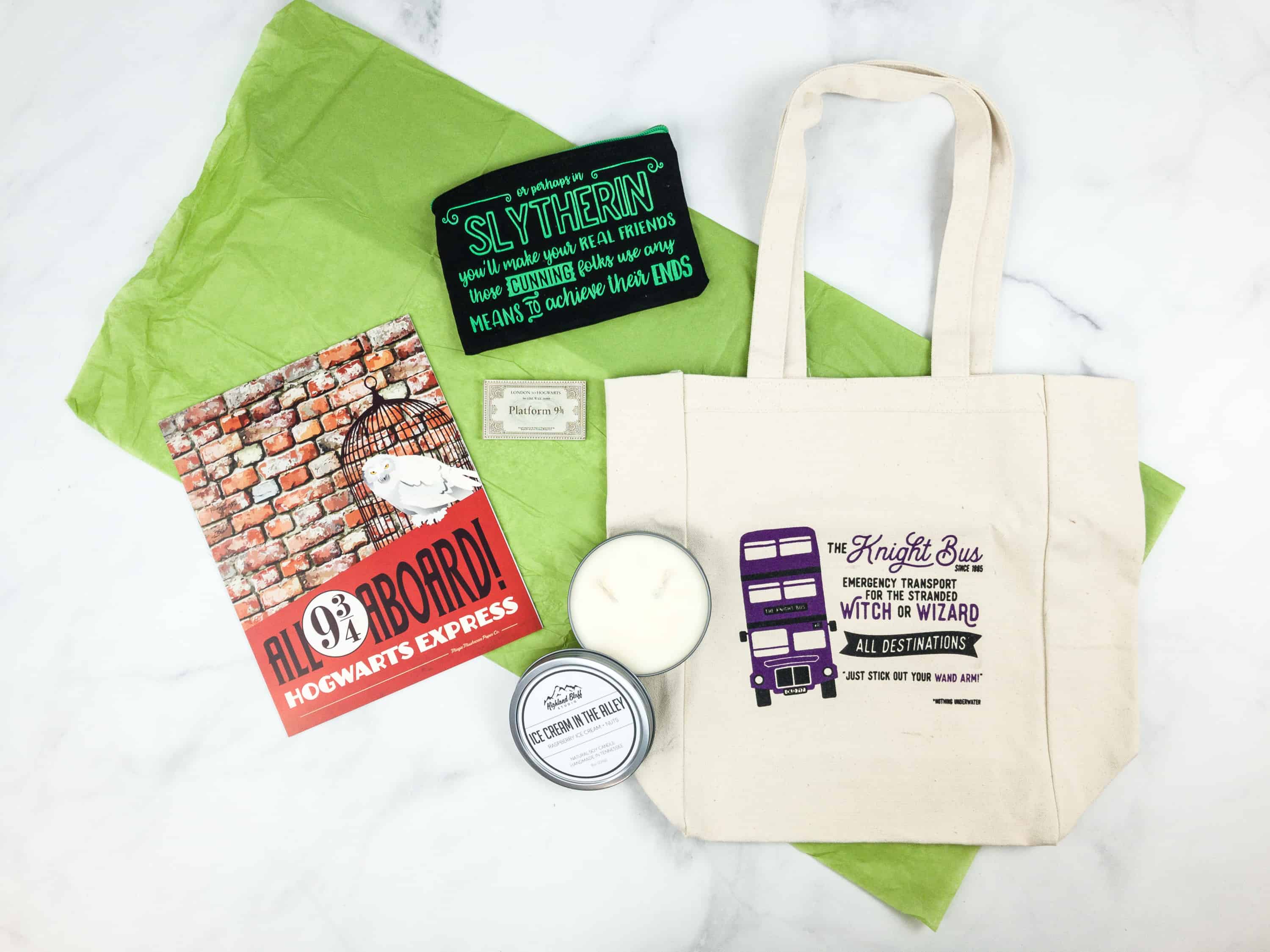 Everything in my box!
Express Ticket Acrylic Magnet ($5) This Accio! exclusive item is a sturdy magnet that will make your fridge or message board look magical. I'll certainly use this one if I'll be able to pass through the pillars leading to Platform 9 3/4. It's super high quality and will last forever. Love this, it's on my fridge already!
House Pride Zippered Travel Pouch ($12) I got a Slytherin-themed pouch and it's the best thing ever. It features a stanza of the Sorting Hat's Song!
Or perhaps in Slytherin, you'll make your real friends. Those cunning folk use any means to achieve their ends.
Look, my family and the sorting hat at Pottermore both believe I'm Slytherin, but can I at least be a Slytherclaw? It would be cool to see some house mashups – or the North American houses represented too!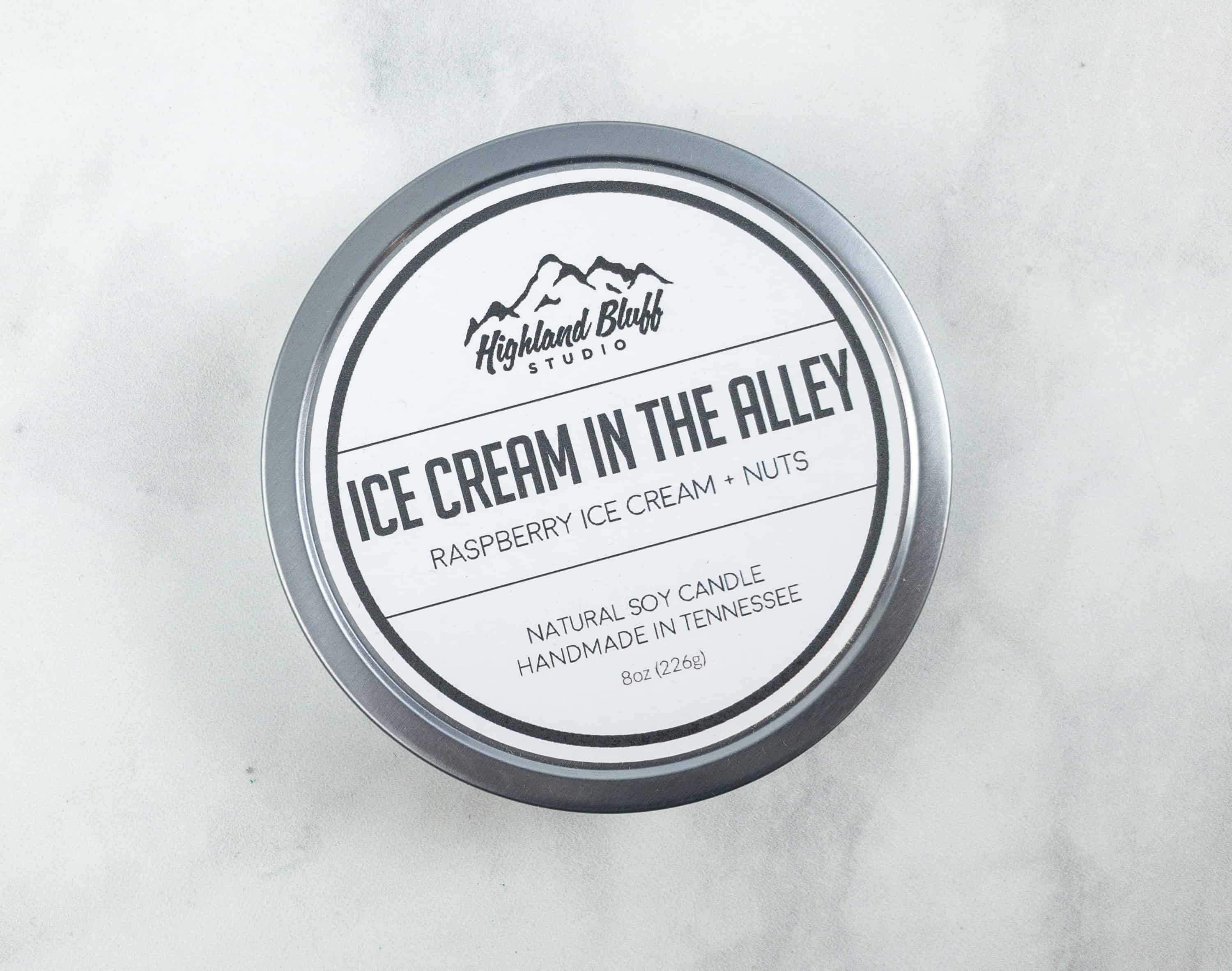 Highland Buff Studio Icecream In The Alley Soy Candle ($12) There are three variants of this natural soy candle: Ice Cream in the Alley, Forbidden Forest, and Books to the Ceiling. I received Ice Cream in the Alley, which smells like raspberry ice cream with nuts.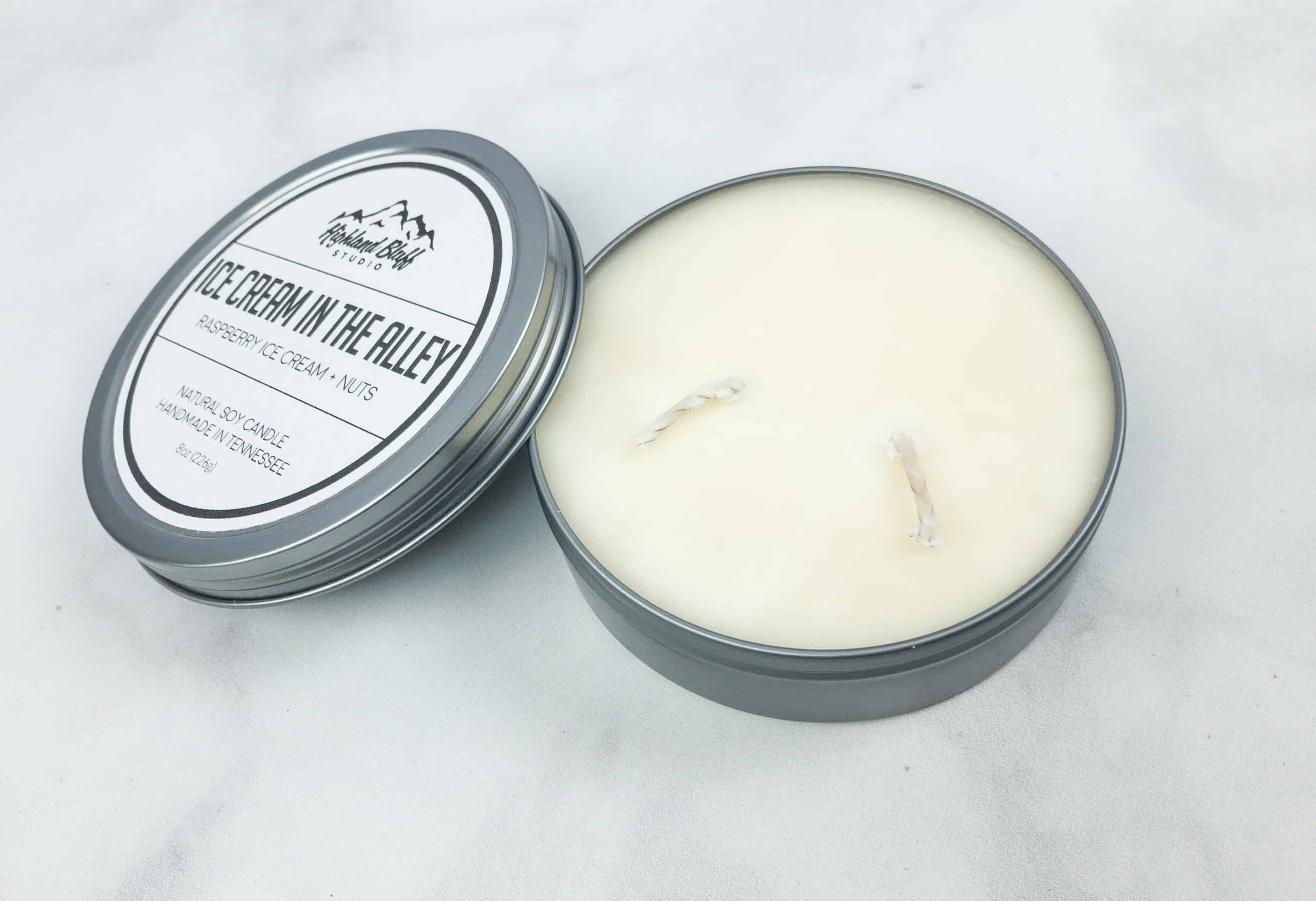 It's travel size so you can bring it anywhere. It's made of all natural soy wax, double cotton wicks for nice and even burns, and no dyes! Burn time is approximately 30-35 hours, and the lid helps ensure that the scent lasts longer.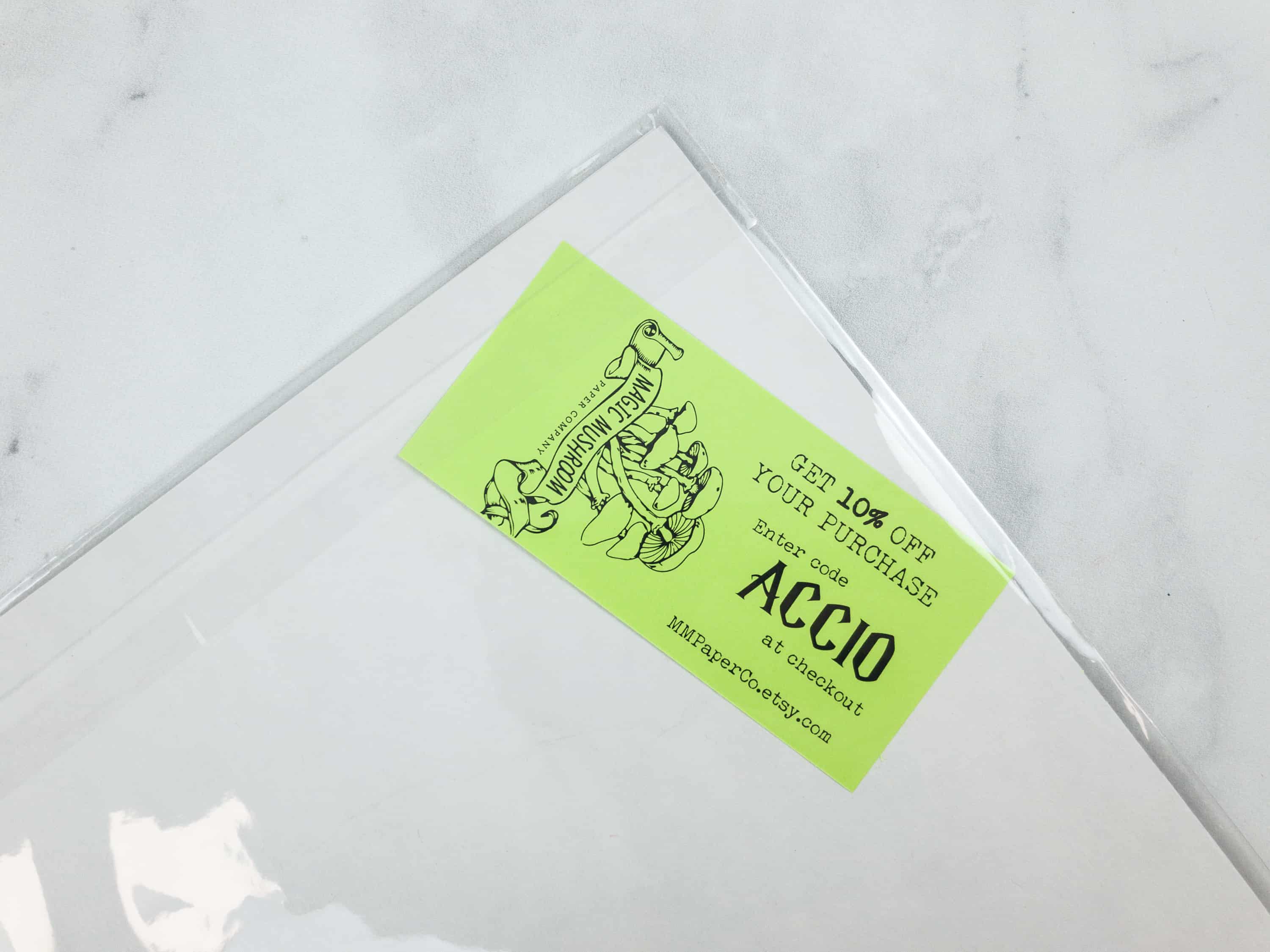 The next item included a 10% off coupon code you can use for purchases at Magic Mushroom Paper Co.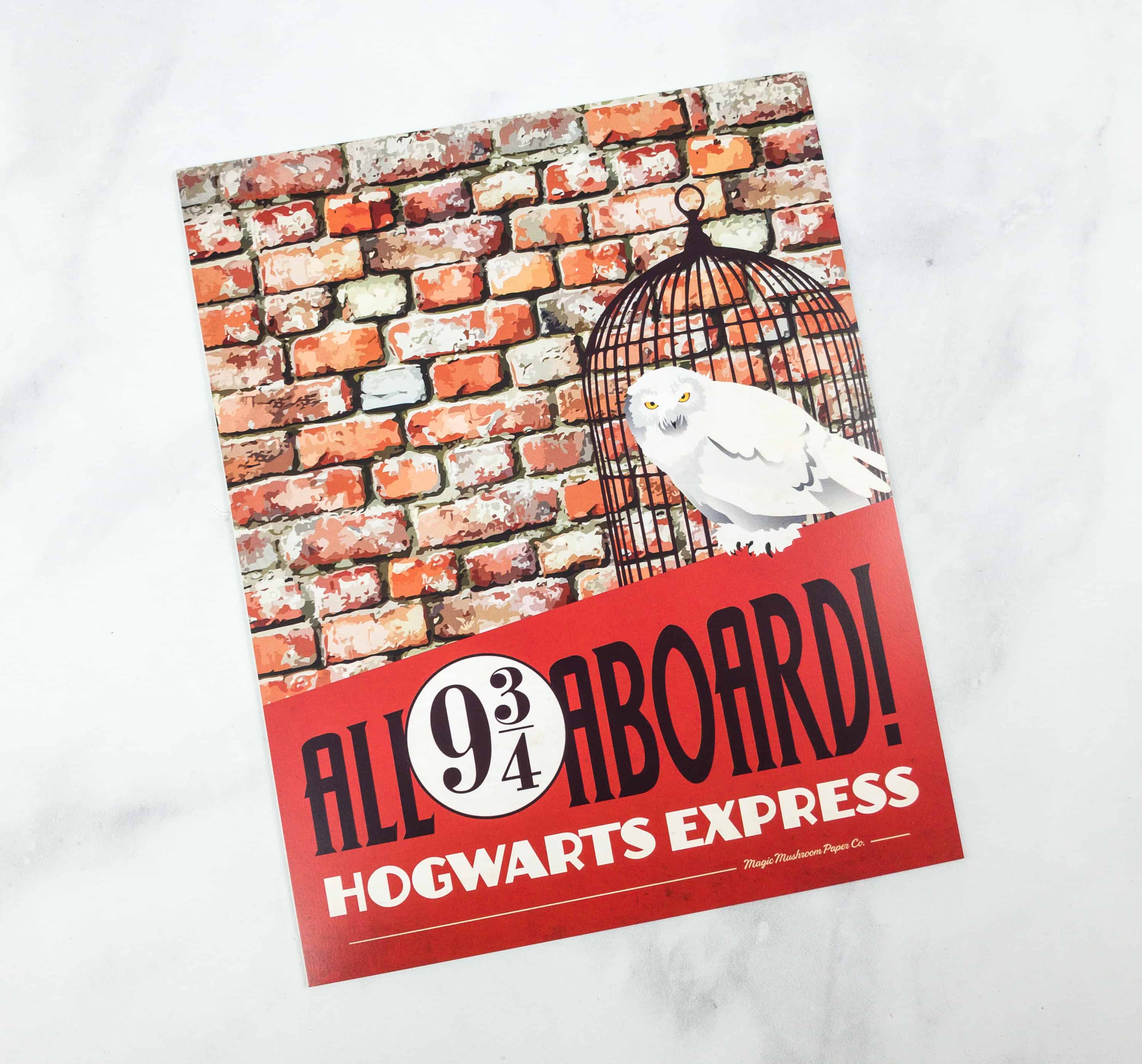 Magic Mushroom Paper Co. Magical Travel Poster ($15) I like this vintage-style travel poster. From this series, subscribers will get one of their three designs. We got the Hogwarts Express! Posting it up on a wall may make us want to run through it and expect to arrive at platform 9 3/4!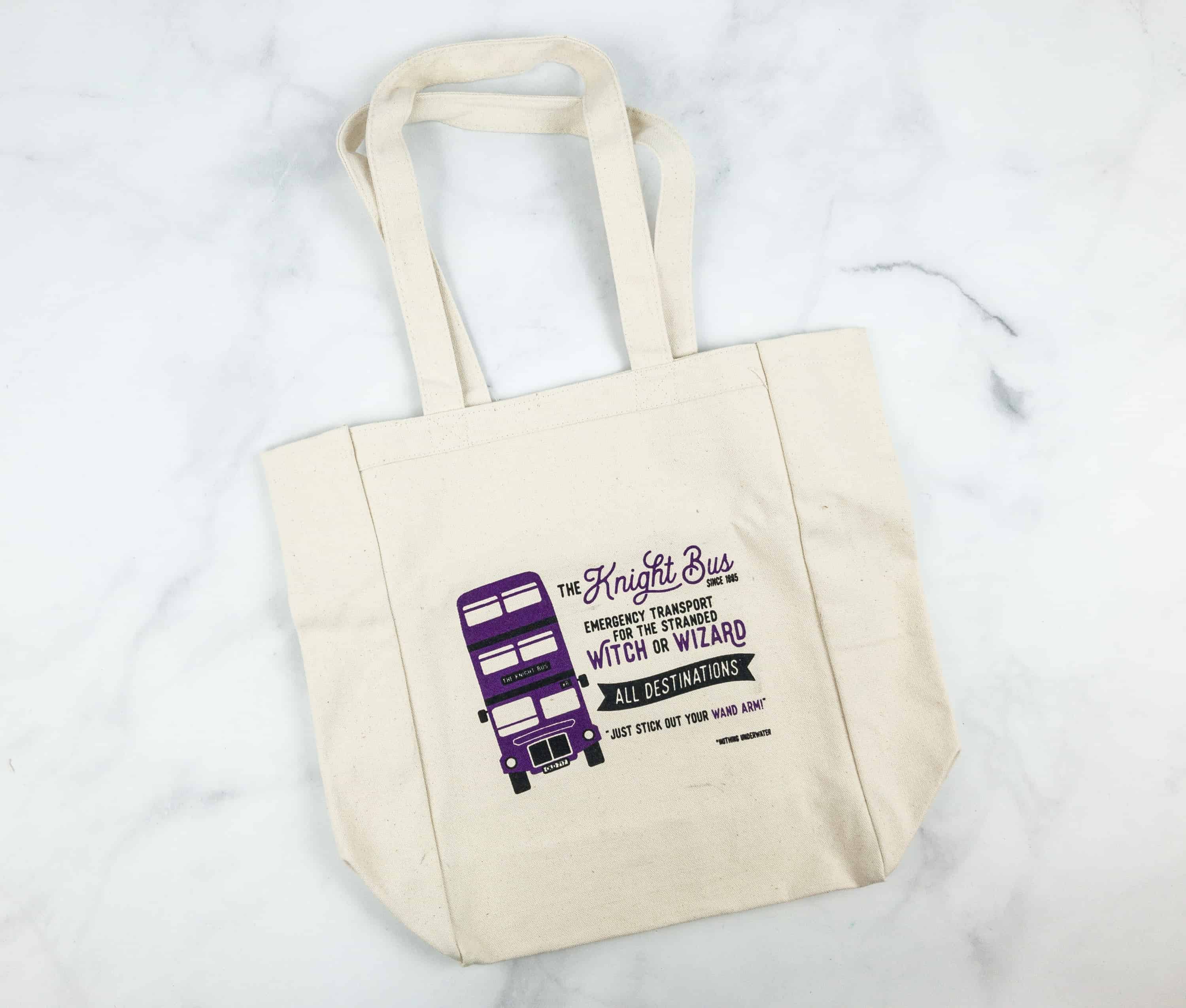 Knight Bus Canvas Tote Bag ($20) Made from cotton canvas, this tote bag features one of the famous modes of transportation from the Harry Potter series, the Knight Bus!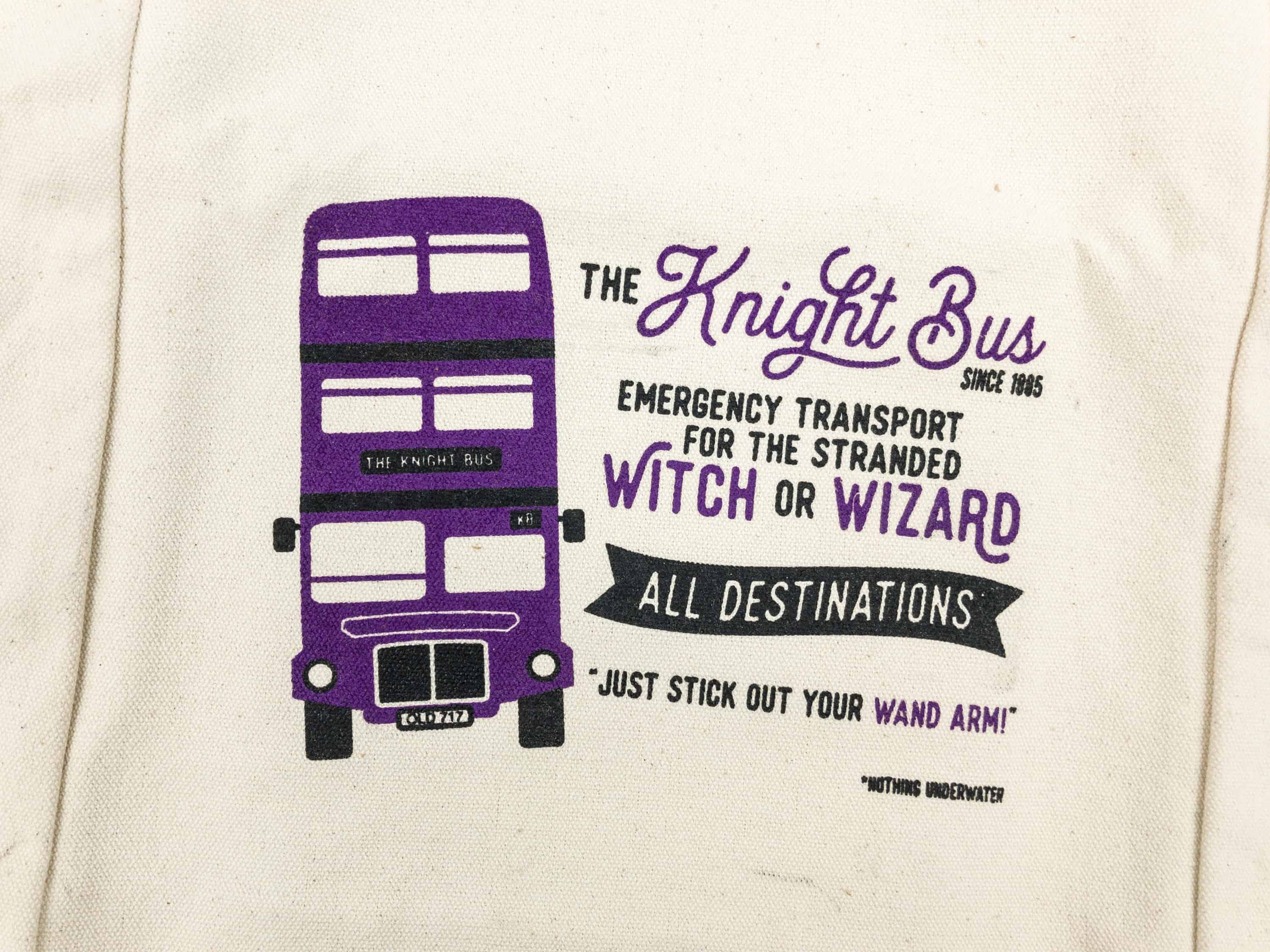 The print is in black and purple. The bag itself is quite spacious too, I'm sure it'll fit my wizarding essentials… I mean, my everyday stuff! It's also not that superthin bag – this is a qualty item!
There are so many reasons why I love Accio box! They feature indie artists, they send exclusive items, and everything is just so great – and the quality was really high this month. My family loves traveling, and having Harry Potter-themed travel items doubles the fun. For this box, my obvious favorites are the canvas tote and the travel pouch. I can fold the tote and store it in another bag then pull it out when needed! The Wizarding World is wonderful and sharing the artistry with this fandom is fantastic, it proves how creative the Potterheads are and we're really proud!
Are you getting the Accio box too?