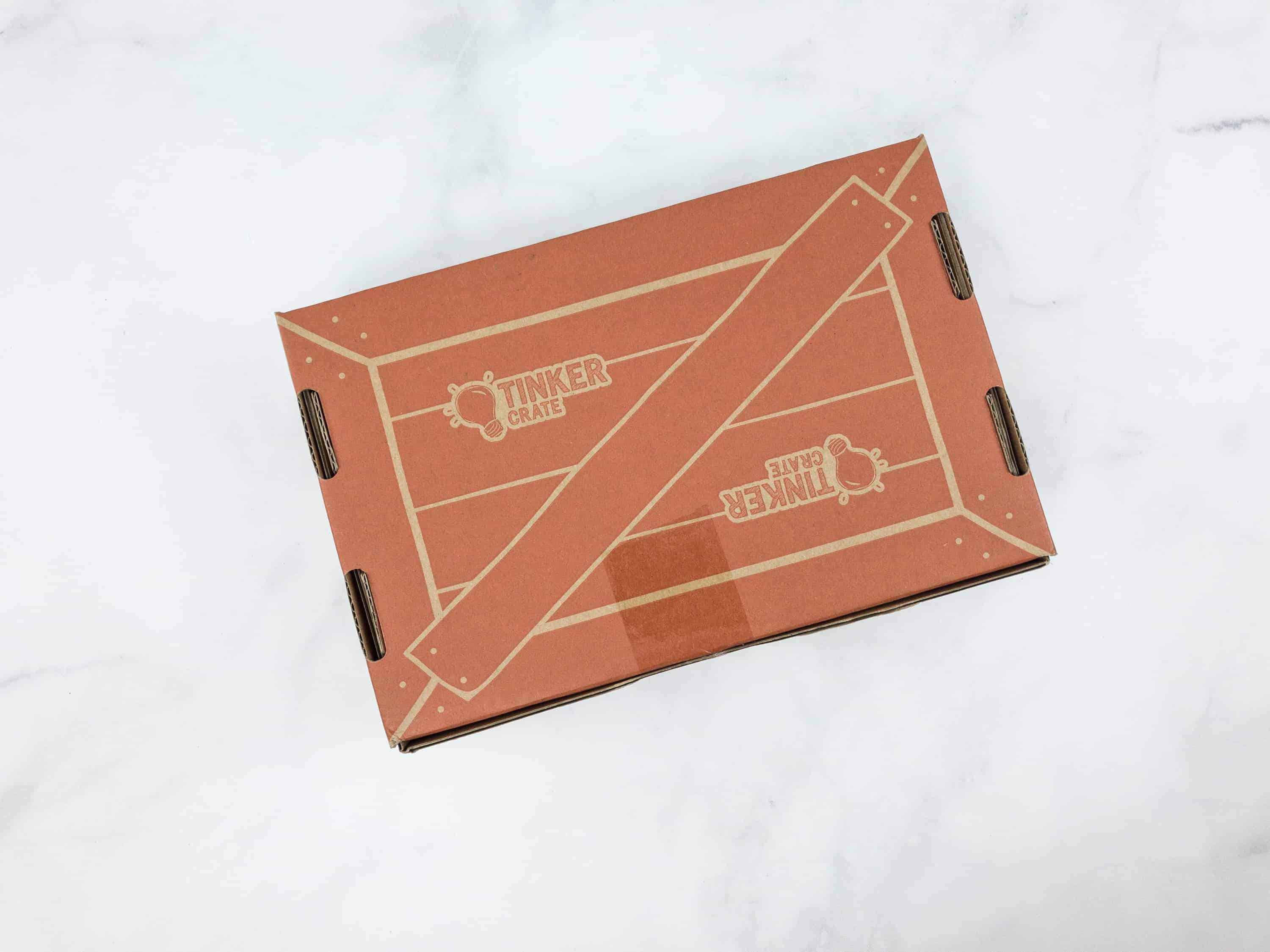 Tinker Crate is a subscription box that inspires kids to learn about science, engineering, and technology, all while having lots of fun. Each month, the box explores a field of study within a STEM (Science, Technology, Engineering, and Math) discipline. Kids practice their problem-solving skills and learn how to engage in both structured and open-ended exploration and investigation. Most boxes walk the tinkerers through the construction of fairly complex mechanical devices.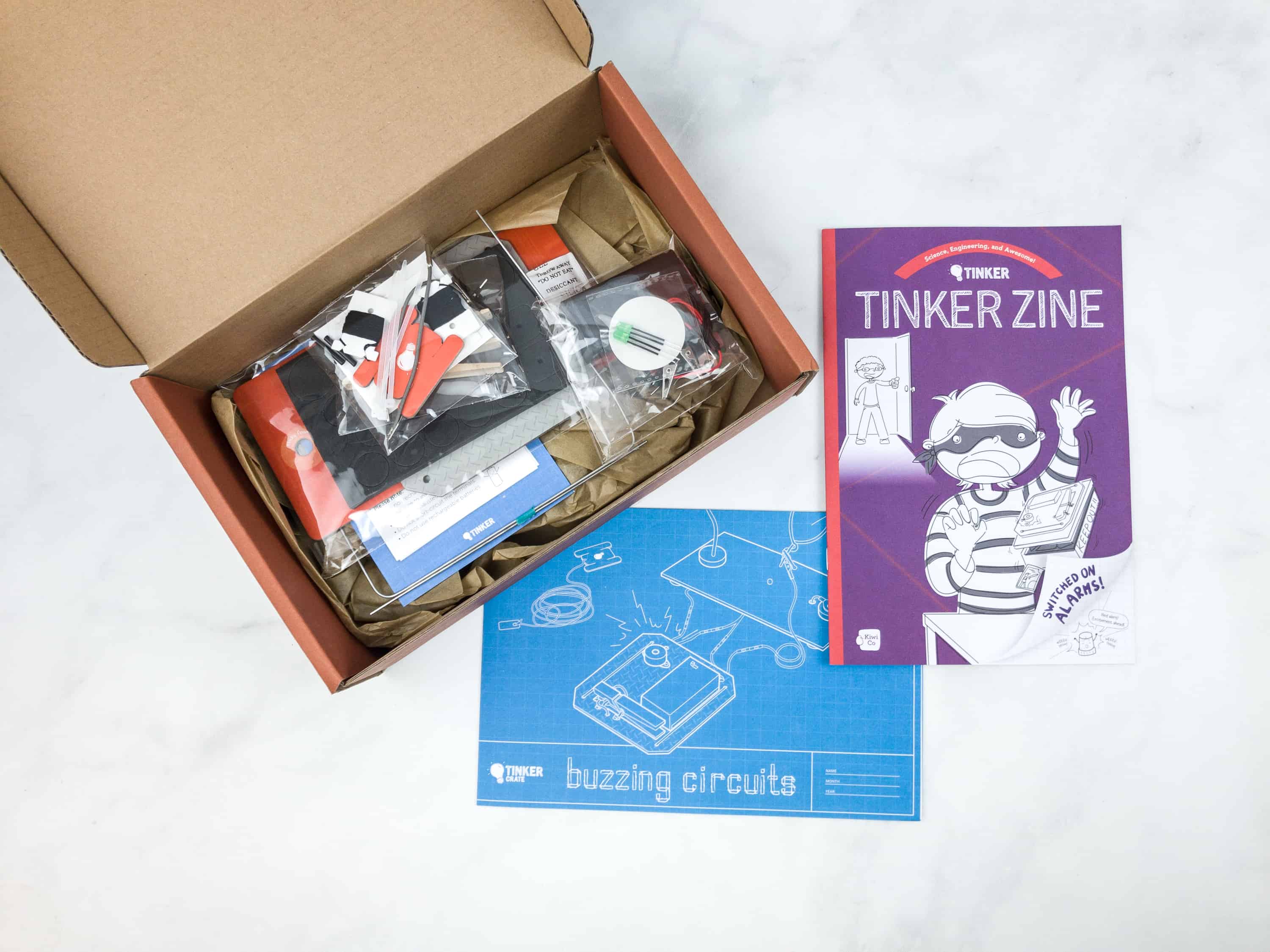 This month, we got the BUZZING CIRCUITS BOX.
Everything arrives together in a single Tinker Crate – the supplies, a fold-out instruction sheet, and the Tinker Zine.
DEAL: Use this link to save 30% on your first box of Tinker Crate! (or Kiwi Crate and the KiwiCo family subscriptions Koala Crate and Doodle Crate).
Tinker Zine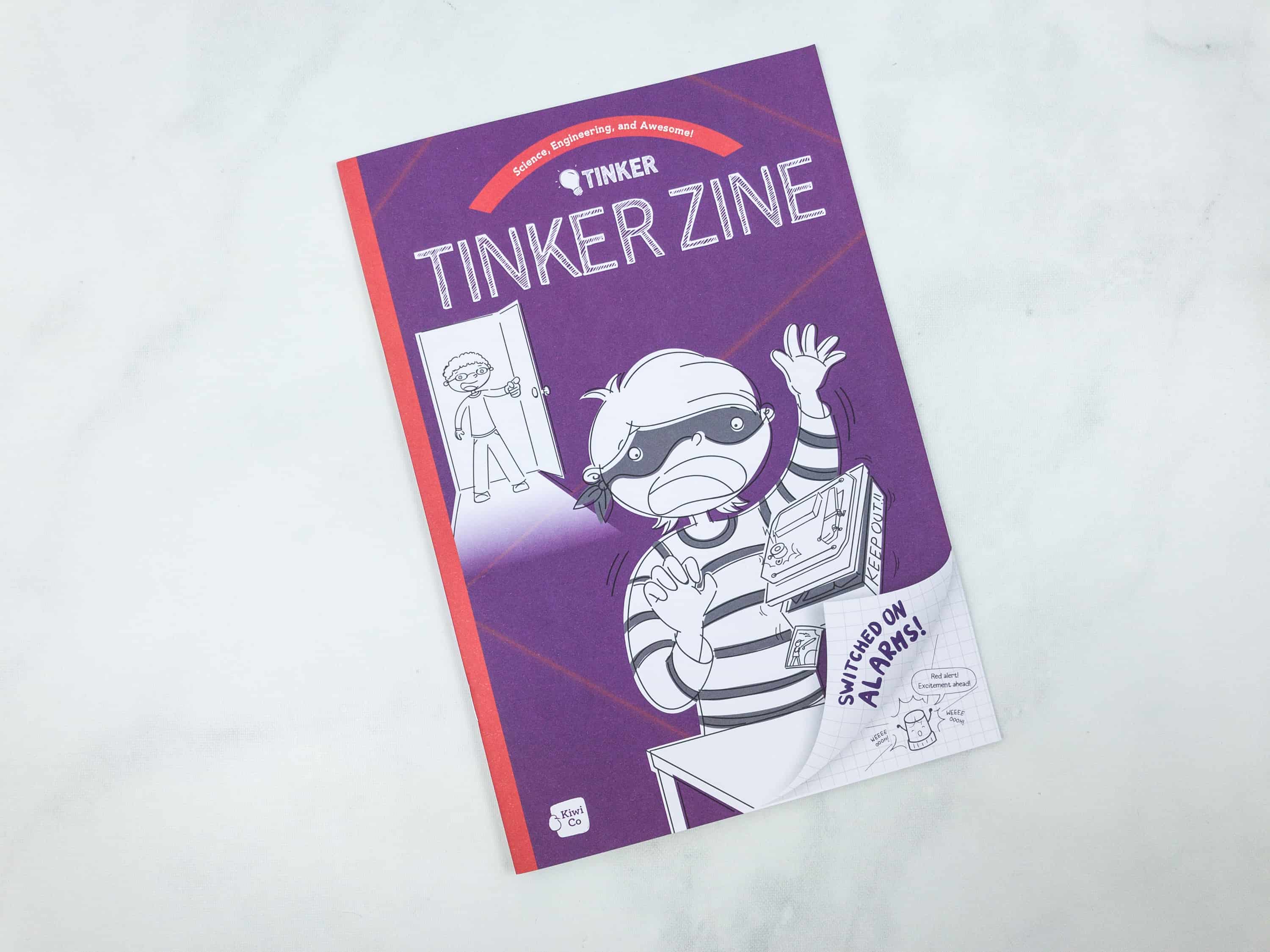 The main project is always a great hands-on activity and a great demonstration of the scientific principles featured in the box, but the Tinker Zine is full of well-written, historically and scientifically accurate background and explanatory materials. This where the lessons really take shape!
This month's Tinker Zine talks about ALARMS!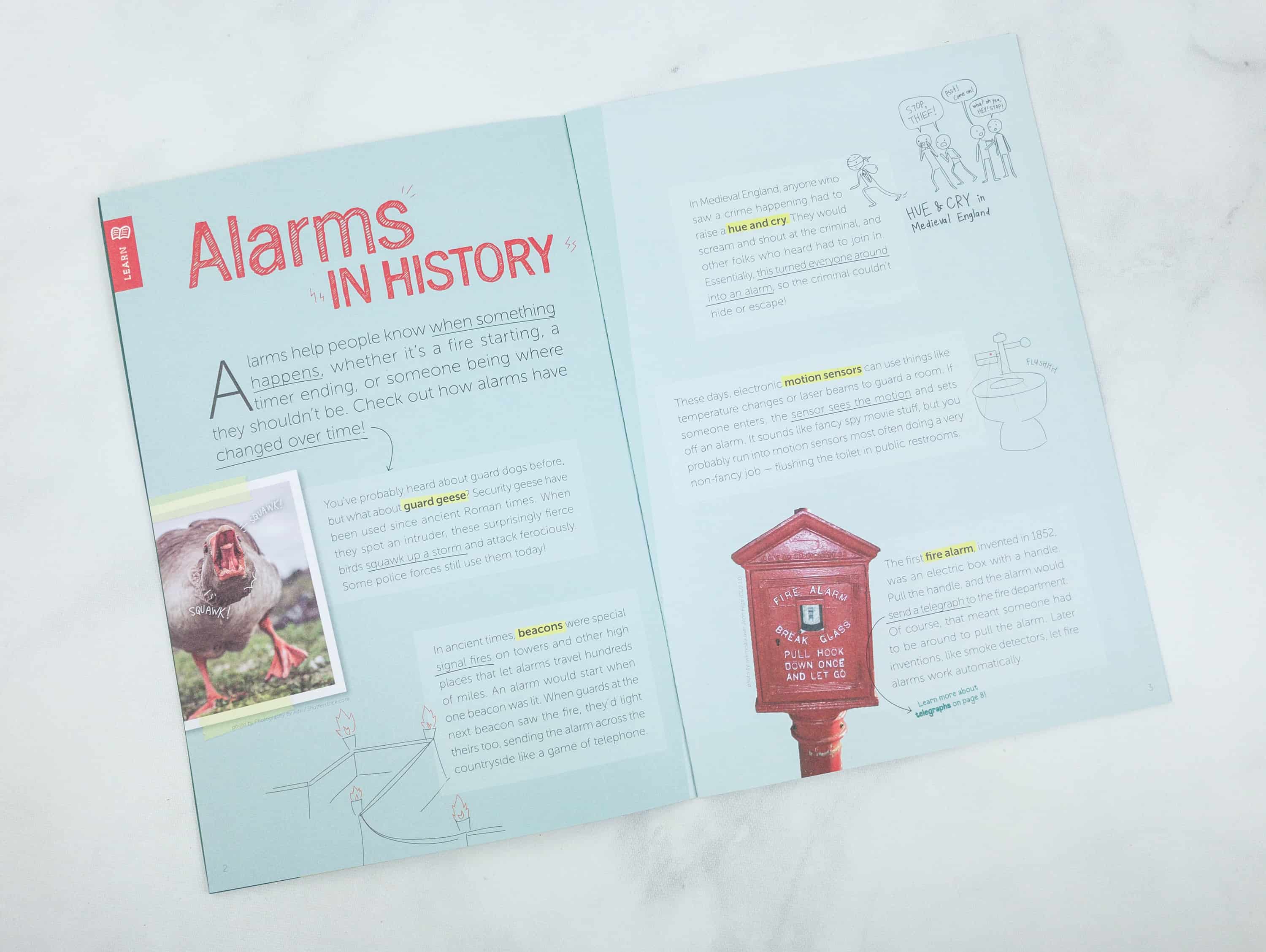 These are the alarms in history. I noticed alarms are usually the most important and the unsung hero of the household.
Some background on the invention of alarms!
My daughter instantly became excited when she saw this page. She loves Tinker activities. This one describes the basics of the switch – crucial to any alarm!
Tinker Crate Blueprint + Materials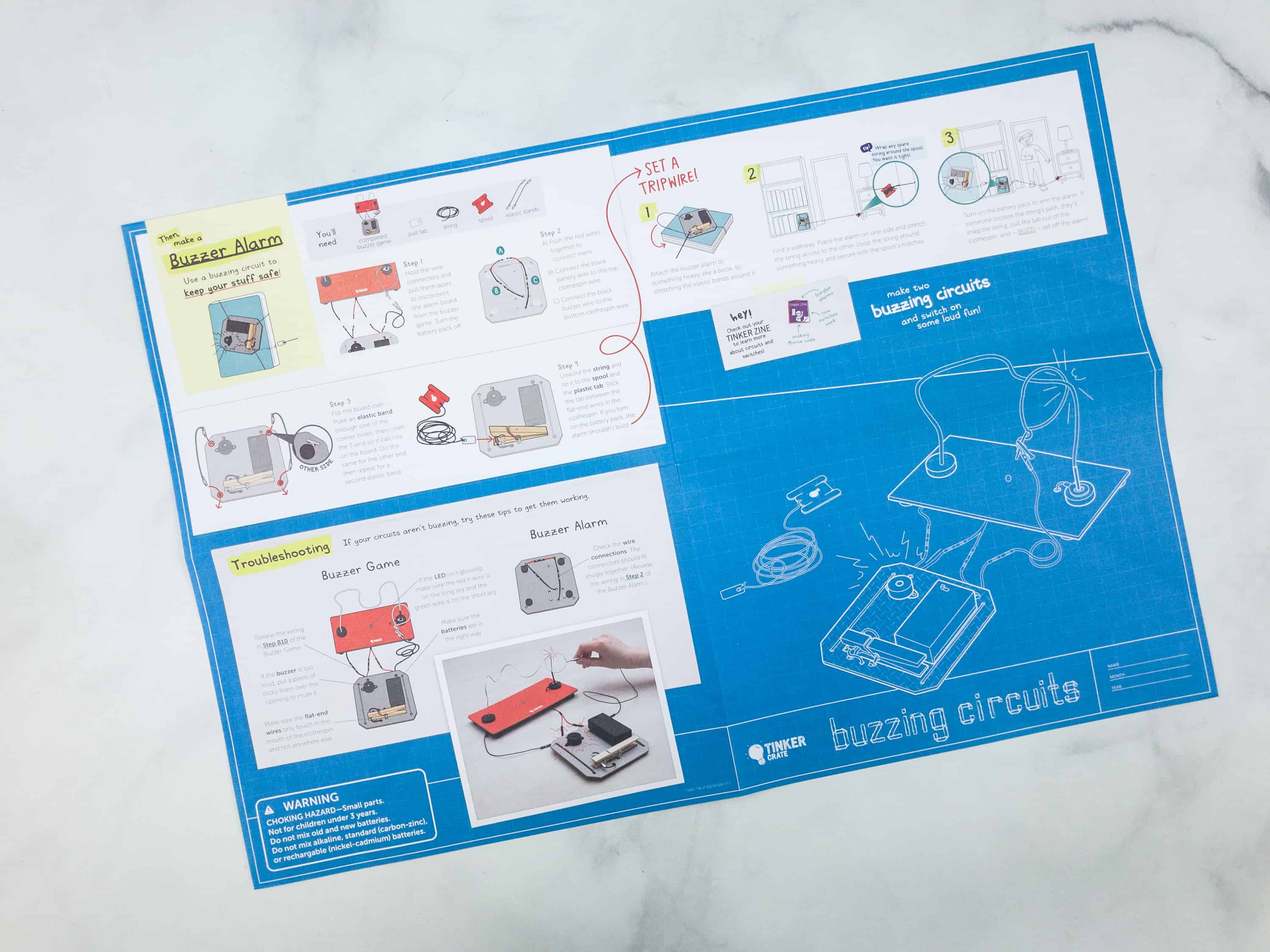 The step-by-step instructions guide you through the project. They are clearly written and very easy to follow, pointing out potential pitfalls so you don't go astray.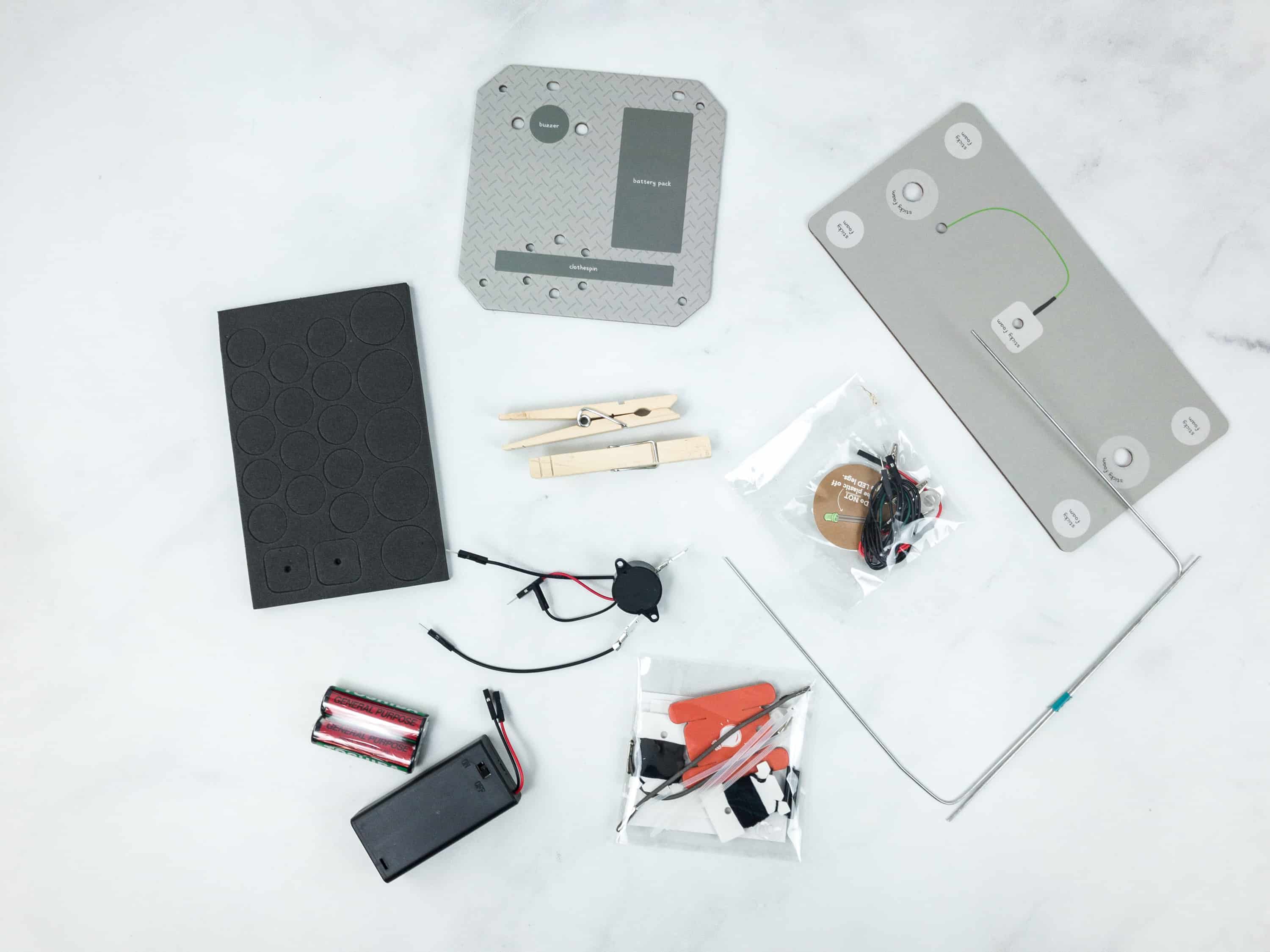 So these are the materials we tinker along with the booklet in this box. The separated pack makes up a trip wire and the rest can make a buzzer alarm game. There's also black sticky foam for the board's base.
Tinker Crate Activities
This is what I like about this box. If ever we got stuck in a rut and can't fully understand the illustrations, we can always learn it through watching their video that is available on the given link. This sets them apart from other activity boxes as it offers variety in the learning experience. Some kids just learn quickly by imitation.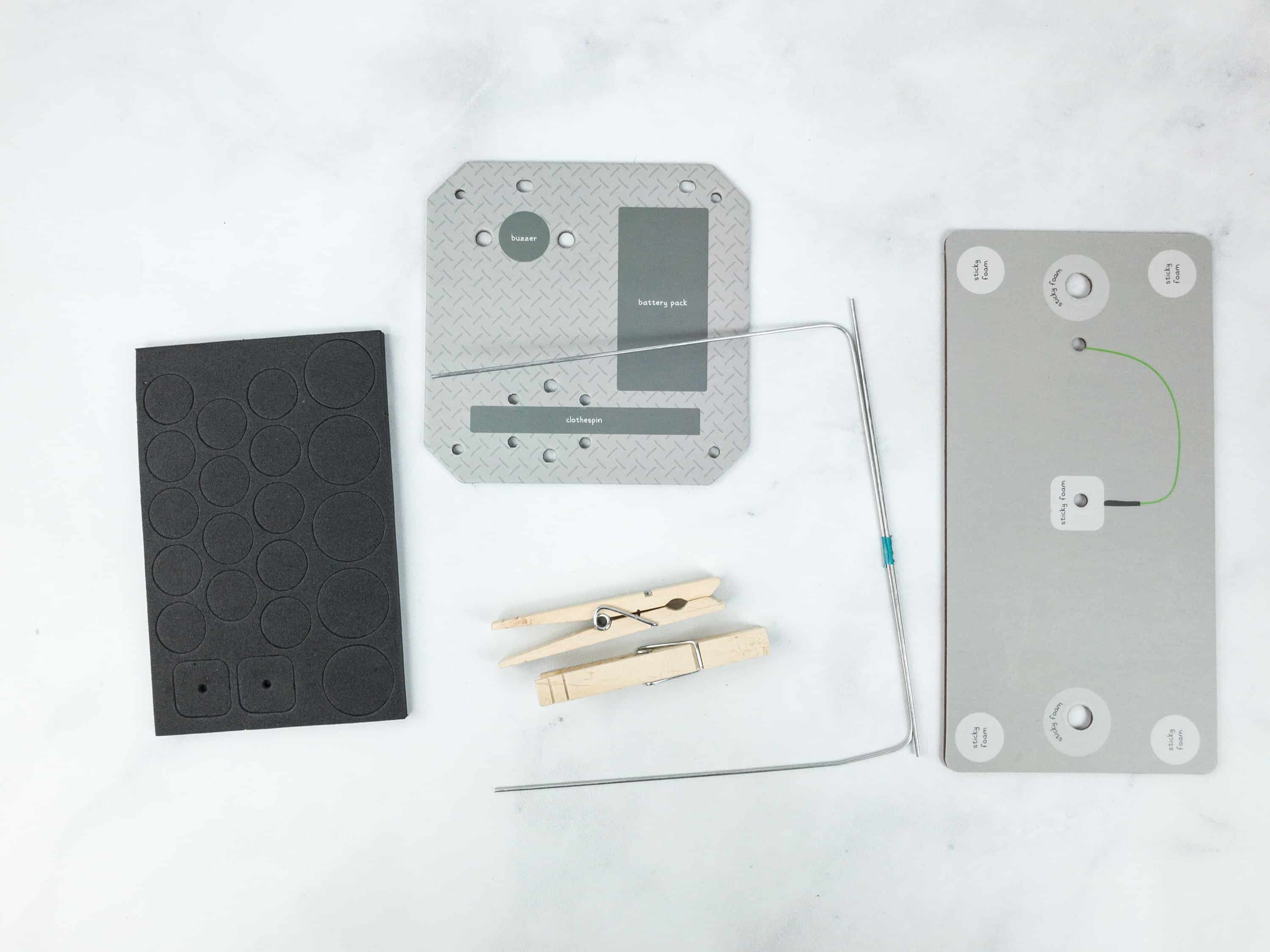 It can look confusing at first but the booklet has detailed instructions and the labels on the board where we can stick the parts are super helpful. These are the materials used for the game and the alarm buzzer.
Batteries can be dangerous if not correctly used or stored that's why it is important to read this part.
The battery pack, 2 AAA non-rechargeable batteries, two wires and the circle buzzer alarm should be placed on their respective labels on the square board.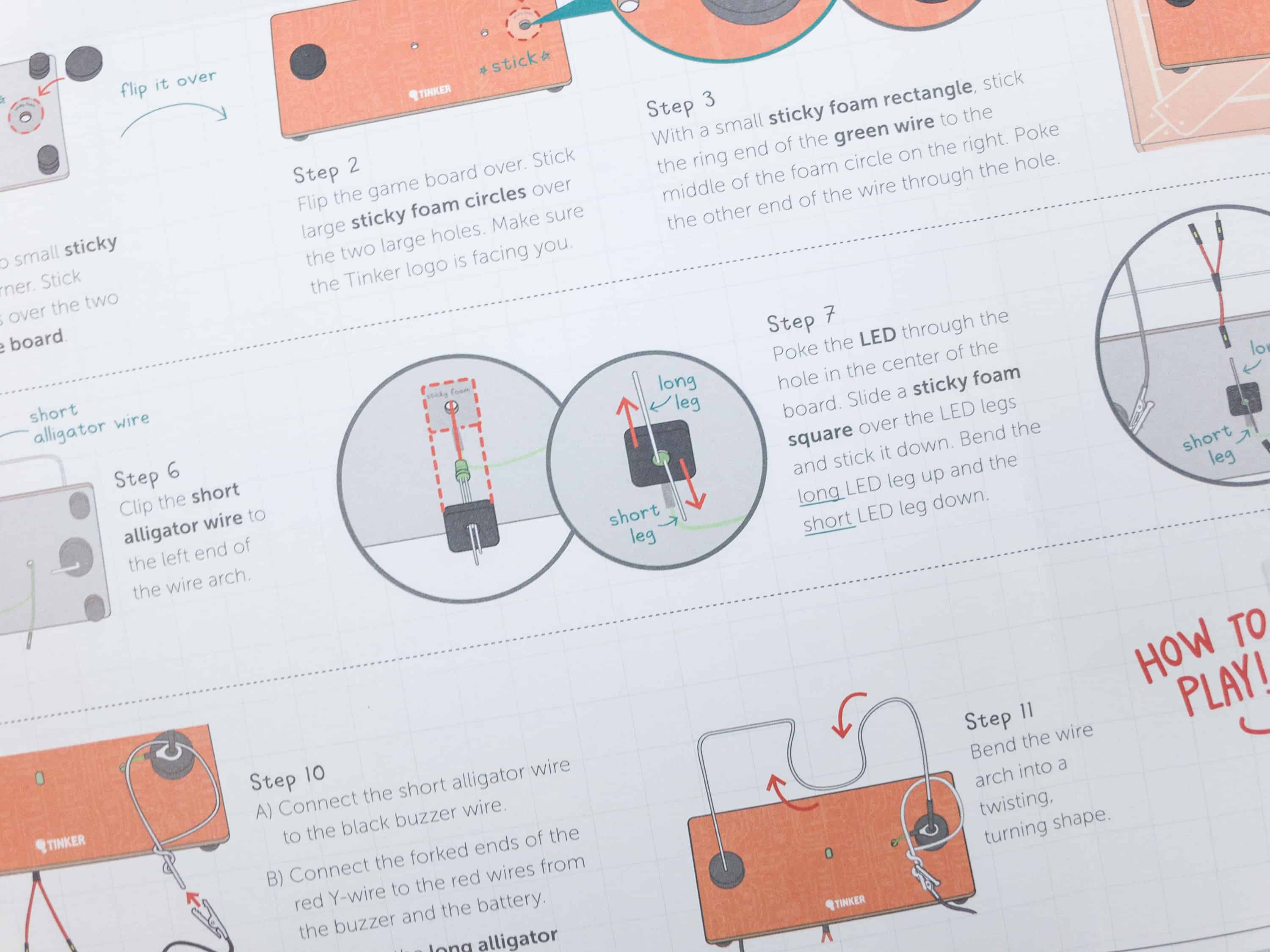 These steps are detailed and very specific, even the placement of where the long or short leg should be correct. This activity not only offers new knowledge but it also trains children to be keen to small details and to follow rules by the book.
My daughter concentrated on following specific instructions and carefully sticking the parts on the board.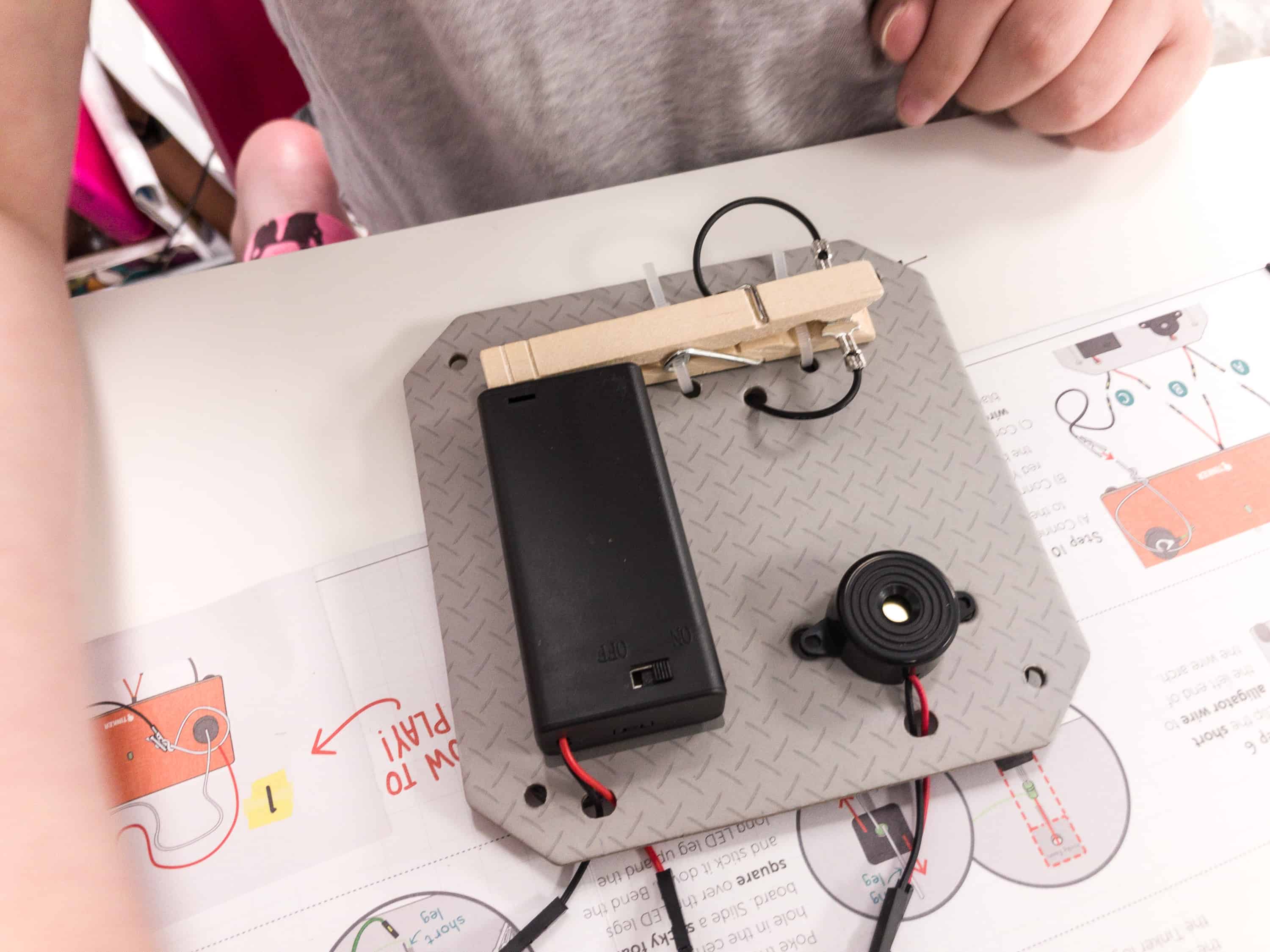 She did a wonderful job and she did it without making a mess or breaking a sweat!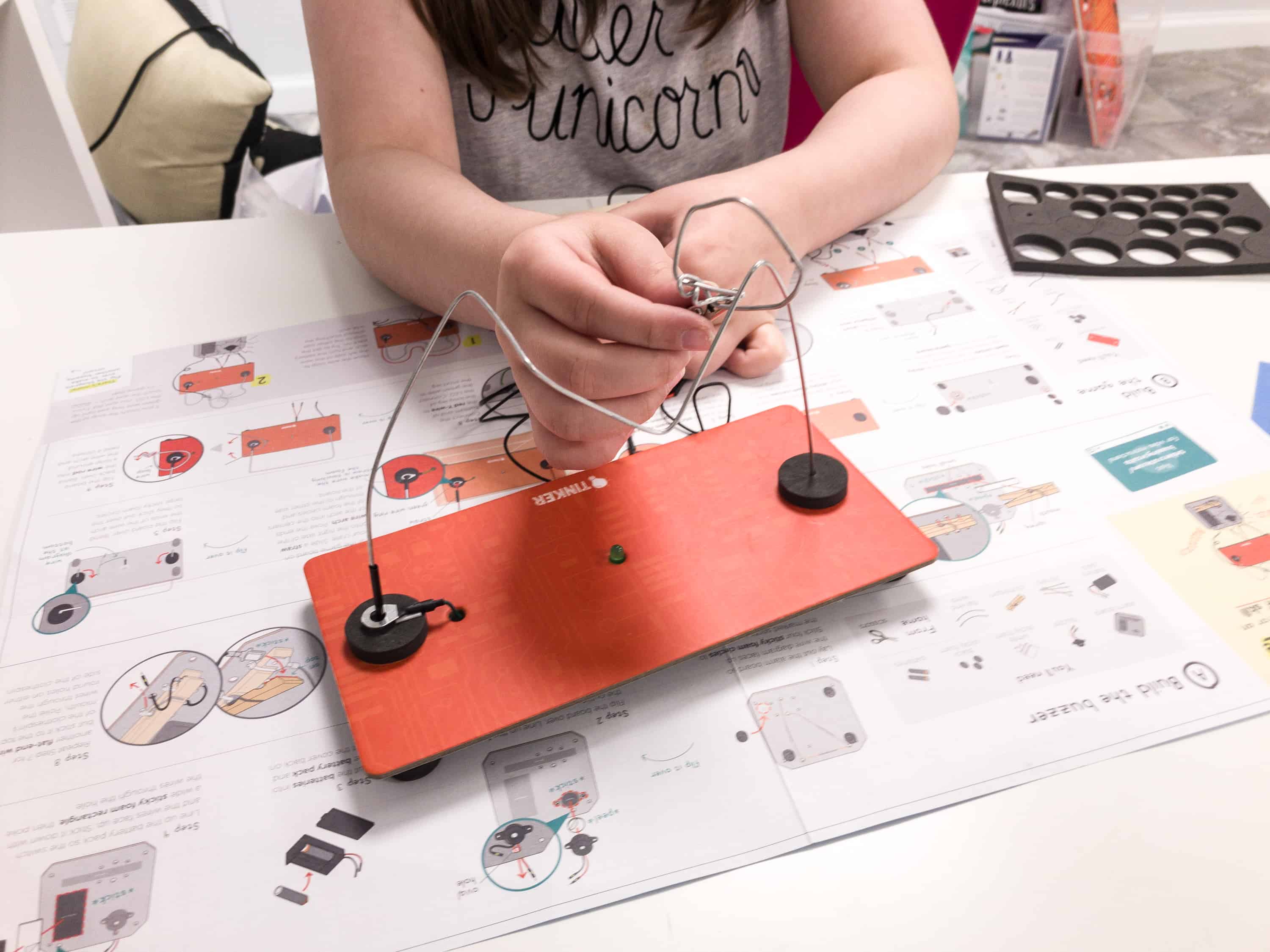 Next thing I knew, she already finished the Tinker game board! She connected it with the alarm buzzer board and tried the game immediately!
That green light (the reflection of light you are seeing at the middle) signifies it's working and she passed the wires from end to end without touching it. You can even bend the wire in different ways to make it more challenging.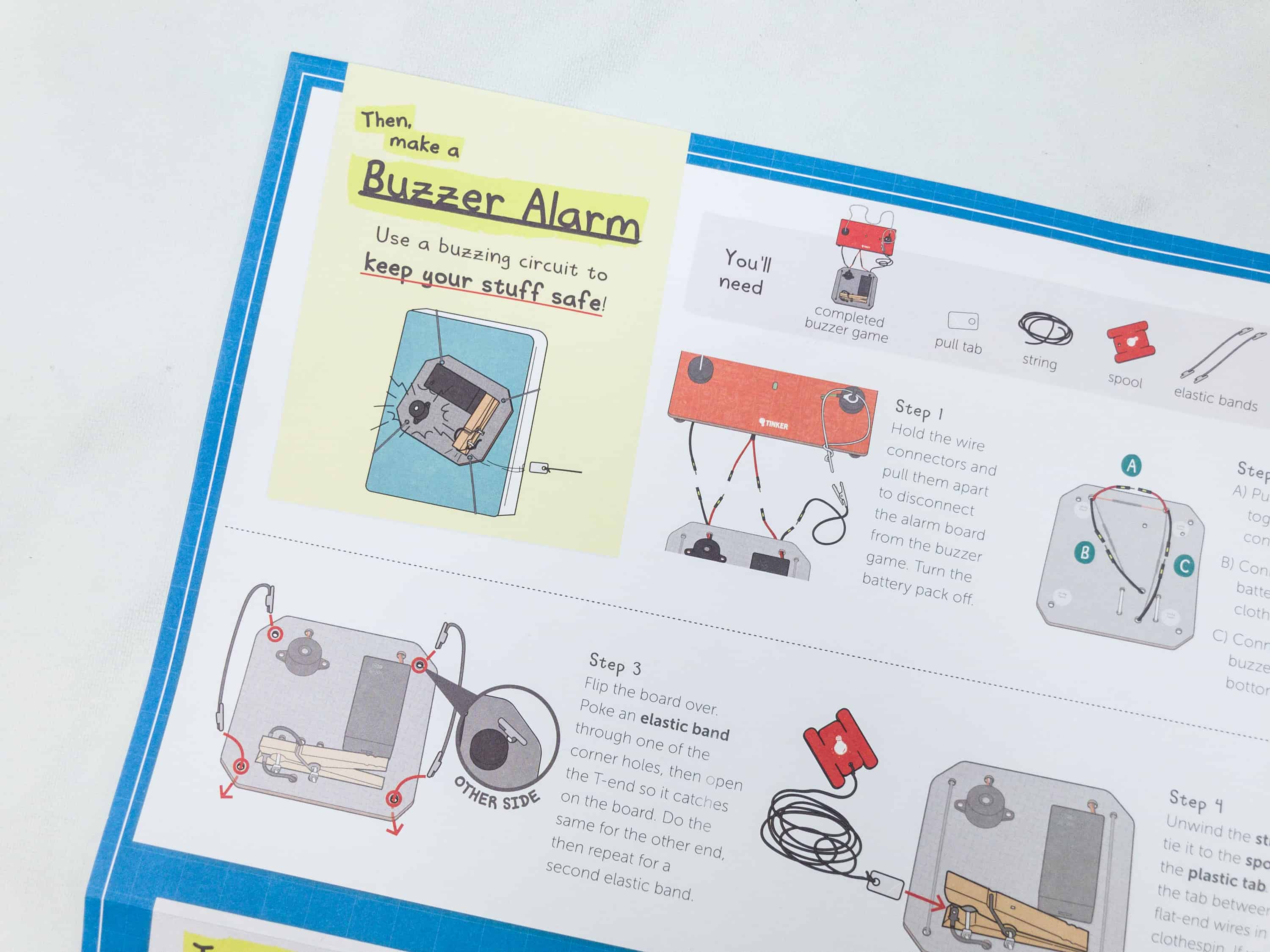 After enjoying the game, we disconnected the orange game board to make a buzzer alarm. We don't have to change the existing board drastically, we just have to reconnect some wires and add more.
These are the double-sided tapes for specific areas of use and more wires to attach and needed to make an alarm. Long strings are also available as the "tripping wires."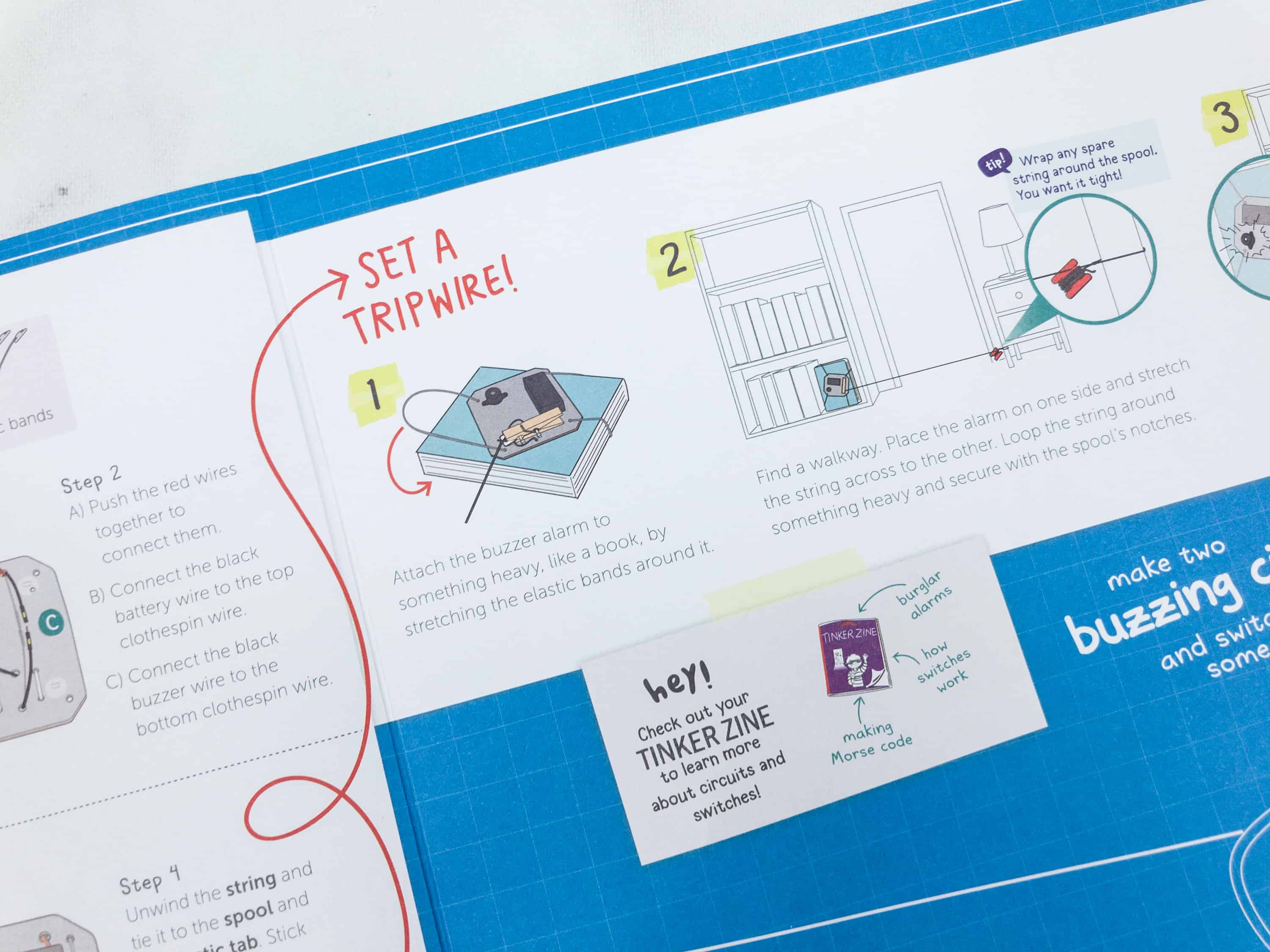 This booklet has a naughty side and taught my daughter how to set a trip wire. It can also be handy for warnings, a burglar trap, or just pranking!
Speaking of pranking, look as we try it on Dean and let him join in the fun! He actually learned very quickly to hop over it!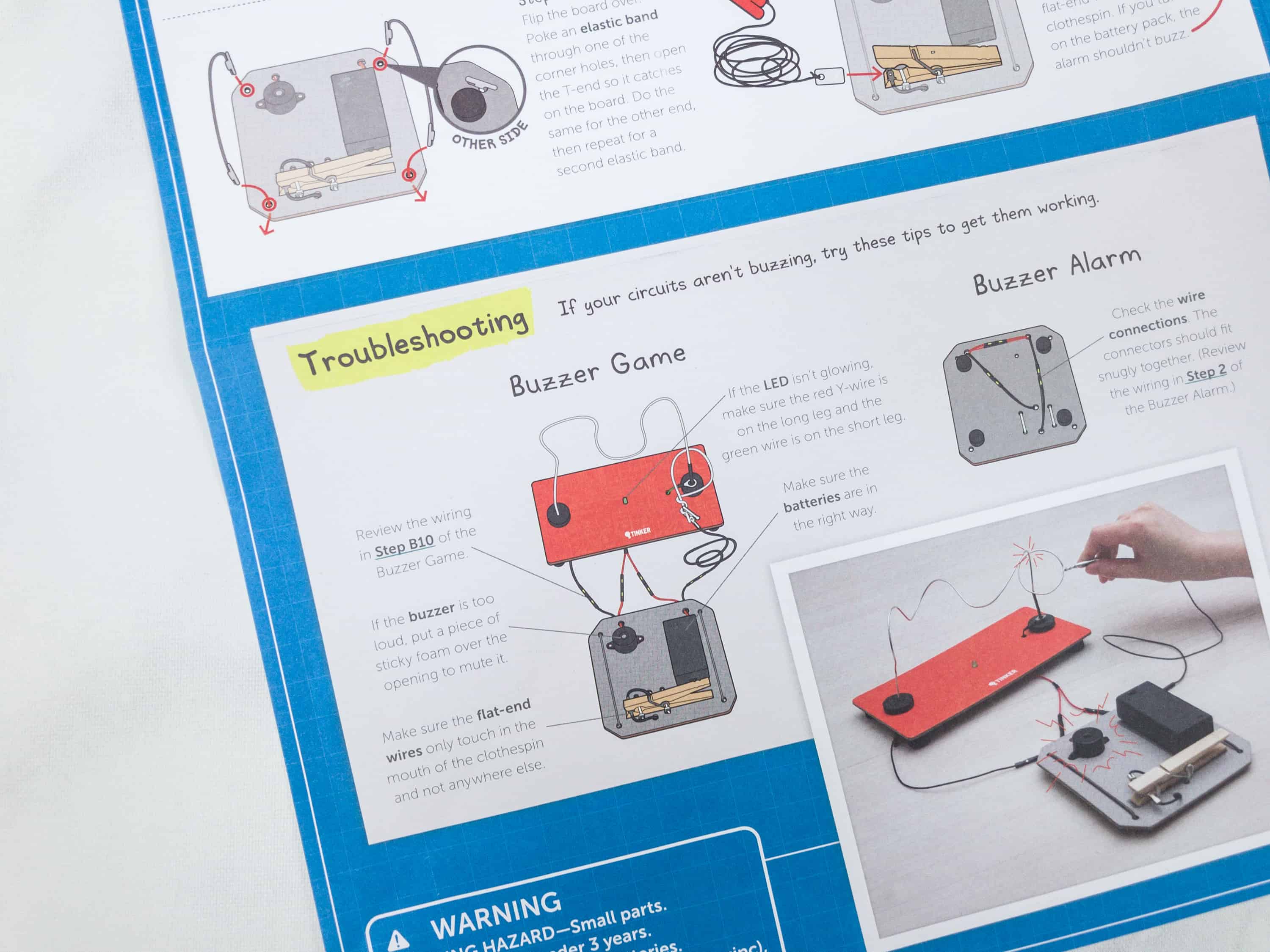 The booklet also gives troubleshooting advice. Sometimes making mistakes in the process of success can be helpful. It can make the children remember the rationales and cope with what they did wrong. What they learn here can aid their troubleshooting skills in the future.
Tinker Crate Extension Activities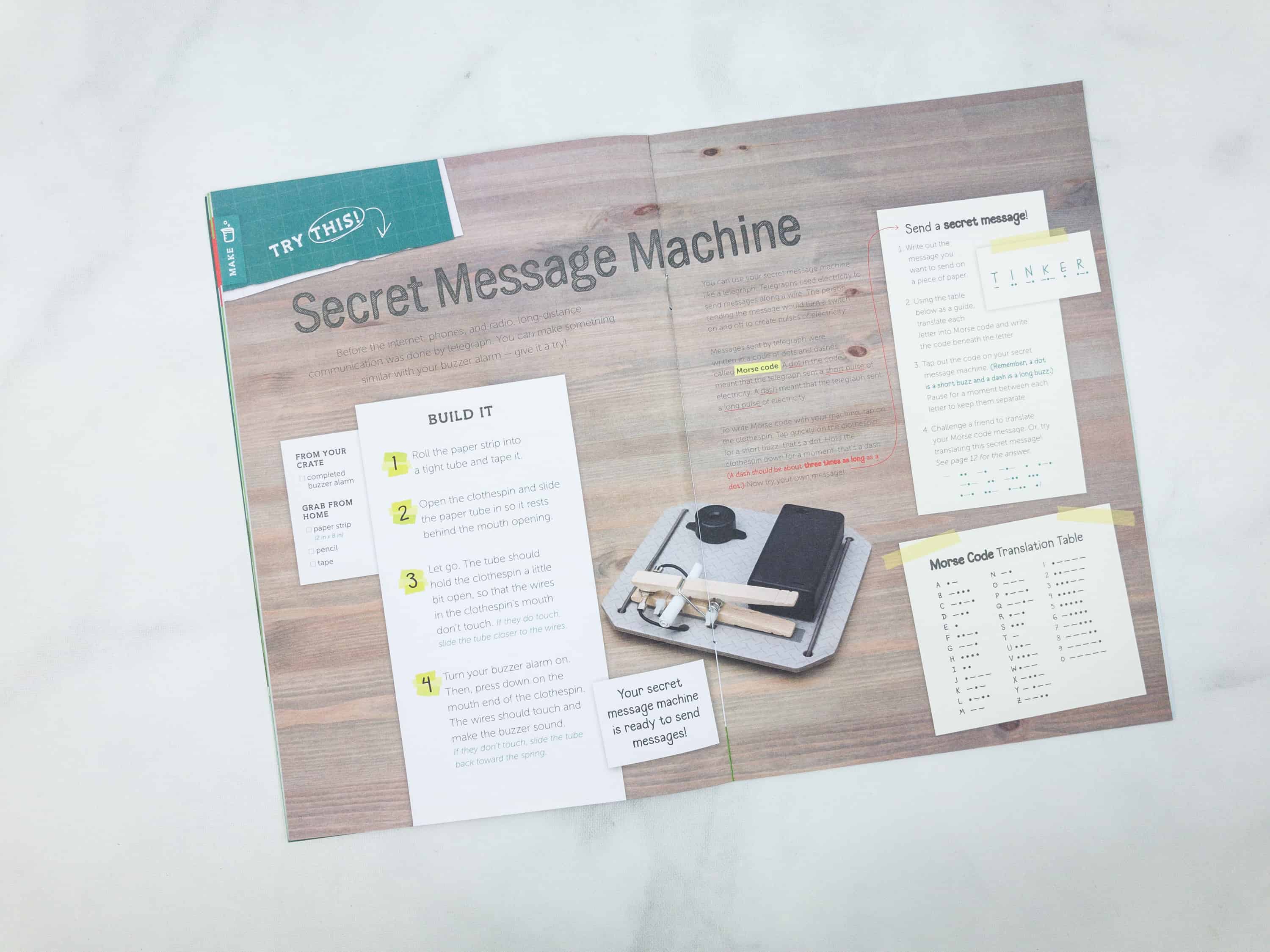 It is cool to see my daughter learn about using Morse code. It's a welcome added information. Tinker Box creatively used the buzzer alarm for sending morse code messages. All you need to add is a taped tight tube made up of rolled paper.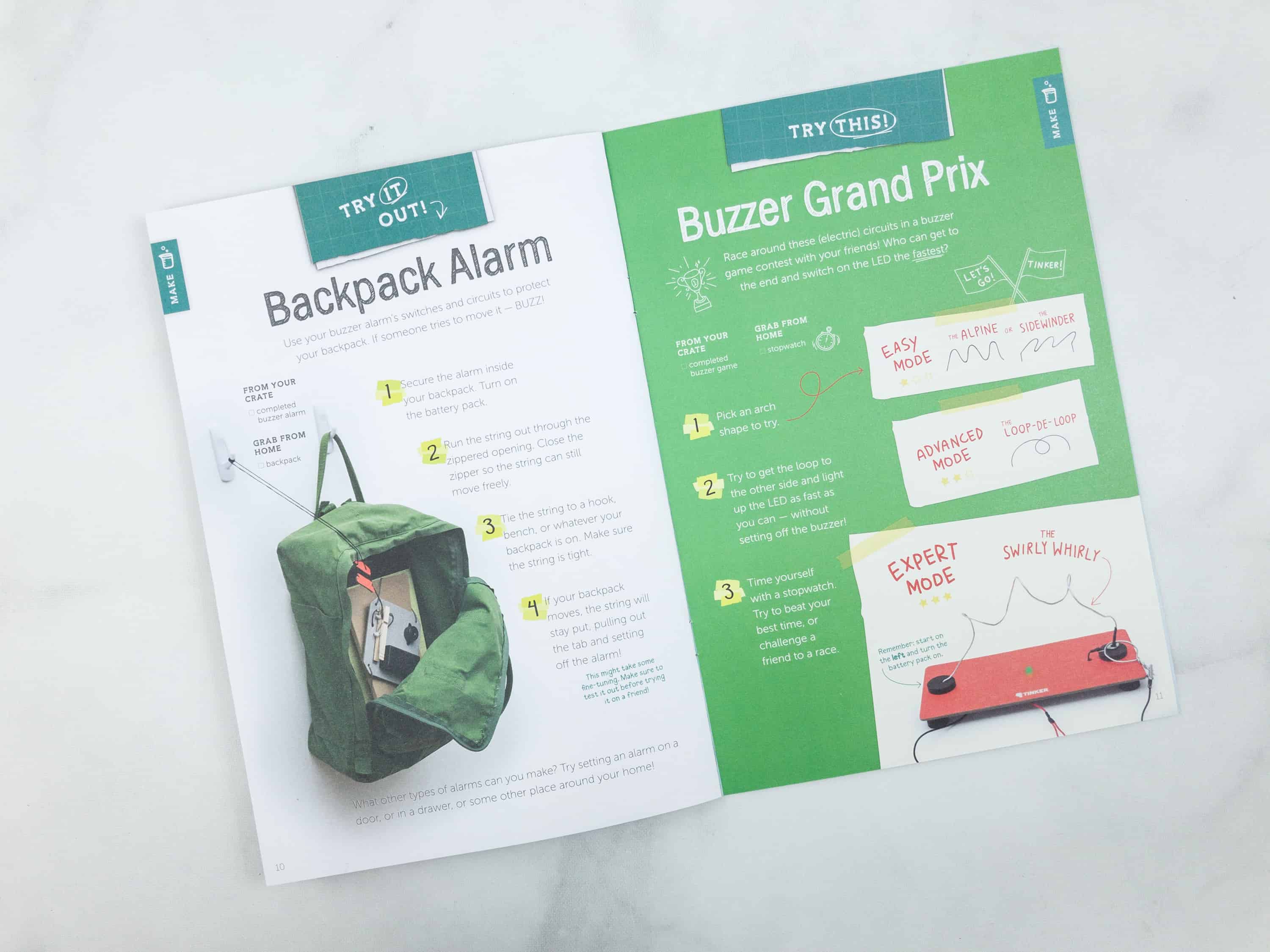 It can also transform into burglar alarm! The idea is there though it needs some fine-tuning. My daughter totally tested it out and had a blast!
Tinker Zine also has book suggestions for kids which includes Spy Science and Electronics For Kids.
Tinker Crate really turns up a notch on making it interesting for kids to learn and stimulate their curiosity. Their activities challenge them to use their imagination after they are done following the instructions. They also learn how to take a few steps back when they make mistakes and troubleshoot on their own. It tests and enhances their problem-solving skills, adjustments and coping mechanisms to different situations. They can be able to apply what they learn here in real life and I'm glad my daughter enjoys the activities every time. I also love that Tinker Crate is focused on details because the activity in the box has specific instructions for each part of the set and no items were missing. The activities just keep better and better my daughter is looking forward to her next challenge.
Have you tried Tinker Crate yet with your kids?