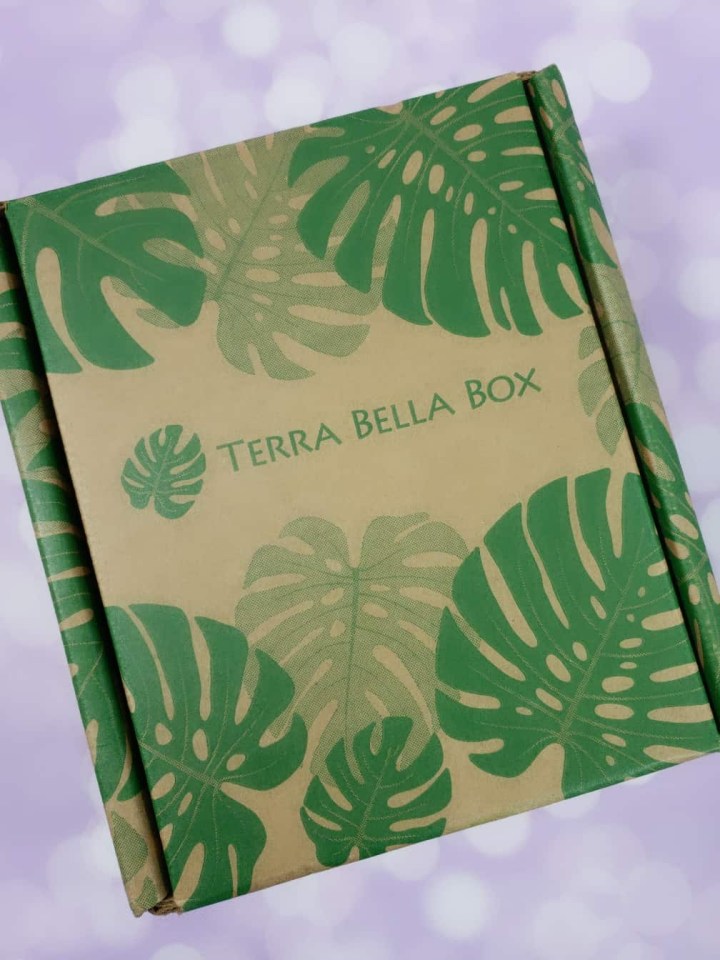 Terra Bella is a monthly subscription box of natural, artisan products for your bath and beauty routine. Each box has 3-4 products and free shipping in the U.S. We are back to the normal box this month and it is still so pretty.
The products are handmade, animal cruelty-free, and made in small batches by small businesses from ethically sourced ingredients. Products can include cleansers, moisturizers, masks, exfoliators, hand and nail products, hair products, bath products and such. Terra Bella was created by Kate Gray. Her goal is to fill your cabinets with every beauty product that you might need. And with that in mind, each month is filled with a wide variety of useful products.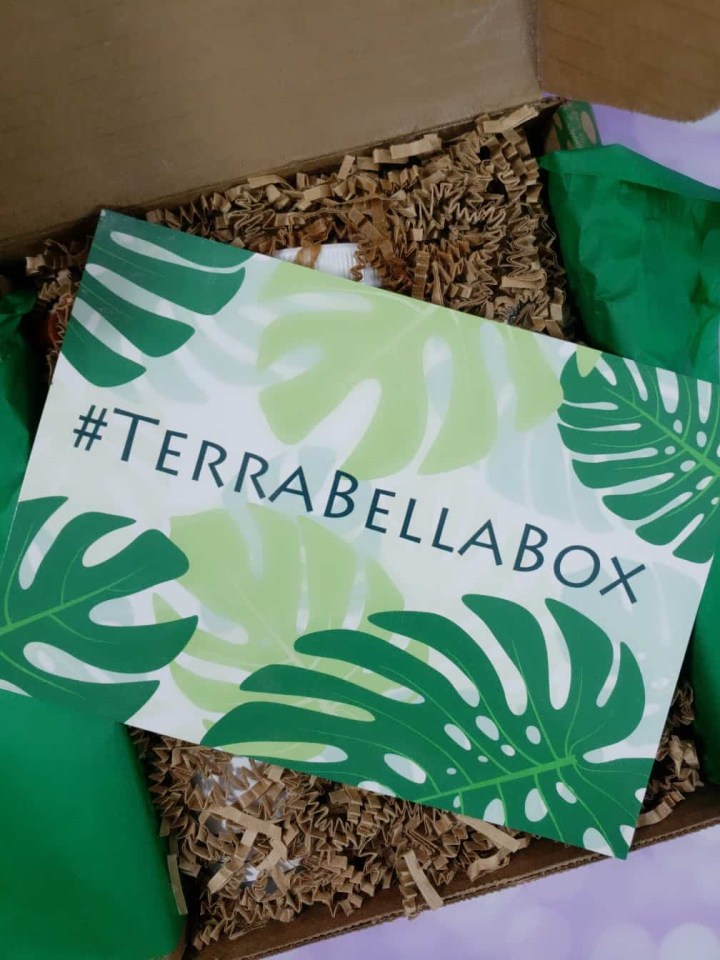 The Terra Bella Box is $32.95 a month, auto-renewing. The Make Up Edit box (which is at least 3 make up only products) is $29.95. You can switch between Terra Bella or the Make Up Edit each month.
DEAL: Save 10% on your subscription! Use coupon code HELLO10.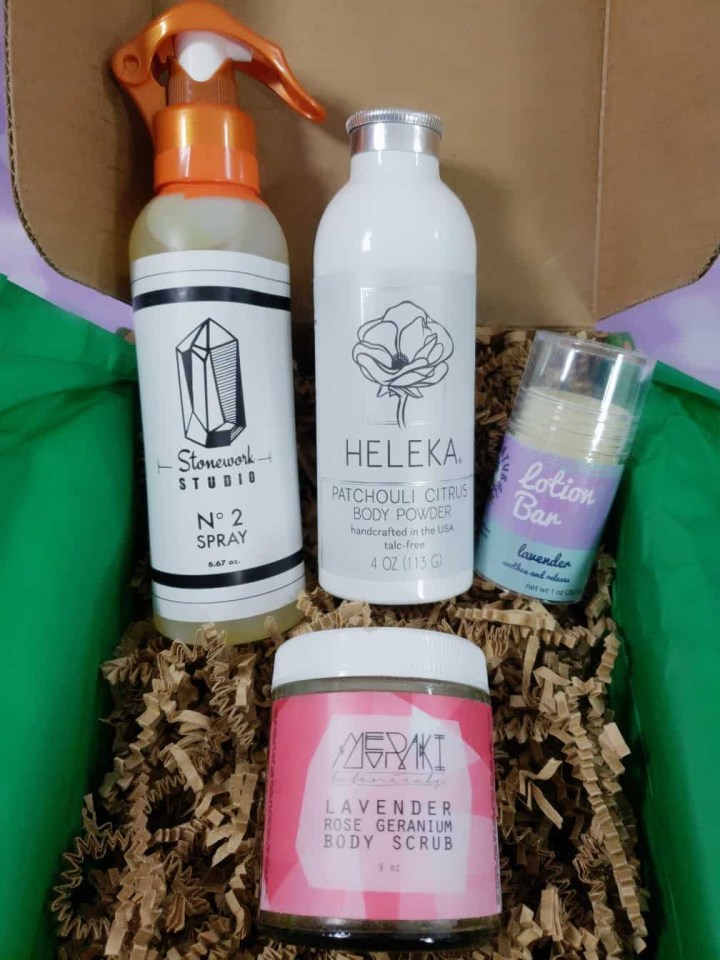 Everything in my May 2018 box!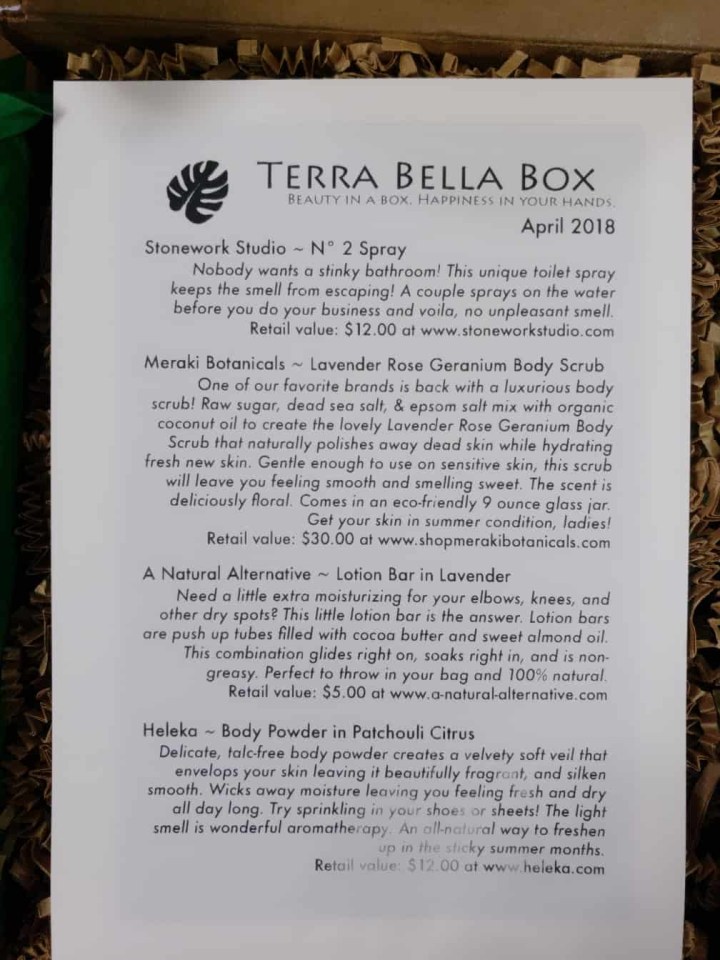 Each box comes with an info sheet that tells what is included in the box and then links to find them online when you want to order more.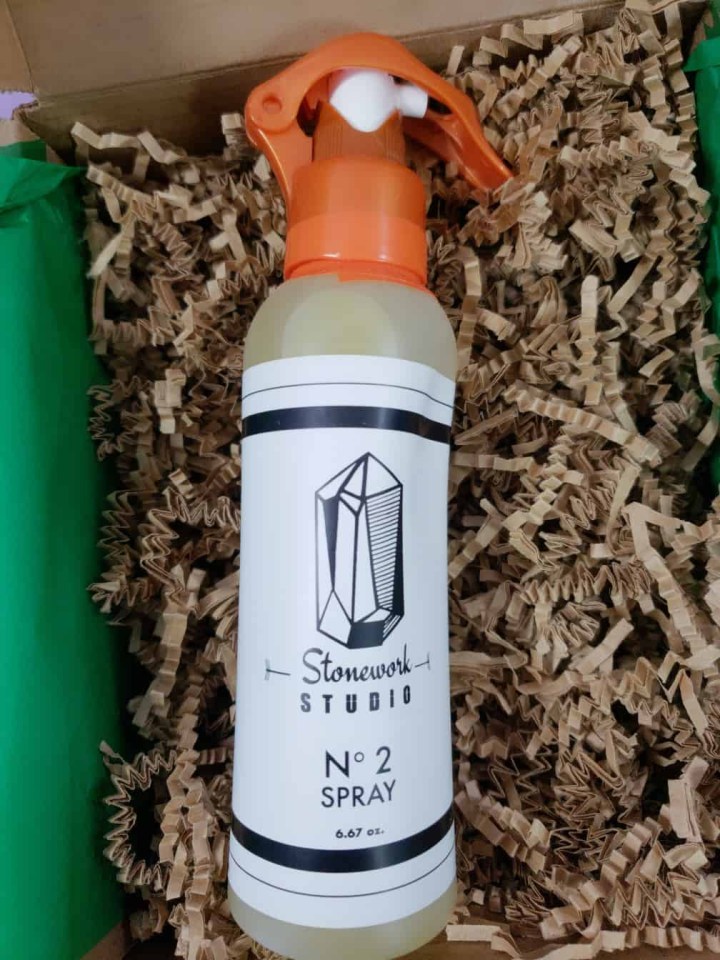 N°2 Spray by Stonework Studio ($12.00) – I'm the mom of two boys so we always have a smelly bathroom! I was laughing at the name of this when I figured out what it meant. At first, I thought it was just number 2 but when I read what it was I laughed that it is really No 2.  So clever and funny. This worked great and now if I can get my boys to actually use it before they go N°2 we'll be all set.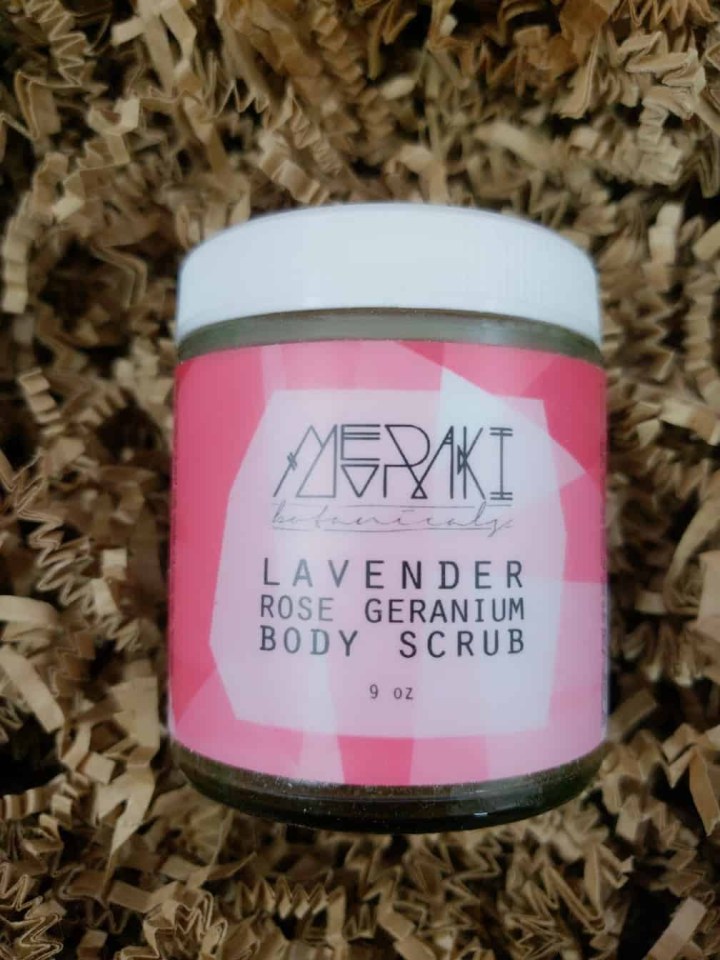 Lavender Rose Geranium Body Scrub by Meraki Botanicals ($30.00) – It's only the beginning of summer and my skin is already rough. This body scrub smells great and will polish away the dead skin while hydrating the fresh new skin. It's a mix of raw sugar, dead sea salt & Epson salt mix with organic coconut oil to create the luscious body scrub.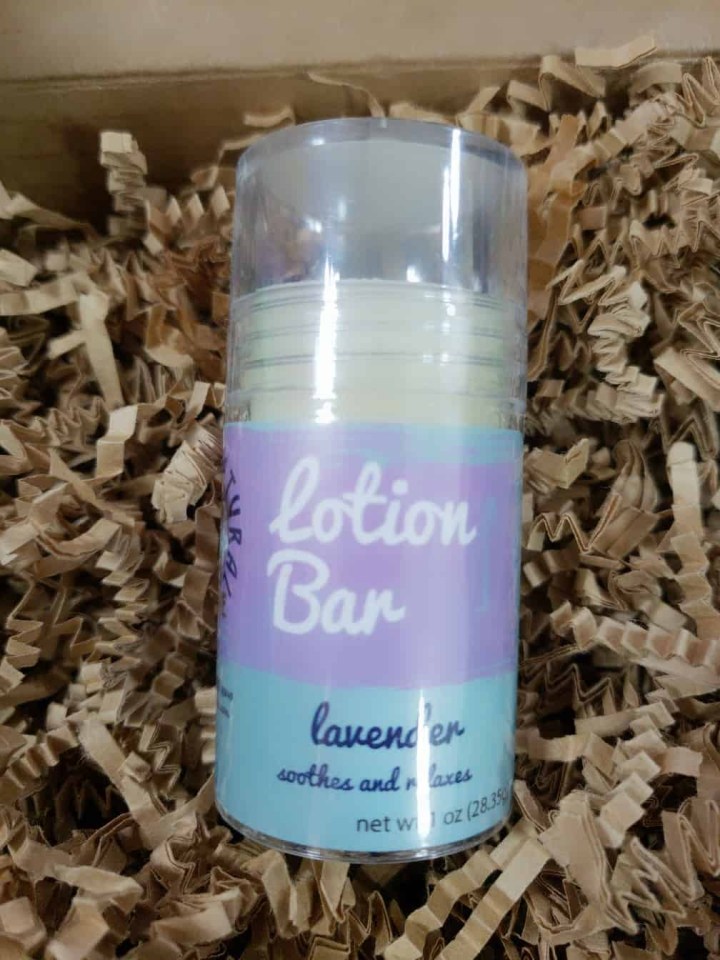 Lavender Lotion Bar by a Natural Alternative ($5.00) – Yes! I'm a big fan of lotion bars for their ease of use and non-greasy feel. I am not a regular lotion fan since I don't like the feeling of it on my hands and then getting it on where it needs to be. Lotion bars solve that problem and this one has a nice soft scent that I like.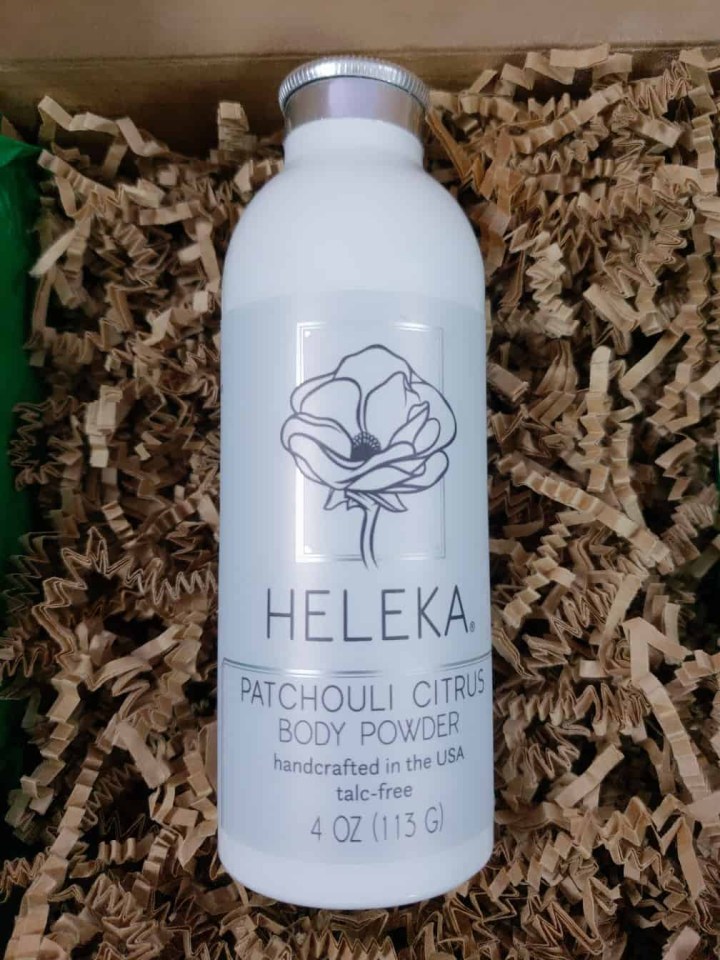 Body Powder in Patchouli Citrus by Heleka ($12.00) – Uhm, let's file this under a product I didn't know existed and I'm pretty sure I don't need. I do use a talc-free powder but I can't stand the patchouli smell. The whole box kind of smells like it already with it just being in there so I won't be using this. If you like the smell then this would be a great alternative for you.
Terra Bella Box sent four ingredients in this months box and while I'm really interested in three of them that last one is just not me. That is ok though since not every product is going to be me and I do love trying out new natural products and learning what is out there and what options I have. The value in the box is always there and I'm the lotion bar is already up on my shelf next to my favorite chair ready for me to use whenever I need it.
Which product was your favorite in this month's Terra Bella Box?