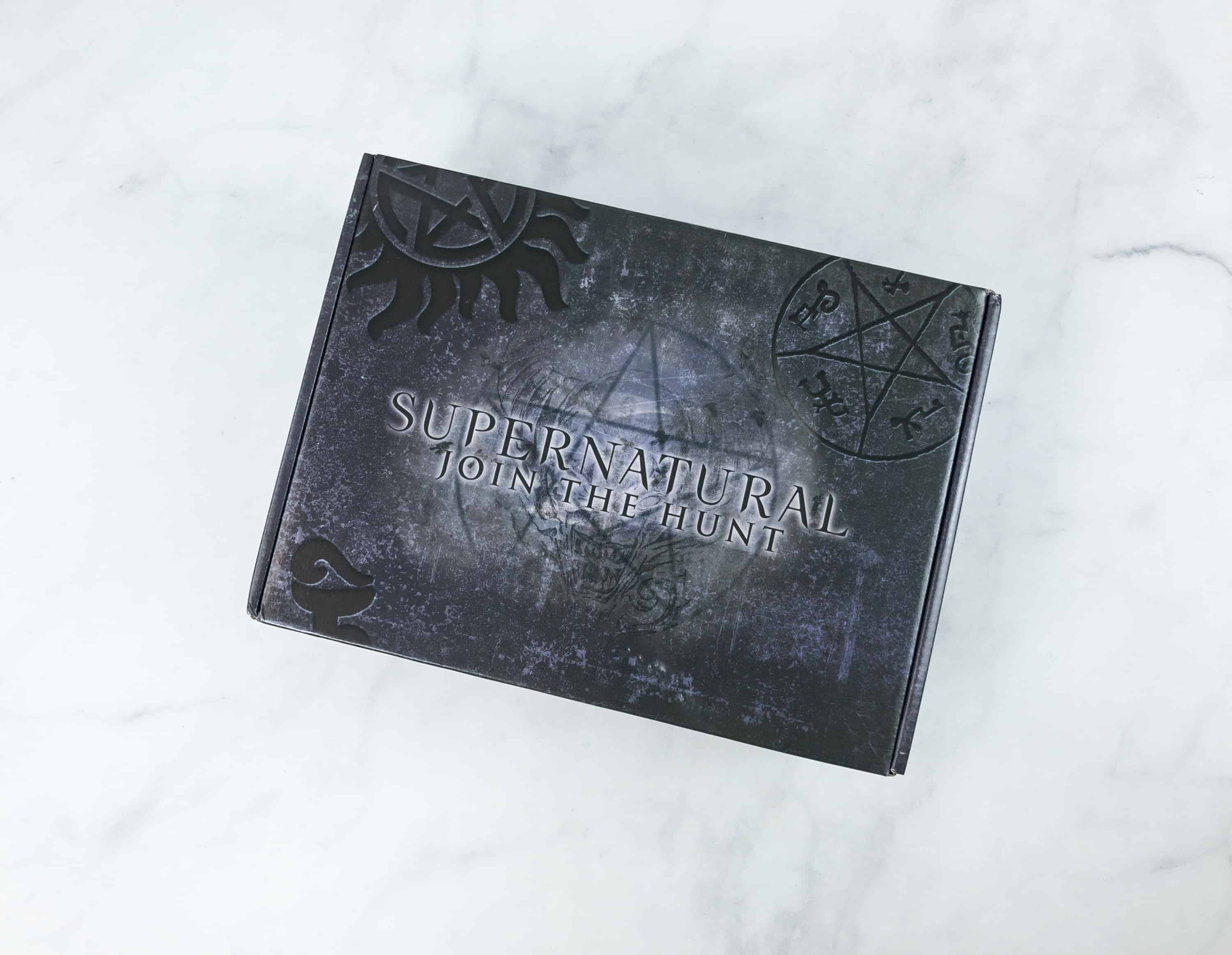 Join Sam, Dean, and Castiel with the only officially licensed Supernatural Box! Each premium box will deliver over $100 worth of collectibles, apparel, accessories, and more directly to your door – only $49.99 per quarter!
This box is priced at $49.99 per quarter, a bit less on an annual subscription. Our box was individually numbered out of a run of 3000.
Join the Winchester brothers and feel like one of the family with this amazing assortment of premium collectibles, apparel and artifacts from Supernatural, delivered four times a year, right to your doorstep. You won't get these exclusive items anywhere else, not even in a  deal with a Crossroads Demon.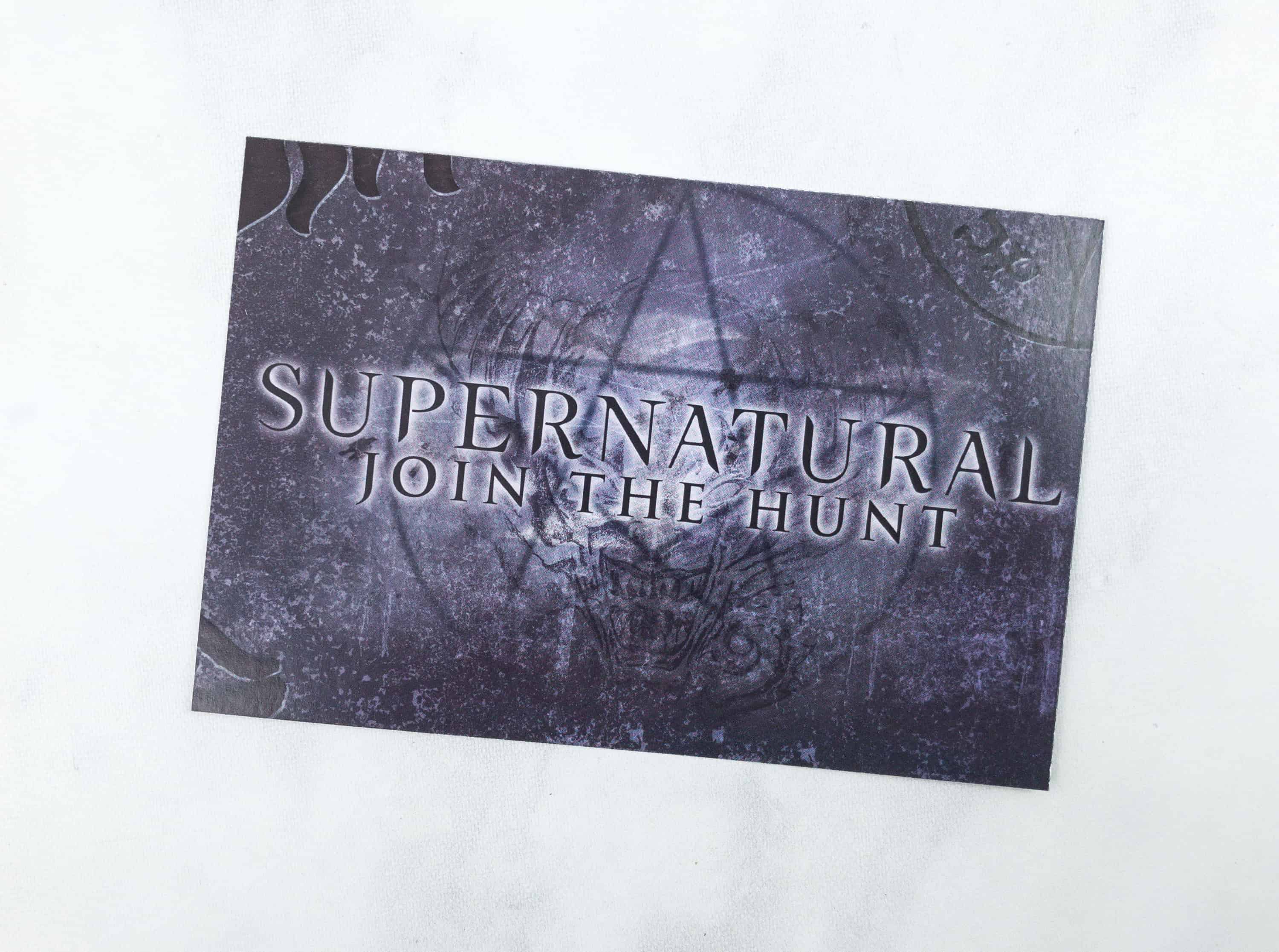 I feel compelled to picture the info card graphic glowing and bursting forth with ambient noise like the title screen.
It includes a list of all the items with photos.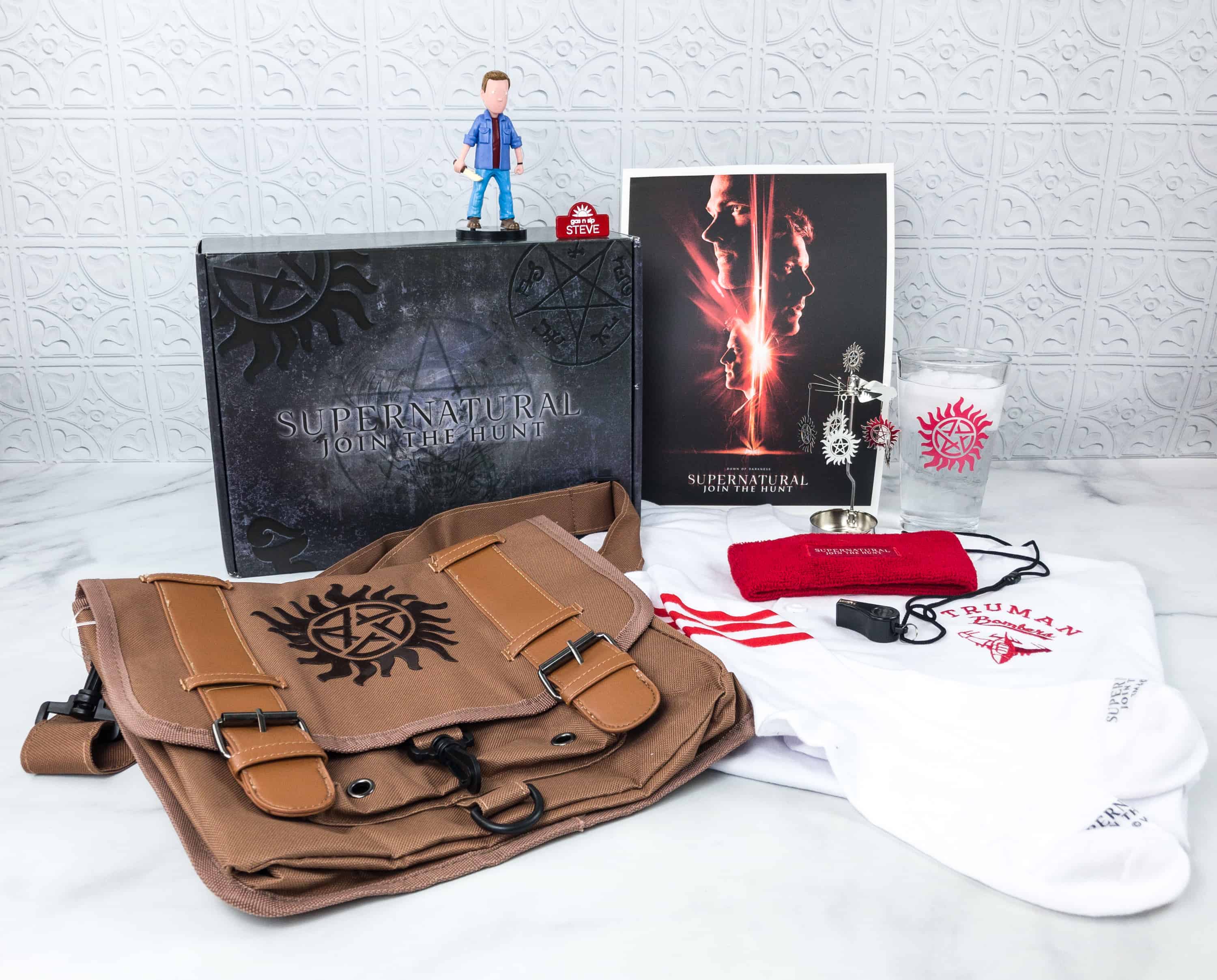 Everything inside the Spring 2018 box!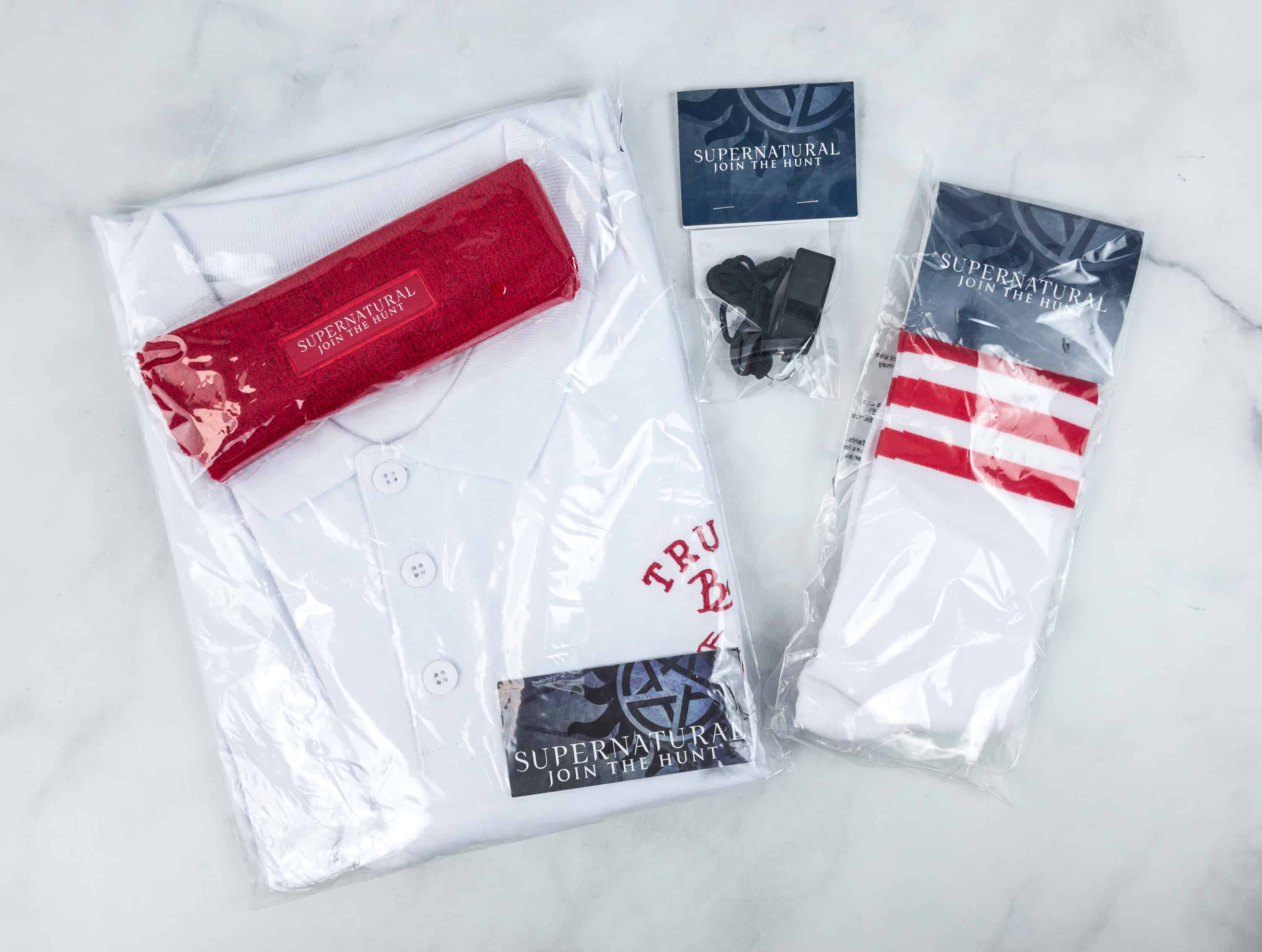 Coach Dean Cosplay Set. In this costume set, they've put together four pieces of clothing and accessories to help you pull off Dean Winchester's gym teacher look as shown in the Supernatural After School Special.
Just in case you've already forgotten about that episode, here's a brief synopsis:
Dean and Sam travel to Fairfax, Indiana, to investigate a murder case in the Truman High School where the teenager killer April Dawkins claims to be possessed in the moment she killed her schoolmate Taylor. While the Winchester brothers check the school and follow a wrong lead, they recall through flashbacks of their past in the same high-school. In 1997, Dean flirted with the sexy Amanda Heckerling and Sam befriended the bullied Barry Cook and defended him against the bully Dirk MacGregor.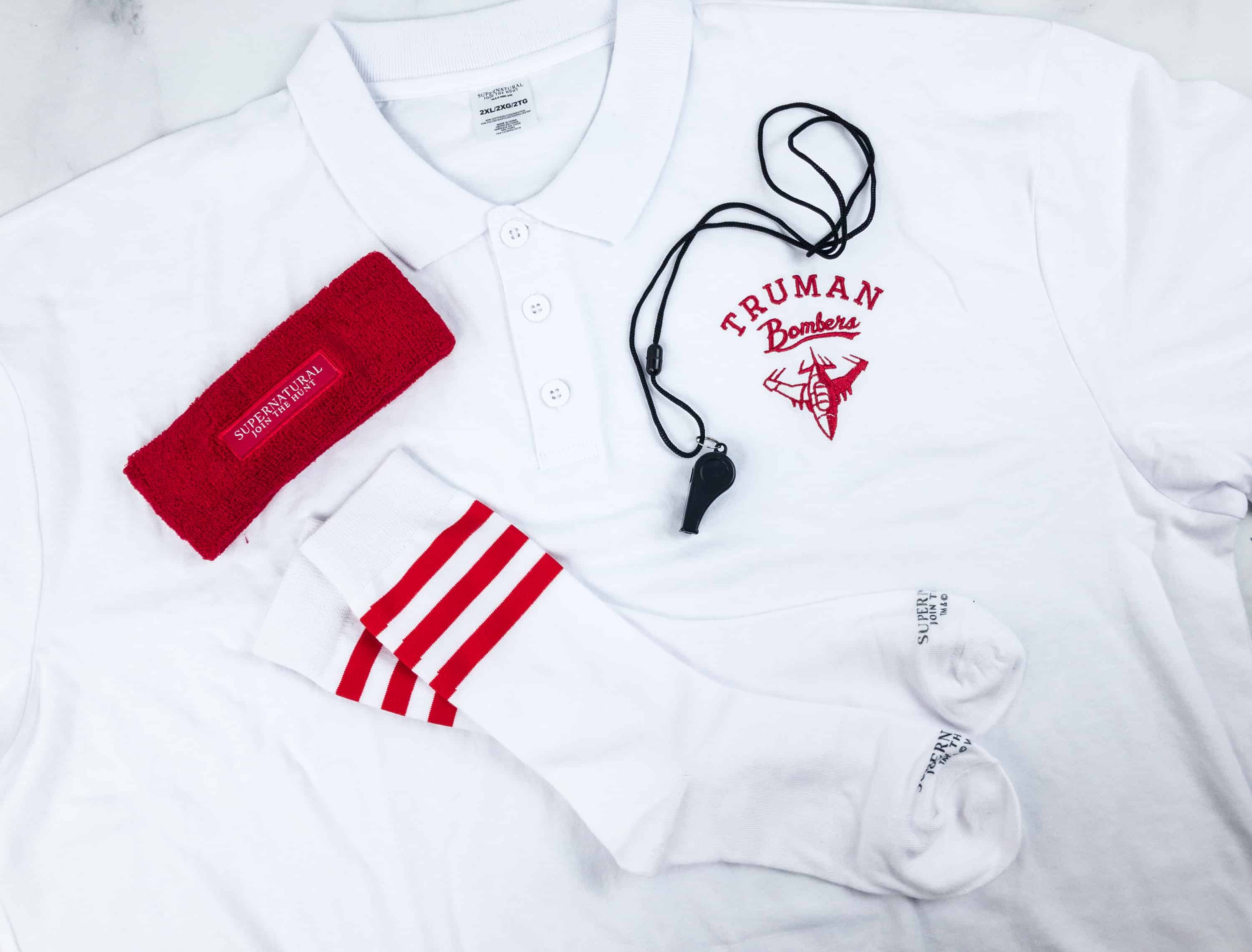 There's the Truman Bombers polo shirt, striped socks, whistle, and the red sweatband.
Socks. These knee-length socks are in white, with red stripes on the cuffs. The Supernatural logo is found at the bottom of each sock.
Whistle. It's a plain black whistle with a string you can hang on your neck.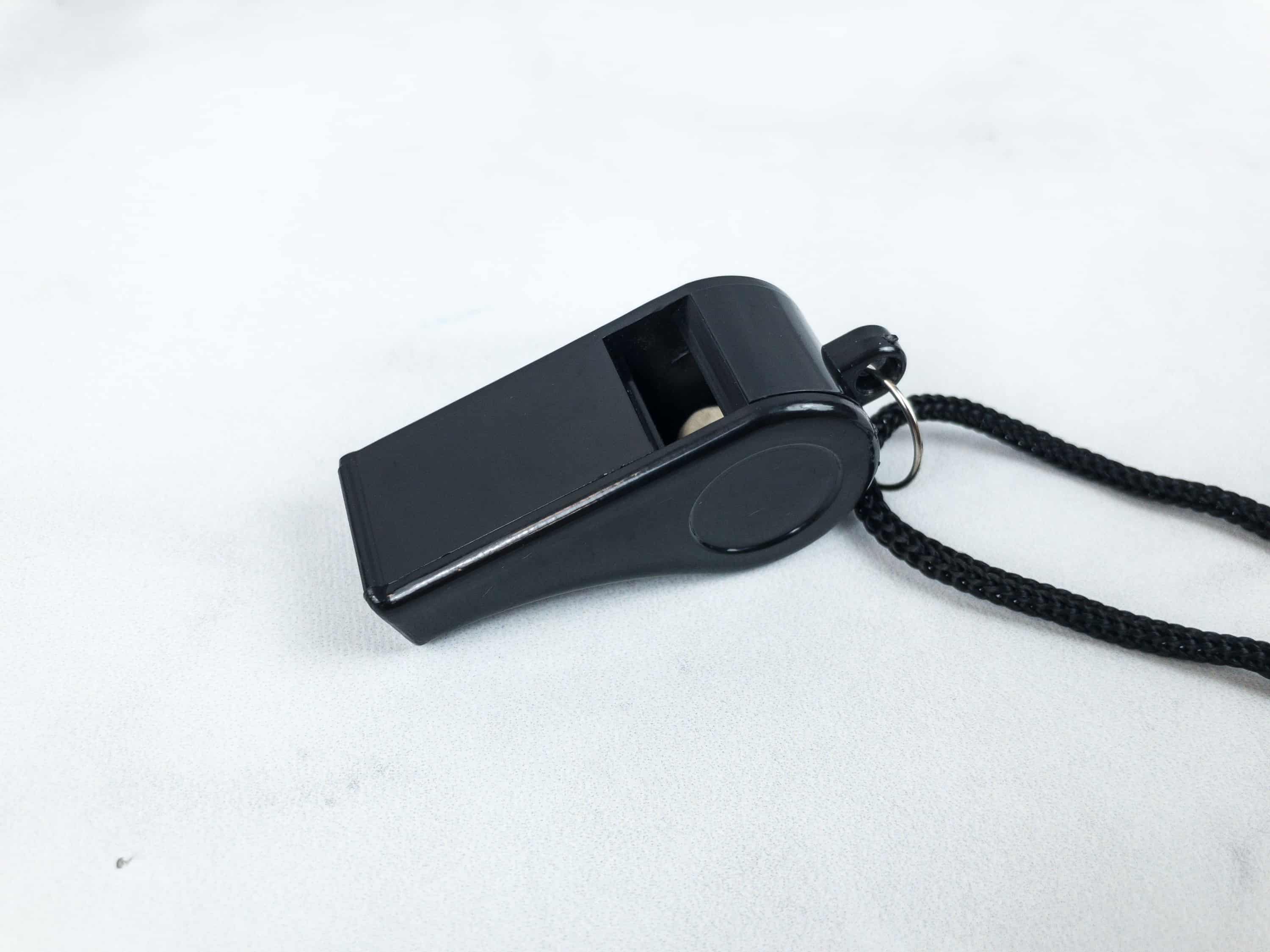 This reminds me of what Dean said during that After School Special episode:
The whistle makes me their god.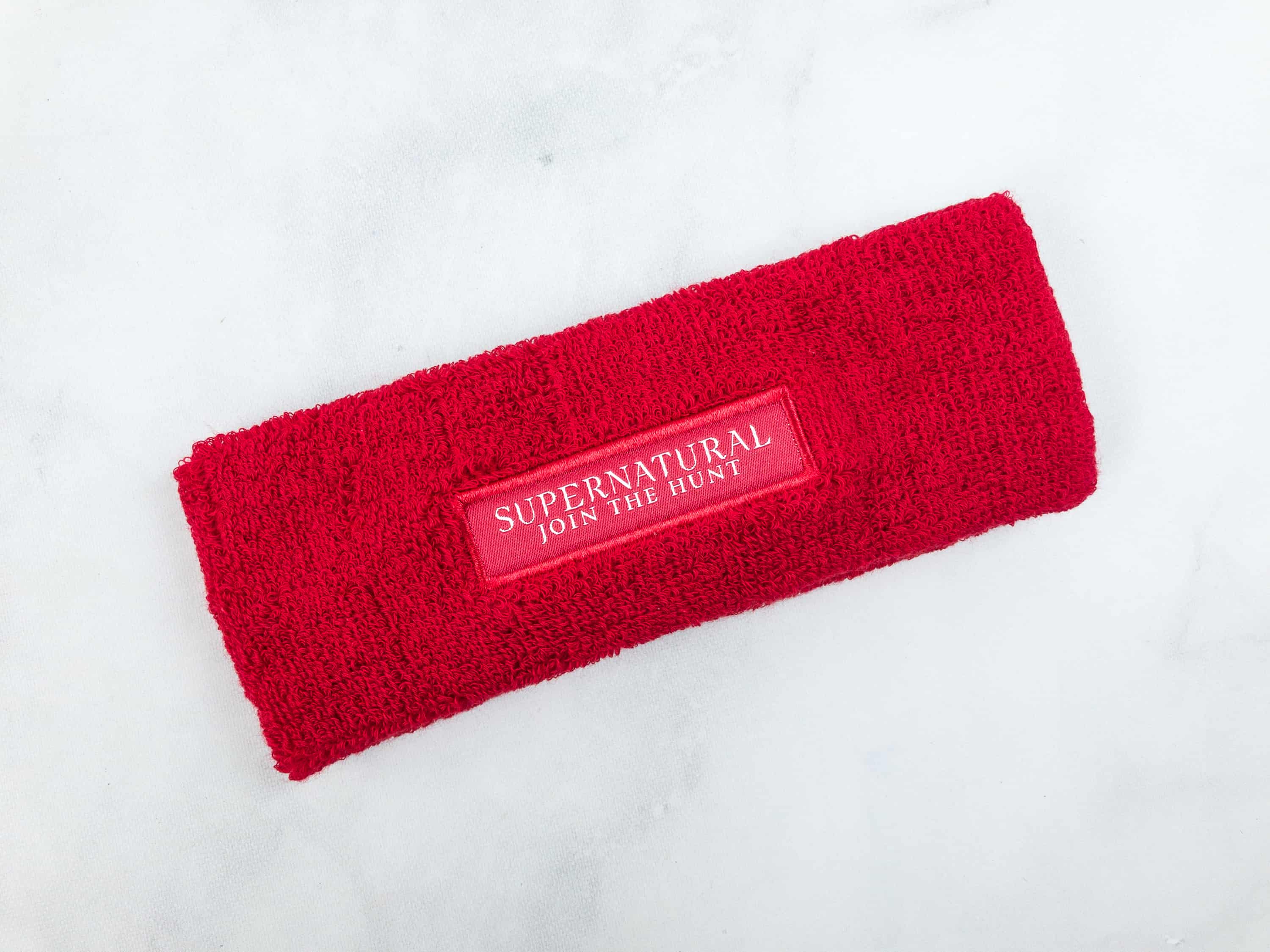 Headband. We also got gym teacher Dean's iconic red headband, and this one has the Supernatural logo embroidered on it.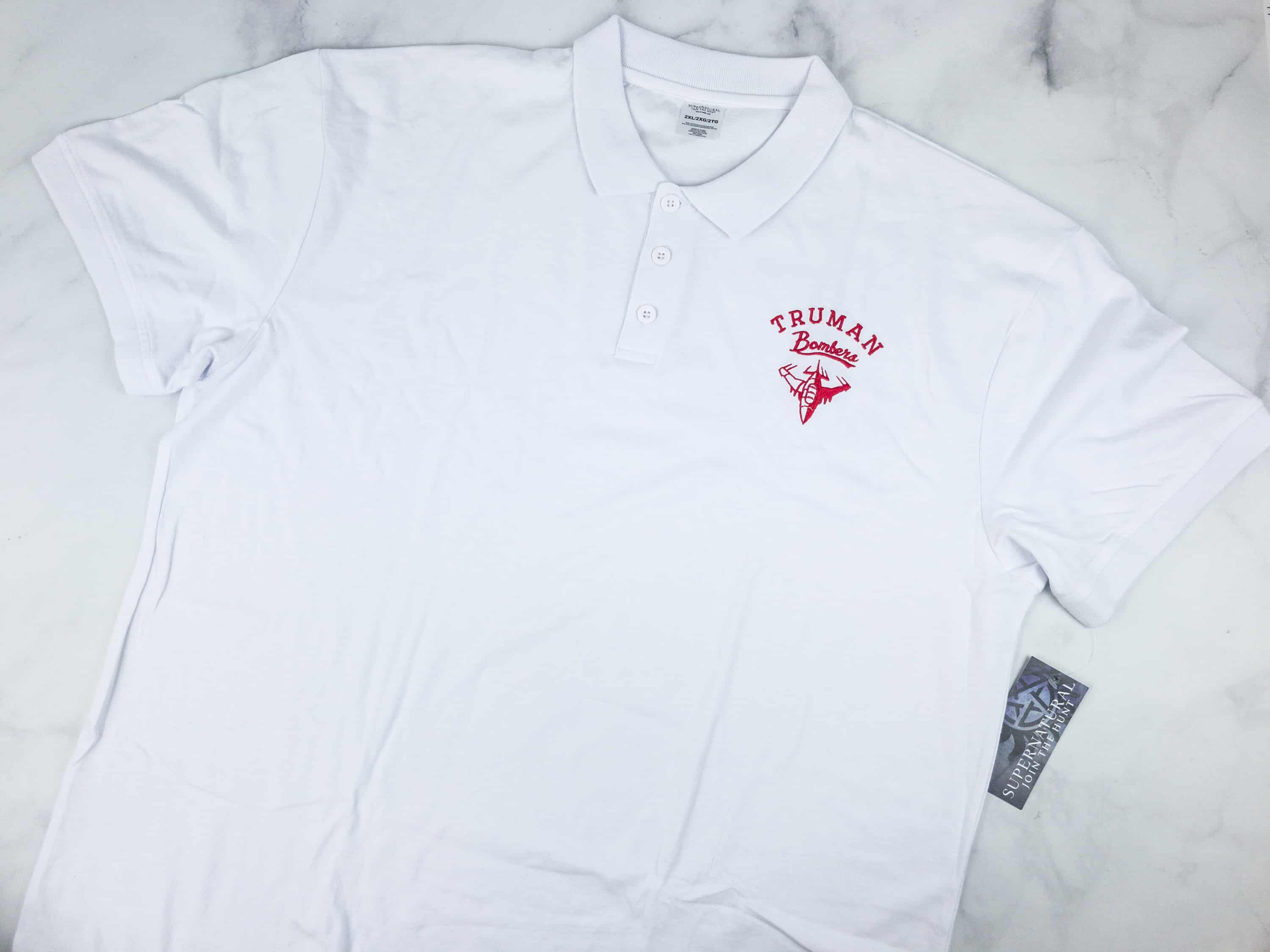 Polo. This white polo has exactly the same details as the polo Jensen Ackles wore as "Coach Roth." All that's missing is a pair of red shorts!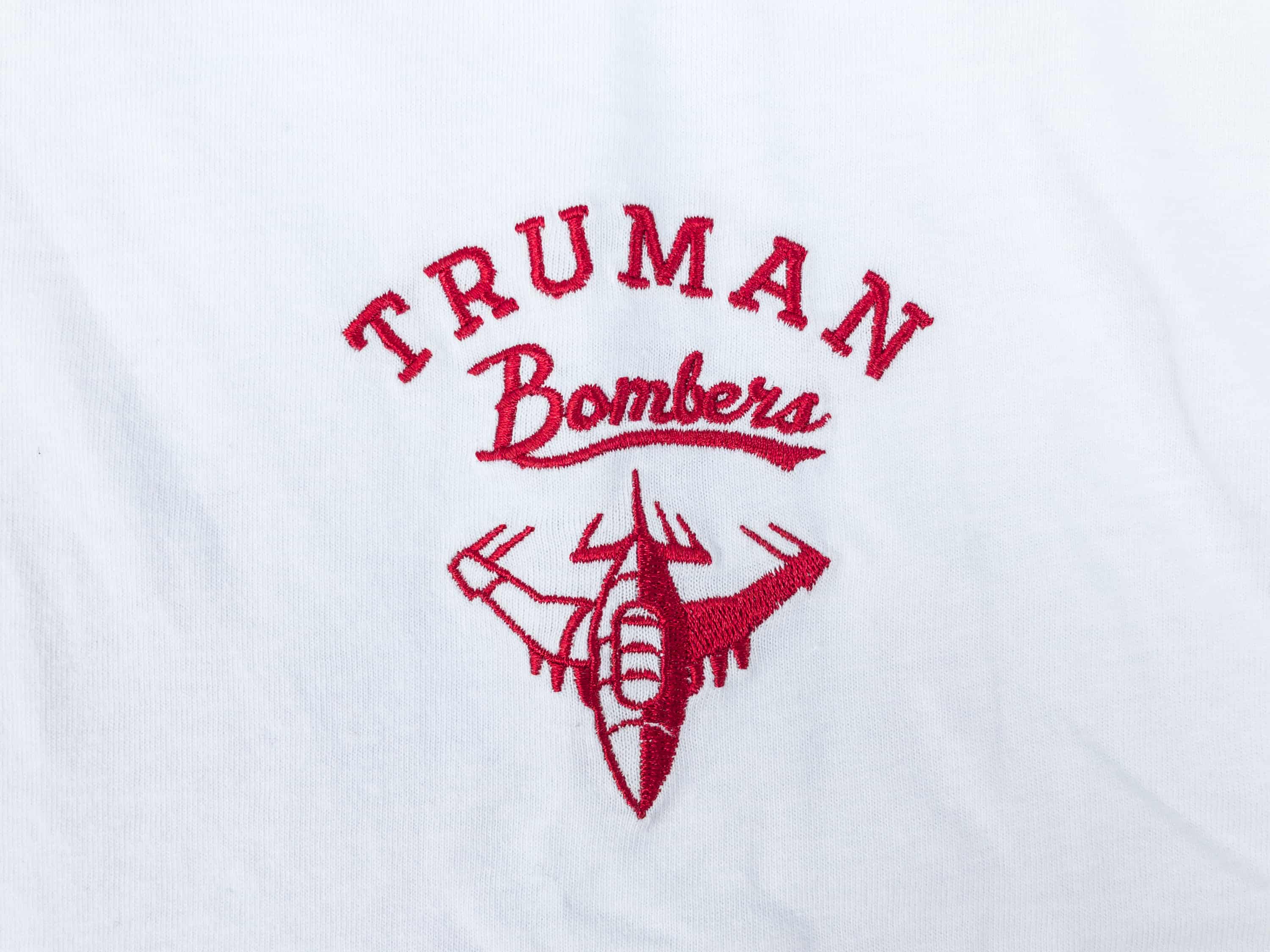 The Truman Bombers logo is embroidered on the shirt. I still remember how Dean looked so dashing in this outfit!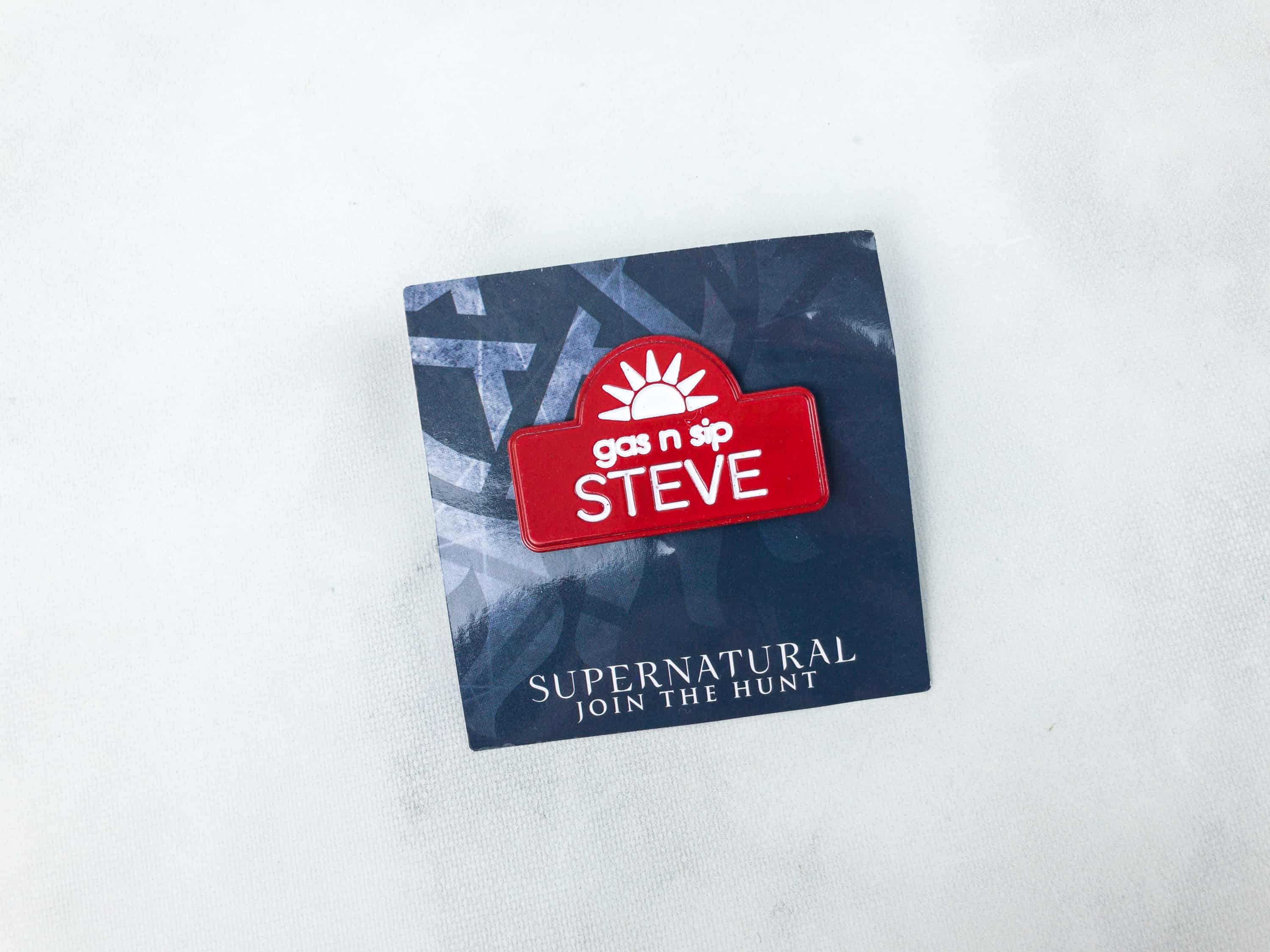 Gas N Sip Enamel Pin. It's Castiel's name tag when he was masquerading as a human named Steve and working at an establishment named Gas N Sip. That was in Season 9, and the episode's title is Heaven Can't Wait.
Castiel gets a job at a Gas-N-Sip and actually starts to enjoy life as a human. A headline in the local newspaper about some disappearances in the area catches his eye, so he calls Dean to help him investigate the case. Dean knows he needs to keep Sam/Ezekiel away from Castiel, so he tells Sam that he and Kevin (guest star Osric Chau) need to stay and work with Crowley (guest star Mark Sheppard) to decipher the tablet. Crowley agrees to help Sam and Kevin but in return he wants one phone call to hell.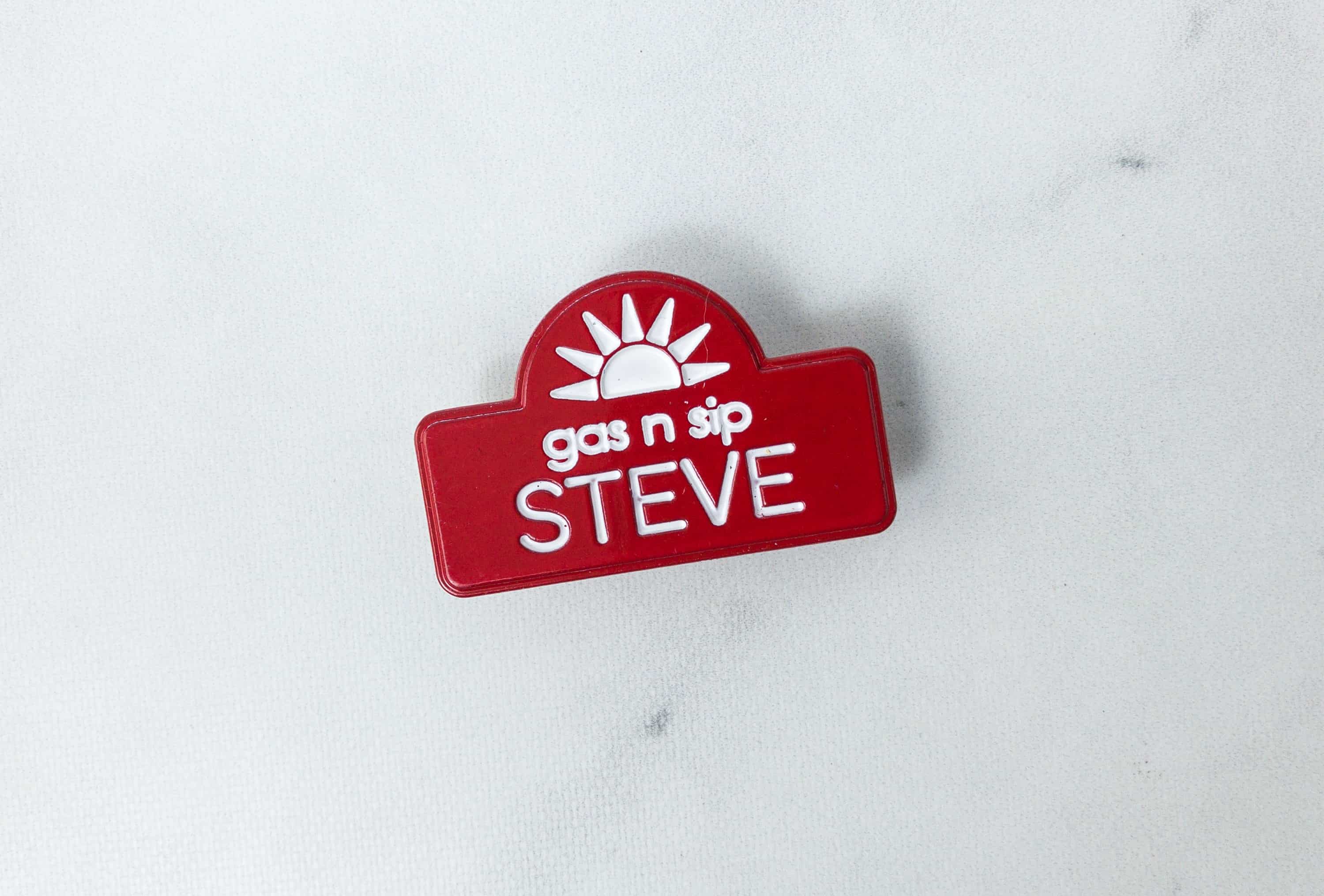 The pin has a red background and white lettering. You can put it on your shirt, jacket, or even your bag. It's looks sturdy, but it's lightweight!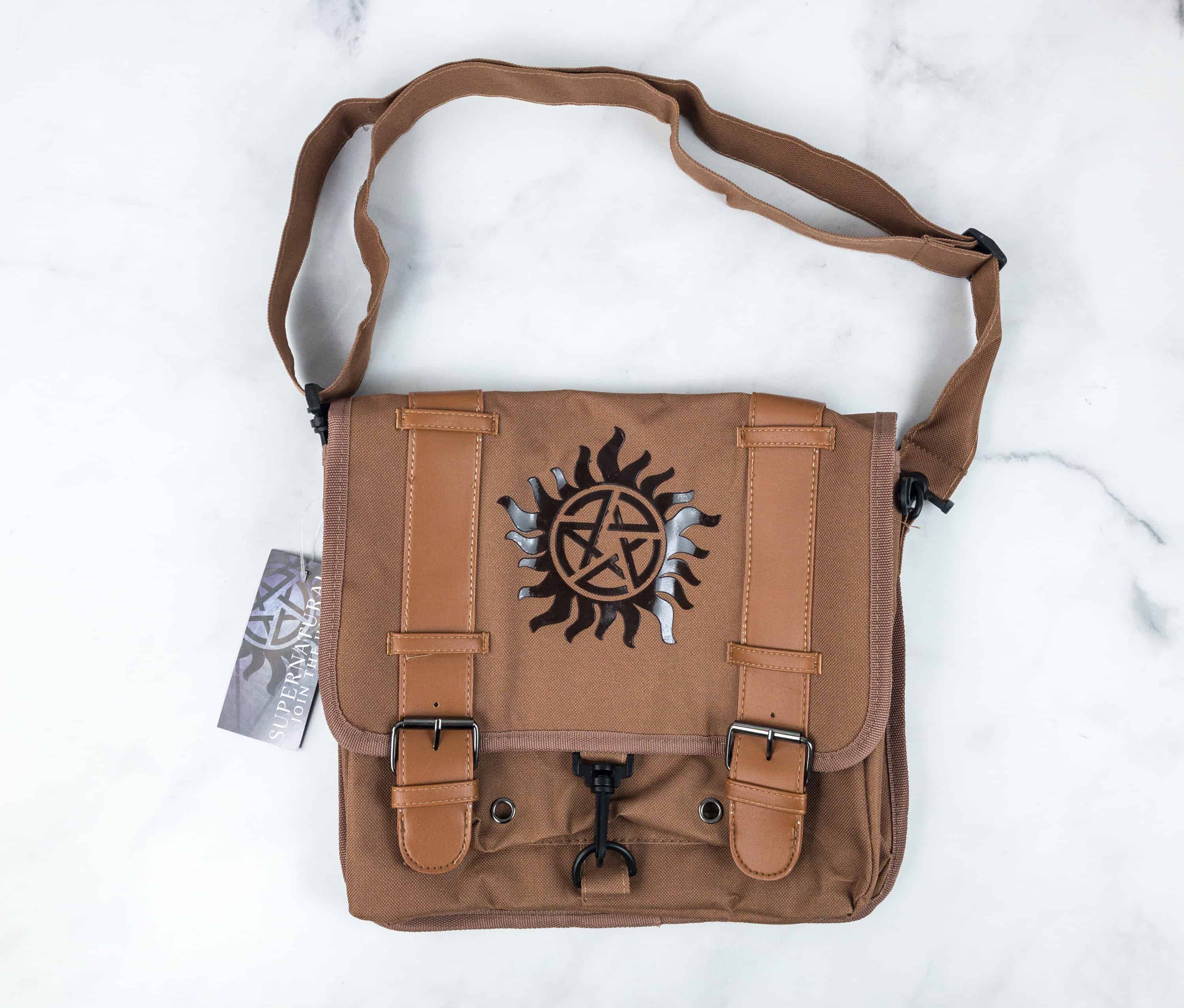 Anti-Possession Messenger Bag. This anti-possession messenger bag is definitely a must-have for any Supernatural fan. It's complete with the anti-possession sign on the flap to prevent any supernaturals from possessing whatever it is that you are hiding inside this canvas messenger bag. The buckles help in protecting your personal items too, and the strap is adjustable so you can wear it at any length you prefer. Just imagine seeing heads turn as you walk by with this messenger bag on you. They might even think that you've joined the hunt too! How cool is that?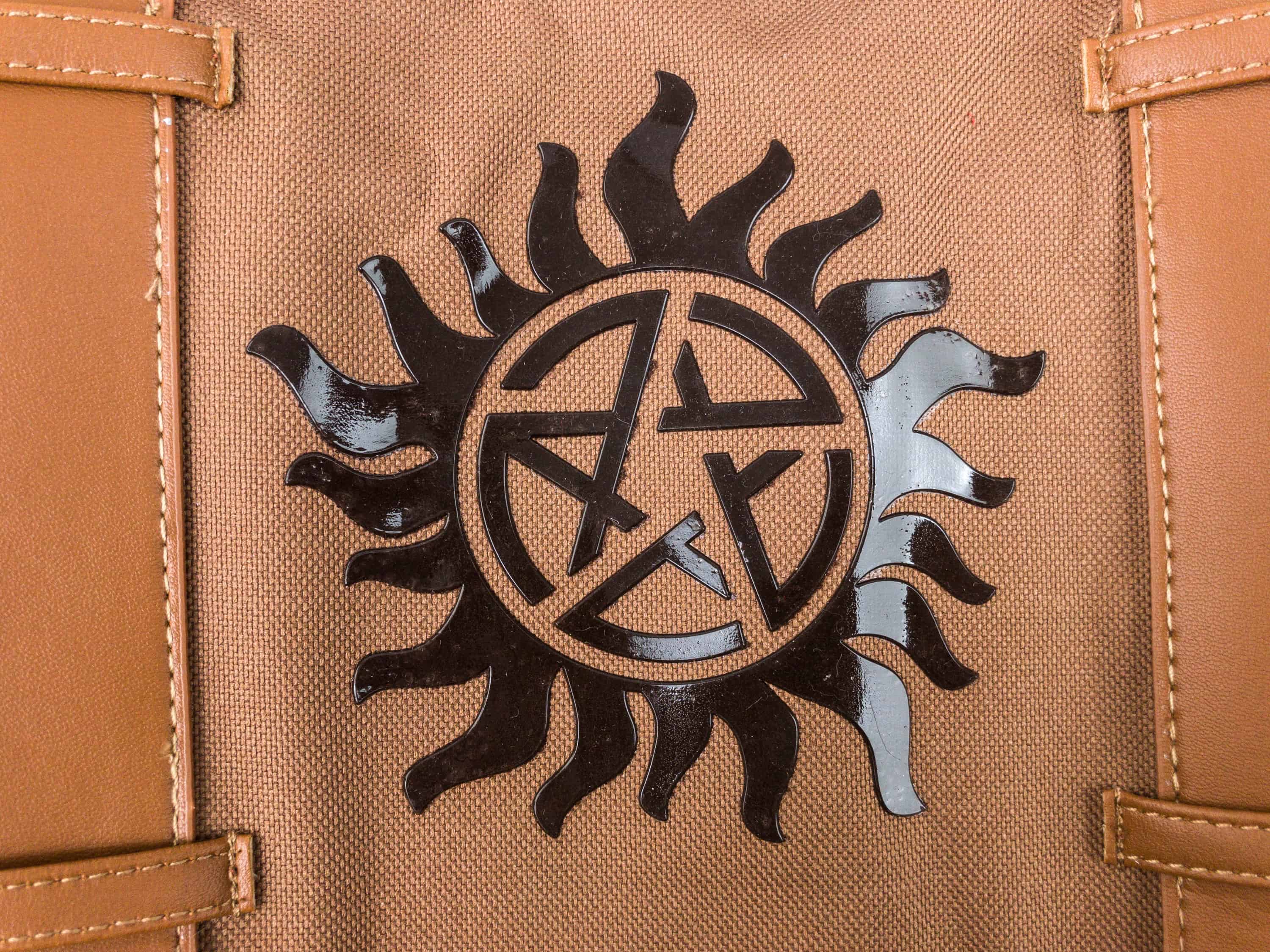 The anti-possession logo is done beautifully on this brown messenger bag.
Here's a close up of the cosmetic buckle design and the hook that actually secures the flap. It will be difficult for anyone to get into your messenger bag unnoticed for sure.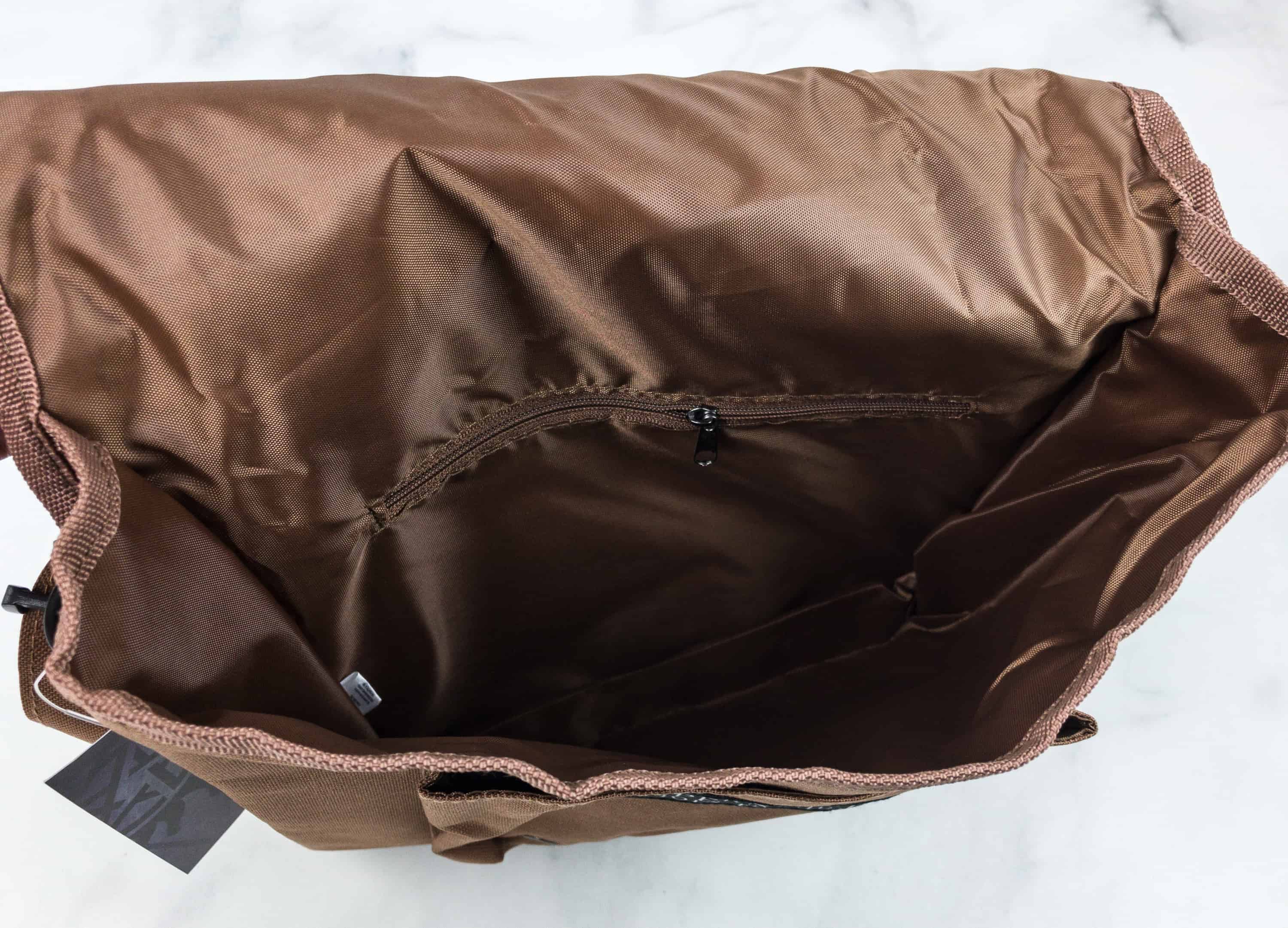 Inside the bag is a smaller pocket with a zipper where you can put valuables. The rest is roomy enough for you to bring your stuff with you. The satin lining is stitched properly, and it has a durable mesh reinforcement at the seams, making the interior sturdy.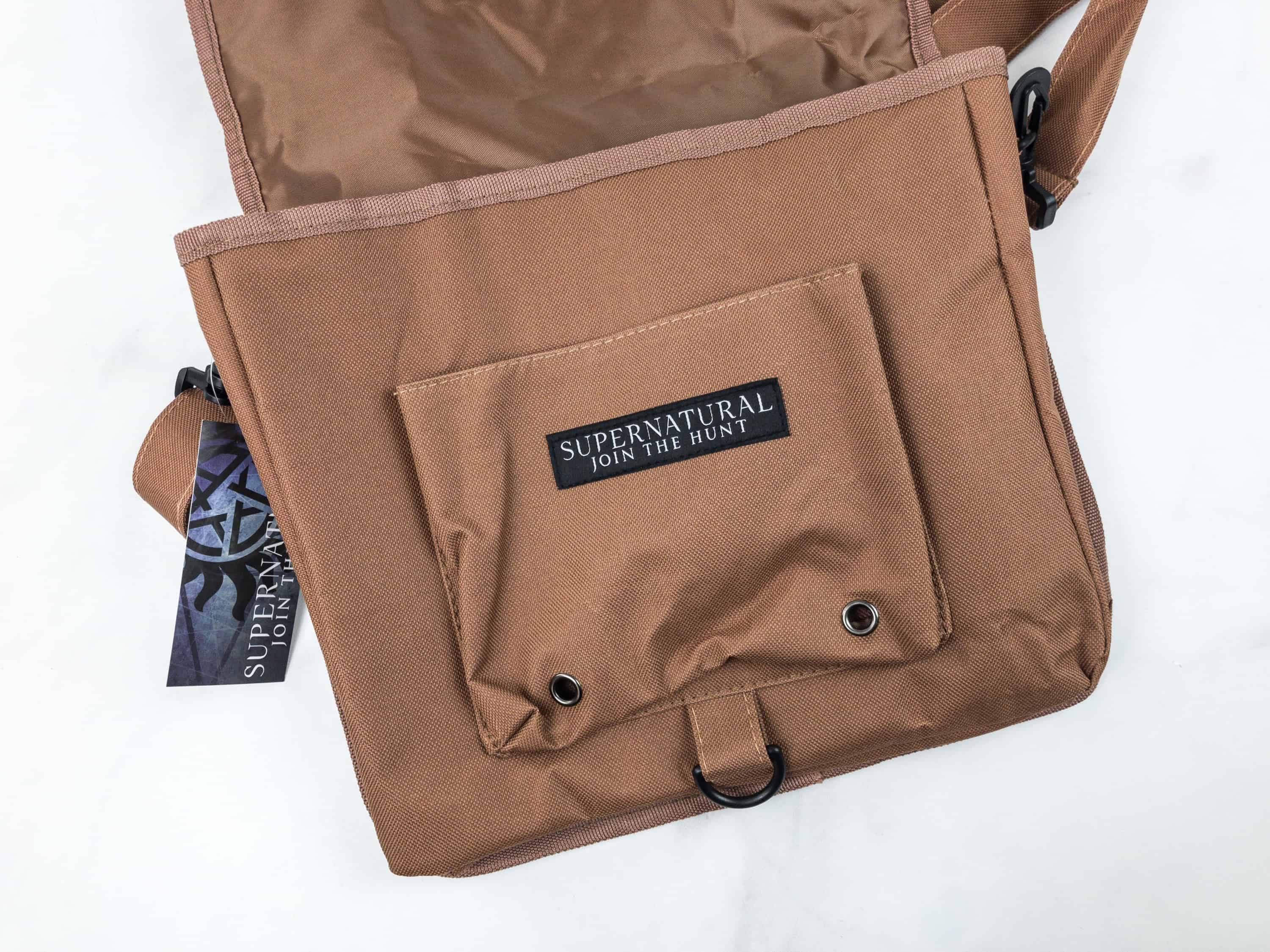 There is also a pocket in front of the bag with the Supernatural logo on it.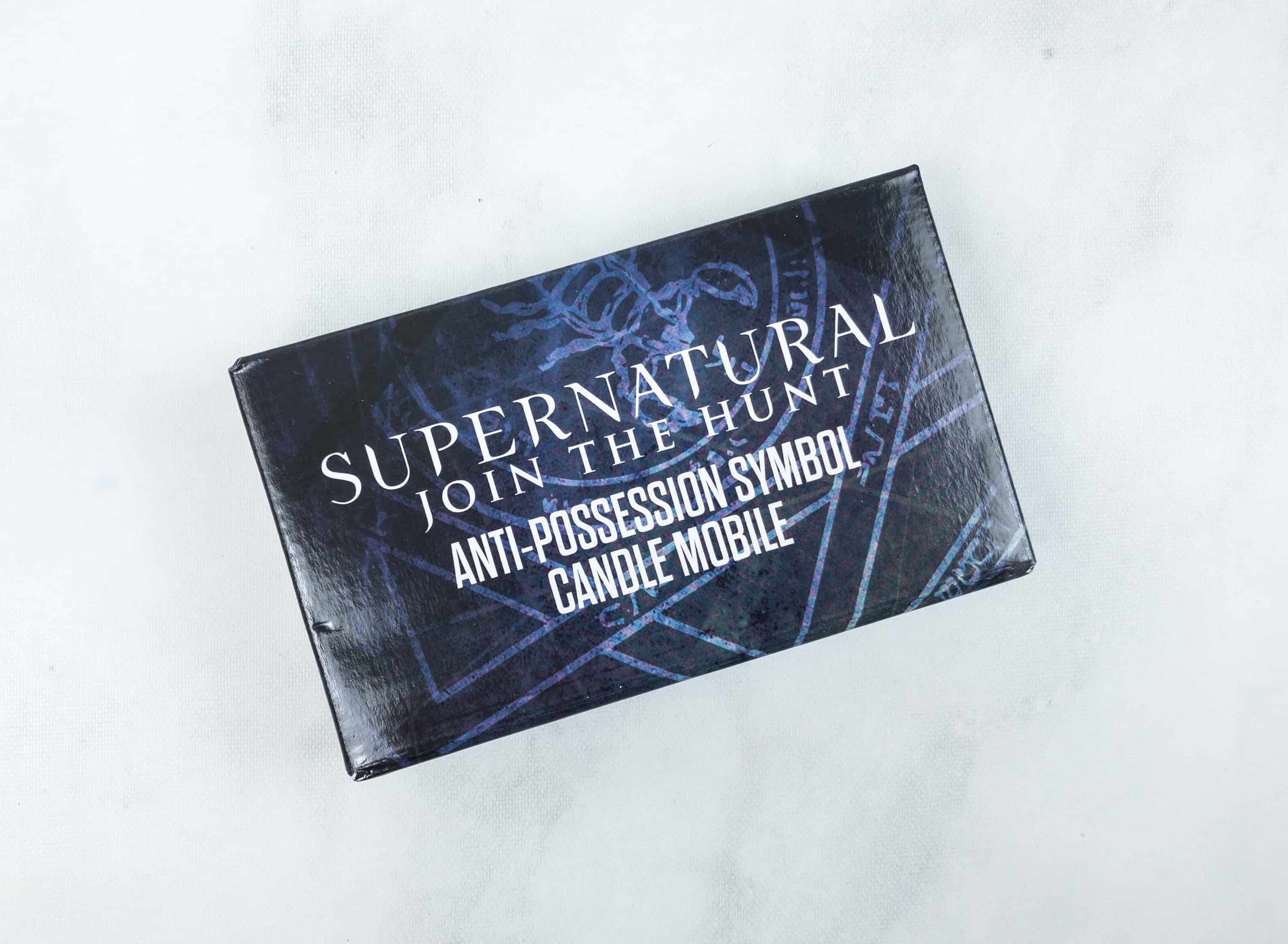 Anti-Possession Candle Spinner. This is one of the most interesting candle holders I've seen!
This it how it looks like when assembled! This candle spinner comes with 5 anti-possession logos with one on top of the candle spinner and the four hanging down the sides. When a tealight is lit beneath it, the rising current causes it to slowly twirl. It can fit one standard sized tealight at a time.
Dean Winchester Vinyl. The vinyl toy was enclosed in a blue box with a transparent cover so you can easily see what's inside.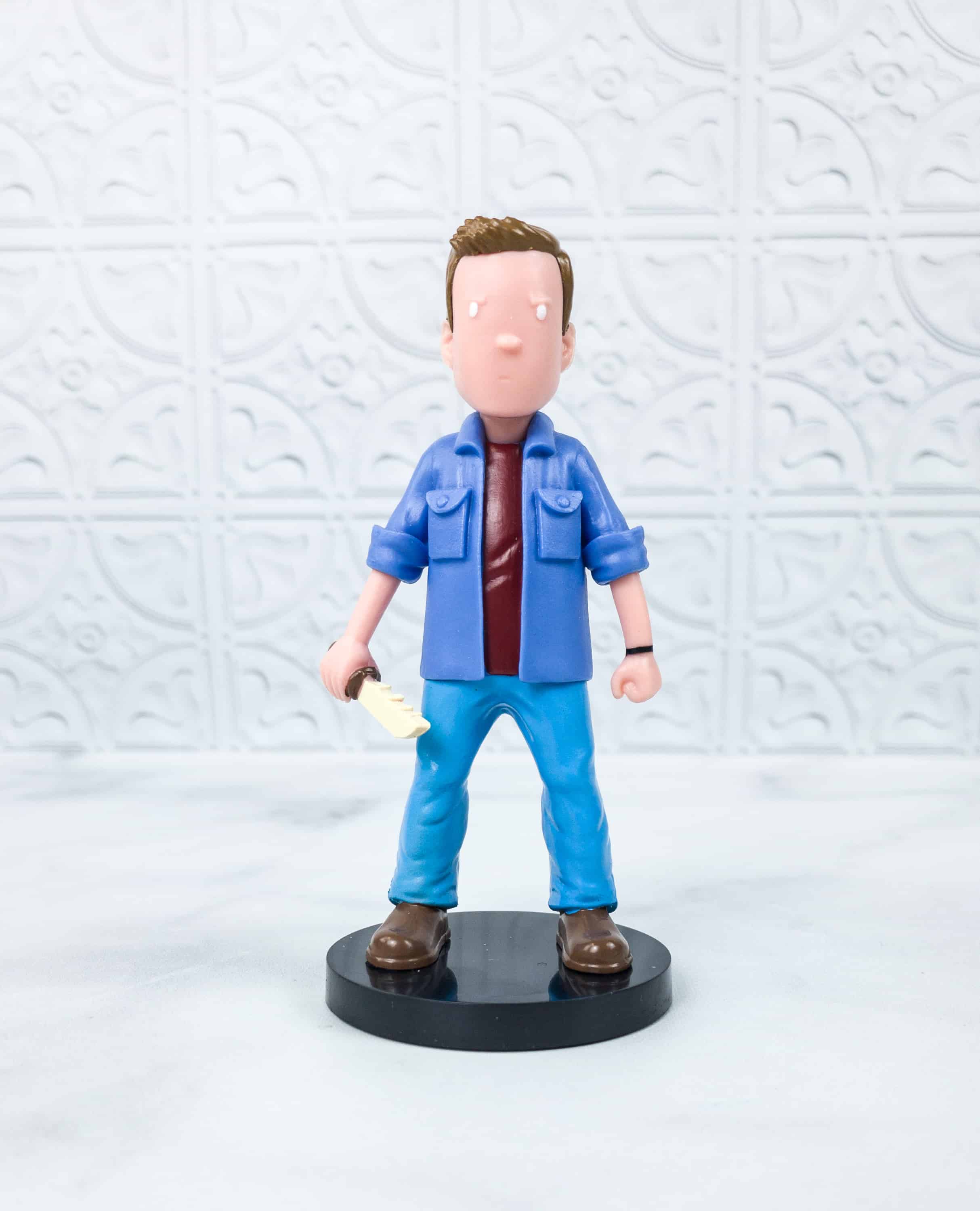 The details made it a cute, almost cartoon-like version of Dean Winchester.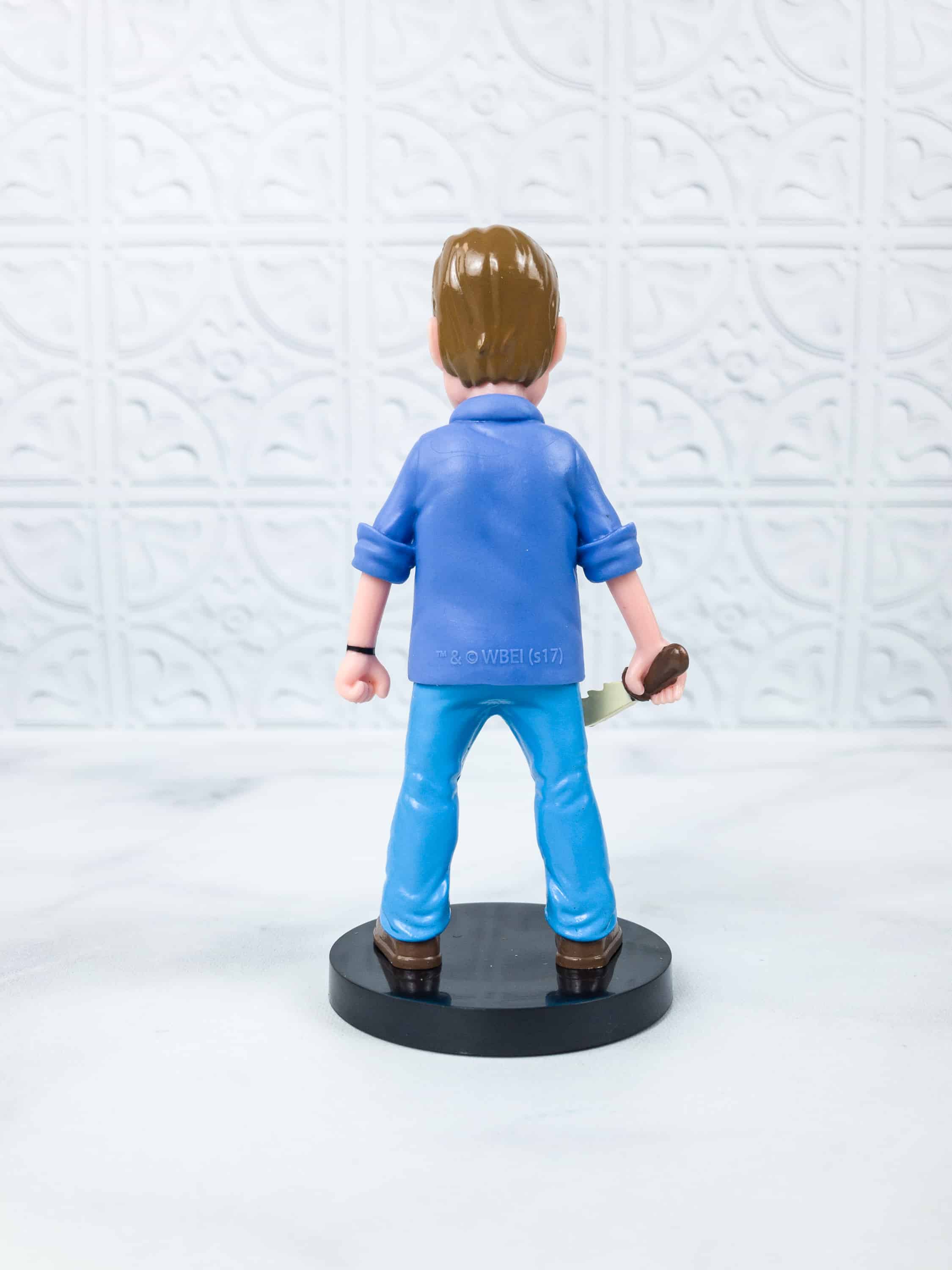 The details at the back are as good as the front. You can see the creases on his sleeves as well as his pants. This toy is mounted on a black base so that it won't topple over easily.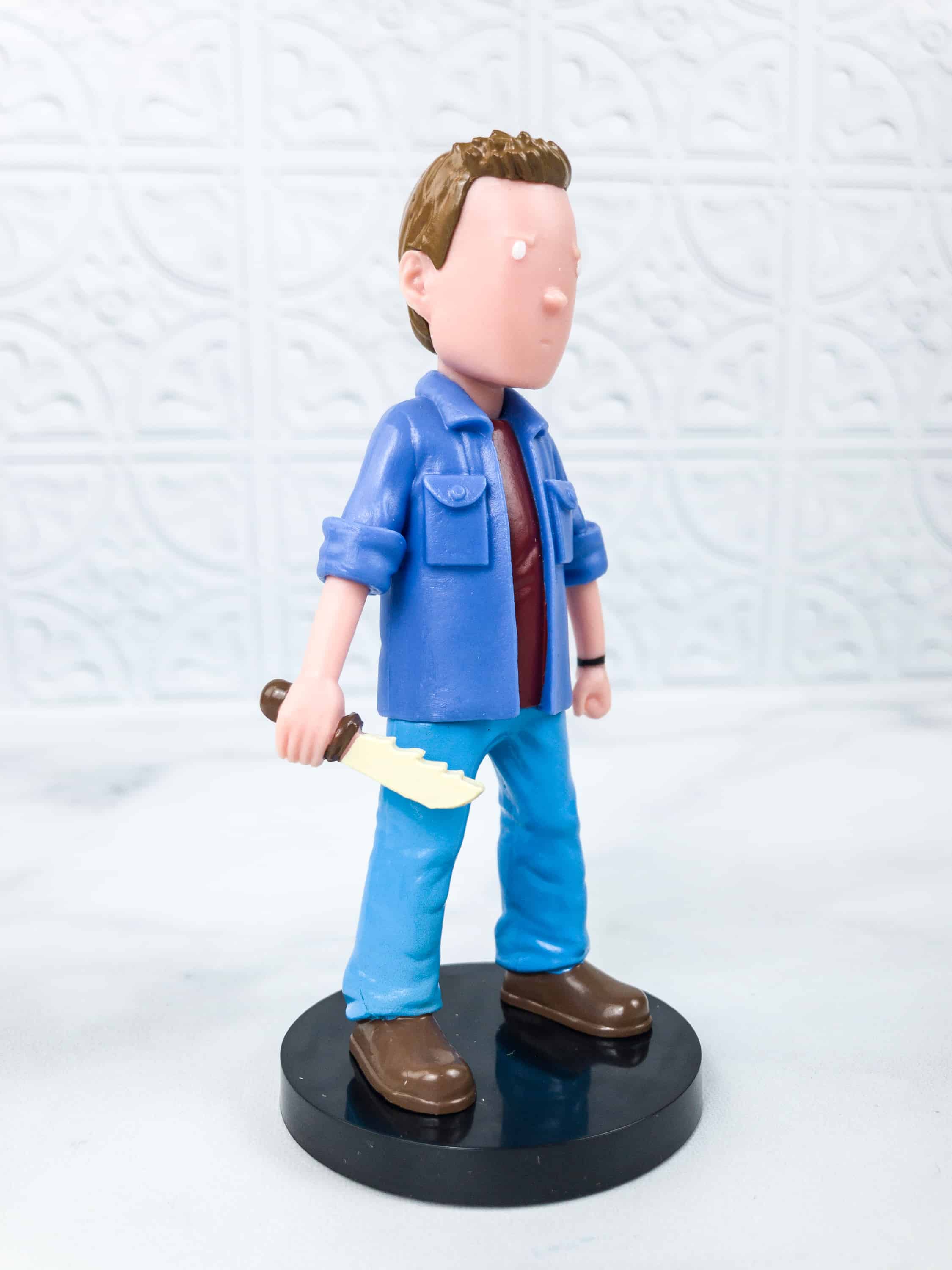 The knife is a dead giveaway too but we all know that Dean Winchester is the more physical of the Winchester brothers.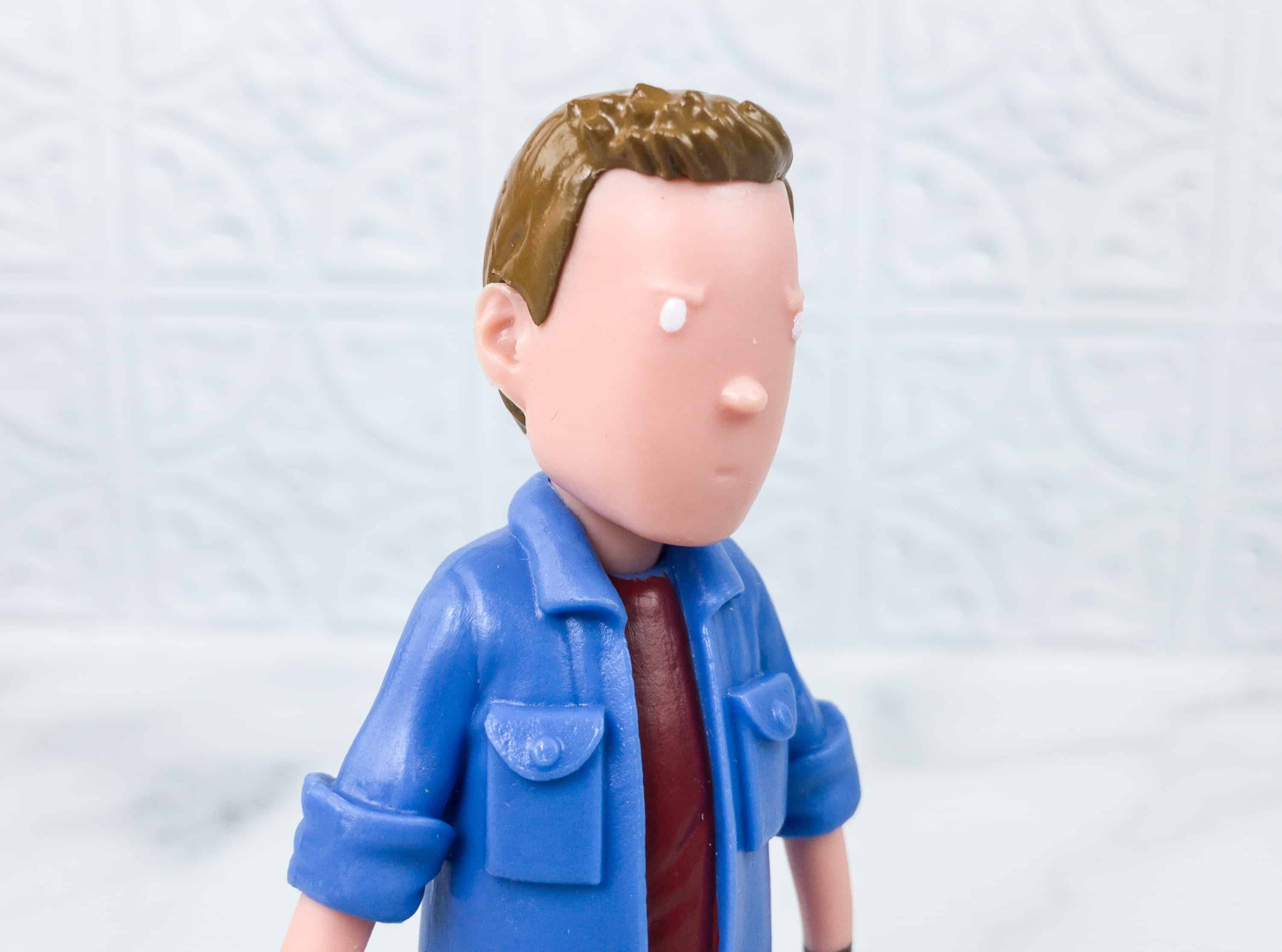 This vinyl toy version of Dean Winchester definitely exudes that Winchester vibe. The hair matches that of Dean's hair in the show and just take a look at that expression! Who's ready to kick some supernatural butt?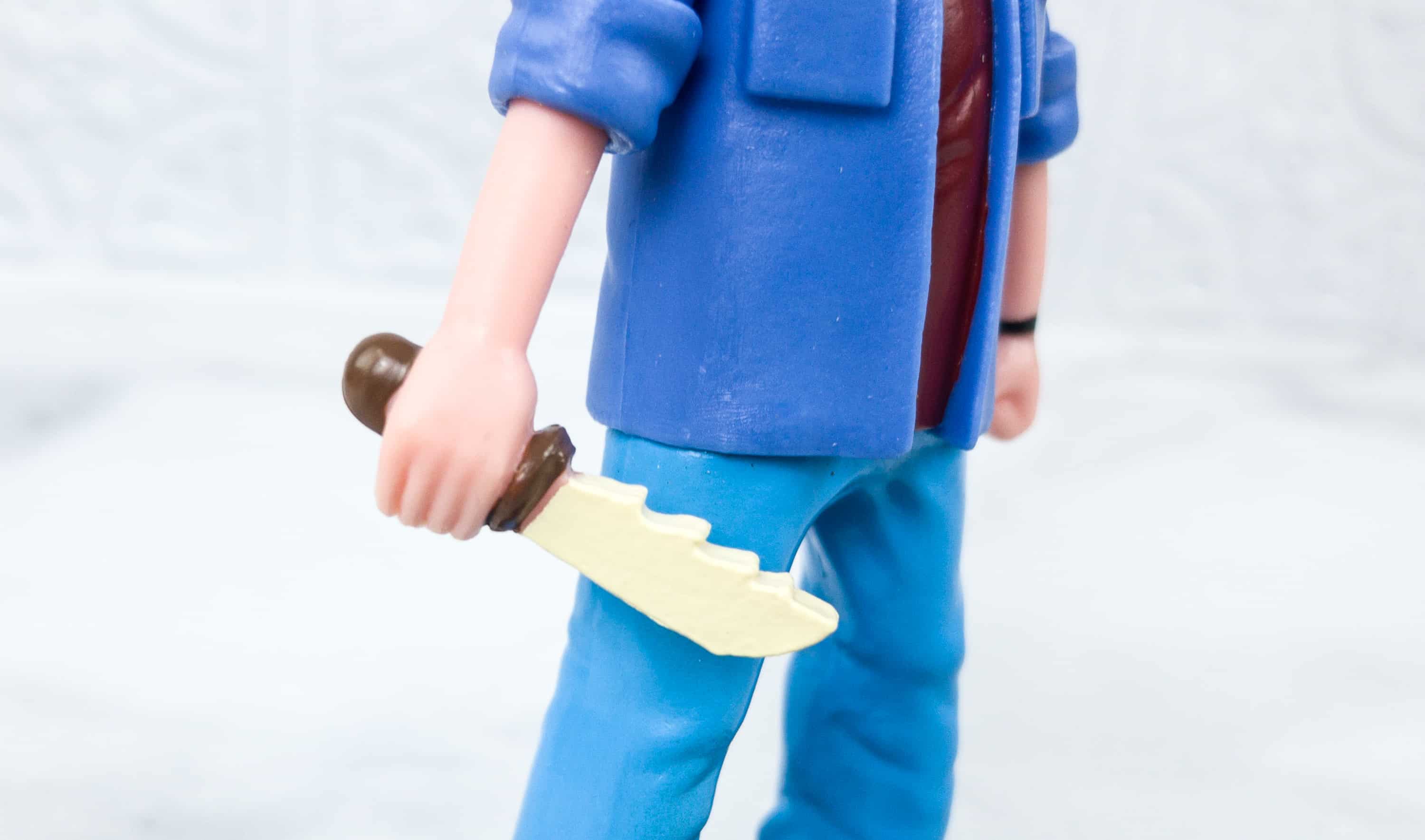 Attention to details included the serrated knife is great. This vinyl toy is going to see some real action for sure!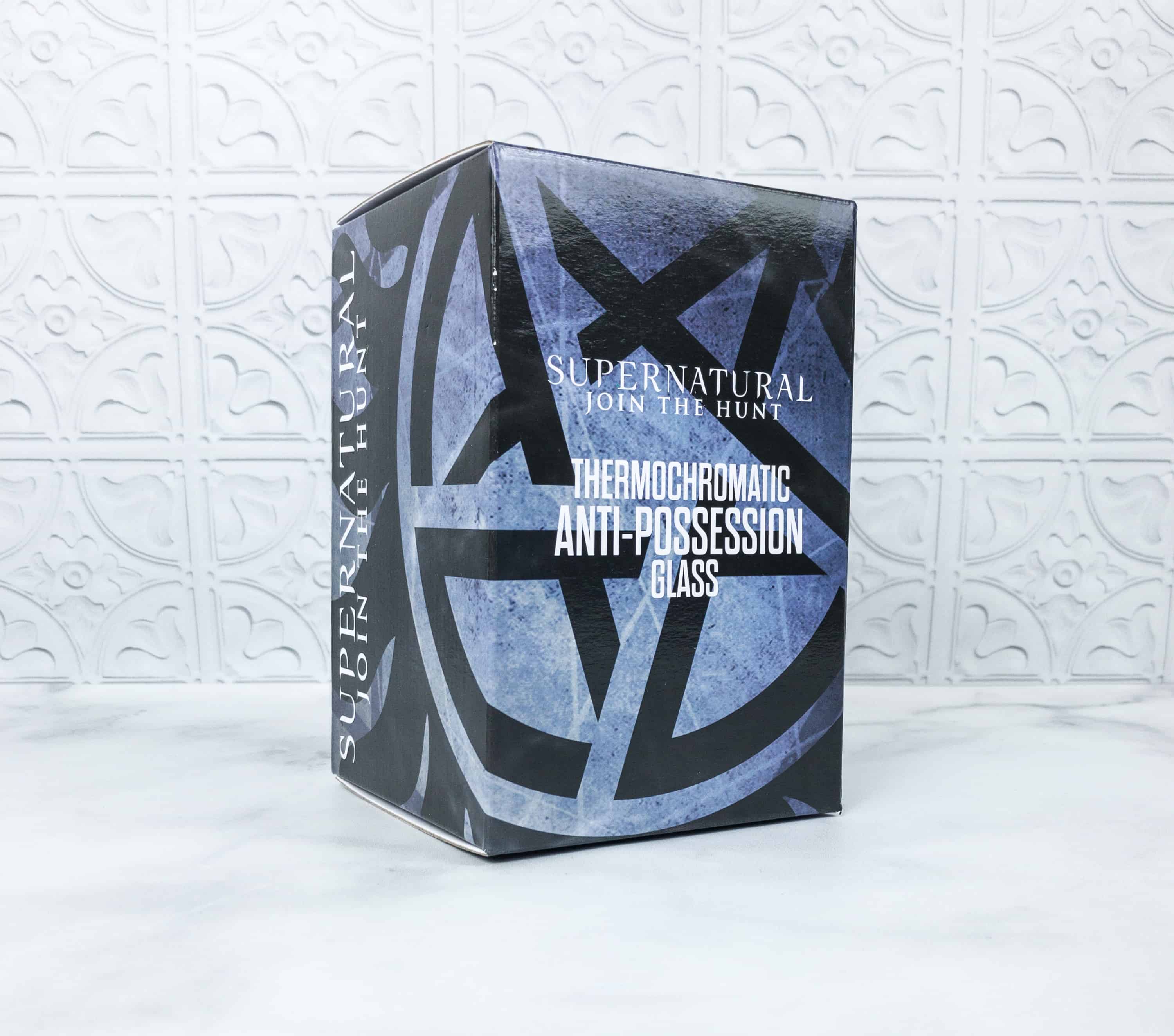 Thermochromatic Anti-Possession Glass. This Supernatural-themed glass has a thermochromatic print, which means it changes color depending on the temperature of the beverage you put in it!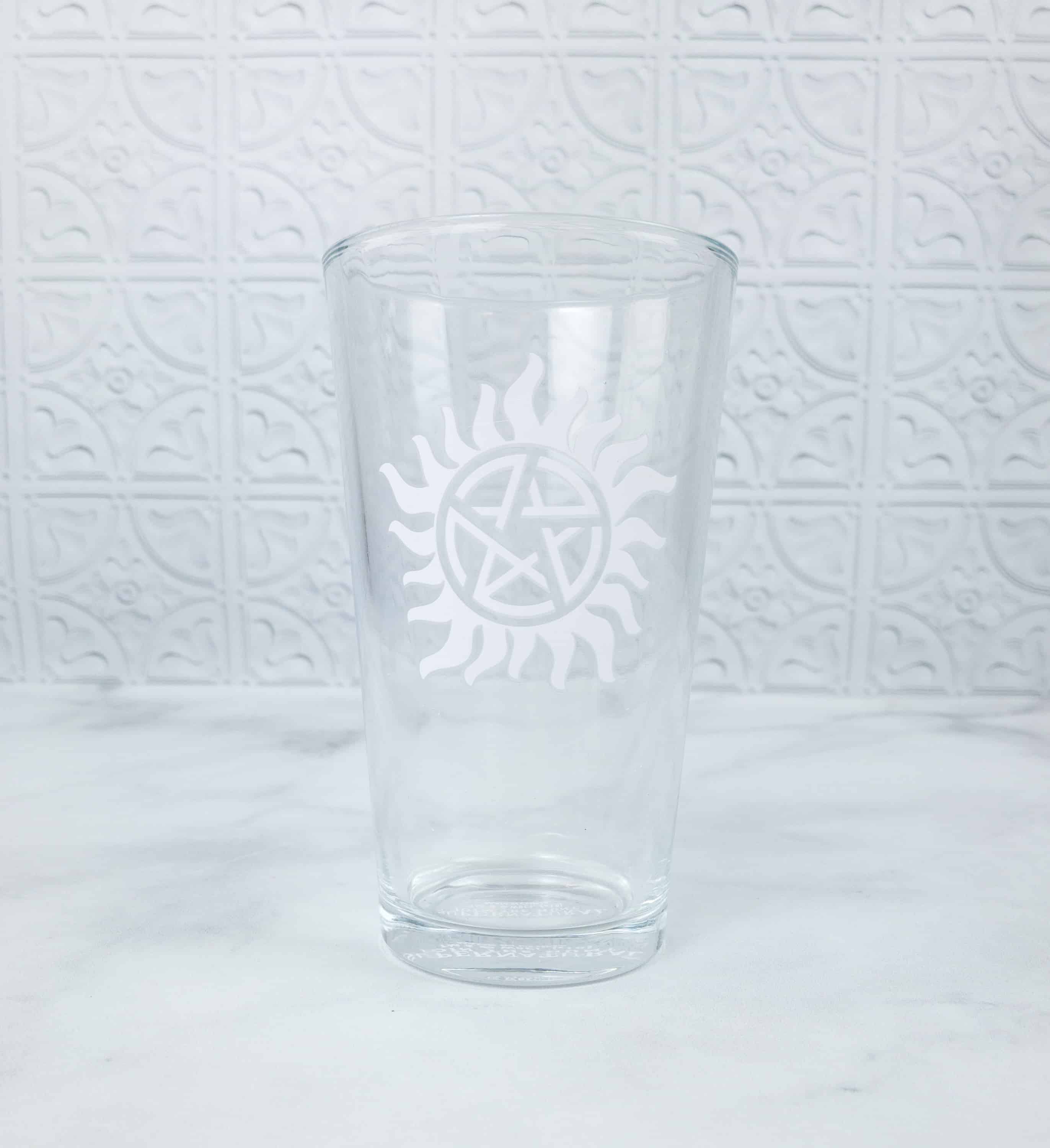 The anti-possession logo is originally in white.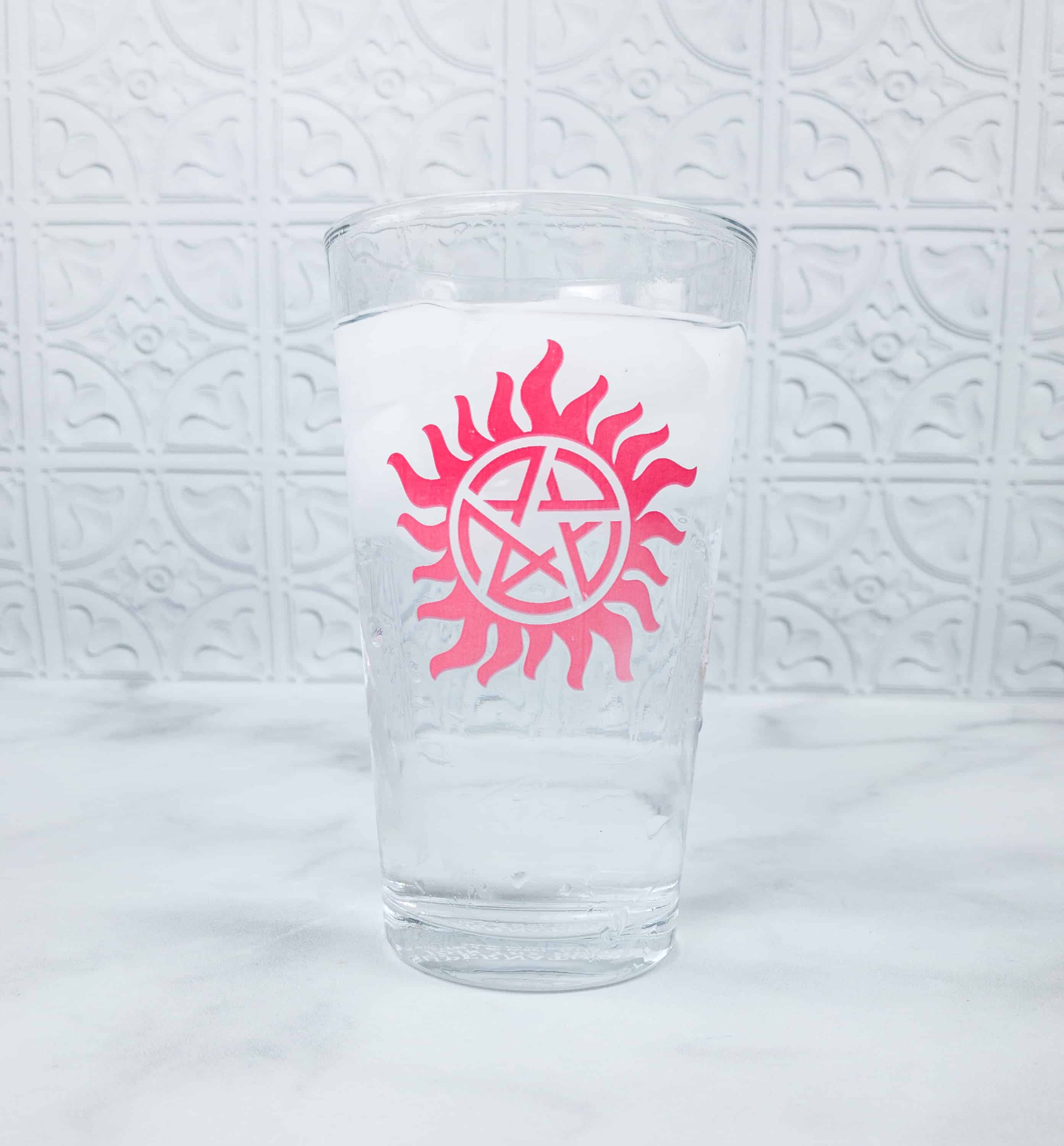 When you fill the glass with  cold water, it turns red! How amazing is that? It's like you have cast your own spell! I found it needed really cold water to achieve a nice, bright red.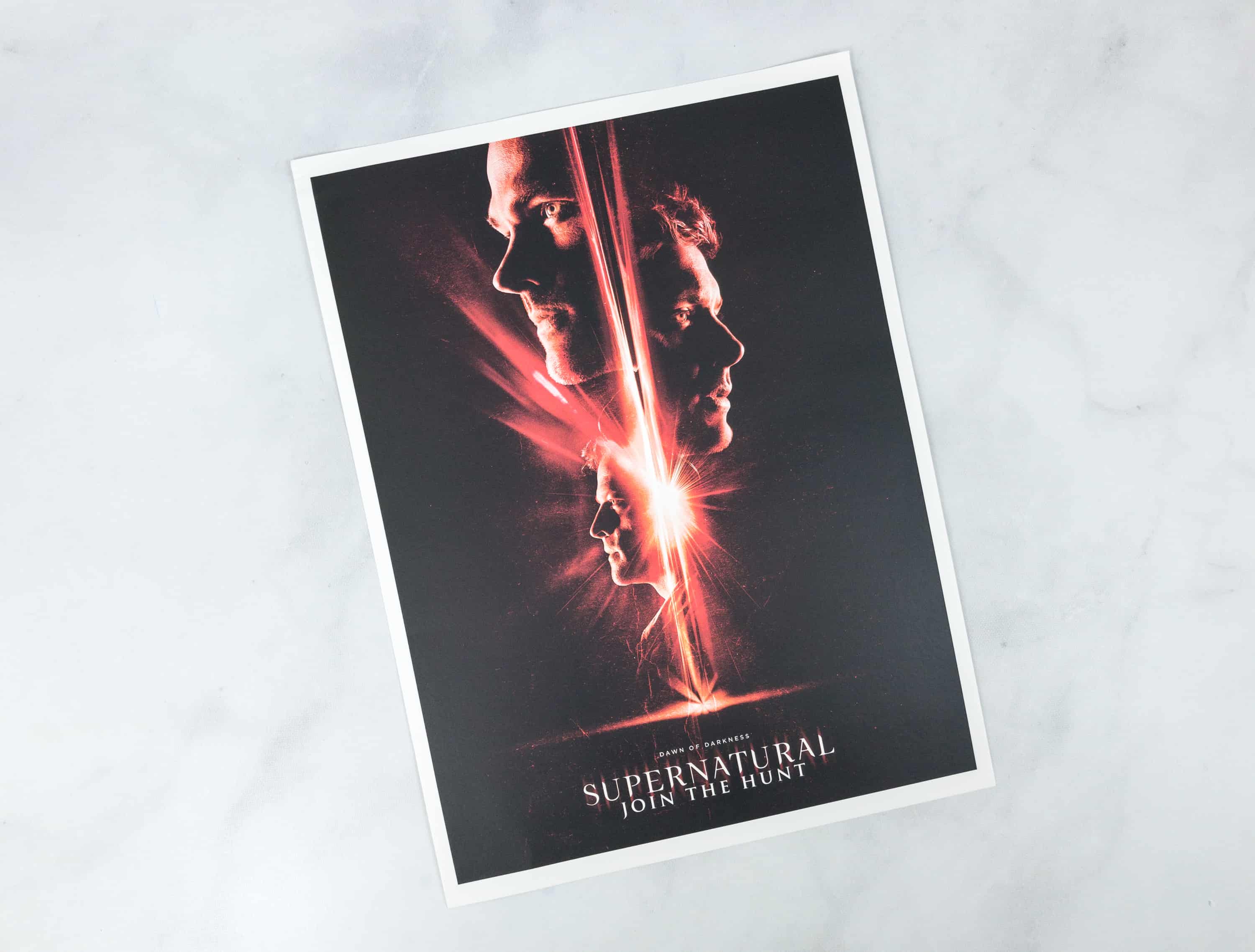 Art Print. There's always an art print or mini poster in this subscription, and this quarter it features Sam and Dean Winchester with Castiel!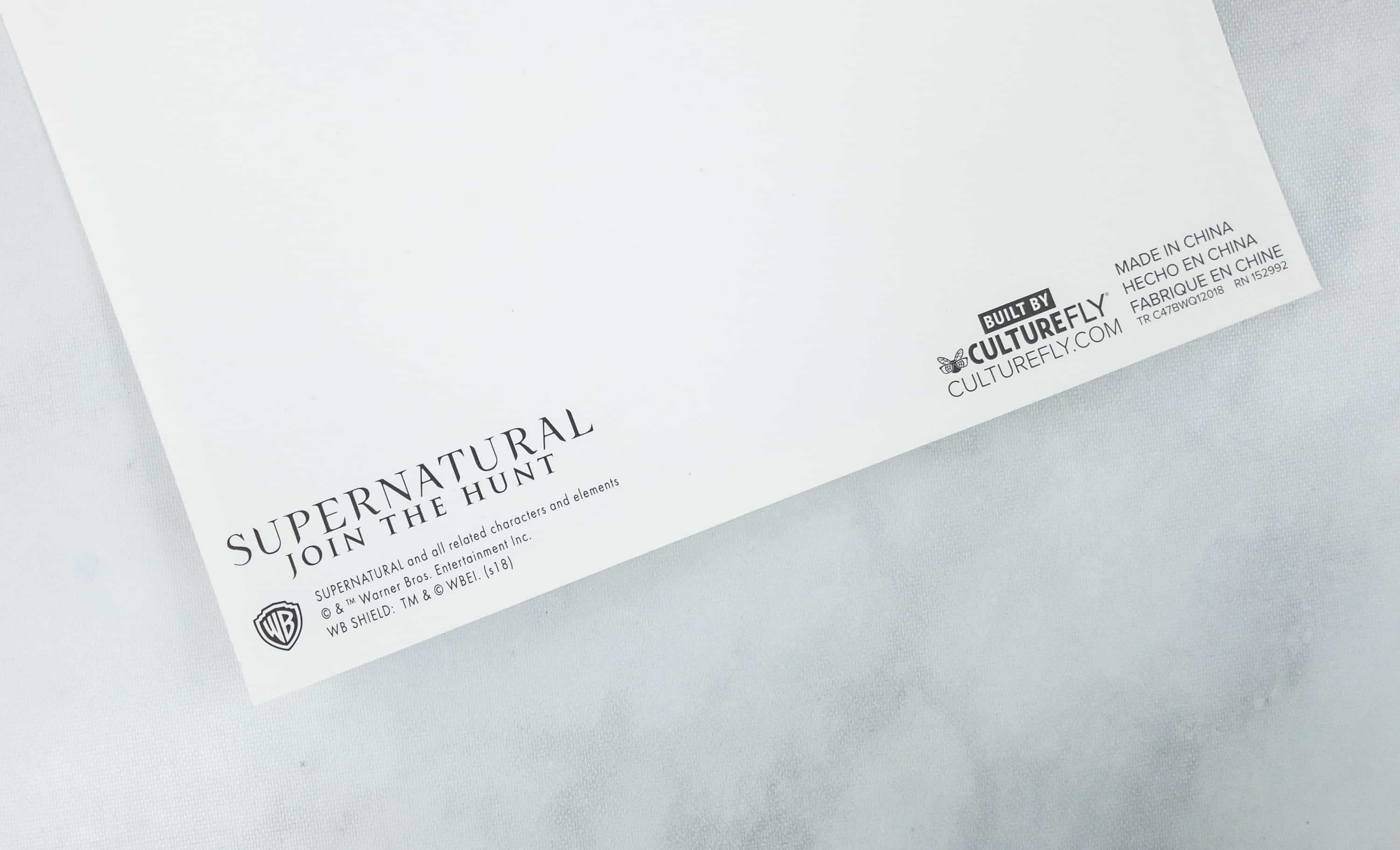 At the back of the art print is the official logo of Supernatural, as well as CultureFly.
This quarter's Supernatural Box is filled with amazing goodies that any Supernatural fan would love to have. The show references and details are so on point, from Dean's gym teacher cosplay set to the art print! I'm going to have to rustle up some nice red shorts in time for Halloween. I love the balance between Supernatural themed gear (e.g. the messenger bag) and quirky items that are nods to in-jokes or specific episodes (like Cass' name tag). My only peeve is the frequency with which they employ the anti-possession sigil — the apparel isn't quite as every-day-wear when it has what appears to the uninitiated to be pentagrams. I probably wouldn't take the messenger bag to a church picnic, but it is very cool and functional nonetheless. Everything is well-made! I also liked that aside from the Winchester brothers, they involved Castiel in Spring box too. This box certainly makes you feel that you are part of the hunt ! It's such a good deal for $49.99 per quarter!
What do you think of the Supernatural Box?