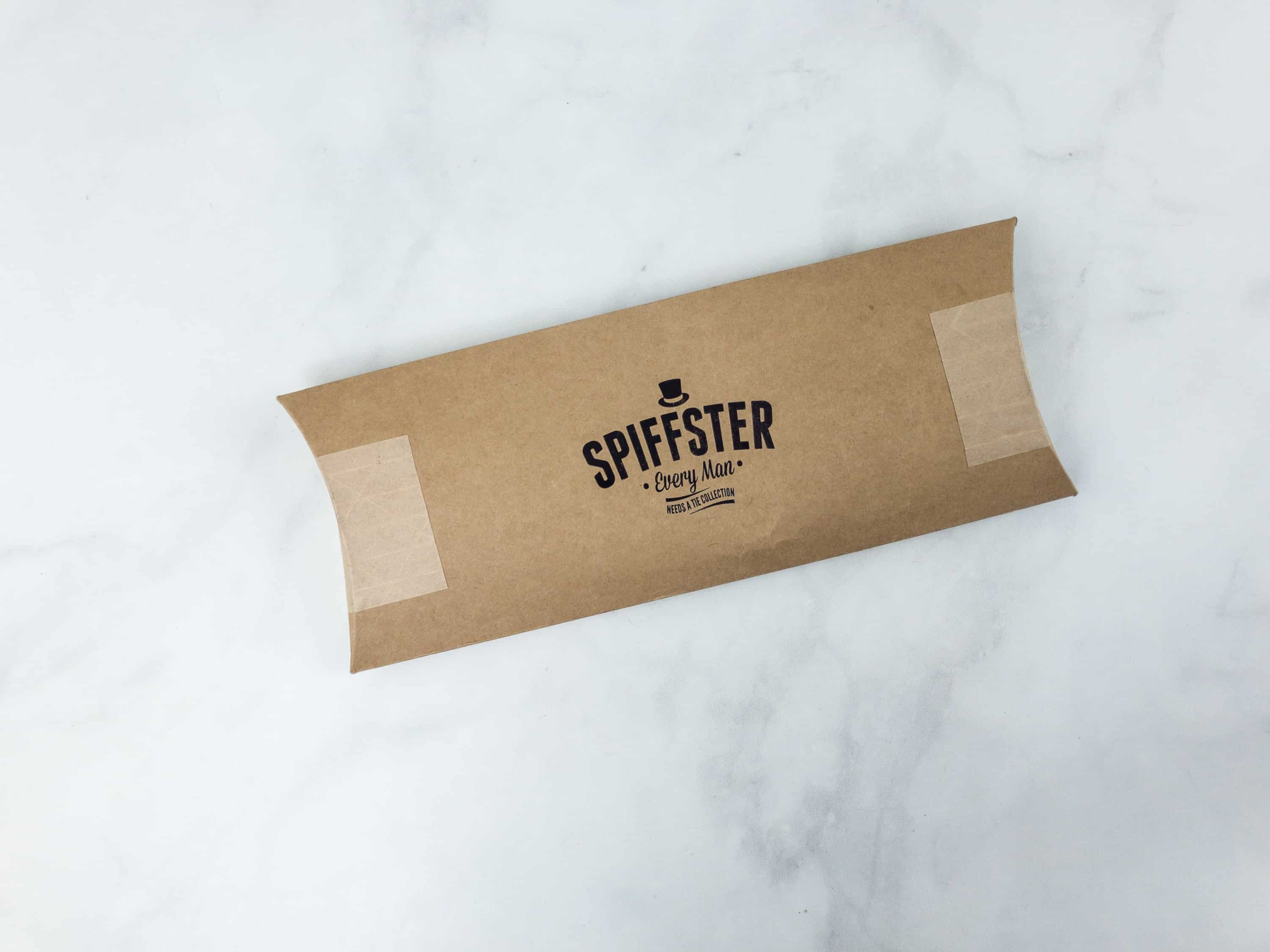 The Spiffster Box is a men's subscription box that sends a single premium necktie each month. The Silk Tie Subscription Box is perfect for the silk enthusiast. The silk ties are made from the finest silk fabrics and crafted by dedicated tailors. The patterns are inspired by top European brands that set the trends in the fashion industry. Each silk tie is 3.15" inches at its maximum width and 58″ in length.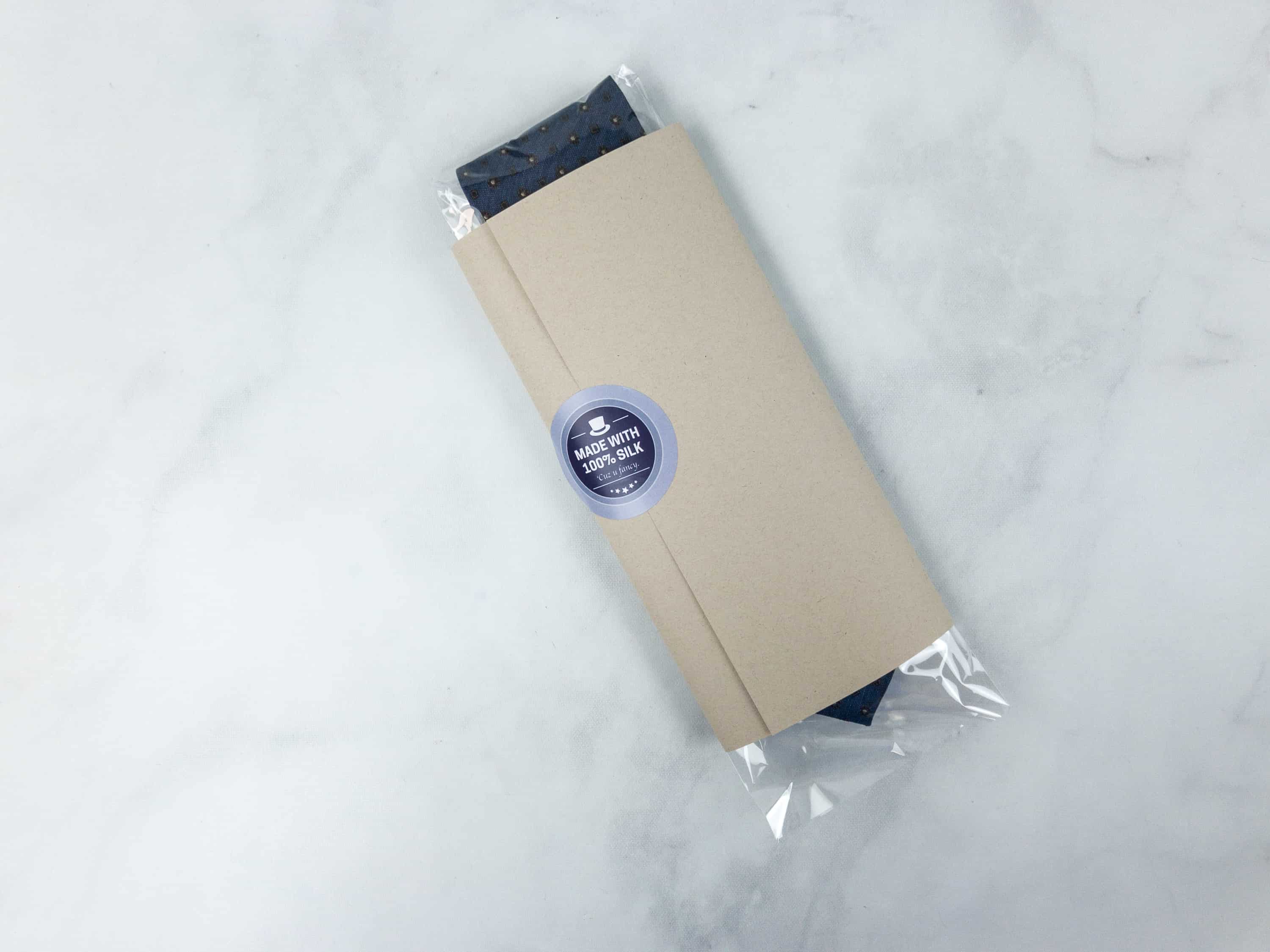 The tie was inside a plastic pouch wrapped in paper.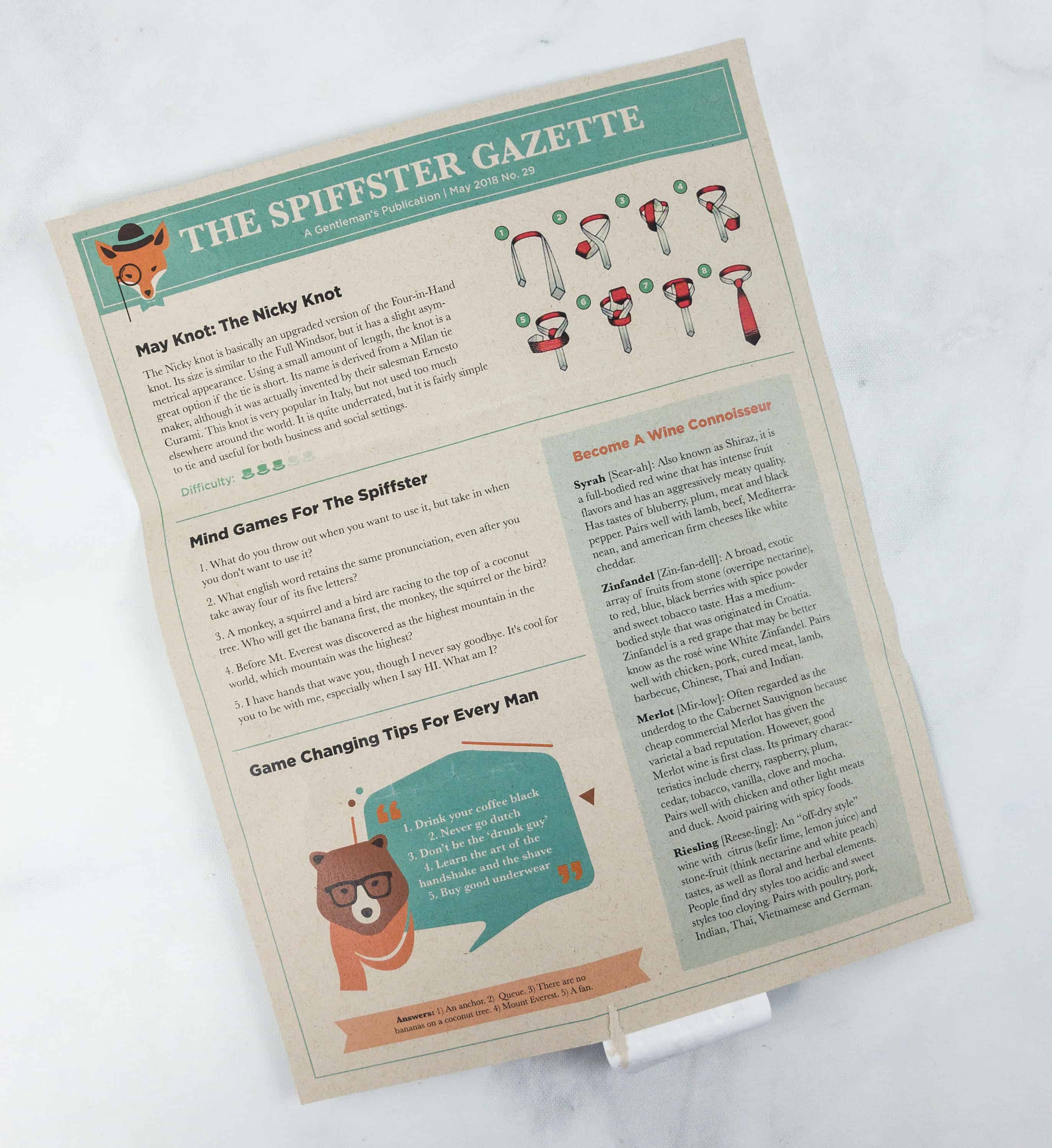 I love the Spiffster information sheet, plus the creative effort they put into it. It's funny and informative. The knot for May is The Nicky Knot. I was actually very excited to see this tutorial, as my typical half-Windsor always has a bit of twist to it, and this knot achieves the dual directionality of the full Windsor (without actually doubling the knot size).
The Nicky knot is basically an upgraded version of the Four-in-Hand knot. Its size is similar to the full Windsor, but it has a slight asymmetrical appearance. Using a small amount of length, the knot is a great option if the tie is short. Its name is derived from a Milan tie maker, although it was actually invented by their salesman Ernesto Curami. This knot is very popular in Italy, but not used too much elsewhere in the world. It is quite underrated, but it is fairly simple to tie and useful for both business and social settings.
The sheet also has some other fun features, like a wine primer, some riddles, and some life advice.
This dark blue tie has yellow and black flower and box designs throughout.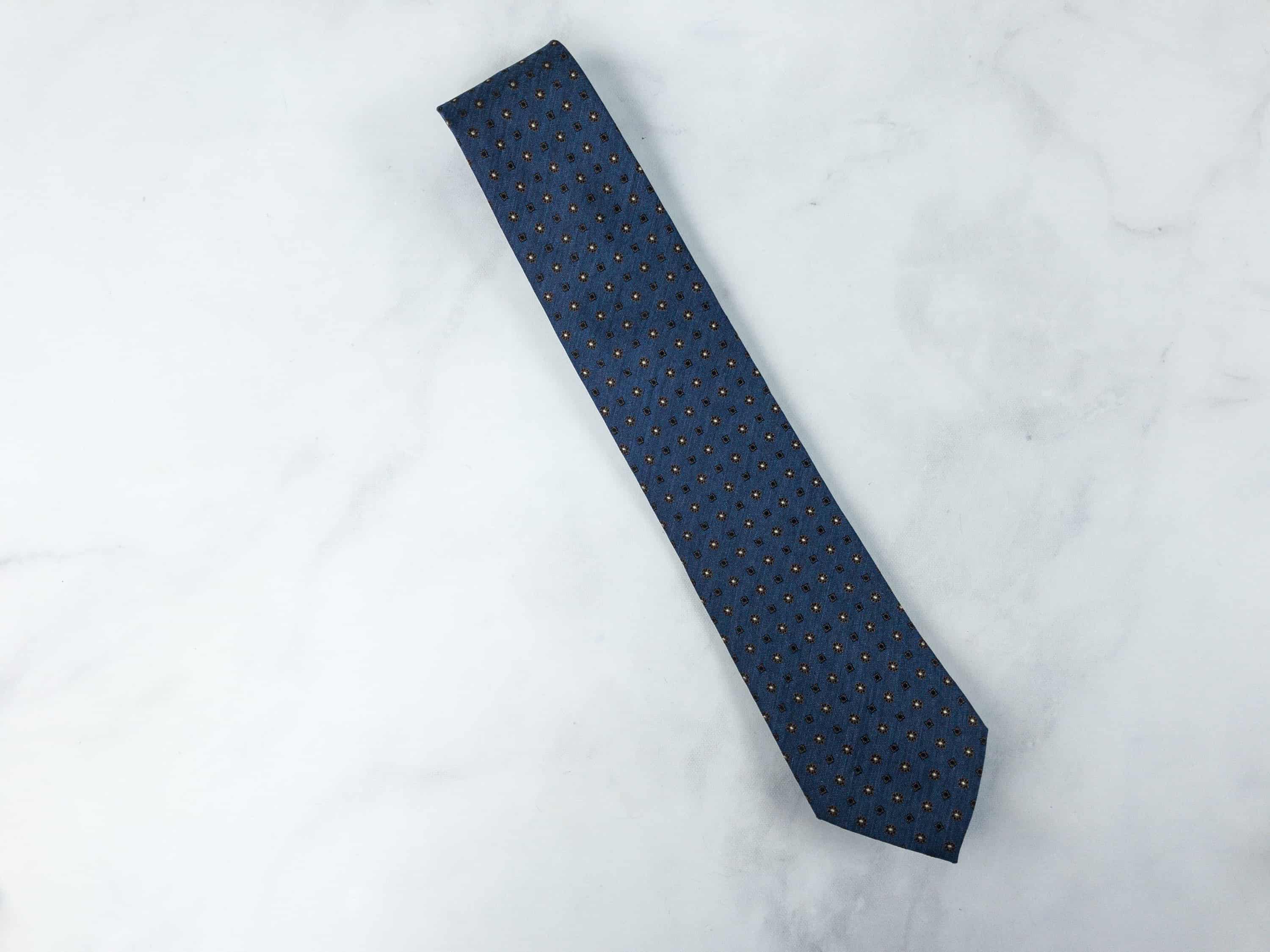 This is a nice tie to pair with light colored shirts, like white and creme.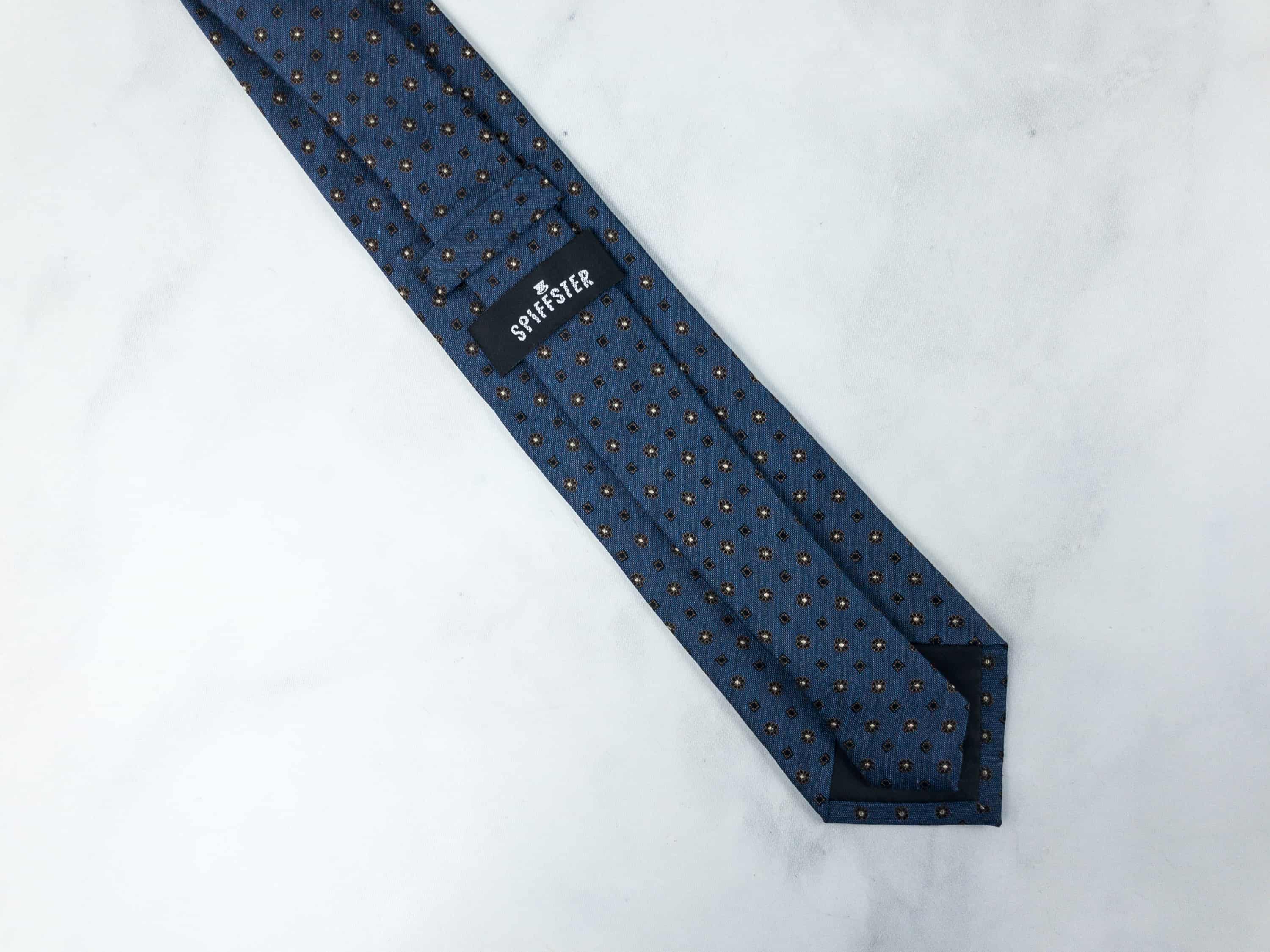 Turn it around and you will see the strap where you can insert the extra fabric of your tie. This way, the tie won't flap around and it's easy to look quite neat.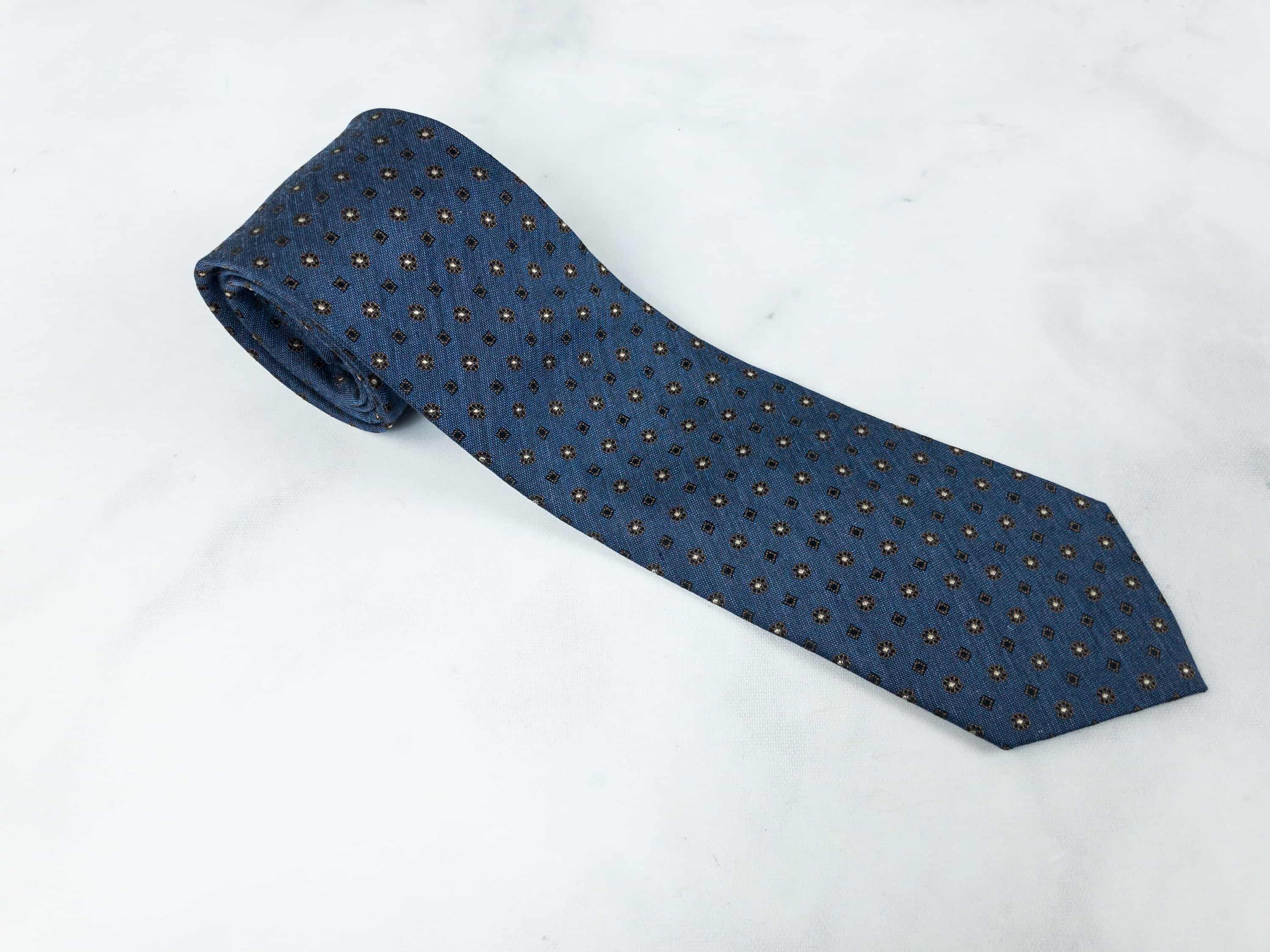 I like its classic look! I knew this tie was a keeper as soon as I saw it. I love the pattern — it is classic, reserved yet interesting, and it is set against a very rich looking fabric. The color is a classic navy, but it is slightly heathered, so it doesn't look too dark when paired with a lighter outfit.
Every gentleman needs to look spiffy and Spiffster definitely delivers. The dark blue necktie I received this month is definitely my style! Any man will find this subscription useful, and the fact that you can choose your own color and design preferences make it even more practical. I definitely can't argue with the price, as anyone who has had to pick up a tie in a department store knows, even the ugliest tie costs twice this much on clearance. Spiffster ties are high-quality, too. I can't wait for more tie designs I can add to my wardrobe!
What do you think of The Spiffster Box?