SnoozeBox is a monthly subscription box full of all-natural sleep aids! SnoozeBox will send 3-6 items each month and may send vitamins & minerals; herbs; teas; essential oils & aromatherapy; or bath bombs & salts. These items are specially selected to have no side effects and are non-habit forming.
The science of sleep is always evolving, which is why our team works tirelessly to unearth new and effective ways of getting you that amazing night's sleep you deserve. There's no better feeling that opening a fresh box each month to discover new natural sleep possibilities.
My items were packed very simply in the box with no bubble wrap but with a plastic bag around one of the items. I didn't receive a product information card but I'm going to go ahead and say this is the May box. This is a new subscription so I would like to suggest that they send a flyer or card in future boxes; I am sure some sleep tips would be welcomed by subscribers!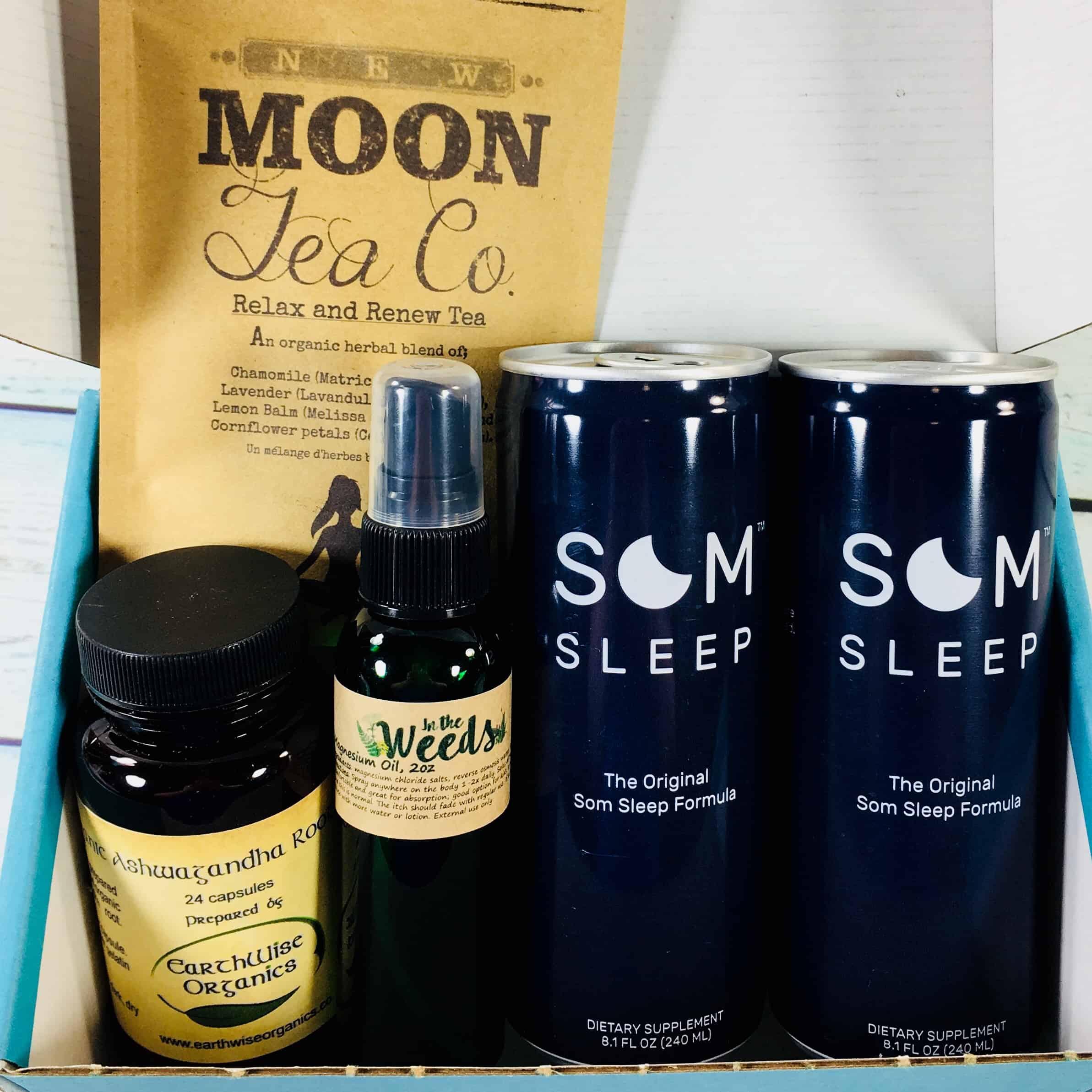 I received 4 different items in my box.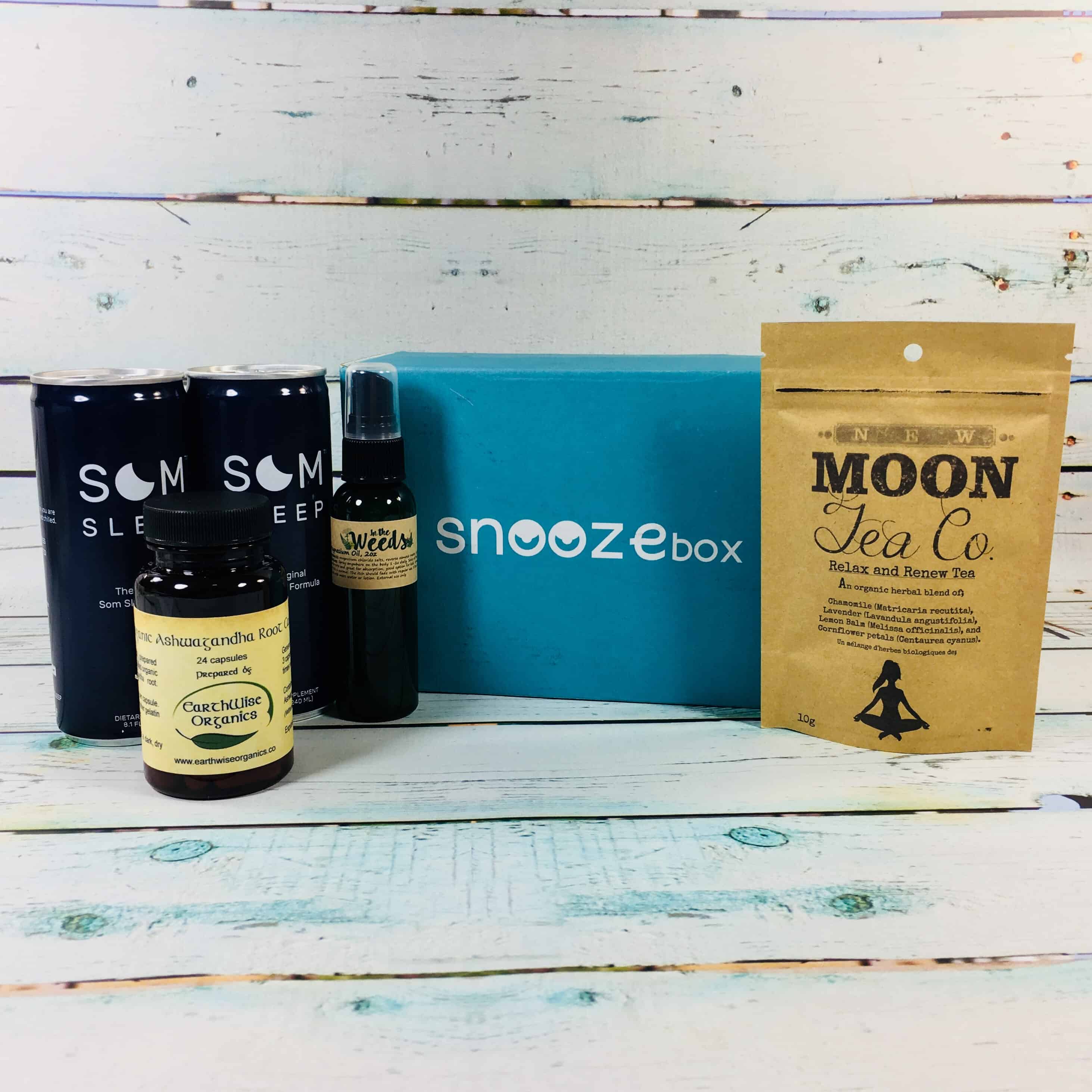 Everything in my box!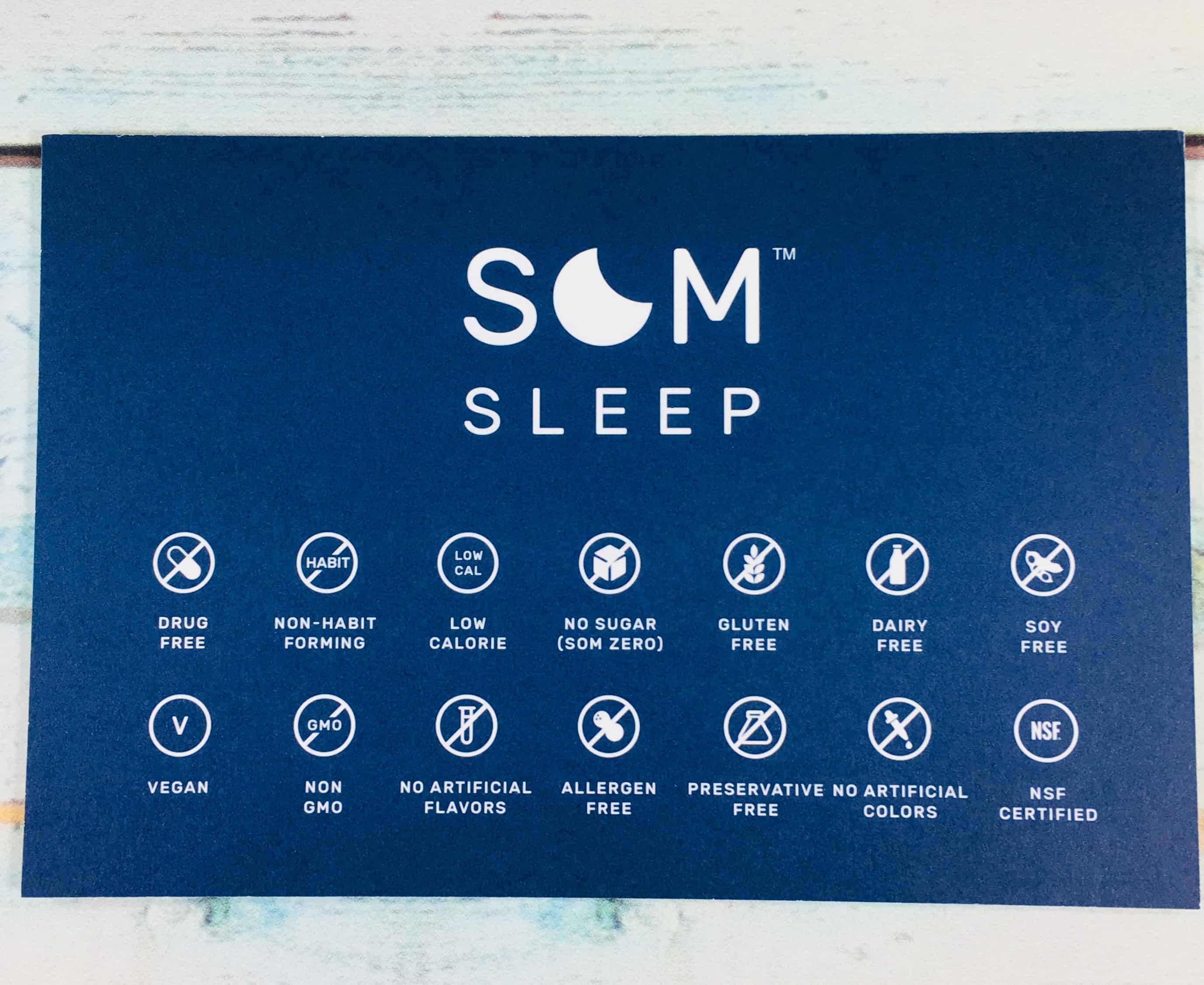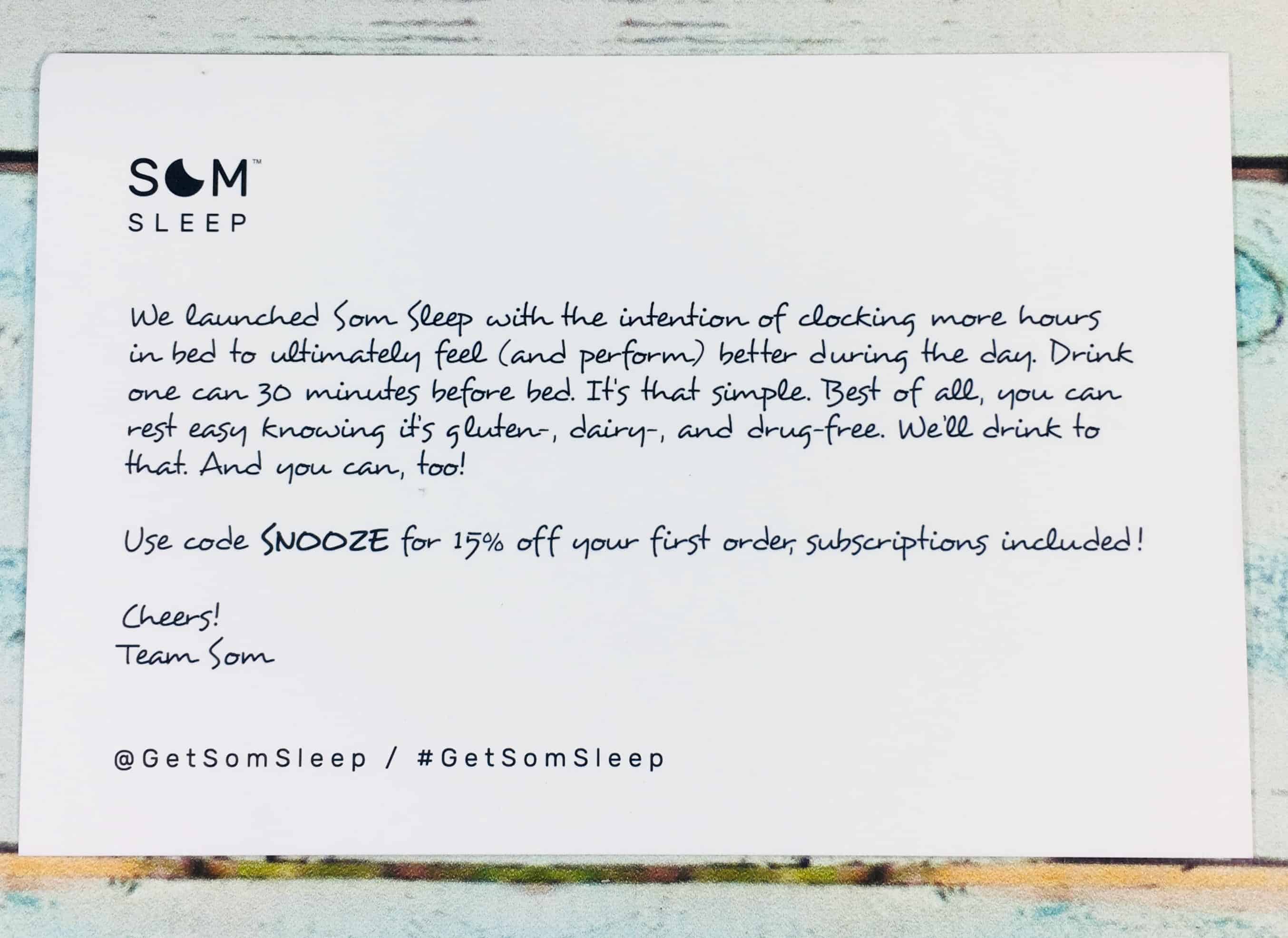 The only literature I found in the box was related to one of the products.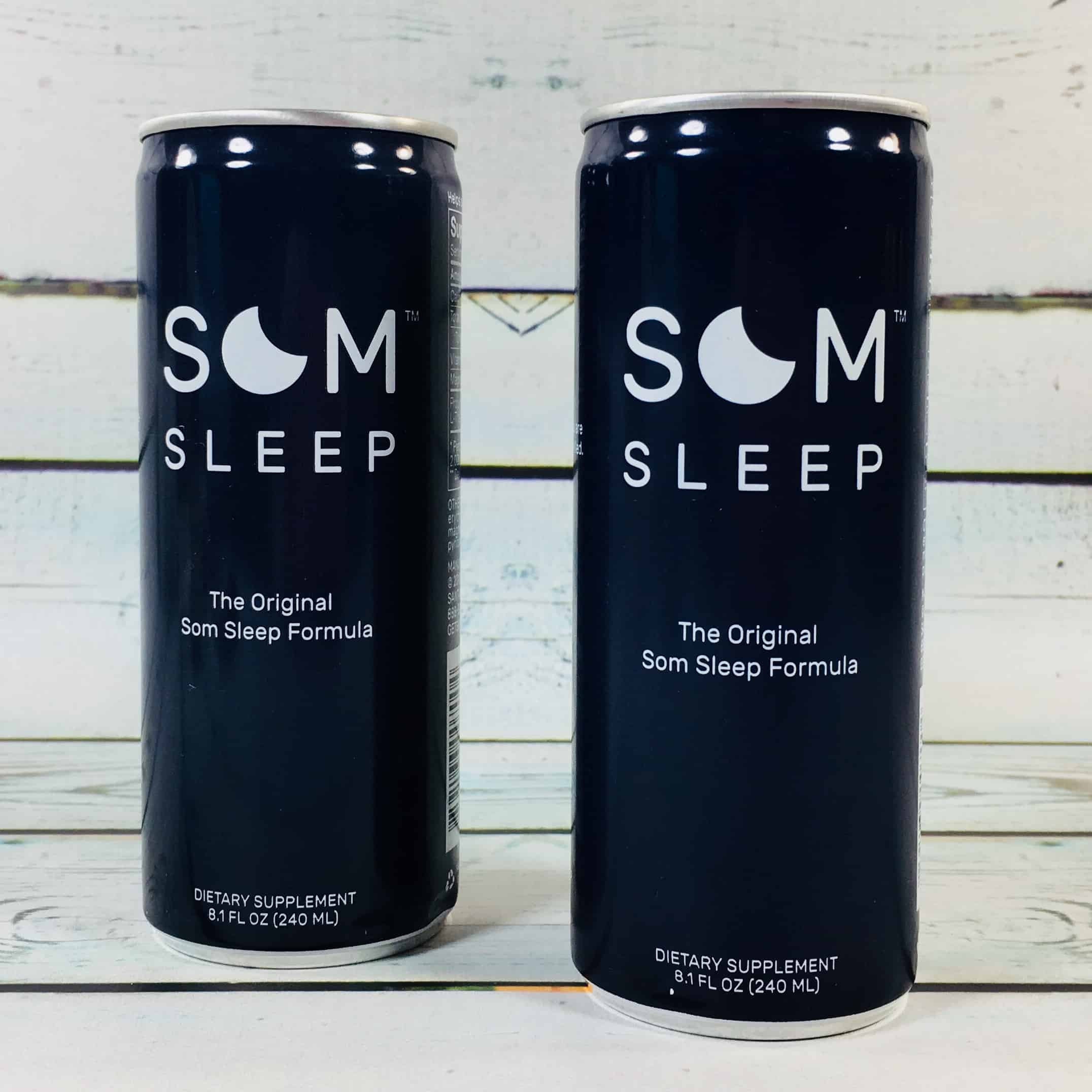 Som Sleep The Original Sleep Formula ($4.75) contains a proprietary blend of L-Theanine, GABA, and melatonin. L-Theanine is used to treat anxiety while GABA may help improve sleep. Melatonin is used to treat insomnia and other sleep problems.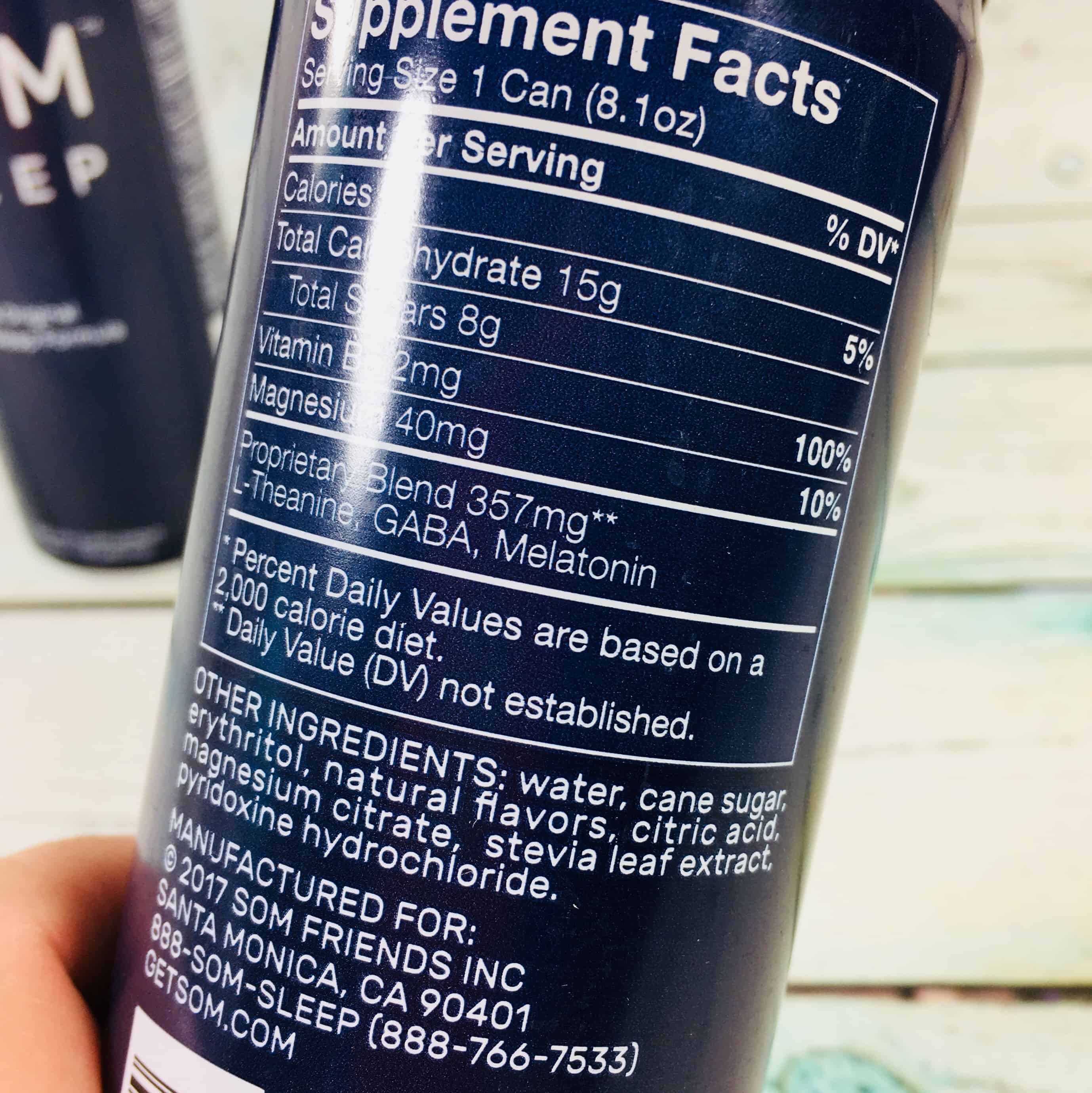 Full disclosure – I did not try this product. Erythritol is questionable for human consumption and may cause digestive issues while magnesium citrate is a stool softener and I already suffer from IBS. I have a very strong dislike for products containing citric acid and stevia as these leave my tongue feeling weird and give an aftertaste. Pyridoxine hydrochloride is vitamin B6 and may help calm the nervous system. I am not suggesting that it's not safe to drink, I'm sure lots of people drink Monster and other energy drinks but I don't drink those either. It's just my personal choice to not drink it.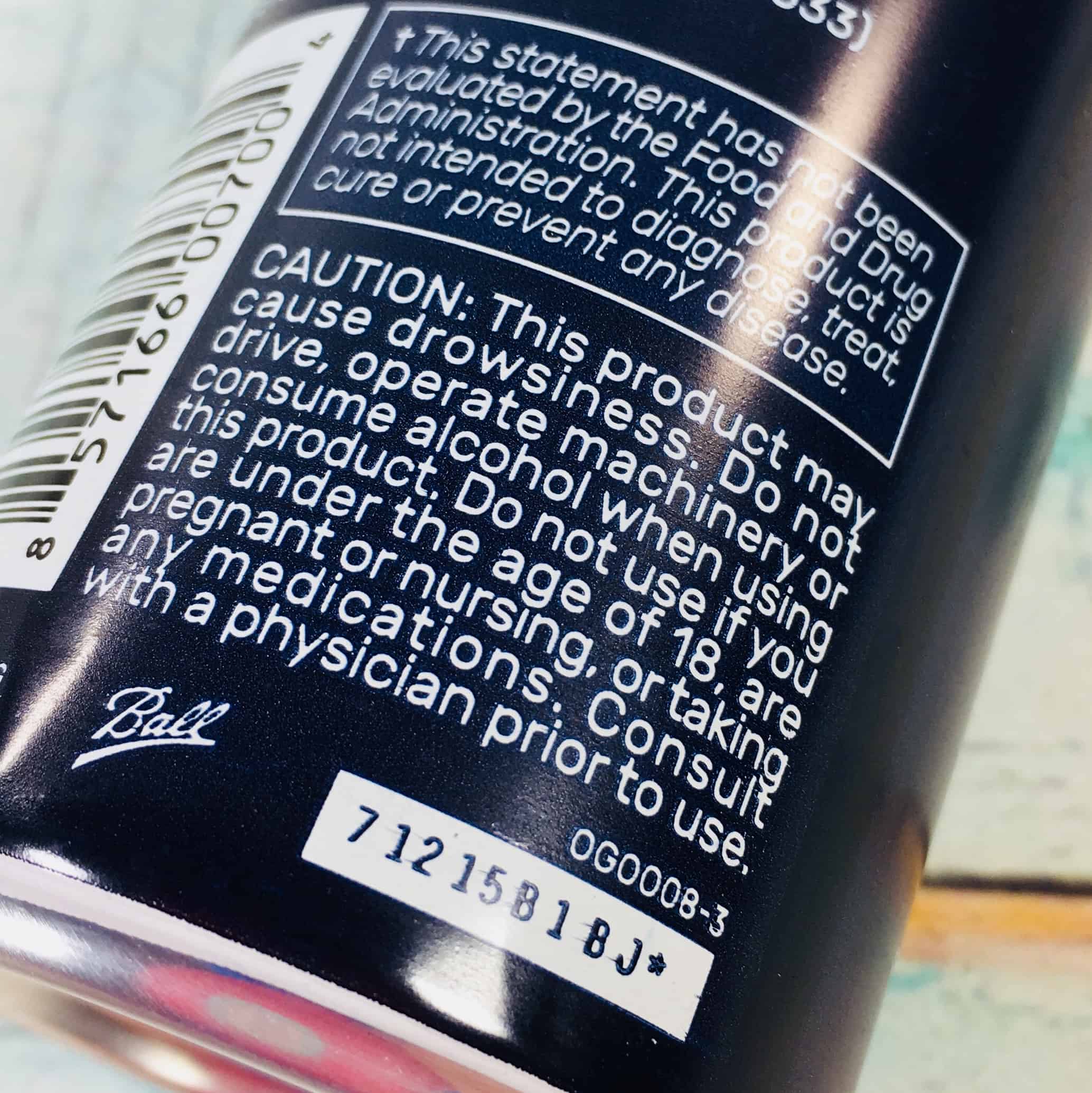 I think this is the first time I've ever seen the "may cause drowsiness" warning on a drink that doesn't contain alcohol!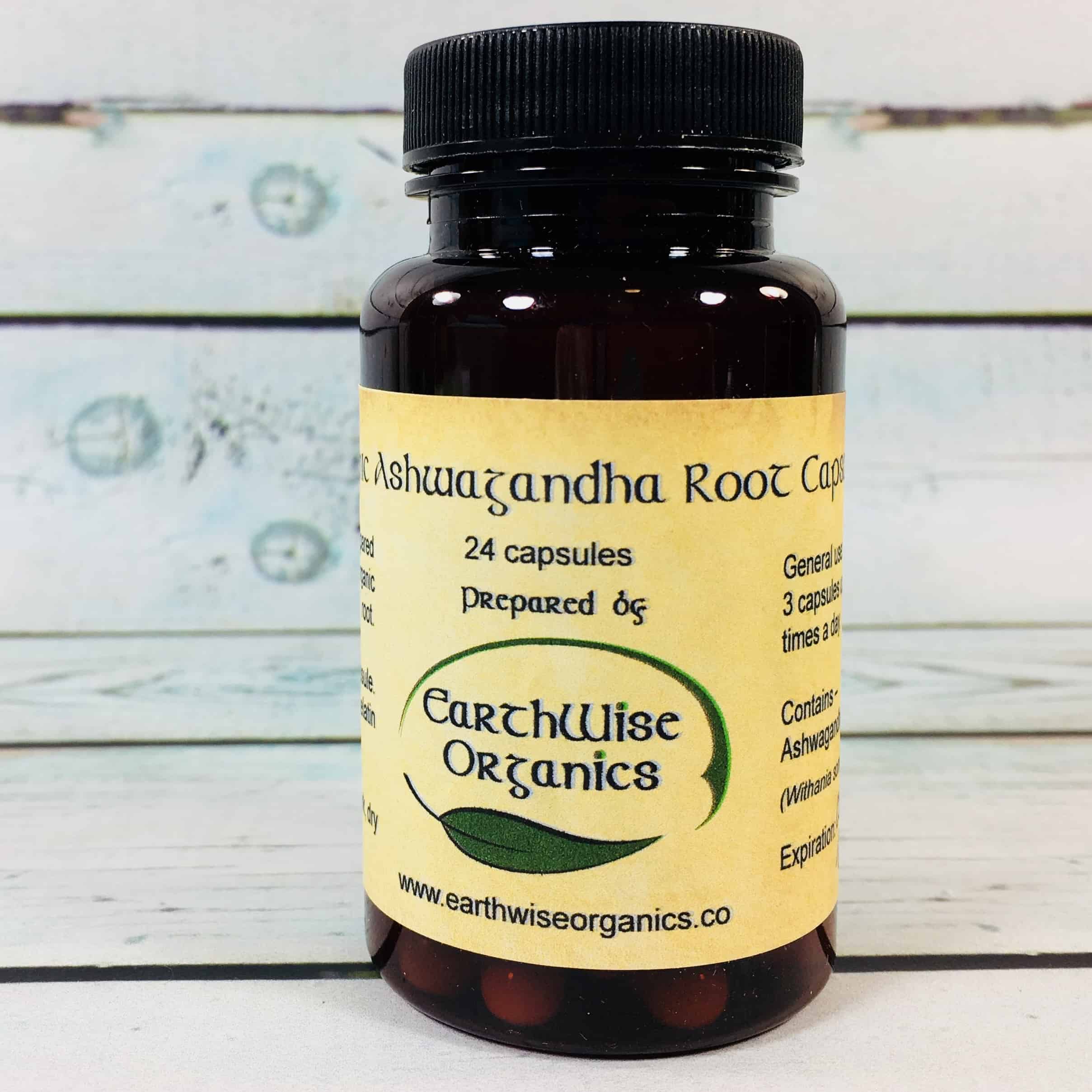 Earthwise Organics Ashwagandha Root Capsules ($6.50) Ashwagandha is an adaptogenic herb that may help the body deal with stress and is used to treat problems such as insomnia, anxiety, and even backache.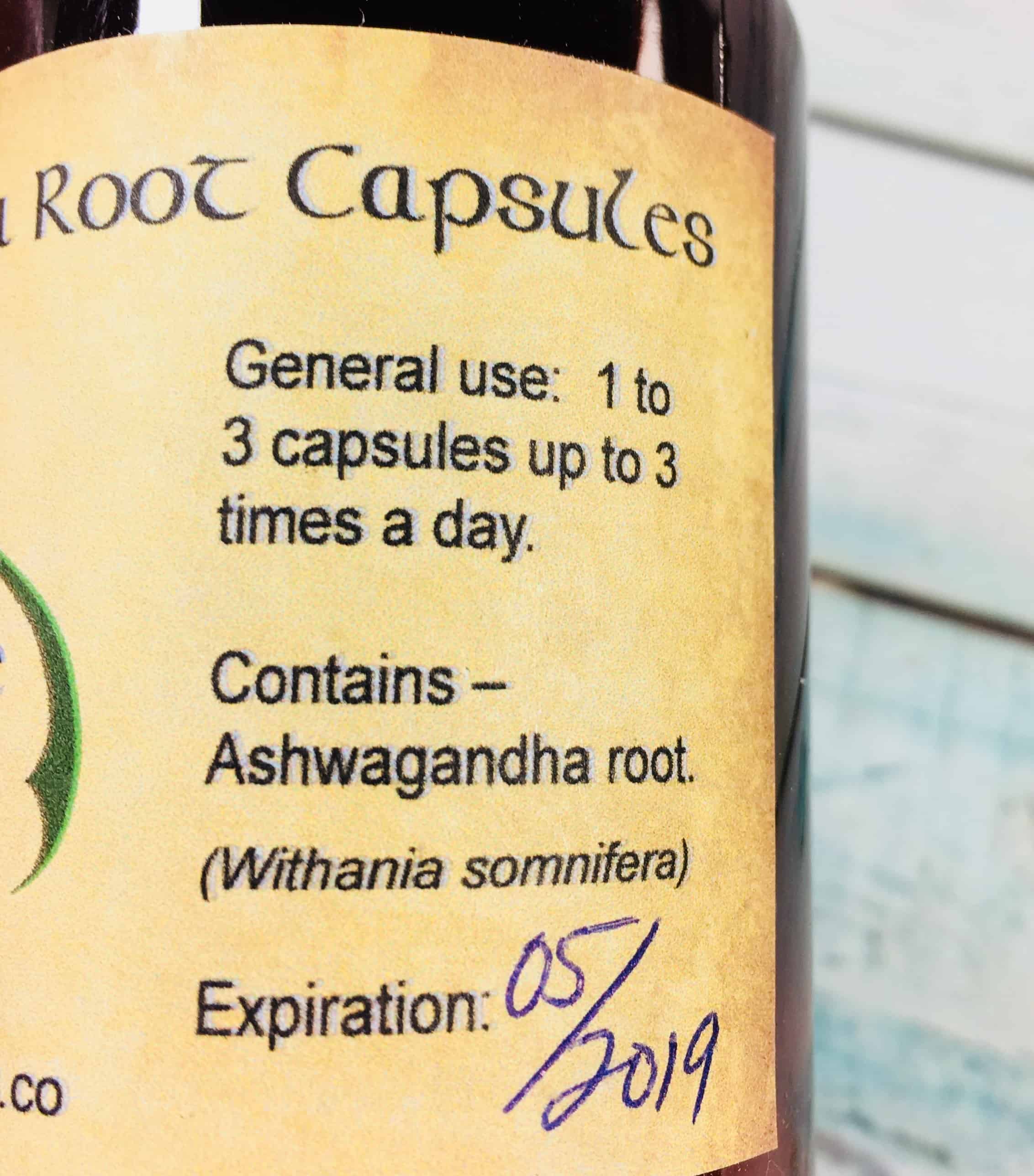 According to EarthWise Organics, you may take 1-3 tablets per dose, up to three times a day. Start with a lower dose and keep in mind that it may take a while before you feel any effects.
The bottle was sealed for safety.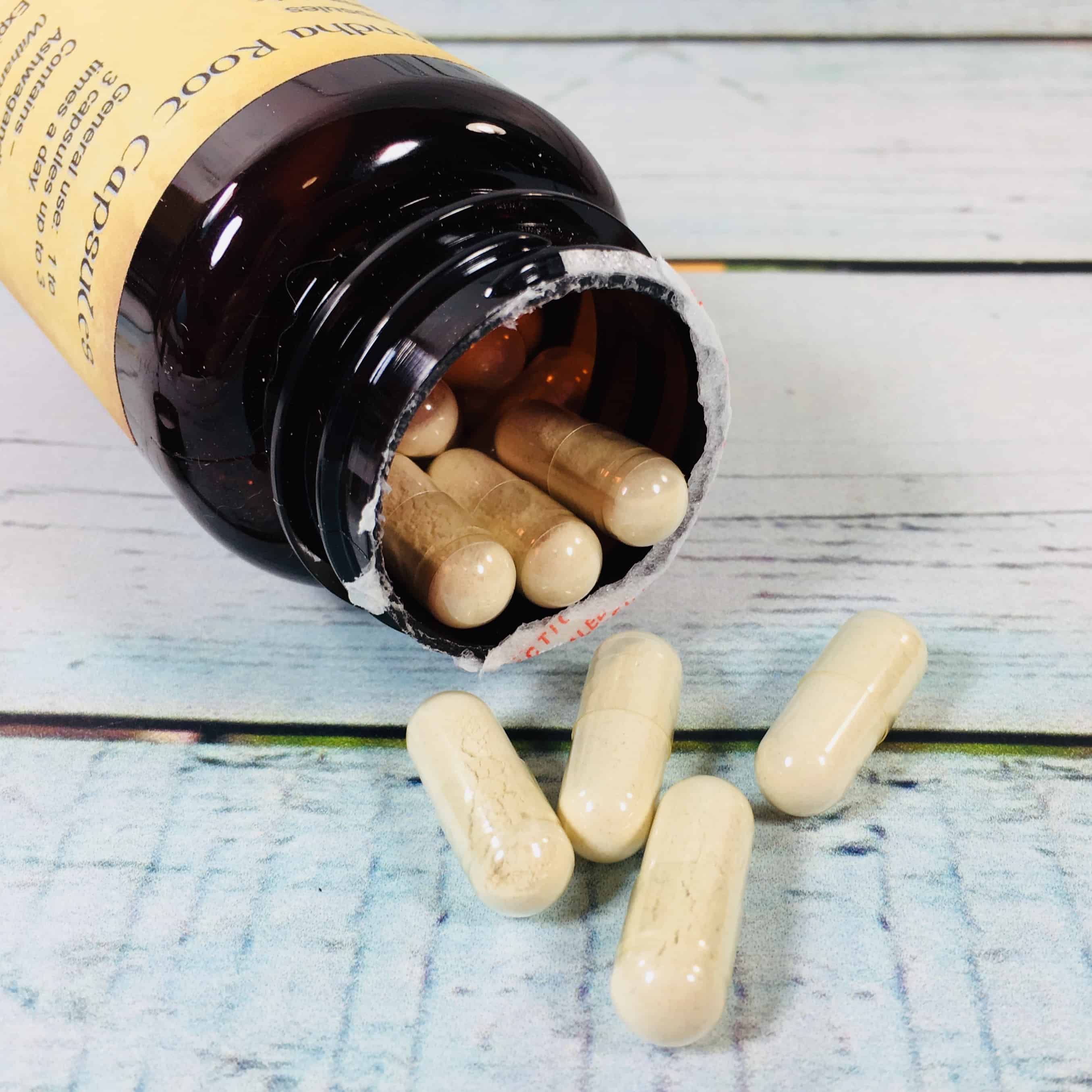 The capsules are in a kosher gelatin casing and there are 24 capsules in the bottle.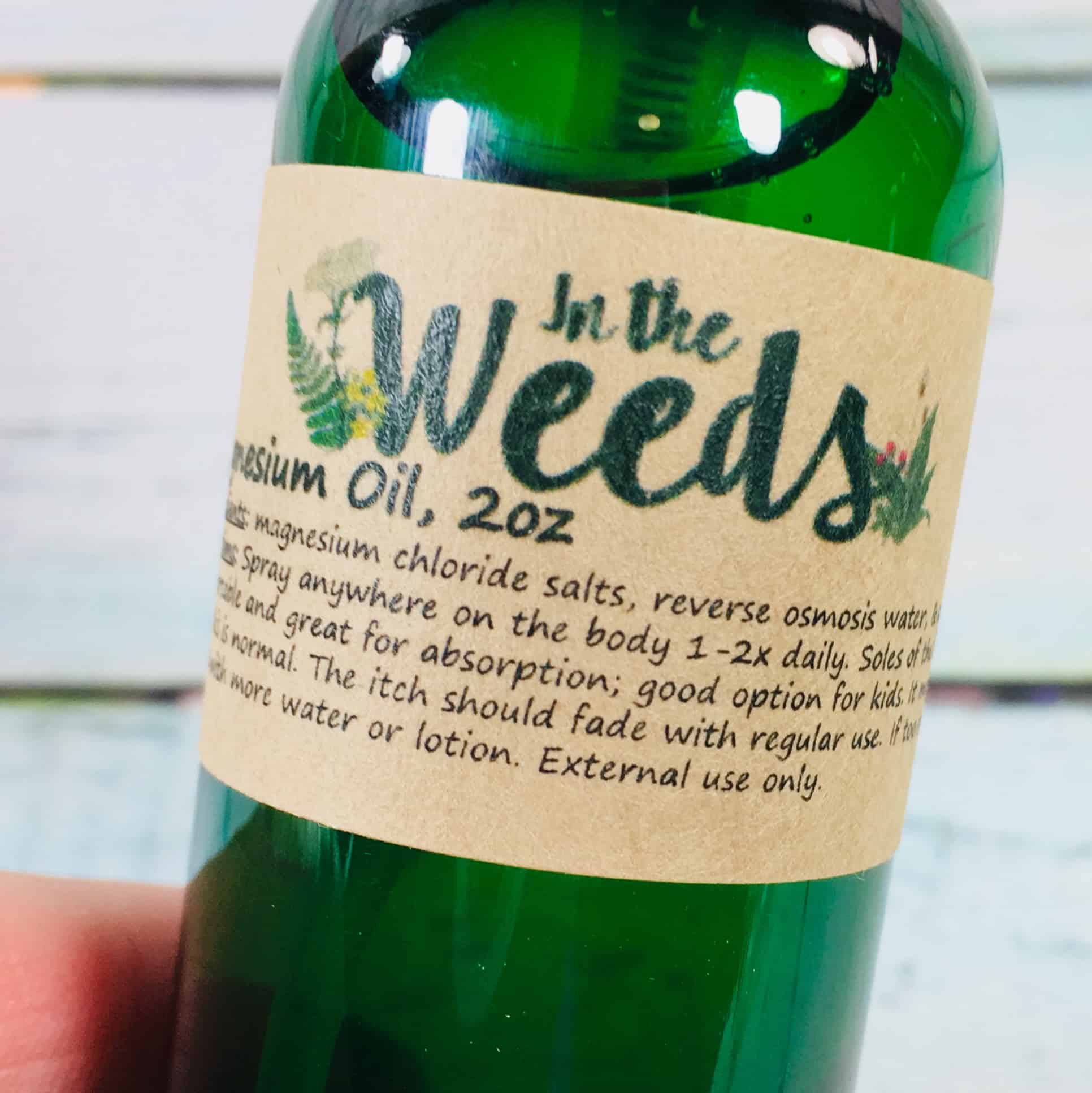 In The Weeds Magnesium Oil ($5) is made of distilled water, magnesium chloride salts, and aloe vera gel. Magnesium chloride is similar to Epsom salts but the body can more easily absorb the magnesium. Magnesium oil may help lower blood pressure, improve sleep, and relieve migraines. Just spray this on and rub it into the skin (it can also be used on sore muscles). It feels a little oily but then it disappears. I did experience a bit of irritation and itchiness but that is to be expected and may disappear after using for a while or try diluting with more water. You can wipe it off with a damp cloth after 30 minutes if you like. Do not use if you have low blood pressure.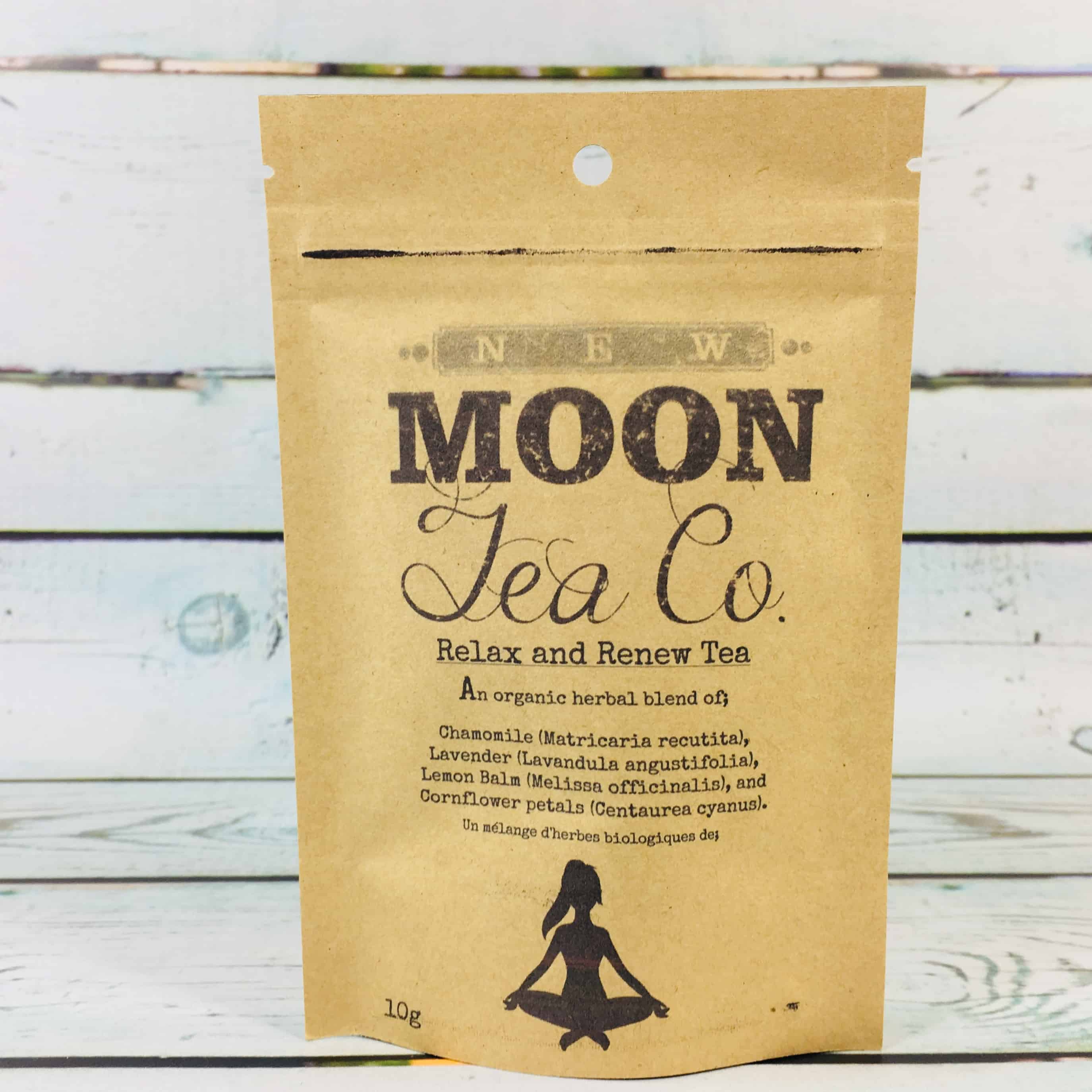 New Moon Tea Co. Relax And Renew Tea ($5.37) Now tea, that is a drink I enjoy every single day. I start my day with a good cup of strong English Breakfast black tea, but I can't drink that in the evening thanks to the stimulating caffeine. I love a nice herbal tea to enjoy some evenings.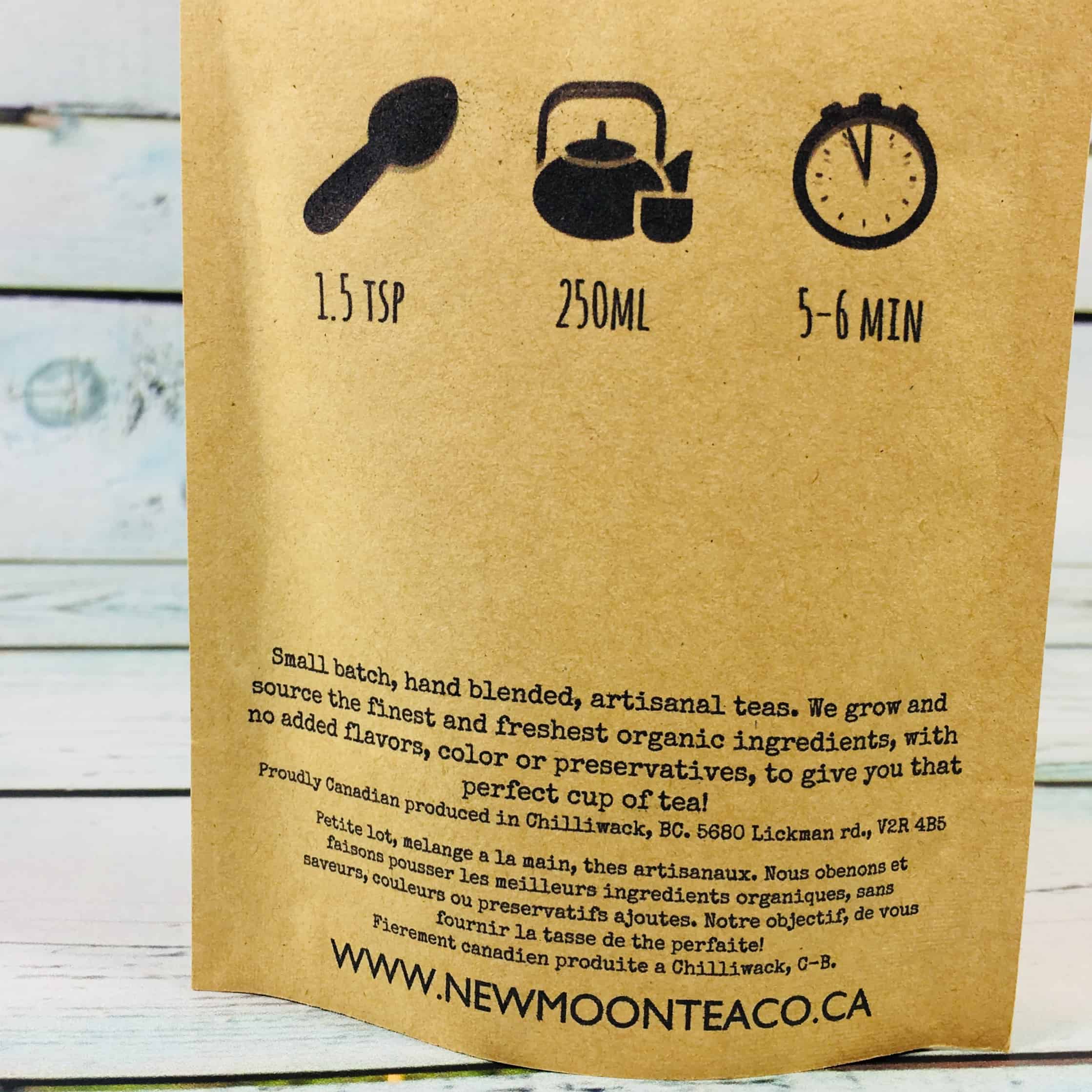 The steeping instructions are right on the package and the ingredients are all organic.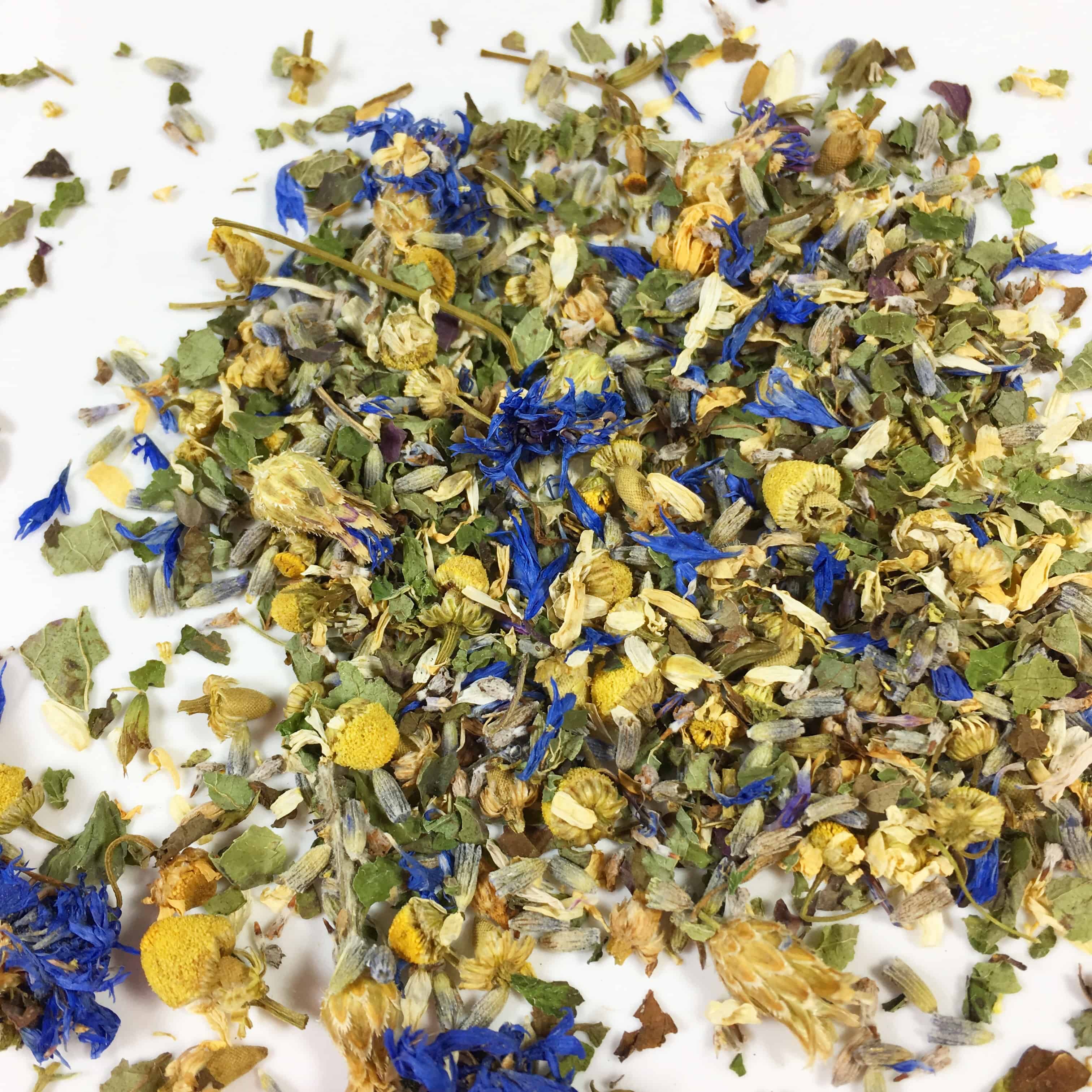 The only ingredients are lavender, chamomile, lemon balm, and cornflower petals. Isn't it beautiful? The flavor is earthy, herbal, and floral and I absolutely enjoyed this tea. According to New Moon Tea Co., this tea "is a calming blend of herbs which help relieve stress, reduce anxiety and calm the mind body and soul." Check out their "Knock Me Out" tea, which contains valerian root as a sleep aid. I really hope I find this brand in a future subscription box.
My SnoozeBox was filled with alternative treatments for insomnia that may also help reduce the effects of stress on the body, which in turn may help improve sleep. Please keep in mind that supplements are not regulated in the same way as medications and if you are taking any medications or have any health problems I would urge you to check with your doctor before using any supplement, and if you are pregnant or breastfeeding then please do not use them at all. My favorite item this month is the tea, which was very tasty and helped me calm down before bed, although I sipped it about two hours before bed to avoid any extra bathroom trips in the middle of the night.
My box had a value of around $21.62, which is pretty low considering the subscription price of $34.97, although shipping is free and adds to the value. I would love to see SnoozeBox put some information in their boxes so that subscribers can learn what makes a product perfect for promoting a good night's sleep, as well as any pertinent warnings.
What do you think of this month's box?