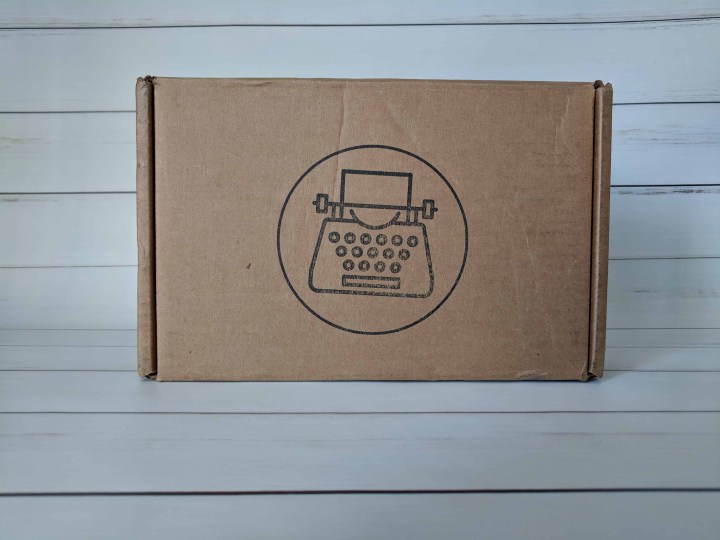 Scribbler is a monthly subscription box for novelists, created by authors, for authors. Scribbler is committed to helping writers improve their craft and reach their publishing goals, month after month.
For $29.99 a month, you'll get a newly released fiction, a "Writing Passport" from the featured author to help you master the monthly theme, curated writerly gifts, and an invitation to communicate with a publishing professional.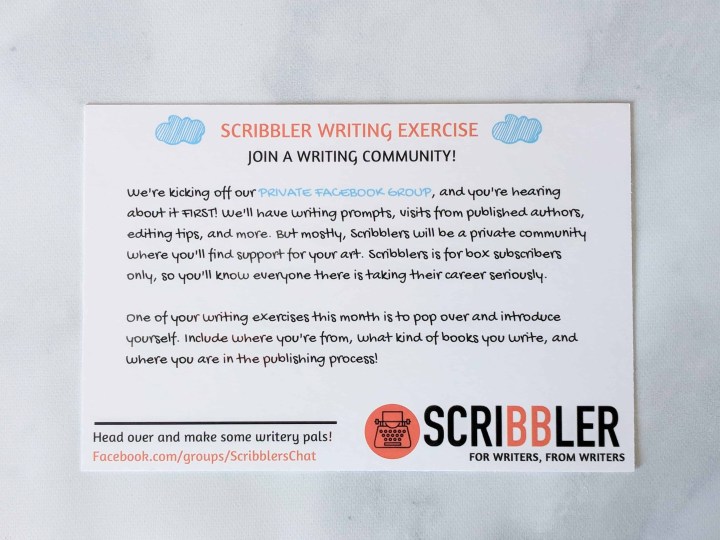 They now have a Facebook Community to get you writing where you can share your journey with tips, prompts and guest appearances! That looks like fun and it's always nice to have a community, a group of people that are in this with you and understand everything you are going through!
The information card only lists the extra items in the box. There's is no mention of the book, the author, or this month's focus.
This month's theme is Fight Scenes.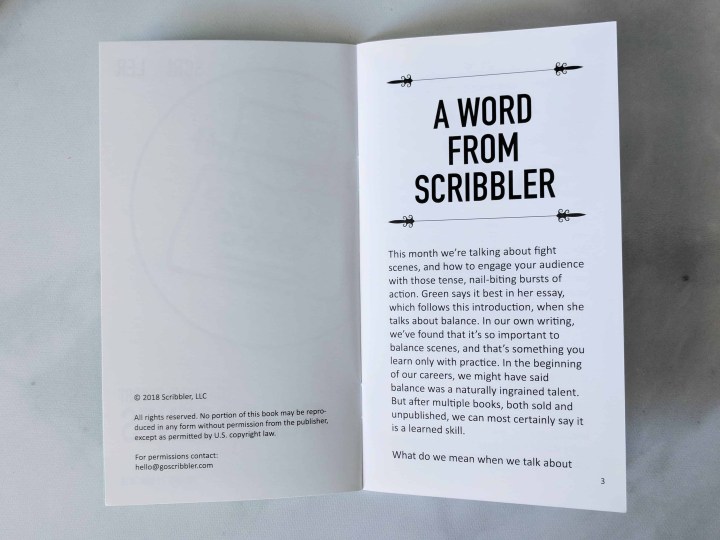 There's a quick introduction in the booklet about why the book was chosen this month.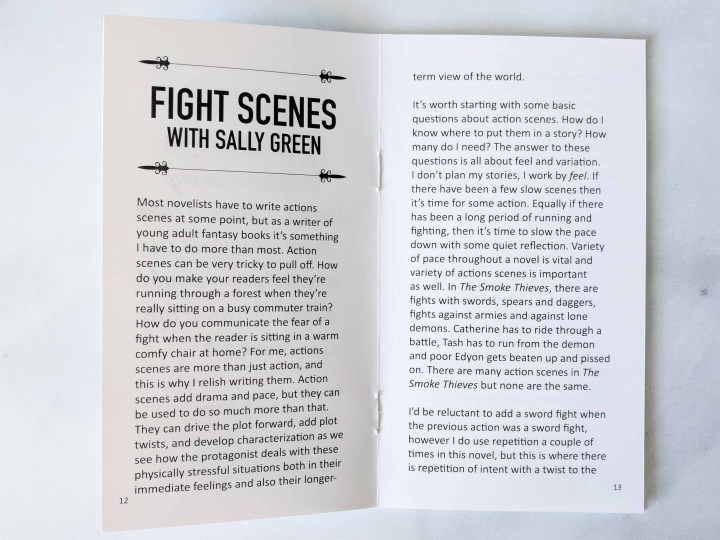 There are no exercises in the booklet to improve our skills, it's more about the theory behind the Fight Scenes aspect, from this month's author viewpoint. I prefer that way as I like to play with my own story and characters instead of doing an exercise that has nothing to do with what I'm doing.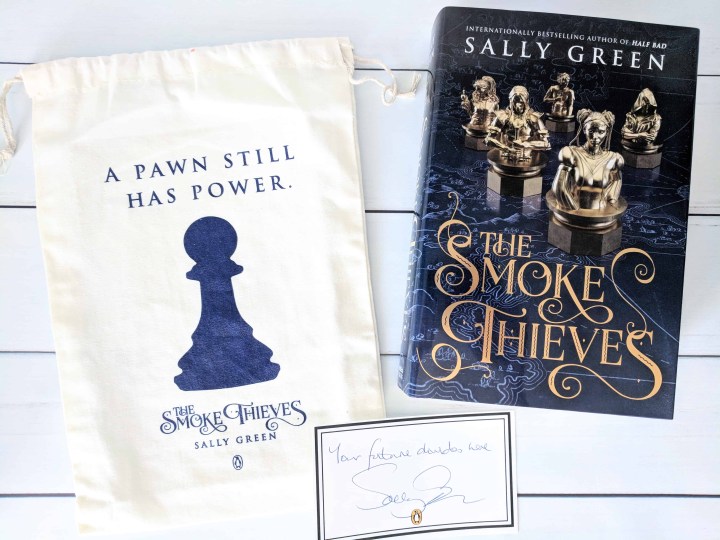 The book this month is The Smoke Thieves by Sally Green with a signed bookplate and a lovely pouch. I like the pouch as I can reuse it to carry big (or small) books in my bag with all my other stuff and my book will stay safe. From GoodReads:
A princess, a traitor, a hunter and a thief. Four teenagers with the fate of the world in their hands. Four nations destined for conflict.

In Brigant, Princess Catherine prepares for a loveless political marriage arranged by her brutal and ambitious father. In Calidor, downtrodden servant March seeks revenge on the prince who betrayed his people. In Pitoria, feckless Edyon steals cheap baubles for cheaper thrills as he drifts from town to town. And in the barren northern territories, thirteen-year-old Tash is running for her life as she plays bait for the gruff demon hunter Gravell.

As alliances shift and shatter, and old certainties are overturned, our four heroes find their past lives transformed and their futures inextricably linked by the unpredictable tides of magic and war. Who will rise and who will fall? And who will claim the ultimate prize?
This book sounds really good and up my alley… except for it being a YA. I'm not a big fan of YA, but I'm ready to give this book a try.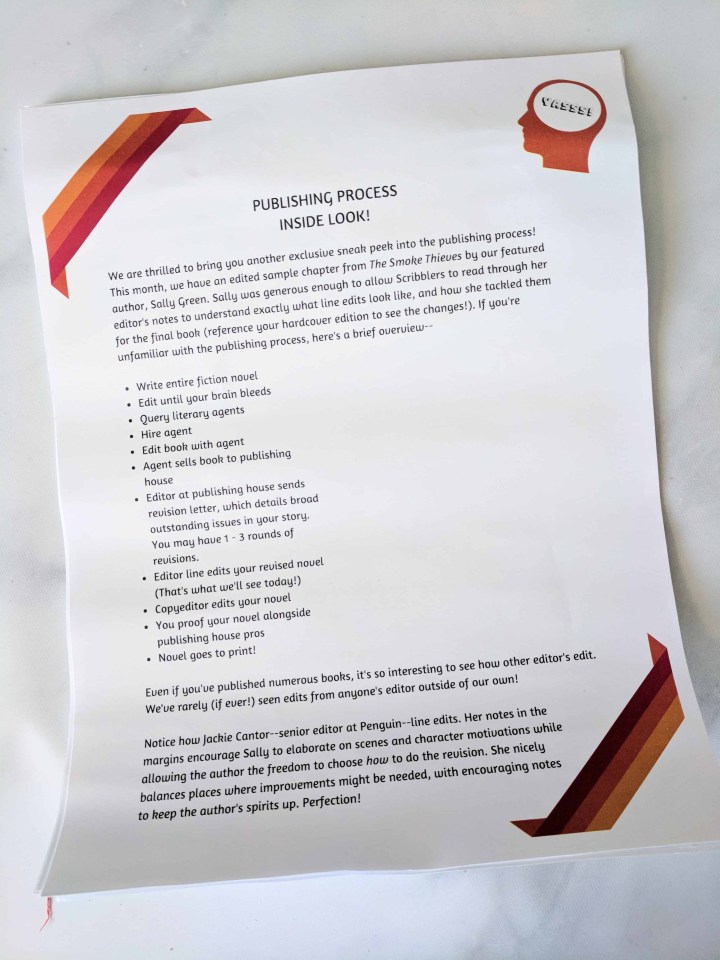 We also received an edited sample chapter from this month's box to give us an insight of what editing notes look like! That is such a neat idea and quite useful!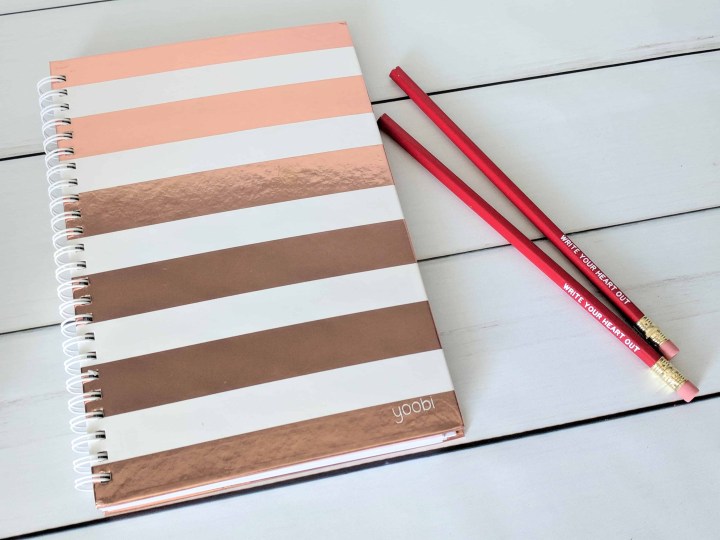 Write Your Heart Out Pencils. Sometimes, it's nice to walk away from your computer and go back to basics: writing by hand. I do that often when I'm stuck in my writing as it makes my brain think differently and somehow I have to slow down and really think about what I'm writing to give time to my hand to catch up with my ideas! I'm one of the weirdoes who really really really likes to write by hand.
Yoobi Copper and White Spiral Notebook. Speaking of writing by hand, you need some paper to write on, and this notebook is a nice one.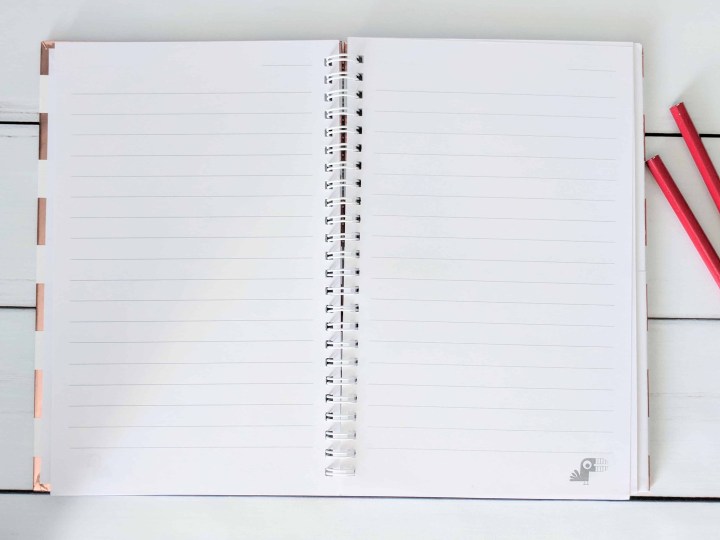 There's a lot of room to write as the lines are quite far apart. I'm keeping it to write down ideas, chapter's outline and characters main points for my next Camp Nanowrimo (July) when I'll be writing the whole month by hand.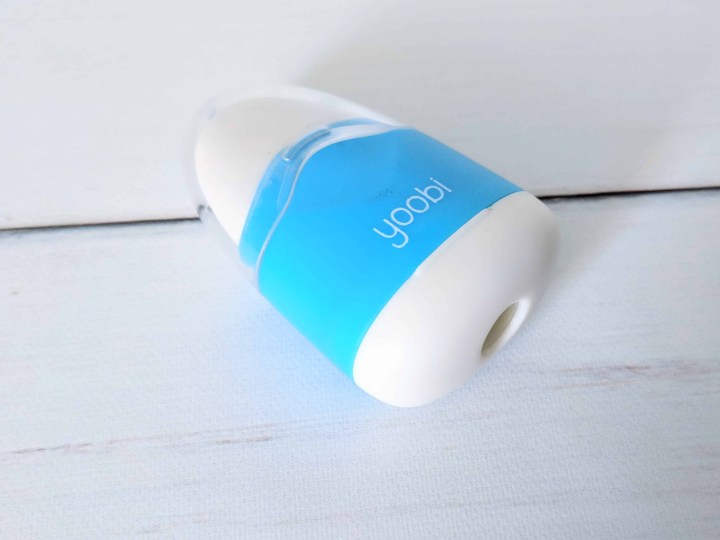 Yoobi Pencil Sharpener with eraser. If you are using pencils, you need a pencil sharpener!
This one comes apart in three pieces as there's an eraser on one end, and a container for the pencil shavings.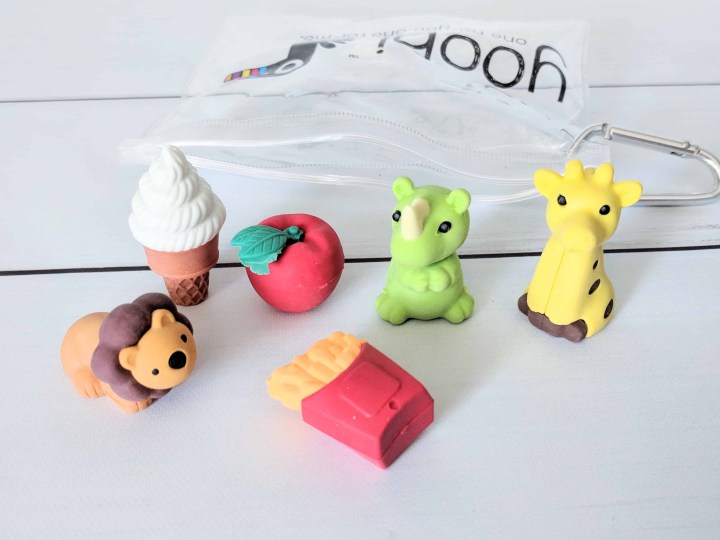 Yoobi 3D erasers. More erasers in a transparent plastic pouch with a carabiner to attach it to your bag. And the eraser are adorable! I love the little Rhino!
Bonus items! Some goodies form Penguin Teen. A poster with a bunch of quotes from different YA books, and a Penguin Teen Pins.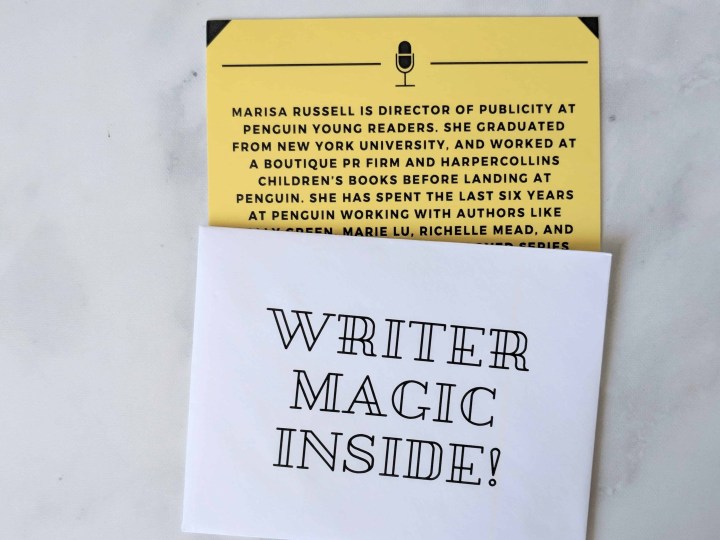 Writer Magic Inside! This is an invitation to an exclusive youtube chat with a publicist at Penguin Young Readers Marisa Russell happening on June 13, 2018. Knowing that this is the May box and that I live in Canada (so I get my box quite late), I still had plenty of time to get ready for this event! I really appreciate how far ahead of the event we get the box! Good job!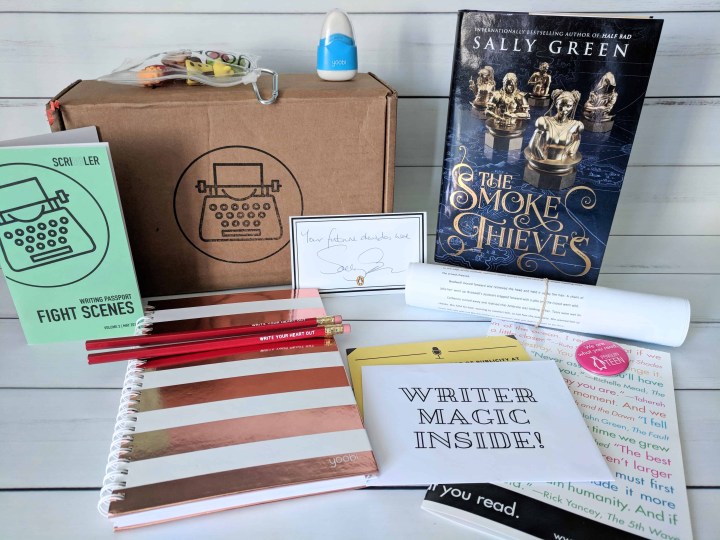 Although Scribbler is a really nice box with a great book, nice office supplies to get us writing, and fun additions, I'm always a bit disappointed when YA is the default genre when talking about books and writing books. I don't like this genre at all, so I feel a bit left out. It just doesn't click with me. To be fair, YA is a popular genre for both writers and readers, and there is nothing wrong with that. Hopefully, future boxes will stay true to Scribbler statement to bring Adult, Young Adult and Middle-Grade books in the hands of their subscribers.
Putting aside my own personal opinion, this is a fun box to feel like we are part of a community of like-minded people, especially now that there's a Facebook group for subscribers, and it's amazing to have the opportunity to connect with people in the industry and have insights from published authors!
What do you think of this month's box?