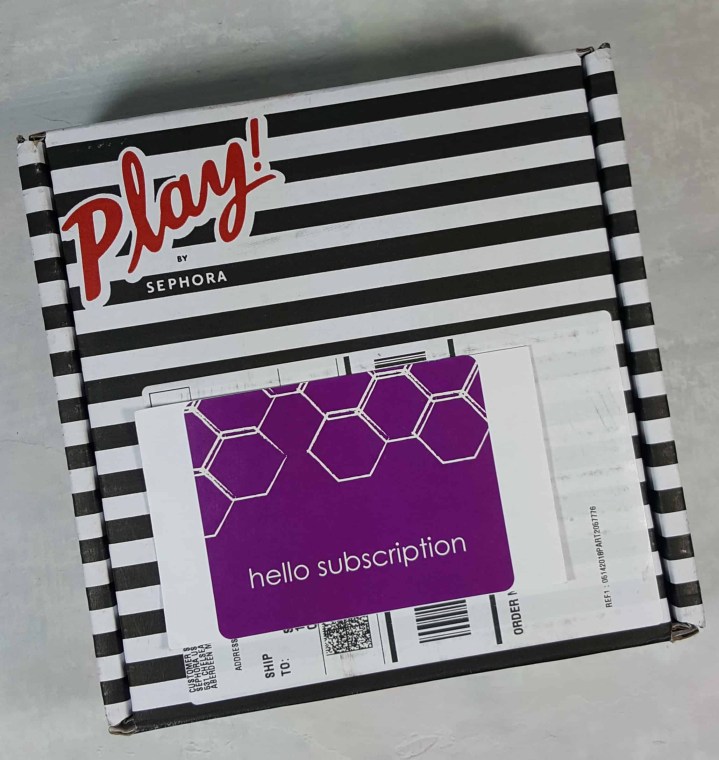 Play! by Sephora is a monthly subscription box that brings only the best and exclusive Sephora beauty and makeup samples. The subscription costs $10 per month, and you'll get 5 deluxe beauty products, a beauty bonus, a fragrance bonus, playlists, plus coupons you can use when you visit in-store.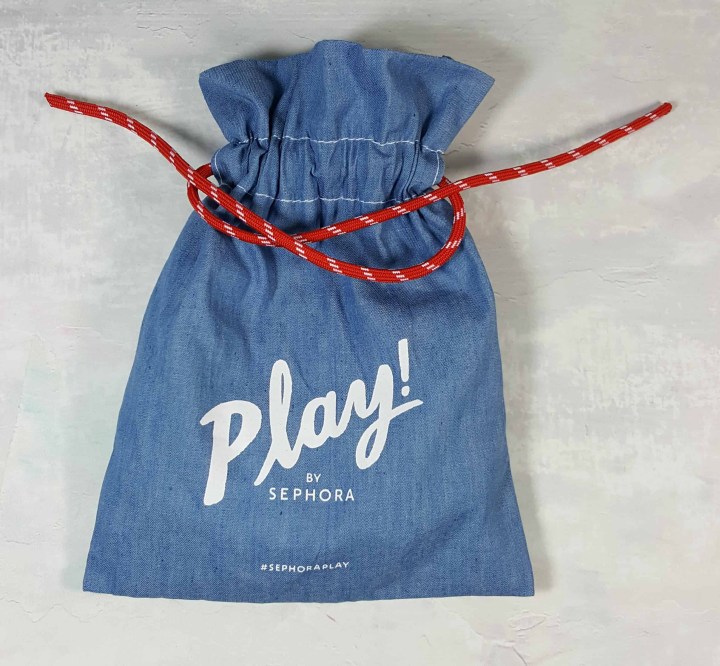 Everything arrives packed in a bag, preventing items from rolling around in the box. This chambray bag is taking me back to my childhood. I had a similar bag (although much larger) that I got for my 4th birthday. I used that as my trick-or-treat sack for years.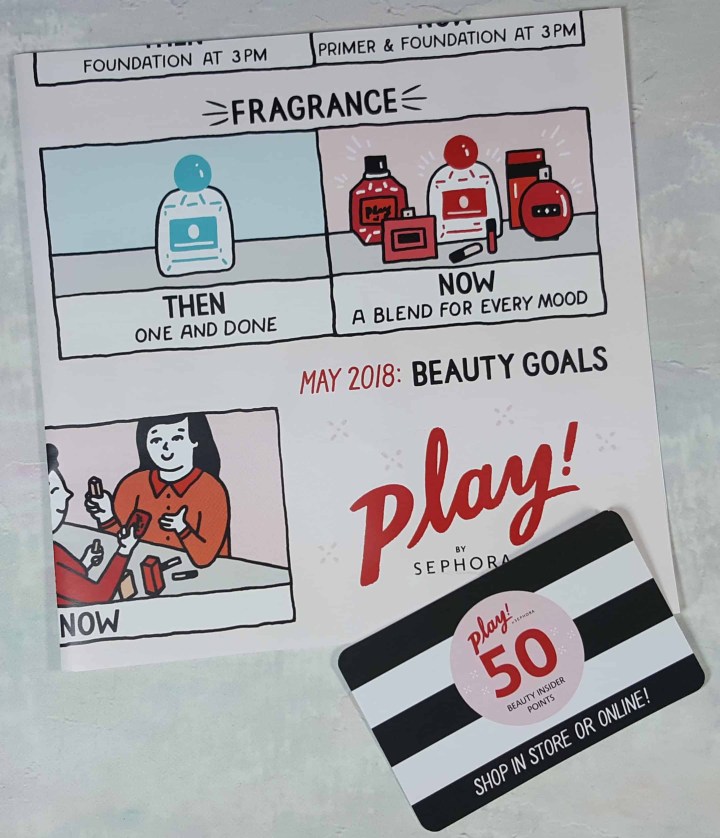 Don't forget about your Play! Pass. It gets you 50 extra Beauty Insider points with a purchase from the box (in-store only). Your subscription also entitles you to Play! Date meetups, if your store participates. You can also get a complimentary mini-makeover too.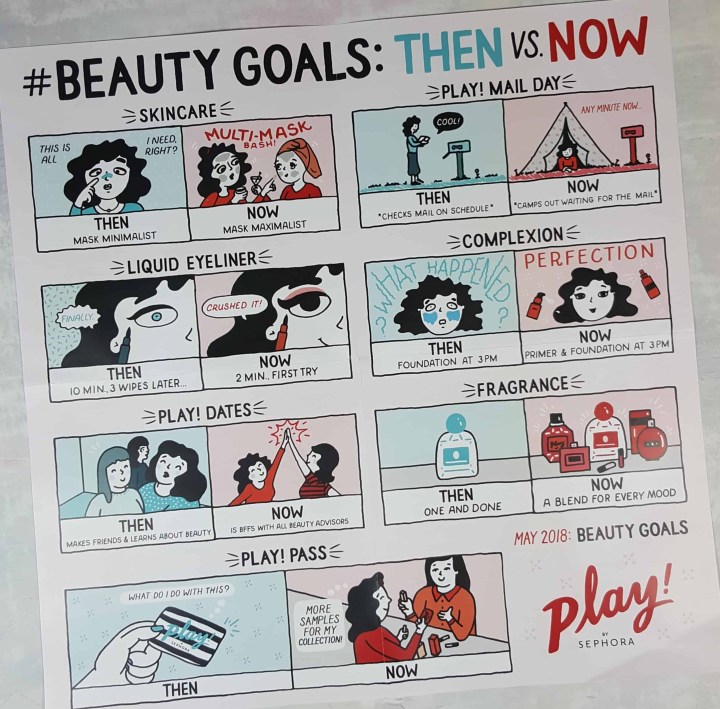 This month's theme is all about Beauty Goals.  Play! by Sephora is celebrating its 2 year anniversary by giving subscribers tried and true products that have stood the test of time. Can you believe how much beauty products and techniques have evolved in such a short time?!? And, don't forget to check out The Beauty Insider Community. Create a profile and start joining the discussion!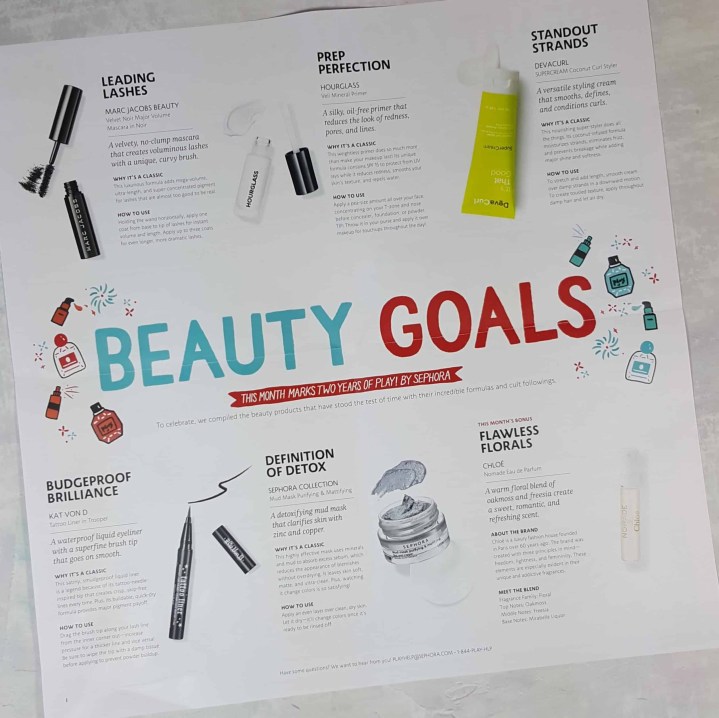 The fold-out poster shows a list of all the items included in this box plus product/brand trivia and beauty tips. You can access all of the information and also watch videos right on the Sephora site or use the app to scan the sheet for more info!
Here's everything I received. Definitely happy to see some past favorites return! My variation was box 776. Click here to see variant items in other boxes!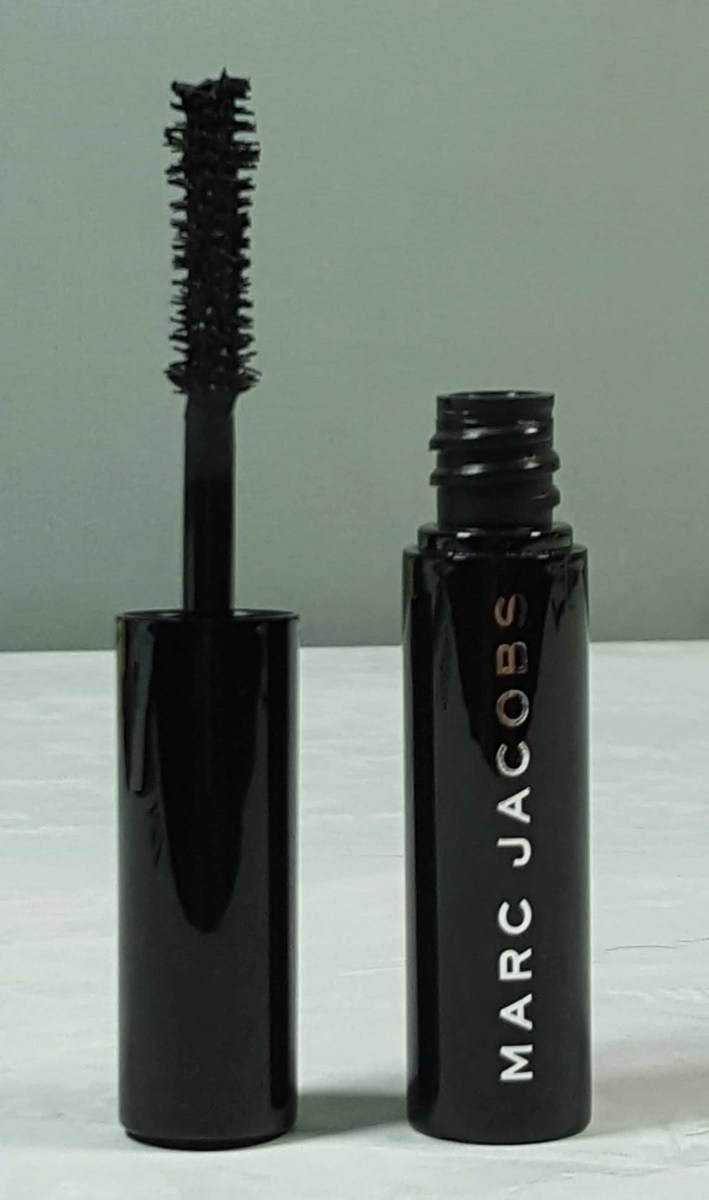 Marc Jacobs | Velvet Noir Mascara – Noir/Black ($13.81):  The first time I tried this mascara was in my November 2017 box, and I fell in love. In fact, this new tube came at the right time; I was at the end of the 6 month use period and nearly out of this deluxe sized sample.
I'm holding to my original review of this, "The concentrated black pigment gives maximum visual impact, and the curved brush design ensures that the mascara hits lashes in just the right places. If you've read my other make up reviews, you'll know that I am always looking for a good mascara that has staying power and defines my puny lashes. This did just that."
Sephora Collection | Mud Mask Purifying & Mattifying ($3.30):  This is a detoxifying mud mask formulated with zinc and copper to cleanse skin. As you can see from the picture, this mask has a very thick consistency. You can use it as an allover mask or as a spot treatment for problem areas. The formula dries quickly – the color changes so you know when it's done. This has a pleasant scent and felt cool when applied.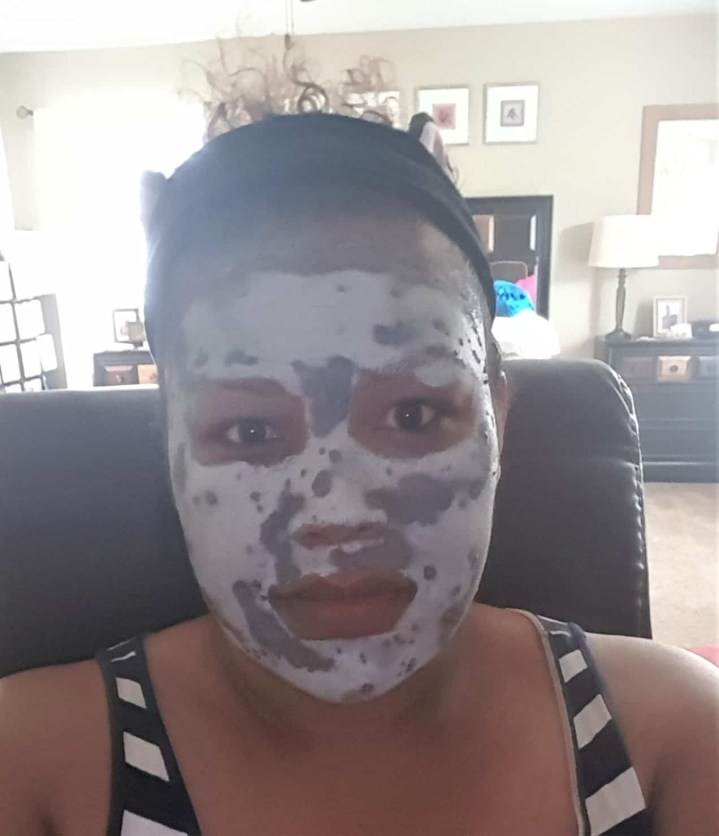 I probably should have given some warning for this picture. ? My skin felt tighter (in a good way) and wasn't over-stripped after I rinsed this off.
Hourglass | Veil Mineral Primer ($7.69):  This is a lightweight, oil-free primer that smooths skin's texture while reducing redness and repelling water. It also delivers SPF 15 protection to skin. It did reduce the effects of humidity on my makeup but was a little lacking on oil control when compared to the primer I received last month. I've tried Veil Mineral Primer before and still can't justify paying $54 for a 1 oz. bottle.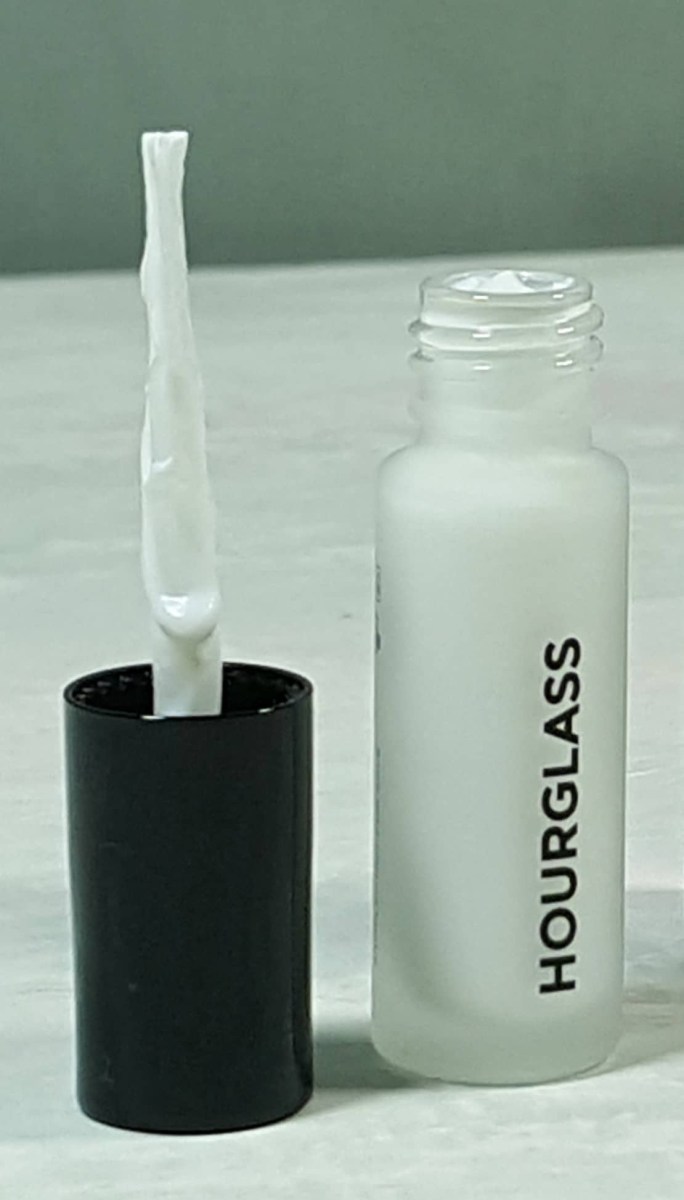 I did like that this sample came with a wand to help get the product out of the bottle.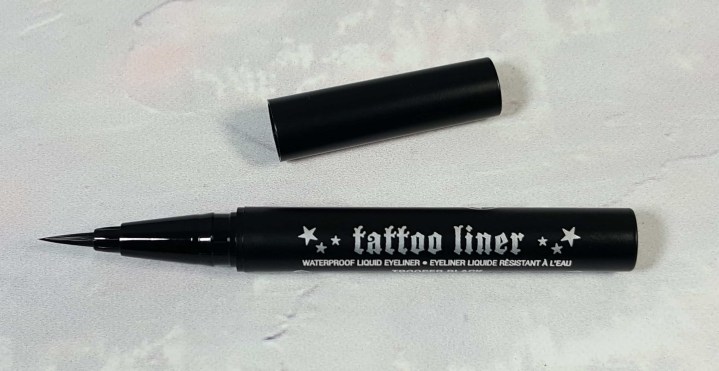 Kat Von D | Tattoo Liner – Trooper/Satin Black ($7.27):  This waterproof liquid liner pen has a superfine tip for precision lining. The tip is composed of 300+ microbristles which allow liner to go on with a crisp line right at the base of your lashes. The formula dries quickly and has a lot of staying power, with an almost patent finish.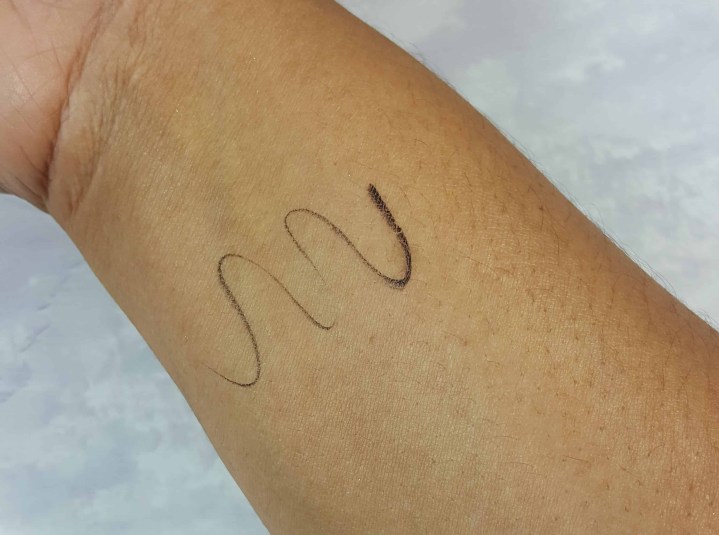 The top of the line starts out with more pressure that gradually I pulled back on to get the finer line. This formula can be built up easily as you create your look. This actually comes out better with practice… which you need to do since the formula doesn't budge once it's applied.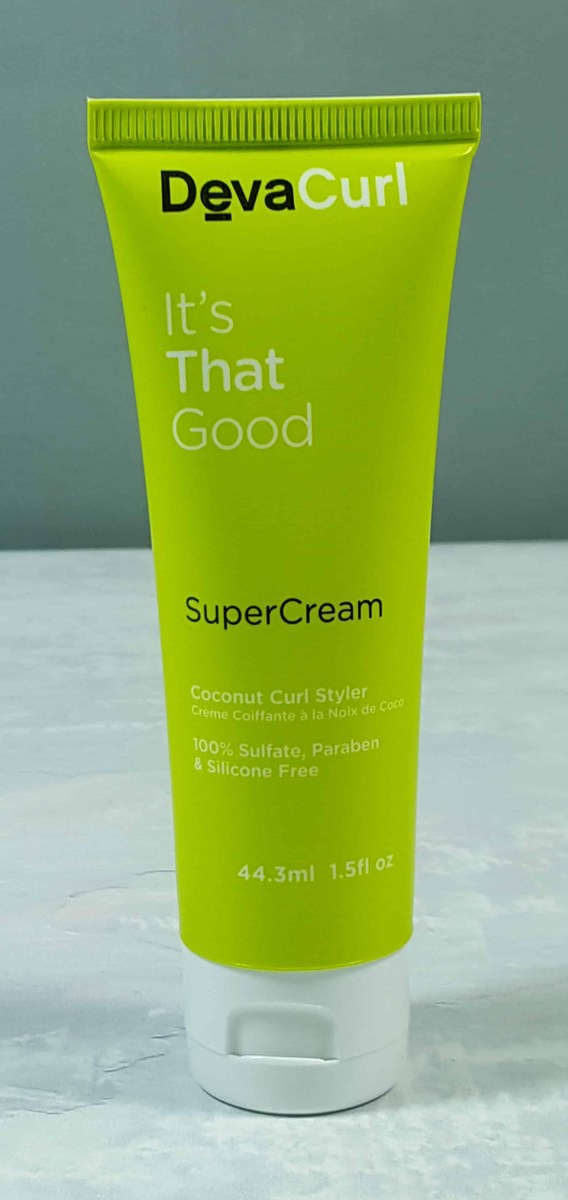 DevaCurl | SuperCream Coconut Curl Styler ($8.24):  This is a coconut-infused styling cream that provides curl definition, moisture, strength, and eliminates frizz while adding shine and softness to hair. Since this contains coconut oil, there is a pretty heavy coconut scent initially. Thankfully, this dissipates as your hair dries (I'm not a coconut fan). This product delivered on all of the points promised and was easy to revive on the 2nd day. It reminded me more of a good leave-in conditioner rather than a styler because it provided less hold than I prefer.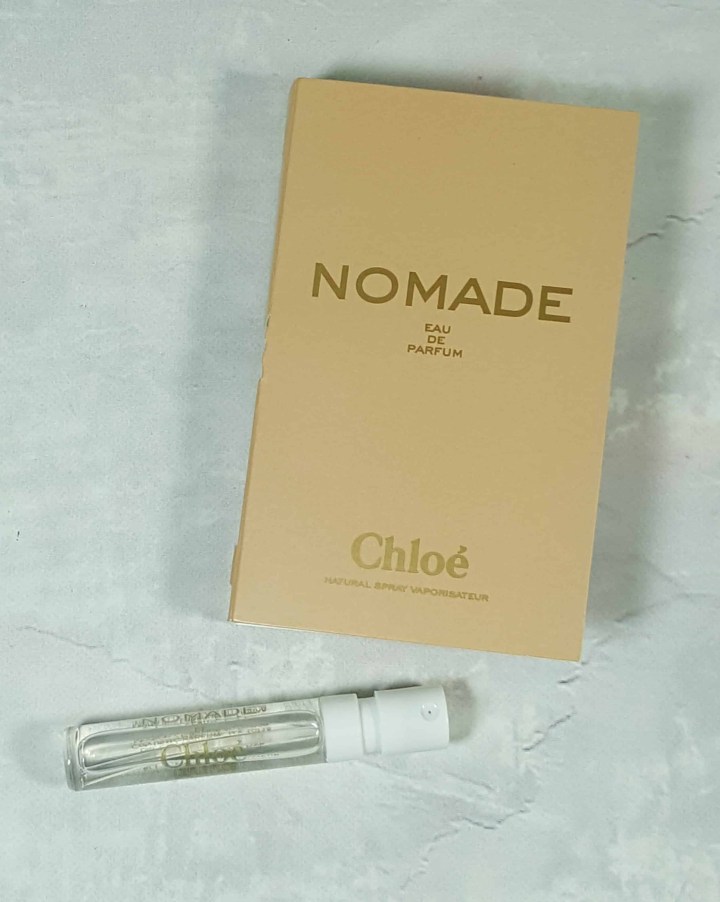 Chloe | Nomade Eau de Parfum ($2.11):  This is a warm floral chypre. I wanted to like this scent, despite it having freesia as a middle note. The top note is mirabelle plum and the base note is oakmoss. However, it was so overwhelmingly floral and the freesia became more noticeable as I wore this.
Nomade Eau de Parfum is the essence of a free-spirited and confident women, taking inspiration from her experiences and encounters throughout the world and asserting who she is.

The intense mineral character of oakmoss is enveloped in the voluptuous softness of mirabelle plum. From this freshness emanates a bright floral note carried by freesia.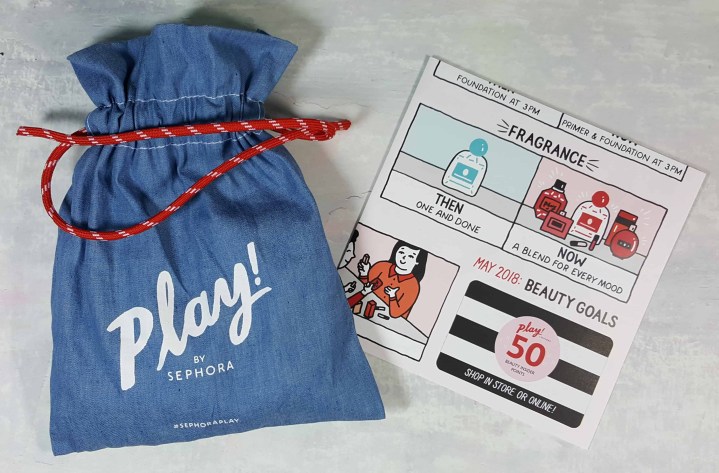 This month's box had a retail value over $42. Congrats to Play! by Sephora for their 2nd anniversary! I love that they brought back some cosmetic benchmark items this month. Seriously, I am so thrilled to get another tube of Marc Jacobs Velvet Noir!!! However, I kind of wished that some of my other items were also personal past faves. Oh well! I did enjoy getting the Sephora mud mask and the Kat Von D liner is great too. Here's to another year of Play! by Sephora.
Am I the only one that thinks this celebration is missing cake?!? ?
Are you a Sephora Play subscriber? What did you think of the box this month?