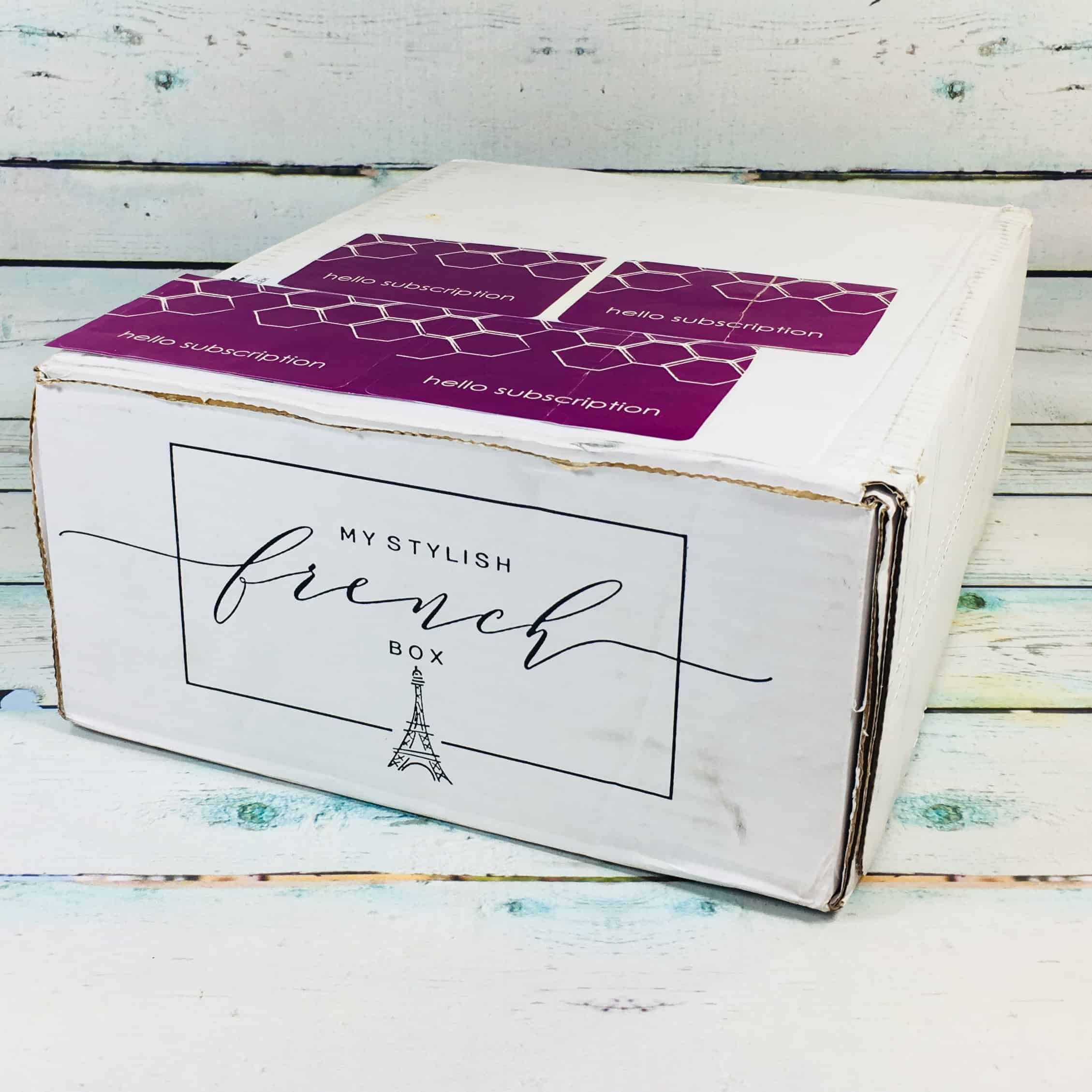 My Stylish French Box is a quarterly lifestyle box that sends authentic and stylish items from France! The box is curated by Sharon Santoni, an author and the blogger behind My French Country Home. This box is based in France and they work directly with highly coveted and timeless French brands to create a box that will help chic up your home.
Our choices are carefully made; high quality, distinctly French and designed to encourage you to take your time and enjoy the small pleasures in life. Each box contains four full-sized hero gifts, four smaller indulgences and a limited edition print of an original watercolor for you to collect throughout the year. Each box follows a seasonal theme based around tenets of authentic French living.
Even the inside of the shipping box is cute!
I found a white box inside. The box has a hidden magnetic closure and I plan on using it to store things. It's simple and I like that I can reuse it.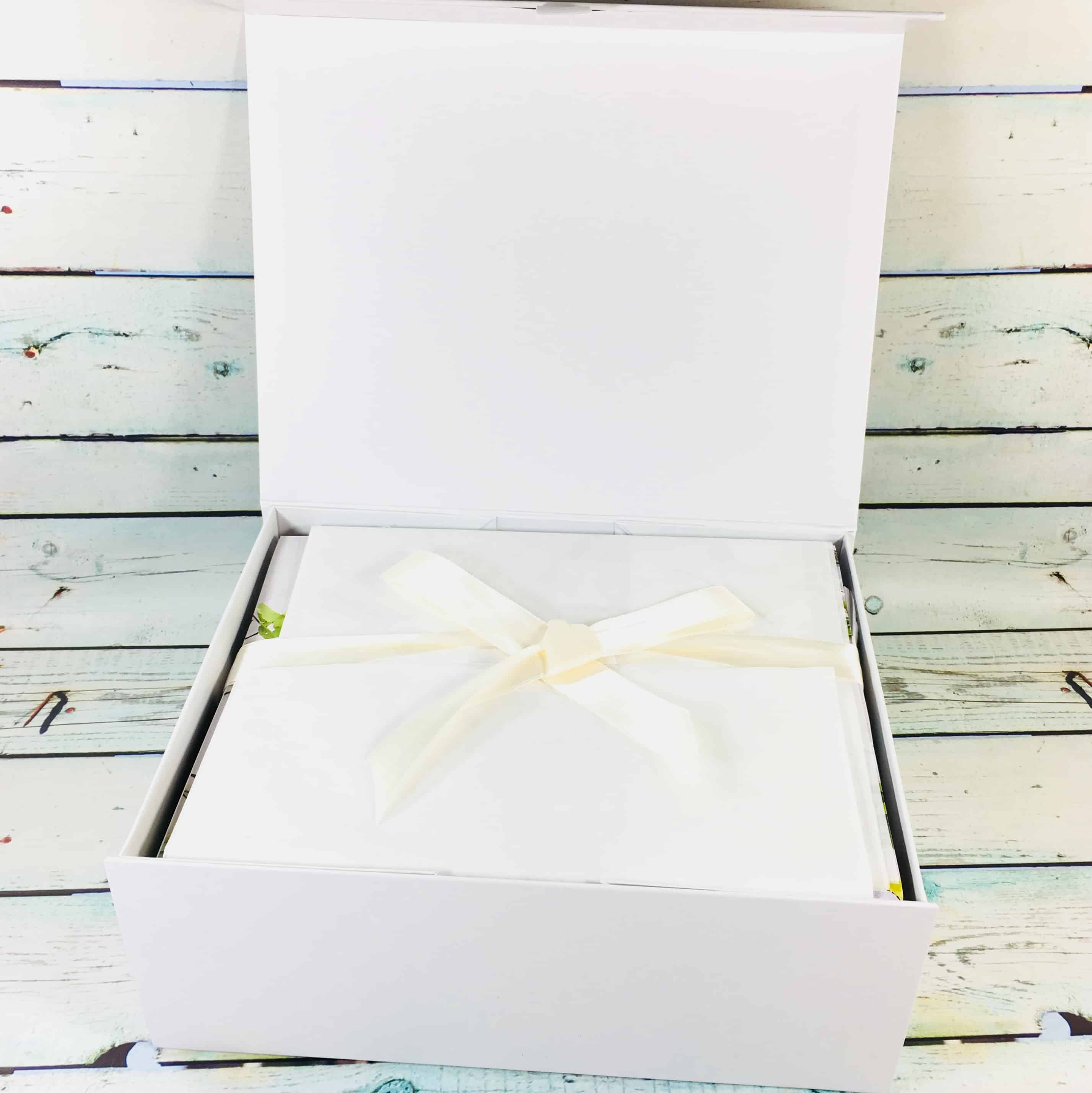 I opened it up to find my products wrapped in tissue paper with a satin ribbon around the whole parcel. My Stylish French Box is $255 a quarter and ships directly from Normandy, France. A one-time, non-recurring gift box shipment is $265, while a year's prepaid subscription brings the price down to $245 a box. Shipping is free to the USA but expect to pay extra for shipping to other parts of the world.
Underneath the ribbon, there was a sticker.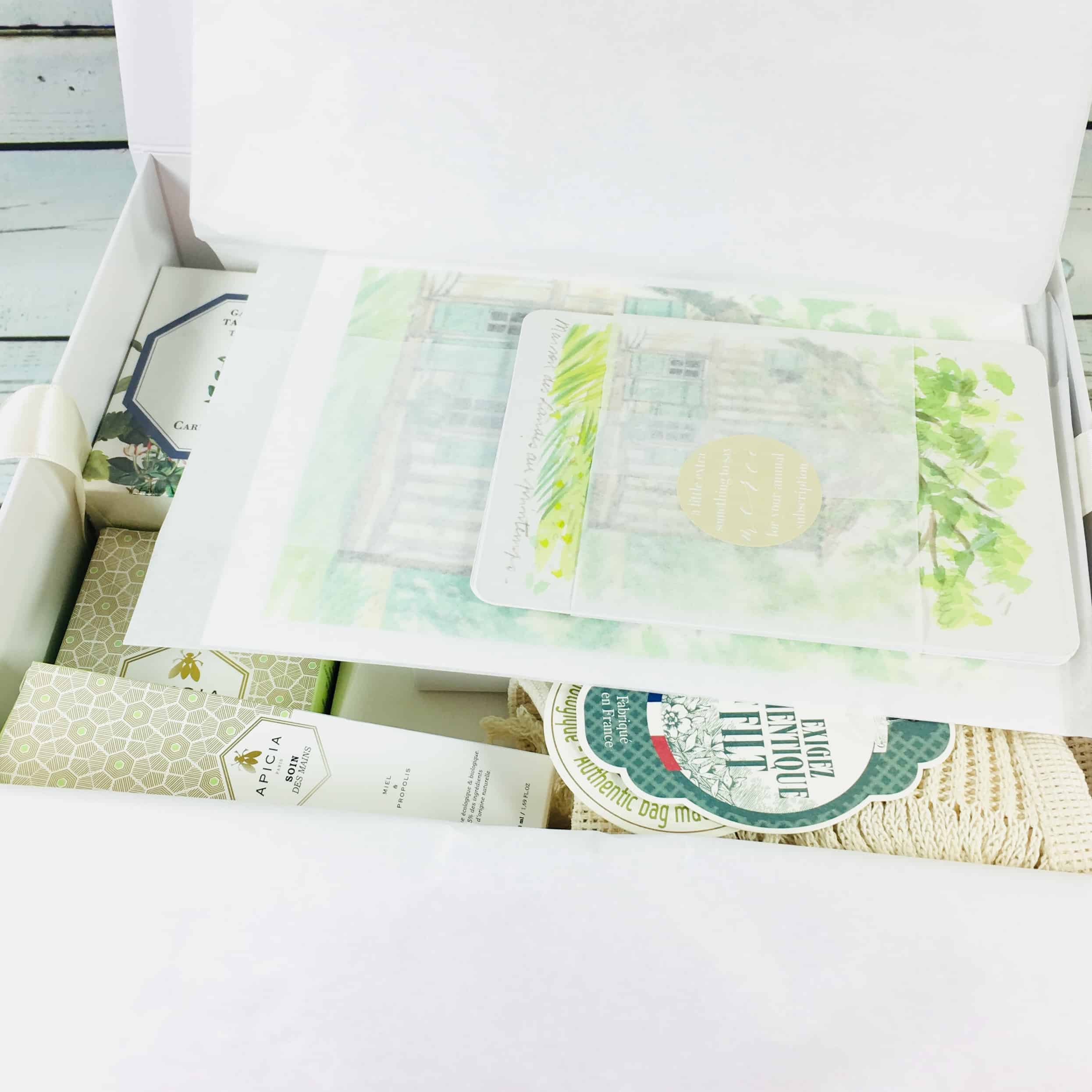 What a lovely presentation! The colors go together well and this box was elegant and well-designed.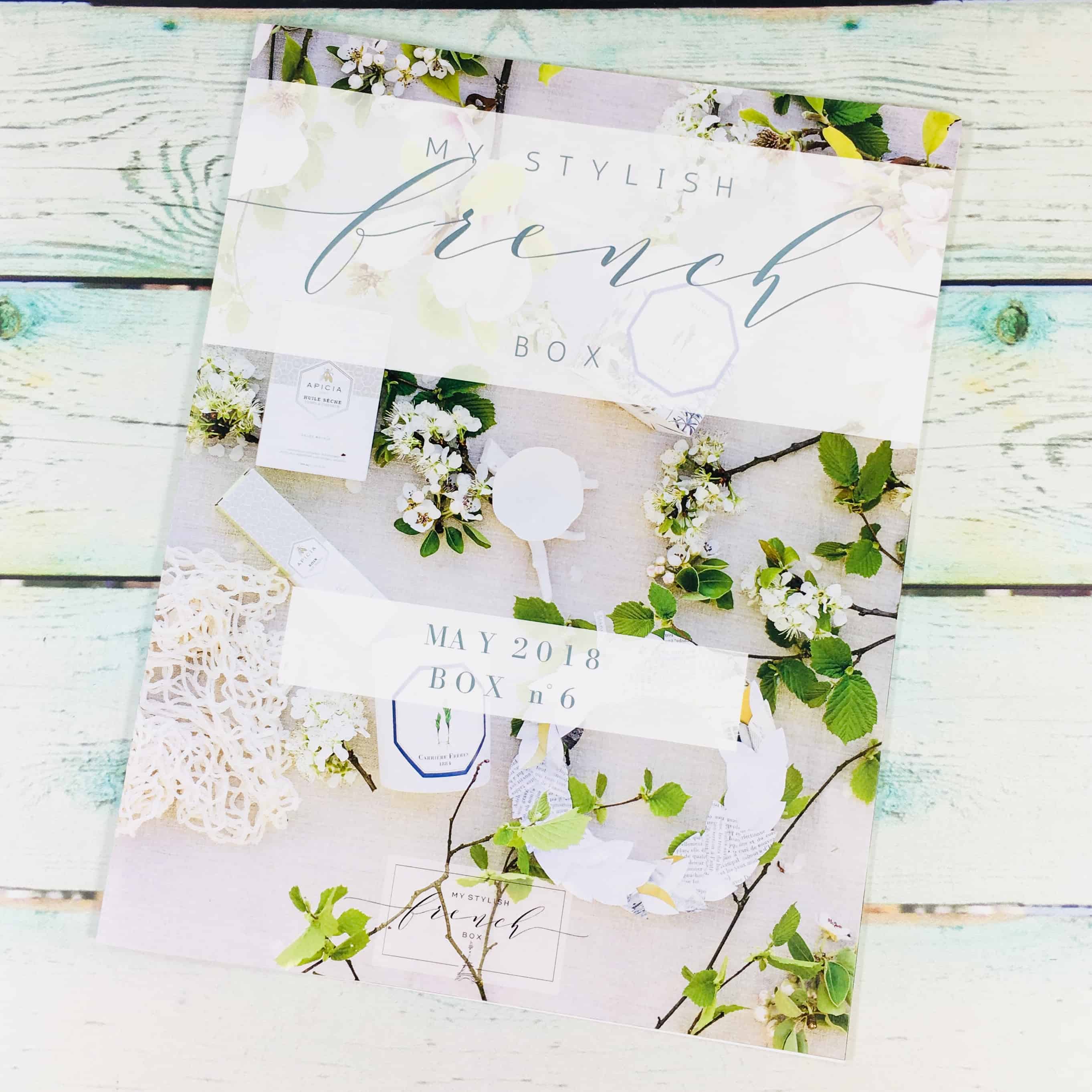 I found a big brochure inside. This was similar to a magazine and an upscale touch.
The brochure discussed the motivation behind this quarter's theme, which is White Blossoms.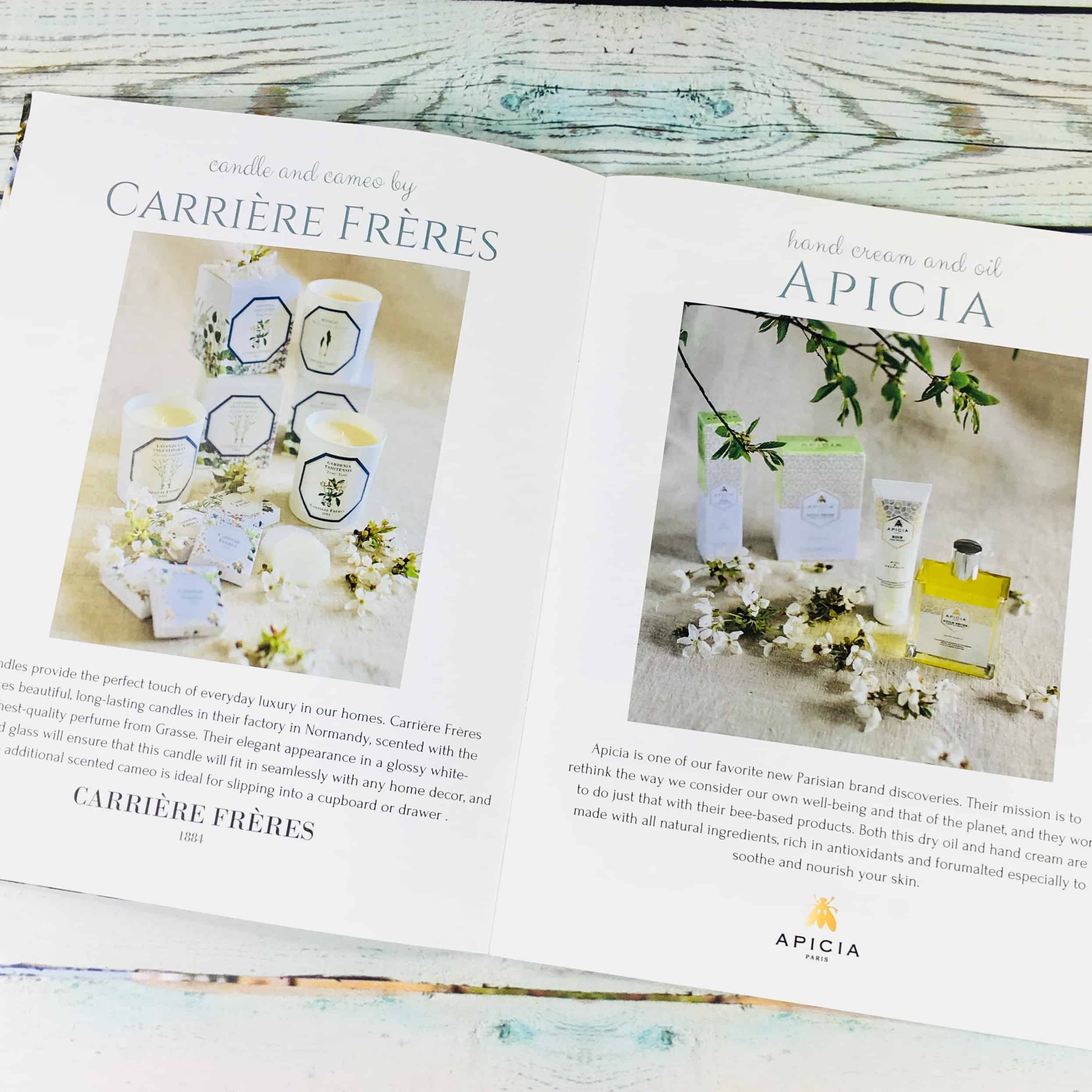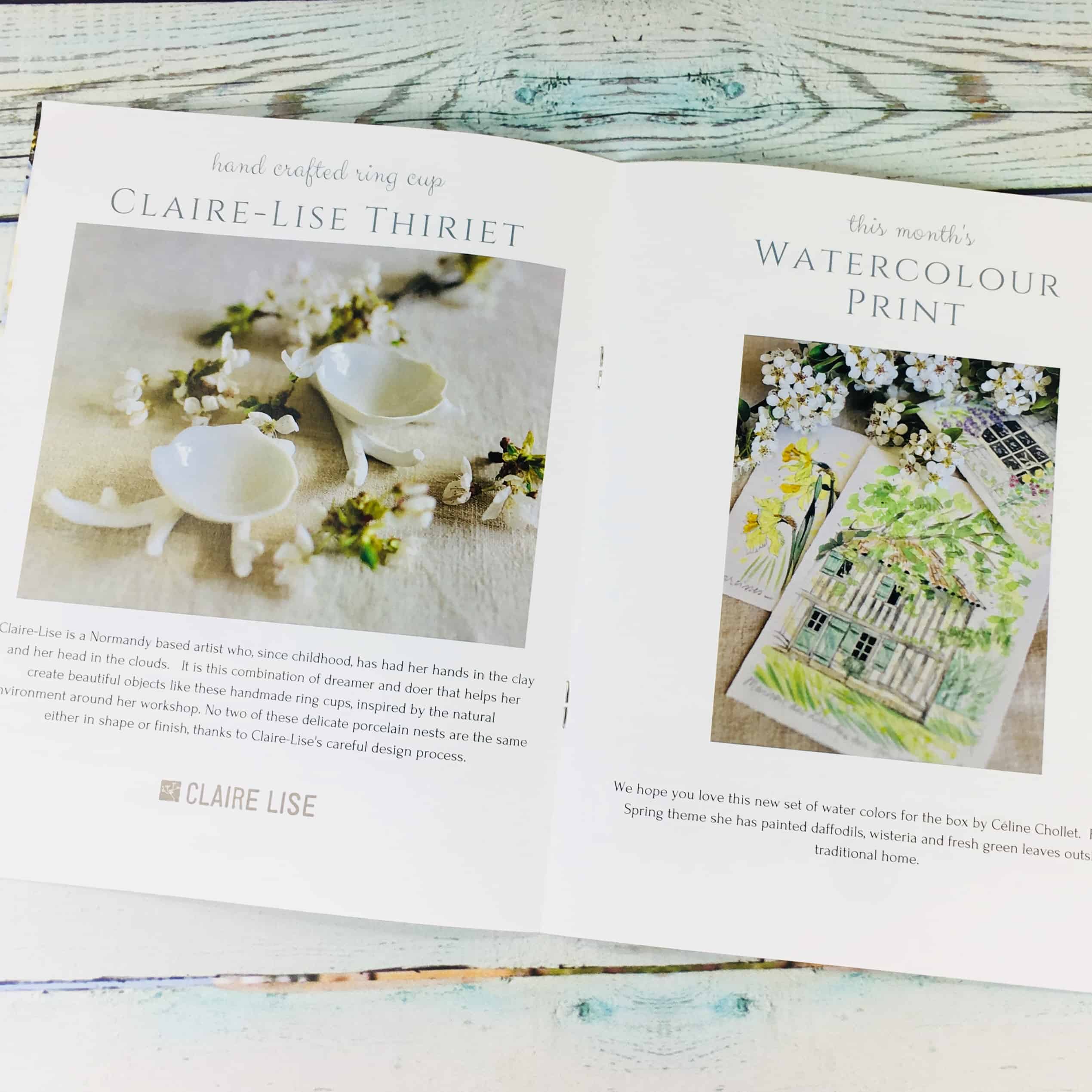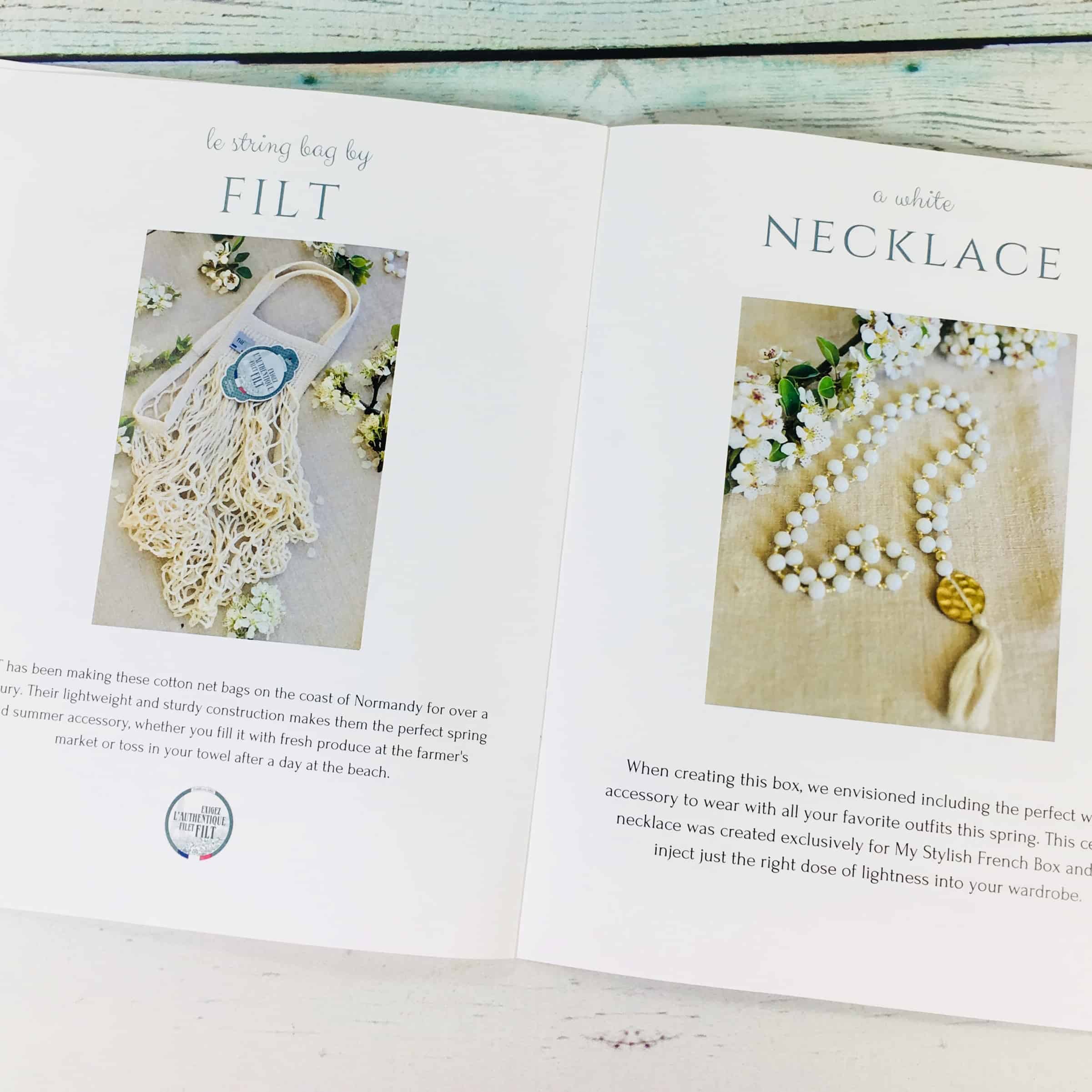 Each page described the items and there was info on their ambassador program.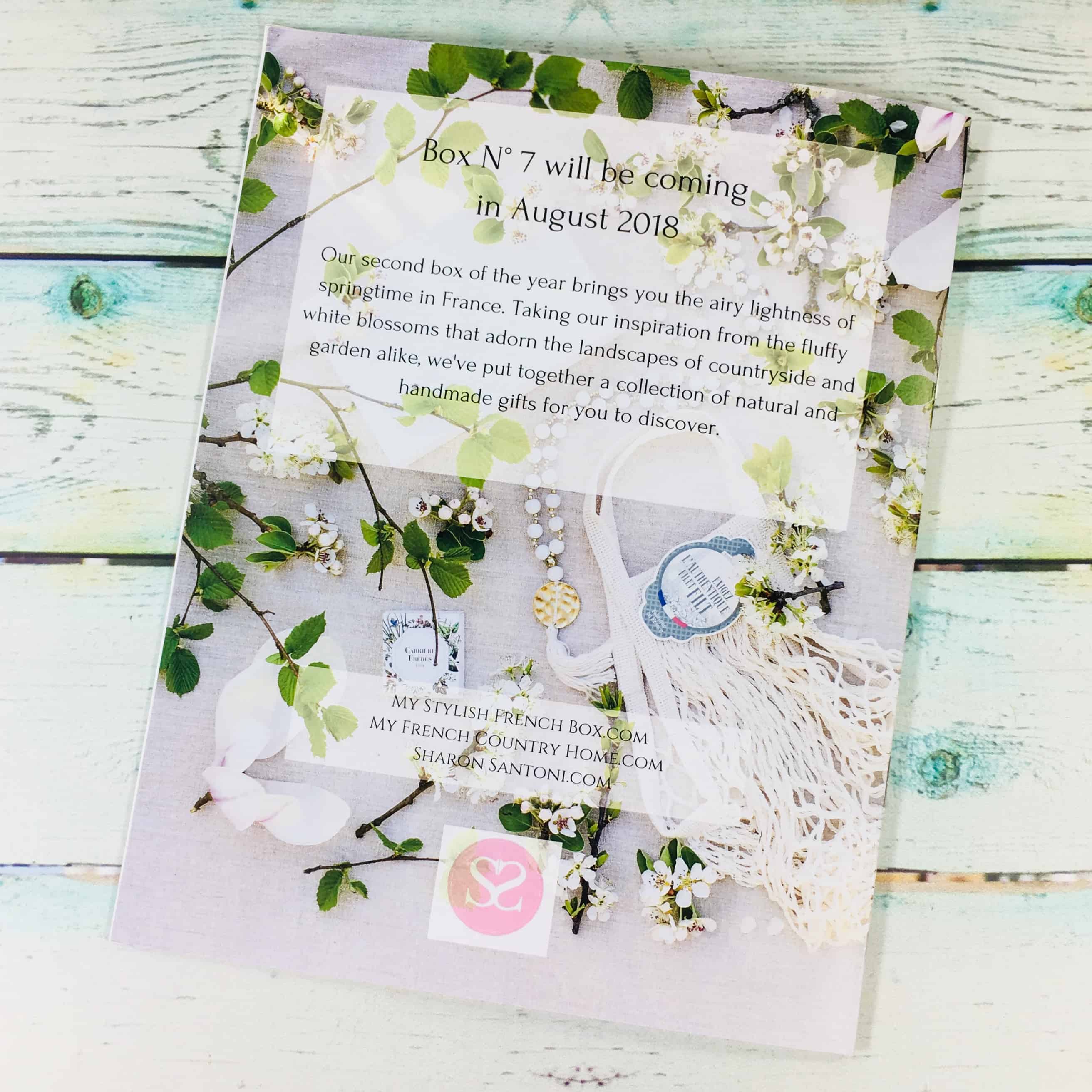 The May box is already sold out, so you need to sign up now to get August's box. The description sounds like the current box so that may be a misprint. Or maybe they are just reminding us of what was in this shipment.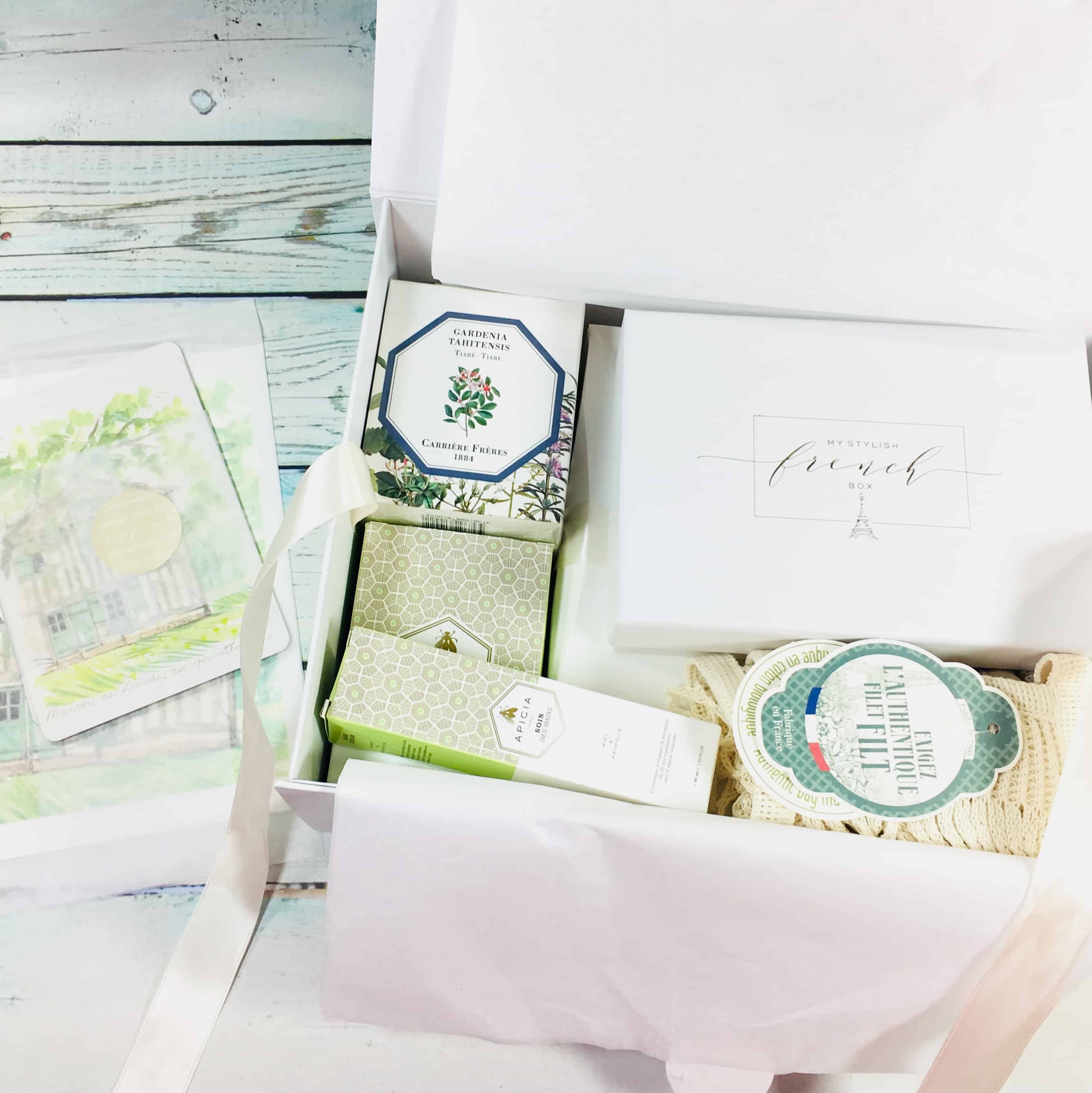 Oh my, the airiness and simplicity of this box are amazing!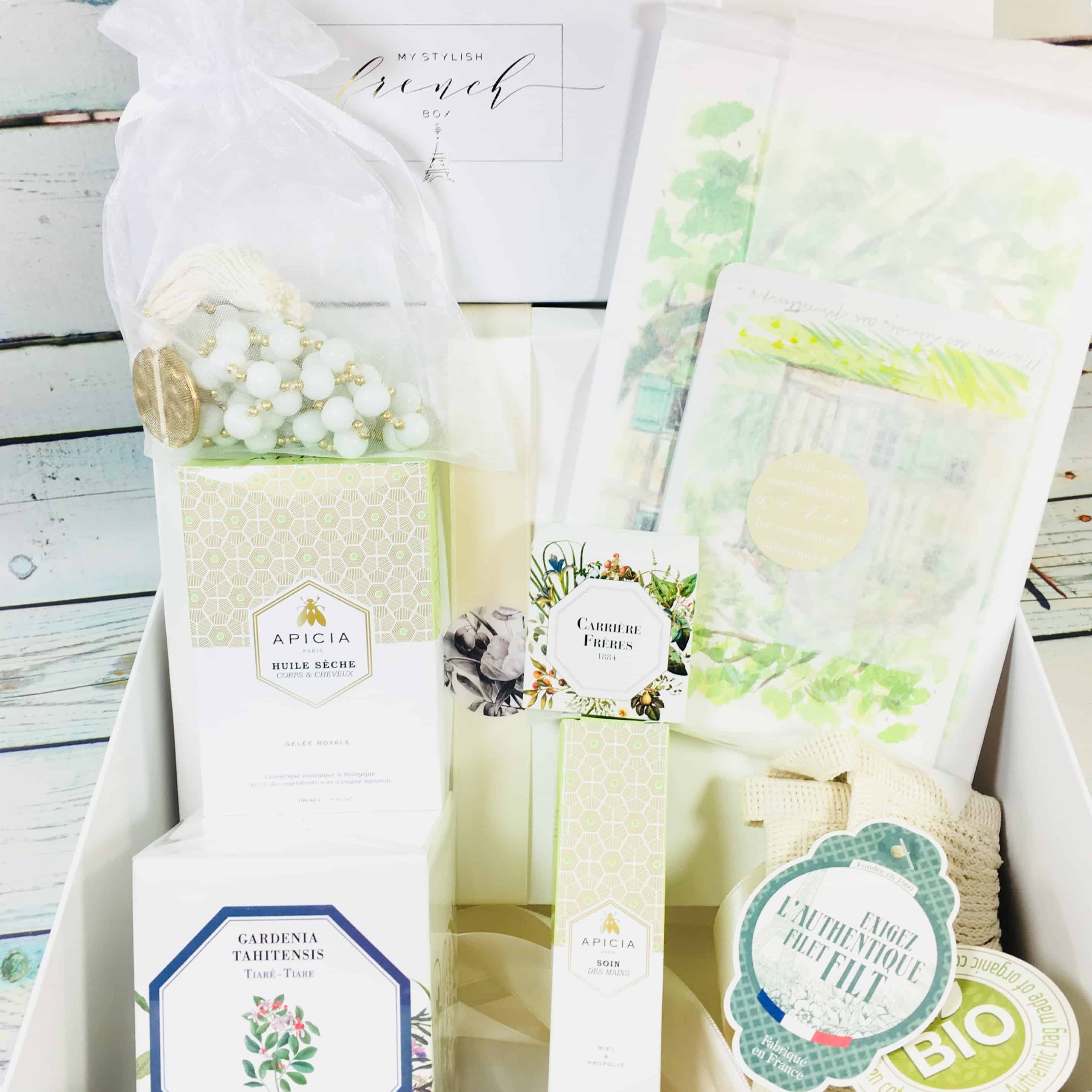 Everything in my box!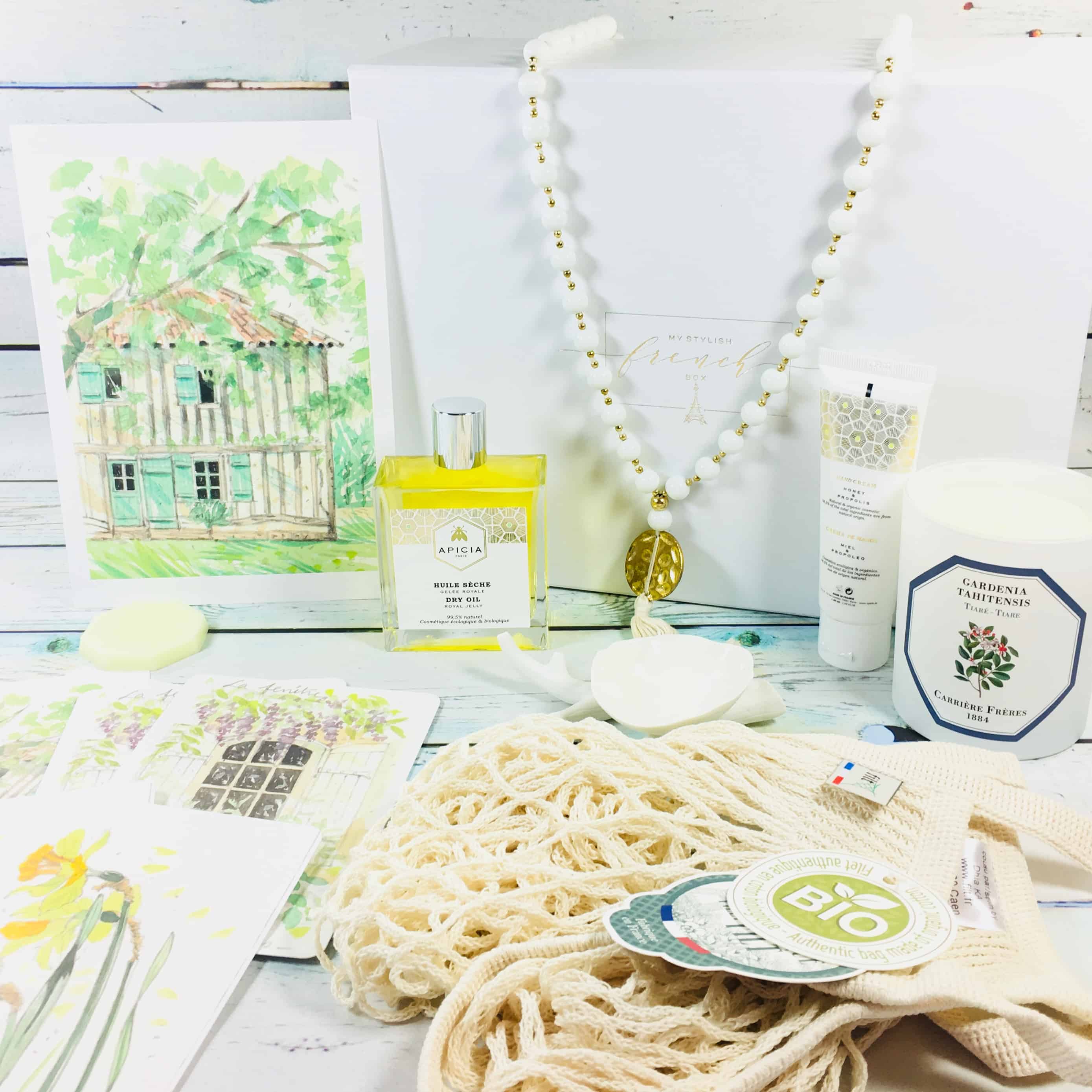 Everything in this box was new-to-me and I couldn't wait to discover what was what! I forgot to put the wreath in this picture, I had set it on a different table to keep it safe!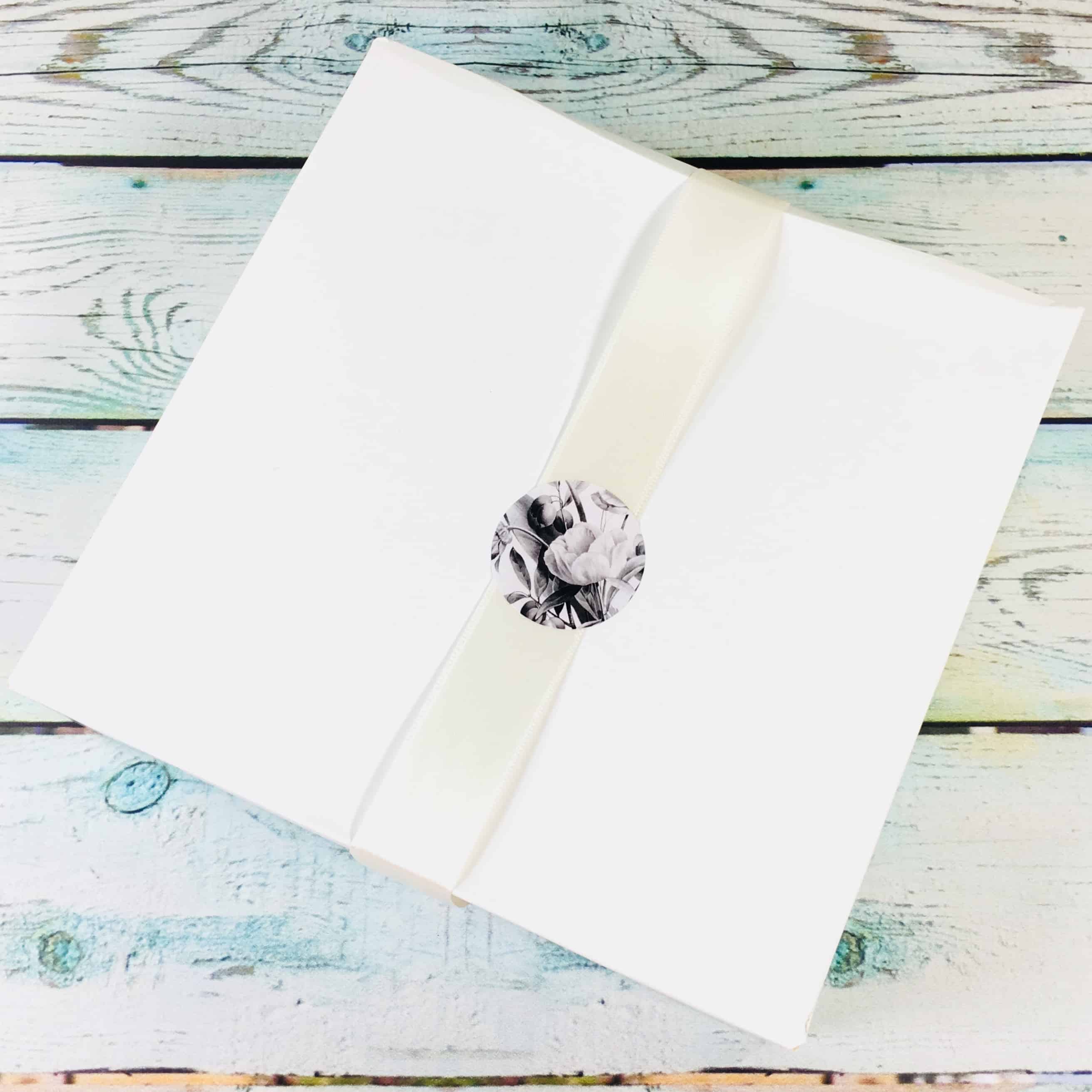 Some of the items had additional wrappings to keep them safe.
I can see something peeking out from under the tissue paper.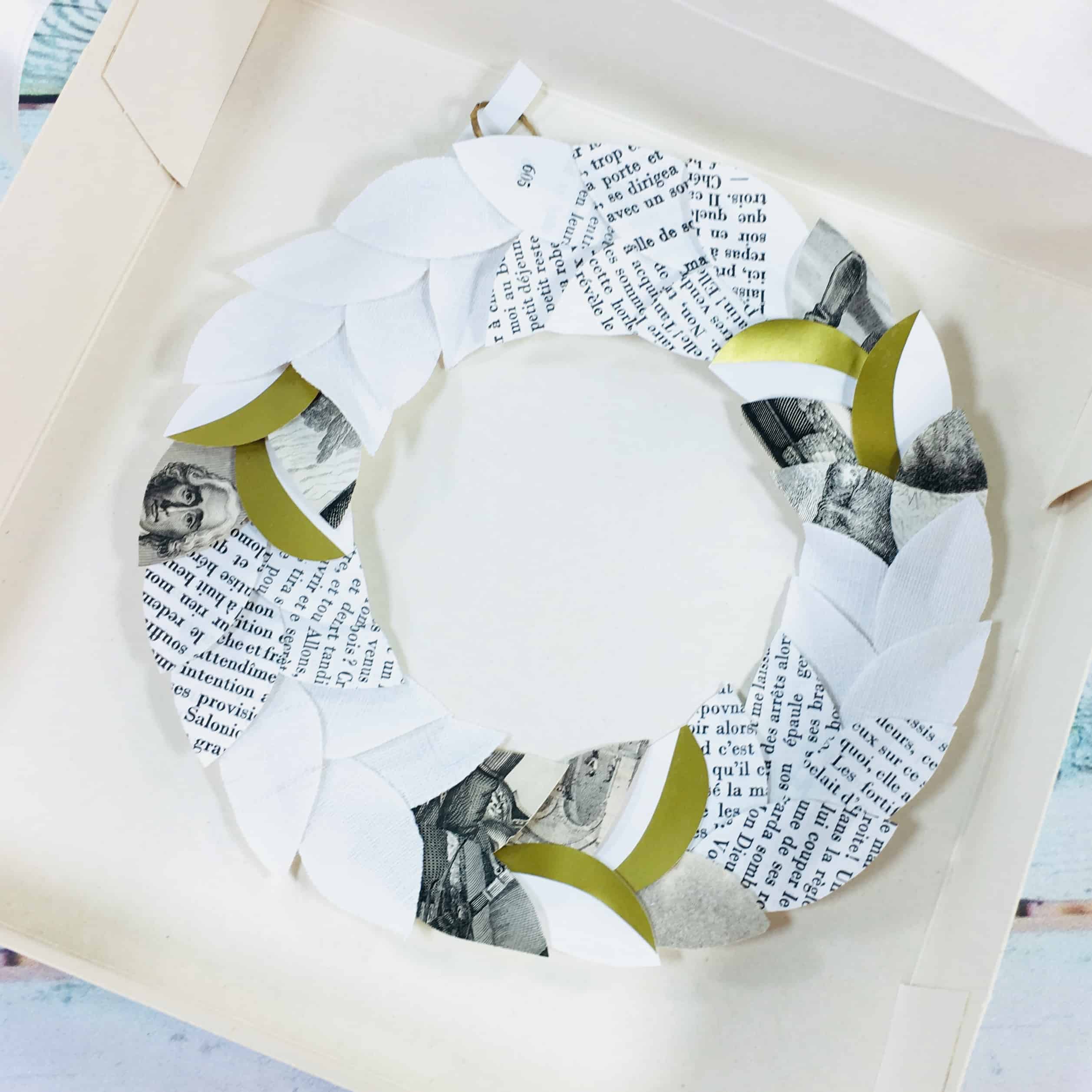 Bord de Scène Crown Wreath Each box will feature a brocante item, or "antique" find. This is a new twist on the brocante item as it isn't actually an antique product.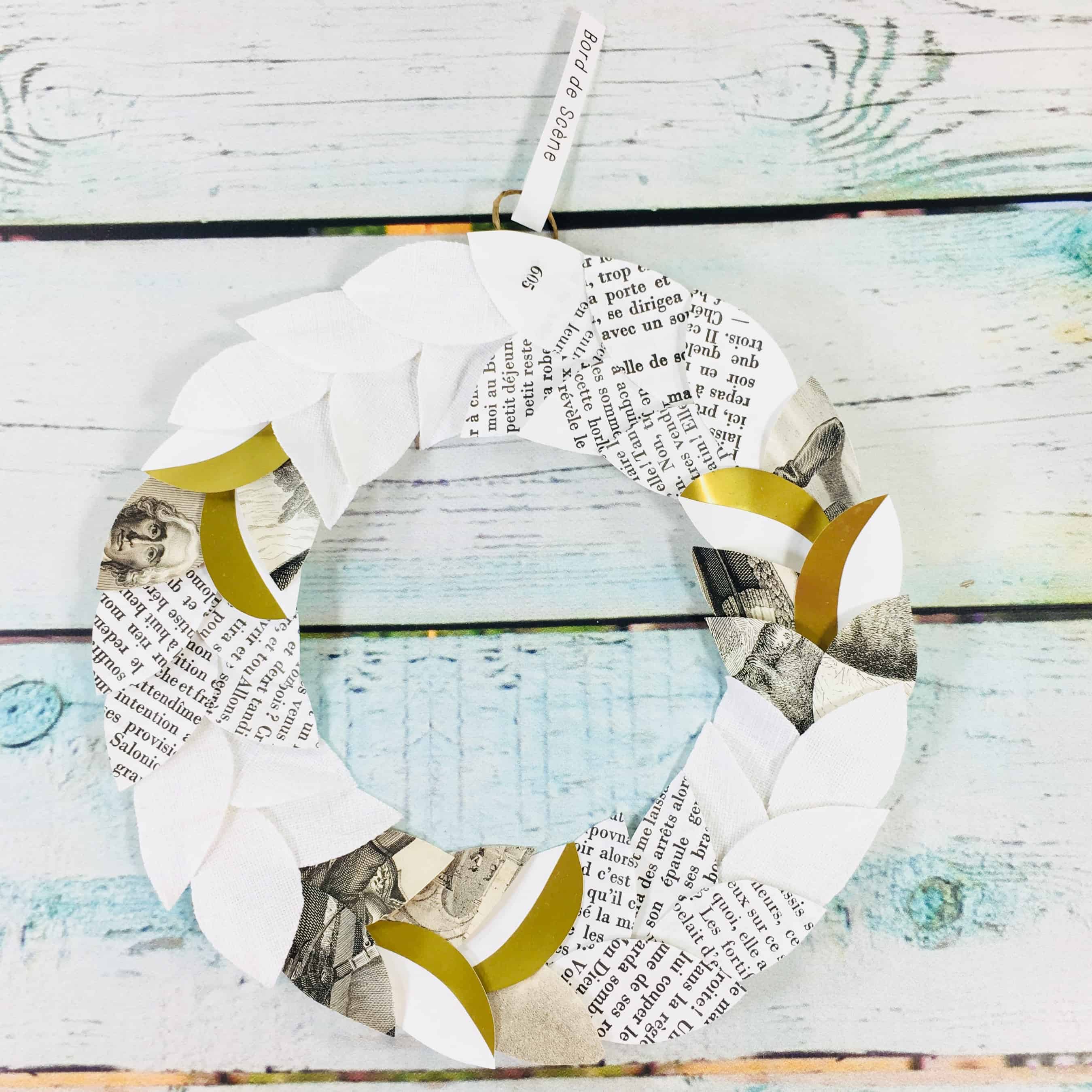 Instead, the leaves are handmade with antique linens, engravings, and pages from books.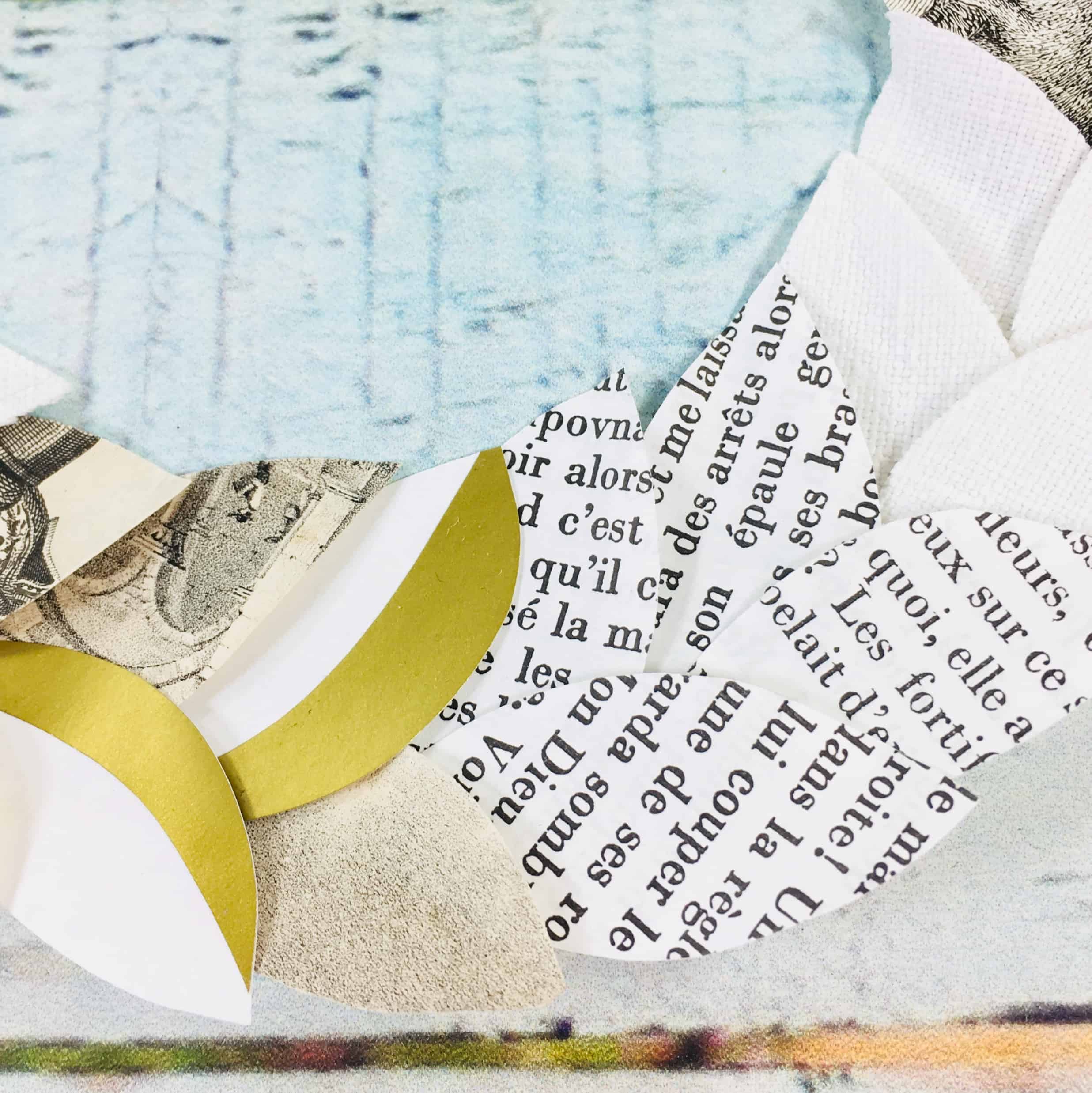 The book pages are in French and here you see that the white leaves are made of linen. There is a loop at the top so that you may hang this on the wall.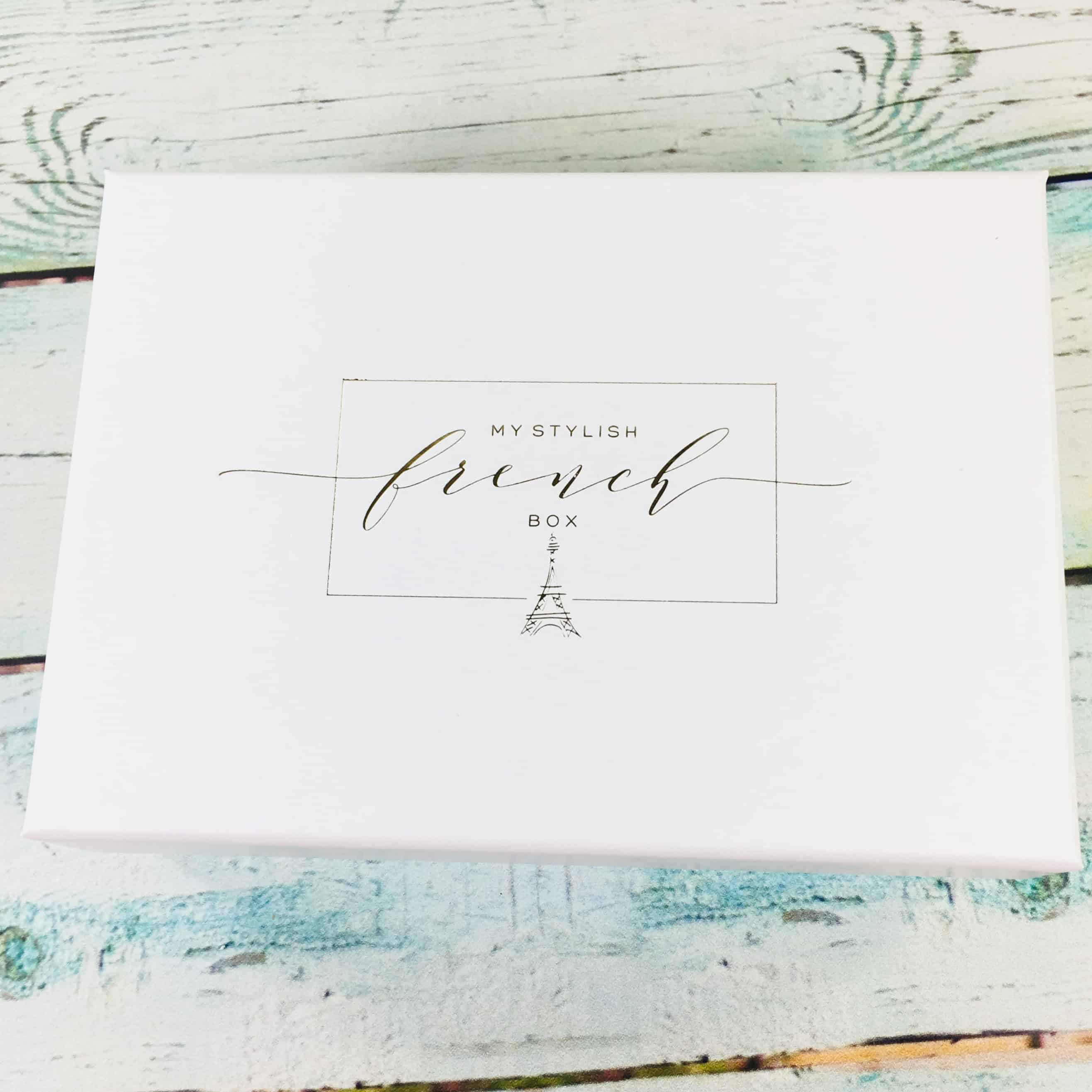 Another simple white box suitable for re-use hides another treasure.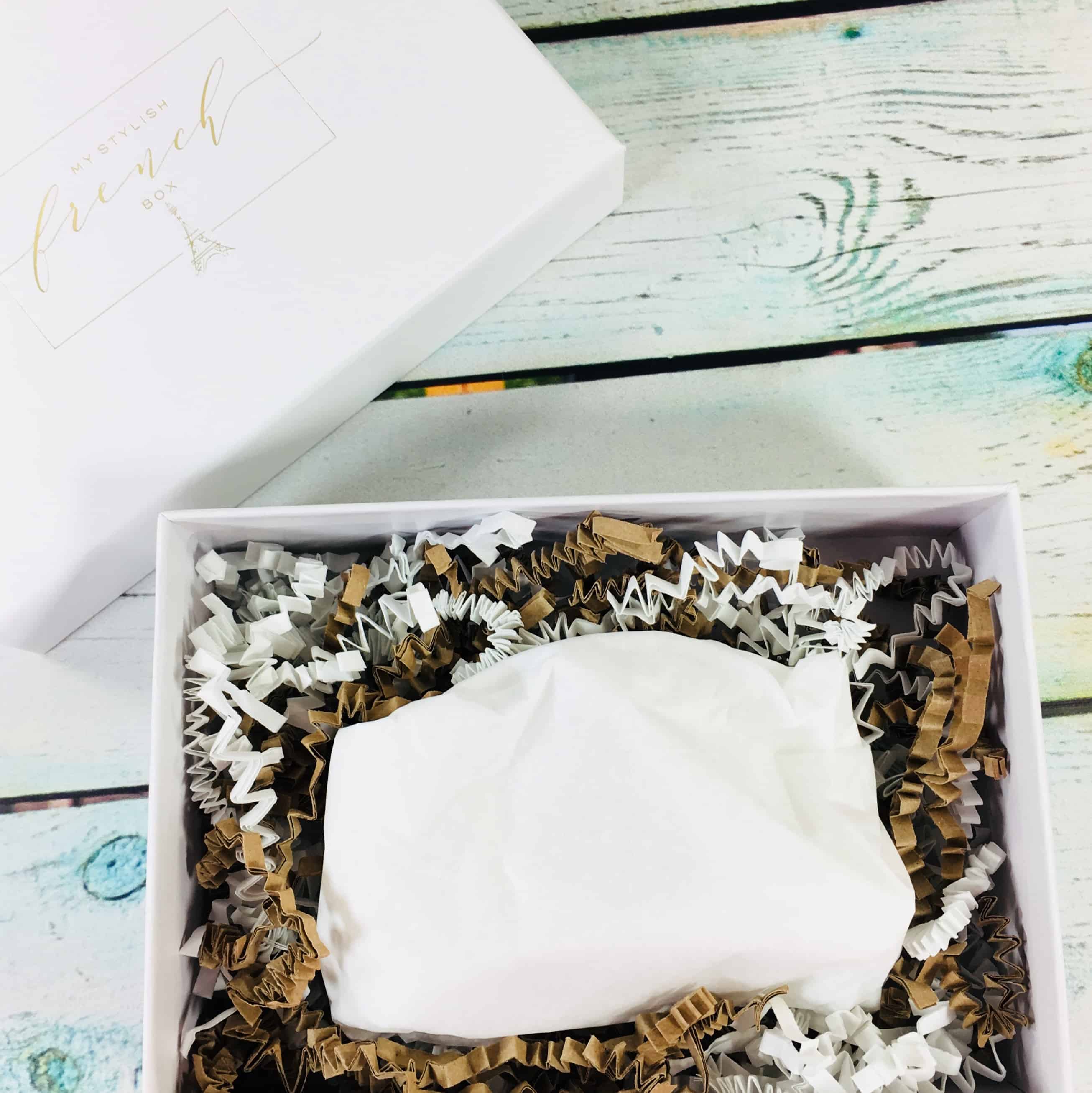 This item was wrapped in tissue paper and snuggled in a bed of squiggles.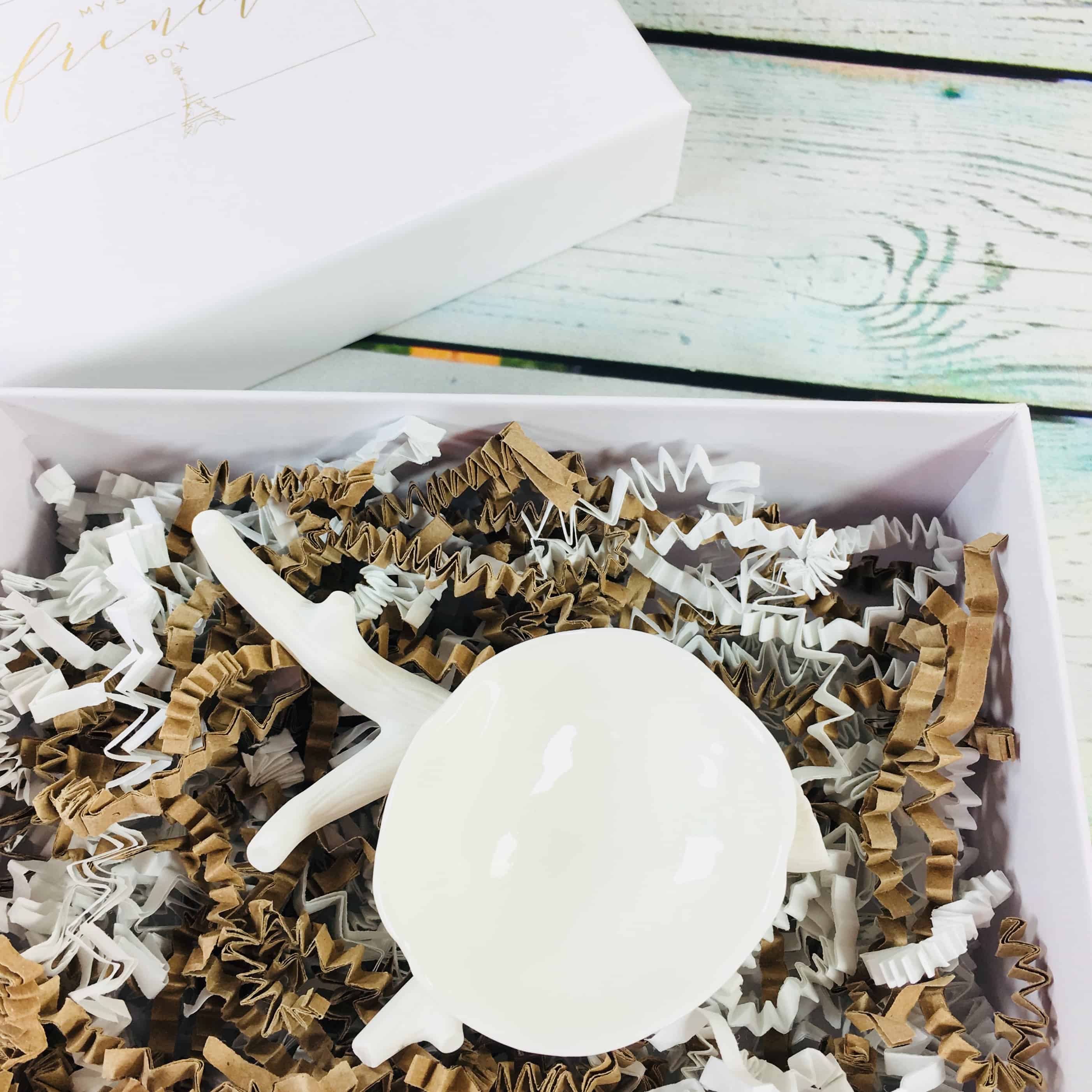 It's a little dish! A little ring dish for tiny objects.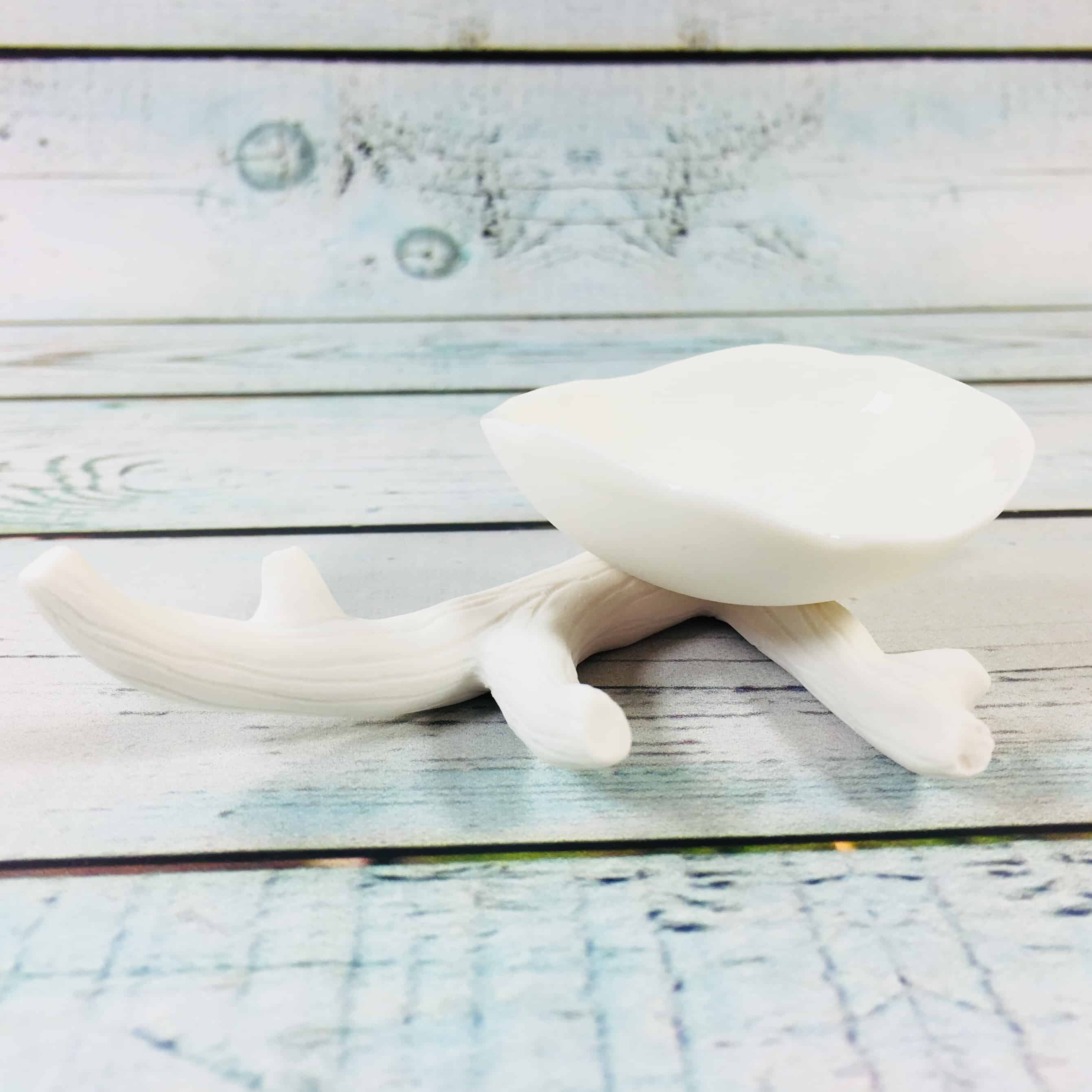 Claire-Lise Thiriet Hand Crafted Ring Cup is a handmade porcelain dish that is inspired by a bird's nest on a branch.
I placed this on my desk to hold some amethyst crystals but it can hold earrings or finger rings or other small items.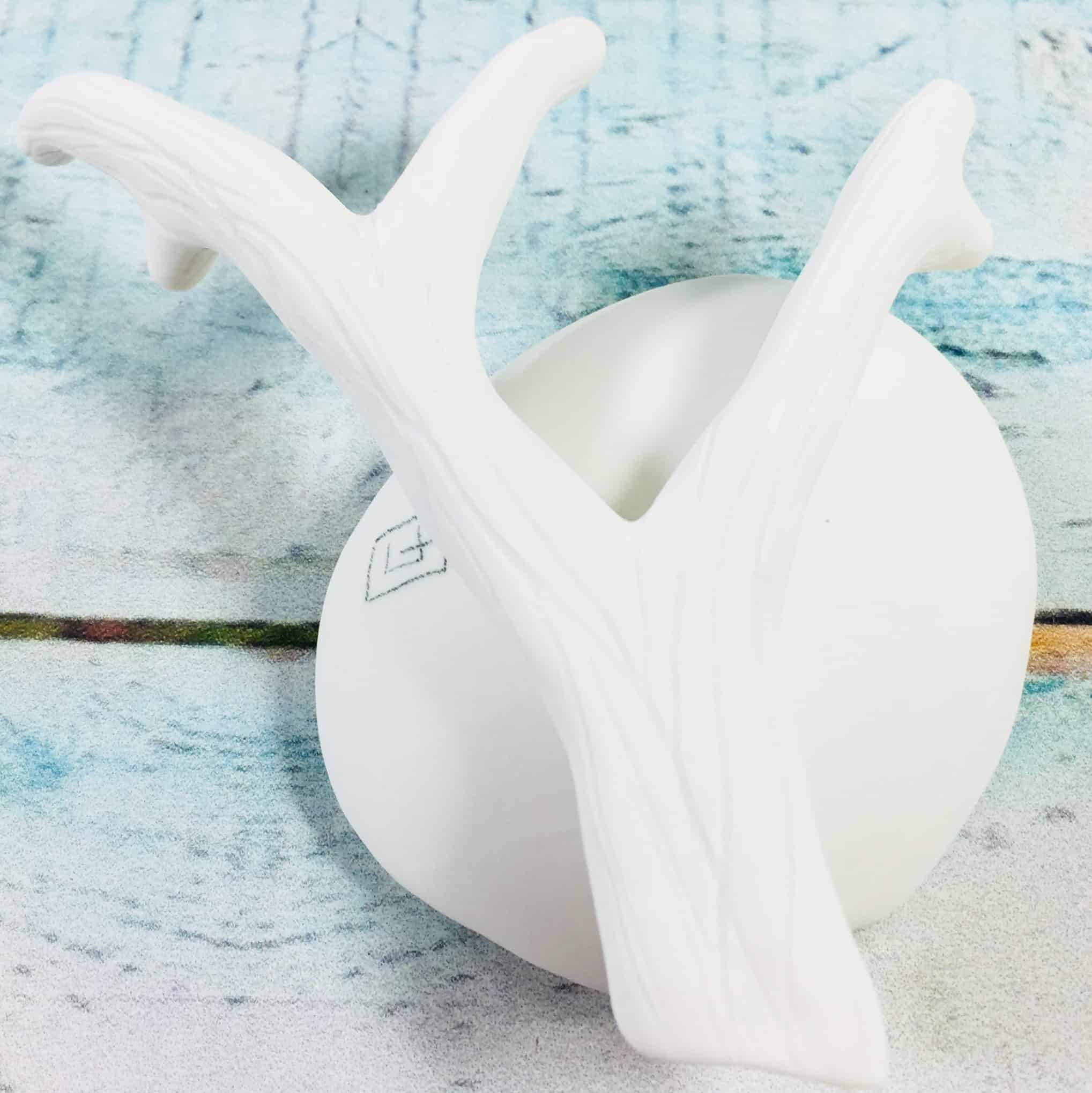 See the detail of the branch? Each cup is unique and this is just such an unusual and lovely item.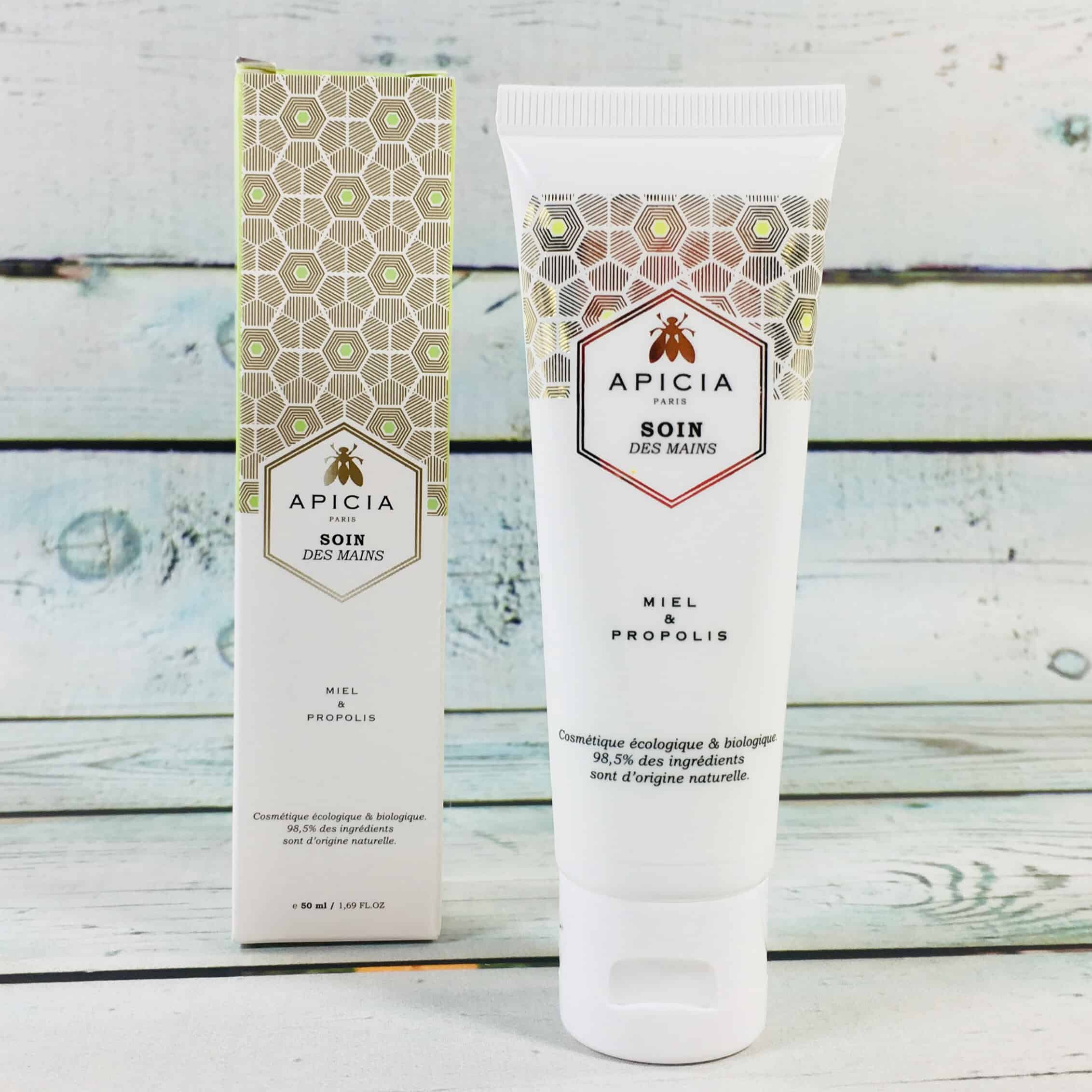 Apicia Hand Cream & Oil is a fairly natural beauty brand from Paris-based Apicia. The name Apicia comes from the Latin word apis, which means "bee." Apicia's products contain either honey, pollen, propolis, royal jelly, or beeswax.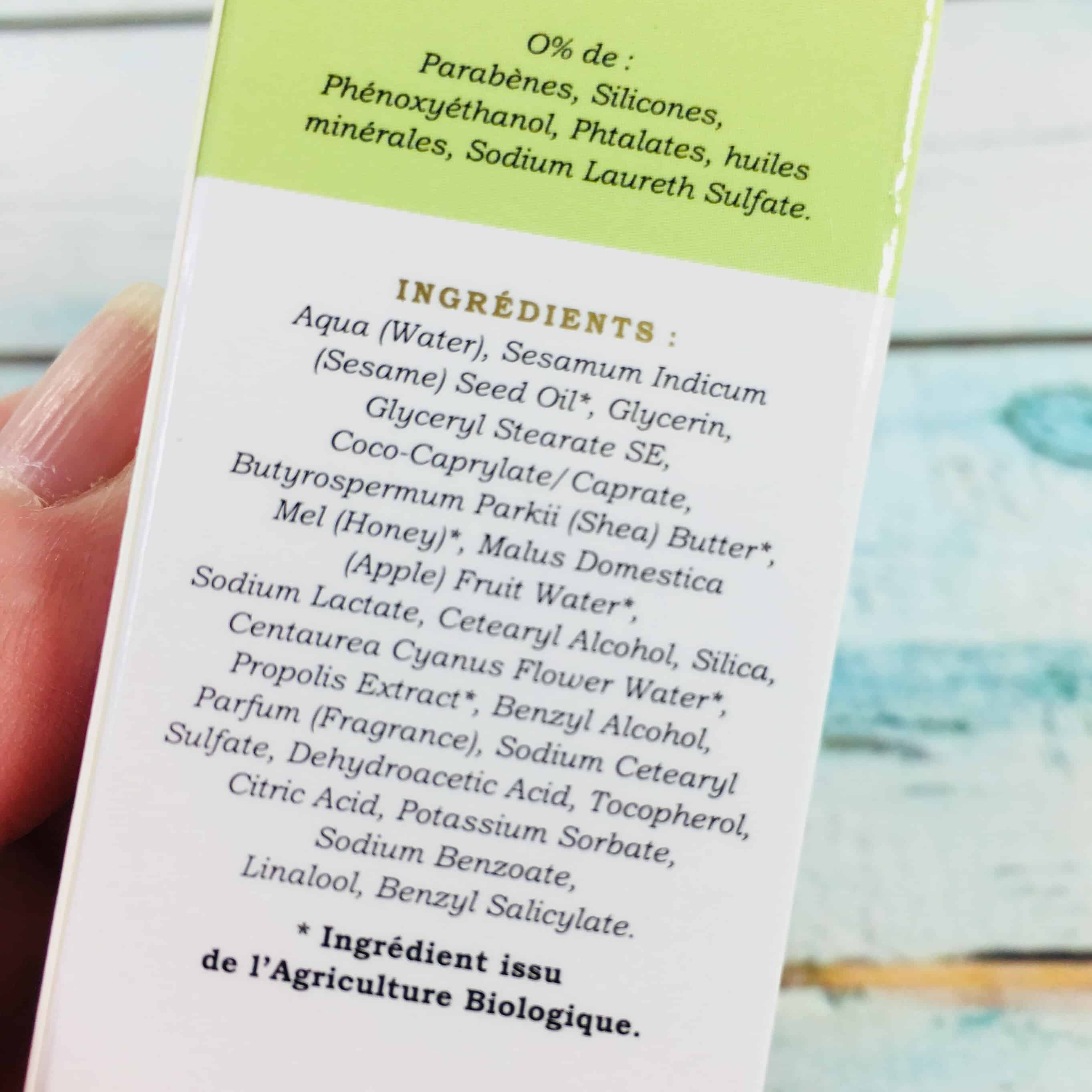 Sesame oil, honey, shea butter, and proprolis can be found in this hand cream that has a light, honey-like fragrance. It was non-greasy and I appreciate that it isn't overwhelming in scent.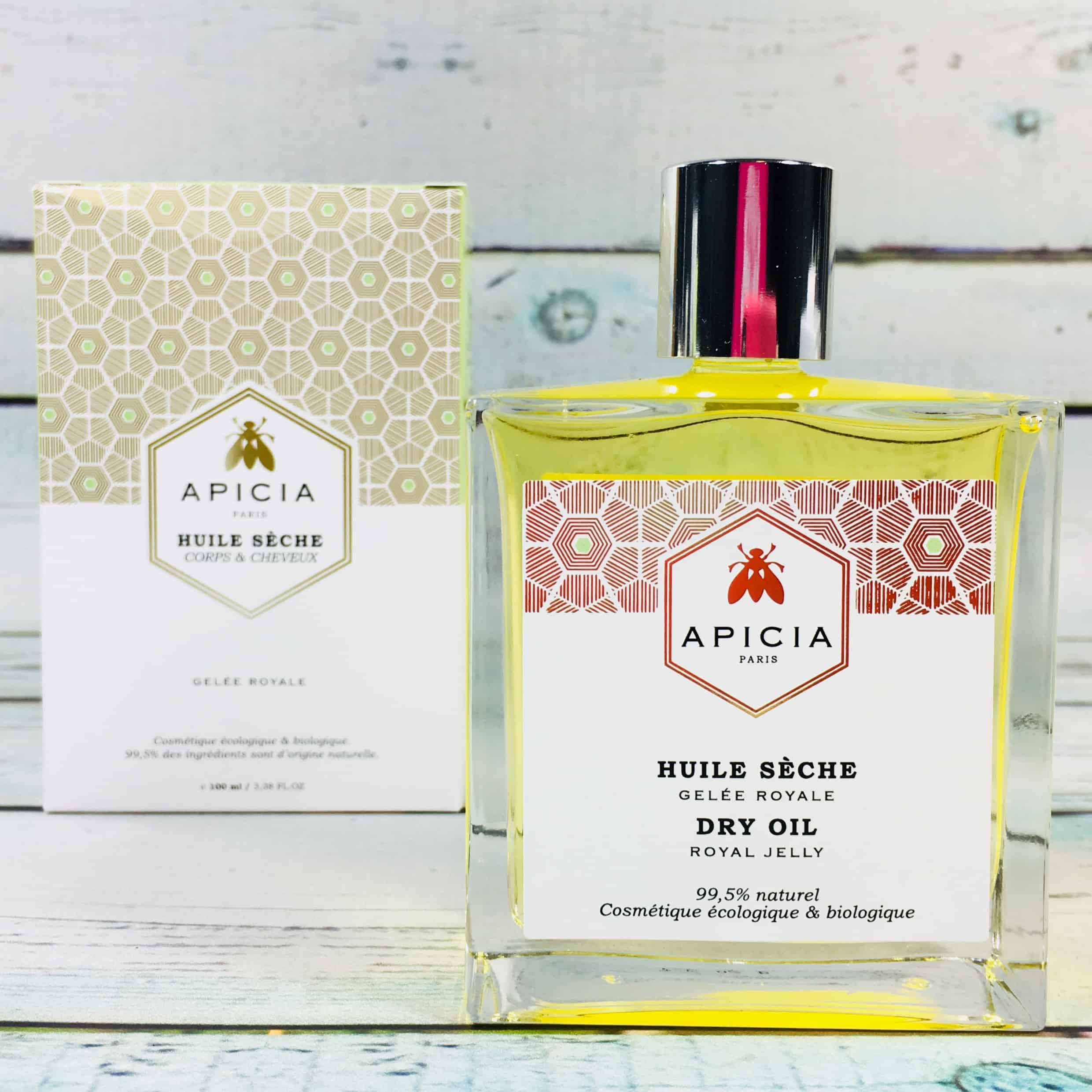 Apicia Dry Oil was the second item sent from this lovely brand.
Sesame oil, sunflower seed oil, apricot kernel oil, and royal jelly extract are some of the ingredients in this body oil that goes on light and wasn't sticky or greasy. I rubbed it on damp skin right out of the shower but you can also use it on hair. Again, the scent was light and faded quickly. This jar should last a long time, too.
Carriere Freres Tiaré Candle (Subscribers may receive a different scent) I love a good candle and while I wouldn't normally choose a floral fragrance for myself, this one is so beautiful that I would make an exception!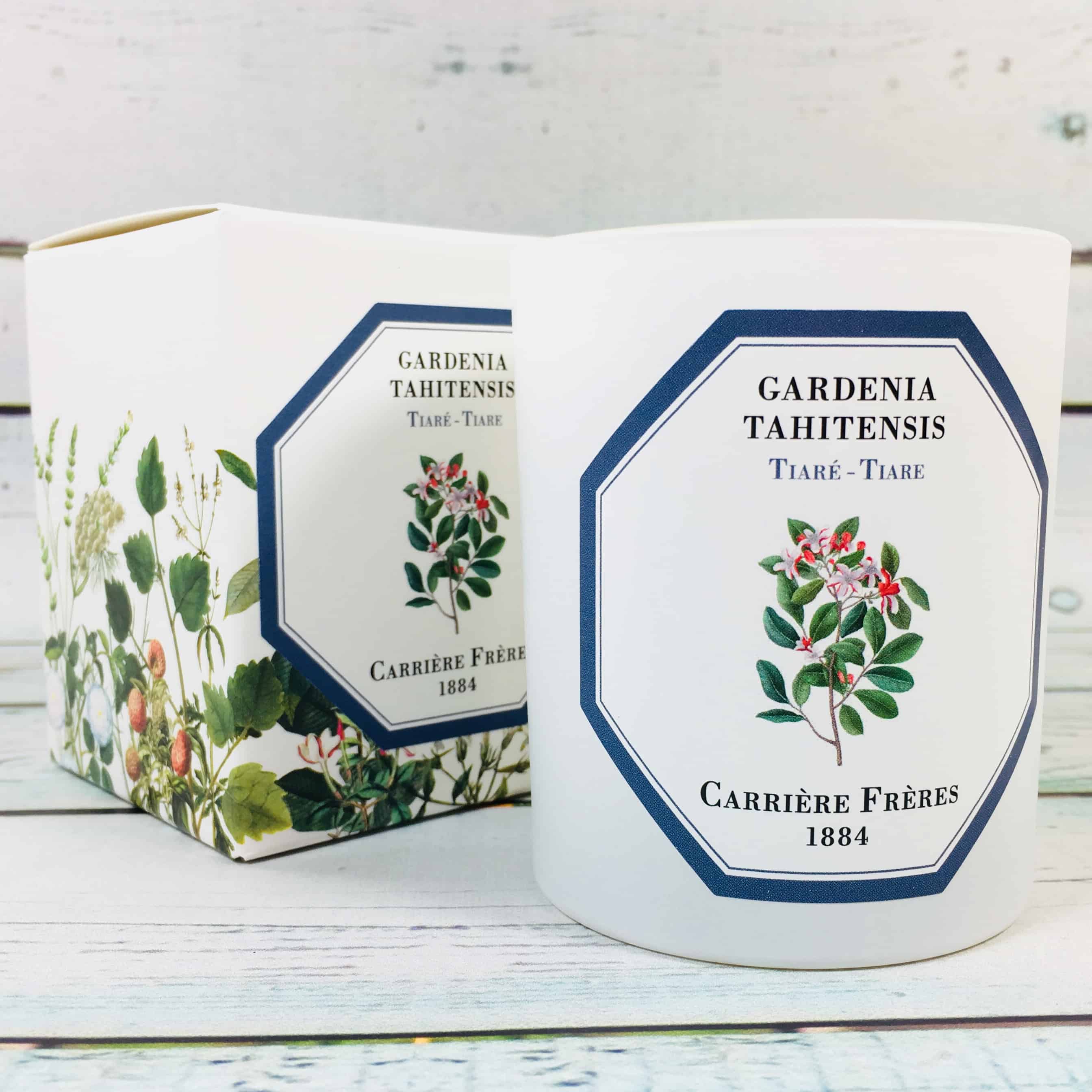 From what I can tell, this brand is made with vegetable-based wax and is scented with high-quality perfume from Grasse, France, the world capital of perfume. It is scented with Tiaré, a white gardenia from Tahiti.
Carriere Freres Fleur d'Oranger Cameo I wasn't sure what this type of cameo was for but the suggested use is to place it in a drawer for scent.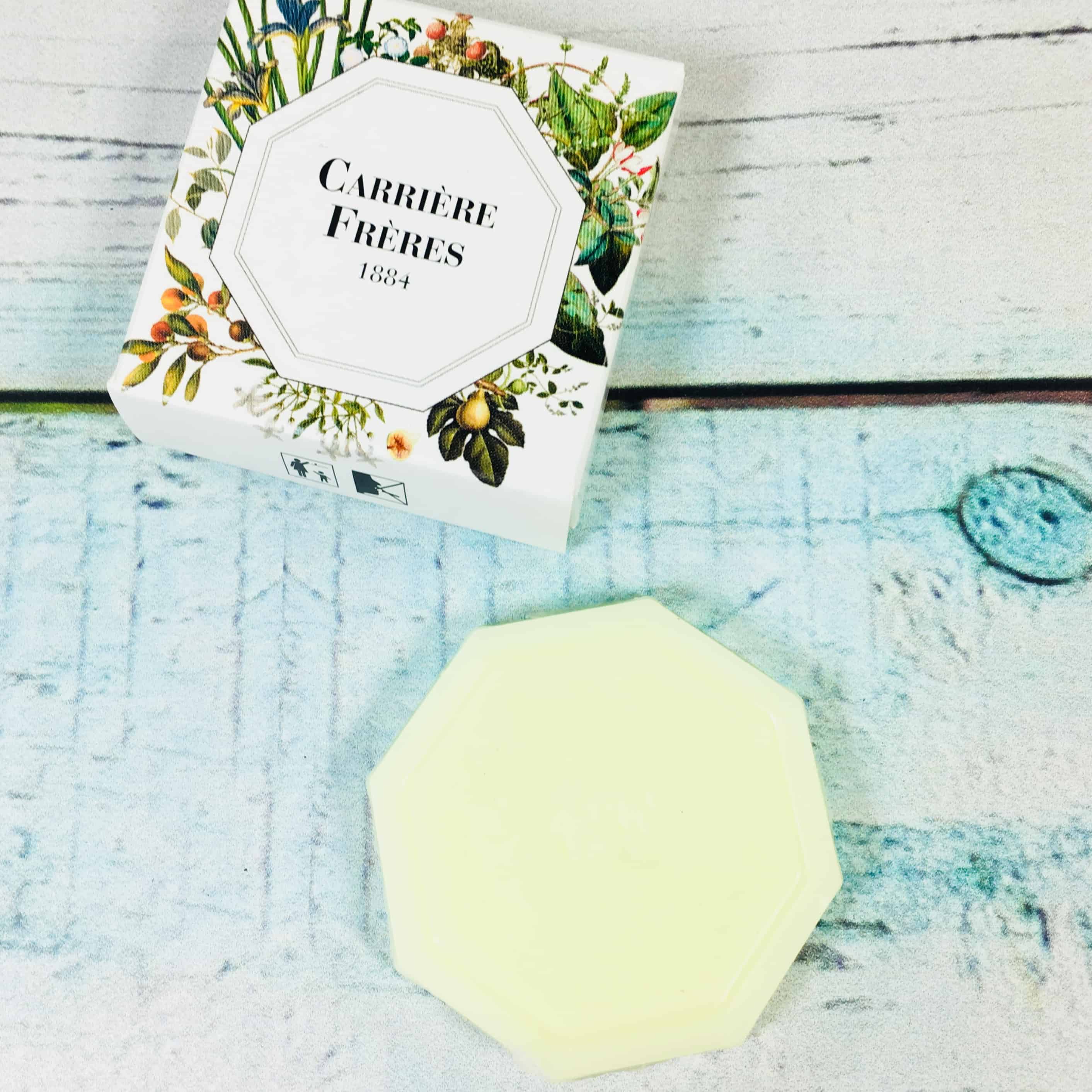 This cameo is scented with orange blossoms and it is an amazingly accurate reproduction of that fragrance!
I think this is made of wax and after a little research on similar items, it seems that you can use this the same way you would use a wax melt, on top of a dish with a light bulb or candle underneath it.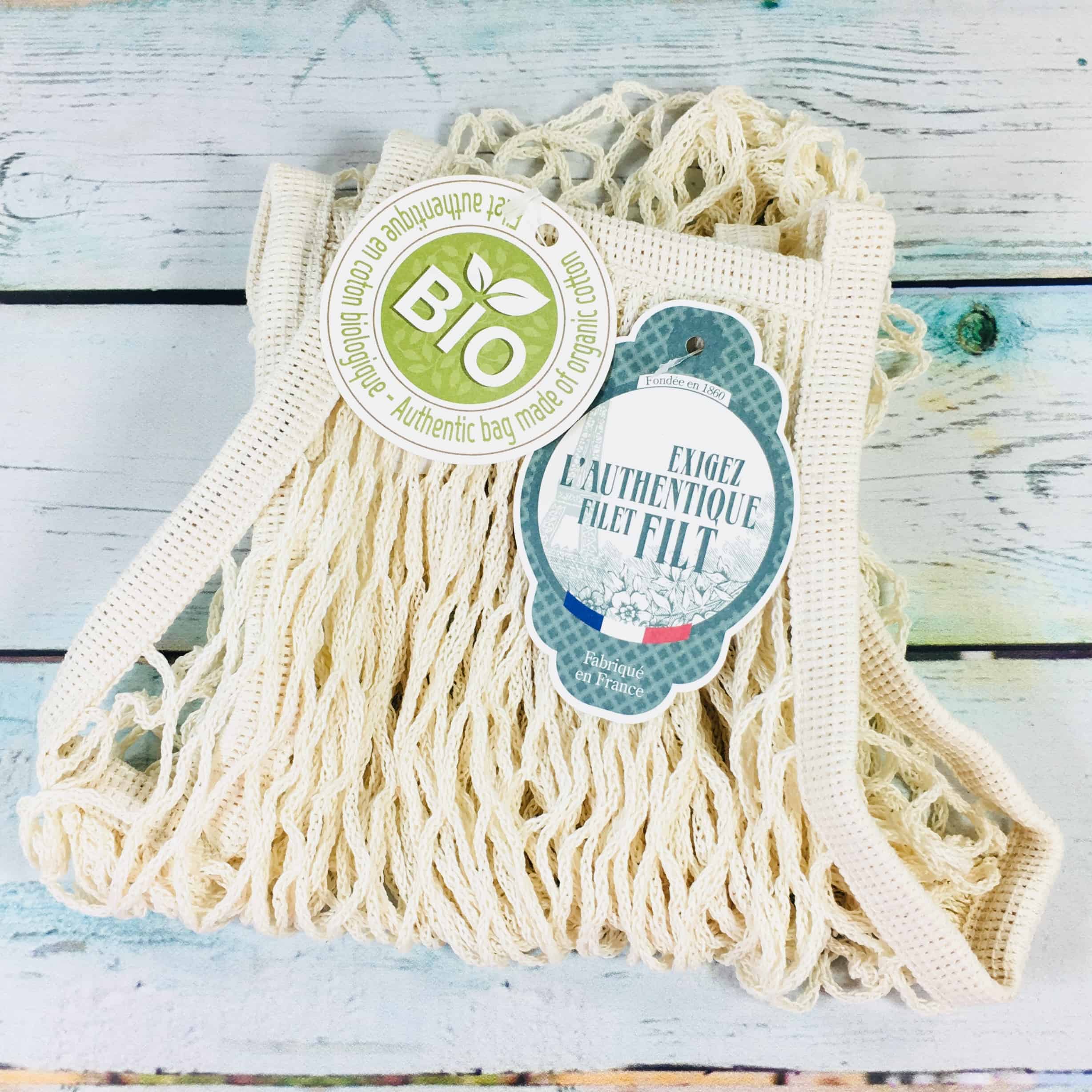 FILT Le String Bag These bags were originally used by fisherman but then people started using them for totes and shopping since they are lightweight and easy to carry.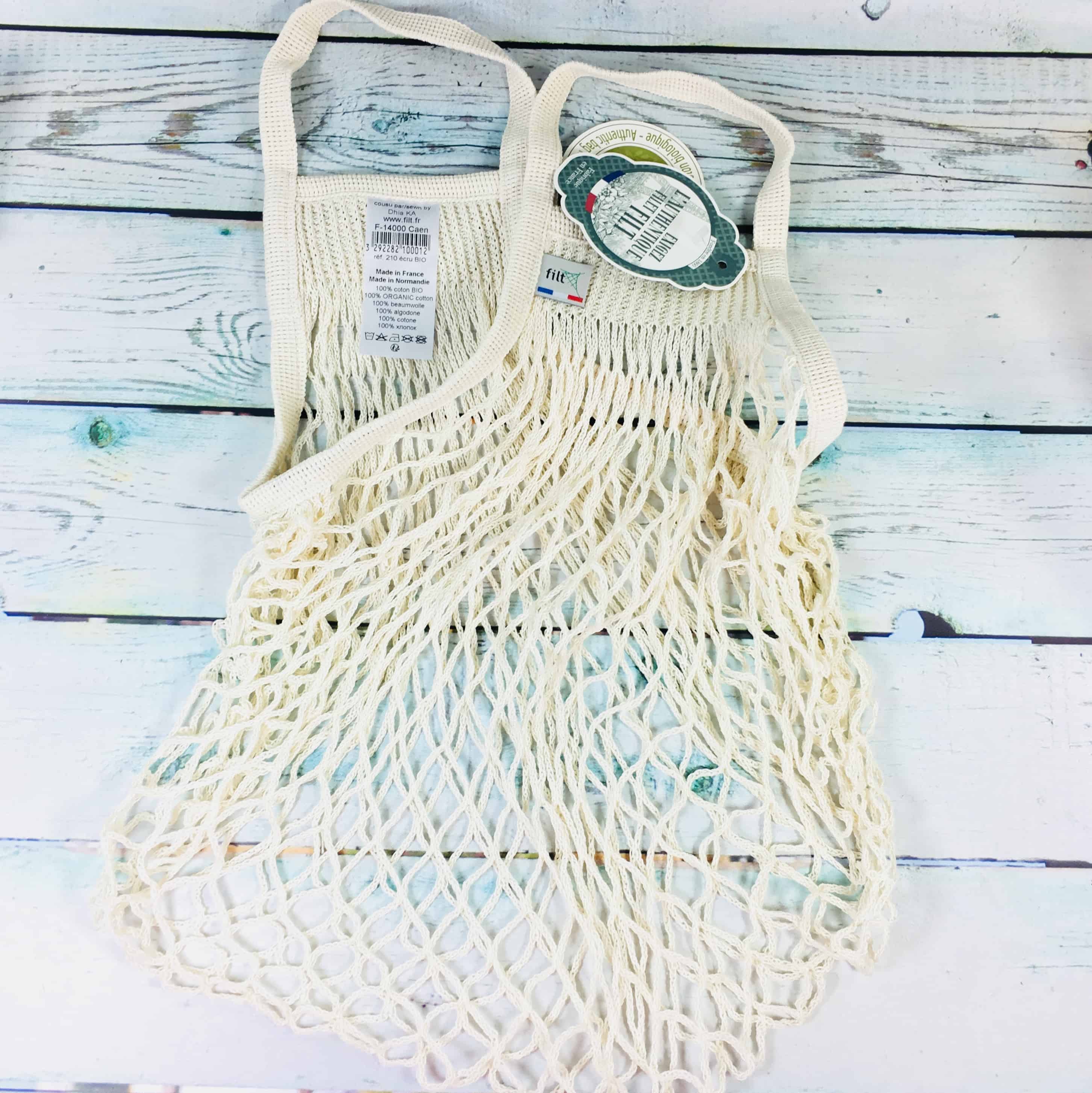 The bag is made of cotton and can be used for groceries or to carry a wet bathing suit or towel.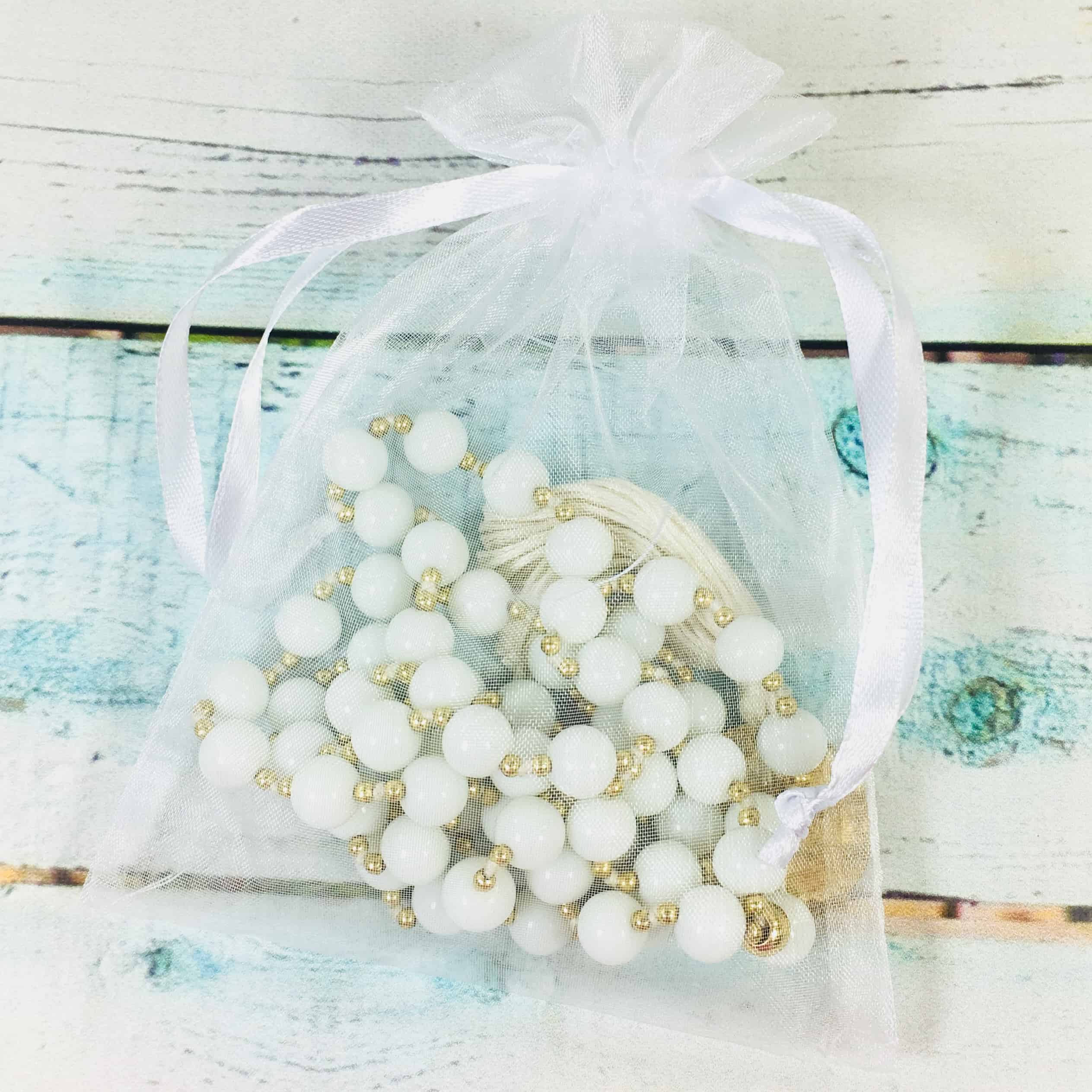 The next item was simply listed as A White Necklace. It came in its own bag and no maker was listed.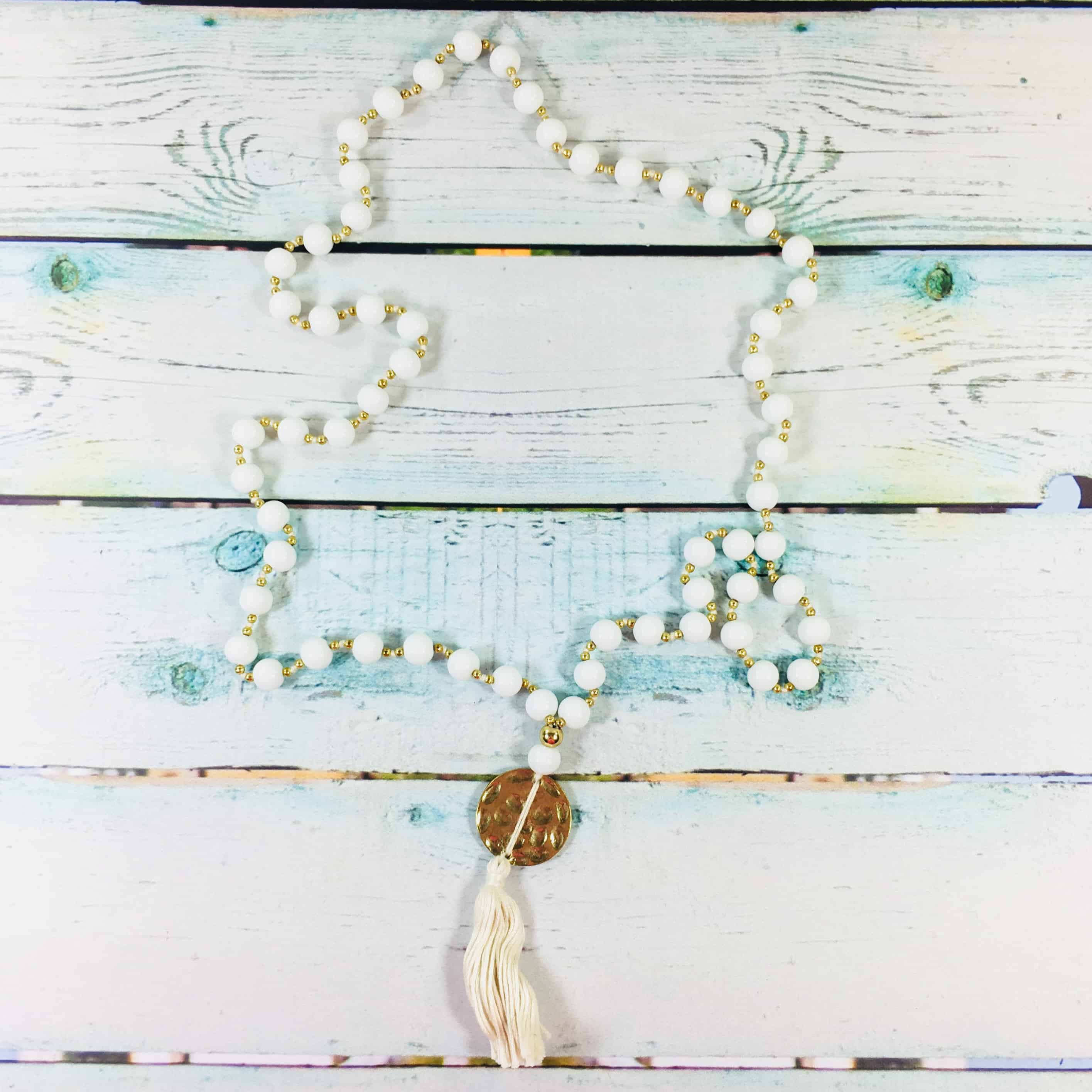 This item is certainly a statement necklace. I did plenty of searches using different terms and couldn't come up with a similar item. When I placed it around my neck the tassel ended at my belly button. I think it fits into several style genres – it is both classic-looking and yet it also looks boho chic.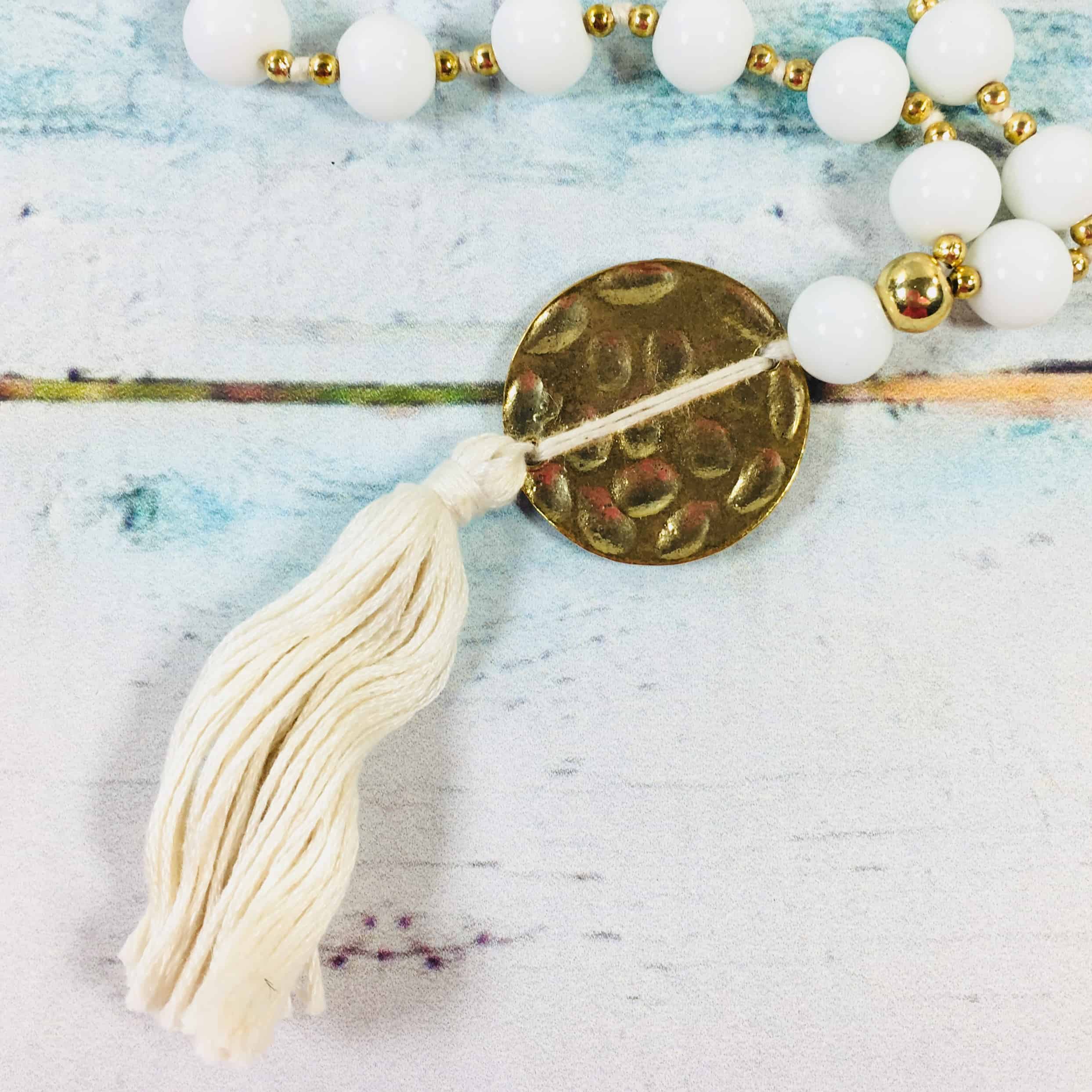 There are white ceramic beads alternating with small golden beads. A gold hammered metal medallion is near the bottom and there is a cotton-string tassel on the end. If you look closely at the product brochure you will see that the tassel is fuzzy, like lambswool, so I think it is supposed to look that way after several wearings.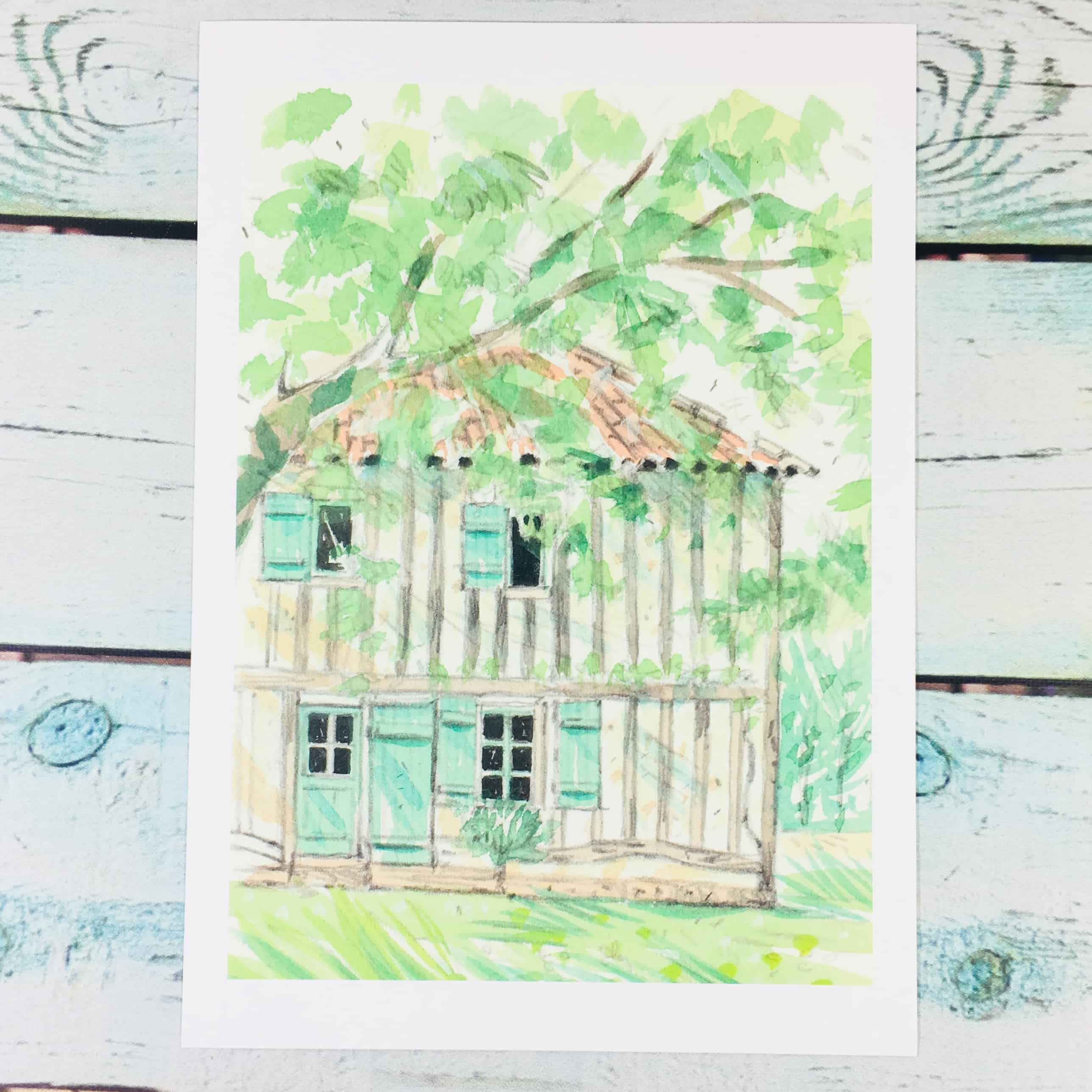 Each shipment comes with a watercolor print and this shipment's featured artist is Céline Chollet. I received a print of a traditional house but subscribers may receive one of three different prints. The print is 6″ x 8″ and is printed on watercolor paper.
Finally, there was a bonus gift for those who ordered an annual subscription.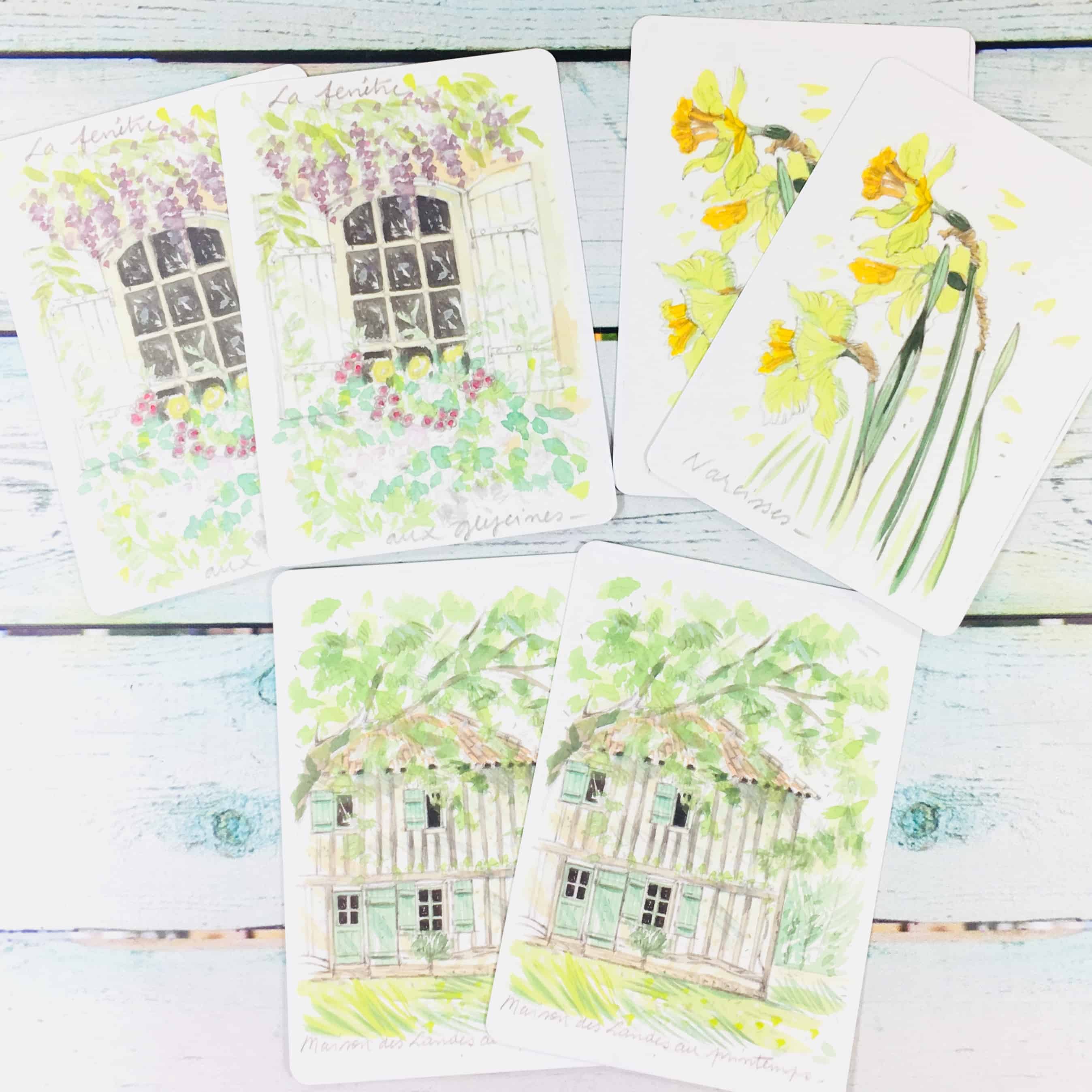 I received 6 Watercolor Print Cards in three different designs: Wisteria Window, Daffodils, and Traditional House. I believe these are also the different print pictures that subscribers may receive for the larger print picture.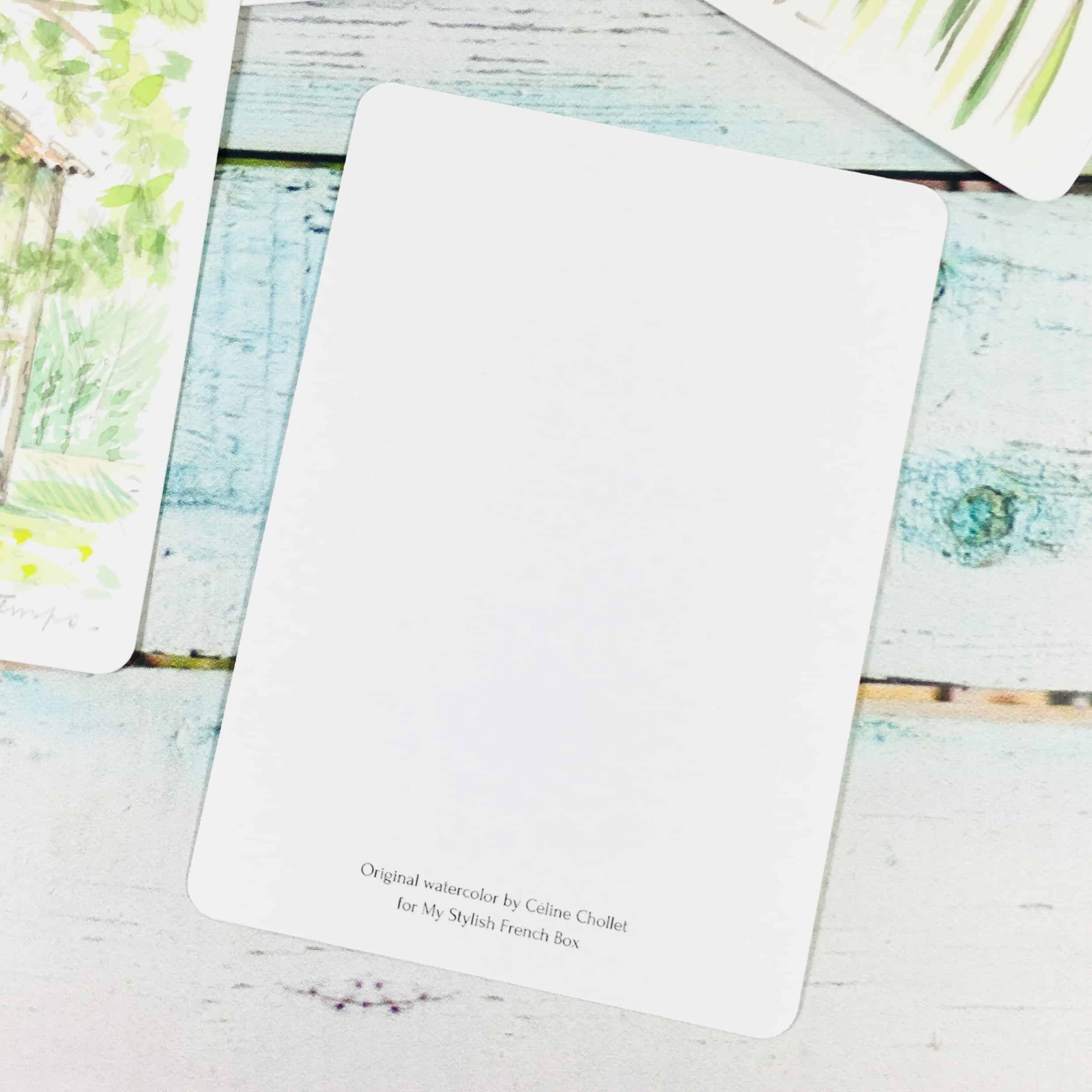 These cards are 4″ x 6″ and are printed on cardstock. They could be used as a postcard or you could frame them.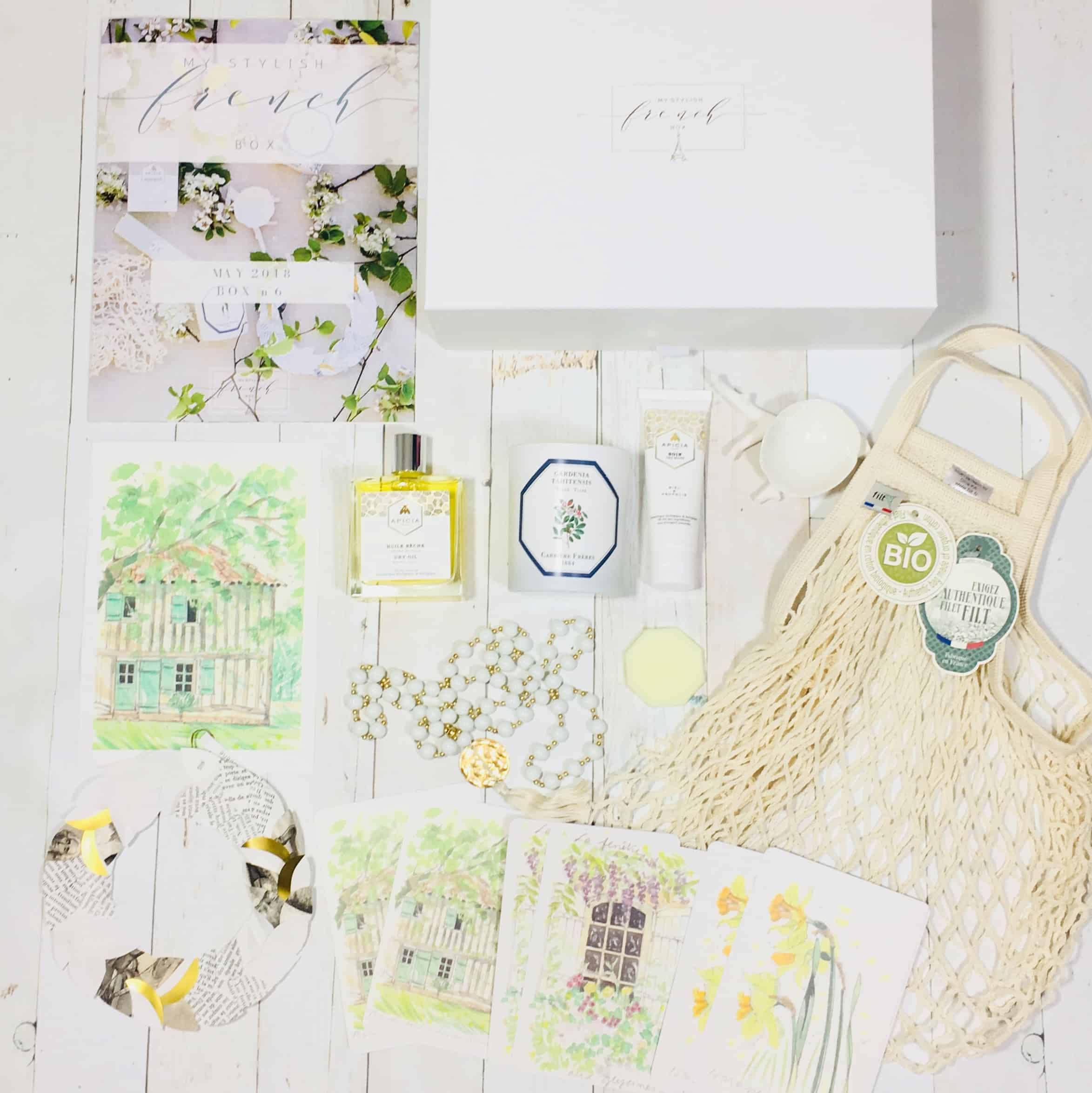 Wow, what an amazing shipment from My Stylish French Box! Each item seemed perfectly chosen to fit the White Blossom theme and was of exceptional quality. I enjoyed discovering delightful treasures from France and it certainly felt upscale and exclusive. Having said that, the items were also useful, whether an amazingly scented candle or luxurious skin care product or a reusable tote. The print looks very colorful while the cards can be used to jot a quick note to a friend. The necklace is just beautiful and the wreath will go on my new bookcase. The ring dish has already been put to use, and the cameo is in my delicates drawer. As for the value, that is a little difficult to pin down. The oil, lotion, candle, and bag have a value of around $110.74, not including shipping from France. That leaves around $144 left for the value of the ring cup, print, necklace and wreath, plus shipping from overseas. I couldn't find anything similar to these items online so I think they are unique and exclusive. They also have a beautiful aesthetic and I enjoy them for their prettiness, too. It's been a long time since my visit to France but I love that with this subscription box, I can get a unique experience without a passport and plane ticket.
Any thoughts about My Stylish French Box? Let me know what you think of the May White Blossom box! 
Visit My French Country Home Box to subscribe or find out more!