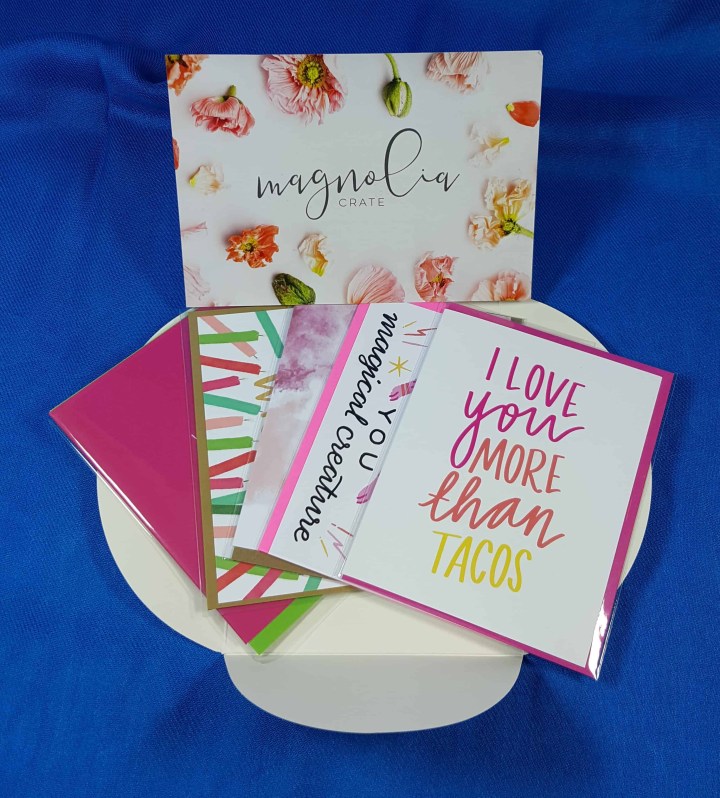 Magnolia Crate is all about the feeling you get when you send and receive mail. There's something about a hand-addressed letter, a beautifully colored envelope, or a unique card that you've never seen before. Not only are you provided with gorgeous stationery and cards to send to others, but you also get to be giddy with excitement each month when your new box arrives! Each signature box comes with of 4-6 paper goods, including greeting cards. Additional items may include stickers, gift tags, magnets, and more.
DEAL: Get 1 month free off a 3, 6, or 12 month subscription with coupon code HELLOSUBS OR Get free shipping on the first subscription and not pay for shipping again until your subscription renews (if you get a monthly sub you'll get one month free shipping, but free shipping on all 6 boxes in your first 6 month subscription, etc.). Use coupon code HELLOSUBSFREESHIP.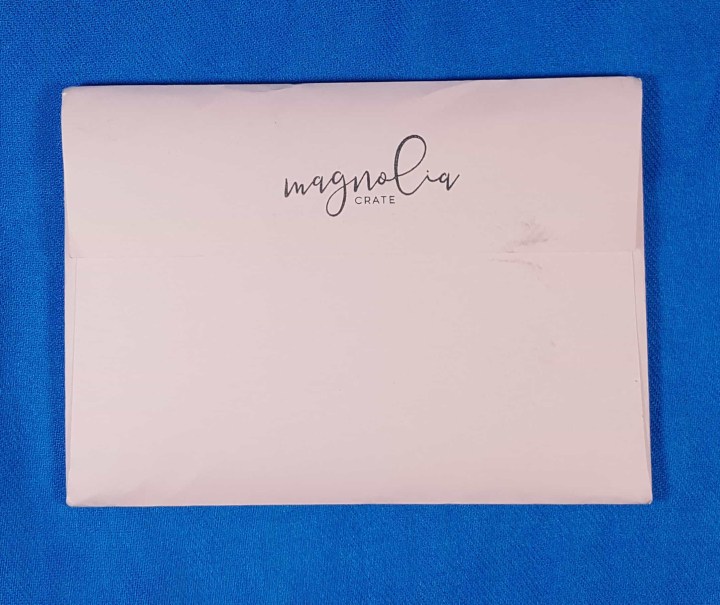 Did you notice Magnolia Crate's new look? They've switched over to a simplified envelope and petal package, making shipping and sourcing easier for them. It doesn't change my excitement for what's in the shipment. For a guide to card sizes, click here.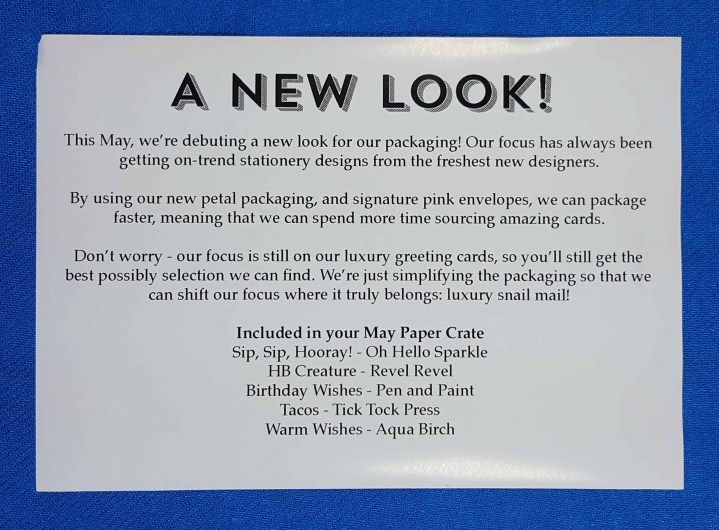 The information card not only lists the cards in the box, but it also provides insight on the inspiration behind the items. With the news focused on the updated packaging, there wasn't a defined theme for this month's cards.
If you loved your order, tag @MagnoliaCrate on Instagram (or use #magnoliacrate) for a chance to win a free box. Entries must be made before the 20th of each month for a chance to win.
Oh Hello Sparkle | Sip Sip Hooray! ($ ???): This A2 card has a pretty pink abstract floral design on the front and comes with a kraft envelope. This can be used for a variety of celebrations, so long as your loved one enjoys an adult beverage occasionally (like my rosé all day crew). I believe I linked to the correct Etsy shop, but the seller doesn't have greeting cards.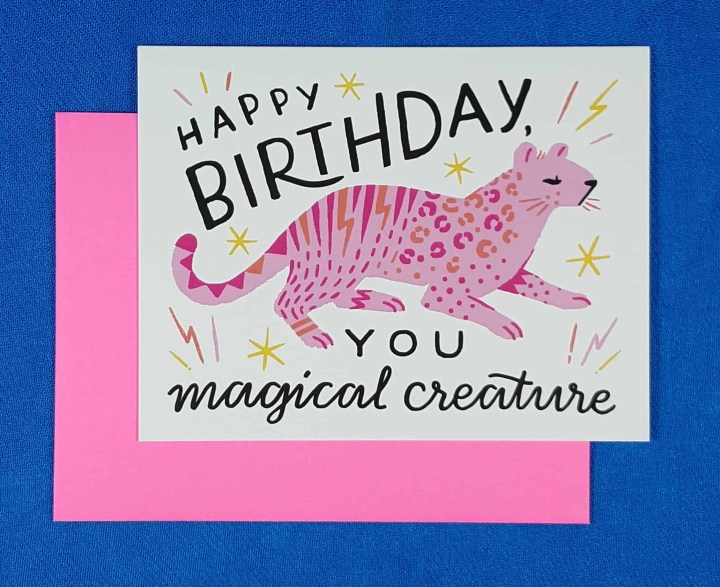 Revel Revel | magical creature birthday ($4.00): I'm going to start by saying how much I love the pink envelope that came with this A2 card! It's a nice change from the sea of kraft paper that I'm used to seeing. Um, and what do you call this magical creature? I see leopard spots, zebra stripes, and a few other patterns that I don't think are normally found in animals… Regardless, it's super cute as it basks in all of its birthday glory.
Pen and Paint | Birthday Wishes Candles ($4.25): Printed on linen paper, this A2 card features a bright display of birthday candles. I hope you've filled it with good wishes for your loved one's birthday. Matching kraft envelope included.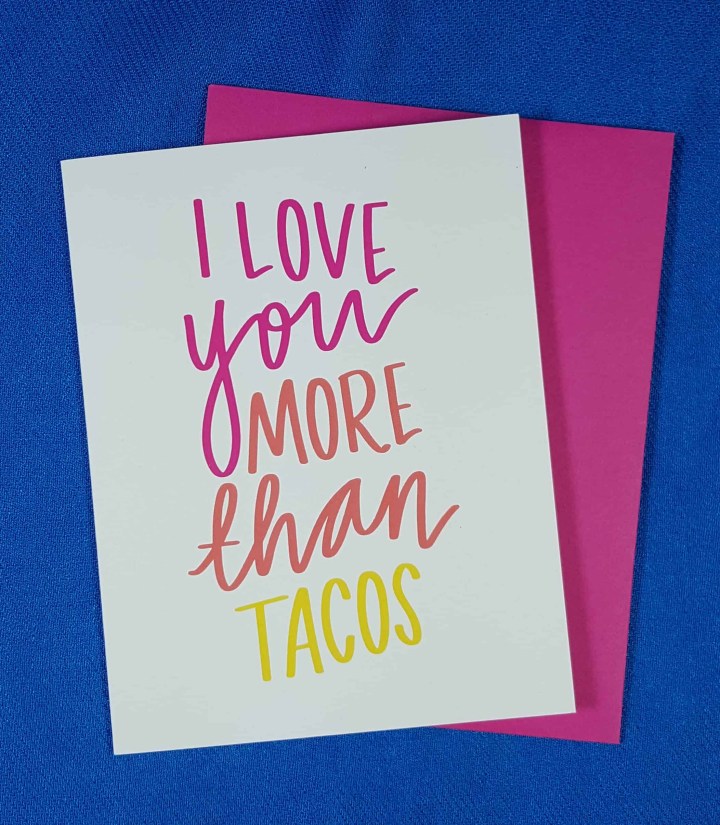 Tick Tock Press | More than Tacos ($4.50): I love Mexican food so much, I celebrate it twice a week – Taco Tuesdays and Fiesta Fridays! Anyone who knows me and gets this card will understand exactly how much they mean to me. LOL! I wasn't able to find this exact card on the seller's site (maybe they sold out), so I linked to the closest card I could find (another food love of mine too). The card is printed on white kraft paper, and I think it was supposed to come with a yellow envelope instead of the pink one I received but I'm not complaining.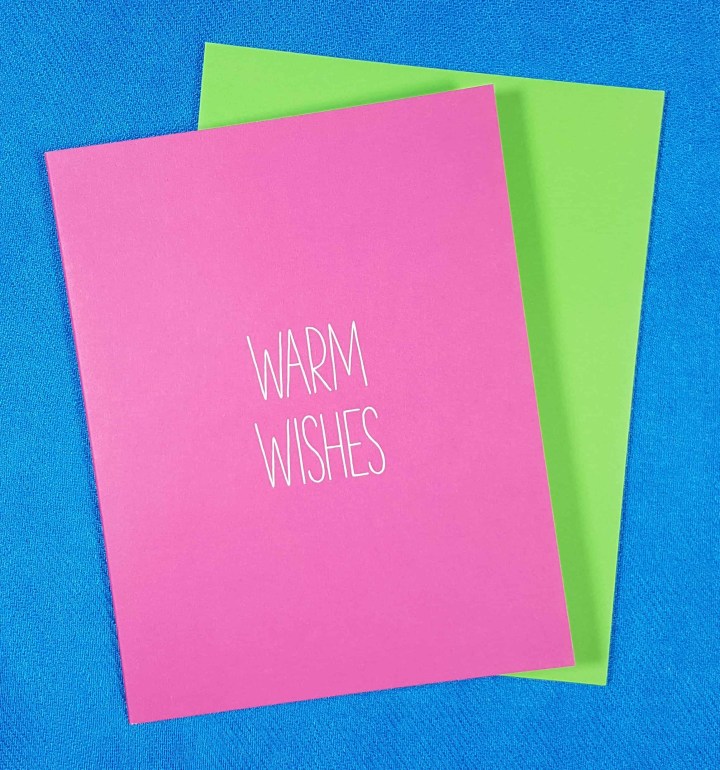 Aqua Birch | Warm Wishes – Magenta ($4.99): Originally designed as a modern holiday card, this can be used as an everyday "thinking of you" card. It features a bright magenta background with white lettering on an A2 card made from 100% post-consumer waste paper. This comes with a fun wasabi-colored envelope.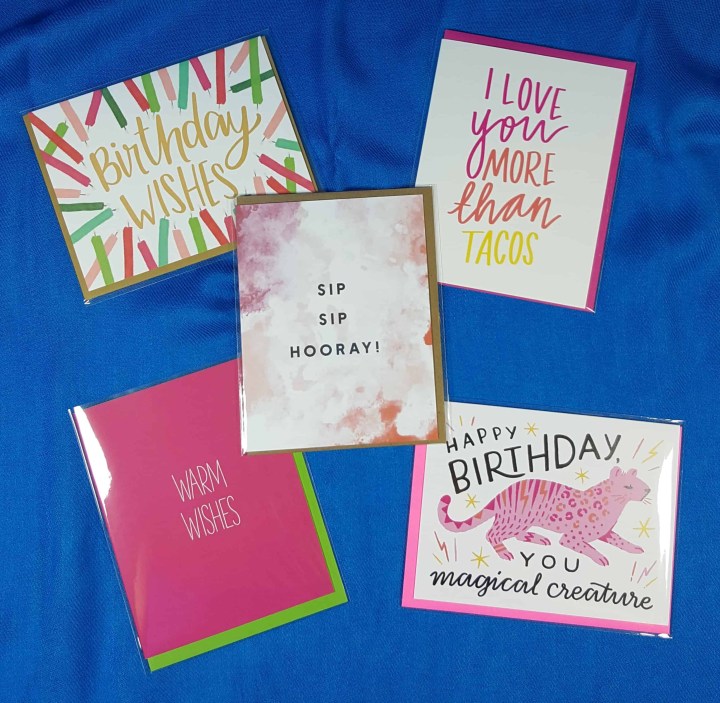 I still love seeing a card come through in the mail or end up on my desk. I think it has to do with knowing that someone took time out of their busy schedule to remember you. With Magnolia Crate, I get to give that same feeling to my friends and family. Plus, Magnolia Crate sources some really pretty cards. Save yourself a trip to the store and let Magnolia Crate help you deliver a little joy to someone's door!
What do you think of this month's cards?