Magickal Earth is a monthly subscription box that will bring you crystals, astrology, tarot and much more. Each month, you will receive a monthly astrological insight calendar, a personalized horoscope, a tarot card (chosen by the Universe) along with a description, crystals by Magickal Earth, plus many more surprises relevant to the months planetary influences. The subscription starts at $14.99 for the Basic box, $29.99 for the Essentials and $49.99 for the Premium. This review is for the Premium box.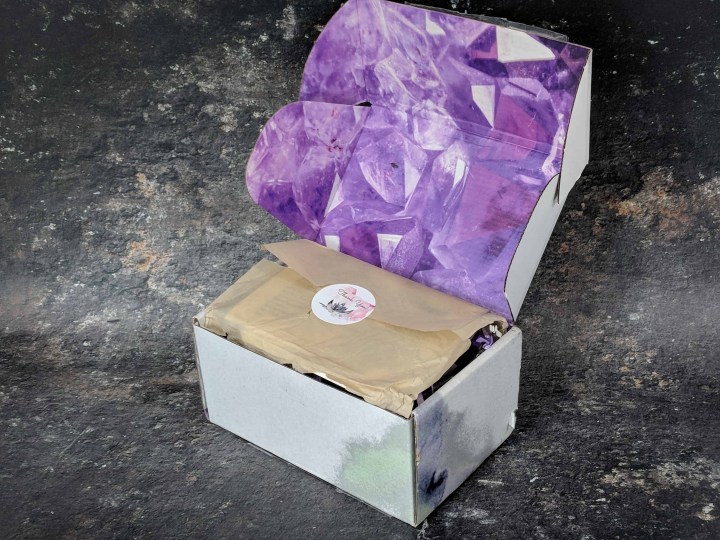 The box is lovely! I love the crystal design on the inside!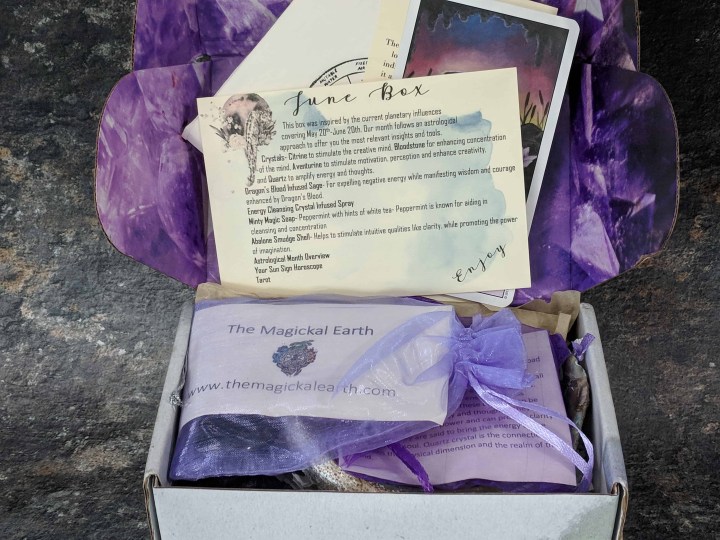 Everything is nicely packaged in little bags. And it smells quite nice!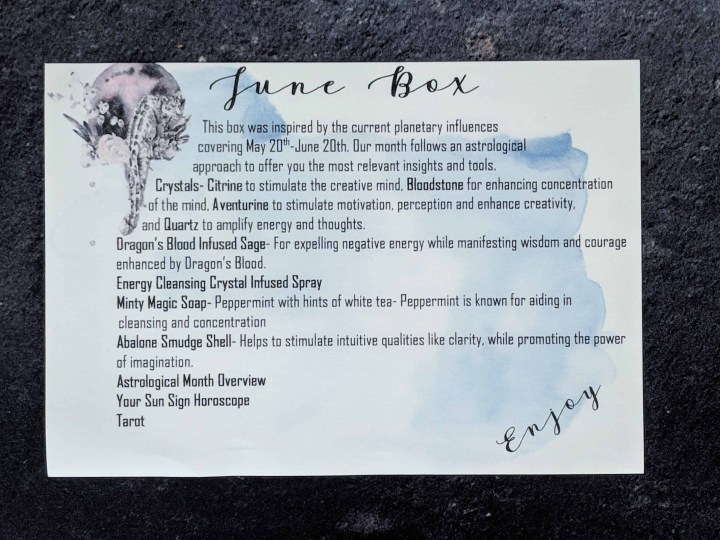 The information card is straightforward, with some information on the items.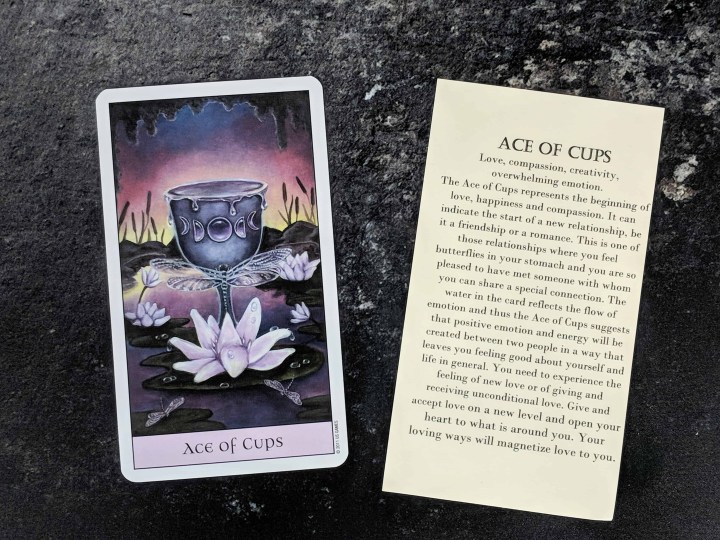 The tarot this month is the Ace of Cups, a card that is all about beginnings and emotions. So maybe the start of a new romance, new friendship or simply new happiness and compassion.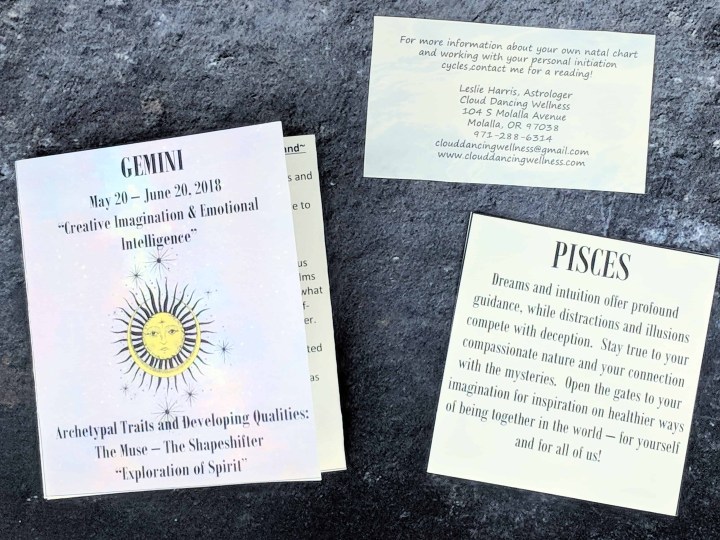 Subscribers provide their birth date to get a Sun Sign Horoscope.
The Astrological Month Overview is a small little booklet with an overview of the important dates of the month. Both the Astrological Month Overview and the Sun Sign Horoscope were put together by Leslie Harris.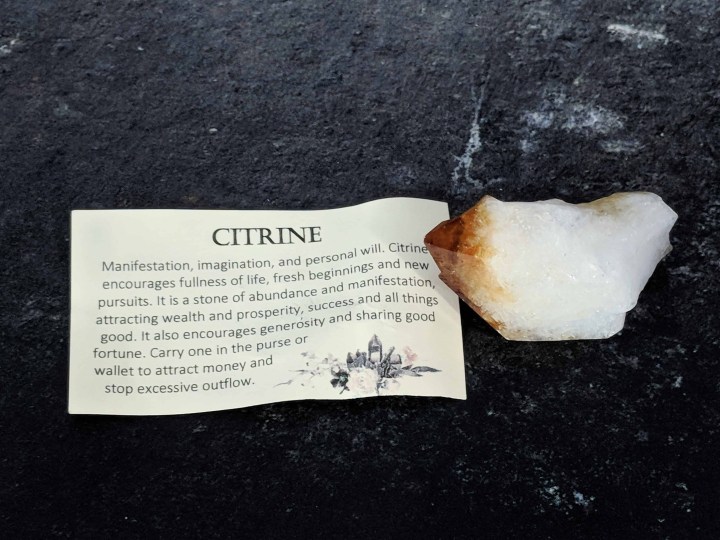 Crystal #1: Citrine. Citrine is probably one of my favorite stone and I'm always thrilled to get a new one. Citrine is a stone full of warmth that helps creativity and imagination.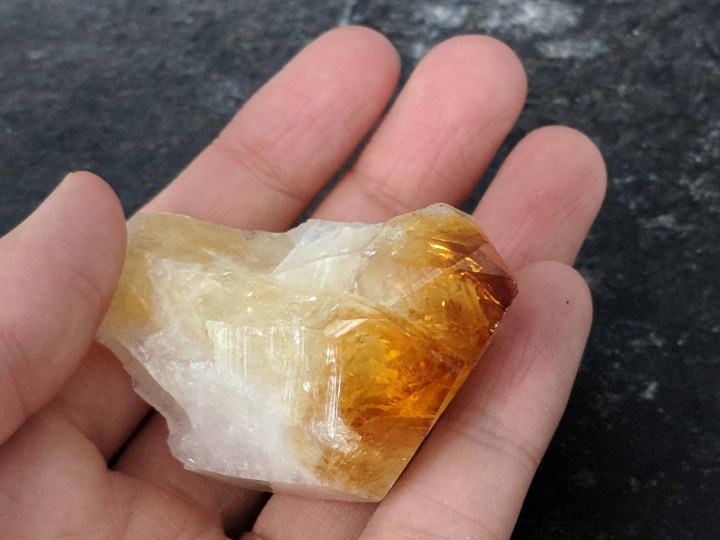 I love the size of this crystal. It feels great in the hand!
Crystal #2: Bloodstone. Bloodstone is the stone of courage, the courage to find your own path. It also calms anxiousness. The stone we received has the perfect size and shape to be used as a worry stone.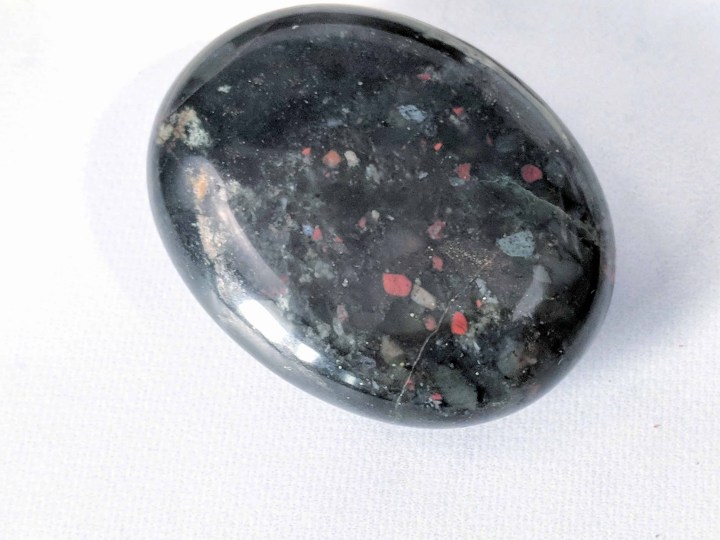 It fits nicely in the palm of the hand and is polished to a shine!
Cyrstal #3: Green Aventurine. Being a green stone, green aventurine is a lovely stone for the heart chakra.
Crystal #4: Quartz. Quartz is a stone that works well with other stones to enhance their abilities. It also helps enhance our energy and emotions, but you have to be careful as it doesn't discriminate between good and bad energies.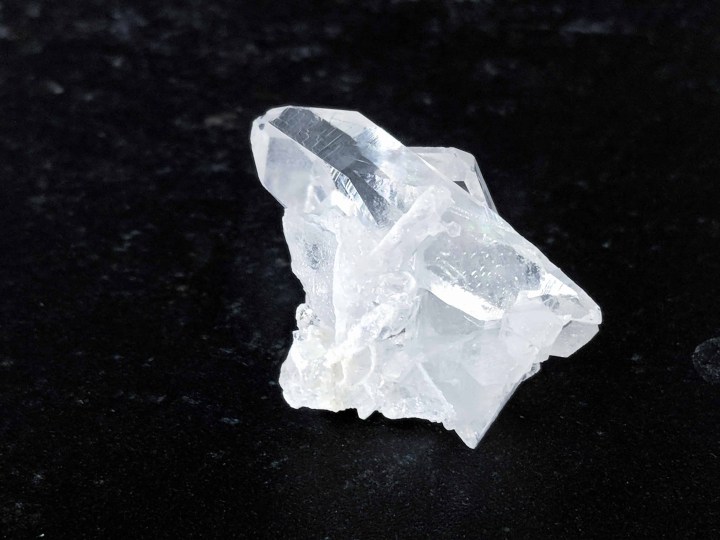 It is a small crystal, but it is lovely and so pure! I'm in love with this little guy!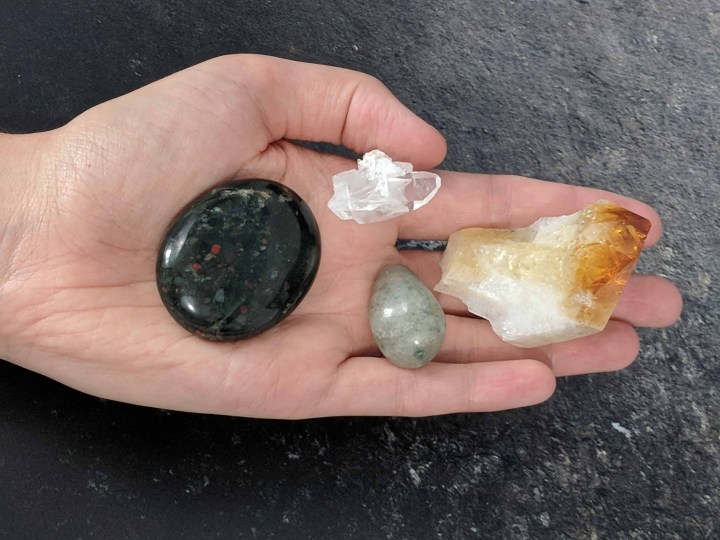 Here they are all pretty in my hand!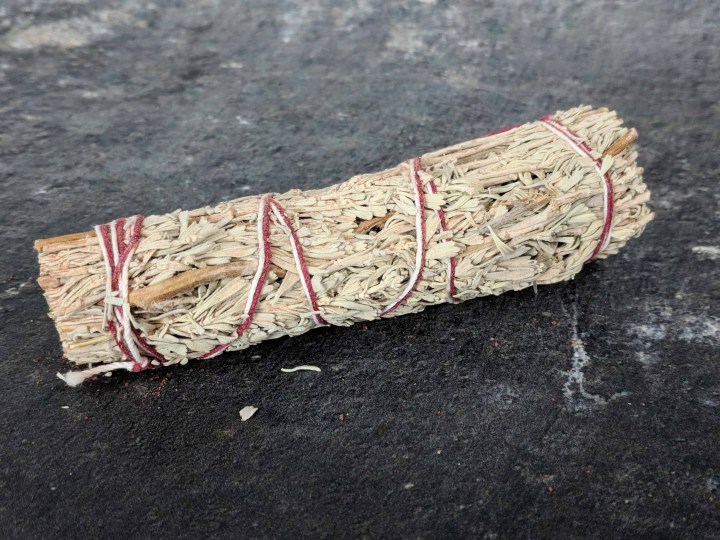 Dragon's Blood Infused Sage. Burning sage is a nice way to clean the bad energies from the environment. Adding the Dragon's Blood (a type bright red resin) enhances the properties. It smells really good!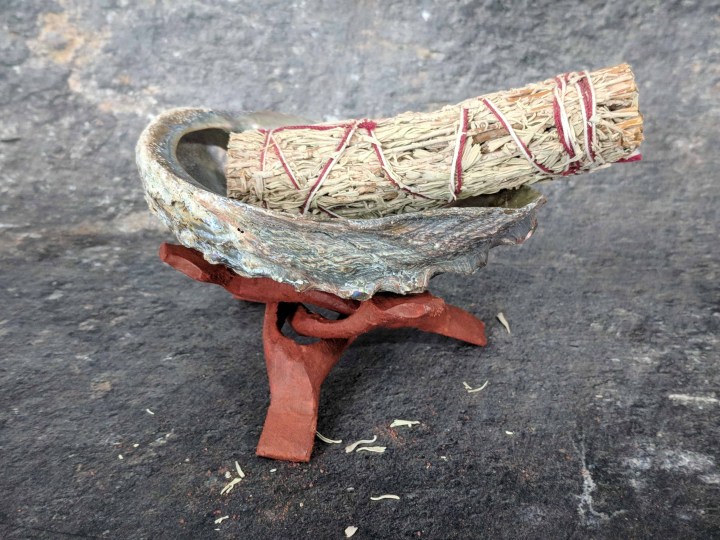 And it's so big it barely fits in the Abalone Smudge Shell that was also in the box!
Abalone Smudge Shell. Abalone shell is so useful to burn sage, palo santo, or incense. And if you are not into burning, it's a lovely jewelry dish!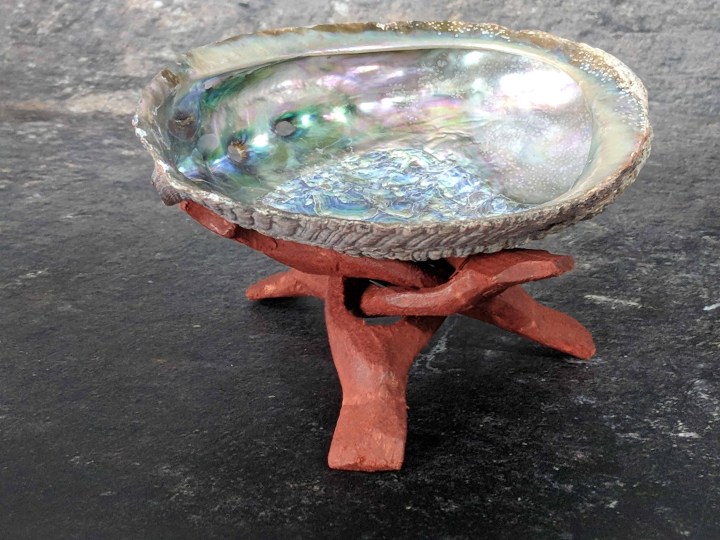 It comes with its own wooden tripod.
Energy Cleansing Crystal Infused Spray. Yes, it comes with a cute little quartz crystal on top of all the ones inside the spray! It's a nice replacement to a smudge when you can't have a smoke. Just spray it on your altar, on your tools, on clothes. There's White Sage and Clary sage essential oil to attract positive energies and banish negative ones, lavender essential oil to calm the mind, cedarwood essential oil to heal and purify, etc.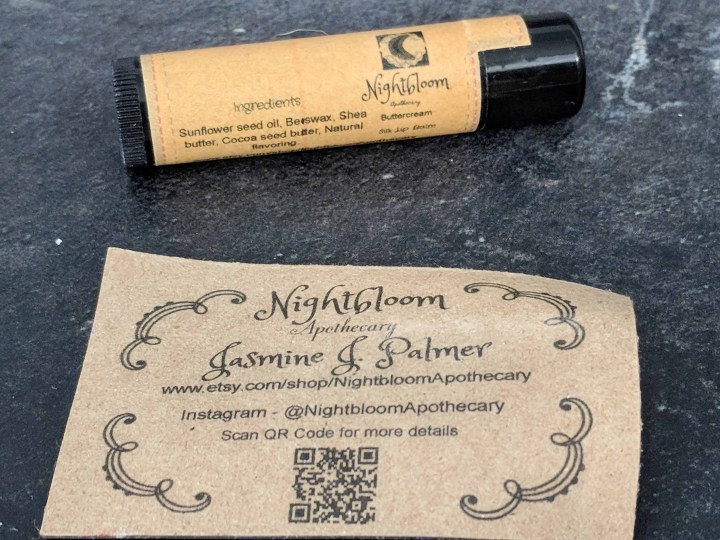 This lip balm wasn't on the list of items for this box, but it's a nice bonus.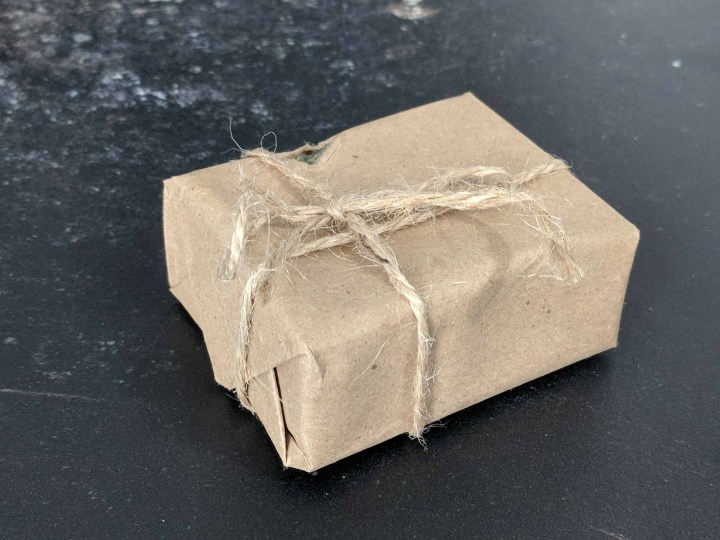 I love little packages!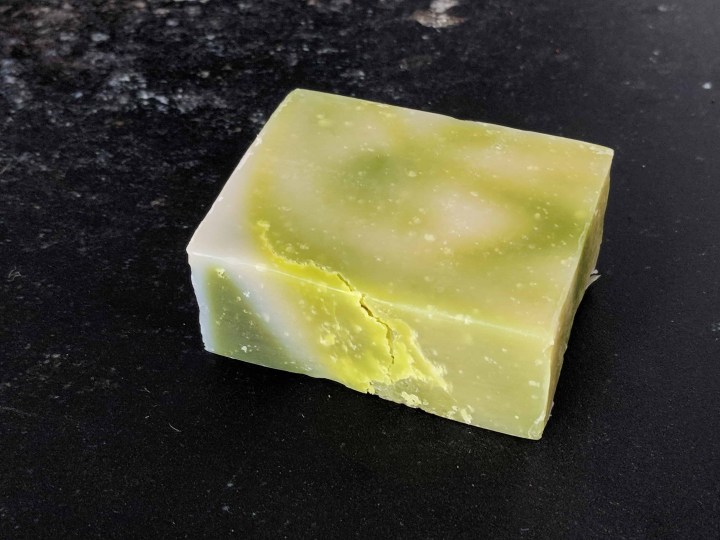 Minty Magic Soap. I was afraid it would be overwhelmingly peppermint, but it's well-balanced with the white tea. Once again, this item is to help cleanse our space, and our body, from bad energies and bring healing to our lives.
I really enjoyed my first Magickal Earth Box. I was afraid that the crystal would be small, but they had a nice size and the quartz was so pretty! I liked that there was a theme, cleaning bad energies, running through all the items to keep everything cohesive, even though it was not mentioned.
What do you think of this subscription?