Love with Food is a popular snack subscription that also carries a gluten-free option! It is a fun snack discovery subscription available in three versions: classic tasting box, deluxe/family size, and gluten-free. This version is the gluten-free box, but you can see our reviews of the other versions too.
DEAL: You can save 25% on your first Gluten-Free box by using this link, no coupon code required!
This month's theme is Live.
They don't include details on the product card, but the info is available on their website.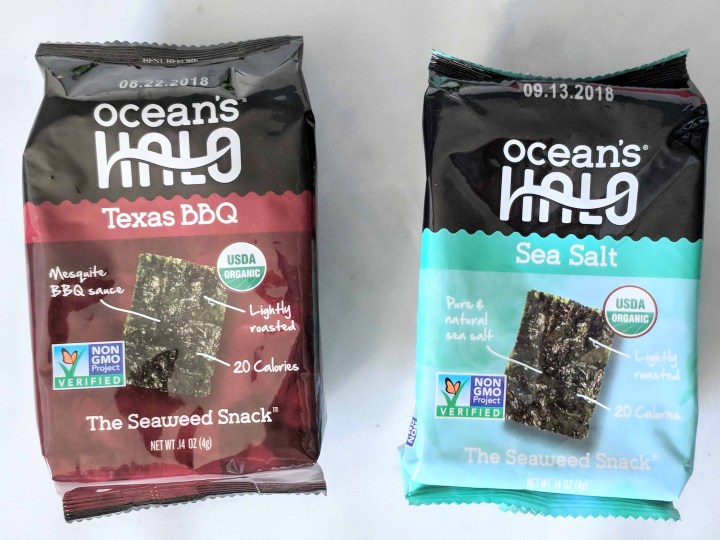 Ocean's Halo Seaweed Snack. Texas BBQ and Sea Salt. I love seaweed snacks! It's crispy, salty, with a nori scent and light taste, it's flaky and gets everywhere, it's awesome! They are slightly oily to the touch, but it's not soaking. It's delicious! My favorite was the sea salt, but both were great.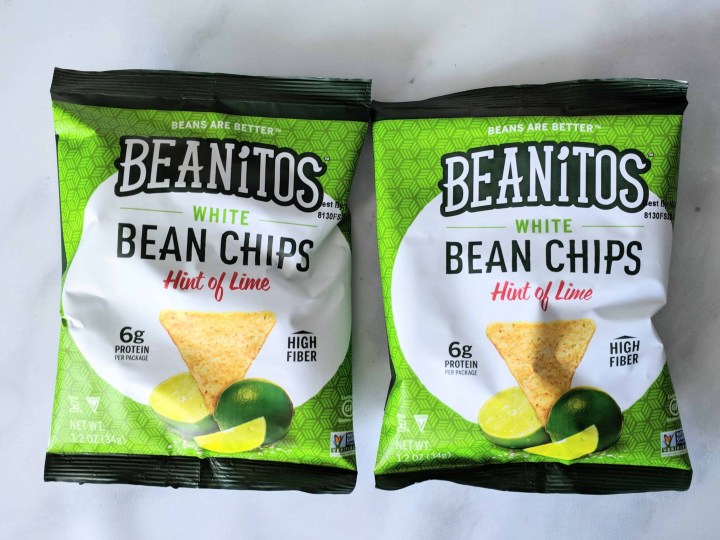 Beanitos White Bean Chips. A tasty bean chip that reminded me of thick tortilla chips. They are crunchy, but I found the topping, although tasty, quite powdery. Still pretty good snack.
Dancing Deer Baking Co. Lemon Ginger Blueberry Oatmeal breakfast cookie. It reminded me of an oatmeal muffin top! The lemon flavor was great, with some blueberry pieces, but I had a hard time to taste the ginger.
Don't Go Nuts – Blueberry Blast Chewy Granola Bar. Nut free chewy granola bar, the texture was close to a crumble topper, but chewier.
Home Cooked Salted Virginia Peanuts. Tasty tasty peanuts, perfectly salted.
Enlightened Roasted Broad Bean Crisps – Cocoa Dusted. Good by themselves, they have a nice nutty flavor and the satisfaction of the peanuts.
They are dusted with a bitter chocolate. They were not sweet enough for me, but they were still very good.
Wowbutter. I love wowbutter, it's a nice replacement to peanut butter for peanut-free house. I always keep a jar in my pantry and I can use this butter to make delicious wowbutter cookies! It's made with roasted soybeans.
Tom & Jenny's caramel. Sadly, I got my box when it was quite hot and they melted inside the box. They were still tasty!
Pure Leaf Black Tea with Vanilla. I'm not a big fan of black tea, but the hint of vanilla helped tone down the bitterness.
I loved the mix of sweet and salty treats offered in the June's Love with Food Gluten-Free box. I'm a big fan of the seaweed snacks and I was really happy to have two of them, as well as two bags of the bean chips. I'm always happy with my Love with Food Gluten-Free box as it helps me discover new gluten-free products that taste good, and I'm happy when I see them at the store because I already know about them and I can buy them without worrying!
What is your favorite Love with Food item from this month's box? Share below and let us know!

Visit Love with Food Gluten-Free to subscribe or find out more!