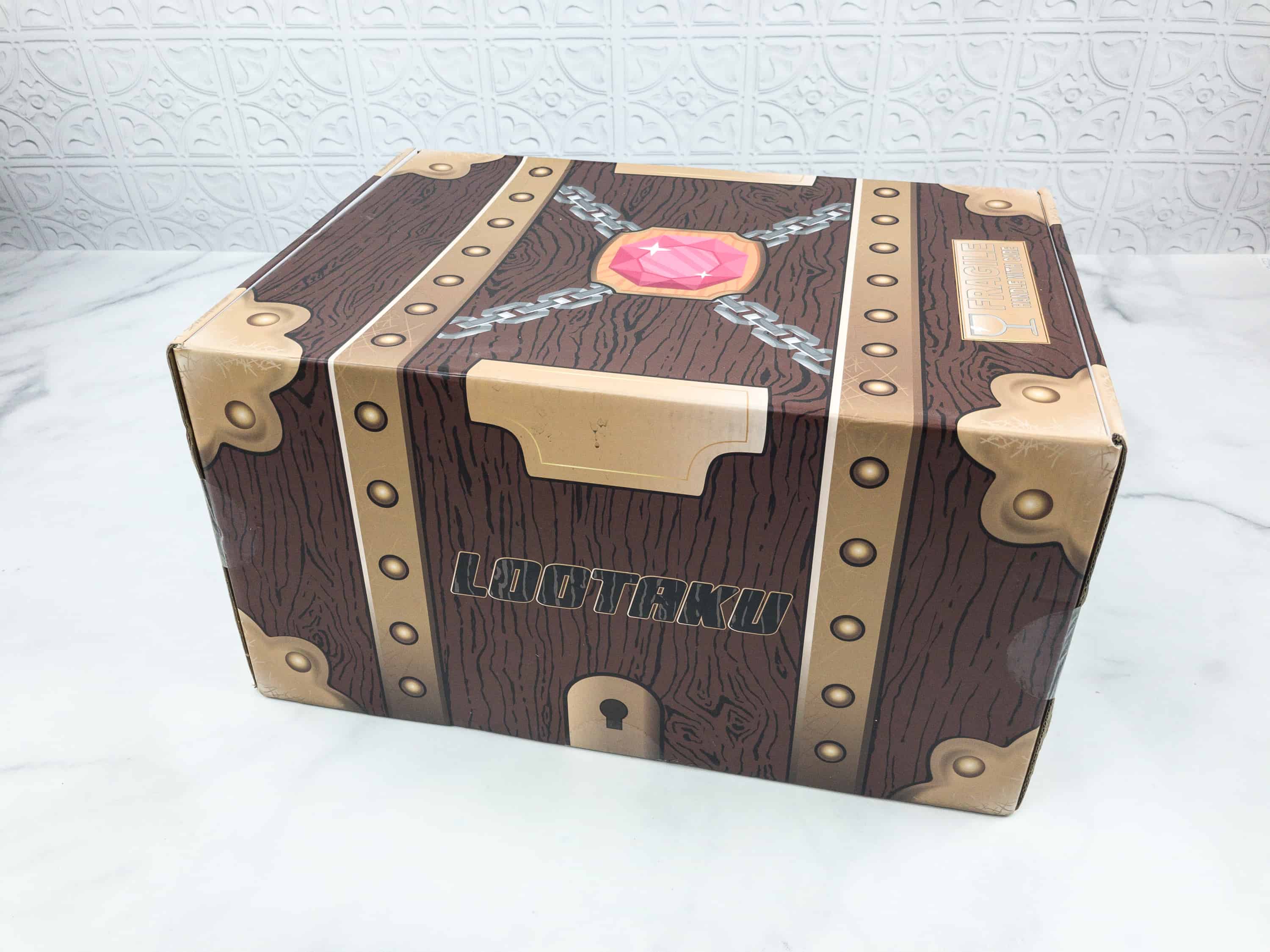 Lootaku is a monthly geek subscription box from Hong Kong packed with high-quality geek and gamer items. The subscription costs $49.00 per month + shipping (currently about $17 to the US), and you'll get 4-6 themed products, like plushies, action figures, memorabilia, etc., to satisfy your geeky cravings monthly – no fillers or promo items!
DEAL: Save 5% when you use this link and code DISCOUNT5.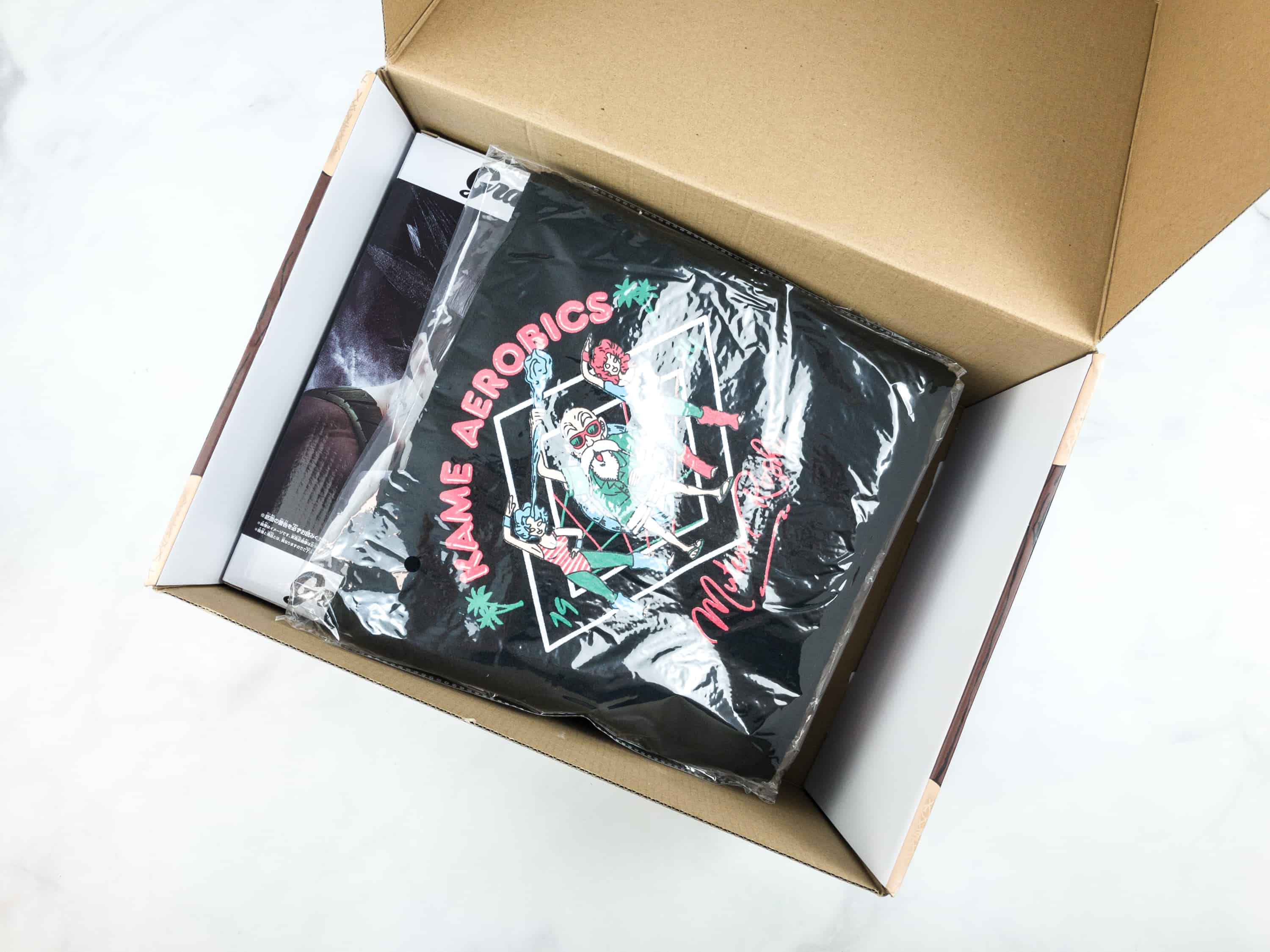 The theme this month is MASTER, FATHER & SON.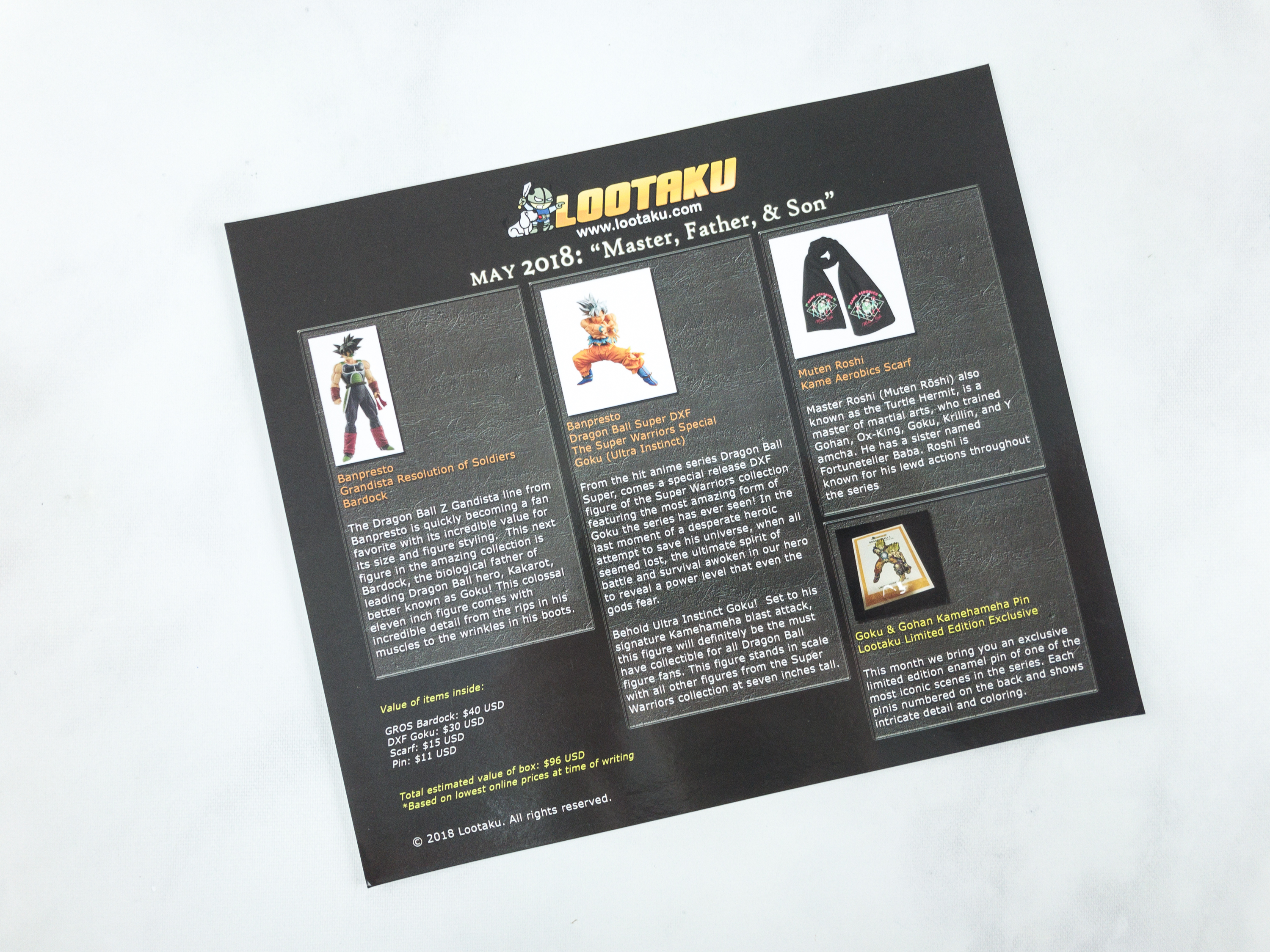 The item information card, or Loot Table, is thick and glossy. It contains lots of details! When there are variations, it typically lists each possible variation you might receive.
I like how the outside of the box is designed like a chest! The box also has these words inscribed: "The one who finds this chest shall be granted treasures of unimaginable value."
All the goodies inside my May 2018 Lootaku Box!
Goku & Gohan Kamehameha Pin ($11) A highly detailed enamel pin, this really celebrates the box's theme as it features the Father and Son tandem of Goku and Gohan releasing all of their power!
The one-piece pin that features two characters has two posts to fully support the pin's weight when used.
Kamehameha! This iconic energy wave has been passed down from generation to generation in the series. It is the widely used finishing attack taught at the Turtle School and has become Goku's signature technique.
Muten Roshi Kame Aerobics Scarf ($15) Speaking of Kamehameha earlier, here's Master Muten Roshi doing aerobics!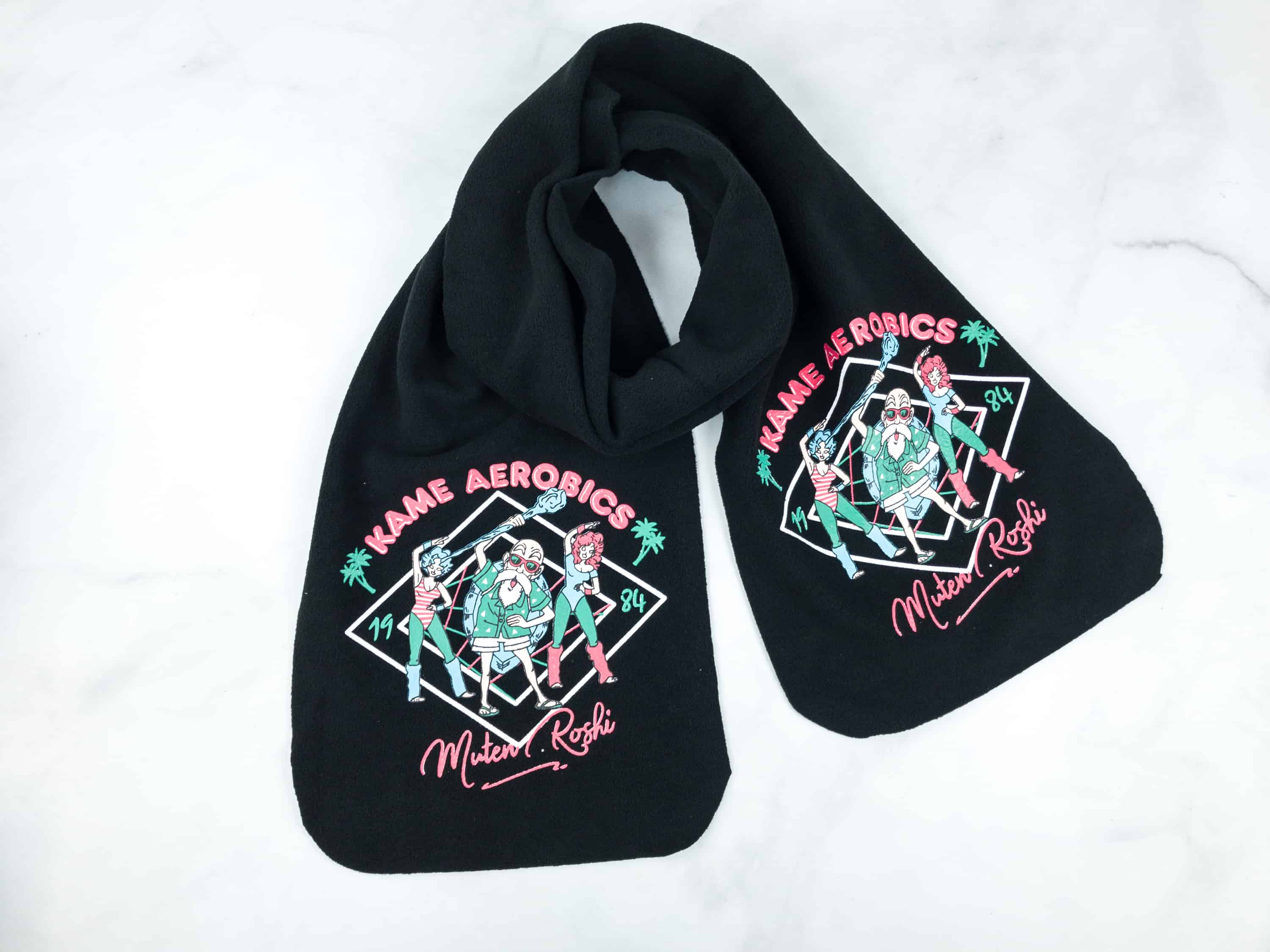 Muten Roshi or simply Master Roshi, also known as the Turtle Hermit, is a master of martial arts, who trained Goku and Gohan, along with their other friends and allies. In this scarf, I don't think he's doing aerobics for its true benefits but… Y'know, he's got a reputation for being a womanizer!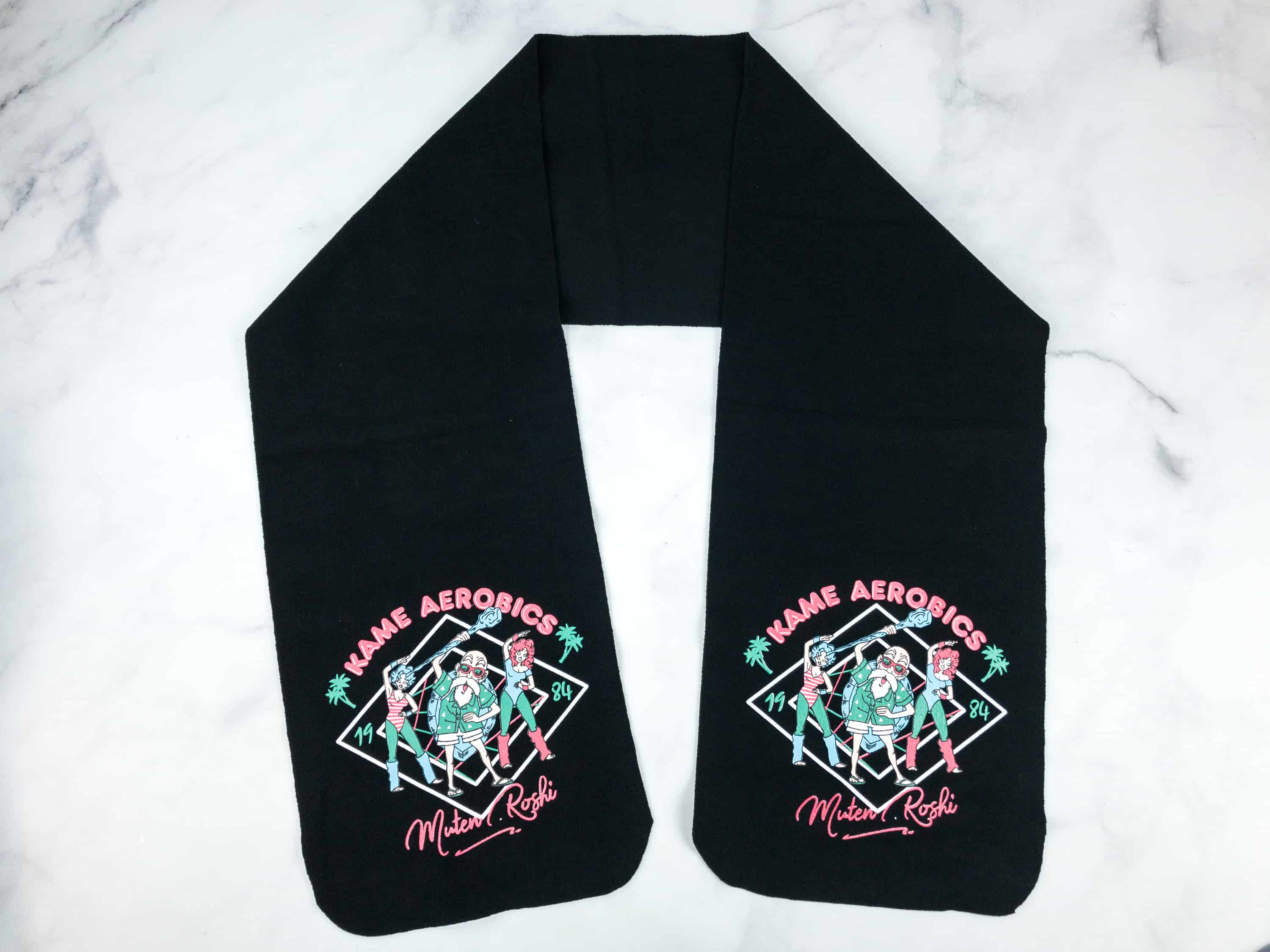 He's mostly seen wearing martial arts clothes along with a cane, but in this scarf, he's wearing beach clothes, the turtle shell at his back, and his signature sunglasses! It's a funny looking scarf with one of the extremely amusing characters in the show.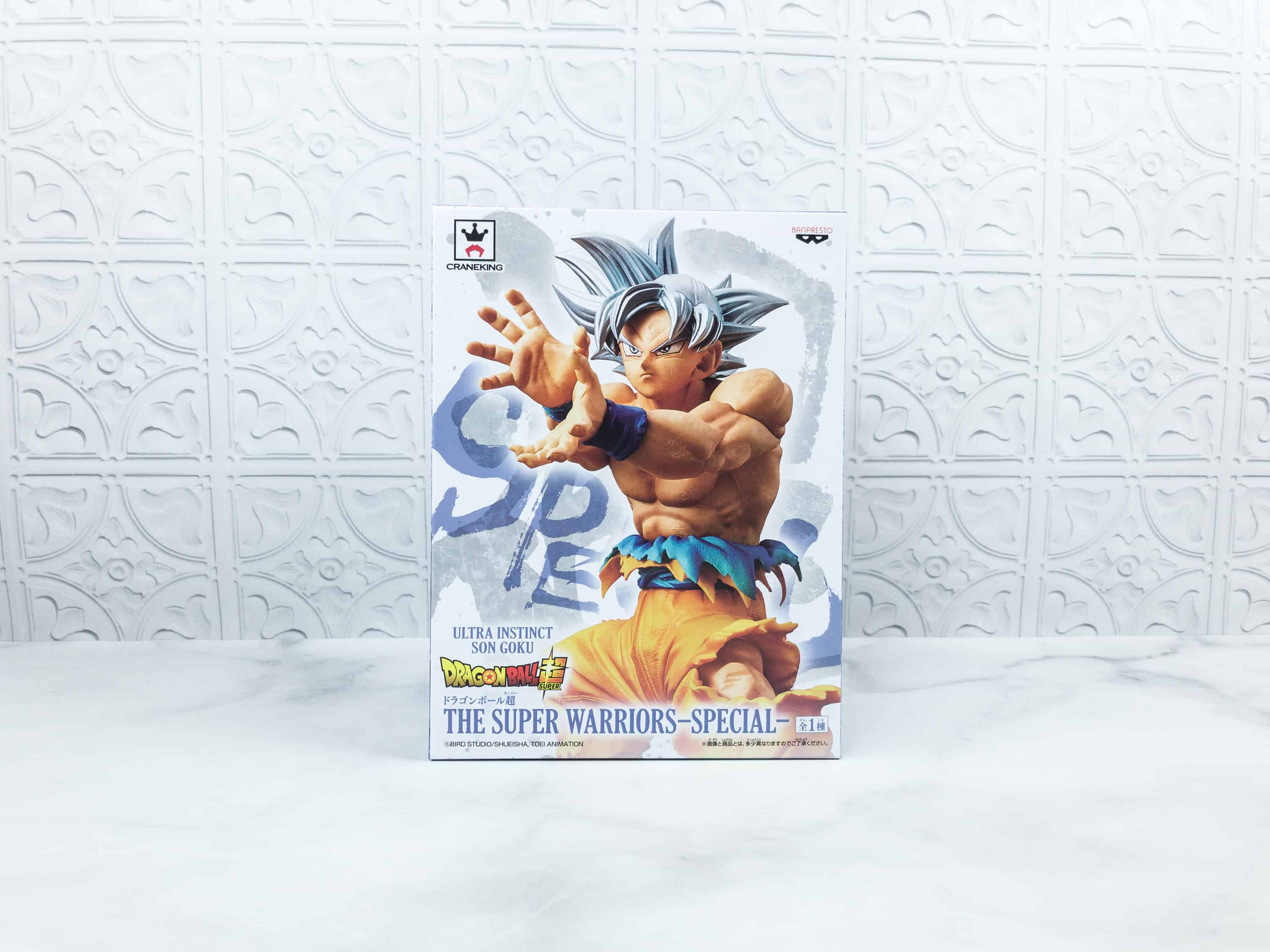 Banpresto Dragon Ball Super DXF The Super Warriors Special Goku (Ultra Instinct) ($30) This is a special release figure of Goku from Banpresto's Super Warriors-Special line!
The figure comes in a box that has a photo of what to expect inside!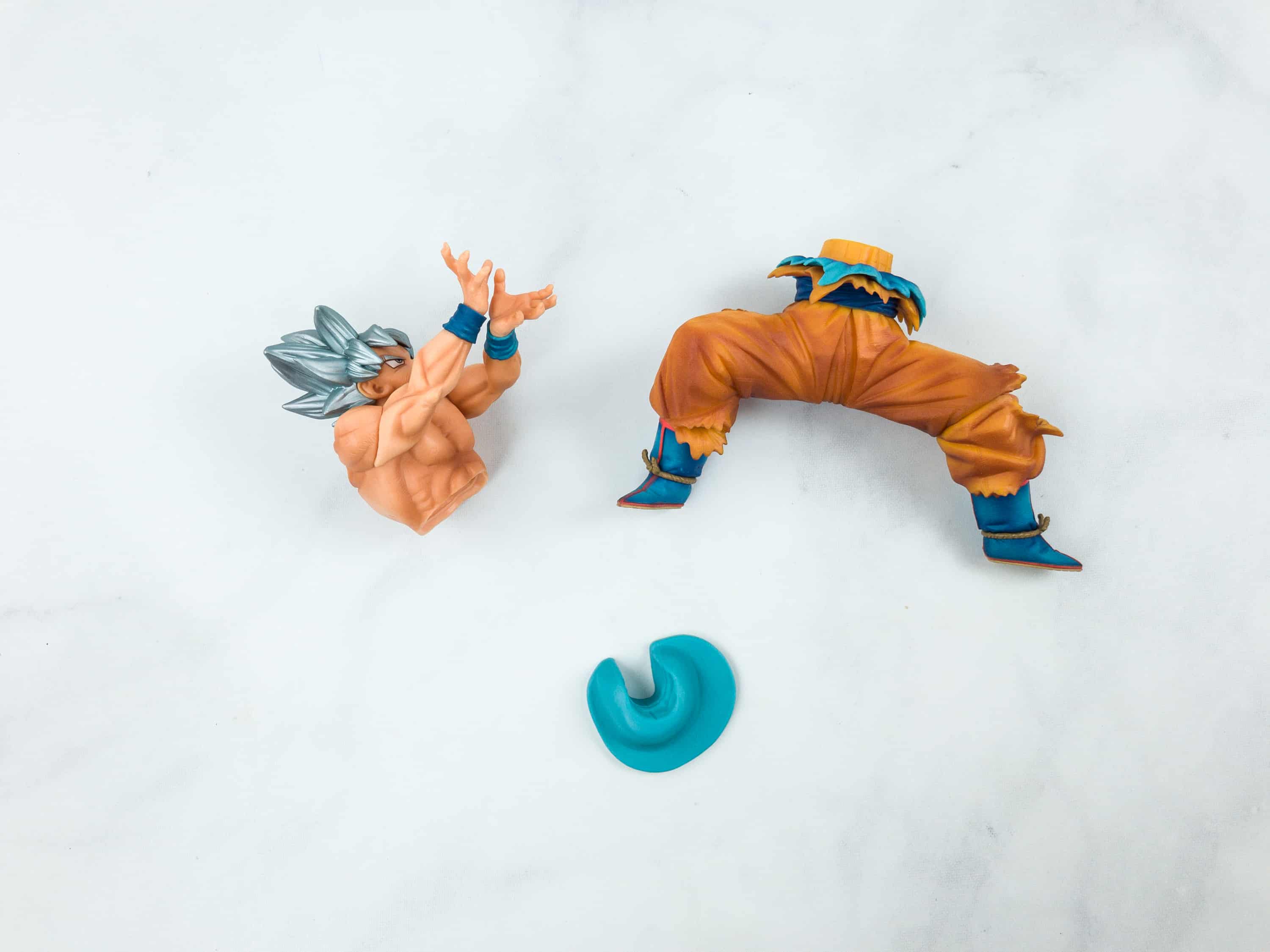 The figure has 3 parts: Goku's head and torso, the lower part of his body, and a supporting base for one of his feet.
The figure stands at 7 inches tall!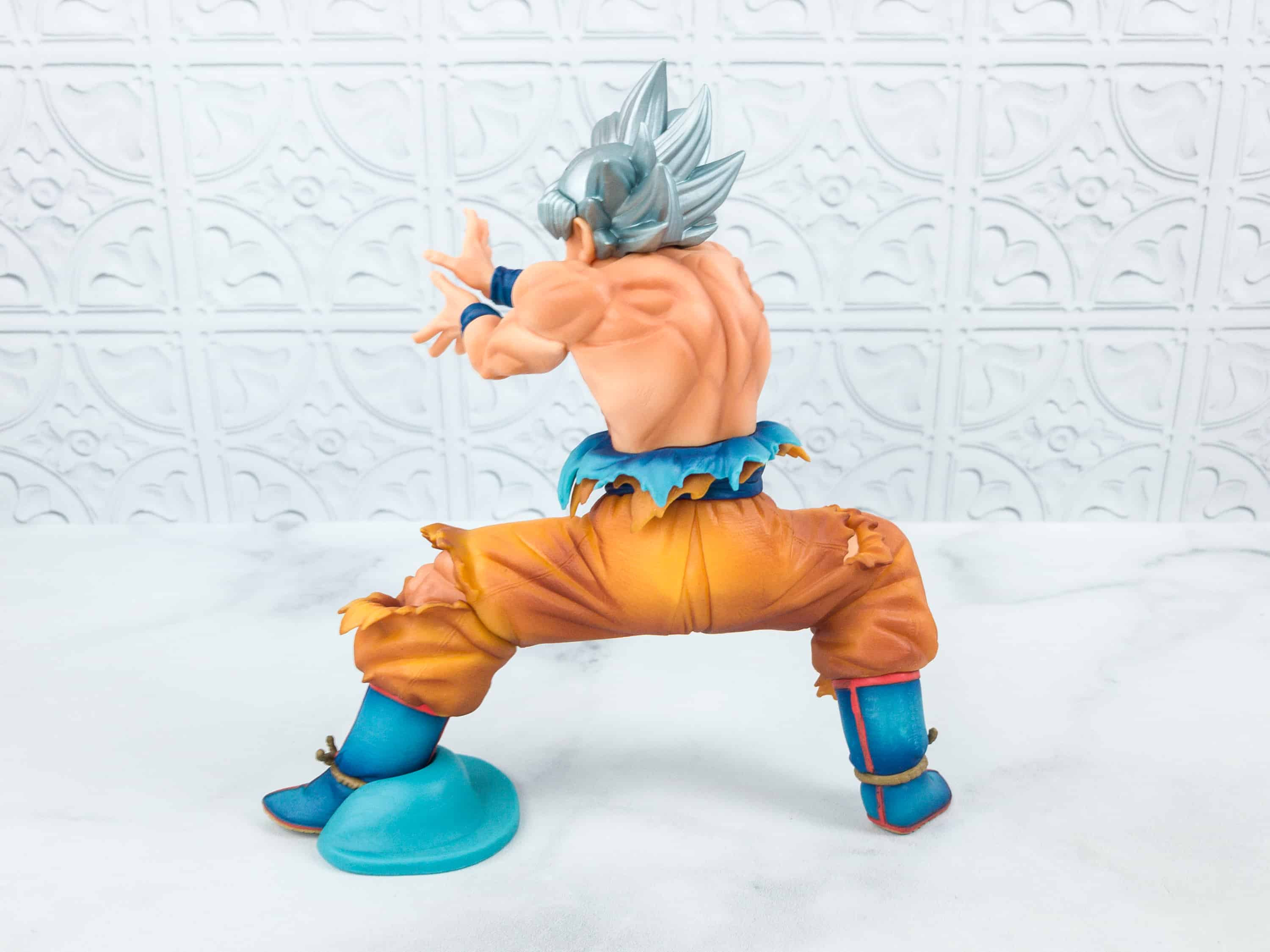 The fantastically detailed figure has Goku in his signature Kamehameha stance!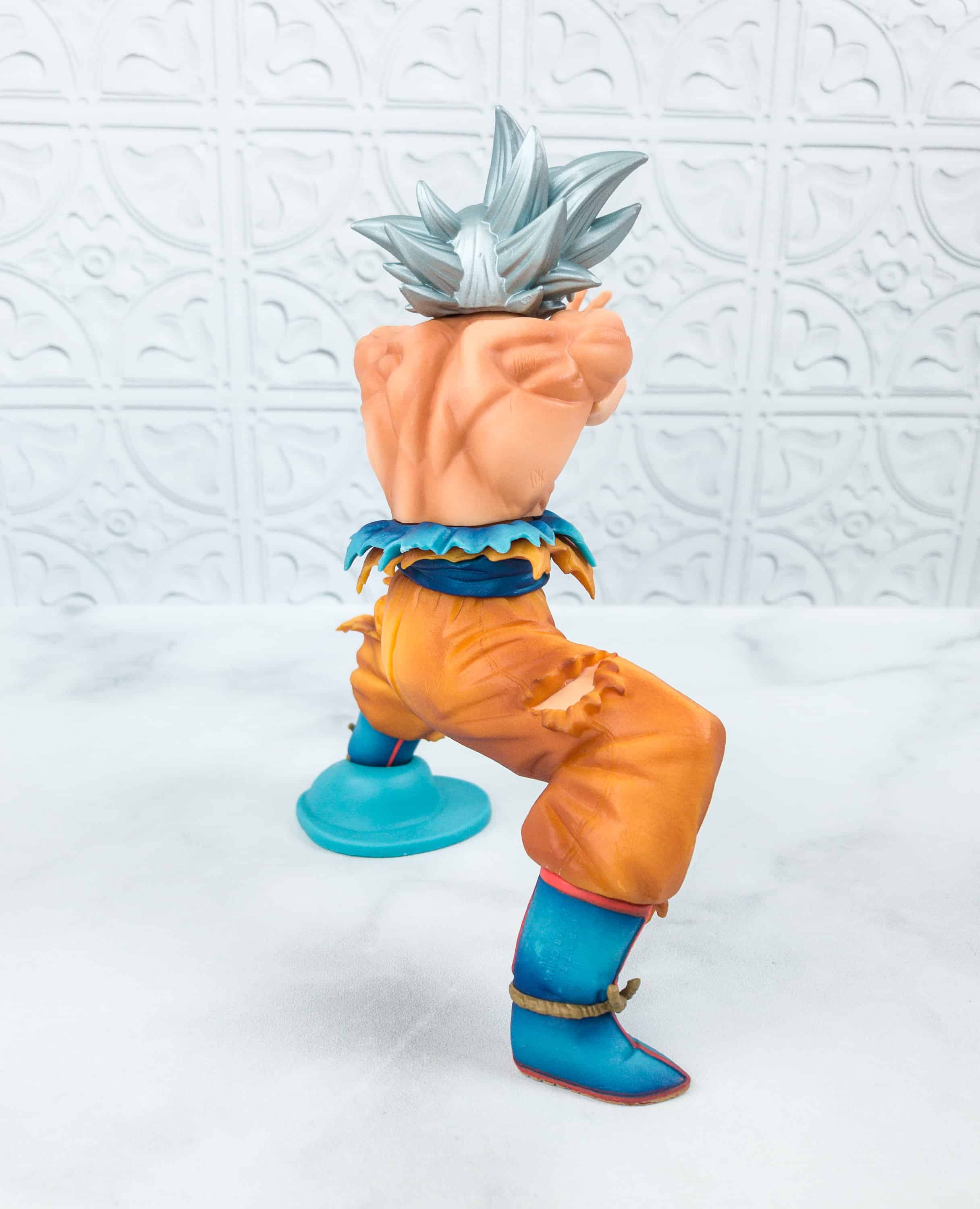 His hair in the Ultra Instinct stage is still black but with a silver aura, thus the shiny silver color in this figure.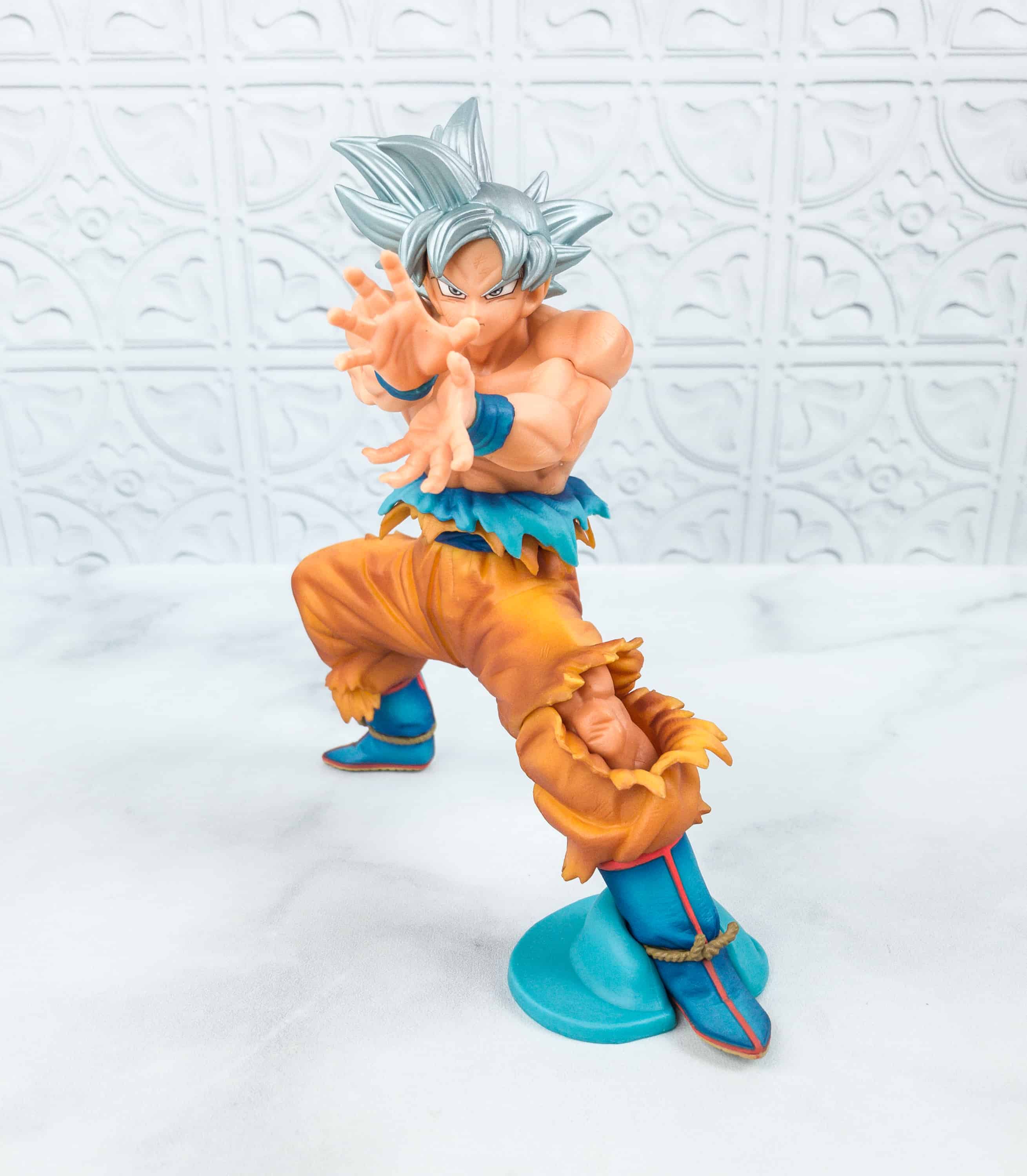 The Ultra Instinct stage is a form not made for humans nor for Super Saiyans.
Ultra Instinct is a very rare and highly advanced mental state. It is notorious among the gods for being exceptionally difficult to master, even for them. Goku attains a transformation that enables him to utilize the defensive aspect of Ultra Instinct during the Tournament of Power, he later completes it, gaining its offensive properties and full power.
There's even a rip at the knee part of his signature orange pants!
He came from a really difficult battle!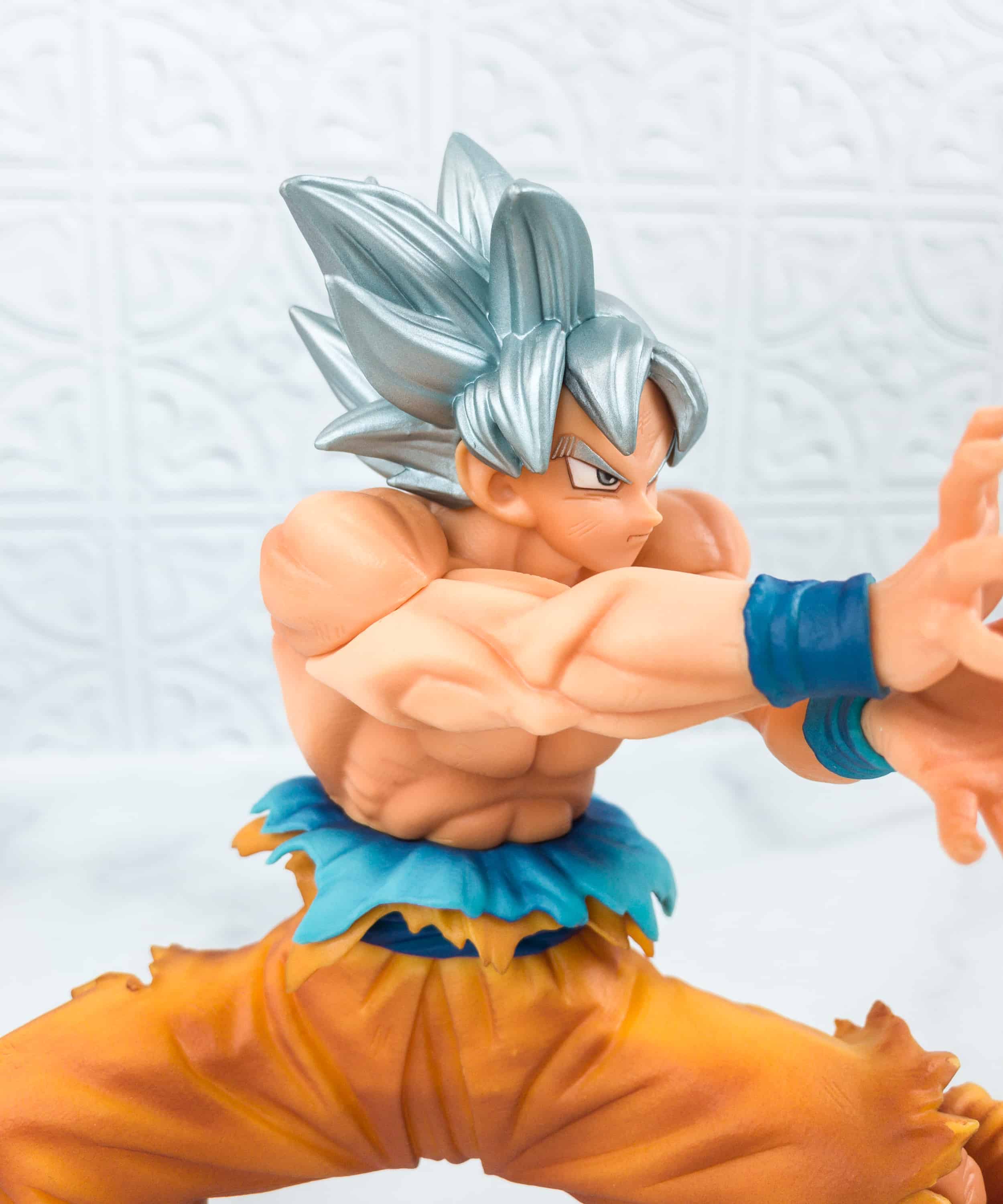 The detailing and hand-paint job on this figure is flawless!
Mastering this form is really a great achievement for Goku, and having this figure is an achievement for DBZ fans as well!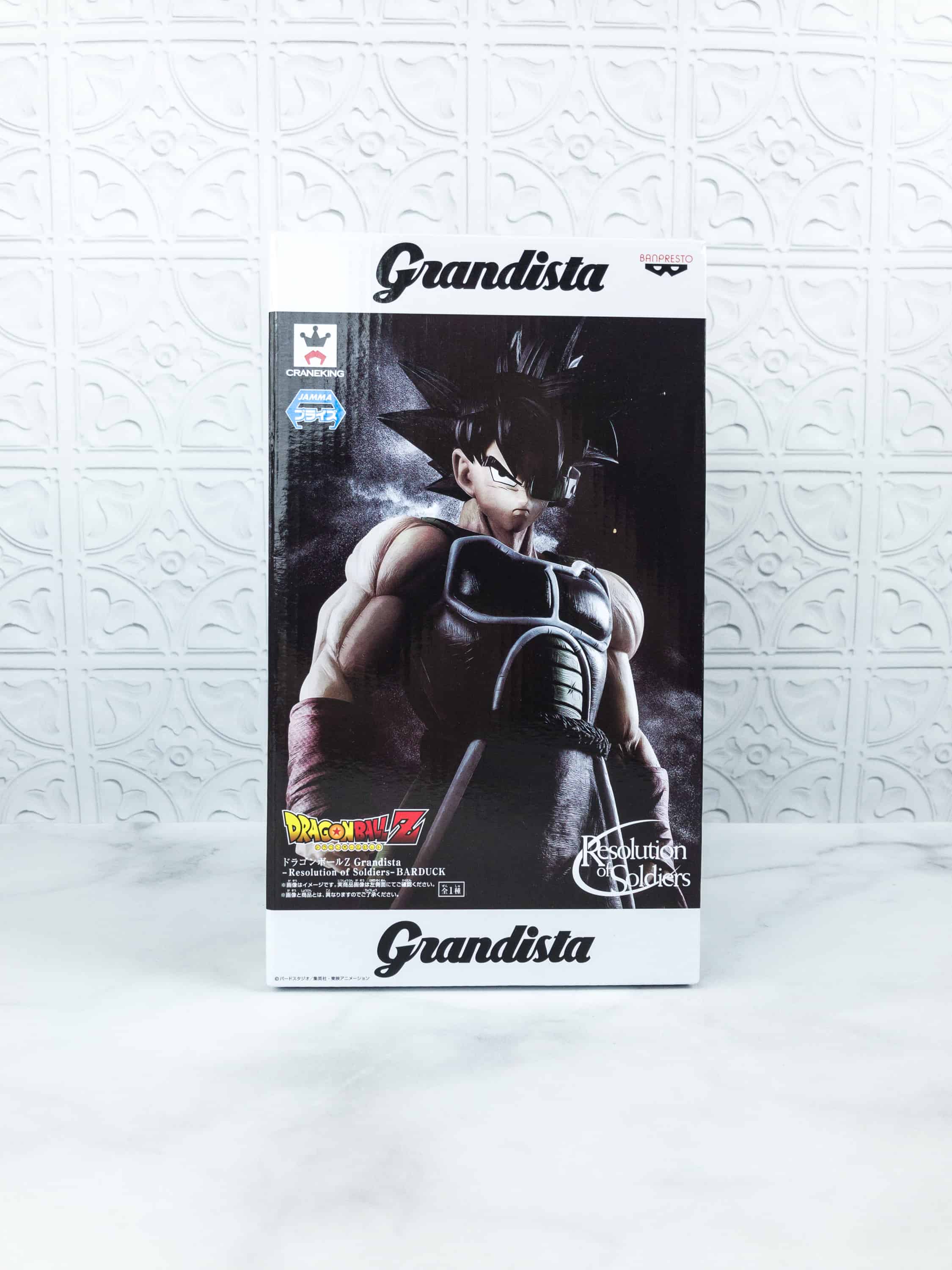 Banpresto Grandista Resolution Of Soldiers Bardock ($40) Another item in this box that gives honor to a father is this figure of Bardock… Kakarot's dad!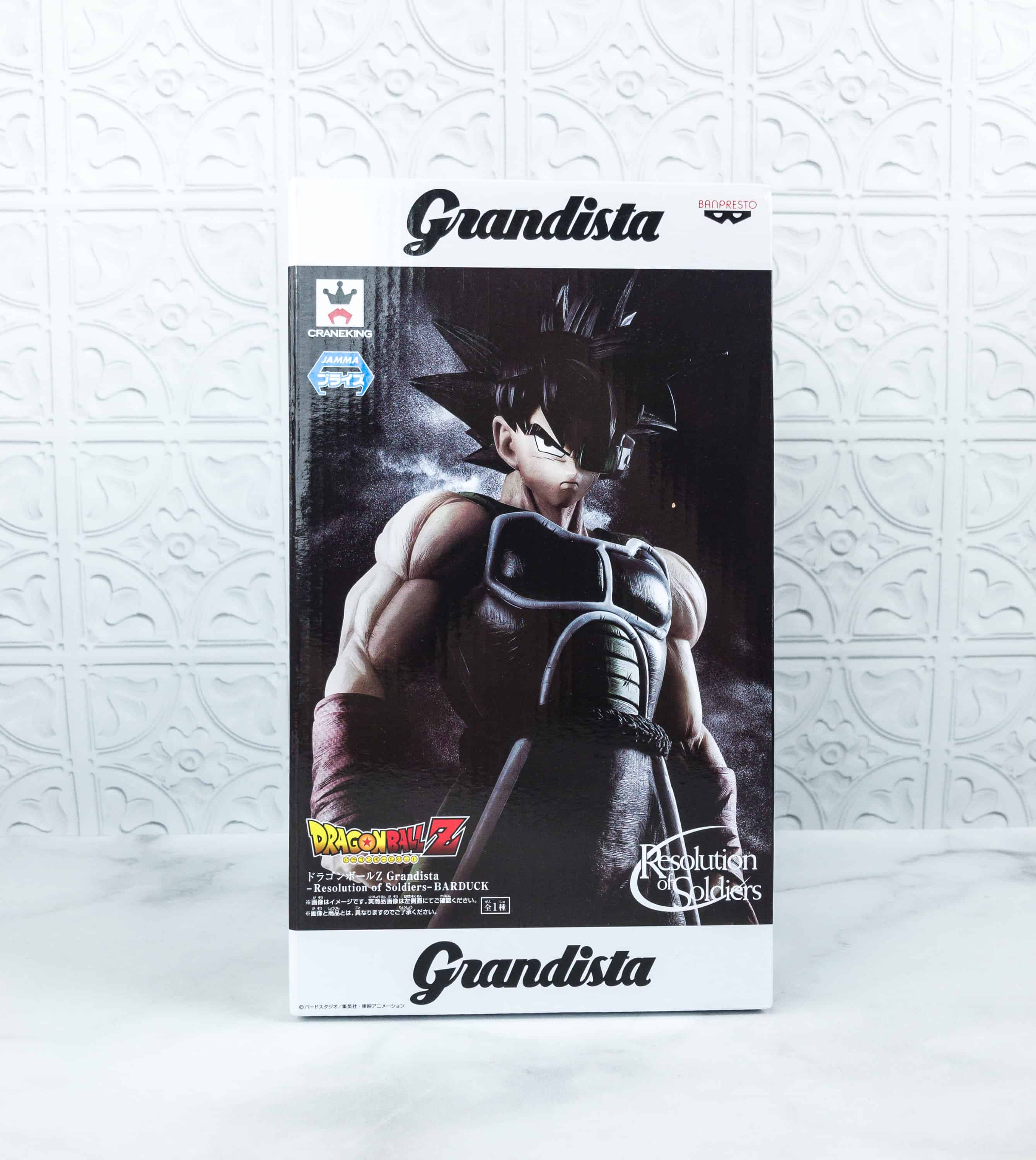 Banpresto always packages their figures in giftable and displayable boxes like this one.
The design of the box shows the figure in a very dark yet cool light!
Like most of their figures, it's split in half plus an additional stabilizing piece for one of the figure's feet.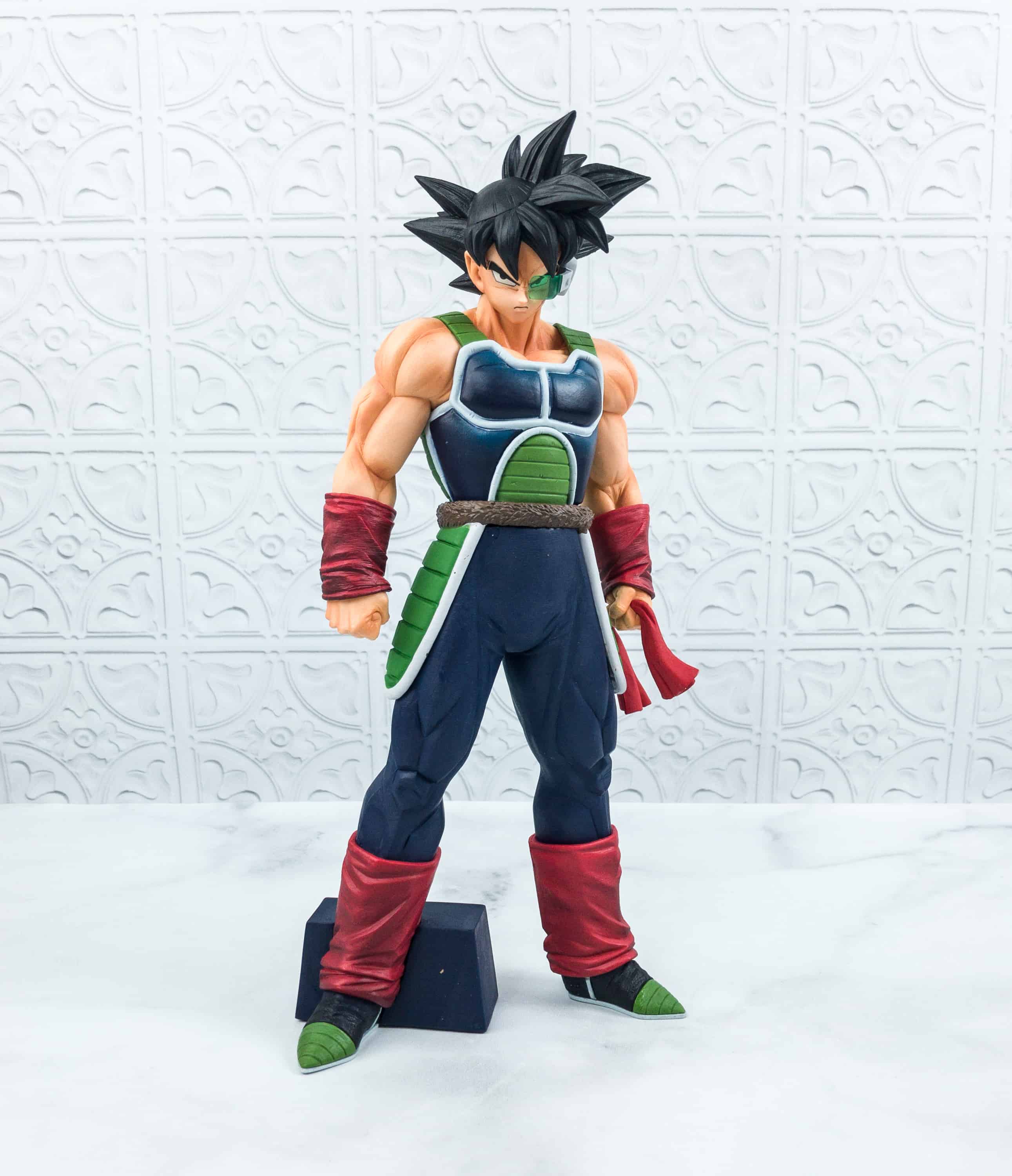 Bardock is a low-class Saiyan warrior, the husband of Gine, and the father of Raditz and Goku. He makes his debut as the main protagonist of the 1990 TV special Dragon Ball Z: Bardock – The Father of Goku.
He is an adept fighter and a devoted Saiyan Army soldier with Frieza as his boss until he realizes that Frieza and his force plans the annihilation of the Saiyan race.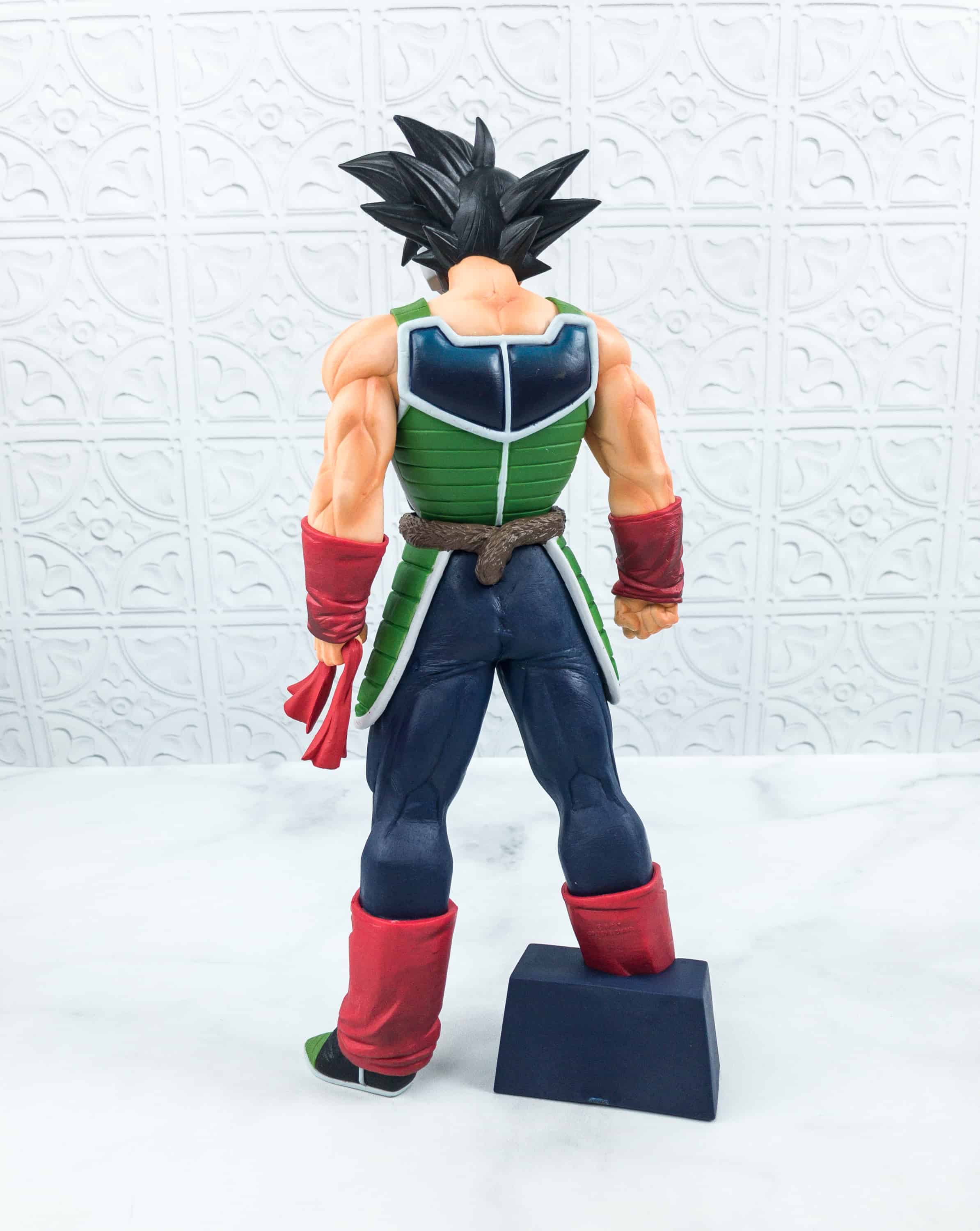 The figure is really heavy and stands at eleven inches!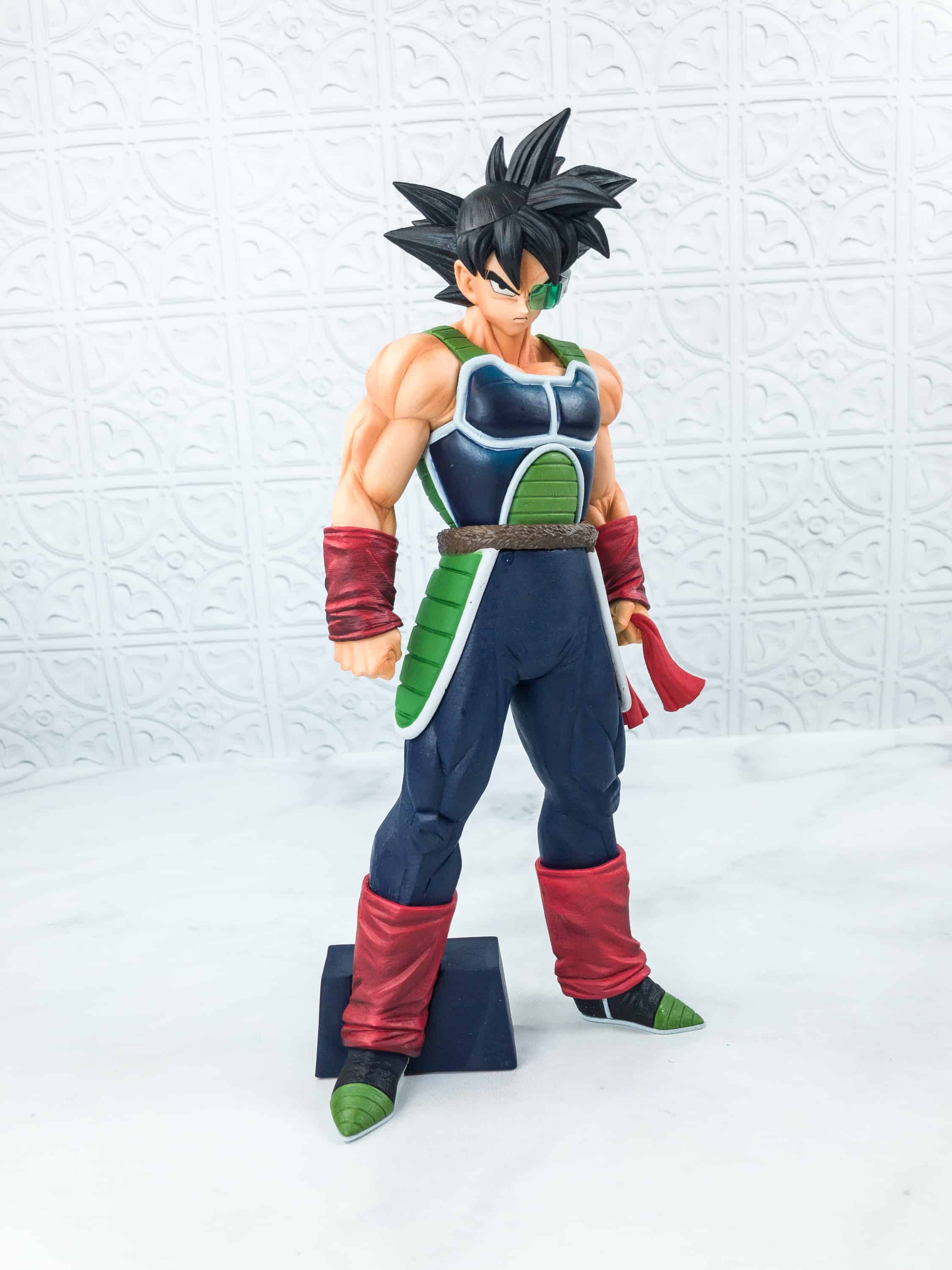 In this version, he is wearing a dark blue and green Battle Armor and a green Scouter on his left eye.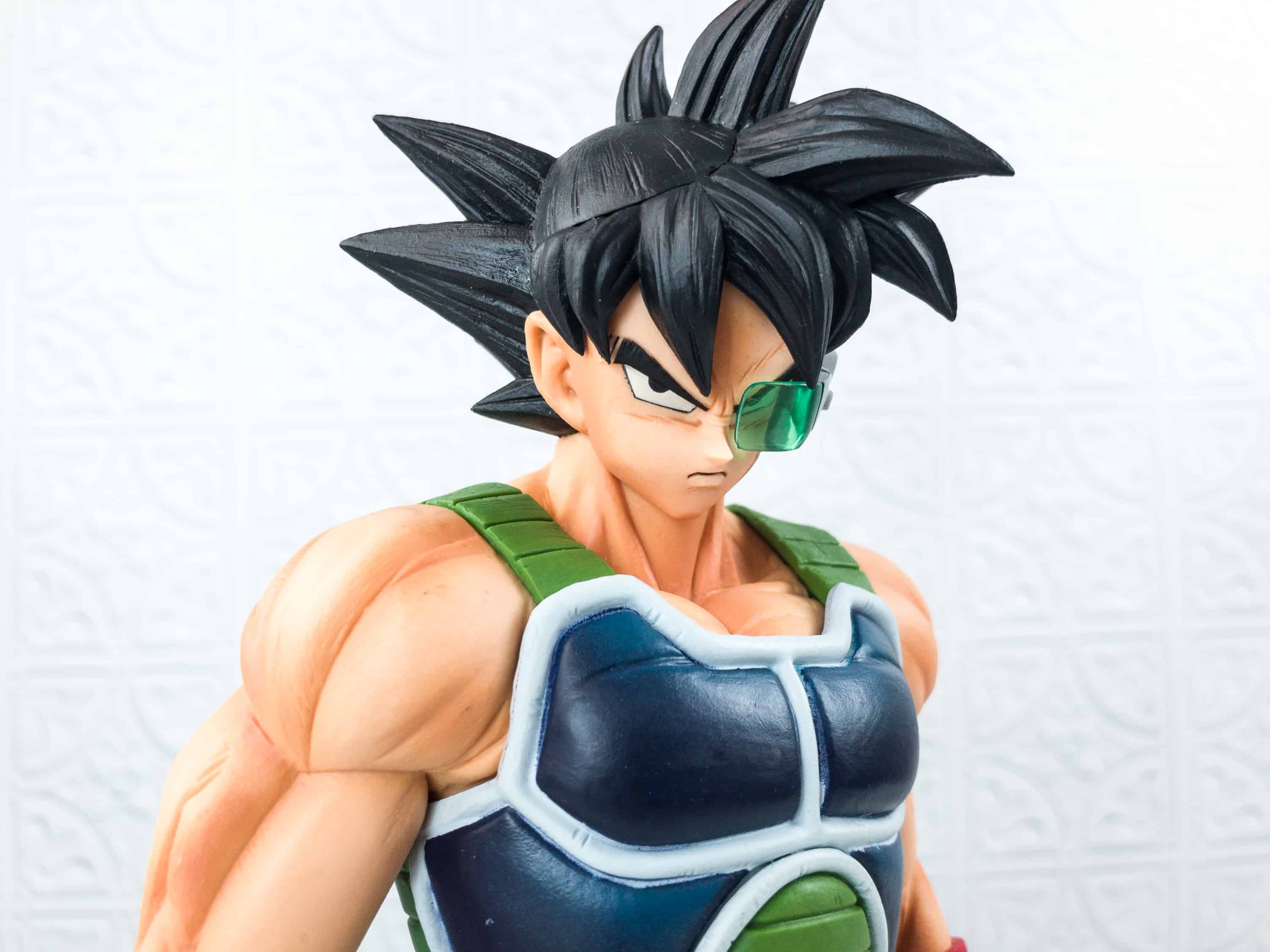 Bardock really looks like Goku!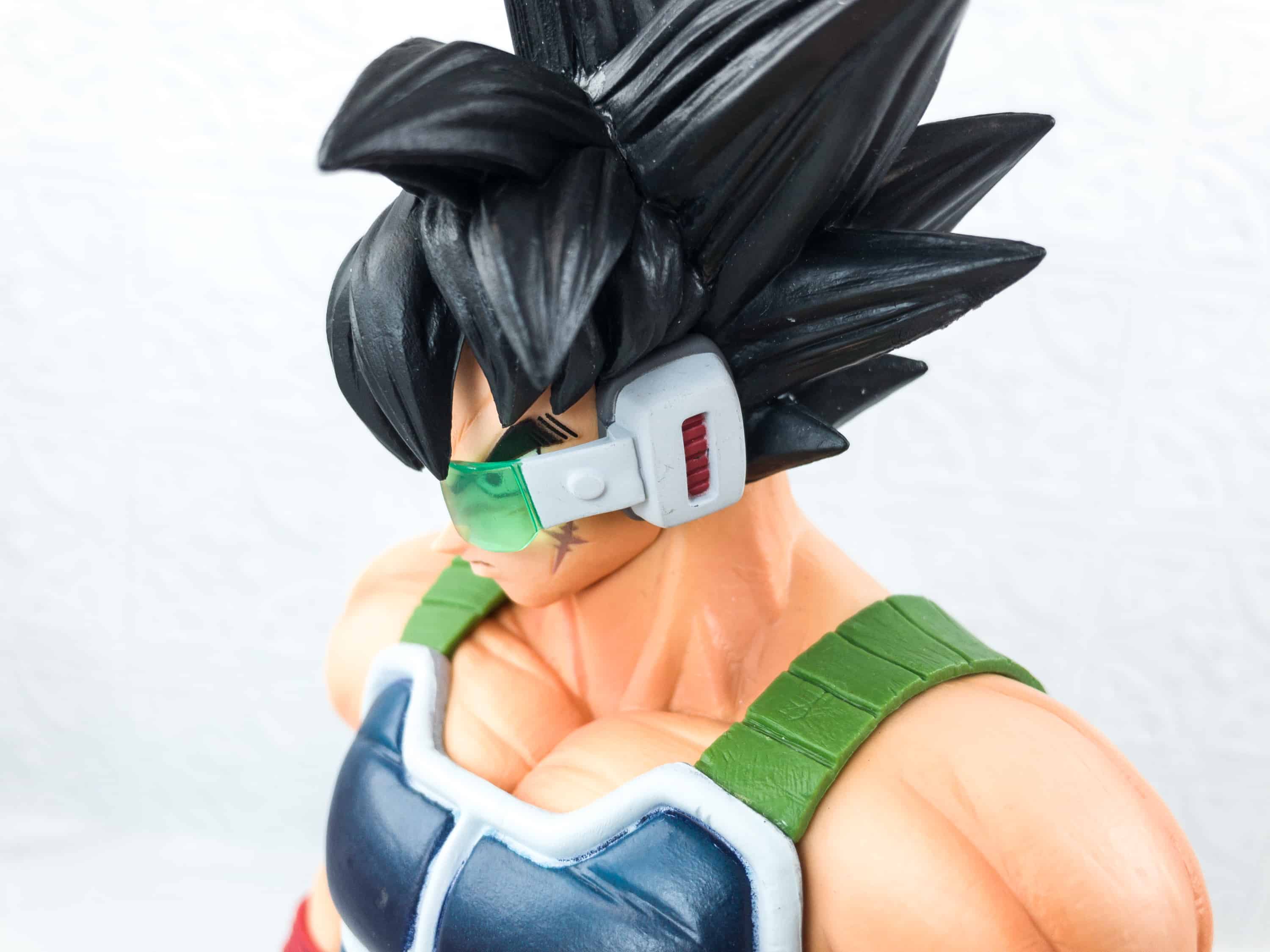 The detail is really awesome, it even included Bardock's scar on his left cheek!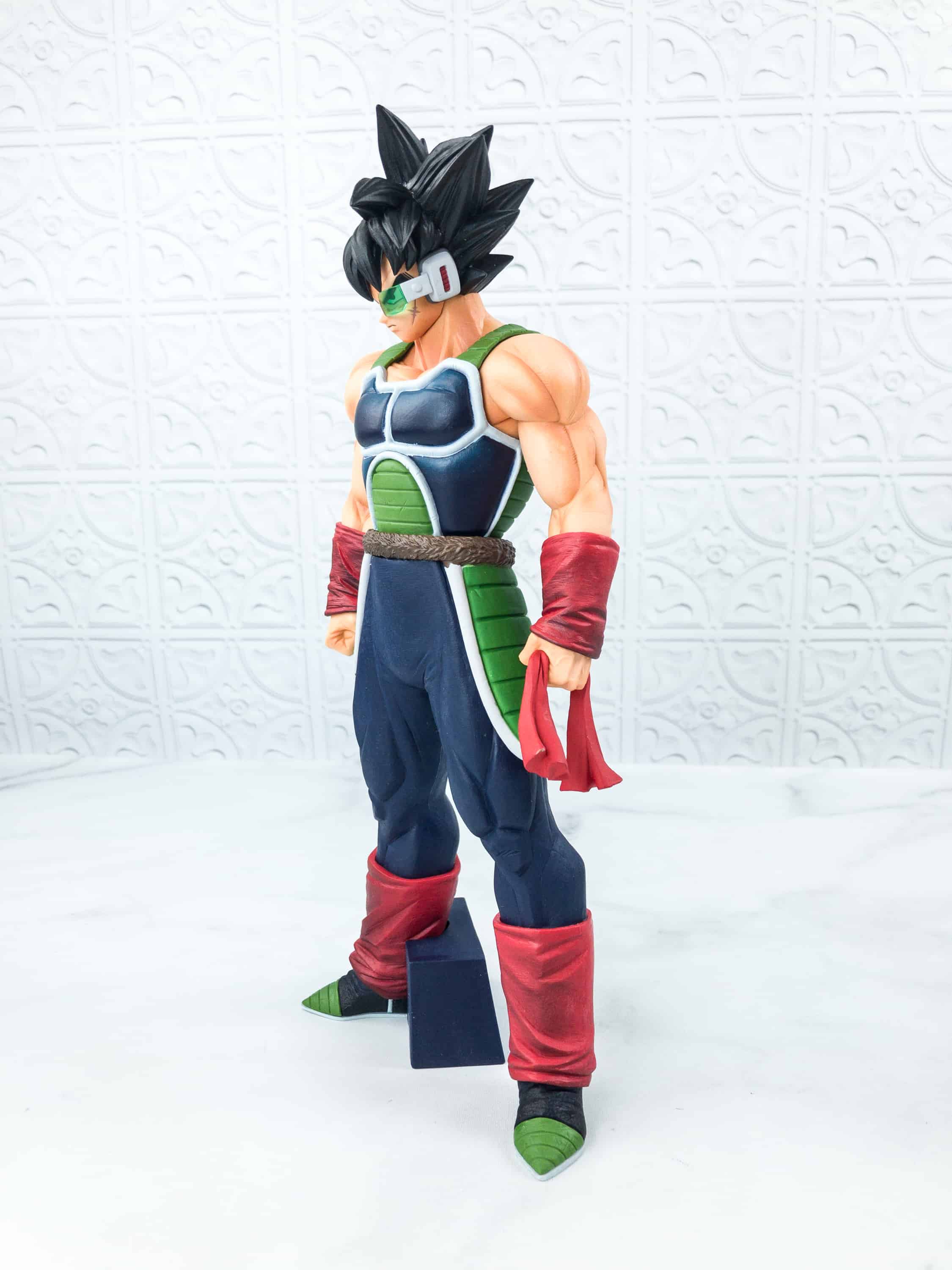 He is even holding a red piece of cloth on his left hand.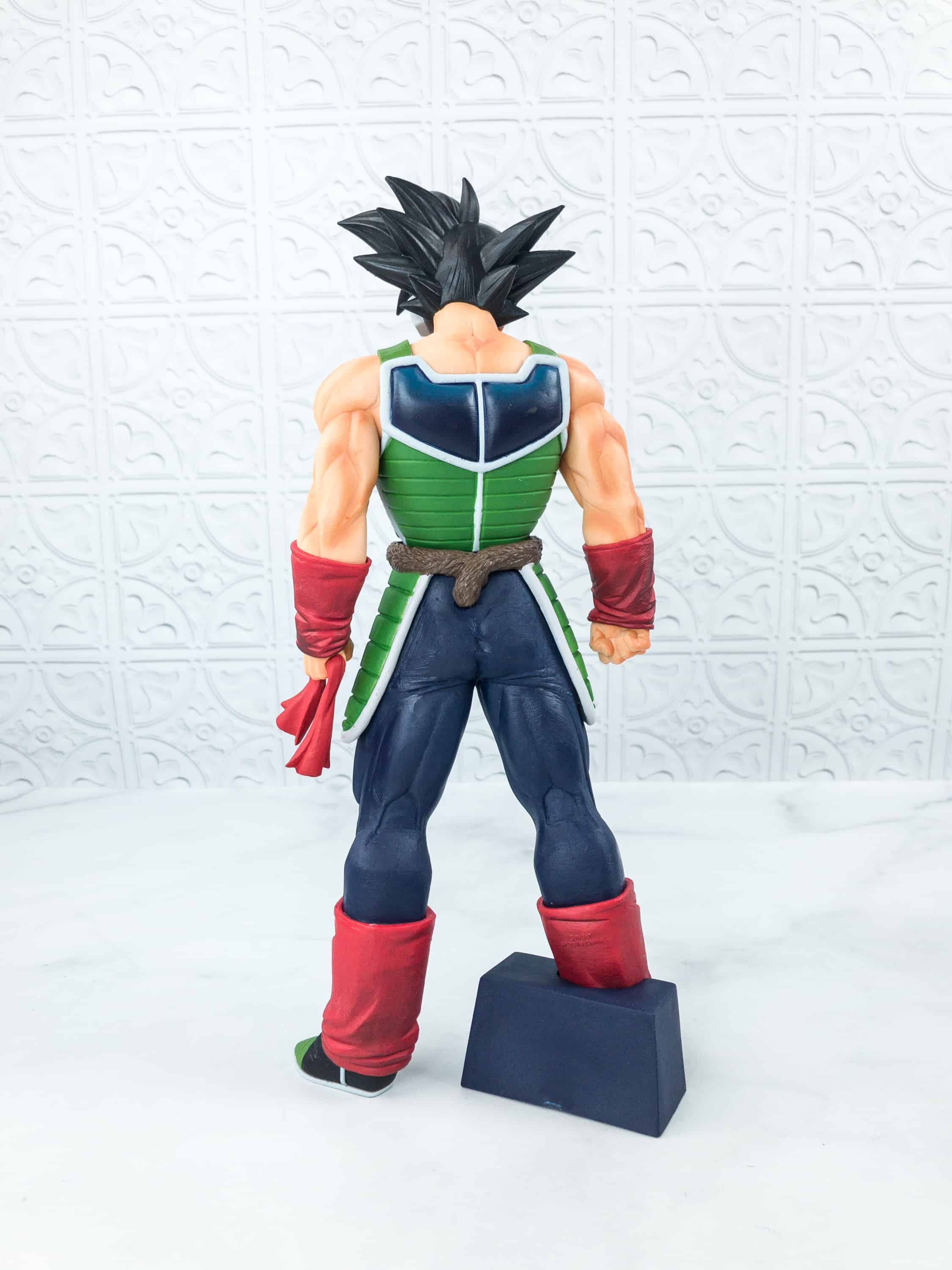 The enormous figure will look really good with other DBZ figures we got on our shelf!
The two figures alone in this box definitely makes up for the whole box, and that makes the pin and the scarf look like bonus items. I am very happy to get the Bardock figure as it perfectly fit this month's theme, and getting an Ultra Instinct Goku is just wonderful! I usually get Goku figures in his original form or the Saiyan one, or even the Great Ape, but this time, I got the silver-haired one! I can do an "Evolution of Goku" figures on display! This subscription definitely brings in something new every month, so if you're an anime fan who looks forward to amazing figures and a great variety of stuff every month, this one's for you!
What do you think about Lootaku?