Lip Monthly is a monthly makeup subscription that is all about your lips. Every month you will receive a unique bag of 4-5 items mostly for lips, although other cosmetics may appear from time to time. The pink outer bag is also new and an upgrade from the previous plain kraft envelope.
DEAL: Subscribe for a whole year and get 3 bags free with 3FREE or use coupon code LIPLOVER1 to get your first bag for $5.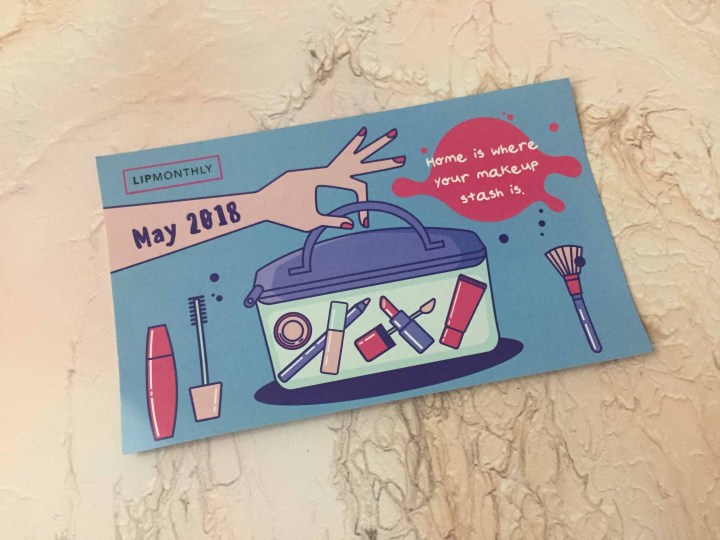 After a few months without, the info card has returned!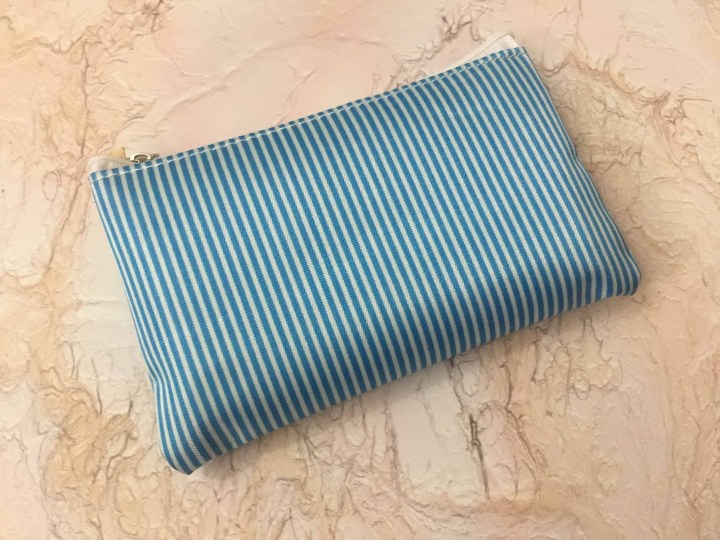 I LOVE the bag print this month. The stripes give such a beachy, summery vibe.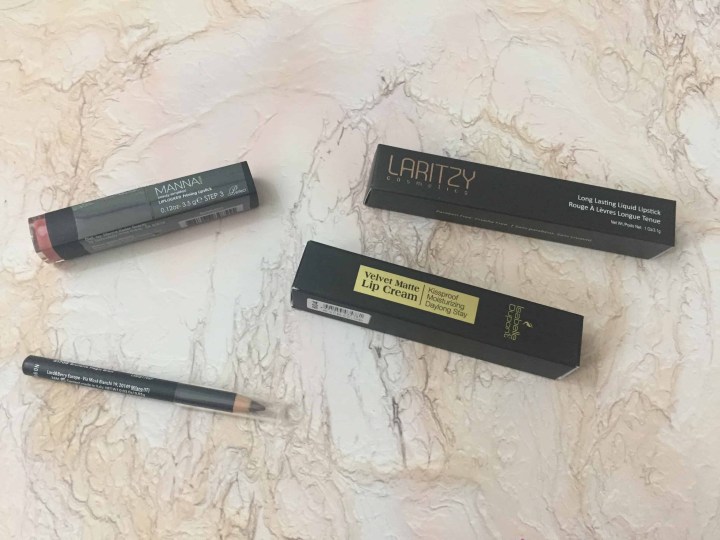 Here is everything in my bag! Three full sized items and one deluxe/travel size.
Laritzy Nudes Long Lasting Liquid Lipstick ($20) – Currently sold out, so this must be a popular shade. I enjoy Laritzy products – they're a Canadian brand (didn't know that!) and are cruelty-free.
Isabel Duponte Lip Cream ($16) – Another liquid lipstick in almost the same colour… bit of a bore! I couldn't find any pricing on the official website so I'm going with Lip Monthly. It has a sweet fragrance that I quite liked. It also applies much better than the La Ritzy – stay tuned for swatches!
Manna Kadar Lipstick ($24) – I've used this product before but a different shade. The premise is that it's a lip primer and colour in one, so it stays put all day. I find these to be pretty hydrating despite usually being matte finish. I'm not crazy about the colour but it's good for summer.
Lord & Berry Brunette Magic Brow ($10) – Yeaaaah, so Lip Monthly says this is $21 but that's for the full size with a spoolie and everything. This is probably about half the size, so you can't really put that value on it. The colour itself is nice and will work for me.
Swatches! From left to right: Brow pencil, Manna Kadar, Laritzy, and ID. You can see how the Laritzy is super patchy and not smooth, and how similar the two colours are!
The colours this month weren't my thing, but I did like the bag itself and the brow pencil. Lip Monthly is a decently priced bag and most (if not all) of the items are always full size which makes the value great. Their shipping and customer service is the issue, but overall this month was a good collection.
What do you think of Lip Monthly?