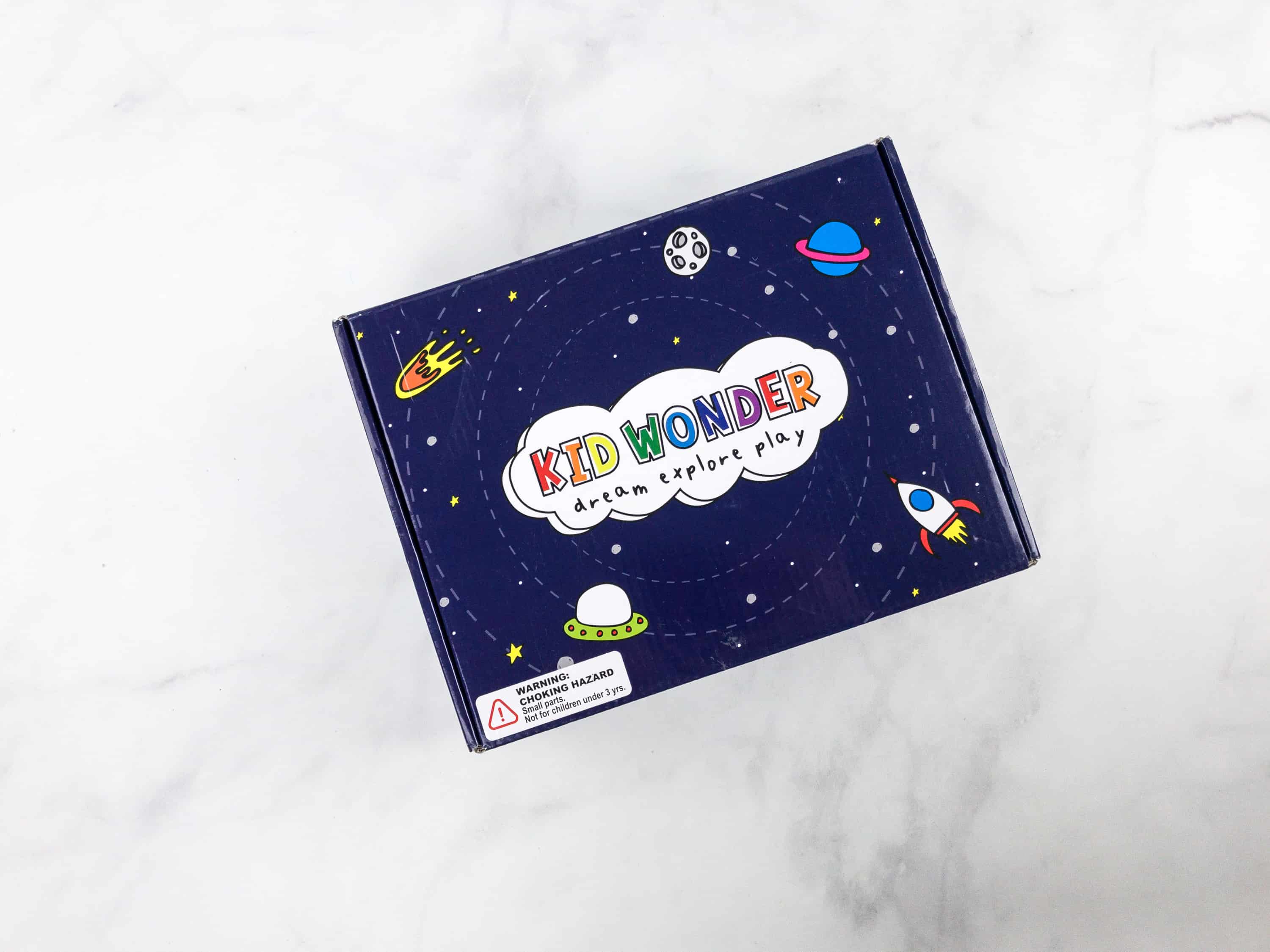 Kid Wonder is a monthly kids subscription box by Little Dreamers. Each month, this Activity Kit will contain various crafts and projects designed according to that month's theme and usually includes supplies such as glue, scissors, paint and paint brushes and even smocks for the messier crafts. This box is intended for kids 3-6 years of age who love to create, play and explore through dramatic play. The box starts at $24.95 per month. The subscription renews automatically and you may cancel anytime.
The box is full of interesting items!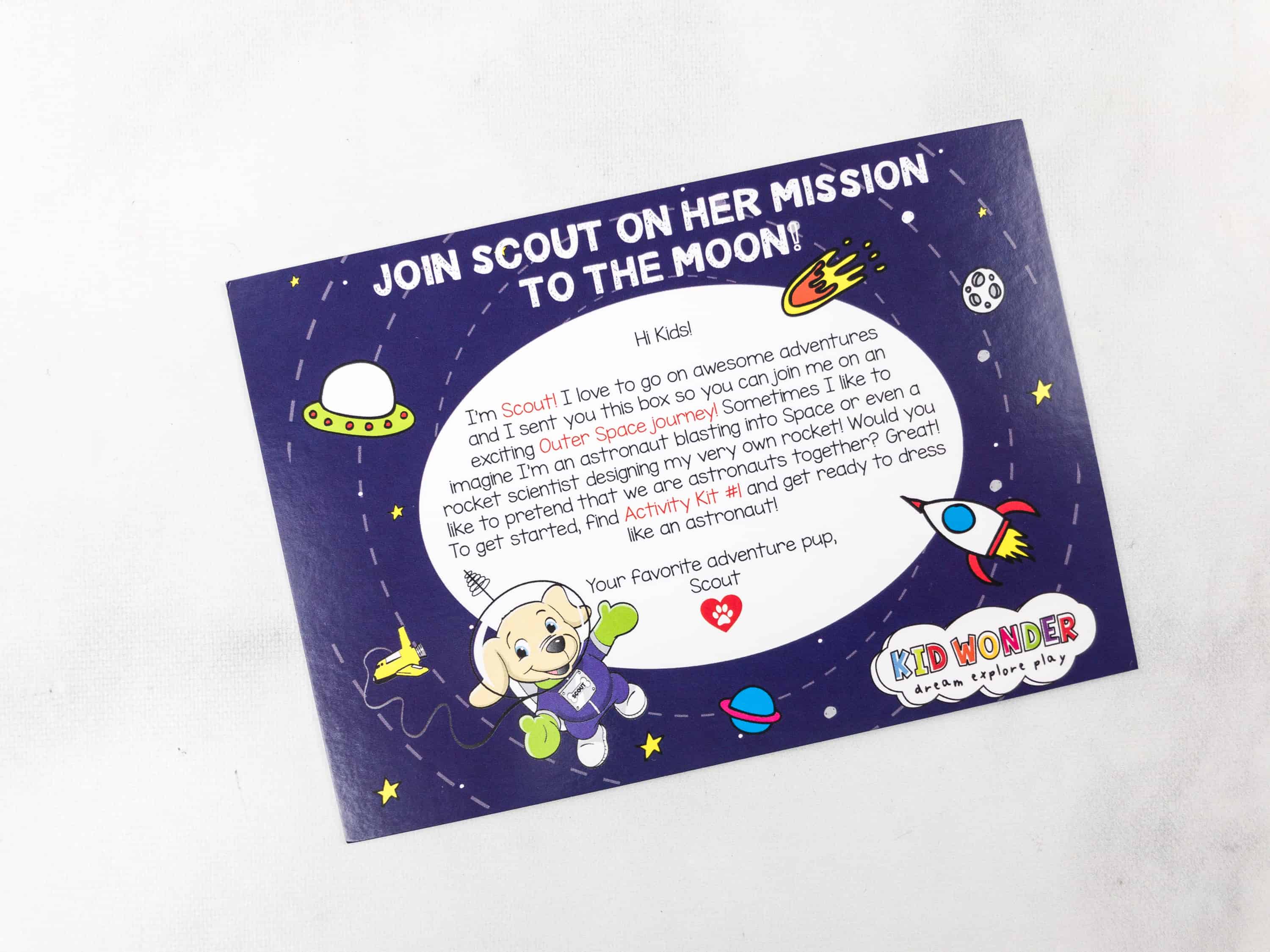 There's a note from the box's mascot, Scout, an adventure pup!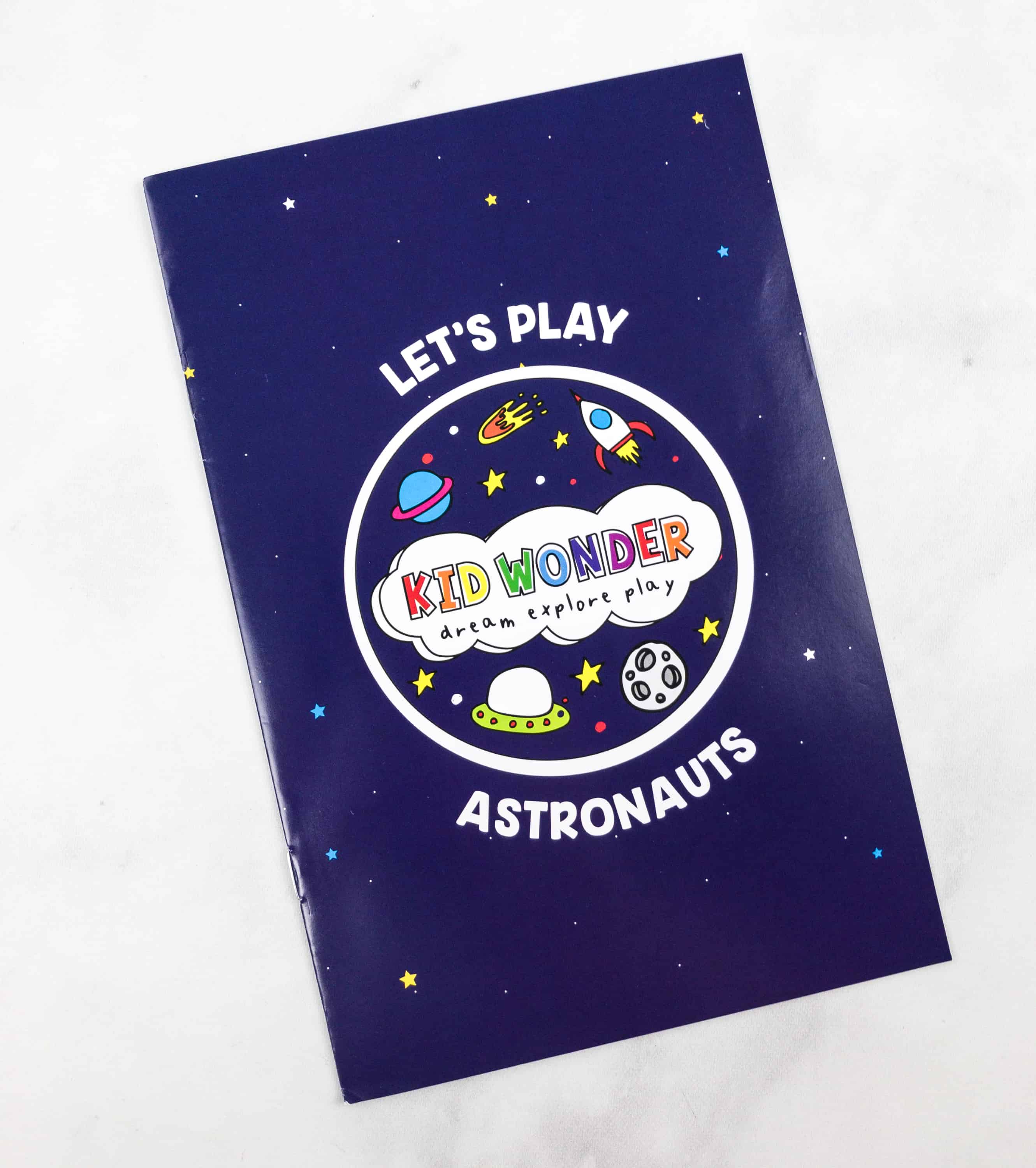 This month, they encourage the kids to play as astronauts. A booklet, which looks like a mini mag, was also included in the box.
It contains facts and trivia about outer space! My 3 year old now knows all the planets, in order, and him saying the names is just the CUTEST darn thing.
Outer Space is a very cold and dark place. Space is really big! It is made up of gases, stars, and planets!
There's also an activity where you'll help Scout find his way to the moon!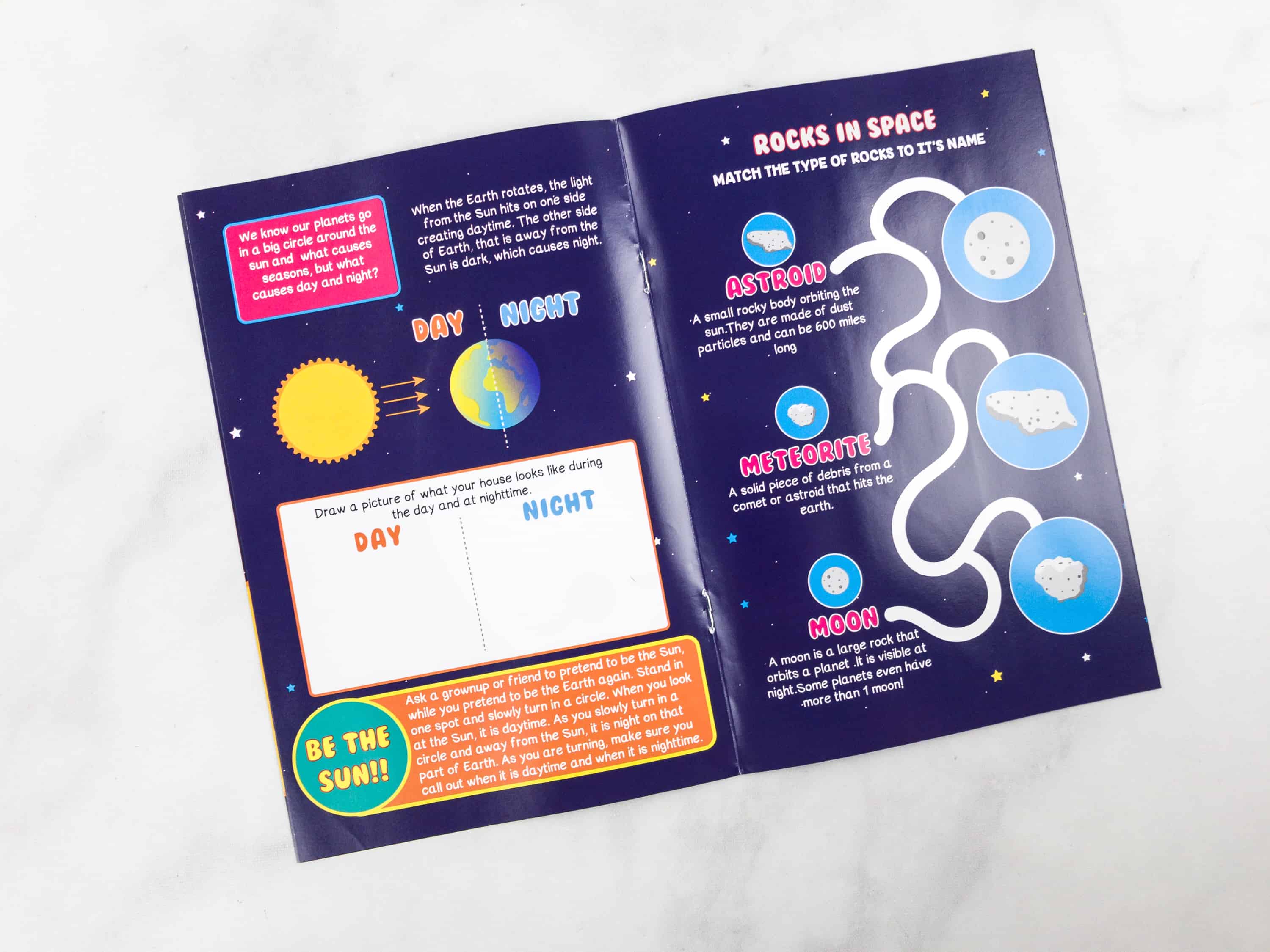 Another page is about drawing how your house looks like during the day and during the night.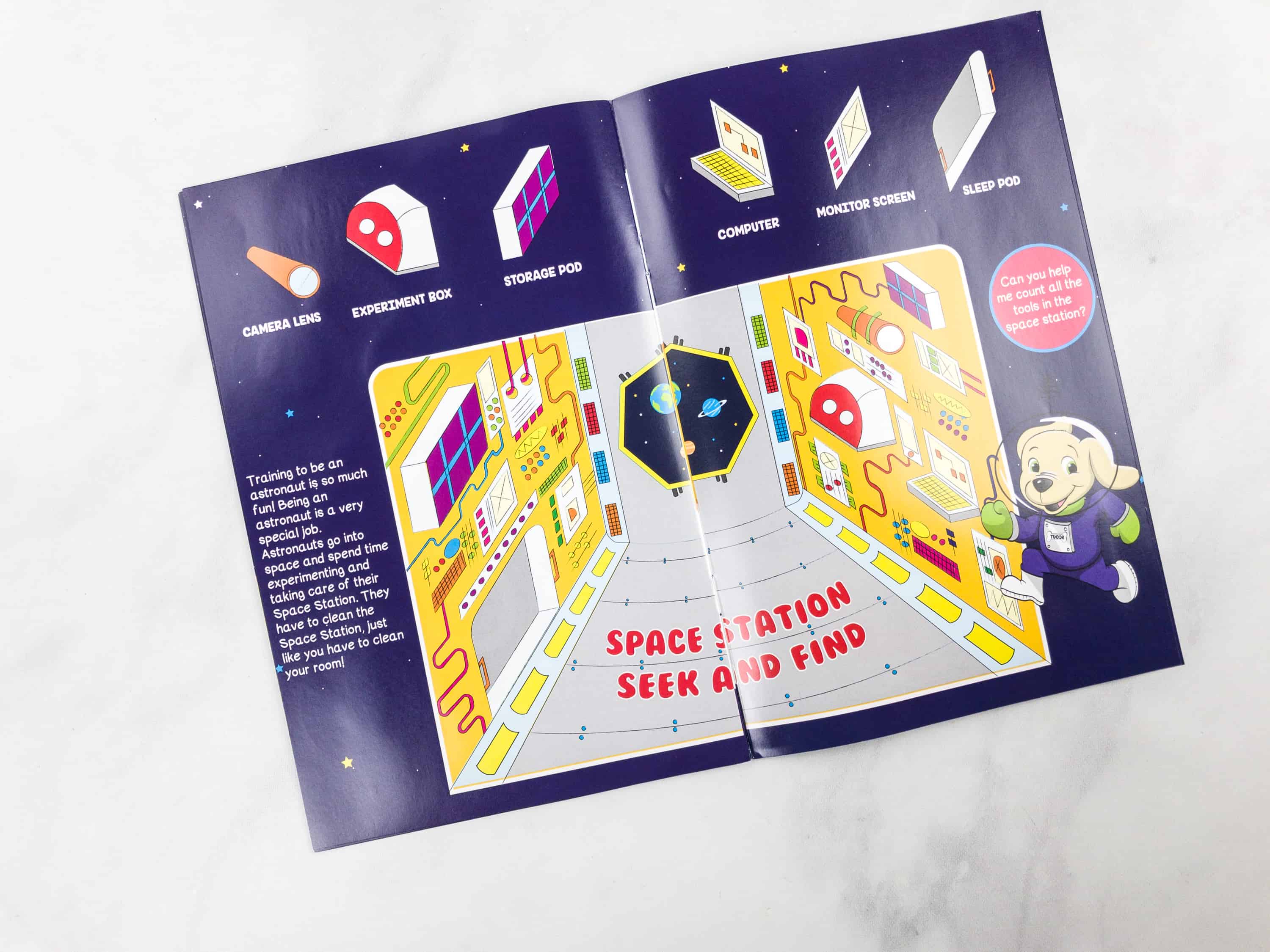 Training to be an astronaut is so much fun but requires very keen observation. Here's an activity where your sharp eyes will be tested by finding stuff and cleaning up your space station!
They even included easy to follow and interesting experiments. Like this one here where you test gravity! Do you know where a certain item will drop when you drop it here on earth and in space? You get to test it out also with other items that you can find at home!
Everything in the box! This box is packed FULL of adventure.
There are 5 activity packs in this box. Every activity kit comes with a guide stating the messiness level, difficulty level, and the time needed so you'll know what to expect. There's also a QR code that you can scan to get more inspiration for your projects!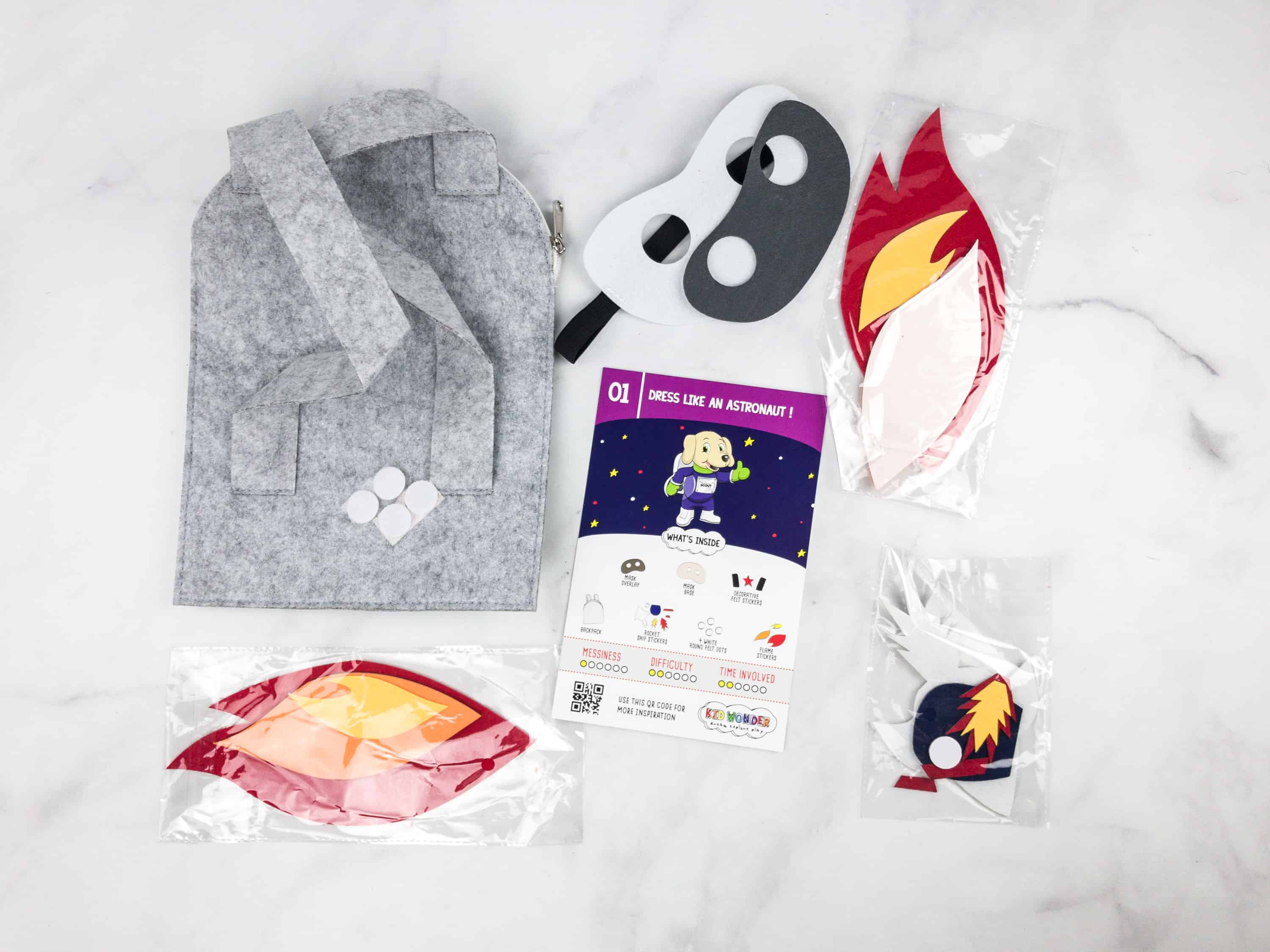 Activity Pack 1: Dress Like An Astronaut. The first kit includes a mask overlay, mask base, decorative felt stickers, backpack, rocket ship stickers, 4 white round felt dots, and flame stickers.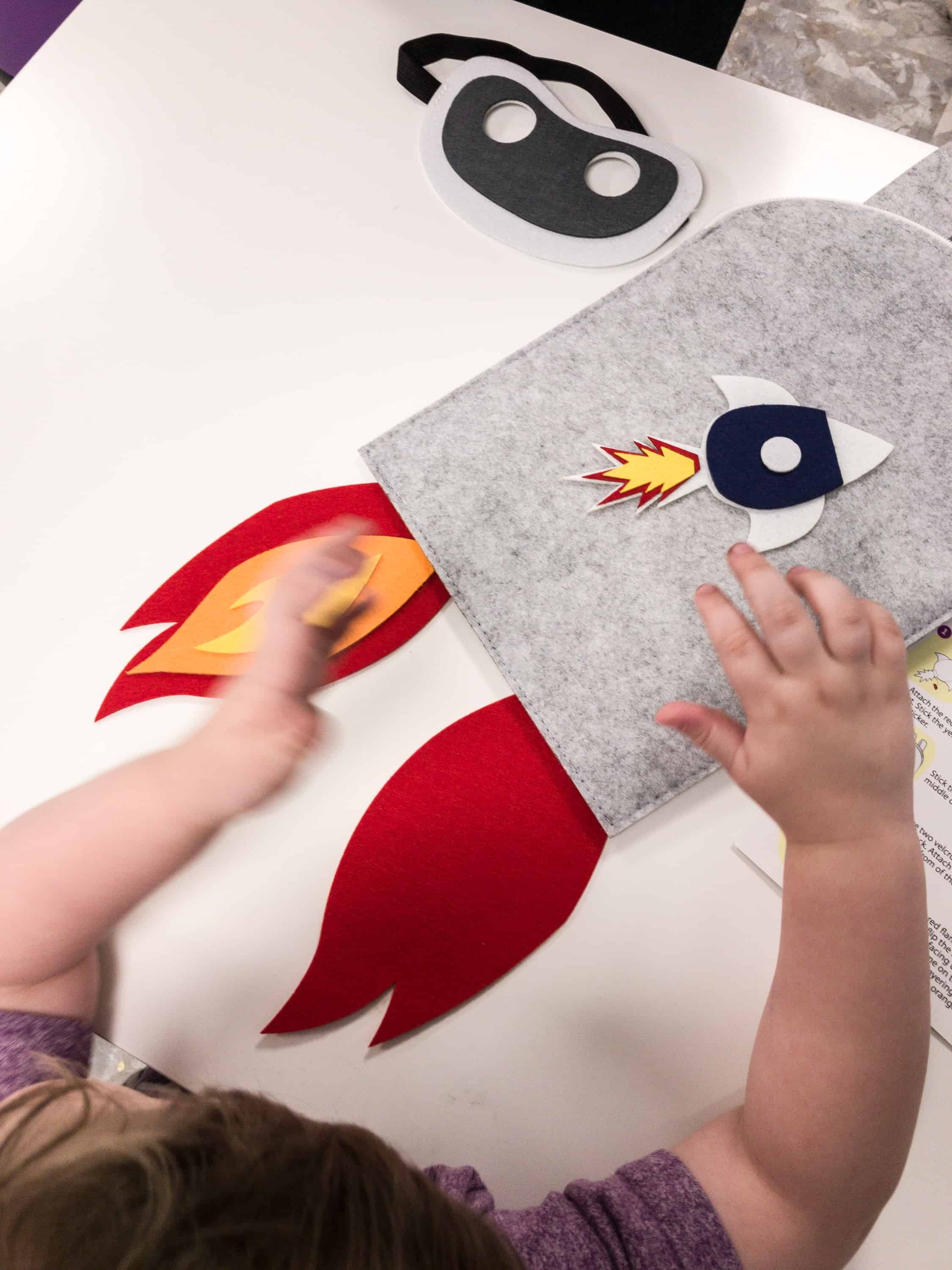 My 3 year old started working with it right away!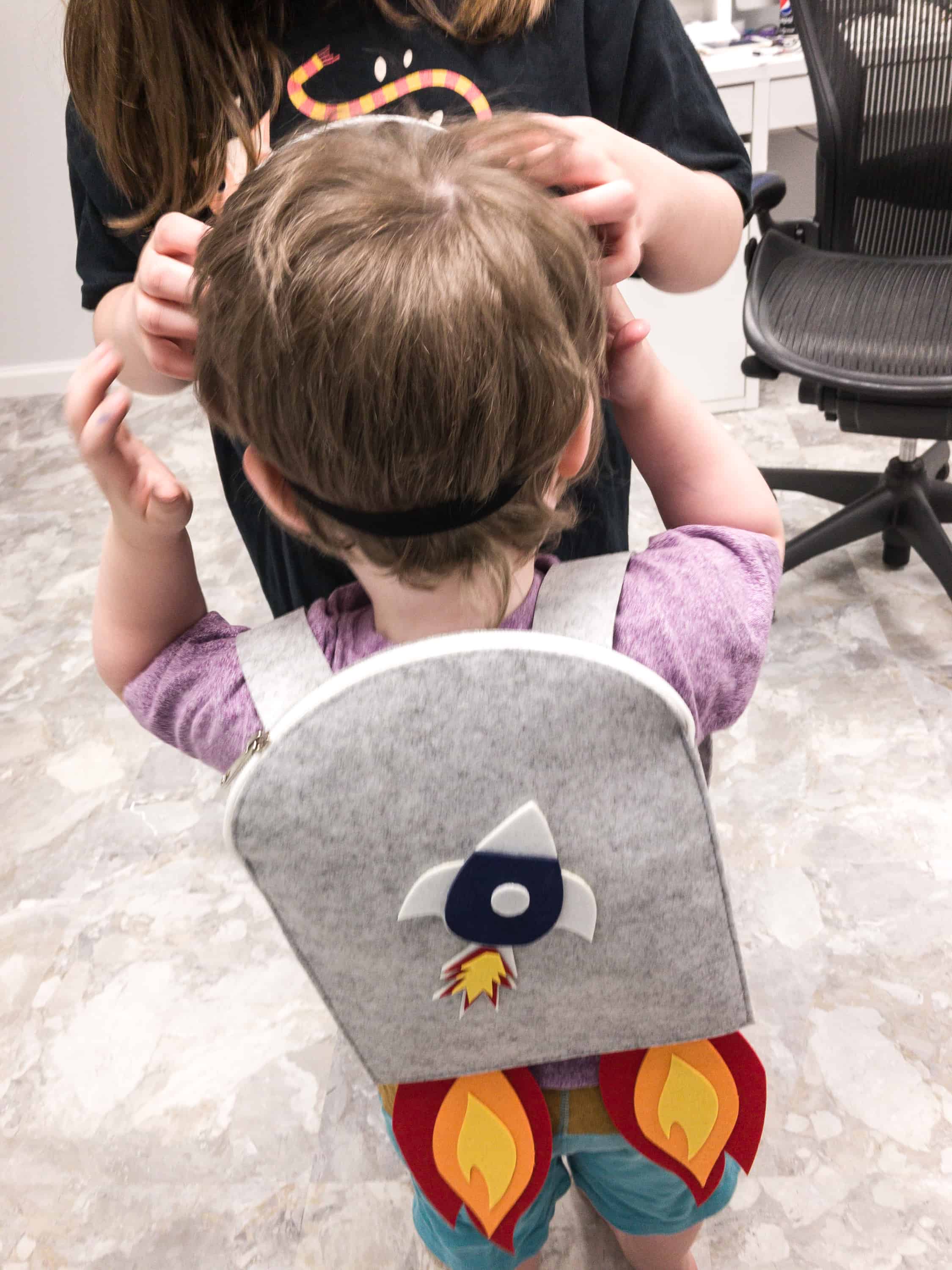 My son definitely loves this one. Look at those cool flame stickers that go well with the backpack and make it look like a jetpack! We did have some issues pulling the felt from the sticker back, but we worked it out.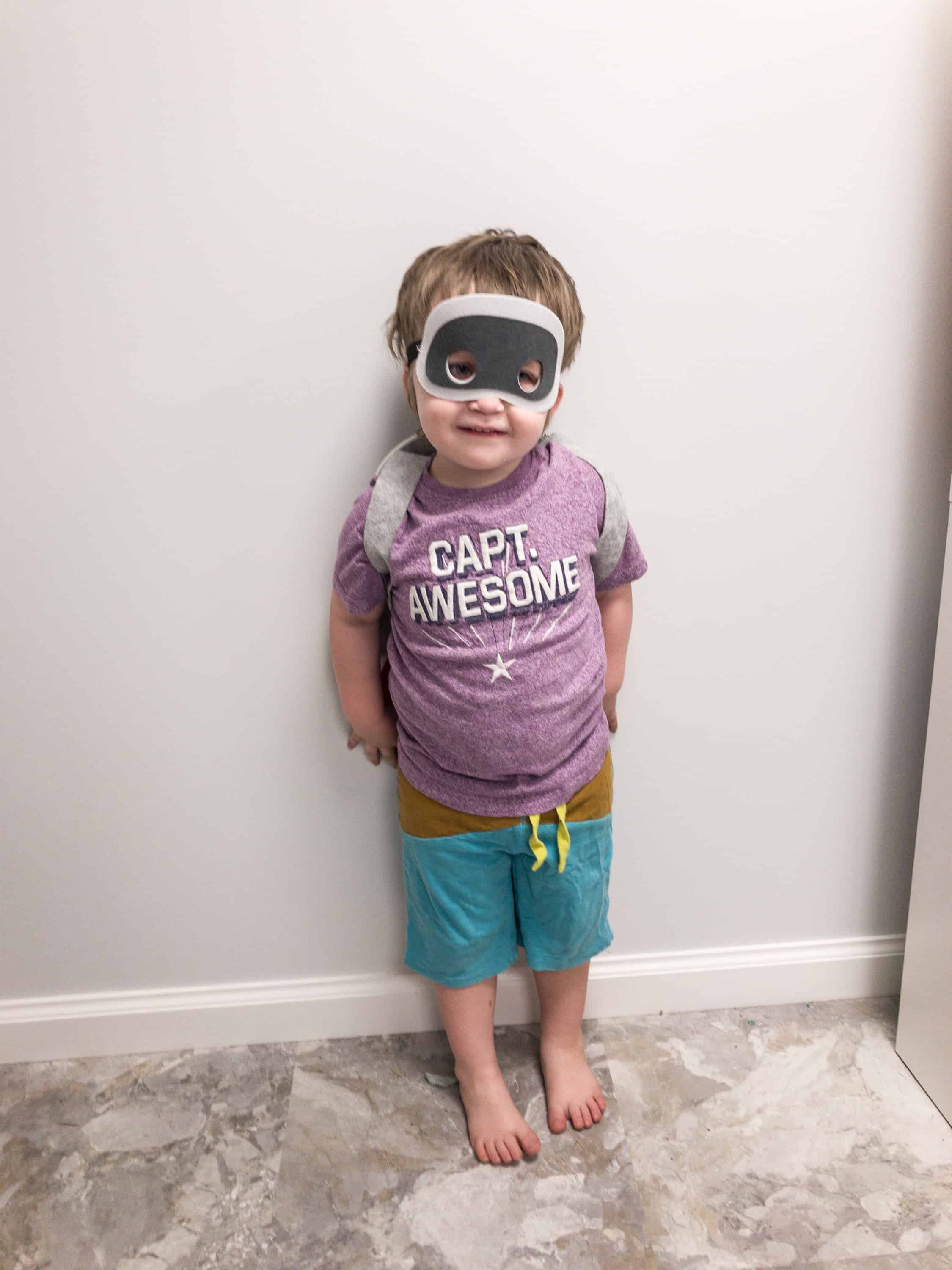 Yes! That's Capt. Awesome right there! The astronaut dress-up activity made him look like a new superhero! This is the "I'm so pleased with myself" pose. He loves it!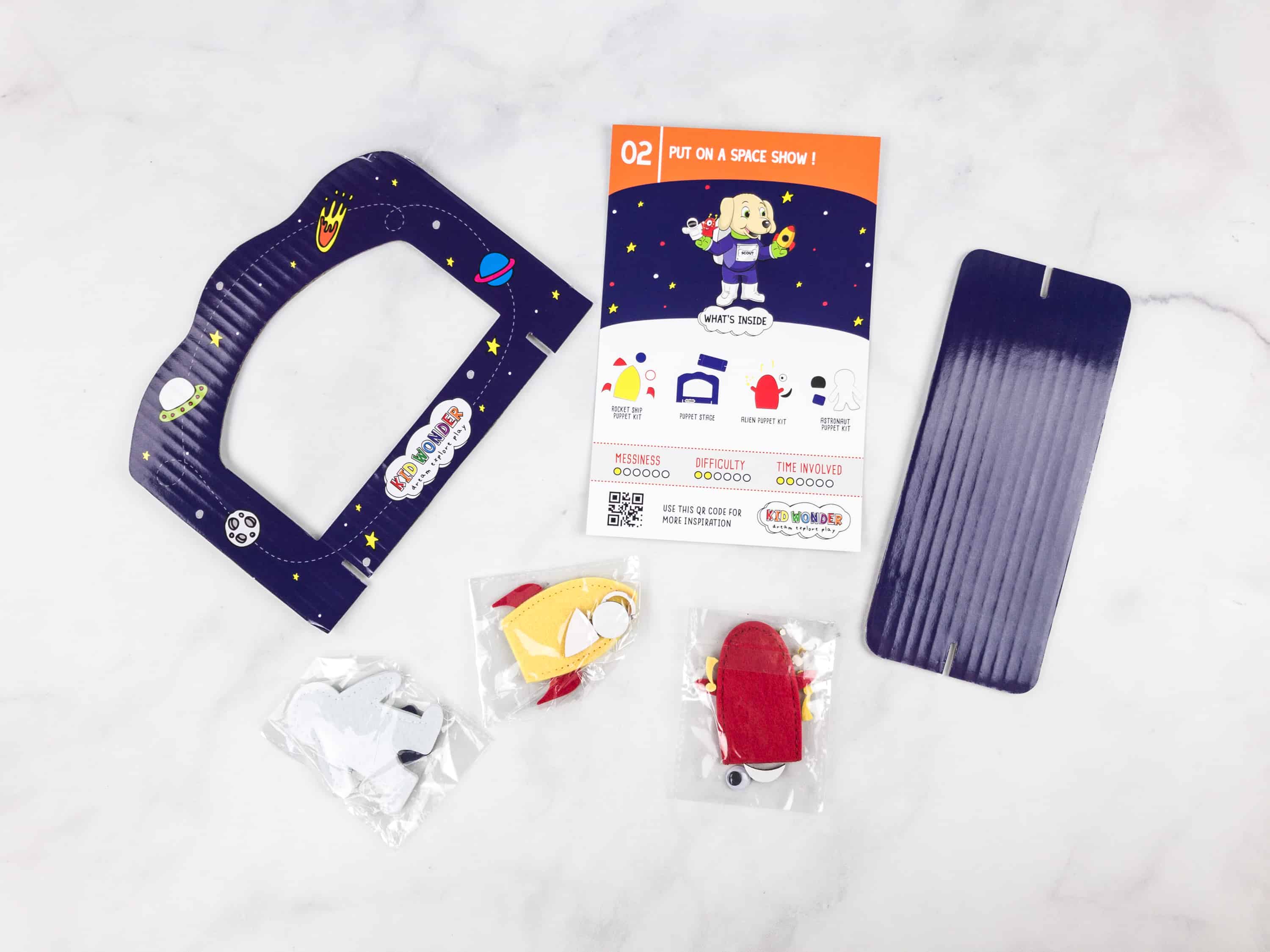 Activity Pack 2: Putting Up A Space Show. The provided items in this pack include a rocket ship puppet kit, puppet stage, alien puppet kit, and astronaut puppet kit.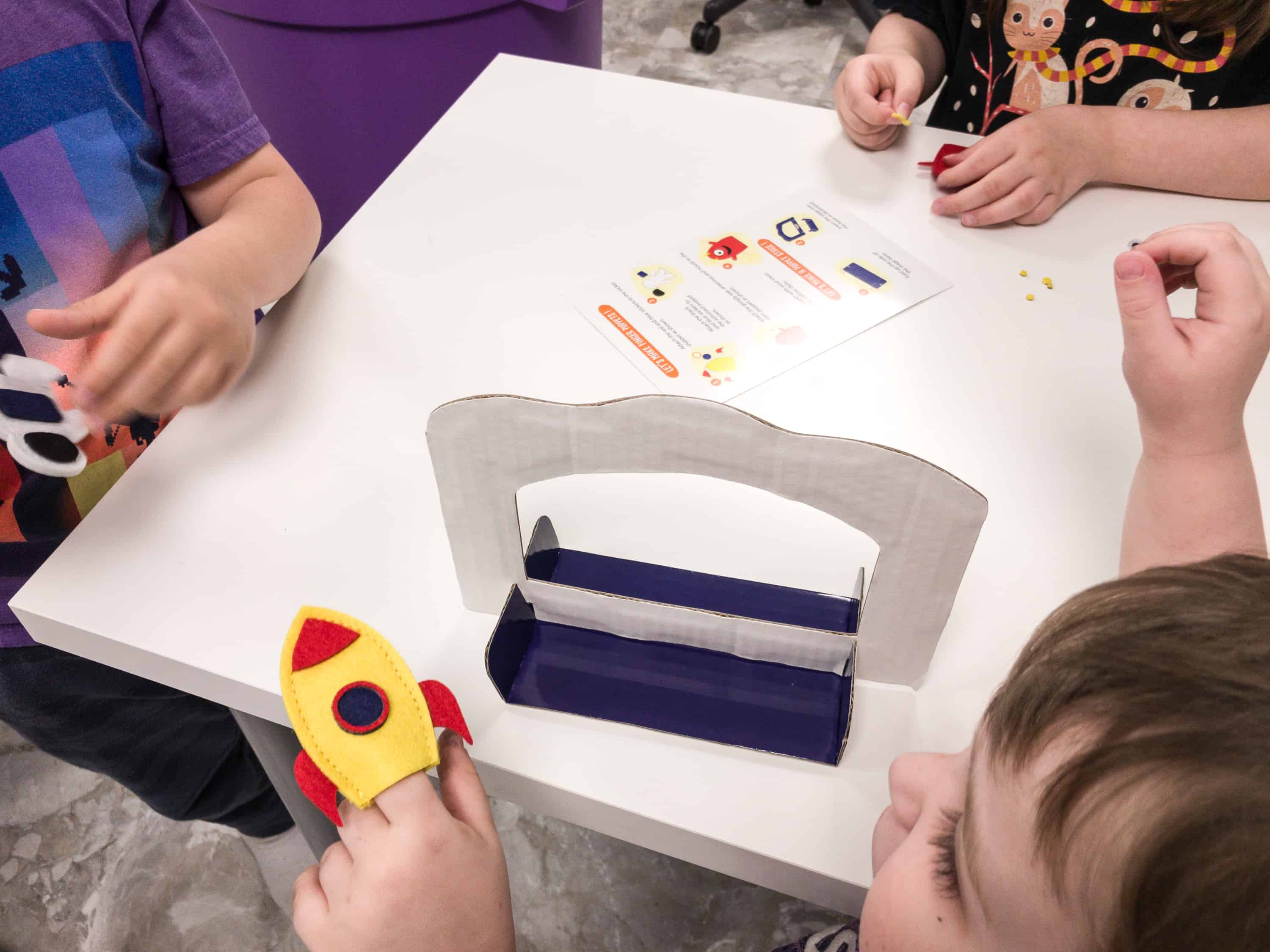 After completing the puppet kits, the stage was easy to put up!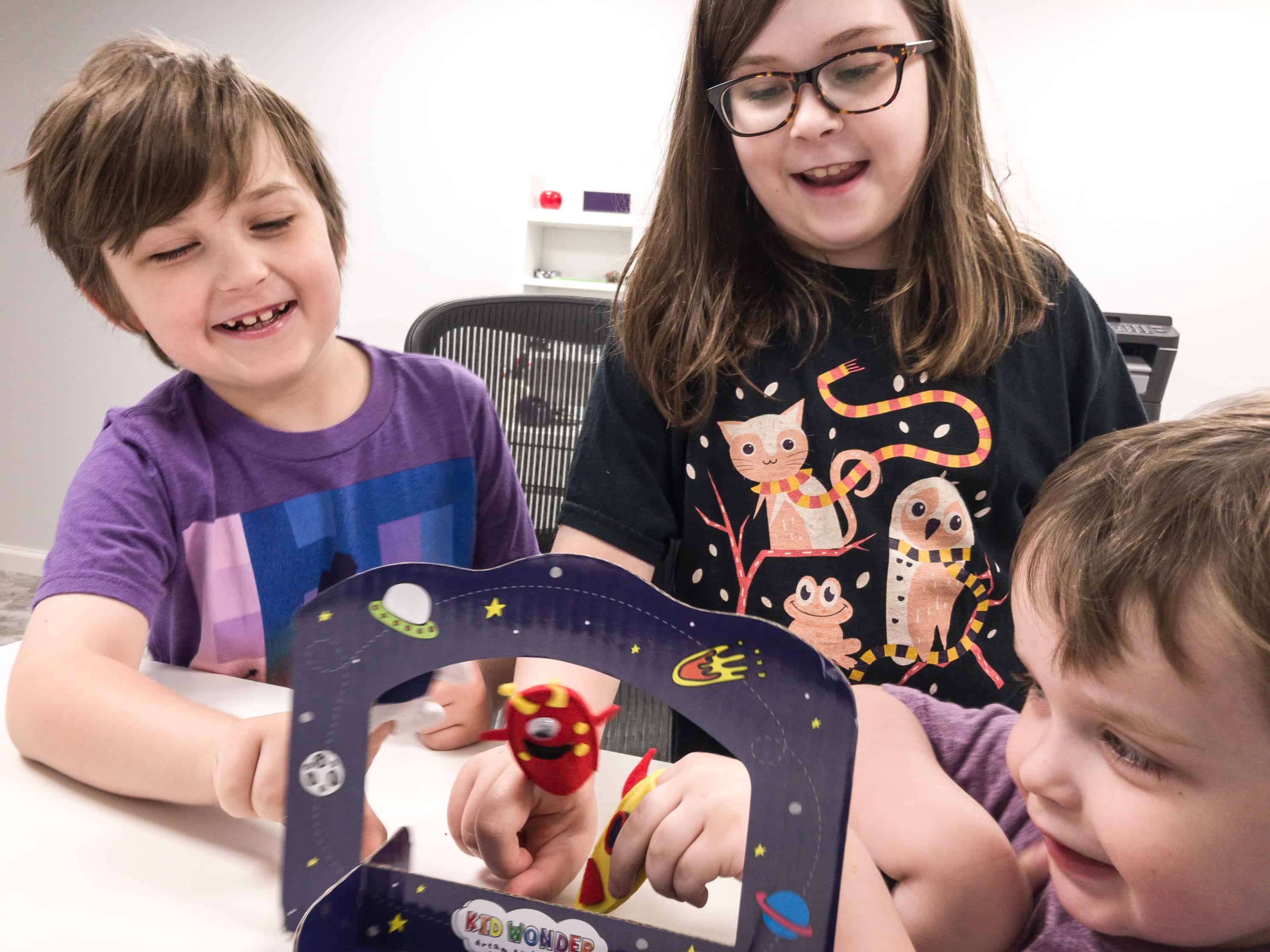 Each kid gets to play a character in this little stage play, or your younger child can act all the parts with your help – it's up to you!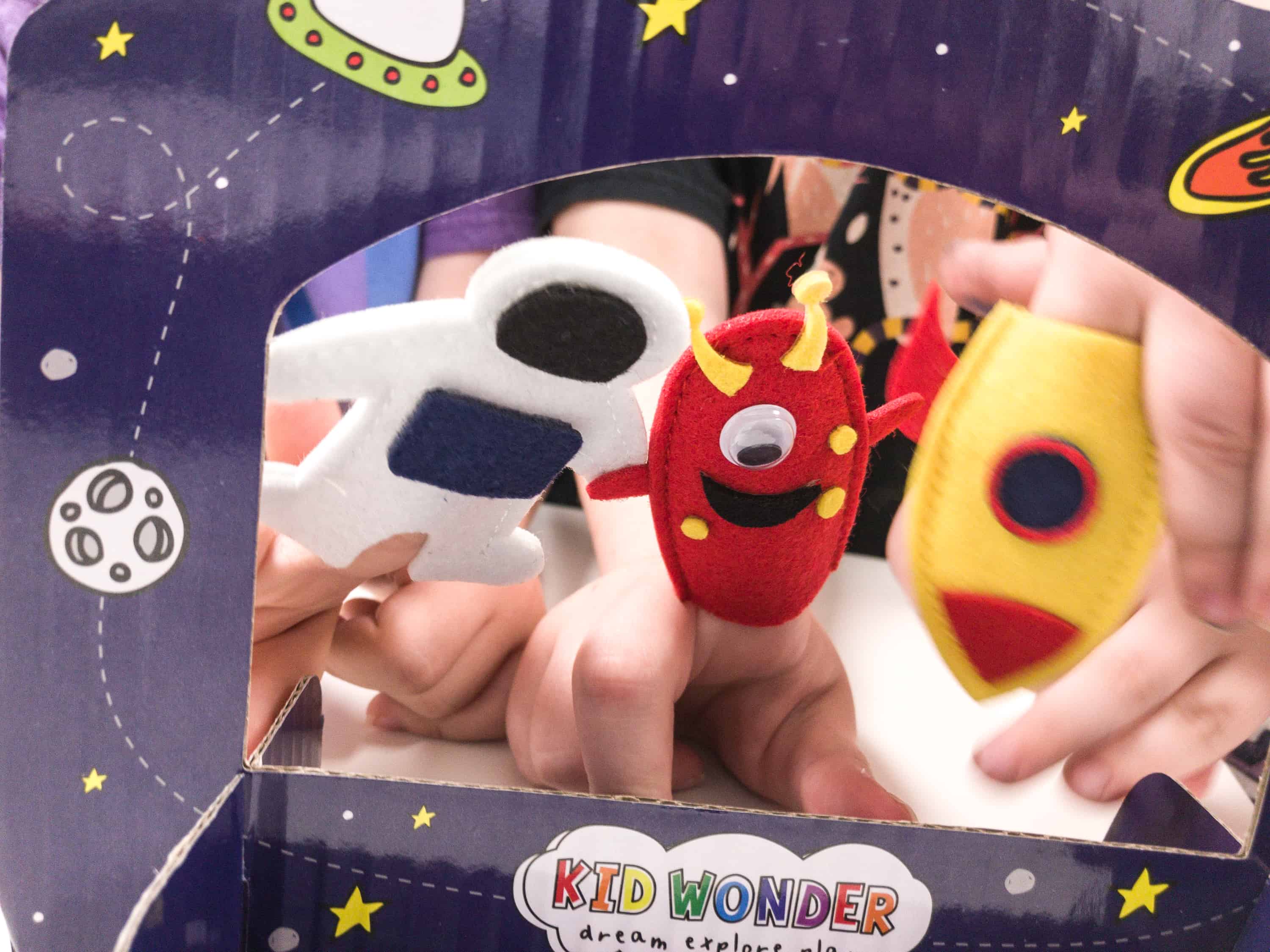 There's the astronaut, the alien, and the rocket ship. You can even let kids make up their own story about these characters!
Activity Pack 3: Train Like An Astronaut. The kit contains a dry erase marker, badge, lanyard, certificate, and junior astronaut training checklist to keep track of the future astronaut's improvement!
My son started with his training. One by one, he was able to put a check on each activity! I was also subjected to these activities day after day. Because the included crayon was dry erase it came right off and we could start again.
He's ready to blast off!
Activity Pack 4: Let's Discover The Stars. The fourth kit contains a paint pot strip, paint brush, telescope, apron, mess mat, and constellation card.
The kids are painting the telescope's body. It's messy and that's what the apron and the mess mat are for! We happened to have another paper already on the table, so we saved the included stuff for later.
The telescope became my kids' masterpiece! I think that looks fantastic, plus it really works too.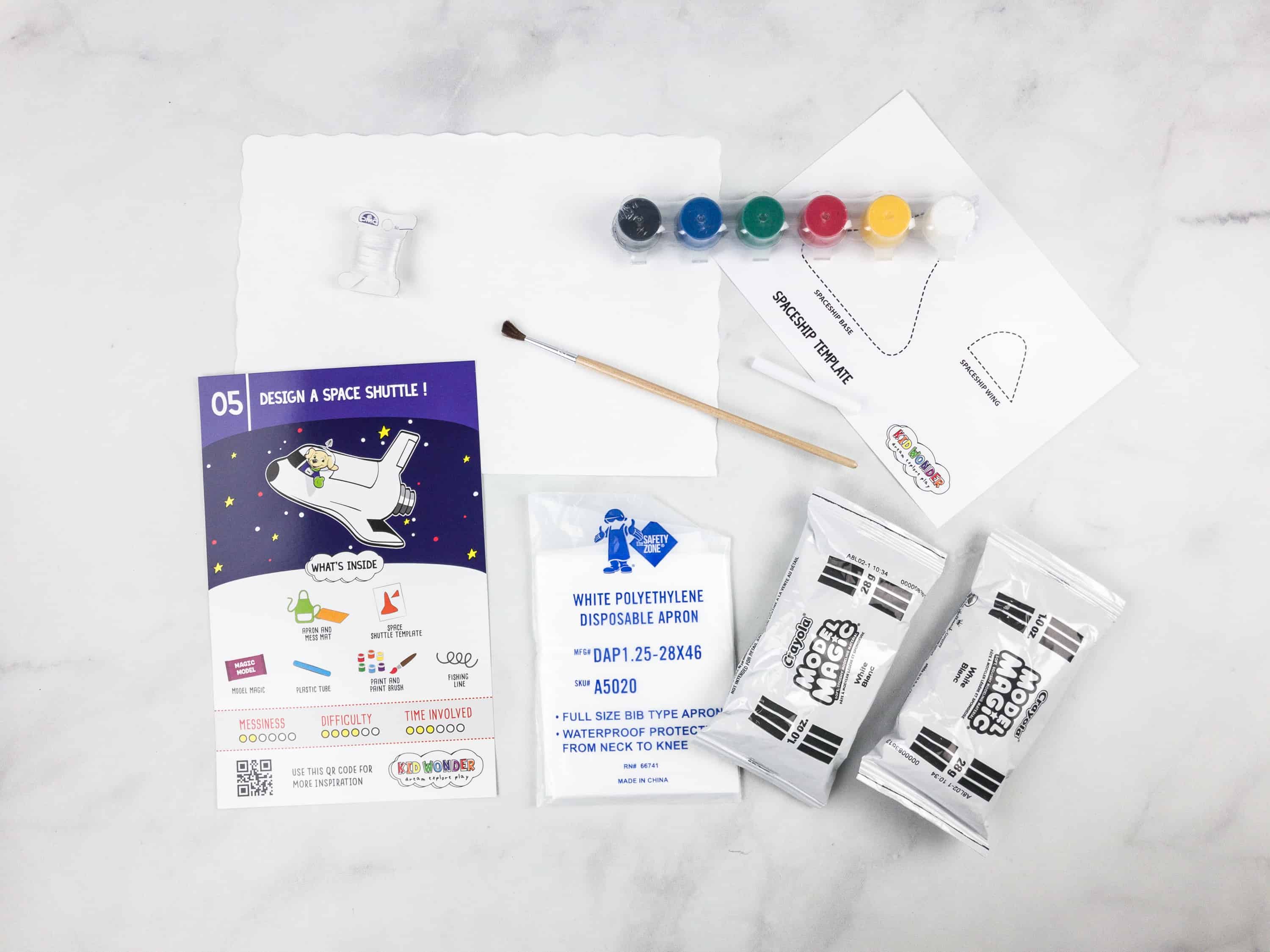 Activity Pack 5: Design a Space Shuttle. The last kit consists of another apron and mess mat, a space shuttle template, model magic, a plastic tube, paint, paint brush, and a fishing line.
My daughter started to form the shuttle parts using the air dry clay and the template. I have to be honest – even though this box is aimed at 3-6 year olds, all of my kids loved it.
We waited for it to dry!
After all the parts have dried and hardened up, the next step is to paint it!
It's a bit messy, but my kids definitely had a great time!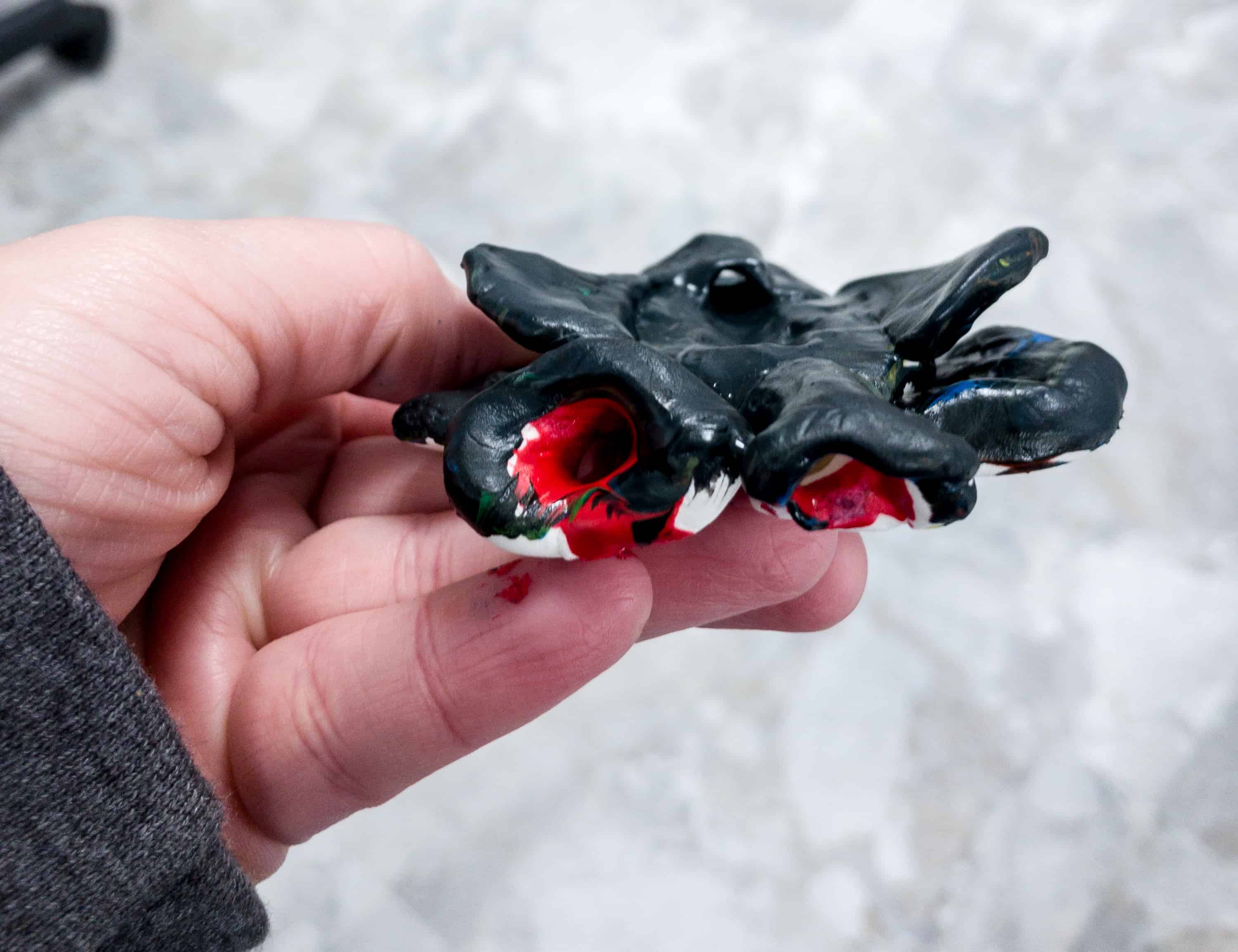 They wanted to come up with a dark or a totally black space shuttle but added some rockets' red glare.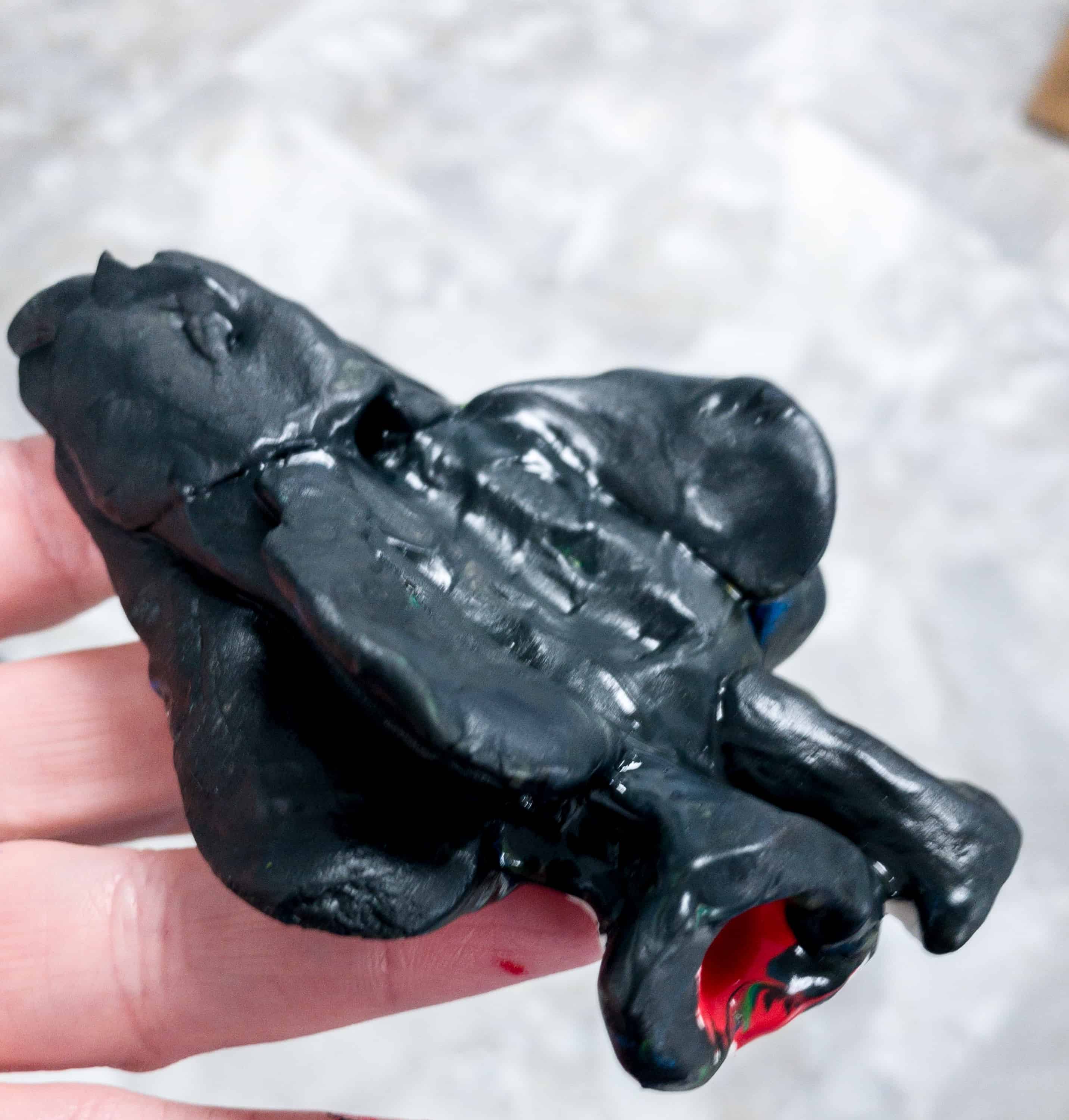 Great job, kids!
We also added glitters for some sparkly effect on our space shuttle! This wasn't included in the box, but the fishing line was so we could have a space shuttle zipline!
This month's activities from Kid Wonder Box One made use of the kids' creativity and imagination while teaching them about science too. The mini mag definitely helped them a lot to understand how it's like to be an astronaut, and how wonderful it is to encounter out-of-this-world stuff. It's a great box to keep the kids busy and to let them explore and play with various themes. Everything is enjoyable and the experience is awesome. We thought this box was jam packed with activities and didn't rely on extension activities (we haven't even made it to the QR codes yet!), so it was all action. You could do a project every day for a more intense camp experience during the summer, or one every week. There's a ton in here, so we thought it was super high value, and our kids thought it was totally rad!
What do you think of the Kid Wonder Box?
Visit Kid Wonder Little Dreamers Box to subscribe or find out more!