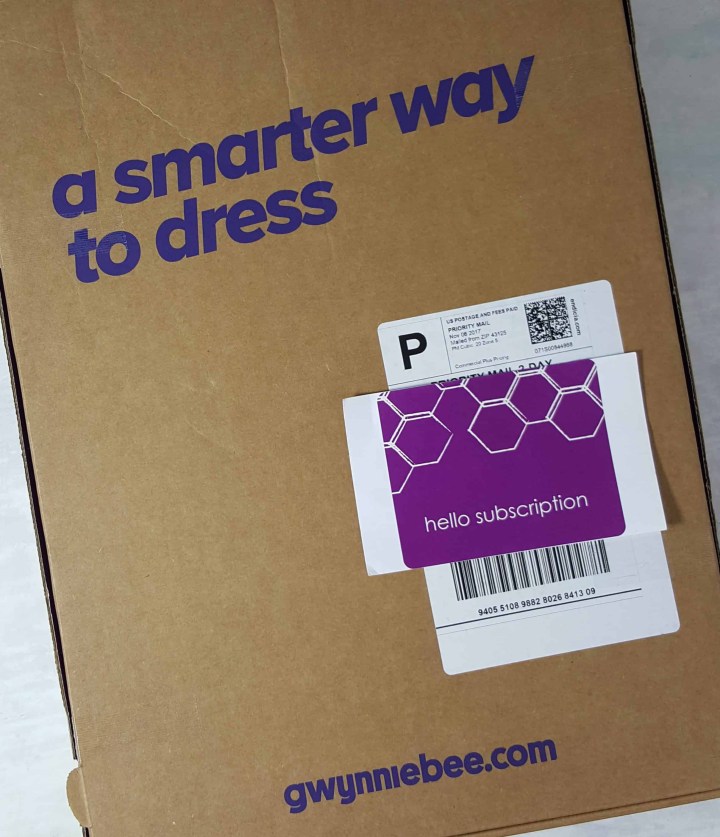 Gwynnie Bee is a clothing rental subscription service for sizes 10-32. To start, browse through the numerous apparel pieces and add items to your closet. After you've selected 25+ items, Gwynnie Bee will send you the first three that are available. There is also a feature that lets you prioritize items, so you can have some control over which items are more likely to arrive. Wear for as long as you like, and then return the pieces to get more!
DEAL: Currently, when you sign up for Gwynnie Bee you can get your first month for FREE, (no code needed, just use the link) which is an awesome way to just try it out and see if you love it.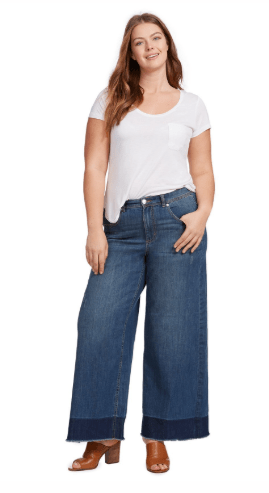 Love & Legend by Addition Elle | Wide Leg Released Hem Jeans: A striking update to daytime denim, Love & Legend by Addition Elle's wide leg jeans feature a raw-edge cuff and relaxed fit.
I loved the retro and boho vibes these jeans were giving me. To keep that feel going, I paired these with a cropped peasant top and wedge espadrilles. The look was topped off with a neutral bead and rope long necklace. While these were super comfy (seriously, I could've slept in these), I think they were meant for someone with slightly longer legs. I'm 5'7″, but I have shorter legs and these didn't look as good as on the model. Plus, I tripped on the legs a few times trying to walk up the stairs in my house. Maybe I'm out of practice… the last time I wore pants this wide, I was in college (anyone else remembers wearing JNCOs???).
Plenty by Tracy Reese | Utility Jacket in Denim: Breathe utilitarian cool into your day-off mix with this denim jacket from Plenty by Tracy Reese. A casual option with endless style options, we love how the multiple pockets add a sartorial edge.
GB Exclusive: This unique design is only available to the Gwynnie Bee community.
I absolutely LOVED this jacket. It has a slight amount of stretch, which I feel gives it a more comfortable fit. The jacket is also a lighter weight denim and can be worn throughout the year. Yes, it's a casual piece, but it can be smartened up. I paired this with a patterned cami, maxi skirt, and sneakers for a day of running errands. I'm regretting that I didn't buy this, but I just didn't want to part with $68.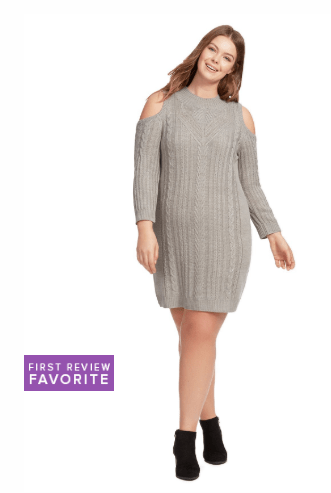 Jessica Howard | Cold Shoulder Mock Neck Sweater Dress: A cable knit sweater dress is the most indulgent choice this season, and Jessica Howard ups the look with trendy cold shoulder cutouts.
So normally, I'm not a big fan of the cold shoulder trend or knit dresses, but I decided to add this to my closet anyway. I'm so glad I did. I got a lot of compliments on this look. I was most surprised that the dress didn't lose its shape as the day wore on (this picture was taken AFTER a full day at work). The model is wearing this with booties, which I would have done if the weather had been cooperative. It was chilly the day I took the picture, so I'm wearing tights and knee boots.
I love that Gwynnie Bee gives me the chance to try out pieces without any guilt. It's like having an amazing closet full of your size with unlimited possibilities. I can wear the pieces as much as I want, and I don't have to do laundry (because they clean the items when I return them). Plus, if I love something, there's the option to buy it. And, if I absolutely hate something, I can send it back – no sales associates to deal with or receipts to find. Can't wait to see what comes in my next box!
What did you think of my fashion choices? Share your thoughts with a comment below.