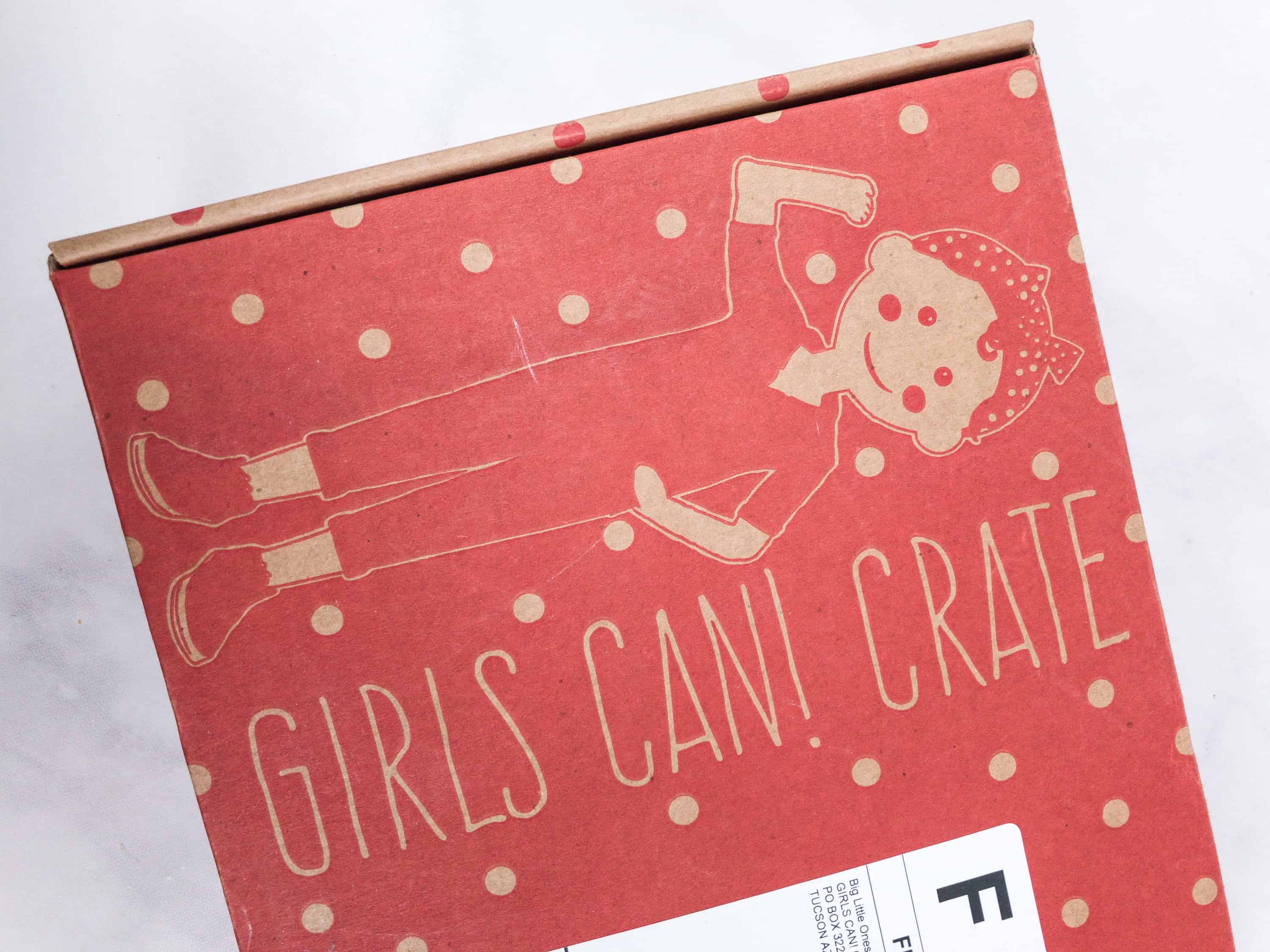 Girls Can Crate  is a monthly subscription for children between 5 and 10 years of age that promotes the idea that girls can do whatever they set their minds to. Each month features a different female pioneer whose story inspires girls to achieve. Each box includes a 20-page activity book that includes the heroine's story, 2-3 STEAM activities, and creative play props. Boxes cost $29.95 each month with themes that celebrate female pioneers from diverse backgrounds, but the activities themselves are usually gender neutral.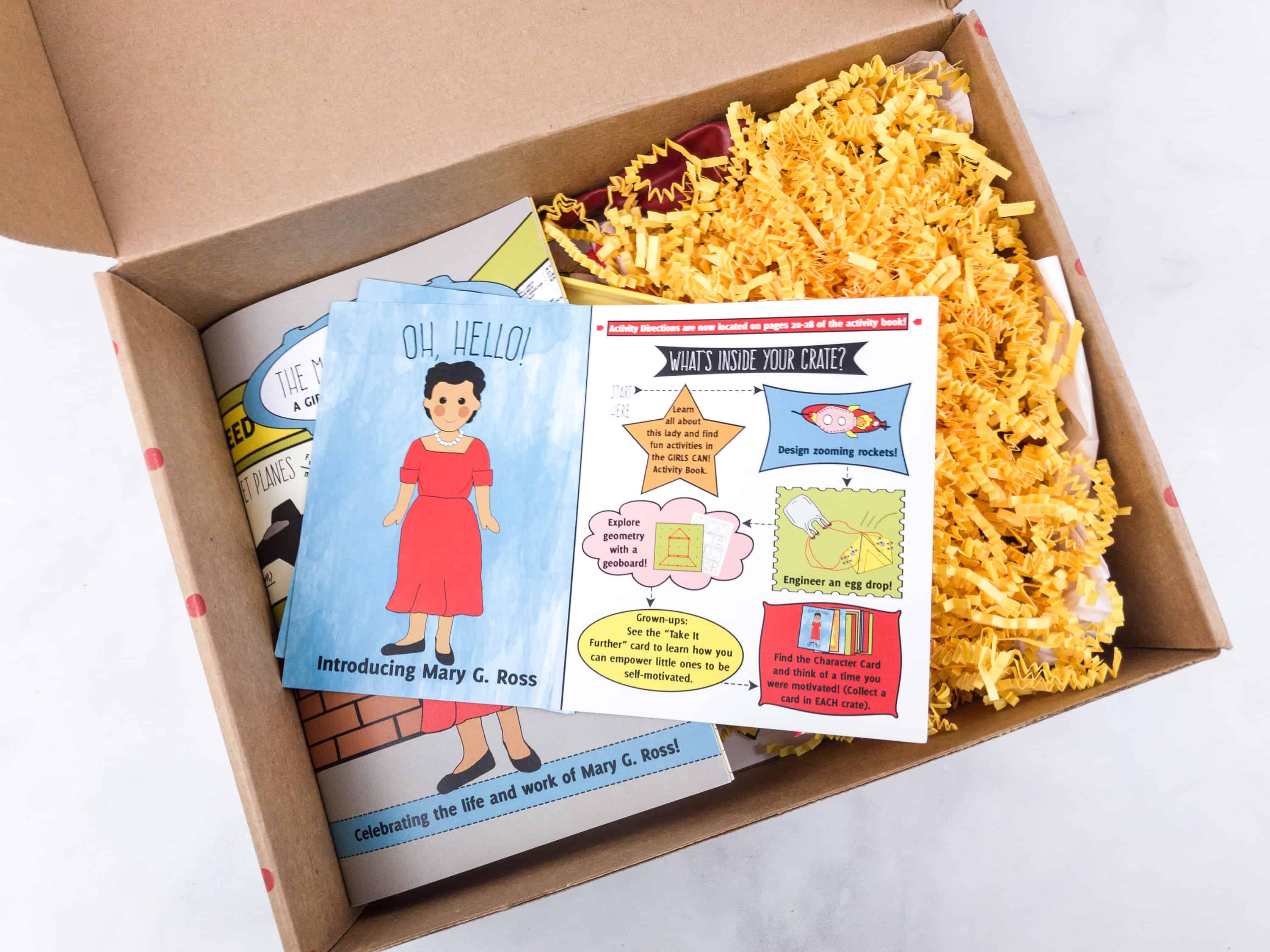 This month celebrated the life of Mary G. Ross.
DEAL: Save 15% on your first box! Use coupon code HELLO15.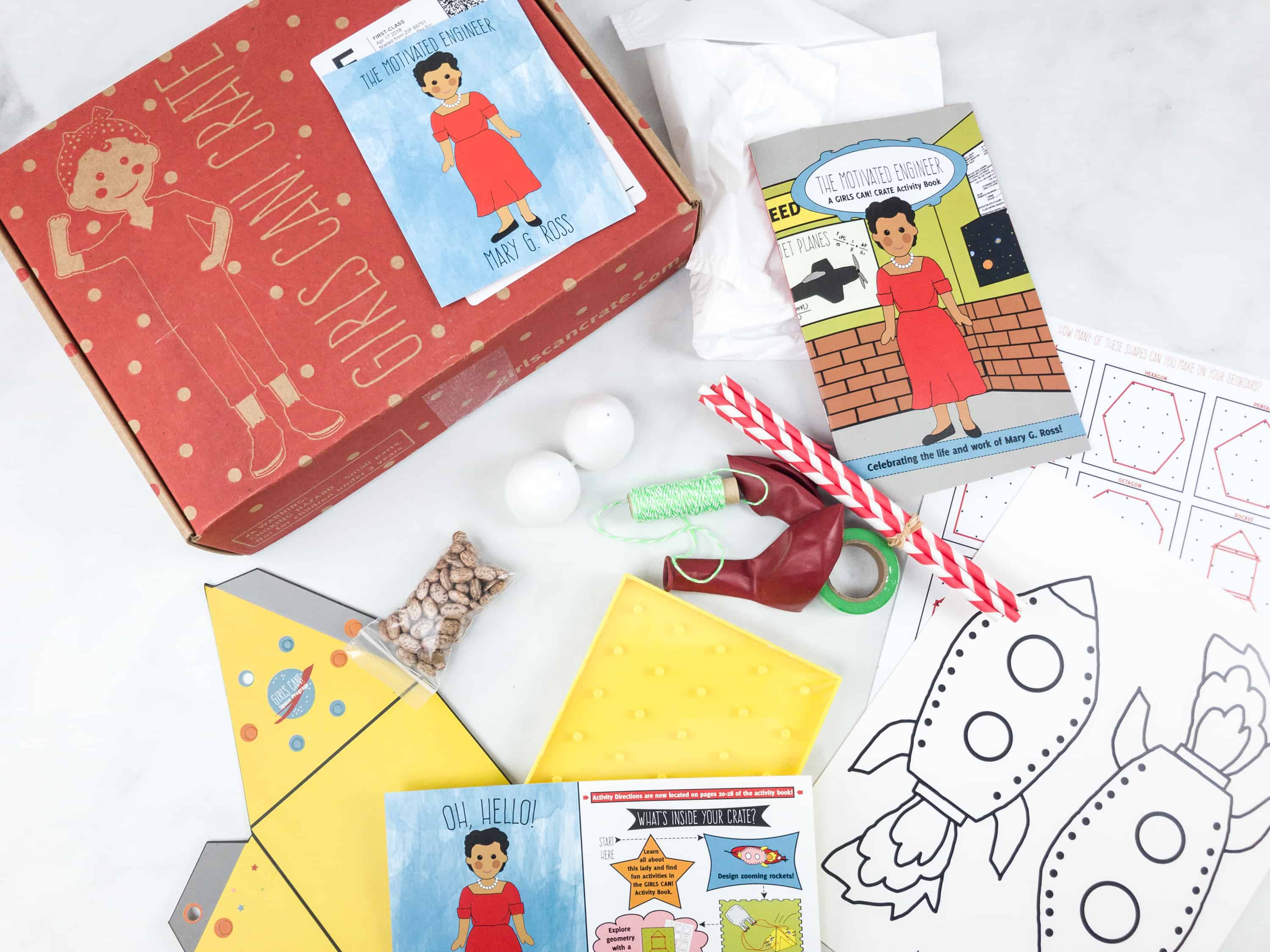 Everything in the box!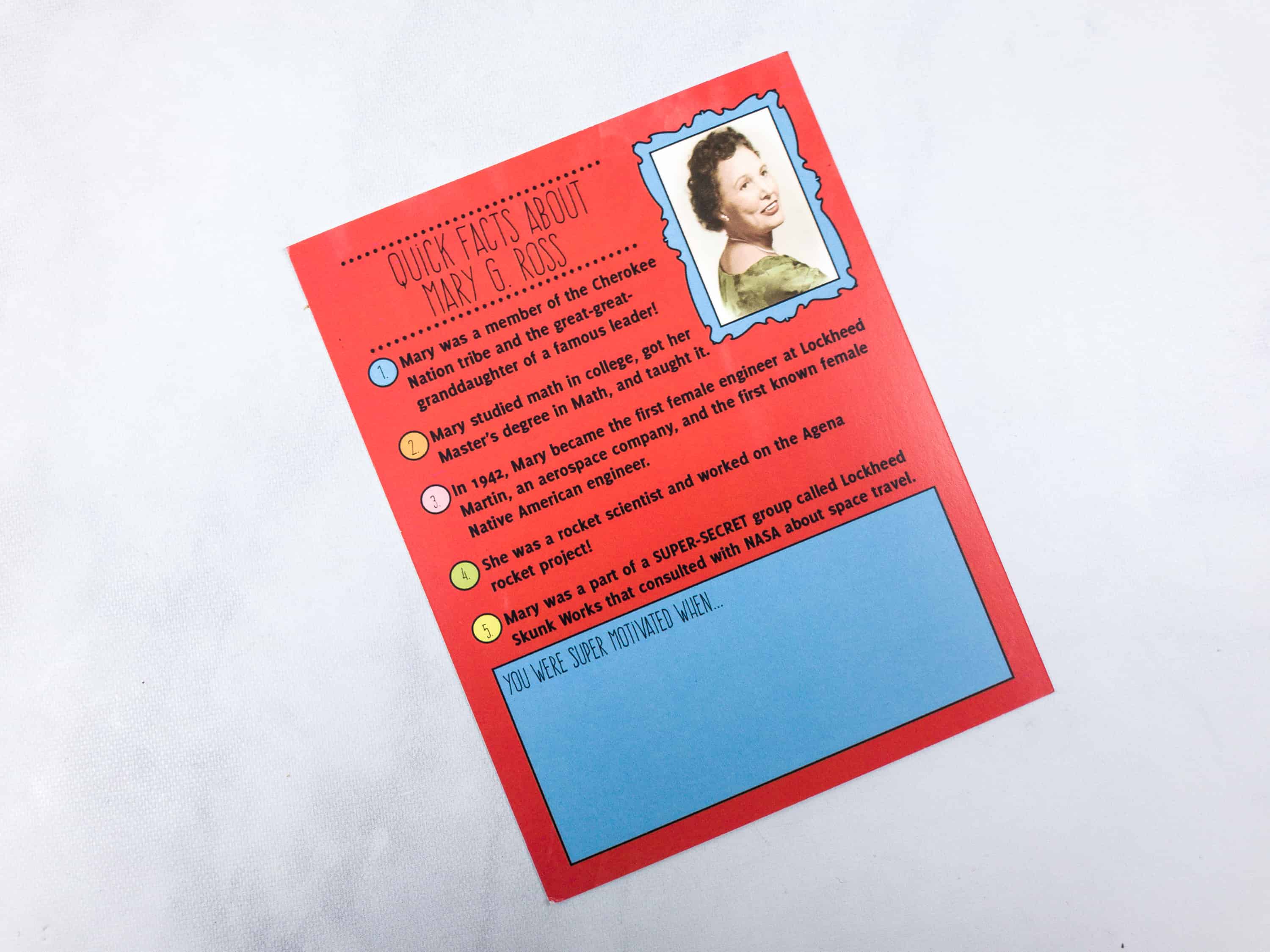 The card contains trivia about this month's heroine!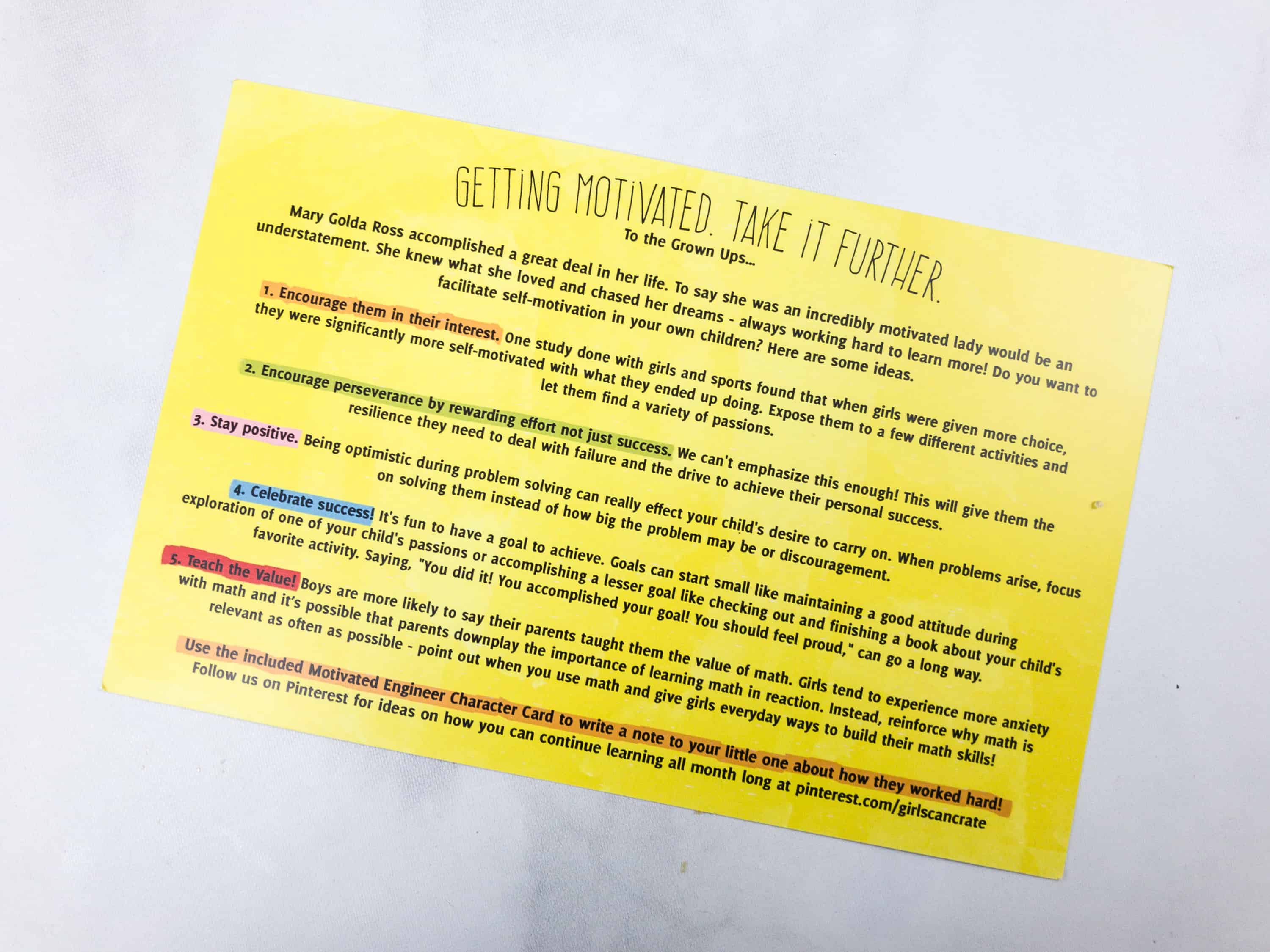 Meanwhile, the pointers are all about getting motivated!
There's an art print featuring Mary G. Ross.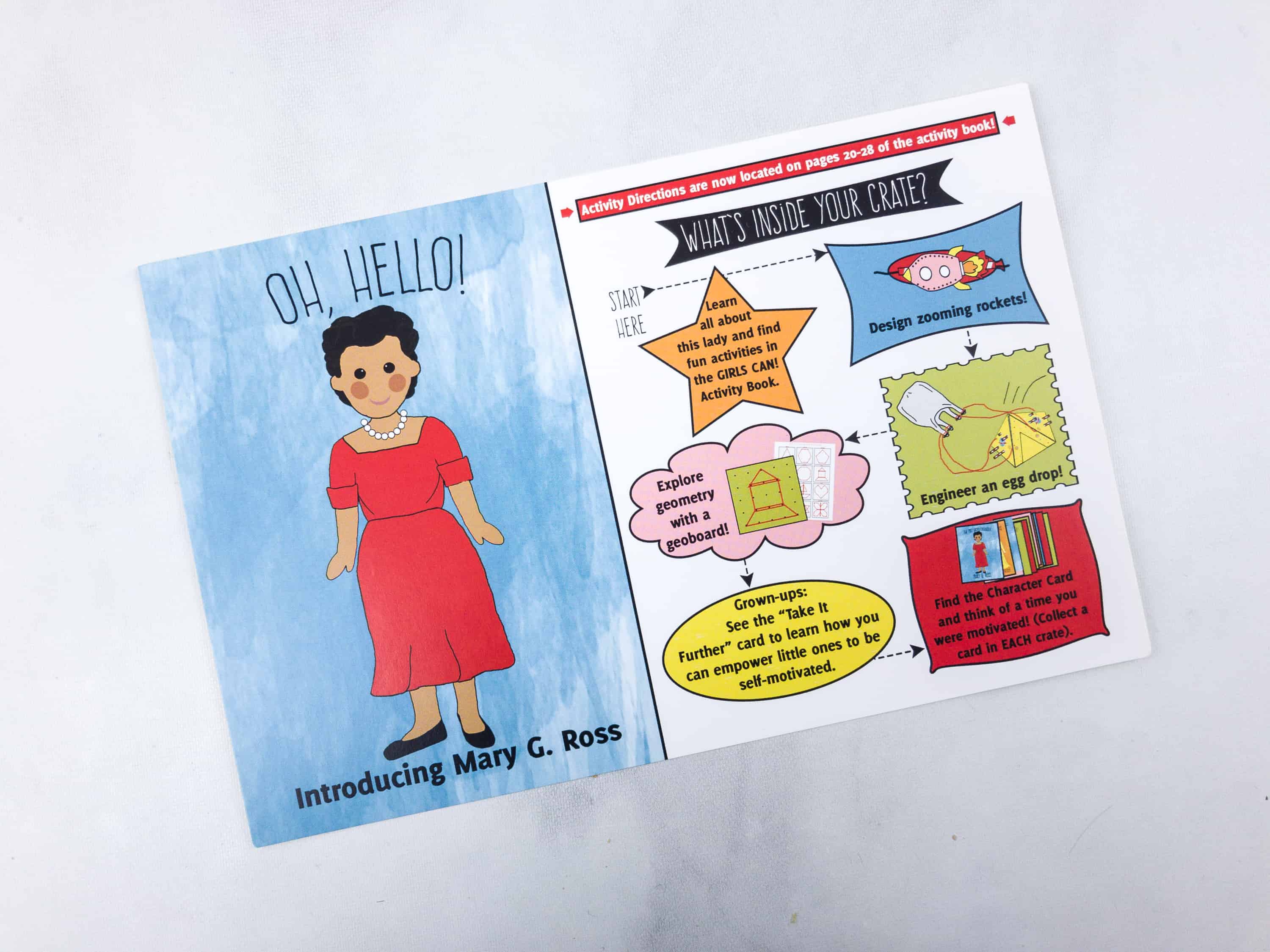 There's also a pamphlet that lists what's inside the crate.
The Motivated Engineer is the title of this month's activity book.
Mary G. Ross was born in Oklahoma in 1908. She was a member of the Cherokee Nation, a Native American tribe who reside primarily in Oklahoma. Her great-great-grandfather was a famous chief!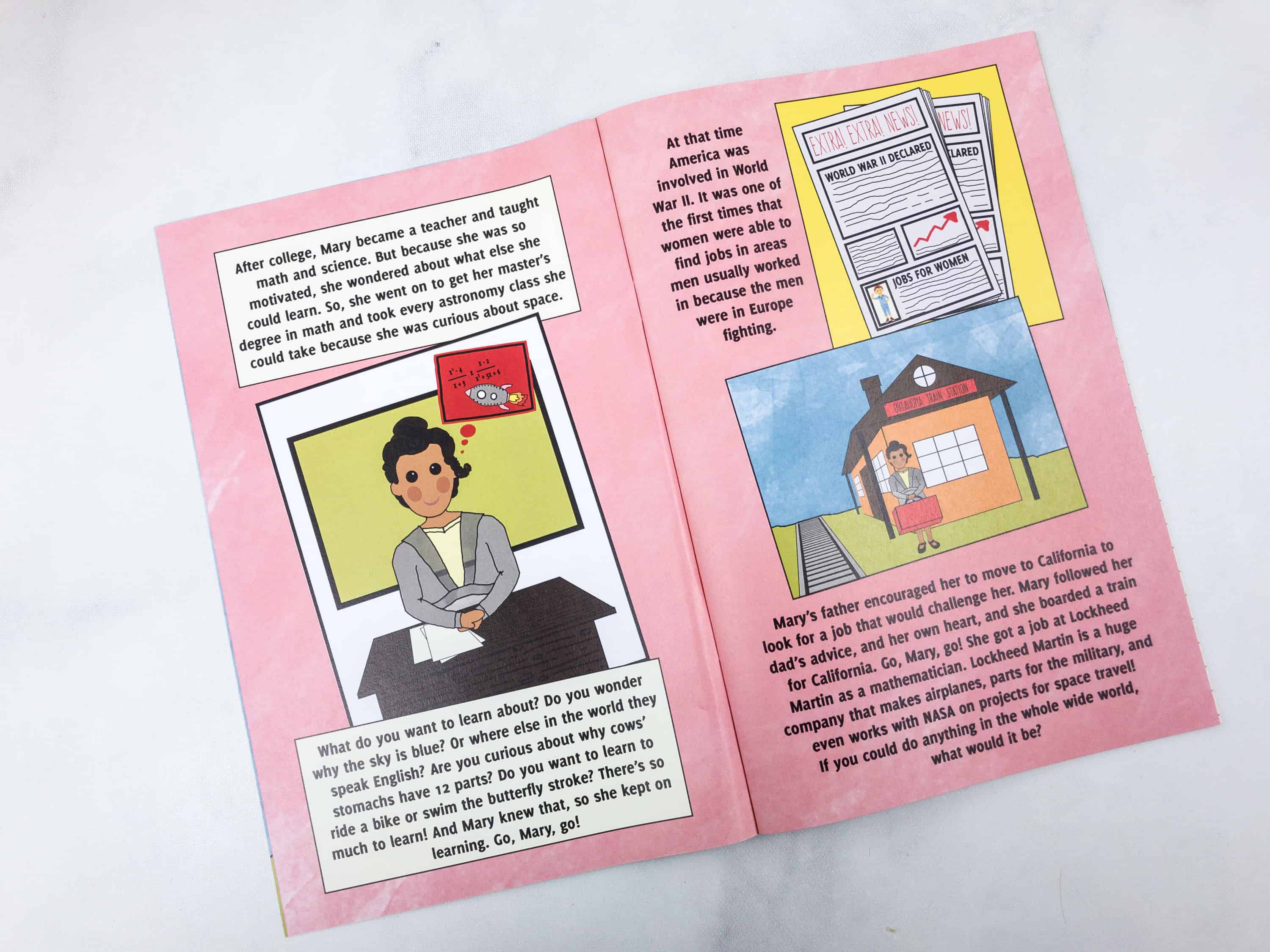 The booklet tells her story, and it's also accompanied with illustrations. Mary G. Ross taught math and science after she graduated from college, and because she felt that she could learn anything, she even took astronomy classes. I like how this booklet also asks kids what they are curious about!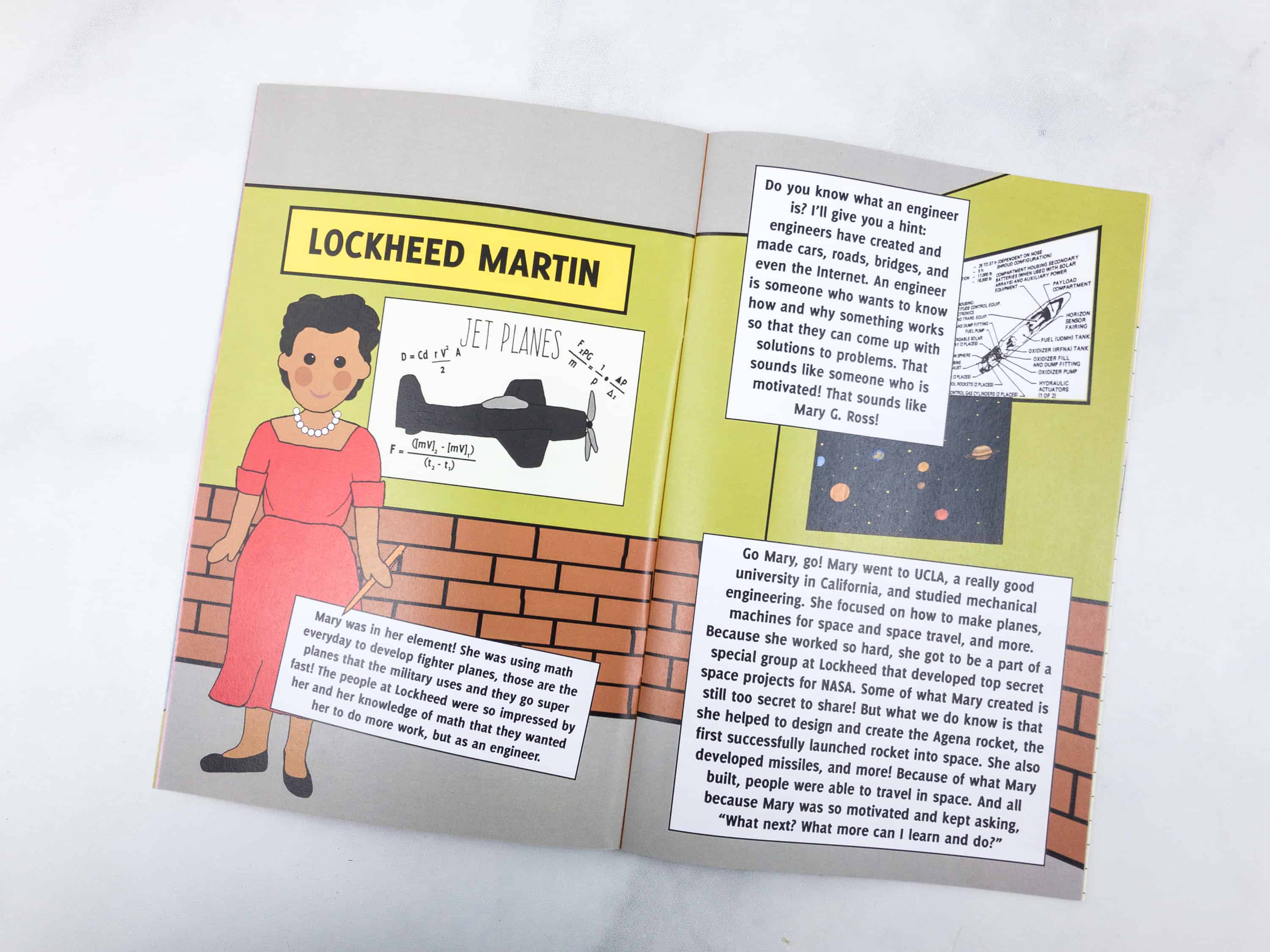 Our heroine had a lot to contribute during World War II. Her knowledge in math and science allowed her to help engineers develop lighter fighter planes that were used to win the war. She studied further so that she was able to come up with designs for machines that are being used today. What an inspiring woman!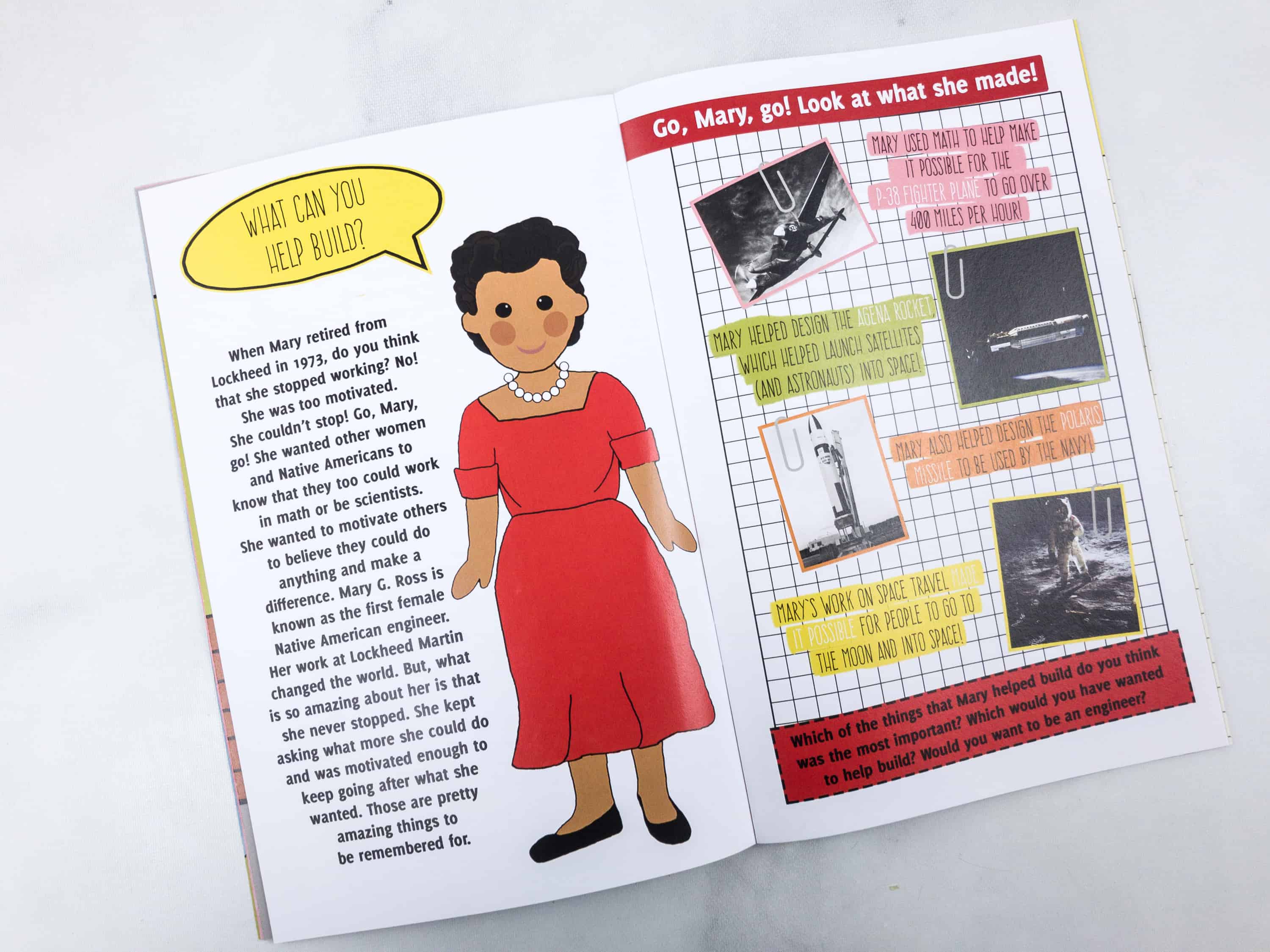 Even after she retired, she was still encouraging women to be who they wanted to be. She's the first-ever Native American Engineer! How cool is that?
More trivia about the Cherokee Nation were also included. The other page is for an activity where you need to find the difference between the two pictures.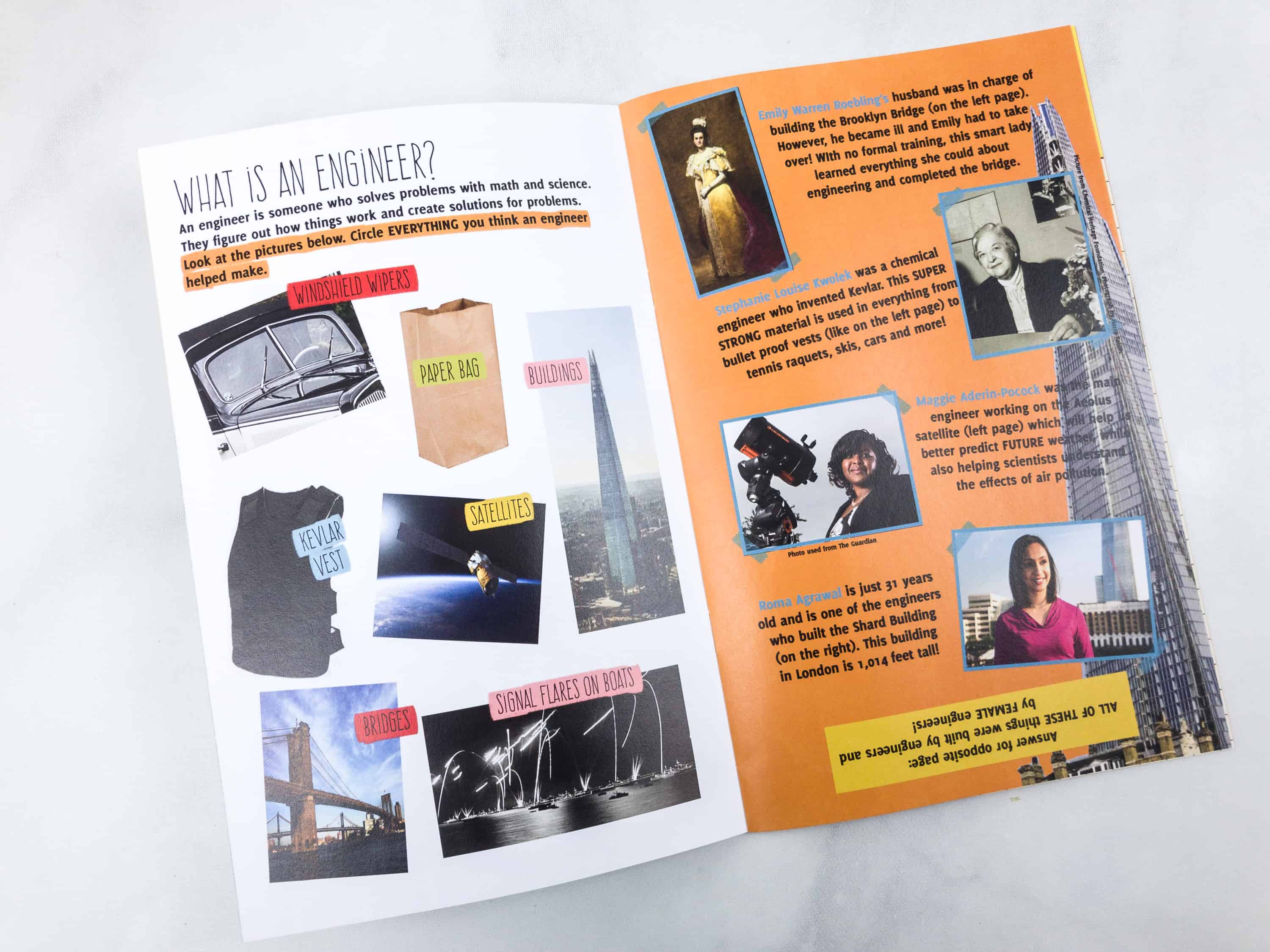 Another interesting feature is about engineers and what they do. They even listed other notable women who made a mark in the world of engineering.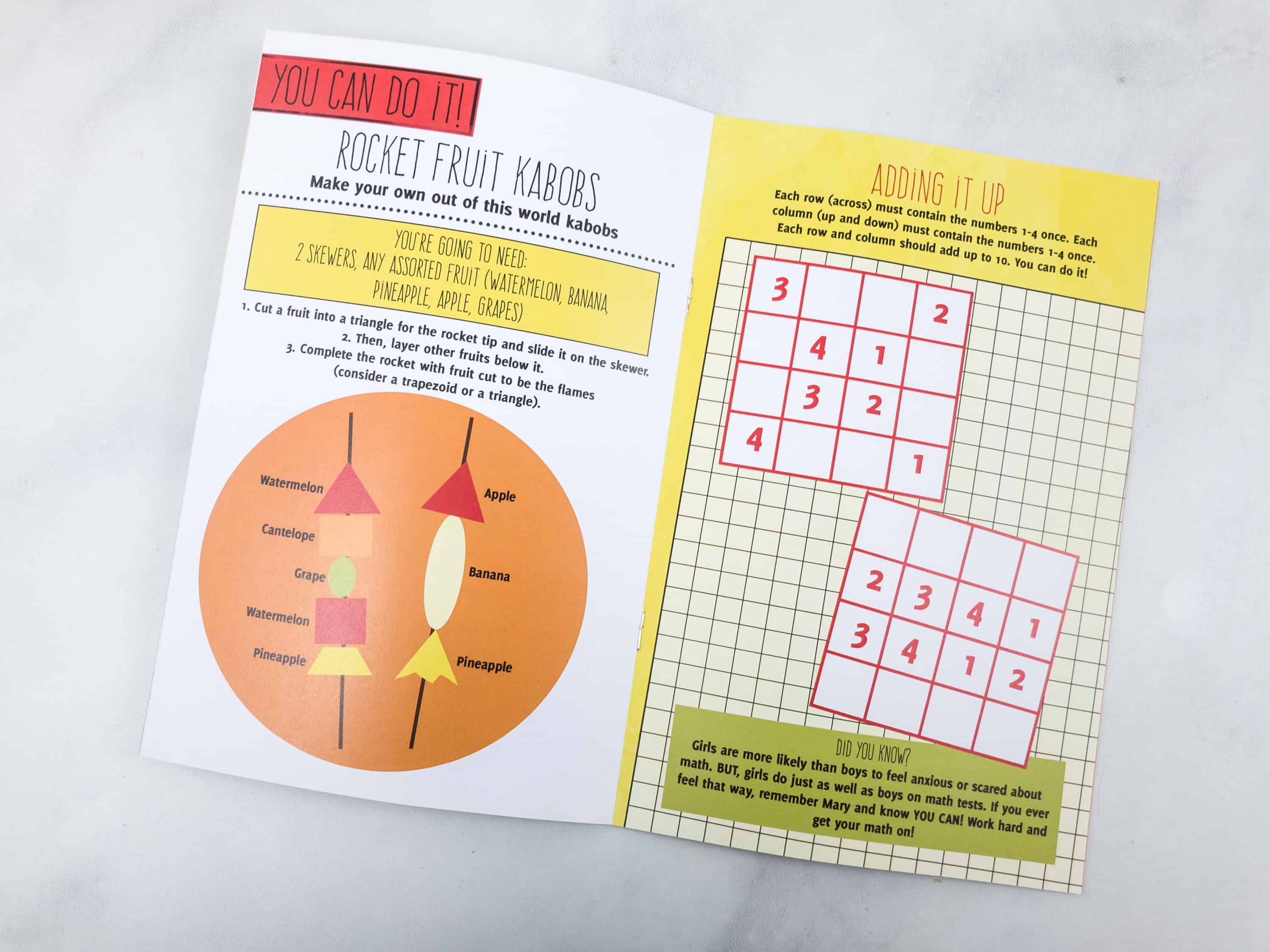 Since engineers build things, making fruit kabobs can be a good place to start. Rocket fruit kabobs sound good! The recipes are already included so a little shopping is in order. The other page is designed to test the kids' skills in math.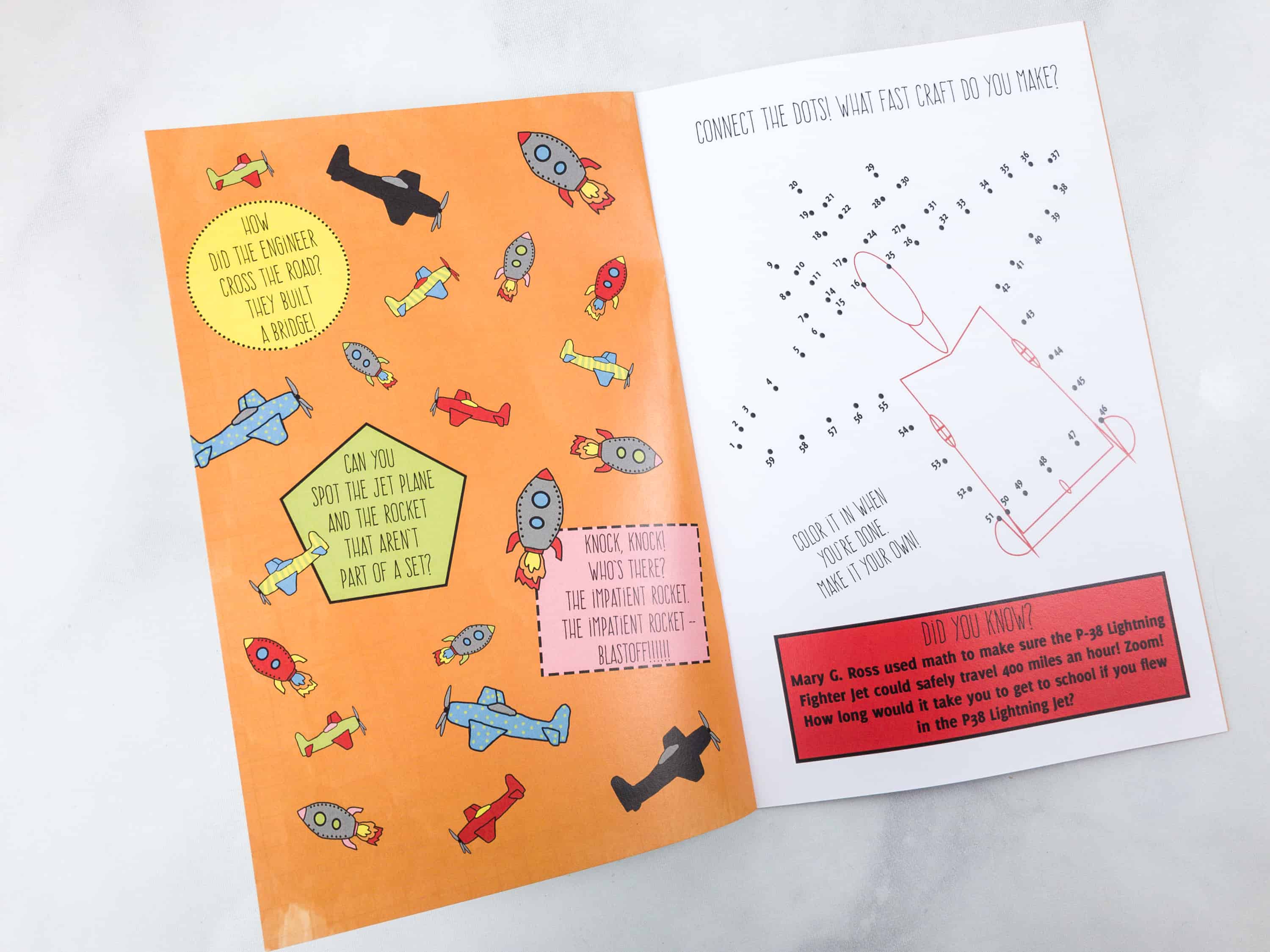 More fun activities!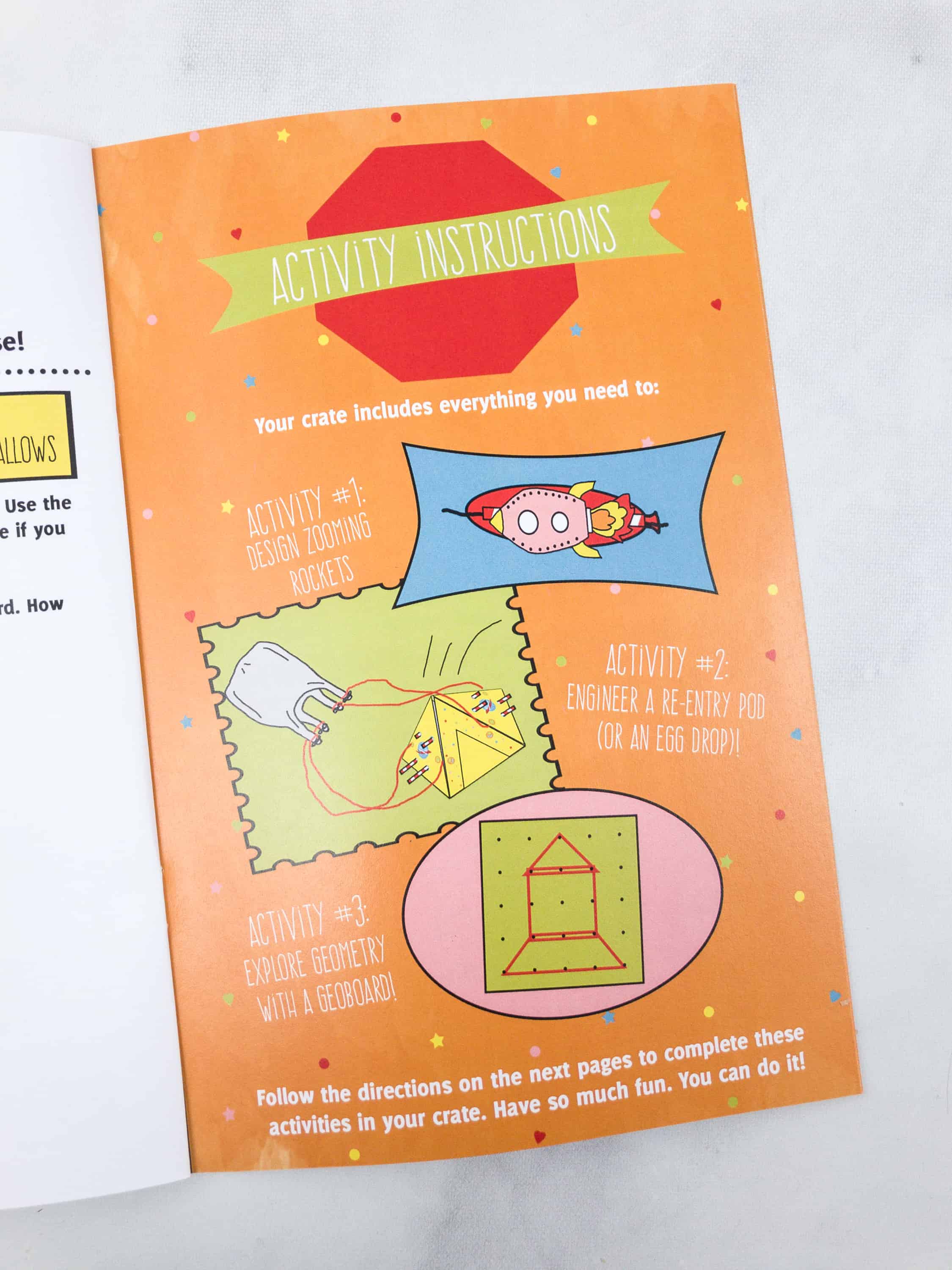 This month's hands-on activities include the following: designing zooming rockets, engineering a re-entry pod, and exploring geometry with a geoboard!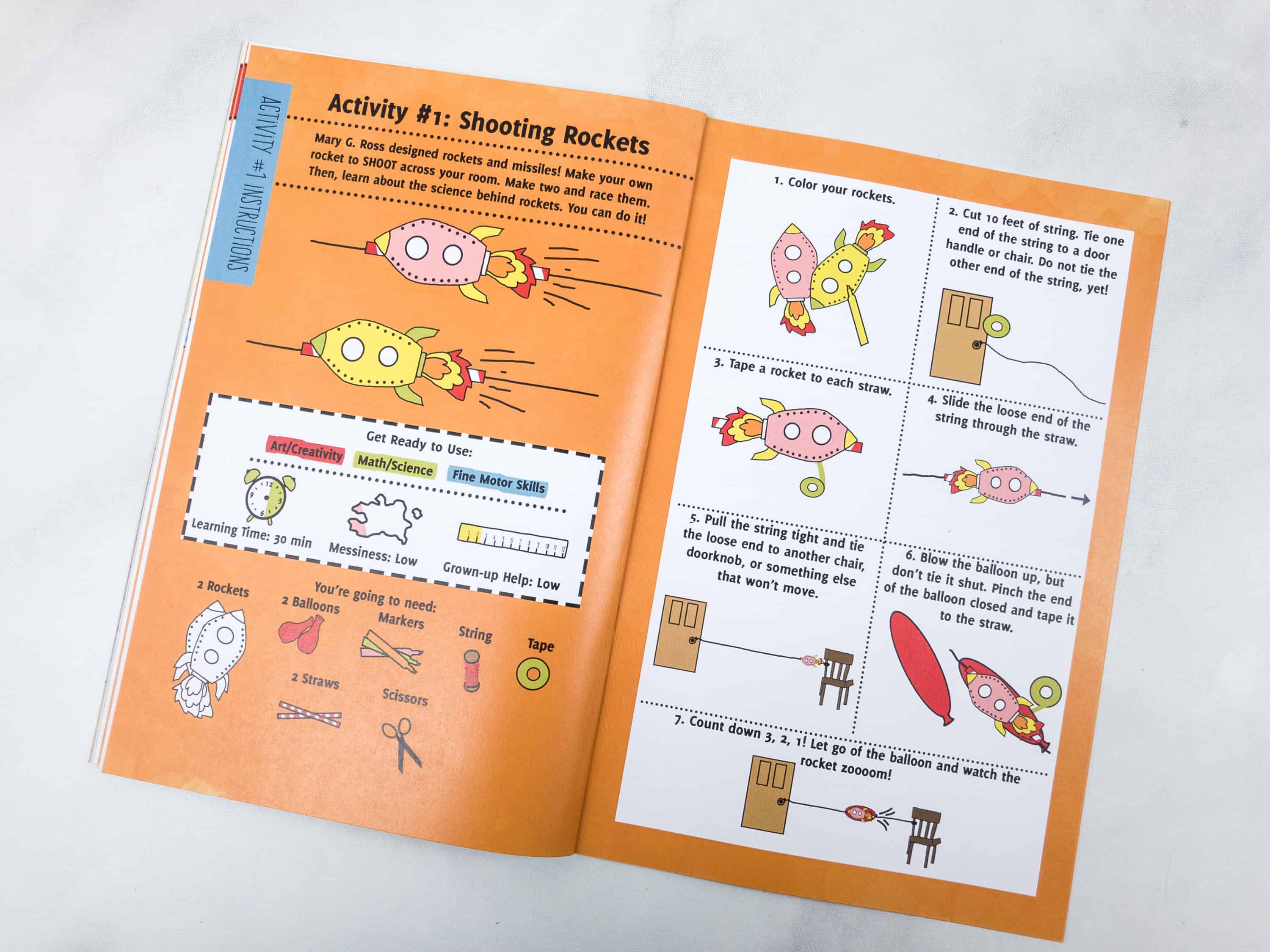 First up, we're making zooming rockets! Mary G. Ross was also tasked to design missiles and rockets, so this activity is just fitting for the crate.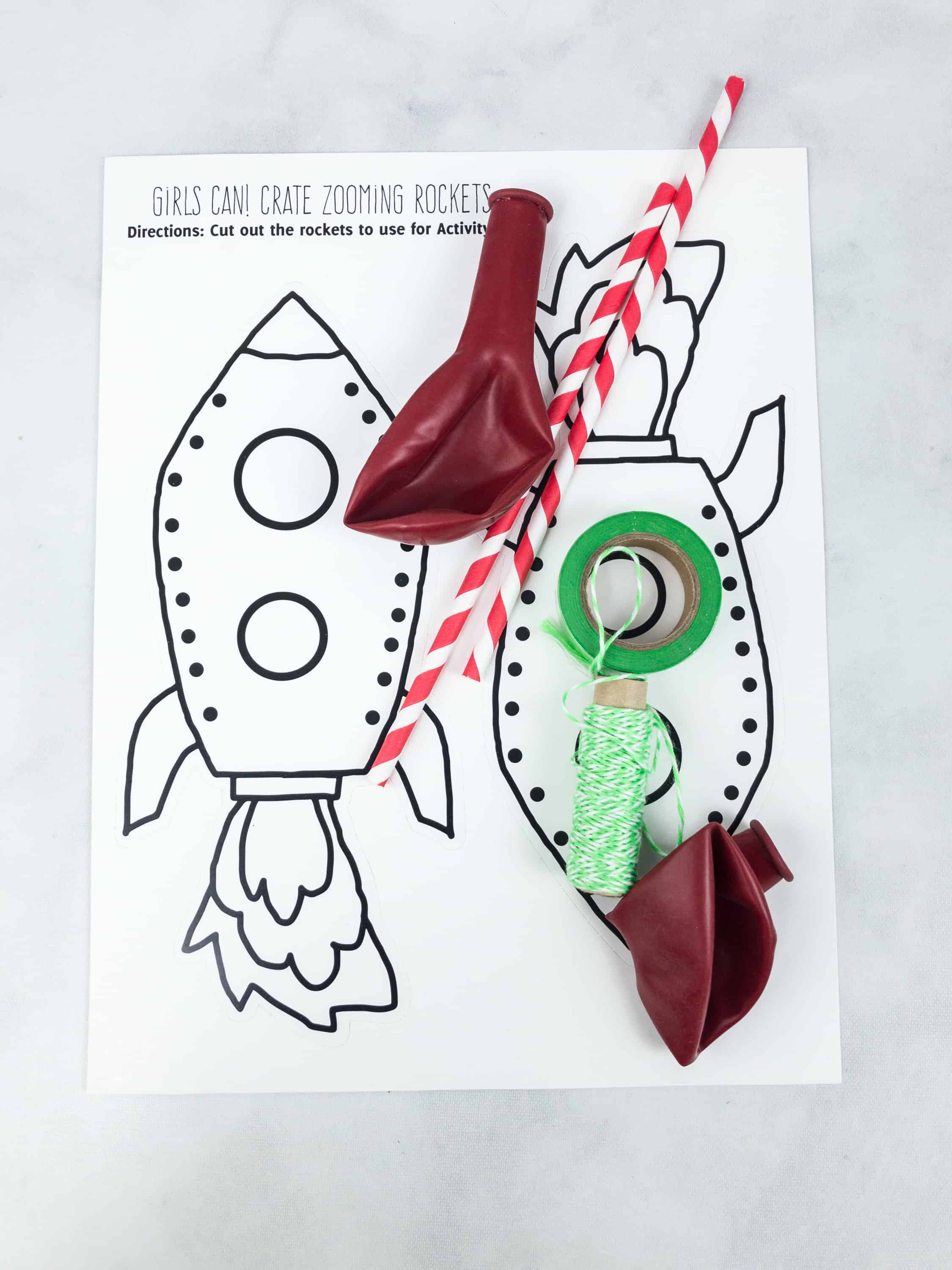 The crate provided all the materials needed for the activity, including balloons, straws, rocket ships, and thread.
After cutting the rocket ships out, it's time to color them!
My son colored his rocket blue!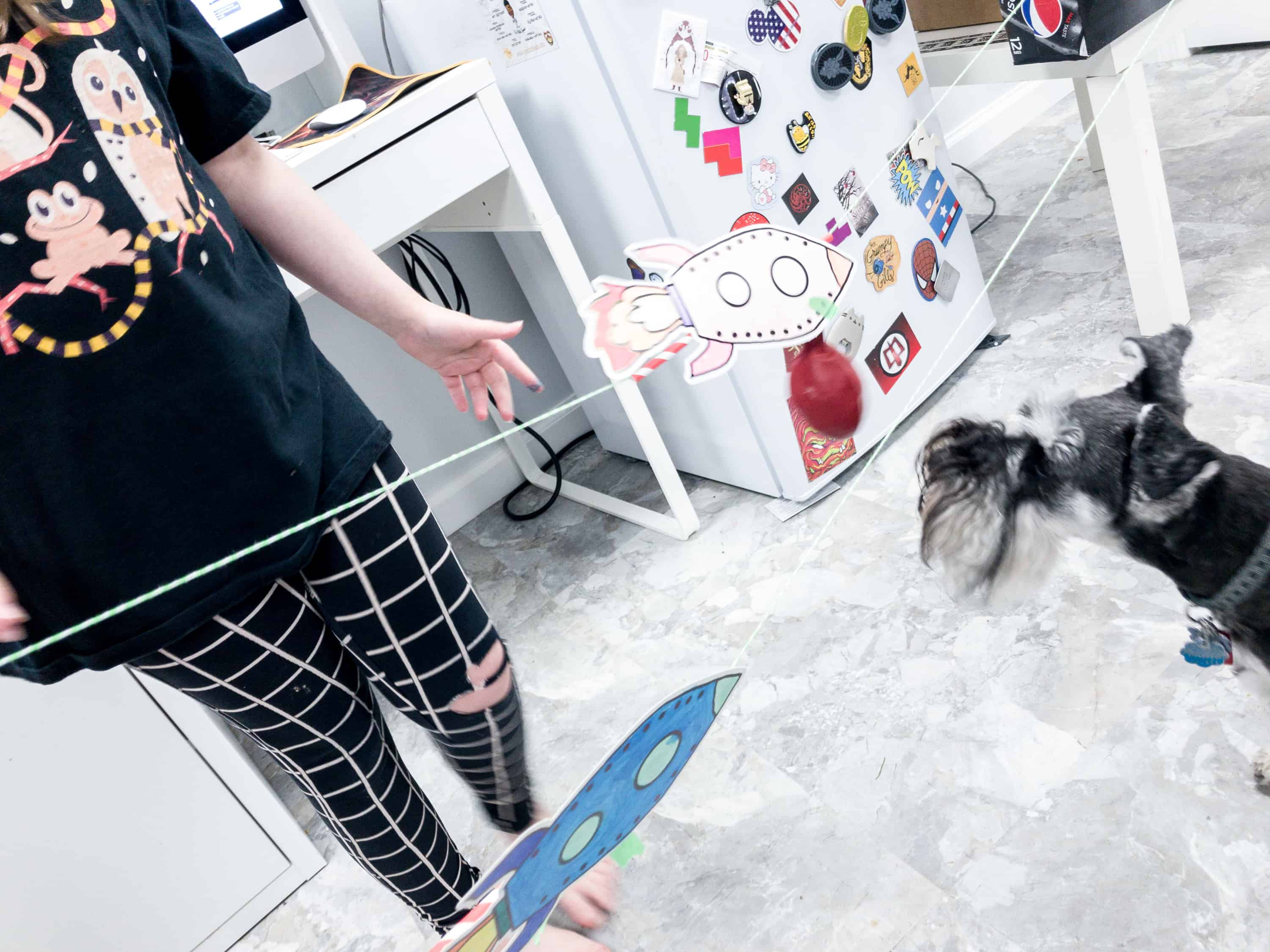 When done with coloring, you can now tie the string from one end of the room to the other end. Then, attach the balloon to the ship so that when you let go of it, the rocket will zoom straight to the other end. This was fun! Even our pup, Dean, thought it was awesome!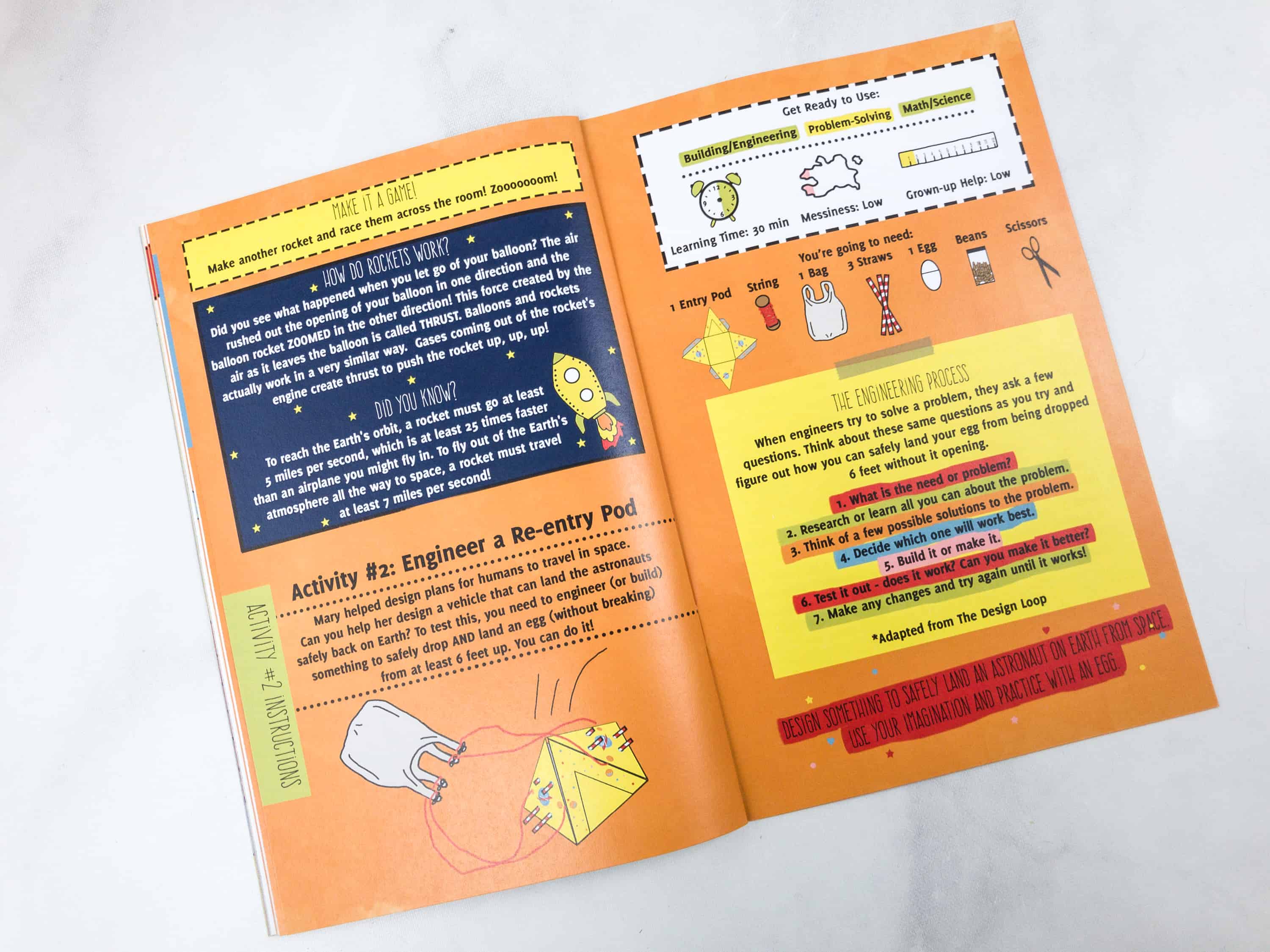 The booklet also explains the science of why your rocket shot to one end as the force of air came out in another direction. The second activity from the crate is making a re-entry pod.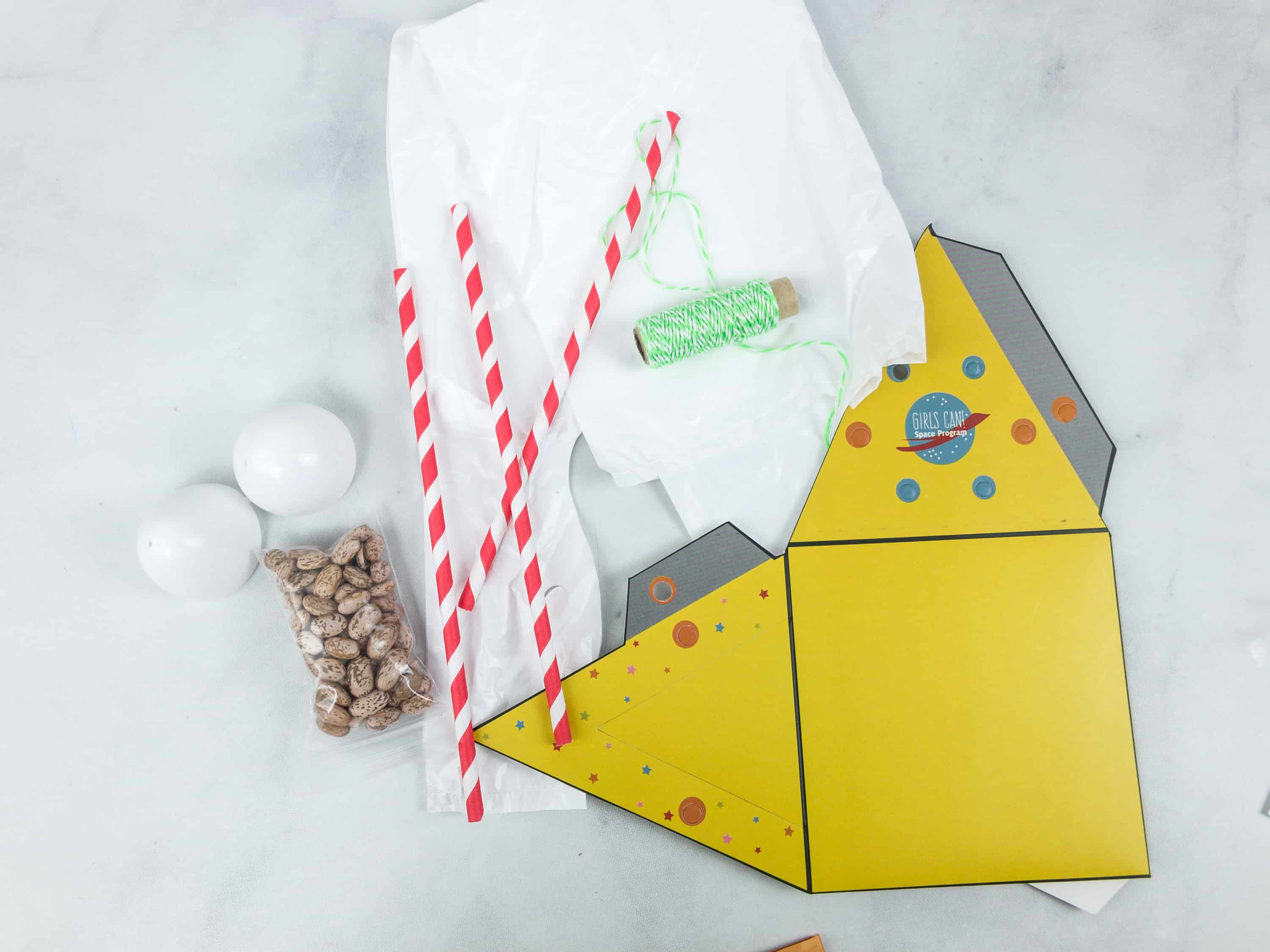 The materials provided for this activity include an entry pod, bag, string, straws, beans, egg, and scissors.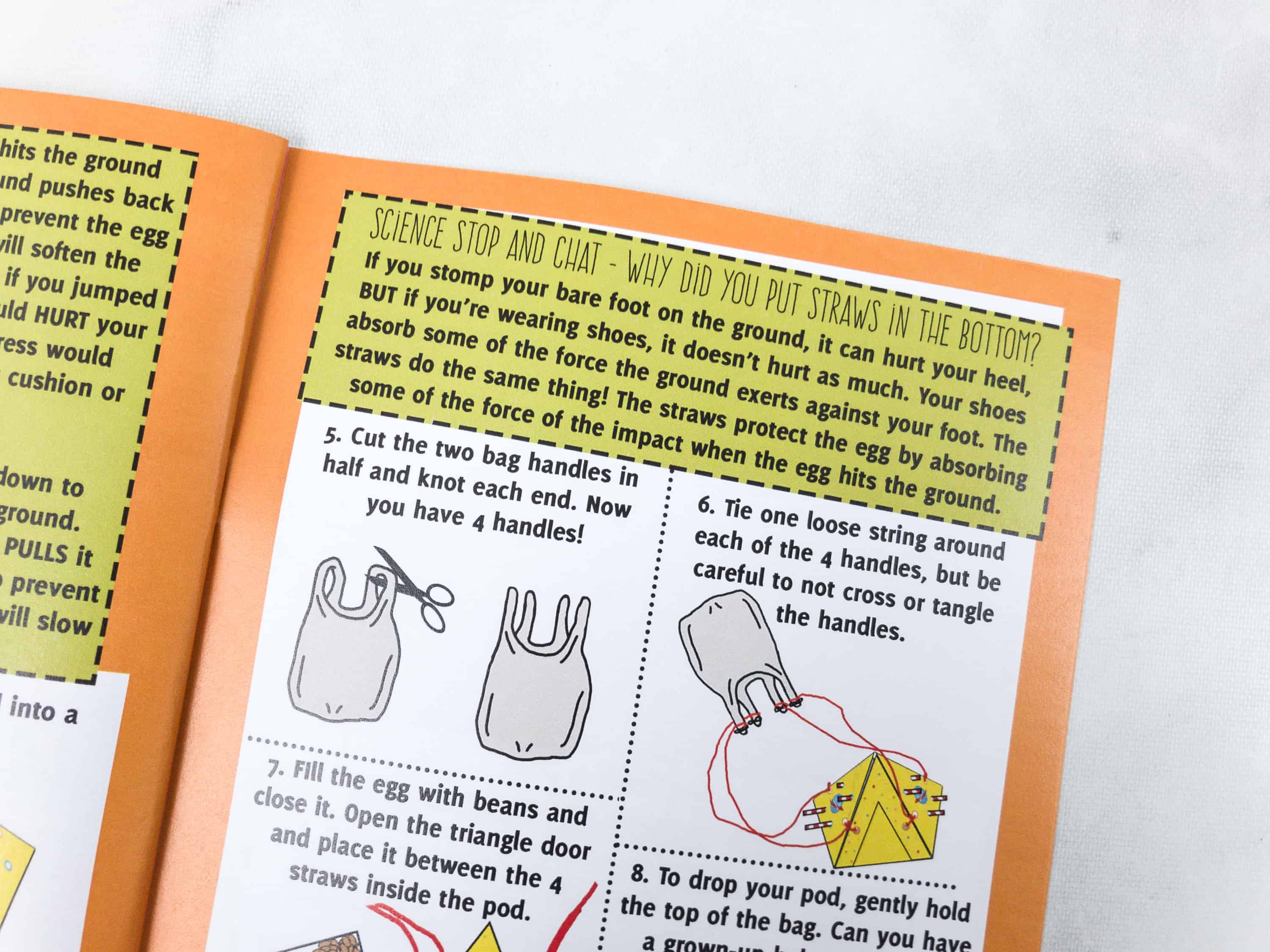 The purpose of the straw is to absorb the extra force upon landing so the egg (which was a plastic egg filled with beans) won't get damaged.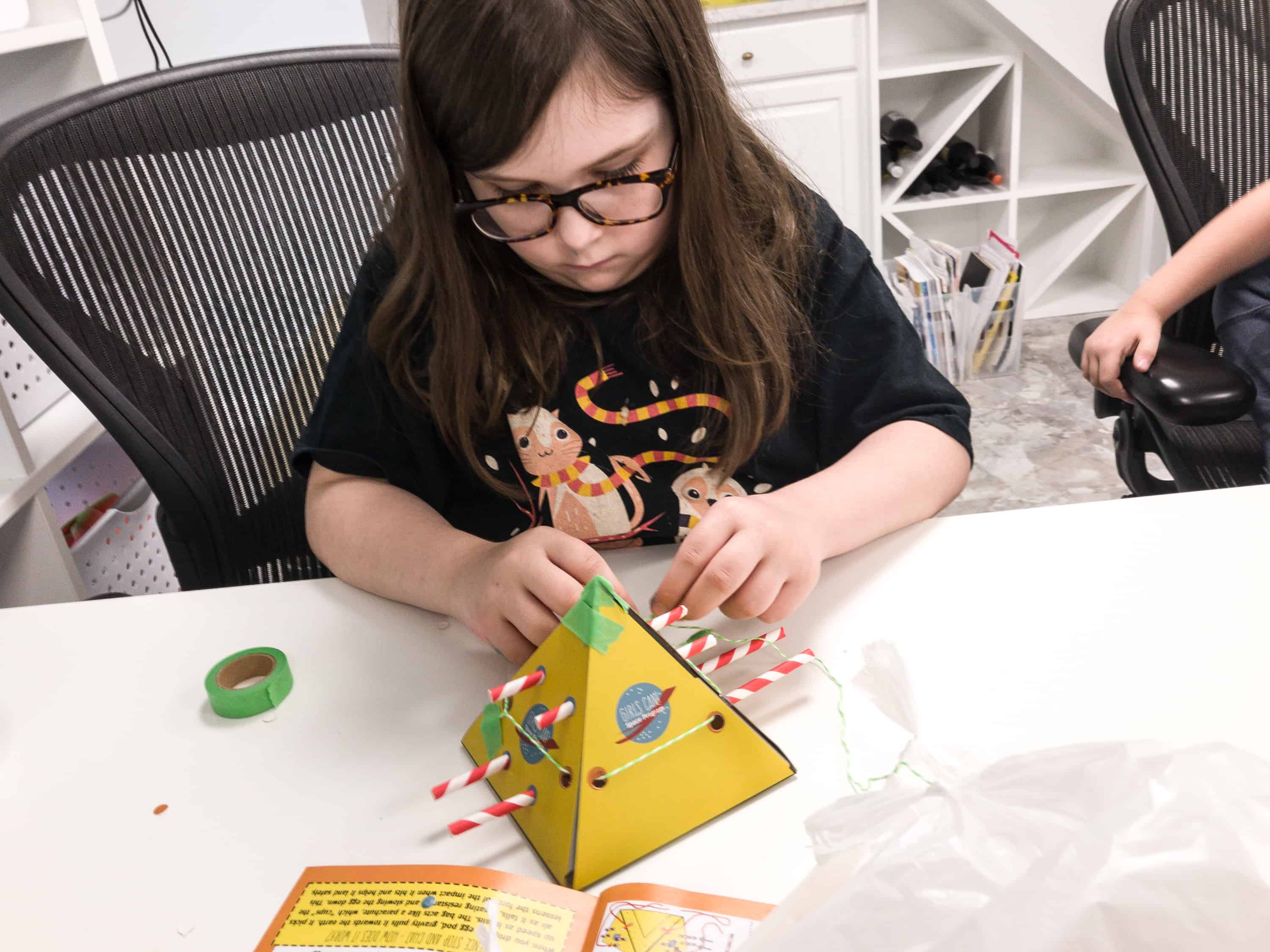 The straws should be placed accordingly. This is important as it will help protect the egg inside the box.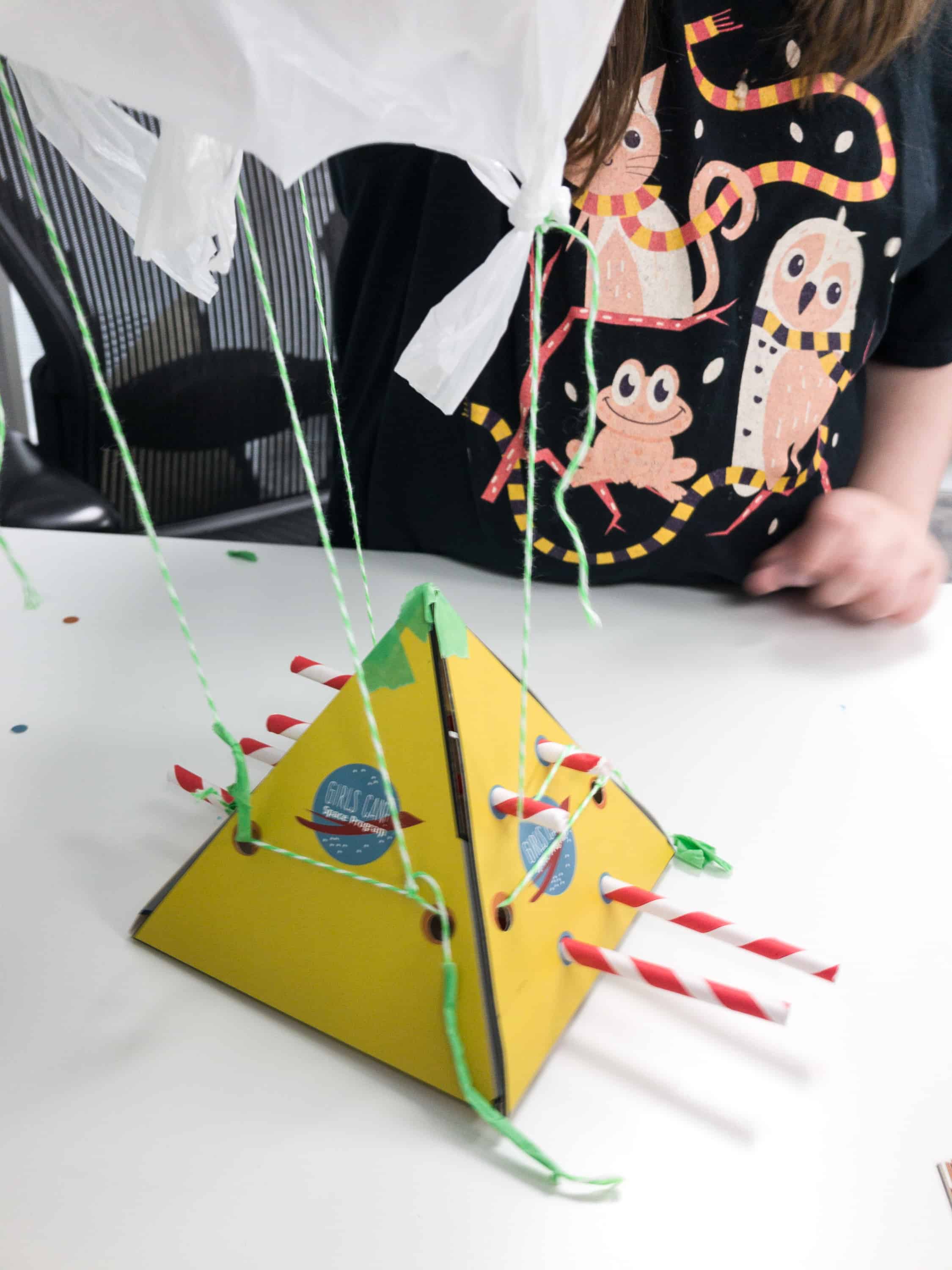 Tie the ends of the bag in such a way that the strings don't get tangled. This is an important aspect of your re-entry pod.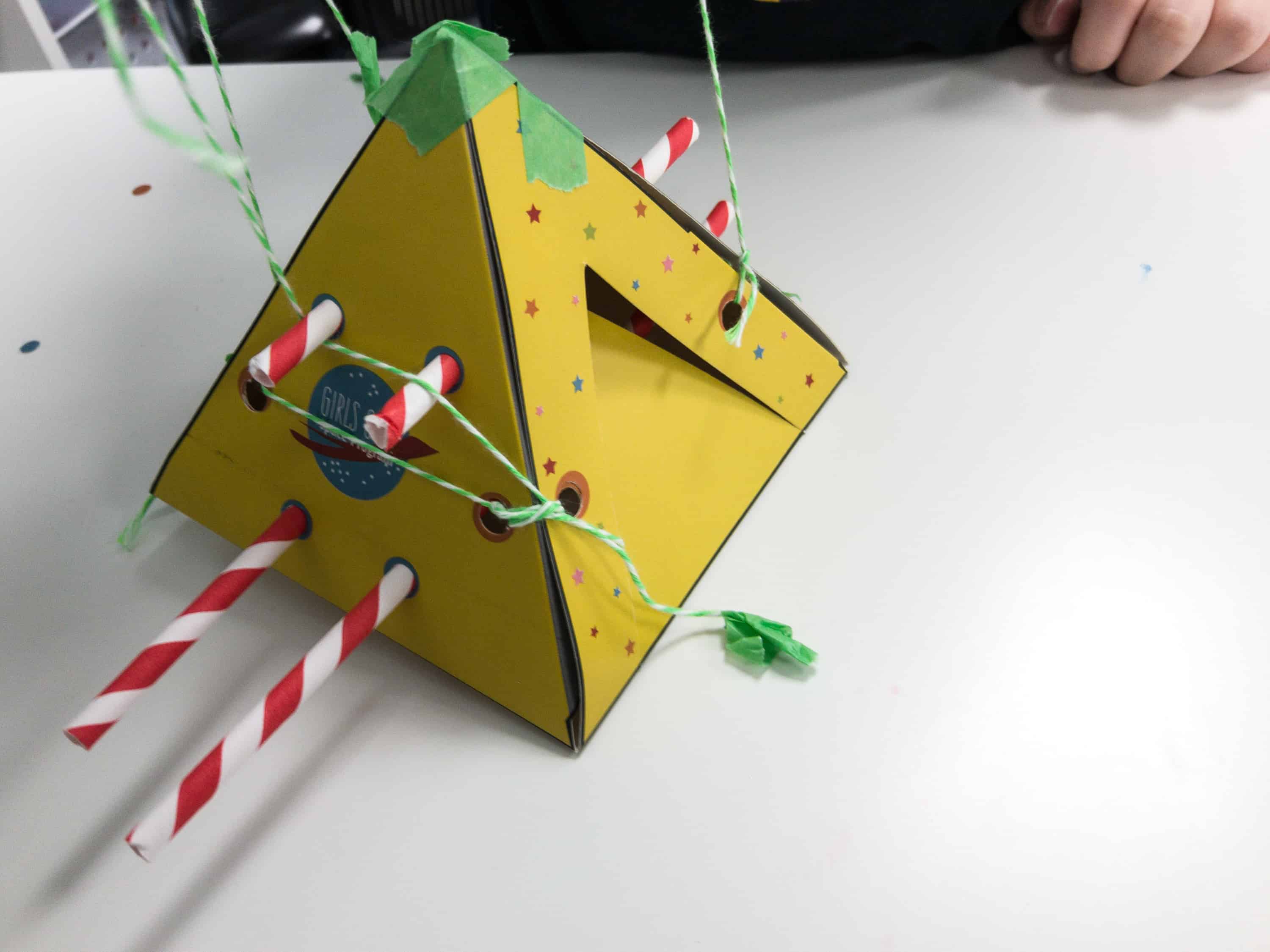 The strings are attached properly and the straws are installed well! Good job, kids!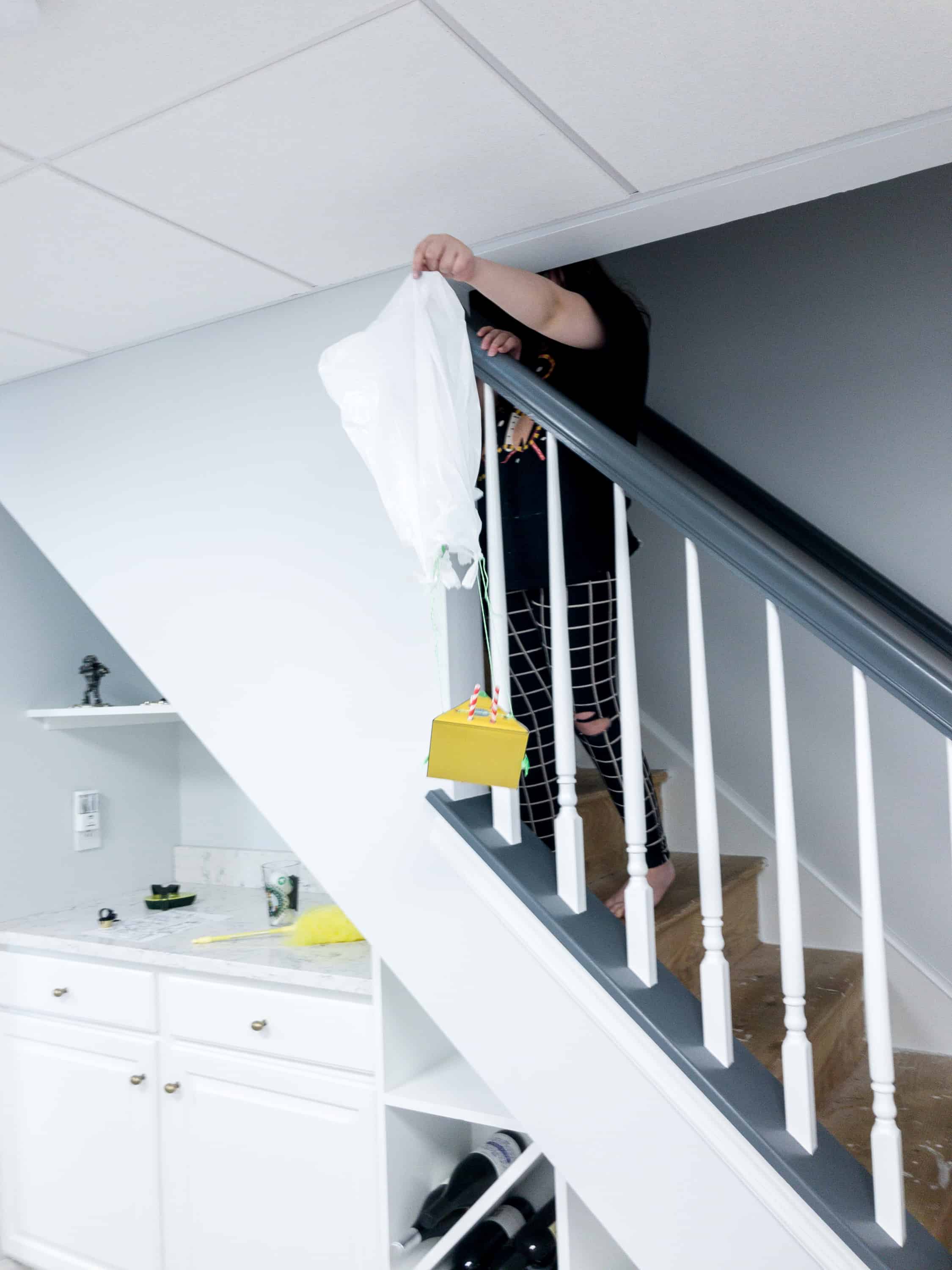 Now that we're set, all we need is to take the pod to a higher place and then drop it.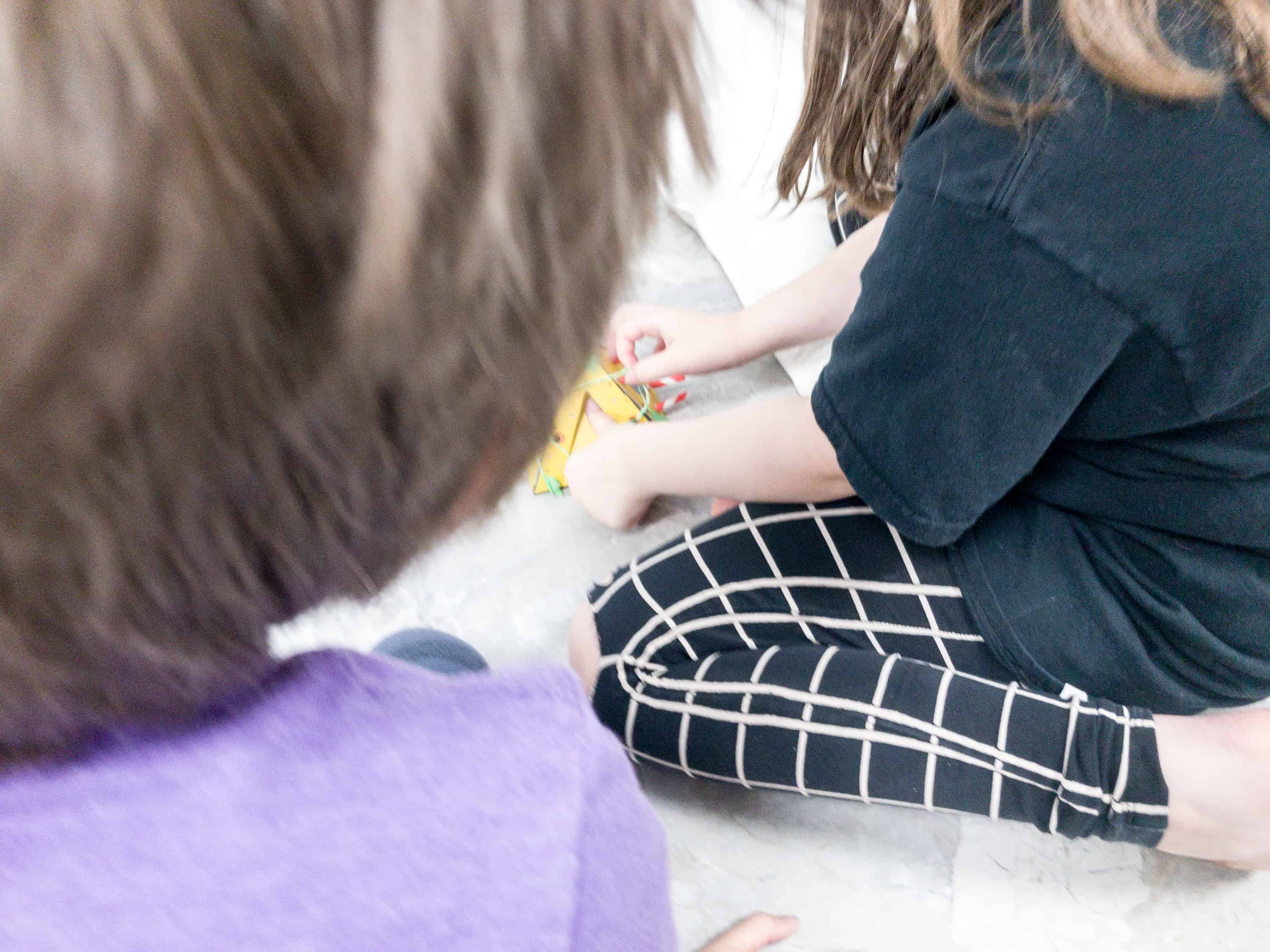 Our mission is a success! The kids then experimented with the real egg extension activity, and then we ate scrambled eggs!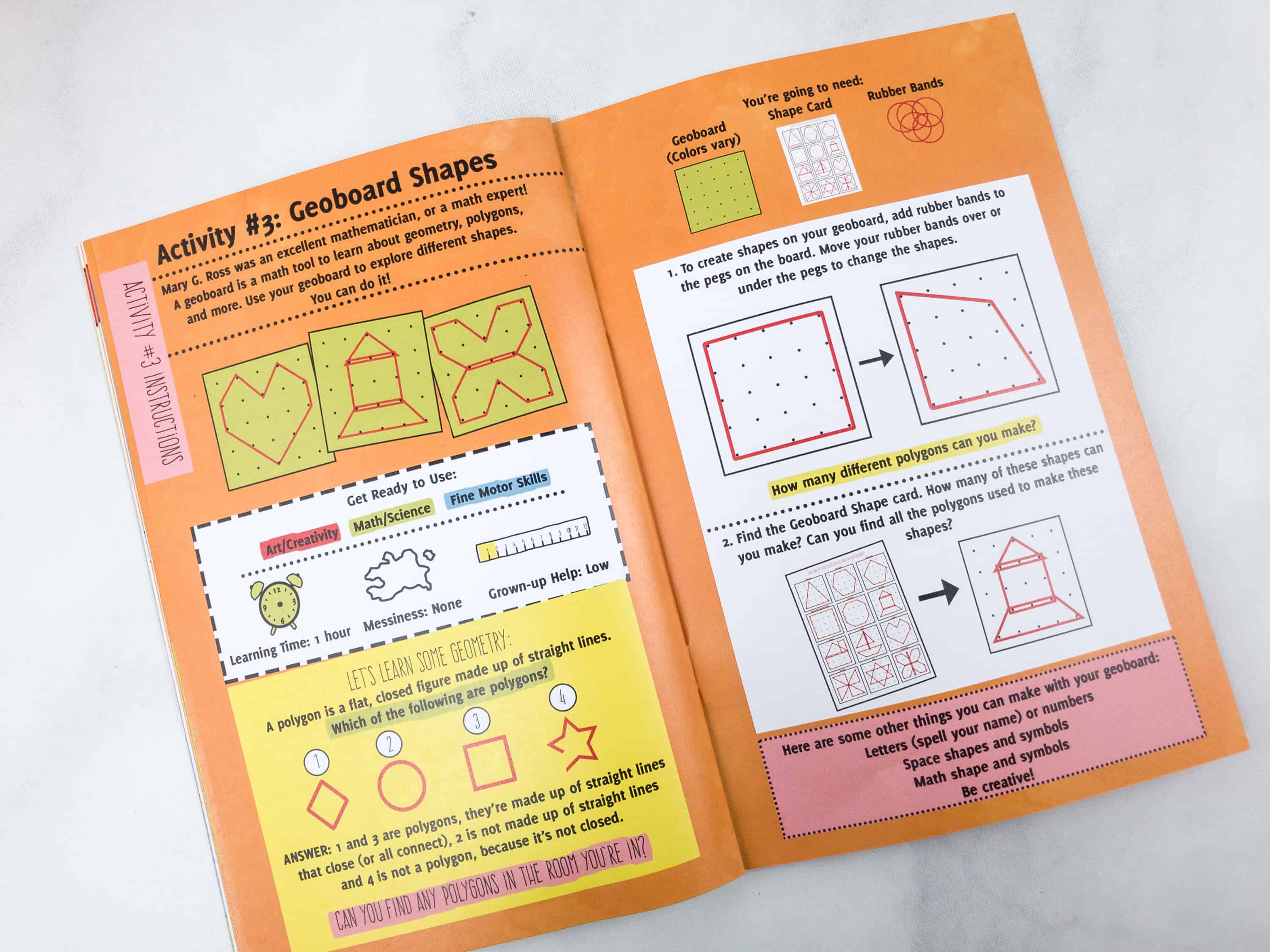 The last activity is about making geoboard shapes. Mary G. Ross had, at one point, used a geoboard to map out polygons, geometry, and the like.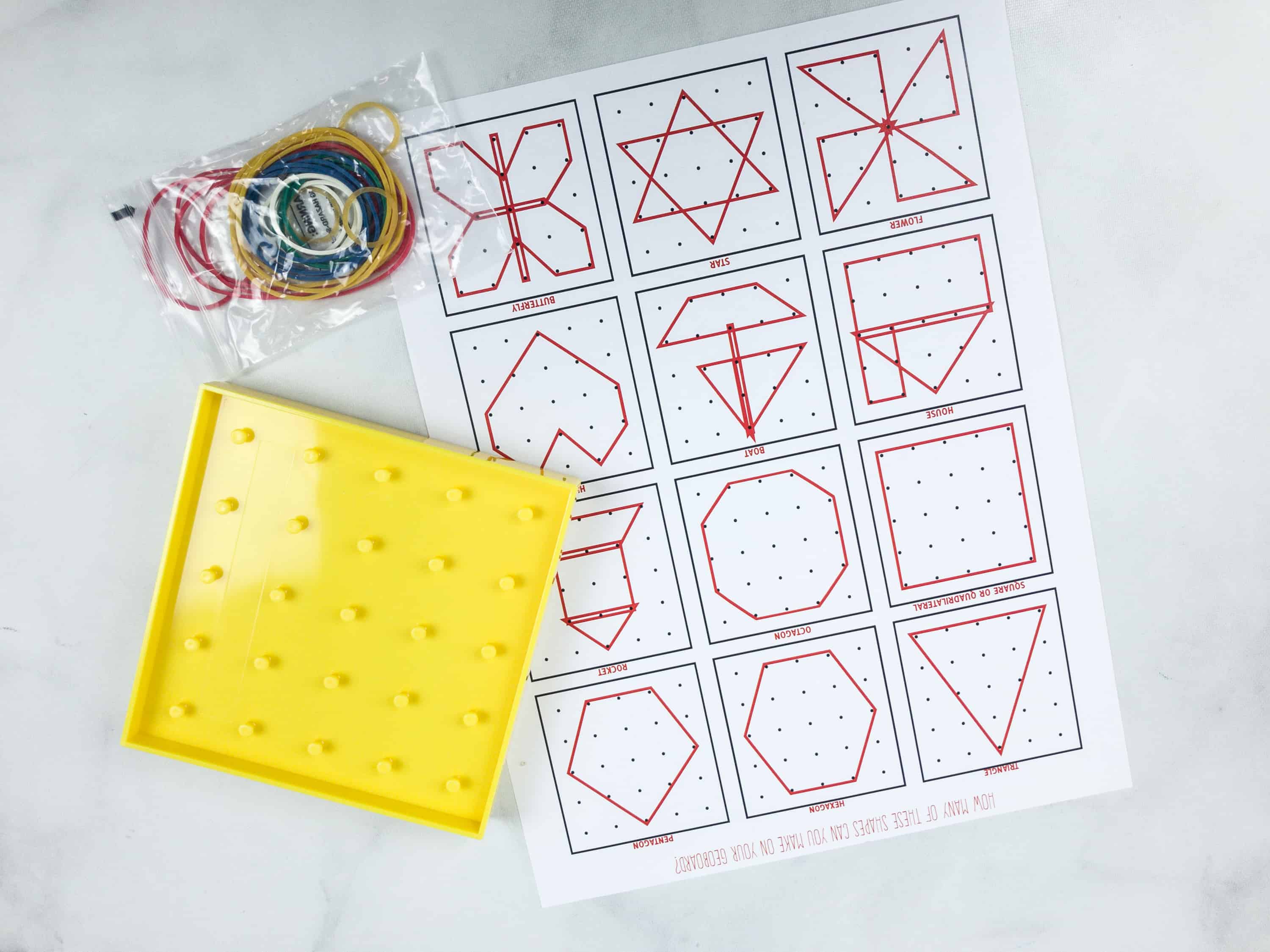 For this activity, they provided a pattern sheet, rubber bands, and a geoboard. Our geoboard is yellow, but other subscribers might have received it in a different color.
There are lots of possibilities with this geoboard!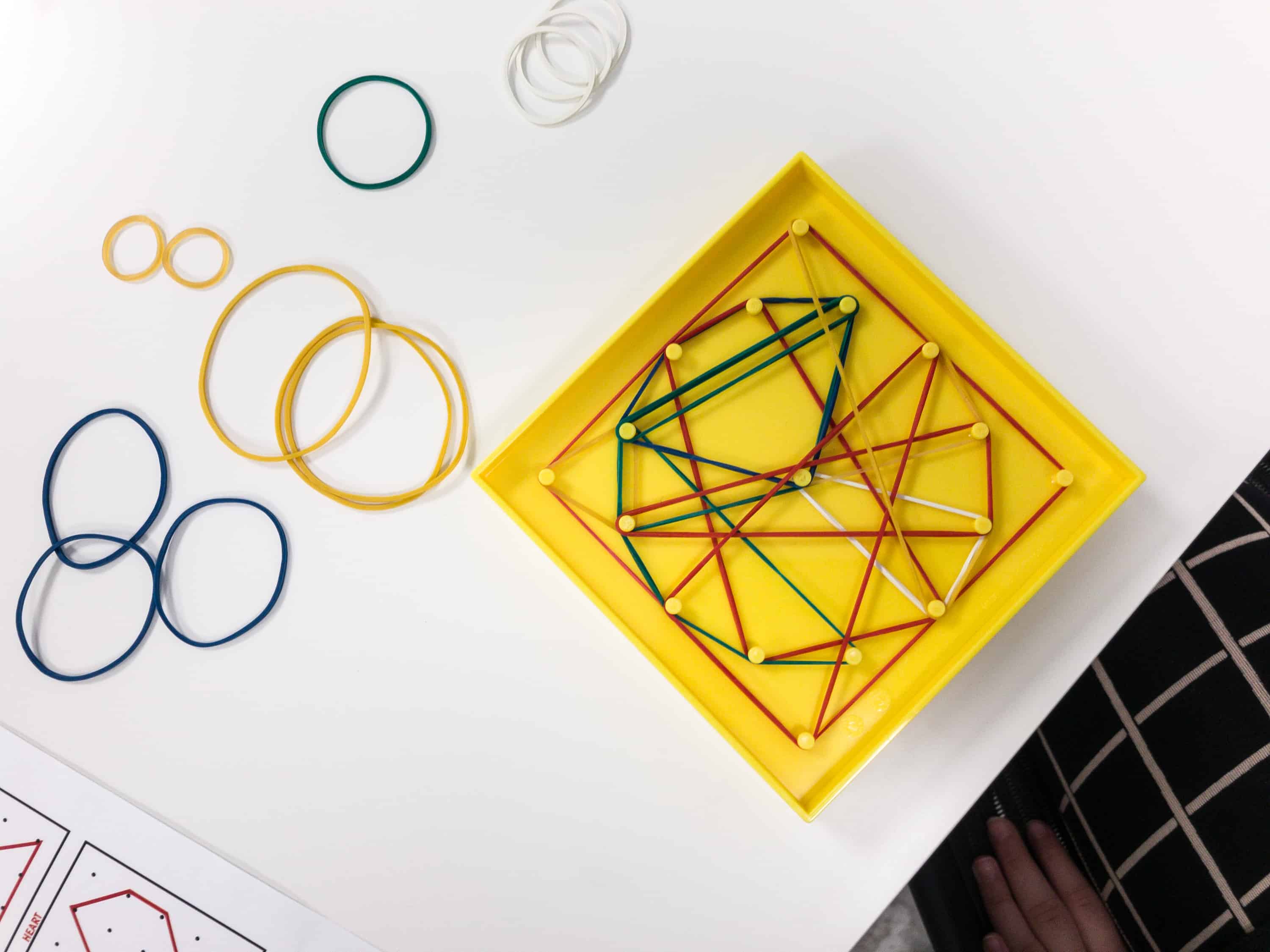 It's a fun activity, and what's great about it is that we can always redo it as long as we have rubber bands!
Girls Can! Crate teaches girls that they can be whoever they want to be by telling stories of different notable women figures and also by providing activities related to the heroine's profession. The hands-on activities are fun, although some of them require a bit of adult supervision. My daughter loves them, as well as the on-page ones! Overall, Girls Can Crate is an educational and inspirational subscription, and the fun it brings is actually not limited to young girls! Our whole family enjoys it and looks forward to it too!
Do you enjoy Girls Can Crate as much as we do? What's your favorite thing about this subscription?