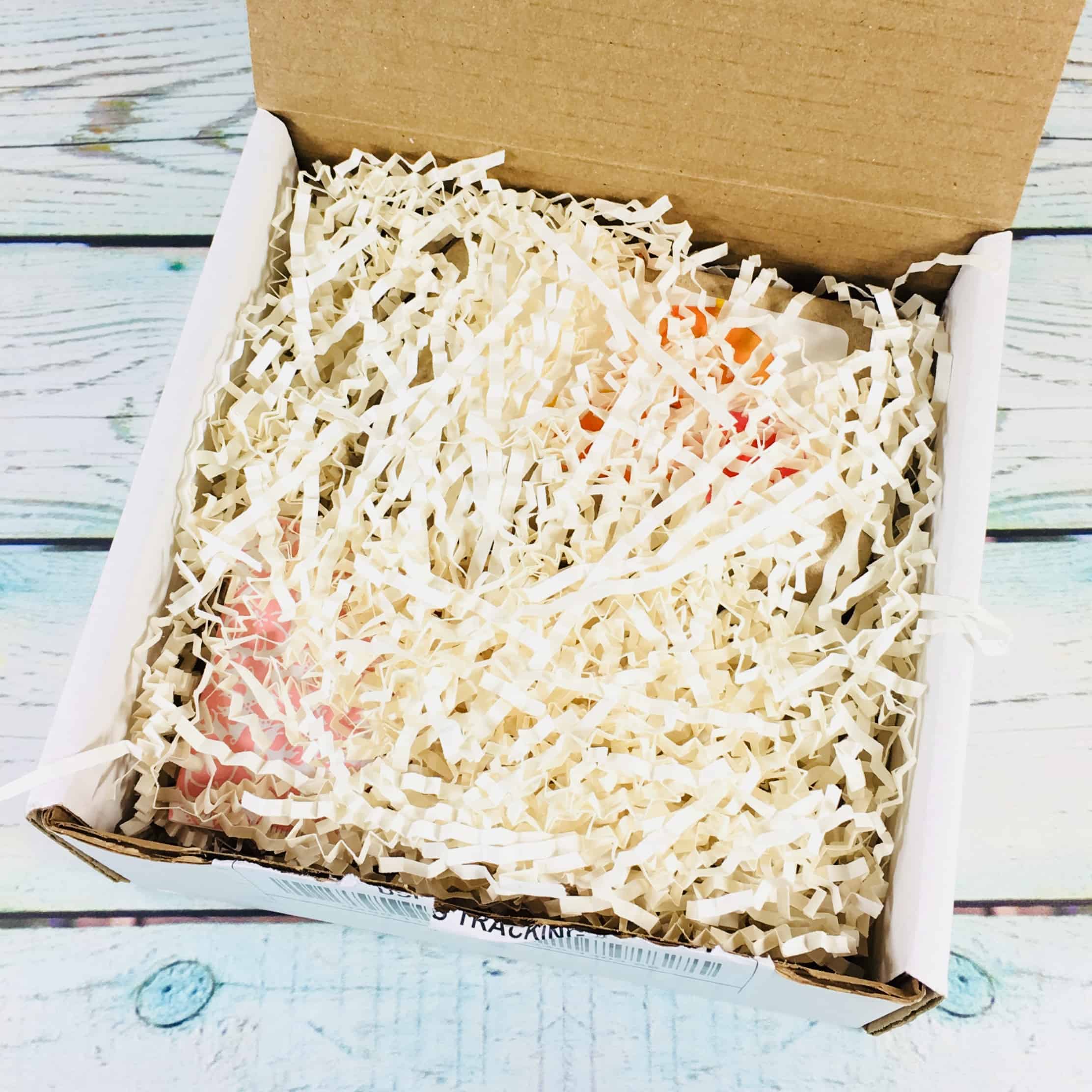 Frisky Fish is a monthly subscription that sends mini kits of aromatherapy, crystals, and other spiritual tools. The boxes are curated to "nurture spiritual seekers who want to find ways to bring rituals into their lives, create a sacred space and create each and everyday!" Each shipment comes with 3 to 4 full-sized products in elegantly designed boxes (I've been told they are updating the boxes so stay tuned!). Frisky Fish sends products that are vegan and cruelty free.
Items include: essential oils, crystals, palo santo, jewelery and other spiritual tools
Free Shipping
Packaging features original artwork by local independent designers and artists
Packaged Beautifully. Perfect for gift giving (to yourself or someone you love).
Eco-friendly boxes made from 100% post recycled material and 100% recycleable.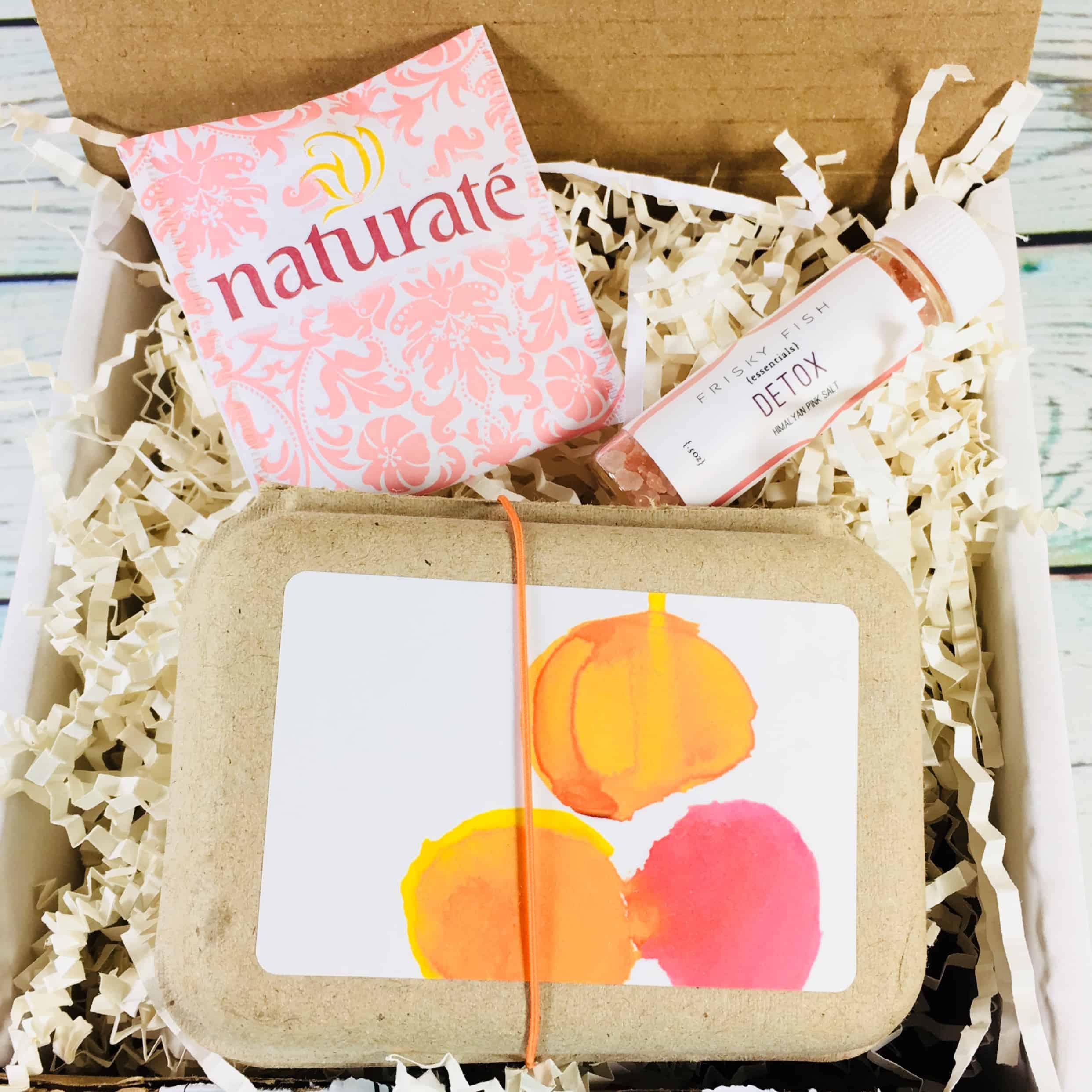 DEAL: Get 10% off your first box! Use coupon code FRISKY10.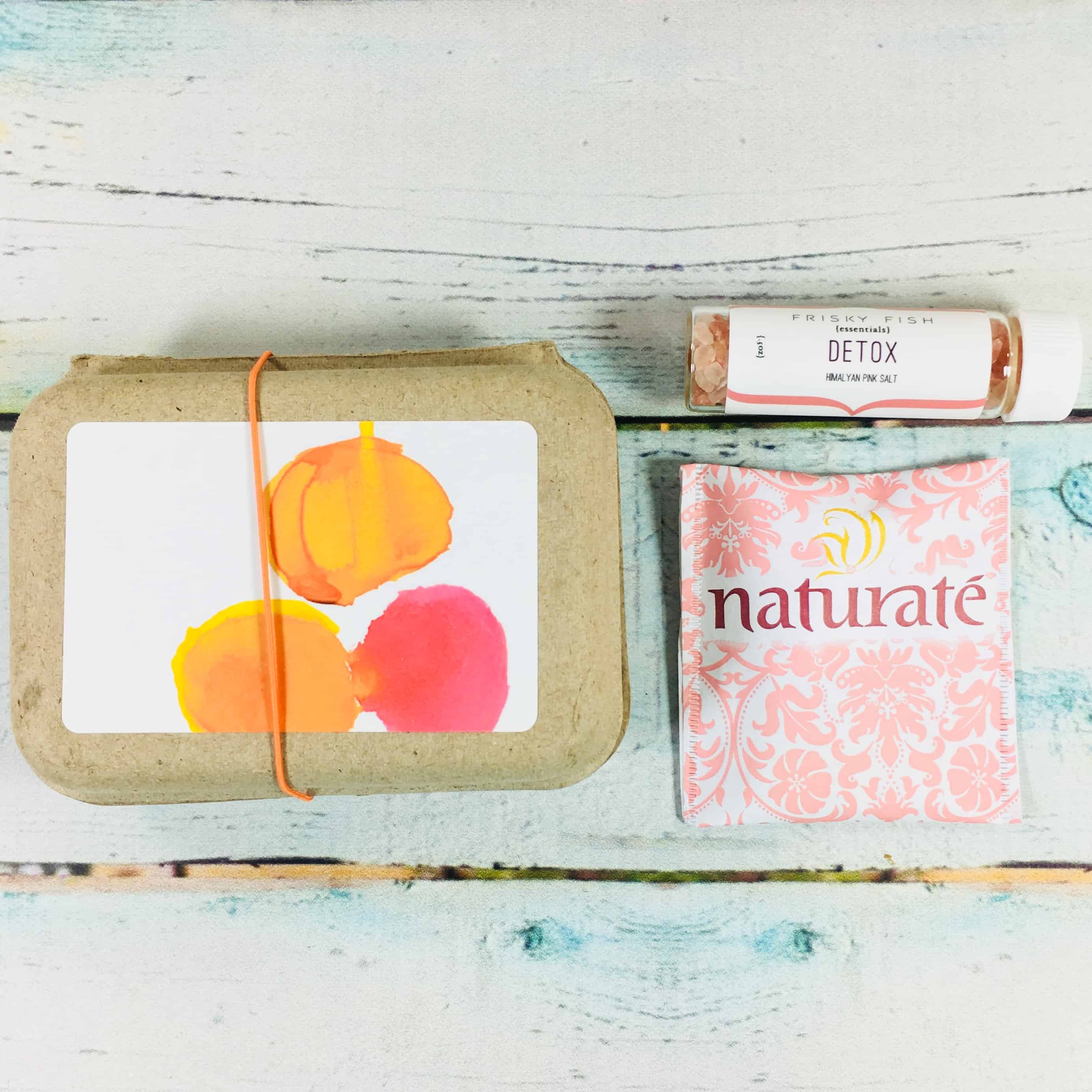 I received a box within a box and the items were tucked into shredded paper squiggles.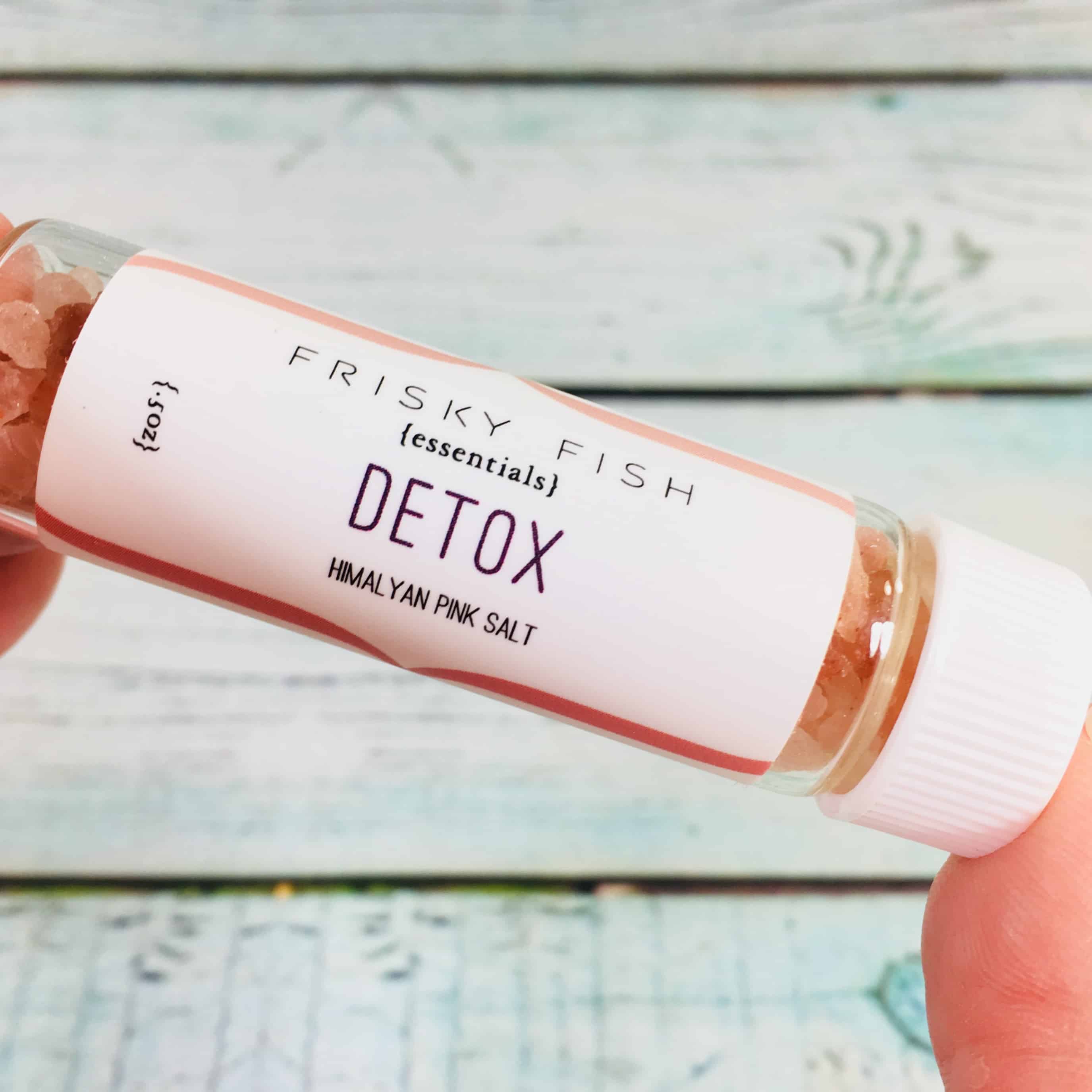 Frisky Fish Essentials Detox Himalayan Pink Salt First up is a little vial of Himalayan salts for a relaxing bath treat. I'm not sure how much detoxing will happen with such a small amount (most sites recommend 1-2 cups at a minimum) but then again, I don't think the body needs to detox (it does it on its own) so just taking a relaxing bath may help you feel better and the salts certainly won't hurt.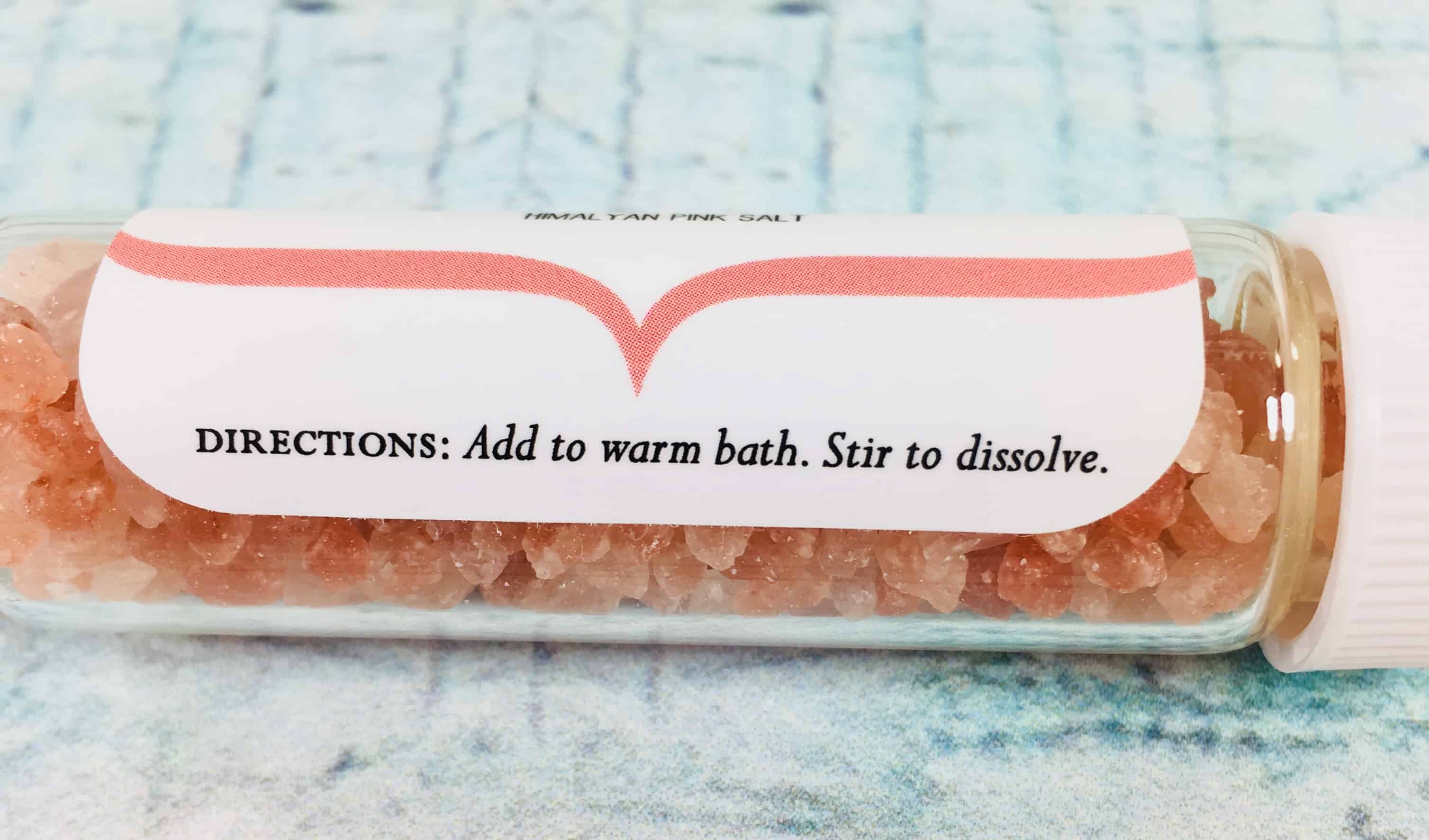 Add to bath, stir, insert body, and relax. Isn't that better?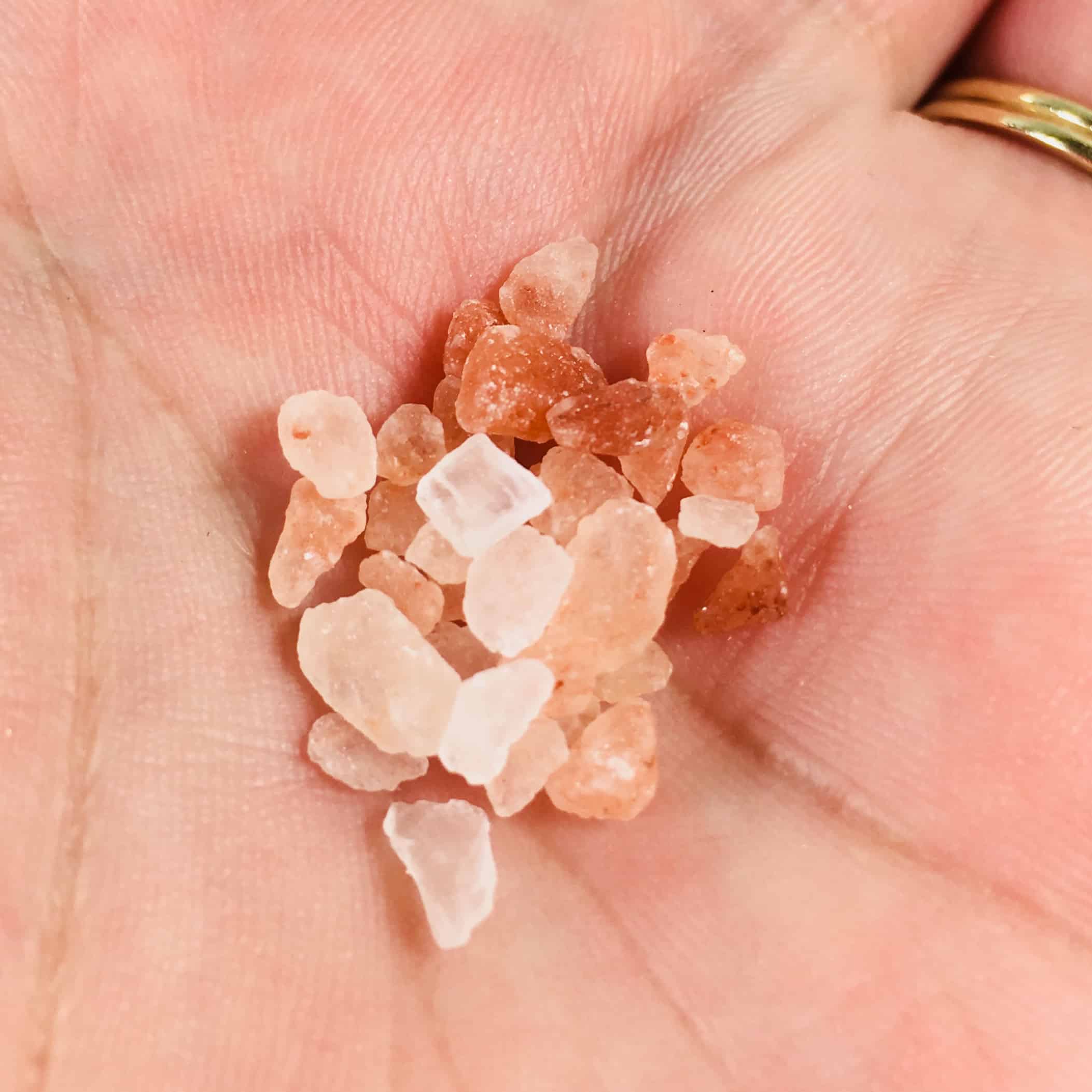 I get a kick just looking at them, look at the differences in color and shapes!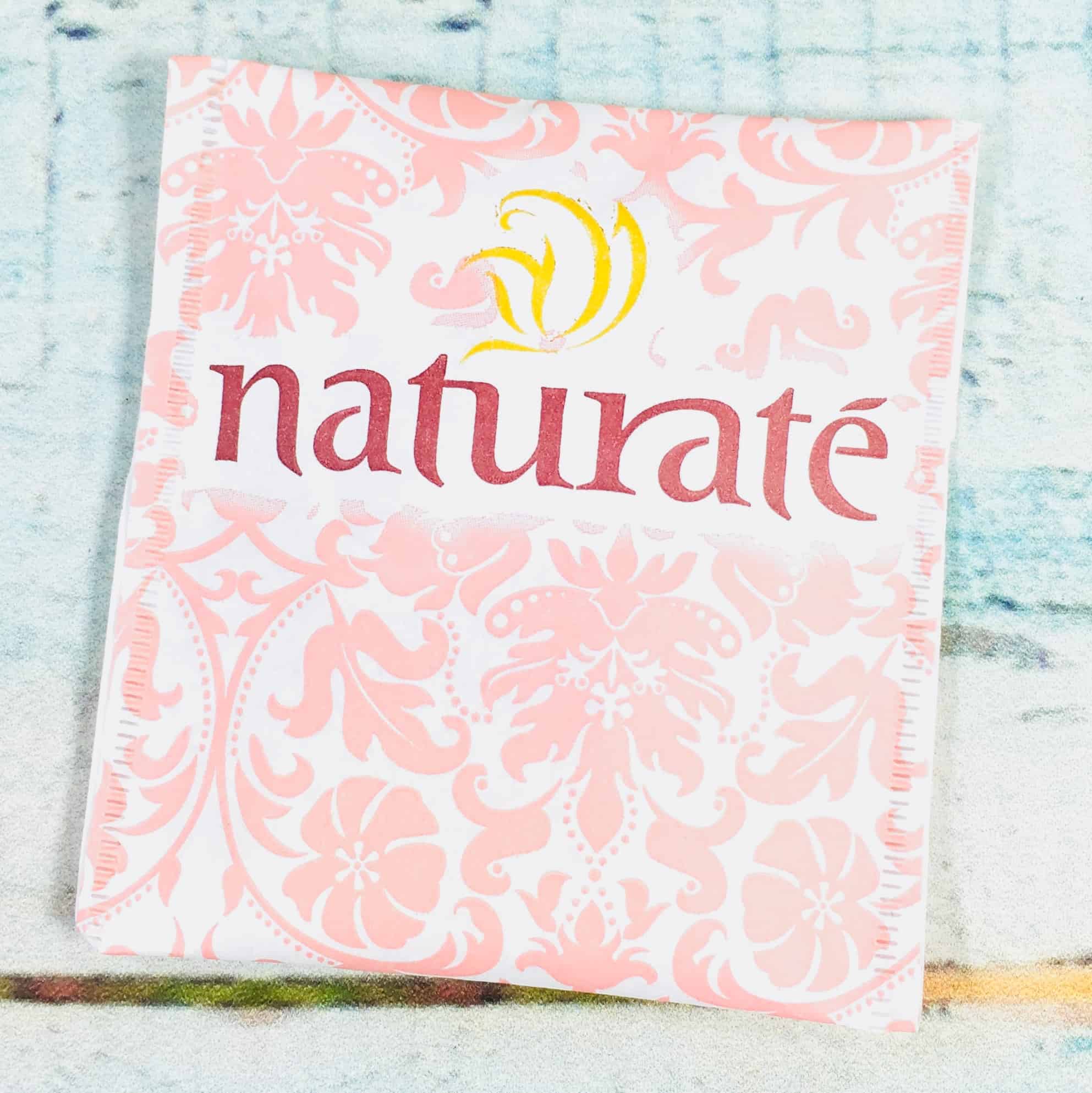 Naturaté Hibiscus Tea I love tea, but this was a brand I wasn't familiar with and there were no ingredients or instructions listed. I contacted Frisky Fish who told me it is the Hibiscus tea (also known as jamaica) and I was told it is caffeine-free and also has lemongrass and spearmint. I just boiled 8 ounces of water and steeped my tea bag for 5 minutes. Drinking hibiscus is sort of like drinking warm cranberry juice since it's fruity and has a bit of tang to it.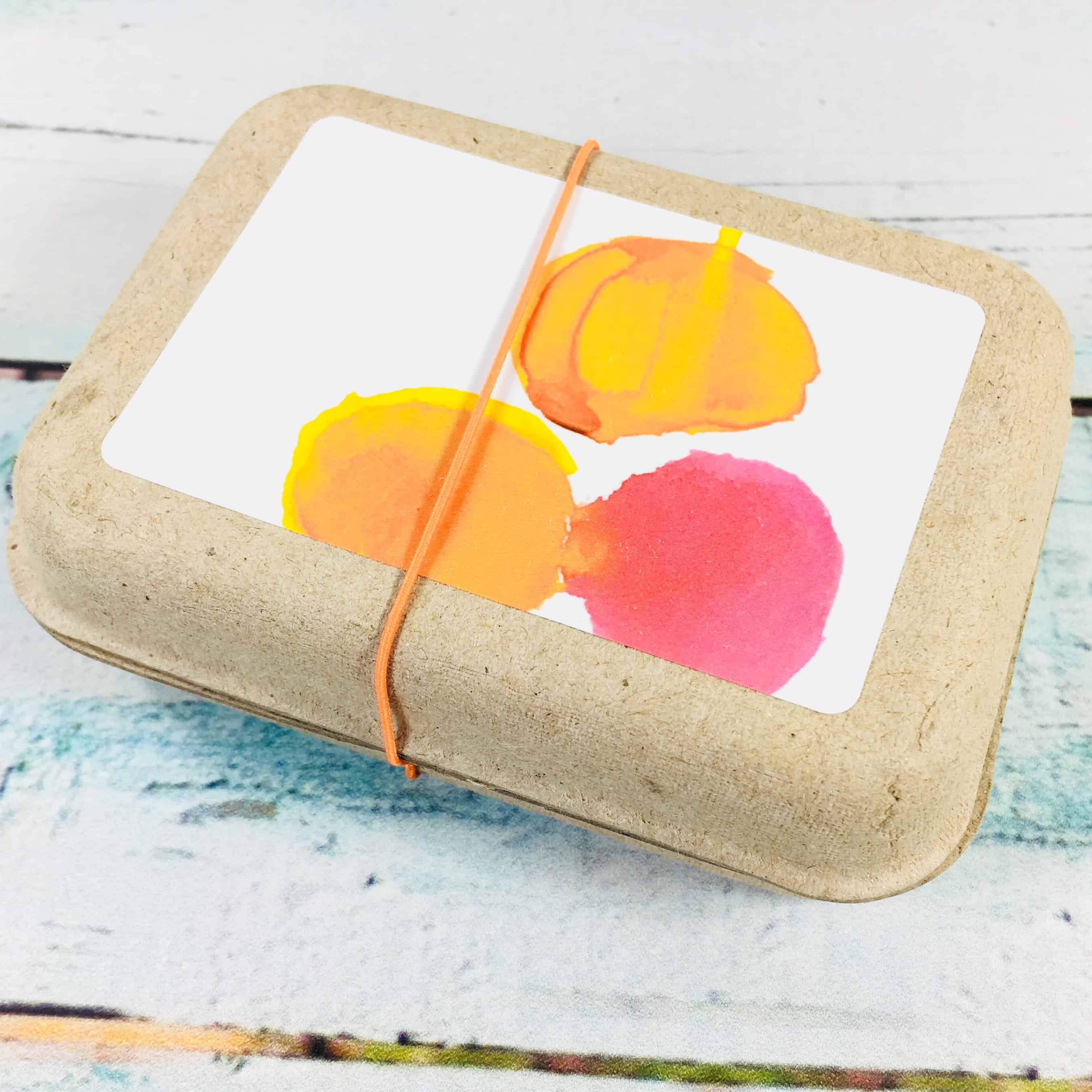 Inside I found a cute little box with the Frisky Fish Solstice Ritual Kit inside!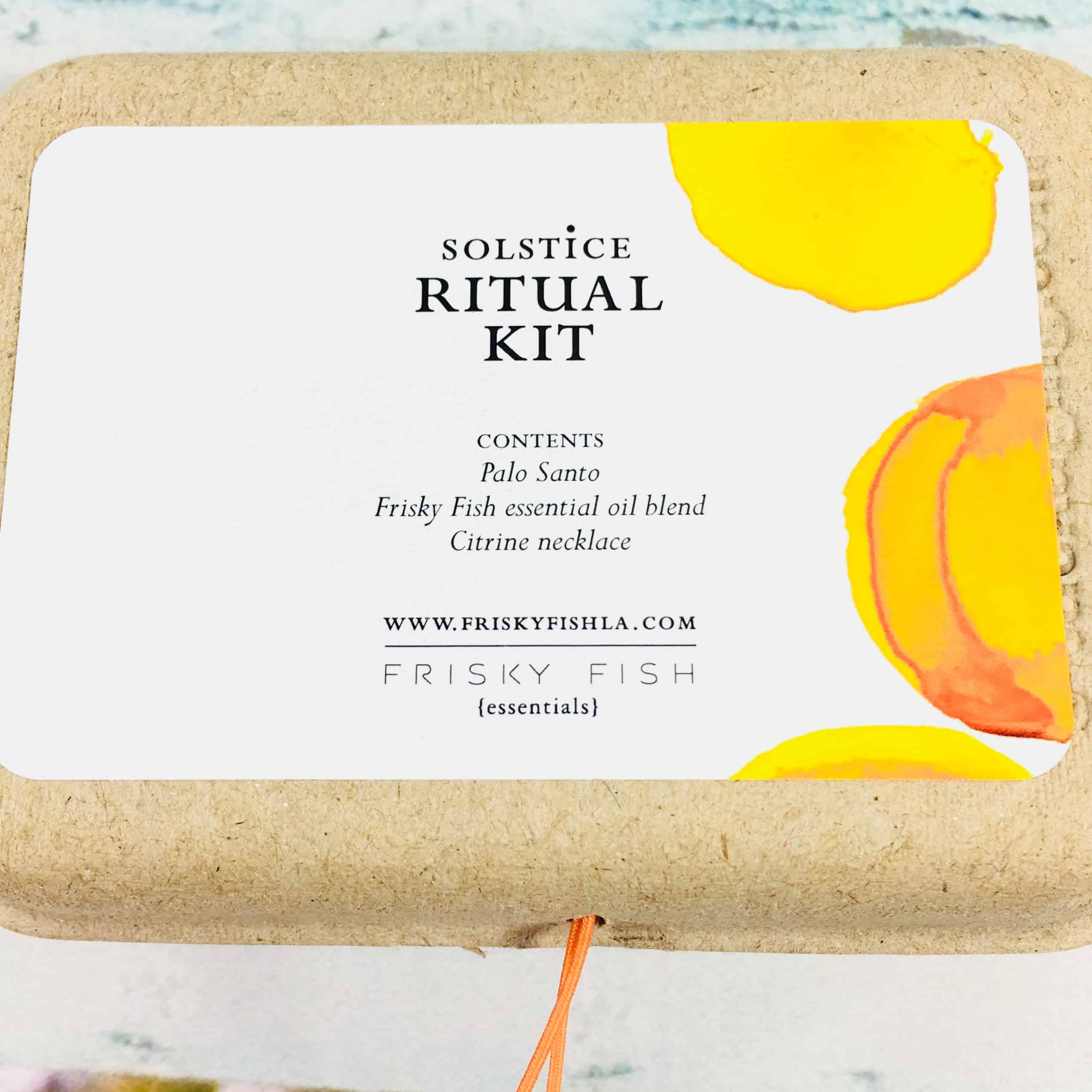 The contents were listed on the box.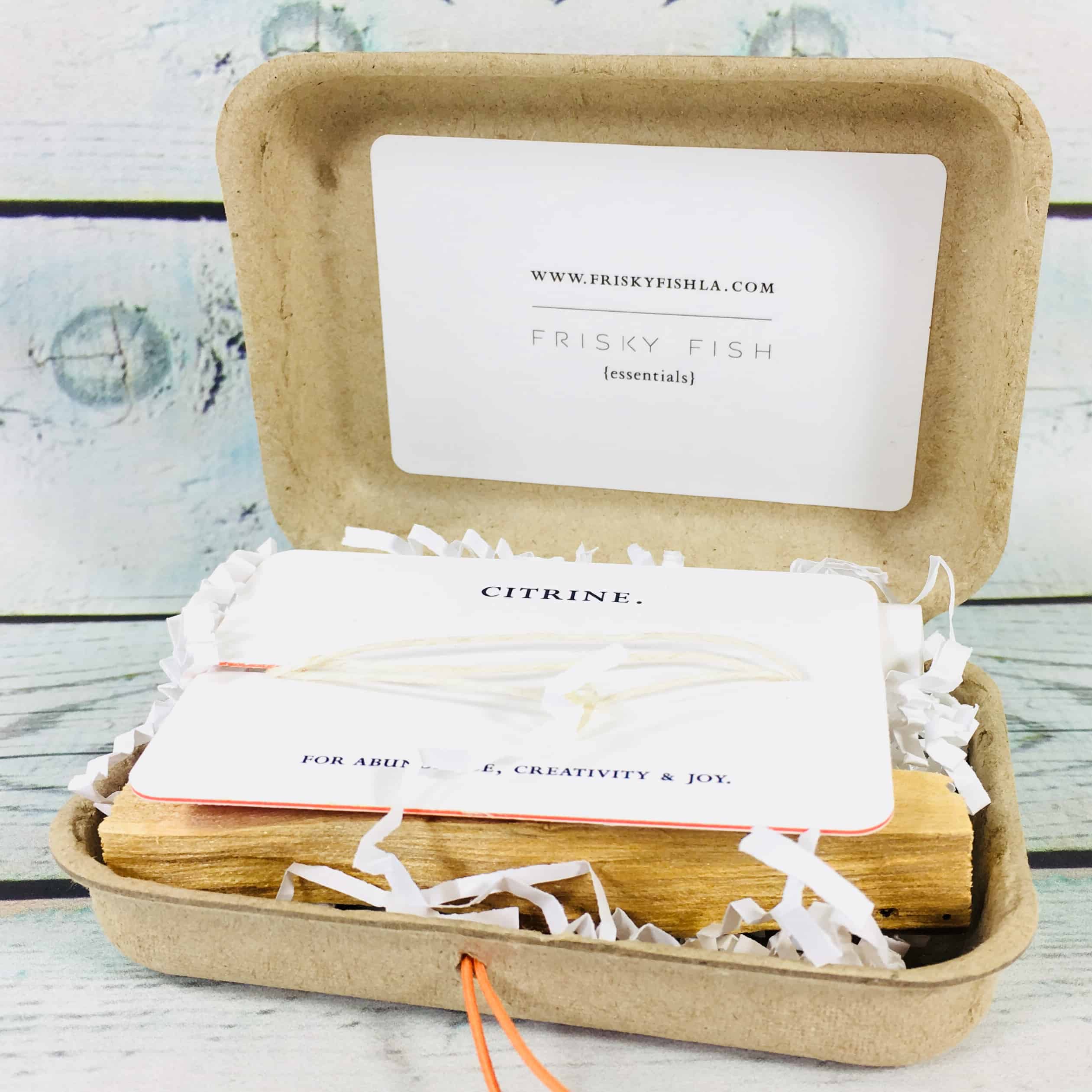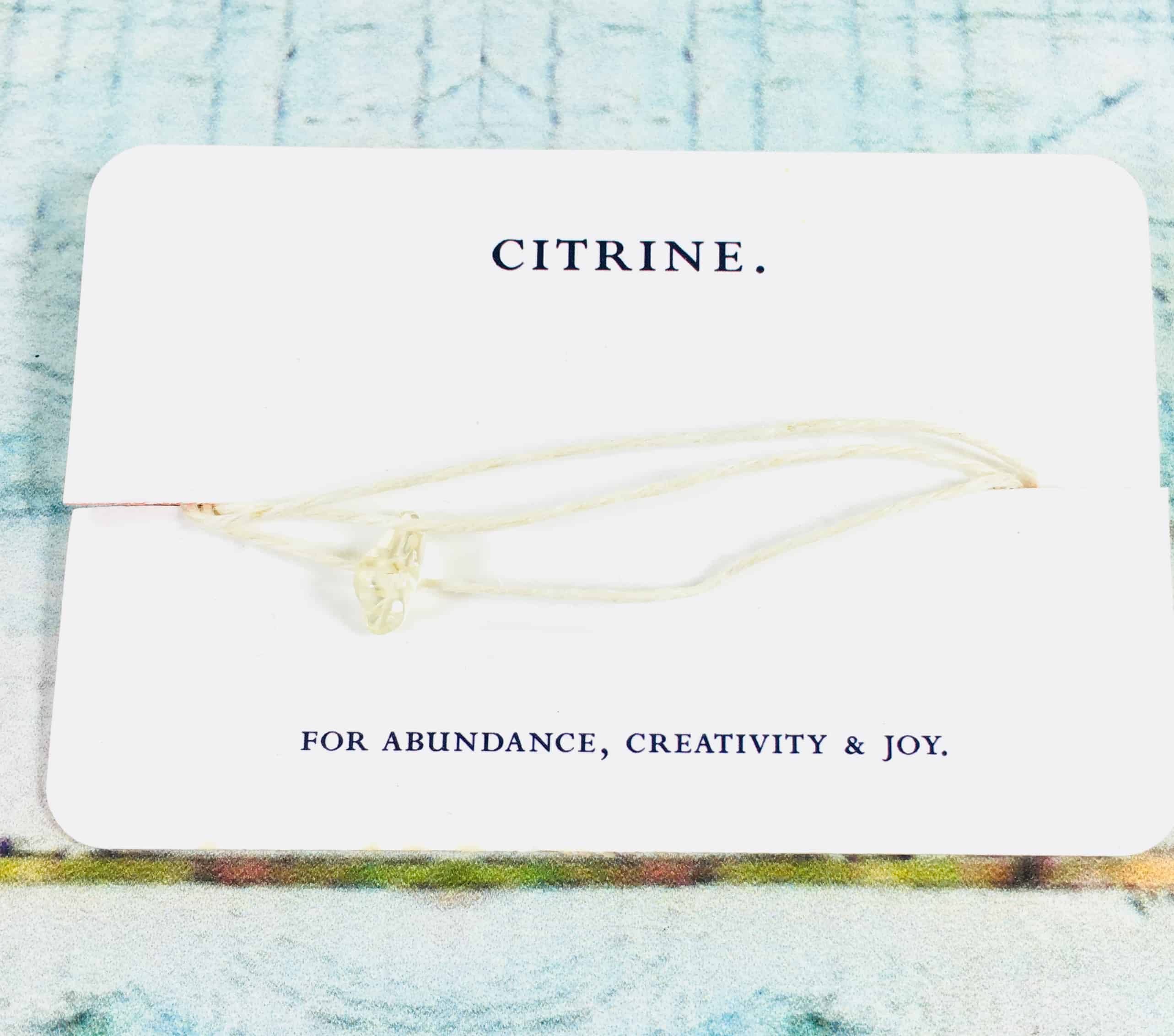 I found a simple citrine necklace on a card.
It's a piece of crystal on a cotton thread. The thread was about 16 inches long, which was a choker on my neck. The fitting was impossible for me to figure out so I needed help to put it on. Citrine is a healing and balancing stone that won't hold on to negative energy. It can help boost creativity and may bring light and warmth with its sunny hue.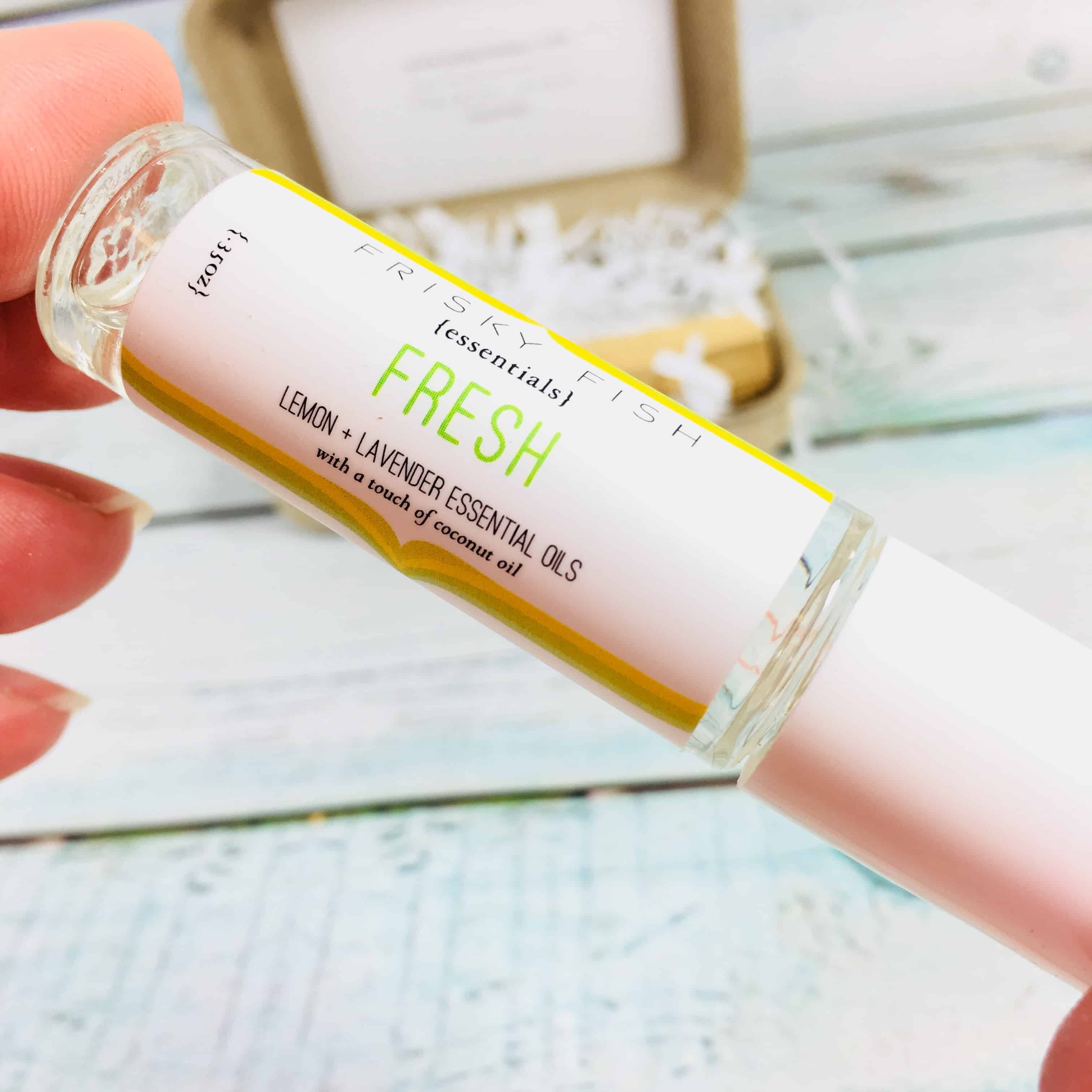 Frisky Fish Essentials Fresh Essential Oil ($14) Now this is the star of the show!
You'll find yourself reaching for FRESH every time you're feeling stuck, cluttered or in a rut. Lemon and lavender essential oils are contained in a beautifully labeled roll on for aromatherapy-to-go that will fit easily in your purse and make a nice addition to your nightstand.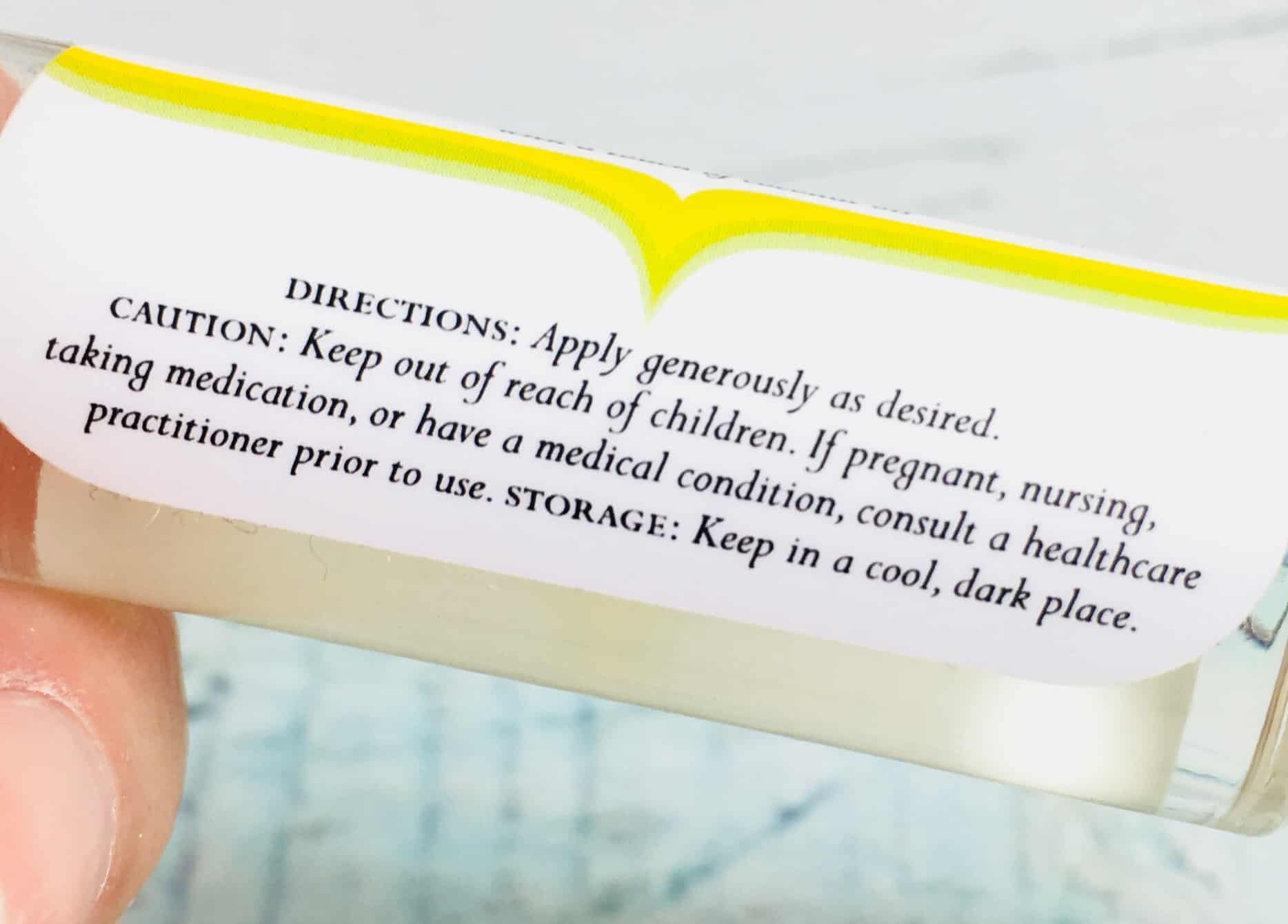 You can apply it as needed to pulse points for an uplifting experience thanks to the lemon and lavender. When combined, they sort of smell like lime!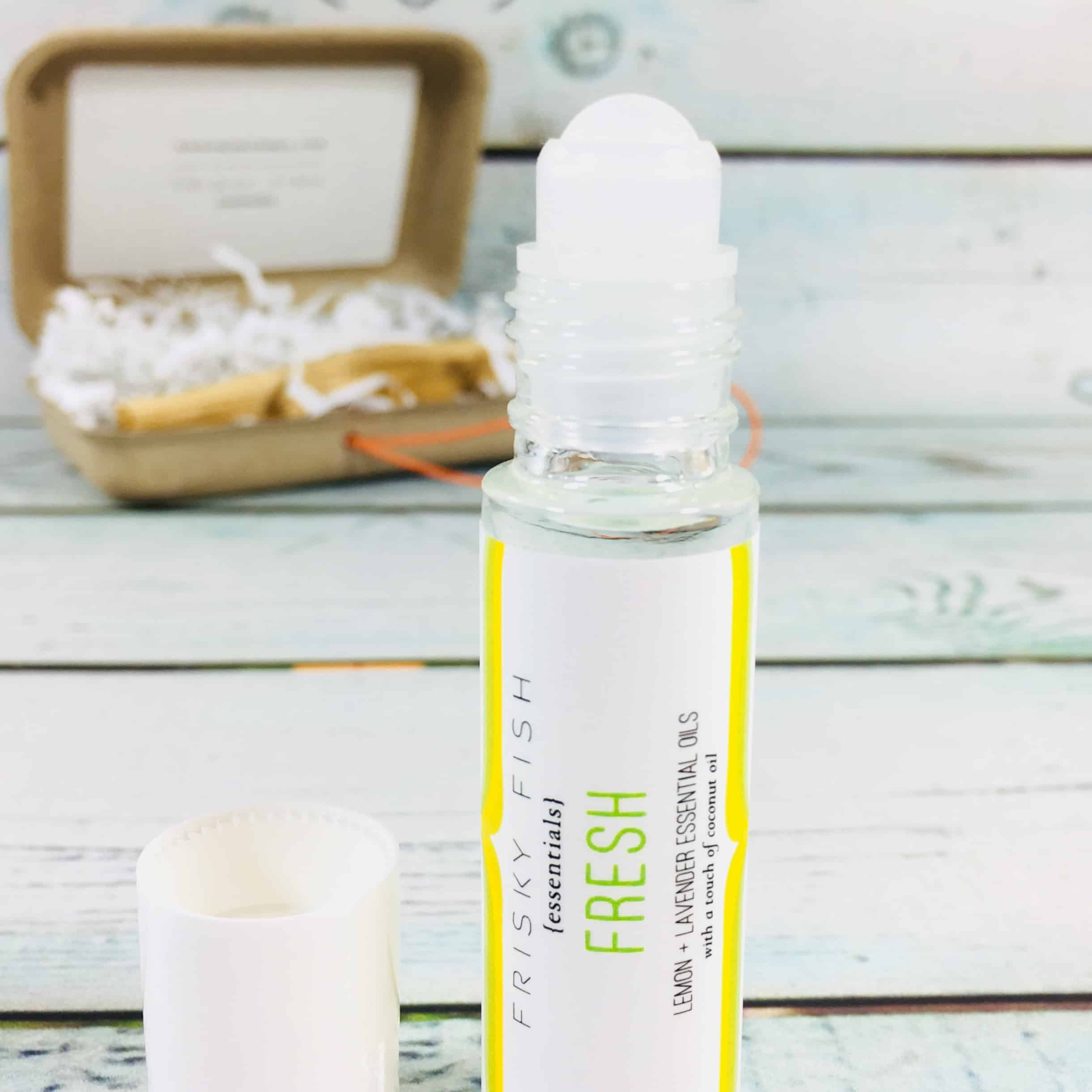 The only ingredients listed were lemon and lavender essential oils "with a touch of coconut oil". Very simple and it smells lovely and refreshing.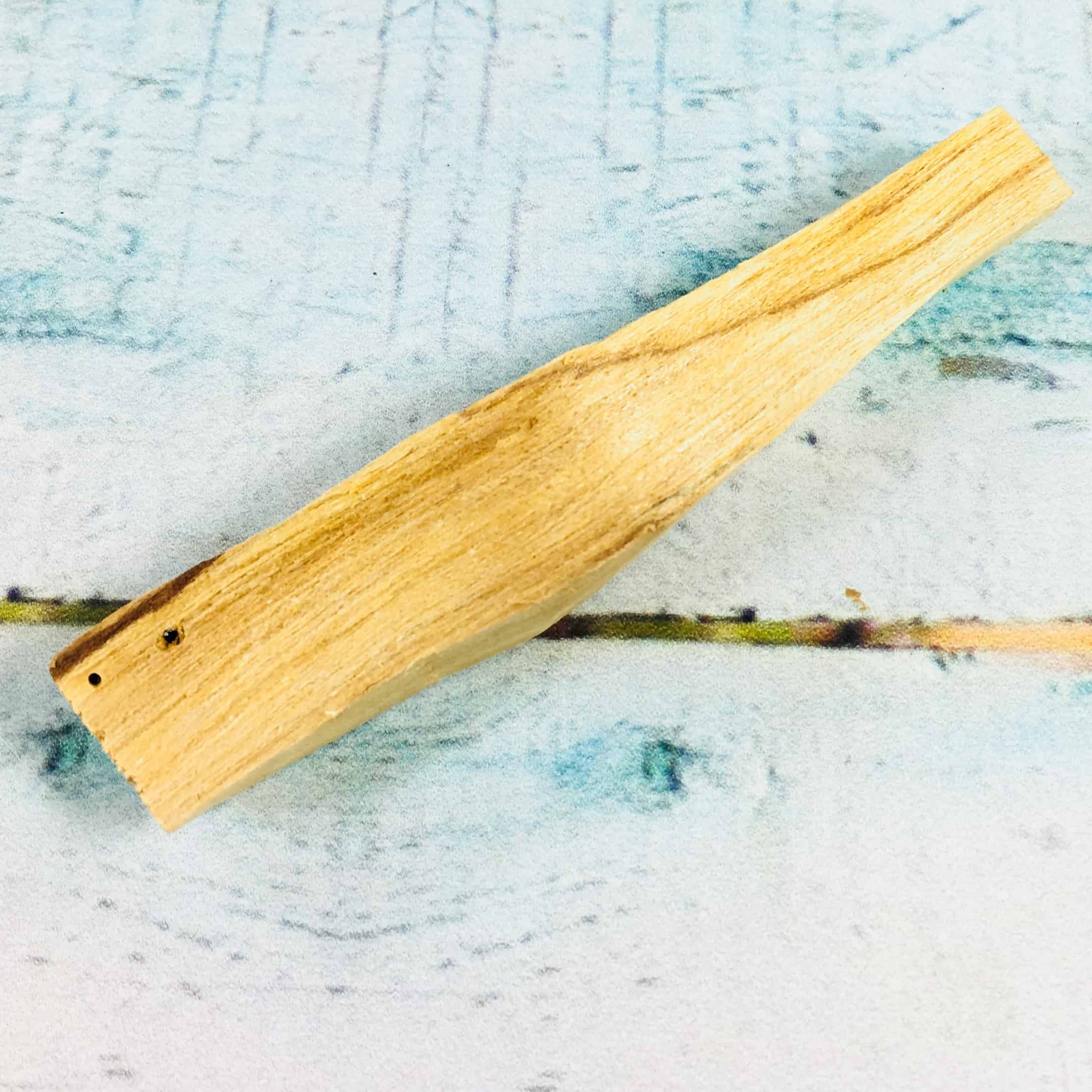 Also included was a stick of Palo Santo that can be used in rituals or for cleansing your home and space. Or just burn it as a kind of incense if you like. Some people believe it can remove negative energy or bad spirits. To use it, just light it and let it burn for about 30 seconds (or before it really gets going!) and then blow it out. Walk around your home and let it do its thing. Have an open mind and if you like you can say a prayer, meditation, or whatever floats your boat and just be open to the possibility that a revitalization is taking place, that roadblocks are being removed. Or use it on your back porch to keep away mosquitoes.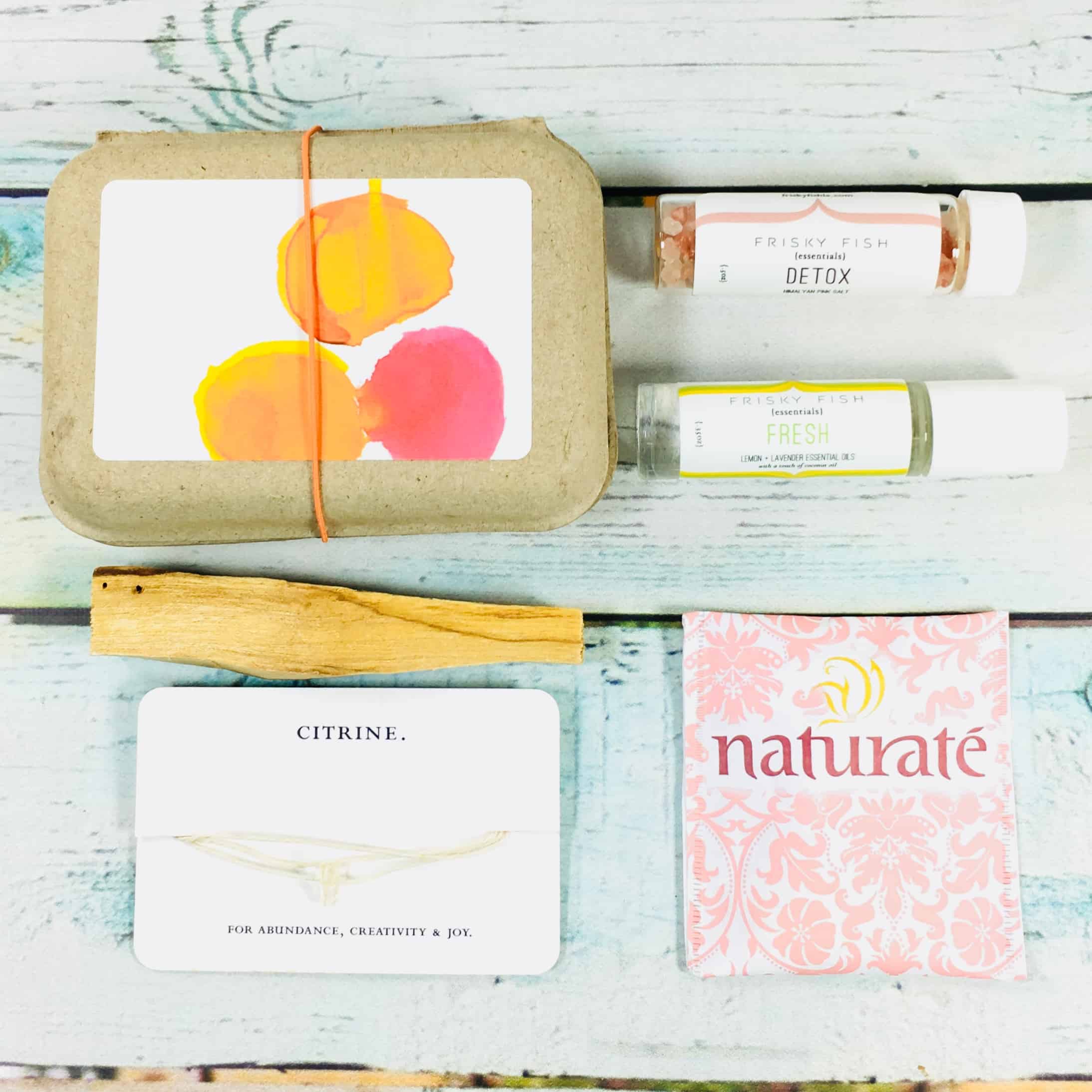 I thought my first Frisky Fish box, which happens to be their first box too, had a lot of strong points. I was especially happy with the rollerball of oil, the scent is all-natural and I really liked it. The other items rounded out the box nicely, but I think a description of the items and instructions on how to use them would have been helpful for newbies. I also believe any edible should be sent with a full list of ingredients since so many people have allergies and it's just the right thing to do. I think I am going to wear the necklace as a double-wrapped bracelet because that way I can see it and it will remind me that I can do anything. I'm looking forward to seeing the new packaging next month and according to their Instagram page the theme will be "Creative Freedom"!
What do you think of this month's Frisky Fish box?