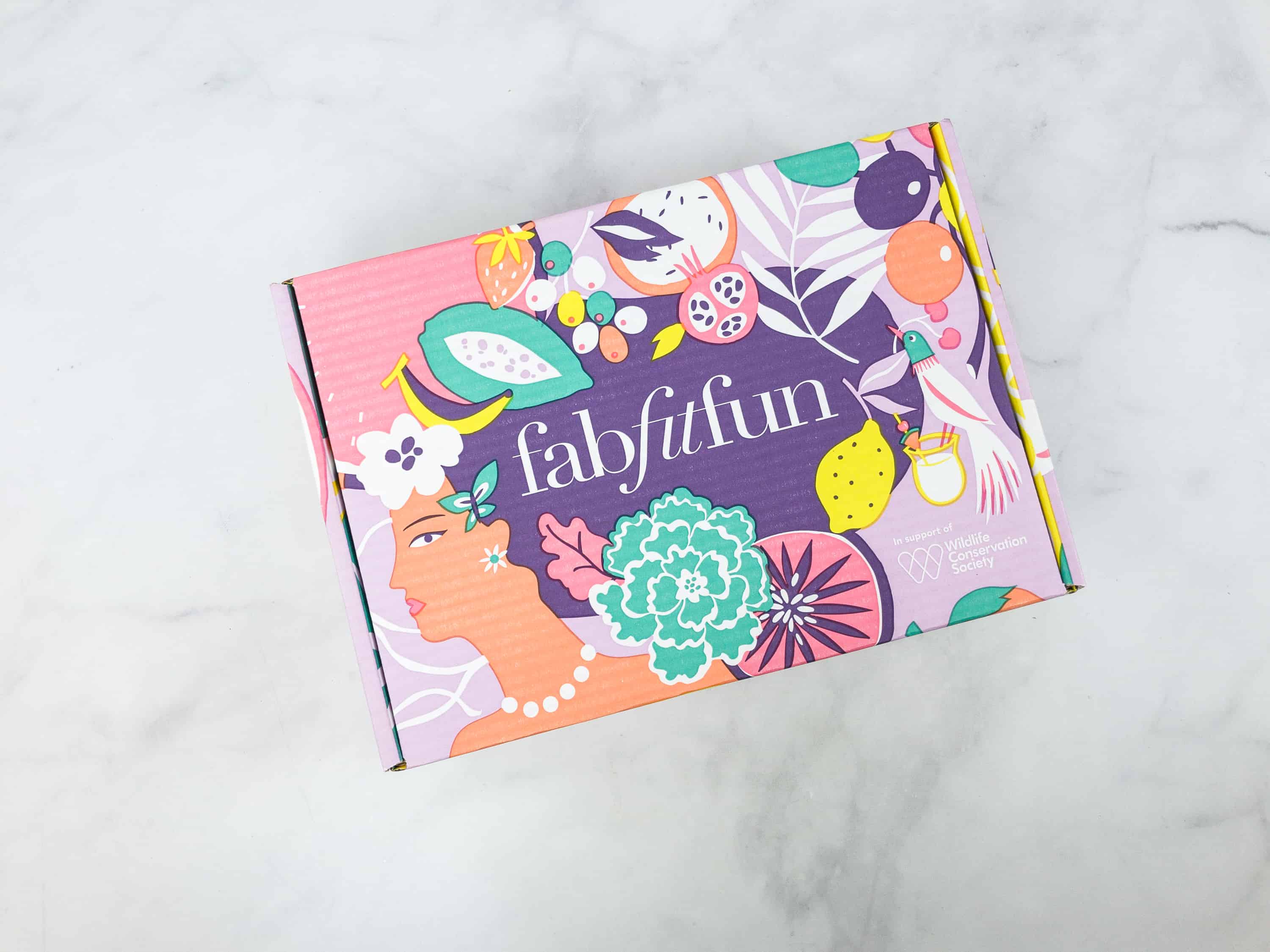 FabFitFun Box is a quarterly women's subscription box that promises fabulous beauty, fashion, and fitness items every quarter.
This box is currently still available!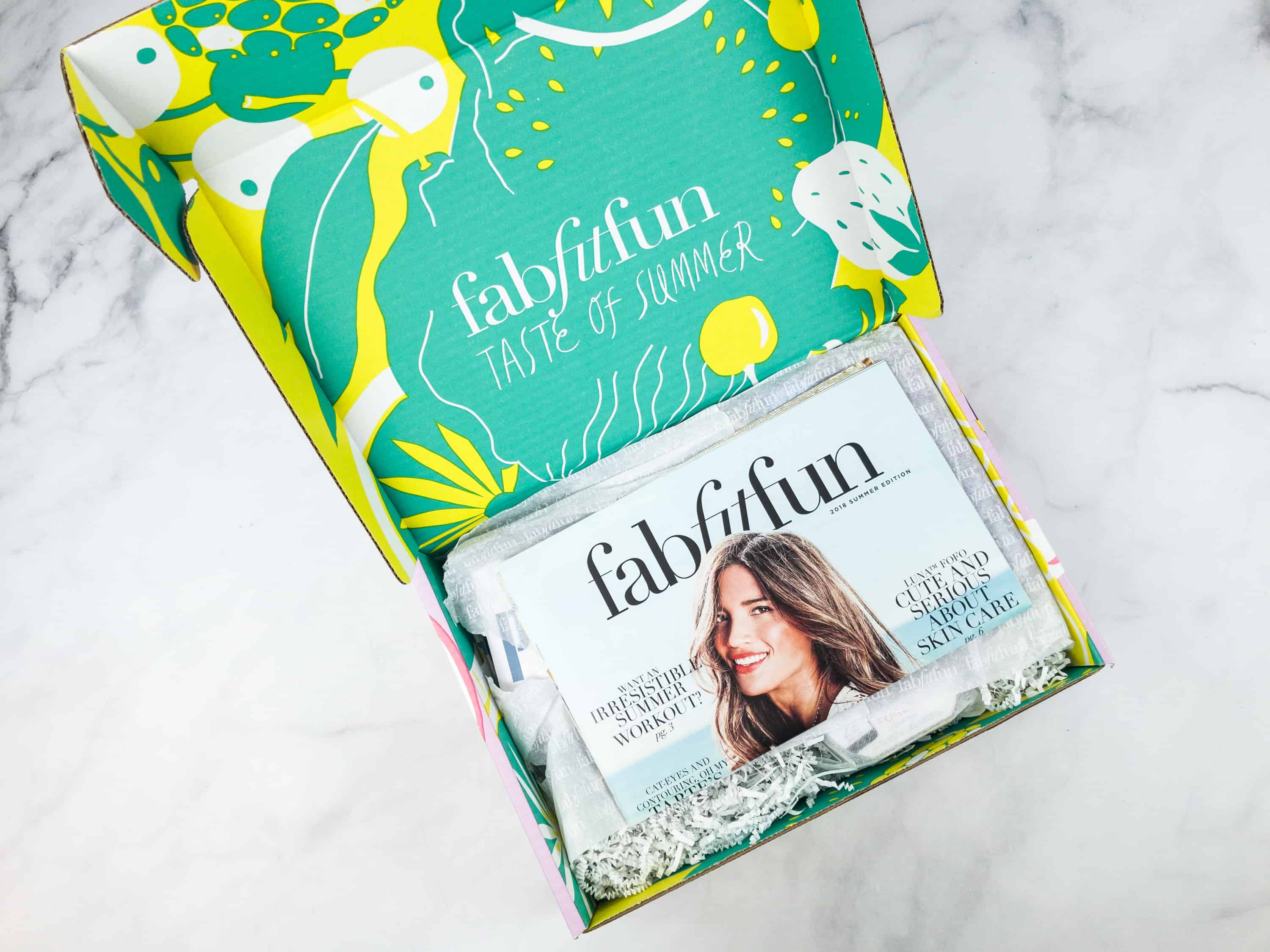 The outside box has a fun and pretty design – they're different every quarter!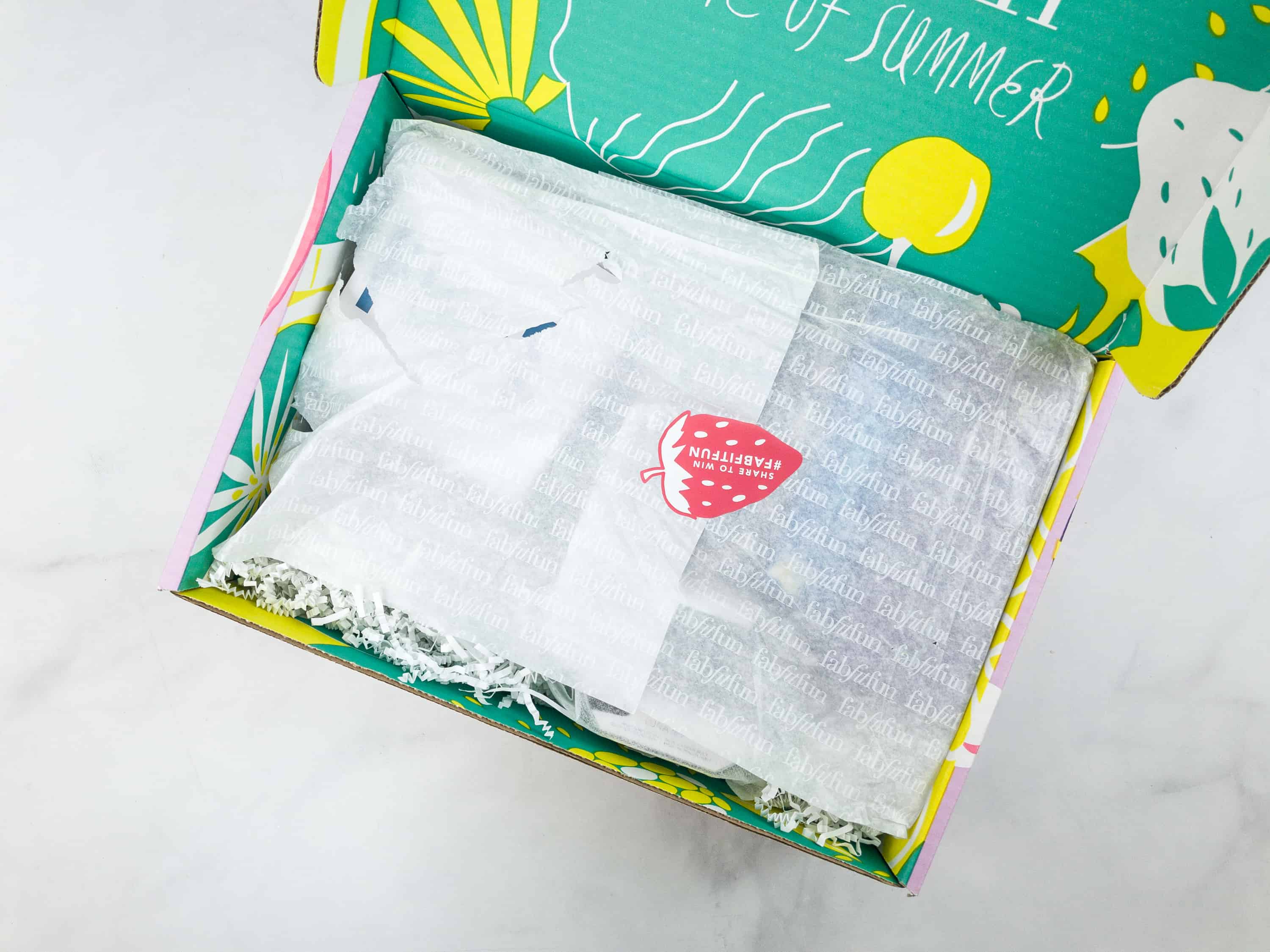 DEAL: You can use coupon code FAB10 to save $10 on your first box. This box is still available!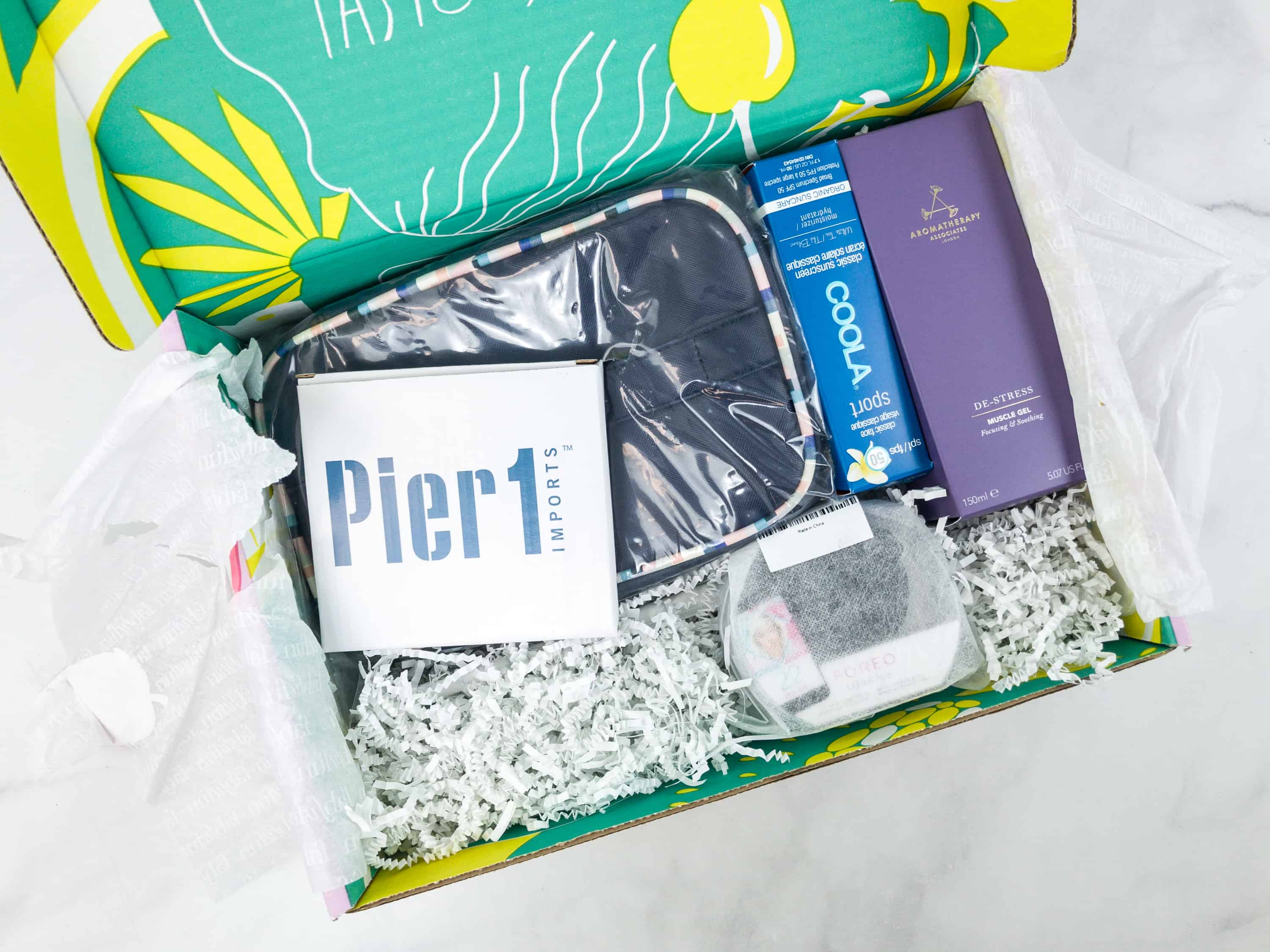 This box is packed full of goodies, as it is every season.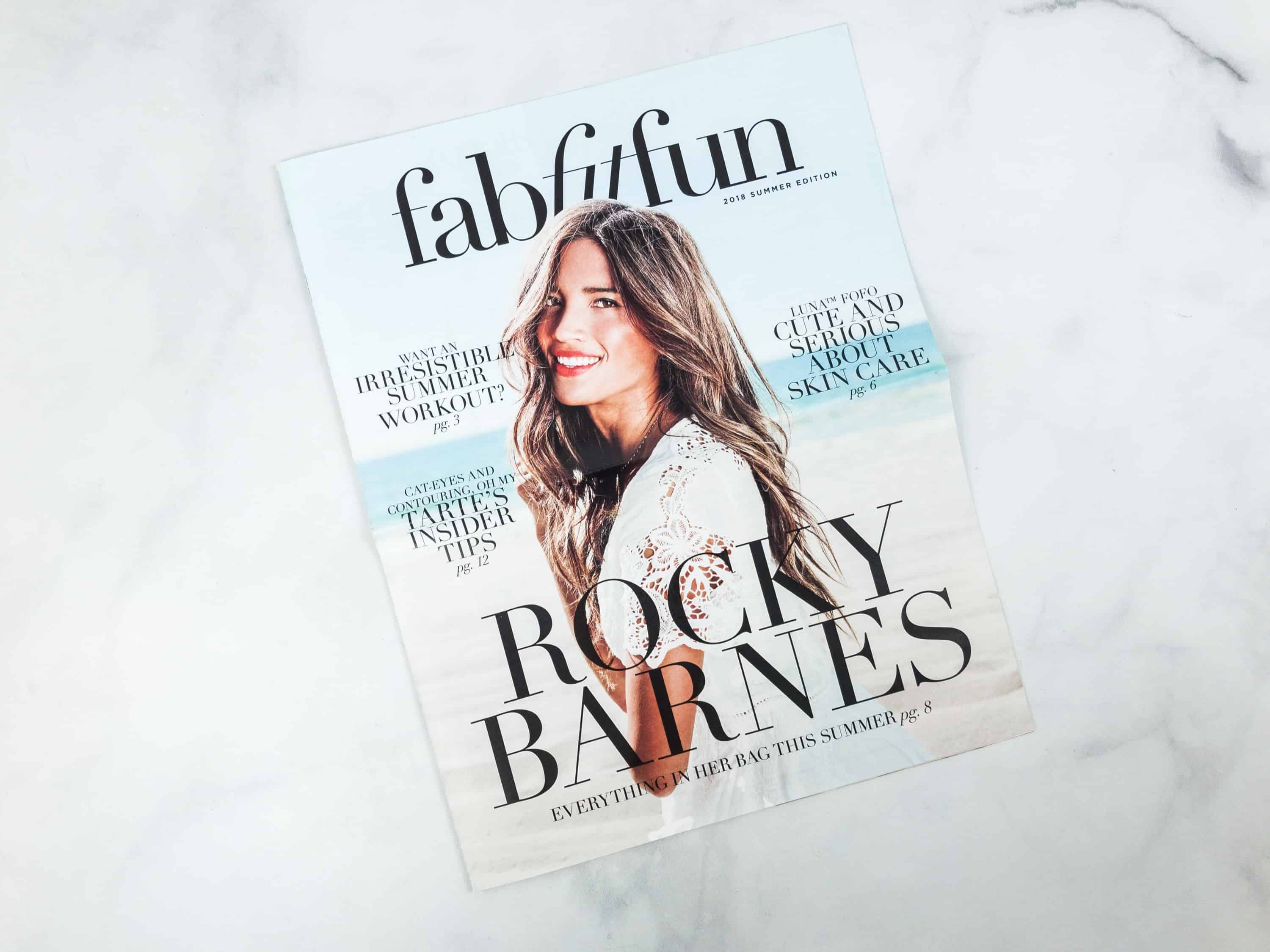 A large format mini-magazine comes in the box.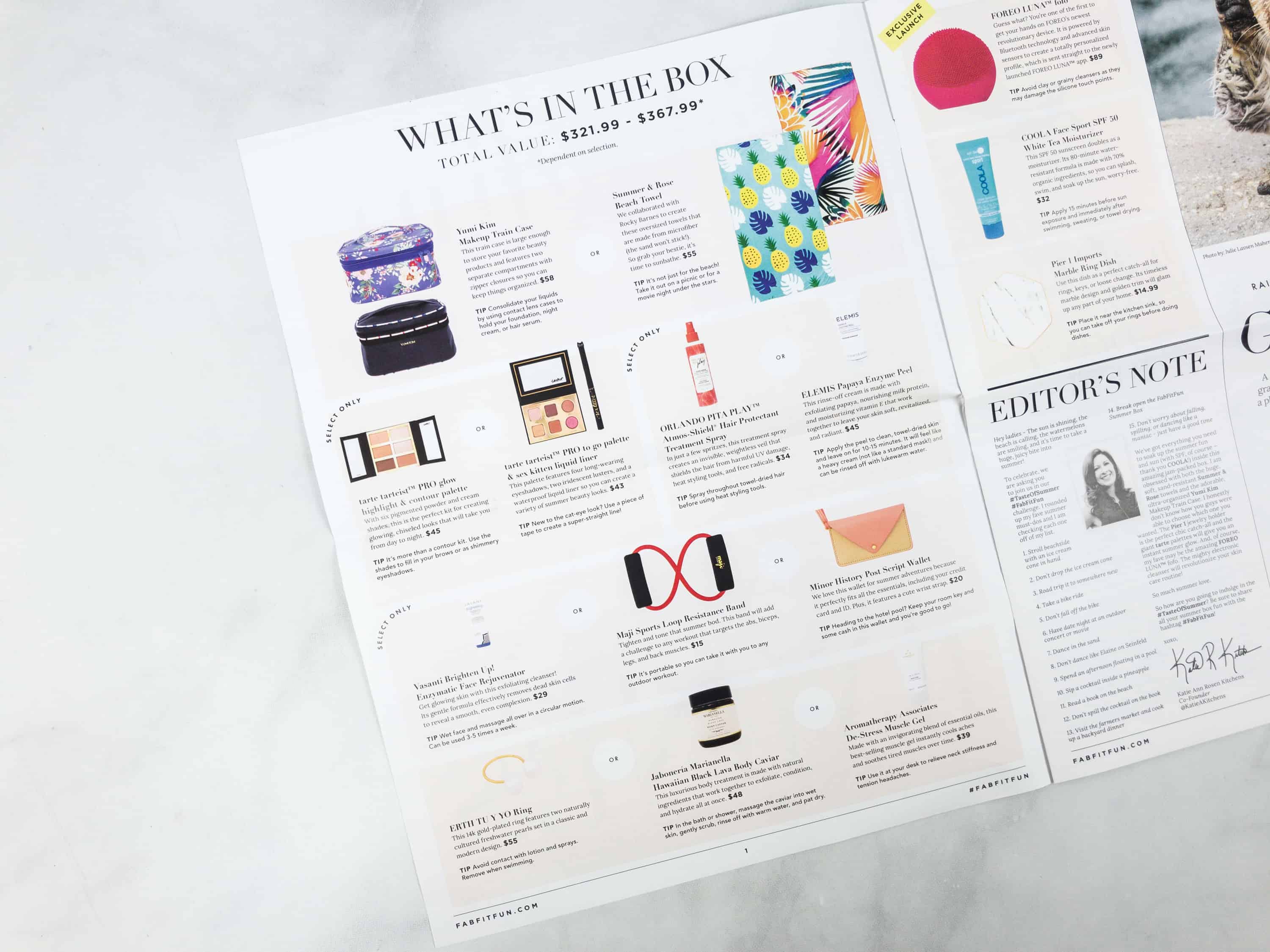 It provides all the details on the products, plus fun lifestyle articles too!
Variations of these can be in your box but not all of them.
A full page gives details on every item in the box.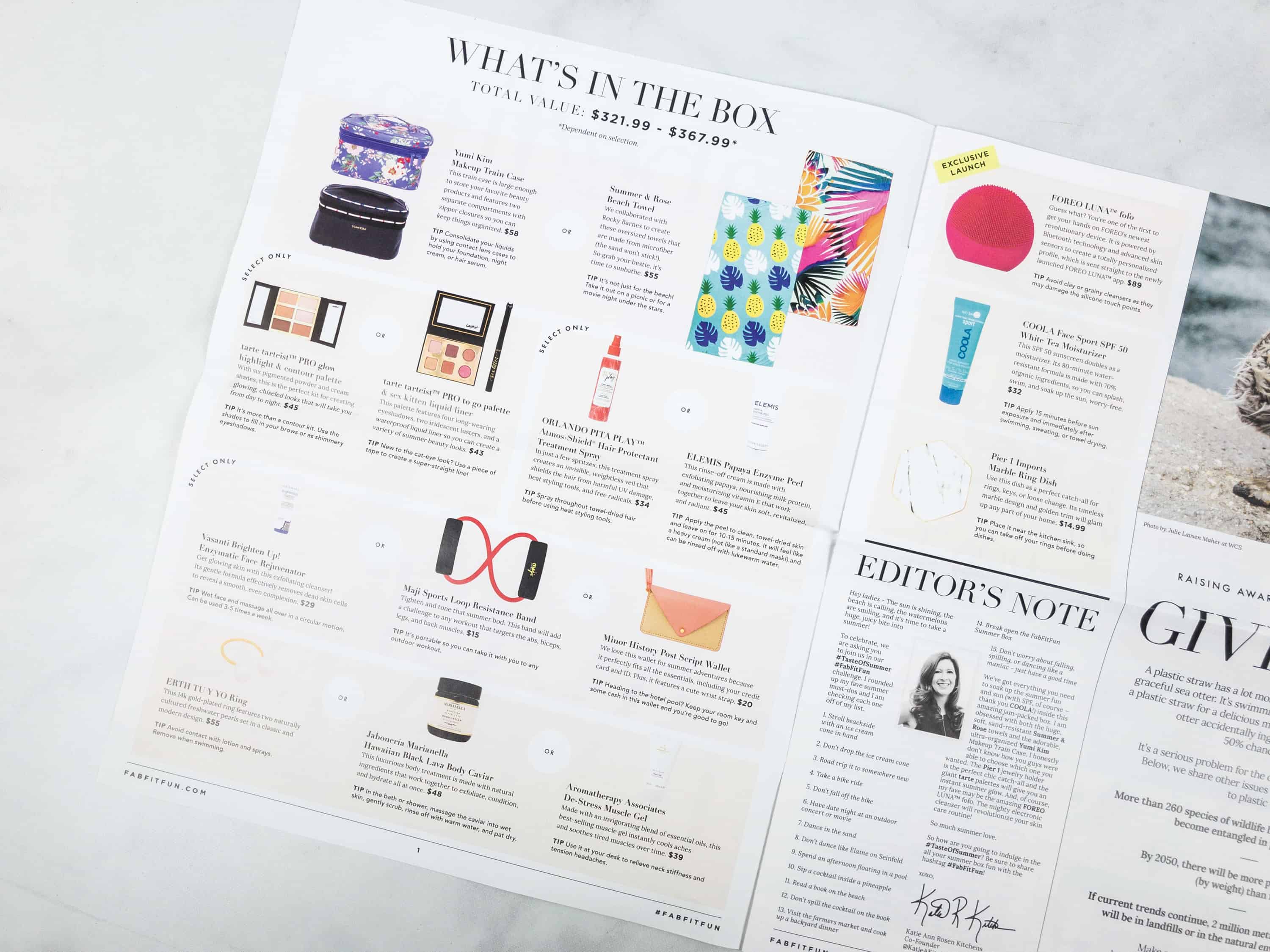 There are also styling tips…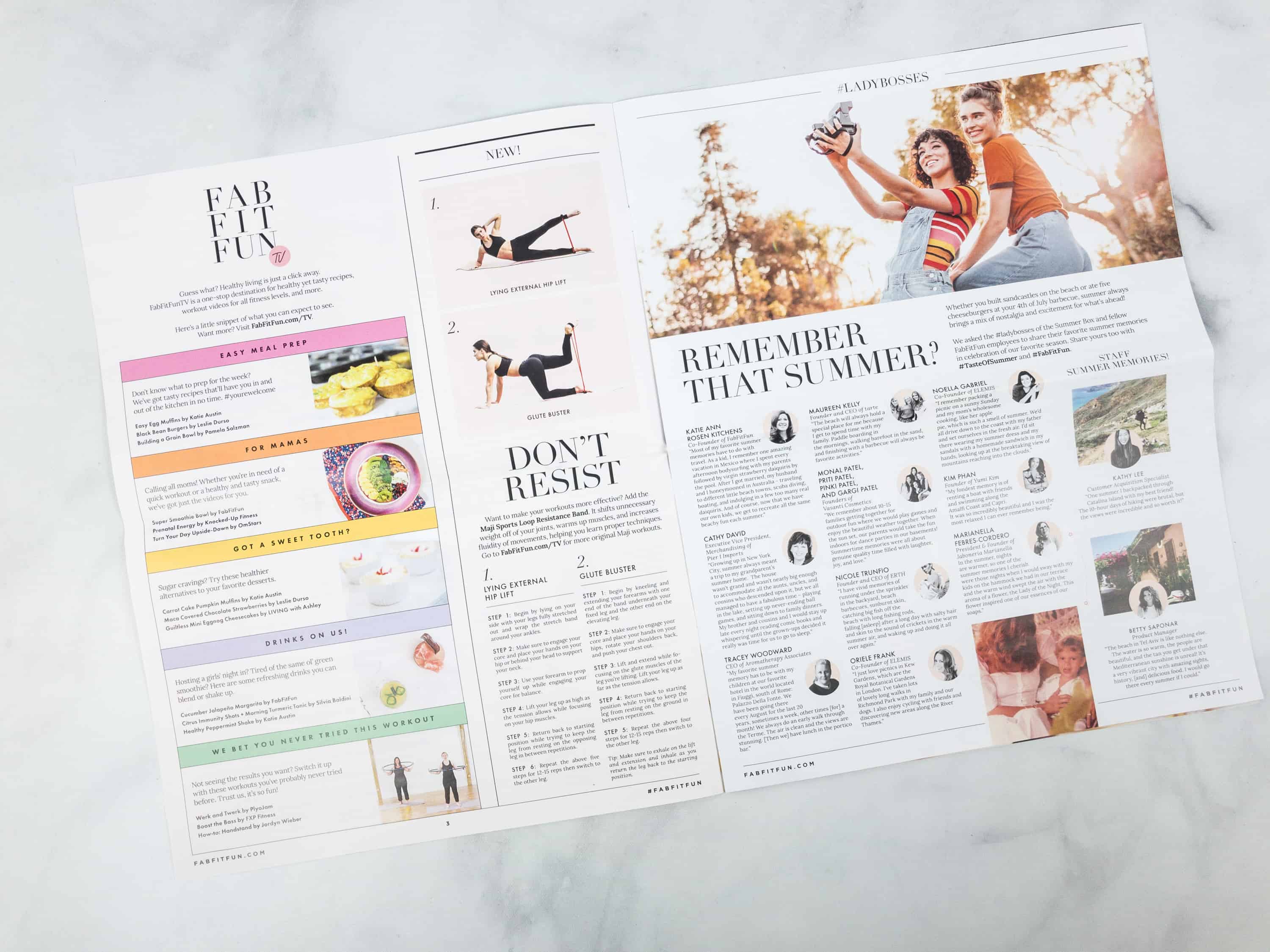 …and feature articles about healthy living, exercises and summer memories.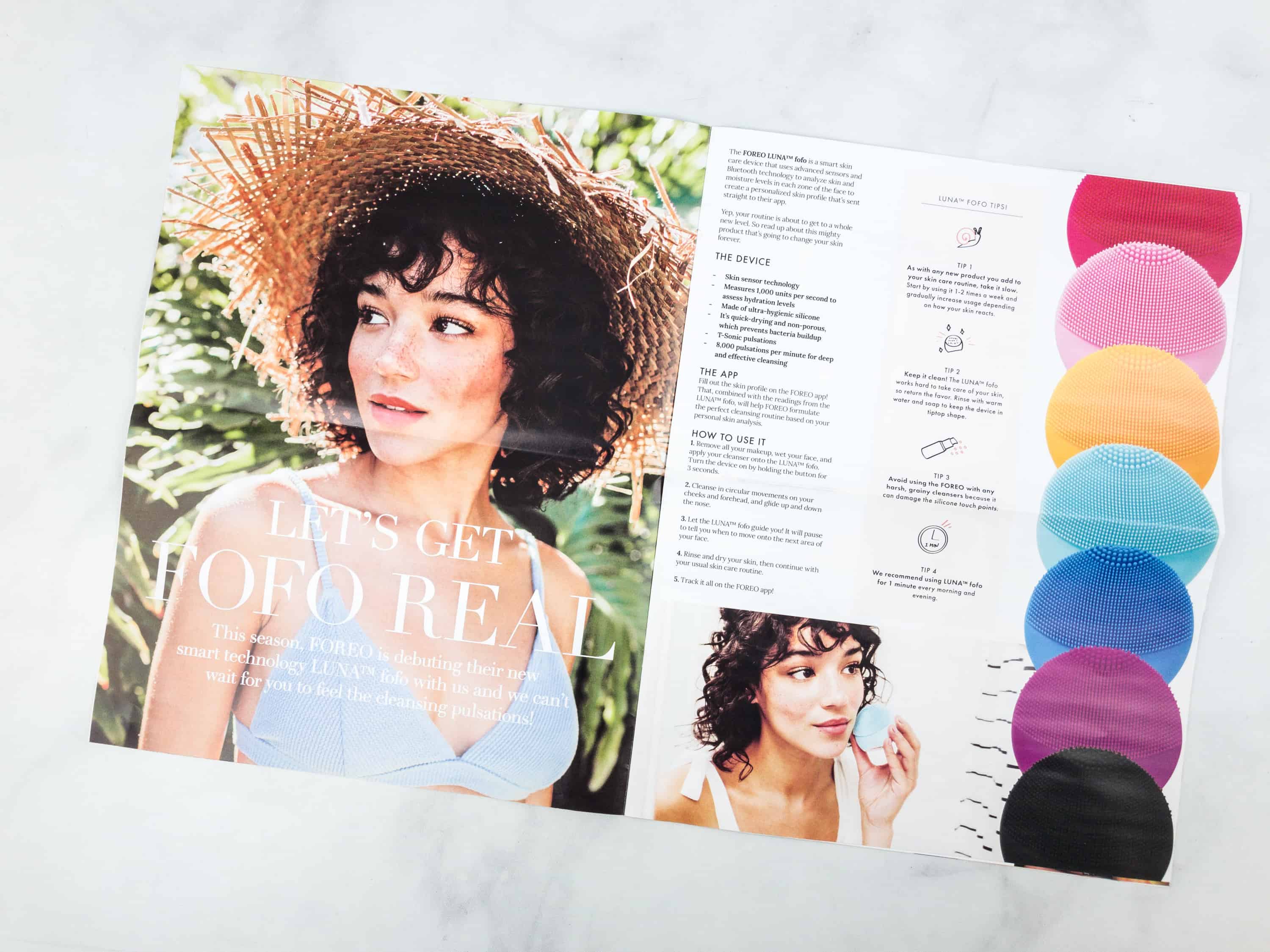 More beauty tips for the beauty junkie!
It's really jampacked with products used and details about the cover.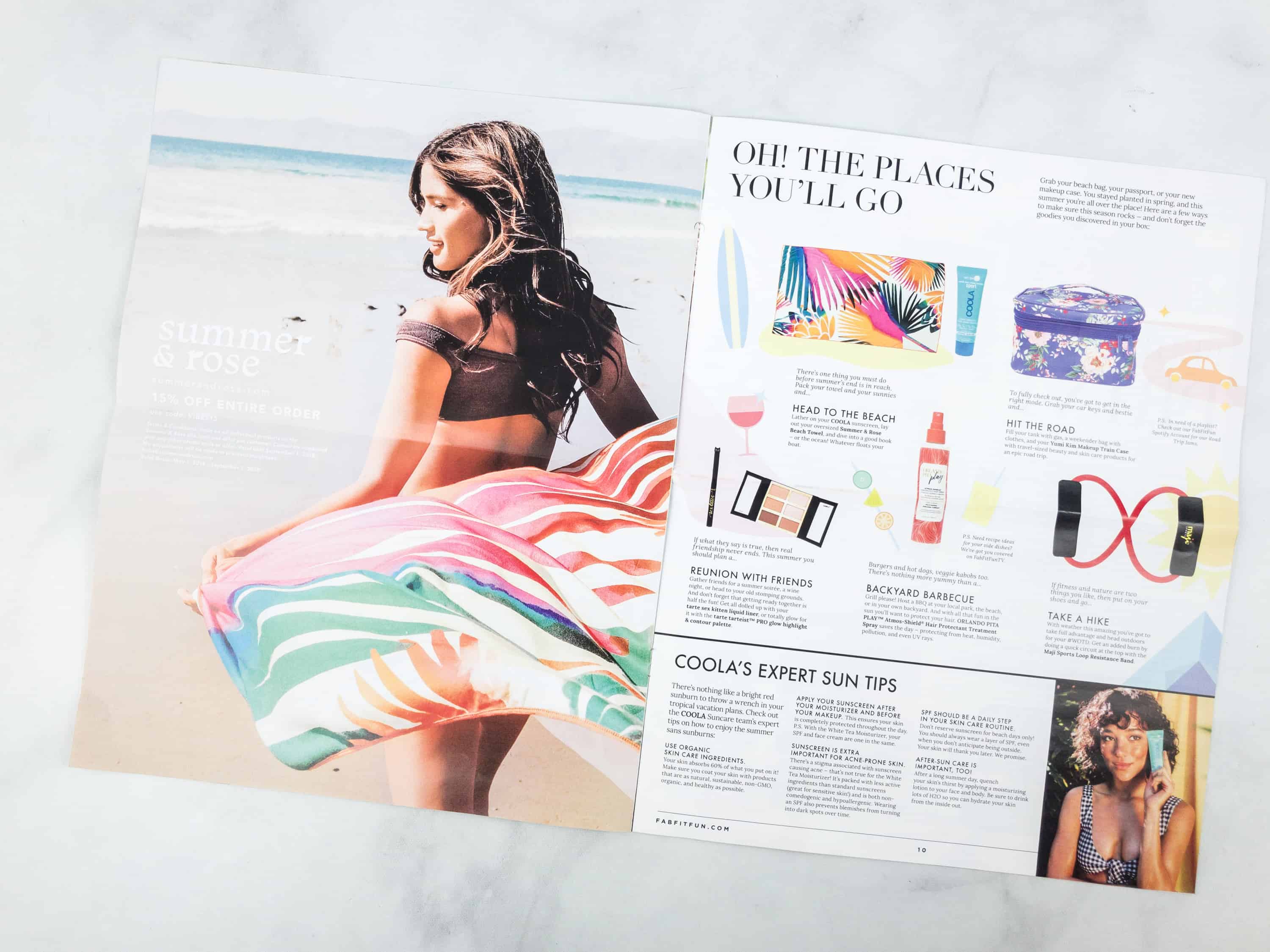 They have suggestions on where you can use the items included in the box.
They are featuring the brand Yumi Kim and an interview with the founder, Kim Phan.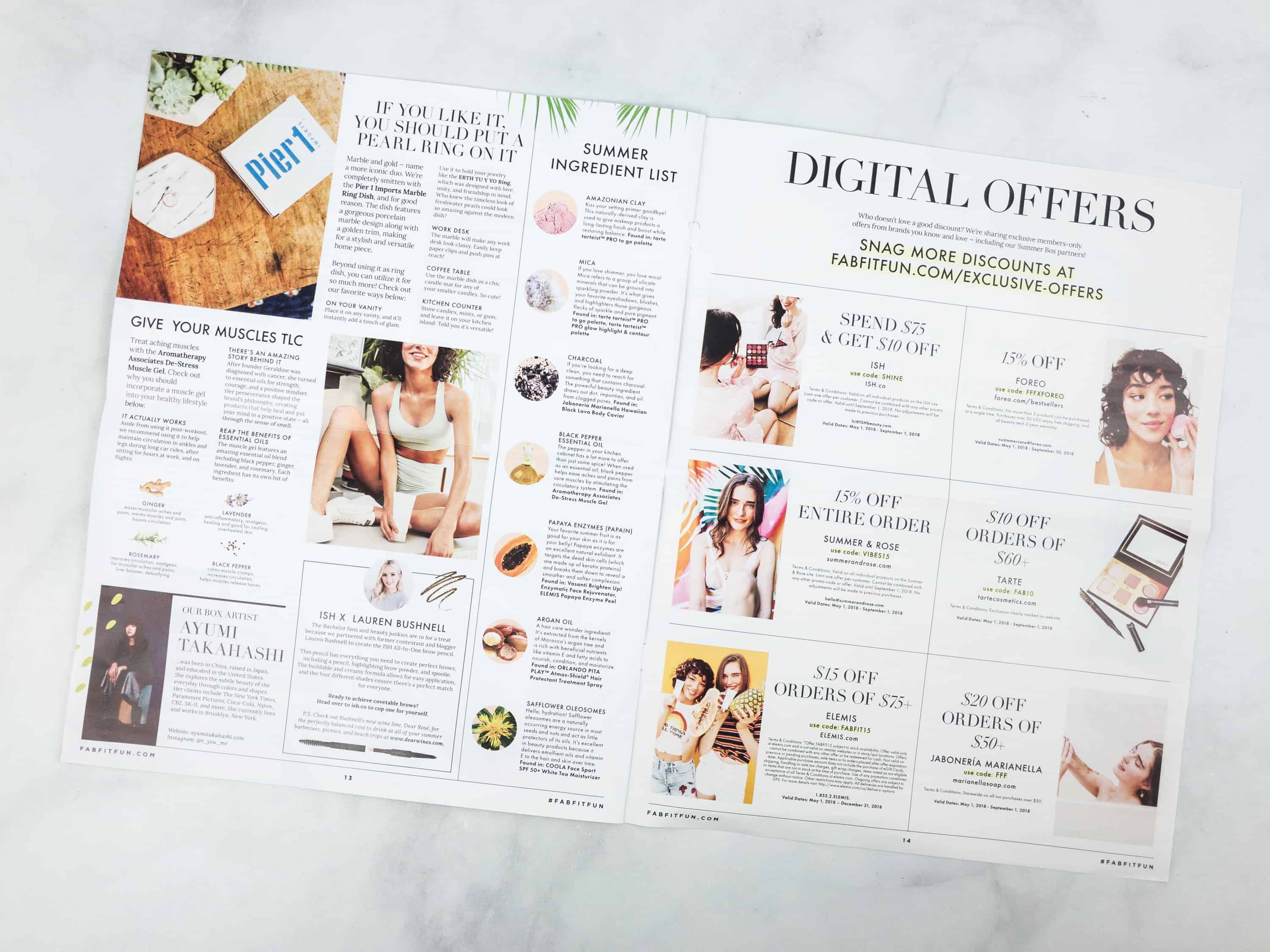 You can learn a lot from this magazine and they also give you coupons that can be used at their website.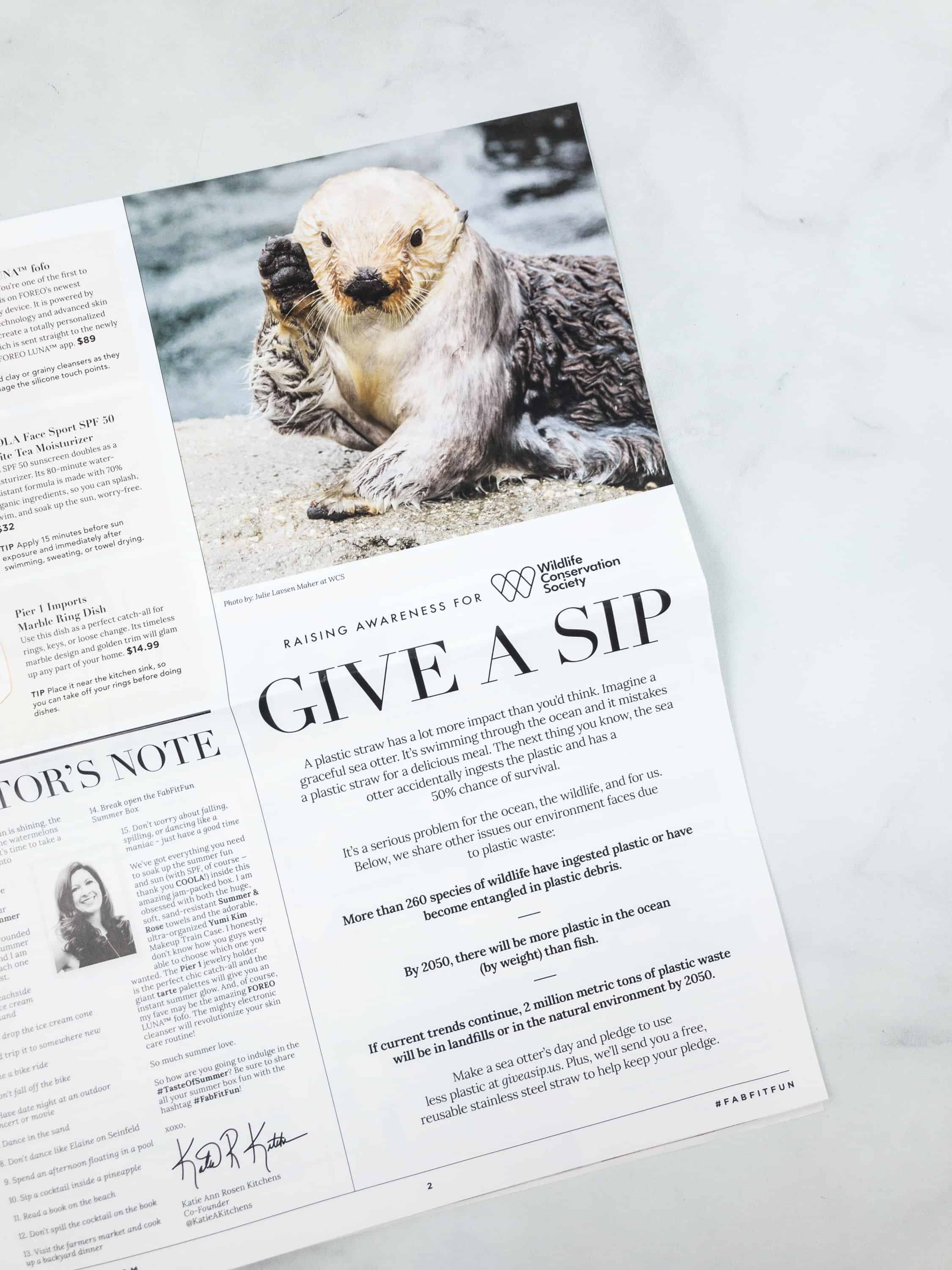 They also raise environmental awareness and how you can help.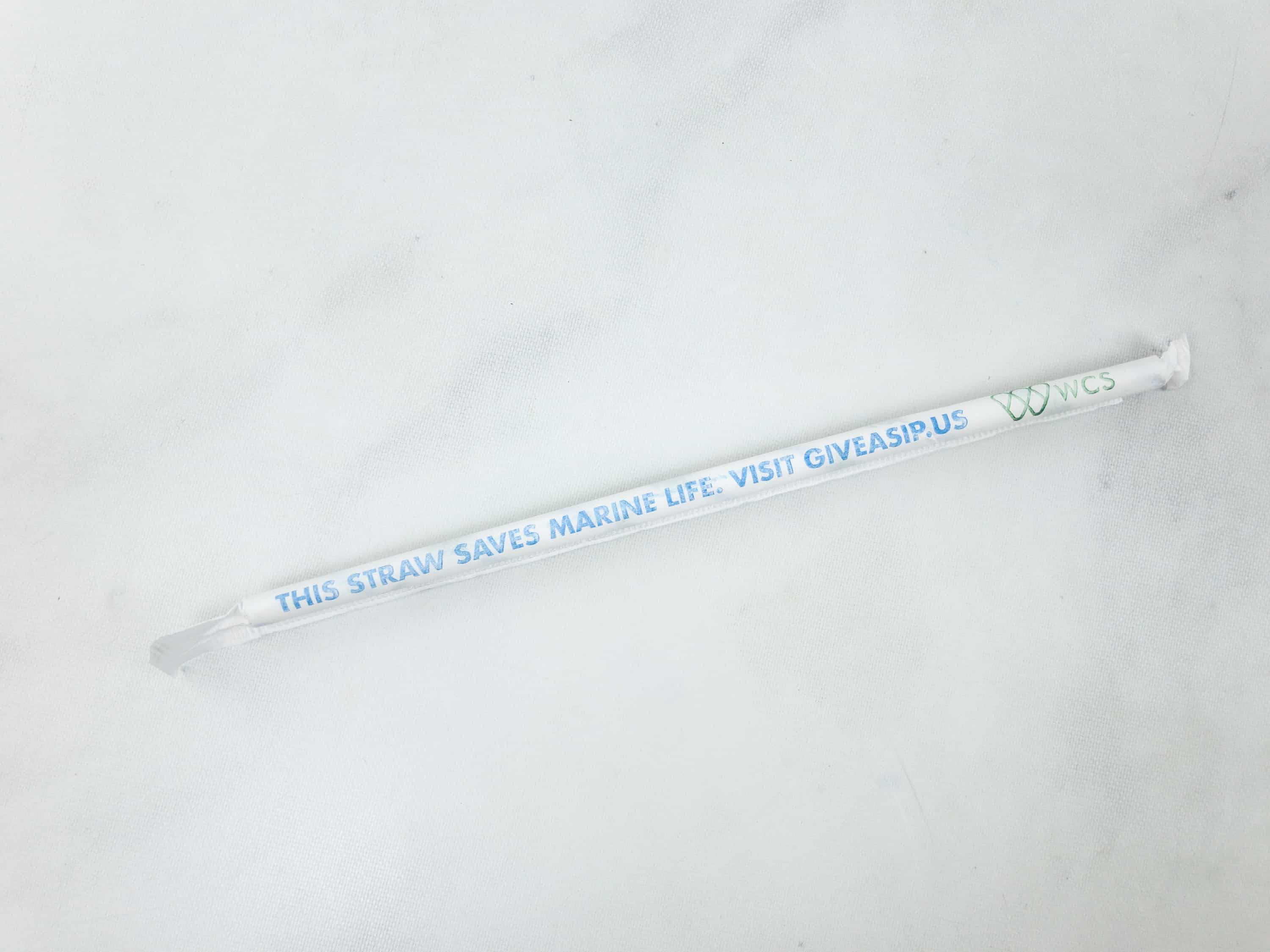 They need our support and we can by visiting their website.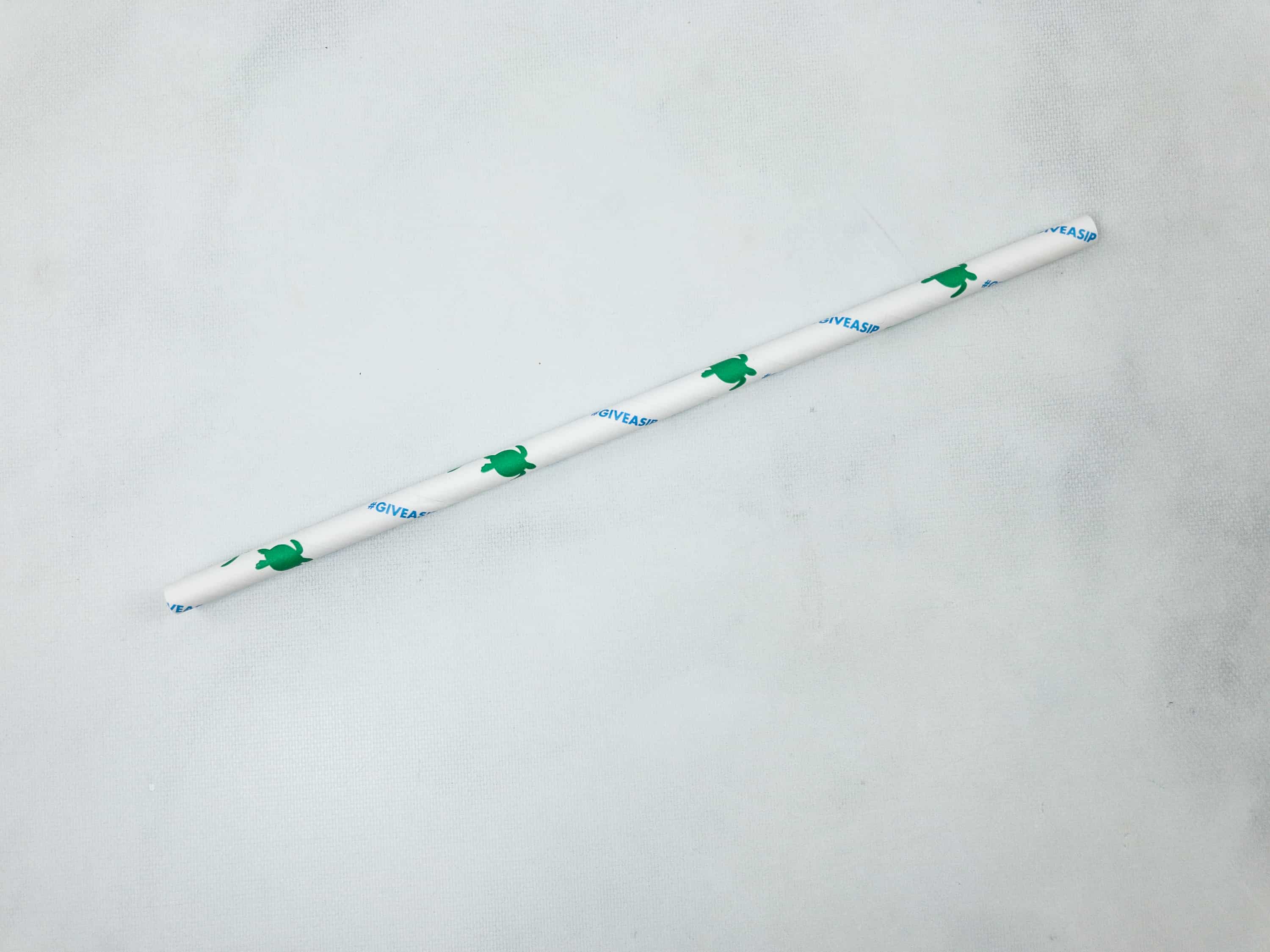 A simple transformation of a plastic straw to a paper one can save marine lives.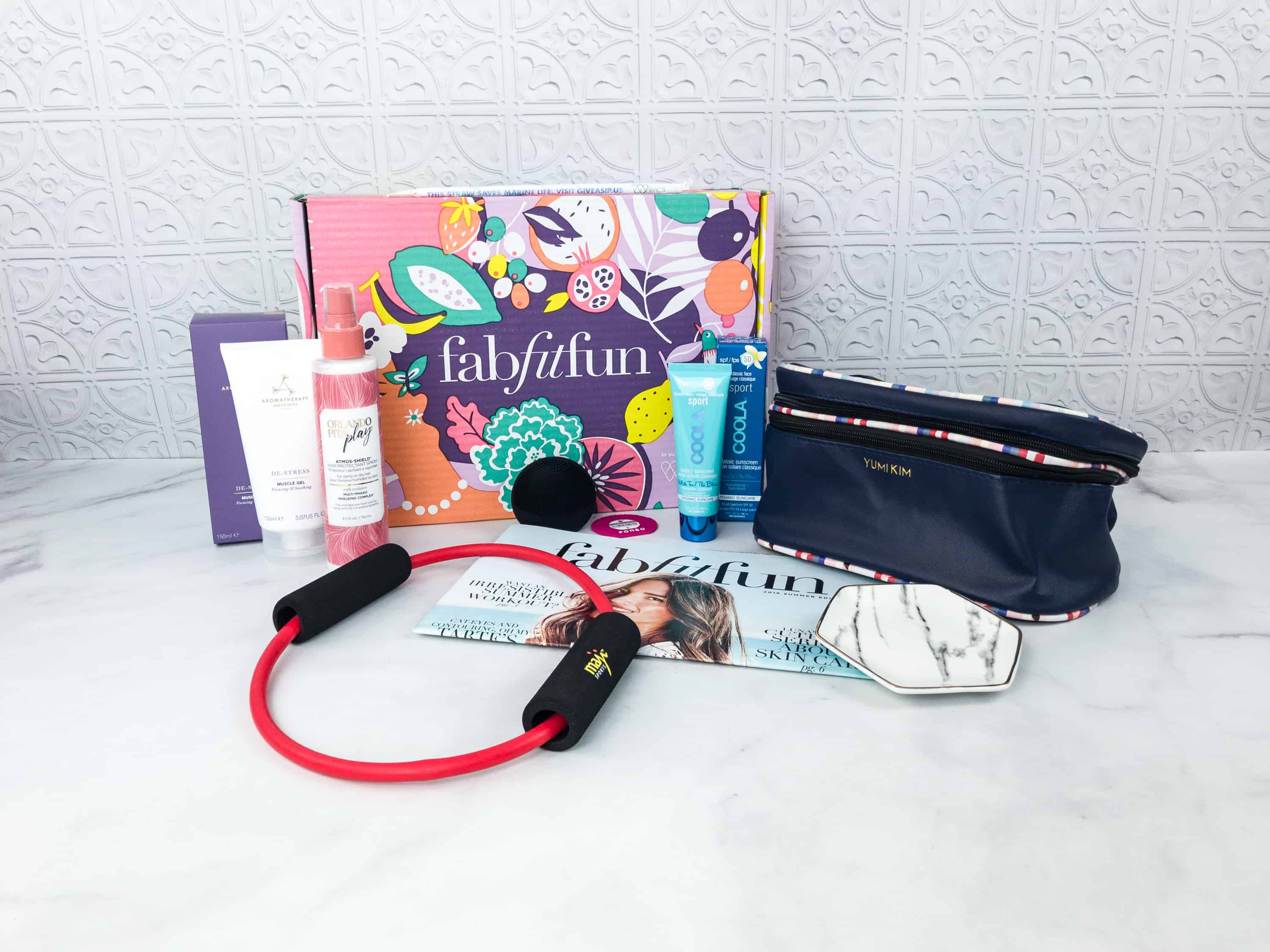 Everything in the FabFitFun VIP Box for Summer 2018! There are a few item variations that are detailed below.
Everyone Gets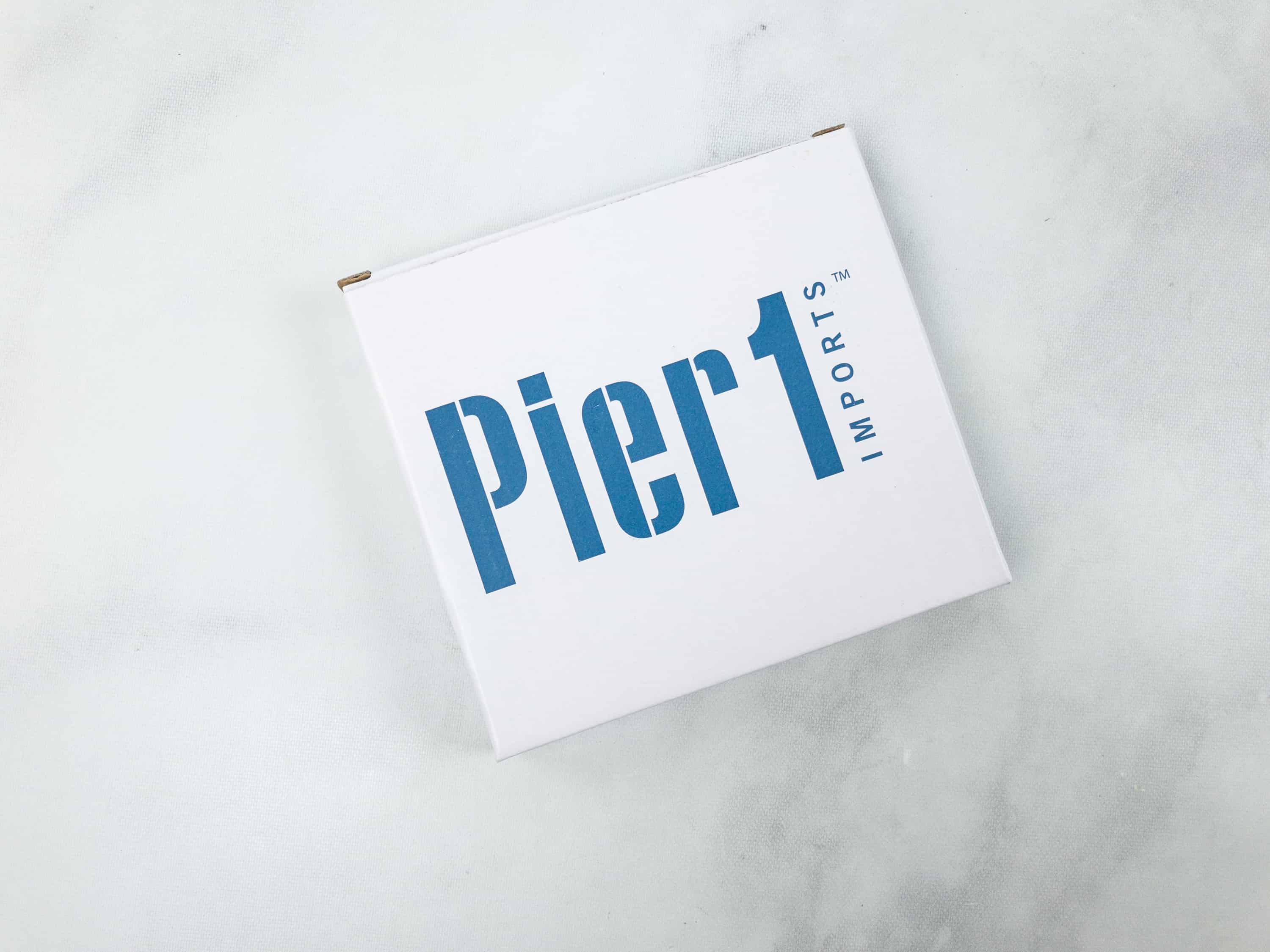 Pier 1 Imports Marble Ring Dish ($14.99) The marble ring dish arrived securely in its own box packaging.
This is a classy dish for your trinkets. You can put your go-to accessories in here and not worry about misplacing them.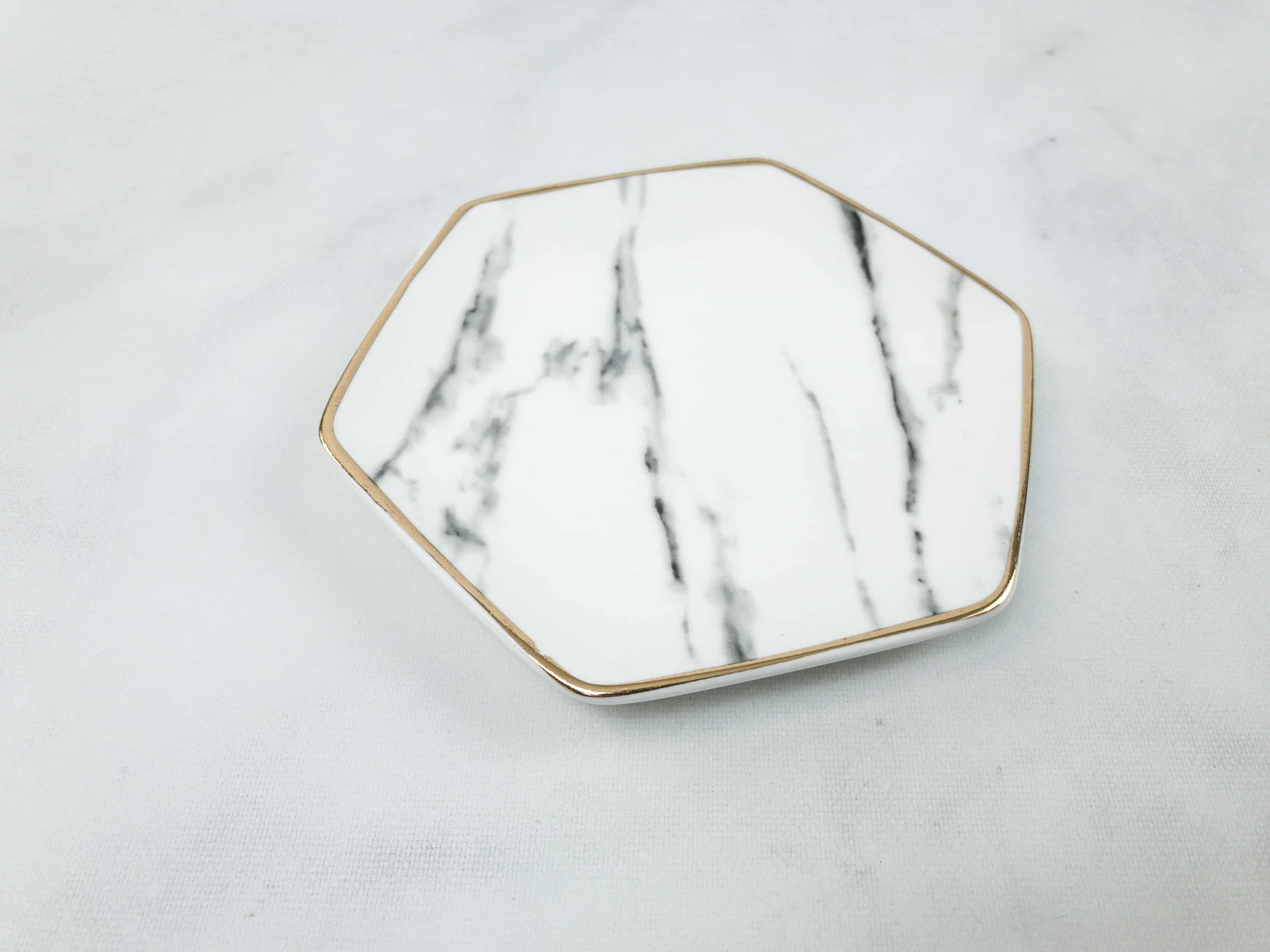 It is ceramic with gold trimmed sides that is in a perfect size for your desk or your room. It's lovely and definitely matches my style!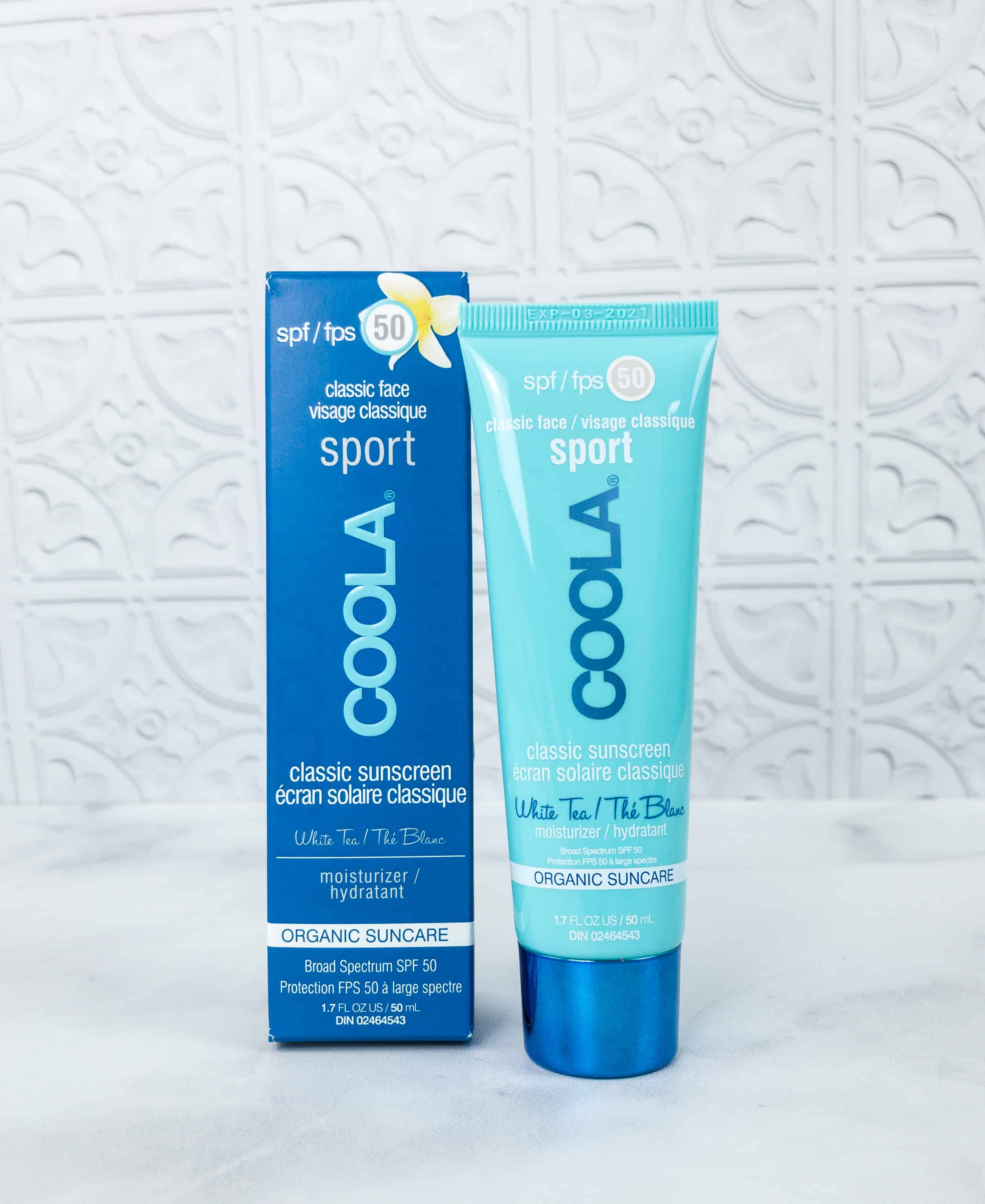 COOLA Face Sport SPF 50 White Tea Moisturizer ($32) This is a vegan sunscreen and sure smells like it! I don't really mind the unique smell because it is an effective water-resistant lightweight SPF50 face sunscreen and a moisturizer in one. It is not greasy at all, which is perfect for active days under the sun. The key ingredients are evening primrose extract, linseed oils, and safflower oloesomes that even the skin tone, reduce redness and provide long-lasting hydration. You need to apply it 15 minutes before sun exposure and reapply at least every two hours or after 40 minutes of swimming or sweating. No issues with ghosting/whiteness!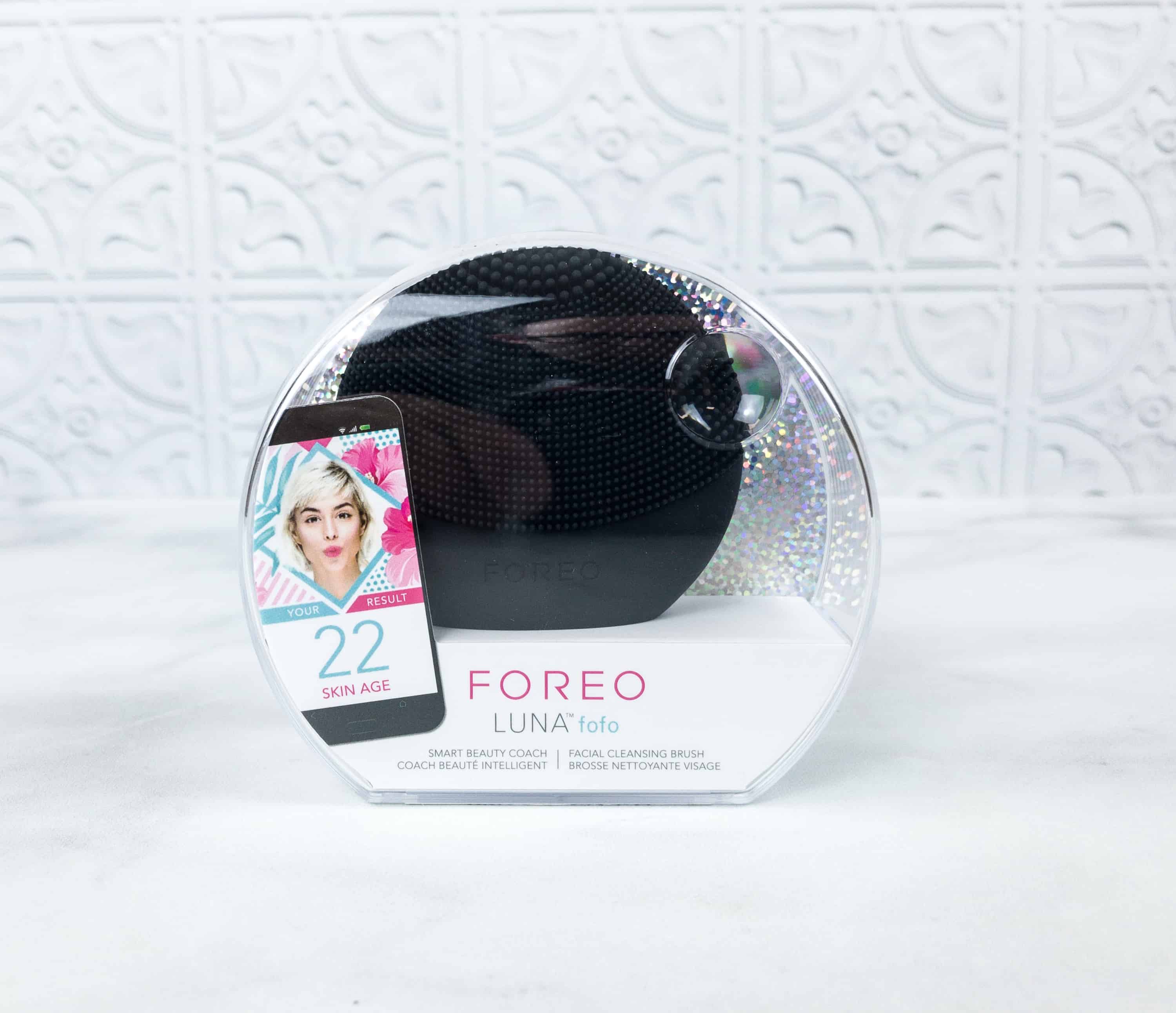 Foreo Luna Fofo ($89) I think this is the belle of the box as it is the most expensive. Subscribers received a random color choice. I love that I got it in black!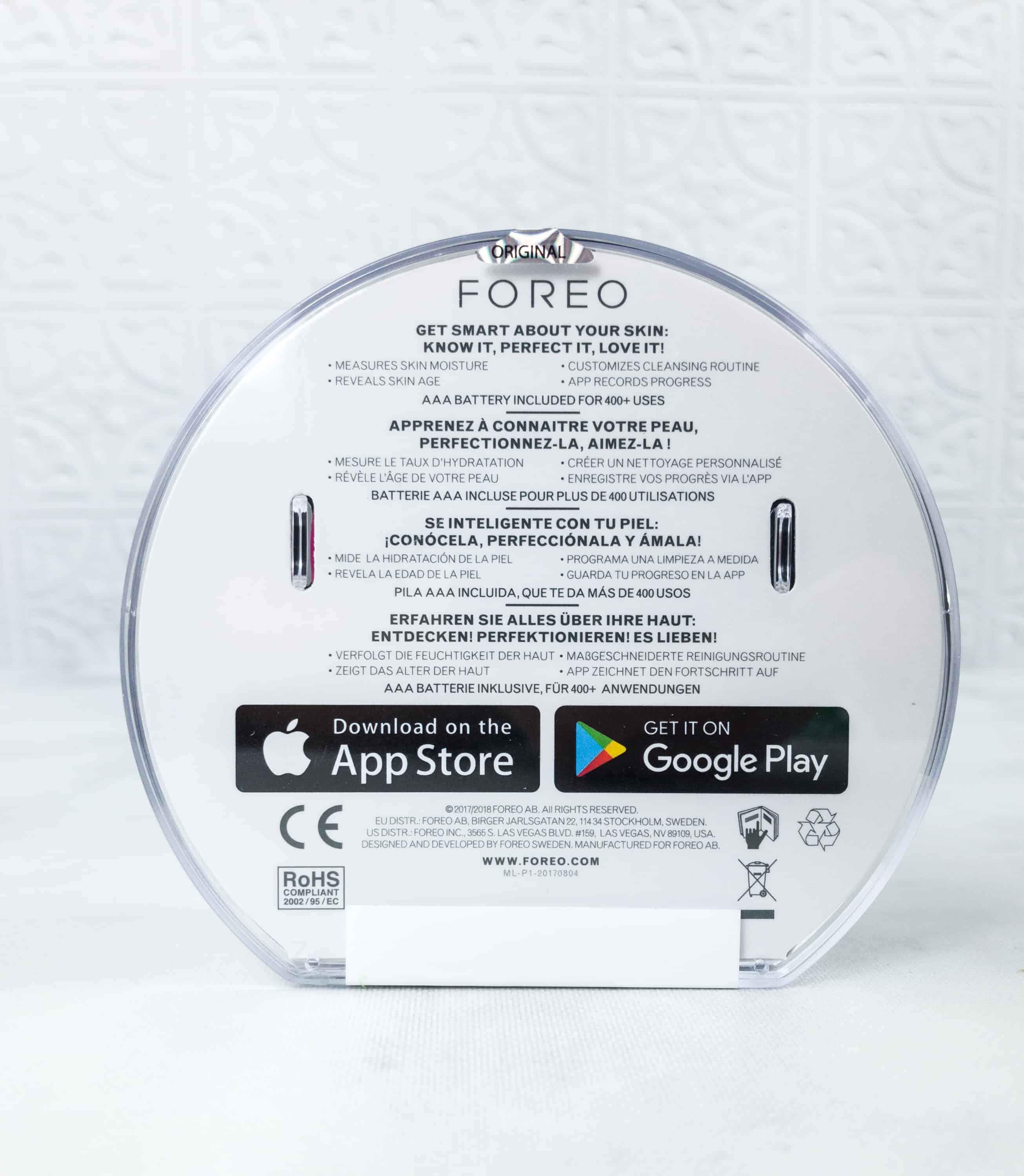 This product works with an app as well! You can download the Foreo For You App in iTunes for Apple and on Google Play. It is AAA battery operated that is good for 400+ uses.
There's a mini instruction guide on how to switch the batteries if it runs out and you can even download the full user manual online. This is way more awesome than a disposable Foreo!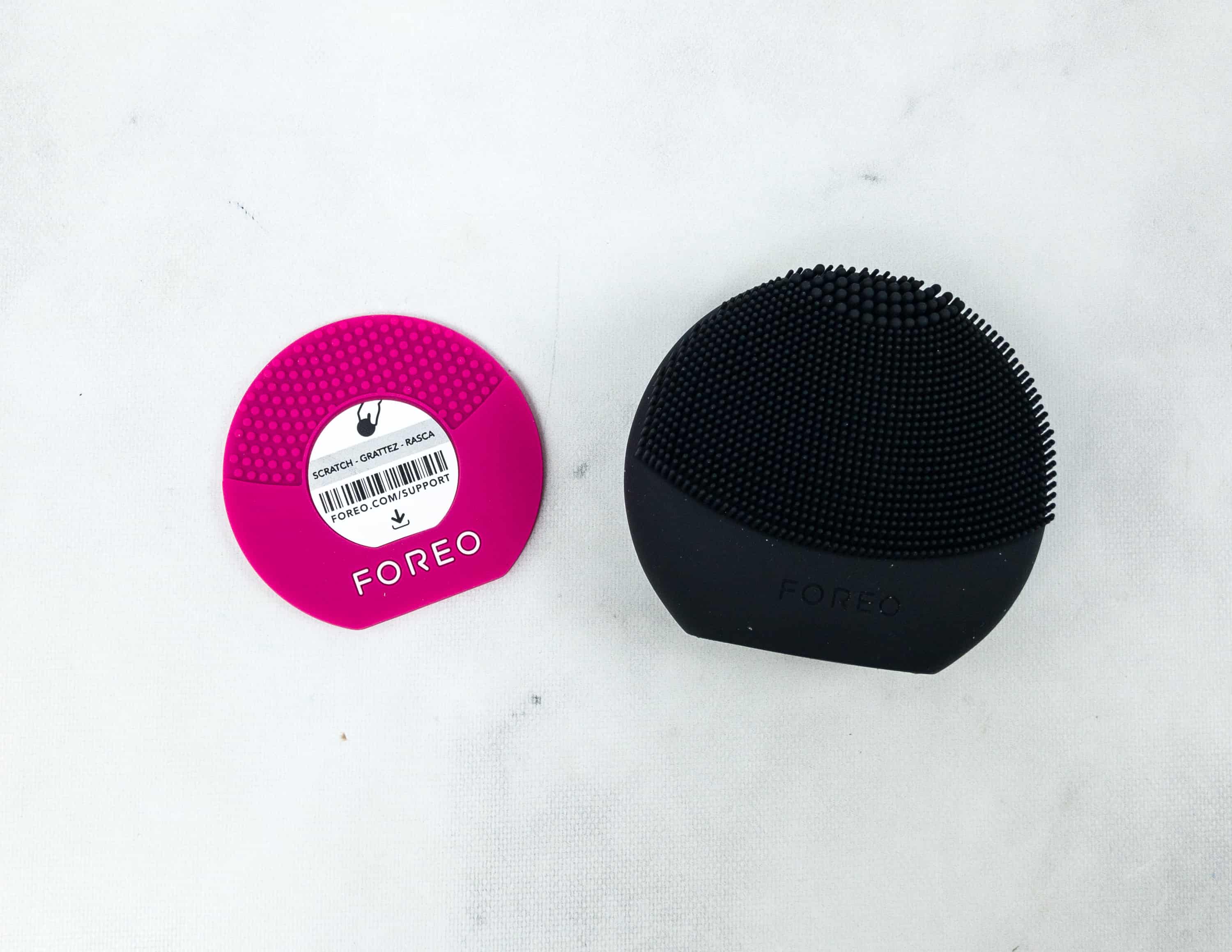 I'm excited about this product because it offers a technological approach to cleaning our faces. Foreo uses T-sonic pulsations which massages, cleanses and gently exfoliates the face. The Foreo line can be overwhelming at first and I appreciate that FabFitFun box decided to launch this. After removal of makeup, apply any cleanser to your damp face or straight to the silicone bristles and turn it on. Gently massage it to one area of your face at a time. You will know when to switch areas when the machine pauses. After you are done, turn it off and wash off the remaining product easily.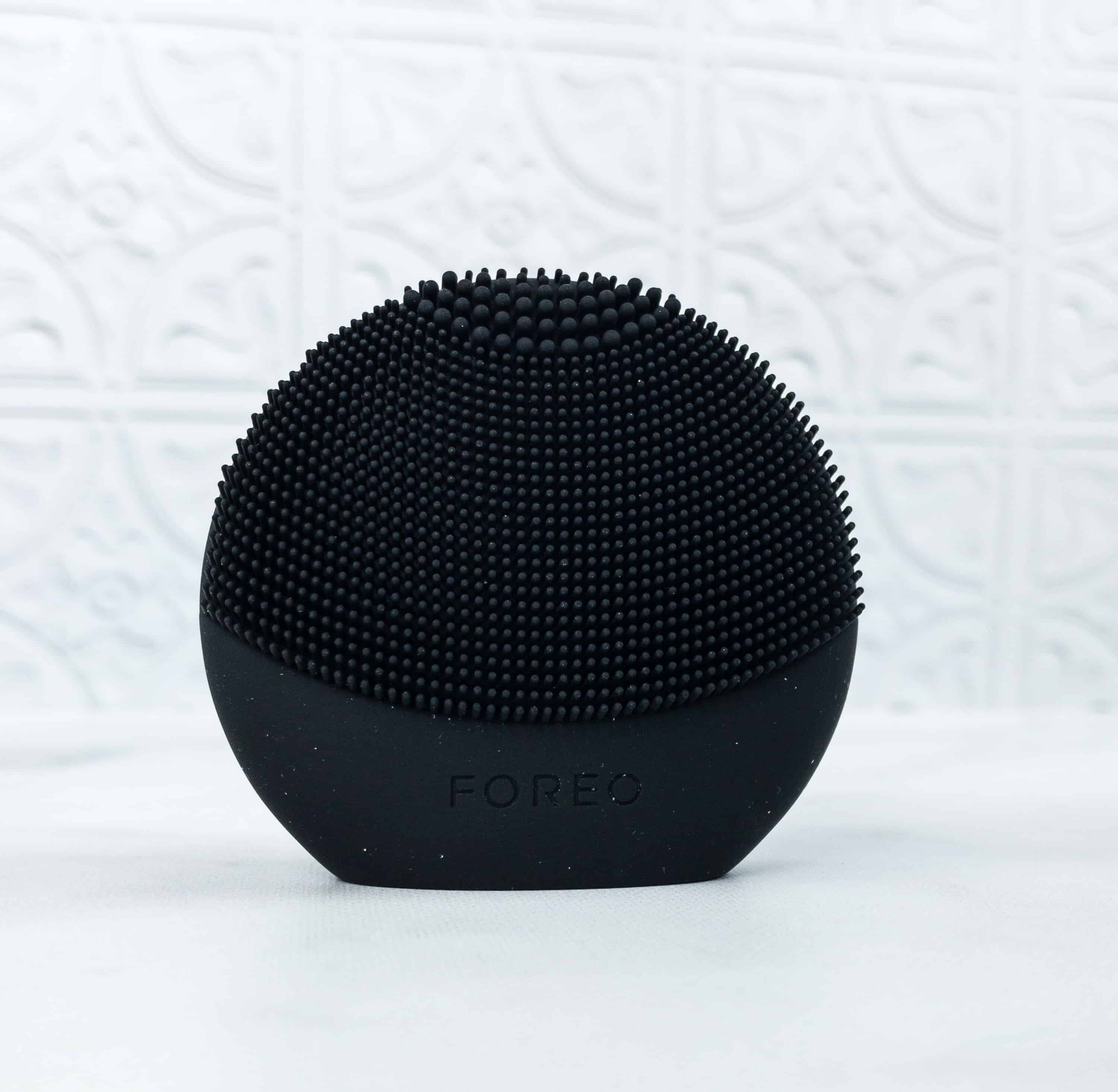 This is good for all types of skin, with silicone bristles that are quick-drying and resistant to bacteria build up (no need to switch bristles or brushes). The app is a big help, but you can also use this without the app if you want.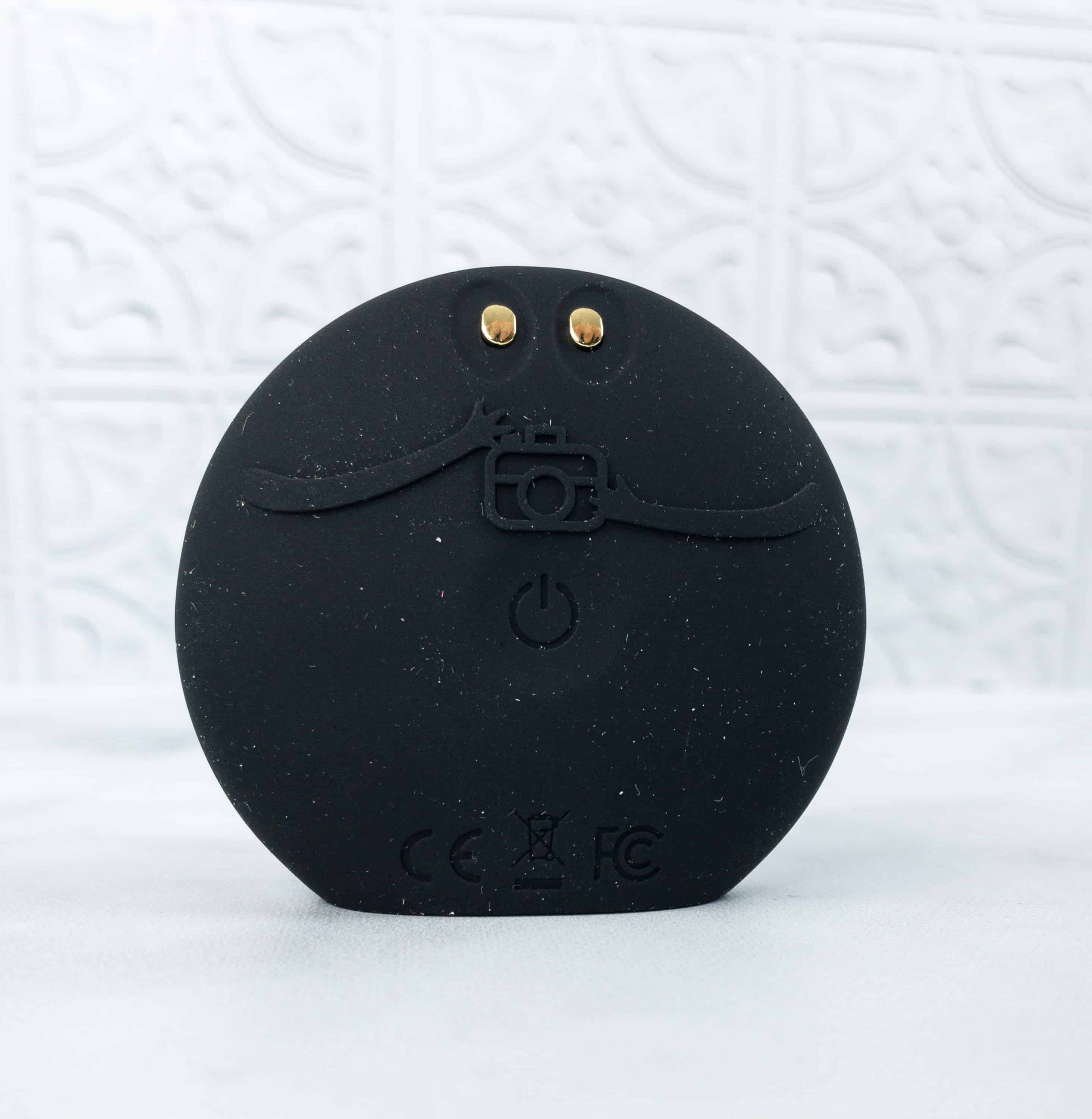 After completing your profile in Foreo For You App, you will be asked to place the two dual sensors (gold thingies on the picture), to four defined special areas. It will measure the hydration level of the skin and the algorithm processes these to provide your skin stats. The app will also offer personalized tips and tricks to improve your skin care.
Choice Item Variations (All Subscribers Choose Variations)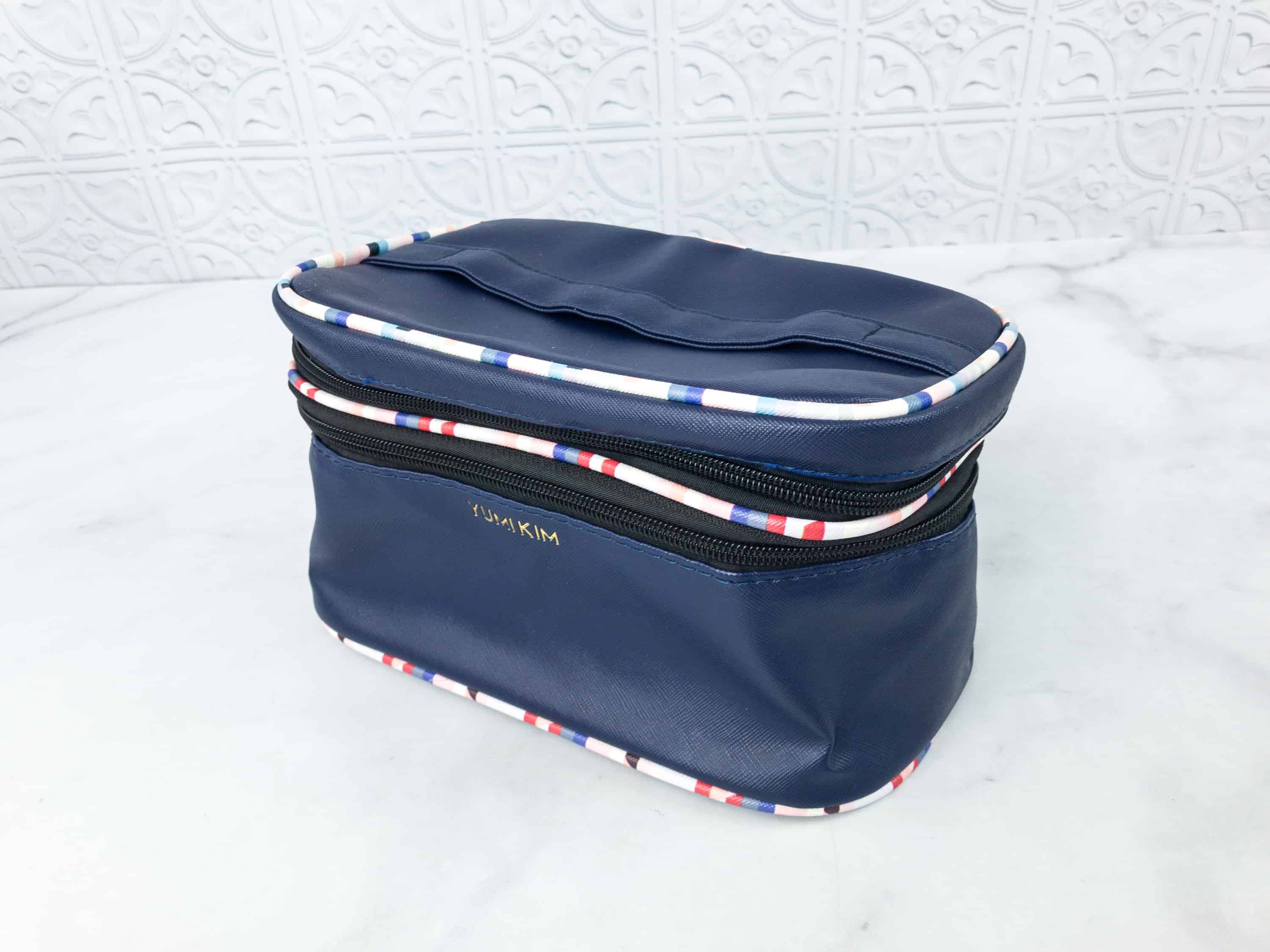 Yumi Kim Makeup Train Case ($58) This case is perfect for the makeup junkie who loves to travel. The founder of the Yumi Kim brand, Kim Phan, believes in 'one and done' motto for her products.
If you aren't an annual subscriber you could have received one of two variations of the train case, or a Summer & Rose beach towel. Annual subscribers were able to pick!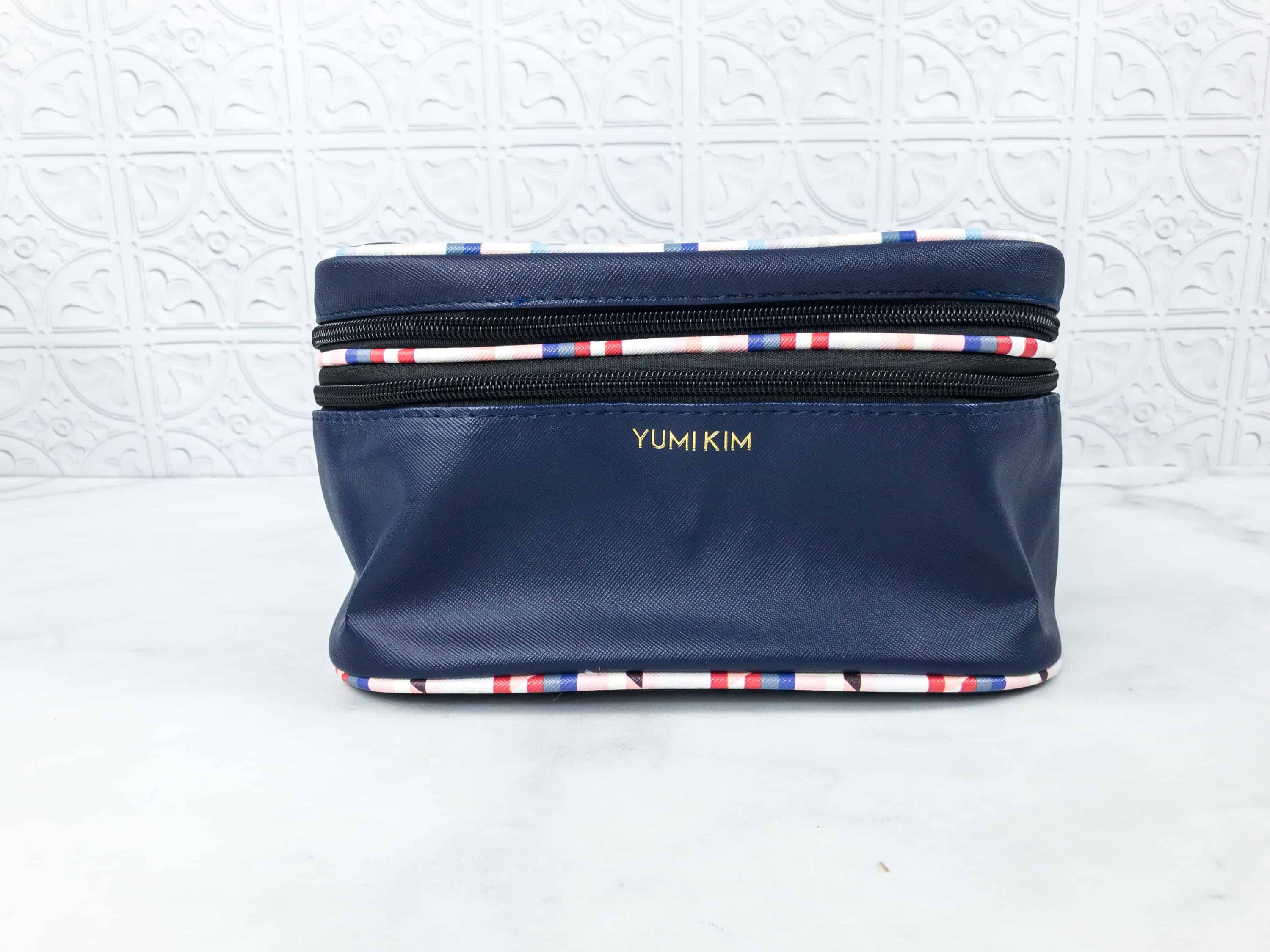 The train case is spacious and has 2 compartments with zipper closure. The top has many sub-compartments, and the second one is ideal for bigger items.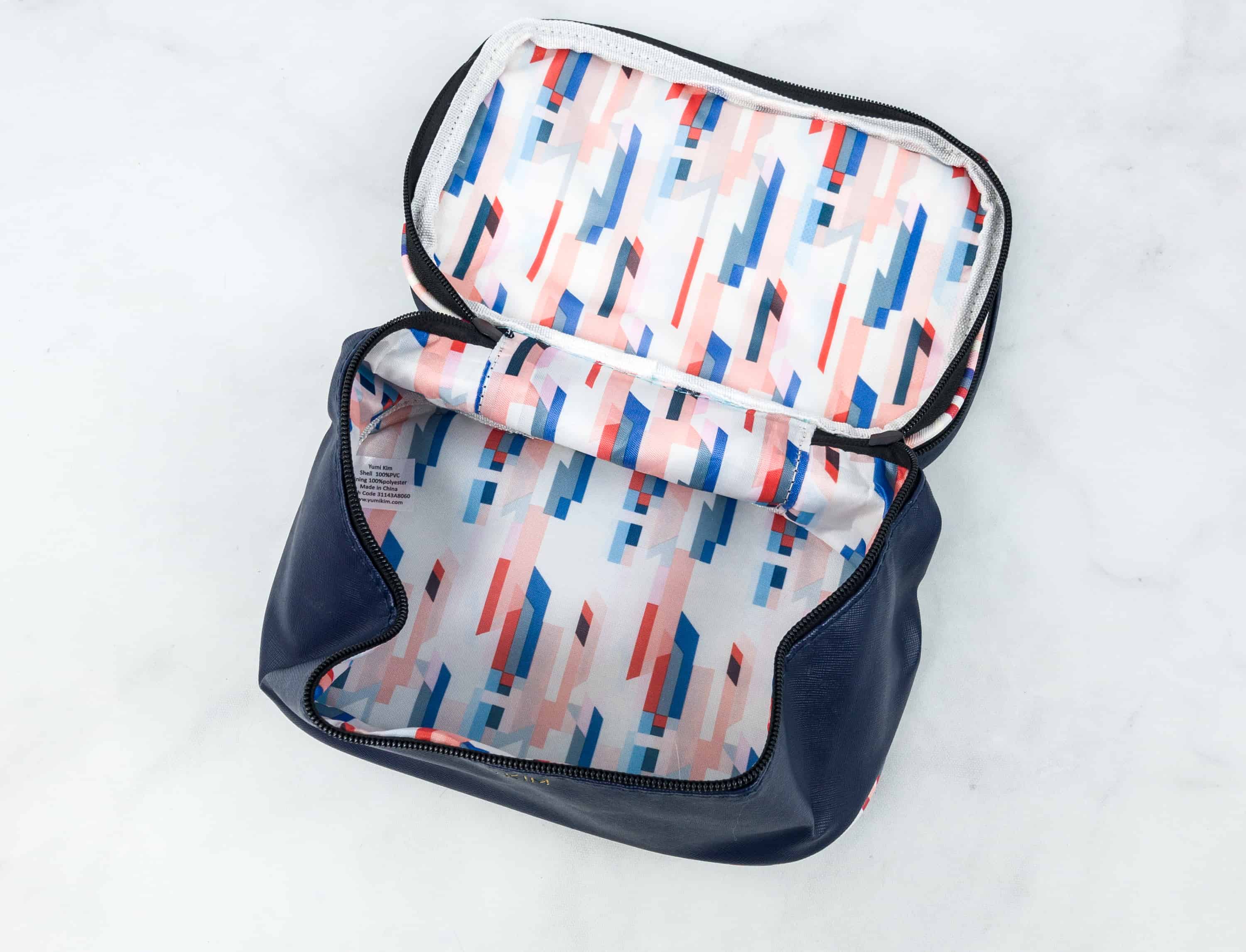 This actually comes in two designs: one with a vintage floral print and one with a modern geometric pattern. I received the latter!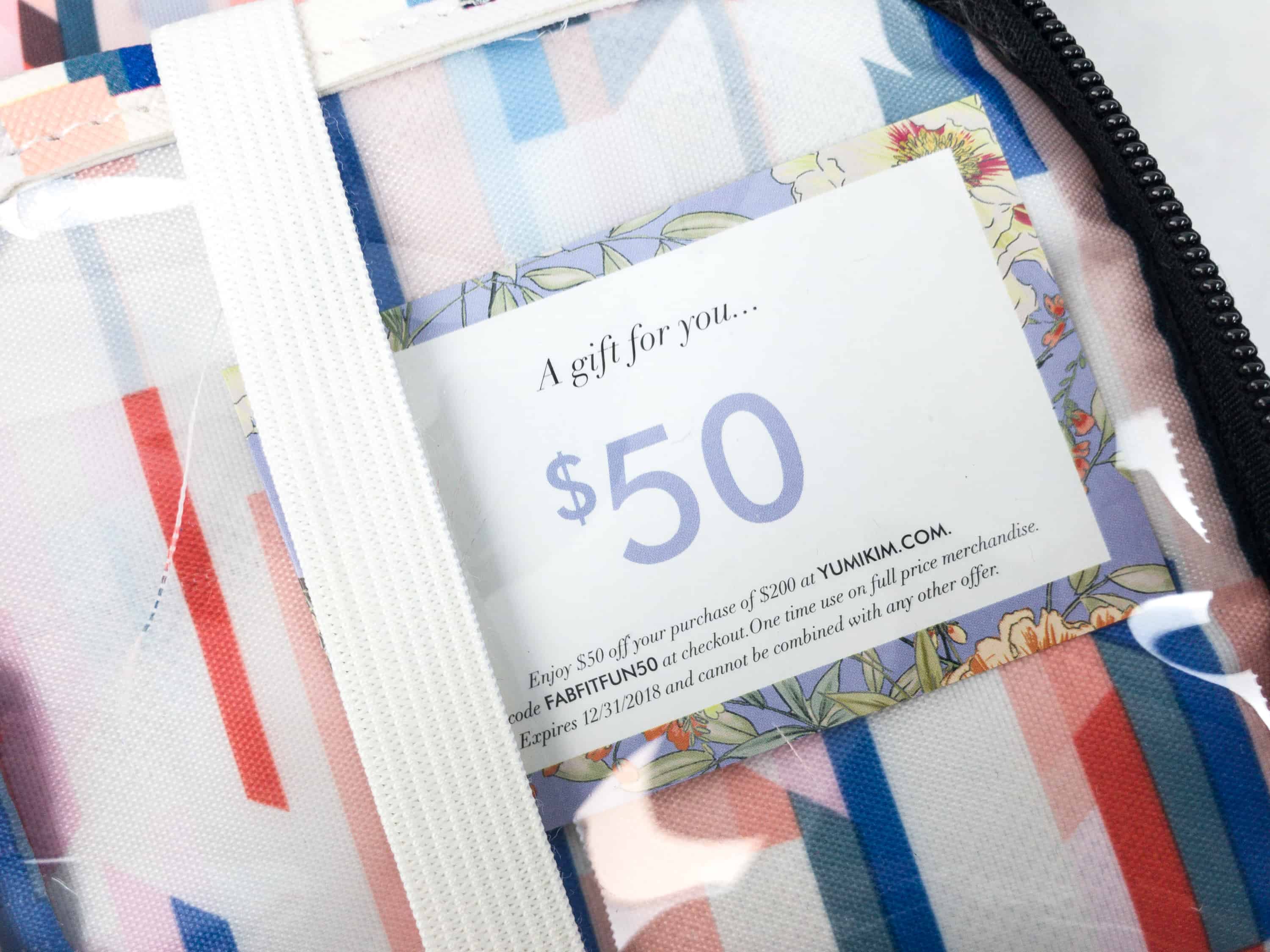 They gave us a $50 off for a $200 purchase at Yumi Kim's online shop.
This case is not exclusively for makeup only. These are the sub-compartments I was talking about. You can easily store your makeup brushes or toiletries and other travel essentials there without problems.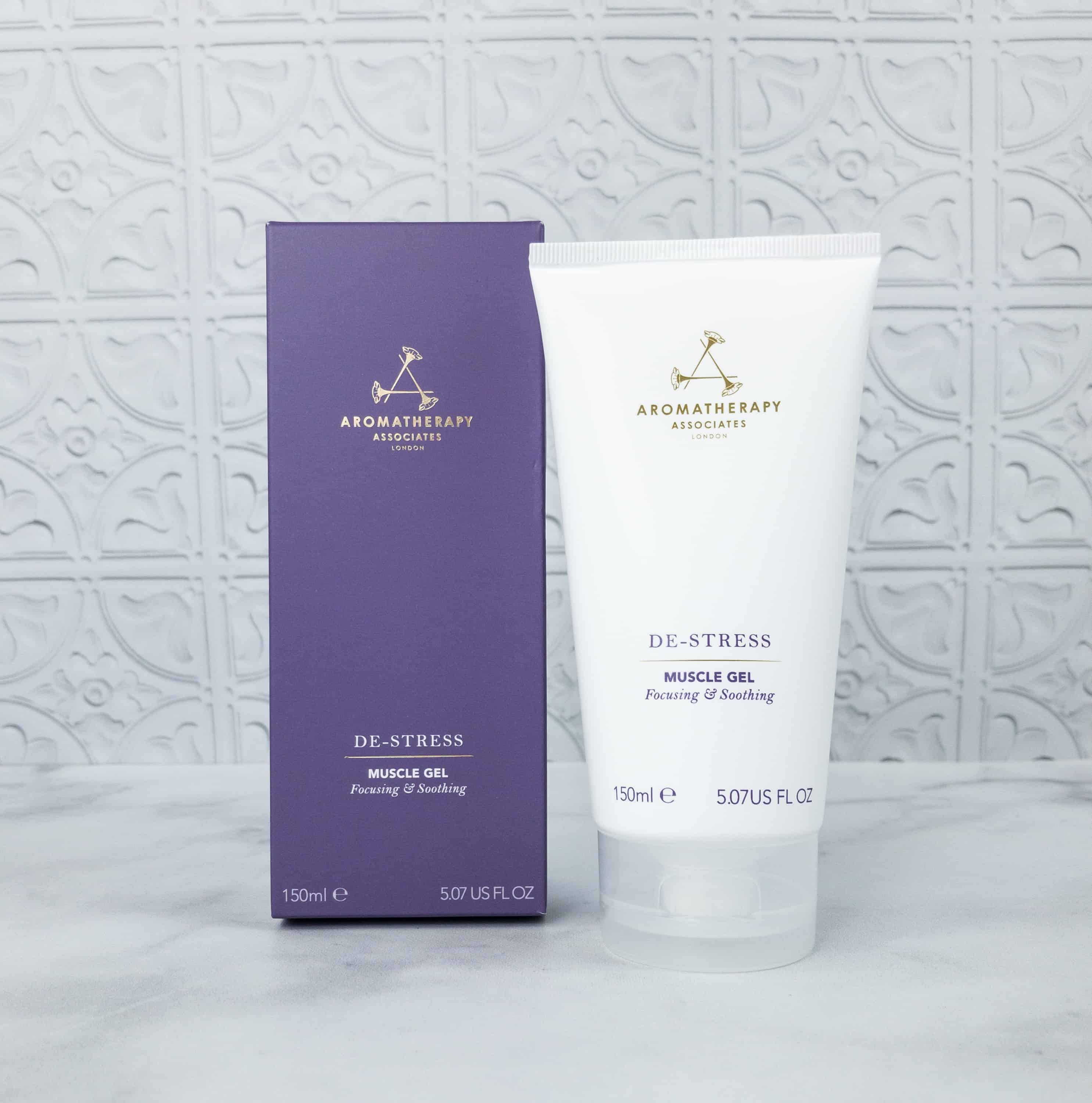 Aromatherapy Associates De-Stress Muscle Gel ($39) The combination of rosemary, black pepper, lavender, and ginger essential oils make this muscle gel so soothing and relaxing. This is a raved body gel that effectively treats aching muscles from work or intense workout.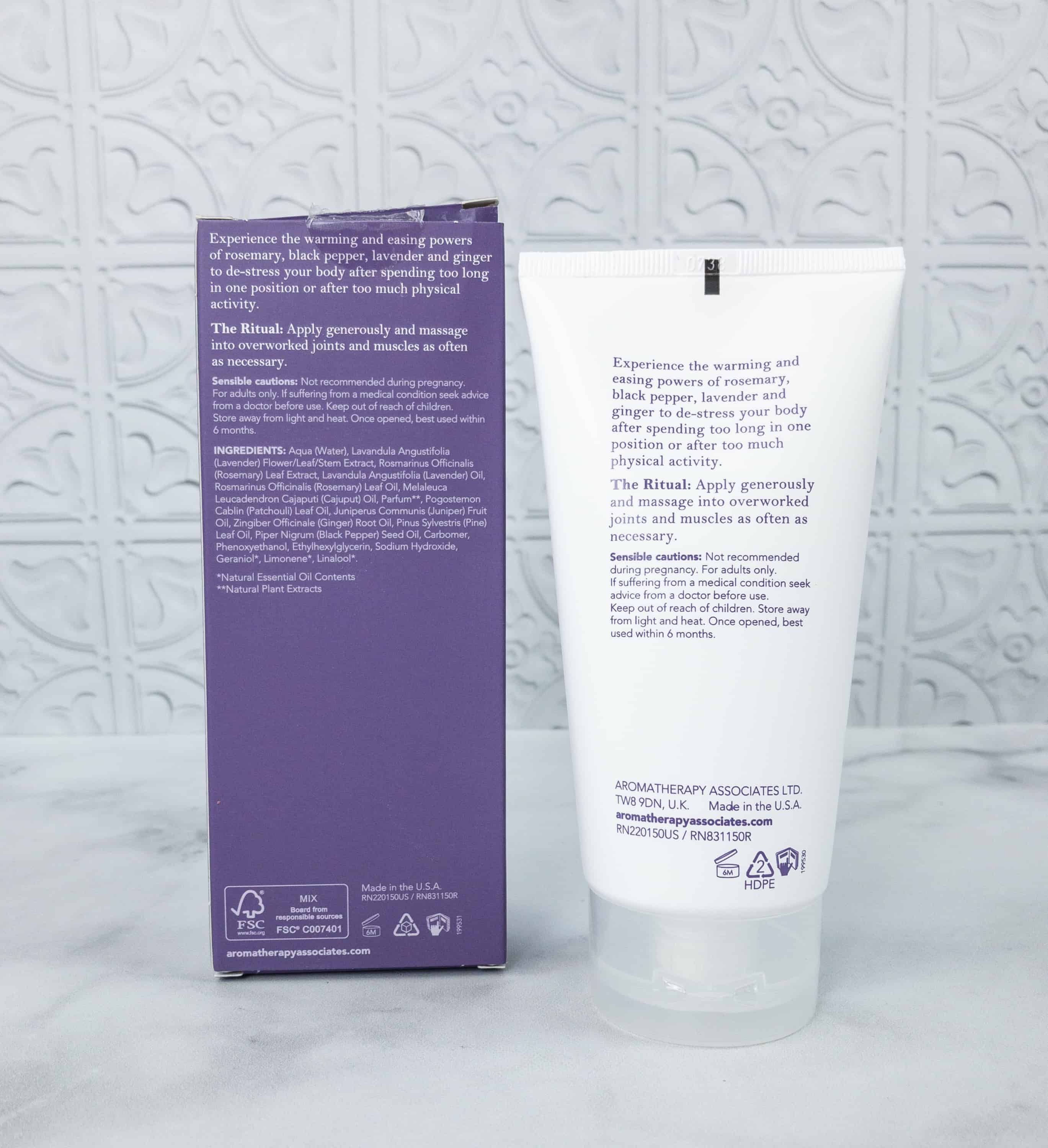 It instantly cools away the pain and then warms up the muscles that will make you feel renewed.
All subscribers were able to choose between the Aromatherapy Associates De Stress Muscle Gel, Jaboneria Marianella Hawiian Black Lava Body Caviar, and the ERTH TU Y YO Ring!
Everyone Gets – but Select (Annual) Members Choose Variations
Tarte Tarteist Pro To Go Palette ($23) & Tarte Sex Kitten Liquid Liner ($20)
Tarte Tarteist Pro Glow Highlight and Contour Palette ($45)
Whoops! My review box didn't contain this item. Hoping that was limited to review boxes and not regular subscriber boxes.
Maji Sports Loop Resistance Band ($15) The resistance bands were sealed in a plastic with an information card about the product.
Annual subscribers had these choices:
Magi Sports Loop Resistance Band
Minor History Post Script Wallet
Vasanti Brighten Up! Enzymatic Face Rejuvenator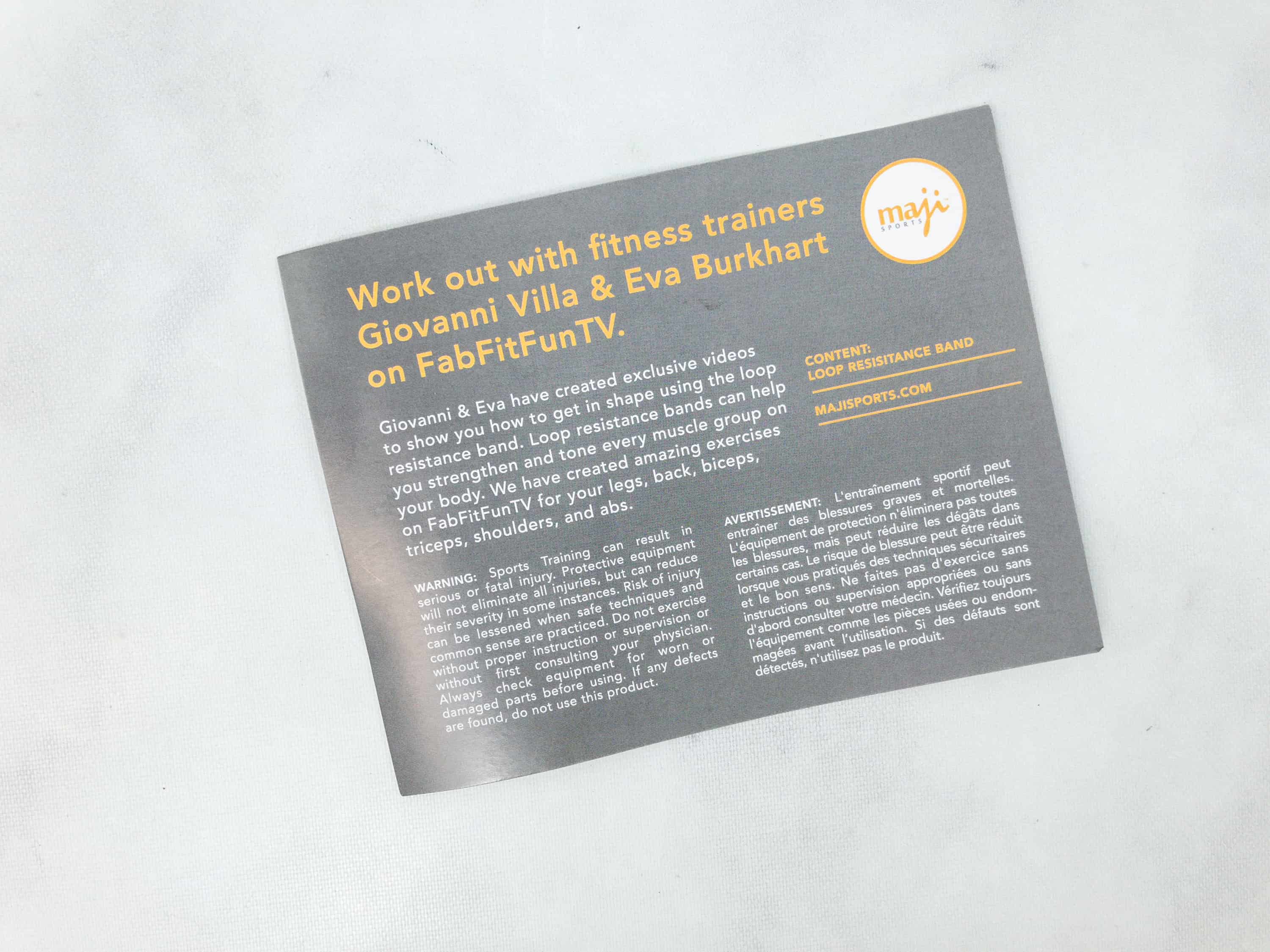 This can help strengthen major muscle groups. If you are up for shedding some pounds, you can work hard on strength training and use this tool to boost metabolism by burning fat.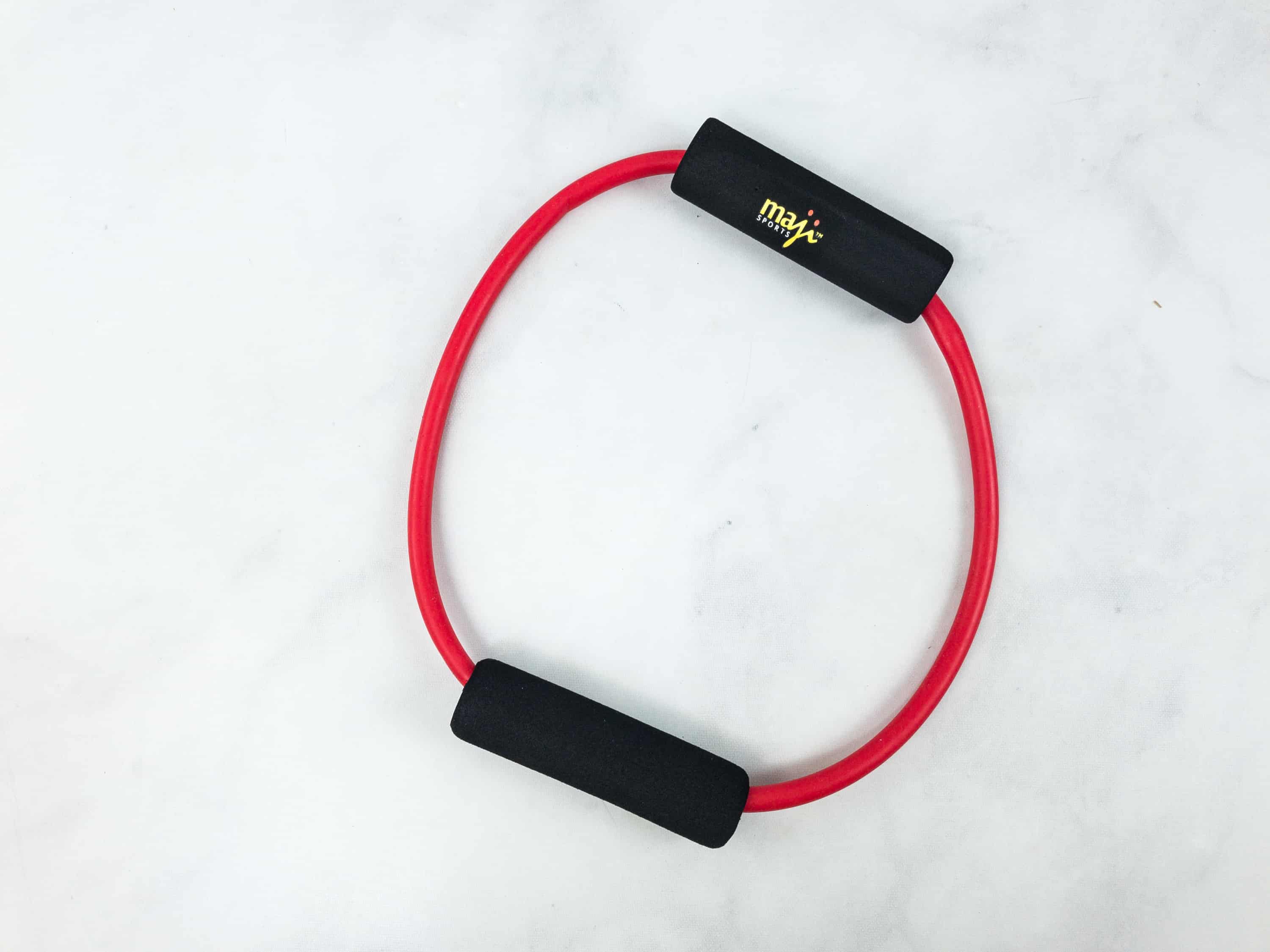 The exercise tool is made of natural rubber. It's lightweight so it's also easy to bring during travels. I love this for a shoulder workout item – mine are soooo weak!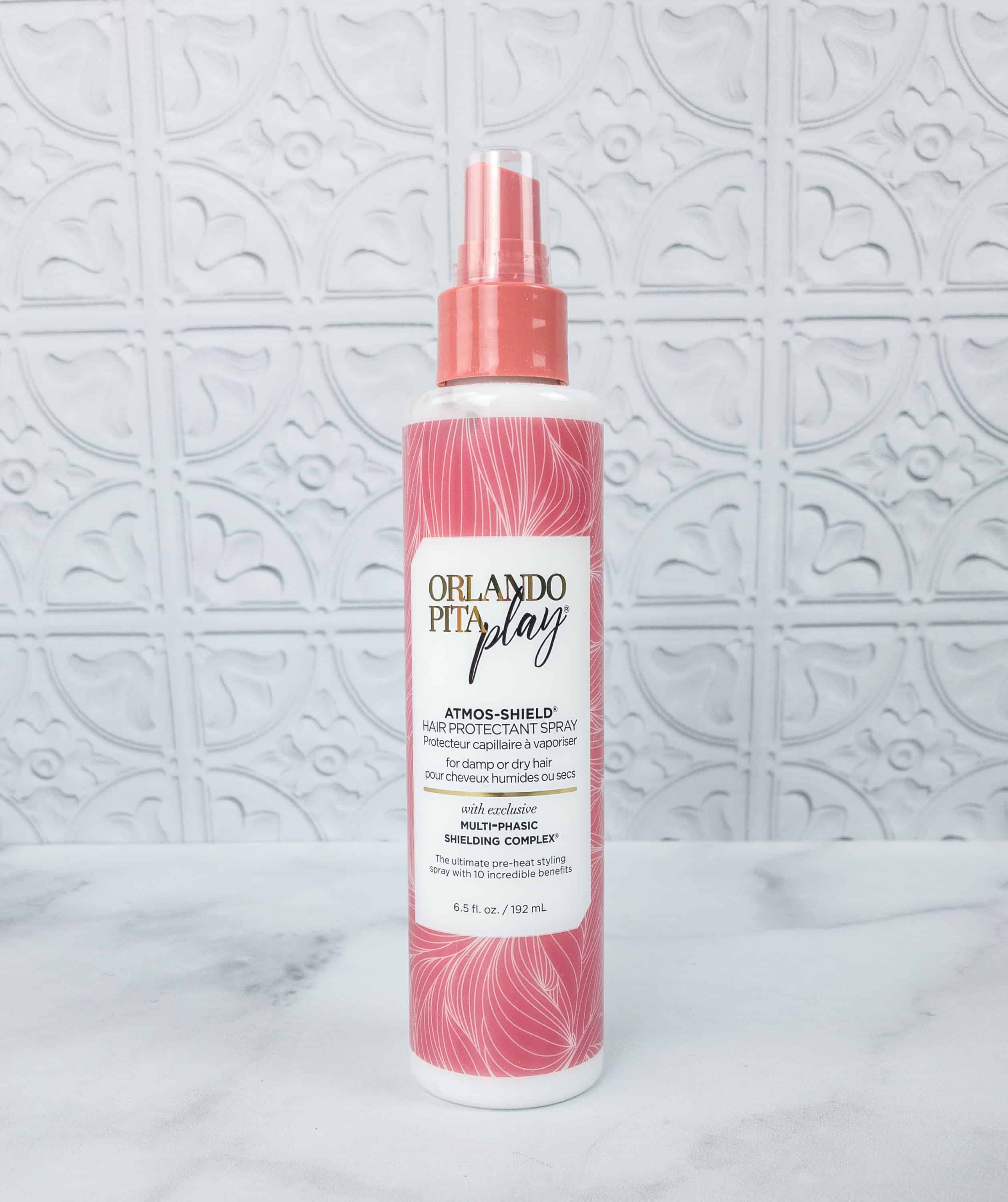 Orlando Pita Play Atmos-Shield Hair Protectant Treatment Spray ($34) You can spray this 10-in-1 thermal heat protection formula to your towel dried hair, prior to heat styling or air drying. It really works well with dull, fine, color treated, and frizz prone hair. The formula is lightweight. It also helps seal split ends, lock in moisture, and combat damage caused by pollution, UV rays, and free radicals.
Annual subscribers could pick between this product and the Elemis Papaya Enzyme Peel.
FabFitFun's summer curation is superb, and I especially liked the innovative and modern Foreo Luna Fofo. It is an expensive item to buy on its own and it's good that I got to try it because of this subscription. Also, I can have fun under the sun with Coola's moisturizer and sunscreen in one, exercise with Maji's Loop resistance band, and relax with the aromatherapy gel. I'm also happy to get the durable Yumi Kim train case to keep all of these items. As far as variety goes they did offer selections of summer-ready products ranging from makeup, skincare, to lifestyle and fitness. It's a great women's box that I look forward to every quarter! Best FabFitFun ever, even without the Tarte (!). Even if you missed out on the selection period this box was totally still worth it. Funny enough – the box we received for review was basically the complete opposite of all the choices I made for my personal box, and I'm thrilled to be getting another one with the other choices – it's worth taking advantage of the additional selections for $10 during the choice period, or just picking this box up if you haven't subscribed yet and seeing what you get!
What do you think of the Winter FabFitFun VIP Box?