Erin Condren's Seasonal Surprise Box is a new quarterly planner accessories and stationery box featuring early access items, popular accessories, and exclusive surprises from Erin Condren. This box isn't available by subscription; you must purchase each box individually. This box is currently sold out but click here and tap that blue bell to get notified when the next box becomes available!

Each box contains a mystery collection of new, favorite, and exclusive items to surprise and delight!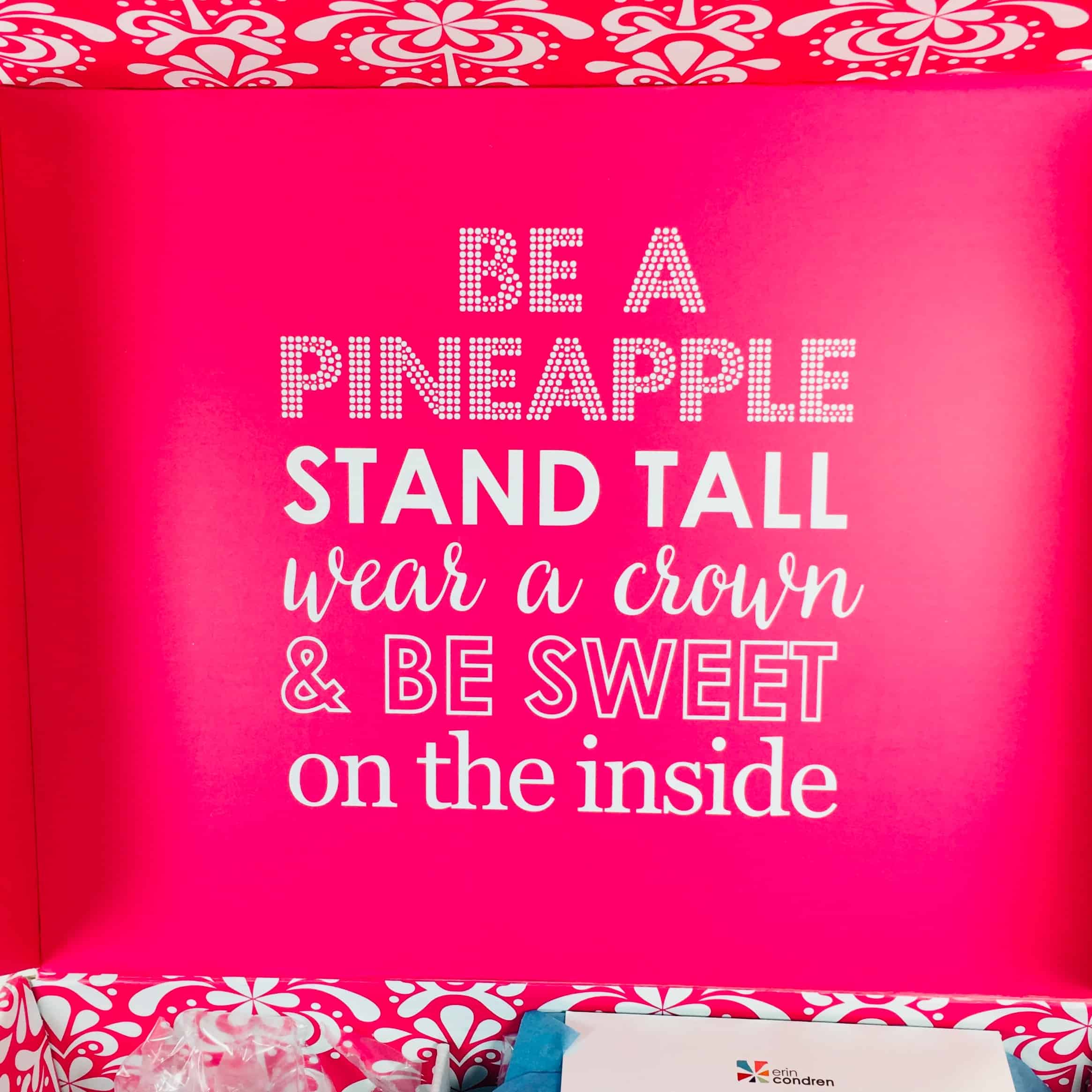 In addition to the main EC site, you can now shop a selection of non-personalized Erin Condren items on Amazon! Many, if not most, are discounted, and they all have free prime shipping!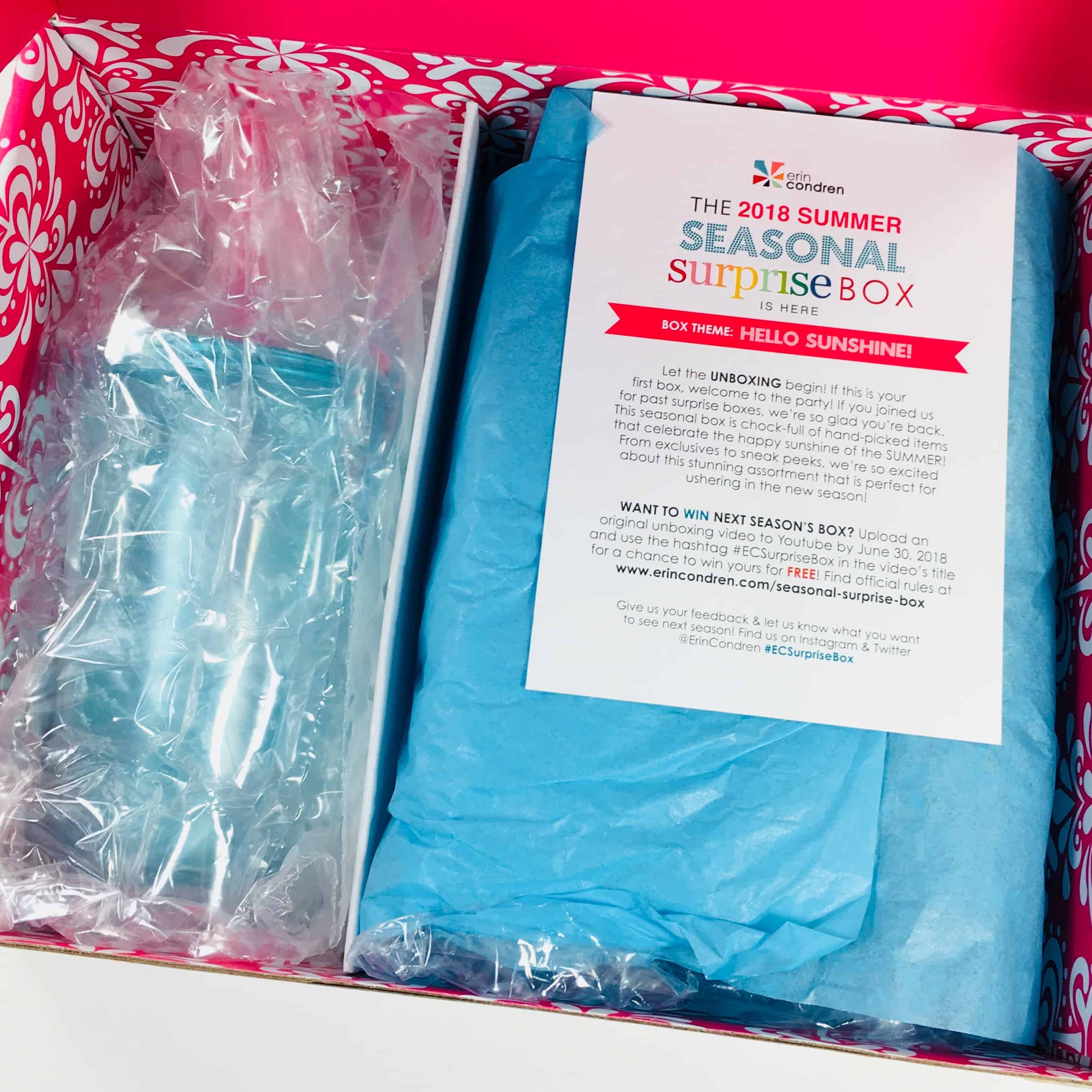 DEAL: FYI – if you use this referral link to register for the site, you'll get a $10 coupon code emailed to you. It may not work on the box purchase. You cannot use the code if you buy anything first, but you can use it on pretty much anything on the site.
The theme for this box is Hello Sunshine!

The information card gives you a picture list of all the items included and value. It's so fun and colorful!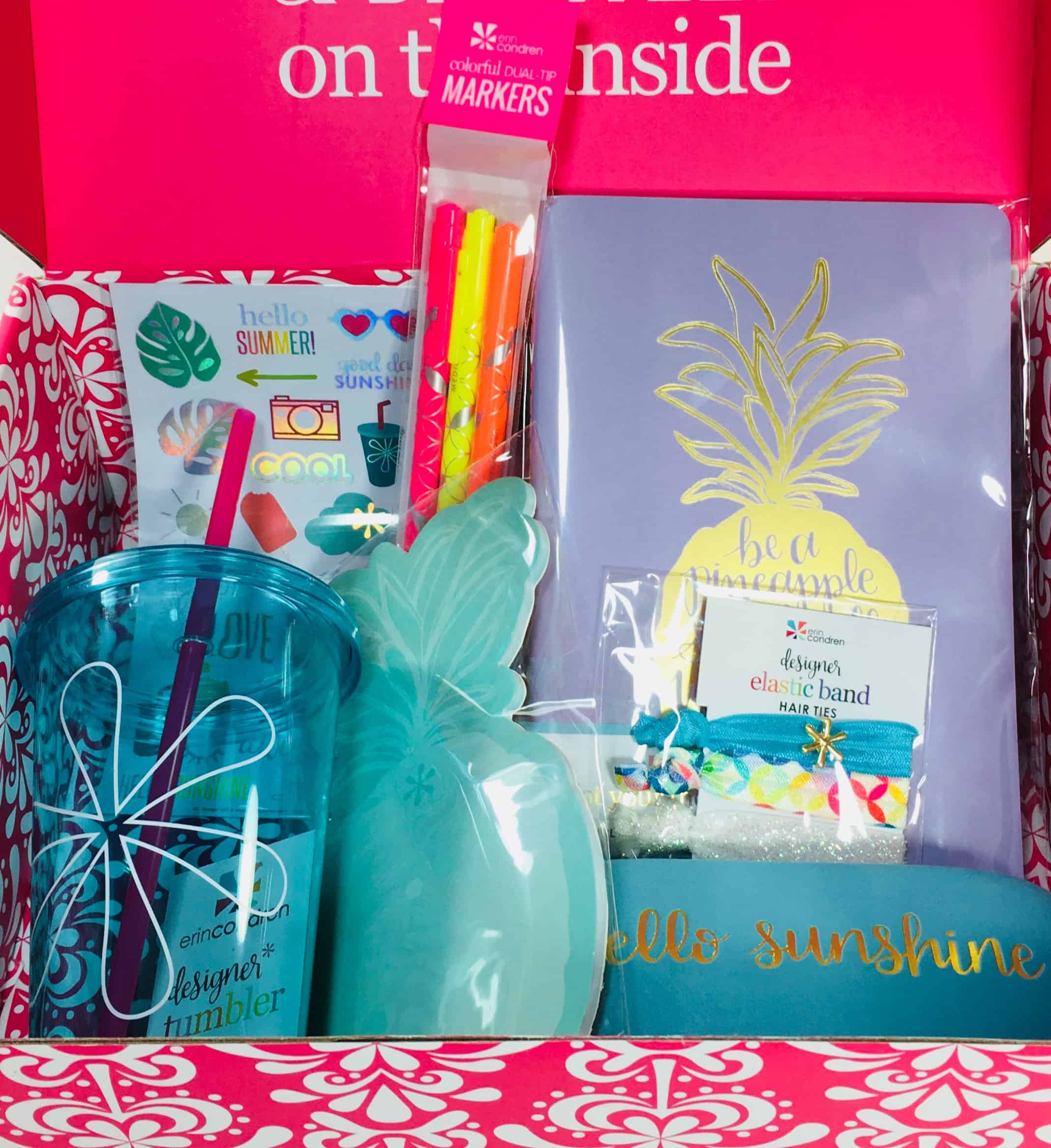 This box is packed!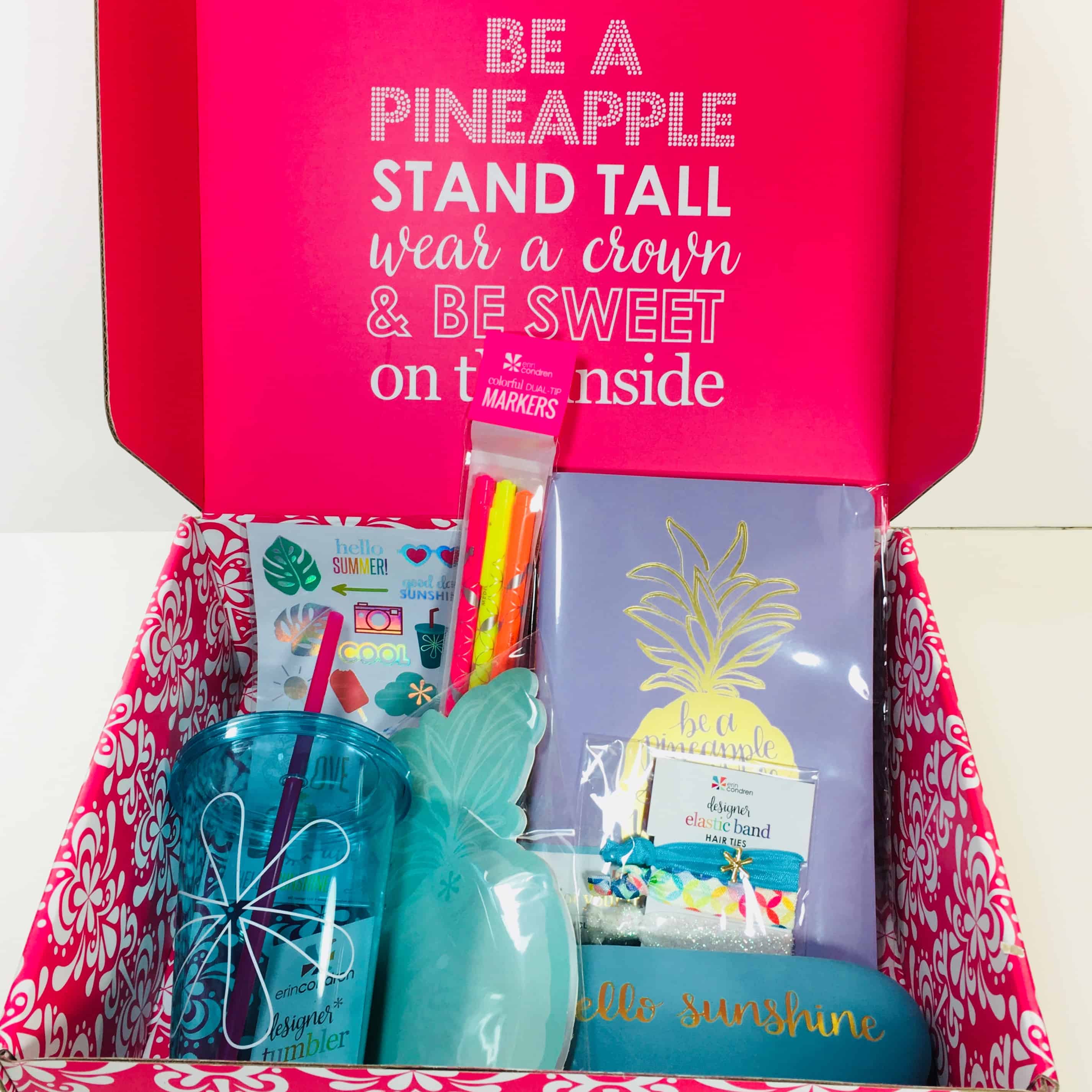 The box is reversible to make a cute little storage case for your goodies! I used my last box on my bookcase to hold, what else, stationery supplies!
Everything in the Summer box! Please note that these items are either new or exclusive and I couldn't find these exact items in the online shop.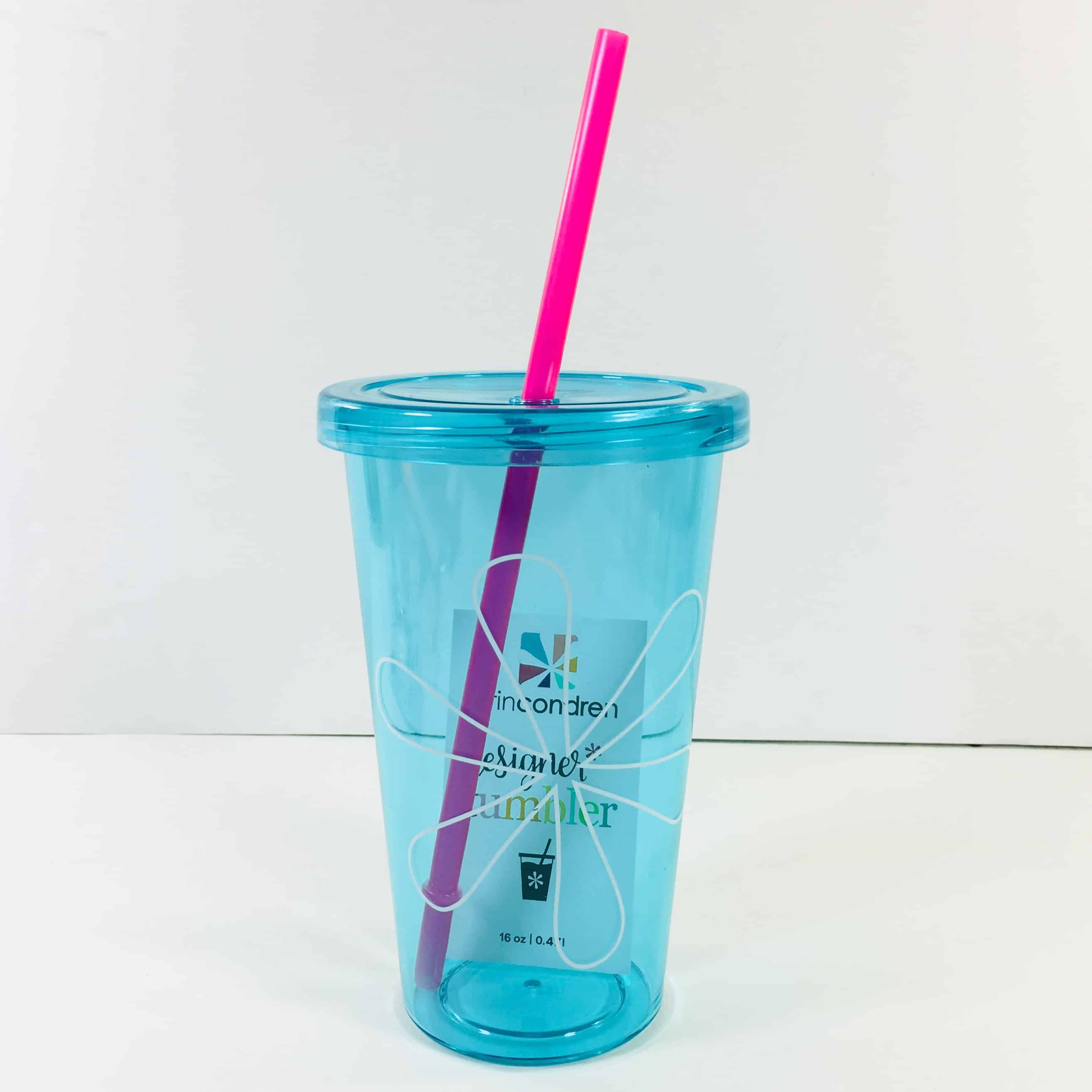 Turquoise EC Tumbler ($10) The shade of this tumbler reminds me that I need to go hang out by the neighborhood pool! It came with a bright pink straw.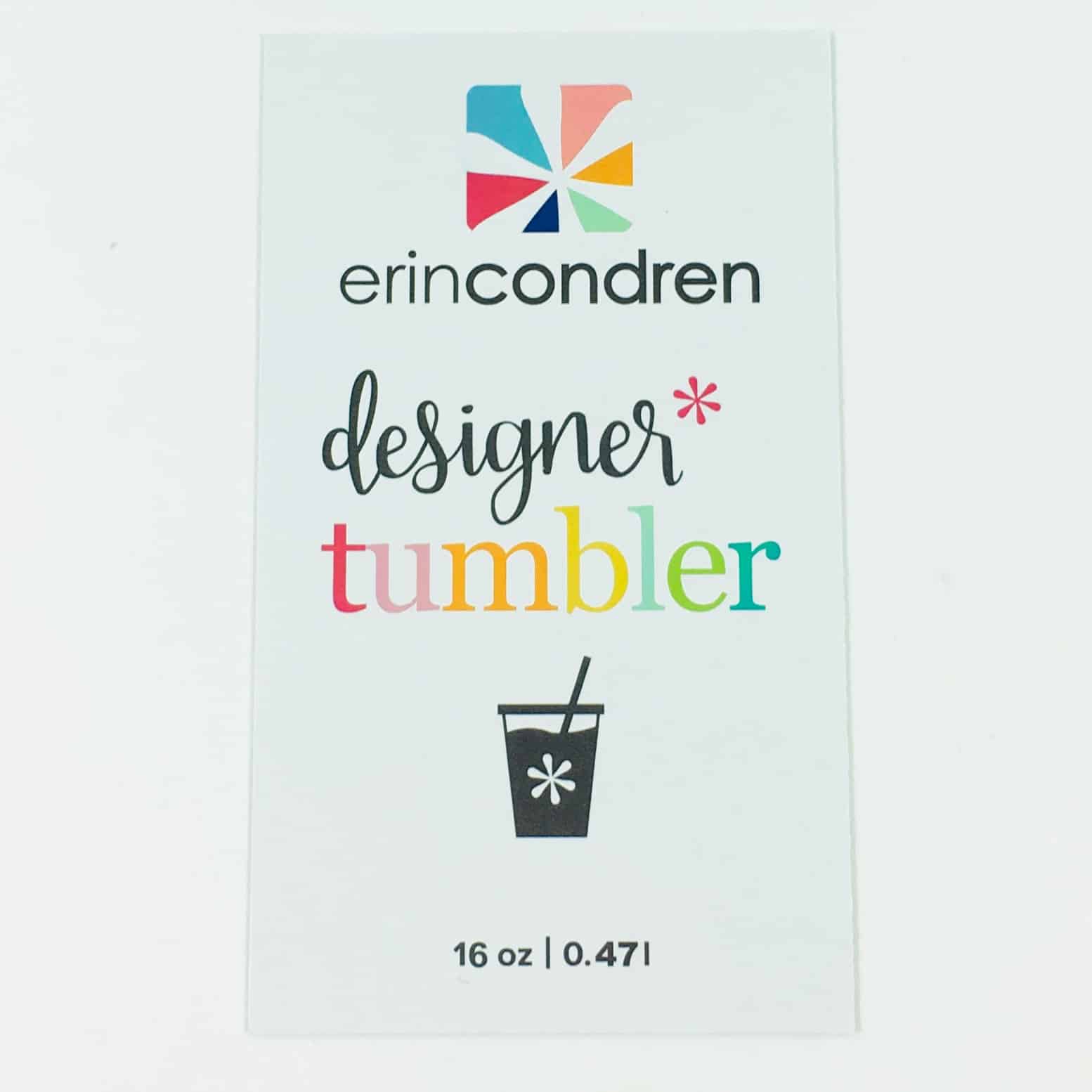 It holds 16 ounces of liquid, what you put in it is your business. Margaritas, sangria, iced coffee, southern sweet tea. It's all good!
Just don't put hot drinks in here. BPA-free and hand wash only, please!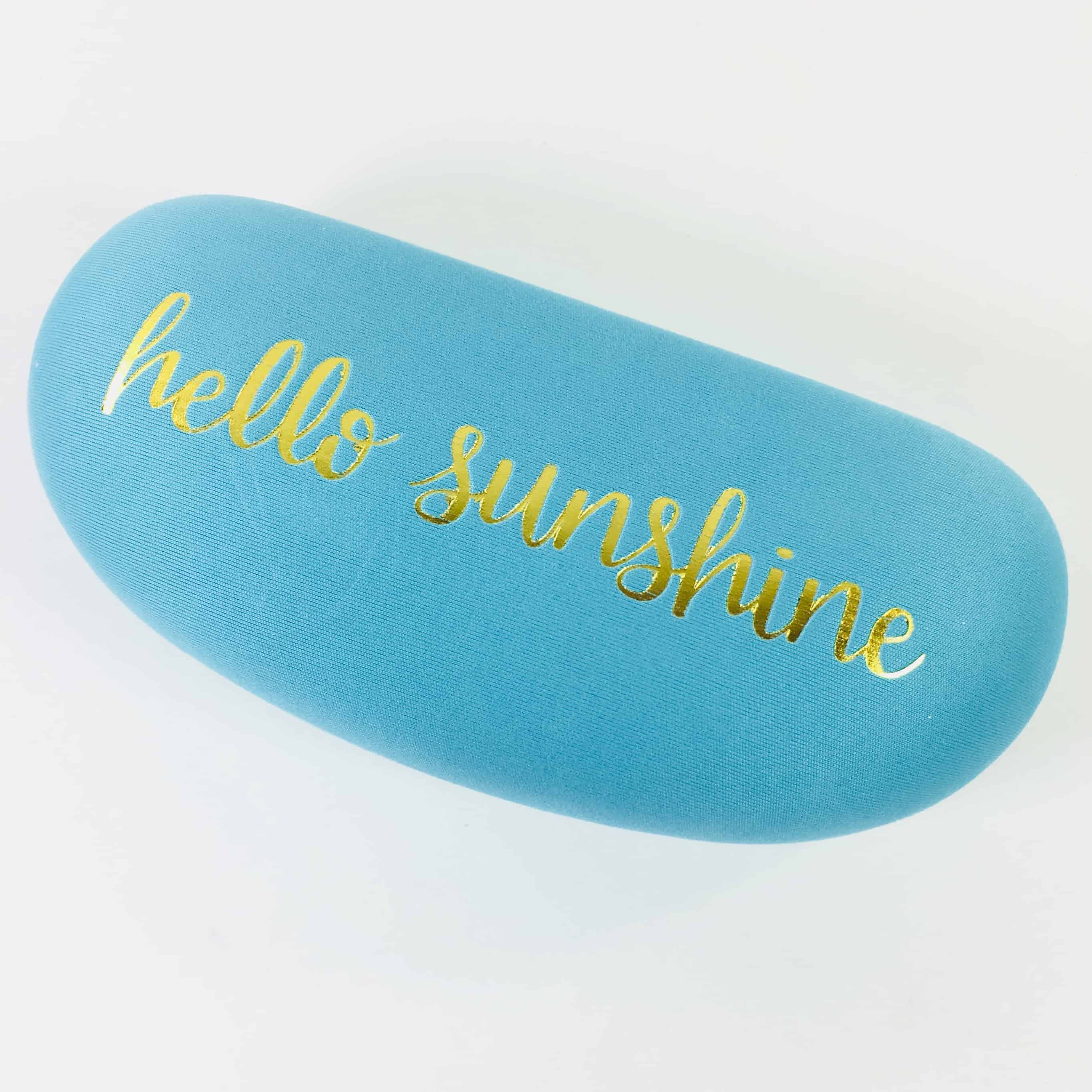 Sunglasses Case with Cleaning Cloth ($15) More of that lovely blue turquoise shade was found on this sturdy sunglasses case. It has the words "hello sunshine" in metallic gold lettering across the top.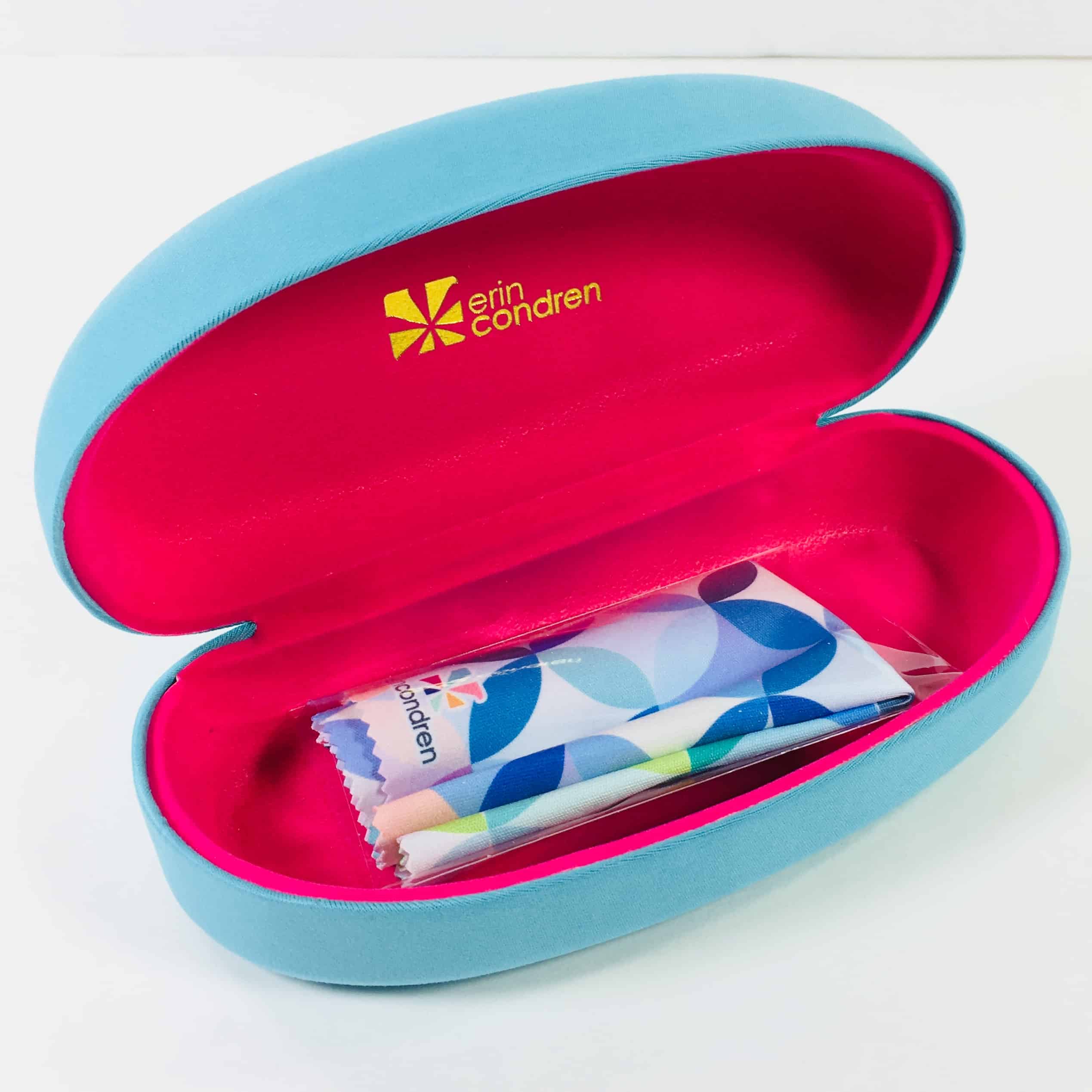 The inside has a peppy pop of hot pink and I even found a cleaning cloth inside.
The cleaning cloth has the EC "mid century circles" design on it and I love the bright colors.
Metallic Gold Jot Your Thought Journal ($9) is similar to other journals on the EC website, but this cover is an exclusive item.
It features a gold metallic pineapple on the front and has the same quote as the inside of the shipping box lid.
The back of the journal has smaller gold pineapples, so cute!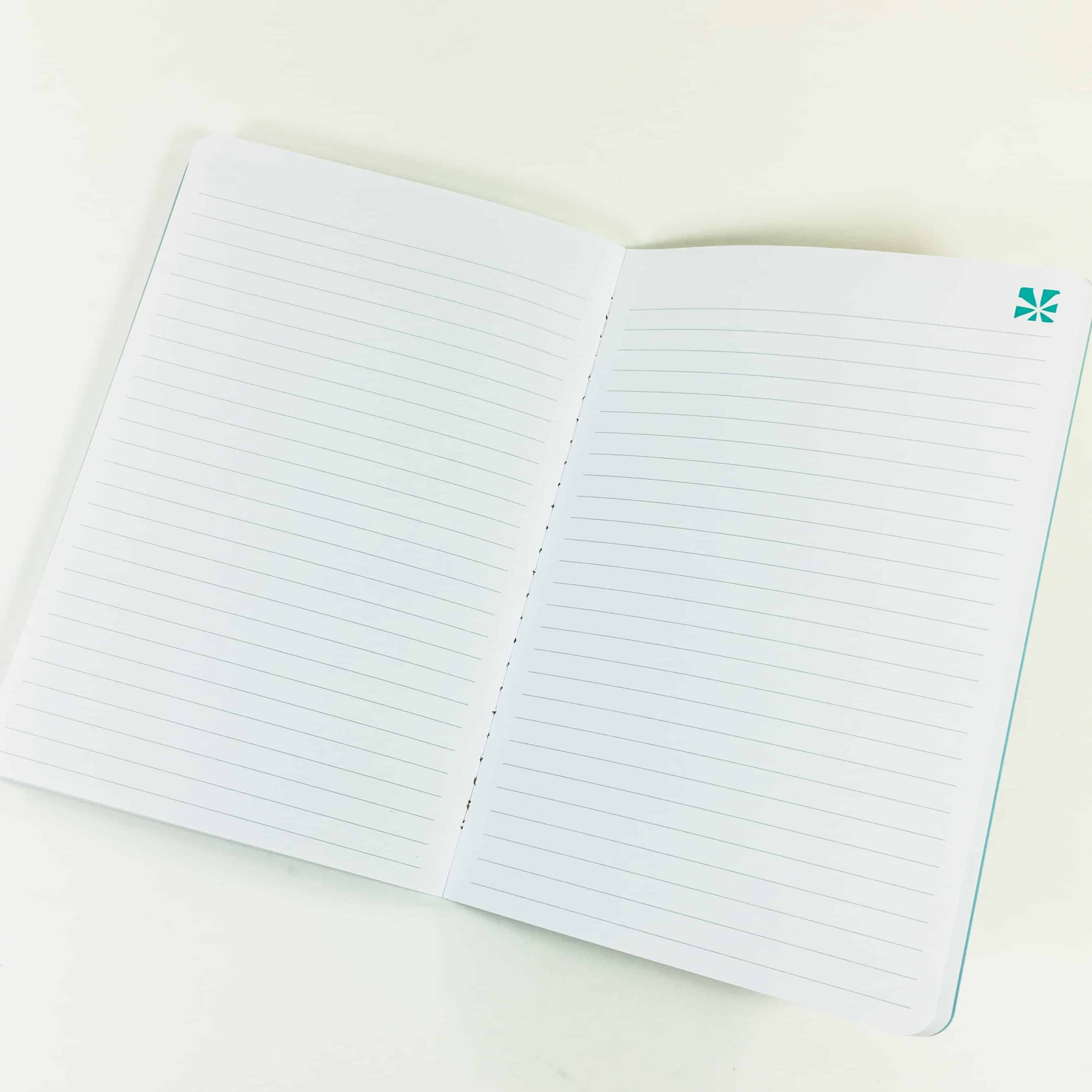 There are 80 lined pages inside and you can carry this in a bag or backpack. The inside covers are that lovely blue shade that has been repeated throughout the box.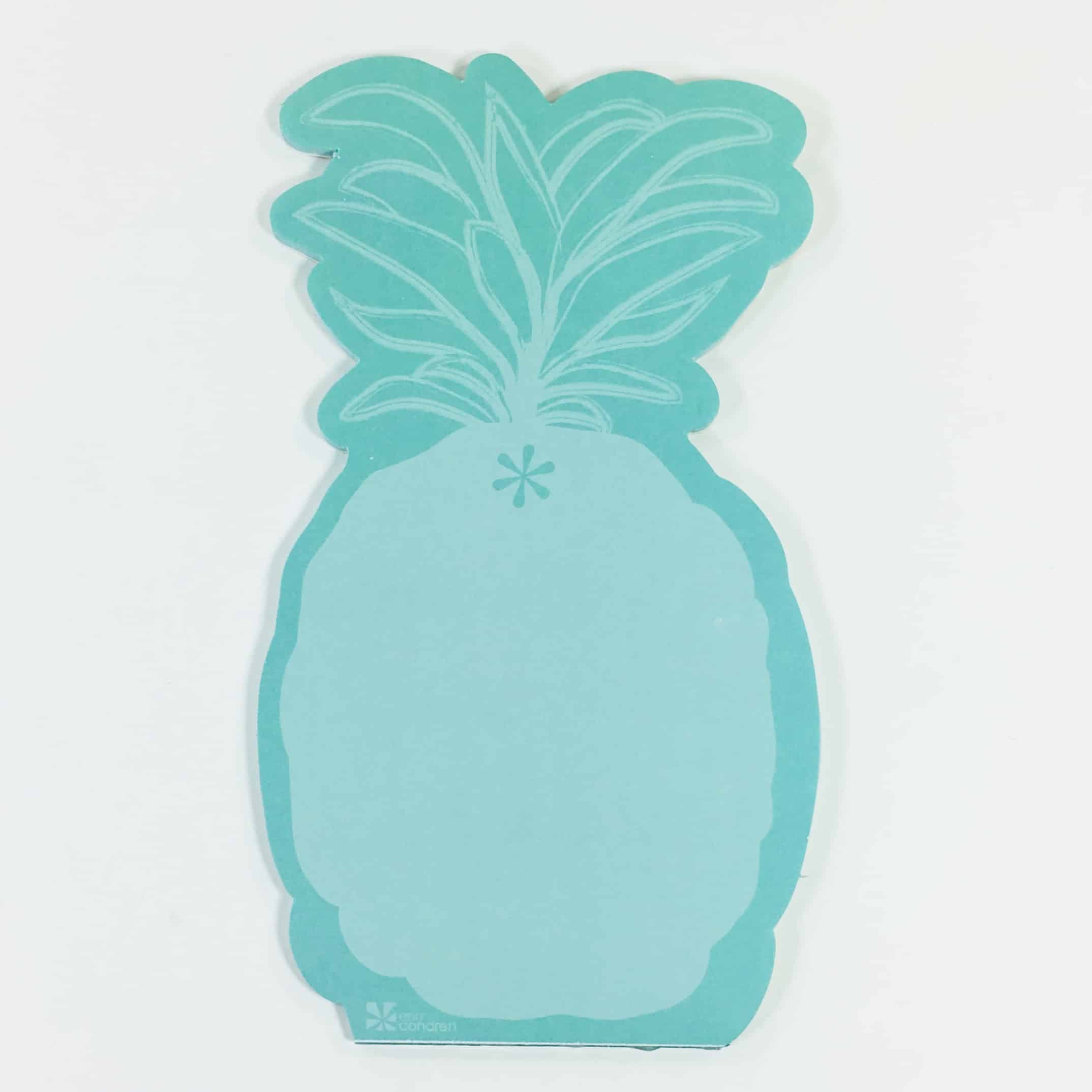 Pineapple Notepad ($6) is shaped like one of my favorite fruits, and yep, it is a lovely shade of teal!
The back of the paper is white and this is going to look adorable on my desk.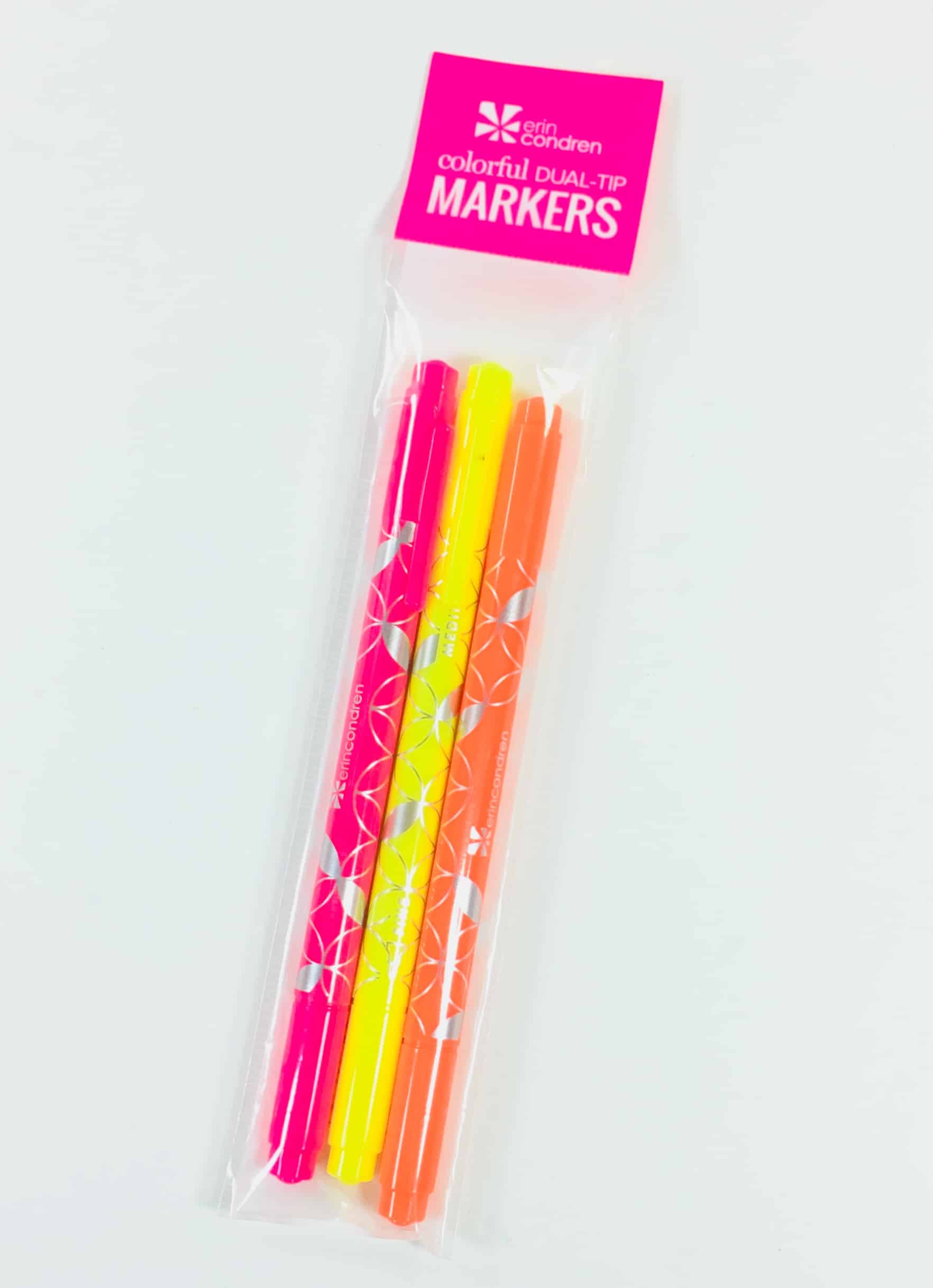 Neon Dual-Tip Marker Three-Pack ($8) I ordered a set of EC markers when I ordered my LifePlanner and they are amazing so I was very excited to find some new colors. They don't bleed through when I write in my planner!
One side is fine-tipped and the other is broader. I carry them with me everywhere in the pouch I received in the Spring Seasonal Surprise Box.
Set Of Three Elastic Hair Ties ($7) The color coordination in this box is amazing, here's that blue shade again, plus the mid century circles, plus the gold flower that matches the one on the cup and that reminds me of the daisy from The Dating Game, which I used to watch back in the day.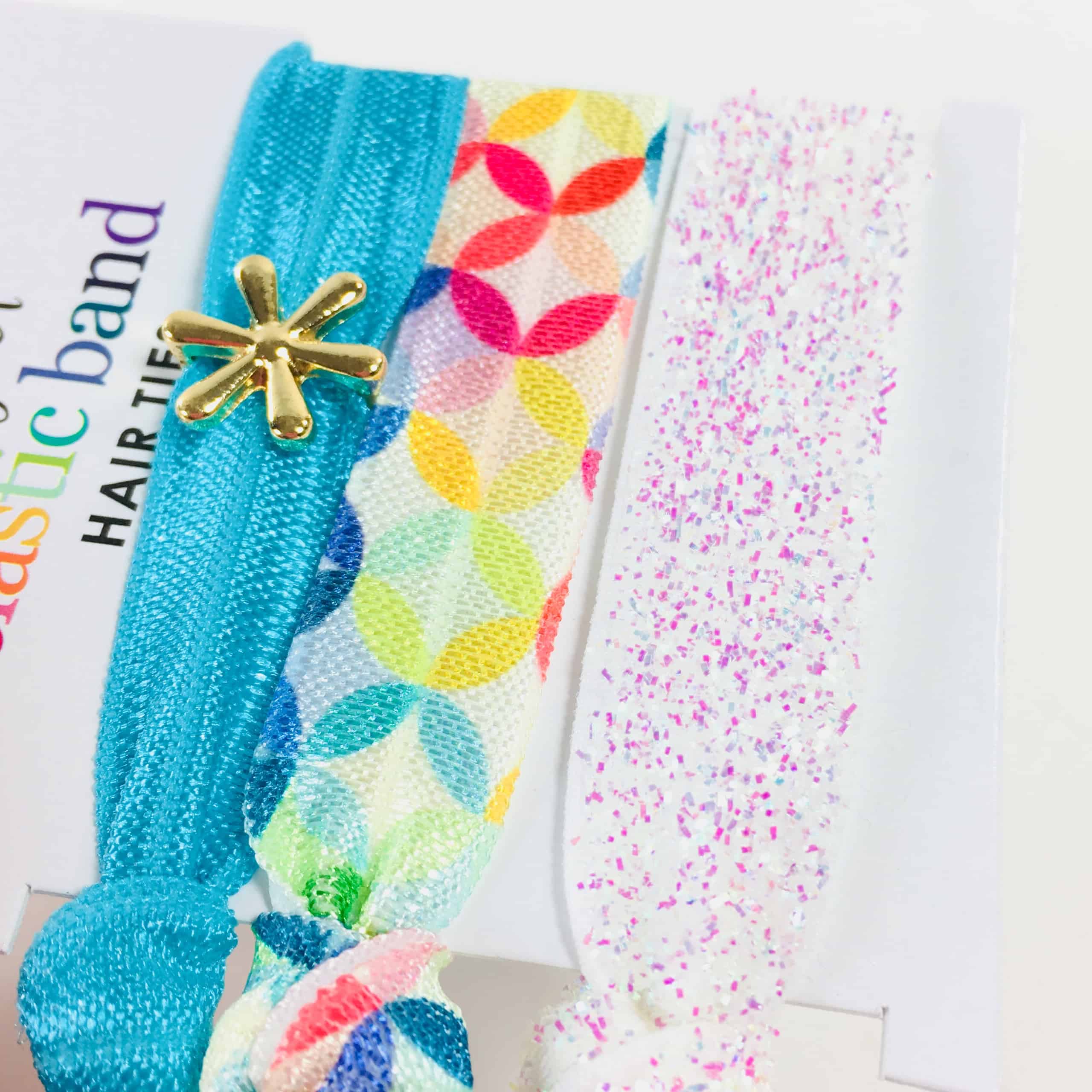 There is also a metallic shimmery hair tie too. I am going to give these to my daughters, they will love them and it is a handy thing to have in the summer.
Iridescent Sticker Sheet Two-Pack ($6) Oh my gosh, metallic iridescent stickers for summer!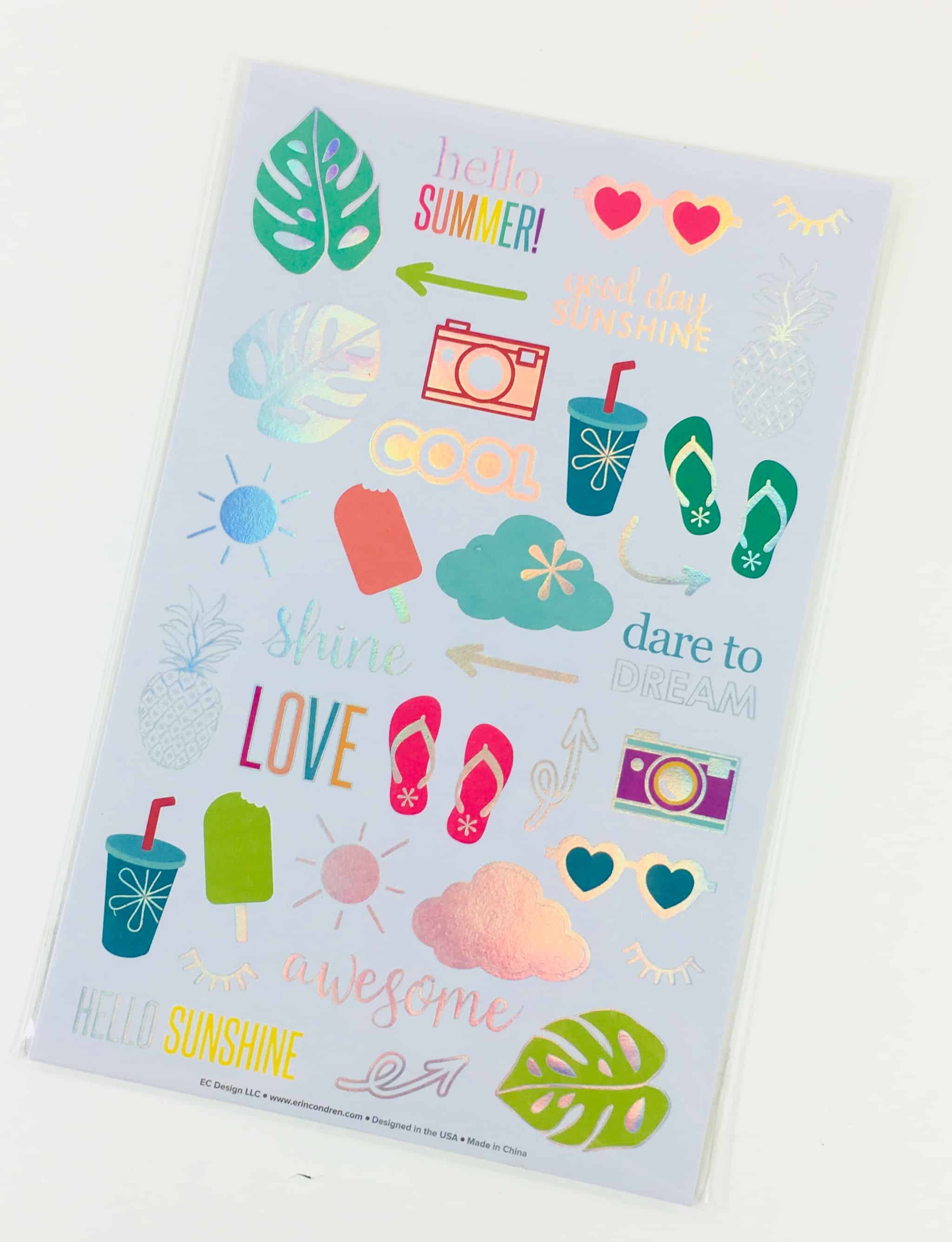 There's that tumbler again, along with pineapples, tropical leaves, and flip-flops.
There is only one sheet but I showed it three times so you can see how the colors change with the light!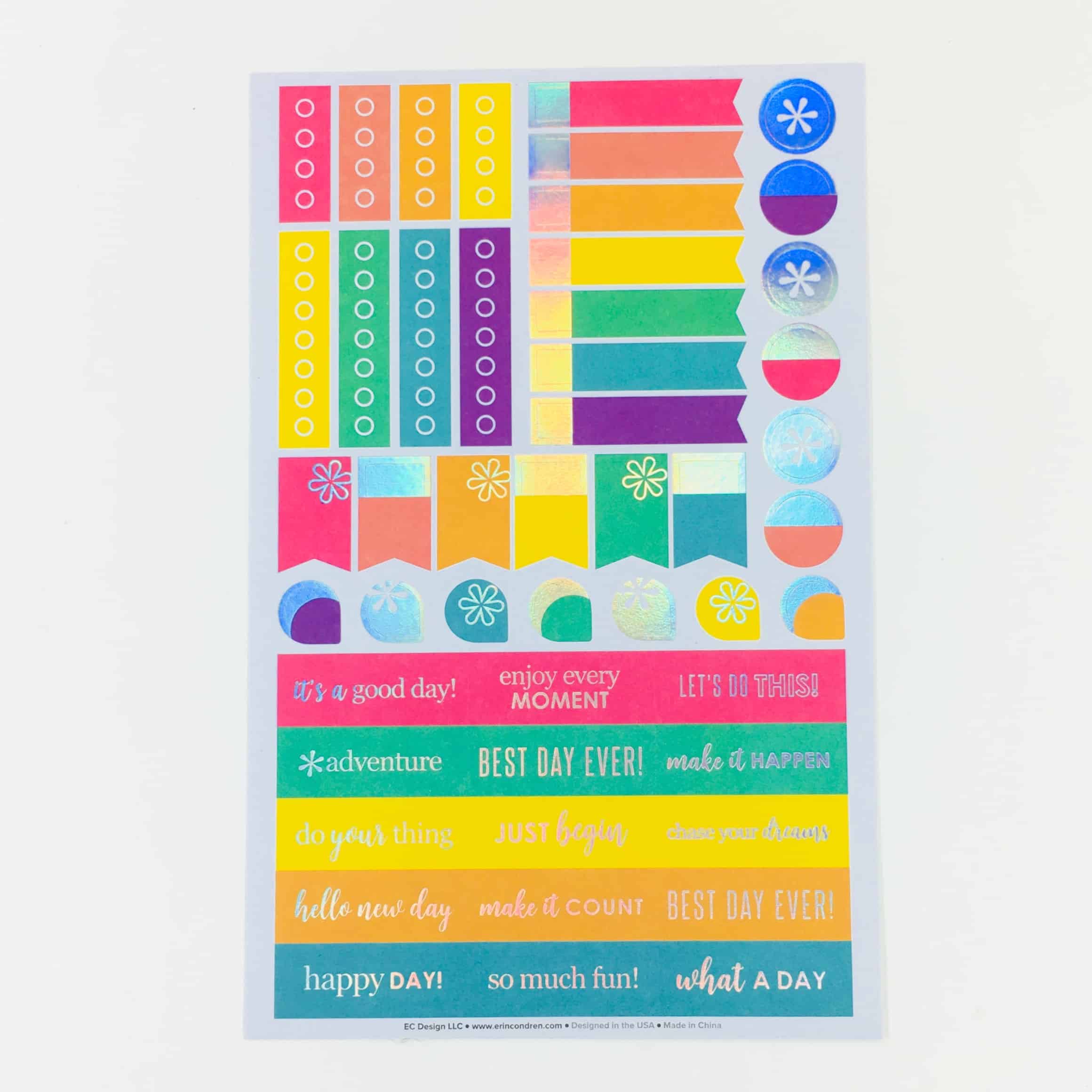 Here is the second sheet of stickers. My favorites are the ones with circles – I get a happy feeling when I check stuff off of my to-do list.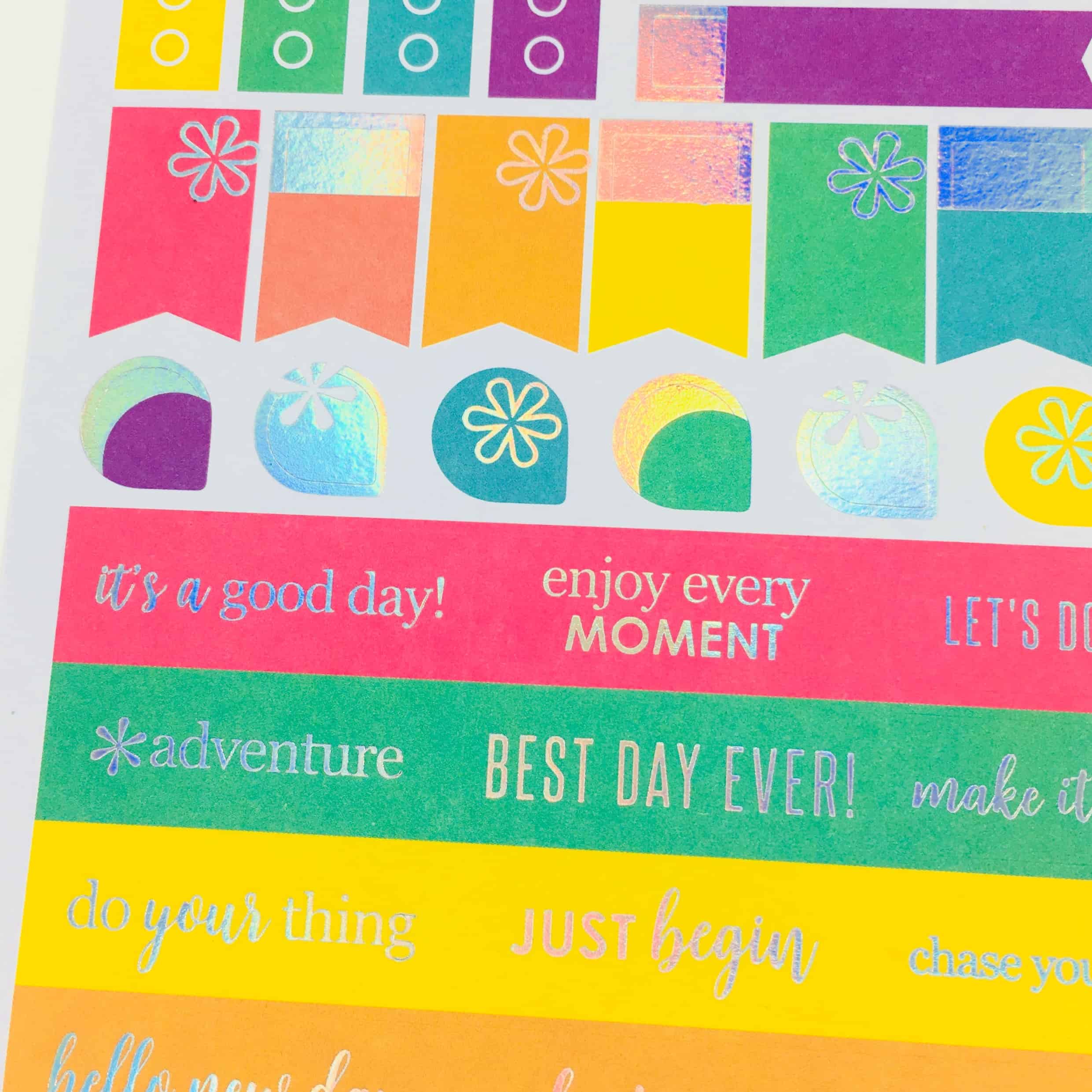 So pretty!
I was very happy with my Summer Seasonal Surprise Box! I loved the tropical theme with the pineapples and bright blue colors, plus the iridescent stickers were adorable. I was very happy to have three new markers and the sunglasses case is prettier than the one that is currently in my purse. I am even able to put the shipping box to work to hold items on my bookshelves.
What did you think of the box?
Visit Erin Condren Seasonal Surprise Box to subscribe or find out more!